Anonymous, expert compilation, analysis, and reporting.
</end editorial>
---
———————————————————–
SECDEF Esper on INF blowback. Amb Huntsman to sadly retire from Muscovy. Finnish minesweeper enters Russian waters. Russian VDV copies Ukrainian VDV. Russia's donation of relics to Serbia. Slovakia's Vipers. CW sanctions on Russia.
Much on continuing protests in Russia. Ukrainian media citing Russia opposition websites reporting over one thousand arrests this weekend. Ms Sobol summarises the situation aptly: "Putin Is Killing Our Entire Country – it is just a slow death".
The Vozhd's praetorian guard – the RosGvardiya – was specifically constructed for the purpose of suppressing domestic dissent, and dressed in black body armour, resemble the brutal black clad praetorian guard of Ivan IV (the Terrible) known as the Oprichniki, who brutalised and murdered immense numbers centuries ago. When the RosGvardiya was formed two years ago, RFE/RL's Whitmore labelled them"The New Oprichniki". And yet again, Russia drifts back to the medieval ….
Ukraine IR, Crimea and Black Sea updates. Donbas and defense industry updates. A short politics update.
---
Defense Secretary Mark Esper Threatens Russia With New Missile System | World Report | US News
The new launch systems, capable of adapting to nuclear weapons, threaten a new arms race, analysts fear.
Unrestricted by nuclear treaty, Pentagon chief threatens Russia with new weapons – media – news world | UNIAN
U.S. Defense Secretary Mark Esper issued a stern warning to Moscow hours after the Trump administration withdrew from a key nuclear weapons treaty, saying Friday that the Pentagon plans to develop new missile systems in response to Russian hostility. The new launch systems, capable of adapting to nuclear weapons, threaten a new arms race, analysts fear.
Trump and Putin discussed need for new ambassador during phone call – CNNPolitics
President Donald Trump phoned his Russian counterpart this week after seeing a map of widespread wildfires in Siberia, according to senior administration officials.
Kamala Harris is no threat to Vladimir Putin
Perhaps a Kamala Harris presidency would be effective in constraining Vladimir Putin. But the evidence thus far suggests the opposite. That's because the California senator is wrong on a critical issue related to U.S. national security against Russia.
UAWire – Finland expresses regret after its warship entered Russian territorial waters
Finland has expressed regret after its warship by mistake entered the Russian territorial waters, reports the Finnish Navy. The incident …
A Finnish ship mistakenly entered Russian territorial waters
Last Thursday, August 1, a Finnish warship mistakenly entered Russian territorial waters in the eastern Gulf of Finland. This was reported on the website of the Finnish Navy Finland has already regretted the incident. On this day, a mine sweeper FNS Hämeenmaa (02) entered the Russian territorial waters about 600 meters, found an error, immediately left the territory and reported the event. After that, the Finnish authorities contacted the Russian and expressed their regret. Finnish Navy mine sweeper FNS Hämeenmaa (02) Photo: Wikipedia / Kahvilokki Short specifications of FNS Hämeenmaa (02) Displacement : 1450 tons Length : 77.8 meters Width : 11.5 meters Draft : 3 meters Stroke : 20 knots (37 km / h) Crew : 60 people Weapons : • 57mm / 70 Bofors Mk1 artillery unit • Heckler & Koch grenade launchers • Two 12.7 mm machine guns • SAM – Umkhonto-IR • two RBU-1200 • Two bombers We will remind that on July 17 the Russian plane broke air space of Finland . Then the plane flew one kilometer into the airspace of Finland near Porvoo and headed west. From the beginning of the year, this was the second case with foreign planes flying into Finnish airspace. The first occurred in April, when the Lockheed P-3C CUP of the Portuguese Air Force, carrying out a NATO mission between Estonia and Finland, accidentally disrupted the latter's airspace. Finland is a non-aligned country. After the collapse of the Soviet Union, Finland began participating in NATO's military maneuvers.
Russia to Showcase SU-57 Fighter Jet as Open Fixed-Base Exhibit At Airshow Outside Moscow – Sputnik International
MOSCOW (Sputnik) – The Su-57 fifth generation fighter will be shown for the first time as an open static exhibit at the MAKS-2019 air show, the United Aircraft Building Corporation (UAC) said.
Russian VDV Airborne Forces form five tank battalions
In the Russian airborne troops formation of tank units continues, in the near future it is planned to form five more tank battalions T-72BZ. This was stated by the head of the State Duma Committee on Defense, ex-commander of the VDV Vladimir Shamanov. Tank units in Russian VDV began to form in 2016. In particular, on December 1, 2016, separate tank companies were formed in two airborne divisions (7th and 76th) and four airborne brigades (11th, 31st, 56th and 83rd). . In 2018, the RF Defense Ministry decided to gradually transform tank companies into battalions. The first were the battalions formed within the 7th Airborne Assault Division (Novorossiysk), 76th Division (Pskov), and the 56th Airborne Brigade (Kamyshin). Battalion-armed T-72B3 tanks have been receiving a new Andromeda automated control system since 2018, which provides access to a single information network to share information with other vehicles, units and command. In particular, the unit commander has the ability to set tasks by marking targets on an electronic map. Recall that from 2019, in accordance with the concept of their development, the VDV of the Russian Federation are transformed into expeditionary forces , as it is noted – "in order to gain the ability to quickly arrive in any region of the world, create a base and keep under control a large territory". The main innovation is the emergence of airborne units that are helicopterly landed. The first experimental 31st airborne assault brigade, consisting of two helicopter airmobile battalions and combat and logistics units. In addition to their own Army aviation and tank units, the VAT will also have their own electronic warfare units, drones, air defense and missile defense. In addition, there will be an increase in the amount of VAT currently estimated at around 45,000. In particular, it is planned to return the divisions to the three-regiment. It should be reminded that parts of the VDV of the Russian Federation since 2014 actively participated in the armed aggression against Ukraine, in particular, the 45th Special Forces Regiment (from the 2015 Brigade), the 31st and 56th separate airborne assault crews, the 104th and 234 Airborne Regiments of the 76th Airborne Division, 247th Airborne Regiment of the 7th Airborne Division, 51st and 137th Airborne Regiments of the 106th Airborne Division, 217- and the 331st Parachute Regiments of the 98th Airborne Division and others.
The Serbian army presented BRDM-2MS donated by Russia
On July 29, 2019, the Serbian army presented Russia's first ten upgraded armored reconnaissance and patrol vehicles, BRDM-2MS, in total, thirty. According to the information provided by the Serbian Ministry of Defense, the BRDM-2MS has a 150 horsepower diesel engine, which provides twice the power reserve of 1500 km. The BRDM-2MS crew consists of five members, namely a commander, a driver, a gunner and two scouts. Standard armor (14mm front, 7mm side) is reinforced with 20 additional 6mm panels, which increases ballistic protection to the 3rd level of STANAG 4569, and reportedly allows 7.62 and 12.7mm balls to be kept on all sides, and a 14.5-mm ball 300 meters across the forehead. A floor-mounted anti-breakage coating is installed to improve the protection against mines. The machine is armed with a 14.5 mm KPVT machine gun and 7.62 mm PKT. Weapons and sights are gyro stabilized and allow you to fire while driving. The fire control system includes a three-channel panoramic stabilized sight of the commander, which allows you to detect the target up to 5 km during the day and up to 3.5 km at night and to identify it in the day – up to 2.7 km, at night – up to 1.5 km with KPVT and PKT machine guns. In addition, there are six television cameras on the hull that allow the crew to observe during the visible part of the day, during rainfall and at dusk. Black and white is displayed on four multifunction panels. Also, 30 upgraded T-72B3 tanks will be handed over to the Serbian Army in the framework of military-technical assistance, and six MiG-29 fighter jets have already been transferred in 2017.
Slovakia to receive F-16 Viper fighters in two years
Lockheed Martin has received a $ 799.9 million contract from the US Defense Ministry to produce 14 F-16V Block 70/72 fighter jets for the Slovak Air Force under the Foreign Military Sales program. Under the agreement signed in December 2018, Slovakia for $ 1.8 billion will receive 12 single and two twin-engine F-16V (Viper) aircraft, related equipment and spare parts, aircraft ammunition, including 130 rockets and 170 guided bombs, two-year logistical support, training complex, as well as training of 22 pilots and 160 technical personnel. At the same time, an agreement on industrial cooperation was signed between the Slovak Ministry of Defense and Lockheed Martin Corporation, which aims to develop the aviation industry in Slovakia and the gradual transition to servicing aircraft by national defense companies. The first four F-16Vs are expected to arrive in 2022, the rest of the Viper by the end of 2023. US aircraft will replace 12 outdated MiG-29 fighter jets.
Dominic Raab on Twitter: "We welcome unwavering US support today, with the introduction of Chemical & Biological Weapons Sanctions in response to Russia's use of a deadly nerve agent in Salisbury. Continued global response shows we will not stand & watch these horrific weapons be used without consequences" / Twitter
New sanctions against Russia for poisoning of ex-spy, daughter
Former Russian double agent Sergei Skripal, who was granted amnesty by Great Britain in 2010, was dosed with Novichok, a deadly nerve agent, in the British town of Salisbury in March 2018. He and his daughter Yulia survived the attack, but a British civilian who was inadvertently exposed died.
U.S. announces more sanctions against Russia over poisoning of ex-spy
The U.S. announced a new round of sanctions against Russia over the alleged assassination attempt using a nerve against against former spy Sergei Skripal.
Russian Police Detain Opposition Activist Sobol Ahead Of Moscow Protest
A prominent Russian opposition activist was detained by police in Moscow on August 3 ahead of a planned protest to demand free elections in the Russian capital. Lyubov Sobol, who is currently on day 21 of a hunger strike, was detained in a taxi as she tried to make her way to the protest and was driven off in a police van. Moscow has recently seen protests after local authorities in July banned multiple opposition candidates — including Sobol — from running in a municipal election scheduled for September.
Sobol: 'Putin Is Killing Our Entire Country'
Current Time correspondent Timur Olevsky spoke to Russian opposition activist Lyubov Sobol on August 3, shortly before she was detained by police as she left her political headquarters in Moscow. Sobol, who is currently on day 21 of a hunger strike, was detained as she tried to make her way to the protest to demand free elections in Moscow.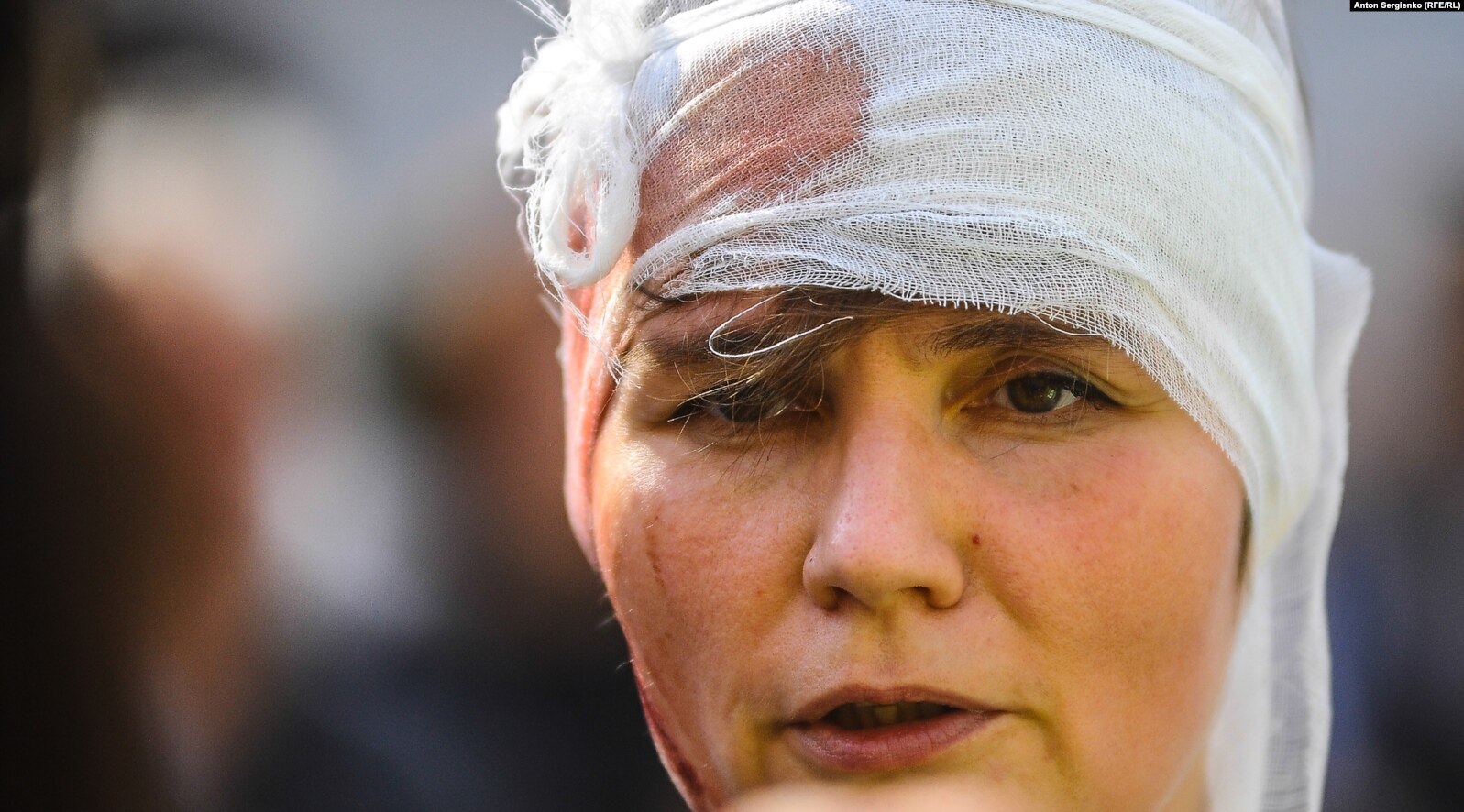 Russian opposition plans new protest despite over 1,000 arrests (Photos) – news world | UNIAN
Russia's anti-Kremlin opposition said it was planning a nationwide protest next weekend despite police forcibly detaining over 1,000 people on Saturday for attending what they said was an illegal march in Moscow to demand free elections. Saturday's protest, conceived by opposition activists as a peaceful walk to protest against the exclusion of their candidates from a Moscow election next month, was systematically and sometimes violently dispersed by police, Reuters said. OVD-Info, an independent monitoring group, said on Sunday that police had detained 1,001 people on Saturday, up from its earlier estimate of just over 800 people. Many but not all of those detained were later released by police, but OVD-Info said 19 were kept in custody overnight. Read alsoThe Economist: Moscow's protests inspired by thuggery of Kremlin It said some of those detained had their phones confiscated and had been denied access to a lawyer. Russian investigators had initiated a criminal case against one man, accusing him of injuring a police officer, the TASS news agency reported. Faced with a wave of summer protests, authorities have opened criminal proceedings for what they term mass civil unrest, an offence punishable with up to 15 years in jail. Although they have rejected protesters' complaints, they have said they'll allow protests in Moscow on Saturday and Sunday next weekend, albeit in a location away from the city center which the opposition has rejected in the past. Activists say the Russian constitution allows them to freely protest. But authorities say they need to agree the timing and location in advance, something that was not done ahead of Saturday's protest. The focus of protesters' anger is a prohibition on a number of opposition-minded candidates, some of whom are allies of anti-Kremlin opposition politician Alexei Navalny, from taking part in a September election for Moscow's city legislature. Read more on UNIAN: https://www.unian.info/world/10640157-russian-opposition-plans-new-protest-despite-over-1-000-arrests-photos.html
Protests in Moscow: Number of detainees exceeds 800 people
Saturday, August 3, security officials detained 828 people in Moscow
Moscow police make mass arrests in unauthorised demonstration | World | The Times
Police detained hundreds of protesters during an unauthorised opposition demonstration on the streets of Moscow today. Authorities also launched an anti-corruption probe into the leading Kremlin critic Alexei Navalny, who had encouraged the protests on his blog. Thousands of pro-democracy demonstrat
Another protest, another violent crackdown On the ground at Moscow's August 3 march for fair elections — Meduza
On August 3, the latest in a series of protests for fair elections took place in Moscow, with protesters demanding that opposition candidates be freed from jail and permitted to run for Moscow City Duma seats. The demonstration's organizers called on Moscow residents to march en masse along the city's Boulevard Ring. Most of the protesters gathered on Trubnaya Square and Pushkin Square, where police and National Guard troops immediately began to arrest them in large numbers. At least 800 people were violently forced into police vans and taken into custody. Preliminary reports indicate that more than 10 of those arrested were also injured. Here's what the protest looked like on the ground.
Hundreds of arrests, and a whole new felony investigation The results of Moscow's August 3 protests for free elections — Meduza
Police arrested more than 800 people in Moscow at demonstrations in support of free elections. Organizers structured the rally as a "mass stroll" along the city's Boulevard Ring. Hours before the event was supposed to begin, large numbers of police officers and National Guard troops patrolled the public squares along the route, stopping passersby to check their identification and inspect their bags.
Russia protests: Hundreds detained during unauthorised demonstration – BBC News
Fresh protests break out, despite warnings, over candidates being banned from running for election.
Moscow Police Detain Hundreds At Latest Election-Related Protest : NPR
Demonstrators have been demanding that opposition candidates be allowed to register in city elections. The entire city council is up for re-election in September.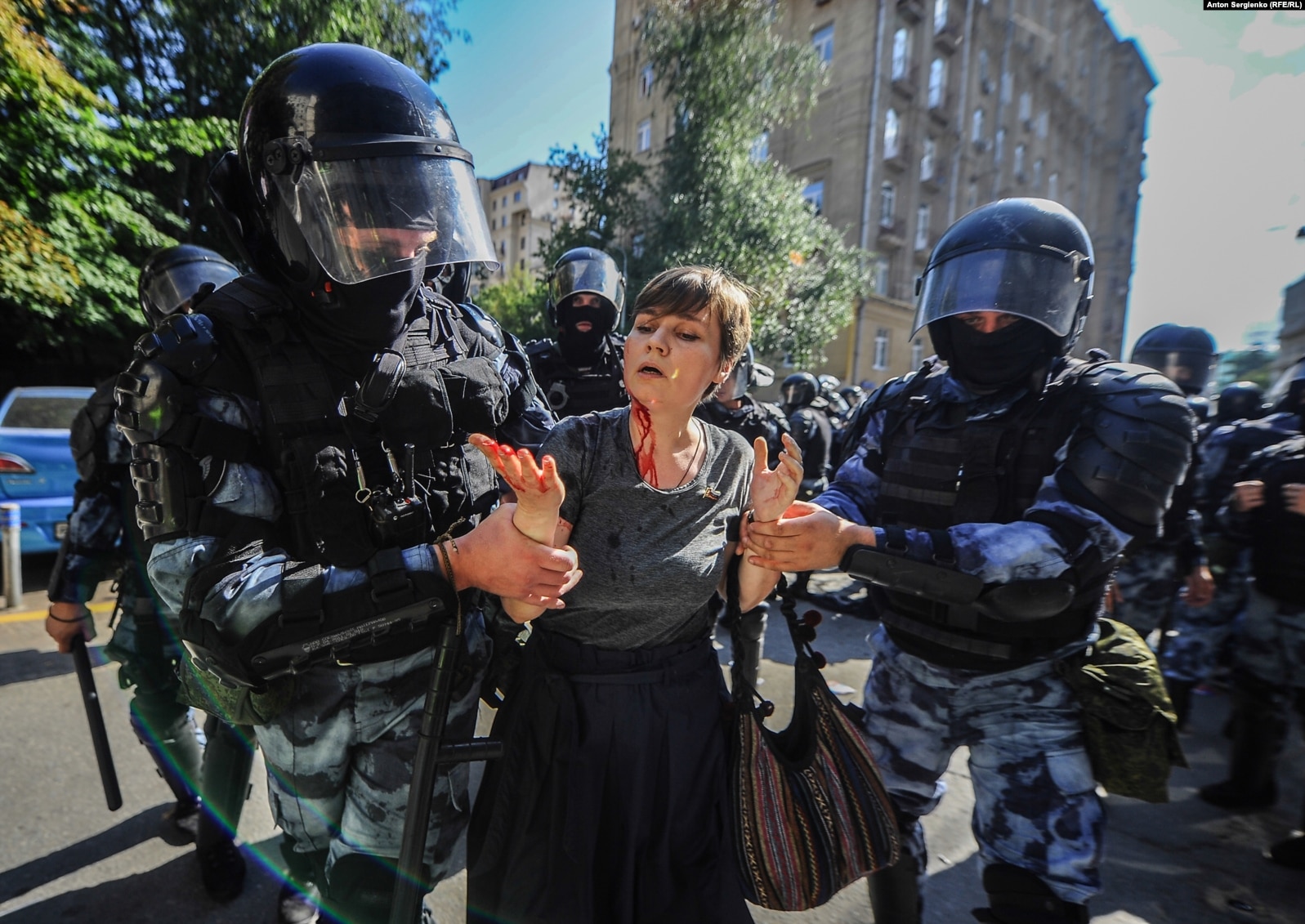 Police Detain Hundreds At Opposition Rally In Moscow
Hundreds of people were detained by riot police in Moscow on August 3, a week after a similar demonstration in the Russian capital ended in a police crackdown with more than 1,300 detained. A large number of riot police were deployed in the city after authorities warned they would "take all necessary measures to stop provocations" at the unsanctioned protest to demand free elections in Moscow.
Beatings And Arrests At Latest Moscow Protest
Riot police detained hundreds of people during a protest in Moscow against the exclusion of opposition candidates from local elections. The Russian capital has witnessed repeated demonstrations over the issue in recent weeks, with some 1,300 people being detained a week earlier.
Police Unleash Clubs, Beating And Detaining People In The Russian Capital
Police violently detained peaceful protesters and apparent bystanders in Moscow, heavily clubbing some before dragging them away. Hundreds were detained on August 3, a week after mass detentions and demonstrations in Moscow, which were also against the banning of multiple opposition candidates from running in a municipal election scheduled for September.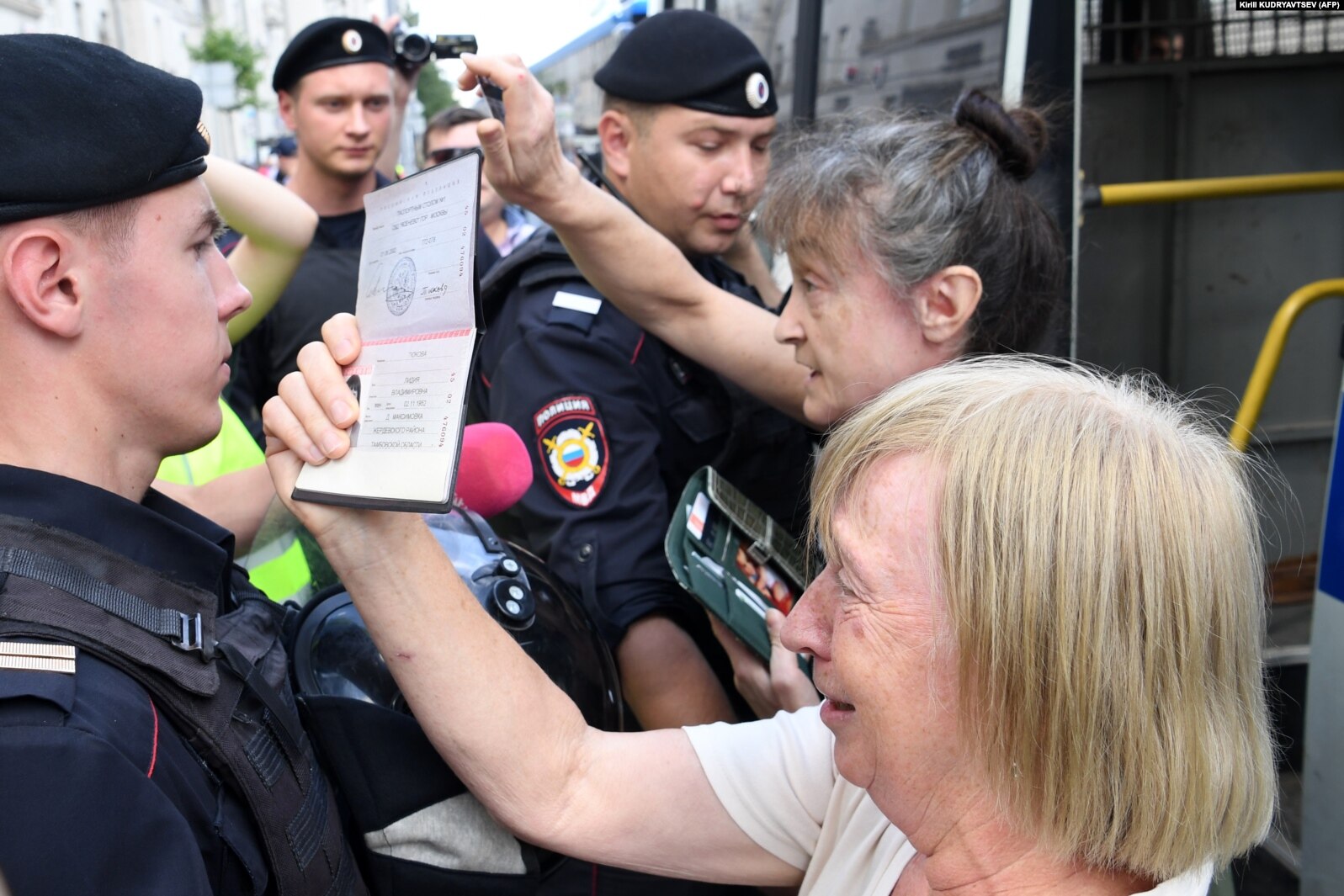 Hundreds Arrested in Moscow as Protests Pile Pressure on Putin – WSJ
Police detained hundreds of people at a protest in the Russian capital demanding fair elections, as a recent wave of public discontent in Russia showed few signs of abating.
Tyranny? Putin's National Guard Brings Out The Big Guns To Stop Russian Protestors
Wow..08/04/2019 9:32:00AM EST.
I Will Be Joining the Moscow Protests Today. Here's Why – The Moscow Times
Opinion | There will be many young people on the streets today. And at least one history professor.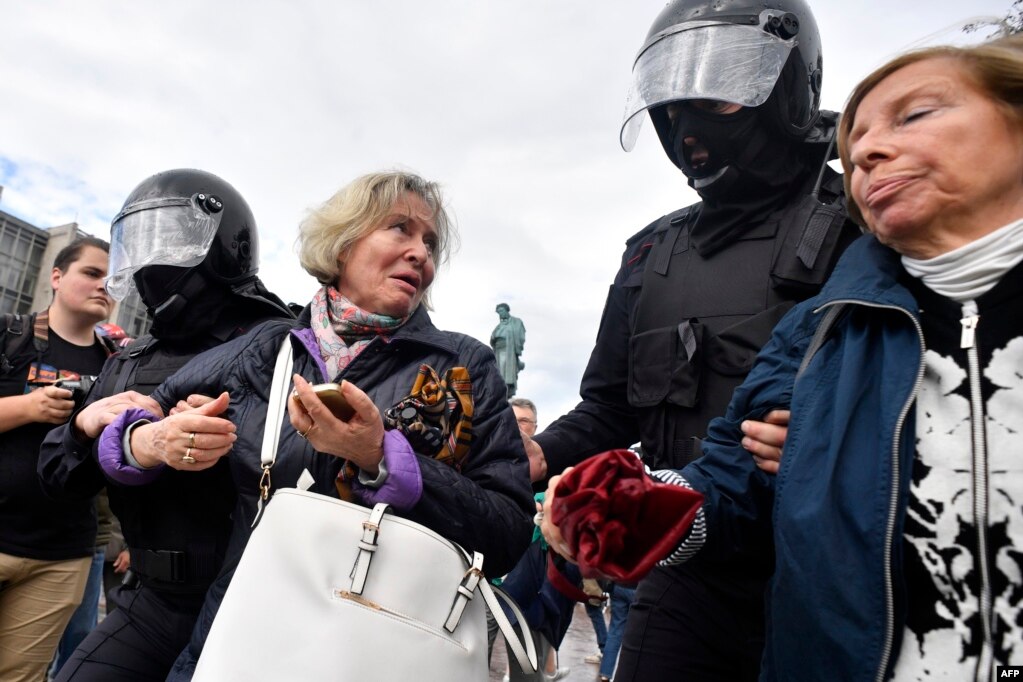 Four Minors Among People Detained at Unauthorised Event in Moscow – Ombudsman – Sputnik International
MOSCOW, (Sputnik) – Four minors have been detained during an unauthorised event in the Russian capital on Saturday and are currently being transported in a police van to an unknown destination, according to the ombudsman for children's rights in Moscow, Evgeniy Bunimovich.
The Kremlin Turns Up the Pressure on Protesters Demanding Fair Vote – The Moscow Times
Despite an ongoing crackdown, demonstrators gathered en masse in Russia's capital for a fourth straight weekend.
Russia Probes Alleged Money Laundering By Opposition Leader Navalny
Russian investigators say they have launched a money-laundering probe against jailed opposition leader Aleksei Navalny's Anti-Corruption Foundation, which has worked to expose Russian officials' …
'We were just walking home' How Moscow police violently arrested hundreds of protesters and bystanders on August 3 — Meduza
On August 3, demonstrators in Moscow protested for the fourth straight weekend, protesting against election officials' refusal to register dozens of independent candidates for the September City Duma race. For the second consecutive Saturday, the mayor's office refused to issue a permit for the rally, during which demonstrators marched along Boulevard Ring in the city's downtown. Police officers estimated that 1,500 people attended the march, 600 of whom were arrested, though arrest documents indicate that turnout was as high as 10,000 people. The human rights organization OVD-Info reported that precise data on the number of individuals arrested during the protest would only become available on the morning of August 4, but it is already clear that at least 700 people are currently in police detention, following the event. Among those arrested were opposition activist and candidate Lyubov Sobol, the husband of a member of Russia's ruling party, a man riding by on his bicycle, a group of foreigners, and hundreds of others.
Window on Eurasia — New Series: Only Real Federalism Can Save Russia from Disintegration, Jailed Bashkir Politician Says
Paul Goble Staunton, August 1 – Ayrat Dilmukhametov, a Bashkir opposition politician who has been in jail since March on charges that he has called into question Russia's territorial integrity and thus blocked from running for republic head, says that only way to prevent the country from coming apart is genuine federalism based on a new treaty among the federal subjects. In a letter from his cell to the IdelReal portal that effectively constitutes his political program, the Bashkir political figure outlines why he has reached that conclusion and describes how federalism would allow his Middle Volga republic to escape its current economic problems and become a flourishing place once again (idelreal.org/a/30081583.html). The reason that Russia and its component parts, including Bashkortostan, is in such difficulty, Dilmukhametov says, is its current hyper-centralized political and economic system which does not give free rein to the peoples to develop on their own and instead seeks to maximize the wealth of central elite by stealing from the population. To overcome this, he continues, federalism must be recreated "with the signing of a new federal treaty, the conclusion of a treaty between the new and genuine federal center and each subject of the federation that will delimit the powers of each" rather than as now allowing the center to do whatever it wants. He suggests that among the provisions of such treaties would be the restoration of the division of income between the center and the regions that existed in 1992, the exclusion of exporting abroad of the country's wealth, and the reinvestment in each region and republic of the money it makes. Dilmukhametov also proposes the creation of "a Bashkir civic nation, which will consist of the various ethnic groups living in the republic." While the Bashkir nation is the state-forming people, representatives of all others must have legal protections so that they will not be subject to any discrimination and will enjoy the right of self-determination. That arrangement will be possible, he argues, only if the citizens of Bashkortostan and other regions and republics recover the right to elect their own leaders rather than be subject to the whims of "mankurts" sent from Moscow who are quite prepared to play one ethnic group off against another in order to keep the regions weak and thus the center strong. According to Dilmuukhametov, "only real federalism and democracy will save Russia from disintegration and thus these measures are in the interest not only of Bashkortostan but of Russia as a whole." "Historically Russia has been built as a super-centralized, authoritarian state, but today only full-blown federalism and democracy will defend it from disintegration and separatism. And today … with the absolute support of the overwhelming majority of the people of Bashkortostan, we again offer to Russia the path of freedom, equality, peace and progress."
Window on Eurasia — New Series: Russia's Economic Crisis Delivers a Double Whammy to Kaliningraders
Paul Goble Staunton, August 1 – How people evaluate their changing economic situation depends on comparisons either with their own past or with how other people are doing. In the current economic crisis, most Russians can see that they are doing less well than they were five years ago and significantly less well that the Putin elite. But residents of Kaliningrad have an additional comparison, one that makes their assessment of the situation far more negative: they compare their status with two neighboring EU countries, Lithuania and Poland, and a third, Germany with which they have historical ties, none of which is under sanction and all of which are doing much better than Russia. Mikhail Feldman notes that "if there is a permanent crisis in the country, it isn't surprising that each of its regions experiences not the best times," an observation that is especially true of Kaliningrad where the standard of living is significantly behind what they can observe in their European neighbors" (region.expert/kenig_crimea/). The regional commentator traces the overall decline in the amount of exports and the level of production, factors that indirectly affect the population through wages, and then focuses on what he describes as "the negative trends" in consumption patterns involving declines in the amount and quality of foodstuffs. According to the oblast branch of Rosstat, Kaliningraders were on average each consuming 20 percent fewer kilograms of milk and milk products in 2017 than they were only three years later, a fall off from 280 kg per year to 224, and they were eating less meat, with a decline from 95 kg per year to 88. But that is only the tip of the iceberg of the problems that Moscow's counter-sanctions campaign have created. By reducing competition from the West, this policy has led to higher prices for those commodities under counter-sanction and, what is in many case worse, significantly lower quality. According to Russian consumer production agencies, Feldman says, more than a quarter of all milk products tested in Kaliningrad in 2018 did not meet federal standards. Many contained harmful bacteria and even chemical contaminants that threaten the health and wellbeing of consumers such as the remains of medicines. These agencies also found that in 28 percent of all their tests, Russian manufacturers now misstate the contents of what they are selling, advertising goods as containing one kind of meat but containing another, to give but one example of the falsifications that have become easier for Russian producers over the last five years. Clearly, Feldman says, Kaliningraders are worse off than they were and know it; and he points to one indication of this that Moscow may be pleased about. Because conditions in the oblast are much less good than they were, the Russian military is having far less difficulty meeting its draft quota there than it did. In 2014, he reports, there were 160 cases of draft avoidance reported. Last year, there were only eight.
Germany Condemns Moscow's 'Disproportionate' Use Of Force After Protesters Detained
Germany has criticized the detentions of more than 1,000 people at an unsanctioned demonstration in Moscow, saying they were "not proportional to the peaceful character" of the rally.
Margot Wallström on Twitter: "Demonstrations for free & democratic elections continue in Moscow. Again violence & detentions of hundreds of peaceful protesters. Russia must respect fundamental rights enshrined in its own constitution & allow opposition candidates to run for office." / Twitter
Zelensky says to meet with Trump in Washington in September – news politics | UNIAN
Ukrainian President Volodymyr Zelensky has said he will meet with U.S. President Donald Trump in Washington in September. On July 24, United States Chargé d'Affaires to Ukraine William Taylor said the date of the meeting had not been set yet.
Zelensky could meet with Trump in Washington in Sept
Ukrainian President Volodymyr Zelensky has said that his meeting with U.S. President Donald Trump in Washington is planned in September.
Zelensky plans to meet with Trump in Washington in September
The meeting between Trump and Zelensky is planned for September
UAWire – Kyiv: most of Donbas residents who received Russian passports have been identified
Most of the residents of the Donbas who received the Russia passports have already been identified, Ukrainian Chief Military Prosecutor Anatoly …
Severely ill Bekirov requires "immediate medical emergency care and appropriate treatment", – human rights organization
The human rights organization demanded to transfer Bekirov to the hospital for medical examination and care
Russian militaries conduct underwater expedition in occupied Crimea
Russian militaries and representatives of the searching movement are conducting the expedition Adzhymushkay-2019 in occupied Kerch. This was reported by Krym.Realii. As it is reported, during the first stage of the expidition the hydrographik survey vessel of the Black Sea Navy Fleet was involved due to which remains of planes and ships can be found. "Airacobra plane, the remains of the Il-2 attack plane and German F-334а invasion barge, Maria steamer were found out. The steam vessel was sunk as the result of a navigational accident in 1908. The part of the found artifacts was raised from the seabed to the ground," the message reads. It stands to mention that the second stage of the expedition will be holding since July 29 until August 13 in Kerch.
The Navy has worked to combat submarines
The Navy of the Armed Forces of Ukraine has completed tactical exercises to work out various scenarios of application in the course of ensuring the actions of the troops of the national fleet. About it reports ArmyInform The personnel of the 10th Naval Aviation Brigade, Mi-14PL and Ka-27PL anti-aircraft helicopters, as well as An-26 aircraft were attached to the exercise. The first task was performed by units of the battalion of communication and radio engineering. They entered the deployment area on an alarm and prepared an off-base airfield for acceptance of aircraft. The law services, for their part, have set up a full-fledged field camp with a command post, places for cooking and eating, as well as resting training personnel. Mi-14PL and Ka-27PL Marine Helicopters Loading of a land-based naval bomb to a counter-helicopter Anti-personnel training involved with the Marine Aviation Brigade During the week-long exercises, crews refined their flight training, worked out the elements of finding and providing emergency assistance and evacuation. The culmination of the military exercises was the search and tracking of enemy submarines by naval aircraft, followed by bombardment and torpedo strikes. While conducting aerial reconnaissance, the crew of the Ka-27 helicopter detected the enemy's whereabouts and, using a landmark naval bomb, designated the strike zone. A group of advanced aviation recruits advanced to Cape Ajiyask to work out elements of targeting and firing correction. Crews of anti-submarine helicopters and A-26 aircraft destroyed the conditional enemy.
Ukraine's Naval Air Force completes drills over Black Sea (Photo) – news ukraine | UNIAN
Ukraine's Naval Air Force has completed drills over the Black Sea. The crews of Mi-14 and Ka-27 helicopters, as well as An-26 aircraft were engaged in the drills.
Missileers are prepared on modern "virtual" simulators
The simulator, which is a virtual reality helmet with a built-in orientation system in space and a simulator launcher MANPADS, is used to train anti-aircraft gunners. In a few seconds to bring the complex into combat position, capture the air target and destroy – this is taught by cadets of the Faculty of Air Defense of the ground forces of the Ivan Kozhedub Kharkiv National Air Force University, reports ArmyInform . The use of such electronic simulators significantly reduces the cost of operator training, because in the initial stages of training it is not necessary to use expensive rockets, in particular, one real shot from MANPADS costs about 15 thousand hryvnias. MANPADS simulator with augmented (virtual) reality helmet As a result of the actions of the gunner, the program evaluates and reports errors, giving recommendations for further training. On the additional screen you can observe the air and ground conditions during the stages of preparation and shooting, as well as give a visual assessment of the result of the shot. MANPADS simulator with augmented (virtual) reality helmet – With the help of simulators, cadets are formed stable skills to perform all operations of combat work: detection and maintenance of air targets, determining the moment of launch. The software makes it possible to mimic the various conditions specific to modern types of combat, which greatly improves the efficiency of the technical and special training of future officers, – said Colonel Stanislav Kadubenko, Head of the Department.
One Ukraine soldier wounded in Donbas on Aug 3 as enemy mounts eight attacks amid truce – news war | UNIAN
One Ukrainian soldier was wounded in action in Donbas, eastern Ukraine, on Saturday, August 3, as Russia-led forces mounted eight attacks amid the ongoing ceasefire. Enemy forces have already mounted four attacks on Ukrainian positions since Sunday midnight.
Militants recently shell positions of Ukrainian marines in Azov area – JFO HQ
Illegal armed groups recently violated the ceasefire in the Azov area, shelling the positions of Ukrainian marines, the press center of the Joint Forces Operation (JFO) reported on Saturday on its Facebook page.
137 explosive items seized and neutralized over the week in Donbas
Pyrotechnic units of Joint Forces seized and neutralized 137 explosive objects im Donbas conflict zone within a week
National Guard of Ukraine, California could conduct joint exercises in training center in Kyiv region
A delegation of the California National Guard (the United States) headed by Major General David S. Baldwin has visited the training center of the National Guard of Ukraine in the settlement of Stare, Kyiv region, where it studied the center's capacities boosted in the past years, its educational and material base and development of infrastructure.
New Straits Times: Ukraine's Antonov receives offer to operate in Malaysia – news economics | UNIAN
Ukraine aircraft manufacturing and services company, Antonov, has received an offer to provide aircraft maintenance, repair and overhaul (MRO) services at the Kulim International Airport (KXP), Malaysia. In 2018, 11 aerospace projects with total investments of RM816.3 million were approved, generating 2,442 jobs.
The manufacturer of Varta MRAP collects feedback to improve the machine
The Director and Chief of Service of Ukrainian Armored Company LLC visited military units in the area of the Joint Forces operation to establish feedback. "They saw our equipment while operating in really difficult conditions and received a lot of important information. In the near future, we will introduce new technologies to improve our technology based on feedback received. We work further, "- wrote the facebook director Alexander Kuzma. He also noted that feedback from drivers, shooters, troopers, commanders who directly operate our equipment is always a priority for the company. " We are only people who are able to draw, create and produce. The real vision of the technology it should be, what functions it can perform, can only be given by the military, who use it in the course of their military service and protection of our country. We perform the function of their assistant, who is able to record, implement and implement everything. And it doesn't matter who will collect that feedback, whether it's a worker, a service manager, a production manager or directly a director.
KrAZ has shipped a batch of chassis for hardware communication machines
PJSC "AvtoKrAZ" shipped a batch of the KrAZ-63221 chassis to state-owned enterprise NVK "Impulse" for the creation of unified special SA-10U hardware machines on their basis. Special hardware unified, product SA-10U (adopted by the Armed Forces of Ukraine in 2016) – a specially-equipped body van on the KrAZ-63221-0000059-02 automobile base, intended for placement, round-the-clock work and rest of personnel. The van body can be equipped for mounting various communication systems such as radio relay, tropospheric, space, radio communications for use in the field. The KrAZ-63221 car formula of the 6×6 wheel formula, is equipped with a six-cylinder diesel engine with turbocharged Weichai Power WP10.380, with a working volume of 9.7 l, with a power of 380 hp. (similar to those fitted to Bogdan-6317 trucks), a nine-speed manual transmission and a hydraulic power steering. The SA-10U car also provides comfortable conditions for the crew, for this purpose the machine is equipped with a household compartment with sleeping cities, heating systems, air conditioning, internal communication, 220V generator equipment.
UAWire – Ukrainian Defense Ministry receives seized Russian surface-to-air missile system
The Security Service of Ukraine (SBU) together with the Main Military Prosecutor's Office, Ukraine's national defense corporation …
An aircraft carrier killer that didn't kill anyone: the history of a cruiser
History of the fourth Atlanta 1164 missile cruiser, NATO classification – Slava class, trans. No. 2011 (formerly "Ukraine", "Halychyna", and earlier "Admiral of the Fleet Lobov"). Timeline of disgrace April 20, 1972 – the commission at the RM of the USSR decides on the beginning of the project development. October 1972 – A tactical and technical assignment for a sketch project was issued to the North PKB. August 21, 1974 – Technical design completed. October 4, 1976 – Bookmark the main ship – the cruiser "Glory" (factory number 2008). 1976–1989 – construction of the first three ships of the project at the Mykolayiv Shipyard. In total, it was planned to build 10 cruisers of Project 1164, then reduced the program to six, but only 4 cruisers of this type were laid: in 1976, 1978, 1979 and 1984 the Fifth and Sixth Corps were not laid, although the first sections were made for them. The main ship was commissioned in 1982, the second in 1986, the third in 1989. August 11, 1990 – The fourth cruiser of project 1164 "Admiral of the Fleet of the Soviet Union Lobov" is launched. October 1, 1993 – Admiral of the Navy Lobov cruiser transferred to the Ukrainian Navy. The ship's readiness was 75%; at first the cruiser was to be named "Halychyna", but later the name was changed to "Ukraine". December 17, 1993 – The Chairman of The Verkhovna Rada of Ukraine, Ivan Plyushch, signs Resolution No. 3731-XII on the designation of the rocket cruiser the name "Ukraine". " To assign the name "Ukraine" to the flagship of the Naval Forces of Ukraine – rocket cruiser (project 1164, factory N 2011), which is being built at the production association "Shipbuilding plant named after 61 Communards" (Mykolaiv). The beginning of 1994 – the formation of the ship's team, minor works on completion. End of 1994 – termination of work and dissolution of the team due to lack of funds. Options for selling or completing a ship in the interests of other countries are being considered. February 1, 1996 – The Verkhovna Rada, by Resolution No. 149, approves the draft Agreement between the Government of Ukraine and the Government of the Russian Federation on the completion of Project 1164 rocket cruiser, plant number 2011, and authorizes Deputy Prime Minister Anatoly Kinakh to sign on behalf of the Government of Ukraine after completion of the negotiations and reaching agreements. February 17, 1998 – President of Ukraine Leonid Kuchma decides to resume shipbuilding work for the Ukrainian Navy. A new team has been formed. End of 1998 – team dissolution, 95% shutdown and canning. 2004 – development of plans for transformation of LCD "Ukraine" into a floating museum. 2005 – at the talks of the Ministers of Defense of Ukraine and the Russian Federation in Moscow, it was decided not to finish the cruiser due to the absence of the Navy of the states. 2010 – Regular negotiations on the purchase of a cruiser by the Russian Federation for the purpose of receiving funds for the domestic naval program "Corvette". In May 2010, President of Ukraine Viktor Yanukovych, following a meeting with Russian President Dmitry Medvedev, announced that Russia would complete a rocket cruiser for the Russian Navy. July 6, 2010 – The Verkhovna Rada repeals Resolution No. 2427-VI of 1993 on the name of the cruiser "Ukraine". " To declare that the decree of the Verkhovna Rada of Ukraine of December 17, 1993 "On assigning the name" Ukraine "to a rocket cruiser (project 1164, factory N 2011)" (Verkhovna Rada of Ukraine, 1993, N 52, Art. 493 ). 2014 – The Ministry of Defense of Ukraine re-examines the possibility of completing the cruiser and decides on its impracticality. sheet MOU Trainer February 8, 2016 – petition on the website of the President of Ukraine requesting the completion of a rocket cruiser. March 24, 2017 – First Deputy Chairman of the Mykolayiv Oblast State Administration Vyacheslav Bony at a meeting of MSZ employees reported that a decree of the President of Ukraine Petro Poroshenko on the demilitarization of the ship was issued. July 24, 2017 – notification of the decision to sell the ship for scrap due to the inappropriateness of its completion. 2018 – the inclusion of the cruiser in the offset package of the consortium's tender offer under the Ukrainian SNEF "UKRINMASH" and the French THALLES in the tender for the construction of four Tamandaré class corvettes in the interests of the Brazilian Navy. In October, a Ukrainian-French consortium withdraws from a Brazilian tender. July 2019 – Director of Mykolaiv Shipyard reports that President of Ukraine Volodymyr Zelensky, after his visit to Mykolayiv, has signed an order for demilitarization of an unfinished cruiser and it will start in the near future and will take two to three years. The dismantled equipment and armaments of the demilitarization project are to be transferred to the Ukrainian Navy. Today the ship is in conservation in a rather good technical condition, which can be seen in a video from Defense Express. " Many say that the missile cruiser of the project 1164, standing in Nikolaev is rusty … It does make a bit of an impression of rusty, but mostly this impression is created through a protective layer of soil, which is applied to the housing, and most of the housing is not subject to corrosion at all, because made of aluminum-magnesium alloy … See more in this video. Valery Ryabych, Director of Defense Express Development
Servant of the People Party to nominate its head for parliament speaker – news politics | UNIAN
The Servant of the People Party will nominate its head Dmytro Razumkov for the post of parliament speaker. The party will also nominate Ruslan Stefanchuk for the post of deputy parliament speaker.