Anonymous expert compilation, analysis, and reporting.
</end editorial>
---
---
A not so subtle message to Tehran – AF deploys an understrength SQN of F-22 to Qatar. It is an IADS busting Weasel by design. Not an iota of commentary from Tehran on this as yet.
War powers debate in Senate sees status quo remain, increasing uncertainty for Tehran.
US diplomats lambast Europeans over Iran support. Europe continues its appeasement game. Tehran attacks Europeans saying they are not trying hard enough, and breaches agreement on Uranium refinement.
Iran's public complains about economy in free-fall.
Arguments for regime change.
Related – Indications RPV attacks on Saudi pipelines were launched from inside Iraq putting the blame firmly on IRGC or proxies. Syrian AF missileers (probably Russian mercs or VKS PVO det) shoot an SA-5B GAMMON round at an Israeli jet, miss the target, the auto destruct fails, and the round flies all the way to Cyprus, skims rooftops over the capital, and triggers its prox fuse over a nearby nature park. They came close to repeating Khaddafi's missileer feat of 1986 setting off SAMs by flying so low over city rooftoops the prox fuses triggered.
---
US AFCENT on Twitter: "F-22s #deployed to #Qatar for the first time in order to defend American forces and interests in the @CENTCOM area of responsibility. https://t.co/7aGBztTGKe #AirForce #USAF #Aviation #F22 #Raptor @DeptofDefense @usairforce @grandslamwing… https://t.co/xxaZe1mK9M"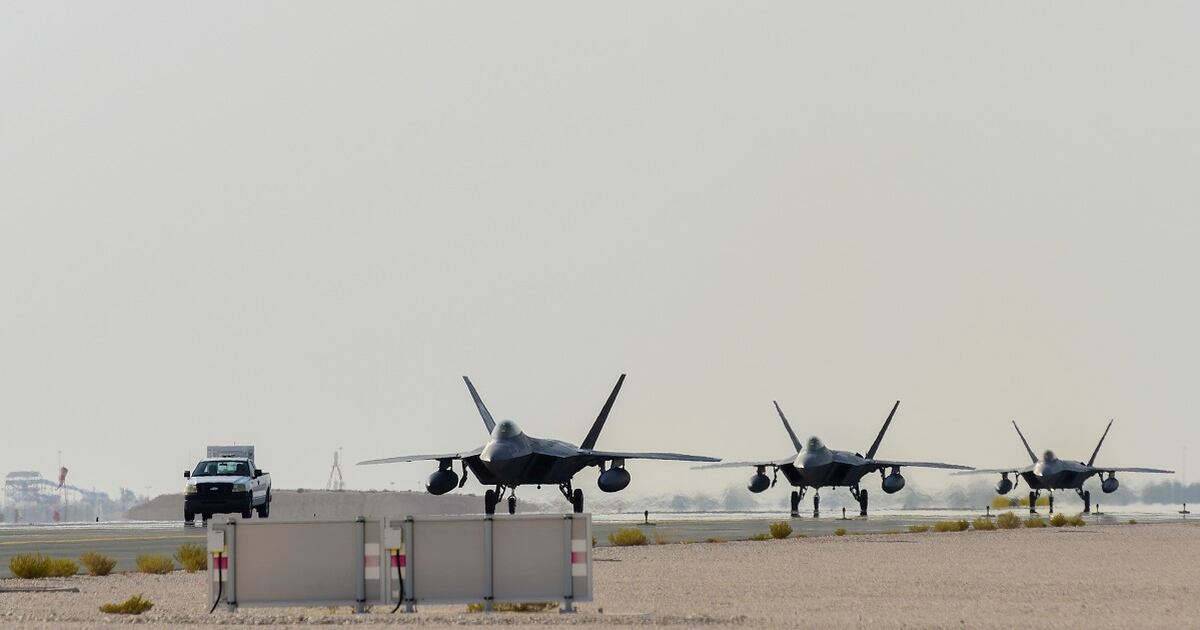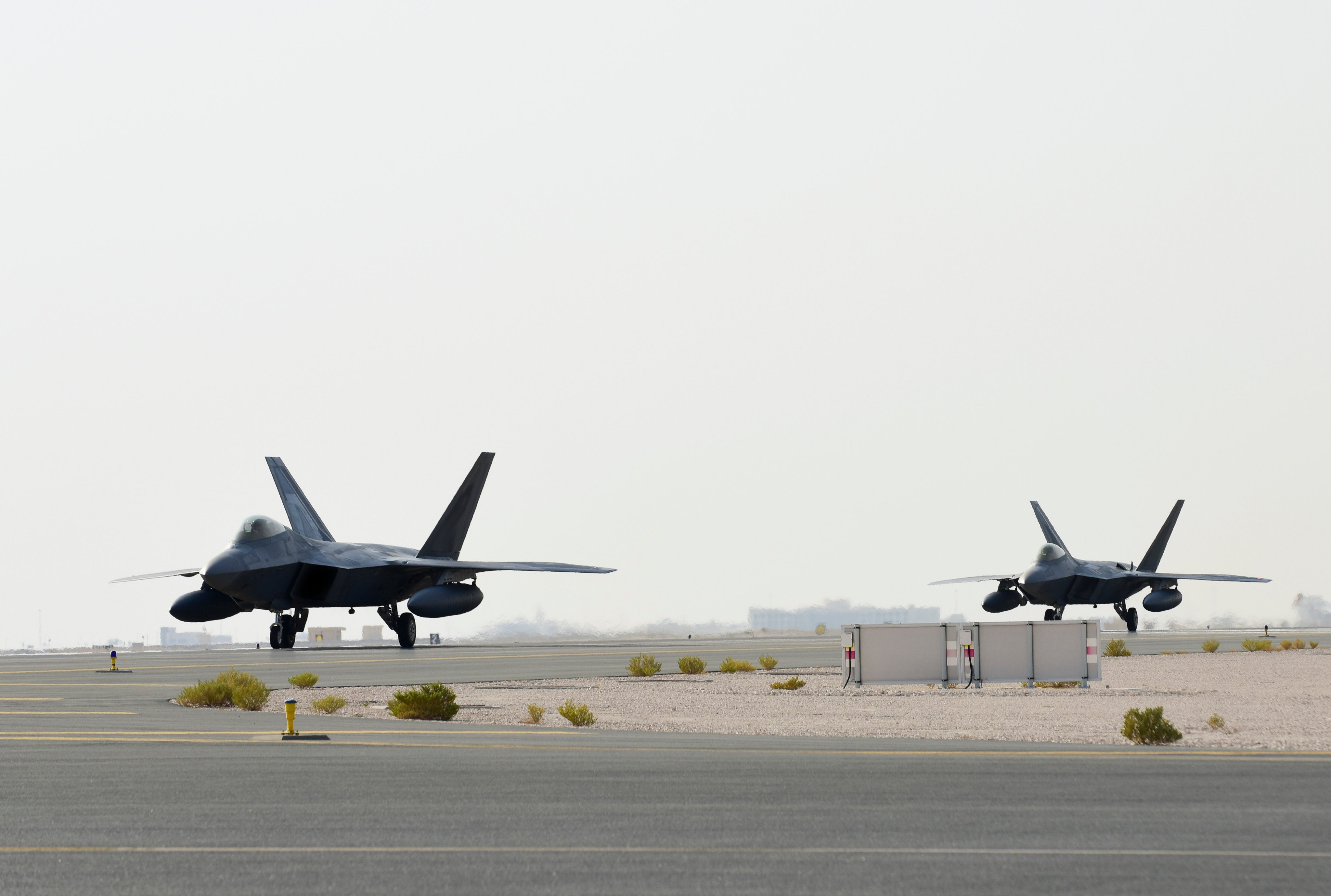 Raptors sent to Gulf amid Iran tensions
Nearly a dozen Air Force F-22 stealth fighters have deployed to the Persian Gulf state of Qatar, part of a force buildup requested by U.S. Central Command in May in response to what it called heightened Iranian threats against American forces in the region.
Pentagon deploys Raptors to Qatar amid Iran tensions – Middle East – Stripes
The fighter jets were part of a previously announced deployment of new forces into the Middle East, aimed at bolstering the ability of the United States to protect its forces throughout the region, especially in Iraq and Syria.
US sends F-22 to fighters to Middle East amid tensions with Iran – CNNPolitics
The United States Air Force has dispatched top-of-the-line F-22 stealth fighters to Qatar for the first time as it beefs up its forces in the Middle East amid escalating tensions with Iran.
Air Force fighter planes sent to Persian Gulf amid heightened tensions with Iran | Fox News
The military deployed nearly a dozen Air Force fighter jets to the Persian Gulf state of Qatar amid escalating tensions with Iran and threats against American forces in the region.
F-22 Raptors Deploy To Qatar For The First Time Ever Amid Iran Tensions – The Drive
The U.S. Air Force has deployed a contingent of F-22 Raptor stealth fighters to Al Udeid Air Base in Qatar for the first time ever. This comes just over a week after the Iranians shot down a U.S. Navy RQ-4A Broad Area Maritime Surveillance-Demonstrator drone, or BAMS-D, flying over the Gulf of Oman
US Air Force F-22 stealth fighters have returned to the Middle East amid a tense standoff with Iran | Business Insider
US F-22 stealth fighters have returned to the Middle East to "defend American forces and interests" at a time of high tension with Iran, although it is unclear whether the advanced air-superiority fighters have been deployed as part of the ongoing deterrence mission or for some other purpose.
US deploys F-22 stealth fighters to Qatar amid Iran tensions | USA News | Al Jazeera
F-22 fighter jets deployed to Qatar for the first time, US military says, adding to buildup of US forces in the Gulf.
Trump deploys F-22 Raptor stealth fighters to the Middle East amid tensions with Iran | Daily Mail Online
The Air Force arm of U.S. Central Command said the F-22 Raptors arrived this week at al-Udeid air base, a hub for U.S. forces which is in gas-rich Qatar, to 'defend American forces and interests.'
US deploys stealth fighters to Qatar airbase amid Iran tensions | The Times of Israel
Following downing of drone and tanker attacks, Air Force says F-22s have been sent to Persian Gulf 'to defend American forces and interests'
Senate shoots down attempt to curb Trump's Iran war powers
The Senate's Republican majority defeated a war authorization measure Friday meant to bar President Donald Trump from launching a military strike against Iran without Congress's permission.
Senate rejects Iran war powers amendment – POLITICO
Still, Senate Democrats contended that Friday's vote<b> </b>sent a strong message to Trump.
The Senate just failed to reclaim its war powers, giving Trump unlimited power to bomb Iran
Senators are ready to pack their bags and head out of town before the hot, swampy weather in Washington gets any more unbearable. But of course, not before they humiliate themselves and let down their constituents one last time — by voting down an amendment that would have prevented an unauthorized and unconstitutional war with Iran, as they did on Friday.
Half the Senate to Trump: Don't abuse war powers against Iran – The Washington Post
The next president will really have to put an end to these abuses.
Senate Rejects Curb on Trump's Authority to Strike Iran – The New York Times
The Senate shot down a measure that would have required President Trump to seek Congress's approval before launching an offensive military strike on Iran.
Senate fails to approve Iran resolution, after longest vote in chamber's history | Fox News
The Senate on Friday, after a record-breaking 10-hour vote, failed to approve a resolution that would require President Trump to get congressional approval before ordering a military intervention in Iran.
Deroy Murdock: US-led force should guard ships to deter Iranian attacks | Fox News
Such a naval convoy would display U.S. power without actually drawing blood.
At NATO Meeting, Pentagon's New Leader Issues Call to Counter Iran – WSJ
Acting Secretary of Defense Mark Esper urged North Atlantic Treaty Organization allies on Thursday to join the U.S. in countering what he called Iran's malign activities in the Persian Gulf, in a first outing on the world stage for the former industry executive-turned-Pentagon chief.
U.S. tells Europe: It's us or Iran, amid last-ditched effort to save deal – The Washington Post
A U.S. official defined the choice as European officials met to discuss the beleaguered nuclear deal.
Iranians describe hardships as Trump expands sanctions – The Washington Post
In interviews, many appear to blame the United States as well as their own government for the economic crisis.
Ball in Europe's court on nuclear deal's future: Iranian state TV – Reuters
It is up to Europe to shield Iran from U.S. sanctions and prevent it from further scaling back its compliance with its 2015 nuclear agreement with world powers, Iranian state TV said on Saturday, with only days left on Tehran's ultimatum.
Europe Circumvents U.S. Sanctions On Iran
Three EU governments have created an SPV which would enable companies to trade with Iran without breaking sanctions.
Europe Plans No Immediate Sanctions if Iran Breaches Nuclear Deal – WSJ
Europe has no immediate plans to follow the U.S. and impose sanctions on Iran, even if the regime in Tehran makes good on its threat and breaches a nuclear accord President Trump pulled out from last year, French President Emmanuel Macron said.
Iran may stand down on nuclear threat after Europe, China work to bypass US sanctions – ABC News
Iran may stand down on nuclear threat after Europe, China work to bypass U.S. sanctions
Iran says European efforts to salvage nuclear deal are not enough
European officials came up with a trading vehicle to help Iran get some relief from U.S. sanctions, but Tehran may see the proposal as insufficient.
World War 3: Iran confronts Donald Trump and US with uranium nuclear stockpile increase | World | News | Express.co.uk
FEARS of open conflict in the Middle East surged after Iran indicated it could violate the 2015 nuclear deal it agreed by stockpiling more than 300kg of enriched uranium.
Iran to soon exceed enriched uranium limit under nuclear pact: Fars news agency – Reuters
Iran will soon exceed an enriched uranium limit under its nuclear deal, after remaining signatories to the pact fell short of Tehran's demands to be shielded from U.S. sanctions, the semi-official Fars news agency cited an "informed source" as saying.
Iran Could Soon Surpass Uranium Stockpile Limit, Despite European Efforts to Ease Tensions: Report
An attempt by the European Union to keep Iran in compliance with a 2015 nuclear deal may have fallen short.
Iran nuclear deal: Why does the enriched uranium stockpile matter? – BBC News
Iran has broken limits it agreed to on its enriched uranium stockpile – but why does this matter?
Iran just breached a limit on its nuclear fuel stockpile which it was meant to observe for another 11 years under Obama-era nuclear deal | Business Insider
Iran surpasses uranium stockpile limit set by nuclear deal, state media says | Fox News
Iran has exceeded the threshold for the Islamic Republic's low-enriched uranium stockpile agreed upon in the 2015 nuclear deal, state media reported Monday.
Iran Has Breached Critical Limit on Nuclear Fuel Under 2015 Pact, State Media Reports – The New York Times
The violation does not by itself give the country enough to produce a nuclear weapon, but it signals Iran may be willing to abandon the limits of the pact.
Iran breaches 2015 nuclear deal's stockpile limit: Sources
Iran has breached the limit of its enriched uranium stockpile set in a 2015 deal with major powers, Foreign Minister Mohammad Javad Zarif said.
Trump sanctions on Iranian foreign minister could expose the real face of the country's 'charmer-in-chief'
The Trump administration is expected to sanction Iran's foreign minister, Mohammad Javad Zarif, any day now, and the announcement could offer a rare glimpse into the internal dealings of the country's most traveled official. Treasury Secretary Steven Mnuchin told reporters this week that the administration plans to target Zarif as part of a new round of sanctions on Iranian leadership. The announcement followed President Trump's executive order Monday sanctioning Iran's Supreme Leader Ali Khamenei and his associates. "The actions by the United States over the past few weeks have been confrontational, provocative," Zarif told CNN afterwards. "Particularly the imposition of sanctions on Iranian leadership has been an additional insult by the United States against the entire Iranian nation." Zarif is widely considered one of the moderates in Iran's government, along with President Hassan Rouhani. While many of Iran's officials are elected, they are ultimately subordinate to Khamenei, and no one can run for office in the country without his approval. Some experts claim a rift exists between Khamenei's hardliners and Rouhani's moderates, though Jonathan Schanzer, senior vice president of research for the Foundation for Defense of Democracies, told the Washington Examiner new sanctions against Zarif could put that theory in doubt. "[W]hen we impose sanctions on individuals or companies, or even sectors of a given economy, there is an accompanying explanatory note that Treasury releases," said Schanzer, a former Treasury Department analyst. "And those statements, unbeknownst to most people, are derived from declassified intelligence." That declassified intelligence could give the world its first glimpse into Zarif's financial connections in Iran, including any ties to hard-line elements within the government. Iranian leaders are known to use charitable foundations known as bonyads to conceal massive financial empires. While it is unclear whether Zarif has connections to any of these entities, sanctions against him could reveal such dealings, according to Schanzer. "There's sort of a risk-reward calculus for publishing this information, but at the end of the day, if there is derogatory information about him, beyond just simply representing the government of Iran, it will be fascinating to see it," Schanzer said. Zarif, 59, has become the face of the Iranian government in the West, particularly since the nuclear deal was signed in 2015. He speaks fluent English and received a doctoral degree from the University of Denver, the alma mater of former secretary of state Condoleezza Rice. Zarif's frequent media appearances and diplomatic disposition earned him the sarcastic title of Iran's "charmer-in-chief."
For Regime Change in Iran | National Review
The current impediment to cordial relations, and the reason nuclear weapons would be intolerable, is the regime. It is one of the world's most despicable governments, and it is incorrigibly anti-American.
Andrew McCarthy: US goal in Iran should be regime change | Fox News
Increasingly a pariah, Iran has seen its oil and gas export revenues shrivel and its economy contract.
Opinion | Trump's Iran Strategy Will Fail. Here's Why. – The New York Times
'Maximum pressure' will only strengthen the Revolutionary Guards, which has recast itself as the defender of a new, nationalist narrative.
'Stray Syrian anti-aircraft missile' hits northern Cyprus – BBC News
Officials say the missile was apparently launched during suspected Israeli air strikes on Syria.
Errant missile from Syria-Israel clash lands on Cyprus – Reuters
An errant missile struck Cyprus early on Monday, skimming the densely populated capital Nicosia and crashing on a mountainside in what authorities described as a spillover from strikes between Israel and Syria.
'Russian-made missile' crashes into northern Cyprus | Cyprus News | Al Jazeera
Turkish Cypriot official says Syrian anti-aircraft missile that missed its target struck northern Cyprus.
Out-of-control 'Syrian missile' EXPLODES in Cyprus nature park – sparking fears for Brit holidaymakers – The Sun
Cyprus 'UFO' crash: Mystery object 'carrying explosives' linked to Israel strike on Syria | World | News | Express.co.uk
AN unidentified flying object has crashed north of the Cypriot capital in Nicosia, officials confirmed.
U.S.: Saudi Pipeline Attacks Originated From Iraq – WSJ
U.S. officials have concluded that drone attacks on Saudi Arabia's oil industry in May were launched from Iraq, not Yemen, raising concerns that Iran's allies in the region are trying to open a new front in the conflict between Tehran and Washington.
US says Saudi pipeline attacks originated in Iraq: Report | USA News | Al Jazeera
US officials familiar with the intelligence on May drone attacks say they originated in Iraq, not Yemen, WSJ reports.