Anonymous expert compilation, analysis, and reporting.
Single point of failure in Dzerzhinsk factory explosion.  Sole source of Russian manufacturing RDX and HMX fillers for munitions lost. 
US and UK acquired Russian Tu-160M2 Blackjack upgrade secrets, read how.
Russia forced  to draft recruits to reach manning goals. 
Indian will no longer acquire Russian Air to Air Missiles as key components and upgrade sources are in Ukraine. Will India deal directly with Ukraine?  That could mark a strategic shift.
The people of Ukraine have spoken, they tore down a bust of USSR Marshall Zhukov in Kharkiv?  Want to see where the pro-Russians are, see their response? Kharkiv Mayor Kernes: Monument to Zhukov will be restored The mayor actually has a difficult job balancing between Ukraine and pro-Russia folks.  For the sake of security and stability, however, Ukraine should stomp on that statue and that statement… 
  </end editorial>
---
---
The Vozhd on AI: "If someone could guarantee themselves a monopoly in the area of artificial intelligence, the consequences are clear to us all – they would become the world ruler". Su-57E update. Curious report that the UK compromised the Tu-160M2 BLACKJACK EWSP and other upgrades. Interesting report by Golts on Russia's collapsing recruitment demographic, and return to Soviet style conscription to reach manning targets. More on Russia's descent. Soviet version of the Molotov-Ribbentrop Pact protocols published, denying Stalin cult denialists excuses. Dzerzhinsk factory explosion more serious than initially reported – Ukrainian sources say it is the only plant in Russia manufacturing RDX and HMX fillers for munitions. NATO/EU updates.
Sen Portman tweets on Ukraine. Media on HR.3047. Portnikov urges Ze to follow Latvian president Levits and declare Ukraine part of the West, not the East or something in between. IR and Crimea updates.
Donbas updates, and some analyses by Euromaidan. Industry update – India to dump Russian AAMs, notably key components and upgrades no longer available to Russia as Arsenal, Artem and Luch are in Kyiv.
Politics updates – Marshal Zhukov in Kharkiv decommunized. OCU and Romania updates. ROC woes.
---
UAWire – Putin explains how Russia can dominate the world
Russian President Vladimir Putin recently explained what he believes is necessary to rule the world. "If someone could guarantee themselves a monopoly in the area of artificial intelligence, the consequences are clear to us all – they would become the world ruler," the TASS news agency cited Putin as saying. The Russian president remarked that the fight for technological superiority, including in the field of AI, has already become a field for global competition. "The speed at which new products and solutions are created is growing exponentially," he observed. Putin noted that many countries have already chosen their strategies concerning AI. "We too, of course, must ensure our technological sovereignty in the AI field," he said, adding that it is the most important condition for the success of Russia's business, economy, security, defensive capability and quality of human life. In 2017 Putin said that developing AI would not only open up new opportunities, but also create new threats. At the time, he said that if Russia became the leader in this field, it would "share it with the whole world", just as nuclear technology has been shared. Russian Prime Minister Dmitry Medvedev wrote in his article titled "Russia 2024: Socio-economic Development Strategy" that soon history could be divided into "before AI" and "after AI". He also remarked that the changes brought about by telecommunications technologies are to some extent comparable to the collapse of the Soviet Union in their intensity.
Why Is Russia Turning Its Su-57 Stealth Fighter Into A Ship-Killer? | The National Interest
We can tell you.
Russia's Su-57 fighter program – it's worth following – Russia Military Analysis
If you're not following the Su-57 because you rightfully believed that Russia was not going to procure these aircraft in sizable numbers, that the program was in limbo, or that this aircraft's potential didn't add up to much, now is a good time to take a second look. I think a fair bit of commentary…
British spies smuggled secrets about Putin's supersonic bomber in pilots' box of loose leaf tea | Daily Mail Online
The audacious plot was hatched to steal secrets about multi-million pound upgrades to Russia's supersonic TU-160 Blackjack bombers. A source within Russia planted the plans at the bottom of a box of loose tea. It was carried unwittingly by Russian pilots to Venezuela where an agent pick. ed up the discarded box The information has helped Western forces identify vulnerabilities in the planes.
Window on Eurasia — New Series: Moscow Returning to Soviet Concept of Mass Mobilization Army, Golts Says
Paul Goble Staunton, June 1 – New rules giving Russian draft agencies the power to medical deferments two times a year and imposing higher fines on those who do not show up when called reflect a much broader and more serious change at the defense ministry, Aleksandr Golts says — the return of Soviet conceptions of mass mobilization. At present, the independent military commentator says, some 30 percent of the draft-age cohort are deferred because of health. Vladimir Putin has regularly told young people this isn't a problem because the army is increasingly staffed by professionals. But that isn't the case, Golts says (openmedia.io/exclusive/zachem-vlasti-uzhestochayut-pravila-prizyva-v-armiyu/). The defense ministry's new initiatives, all of which are certain to cause chaos in the draft process and open more opportunities for corruption, reflect that fact. If contract or professional soldiers were really displacing draftees, there would be no need for the military to pursue as any young men as it is currently trying to do. It is true that the draft numbers have declined in recent years, but officials give various figures for the number of new professional soldiers. Not only can't they agree on any one figure, but even the highest is significantly less than the one the defense ministry has set for 2019, 425,000. Indeed, the military is having difficulty holding the professionals. There are two reasons for this shift back to a focus on draftees, Golts continues. First of all, there are ever fewer young men from whom the military can draft. Until 2030, he says, the number of men reaching age 18 will not exceed 650,000. More than half of those are students, and the rest aren't numerous enough to fill the new units Putin has called for. "Demography also has an impact on why the number of professionals isn't growing." Their ranks come almost exclusively from those who have passed through draft service. And so when there are fewer draftees available, there are almost certain to be fewer professionals as well. And second, the Russian military is planning for a dramatic expansion as the country heads into a new Cold War. For commanders, that means setting up large numbers of units staffed mostly by officers that can be expanded if war approaches by drawing on those who have had military training, that is, on former draftees who have served. That represents a return to "the Soviet conception of the mass mobilization army. This is when 80 percent of the units are not fully staffed," Golts says. But for that to work, the country needs "the so-called 'mobilized reserve,'" which is to consist of those who have had military training when they were drafted. Consequently, the military commentator says, despite all the talk about moves to a professional military, Moscow is returning to the draft-based conception of the Soviet one, an arrangement certain to be unpopular with many young people and their parents and that may not be possible at all given the country's demographic collapse.
Window on Eurasia — New Series: Kremlin Planning to Avoid Transition of Power, Not to Arrange It, Shklyarov Says
Paul Goble Staunton, May 31 – There are at least two reasons why the Kremlin is working to avoid any transition of power from Vladimir Putin to someone else, Vitaly Shklyarov says, making all the discussion among the Russian commentariat and beyond "a waste of time" and a distraction from what is going on. The first of these is the more obvious, the New Times commentator says. Putin has concentrated power in his hands far more than was the case in 2008, and thus a repeat of any "tandem" relationship is "an absolutely unrealistic scenario" now or at any time in the future (newtimes.ru/articles/detail/181230). In 2008, Putin was extremely popular and everyone expected his return after four years. "Now, the situation is different." Not only is Putin increasingly unpopular, but "even if one assumes that in 2024, Putin will again leave the post of president … then it is obvious that already no one will expect his return in 2030 when he would be 78 years old." Any of the scenarios analysts have come up with for such an arrangement – having Putin retain power behind the scenes in the Kazakhstan model or creating a new union state, to name but two – presuppose creating "within the Russian system of power, even if only temporarily – a second center of power." In 2008, the system could cope with that, Shklyarov says; "but that was another Russia with another economy. The country's political and economic system is far more corrupt and ineffective now than it was then, and there is no reason to think that this trend will change over the next five years. "Already now," he continues, "a large part of the most important decisions are taken in a hands' on way by Putin himself, not infrequently without sufficient preliminary consideration of the consequences." If officials and economic leaders had to coordinate their actions not with one center of power but two, if that were possible, "the struggle for power would lead to collapse." In combination with the fact that "no one will believe in Putin's return in 2030," this will mean that as soon as he leaves the presidency, he will "lose real power to the second center whatever it is. In the Presidential Administration," Sklyarov continues, "they cannot not understand this." And more, they have to recognize that "this is suicide." "The second cause of the impossibility of Putin's departure," the analyst says, "is a kind of continuation of the first: power is concentrated not simply in the hands of the president: it is concentrated in the hands of President Vladimir Putin." There is no one within his entourage that others would be prepared to accept as president and not work to sabotage. Further, none of them is popular. Putin's ratings have fallen over the last year, but there is no "really popular politician" he or anyone else could turn to. "Not one! Even defense minister Shoygu and foreign minister Lavrov" enjoy far less support that the increasingly unpopular Putin does. The regime could ensure the victory of anyone in an election, but the unpopularity of any such person in the current environment would be such that others in the elite would feel free to undermine and sabotage him. That too is known within the Kremlin, and it is yet another reason not to make any change as long as Putin is alive. Consequently, Sklyarov concludes, "one can assert that practically any scenario which presupposes the departure of Putin from the post of president in 2024 has for Putin himself and for the Russian political authorities as a whole many more risks than the preservation of the status quo." Most Russians have already gotten used to the idea that Putin is "'forever.'" And "therefore, as 2024 approaches, we probably will see how the task 'not to change anything' will become ever more the dominant idea in Russia."
Is Russia Testing Nuclear Weapons in Secret? | The National Interest
Most likely the answer is no. But there is a much bigger issue here that must be addressed.
UAWire – Russian national survey agency changes poll questions after Putin's rating falls to a historic low
Russian government-funded Opinion Research Center (VCIOM) has changed the method of the survey it used to gauge the confidence of Russians in the government after the rating of Russian President Vladimir Putin fell to a historic low, reports the Current Time news outlet. Before that, sociologists asked Russians to answer an open-ended question, "Who is the politician you trust?". Now they added a closed question, "Do you trust Vladimir Putin?" According to published reports, the confidence level in the President, calculated under the old and the new methodology differs dramatically. According to the new method of data collection, Putin's score was 72.3%. 23.7% of respondents expressed lack of confidence in the Russian President. According to the old way of calculation, when respondents were asked to specify the name of the politician they trust, the rating of the President in May 2019 was 31.2%. It was the lowest score in 13 years. A few days after the publication of the survey results , Press Secretary of President Dmitry Peskov said that the Kremlin is waiting for VCIOM's explanation about "the data correlation."
UAWire – Kremlin perplexed as Putin's ratings plummet
The latest sociological studies have revealed a marked decline in the Russian population's confidence in President Vladimir Putin. The results have come to the Presidential Administration's attention, and the department is waiting for explanations from the sociologists, Interfax reports. Kremlin Spokesperson Dmitry Peskov said that he would like to know how Putin's confidence level can decline while at the same time his electoral rating has improved. "We are waiting for some kind of analysis from our esteemed specialists on how these data correlate," Peskov said, adding that the Kremlin "pays attention to all our experts' work in this field". On 24 May, the Russian Public Opinion Research Center documented a record decline in Russians' confidence in their president. According to the survey conducted in the middle of May, only 31.7% of respondents had confidence in Putin, although 65.8% of participants said that they approve of his actions as president. According to Valery Fedorov, head of the opinion research center, this picture has emerged because the country's citizens can no longer perceive when their lives will improve.
Window on Eurasia — New Series: For First Time, Moscow Publishes Photocopies of Molotov-Ribbentrop Pact and Its Secret Protocols
Paul Goble Staunton, June 1 – For the first time, a Moscow portal, Istoricheskaya pamyat, has published photocopies of the Russian originals of the 1939 Molotov-Ribbentrop Pact and its secret protocols, the agreements which made Hitler and Stalin allies, opened the way to World War II in Europe, and divided the continent into German and Soviet spheres of influence. Throughout the Soviet period, Moscow officials denied the existence of such texts in the archives and used the lack of such texts to challenge the German originals which had been available to scholars since the late 1940s. In the 1990s, Moscow did publish its own translation of these documents, but before yesterday, it had not issued photocopies. This should make it impossible for Russian authors to deny the existence of the documents but not, of course, to deny the reading of them that Western historians and people in the countries most profoundly affected by the pact have given to that Nazi-Soviet agreement and especially to its secret protocols. The new Russian publication is available online at historyfoundation.ru/2019/05/31/pakt/. It has been presented and discussed by Radio Liberty at svobodaradio.livejournal.com/3991674.html).
Soviet originals published in the Molotov-Ribbentrop Pact – The official blog of Radio Liberty
On May 31, the Soviet originals of the Nonaggression Pact between the USSR and Germany, concluded on August 23, 1939, as well as the secret additional protocol to it, appeared on the website of the Historical Memory Foundation. The secret supplementary protocol says "about the delimitation of areas of mutual interests in Eastern Europe" in the case, as it says there, of the territorial-political reorganization of the regions of the Baltic states and Poland. The visual images of Soviet originals of the Molotov-Ribbentrop Pact are published for the first time.
The Soviet originals of the non-aggression pact between the Soviet Union and Germany were first published — Фонд «Историческая память»
The scans of the Soviet original non-aggression pact between the Soviet Union and Germany of August 23, 1939 and the secret additional protocol to it were first published. Earlier, only photocopies of German originals of these documents were available to historians. The scans were provided by the Historical and Documentary Department of the Ministry of Foreign Affairs of Russia and published in the scientific publication "The Anti-Hitler Coalition 1939: Failure Formula" published by the Institute for Foreign Policy Studies and Initiatives. Document number 1. Non-Aggression Pact between the USSR and Germany. August 23, 1939 Soviet original in Russian.
Investigators Seeking Cause Of Russian Explosives Plant Blast
Regional authorities say emergency rescue operations have been completed following a series massive blasts that devastated an explosives plant in central Russia, and investigators are seeking the c…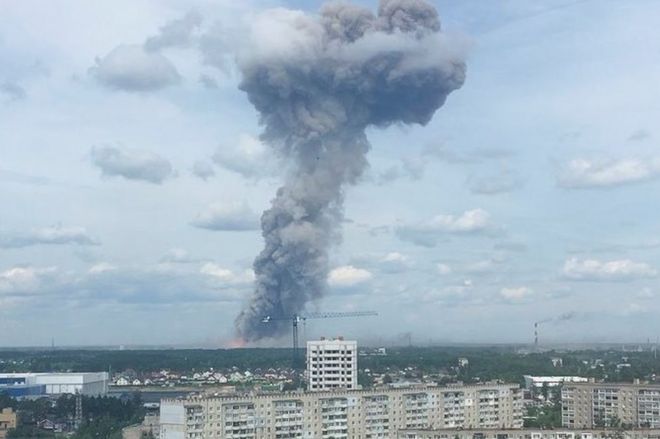 Dzerzhinsk explosion: Blast at Russian explosives factory injures 79 – BBC News
The factory in Dzerzhinsk was reportedly used to produce and store high-explosive bombs.
Massive explosion at Russian bomb-making factory injures 79
A massive explosion at a bomb-making plant in Russia has injured 79 people and damaged 180 homes in the city of Dzerzhinsk.
Dzerzhinsk explosion: Blasts at Russian explosives plant damage almost 200 buildings – news world | UNIAN
Blasts at the Kristall explosives plant in Dzerzhinsk in Russia's Nizhny Novgorod region on Saturday, June 1, damaged 180 residential buildings, as well as those of social facilities. "According to the latest data, about 180 apartment buildings have been damaged, as well as several dozens of social facilites, there are also glass breaks reported," Informator wrote, referring to the city administration' press service. Some 42 people have been injured in the explosion at Kristall, while four of them are in serious condition. Law enforcers have opened a criminal case on violation of safety rules in the workshop for the production of TNT. According to rescuers, there were three explosions, rather than two. In addition, the authorities of the Nizhny Novgorod region declared a state of emergency in the city of Dzerzhinsk and three nearby villages (Pyra, Zhyolnino, and Lesnoy Kordon).
Explosions at the Kristall plant in Dzerzhinsk, Russia: 85 people turned to doctors for help
In Dzerzhinsk, Nizhny Novgorod Region of the Russian Federation, as a result of explosions in the territory of the State Research Institute of Crystal, which is developing and implementing technologies for producing explosives for military purposes, 85 people were injured. As reported on the website of the Ministry of Health of the Russian Federation, reports Tsenzor.NET . "According to the latest data: in connection with the explosion, 85 people, 39 workers of the plant and 46 residents of the city asked for medical assistance in total at the Kristall plant. As of 22:15, 16 people are hospitalized, 1 of whom is seriously ill condition close to the average, 15 – moderate severity. Outpatient care provided to 69 patients, "- said in a statement. Источник: https://censor.net.ua/n3130111
RUSSIA'S ONLY MANUFACTURER OF OCTOGEN AND HEXOGEN EXPERIENCED SEVERAL LARGE EXPLOSIONS (VIDEO)
Posted: June 01, 2019 190531 RF 0 On the territory of the FKP Plant named after Ya.M. Sverdlov "in the city of Dzerzhinsk in the Nizhny Novgorod region, several explosions broke out. This is reported by Defense Express with reference to Interfax. "Probably, on" Factory of the name of Sverdlov "two explosions broke. The reason is set ", – said a source in the services of technical supervision of the region. About dead or injured is not reported. Later, the source in the technical surveillance services of the region specified that the epicenter of the explosion in Dzerzhinsk was located in the explosives production unit at Srystal Research Institute (creation and introduction of technologies for obtaining airborne and military equipment for military and military equipment, as well as for civilian branches of industry). "On the instructions of the governor of the Nizhny Novgorod region, Gleb Nikitin, in connection with information on the blasts at the State Research Institute" Crystal ", an operational headquarters was established in Dzerzhinsk. Deputy Governor of the Nizhniy Novgorod Region Dmytro Krasnov left with his deputy, along with the head of the Main Directorate of the Ministry for Emergencies in Nizhny Novgorod Valery Sin'kov. The circumstances of the event are being clarified, "Russian journalists said referring to their own sources. 190531 RF 1 As they noted, according to the updated data, the explosion occurred as a result of a violation of the technological process. Recall, FCP "Plant named after Ya.M. Sverdlov "is the basic enterprise of the ammunition industry, the only producer of octogen and hexogen in Russia.
HMX, also called octogen, is a powerful and relatively insensitive nitroamine high explosive, chemically related to RDX. Like RDX, the compound's name is the subject of much speculation, having been variously listed as High Melting Explosive, Her Majesty's Explosive, High-velocity Military Explosive, or High-Molecular-weight RDX. The molecular structure of HMX consists of an eight-membered ring of alternating carbon and nitrogen atoms, with a nitro group attached to each nitrogen atom. Because of its high molecular weight, it is one of the most potent chemical explosives manufactured, although a number of newer ones, including HNIW and ONC, are more powerful.
RDX is an organic compound with the formula (O2NNCH2). It is a white solid without smell or taste, widely used as an explosive.[2] Chemically, it is classified as a nitramide, chemically similar to HMX. A more energetic explosive than TNT, it was used widely in World War II and remains common in military applications. It is often used in mixtures with other explosives and plasticizers or phlegmatizers (desensitizers); it is the explosive agent in C-4 plastic explosive. RDX is stable in storage and is considered one of the most energetic and brisant of the military high explosives.
TOP-10 disasters at the factories of the military-industrial complex of the Russian Federation in 2018-2019 years: [ENG SUB] – YouTube
Сергій Камінський Published on Jun 1, 2019 TOP-10 disasters at the factories of the military-industrial complex of the Russian Federation in 2018-2019 years:
00:03 An explosion at the plant "Almaz" (St. Petersburg)
00:40 Fire at Irkutsk Aircraft Plant (Irkutsk city)
01:23 Fire at the Ural plant (Solikamsk city)
02:05 Fire of the branch of the "Kuznetsov" plant (settlement of the Coastal Region)
02:46 explosion at Y.M. Sverdlov (city of Dzerzhinsk)
03:27 Blast of Gas Cylinder at Perm Powder Factory (Perm)
04:08 The explosion at the factory "Avangard" (St. Petersburg)
04:49 Accident at 82-th ship repair plant (Murmansk). Aircraft carrier "Admiral Kuznetsov"
05:30 Fire at the Krasmash defense factory (Krasnoyarsk)
06:11 Blasts at Crystal Plant (Dzerzhinsk, Russia)
Russian sharp power targeting the European elections in Central-Eastern Europe |Euromaidan Press |
Article by: Lóránt Győri and Péter Krekó While much attention has been paid in the international media to the abilities of the Kremlin to influence foreign elections, relatively little is known about why and how everyday citizens resonate to these attempts in post-communist countries of Central-Eastern Europe. Political Capital, therefore, explored the vulnerability and resilience to Russian hostile influence by focusing on the horizontal, online "grassroots" communication between citizens. Our research revealed not only the basic societal drivers behind these influence operations but how these came into play during the 2019 European elections campaign in the Czech Republic, Slovakia, and Hungary.
Window on Eurasia — New Series: Moscow Expanding Its Influence in Eastern Belarus while Minsk has No Regional Strategy, Analysts from that Region Say
Paul Goble Staunton, June 1 – Moscow is working to expand its influence in eastern Belarus, something that it has been able to do without much opposition in part because Minsk has no strategy on the development of these regions, experts from that part of the country said at the annual conference of the Belarus Security Blog. Aleksandr Gelogayev of the Belsat news agency summarizes the presentations of three such experts (belsat.eu/ru/news/belarus-security-blog-rossiya-polzuetsya-bezynitsiativnostyu-minska-v-vostochnyh-regionah-belarusi/). In important ways, they confirm recent conclusions by the iSANS group (windowoneurasia2.blogspot.com/2019/05/change-of-russian-ambassadors-wont-slow.html). Andrey Strizhak of the REP union from Homel says that there have appeared in his region a network of pro-Russian websites. Seventy percent of their programming is devoted to local and regional news, and 30 percent to propaganda. In addition, Russians are supporting pro-Russian paramilitary groups like Cossacks and the Union of Naval Veterans. Local officials in Homel, he continues, are so weak on these issues that they sometimes play into the hands of the Russians but sometimes react by cooperating with local Belarusian activists to oppose what Moscow is doing. Yury Stukalov of Mohylev's Center for Urban Initiatives says that local officials are undergoing a generational change. The older and more authoritarian and pro-Soviet types are being replaced by younger and more Belarusian-oriented people. But this varies place by place and region by region. It is not the result of a concerted Minsk policy. Indeed, he continues, "there is no all-Belarusian strategy for work with the regions. Everything depends on specific people. Each region [of the country] is its own separate world." And Sergey Nerovny, publisher of Volny Gorod in Krichev, adds that unfortunately as cadres are shifted about, those being sent to the regions of Belarus are often "international trash," that is, they "do not feel a personal connection with Belarusian independence and are prepared to sell it out if they are given more money. These same figures," he continues, "regularly become figures in corruption cases." But like Stukalov, Nerovny says that despite economic problems that are making many look toward Russia, some local and regional officials, feeling the absence of support from above, are turning to independent-minded Belarusian activists and standing up to Russian activities.
UAWire – Trump accepted Erdogan's offer to set up a commission on Turkey's S-400 deal with Russia
US President Donald Trump responded to the proposal of Turkish President Recep Tayyip Erdoğan to establish a working group on the purchase of Russian S-400 anti-aircraft missile systems, NTV reports. The presidents are expected to meet during the G20 summit in Japan. Several sources claim that the working group will support the position of the United States that Turkey's purchase of the S-400 would jeopardize the F-35 fighter program. Earlier, Erdoğan noted that Ankara had made a final decision on the purchase of the S-400. Meanwhile, Washington believes that Russian systems are incompatible with NATO standards and threaten Turkey with sanctions for this deal.
U.S. Air Force deploys F-16C Fighting Falcon aircraft to Poland – Defence Blog
The U.S. Air Force has announced that F-16C Fighting Falcon fighter jets assigned to the 480th Fighter Squadron were deployed to Poland. Airmen and F-16C Fighting Falcon aircraft assigned to the 480th Fighter Squadron, 52nd Fighter Wing, Spandahlem Air Base, Germany, are participating in bilateral training with the Polish air force during Aviation Rotation 19.2 in support of Operation Atlantic Resolve at the 31st Tactical Air Base, Poznan-Krzesiny, Poland. The 480th began its service with the 52d Tactical Fighter Wing, Spangdahlem Air Base, when it moved to the base in 1976, flying F-4D Phantom IIs, then F-4G Advanced Wild Weasels as part of the Wild Weasel mission. In 1987, the 480th started flying F-16C Fighting Falcon and became the USAF's first squadron to be equipped with the Block 50 F-16s in 1993. During the rotation, U.S. and Polish air forces will conduct training focused on maintaining joint readiness while building interoperability capabilities. The purpose of the training is to improve allied interoperability in a live-fire integrated air and missile defense exercise. Through strengthened relationships and engagements with allies, the United States is committed to a peaceful, stable and secure Europe.
Mysterious version of Abrams tank was spotted in Romania – Defence Blog
The mysterious version of the M1 Abrams tank was spotted during the opening ceremony for multinational exercise Justice Eagle 19 at Smardan Training Area, Romania, May 29, 2019. Justice Eagle is a bilateral exercise that builds readiness, increases interoperability and enhances the bond between ally and partner militaries. During this exercise, the U.S. Army has unveiled an advanced version of M1 Abrams tank with what appears to be a new armor package on its turret. According to military experts, this is modules of Trophy active protection system, which will help guard against anti-tank guided missiles and infantry anti-tank rockets. Also, they noted that the mysterious version of the M1 Abrams tank is called the M1A2 System Enhancement Package Version 3 tank, or M1A2 SEPv3. The newest version of the M1 Abrams tank is considered the most technologically advanced digital tank in the world with superior firepower, protection and mobility, Army's officials said. Improvements focus on power, management, counter-IED systems and improved, embedded training, and an ammunition data link. It is the most reliable Abrams tank ever produced, will decrease the Army's logistic burden, and leads the Army in Enterprise-level connectivity to maintenance and supply systems. The SEPv3 measures 9.7m-long, 3.7m-wide and 2.4m-high, and is manned by a crew of four, including a driver, a commander, a loader and a gunner. In a 2017 report, Maj. Gen. David Bassett, program executive officer for Ground Combat Systems said: "These vehicles are not just about assuring our allies, or deterring or coercing potential adversaries. They are about compelling our enemies and winning the multi-domain battle." According to the current information, the U.S. Army has plans to equip a big batch of M1A2 SEPv3 with the Trophy active protection system that eliminates enemy threats, such as rocket-propelled grenades and anti-tank guided missiles.
What Happens If America Leaves NATO? Russia Wins. | The National Interest
Could this actually happen?
UAWire – Putin not invited to 75th D-Day anniversary
Russian President Vladimir Putin has not been invited to commemorate the 75th anniversary of the Allied invasion of Normandy in World War II, also known as D-Day, Ukrinform reports. "Large-scale festivities and commemorative events on the 75th anniversary of the start of the Normandy Operation, or the Allied Operation Overlord in World War II, will be held in the south of England on 5 June and on 6 June on the coast of French Normandy," the article states. Other countries that participated in the Normandy Operation will be sending high-level representatives: the USA, Canada, France, Australia, New Zealand, Belgium, Poland, Norway, Denmark, the Netherlands, Greece, Slovakia, the Czech Republic, and Germany. However, for the first time since 2004 (when the 60th anniversary of D-Day was commemorated), Russian President Vladimir Putin has not been invited, despite the fact that he did attend the 70th anniversary of D-Day in 2014, even after the occupation of Crimea and the start of Russia's aggression against Ukraine. This year the primary commemorative events, which will be held in the British city of Portsmouth and on the coast of Normandy, France, will be attended by British Prime Minister Theresa May, French President Emmanuel Macron, German Chancellor Angela Merkel, and US President Donald Trump. London has announced that this year the event will be one of the largest British military demonstrations, featuring 26 authentic World War II aircraft and at least 11 ships. The Allied landing in northern France in Operation Overlord was the largest seaborne invasion in history. It began on 6 June 1944 and lasted until 1 July.
Rob Portman on Twitter: "I had the pleasure of meeting the newly elected #Ukraine President Volodymyr Zelensky earlier this week. He is committed to strengthening US ties and pushing back on Russian aggression.… https://t.co/rrsV4Zb8lg"
Rob Portman on Twitter: "As co-chair of the Senate Ukraine Caucus, I'll continue to support a free & democratic #Ukraine through appropriate U.S. military, political, & economic assistance.… https://t.co/9lVnRgY7ru"
Senator Portman: Zelensky committed to strengthening U.S. ties, pushing back on Russian aggression – news politics | UNIAN
U.S. Senator Robert Portman has said Ukrainian President Volodymyr is committed to strengthening U.S. ties and pushing back on Russian aggression. Portman said he would continue to support Ukraine.
Ukraine might be designated as major non-NATO US ally | KyivPost – Ukraine's Global Voice
A draft bill has been introduced in the U.S. House of Representatives to boost the support of Ukraine's independence and territorial integrity as well as increasing defense assistance to Kyiv, according to a statement by Ukraine's embassy in Washington D.C. on May 31. In particular, as the embassy reported, the draft bill envisages assigning Ukraine the status of a major U.S. non-NATO ally which would allow the U.S. to provide Ukraine with weapons under a simplified procedure. The draft No.3047 was introduced by the U.S. Rep. Michael T. McCaul, a Texas Republican, on May 30 and immediately referred to the U.S. House Committee on Foreign Affairs. It was also supported by New York Democrat Eliot L. Engel, Illinois Republican Adam Kinzinger, and Democrat William R. Keating representing Massachusetts. As of June 1, the draft bill's text is not yet available on the House's website. However, as the Ukrainian embassy said, the bill aims to amplify Ukraine's defense, particularly through "providing military hardware, selling lethal weapons to Ukraine's Armed Forces, as well as enhancing Ukraine's ability to confront Russia's cyberattacks." Furthermore, it envisages designating Ukraine as a major non-NATO ally for the period of time up until Ukraine joins the 29-nation alliance in the future, according to the embassy. This status assigned by the U.S. government marks countries that are allies to the U.S. and have a strategic partnership with Washington but are not NATO member nations. It particularly allows U.S. partner nations to enjoy extended access to U.S. military equipment designated for sale or as defense aid as well as priority deliveries of U.S. military equipment. Also, an allied nation's businesses have the opportunity to bid on certain contracts to repair and maintain U.S. military equipment outside the United States. Since 1989, over 15 countries across the world have been assigned this status, namely: Australia, Israel, Egypt, Japan, South Korea, Jordan, New Zealand, Argentina, Bahrain, the Philippines, Thailand, Kuwait, Morocco, Pakistan, Afghanistan, and Tunisia. Since 2003, Taiwan is also de facto treated as a major non-NATO ally, and on May 8, 2019, President Donald J. Trump in his address to the Congress called on designating this status to Brazil. This is not the first attempt to include Ukraine into the list. Back in February 2014, another draft bill titled "Ukraine Freedom Support Act of 2014," introduced to the House by Ohio Democrat Marcy Kaptur, particularly envisaged assigning Ukraine, along with Georgia and Moldova, with the status of a major non-NATO U.S. ally. It was introduced just days before Russia invaded Ukraine. But the bill was never put into action in the following years. According to Ukraine's embassy, the new bill strengthens America's support of Ukraine's sovereignty and territorial integrity within internationally recognized borders as well as its Euro-Atlantic aspirations. The bill also pressures Ukraine for more democracy, rule of law, transparency and responsibility in the public sector, and combating corruption. Besides, it noted that Ukrainians are free to define their own course in foreign and security policies without any intimidation or pressure by any foreign country. Ukraine has the right to defend itself from Russia's aggression by receiving U.S. defense aid, the bill also states. The bill rejects any forceful territorial changes in Ukraine, particularly seen during Russia's invasion in Crimea and the Donbas. It decries the ongoing detention of 24 Ukrainian sailors attacked and seized in the Black Sea by Russia on Nov. 25, 2018. And it persistently calls on Russia to completely fulfill the Minsk agreements and to support an international peace settlement and security in the embattled region. "We highly appreciate the firm bipartisan and bicameral support of Ukraine in the U.S. Congress," the Ukrainian embassy noted. "We consider the introduced draft bill as a new important step aimed to enhance Ukrainian-American strategic partnership in combating Russian aggression." As recently as of May 24, the Ukrainian embassy also reported that the the U.S. Senate Armed Forces Committee had proposed to increase U.S. defense aid to Ukraine in the fiscal year of 2020 by $50 million to $300 million; this includes $100 million to be provided for lethal weaponry to Kyiv next year. In general, according to the Ukrainian embassy in Washington, the U.S. has spent nearly $1.1 billion on helping Ukraine repel Russia's aggression since 2014.
UAWire – Kyiv: the US considers making Ukraine a main military and political ally outside of NATO
A new bill submitted to US Congress's House of Representatives proposes to give Ukraine the status of the US's chief military and political ally outside of NATO, the Ukrainian Embassy to Washington said in a Facebook post. The status will be in effect until Ukraine joins NATO, and will facilitate the procedure for the US to give defense assistance to Ukraine. The bill is titled "To provide support to Ukraine to defend its independence, sovereignty, and territorial integrity, and for other purposes" and is intended to improve Ukraine's defensive capabilities, including through the sale of lethal defensive weapons to Ukraine's armed forces. As part of the arrangement, the Ukrainian military could receive anti-tank, anti-ship and anti-air systems. There are also plans to assist in improving Ukraine's cybersecurity and ability to resist Russian hacker attacks. According to the Ukrainian Embassy's post, the document states that US policy should facilitate enhanced "support of the sovereignty, independence and territorial integrity of Ukraine, within the limits established by international principles, as well as through Euro-Atlantic and European integration". Furthermore, Washington's policy toward Kyiv should be geared towards "the non-recognition of any territorial changes to Ukraine, made in any way, including through Russia's illegal invasion of Crimea and the Donbas and occupation of these territories". In addition, the bill condemns Russia for continuing to hold prisoner the 24 crew members of the Ukrainian ships that were captured near the Kerch Strait last year.
MFA Ukraine demands from partner countries to put pressure on Russia to implement ITLOS decision on sailors – news politics | UNIAN
The Ministry of Foreign Affairs of Ukraine has appealed to the partner countries to put pressure on the Russian Federation to implement the decision of the International Tribunal for the Law of the Sea (ITLOS) to release 24 captured Ukrainian sailors. According to the ITLOS document, Russia must inform the Tribunal no later than June 25 on the execution of the order to release Ukrainian sailors and vessels.
'We are not a bridge; we are the West,' a Ukrainian president needs to follow Latvian one in declaring, Portnikov says | Euromaidan Press |
More than 20 years ago, then Secretary of State Madeleine Albright observed with some bitterness, "whenever I want to talk about Eastern Europe, everyone wants to change the conversation to Russia." That attitude continues in many capitals of the old West with many insisting that at best "the countries in between" are a bridge between East and West. This week, new Latvian president Egils Levits bluntly rejected this notion declaring that we are no bridge: We are the West." That position is completely correct, commentator Vitaly Portnikov says, and only by agreeing with it can Ukraine and its neighbors protect to have "the fate of any civilized state." Unfortunately, the Ukrainian commentator continues, Ukraine has felt the need to "constantly form some kind of bridge between Russia and Europe" and equally often suggests that the Kremlin has not recognized "all the advantages which would open before it and it would gain if it give [Ukraine] the chance to play the role of a bridge." But that is "not the logic of a bridge," Portnikov says. Rather, "it is the logic of a bordello with a readiness to sacrifice principles and the future for 'a peaceful and rich life.'" That is not the logic of a citizen but of a petty-minded individual concerned only about how much money he has. Worse, this logic, which has been operative in Ukraine most of the time since 1991 has "transformed Ukraine into one of the poorest countries of Europe, an invalid country with a paternalistic and inert population" – in sharp contrast to those who wanted to be part of the West and have already become members of NATO and the European Union – and a better life to boot. "By its constant talk about its eternal attempts to become a bridge," Portnikov continues, "Ukrainians have imposed a sentence on their country, one called into question by periodic uprisings." It is important to remember, the commentator continues, that "Russia does not need any bridges. Russia itself borders the EU and now, when it is building new pipelines, it is by so doing preparing to deprive Ukraine of its accustomed function. So much for being a bridge. Russia needs from Ukraine only one thing: that it become East." Moscow has no interest in having Ukraine as a bridge to the West. It wants it to be completely rooted in the East and "still better to be simply Russia because after all we are 'one people,'" Portnikov says. Consequently, Ukraine must make a choice instead of avoiding it by talking about being a bridge. "Sooner of later, a Ukrainian president will have to say what the Latvian president has said: 'we are not a bridge,'" and that he has first made clear that Ukraine is part of the civilized West rather than the authoritarian East.
UAWire – Ukrainian President Zelensky will visit Berlin in June
The Deputy Minister of Foreign Affairs of Ukraine Vasyl Bodnar said that President Volodymyr Zelensky plans to visit Berlin in June, reports …
Rebecca Harms: Germany and France should stop supporting Russia's unconditional return to PACE |Euromaidan Press |
Article by: Rebecca Harms A few days ago, the International Maritime Tribunal in Hamburg ruled in favor of the Ukrainian lawsuit and ruled that Russia must immediately release 24 sailors who had been captured on three Ukrainian Navy ships last year following an attack by the Russian Coast Guard. The 24 Ukrainians have since then been in Russian jail. Russia has not participated in the trial in Hamburg. The Russian leadership tried to ignore the tribunal. The Ukrainian side received applause from all over the world for its success in court. The applause was especially meant for (and rightly so) the work of Deputy Foreign Minister Olena Zerkal. Now rumors say that Russia is preparing to release the Ukrainian sailors. That would be a great pleasure and relief. But that would also show how important the international solidarity campaign and the International Maritime Law Tribunal were for the captured sailors. The applause for the work of the Ukrainian plaintiff in court in Hamburg was met eagerly in Ukraine. Beyond this applause, the international community must finally do more to strengthen Ukraine's rights and position in the face of Putin's aggressive policies. The attack in the Kerch Strait was one of the many terrifying signs of the ongoing Russian escalation in Ukraine. And it was a renewed Russian test for international solidarity with Ukraine, a country which is since 2014 partially occupied by the nuclear power Russia, against which Russia is waging war because Ukraine wanted and got an association agreement with the European Union. I use the Hamburg judge's ruling as an opportunity to repeat what I have already said on 13 May in Brussels at the Foreign Affairs Council, where we took stock of the 10 years of Eastern Partnership. Despite many problems of social and economic transformation in the countries associated with the European Union, Georgia, Moldova, and Ukraine, there is also a lot of progress. We also have experienced a breath-taking democratic awakening in Armenia. In recent elections, it has become clear in several of these countries that citizens there clearly rely on EU support for developing democracy and the rule of law.
Window on Eurasia — New Series: Ukraine Needs Peace, even a Humiliating Brest-Type One, to Become Strong, Pastukhov Says
Paul Goble Staunton, June 1 – Far too much attention is being devoted to who will be negotiating for Russia and Ukraine, and far too little to what their respective negotiating positions will be, given that "the main thing in negotiations is not who is talking but about what and whether you have a negotiating position of nor," Vladimir Pastukhov says. Ukrainian President Vladimir Zelensky has a serious problem in coming up with a negotiating position, the London-based Russian analyst says. That is because "the only thing Russia needs from Ukraine" is something Ukraine cannot give on its own, a weakening of Western sanctions. Thus "Russia doesn't need anything from Ukraine." Ukraine can give signals to the West that it is satisfied with Russian promises and commitments and ask the West to reduce or end the sanctions regime, but that is not something that it controls on its own – and Vladimir Putin, the other participant in these potential talks, is very much aware of that (echo.msk.ru/programs/personalnovash/2435925-echo/). The real question then is how far Zelensky can allow himself to go to secure from Russia what he most needs: "a 'Brest Peace' for Ukraine, Pastukhov says. "Because Ukraine needs peace at any price. And this is what Zelensky is saying … but it is one thing to say 'peace at any price,' and another to understand what this price will be." "For Bolshevik Russia, this price was a horrific peace with Germany because that permitted the Bolsheviks to keep power and their regime. Then this all disappeared after the revolution in Germany." The question now is whether Ukrainian society is "mature and patriotic" enough that it would allow such seriously denigrating step of the same kind. Ukrainians would need to recognize that such a peace, however humiliating it would be, could be the only way to become "a strong state" and thus live to play another day. What is unclear, Pastukhov says, is whether Zelensky or Ukrainians in general are prepared to take such a step. But until it is clear what Zelensky and Ukraine are prepared to do in that regard, Pastukhov concludes, it is not all that interesting to speculate about whether Zelensky will meet Putin or not.
Russia's return to PACE will lead to new crisis in Council of Europe, – Ariev
To agree to Russia's terms means to accept their blackmail, according to Chairman of Ukraine's Delegation in PACE
Russia announces tender to calculate the "damage" inflicted on Crimea by Ukraine
A tender to carry out the so-called research for damage assessment, inflicted on Crimea from 1991 to 2014
Ukraine's Media Responds to Persecutions of Civic Journalists in Occupied Crimea
Ukrainian media united in their effort to condemn persecutions of Crimean Tatar civic journalists by signing a joint statement.
One Ukrainian soldier wounded in Donbas amid 15 enemy attacks in past day – news war | UNIAN
Russia's hybrid military forces in the past 24 hours mounted 15 attacks on Ukrainian army positions in Donbas, with one Ukrainian soldier reported as wounded in action. Two occupiers were killed and another two were wounded on Saturday, intelligence reports say.
24 hours in Donbas: Occupant violated ceasefire regime 13 times, one Ukrainian soldier wounded
All the ceasefire violations took place in Donetsk region
Armed Forces of Ukraine conduct planned trainings of destroying enemy in Azov area
Ukrainian servicemen conducted a planned training to repeal the enemy's naval attacks on the Azov Sea coast. The press service of the JFO HQ reports this on Facebook on June 2. Thus, according to the story of scheduled exercises, the anti-amphibious reserve of the Armed Forces of Ukraine as a part of the tactical group of a separate assault brigade "destroyed" the first wave of the enemy's naval missile with the help of tanks, artillery and dowry aviation, excluding the landing of its second echelon. According to the report, the water area and the Ukrainian coast of the Azov Sea still remain the high-risk areas for the development of the military aggression of the northern neighbor.
Операція об'єднаних сил / Joint Forces Operation
Ukrainian soldiers during the exercises destroyed the "enemy troops" on the Azov Sea. VIDEO + PHOTO report Ukrainian paratroopers, tanks, artillery and aircraft took part in exercises to protect the water area and the coast of the Azov Sea from enemy aggression. According to Tsenzor.NET, reported the press service of the Joint Operation headquarters on the page on Facebook. "According to the legend of planned exercises, our anti-amphibious reserve as part of the company tactical group of a separate assault assault brigade with the support of tanks, artillery and dedicated aircraft" destroyed "the first wave of the enemy naval landing, making it impossible to land the second echelon," the message said. At the same time, the servicemen remind that the Ukrainian Azov Sea remains a tasty morsel for the military aggression of the Russian Federation, therefore the Combined Forces, performing daily combat missions on the hot sectors of the front, are simultaneously preparing for actions "in all possible operational tactical scenarios."
UAWire – Switzerland sends 400 tons of humanitarian aid to Donbas
The Embassy of Switzerland in Ukraine sent 22 vehicles with humanitarian cargo with a total weight of more than 400 tons to the territories of …
Russian commander spills the beans on Russian presence in "LNR/DNR" |Euromaidan Press |
Article by: Denys Kazansky, blogger and journalist I address these words to all the people who still believe that Ukraine is engaged in a "civil war". Today, Russians are not even hiding Russia's participation in the war in Eastern Ukraine. In a recent interview, battalion commander of the Prizrak Brigade ("LNR"), Aleksei Markov (a Russian citizen from Moscow) admits that he's been leading the battalion for two and a half years, and that it's extremely difficult to obtain spare parts and weapons in the Donbas steppes. He also expresses his gratitude to all the "comrades from Moscow" who provide weapons and military supplies to armed "LNR" and "DNR" units. I remember two years ago, when the Russian delegation appeared in a UN court and claimed that "local militants had discovered and dug up weapons and military equipment" in the Donbas mines. And now, one of the main "LNR" field commanders openly says that this is just bullshit and that it's impossible to find anything in the Donbas steppes, so the so-called "LNR" and "DNR" depend on and hope for supplies coming directly from the Russian Federation. This is indeed a most interesting "civil war"! On the one hand, local "authorities in occupied Donetsk recently erected a monument to commander Oleg Mamiev, who arrived in occupied Donbas from North Ossetia in May 2014. At first, he fought with the Vostok Battalion in Donetsk, and then led the international brigade Piatnashka. He was killed near Yasynovate in May, 2018. And today, another commander from Moscow openly says that militants receive spare parts and "other supplies" from Russia.
5 years of war: separating facts from fiction  |Euromaidan Press |
Article by: Tetiana Yakubovych, Oleksiy Vynohradov "It was Kyiv, and not Moscow that attacked Donbas!", "There are no Russian soldiers in Donbas!", "We are independent states!" Here are the facts – this is how "DPR" and "LPR" authorities like to describe the events of the last five years. Moreover, Russian hybrid forces do their utmost to ensure that children and young adults perceive the "DPR" and "LPR" as their legitimate homeland and the militants as their heroes.
Bringing democracy to Shchastia, traumatized war-town with a happy name |Euromaidan Press |
Shchastia means happiness in Ukrainian. Shchastia is also the name of a frontline town in Luhansk Oblast. Prolonged warfare in the town has discouraged a hopeful outlook among residents, especially young people. In early May, the school of Documentary and Media docUA sent a contingent of media professionals to Shchastia to carry out an innovative project for the youth of the town. The instructors of Media docUA recognized immediately that local youth are heavily downtrodden by the destruction all around them. They knew they needed to show them that they still have options, in spite of their dismal circumstances.
Zelenskyi team proposes referendum on peace deal with Russia. Here's why that's a problem |Euromaidan Press |
On 21 May, newly-appointed Ukrainian Presidential Administration head Andriy Bohdan stirred up controversy with Ukrainian political commentators when he announсed the intentions of Ukraine's new authorities to conduct a referendum on a peace deal with Russia regarding Donbas, the region in eastern Ukraine broken off from government control with the help of Russian financial and military support. "So it wouldn't be some politician making a decision breaking apart society, but so the people, society itself would make this decision, whether our deal suits them," Bohdan said, adding that the team of newly-elected President Volodymyr Zelenskyi is forced to search for a compromise with Russia. "The only thing is, Volodymyr Zelenskyi said that we don't trade our territories and our people," Bohdan noted, referring to Zelenskyi's statement in one of his rare appearances at a political talk show. Following Bohdan's statement, a protest erupted near the President's Administration. Portraits of Ukrainian soldiers who were killed in Donbas were set up at the stairs. Widows of soldiers stood in solitary pickets. One of them, Yulya Kirillova (pictured below) held a sign saying "On 11 August 2014, my husband was killed during an artillery strike on Stepanivka village by the 17th and 18th separate motorized rifle brigades from Russian territory. Do you plan to negotiate with killers?" Photo: Tim Zlatkin FB Responding to the protest, Zelenskyi clarified that it won't be a legal referendum but an information one, to find out what people think, "a normal conversation with people" and stressed that he aims for openness in discussing issues important for the country. It's unclear how this "information referendum" is different from a regular opinion poll, but it is extremely likely that Zelenskyi's team will indeed hold some kind of plebiscite on matters of national security during his term in power. "Direct democracy through a referendum" was a central position of Zelenskyi's campaign and adopting a law on referendums – "a major direction for our activities," according to Bohdan. Although it's definitely a good idea for politicians to take into account the opinions of their citizens, the idea of a referendum for deciding how to solve the conflict in Donbas is fatally flawed. The importance of Donbas The two self-proclaimed "republics" occupy roughly one-third of Ukraine's Donbas region. Map: Euromaidan Press Russia's undeclared war against Ukraine has entered its sixth year. The Minsk agreements on a peaceful resolution of the de-facto war between Ukrainian government forces and Russian-led separatists are in a dead end. They have succeeded in extinguishing the most active warfare of 2014, but the quasi-states of the "Donetsk People's Republic" and "Luhansk People's Republic" have, with Russia's guidance and support, turned into a frozen conflict zone. From Russia's behavior in the Minsk agreement stalemate, it is reasonable to assume that its ultimate goal is to return the "quasi-states" to Ukraine on its own conditions, creating enclaves semi-controlled by Kyiv while informally directing the processes within them by ensuring that people loyal to Russia have real power. These enclaves would help Russia meet many goals: to ensure that the Ukrainian Constitution is changed to federalize Ukraine, which would give Russia leverage to permanently disrupt Ukraine's course towards the EU and NATO; to lessen the West's sanctions against Russia and decrease its expenditures for the war, for maintaining the enclaves, and restoring war-torn Donbas. Russia's military power is daunting, which makes the scenario of Ukraine regaining the Donbas by force unattainable. Western support for Ukraine and condemnation of Russian aggression gets bleaker with every passing day, as the urge to "get back to business as usual" makes each prolongation of EU sanctions against Russia a formidable ordeal. Meanwhile, the de-facto war drags on, taking nearly one life of a Ukrainian soldier each day. The more time passes, the harder it is to recall that Russia occupied Crimea and started the war in Donbas because of Ukraine's desire to sign the Association Agreement with the EU, thereby exiting Russia's sphere of influence and dealing a blow for the nuclear power's plans to resurrect the Soviet Union. And the harder it becomes for Ukraine to fight for this dream of independence. An independence which, as it seems, is inconvenient for the West, which would rather see its problems disappear while Ukraine is sucked back in by its violent resurgent imperialist neighbor. The only thing preventing that scenario is Ukraine's will to fight while waiting out Russia's ability to continue the war in Donbas. Under these circumstances, one must understand that in any negotiations of a peace deal, Russia will pursue all possible avenues to gain control over Ukraine under the mask of peace and protection of "Russian speakers" in the country – or newly-minted Russian citizens of Donbas. Zelenskyi had previously made statements suggesting he was ready to make significant concessions to Russia over the frozen conflict zone in eastern Ukraine. In a rare interview about his political views with Dmytro Hordon, he said that he was ready "to deal even with the devil so that nobody dies. We need to make the first step – to stop the shooting and to develop our country." He said that it was necessary to negotiate on peace with Russia, so that "a group of people from Ukraine met with a group of people from the Kremlin." Both sides would state their demands, "and we would meet somewhere in the middle." Zelenskyi proposed to determine what exactly Ukraine could give away to Russia on a referendum, an online-poll, or TV. However, it's unlikely that Russia will accept any concessions that don't involve Ukraine's territorial losses or massive economic dependence. Which makes the idea of negotiations a likely failure from the start – as the previous five years of attempts at negotiations have shown. Legal problems with a referendum According to the Ukrainian Constitution, a referendum can be appointed by the Parliament (on matters on changing the territory of Ukraine), or president of Ukraine (on matters of changing the Constitution, its general matters, or matters of elections). The president can also announce the conduction of a referendum if it initiated by Ukrainian citizens. For this to happen, there must be no less than three million signatures of Ukrainian citizens gathered in at least than 2/3 of the oblasts, with no less than 100,000 signatures in each Oblast. Questions about changing the territory of Ukraine are decided exclusively through a referendum. Questions about taxes, the budget, or amnesty cannot be solved through a referendum. Ukraine did have a law on an all-Ukrainian referendum which was adopted in the time of former President Viktor Yanukovych, who was deposed from power in the Euromaidan revolution. The law foresaw that a new version of the Constitution could be adopted at a referendum without the Parliament, and the decision did not require additional confirmation. But in 2018, the Constitutional Court recognized it as unconstitutional both in its content and form of adoption. As well, the law was criticized by the Venice Commission. The law was never used. Developing such a law is one of the priorities of Zelenskyi's team. But until it is adopted, any announcements of a referendum are made in a legal vacuum. They are even more unclear given that, according to the Constitution, a referendum can be held to decide on changes to the territory of Ukraine. But, if Zelenskyi promised that Ukraine will not trade its territories, then why hold the referendum at all? Shifting the burden of responsibility and dangers of populism Many critics of the referendum idea stressed that decisions of national security could not be left for ordinary citizens to decide, as the choices are fraught with geopolitical consequences which the citizens are not able to foresee. "Our world is complicated. In order to choose the scenario, one needs to clearly understand all possible consequences. Currently, UK citizens who voted to secede from the EU are proving this for themselves. It turns out that nobody explained the real consequences to the Brexit supporters. Like, the scale of economic losses for the British economy. Or the amount of the 'buyout.' Or the wave of violence in North Ireland. That very same violence which came to naught, including through both parties to the conflict ending up within the EU, with the border between them basically disappearing. Maybe these things were explained to them, but that doesn't mean that they heard them. Or were ready to understand. After all, any idea can be placed in an attractive package and sold to the voter," writes RFE/RL journalist Pavlo Kazarin, stressing that people can make mistakes (the fact that people believe in a flat Earth does not mean this theory should be taught in schools) and that the aspiration to dissolve individual responsibility in the collective one does not have anything in similar with democracy. Meanwhile, Mariya Haidar, former consultant of the President of Ukraine, said that a referendum makes sense if it's possible to implement the solution; however, asking them if they want something [like, to establish peace in the Donbas – Ed] when it's not up to Ukraine to implement it is senseless. Haidar believes that the idea of this referendum will be used by Russia to attack Ukraine. Constitutional law expert Bohdan Bondarenko stressed that such referendums can be dangerous for democracy. "Consultative referendums are a dangerous thing. Under conditions when a leader has great support, he can use consultative referendums as a decision of the people of sorts and make them mandatory by his decrees. The post-Soviet space remembers such cases. Reduce the number of MPs from 300 to 120. First, there was a vote, and then the deputies to be slashed were selected manually. We can remember 1933, 1936, 1938 in Germany. There are no national referendums in Germany now! In order for a referendum not to become a way of usurping power, not to become a manipulative means for legitimizing any decision of any political groups, it must meet two very important criteria – there must be clear, understandable, and specific rules and procedures, and the country should have the practice of holding referenda. We have no criteria. A referendum can be both a threat and a panacea for a country in a transformational period." Some, like rock musician Sviatoslav Vakarchuk, who just registered his political party "Holos," say that holding a referendum under the conditions of a kinetic and information war against Ukraine is irresponsible. Vakarchuk calls to remember how the "referendums" in occupied Crimea and Donbas were conducted. In 2014, so-called "plebiscites" were held in territories uncontrolled by Ukraine, which appeared to show popular support for seceding from Ukraine. However, the referendums were held in breach of all standards, with no independent international observers present. In both Crimea and occupied Donbas, it is widely believed that the results were falsified in order to give plausible deniability to Russia's landgrabs. Meanwhile, Heorhiy Tuka, Deputy Minister in issues of temporarily occupied territories, did not mince words when talking about Zelenskyi's idea of a referendum. "My personal opinion about this idea: for instance, some kind of scarecrow breaks into my apartment, he's huge, unshaven, and smells like a bar. He beats up my kids, kills my son, climbs on my bed, and rapes my wife. And I, as a man, as the leader of the family, start to say: 'Dear family, let's consult on what we'll do with this rapist – maybe we'll offer him coffee and cake, or give him a pillow to sit on.' God fobid that Mr. Zelenskyi will have the desire to carry out this idea," the Deputy Minister said. Peace referendums in history History provides ambiguous examples of peace referendums reaching their goal, writes Serhiy Solodkyi from the New Europe center. "Referendums as an instrument or stage of regulating a conflict are a rare phenomenon. One must realize that without the will of the leaders of the opposing sides, without a clear-cut peace plan, the referendum itself is of little value," Solodkyi says. "The approval of a plan by Ukrainians at a referendum doesn't mean it will be implemented. In particular, because of the counteraction of the other party." He provides examples of several peace referendums in international conflict situations. The one in North Ireland was a success – not least because there were two referendums, in North Ireland and in the Republic of Ireland. The Good Friday Agreement was agreed on by a majority of voters in both locations. But the referendum on a peace plan in North Cyprus failed: the Greek Cypriots voted against the plan. In both cases, however, there was a referendum from both parties of the conflict – an opportunity that Ukraine is unlikely to enjoy. Moreover, the referendum in East Timor conducted under the auspices of the UN in 1999 led to bloodshed. It is believed that it was conducted too early without the necessary safety precautions – and in result, thousands of East Timor citizens were killed, and 400,000 became refugees. What could be the solution to the war in Donbas then? Unfortunately, there is no easy one. But it would be prudent to continue viewing Russia as a permanent threat and an aggressor, to stop feeding the Russian economy, and build up Ukraine's military potential and economy. And in the meantime, to continue searching for ways to make Russia's expenses for occupying Crimea and Donbas outweigh the benefits it gets from its aggression.
Prosecutor General comments on National Security and Defense Council meeting
Such problems as de-oligarchization, supplies of Russian gas, illegal gas extraction by private regional gas companies, and the Russian oil embargo on Ukraine, according to Lutsenko
The new fuel tanker is undergoing state trials
The 45th experimental mechanical plant produced a new fuel filling station APZ-6,5-5233 with a capacity of 6.5 m3 on the KrAZ-5233Ne car chassis to replace refuelers based on the Urals. Experimental model of the car passes state tests, informs the press service of PJSC "AvtoKrAZ". The first stage of the tests was held in Vinnytsia, on the basis of the State Enterprise "45 EMZ", the second stage is currently underway – the check at the KrAZ landfill. In particular, factory testers check the rates of speed, noise, smear of the sample. Upon completion of state tests, an autopilot will go to the final stage of the inspection to one of the military units, where it will be operated in field conditions. АПЗ-6.5-5233 is intended for transportation by fuel lines of all categories and off-road, mechanized fueling with filtered fuel of automobile and armored vehicles, taking into account the quantity of issued fuel, as well as its short-term storage. new fuel filling station APZ-6,5-5233 The design of the special equipment of the autopavelator provides the following technological operations: filling of the tank with the pump, a third-party pump in the upper and lower ways; delivery of filtered fuel from a tank for refueling of equipment with simultaneous measurement of the issued volume; discharge of fuel from the tank, bypassing the filter and counter; pumping of fuel from one tank to another, bypassing the tank; discharge of fuel from the tank by gravity; pumping out of fuel from dispensing and pressure sleeves.
In the Odessa region there was a stage of testing the "Vilkha" – YouTube
General Staff of the Armed Forces of Ukraine Published on May 28, 2019 On May 23, the testing stage of the Vilkha-M and Vilkha-R missiles took place in the Odessa region Tests were conducted at distances up to 125 km and were successful. "Vilkha" is a Ukrainian missile complex with an adjusted 300 mm caliber ammunition, developed on the basis of the rocket fire rocket system 9К58 "Smerch". In case of successful completion of all tests, it is planned to be accepted into the armament of the Ukrainian army already in 2019.
India to Replace Russian Air-Air Missiles on its Fighters With European and Israeli Equivalents
Posted: May 31, 2019 190530 Su30MKI 0The Indian Air Force (IAF) is about to replace Soviet-Russian air-to-air missiles R-77 (RVB-AE) and P-73s for Su-30 MKI fighters against more modern Western counterparts. This is reported by Defense Express with reference to the Indian edition of New Delhi Television Limited (NDTV). In 2 years, Russian fighters Su-30MKI Air Force India can be re-armed with new Israeli air-to-air missiles Rafael I-Derby-ER, after February 27 this year, new fighters were not able to respond to American fighters Lockheed F-16C Block 52 Fighting Falcon Air Force Pakistan due to a limited range of Russian-made missiles R-77. Rafael I-Derby-ER, an upgraded Israeli medium-range air-to-air missile. Presentation at an exhibition in Paris in 2015 / Photo: Air Recognition Recall that in February, th. There was a further aggravation between Pakistani and India, which resulted in the mutual strike of air strikes across the territories of both countries. The first massive strike on the militant camps of Islamist terrorist groups in Pakistan was inflicted by the IAF on February 26. In response, Pakistan has suffered a demonstration strike on the territory of India. During this, the Indian Air Force was trying to shoot down the Pakistanis, but as a result of a short battle, on the one hand, F-16 and JF-17 Block 1 fighters, while on the other side, MiG-21bis UPG (Bison) and Su-30 MKI, was shot down alone from the Indian MiG-21, and his pilot was captured. "Air Force Pakistan was surprised by the IAF launching" air-to-air missiles "from within the occupied Kashmir," said Samir Joshi, one of the Indian veterans. Raytheon AIM-120C-5 AMRAAM mid-range air-to-air missile F-16C / D Block-52 Pakistan Air Force Fighter / Photo: Daily News Among the Indian aircraft, there were two modern Russian Su-30MKIs in which the Pakistanis launched several American mid-range AIM-120 C5 AMRAAM missiles from a distance of 100 km. The Indian Su-30MKI was rescued, but failed to respond to F-16 Air Force Pakistan, due to lack of range of its own R-77 missiles. The sources of the Indian Air Force reported that the Russian medium-range missiles did not match their advertising range (up to 110 km) and can not affect targets that are more than 80 kilometers away (the maximum range of the basic version of the P-77 is a note of DE).
The tragic consequences of possible default in Ukraine |Euromaidan Press |
Article by: Vitaly Portnikov Igor Kolomoisky continues to insist that Ukraine should default on the country's external debt. The fact that the oligarch, who retains a decisive influence on Ukraine's new president Volodymyr Zelensky, talks about default in interviews with Western media – most recently in an interview with the Financial Times – serves as a signal to Western financial circles. After all, American and European media tend to believe that Zelensky's victory and the appointment of Andriy Bohdan as the head of his administration are indications that it is Kolomoisky himself who is dictating the new president's agenda – a view that is more widely held than in Ukraine. And after Kolomoisky's recent revelations the potential Western investor or creditor in Ukraine has to be concerned about what awaits him. What is going on? Well exactly the same thing that has happened before our eyes many times before in recent Ukrainian history. In 2013 the interests of the oligarchy, the political elite, and the people coincided. The oligarchs wanted to weaken Yanukoych, the political elite wanted to preserve electoral competitiveness, and the people wanted to dismantle the criminal state. However, once this objective was achieved, it became evident that the goals of the oligarchs, the politicians, and the people diverged. The oligarchs wanted to expand their influence, the politicians were forced to begin building a civilized state that could receive loans from the West, and the people wanted a better life. In 2019 the situation was repeated. The oligarchs wanted to replace the president, whose actions threatened their influence. The political elite as a whole was generally set against the decisive influence of Poroshenko. And the people wanted an improvement of the social situation. The elections for the head of state took place and the oligarchs, the politicians, and the people diverged again. The oligarchs want to buy up remaining Ukrainian assets on the cheap—whether land or state-owned enterprises. This is why default offers them the best means for enrichment and for consolidating their influence on the country's future. After default Ukraine will finally become a post-Soviet "statelet'' with vanishing European prospects, governed by a few predatory families. It is no accident that Kolomoisky in his interview called on Zelensky to "not listen to the West" and frightened him with falling ratings. Clearly, for the oligarchs, default would be beneficial and that is exactly why they needed a weak, incompetent, and controlled president on Bankova street. However, the Ukrainian people will have to pay for the default in full. If 73 percent of Zelensky's voters were instrumental in implementing oligarchic plans, then the consequences of their implementation will be felt by 100 percent of Ukrainians. The fall in the exchange rate of the national currency, the disappearance of products and goods, the sharp reduction in the number of jobs, the delays in the payment of pensions, and the social and political chaos –all this will be accompanied by sufficient amounts of weaponry among the population to encourage conflicts. The dramatic impoverishment of millions of Ukrainians can lead not only to a mass exodus from the country but also to serious social unrest. We don't know how the security structures in the different regions of Ukraine would behave in this situation and whether their differing reactions would lead to a real split in the country and its continuing disappearance from the political map of the modern world. Politicians should take into account all these tragic consequences of a refusal to cooperate with the West. After all, they are Ukrainians, too, and they and not the oligarchs will have to answer to the people for the betrayal of Ukraine. But the first one who should understand the danger of what can happen in the event of default is the new president of Ukraine. Kolomoisky is warning Zelensky that if he listens to the West he will lose his ratings and will be "like Poroshenko." But Poroshenko's drop in ratings was the result of his own political errors and the "political technology'' that resulted in the "Servant of the people" project (television series starring Zelensky as a fictional president of Ukraine – Ed.). But Zelensky's ratings will drop for more objective reasons simply because hope is the only thing behind these ratings. What I would like to understand is how these ratings are supposed to go up in the event of default. When the hryvnia exchange rate reaches 100 banks will refuse to issue deposits and there will be interruptions in the supply of products to supermarkets and drugs to pharmacies. Will the ratings go up when people simply lack the money for necessities – not in the social networks but in real life? Volodymyr Zelensky needs to understand that the people who helped him come to power have as much interest in his fate as they do in the fate of all other Ukrainians. They need him for one year exactly – a year of triumphal purchasing of everything that does not fit. The idea that Zelensky could become for Ukrainians not only the president of unfulfilled hopes but also the president of poverty does not bother them. It does not bother them for one simple reason. They are sure they will find a new candidate after this one disappoints. The fact that the new one will find that he controls nothing and that the country has been set back decades and is easy prey for the Kremlin is also of little interest. The smell of cheap property intoxicates them. It fills them with notions of their own grandeur and keeps them from thinking of the future. But you and I cannot fail to see the depths of the abyss into which our country could collapse along with all of us. Translated by: Anna Mostovych Source: Espreso TV
Hungarian Court Orders Arrest Of Ukrainian Ship Captain In Deadly Capsize
A Hungarian court has ordered the arrest of the Ukrainian captain whose cruise ship collided with a pleasure boat on the Danube, capsizing the boat and killing at least seven South Korean tourists.
French FM Le Drian visits Chornobyl NPP – news ukraine | UNIAN
French Foreign Minister Jean-Yves Le Drian has visited the Chornobyl Nuclear Power Plant (NPP). Le Drian has visited Chornobyl to state the completion of the construction of the Arc, which now covers the destroyed reactor.
Protesters tear down Zhukov bust in Ukraine | Fox News
Protesters have torn down a towering bust of Soviet military hero Marshal Georgy Zhukov in Ukraine's second-largest city.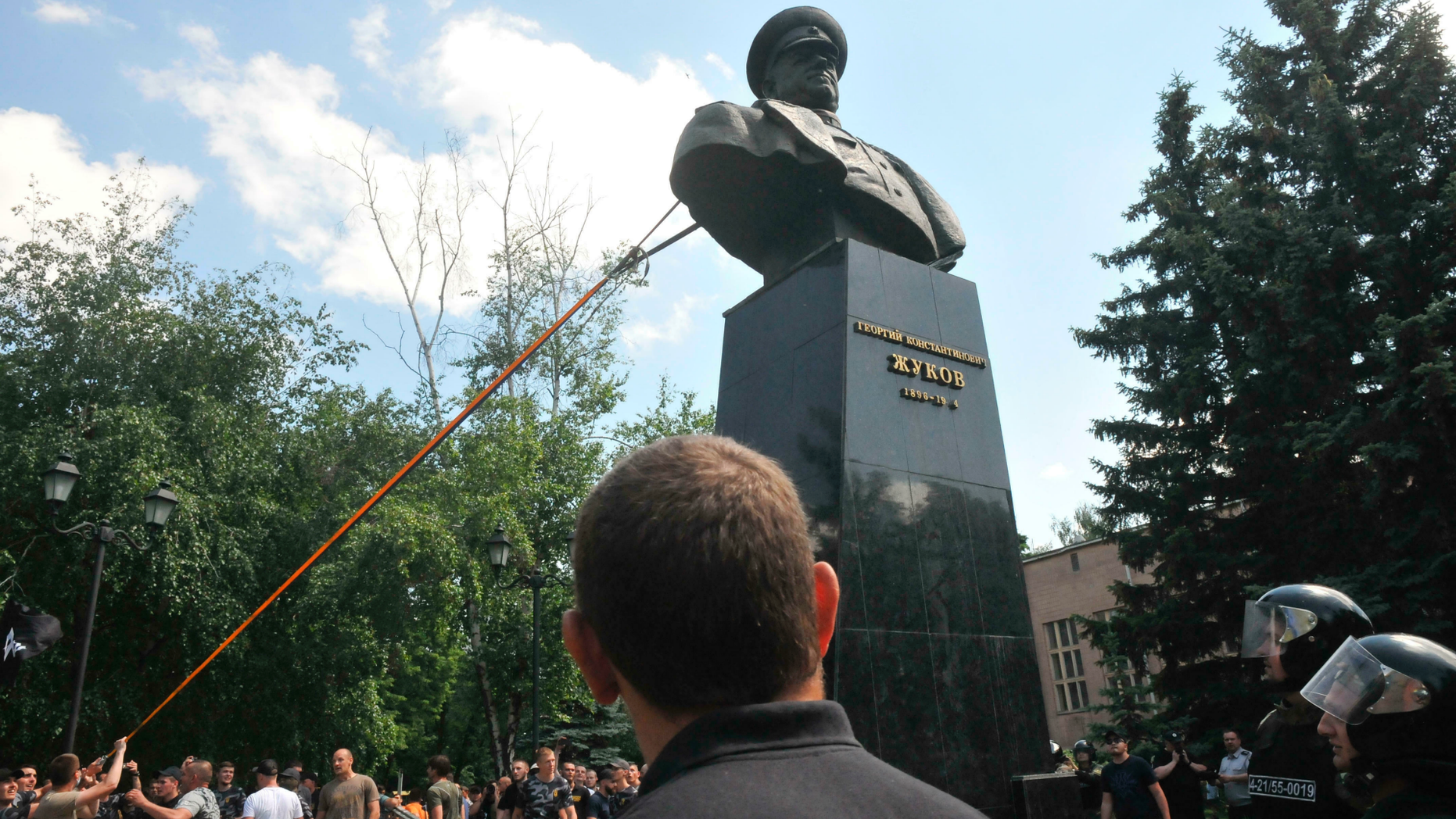 Bust of Marshal of the USSR Georgy Zhukov demolished in Kharkiv
On Sunday, June 2, representatives of a number of pro-Ukrainian organizations and parties demolished the bust of Marshal of the USSR Georgy Zhukov in Kharkiv. This is reported by the 112. ua correspondent from the scene. "We are now near Kharkiv's Palace of Sports. A congress of a recently organized political party is taking place here in the morning. This congress is picketed by pro-Ukrainian organizations and parties. They set up an improvised corridor at the entrance to the Palace of Sports, through which people must walk. In social networks users say that these are state employees who are being forced to visit this congress," the correspondent said. According to him, at the end of the corridor there is paint, which symbolizes the blood of military personnel shed in eastern Ukraine. People going to the party congress must go on this paint. "A bust of Zhukov was also located nearby. The activists ran to it, and threw it from the postament. Law enforcers were there, at some point they even tried to disperse the activists, to spray gas, but this happened in a few seconds. Policemen retreated back, and activists managed to complete their plans, "the correspondent added. The monument to Marshal of the USSR Georgy Zhukov was installed in Kharkiv in 1994. In the second half of the 90s, it was not serviced for a long time and gradually collapsed, but in 2012, on behalf of the mayor Gennady Kernes, the monument was included in the overhaul plan. The monument was recreated by the project of Serhiy Chechelnitsky in the form in which it was installed.
Kharkiv Mayor Kernes: Monument to Zhukov will be restored
Kharkiv city authorities will restore the monument to Marshal of the USSR Georgy Zhukov, who was demolished by the protesters. Reports Tsenzor. NO with reference to "Gromadske". "I talked to the deputy Vitaly Homutynnik, on whose district is the monument to Zhukov. So, the monument will be restored," Kharkiv mayor Gennady Kernes said during the congress of the Trust of Mayors party Kharkov and Odessa Gennady Kernes and Gennady Trukhanov).
I am being called by the priest-rectors of the Kiev churches,… – Bishop Adrian Kulyk-Bogdan
I am being called by priest-rectors of the Kiev churches, which still (formally) under the direction of the former Kyiv Metropolitan Filaret (Honorary Patriarch), asked: "Vladyka, Filaret will summon all the priests of Kiev to Pushkinskaya 36 on Monday at 11 o'clock. blackmail / intimidation / threats) from us so that we sign an oath of allegiance to the UOC-KP and personally as a patriarch of the Kiev Patriarchate. What should we do? " I have for no reason written the word "formally" in brackets. And now I will explain why: During May, Filaret repeatedly declared in public, in front of the media and even the Synod of the OCU that the UOC-KP was, there is and will be the patriarch of the UOC-KP. Also, he has repeatedly stated that he does not recognize the statute of the CPC that Tomas is wrong and the Primate is also wrong !!! Also, he complained that he had "DOMAINS" who did not want to perform. By the essence of these "arrangements," he planned to deceive the Ecumenical Patriarch, the Unity Council (including all delegates representing this Council) that they would choose the Primate of one, and in fact the Primate should have remained (Filaret). And they deceived him. (I want to laugh here). So from! Summing up (MAKE IT SHORT), I want to draw attention to the fact that Filaret ALREADY declared himself outside the UOC-PCU, he ALMOST declared his updated / resuscitated / activated "UOC-KP" and he does not obey any decision of the Synod of the UOC-MPU, and if there is the Bishops' Council of the UOC-KPU , then his decision, again, will not obey if it contradicts his vision and conviction. I do not want to criticize the past Synod of the UOC-KPU in the softness of such frankous false declarations of Filaret, however, de facto, this bishop ALREADY separated from the UOC-PCU and is clearly working on establishing its jurisdiction, which he will call "UOC-KP" . Answering the questions of the Kiev superiors – What should we do? – I want to say: You are no longer small children and for yourself, and for our flock you have to decide whether to remain in the canonical and recognized Ukrainian Orthodox Church (PCU), or to go for a company with a professional schismatic and a rebel who has not coped with his own vices power and pride, did not listen to the voice of the cathedral reason of the Church, through the split and destruction of the UOC / CPC, in order to satisfy their ambitions of power. Everyone makes decisions for himself and his flock as the responsible shepherd. And do not talk later that we were deceived, they were intimidated, forced us to be obliged to him, and we could not do it differently. For every pastor, as well as for every believer and loving man of God, there must be a clear hierarchy of values. We all have to distinguish between what is important, and what is secondary and, in any case, it is impossible to change the place and the main thing. In this case, each of us must determine what is most important to us. The UOC / PCU and its blessing, or the ambitions of one bishop who failed to cope with his vice of pride and veneration.
Pope urges ethnic Hungarians, Romanians to put troubles behind them – Reuters
Pope Francis urged ethnic Hungarians and Romanians to put their troubled past behind them on Saturday as bad weather disrupted his visit to Transylvania, forcing him to be driven for hours on winding mountain roads.
Pope Francis Seeks to Mend Open Wounds With Orthodox Church in Romania – The New York Times
After centuries of schism and decades of Communist rule that imprisoned, killed and otherwise persecuted Catholics, hard feelings remain.
Pope Braves Rain-soaked Mountain Roads for Transylvania Mass
Steady rains doused estimated 80,000-100,000 people who gathered for Mass at Sumuleu Ciuc shrine, dedicated to Virgin Mary
Pope Warns Of Divisive Ideologies As He Beatifies Romanian Bishops
Pope Francis has warned against any new ideological attempt to sow fear or division in society as he beatified seven Romanian Greek-Catholic bishops who died in prison during Romania's communist regime. The bishops "endured suffering and gave their lives to oppose an illiberal ideological system that oppressed the fundamental rights of the human person," the pope told tens of thousands of worshippers attending mass in the central town of Blaj on June 2. On his third and final day in Romania, the pope also met with the Romany minority and asked forgiveness in the name of the Catholic Church for the mistreatment of the members of the community. One of the goals of Francis's visit was to attempt to heal lingering resentments rooted in the centuries-old rift between the Roman Catholic Church and Orthodox Christian denominations. Romania is overwhelmingly Orthodox Christian; about 5 percent of the country's 20 million people identify as Roman Catholic. Pope Francis beatified the seven Greek-Catholic bishops who died between 1950 and 1970 during a mass for at least 60,000 people in Blaj, in the region of Transylvania.
Forget Changing The System. Just Don't Build The Church Here: 'Localized' Protesting Poses A New Challenge To The Kremlin
Far from the Kremlin's walls and Moscow's glittering skyscrapers, an uptick in "localized" public protests has focused on decidedly local issues.