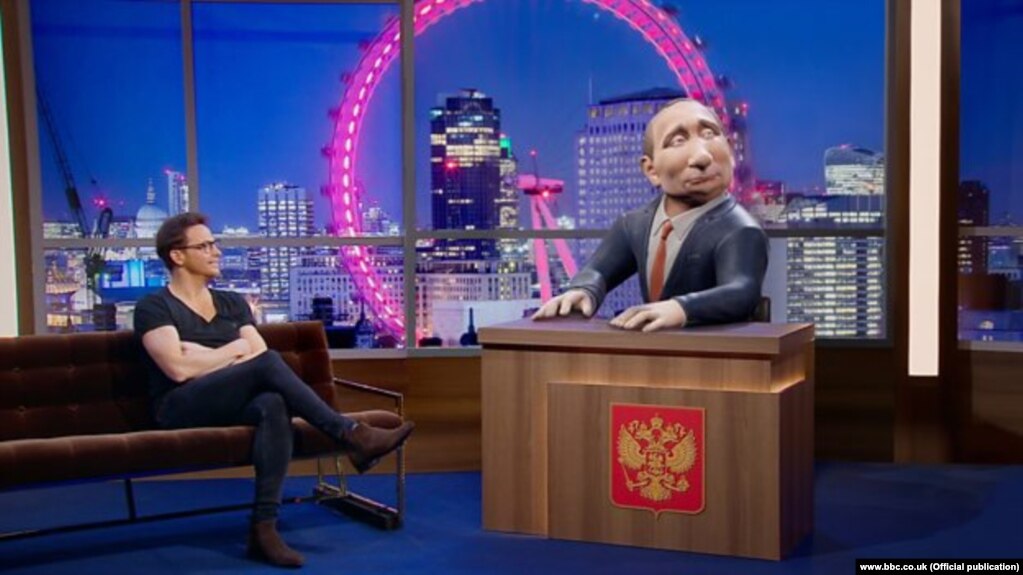 Anonymous expert compilation, analysis, and reporting.
The BBC produced a parody containing an image of Vladimir Putin, the video is hilarious! Russian broadcaster hits out at BBC show parodying Putin Of course, humorless Russia tried to hit back with a very limp-wristed invective – the BBC did not have permission to use his image! BBC never requested permission to use Putin's image in its program, says Kremlin (TASS). The Kremlin's protests just look effeminate.

Please, please, please, if anyone knows how I can view the entire video when it airs, let me know? 
This is going to be funny, it will drive the Kremlin bonkers, and Putin and Peskov are going to take it in the butt.  Much hilarity will ensue. 
</end editorial>
---
---
Day two of ADIZ probing in Alaska. Estonian airspace violated. Khmeimin hit by MLRS fires. Reports Russian Spetsnaz say they would shoot protesters rather than deal with reprisals. Ten Russian jokes (COCW!). Energy war update – Belarus may get its future oil from Kazakhstan.
NATO / EU update – much on meddling. The Beeb does the Vozhd (COCW!) and Dmitriy Sergeyevich objects.
Ukraine IR update – Ze publicly rejects negotiations with Russia. Bulgarian pro-Russian party used footage of Zelensky hosing the Rada with two SMGs in a political ad, the footage borrowed from the Servant of the People sitcom (now on Netflix with English subtitles and wickedly funny, a worthy rival to Yes, Prime Minister).
Donbas update. Gen Khomchak profiled (and widely praised). Kramatorsk AB to remain closed to civilian traffic. Vilkha-M and Vilkha-R GMLRS testing under way – including a submunition warhead.
Much political news, especially arguments over Ze's senior appointments.
OCU update – KISS survey shows catastrophic outcome for ROC in Ukraine. A big ROC update, and more on the persecution of the JW faith in Russia.
---
U.S. fighters intercept Russian bombers flying near Alaska for second day in a row
NORAD said latest incident happened on Tuesday when two pairs of F-22 fighters and an AWACS surveillance craft were sent to keep an eye on two bombers and a pair of fighter jets
For 2nd day in a row, US military jets intercept Russian bombers off Alaska – ABC News
For a second day in a row U.S. fighters intercepted Russian aircraft that flew off the coast of Alaska. The Russian aircraft were always in international airspace.
Russian fighter jets and bombers intercepted by NORAD off Alaska for second day in a row – live updates – CBS News
NORAD sent F-22s to ward off Russian bombers and fighter jets that entered the Alaskan Air Defense Identification Zone twice
For The Second Day In A Row US F-22 Jets Intercept Russian Tu-95 Bombers And Su-35 Fighters Entering Alaskan ADIZ – The Aviationist
Nothing to be worried about, just an opportunity to take some nice photographs. On May 20, 2019, two pairs of F-22s and an E-3 Airborne Early Warning and Control System were scrambled from North American Aerospace Defense Command to carry out VIDs (Visual Identification) of a total of four Tupolev Tu-95 bombers and two Su-35 fighters entering the Alaskan Air Defense Identification Zone (ADIZ). "Specifically, two of the Russian bombers were intercepted by two F-22s, and a second group of bombers with Su-35 fighters was intercepted later by two additional F-22s, while the E-3 provided overall surveillance. The Russian bombers and fighters remained in international airspace and at no time did the aircraft enter United States or Canadian sovereign airspace," NORAD said in an official statement. On the following day, "Two pairs of F-22 fighter jets, each with an E-3 Airborne Early Warning and Control System aircraft, from the North American Aerospace Defense Command (NORAD) positively identified and intercepted Russian Tu-95 bombers and Su-35 fighter jets entering the Alaskan Air Defense Identification Zone on May 21."
UAWire – Estonia accuses Russian Tu-154 aircraft of violating its border
Estonian military accused the Russian Tu-154 aircraft of violating the Estonian air border last Saturday, reported Estonian Defense Forces. The report stated that the Tu-154, belonging to the Russian Navy, entered the country's airspace near the island of Vaindloo without permission and was there for less than a minute. It is noted that the transponder of the aircraft was turned on. As the Press-service of the Defense Forces added, the plane had a flight plan, but there was no radio contact between an aircraft and the Estonian Air Navigation Services. Estonian Foreign Ministry summoned the Russian Ambassador concerning the incident and gave him a note. According to the Estonian side, it was the first such incident this year.
UAWire – Russian Khmeimim airbase in Syria comes under attack
The Khmeimim base operated by the Russian Air Force in Syria was attacked by opposition forces opposing the regime of Bashar al-Assad. The Russian State News Agency Novosti reported the shelling of Khmeimim by 17 projectiles from a multiple rocket launcher, referencing a message released by the Russian Ministry of Defense. According to Russian media, nine shells were destroyed by the air defense at the airbase, another eight did not reach the base. the Russian military does not consider it necessary to shoot down the projectiles. The day before, 6 rockets were fired at the same base. According to Russia, the attack was perpetrated by Jabhat al-Nusra Islamists. The missiles had also been intercepted.
Window on Eurasia — New Series: Spetsnaz Troops Said They're Ready to Shoot Protesters But Only Out of Fear of Reprisals, Moscow Media Say
Paul Goble Staunton, May 22 – A day after the Navalny organization reported that some Russian spetsnaz troops say they won't obey orders to shoot demonstrators who threaten the regime (windowoneurasia2.blogspot.com/2019/05/some-russian-soldiers-now-being-asked.html), Moscow media outlets are reporting that these forces are fully prepared to take such action. But the reports show that the situation is not quite as the powers that be at the center would like. According to soldiers, they said that they declared their readiness to shoot protesters because the survey wasn't anonymous and they didn't want trouble (znak.com/2019-05-22/specnazovec_rasskazavshiy_o_nashumevshem_oprose_minoborony_raskryl_znak_com_lichnost). According to the spetsnaz soldier who gave his name to Znak, "he and all 1110 men in his unit responded unanimously" to the January survey that "they do not support any of the opposition politicians (ten possibilities were listed in the survey) and were prepared if the order was given to open fire on the protesters." There was no other choice, the soldier said. "The survey wasn't anonymous." We had to write out names. "All answers as the powers that be in the structure would want them to because what sense was there to response otherwise, to give one's opinion" if negative and targeted consequences would certainly follow. That is why he says he sent information about this to the Navalny staffs in various cities. "That was the only place it was possible to go," he suggests. Mstislav Pismenkov of the Znak news agency says that the Russian defense ministry had called the Navalny report "'a primitive falsification.'" But he notes that the ministry did not respond to his inquiry as to whether commanders had in fact conducted the survey of troops that the Navalny organization reported. There is now little doubt that such a survey occurred and that the soldiers gave the response that is being reported (themoscowtimes.com/2019/05/22/russian-soldiers-say-theyre-willing-shoot-protesters-serviceman-claims-a65696), but there is also no doubt that they did so not out of conviction but out of fear of punishment.
Window on Eurasia — New Series: Ten Popular and Instructive Russian Jokes from the Past Month
Paul Goble Staunton, May 22 – Few nations on earth are as gifted at coming up with anecdotes and jokes about their situation than the Russians not only because such stories capture some of the most important aspects of life for them but also because such humor in most cases has the additional virtue of being more deniable than a direct statement. The Censoru.net portal publishes today a list of 25 jokes it describes as "the most popular anecdotes of the month from Russia." Some of them are so uniquely part of Russian life that they require the kind of explanations that undercut their humor while others approach the scatological and thus really shouldn't be shared (censoru.net/35791-novye-politicheskie-anekdoty.html). Below are ten that struck this reader as especially instructive about Russian realities:
"It is worth asking whether if the entire leadership of the FSB was subjected to searches, it might not be possible to lower the pension age to where it was" given how much money the authorities would certainly find.
"The wife of a bureaucrat has become a successful businesswoman and billionaire. Their son is vice president of a state corporation, and their daughter is head of a major foundation. But the official still remains poorly paid. A petty failure and a shame to his family."
"Russian school children win seven gold medals at the International Mendeleyev Olympiad in chemistry. At a reception in the Kremlin, Prime Minister Medvedev gives each of the children souvenirs and with all his heart wishes the future citizens of the US and the EU all the best."
Russians look at the rising costs of everything with the same expressions they would have had even if the president not scored ten goals against his opponents."
"I sent a resume to the Russian Orthodox church and was invited for an interview. I said that I wanted to head the department of the holy inquisition. Laughing, the priest said that for that I would have had to be born several centuries ago. Then, he seriously advised me to come to see him again in three or four years."
"When a Russian puts a bumper sticker on his Mercedes declaring that "we can do it again,' somehow I don't believe that he can really repeat the Mercedes."
"Judging from the incomes of deputies, the world's drug traffic goes through the Russian Duma, but judging by the laws the deputies adopt, it stops there."
"Alina Kabayeva has given birth to twins; the fathers are the president and the prime minister."
"Judging how much effort the authorities are putting into building churches, all we can do is pray."
"Putin took part in a session of the Academy of Sciences and made eight to ten scientific discoveries."
The Russian Ambassador who Overreached: Why Russia's Approach to Belarus Could Change – To Inform is to Influence
The situation in Belarus is very fluid, volatile, and critical to European security. Belarus may also be key to Russia's re-establishing "a" Soviet Union lookalike. In the past few years, many of us have foreseen a Russian soft takeover, we have seen an invasion, and we have seen Belarus pressured economically. Russia, it appears, is taking a softer approach than many have predicted. Belarusian President Lukashenko is stuck playing a balancing game between soothing Russian feathers and appeasing Western partners. Still, Russia appears to be determined to bring Belarus back into the Russian-fold. While there does not appear to be any hard proof, the fact that recent shipments of Russian oil to Belarus were deliberately sabotaged may indicate Russian economic warfare. But, then again, it might have been a mistake on a colossal scale. But, bear in mind, mistakes of that scale are usually deliberate when it comes to Russia. Russia has a long history of inventive and unique 'mistakes' when dealing with its former Republics in the USSR. </end editorial>
UAWire – Poland demands compensation from Russia for dirty oil
Russia and Poland are currently conducting negotiations on how the chlorine-contaminated oil is to be discharged from the Druzhba pipeline, said Russian Deputy Prime Minister Dmitry Kozak, as cited by TASS. Warsaw wants to know how much Russia will be willing to pay if Poland takes on the task of pumping out part of the substandard oil. Kozak noted that the matter of cleaning the pipeline has already been resolved with a number of other countries. "Standard oil is already being supplied to Belarusian enterprises, Slovakia and Hungary. As for the final discharge of the pipe on the Belarusian side – the roadmap has been fully agreed on, and its implementation has begun in the city of Polotsk. Appropriate containers are being prepared by Belarus so that the substandard oil can be discharged from the pipe from Poland," the Russian politician noted. However, no final agreement has been reached with Poland yet. Moscow and Warsaw are discussing how to clean out the pipe, but there are still "many obstacles" to be overcome in the negotiations, according to Kozak. "Our Polish partners have asked us to give them all the final terms for the future. Whereas with all the other countries – Slovakia, Hungary, Belarus, Ukraine – we have agreed to deal with the technical issues today, to physically discharge the substandard oil from the oil pipe, our Polish colleagues, despite the fact that there was the same constructive dialog at the start, suddenly want to know what discount there will be on this oil, and so on," the Deputy Prime Minister explained. These details will be discussed at another round of negotiations on Thursday 23 May.
UAWire – US Energy Secretary promises sanctions on Nord Stream 2
On Tuesday, May 21, during a visit to Ukraine, US Secretary of Energy Rick Perry assured Kyiv that US authorities intend to prevent the construction of the Nord Stream 2 gas pipeline by imposing sanctions. According to Perry, the law imposing penalties on companies participating in the project will be adopted "in the near future". The secretary noted that, in the USA, many oppose building the gas pipeline from Russia to Germany and stressed that the sanctions bill would pass in Congress and be signed by the head of the White House Donald Trump. Earlier it was reported that the US Senate had prepared sanctions against European vessels laying down the pipeline. These vessels use "technological know-how that Western energy companies are privy to, but not Russian ones," the senators explained. According to the bill, individuals who continue to sell or lease vessels used to construct the Nord Stream – 2 are subject to a ban on entry to the United States, while their assets in the United States would be frozen. The document also provides for a number of restrictions against individuals providing financial, technical or insurance support to those vessels.
After U.S. sanctions threat on Nord Stream 2, Germany rejects extraterritorial sanctions – Reuters
BERLIN (Reuters) – The German Economy Ministry has taken note of the threat of U.S. sanctions being placed on the Nord Stream 2 gas pipeline project, a spokeswoman said on Wednesday, adding that Berlin rejected sanctions that have extraterritorial effect. U.S. Energy Secretary Rick Perry said on Tuesday in Kiev that a sanctions bill putting onerous restrictions on companies involved in the Nord Stream 2 project would come in the "not too distant future".
Lukashenka Proposes Kazakhstan Ship Oil To Belarus
Belarusian President Alyaksandr Lukashenka has proposed opening talks with Kazakhstan on possible oil shipments to Belarus, the state-run Belta news agency reported on May 23. Belarusian President Alyaksandr Lukashenka has proposed opening talks with Kazakhstan on possible oil shipments to Belarus, the state-run Belta news agency reported on May 23. Russia halted oil flows through the Russian Druzhba pipeline in April after contaminated oil was discovered, sending shock waves through global oil markets. Speaking at a meeting with Kazakhstan's ambassador in Belarus, Lukashenka said Minsk would like to diversify oil deliveries for its refineries, Belta reported. Yermukhamet Yertysbayev, the Kazakh ambassador to Belarus, told Lukashenka that Kazakhstan was ready to supply Belarus with oil but that agreement with Russia was needed first, according to Belta. Meanwhile, pipeline operator Transpetrol announced on May 23 that Russian crude oil flows into Slovakia via Druzhba had resumed a day earlier. The pipeline carries oil from Russia and Kazakhstan through Belarus to refineries in Poland, Germany, and Slovakia. Earlier this week, the Belarusian state energy company Belneftekhim said it would take two months to resume oil transit through the Druzhba pipeline after the contamination by Russian oil. The company added there were currently 1.2 million tons of tainted oil in Belarus. Russian President Vladimir Putin has said that the contamination of Russian oil supplies had caused "very serious" damage to his country's reputation as an oil exporter, and to Russia's oil infrastructure. The Russian oil giant Transneft has accused a small private company of being responsible for the contamination that caused the shutdown.
Russia condemns 'US ultimatum' to Turkey over S-400 missile deal | Russia News | Al Jazeera
Moscow denounces reported US sanctions threat towards Ankara over its intention to buy Russia's missile defence system.
Russia slams US ultimatum to Turkey over missile sale
Turkey has around two weeks to decide whether to complete a complex arms deal with the U.S. or risk penalties by buying a Russian missile system.
Hunt: Britain Has Helped 16 NATO Allies Tackle Russia Hacking Attempts
Britain has shared information on Russian cyberactivities with 16 NATO allies, helping them counter malicious threats against their countries over the past year and a half, Foreign Secretary Jeremy…
US officials say foreign election hacking is inevitable
Comments before a House subcommittee by representatives from the Departments of Justice and Homeland Security underscored the challenges for federal and state governments in trying to ward off interference from Russia and other countries in the 2020 election.
See how US political parties fare in cybersecurity
SecurityScorecard recently analyzed the networks of parties from the United States and Europe.
Dates Announced For Summit Of NATO Leaders In London
The next summit of NATO's heads of state and government will take place on December 3-4 in London to mark the alliance's 70th anniversary.
Stoltenberg: NATO Summit Set for London on Dec. 3-4 
It will mark the alliance's 70th anniversary, secretary-general says
Austria's Interim Ministers Sworn in After Video Scandal
New, technocratic ministers will replace politicians from the far-right Freedom Party who left the government amid a video scandal surrounding its leader
Russian documents reveal desire to sow racial discord — and violence — in the U.S. – To Inform is to Influence
This report had the potential of exploding in the media but is seemingly written to actually downplay much of what Russia is still doing to weaponize information against the US and the West. I was actually disappointed by the lack of documentation of other actions taken against the US and the West.   I am…
BBC Has No 'Permission' For Putin Image In New 3D Talk Show, Kremlin Says
The Kremlin says the BBC never requested permission to use the image of Vladimir Putin in a new program featuring a 3D animation of the Russian president.
Russian broadcaster hits out at BBC show parodying Putin | Television & radio | The Guardian
Tonight With Vladimir Putin portrays Russian president as a talkshow host
BBC Press Office on Twitter: "🥋🇷🇺 Britain's newest chat show host – please welcome Vladimir Putin to @BBCTwo pilot #TonightWithVladimirPutin: https://t.co/DVY8uVOWSM… https://t.co/XtIdHXq4l8"
🥋🇷🇺 Britain's newest chat show host – please welcome Vladimir Putin to @BBCTwopilot #TonightWithVladimirPutin:https://t.co/DVY8uVOWSMpic.twitter.com/ifgw0s0kWB
— BBC Press Office (@bbcpress) May 21, 2019
BBC – BBC Two announces brand new chat show hosted by Vladimir Putin – Media Centre
Everybody's favourite bear-wrestling global strongman Vladimir Putin has finally achieved his ultimate goal – a chat-show on the BBC. Everybody's favourite bear-wrestling global strongman Vladimir Putin has finally achieved his ultimate goal – a chat-show on the BBC. Forget global politics, landing two pilot episodes on BBC Two of his soon to be world-famous chat show marks the ultimate victory for Vlad, leader of the free world. Tonight With Vladimir Putin is a semi-scripted comedy chat-show format – with a significant twist. In a television first, ground-breaking live VFX, created using performance capture technology, developed by creative studio Framestore, enables a 3D digital cartoon of Putin to walk around and sit behind the desk, interviewing real human guests in front of a studio audience, all in real-time. The first guest in episode one is Alastair Campbell, whom Vlad warmly thanks for his part in making such a mess of things, and then June Sarpong discusses her career highs and lows… after which Vlad forces her to play a game of Diversity Challenge. In episode two Vlad asks his first guest the same question he asked at the production meeting: "Who is Joe Swash?" Before trying to get his head around feminism with Guilty Feminist podcaster, Deborah Frances-White. It's fair to say his grasp of the concept remains patchy. Created by Jasper Gibson (The Poke), Joel Veitch (Rathergood.com) and Simon Whalley (Framestore), Tonight With Vladimir Putin (2×12') was produced by Phil McIntyre Television and Framestore for BBC Two. Vladimir Putin is written and performed by Natt Tapley. The Commissioning Editor for the BBC is Rachel Ashdown and the Executive Producer for Phil McIntyre Television is Lucy Ansbro. Lindsay Jex is the Series Producer.
BBC – Tonight With Vladimir Putin – Media Centre
Master of all he surveys, Vlad has now won all his battles: America, Europe, the Internet. However, none of these victories make him truly happy.
Tonight with Vladimir Putin: BBC chat show to be hosted by CGI version of Russian leader | The Independent
The BBC has created a pilot for a new comedy chat show hosted by a CGI version of Vladimir Putin. Tonight with Vladimir Putin will launch on BBC Two as two episodes of 12 minutes.
Rick Perry on Twitter: "Today, I met with President Volodymyr Zelenskyy to discuss our shared energy goals. The United States is committed to ensuring the long-term energy security of Ukraine as well as support their sovereignty, territorial integrity, and continued reform efforts.… https://t.co/cvMQJASxDN"
Kurt Volker on Twitter: "Another great visit to 🇺🇦 for @ZelenskyyUa's inauguration. Productive meetings w/President Zelenskyy & his team about working together to face challenges ahead. Also had good meeting w/former President @poroshenko who lead Ukraine w/courage at a dangerous and critical time.… https://t.co/Qx4HNWWPAs"
UAWire – US promises Ukraine $2 billion loan guarantees for gas purchases
The US Secretary of Energy Rick Perry stated at the press conference in Kyiv that the US could provide guarantees to the Ukrainian national gas conglomerate Naftogaz for the placement of Eurobonds for 2 billion US dollars, reports Apostrophe news outlet. "This is one of the possible solutions. However, there may be other financial sources. There are different ways to finance the purchase of gas," said Perry. As the Chairman of the Board of Naftogaz Andriy Kobolyev previously saida, the company intends to create a gas reserve in underground storage with a capacity of 20 billion cubic meters, as well as to invest in increasing production of natural gas. Yesterday the President of Ukraine Volodymyr Zelensky met with Rick Perry and asked the US to increase pressure on Russia, as well as to impose additional sanctions.
President Zelensky calls Russia "aggressor" in public
President of Ukraine Volodymyr Zelensky called Russia "aggressor" in public during IForum, broadcasted by 112 Ukraine. "Today, we, unfortunately, are losing to Kazakhstan, Belarus, Uzbekistan, Georgia, Moldova, Baltic States and aggressor," he said commenting on the statistics of the development of the e-government.
Zelensky publicly calls Russia aggressor state – news politics | UNIAN
Ukrainian President Volodymyr Zelensky has publicly called the Russian Federation an aggressor state. He said Ukraine was losing to the aggressor in the e-government development. "There is a UN report on e-government development for 2018. And we can clearly see what to strive for. As of today, no matter how sad it may sound, we are losing to Kazakhstan, Belarus, Uzbekistan, Georgia, Moldova, the Baltic countries, and the aggressor [Russia]," he said at iForum 2019 in Kyiv on Thursday, according to an UNIAN correspondent. As UNIAN reported earlier, Ukrainian President Volodymyr Zelensky denied the possibility of talks with Russia.
Zelenskyi calls Russia 'aggressor'
23.05.19 15:59 – Zelenskyi calls Russia 'aggressor' The president commented on the statistics of the development of the e-government. View news.
Zelensky denies possibility of negotiations with Russia
President of Ukraine Volodymyr Zelensky denies the possibility of negotiations with Russia as Hromadske reported. When the journalists asked him whether the negotiations with Russia will take place, Zelensky said that they will not. Earlier Andry Bohdan, the Head of the Administration of President Volodymyr Zelensky stated that the authority considers the option to make the peace agreements with Russia a matter of the national referendum. 'In his speeches, Volodymyr Zelensky himself declared that we consider making some agreements the matter of the referendum. It's not only about the politicians talking, but also about the people. We consider making the issue of reaching the peace agreements with Russia a matter of the all-nation referendum, so that the people of Ukraine would decide that, too – not just the MPs' votes and the President making the decision', Bohdan said.
Zelensky denies possibility of talks with Russia (Video) – news politics | UNIAN
Ukrainian President Volodymyr Zelensky has denied the possibility of talks with Russia. When asked by journalists whether there would be negotiations with Russia, Zelensky said "No." When asked by journalists before his speech at iForum 2019 whether there would be negotiations with Russia, Zelensky said "No," the Ukrainian news outlet Hromadske wrote on May 23. Zelensky also apologized for the fact that visitors of iForum had to pass through metal detector frames and joked that someone from those present at the event would come up with an alternative to this type of control.
Zelensky calls idea of referendum on talks with Russia a way to find out public opinion
Ukrainian President Volodymyr Zelensky has said that the issue of concluding peace agreements with Russia at a referendum does not have a legislative initiative, but is a way to find out the opinion of society. — Ukrinform.
Ukraine Considers Referendum on Possible Russian Peace Deal
Ukraine may submit any preliminary peace deal agreed with Russia to the Ukrainian people for a referendum, the new head of President Volodymyr Zelenskiy's administration told Ukrainian television Tuesday. Ukrainian troops are fighting Russian-backed separatists in the Donbas region in a conflict that has killed 13,000 people since 2014. Ukraine also wants Russia to return Crimea, which Moscow annexed the same year.
Poroshenko gives new President Zelensky advise on how to treat Russia
The fifth President of Ukraine Petro Poroshenko recommended the new President Volodymyr Zelensky to put Ukraine first and consider Russia as an aggressor, as he wrote on his Facebook page. "I am sure that one should preserve positions acquired over last five years: Ukraine comes first, Russia is an aggressor state, the world's solidarity with Ukraine should be strong as it was under President Poroshenko," the politician wrote. At the same time, he expressed surprise of the intention of Zelensky's Administration to put the question of peace agreement with Russia to a referendum. "I would like to recommend the team of the new President to dispel rumors which were either unsuccessful impromptu or deliberate step which threatens the integrity and sovereignty of our state," Poroshenko noted. The Ukrainian authority considers an option to make the peace agreements with Russia a matter of the national referendum.
In Bulgaria, Pro-Russia Party's Violent TV Ad Takes Aim At Politicians, Media
A pro-Russian party in Bulgaria, just days ahead of European Parliamentary elections, has published a video featuring a scene from a 2005 TV series in which a man is seen shooting at dozens of peop… The video, which was posted on the Vazrazhdane (Renaissance) party's website and Facebook account on May 22, contains a 10-second scene from The Servant Of The People, a popular Ukrainian TV series. In the clip, the leading actor, recently elected Ukrainian President Volodymyr Zelenskiy, shoots at lawmakers with two automatic weapons. "Vazrazhdane — Only we can," reads text at the end of the video.
Ukraine withdraws from three another treaties within CIS
22.05.19 14:29 – Ukraine withdraws from three another treaties within CIS The Cabinet of Ministers has approved a draft resolution on Ukraine's withdrawal from three separate treaties concluded within the Commonwealth of Independent States (CIS). View news.
UAWire – Ukraine imposes duties on cement from Russia, Belarus, and Moldova
The Interdepartmental Commission on International Trade of Ukraine adopted a decision on May 21 to impose anti-dumping duties on import of cement clinkers and Portland cement from Russia, Belarus, and Moldova reports the Press-service of the Ministry of Economic Development and Trade (MEDT). Anti-dumping duties are imposed in the amount of 114.95% for goods from Russia, 57.03% for the products from Belarus and 94.46% for the goods from Moldova. The duties will be in effect for five years. The ministry noted that the measures are introduced due to the dumping imports from these countries during 2015 – 2018. During this time, the shares of import of cement clinkers and Portland cement from these countries were growing steadily. Earlier, the Ukrainian government imposed an embargo on the import of Russian Portland cement, alumina, slag, sulfate-resistant cement, and similar hydraulic types of cement.
Ukraine's Ministry estimates losses Russia took in captured Black Sea ports due to sanctions
The ports in temporarily occupied Crimea and Russia located in the Black Sea, took losses in the amount of over $11,8 million in 2018, as Ministry of Temporarily Occupied Territories reported. "The analysis of the information the Ministry has shown that in 2018 the income of the Administration of seaports of Black Sea made $5,6 million, but the expenses made $17,1 million," the establishment reported.
NATO calls on Russia to withdraw from Crimea, cease its support to militants in eastern Ukraine – news politics | UNIAN
NATO calls on Russia to withdraw from Crimea and cease its support to militants in eastern Ukraine. NATO also calls on Russia to release the Ukrainian sailors and ships seized in November last year near the Sea of Azov.
One Ukrainian soldier wounded in Donbas amid five enemy attacks in past day – news war | UNIAN
Russia's hybrid military forces in the past 24 hours mounted five attacks on Ukrainian army positions in Donbas, with one Ukrainian soldier reported as wounded in action. Two occupiers were killed and another one was wounded on Wednesday, intelligence reports say.
Aerial recon footage shows targeted strike at IFV of Russian proxy forces in Donbas (Video) – news war | UNIAN
Volunteers of the Povernys Zhyvym [Come Back Alive] project have posted a footage showing Ukrainian troops destroy an infantry fighting vehicle (IFV) of Russian-backed militants in Donbas, eastern Ukraine. The operation was successful, the volunteers said.
DPR militants confirm seizure of Ukrainian servicemen – LB.ua news portal
DPR militants confirm seizure of Ukrainian servicemen. They took their uniforms, documents and ammunition. Political – LB.ua news portal. Latest from Ukraine and the world today
The Minister of Defense officially introduced General Khomchak
Defense Minister Stepan Poltorak at the official presentation of the new Chief of the General Staff – the Commander-in-Chief of the Armed Forces of Ukraine identified his most important task in rebuffing Russian aggression. Poltorak emphasized that the only tasks of Khomchak are the repression of aggression, defensive reform and ensuring Euro-Atlantic integration, reports Channel 24 . In addition, the new head of the Khomchak General Staff will have to improve the training of the Armed Forces of Ukraine at all levels, enhance personnel motivation and increase the efficiency of the use of new weapons. Khomchak replied that "the main directions – saving the life of the personnel, stopping manual control, eye-catching and showing off – will do." He also promised to hold an inventory. " The General Staff Reform has already begun. This happened when Ukraine declared itself to hold a course on Euro-Atlantic integration. Therefore, we will move in the same direction, we will not deviate from this work, – said Ruslan Khomchak.
New Chief of Armed Forces General Staff: Who is Ruslan Khomchak?New Chief of Armed Forces General Staff: Who is Ruslan Khomchak?
On Monday, May 20, inauguration of Volodymyr Zelensky took place. And on May 21 it became known about the first appointment of the new president. So, Zelensky dismissed the head of the General Staff of the Armed Forces of Ukraine, Viktor Muzhenko and appointed Lieutenant-General Ruslan Khomchak instead. What is known about the new commander in chief of the Armed Forces? Biography Ruslan Khomchak was born on June 5, 1967 in Rivne. He graduated from the Moscow Military School. He served in Germany, and then in Belarus. Seven years he served in the 24th separate mechanized brigade, after which he studied at the National Academy of Defense. Khomchak was the commander of the 300th separate mechanized regiment in Chernivtsi, and in April 2005 he headed the 72nd separate mechanized brigade. Since 2009 – Chief of Staff of the 8th Army Corps. In 2011, Colonel Khomchak was awarded the rank of major general by decree of President of Ukraine Viktor Yanukovych. In May 2012, Khomchak became commander of the 6th Army Corps, and in August 2013 he was given the rank of lieutenant general. In November 2013, the 6th Army Corps was reorganized into the "South" Command, the acting commander of which was Ruslan Komchak. Open source From July to December 2014, he led the "B" sector of the ATO forces in Donbas. he was in charge of the operation on withdrawal of troops from Ilovaisk. According to the journalist Yuriy Butusov, on August 5, 2014, Khomchak received an instruction from the ATO commander Muzhenko to carry out the encirclement of Donetsk. From the north, units of the 93rd brigade were to block the main routes from Horlivka to Donetsk and reach Nyzhnya Krynka, and from the south from Starobeshevo the Ukrainian troops were to occupy Ilovaisk, Khartsyzk, and unite in the Zugres-Nyzhnya Krynka area. To keep Ilovaisk, Russian command sent its reserves. On August 23, the Russian regular army struck from the Russian Federation territory and surrounded the troops of sector "B" near Ilovaisk. Related: Bill on impeachment is ready to be reviewed by parliament, – Deputy Head of Presidential Administration It is noted that Khomchak's command post was outside the ring of the encirclement, and evacuation groups were sent three times after him, but the general refused to leave the subordinate soldiers and officers. The next day after the troops were encircled, pro-Russian militants allegedly managed to agree on a "green corridor" for the withdrawal of fighters and equipment. However, both columns during the exit from the city were shot by the pro-Russian militants and the Russian military. Khomchak managed to get out of the encirclement. After the Ilovaisk tragedy, he served as chief of staff of the ground forces. And in August-October 2016, General Komchak becomes the commander of the ATO forces in Donbas. Open source From February 2017 until his appointment as Chief of the General Staff, Komchak served as the Chief Inspector of the Ministry of Defense. In this position, he visited the majority of military units, participated in investigations of all known emergency situations in the army over the past two and a half years. According to the income declaration for 2018, Khomchak owns an apartment in the Bila Tserkva, Kyiv region and two land plots (one in the Zhytomyr region, the other in the Chernihiv region). A new head of the General Staff is driving a Toyota Land Cruiser. Over the past year, income of Komchak amounted to 1 136 000 UAH. Most of this money is salary in the Ministry of Defense. On bank accountst Khomchak has about 8 000 UAH and 6 (six) dollars. At the same time, the general stores 50 000 dollars, 10 000 euros and 60 000 UAH in cash.
Kramatorsk airport can only be opened after end of Donbas war,- Ministry of Defense
The Ministry of Defense of Ukraine did not allow opening an airport in Kramatorsk for the civil flights. They explained this with the war in Donbas. The Ministry of Defense of Ukraine stated that as the News of Donbas reported. According to the report, using an airport for civil flight is not possible for now due to the situation in the Joint Forces operation. Thus, Kramatorsk airspace is closed for passenger airplanes. Related: Day in Donbas: Three Ukrainian fighters sustain combat wounds "The Defense Ministry has decided not to open an airport for civil aviation on the Kramatorsk airfield and suggested to reconsider the issue after stabilization of the situation in the state and the restoration of full control by the state authorities of Ukraine over the temporarily occupied territories of Donetsk and Luhansk regions," the report said. According to the report, the issues of Mariupol airport is not within the competence of the ministry, since the object was transferred to the communal property of local self-government bodies in 1996.
Wesslau: Reform of Ukraine's Security Service is one of most needed
"As for the reform of the Security Service of Ukraine, I think it is one of the most challenging but also one of the most needed reforms. It will require strong political will," Deputy Head of the European Union Advisory Mission (EUAM) Ukraine Fredrik Wesslau said at the sixth meeting of the Parliament-Civil Society Platform, an Ukrinform correspondent reports. According to him, the reform of the Security Service of Ukraine and parliamentary control are important because this will make the security sector more transparent and efficient and will increase the level of trust in Ukrainian security agencies. "And this trust is important not only for strengthening democracy but for restoring the trust of Ukrainian citizens in power and the agency also," Wesslau noted. He added that "Zelensky and his team understand the need to reform the Security Service and set it as one of their priorities." Wesslau clarified that the EUAM cooperated with NATO and other partners to reform this area, "but we have not seen the draft laws yet and can not say whether they meet the Euro-Atlantic standards." Ukraine deserves a security service that meets the highest standards of the EU and NATO and works to protect the interests and rights of Ukrainians, "therefore parliamentary control should also be on time", the Deputy Head of the EUAM Ukraine said. He noted that he wanted to see the Security Service of Ukraine "a more civilian body rather than militarized one, and this is the norm in Europe and the United States."
Zelensky re-appoints commissioner on rehabilitation of combatants
President Volodymyr Zelensky has re-appointed Vadym Svyrydenko to the post of president's commissioner on the issues of rehabilitation of combatants. — Ukrinform.
The AFU tested the "Vilkha-R" missile with a submunition dispensing warhead
The next stage of the testing of the Ukrainian missiles of the high-altitude "Vilkha-M" and missiles with the "Vilkha-R" cassette military unit took place at the AFU range in the south of the country. This was reported by Alexander Turchinov . He noted that the tests will continue until the end of the week, in particular, launch of cruise missiles of the mobile complex "Neptune" and expressed hope that they will also succeed. " Ukrainian scientists and industrialists continue to carry out tasks for the implementation of a missile program aimed at enacting the Vilkha missile, Vilkha-R and the Neptune cruise missile system by the end of the year. I hope that, despite personnel changes in the security and defense sector of Ukraine, missile projects will be carried out according to the approved plan, and work to strengthen the defense capabilities of our state will not stop
Ukraine tests Vilkha-M and Vilkha-R missiles
The next stage of testing of Ukrainian Vilkha-M missiles and Vilkha-R missiles with multicharge warheads was held at the firing ground of the Armed Forces of Ukraine in southern Ukraine. — Ukrinform.
POLTORAK: STATE TESTS OF NEW VILKHA-R AND VILKHA-M GMLRS WILL RUN FROM AUGUST TO SEPTEMBER 2019 (VIDEO)
New domestic guided missiles with a high flight range ("Vilkha-M") and a cassette combat unit ("Vilkha-R") will begin to undergo state tests from August to October this year. It is reported by Defense Express referring to the words present at the launches of Acting Defense Minister Stepan Poltorak. " As soon as we completed the next stage of testing the missiles of Vilkha-M and Vilkha-R in the Odessa region. I would like to note that the tests were conducted at different distances and during the firing we tested various parameters of missiles ", – said Stepan Poltorak. He added that the tests of modernized missiles developed by the SCC "Luch", which is part of the State Enterprise "Ukroboronprom", were successful. " We are preparing for the fact that from August to October, to conduct state tests and put them on the arming of the Armed Forces of Ukraine, " – noted in. at. Minister of Defense. " They need bracing and show themselves as an effective weapon ," said Stepan Poltorak. 190523 VilhaPoltorak 1 Recall that the first version with a corrected ammunition caliber 300 mm "Vilkha" with a weight of the warhead of about 250 kg [Ed: 500 lb] and a range of up to 70 km was adopted at the end of last year. These missiles are in DOS and according to the plan, they must begin to arrive in the Armed Forces from the middle of this year. Longer-range modification of the rocket, with a range of up to 130 km ("Vilkha-M") was first tested on April 4 this year. There was no information on earlier versions of the missile with a submunition warhead ("Vilkha-R").
Stepan Poltorak took part in missile tests "Vilkha M" and "Vilkha R" – YouTube
Press Office of the Ministry of Defense of Ukraine Published on May 23, 2019 Today, on May 23, in the Odessa region, the stage of the test of the missiles of Vilkha M and Vilkha R. The tests were conducted at different distances and according to different parameters. Stepan Poltorak at the end of the test said that he was satisfied with the successful stage of the tests, as well as that the agency plans to enter the state test from August to October of this year.
Zelenskiy's Decree On Disbanding Ukrainian Parliament Enters Into Force
A decree issued by Ukrainian President Vladimir Zelenskiy on disbanding parliament and holding snap elections in July has taken effect.
Ukrainian Lawmakers Decline To Address Zelenskiy's Proposals At Emergency Session
Ukraine's parliament has ended an emergency session without discussing amendments to the electoral law proposed by President Volodymyr Zelenskiy.
Ukraine's parliament snubs new president on election law
KIEV, Ukraine (AP) — Ukrainian lawmakers on Wednesday turned down the new president's proposal to amend the election law in a blow to his hopes to get more of his supporters into parliament.
Ukraine parliament takes aim at president's election reform plan – Reuters
Parliament dealt an early blow to President Volodymyr Zelenskiy on Wednesday by rejecting proposed changes to Ukraine's voting system before a snap national election, which the speaker said lawmakers would seek to annul.
Zelensky comments on Rada's failure to consider bills on election law amendments – news politics | UNIAN
Ukrainian President Volodymyr Zelensky says the Verkhovna Rada, Ukraine's parliament, has failed to vote for the bills to amend some laws of Ukraine to revamp the electoral system for the snap parliamentary elections since the old politicians hope to continue their political life. On May 22, an extraordinary meeting of the parliament convened on the president's initiative was closed without any decisions passed.
Closed lists, 3% vote threshold: Amendments of electoral system proposed by Zelenskyi
22.05.19 16:29 – Closed lists, 3% vote threshold: Amendments of electoral system proposed by Zelenskyi The draft law offers to impose the proportional representation and reduce the vote threshold up to 3%. View news.
Poll shows over 43.8 percent ready to vote for Zelenskyi's party in early elections
22.05.19 14:54 – Poll shows over 43.8 percent ready to vote for Zelenskyi's party in early elections Some 43.8% of Ukrainians who intend to vote in early parliamentary elections in Ukraine and have already decided on their choice are ready to support the Servant of the People party. View news.
That Michael Caputo on Twitter: "REMARKABLE: New Ukrainian President Volodymyr Zelensky's party is already polling at 34% for parliament elections. A lot of branding brilliance here: his party, so new it's still in the box, is called "Servant of the People," the title of his popular weekly TV show.… https://t.co/4NpZTinfWc"
Ukrainians welcome dissolving parliament by new president – YouTube
Daily Mail Published on May 21, 2019 Former comedian Volodymyr Zelensky, 41, won a landslide victory last month in Ukraine's presidential election against incumbent Petro Poroshenko. He fought the campaign on an anti-establishment platform, calling hostile lawmakers 'petty crooks'. At his inauguration on Monday (right), Zelensky said he would dissolve the country's legislature for early parliamentary elections that were scheduled for October. He also vowed to end a bloody five-year war with Moscow-backed separatists in the east of the country, in which 13,000 people have died.
Zelensky will meet with IMF mission, as planned, next week – presidential press service
President of Ukraine Volodymyr Zelensky will hold meetings with the mission of the International Monetary Fund in Kyiv next week, as planned.
Ukraine's Zelensky under fire over top appointment | The Times of Israel
New president, once accused of running for office as front for Ukrainian-Swiss-Israeli oligarch Kolomoisky, appoints billionaire's personal lawyer Andriy Bogdan as top aide
Ukraine president dissolves parliament, names lawyer with ties to tycoon chief of staff | News | DW | 21.05.2019
Volodymyr Zelenskiy has named Andriy Bogdan as head of his presidential administration. The lawyer has ties to one of Ukraine's richest men and a former president. Zelenskiy also set a date for snap elections.
Ukraine's ex-President Kravchuk approves parliament's dissolution – news politics | UNIAN
First Ukrainian President Leonid Kravchuk approves the dissolution of the Verkhovna Rada, Ukraine's parliament, by Ukrainian President Volodymyr Zelensky. People do not trust the Verkhovna Rada, Kravchuk said.
Zelensky: I am dreaming about 'country in a smartphone'
Ukrainian President Volodymyr Zelensky has said he intends to implement the "country in a smartphone" concept to make up for Ukraine's lag in e-government development.
Ukraine's New Leader Raises Eyebrows as He Builds Out Team – Bloomberg
Following his inauguration on Monday, Ukrainians are finally getting a glimpse of who'll be working for their new leader.
Ukraine's envoy to NATO becomes deputy head of Zelenskyy's administration – LB.ua news portal
President Volodymyr Zelenskyy has appointed the head of Ukraine's mission to NATO, Vadym Prystayko, a deputy head of his administration. The deputy head of the presidential administration in charge of foreign affairs, Kostyantyn Yeliseyev, resigned on 16 May. On 21 May, Zelenskyy appointed Deputy Foreign Minister Olena Zerkal as a deputy head of this administration but later this decree was declared void. Zerkal continues her work at the Foreign Ministry. LB.ua reported earlier that Prystayko was considered for foreign minister. In 2014-2017, he was a deputy foreign minister. Earlier, he was Ukraine's ambassador to Canada.
New presidential administration head to vetting law – Justice Ministry – LB.ua news portal
New presidential administration head to vetting law – Justice Ministry. The deputy justice minister said his office is ready to take action. Political – LB.ua news portal. Latest from Ukraine and the world today
Chief of Ukraine's State Security Administration to resign – news politics | UNIAN
Chief of the State Security Administration of Ukraine Valery Geletey has decided to tender his resignation. The official thanked the staff for dedication and high level of responsibility. "I'm proud of my every working day in the State Security Administration of Ukraine. At the same time, I realize that the newly elected Ukrainian president should form his own team. I decided that I would write my resignation letter after the inauguration, because it would be irresponsible to leave my agency on the eve of this important event," he wrote on Facebook on May 22. The official thanked the staff for dedication and high level of responsibility. "Leaving the post of the head of the State Security Administration of Ukraine, I will continue my service devoted to the state, the people, and the law," he added. As UNIAN reported earlier, newly elected President Volodymyr Zelensky on May 21 dismissed Chief of the General Staff and Commander-in-Chief of the Armed Forces of Ukraine Viktor Muzhenko and appointed Ruslan Khomchak to that post. Read more on UNIAN: https://www.unian.info/politics/10559694-chief-of-ukraine-s-state-security-administration-to-resign.html
Head of State Guard Department Heletei resigns
22.05.19 18:00 – Head of State Guard Department Heletei resigns Head of Ukraine's State Guard Department Valerii Heletei has tendered his resignation. View news.
BPP does not support Zelenskyi's initiative to change system of parliamentary elections
22.05.19 13:43 – BPP does not support Zelenskyi's initiative to change system of parliamentary elections The parliamentary faction of the Petro Poroshenko Bloc will not support the bill of President of Ukraine Volodymyr Zelenskyi on amending the law on parliamentary elections regarding the refusal of the majority component and the reduction of barrier… View news.
Petition for resignation of Zelensky signed by 25,000 people in less than a day
The electronic petition for the resignation of President of Ukraine Volodymyr Zelensky, registered on the website of the President of Ukraine, has already been signed by more than 25,000 people. — Ukrinform.
Ukraine's president calls new parliamentary election
KIEV, Ukraine (AP) — Ukraine's new president on Tuesday formally ordered Ukraine's parliament to dissolve and called an early election for July, hoping to ride the wave of his electoral success to…
Ukraine: with parliament dissolved, new president must now get serious – here's how
Newly inaugurated as president, Zelenskiy is now preparing to fight a parliamentary election – while Russia and the West look on. Following his inauguration on May 20, Ukraine's new president, former comedian Volodymyr Zelenskiy, has quickly moved towards taking control of Ukraine's political system. Zelenskiy immediately dissolved parliament in an effort to stage early parliamentary elections for July 21, 2019 and then entered into talks with the leaders of parties currently represented in the Verkhovna Rada (Ukraine's parliament) to effect two significant changes to the electoral system. First, parties now only need to gain 3% (rather than the previous 5%) of the total nationwide vote before they can win parliamentary seats. This increases the chances that smaller parties will gain representation, including those in the current parliament whose support levels have collapsed. Second, all members of the future parliament will be elected under a proportional system – rather than half of them being elected in single seat constituencies, as they have been in the past. These measures, agreed on May 21 and to be approved by parliament on May 22, were the price Zelenskiy had to pay for early elections. The current parliament could have raised any number of legal objections to early elections and frustrated Zelenskiy's efforts. Instead, they accepted an early poll in exchange for an electoral system that increases the chances of at least some of them gaining reelection. Zelenskiy's strategy makes sense as it hastens the end of an exceptionally unpopular parliament and government. Early parliamentary elections will also create an opportunity for candidates from Zelenskiy's own party, Servant of the People – aptly named after his popular TV show – to become members of parliament and form, or at least be part of, the next Ukrainian government. This in turn would make it easier for Zelenskiy to pursue his own political agenda. Yet, early elections may still prove to be a somewhat Pyrrhic victory for Zelenskiy. This is because the proposed changes are likely to lead to greater fragmentation in parliament, potentially complicating the formation of any new government. What will most likely be a coalition government, probably dominated by Zelenskiy's party, will require further compromises of his political agenda and may not last a full term.
Ukraine has to negotiate with Russia, – Ukraine's Defence Minister
Stepan Poltorak, Ukraine's Minister of Defence, believes that Ukraine has to negotiate with Russia. He said that in his interview to the Novoye Vremya online outlet. It is necessary to be very careful during the negotiations, as the Russian Federation doesn't always keep its word. "Negotiations with Russia have to be held. The only thing is that one need's to be very careful because frankly speaking, I know very few examples in history when Russia reaches an agreement and keeps its word," Stepan Poltorak says. According to the Minister of Defence, Russia usually doesn't stick to its word when making agreements with the countries with a smaller army, potential, and territory. "More or less they stick to their word when they talk with the U.S.A. And not necessarily in every issue," Poltorak said.
Rock star Vakarchuk criticizes Zelenskyi's intentions to hold referendum on reconciliation with Russia
23.05.19 14:54 – Rock star Vakarchuk criticizes Zelenskyi's intentions to hold referendum on reconciliation with Russia Vakarchuk reminded the consequences appeared due to the so-called "referendums in Donbas and Crimea. View news.
Venice Commission to analyze Ukraine's language law – news ukraine | UNIAN
The European Commission for Democracy through Law, commonly known as the Venice Commission, has received a request to analyze the law on the functioning of the Ukrainian language as the national language. The Chair of the Monitoring Committee of the Parliamentary Assembly of the Council of Europe has requested the opinion of the Venice Commission on Ukraine's language law.
Petition for resignation of Zelenskyi signed by 25,000 people in less than day
23.05.19 16:56 – Petition for resignation of Zelenskyi signed by 25,000 people in less than day The electronic petition for the resignation of President of Ukraine Volodymyr Zelenskyi, registered on the website of the President of Ukraine, has already been signed by more than 25,000 people. View news.
We Want It Like in Ukraine, Part 2
Opinion | On the day Moscow was rocked by another censorship scandal, Zelenskiy's inspiring inaugural speech gave Russians plenty of food for thought.
Saakashvili Asks Zelenskiy To Reinstate His Ukrainian Citizenship
Mikheil Saakashvili, the former Georgian president who served as governor of Ukraine's Odesa region, has asked Ukraine's new president to reinstate his Ukrainian citizenship.
Putin, Merkel, Macron discuss Ukraine without Zelensky, while he was discussing sanctions with USA, – Medvedchuk
Leaders of Russia, Germany, and France discussed the situation in Ukraine via telephone, though without the President of Ukraine Volodymyr Zelensky. Chairman of the Political Council of "Opposition Platform – For Life" Viktor Medvedchuk said that on air of NewsOne Channel. "There was a telephone talk of Mr. Putin, Ms. Merkel, and Mr. Macron yesterday. There's a message about that. Does this ring any bells? This is a truncate Normandy format. Without Ukraine. I'm reading the press-service of the Chancellor, the press-service of the French President and the press-service of the President of Russia. What they were talking about? Many things. Did they talk about Ukraine? Yes, they did. And I have a question – why didn't they wait until the meeting in Normandy format with all four parties?" Medvedchuk says.
'He's not a man anymore, but a reactor' Meduza reviews episode three of HBO's miniseries 'Chernobyl' — Meduza
On May 21, the American premium cable network HBO aired the third episode of "Chernobyl," a new miniseries about the catastrophic nuclear accident in April 1986 that rocked the Soviet Union. After two episodes, with the initial fire extinguished and early panic beginning to subside, the focus shifts to questions about why the reactor exploded and who was responsible for the disaster. Meduza shares its thoughts about the show's latest installment, "Open Wide, O Earth," and looks at some of the showrunners' editing decisions. Warning: spoilers ahead.
Window on Eurasia — New Series: Half of Ukrainians Identify with Orthodox Church of Ukraine; Only One in Seven with Moscow Jurisdiction, Poll Shows
Paul Goble Staunton, May 22 – A new poll shows that 48.8 percent of Ukrainians identify with the Orthodox Church of Ukraine while only 14.2 percent say they are followers of the Moscow Patriarchate Church in Ukraine. 16.3 percent say they're Orthodox without identifying a jurisdiction, 4.3 percent identify as atheists, and 4.9 percent are followers of other confessions. This poll reflects the fact that while the number of parishes still part of the Moscow Patriarchate's organization is still very much larger than that of those affiliated with the OCU, the number of participants in the former is much smaller than in the latter (ru.tsn.ua/ukrayina/bolshinstvo-pravoslavnyh-ukraincev-podderzhivaet-sozdanie-pcu-i-nazyvaet-sebya-ee-prihozhanami-opros-1349346.html). The survey also found that 64.5 percent consider the tomos or grant of autocephaly is sufficient for the development of an independent Ukrainian church and that the grant should not be rejected, while 8.8 percent disagree and call for restoring the Ukrainian Orthodox Church of the Kyiv Patriarchate. Perhaps significantly one in four did not answer this question. As to the impact of autocephaly, 50.6 percent of those queried said it unified society, while 30.5 percent said on the contrary that it is divisive. Again, a large share did not answer – 18.9 percent or nearly one in five. Yesterday, in another Ukrainian church development likely to have an impact on the shift of parishes and bishoprics from the Moscow church to the OCU, Metropolitan Ioann of Cherkass announced that from now on each parish will keep a list of members on the basis of declarations by them (procherk.info/news/7-cherkassy/72536-u-pravoslavnij-tserkvi-ukrayini-zaprovadzhujut-vidkritij-reestr-chleniv-parafij-mitropolit-ioan). That list will not be used to exclude anyone who wants to take part in religious services, but it will, the metropolitan said, determine who will be able to vote on the affiliation of the parish. As a result, the compilation of these lists is likely to become a new flashpoint in the fight between the OCU and the Moscow church. In neighboring Belarus, there was also a development that will affect both church life and political affairs. A group of activists has prepared a recording of 150 religious songs in Belarusian and distributed it to the roughly 3,000 Orthodox, Roman Catholic and Protestant parishes in that country (belaruspartisan.by/life/464627/). "In the majority of Orthodox and Protestant churches of Belarus and also in certain Catholic ones the Belarusian language is not heard," the organizers who call themselves the Belarusian Christian Hit group say. "This makes the Christian community liable to be affected by Russian propaganda and weakens the independence of Belarus." The group's vice president, Pavel Severinets says that the idea for collecting, recording and distributing the songs in Belarus arose because he and his colleagues had heard in many churches people say that "in Belarus there never was any order. European is anti-Christian. So let Putin come and establish order." It is essential to counter this "dangerous tendency" and to show people that "80 percent of Belarusian history over a thousand years is Christian." Moreover, he continues, they need to know that "Belarus built powerful states based on Christianity and that they do no need to seek salvation from any tsar Putin." "This political aspect pushed us to carry out the project," Severinets says. "There exists a danger not only in the Russian Orthodox Church. Even in Roman Catholic and Protestant churches today one can meet people who want the arrival of Russia. This is," he concludes, "very dangerous."
More than half of Ukrainians positive about OCU creation, tomos – KIIS survey
KYIV. May 22 (Interfax-Ukraine) – More than 54% of Ukrainians positively assess the creation of the Orthodox Church of Ukraine (OCU) and it receiving the tomos on autocephaly. This is based on results of a survey, titled "Confessional structure of the population of Ukraine and creation of the Ukrainian Orthodox Church: May 2019," conducted by Kyiv International Institute of Sociology (KIIS).
Window on Eurasia — New Series: In Crisis, Putin will Sacrifice ROC MP Just as CPSU Did Marxism 30 Years Ago, Ikhlov Says
Paul Goble Staunton, May 22 – In any real crisis, Vladimir Putin will sacrifice Orthodoxy, however much it has been part of his ideological "bindings" in order to remain nominally with the people and thus retain power, Yevgeny Ikhlov says, acting in exactly the same way that the CPSU did 30 years ago when it dispensed with Marxism. In Yekaterinburg, the Russian commentator says, the Moscow Patriarchate has only hastened this outcome, having behaved much like the Moscow militia did on August 20, 1991, and on October 3, 1993 "and then suddenly it has remembered" that its most important task is "the struggle with abortions" (kasparov.ru/material.php?id=5CE4320137713). That move only reinforces the view of the Russian people that the ROC MP is "part of the regime and its base," but it also suggests to the rest of the establishment that the Orthodox Church, at least in its current incarnation, may be the best way to get out of the current crisis with minimal costs to itself. For the time being at least, Putin may refrain from such a move because those opposed to the construction of a cathedral on the main square of Yekaterinburg didn't form the kind of organizations and structures that could become the basis for a broader challenge to the regime, Ikhlov continues. But what has occurred in the Urals city is still "very important" – an almost instantaneous and spontaneous appearance of social self-organization that reflects the work of "the popular intelligentsia." And that development gave the appearance at least for a few days that Russia was living in a beautiful future in which there was "real federalism" and "real bourgeois democracy." As a result, Ikhlov continues, the principle of federalism "and even confederation, local self-government, and parliamentary democracy are now emblazoned "on the banners and standards of all conditionally and unconditionally democratic opposition" groups in the Russian Federation. That is no small thing, the Russian commentator suggests; and one can easily imagine that it could grow into a crisis threatening Putin's power. Among the thing he is likely to do to prevent that from happening is jettisoning the Moscow Patriarchate with its obscurantism and arrogance. That would be extremely popular and a victory for the Russian people. Putin would have to hope that they would remain satisfied with that alone.
Russian Officials Scrap Yekaterinburg Church Plan After Public Outcry
Officials in Russia's Sverdlovsk region have scrapped plans to build an Orthodox church in a Yekaterinburg park after a rare public outcry over the project that prompted President Vladimir Putin to…
Russian city of Yekaterinburg rejects plan to build church in park – BBC News
Residents of a city in the Urals vote against a proposal to build a cathedral in a beloved park.
Russian city cancels cathedral construction after protests | Fox News
The governor of Russia's Urals region said Wednesday that a plan to build a Russian Orthodox cathedral in a popular park will be cancelled after protests that drew nationwide attention.
Window on Eurasia — New Series: Governors Seen Learning Lessons of Yekaterinburg but Probably Not Fast Enough
Paul Goble Staunton, May 22 – Poll results showing that, after weeks of protests, 77 percent of Yekaterinburg residents oppose building a new cathedral in a central park and only seven percent back that idea have already led the mayor there to say that if any cathedral is erected, it will have to be put up in some other part of the city. But Yekaterinburg is not the only place in Russia where the lesson that opposing the position of the overwhelming majority of the population is a mistake and can be dangerous. Over the past five years, protests against church construction have taken place in 28 cities and more are now likely (vedomosti.ru/politics/articles/2019/05/21/802088-protiv-stroitelstva-hramovand znak.com/2019-05-22/v_rossii_rastet_chislo_gorodov_gde_protestuyut_protiv_zastroyki_parkov). There are already indications that some city and regional leaders are backing away from their unqualified support of the Russian Orthodox Church and thus trying to avoid the kind of protests that roiled Yekaterinburg and that could threaten their own positions in power, the AfterEmpire portal says (afterempire.info/2019/05/22/protesty-hramy/). But the big question now is whether they can move quickly and effectively enough to avoid being ousted. Vera Chernysheva and Leonid Fedorov of the URA news agency argue that "the protests in Yekaterinburg will bring about a new wave of retirements of governors" as Moscow struggles to prevent more protests (ura.news/articles/1036278114). Yevgeny Minchenko, a Moscow political consultant with whom the two spoke, says that what has happened in Yekaterinburg is likely to be repeated in other cities and that Moscow will want to ensure a more adequate response by installing new people in places where it already has doubts about incumbents. And Konstantin Kalachev, another Moscow political analyst, says that "the situation in the Urals shows that local authorities must, even under conditions of a unitary state and a centralized system be able to solve problems without advice from above and take responsibility for their actions." Finding that balance is not going to be easy, and more governors are likely to lose their jobs as the Kremlin seeks to find a way forward in which small protests will not grow into major ones and thus threaten not just those in power in the regions but those in power at the center as well.
UAWire – Moscow seeks to increase its presence in Jerusalem
Russia is trying to regain control of two historical objects in Israel that belonged to it in the past, reports RIA Novosti, citing Sergei Stepashin, head of the Imperial Orthodox Palestine Society (IOPS) and former prime minister of Russia. According to Stepashin, the fate of the Elisabeth and Alexander courtyards, which were built in the 19th century to accommodate Russian pilgrims, has already been discussed on multiple occasions at the highest level with the Israeli authorities. "Thanks to the Russian President – On two occasions, Vladimir Vladimirovich personally brought up this topic at meetings with the prime minister (Netanyahu)," the IOPS chairperson remarked. The Elisabeth Courtyard is located in central Jerusalem, near the Holy Trinity Cathedral and the Russian Ecclesiastical Mission. It currently houses a police station and a detention facility. The Alexander Courtyard is situated in the Old City of Jerusalem, not far from the Church of the Holy Sepulcher. It belongs to the Orthodox Palestine Society, which claims to be the legitimate successor to the pre-revolution IOPS, but has no relation to Stepashin's department. Israel has already given Russia the Sergei Courtyard, also built in the 19th century. It is presently being used to hold an IOPS convention. "For the first time, we are holding an international seminar. Representatives of 28 subjects of the Russian Federation and a number of foreign countries are in attendance here, including metropolitans and the Russia Orthodox Church Abroad. This is a good signal, a good sign that Russia was, is, and will remain in the Holy Land," Stepashin said.
Window on Eurasia — New Series: A Danger Sign: Jehovah's Witnesses as Dangerous as ISIS to Central Asia, Commentator Says
Paul Goble Staunton, May 22 – Russia still casts a dark shadow on the former Soviet republics in many ways, and one of the worst of these occurs when Russia persecutes a group at little or no cost to itself because many are unwilling to condemn a nuclear power and then other post-Soviet states pick it up confident that they will either avoid criticism or enjoy Russia's support. One of the most notorious and vicious Russian campaigns in recent months has been Moscow's attack on the Jehovah's Witnesses, with the entire religious organization declared illegal, its members harassed and, in many cases, arrested, and large numbers forced to seek (but not always to get) asylum abroad. Now there are indications that this Russian effort is about to be copied in Central Asia. On the CentrAsia portal, Fergana-based commentator Abbos Khalikov argues that while many focus on ISIS as a threat to the region, groups like Jehovah's Witnesses are equally threatening if not immediately then certainly in the longer term (centrasia.org/news.php?st=1558519080). More and more people in the region recognize, he says, that the Jehovah's Witnesses, like other nominally peaceful Protestant groups, are "'delayed action bombs'" which when they do go off could prove just as dangerous as an Islamist group. The Jehovah's Witnesses have been extremely successful in their missionary activity in Central Asia, Khalikov says; and despite what some may think, they are anything but an innocent and harmless religious organization. Their assertion of superiority over other faiths, he says, led Russia to declare them extremist; and Central Asian states should follow. According to the Fergana commentator, the Jehovah's Witnesses share many of the characteristics of radical Islamist groups like Hizb-ut Tahrir, including a pyramid-like hierarchy designed to ensure the flow of tithes upwards and control of believers from those above them and a "door-to-door" form of missionary activity that divides communities. In addition, and like Salafi Muslims, Khalikov continues, "the Jehovah's Witnesses call on their followers not to observe local law if it violates their teachings" and not to maintain ties with representatives of other faiths even if those in the other are family members or close relatives. Turkmenistan and Tajikistan have already recognized this threat, he says, and banned the Jehovah's Witnesses. But in other countries of the region, they remain more or less free to conduct what Khalikov says is their destructive work. In Kazakhstan, there are some 60 kingdom halls and approximately 20,000 followers and in Kyrgyzstan, 40 churches and 6,000 faithful. The commentator argues that they should be banned everywhere because they threaten the unity of the overwhelmingly Muslim population and spark enmity where there should be peace. What is especially disturbing is that except for this reference to Islam, Khalikov makes exactly the same arguments Russian advocates of repressing the Jehovah's Witnesses do.
Russian Court Upholds Prison Sentence For Danish Jehovah's Witness
A court in Russia on May 23 ruled to uphold a six-year prison sentence for a Danish adherent of the banned Jehovah's Witnesses, a decision condemned by Amnesty International.