Anonymous expert compilation, analysis, and reporting
</end editorial>
---
---
Arctic Council wrap-up. RF defense budget. Nuke fallout at Semipalatinsk. NATO update. Orban to visit POTUS. Druzhba (Friendship) oil pipeline contamination updates. Ilyushin contracted to develop new replacement for An-124 CONDOR – critics say there is not enough funding, VKS cannot even maintain the existing CONDOR fleet without Ukrainian support. Six digests by Goble on Russia's internal meltdown – the hoax bomb call problem has further escalated, and a majority wants an exit from Syria. SSJ-100 update – the disaster seems to be exposing a great many known problems in Russian industry.
Illarionov on the Zelenskiy threat to Muscovy. Early rotation of Amb Yovanovitch criticised in Congress. Ukraine outlaws Russian passports issued in occupied Donbas. Many updates on diplomatic and political engagements between Ze and West. Crimea update.
Donbas update – nice RPV footage of AFU strikes on Russian trench systems, three Russian KIA. NGU Commander Allerov replaced. Two reports on SBU effort to defeat Russian propagandists. MiG-29 FULCRUM updates – Russians brag about letting upgraded MiG-29MU1 captured in Crimea rot. H225 Puma training accelerates.
Political and economic developments, and LOC 1905 Ukraine photo collection. OCU update. Russia's fusion of ROC with militarism.
---
No Final Declaration After Arctic Council Meeting As U.S. Refuses Mention Of Climate Change
The participants at the Arctic Council meeting in Finland's far northern town of Rovaniemi have failed to issue a final declaration reportedly due to a U.S. refusal to mention climate change.
UAWire – Lavrov: Russia will ensure safety of Northern Sea Route
Russian Foreign Minister, Sergei Lavrov, commenting on the statement by the U.S. Secretary of State Michael Pompeo, stated to the journalists …
Is Russia Really Cutting Its Military Spending? – To Inform is to Influence
Publication: Eurasia Daily Monitor Volume: 16 Issue: 65 By: Pavel K. Baev May 6, 2019 04:12 PM Age: 16 hours Military force remains a predominant instrument of choice for Russian policymakers; yet, state expenditures on the Armed Forces continue to decline. This paradoxical situation was recently highlighted by the Stockholm International Peace Research Institute's (SIPRI)…
Is Russia Really Cutting Its Military Spending? – Jamestown
Military force remains a predominant instrument of choice for Russian policymakers; yet, state expenditures on the Armed Forces continue to decline. This paradoxical situation was recently highlighted by the Stockholm International Peace Research Institute's (SIPRI) latest global military balance assessment, which the Russian media eagerly picked up (Kommersant, April 29). SIPRI methodology is long-established and respected by experts. And yet, its latest assessment demoting Russia to sixth position in the world behind France looks not only counterintuitive but, in fact, plain wrong. Of course, to some degree, the impression that Russia must still be spending a fortune on its military is partly shaped by the assertive political rhetoric coming out of Moscow, which is amplified by official propaganda and reinforced by exuberant public demonstrations—like the military parade scheduled to roll over Red Square, on Victory Day, celebrated in Russia every May 9 (Krasnaya Zvezda, April 29). Nevertheless, significant material evidence exists to raise doubts about the government's declared 3.5 percent reduction in military spending in 2018.
Documentary: The Lethal Soviet Legacy In Kazakhstan
Forty years of Soviet nuclear bomb tests have left a toxic wasteland in Kazakhstan. The nuclear explosions have stopped, but Russia still rents vast swathes of Kazakh territory for missile tests that critics say are devastating for the environment and its inhabitants. For this documentary, we traveled across Kazakhstan to tell the stories of the people who live amid this lethal legacy.
NATO Chief Visits Ankara in Bid to Block Russian Missile Sale
NATO chief in Ankara to avert crisis over Ankara's purchase of Russian missiles with July delivery date looming
NATO – 181st Military Committee in Chiefs of Defence Session – NATO Headquarters, Brussels, Belgium – Media Advisory, 22-May.-2019
The last two sessions of the day will focus on Ukraine and the Middle East and North Africa region. The session on Ukraine will allow the Chiefs of Defence to receive an update on the current security situation, recent developments and to discuss future cooperation. Meeting with their Mediterranean Dialogue counterparts, the Chiefs of Defence will discuss projecting stability initiatives and defence capacity building in the Middle East and North Africa region. The Chiefs of Defence's advice and guidance will assist and further frame discussions ahead of the June Defence Ministerial The Military Committee is led by Air Chief Marshal Sir Stuart Peach, Chairman of the NATO Military Committee. He will be supported in each session by General Tod Wolters (Supreme Allied Commander Europe, SACEUR) and General André Lanata (Supreme Allied Commander Transformation, SACT).
Trump Invites Hungary's Orban to White House
Orban's anti-immigration drive in Europe echos Trump's own push to build a wall on the US-Mexico border and his attempts to thwart migrants seeking asylum
Trump finds anti-immigrant ally in extremist Hungarian Prime Minister – CNNPolitics
Hungary's hardline nationalist prime minister, whose erosion of checks on his power has led some to describe him as a de facto dictator, will meet President Donald Trump in Washington next week, the White House announced on Tuesday.
Romania eyes new maritime drone to counter Russia
NATIONAL HARBOR — The Romanian Navy is exploring the purchase of a new drone for its expansion and modernization plans, the chief of the Romanian Naval Forces said Monday. Amid growing tensions with Russia on the Black Sea, the service is looking at a "totally new" unmanned aerial system for the maritime and riverine domain, Vice Adm. Alexandru Mirsu said at the Sea-Air-Space forum here. The capability would be used by Romania's Danube flotilla and for coastal surveillance, operated from the shoreline, Mirsu said. He did not provide a timeframe or a budget for the possible acquisition. Plans are underway to buy four new multipurpose corvettes as the core of the Romanian navy, and to modernize its Type 22 frigates. Also expected are purchases of new coastal missile batteries and three new submarines — all part of Romania's commitment to spending 2 percent of its gross domestic product on defense for the next decade. The idea is to expand Romania's presence in the Black Sea, the Mediterranean and elswhere as needed by allies, and to maintain a submarine program beyond 2030. Mirsu has previously said the submarines are needed to ensure Romania's operational capacities in the Black Sea, as the one Kilo-class submarine does not meet that need. Its Delfinul submarine was reportedly withdrawn from service and was being used for training purposes. Mirsu also pointed to "a new iron curtain" of Russian anti access/area denial (A2/AD) hubs in Kaliningrad, Sevastopol and Syria. He lauded major multinational exercises and NATO operations on the Black Sea for sending a message that the Black Sea is open, and an international body of water.
Russian Energy Minister: European Oil Shipments To Resume By Mid-May
Russia's energy minister said that oil is expected to resume flowing through a key pipeline to Europe by the middle of May, after contaminated supplies disrupted exports.
Gigantic Druzhba oil pipeline paralyzed for weeks
Contaminated crude oil from Russia is clogging the main delivery route for several EU countries. Belarus, Poland and Germany are particularly affected and the real financial consequences are still completely unclear. Germany has a serious problem with Russia, its largest energy supplier. For two weeks, the Druzhba (Russian for "friendship") pipeline has been blocked. It is the main route to supply Europe's leading economy with Russian oil. Even during Soviet times, the former East Germany was supplied by it as were other communist "brother countries." But as of April 25, today's EU members Poland, Hungary, Slovakia and the Czech Republic can no longer get oil from the Druzhba pipeline. Warsaw, Budapest and Prague have already had to tap into their emergency reserves. Tons of contaminated oil The problem is technical. According to information from Moscow, heavily polluted oil has entered the pipeline probably in the Samara region on the Volga. This oil contains chlorides, which are used to extract oil from largely exhausted sources. But afterwards, the chlorides have to be removed, because they can cause severe corrosion damage in refineries. Related: Polluted oil in Druzhba pipeline: Four detained in Russia The maximum allowed concentration of such chemicals is 10 parts per million (ppm). Currently, though the oil in the Druzhba pipe is showing up to 330 ppm of chloride. Since refineries have refused to accept such a contaminated raw material, its transit was stopped by the pipeline operators in all customer countries. So far the contaminated oil has not come as far as Germany, according to the German Petroleum Industry Association (MWV). It is still unclear how much of the contaminated crude has accumulated in the several thousand kilometers of pipelines in Belarus, Poland, Ukraine, Hungary, Slovakia and the Czech Republic. It is been estimated that up to five million tons, or 37 million barrels, have entered the system in Russia. That would correspond roughly to the monthly capacity of the now clogged Druzhba pipeline. Still other sources talk about three million tons. Pain in Belarus So far Belarus has suffered the most among the buyer and transit countries. Their economy is heavily dependent on oil from Russia, which it gets at a preferential price and processes in two refineries to gasoline, the country's main export and foreign currency producer. Minsk also cashes in on all the oil that passes through the country, otherwise known as transit fees. Therefore, a standstill in the Druzhba and a shutdown of gasoline production are a heavy blow to the already weakened economy. In addition, the equipment in the Masyr refinery has reportedly been seriously damaged by the chlorine in the oil. At the end of April, Minsk estimated its losses at $100 million (€89.4 million), now it is said that the final bill will be significantly higher. Belarus closed its section of the Druzhba pipeline on April 24. New "clean" oil from Russia arrived in Masyr on May 4, two days later the refinery was still busy cleaning the plant. On the same day, Ukraine announced that it had resumed transit of Russian oil to the EU. Restarting service to southeastern Europe The Druzhba pipeline divides into two lines around Masyr. The smaller southern line leads across Ukraine into Hungary, Slovakia and the Czech Republic. According to Ukrainian pipeline operator Ukrtransnafta, clean Russian oil could reach these EU countries on May 18. This would still mean a delivery interruption of more than three weeks for these customers. How long Poland and Germany will have to wait for Russian oil, however, remains unclear. These countries are supplied via the much larger northern section of the Druzhba pipeline, which seems to be clogged with a considerable amount of the contaminated stuff. This contaminated material must first be removed and disposed of. Related: Nord Stream 2: EU agrees tighter rules for Russian pipeline Russia's Energy Minister Alexander Nowak announced a return to the usual exports in the next few weeks: "As far as the normalization of the situation is concerned, we expect this for the second half of May," he said Tuesday. Getting rid of the dirty oil The question of how and who would pay has so far gone unanswered, at least publically. However, the Russian government has already held (discrete) negotiations twice with all the countries concerned, as Nowak announced on May 7. In Belarus, the disposal will be done by the state-owned Russian oil pipeline monopoly Transneft. The company will load contaminated oil in cars of the Russian state railway. After that, it will be brought to the Russian Black Sea port of Novorossiysk, where it will be mixed with clean oil, pumped into tankers and exported. This same "mixing technology" will also be used in the Russian Baltic Sea port of Ust-Luga. Ust-Luga is connected to the Druzhba system through the BPS-2 pipeline, which also contains large quantities of contaminated oil. Nevertheless, Ust-Luga was only down for one day. Otherwise tankers were loaded and set sail for the Netherlands and other EU countries. According to the latest information from Moscow clean oil should reach the port on May 8. German refineries remain silent The German refineries in Schwedt and Leuna, which would normally be supplied via the Druzhba pipeline, are now dependent on supplies via ships landing at the Baltic Sea port in Rostock. And now these refineries must be careful that they do not get any contaminated Russian oil by sea instead of by land. Related: Germany to keep final say on Russia pipeline The fact that these German companies have maintained a noticeable silence despite the precarious situation may be due to the fact that a shareholder of the PCK refinery in Schwedt is the Russian state-owned company Rosneft. Its partner, British-Dutch oil and gas multinational Shell, is actively involved in the Russian energy sector. And even Total, a French energy company, which owns the plant in Leuna, has business interests in Russia. However, the supply disruptions and quality problems of Russian export article No. 1 mean "a very serious economic, material and image damage" for Russia. This was clear to Russian President Vladimir Putin on the eve of the May Day holiday, when he quoted the Transneft boss in the Kremlin. The actual losses could not be estimated at that time. Still today, the problem is impossible to estimate. In the meantime, four suspects have been arrested, according to Energy Minister Nowak. They will be investigated for theft, damage to important objects and the creation of a criminal group.
stailker | A contract was signed for the creation of an extra-heavy airlifter to replace the An-124 Ruslan.
May. 8th, 2019 08:46 am stailker: (Default) [personal profile] stailker A contract has been signed for the development of a super heavy transport aircraft to replace the Ukrainian An-124 Ruslan, follows from the annual report of PJSC Il. 'As part of the development work on the creation of a super heavy military transport aircraft (STWTS), the pre-contract work phase has been completed, and a government contract has been concluded to perform 3-5 stages of the STVTS design and development work, the document published on Tuesday in the Center for Disclosing Corporate Information. According to the report, in 2018, the Ilyushin company also carried out pre-contract work on the implementation of the research work 'Investigation of the Ways of Creating a Promising Aviation Complex of Military Transport Aviation (PAK VTA Research and Development)'. In addition, 'IL' continues to work on the modernization, restoration of serviceability and life extension on the An-124 type aircraft with the repair of D-18T engines. In August 2018, UAC President Yury Slusar told Interfax that the possible appearance of a promising PAK VTA military transport aircraft was being discussed with the Russian Defense Ministry. "We are now discussing with the Ministry of Defense the possible appearance of this aircraft, what characteristics it should have, and so on. There are some developments in this area. But we can proceed directly to creating a new car only after all these issues have been agreed with the customer," said Slyusar. Earlier, Deputy Prime Minister Yury Borisov said that Russia would begin research work (R & D) to create a new superheavy transport worker to replace the Ruslan after 2025. "They are in the NIR plan at the end of the GPO (state armament program for 2018-2027 – IF)," Borisov told reporters when asked about plans to develop a new super-heavy aircraft to replace the An-124. In Russia, the production of the An-124 has been discontinued since 2003, but deep modernization and maintenance of the airworthiness of the aircraft continues. In total, for the period of existence of the Ulyanovsk aviation complex, 36 An-124 units were manufactured. https://www.interfax.ru/russia/660417Comments: Let's summarize the most important findings: – The Russian Federation failed the 'production' of the An-124. all their threats were fake. – the Russian Federation failed the ability to maintain airworthiness of the An-124. The ability of the Russian Federation was a technological fake. – Russian forces of Ukraine – has lost the super-profitable global market for transport services. the right to An-124 and the right to extend the certificate, as 'the country of the scoop heir' – turned out to be a fake. – the Russian Federation failed the fake about the critical pseudo value of its services for NATO – Ukraine replaced the Russian Federation in the market. rf turned out to be a fake. – the Russian Federation failed all the fakes of the clone-elephant project and a whole series of threats. rf turned out to be a solid fake. – Russia has proven its technological inability to produce aircraft engines. – trained by NATO-Salis transportation services – the plans of the Russian Federation to move the army to the middle zone failed, and the operational readiness of the troops to provide transportation to the An-124, as well as the plans to transport the Russian Federation to a global conflict. Russia turned out to be a fake and from the global – regional backwater in the taiga. It is noteworthy that when I wrote a plan for a hybrid economic and military strike against strategic plans using the An-124 program, I wrote about 4 years ago. The dead is the most modern plant, chopped off transport amphibious capabilities, huge logistical expenses for the army. Even if something starts, do something on the photo – you get a new aircraft, which has nothing in common with the IL-96. This is a minimum of 500 million to develop, in the Russian reality, 3-5-9 times more expensive at the final of the program, according to the experience of SSZh-100. A new engine is clearly visible, rather it is an old fake about NK-32 / NK-32 / NK-93 for Tu-160 / PACKA, which have no engines, and 10 years solve the issue of repairing junk. The launch of the engine program with the production – several billion dollars. The launch of the series is also a few billion dollars. Series – a few more billion dollars. And everything else from 7-10 years. To summarize, the Russian Federation did not even pull out the restoration of the An-124 program, where many expenses were assigned to Ukraine to develop a new aircraft and engines, they are almost ready for now, though without RF. The Russian Federation, as the main customer, was entrusted with an over-ordered order for the army, the Volga-Dnepr and Avtonia Antonov companies. The program was considered to be paid back from 70-80 pieces, so many orders could not be collected, there were not enough heels of boards. Moreover, the 'bare' cost of the board was about '300' million, and with the costs of developing and launching the series, all for '500'. We consider the minimum cost of launching and implementing the An-124Neo program – 40 billion dollars. – Do you think the Russian Federation will pull your fake from Ela herself? )
U.S. Army's acquisition chief: Russians do not want a face-to-face fight with an M1 Abrams tank – Defence Blog
U.S. Army increasing its presence across the European theater to contribute to and strengthen the alliance's deterrence and defense. Soldiers and tanks presence enhance the deterrence capabilities available to the U.S. Army Europe and U.S. European Command commanders to respond to potential crises and assist in the defense of allies and partners in the European community. Currently, the U.S. Army faces capability gaps against new and boosted anti-access/area denial (A2/AD) capabilities, or A2/AD, technologies. "If you take a look at Eastern Europe, Russians do not want a face-to-face fight with an M1 [Abrams] tank," said Bruce Jette, the secretary of the Army for Acquisition. "Therefore, they put a large amount of rockets, artillery, mortars and air defenses in place to try and protect those assets." Long-Range Precision Fires has become the Army's top modernization priority to take out those protective measures, he added during discussion with lawmakers on Wednesday. As previously reported, the Pentagon is requesting $2.2 billion for 165 the M1 Abrams tank modifications in its fiscal 2020 budget. The U.S. Army plans to invest a totally $6 billion in the "legendary M1 Abrams tank family. "Over the next three years, we're investing more than $6 billion in upgrades and modifications to these tanks," President Trump said during the March 20 visit to the Lima, Ohio-based Joint Systems Manufacturing Center. "With the help of everyone in this room, we are giving our warriors the most effective, reliable and lethal battle tank in the history of war."
Window on Eurasia — New Series: Growing War Weariness in Russia: Majority Now Wants Moscow to Pull Out of Syria
Paul Goble Staunton, May 6 – Despite the wave of hurrah patriotism the Russian authorities have whipped up in advance of the celebration of Victory Day, a new Levada Center poll shows that 55 percent of Russians want Moscow to end the war in Syria as soon as possible, up from 49 percent two years ago (levada.ru/2019/05/06/sobytiya-v-sirii/). Perhaps more significant, the share of Russians who think Moscow's operations in Syria could turn into a new Afghanistan, a war from which the Soviet Union had to retreat triggering forces that cost Moscow its empire foreign and domestic, has risen from 32 to 37 percent over the same period. Only 30 percent favor continuing the fighting to a victorious conclusion. And even more indicative of the direction things are moving as far as Russian public opinion is concerned are two other figures: While 53 percent still support Moscow's approach in Syria, 35 percent now say they do not approve of state policy there at all, and the share following events in Syra has fallen from 86 percent a year ago to only 61 percent now. If Vladimir Putin expected a bounce for his use of force in Syria in any way equivalent to that he received after his Anschluss of Ukraine's Crimea, these poll numbers suggest he was sadly mistaken, that Russians are not all that interested in that conflict, and that ever more of them are against it and against Moscow's policies there. Anna Sedova, a Svobodnaya pressa journalist, spoke with two Moscow experts about what this poll shows. Denis Volkov, deputy director of the Levada Center, said that in part these shifts reflect a decline in media coverage of the conflict after its active stage concluded and the regime's failure to explain why Russian forces are there (svpressa.ru/war21/article/232155/). And Pavel Salin, head of the Center for Political Research at the government's Finance University, suggested that some Russians are upset about the government spending money for foreign wars when their own economic conditions are deteriorating, although he suggested that connecting these two things is only beginning. "If Russians were to trace the connection between spending on the Syrian campaign and their own economic situation," Salin said, "the number of opponents of the continuation of the operation in Syria would be much larger."
Window on Eurasia — New Series: Will Putin Regime Soon Run Short of Reliable Siloviki? Some Russian Activists Think So
Paul Goble Staunton, May 5 – One of the very best anecdotes from Gorbachev's times runs as follows: A man goes to the store to buy meat, waits in line two hours and is told there is no meat. He then goes to another store to buy toilet paper, waits again for two hours, only to be told there is no toilet paper. On his way home, he mumbles to himself about what a horrible country he lives in, always waiting in line and then getting nothing for it. A Soviet militiaman approaches him and says he shouldn't be saying such things. "In the old days," the militiaman says, "we'd have had you shot or at least sent to the camps. But now, I'll let you off with a warning." The man, humbled, heads home where he tells his wife: "Masha, it's worse than we thought. Not only have they run out of meat and toilet paper, but they have run out of bullets as well!" In fact, that was never a problem; but there was ultimately a problem that those who had them weren't prepared to use them or feared giving an order to do so that wouldn't be obeyed. That story springs to mind whenever anyone suggests that protests in Russia will grow in number and size to the point that there won't be enough reliable siloviki to control the situation, as some Russian demonstrators are now saying, according to Mark Krutov of Radio Liberty (svoboda.org/a/29919609.html). Andrey Borovikov, one of the leaders of the anti-Moscow trash Arkhangelsk protests, is very clear that that time has not yet come, but he sees it as a possibility as ever more Russians follow the example first of Ingushetia – "the flagman of Russian protests now," he says – and then the anti-trash demonstrations in the North. He says that he and his fellow demonstrators very much fear provocations by officials because "we understand that given the slightest provocation very harsh measures will be used against protesters and there will be arrests because unfortunately in our country, power in our country now belongs to the siloviki and not to the humanitarians." But there is a tactical reason why the regime may not have enough siloviki in particular places to carry out its will. In Moscow and St. Petersburg, the powers that be can always bring in outside police whom no one in the cities knows and who do not know anyone. But in a place like Arkhangelsk, there isn't that opportunity in many cases. As a result, the protesters and the police each contain people who know members of the others, something that encourages the protesters and makes the police less willing to fire on those who may be their neighbors, friends, or even relatives, Borovikov says. And so as protests spread in the regions, the regime really may have difficulty countering them. Demonstrations like those in Ingushetia and Arkhangelsk "can break out" anywhere now "because the authorities do not listen to the people. They don't want dialogue with the people. The powers that be speak with the people only via police batons and orders." But that won't continue forever or even for every long. When there will be protests not in one or two regions but "in 10 to 15," Borovik says, those in power "simply won't have enough siloviki to shut our mouths. They will be compelled to listen to our position – or we'll make even more serious demands."
Window on Eurasia — New Series: Telephone Bomb Threats Force Evacuations of Thousands in Moscow, Other Major Russian Cities
Paul Goble Staunton, May 6-7 – More than 50,000 people have been evacuated from more than 40 sites in Moscow over the last 24 hours in response to telephone bomb threats. None of the threats have been confirmed, but the authorities are taking no chances especially in the run-up to the Victory Day holiday (lenta.ru/news/2019/05/06/minn/and kommersant.ru/doc/3962563). This wave of telephone bombings has forced evacuations in almost every major Russian city as well, including · St. Petersburg (rbc.ru/rbcfreenews/5cd16eb99a7947dbcd52ebd5) · Volgograd (volga-kaspiy.ru/accidents/politsiya-i-pozharnye-ne-nashli-bomby-v-volgograd-siti.html)· Yaroslavl (progorod76.ru/news/34154) · Krasnoyarsk (krsk.rbc.ru/krsk/07/05/2019/5cd18f339a7947eae1944fec) · Nizhny Novgorod (interfax-russia.ru/Povoljie/news.asp?sec=1672&id=1028182) · Yekaterinburg (e1.ru/news/spool/news_id-66081112.html) · Novosibirsk (tass.ru/sibir-news/6409184) · Voronezh (bloknot-voronezh.ru/news/minirovanie-rynka-dvukh-tts-i-biznes-tsentra-v-vor-1098131)· Kazan (business-gazeta.ru/news/423556) · Samara (pohvistnevo-inform.ru/news/1354-zaminirovali-v-samare-evakuiruyut-lyudei-iz-biznes-centra-skala.html)· Rostov (ria.ru/20190507/1553336904.html) Other cities undoubtedly have been hit by this plague as well, the largest since the first of the telephone bomb threat began two years ago and a problem that has put Russians on edge both because they do not know when the threats may turn out to be real and they do not understand why the authorities seem powerless to do anything about it. For background on telephone bombings in Russia over the last two years, see windowoneurasia2.blogspot.com/2019/03/anonymous-bomb-threats-empty-661.html,windowoneurasia2.blogspot.com/2019/02/russians-struggle-with-continuing.html,windowoneurasia2.blogspot.com/2019/02/russias-vaunted-security-services-look.html,windowoneurasia2.blogspot.com/2019/02/telephone-bomb-threats-in-moscow-force.html, and windowoneurasia2.blogspot.com/2019/01/telephone-bomb-threats-again-forcing.html.
Window on Eurasia — New Series: What is Unique about Russian Poor is the Government's Neglect of Them, Inozemtsev Says
Paul Goble Staunton, May 6 – Russia is far from unique in having a large number of poor people, Vladislav Inozemtsev says. In modern societies, those without higher educations have been falling behind those who have gone to university. But it is unique in that its government in contrast to others neglects the poor and doesn't work to compensate for the actions of the market. In a Gazeta commentary, the Moscow economist says that the share of people in Russia living in poverty is not radically different than the share doing so in other countries, although the standard of living of poor in Russia is much lower than that in the United States or France, for example (gazeta.ru/column/vladislav_inozemcev/12326545.shtml). But what sets Russia apart, Inozemtsev continues, is that Western governments provide various forms of tax relief and subsidies to the poor to help them cope with their situation while the Russian government shows "a surprising neglect of the needs of its least well-off citizens." As a result, they suffer far more than would otherwise be the case. Washington spends more on SNAP (what used to be called "food stamps") to help the poorest Americans than Russia spends on defense, and it provides even more assistance via Medicare and Medicaid to the elderly who often fall into poverty because of medical needs and the poor more generally. Russia has only three percent fewer pensioners than does the US – 46.5 million compared to 47.8 million, despite its population being less than half as large – provides only four percent as much assistance to the elderly than does the United States government, the Russian economist continues. Western government spending on the poor is "a unique form of the payment by society for social peace and stability" as well as "a most important means of supporting public solidarity and banal humanism." It is even profitable for society and the state because it boosts the purchasing power of the population and promotes medical and other innovations. "Russian poverty is distinguished from its American and European counterparts above all by the fact that its 'primary' and 'secondary' types are not different from one another" but have the same sources and are not addressed by the state as they are in the West, the economist argues with conviction. "I cannot agree with the opinion of the head of Chuvashia according to whom people live poorly in Russia because the work poorly or too little. In fact, the majority of them live poorly because they cannot call on the state to fulfill its obligation" to help them cope with the situation they find themselves in. There is no question that "Russia cannot permit itself to secure for its least well-off citizens a standard of living equivalent to that achieved in the West," Inzoetmsev says. "But no one would prevent us from focusing on it" taking the level of Russian economic development into account. Russia could reduce the suffering of the poor significantly and help the economy as well by providing massive assistance to the poor as Western governments do. Unfortunately, the attitudes of the Russian state and the experiences of the Russian people hold out little hope that this will happen anytime soon. In the West, politicians and officials expect to be evaluated on the basis of how well society as a whole is doing. Those who fail to help the poor will in many cases fail to keep their jobs. But in Russia, politicians and officials are not dependent on public approval but only on the approval of those above more interested in self-aggrandizement than in spreading the wealth. Russians, even the Russian poor, still accept this as a natural and universal state of affairs. It isn't. And it is time for everyone to acknowledge that "poverty in Russia is not a vice but a state of existence," one unlikely to be overcome despite Kremlin promises until both state and society recognize that they can and should do something about it.
Window on Eurasia — New Series: 'Russia Suffers from Lack of 'Common Language,"' Moscow Historians Say
Paul Goble Staunton, May 6 – Russian officials from Vladimir Putin on down routinely celebrate the fact that nearly 100 percent of the population of the Russian Federation speaks Russian, but in fact, historians Mikhail Velizhev and Timur Atnashev say, the country "suffers from the lack of 'a common language'" because different groups in fact do not speak the same Russia. As a result, the Higher School of Economics and Russian Academy of Economics and State Service specialists say, tensions increase because "different social groups do not understand one another as they are 'speaking different languages'" even though all say they are speaking a common Russian (rosbalt.ru/moscow/2019/05/05/1779440.html). Velizhev points out that "a common language is a stable collection of words, arguments and expressions with the help of which various groups of society and influential actors regularly discuss significant questions with the help of which people argue and discuss decisions. We are involved in this issue as historians but of course, we observe the current situation with interest." He observes that in Arkhangelsk, the governor and those protesting plans to dispose of Moscow's trash there couldn't find a common language. Instead, the governor replied with force and described those against him as "'trash,'" thus precluding dialogue and any possibility of reaching an agreement. Indeed, Atnashev continues, "the conflict intensified." Had the governor spoken with rather than at the protesters some agreement might have been possible. Because he didn't, none is at least as yet – and the dangers of separation into two worlds divided by a nominally common language increase. When speaking about "sharp questions," he says, "it is sometimes correct not to argue" about them directly but rather to agree that they should not be discussed in public at all. Moving religion from the public space to the private one, Atnashev argues, was the way in which democracy emerged in Western Europe, for example. That can serve as a model for Russians as well: "Internal conflicts in families and among friends in discussions about Crimea have led to a situation in which often people begin by agreeing to put a taboo on such a hot subject. That is a good decision." An equally significant fight involves the word Rossiisky, the non-ethnic term for citizens of the Russian Federation. Before 1917, these words were synonyms for Russky, the ethnic term, but not now, and the differences in terms have become a political divide in Russian society, Atashev says. He continues: There was a short period at the end of Soviet times when Gorbachev and some of his aides came to believe that "it was very good to speak with and debate with people." But because that proved so difficult and because the Soviet Union collapsed, many associate debate with destruction and thus oppose it as such. To make discussions and debate possible takes a lot of practice, Velizhev says. But it is worth it as "we know well from history that societies which aren't able to communicate are condemned to harsh conflicts, which destroy the existing institutions and language." That requires working with small issues first and then moving on to larger ones, Atashev adds. Choosing a political language is hard. Until recently, the powers that be in Moscow used the language of contemporary Western liberalism, but now, they have turned away from that. And those Russians who had become used to that language have passed into the opposition, the historians say. Atashev notes that "as long as there is no conflict, political language isn't very much needed. But with the growth of conflicts, language will either promote its further escalation or become one of the mechanisms, not magical or capable of working overnight of acknowledging the opinion of the other side" and moving toward a resolution. Sometimes this can be promoted by the way in which people meet or sit together. The British House of Commons encourages dialogue: summoning people to one's office and lecturing them as in Russia does not. But neither do social media which are typically unidirectional and reinforce divisions rather than promote genuine interaction. The Arkhangelsk governor is an object lesson of what leaders should not do. But there are positive models to be found elsewhere in Russia. In smaller settlements in Siberia, for example, the historians say, people reach agreements by coming together in communal meetings, almost the way the zemtsva did before 1917. "We live in a complex and quite varied society, where there coexist groups which know little about one another, and almost do not have experience of interaction." It is thus no surprise that they lack "a common language" for discussions. Russians need to learn how to speak with each other not formulaically but in ways that allow both sides to retain their dignity.
Window on Eurasia — New Series: Tatar Leaders in Exile Appeal to West for Support in Ending Last Empire
Paul Goble Staunton, May 6 – Five Kazan Tatar leaders in exile are calling on the West to live up to its past commitments to the right of nations to self-determination and help peoples like the Tatars who in Russia, the last empire, to defend themselves against Moscow's efforts to wipe them out and to urge them to make the Captive Nations Week resolution international in scope. The leaders, Vil Mirzyanov in the US, prime minister of independent Tatarstan in exile, Rafis Kashapov in Great Britain, deputy prime minister, Nafis Kashapov in Poland, a second deputy prime minister, Roza Kurban in Turkey and Kamil Sukayev in the US, have sent a letter to the leaders of the US, the UK, Germany, France, Canada, Turkey and Finland. The text of their open letter, portions of which are translated below, have been posted online by the Yenicag portal (yenicag.ru/lidery-tatarskogo-naroda-v-izgnanii-o/295396/). For background on the Idel-Ural movement both domestically and internationally, seewindowoneurasia2.blogspot.com/2019/03/ever-more-active-idel-ural-movement.html. "Each of you," the letter begins, "being the leader of your own state, know how much grief, tears and sufferings authoritarian regimes in China, North Korea, Syria, Venezuela, Zimbabwe and Russia have brought to peoples in the past and are bringing to them in the present." "The totalitarian regime of Moscow" is of particular concern given that it is "the metropolitan center of the last colonial regime on our planet" and, because of its nuclear weapons, routinely ignores international agreements and commitments it has made to respect political freedoms and civil rights within its borders. That imperial approach is displayed "with particular force" in regard to "the enslaved peoples on the territories it controls." Moscow continues to pursue an assimilationist policy intended "to create a faceless and subservient mass under the name Rossiyane," setting up fake governments and forcing nations to establish their own organizations beyond its reach. "Putin's Russia, making use of destructive legislation and all kinds of prohibitions is cruelly carrying out a policy of ethnocide." It is supported in this by the Russian Orthodox Church which is little more than a handmaiden of the FSB and which seeks to create "'Russian Orthodox' without faith, without history, without language and without a unique culture." "For us in the 21st century the most horrible thing is to observe the disappearance of peoples. On the territory of the present-day Russian Federation, 13 peoples have already disappeared from the ethnographic map of Russia and several dozen more are at the edge of disappearance." During the first decade of his rule, Vladimir Putin shut down in Tatarstan alone, 690 Tatar schools. Then, his regime stopped issuing data on this, but in 2017, Tatar activists concluded that he had shuttered about 1500 more in the years since that time. In other actions, he has eliminated 2500 slots for Tatar-language instructors. Moreover, in recent years, "more than 250 Tatar newspapers and journals" have stopped operation; and even though Tatarstan send more than 700 billion rubles (11 billion US dollars) to Moscow each year, it gets back only 180 billion (3 billion US dollars). And because the Kazann Tatars are the second largest nation in Russia, Moscow uses them to fight its wars. On March 21, 2018, the Free Idel-Ural Social Movement was established in Kyiv. It unites and seeks real sovereignty for Tatarstan, Bashkortostan, Chuvashia, Udmurtia, Mari El and the Ezryano-Moskshania (Mordvinia). These Turkic and Finno-Ugric peoples number some 12 million in all. "The platform of the Free Idel-Ural Social Organization must in the future become the foundation of a confederation of the same name, a state which will independently decide both economic questions and tasks of foreign policy and defense," the appeal continues; and then it declares: "We are appealing to you, as leaders of influential, civilized and democratic countries" to follow the US Captive Nations Week law adopted on July 17, 1959, and proclaimed by every US president since that time and to "initiative analogous laws in your own countries." "To this day, this law remains a vitally important document for the peoples of Idel-Ural, Siberia, and the Caucasus. International recognition of this document undoubtedly will be a factor that will restrain the aggressive policy of the Kremlin and a factor of the defense of the rights of enslaved peoples from the arbitrariness of colonial administration." "Support of the world community will allow these peoples to stand on an independent path of development and define by themselves their own fate," the appeal concludes, urging the leaders not to be frightened by talk about how horrific the coming apart of the Russian Empire would be. "Liberation from a colonial path is always a path to progress and the final result of this will make a serious contribution to the development of democracy, peace, stability and all-human values."
Aircraft designer Vadim Lukashevich: We urgently need to stop using Superjet and figure out what happened… – news world | UNIAN
The videos of the plane engulfed in flames at the Sheremetyevo airport near Moscow spread all over the world. On the evening of May 5, the newest Russian aircraft Sukhoi Superjet of Aeroflot Airlines operated a flight en route Moscow-Murmansk. According to preliminary data, immediately after takeoff, the plane was struck by lightning. Automatics failed, and the crew requested an emergency landing at the airport of departure. After hitting the runway, the liner caught fire. Forty-one people of 78 on board have died in the fire. Hard landing at the Sheremetyevo airport of the newest Sukhoi Superjet aircraft resulted in the death of 41 people on board. This is not the first accident with a Russian plane that has just recently been put into operation. Whether traveling on these aircraft are the same as playing "Russian roulette" is what UNIAN sat down to discuss with the former designer of the Sukhoi Design Office, which created the "Superjet".
Reports: Pilot Error Being Probed In Russian Jet Crash That Killed 41
Russian news reports say that investigators are looking at whether pilot error is to blame for the crash of a Sukhoi Superjet 100 at a Moscow airport that killed 41 people.
UAWire – Russian airline refuses to buy new Superjet aircraft after the fatal crash in Moscow
Yamal Airlines, which already owns 15 Sukhoi Superjet 100 aircraft, decided not to purchase another 10 aircraft identical to the plane that …
Shocking video shows Russian copilot dangling out cockpit
Amazing video footage shows the copilot from Sunday's burning Russian plane climbing out of a shattered cockpit window as flames and black smoke engulfed the aircraft — then frantically scramble up the emergency slide to help save people trapped inside, a report said.
Plane Crash Survivor: God Will 'Judge' Those Who Took Bags | PEOPLE.com
"I do not know what to say about people who ran out with bags, God is their judge," crash survivor Mikhail Savchenko said
US college grad among victims of horrific Russia plane fire | Fox News
A recent Colorado College graduate traveling to northwest Russia to work as a fishing guide was one of 41 people killed Sunday.
Window on Eurasia — New Series: Sheremetyevo Plane Fire Highlights Shortcomings of Putin Isolationist Policies, Shelin Says
Paul Goble Staunton, May 7 – The fire on the SSJ-100 at Moscow's Sheremetyevo airport that cost 41 lives highlights the shortcomings of Vladimir Putin's import substitution program, efforts that have cut Russia off from better products including planes than the country can produce and led his subordinates to rush the release of equipment more likely to fail, Sergey Shelin says. Instead of facing up to this reality, the Rosbalt commentator says, the Putin regime has not declared an all-Russian mourning for the victims, has not suspended the use of this kind of aircraft until all investigations can be completed, and has chosen instead to trumpet the notion that the disaster was the result of pilot error (rosbalt.ru/blogs/2019/05/07/1779917.html). But what is especially unfortunate about all this, Shelin continues, is that the isolationism that Putin is imposing on Russia as a result of his vision of the country as "a besieged fortress" is a parody of the kind the Soviets did, without the resources or even the commitment to doing the right thing rather than pursuing profits that characterized the earlier system. The Kremlin has been very proud of the SSJ-100 as "'the first passenger jet developed in Russia after the demise of the USSR," but it has not taken note of the fact that even the few foreign countries which have purchased it, including Mexico, have complained of its shortcomings and are planning to use alternatives instead. The SSJ-100, of course, was developed in large part before the onset of Putin's new isolationism and so includes some parts from the West, but it was rushed into service without the kind of testing that one would expect for airplanes. And now that the isolation is greater, even bigger problems are likely in the coming months. "The deeper the isolation of the country, the worse will work the links of any parts of the production chain, and government protection to everything that looks like import substitution or at least imitates it will constantly grow," Shelin continues. Failures will increase in number and so too will the human victims. What is happening now is both similar to and significantly different than the isolationism of the Soviet past. The Soviet authorities cut off Russians from the rest of the world, but they focused on trying to produce quality products especially in the military sphere, out of which civilian aircraft largely came. At the very least, they didn't pursue profit above reliability. Soviet civilian aircraft were clunky and they did sometimes crash, a reality that the authorities hid from the population via censorship. But mostly they worked, and they were seldom rushed into service without the kind of testing that Soviet engineers knew was necessary and more or less corresponded to standards elsewhere. "The present-day efforts to impose all this over again are a parody," Shelin points out. "Today's Russia is not the USSR. It doesn't have the reserves of strength for any competition. And it has still fewer reserves of self-denial both among those at the top and those at the bottom," each of which has adopted "entirely different life strategies" than in Soviet times. Those at the very top pursue profit, and those who are qualified below move abroad to work. Both work against quality, the first by ignoring shortcomings and the second by depriving the Russian system of the kind of quality personnel that to a large extent even the Soviet system was able to rely on. "With the onset of isolationism," Shelin says, business capable of competing "has almost died. Instead, what one sees is "bureaucratized capitalists 'with a statist mentality'" who are in no way similar to "the captains of Soviet management" who knew what was expected of them and that profit for those above them was not the highest value. "Enriching themselves by means of import substitution, today's magnates do not think about denying themselves the goods of the foreign world," the Rosbalt commentator says. They want it both ways for themselves even if that costs the lives of their fellow citizens as it has at Sheremetyevo. And as a result, "our newly-minted isolationism of the 21st century not only guarantees that Russia will lag behind others. It is intellectual, moral and professional decay." The only real question, Shelin says, is when will people draw the obvious lessons from the accidents and catastrophes the Putin system is producing.
Window on Eurasia — New Series: Russians who Seek Democracy and Freedom Now have an Ally in New Ukrainian President, Illarionov Says
Paul Goble Staunton, May 7 – Ukrainians voted against war because they do not believe that Kyiv can recover territories occupied by Russia by military means, Andrey Illarionov says; but the biggest winner in the April elections were those Russians who want democracy and freedom. They now have a powerful ally in Vladimir Zelensky. In the course of a wide-ranging interview with Alesya Batsman of the Gordon news agency which appeared on Ukrainian television, the Russian commentator makes three key interrelated points (gordonua.com/publications/illarionov-u-znachitelnoy-chasti-rossiyan-poyavilsya-zashchitnik-v-lice-zelenskogo-kotoryy-vyskazyvaet-ih-poziciyu-na-russkom-yazyke-eto-naibolee-effektivnoe-oruzhie-protiv-putina-940321.html). First, Illarionov argues, Zelensky won because Ukrainians have concluded that they cannot retake Russian-occupied territories by military force and aren't going to get the assistance of the West to do so. Anyone who says otherwise, he suggests, is cynically exploiting war psychology is maintain himself in power. Second, Russians in Russia who want democracy and freedom see in Zelensky a defender of their interests, not only because he speaks to them in Russian but also because he is prepared to challenge Putin in ways that the Kremlin leader will find it increasingly difficult to respond to without undercutting his own position. And third, the evolution of Ukrainian politics in the wake of this election highlights something that has long been known but not always been acknowledged: Ukraine and Russia are so interlinked that unless both succeed in moving toward democracy and freedom, neither will achieve those goals. One of the reasons that Ukrainians have drawn the unwelcome conclusion that fighting won't get them their territory back is the announcement that despite all Kyiv's military efforts over the last year, Ukraine has recovered less than one-tenth of one percent of the occupied areas, 24 square kilometers of the 25,000 square kilometers Russia controls in the Donbas. At that rate, it would take centuries to recover this territory and at a terrible price for Ukraine. Ukrainian voters recognize this reality and they voted for Zelensky in the hopes that he will focus on developing Ukrainian society and the Ukrainian economy rather than obsess about the war itself, Illarionov continues. But that doesn't mean that Zelensky isn't focusing on Russia. His post-election statements have been directed "not so much at Putin as at Russian citizens," the Russian commentator says. "He has indicated that today's Russia is an authoritarian country and not a democracy." "What does a Russian passport offer? What rights does it give? The right to be arrested, to be beaten to lack any representation of its political interests, and the lack of any civic freedoms." Saying that, Illarionov continues, hits at one of the weakest points in Putin's political armor. Zelensky's words have elicited from many in Russia both attention and even enthusiasm, the economist continues, even if they are not directly linked to the opposition but because they come directly to them in the Russian language. "This is the strongest argument and the most effective weapon," he says. Moreover, Illarionov continues, "Zelensky has used the phrase 'for your freedom and ours,'" a phrase that has been on the banner of all those who have fought for freedom be they "in Ukraine, Russia, Belarus, Poland or Lithuania." By doing so, the incoming Ukrainian president "has sent a signal" that has a powerful resonance in Russia today. Many thought Ukrainian leaders would adopt that strategy in the immediate wake of the Maidan. That didn't happen and five years have been lost "both for the future of free Russia and for free Ukraine" because, and this is Illarionov's third point, the future of the two are inextricably tied together. "Ukraine can be a genuinely free, successful and effective country only when Russia becomes a free country." That may not sound attractive to some Ukrainians, but it is a fact that "the success of Ukraine and the success of Russia are interrelated," he argues. "We can either win together or lose together." Zelensky appears to understand that. It is the basis of his greatest challenge to Putin – and a reason, Illarionov concludes, for Putin to be worried.
U.S. Ambassador to Ukraine Recalled in 'Political Hit Job,' Lawmakers Say – Foreign Policy
Marie Yovanovitch stepping down as ambassador follows attacks from both right-wing media figures in the United States and a senior Ukrainian official.
Congressional Democrats Suggest Early Departure Of U.S. Ambassador To Ukraine Is Politically Motivated
Two top U.S. Democratic lawmakers have suggested that the early departure of the U.S. ambassador to Ukraine may have been a politically motivated move on the part of President Donald Trump's admini…
Congress urged Trump to abolish Yovanovich's dismissal.
Critics of the president call her a victim of a new election in the United States May 07, 2019 Critics of Donald Trump, political commentators in the United States relate to the premature termination of Ukraine's ambassador to the United States, Marie Jovanovich, with widespread conservative US mass-media accusations about the alleged involvement of Yovanovich before the publication in 2016 of Manaforth's information on the "Party of Regions" and perhaps its critical remarks to US President Trump.
UAWire – Congress urges Trump to reinstate Ambassador to Ukraine Marie Yovanovitch
The decision to prematurely recall US Ambassador to Ukraine Marie Yovanovitch has been criticized by the House Foreign Affairs Committee, which …
U.S. condemns issuance of Russian passports in occupied Donbas
The United States condemns President Putin's decree to issue Russian passports to residents of the occupied areas of Donetsk and Luhansk regions, the U.S. Embassy in Ukraine reports. — Ukrinform.
Ukraine's Cabinet outlaws Russian passports issued in occupied Donbas – news politics | UNIAN
Minister for Temporarily Occupied Territories and Internally Displaced Persons Vadym Chernysh has said the Cabinet of Ministers of Ukraine decided to outlaw Russian passports issued to Ukrainian citizens residing in Russia-occupied areas in Ukraine, namely Luhansk and Donetsk regions. According to the decision, the Ministry of Foreign Affairs will work with international partners on the adoption of a similar decision.
PM Groysman: Ukraine not to recognize fake Russian passports issued in occupied Donbas – news politics | UNIAN
Ukrainian Prime Minister Volodymyr Groysman has said Ukraine will not recognize fake Russian passports issued to residents of the occupied Ukrainian territories, namely Luhansk and Donetsk regions, and calls on the international community not to recognize these documents as well. The Ukrainian government is going to outlaw all Russian passports issued to Ukrainian citizens in Ukraine.
Kremlin: Russian passports to be issued in occupied Donbas despite Ukraine's reaction – news politics | UNIAN
Russian presidential spokesman Dmitry Peskov has said the Russian Federation will continue to issue passports in occupied territory of Donbas despite Ukraine's reaction. Russian passports will be issued to those Ukrainian citizens who are eligible for Russian citizenship under Putin's decree.
'Passportization' of Donbas: Cabinet of Ministers declares Russian documents invalid, preparing sanctions
The Government of Ukraine prepares a list of Russian officials, who are involved in organizing the process of issuance of Russian passports in occupied areas of Donbas and Crimea, for the imposition of personal sanctions. — Ukrinform.
Zelensky, Freeland discuss plans to combat corruption in Ukraine, ways for peaceful settlement of Donbas conflict
President-elect of Ukraine Volodymyr Zelensky has discussed with Canadian Foreign Minister Chrystia Freeland, who arrived in the country on Wednesday, plans regarding the fight against corruption and the Minsk format for resolving the conflict in eastern Ukraine. "We don't want to talk about the fight against corruption, we want to achieve victory over it," Zelensky's press service quoted him as saying. According to the newly elected president, his team will make everything possible so that citizens would have as little contact with officials as possible. "Our goal is a state in a smartphone," explained Zelensky. For her part, Freeland noted that in some areas, even Canada can follow the example of Ukraine. In particular, it concerns the system of electronic declarations. "We see a lot in common between you and our Prime Minister Trudeau. Four weeks before the election, nobody believed that we would win," the Canadian Foreign Minister said. She added that it is very important for modern politicians to listen to their citizens. Freeland also assured that Zelensky can count on the support of Canada in the international arena. "It is very important that the entire Ukraine voted for you. Democratic Ukraine with a successful economy is an example for all the countries of the post-Soviet region, in particular for Russians," Freeland said. The parties also discussed the search for a peaceful settlement of the conflict in eastern Ukraine. "We have a chance to stop the fire and return Donbas," the newly elected president said. The meeting also referred to the powerful representation of the Ukrainian state at a conference on supporting reforms in Ukraine, which will be held in Toronto in July 2019.
Zelensky, Freeland discuss fight against corruption, situation in Donbas. Photos
Ukraine's president-elect Volodymyr Zelensky has met with Canadian Minister of Foreign Affairs Chrystia Freeland. — Ukrinform.
Freeland: Canada committed to supporting people of Ukraine
Canada will continue to work closely with the Government of Ukraine to advance reform agenda and in defence of Ukraine's sovereignty. — Ukrinform.
U.S. Deputy Assistant Secretary meets with Ukraine's president-elect
U.S. Deputy Assistant Secretary of State George Kent met with Ukraine's President-elect Volodymyr Zelensky in Kyiv today, the U.S. Embassy in Ukraine reports. — Ukrinform.
U.S. Embassy Kyiv on Twitter: "Deputy Assistant Secretary George Kent congratulated President-elect Zelenskyy on his victory and emphasized that the United States stands ready to continue partnering with Ukraine to advance political and economic reforms.… https://t.co/rZdunzQvu9"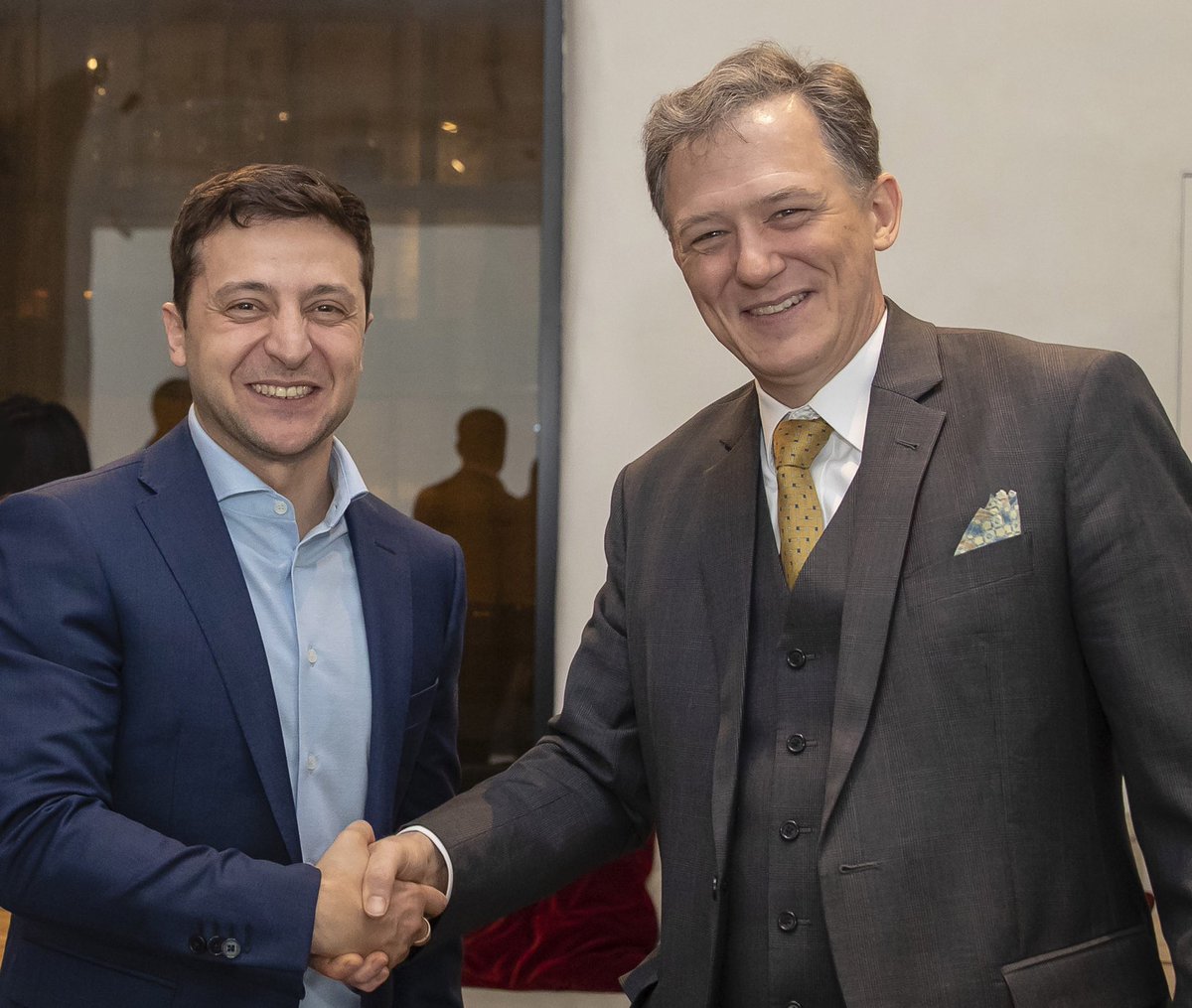 Canadian, Norwegian foreign ministers discuss Ukraine Reform Conference
Minister of Foreign Affairs of Canada Chrystia Freeland and Minister of Foreign Affairs of Norway Ine Eriksen Søreide discussed preparations for the Ukraine Reform Conference to be held in July 2019. — Ukrinform.
Ukraine's National Security Council deputy secretary to discuss army reform in US
Deputy Secretary of the National Security and Defense Council of Ukraine Serhiy Kryvonos is paying a working visit to Washington, D.C., where he is expected to take part in a meeting of the Ukraine-US commission for the exchange of information on developments and research in the field of military-technical cooperation. — Ukrinform.
U.S. Deputy Assistant Secretary George Kent arrives in Kyiv
U.S. Deputy Assistant Secretary of State George Kent has arrived in Kyiv to discuss with Ukrainian officials the further development of partnership, reforms in Ukraine and Russian aggression. — Ukrinform.
US Deputy Assistant Secretary George Kent arrives in Kyiv
08.05.19 11:42 – US Deputy Assistant Secretary George Kent arrives in Kyiv The US Deputy Assistant Secretary of State George Kent has arrived in Kyiv to discuss with Ukrainian officials the further development of the partnership, reforms in Ukraine and Russian aggression. View news.
Ukraine's diplomats discuss anti-Russian sanctions with American Senator
Ivanna Klympush-Tsintsadze Vice-Prime-Minister for European and Euro-Atlantic Integration of Ukraine and Ukraine's Ambassador to the U.S. Valery Chaly discussed the enhancement of sanction pressure on Russia with American Senator from the Republican Party Suzanne Collins, as Ukraine's Embassy to the U.S. reported on Facebook. The Ukrainian side expressed hope that the U.S. Senate would support the adoption of additional laws to enhance sanctions pressure on Russia as a reaction to the recent decision of Russia to issue passports to Ukrainians who live on temporary occupied territories and for its illegal actions against the Ukrainian state, including Azov Sea and Black Sea waters. The parties have discussed the necessity to take decisive steps to release Ukraine's naval vessels kept by Russia in Kerch Strait and all the other political prisoners of the Kremlin. They also discussed cooperation of Ukraine and the U.S. within counterwork of the construction of Nord Stream 2.
Klitschko meets with Volker in Washington DC
Kyiv Mayor Vitali Klitschko met with U.S. Special Representative for Ukraine Negotiations Kurt Volker in Washington, D.C., USA. — Ukrinform.
Kyiv mayor Klitschko in Washington discusses with Volker situation in Ukraine before parliamentary elections
Kyiv Mayor, Chairman of the Kyiv City State Administration Vitali Klitschko has discussed the situation in Ukraine after the presidential and before the parliamentary elections with Special Representative of the U.S. State Department for Ukraine Negotiations Kurt Volker.
Kyiv Mayor spoke in commemoration of John McCain in Washington
Vitaly Klitschko visited Washington to hold a speech at the event dedicated to the late US Senator John McCain. A number of famous American politicians – senators, congressmen, and representatives of the US government, attended the event. The commemoration event was organized by the International Republican Institute (IRI), which was headed by the Senator McCain for 25 years. "It is a great honor for me to be here, as Udar party has a long-lasting and effective history of cooperation with IRI. The support of IRI was very important in the period of creation and development of our political power. IRI was also with us and with Ukrainian democratic forces during the difficult time in the history of Ukraine – when Ukrainians were defending the right of their state to choose European democratic way of development," Klitschko noted. He reminded that John McCain visited Kyiv during the Revolution of Dignity in December 2013 "This was one of the hardest periods of our struggle. I will never forget the speech of Senator McCain on Maidan. At that time, he addressed hundreds of people in Ukrainian: "Америка з вами!"("America is with you!)." It was a very important signal that American people and their leaders support our striving for freedom. At the same time, John McCain has always stressed that it is Ukrainians who should decide the future of their country," Klitschko said. Kyiv Mayor noted that McCain was a real friend of Ukraine, who supported it in the fight against Russian aggression – he headed the work of the Senate concerning help to Ukraine and imposing sanctions against Russia. "Friendship with John, our numerous conversations, his resilience, and resolution was an important example for me. As a politician, I learned a lot from him. Because, both in sports and politics, you have to fight to win, fight for principles and goals, no matter how hard it is, and never give up!" Klitschko said. At the event, the International Republican Institute has granted the Freedom Award to the Republican Senator Mitch McConnell, Cindy McCain – the wife of John McCain, who supports the humanitarian organizations in the United States and other countries. The Freedom Award was established in 1995 to honor individuals who have worked to advance freedom and democracy in their countries and around the world. The contribution of these individuals in furthering democracy and freedom has given hope to millions of people and has helped improve the lives of people around the globe. Over the years, honorees have included luminaries such as President Ronald Reagan; President George H.W. Bush; President George W. Bush; Liberian President Ellen Johnson-Sirleaf; Aung San Suu Kyi, Nobel Laureate and Burmese democracy leader; Natan Sharansky, former political prisoner and human rights activist; and former secretaries of state Henry A. Kissinger, George P. Shultz and James A. Baker.
Important for Ukraine to continue implementation of Association Agreement with EU – European Commissioner Hahn
European Commissioner for Enlargement and European Neighborhood Policy Johannes Hahn is pleased with the meetings held in Kyiv with Prime Minister of Ukraine Volodymyr Groysman and Minister of Foreign Affairs of Ukraine Pavlo Klimkin.
Trudeau, Tusk discuss ways of Ukrainian reforms
Prime Minister of Canada Justin Trudeau and President of the European Council Donald Tusk discussed the upcoming Ukraine Reform Conference. — Ukrinform.
Ze-advisor Aparshin proposes not to oppose the Russian Federation at Azov
At Azov, we are not able to withstand Russia today. And I would not want our vast experts here to demand that the new president immediately restore the Naval Force. This was told in an interview with "Apostrophe" military expert of the team of Vladimir Zelensky Colonel of the stock Ivan Apparshin, who previously said that the army has a lot of surplus property . " In the Sea of Azov, we are not able to withstand Russia today. I do not want today right here … such a tragic situation that we can not do anything … This information is that our partners are ready to influence this situation, for example through the permanent presence procedure … well, it can not last forever, and they have to drink it … well, others will come … It's very good, I think that on this while that is enough. And I would not want our vast experts here to demand that the new president immediately restore the Naval Force. They started building two new bases there, why are you doing this? What do you think if you are there on the seafront, will you build those bases, then stop its aggression? Well, he has the mechanisms to go through you … Do you think that you put the Wall there, or how you name it there, is it a problem for him? It's not a problem at all …
US flights near Crimea on May 7 | MIL.IN.UA
Author: Editorial May 08, 2019 Situation around the Crimea 0 Comments Yesterday UAV RQ-4B-40 Global Hawk UAV flew patrols along the coast of the occupied Crimean peninsula after completing the flight along the clash line on the Donbas. This is reported by the Ukrainian Military Portal Subsequently, an anti-submarine aircraft Boeing P-8A Poseidon of the US Navy joined the monitoring of the occupied territories The Strategic Unmanned Aircraft RQ-4B-40 Global Hawk made a flight on the usual route: Routing flight RQ-4B-40 Global Hawk near Crimea on May 7, 2019 Map: PlaneRadar Boeing Poseidon P-8A of the US Navy also usually patrolled near naval bases in Novorossiysk and occupied Sevastopol: Flight route Boeing P-8A Poseidon near Crimea on May 7, 2019 Map: PlaneRadar As it is known, the Armed Forces Air Forces receive intelligence from American UAVs, therefore, information from today's flight, as well as from the rest, comes to the disposal of the General Staff of the Armed Forces of Ukraine.
Russia intensifies repression against Crimean Tatars to squeeze them out of Crimea: rights activists – news politics | UNIAN
Russia is intensifying repression against Crimean Tatars and Ukrainians living in the temporarily occupied Crimea to intimidate them and eventually squeeze them out the peninsula, says Eskender Bariiev, chairman of the Crimean Tatar Resource Center. Moscow is trying to turn the occupied Crimea into a military bridgehead without dissidents, according to the Crimean Tatar Resource Center.
Russia Frees Two Ukrainian Fishermen Held For Months After Incident Off Crimea Coast
Two Ukrainian fishermen detained last year by Russian border guards after their boat broke down off the coast of the Crimea Peninsula have been released.
Russian Authorities To Remove Tatar Collaboration Slur From Crimean History Textbook
The Russian authorities who control Ukraine's Crimean Peninsula have promised to remove a section of a high-school history textbook that claims many Crimean Tatars collaborated with Nazi Germany du…
UAWire – Russia considers raising gas prices for Crimea and Sevastopol
According to a bill published on the Russian government's website of legal information, the Federal Antimonopoly Service of Russia suggested to …
25 attacks against JFO positions yesterday: Ukrainian soldier killed, another three – wounded, three terrorists destroyed
08.05.19 07:43 – 25 attacks against JFO positions yesterday: Ukrainian soldier killed, another three – wounded, three terrorists destroyed May 7, the Russian occupying forces attacked JFO positions 25 times, using Minsk-proscribed weapons 12 times. View news.
Escalation in Donbas: Two Ukrainian soldiers killed, three wounded in 25 enemy attacks – news war | UNIAN
Russia's hybrid military forces mounted 25 attacks on Ukrainian army positions in Donbas in the past 24 hours, with two Ukrainian soldiers reported as killed in action, and another three as wounded in action. Three enemy troops were killed and another two were wounded on Tuesday, intelligence reports say.
Ukrainian soldiers destroyed two Russian combat vehicles. VIDEO
08.05.19 17:32 – Ukrainian soldiers destroyed two Russian combat vehicles. VIDEO Ukrainian soldiers in Donbas area destroyed two combat vehicles of the Russian invaders. View video news.
Destruction of BMP and cheesecakes – YouTube
Anatoly Stirlitz Published on May 8, 2019 https://www.facebook.com/ukrop.bcAs a result of the provocative shelling by the Russian-occupying forces of the OS units in the Svetlodar direction, a decision was taken on an adequate response to the enemy. The result of the fire according to intelligence was the destruction of two enemy armored personnel carriers. KIA losses were 3 people, WIA one person. Believe in warriors! Believe in the Armed Forces of Ukraine! Everyone will be Ukraine and a victory for us! 🇺🇦 Utub channel 🏿 appreciation for the subscription and  https: //m.youtube.com/channel/UCR6Kky… Telegram channel https://t.me/a_shtirlitz
Terrorist, aka 'Rocker,' killed in Donbas (Photo) – news war | UNIAN
Terrorist Aleksandr Sychev, aka 'Rocker,' has been killed by the Ukrainian military in Donbas, eastern Ukraine, on May 7, 2019. His father, Vladimir Sychev, was killed in July 2017.
Poroshenko replaces National Guard commander – LB.ua news portal
Poroshenko replaces National Guard commander. Mykola Balan is appointed the acting commander of the National Guard. Political – LB.ua news portal. Latest from Ukraine and the world today
Poroshenko dismisses Ukraine's National Guard Commander – news politics | UNIAN
President of Ukraine Petro Poroshenko on May 7 issued a decree to dismiss Commander of the National Guard of Ukraine Yuriy Allerov, according to the presidential administration press service. Mykola Balan has been appointed acting chief.
Ukraine's Defense Minister Poltorak signs order to increase Joint Forces' allowances – news war | UNIAN
Ukrainian Defense Minister Stepan Poltorak has signed an order to increase from May 1, 2019, the size of an allowance for participation in the Joint Forces Operation (JFO) by UAH 5,000 (US$189) to servicemen who are on the contact line and by UAH 1,000 (US$37) for those in other JFO zones. The pay is increased on a regular basis within the funds allocated from the 2019 national budget.
Poroshenko enacts NSDC's decision on measures to strengthen state's defense
President of Ukraine Petro Poroshenko, by his decree, has enacted the decision of the National Security and Defense Council of Ukraine (NSDC) of May 7, 2019 "On measures to strengthen the defense capacity of the state," the press service of the Presidential Administration of Ukraine has reported.
Vyshinsky trial: RIA Novosti Ukraine articles "propaganda," aimed against Ukraine's statehood, experts confirm – news ukraine | UNIAN
Articles published by RIA Novosti Ukraine were in fact propaganda, directed against the statehood of Ukraine, that's according to a report drawn by linguistic experts upon the investigators' inquiry in the case of former editor-in-chief of RIA Novosti News Agency, Kirill Vyshinsky, who is being tried on treason charges, also being accused of subversive information activities aimed against Ukraine. The court has extended the defendant's term in remand until July 22.
Russian propagandist detected in Kyiv, he tried to initiate riots on Day of Victory
Operatives of the Security Service of Ukraine detected the pro-Russian propagandist, who prepared and spread on the Internet anti-Ukrainian information under the task of the Russian curators. The press service of the Security Service of Ukraine reports this. According to the report, some materials touched upon the radicalization of the public actions for the initiation of the mass riots during the holding of the events on the Day of memory and reconciliation and the Day of victory over Nazism in the World Wide War II.
Since the beginning of Russian aggression, about 30 MiG-29 have been restored to the Armed Forces | MIL.IN.UA
During his stay at the Lviv State Aircraft Repair Plant Stepan Poltorak, Defense Minister of Ukraine, announced the pace of restoration of the MiG-29 fighters for the Air Forces of the Armed Forces of Ukraine. This is reported by the Ukrainian Military Portal. Stepan Poltorak said that in recent years, for the Armed Forces of Ukraine, the Lviv enterprise has repaired and partially modernized almost 30 aircraft. First of all, it's about MiG-29: "Over the past few years, you have renovated and carried out partial modernization of almost 30 aircraft for the Armed Forces of Ukraine,"said the Minister of Defense of Ukraine. Recall that also Minister of Defense Stepan Poltorak said that in 2020, MiG-29 modernization work will begin with the help of Western partners.
In Ukraine, will begin to modernize the MiG-29 with the participation of foreign companies
Author: Vladislav Khristoforov – 16:14 – 08/05/2019 On the basis of the Lviv State Aviation Repair Plant, starting with the year 2020, it is planned to start work on the modernization of MiG-type aircraft with the participation of foreign partners. Passes the National Industrial Portal with reference to the UMC. At the moment, negotiations on the participation of foreign companies are taking place at the final stage and the priorities for modernization are defined. The extreme modernization of the MiG-29 aircraft, which was developed at the Lviv Aviation Repair Plant – MU2, was carried out with the help of the enterprises of the Ukrainian defense-industrial complex. As a result of this upgrade, the aircraft's ability to produce high-precision strikes for land-based purposes has been improved. On MiG-29MU2 it is possible to install missile and bomber weapons with TV heads of type X-29T and KAB-500KR. The MiG-29MU2 aircraft is equipped with VOR, ILS, DME – on-board equipment, which will automatically control aircraft landing and flying on international routes. Information about foreign partners with which modernization is planned is not reported. In January, Ukroboronprom signed a memorandum of cooperation with the Israeli company Elbit Systems Ltd, which already has experience in modernizing the MiG-29 aircraft. In the early 2000s, she participated in the modernization of the Romanian park of these fighter jets and, together with other companies, introduced the MiG-29 Sniper, which made its first flight on May 5, 2000.
Among the new equipment was installed:
New Modular Multi-Channel Computer (MMRC)
Mil-Bus 1553B
modernized western avionics
replaced communication systems (new radio stations)
navigation system (integrated LINS / GPS)
identification system (transponder)
Analog indicators on the display are replaced
radiation warning station
new HOTAS system (hands on chokes and sticks)
new ADC (Computer with Air Data)
Also, the meetings of the Secretary of the National Security and Defense Council of Ukraine Oleksandr Turchynov with the Director of Defense and Space Security of Boeing, Stanley Prusinsky, discussed the projects of the modernization of the fighter and assault aircraft of the Armed Forces of Ukraine. Therefore, participation in the modernization of this company is not excluded.
MiG-29 fighters left by Ukraine in Crimea completely obsolete, – Russian MP
Mikoyan-Gurevich MiG-29 fighters that Ukraine left in the annexed Crimea in 2014 have been completely lost as combat units. Dmitriy Belik, the MP of Russia's State Duma from Sevastopol said that as quoted by RBC-Ukraine. 'All Ukrainian combat vehicles that remained on the peninsula was not serviced or repaired since 2014. Russian troops merely guard them, keeping up with the fire safety rules', the lawmaker said. According to him, since Crimea was occupied by Russia in 2014, about ten air superiority fighters of Ukraine's air force remained at Belbek air field and ended up completely useless over these five years. Earlier, some Bulgarian military pilots refused to perform flights using Russian MiG-29 fighters; they reported safety issues in the obsolete aircraft. Atanas Zapryanov, the country's deputy defense minister said this as quoted by Radio Liberty. The defense ministry accused the boycotting pilots of conducting a motivated campaign. The authority insisted that Bulgaria will be restoring all domestically-made MiG-29s and Russian-made Su-25s (Soviet-era ground attack aircraft, – 112 International).
Border guards received US "Safe Boat 27" boats | MIL.IN.UA
Author: Editorial May 07, 2019 Naval Force 0 Comments Recently, with the assistance of the US Embassy in Ukraine, two boats "Safe Boat 27" were handed over to the Border Guard. This is reported by the Ukrainian Military Portal Soon, these modern floats will be used by 10 separate detachments of the operational response of D.O.Z.O.R. in various operational-service purposes. This modification of boats can be used for patrolling and raid-assault purposes. The composition of the crew of such a boat is 4 servicemen. However, it is possible to accommodate up to 20 fighters with a landing gear. Brief technical characteristics of these boats: Length: 8.2 meters Width: 2.7 meters Maximum speed: 47 knots Crew: 4 people Off-road: up to 20 people For the formation of the crew of D.O.Z.O.R. invites qualified specialists for military service under the contract.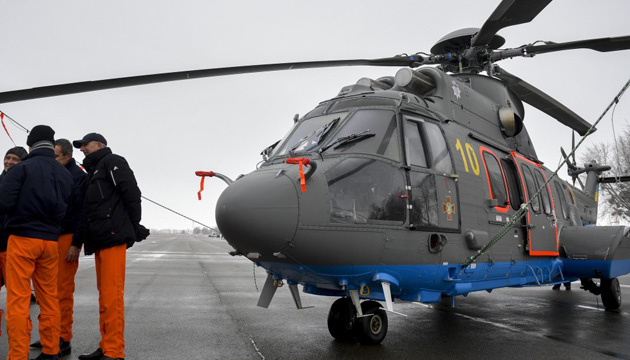 Rescuers, National Guard officers test modernized H225 Super Puma helicopters. Video
Pilots of the State Emergency Service of Ukraine and the National Guard of Ukraine began to perform H225 Super Puma helicopter training flights. — Ukrinform.
UAWire – Ukraine starts receiving clean oil from Russia
The press service of the Ukrainian national oil company Ukrtransnafta confirmed that Druzhba oil pipeline system in the Ukrainian direction …
Imports of petroleum products to Ukraine rise since year-start – news economics | UNIAN
In January-April 2019, Ukraine has imported petroleum products worth US$1.587 billion, which is 20% more than in the same period last year, the State Fiscal Service reports. Russian petroleum products took up some 43% of imports costs.
Joe Biden's Ukraine Scandal Is His Policy, Not Personal Interests – Bloomberg
It's clear by now that former U.S. Vice President Joe Biden, the front-runner in a large field of Democratic candidates for the presidency, will have to keep answering questions about his own and his son Hunter's involvement in Ukrainian affairs. President Donald Trump, aides such as Rudy Giuliani, and Fox News commentators will keep calling for the Bidens to be investigated for a conflict of interest, and various Ukrainian figures will do their best to keep the story alive. The conflict of interest story isn't worth much on its merits. But if it plagues Biden, he will deserve it for the ham-handed way he interfered in Ukrainian politics — a snake-pit that isn't kind to badly informed outsiders. Biden's cowboy-style interventions didn't do Ukraine any good, and its wily politicians ran circles around him. Americans shouldn't pay too much attention to the shaky corruption allegations, but Biden's record in Ukraine doesn't speak well for his judgment on foreign policy.
Any manifestations of anti-Semitism are provocation against Ukraine – Avakov
Any manifestations of intolerance and anti-Semitism should be considered as deliberate provocation against the unity of Ukraine. — Ukrinform.
Media Watchdogs 'Appalled' By Brutal Attack On Ukrainian Journalist
International media freedom watchdogs said they were "appalled" by the recent brutal attack on Ukrainian journalist Vadym Komarov, and urged the country's authorities to do their utmost to en…
Handziuk murder case: Prosecutor's office sends indictment against five suspects to court – news ukraine | UNIAN
The Prosecutor General's Office (PGO) of Ukraine has sent an indictment against five suspects in the case of Kherson activist Kateryna Handziuk's assassination to court. They are accused of causing serious bodily injuries resulting in Kherson activist Kateryna Handziuk's death.
Infrastructure Minister Omelyan wants to invite Tesla to build electric car plant in Ukraine – news economics | UNIAN
Ukrainian Infrastructure Minister Volodymyr Omelyan says that after bills on the creation of Ukraine's electric car market are adopted, a Ukrainian delegation will be sent to Tesla to negotiate the construction of its first European plant in Ukraine. The bills will offer the investor the world's most advantageous conditions.
Ukraine marks Day of Remembrance and Reconciliation
On May 8-9, Ukraine along with the entire world marks the days of remembrance and reconciliation to commemorate the victims of World War II. — Ukrinform.
Father's Day to be officially celebrated in Ukraine
Father's Day in Ukraine will be celebrated on the third Sunday of June. — Ukrinform.
A glimpse of 1905 Ukraine in true color | EUROMAIDAN PRESSEuromaidan Press |
The US Library of Congress hosts a number of unique true-color photographs from modern-day Ukraine made by the photographer Prokudin-Gorsky. The Sergei Mikhailovich Prokudin-Gorsky Collection features color photographic surveys of the vast Russian Empire made between ca. 1905 and 1915. Frequent subjects among the 2,607 distinct images include people, religious architecture, historic sites, industry and agriculture, public works construction, scenes along water and railway transportation routes, and views of villages and cities. An active photographer and scientist, Prokudin-Gorsky (1863-1944) undertook most of his ambitious color documentary project from 1909 to 1915. The Library of Congress purchased the collection from the photographer's sons in 1948. These modern color renderings were made in 2000-2001 from glass negatives, black-and-white triple-frame images made with color separation filters. They offer us a unique glance of Ukraine circa 1905 in true color. For other images from the collection of the US Library of Congress, see here:
Recovering the forgotten names of the Ukrainian avant-garde |Euromaidan Press |
The 1910s and 1920s were a period of global transformation that was reflected in philosophy, literature, and art. People were captivated by the development of technology and the promise of future progress. Against the backdrop of new discoveries, the avant-garde movement in art emerged, with Futurism and Constructivism as the most radical. Artists everywhere expressed the desire for a complete break with the past and the creation of a "new man." The avant-garde on the territory of the Russian Empire and the early Soviet Union is often affiliated either with communist ideology or with Russian nationality. However, the reality is different. Ukrainians and their ethnic culture influenced this exciting new genre of art immensely – yet are still overlooked. Prior to 1917, four-fifths of the territory of contemporary Ukraine had been part of the Russian empire for at least 150 years. Many Ukrainian intellectuals, as well as writers, artists, and composers of that time – even while striving for Ukrainian independence – couldn't completely escape the constraints of the political reality. Their work belonged to the empire and to the Ukrainian people at the same time. Ukrainian culture and the culture of the empire developed simultaneously. But naming all art of the Russian empire as "Russian" is wrong.
Zelensky's adviser Danyliuk doesn't rule out inauguration in June – news politics | UNIAN
Former Ukrainian Finance Minister Oleksandr Danyliuk, who is now an adviser to Ukraine's President-elect Volodymyr Zelensky, does not rule out the inauguration of the newly elected president of Ukraine may take place in June. According to the politician, a line-up of guests of the event will depend on the appointed date.
Olena Tanasevych elected head of Ukraine's High Anti-Corruption Court
Judges of Ukraine's High Anti-Corruption Court elected Olena Tanasevych as head of the court at the third attempt at a meeting on Tuesday, May 7. — Ukrinform.
Olena Tanasevych elected chair of Ukraine's High Anti-Corruption Court – news politics | UNIAN
Judge Olena Tanasevych has been elected chair of Ukraine's High Anti-Corruption Court (HACC). Olha Salandiak was the other candidate.
Turchynov, OCU head discuss the need for law on military chaplaincy
Secretary of the National Security and Defense Council of Ukraine Oleksandr Turchynov has met with His Beatitude Metropolitan Epiphanius of Kyiv and All Ukraine, the press service of the National Security and Defense Council of Ukraine (NSDC) has reported.
Turchynov, Epiphanius discuss importance of chaplains in Ukrainian army
Secretary of the National Security and Defense Council of Ukraine (NSDC) Oleksandr Turchynov has held a meeting with His Beatitude Metropolitan Epiphanius of Kyiv and All Ukraine Epiphanius, the NSDC press service has reported. — Ukrinform.
A Cathedral For Russia's Armed Forces Has Clergy Wary Of Merging Militarism With Faith
Russia's army is using donated funds to build a vast cathedral to honor its victory in World War II. But critics say it's the latest in a series of initiatives aimed at militarizing Russian society and strengthening church-state ties.
—