Anonymous expert compilation, analysis, and reporting.
Russia is taking multiple hits on multiple fronts, Russia is looking very bad in their actions and responses. There is no way to sugar coat or even spin these issues, Russia is failing in all they do.  This does not appear to be a 1991 repeat but looks like a modern-day autocratic regime collapse from a failed support structure and systemically poor decisions by the leadership.
</end editorial>
---
---
Muscovy dangles a new arms control treaty. Force structure updates. Half a dozen reports on Russian divergence from reality.  Pres-elect Zelenskiy responds to the Vozhd – it is simply priceless. Responses to the Russian passport proposal. Donbas update, defense industry debate. Political reports. ROC update.
---
Russia is open to possible new arms control deals with U.S.: Kremlin aide – Reuters
Kremlin aide Yuri Ushakov, commenting on a media report that U.S. President Donald Trump wants a new arms control deal with Moscow and Beijing, said Russia was open to the possibility of new arms control deals, but that there were no ongoing talks.
Donald Trump Says 'We All Have to Get Rid of' Nuclear Weapons; Russia Responds: Let's Make A Plan
Russia had been closely watching recent reports that the White House was studying a comprehensive deal that would include China, but Moscow was also hoping for a promise to never use nuclear weapons.
UAWire – Production of airplanes and helicopters in Russia falls by 42% this year
The economic activity of "Aircraft, including space, and related equipment" production in the first quarter of 2019 fell by 42.3% compared with the same period of 2018, reported the Russian Federal State Statistics Service, Rosstat. This is the largest decline among all components of the industrial production, excluding the agglomeration of coal, anthracite and brown coal, and production of thermo-coal, which fell by 82%. The article of Russian Classifier of Economic Activities OKVED includes the production of both civil and military equipment. However, data on the number of such products, which Rosstat also publishes, disclose only the civilian products, report RBC news agency with reference to the press service of Rosstat. Earlier, RBC reported that, last year, the aircraft, including spacecraft, production fell by 13.5% after strong growth for at least four years. Deputy Prime Minister of Russia, Yury Borisov, later explained that the production of aircraft (both civil and military) in 2018 decreased by 12.7%, and in the missile and space industry by 4.1%. According to Borisov, the decline in the aviation, missile and space industries was due to a decline in government orders for military products. According to the most recent information from Rosstat, in 2017 Russia produced 70 helicopters and 21 civil aircraft. This includes seven helicopters and five aircraft that were assembled in the first quarter of 2017. Data for 2018 is not available yet. According to the data for 2010, the production of "other kind of vehicles", which includes not only aircraft, helicopters and spacecraft, but also railway locomotives and wagons, accounted for 5.3% of the total industrial production.
The Russian Navy Is Dismantling Two Massive Nuclear Battlecruisers. Here's Why. | The National Interest
The recycling of the battlecruisers Admiral Ushakov and Admiral Lazarev will leave in service at most two vessels in the class, accelerating the fleet's evolution into a leaner but more modern force.
Don't Tell Russia: U.S. Forces in Europe Lack Firepower | The National Interest
That's one problem that U.S. Air Force general Tod Wolters, the commander of U.S. Air Forces in Europe and Air Forces Africa, described in a wide-ranging interview that Air Force magazine published in April 2019.
Wolters on Europe | Air Force Magazine
An exclusive interview with Gen. Tod D. Wolters, commander of USAFE. Gen. Tod D. Wolters, commander of US Air Forces in Europe-Air Forces Africa, sat down for an interview with Air Force Magazine Editor in Chief Tobias Naegele and Pentagon Editor Brian W. Everstine at the Air Force Association's Air Warfare Symposium in Orlando, Fla. Two weeks later, President Donald J. Trump nominated Wolters to be the next commander of US European Command. Wolters discussed his priorities for the region, how US forces need to exercise, and where the US needs to improve its posture.
The Growing Russian Challenge and What Should Be Done About It
All around the world, Russia is increasingly asserting itself, propping up dictators, and, in some instances, posing a direct challenge to US interests. Russian President Vladimir Putin held his first-ever meeting with North Korean leader Kim Jong-un in Vladivostok on April 25. Kim's visit to Russia, an old ally, came as diplomacy with US President Donald J. Trump has faltered. We take a look at some areas of confrontation, what is driving Russian interests, and how the United States is responding to this challenge. Ukraine The challenge: On April 21, Volodymyr Zelenskiy, a TV comedian, handily defeated incumbent president, Petro Poroshenko, winning nearly three-fourths of the vote in a presidential election runoff. One of Zelenskiy's biggest tests now will be how he addresses the threat posed by Russia. "Zelenskiy has publicly faulted the Kremlin for the war in Donbas and expressed an interest in Ukraine's eventual membership in NATO and the EU," said John E. Herbst, director of the Atlantic Council's Eurasia Center. "That all suggests continuity in Ukraine's foreign policy." "But Zelenskiy is truly a rookie politician, and [Russian President Vladimir] Putin may decide to test this newbie with a serious provocation," said Herbst, adding, "My sense is that Zelenskiy understands this. If he chooses the right advisers, Ukraine should be able to cope with Moscow's next provocation." Herbst, a former US ambassador to Ukraine, said it is important that the United States be prepared as well. Russia's actions: In March 2014, Russia annexed the Crimean Peninsula from Ukraine — an act that the United States and many other countries consider to be a violation of international law. The annexation drew US and EU sanctions on members of Putin's inner circle, Russian officials, and entities. US Secretary of State Michael Pompeo said in a July 25, 2018, statement — Crimea Declaration — "the United States rejects Russia's attempted annexation of Crimea and pledges to maintain this policy until Ukraine's territorial integrity is restored." Russia, meanwhile, continues to support separatists in eastern Ukraine. The Russia-Ukraine crisis dramatically escalated on November 25, 2018, when a Russian coast guard vessel rammed a Ukrainian navy tugboat in the Sea of Azov. Russian forces fired on Ukrainian vessels injuring six crewmembers and captured three Ukrainian naval vessels. The incident happened when two Ukrainian navy artillery boats and a tugboat were traveling from Odesa on the Black Sea to Mariupol in the Sea of Azov via the Kerch Strait, a narrow passage between the Crimean Peninsula and Russia. The Ukrainian seamen remain in custody. What does Russia want? "Moscow's low-intensity war in Donbas and its multi-spectrum operations (disinformation, cyberattacks, efforts at subversion) are all designed to pressure Ukraine to pursue national security and economic policies subordinate to Kremlin interests," explained Herbst. Addressing the challenge: Herbst said Washington's reaction to Moscow's escalation in the Straits of Kerch in November was "late and weak." Nevertheless, he maintained, the United States has taken "serious steps to push back against Moscow's aggression in Ukraine." "The two most important measures are sanctions, which reduce Russian economic growth and punish high-ranking Kremlin officials and cronies of President Putin, and military support to Ukraine, which enhance Ukraine's ability to defend itself, including by inflicting casualties on Russian troops in Ukraine," he said. "The United States has also provided important support in boosting Ukraine's cyber defenses, including to protect the integrity of this spring's presidential elections," he added. Syria Russia's role: In Syria, Russia has played a critical role in cementing Bashar al-Assad's grip on power. Russia provided Assad with a lifeline when its military entered Syria's civil war in September of 2015. The intervention, which started as Russian airstrikes in support of Syrian government troops grew to the supply of weapons, Russian troops, and military contractors on the ground, and the provision of diplomatic cover for Assad at the United Nations. "Russia saved the Assad regime from military defeat by intervening in September 2015. But saving Bashar al-Assad then is not the same thing as sustaining him now," said Frederic C. Hof, a distinguished senior fellow with the Atlantic Council's Rafik Hariri Center for the Middle East. "Popular unrest in Assad-held areas over fuel shortages, corruption, and a general absence of hope for a 'peace dividend' cannot be put down by Russian bombers," he added. SyriaRussiaTruck FeatureA Russian military vehicle is seen near a poster of Syrian President Bashar al-Assad and his Russian counterpart, Vladimir Putin, on the road between Homs and Hama in Rastan, Syria, on June 6, 2018. (Reuters/ Omar Sanadiki) The challenge: Hof maintained: "Russian military support for a regime steeped in war crimes has complicated the West's battle against Islamist extremism and terrorism." "With rare exception, Russian forces (and those of the regime and pro-regime Iranian-led militias) targeted not ISIS, but anti-regime civilians and armed groups. Corrupt despots like Assad are, throughout the Muslim world, catnip for dysfunctional individuals susceptible to ISIS recruiters," said Hof. What does Russia want? Russia essentially wants to keep Assad in power in order to secure its military influence in the Middle East. Russia has a military base in the western Syrian province of Latakia and naval base in the port city of Tartus on the Mediterranean Sea. Hof explained that Putin has had "one paramount interest in Syria: to sell Russian voters on the proposition that he has returned Moscow to great power status by rescuing Assad from an alleged American-led regime change operation." "For the Russian Federation, Syria is its sole Arab world client: a customer for Russian arms, a refueling station for Russian warships, and a potential trading partner," he said. "Russian Federation objectives could be better secured without Assad: a divisive, violent, and corrupt actor. But Assad remains central to the personal political calculations of Vladimir Putin," Hof added. Addressing the challenge: Hof believes that the United States has been "singularly ineffective in addressing the challenge of Russian involvement in Syria." "Yet a decision to sustain American involvement in the stabilization of ISIS-free eastern Syria could yield leverage by facilitating the growth of an anti-Assad governance model in a protected part of Syria," he contended, adding, "But such a decision is not a given in light of President Trump's clear preference to get out of Syria as articulated by his December 2018 tweet." In the tweet Hof referred to Trump, defying warnings from his top advisers, declared in a video message that all 2,000 US troops would return immediately from Syria. "We have won against ISIS," he said. The US military is now considering leaving 1,000 troops in Syria. But Trump's December tweet "still affects the willingness of allies and partners to commit manpower and other resources to eastern Syria," said Hof. "Still," Hof said, "Trump administration military strikes in the wake of two Assad regime chemical attacks on civilians make Moscow more inclined to take him seriously than they did President Barack Obama, whose 2013 'red line' collapse helped to convince Putin that he could do as he wished not only in Syria, but in Crimea and the rest of Ukraine." Venezuela Russia's role: On March 23, two Russian military aircraft carrying close to 100 Russian military advisers and troops arrived in Caracas. Days earlier, US-Russia talks in Rome on how to end the crisis in Venezuela stalled over the question of Nicolás Maduro's legitimacy. While Russia considers Maduro the legitimate president of Venezuela, the United States has recognized Juan Guaidó as the interim president. "Russia is an instrumental player in propping up the Maduro regime," explained Jason Marczak, director of the Atlantic Council's Adrienne Arsht Latin America Center. "Russian arms tied to Chinese money and Cuban intelligence have long helped prolong Maduro's survival. Now its military cooperation has extended to soldiers on the ground and repeated, recent actions of a display of its military equipment," he added. Marczak pointed out that Putin's quest for a multipolar world was fully endorsed by Maduro's predecessor, Hugo Chavez. This marked the "beginning of the closeness in the relationship," he said. Ties between the two countries today span from Russian arms sales to Russian oil extraction. MaduroPutinFeatur Russian President Vladimir Putin (right) shook hands with Venezuela's Nicolás Maduro at a meeting at the Novo-Ogaryovo state residence outside Moscow on December 5, 2018. (Reuters/Maxim Shemetov) What does Russia want? Just like in Syria, the rationale behind Russia's support for Maduro is clear: "Maduro's survival gives Russia a foothold in the Americas," said Marczak. "Russia," Marczak said, "sees Venezuela as a key strategic ally to counter US influence in the world. And it's especially important to have such an ally in the Western Hemisphere." "Further, with sanctions limiting Rosneft activities around the world, Venezuelan oil takes on greater importance" for Russia, he added, referring to the Russian energy firm. Addressing the challenge: US President Donald J. Trump has declared "Russia has to get out" of Venezuela and US Vice President Mike Pence has described Russian military support for Maduro as an "unwelcome provocation." Yet, Russia remains. CNN reported on April 15 that the Defense Department was developing military options to deter Russian, Chinese, and Cuban involvement in Venezuela. "The United States should continue to make it crystal clear that Russian military presence in the Western Hemisphere will not be tolerated," said Marczak. "But it's not just the United States. The Venezuelan interim government and other Latin American governments, namely the Brazilians and Colombians, have each warned Russia that its military presence in the region is not welcome." Libya Russia's role: Libya has staggered from one crisis to the next since the ouster of its longtime leader, Moammar Gadhafi, in a popular uprising in 2011. Today, the country is split between two power centers — an internationally recognized government led by Prime Minister Fayez al-Serraj in Tripoli in the west and a House of Representatives in the eastern city of Tobruk. Also in the east is Khalifa Haftar, the commander of the self-styled Libyan National Army, who is currently directing his troops in an offensive aimed at capturing Tripoli. While Haftar's forces have advanced on the city they have been kept at bay by militias from Tripoli, Zintan, and Misrata. Russia is playing both sides in this conflict, said Karim Mezran, a senior fellow in the Atlantic Council's Rafik Hariri Center for the Middle East. "Russia is providing military advisers to Haftar's forces from the private security contractor Wagner Group," he said. "They are engaging Haftar with an eye on future business deals." "The Russians have an economic interest in Libya — they want to make money through reconstruction of the country — but they also have a military interest: they don't want a base in Libya, they want access to the entire country," said Mezran. While Russia has been engaged with Haftar, Mezran said it has also "kept an open door" with Serraj's government in the hope that it can "become the main actor in a mediation effort." HaftarLavrovFeatureGen. Khalifa Haftar (left), commander of the Libyan National Army (LNA), shook hands with Russian Foreign Minister Sergei Lavrov in Moscow on August 14, 2017. (Reuters/Sergei Karpukhin) The challenge: Russia's role in Libya, located across the Mediterranean from the southern coast of Europe, poses a direct challenge to the West. "For Russia, gaining a foothold here is very important," said Mezran. "Strategically, they are surrounding NATO." Dealing with the challenge: Mezran said so far the United States has avoided dealing with this challenge in Libya. "The Russians are filling up the void left by the Americans," he said, adding that "the Americans have to be more active in Libya." Should Russia gain a foothold in Libya, the United States and its Western allies stand to lose "a significant geostrategic position: the southern flank of the Mediterranean," Mezran explained. The United States has long maintained that there is no military solution in Libya. US Secretary of State Michael Pompeo, in a statement on April 7, urged Haftar to halt his military offensive on Tripoli. "Forces should return to status quo ante positions," Pompeo said. However, US President Donald J. Trump appeared to undercut that position when he spoke with Haftar on April 15. In the phone call, Trump "recognized Field Marshal Haftar's significant role in fighting terrorism and securing Libya's oil resources, and the two discussed a shared vision for Libya's transition to a stable, democratic political system," the White House said.
Guillaume Chaslot on Twitter: "THREAD One week after the release of the Mueller report, which analysis of it did YouTube recommend from the most channels among the 1000+ channels that I monitor daily? Russia Today's !!! 1/"
Window on Eurasia — New Series: Is There Something Worse than Cult of Stalin? Yes, a Cult of Violence and War, Shlyarov Says
Paul Goble Staunton, April 25 – Many have been surprised or even shocked by the increasingly positive views Russians express about Stalin, Vitaly Shlyarov says. But they shouldn't be because nothing else could have emerged in a country which under Vladimir Putin has been "supporting and propagandizing a cult of violence and a cult of war." Such cults are far broader in their implications, and Russians today, "catching the signals from above consider that great goals in general fully justify human victims and masochistically are beginning to dream about 'a strong hand' having forgotten that they will be among the first to fall victim to it" (novayagazeta.ru/articles/2019/04/25/80351-ot-kulta-lichnosti-k-kultu-sily). The Levada Center results reflect the fact that Russians react to Stalin not as a historical figure but as an idealized myth that the current regime has promoted. That has not been difficult for the Kremlin given that those who lived under the Soviet dictator are dying out, and most young Russians "do not have any interest in history." That explains the responses Russians gave to the sociologists' first question about whether they have a positive view of Stalin. But more worrisome than this generalized set of views is the rise of what are clearly "more conscious Stalinists and those close to them" who view Stalin's approaches inn an entirely positive way. Four times as many Russians view Stalin as an exalted figure than did two decades ago, and the share having a negative view of him fell from 43 percent in 2001 to 14 percent now. "It is difficult to say," the political technologist continues, "where here is the role of myth and where the factor of the departure from life of the witnesses of those events." It's possible, he says, that these answers too may be "abstractions." It is also possible that those holding these views do not have any family members who suffered under Stalin. And it is possible that they may even see themselves as beneficiaries of Stalin's policies from winning the war to building Soviet industry, regardless of the costs. But almost certainly, this positive view of Stalin reflects something older and more general, a tendency among Russians from time immemorial to view the ruler as more important than law and the state as more important than the individual. Many had thought this vision of reality had ended with Soviet times, but it was only submerged and has now come back. Despite his commitment to doing away with the system on which this attitude was based, Boris Yeltsin reflected many aspects of that system because he was part of it. And in 2000, Vladimir Putin simply built on it, exacerbating its return by his shift in the direction of the promotion of a national idea and imperial reconquest in 2010. "In the existing circumstances," Shklyarov says, "the traditional cult of force not simply has flourished but has gone hand in hand with the cult of war. And now Russia again is surrounded by enemies and can "repeat" what it did before." These cults have been strengthened by a declining standard of living, and uncertainty about tomorrow. Tragically, this cult of violence is spreading like "a fluid" throughout Russian society, contributing to the rise of radical and violent youth subcultures and the state's own Young Army. As a result, pollsters register a cult of Stalin but in reality that cult is a derivative of these even more disturbing cults of unfocused violence and war.
More Than Clickbait: Millions Tune In As Russian YouTuber Tours Stalin's Legacy
Through his incisive interviews with some of Russia's best-known public figures, 32-year-old Yury Dud has become a YouTube sensation with over 5 million subscribers. The lanky, tattooed Dud sits before his guests in sneakers and fashionably ripped jeans, scrolling through questions saved on his iPhone between commercial breaks where he plugs anything from luxury cars to smartphone apps. So it might have come as a surprise to his legion of fans when, earlier this week, Dud released what could be the sometime sports editor's most ambitious and controversial project yet: an extended documentary about the legacy of Stalinist repressions in Russia, told through the stories of people living among the ruins of gulag forced-labor camps in one of the most inhospitable regions in the world. In Kolyma — The Home Of Our Fear, Dud travels 2,000 kilometers along the snow-strewn Kolyma Highway from Magadan to Yakutsk, profiling people whose parents and grandparents were persecuted under the late Soviet dictator Josef Stalin's Great Terror. Along the way he also talks to local activists and inhabitants of disappearing towns and villages scattered along the route, who detail the conditions in which they live, their desire to leave for warmer climes, and in some cases their determination to stay and make life better for those left behind. "The program you're about to see has two goals," Dud, a graduate of Moscow State University's faculty of journalism who edits one of Russia's most popular sports sites, says as the film begins. "The first is to explain to some, and remind others, what horrors our country lived through. The second is to show that there are places on our planet that seem uninhabitable, but where a person can nevertheless adapt, live, and be happy." It's the first aim of Dud's film that, perhaps unsurprisingly, has garnered nearly all the attention. In October, an opinion survey by state-funded pollster VTsIOM found that 47 percent of Russians between the ages of 18 and 24 had never heard of Stalinist repressions. Dud says that motivated him to set the record straight. "This put us in a stupor," he says in the video. So the characters he interviews in his documentary — a prominent Russian actor born in Magadan to a Jewish father exiled there after a stint in forced labor, an amateur gulag archivist who defends parts of Stalin's legacy, a woman who oversees the gulag museum in a small town near the Butugychag camp — are people steeped in memories of Russia's harrowing past and hardened to the denials and obfuscations that seem to accompany many discussions of it in President Vladimir Putin's Russia. Messy And Cathartic If slave labor wasn't deployed to speed industrialisation, "we'd be under American control long ago," one man tells Dud in the town of Yagodnoye, eight hours' drive from regional capital Magadan. "And we wouldn't have won the war." The documentary is instantly recognizable as a Dud project: the whoosh heard as frames switch, the text quotes that flash up on screen during interviews, the hip-hop jingle that plays between scenes. But some commentators have raised doubts that the documentary, at over two hours in length, will reach enough of the audience it is intended to influence most: the generation of Russians who grew up long after the messy but cathartic historical discussions of the 1990s appeared to give way to a backlash against digging up details of Soviet-era crimes. Nevertheless, the film has received widespread praise as a sobering reminder of those crimes at a time when that backlash is gathering pace and, some fear, a collective amnesia is setting in. "I'm not a fan of Dud, but this is great work," wrote historian Dmitry Sokolov. "This is powerful material, especially in light of unhealthy recent trends." "The film is pretty long at over two hours, and in places repeats well-known and easily accessible, almost trivial facts," wrote journalist Sergey Parkhomenko, who in 2014 launched Last Address, a project that commemorates victims of repression. "But this is brilliant work, confident and insistent, unbelievably important for the country and terribly important for all of us who were born in Russia and plan to die here." At a time when Russian polls show Stalin's approval ratings are on the rise, some view Dud's film as an attempt to blacken the legacy of a Soviet dictator who historians believe oversaw the murder of at least 2 million of his fellow citizens. "Read some history textbooks," wrote one user in comments to Dud's Instagram post promoting the film. "Maybe then you'll begin to understand how important the figure of Stalin is. Everything you see around you is thanks to him." "20 million sentenced, 2 million dead. Yury, stop spreading those liberal lies about trillions of deaths caused by the 'tyrant' Stalin!" wrote another. The film has not been covered or promoted on Russian mainstream media, which is dominated by the state and generally advances a more ambivalent view of Russia's Stalinist past. Dud declined to be interviewed for this piece, telling RFE/RL in a text message: "Alas, we never comment on the material we release. This happens for several reasons, but the main one is that we don't get distracted by past projects but work on new things." But in his documentary, he reveals a personal aspect to his latest project, which has now racked up almost 8 million views on YouTube — not inconsistent with the viewing figures for some of his more popular video uploads. "My whole life I've been told by my parents: Be careful, don't attract attention, don't stick your neck out," he says in the film. "I love them like crazy, but they've said this for decades — even when things go against all reason, when injustice happens and when we surely are right." "I've always thought: Where does the older generation gets its fear?" he adds. "My hypothesis: This fear was born last century and reached us through the generations. One of the places where it emerged is Kolyma." 16×9 Image
Window on Eurasia — New Series: 776 Different Nationalities Now Live within Russia's Borders, Officials Say
Paul Goble Staunton, April 26 – Vladimir Putin has declared 2019 the Year of Numerically Small Peoples, and Moscow now says there are 776 different nationalities in the Russian Federation, peoples who can survive, Lyudmila Obukhovskaya says, only if they receive state support (ritmeurasia.org/news–2019-04-26–inoj-rodiny-u-nas-net-krymchaki-i-karaimy-v-rossijskoj-seme-narodov-42382). This number, four times the figure given in the 2010 census, and the declaration of a special year of numerically small peoples are clearly intended to suggest that the Russian government is supportive of such groups. In fact, these claims are intended to obscure the fact that Moscow is currently conducting the most intense Russianization campaign in decades. In the past, the relationship between the number of nationalities the Russian government says exist and government support for them have generally tracked together. When Moscow has wanted to appear solicitous to the non-Russians as in the 1920s and now, the number goes up; but when it doesn't as under Stalin the number drops often precipitously. But now the Putin regime has boosted the number of such groups it says exists precisely to obscure its withdrawal of support for and even attacks on the larger non-Russian nations in the Russian Federation because the Kremlin is prepared to provide some support for non-Russian peoples as long as they speak Russian and even more give up their native languages. This drive takes two forms. On the one hand, for larger nations like the Tatars or the Chuvash, the Putin regime has stripped their republics of the right to require all those who live within the borders of those federal subjects to study these languages, supposedly to prevent discrimination against Russians but in fact to drive down the number of non-Russian speakers. And on the other, Moscow has talked up the existence of extremely small nationalities – and one can't get to 776 unless one includes groups with only a handful of people in them – because it can reasonably claim that members of such groups will have to learn Russian because there are so few speakers. Such a claim, of course, will make it easier for Moscow to suggest that all non-Russians should speak Russian and even give up their languages – and thus become ethnic groups like in the United States or Canada rather than self-standing nations with long and proud traditions prior to the Russian conquest. Unfortunately, the idea that such a development is appropriate is widely accepted by many Russians who describe themselves as liberals and even more by many in the West who engage in the worst form of mirror imaging and assume that ethnic relations in Russia are or at least should be like ethnic relations in their own country. But in fact, as Eduard Nadtochiy, a scholar at the University of Lausanne, notes, Russia isn't that at all. Rather, it remains what it has been for centuries, "a prison house of peoples" whose government continues to engage in "real colonial wars" as in Ukraine and Georgia now and to suppress anyone who speaks out in favor of the rights of the nations within its walls (facebook.com/groups/vostroge/permalink/532120420651661/). Indeed, he argues, Moscow's aggression abroad and its repression at home are deeply interrelated, with those two unfortunate policies drawing on each other and reinforcing one another as can be seen in the Kremlin's policies to this day. No one should be misled by its talk of solicitousness for the numerically small peoples. And thus it is no accident that Obukhovskaya's celebration of 776 different nations within Russia is about two numerically small peoples in Russian-occupied Crimea, the Krymchaks and the Karaim. Both of those peoples should survive and even be supported but not as Moscow would have it by the destruction of the Crimean Tatar nation.
Window on Eurasia — New Series: The Kudymkar Corridor – Another Problem Moscow Created but Now Must Worry About
Paul Goble Staunton, April 26 – Corridors separating the same or closely related peoples often are the cause of problems far greater than their size indicates. The Danzig corridor between Germany proper and East Prussia was one of the proximate causes of World War II, and many believe that the Suwalki corridor between Russia and Kaliningrad could spark another war. But corridors within countries can play an equally fateful role. Within the Russian Federation, the most well-known of these is the Orenburg corridor which separates the peoples of Idel-Ural from Kazakhstan and thus serves to limit their ability to pursue independence from Moscow. (See windowoneurasia2.blogspot.com/2018/12/idel-ural-activists-call-on.html.) Now Andrey Romanov, the editor of the Free Ural portal, has pointed to another such corridor, one that has not in the past attracted much attention, the Kudymkar corridor between the six republics of Idel-Ural and the region between them and the Arctic Sea populated largely by Finno-Ugric peoples (facebook.com/Free.IdelUral/posts/416146912275207). "To the north of the republics of Idel Ural are situated subjects of the federation of autochthonian, primarily Finno-Ugric peoples – the Komi-Zyryans, the Khanty, the Mansi and the Nentsy." Their territories form "a single region leading to the shore of the Arctic" but cutting off Idel-Ural from that body of water. As Romanov points out, "not so long ago, there existed yet another subject of the federation which was in fact the connecting link between Idel-Ural and the regions of the Northern peoples, the Komi-Permyak autonomous district with an administrative center at Kudymkar." Only one direct of the Perm oblast – Sivinsky – separates the Komi-Permyaks from Udmurtia, part of Ideal Ural, the activist now living in exile in Finland says. The Komi-Permyak national district was created in 1925 and elevated to the status of an autonomous district in 1977. After the end of the USSR, it became "a subject of the Russian Federation." "Ethnically, the Komi-Permyaks are closely connected with the Komi-Zyrzyans, the titular people of the Komi Republic," Romanov says. "They speak practically the same language and this provides a basis for thinking of them as a single Komi people. The closest relatives of both groups are the Udmurts." In 2005, Vladimir Putin as part of his regional amalgamation drive redrew the borders in such a way, that the Kudymkar corridor was "liquidated" and the Idel-Ural republics lost their land bridge to the Arctic just as they had earlier lost their bridge to Kazakhstan with the creation of the Orenburg oblast decades earlier. This happened when the Komi-Permyak AO was combined with Perm Oblast which became the Perm Kray. In this new federal subject, the Komi-Permyaks have lost their status as a subject of the federation and have little power as they form only 3.2 percent of the kray's total population. They aren't happy (windowoneurasia.blogspot.com/2009/03/window-on-eurasia-putins-regional.html). As Romanov concludes, "the liquidation of the Komi-Permyark autonomous district continues the Russian policy of isolating Idel-Ural, a policy which was begun by Soviet power" first to the south with Orenburg and now to the north with Kudymkar. But just as Orenburg is now an issue in Bashkortostan, so too Kudymkar could quickly become one as well.
Window on Eurasia — New Series: Belarusianization More Insidious than Ukrainianization, Telegram Channel Says
Paul Goble Staunton, April 27 – A Russian nationalist and imperialist telegram channel says that Belarusia's "neo-Banderites have studied the experience of their Ukrainian language comrades" and adopted a more insidious and potentially more successful approach to reducing the role of the Russian language among their subjects. The "Bulba of Thrones" telegram channel says that the Ukrainian government has pursued its Ukrainization policy directly adopting laws and issuing policy pronouncements, an approach that has generated opposition both among Russian speakers and in Moscow (t.me/bulba_of_thrones/291; picked up and disseminated by iarex.ru/news/66148.html. But, the channel says, "Belarusian elites consider the Ukrainian authorities as being not very clever because the latter are thus signaling their intensions and therefore losing their financial and resource backing from Russia." Instead, after consulting with "Western specialists on the theory of escalation," officials in Minsk have adopted a different approach. They have concluded that "any sharp step (such as the introduction of an official ban on Russian) will provoke a reaction by Russia." But if each move in that direction is small, Russia's reaction will be as well – and the result will be far better than the one Ukraine has achieved. Belarus will still get Russian money and will eliminate Russian within its borders. "In Belarus," the "Bulba of Thrones" channel says, "Russian, the language of the majority of the population is being pushed out [of various spheres] in general without the adoption of any law or the change of its status in the Constitution. This is being achieved by the developed command-administrative system, telephone law and the closed nature of institutions." Not all Russian officials understand this or recognize that what Belarus is doing is far more likely to succeed than what Ukraine is doing. They need to wake up now, "Bulba of Thrones" and the Rex news agency suggest, or when they do, they will see a Belarus where people no longer use the great and powerful Russian language.
Window on Eurasia — New Series: Putin Could Annex Belarus But Only by Force and at Great Cost, Shelin Says
Paul Goble Staunton, April 25 – For at least the last eight months, Russian commentators have been talking about how Russia will absorb Belarus, as oblasts added to its own, as an analogue to Tatarstan or as a union state, Sergey Shelin says; but all such talk is based on the assumption that Belarusians in general and Alyaksandr Lukashenka in particular want to be part of Russia. That simply isn't true, the Rosbalt observer says; and thus, if Vladimir Putin wants to absorb Belarus in any of these ways, he will have to use force and take large losses because as Lukashenka has pointed out Belarusians are used to being an independent country and Russia cannot offer them anything worth sacrificing that (rosbalt.ru/blogs/2019/04/23/1777651.html). Minsk has created a state, and "what is especially important, it controls the special services and the army," Shelin continues. And while it is "possible that the Belarusian nomenklatura is tired of living under the heavy hand of the autocrat," can one really suggest that Russia would offer them something better? No, many would lose and they know it. The Belarusian population is similarly situated. It may not be thrilled with Lukashenka but it isn't divided regionally as Ukraine is aknd Belarusians "who consider themselves ethnic or civic Russians are few. They define themselves as a separate nation even if they speak Russian more often than Belarusian." As a result, an honest assessment forces one to conclude that there aren't any domestic causes either in the regime or in the population for the Belarusian people to willingly give up their independence. "The only peaceful argument" present is "the colossal material dependence" of Belarus on Russia, a dependence equal to 10 billion US dollars a year. Many in Russia think that Belarusians will give up their sovereignty in order to keep that money flowing, but Shelin says that "states which have shown their ability to independent existence (and Belarus can be described as one of them) will do not trade sovereignty for money." They will play games, make concessions and do all kinds of things that look like they are doing so but they will not engage in "self-liquidation." Shelin recalls that when Moscow turned off gas to Estonia, the response of Estonians was "'what can we do but travel less and think more.'" The reaction of Belarusians will be the same. Why then do many in Moscow think otherwise? That is because for them the absorption of Belarus "is extremely desirable not out of material considerations but rather for spiritual ones." The state would expand, any foreign threat would be that much further away, and unification could solve Putin's 2024 problem. If fusion happened, it could certainly be used for the last, but the costs involved of doing so are far greater than the costs of solving that problem in other ways. Annexing Belarus would be "expensive and complicated in every sense – politically, organizationally and materially," Shelin says. Therefore, he concludes, it is unlikely to take place. Lukashenka has made it crystal clear that Moscow would be making a big mistake to try. Belarusians aren't willing to lose their country because "they already have been born in a free and independent Belarus. And he who tries to destroy Belarus will be cursed by our Belarusian people," and he who does so by force will be resisted (president.gov.by/ru/news_ru/view/poslanie-belorusskomu-narodu-i-natsionalnomu-sobraniju-20903/). The Belarusian ruler has "created this regime and naturally wants to preserve it for himself and his heirs," Shelin says, adding that in his mind, "the picture is simple: A small autocratic regime is maneuvering and shaking its first from a desire to preserve itself." And a big autocratic regime can see that it has no way of changing things except by force. That would involve paying a price far greater than any real gains, the Rosbalt analyst says; and he adds that he "wants to believe that the decision [to try to take Belarus] has not been taken and won't be."
UAWire – Putin and Lukashenko discussed contaminated oil supply from Russia
At the "One Belt, One Road" summit in China, Vladimir Putin announced that he had discussed the low-quality oil supply situation with his Belarusian counterpart Alexander Lukashenko. The president said it was necessary to conduct an investigation, not ruling out the involvement of Russian law enforcement and special services if the internal corporate investigation is not enough. "First of all, it is necessary to conduct an investigation at the level of Transneft itself, and to identify the place from which it came from, for what reasons, what it was …," explained Putin. In turn, Russian Prime Minister, Dmitry Medvedev, ordered an inspection of the oil transportation along the Druzhba pipeline "in the direction of Belarus and Eastern Europe." The head of government promised to punish those responsible for violations. "The verification materials were sent to the Prosecutor General's Office," he added. "I commissioned an inspection in regards to the violation of the quality indicators of oil transported by Transneft PJSC in the direction of Belarus and Eastern Europe. The persons responsible for the violations committed will be punished, and the verification materials will be sent to the Prosecutor General's Office of the Russian Federation, "wrote Dmitry Medvedev on Twitter. As previously reported, Belneftekhim cooperation informed about the "contaminated oil" going through the pipe to Belarus. Today, the head of the Lukashenko administration, Natalya Kochanova, said that Minsk expects that "all issues will be settled based on the assurances of the Russian president."
Reverse gas supplies from Europe to Ukraine are nonsense and deception, – Putin
In case of loss of gas transit from the Russian Federation, Ukraine will not be able to organize its virtual reverse
Regarding the statements of the President of the Russian Federation, Vladimir Putin – Володимир Зеленський
Regarding the statements of the President of the Russian Federation, Vladimir Putin, I want to note the following.
First, I would not advise the Russian authorities to waste time by trying to seduce citizens of Ukraine with passports of the Russian Federation. Perhaps there will be someone who is still under the influence of propaganda. Perhaps someone will do it for the sake of earning money or hiding from criminal investigations. We can even give Volodymyr Putin a list of those Ukrainian citizens who will become very uncomfortable in the near future in a country they cynically robbed abusing high positions. Let Russia again decide where it most needs such "professionals" – in Rostov or Magadan [Ed: famous Gulag site].
But Ukraine's difference, in particular, lies in the fact that we, Ukrainians, have freedom of speech in our country, free media and the Internet. Therefore, we are well aware that the Russian passport actually provides.
This is the right to be arrested for a peaceful protest.
This is the right not to have free and competitive elections.
This is the right to forget about the existence of human rights and freedoms in general.
Therefore, one should not expect that many Ukrainians will want to become "new oil", on which the Russian authorities are trying to transform their own people.
Ukrainians are free people in a free country. Independent, sovereign and indivisible.
Citizenship of Ukraine is freedom, dignity and honor. This is what we have defended and will defend.
Ukraine will not abandon its mission to be an example of democracy for post-Soviet countries. And part of this mission will be to provide protection, asylum and Ukrainian citizenship to all who are ready to fight for freedom. We will provide shelter and assistance to everyone – everyone who is ready to fight side by side with us for our freedom and yours.
We will provide Ukrainian citizenship to representatives of all peoples who suffer from authoritarian and corrupt regimes. First and foremost, to Russians who are suffering from the least.
You should not talk to Ukraine and Ukrainians in the language of threats, military and economic pressure. This is not the best way to stop the fire and unlock the Minsk process.
I stress once again that it is ready for negotiations. I hope that Russia will demonstrate readiness for de-escalation at its forthcoming Normandy meeting. A concrete confirmation of this readiness should be the mutual exchange of our citizens in the format "all on all". No exceptions. On our part, we are ready to discuss the new conditions for the coexistence of Ukraine and Russia. With the understanding that true normalization will only take place after a complete de-occupation. Both Donbass and Crimea. Ukraine does not give up! In every sense of the word.
But I hope that Russia is more inclined to speak than to shoot.
I really am not God so that my desires are fulfilled. But I also remember that all the rulers will have time to give an honest answer to their actions before Him. No one will ascend straight to Heaven. First, there will be Judgement.
For a complete and unambiguous understanding of my position, I give this text also in Russian, so that everyone can hear us.
'Don't Waste Your Time,' Zelenskiy Tells Putin After Citizenship Offer To Ukrainians
Ukraine's President-elect Volodymyr Zelenskiy has told Moscow "not to waste time trying to lure Ukrainian citizens with Russian passports."
Ukraine's president-elect rejects Russian passport plan – BBC News
President-elect Volodymyr Zelensky says the document would give people the "right to be arrested".
Ukrainians will reject Putin's passport offer: President-elect – Reuters
Russian President Vladimir Putin should not expect many Ukrainians to take up his offer of a Russian passport, Ukraine's President-elect Volodymyr Zelenskiy said, while offering Ukrainian citizenship to Russians.
Ukrainians Will Reject Putin's Passport Offer – President-elect | Newsmax.com
Russian President Vladimir Putin should not expect many Ukrainians to take up his offer of a Russian passport, Ukraine's President-elect Volodymyr Zelenskiy said, while offering Ukrainian citizenship to Russians. Putin said on Saturday Moscow was considering offering all Ukrainian citizens fast-tracked Russian passports, a move likely to anger some politicians in Ukraine which has been at war with pro-Russian separatists since 2014.
Ukraine president offers Russians citizenship in snub to Putin | World news | The Guardian
Volodymyr Zelenskiy hits back at Russia's offer of passports for Ukrainians
Ukrainians will reject Putin's passport offer: President-elect – CNA
Russian President Vladimir Putin should not expect many Ukrainians to take up his offer of a Russian passport, Ukraine's President-elect Volodymyr …
Offering Ukrainian Citizenship to Russia, President-elect Zelenskiy Says Will Reject Putin's Passport Offer – News18
Vladimir Putin said was considering offering all Ukrainian citizens fast-tracked Russian passports, a move likely to anger some politicians in Ukraine which has been at war with pro-Russian separatists since 2014.
Ukraine's president-elect Zelensky offers passports to Russians – World News
President-elect Volodymyr Zelensky dismissed an offer by Vladimir Putin to provide passports to Ukrainians, and pledged instead to grant citizenship to Russians who "suffer" under the Kremlin's rule.
Zelenskiy laughs off Putin's plans to give Russian passports to Ukrainians | KyivPost – Ukraine's Global Voice
Newly elected Ukrainian President Volodymyr Zelenskiy gave a stinging, sarcastic reply on Facebook late on April 27 to Russian President Vladimir Putin's proposal to issue Russian passports to citizens of Ukraine in occupied Donbas. "First of all, I would advise the Russian authorities against attempting to seduce Ukrainian citizens with Russian passports. Of course, there may be people who are still under the influence of propaganda or hope to earn more money to escape criminal responsibility," said Zelenskiy. "But what sets Ukraine apart is that here we have free speech, media and Internet. And that is why we know what Russian passport really means – the right to be arrested for a peaceful protest , the right to have no free and fair elections, the right to forget that inalienable human rights and freedoms even exist," he said. "So, do not think that many Ukrainians would like to become "the new oil" that Russian government is trying to turn its people into," Zelenskiy said. Putin on April 24 signed a decree allowing people who live in the Russian-occupied territory of Donetsk and Luhansk oblasts to gain Russian passports through a simplified procedure. The decree would allow more than 3 million Ukrainians to apply for Russian passports bypassing number of criteria for gaining Russian citizenship. According to Olena Zerkal, deputy Minister of Foreign Affairs of Ukraine for the European Integration, the adoption of such a decree grossly violates the principle of not worsening the conflict. "The main risk is a deterioration of the attitude of the occupation authorities towards the citizens of Ukraine who refuse to accept citizenship of the Russian Federation," wrote Zerkal on Facebook on April 25. "The practice of providing citizenship in occupied territories was actively used in Europe by the Nazis. The Nazis imposed German citizenship to the people of the occupied territories, they forcibly conscripted people into the army and forced citizens to work," she added. In his response, Zelenskiy added that the language of threats, military and economic pressure is not acceptable to Ukrainians while searching for a way to end the war between the two countries. "I reiterate that I am ready for negotiations. I hope that Russia will demonstrate readiness for de-escalation at a meeting in the Normandy format," Zelenskiy wrote. As a confirmation of such readiness should be the mutual exchange of Ukrainian citizens in the format of "all at all" without exceptions, he wrote, referring to the prisoners taken by both sides in the war. "We are ready to discuss new conditions for the coexistence of Ukraine and Russia. The true normalization (of relationships) will only take place after a complete de-occupation. Both Donbas and Crimea. Ukraine is not giving up!" Zelenskiy added.
Zelensky advises Russia not to waste time on agitation to give Russian passports to Ukrainians
The newly elected president of Ukraine Volodymyr Zelensky stated that Russia should not spend their time in vain with their attempts to lure the citizens of Ukraine into getting Russian passports. Zelensky wrote on Facebook. "…I would not advise the Russian authorities to waste time by trying to tempt Ukrainian citizens with passports of the Russian Federation," Zelensky said. The new leader of Ukraine suggested that those who were still under the influence of propaganda perhaps want to obtain Russian passports. Perhaps someone will do it to earn money or to hide from criminal investigations. Zelensky emphasized that the difference between Ukraine and Russia was that Ukrainians had freedom of speech, free media, and the Internet in their country.
"No one should speak with Ukraine in language of threats": Zelensky confirms readiness for Normandy Four talks – news politics | UNIAN
Ukraine's president-elect Volodymyr Zelensky says no one should speak with Ukraine and Ukrainians in the language of threats, military and economic pressure. In his opinion, this is not the best way toward ceasing fire and unblocking the Minsk process. At the same time, he stressed he was ready for negotiations. "I hope that at the next meeting in the Normandy format, Russia will demonstrate readiness for de-escalation. Сoncrete confirmation of this readiness should be the mutual exchange of our citizens in the 'all-for-all' format. Without exceptions. For our part, we are ready to discuss the new conditions for the coexistence of Ukraine and Russia. With the understanding that real normalization will take place only after a complete de-occupation. Of both Donbas and Crimea. Ukraine doesn't give up! In all senses," reads Zelensky's statement published on his team's Telegram channel. Zelensky also expressed hope that "in Russia, they are more inclined to speak than to shoot." As UNIAN reported earlier, Putin had declared his readiness to negotiate with Zelensky to end the war in Donbas.
Morgan Ortagus on Twitter: "The U.S condemns today's decision by President Putin to provide expedited Russian citizenship to Ukrainians living in Russia-controlled eastern Ukraine. Russia, through this highly provocative action, is intensifying its assault on Ukraine's sovereignty & territorial integrity.… https://t.co/s7dSBLKVnr"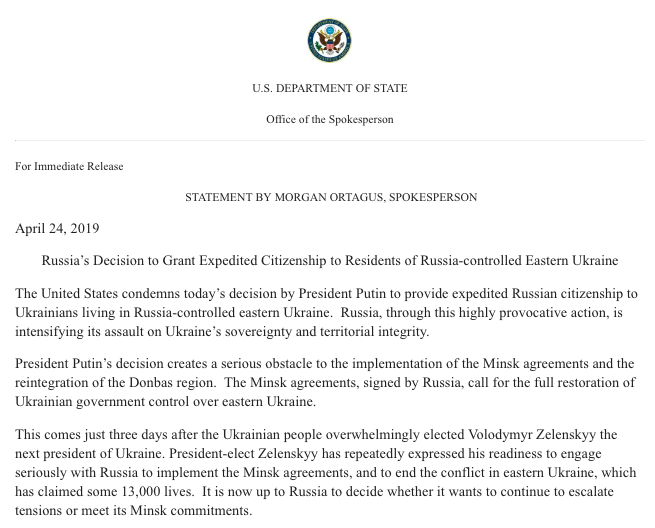 America Must Stand with Ukraine Against Russia | The National Interest
Michael McCaul: Washington should increase foreign military sales and security assistance to Ukraine.
UAWire – Putin wants to discuss with Zelensky 'settlement of conflict in Donbas'
During a press conference in Beijing, Russian President Vladimir Putin said that he could meet with the elected president of Ukraine Vladimir Zelensky. "If we have a meeting, negotiations will begin, I do not rule this out, we will first of all have to talk about how to end the conflict in the southeast of Ukraine," Putin said. He expressed regret that during the elections campaign Zelensky "has already stated that he is not going to sign a decree on amnesty [for LPR and DPR militants] and, secondly, to give these territories [territories of the Donetsk and Luhansk regions which are under control of pro-Russian militants] special status ".
Moscow may ease Russian passport rules for whole Ukraine – Newspaper – DAWN.COM
BEIJING: Moscow is "thinking" of making it easier for all Ukrainians to obtain Russian citizenship, President Vladimir Putin said on Saturday, after it earlier moved to grant passports in the country's separatist east, causing uproar in Kiev. "We are actually thinking about providing citizenship in a simplified order to all citizens of Ukraine, not only residents of the Lugansk and Donetsk republics," Putin told the press during his visit to Beijing, referring to the unrecognised separatist republics governed by Moscow-backed rebels. This week Putin signed a decree allowing people living in the breakaway regions to receive a Russian passport within three months of applying for one.
Putin plans to relax citizenship regulations for all Ukrainians – LB.ua news portal
Russian President Vladimir Putin has said that the Kremlin is considering relaxing citizenship regulations for all Ukrainians, not just for residents of the self-proclaimed Donetsk and Luhansk people's republics. He made this statement at a news conference in Beijing, according to Interfax. "In general, we are thinking of giving our citizenship in a simplified manner to the citizens of Ukraine," Putin said. He stressed that the decision on citizenship was not spontaneous. "We have calculated everything. Both the number of possible applicants for our passports and the number of pensioners among them. This is about one third of the contingent that, we believe, can qualify for our citizenship," Putin said. According to him, expenses in connection with the granting of Russian citizenship to Donbas residents can reach 100bn rubles over the next few years. The USA and the European Parliament have condemned Putin's decision to issue Russian passports to Donbas separatists. The UN Security Council held an emergency session over the matter. Ukraine expects the international community to impose new sectoral sanctions on Russia.
TASS: World – Zelensky is ready to discuss new conditions for Ukraine and Russia's coexistence
«I would like to note once again that I am ready for negotiations», he said
UAWire – Putin: Kremlin may ease citizenship requirements for all Ukrainians
It is possible that after the citizenship requirements have been simplified for the residents of the Donbas, a similar an opportunity will be provided to all Ukrainian citizens, stated Russian President Vladimir Putin as quoted by RIA Novosti. "We are providing such an opportunity of obtaining our citizenship not only to the residents of the LPR and DRP. We are also thinking about giving all citizens of Ukraine our citizenship in a simplified way, " he said. Putting stressed that the decision on citizenship for Donbas residents was not spontaneous. "We've estimated everything. The number of possible applicants for our passports, and the number of pensioners among them. They [the pensioners] would represent about one third of those who we believe can apply for our citizenship," Putin said. According to him, the expenses in connection with granting Russian citizenship to the residents of Donbas can reach 100 billion rubles ($1.54 billion). But this number is not for a year, but for a few years ahead. On April 24, 2019, Putin signed a decree allowing residents of certain regions of the Donetsk and Luhansk regions to obtain Russian citizenship in a simplified manner. This procedure exempts the residents of the areas of the Donbas, which are under the control of pro-Russian militants, from the requirements to pass compulsory exams and live in Russia for more than five years prior to applying for citizenship. In connection with this decision, the UN Security Council called an emergency meeting regarding Ukraine. It may take place on Thursday, April 25. Rumors that Russia after the second round of elections in Ukraine could introduce a simplified procedure for granting citizenship to LPR and DPR residents appeared in mid-April. According to the similar experience of Abkhazia and South Ossetia, this should relieve social tensions in the occupied territory by providing the possibility of free travel to Russia for work. According to the Ukrainian Foreign Ministry, despite the war in the Donbas and the annexation of the Crimea, there are about 3 million Ukrainian citizens in Russia. In December, the Russian Federation has passed the law that simplifies obtaining Russian citizenship for Ukrainians. In 2018, the Russian Federation granted citizenship to more than 83 thousand citizens of Ukraine.
"Hey, EU!": MEP Harms calls on EU to respond to Putin's move on passports in Donbas – news politics | UNIAN
Member of the European Parliament Rebecca Harms has called on the European Union to respond to Russian President Vladimir Putin's plan to ease the process of granting Russian citizenship to all Ukrainians, not only those in war-torn parts of eastern Ukraine. On April 24, Putin signed a decree on the simplified procedure for issuing Russian passports to residents of the temporarily occupied Donbas.
Volker calls on Ukraine to support citizens of Donbas suffering from Russian aggression
U.S. Special Representative reminded that the people in Russia-controlled eastern Ukraine are Ukrainian citizens
Window on Eurasia — New Series: Putin's Passport Scheme Signal of Further Aggression against Ukraine, Portnikov Says
Paul Goble Staunton, April 25 – Vladimir Putin's plan to offer Russian citizenship to anyone in the Russian-occupied portions of the Donbass who wants it is designed to transform those regions into a Moscow protectorate and set the stage for further Russian aggression against Ukraine as a whole, Vitaly Portnikov says. Many Ukrainians have long assumed that Putin was planning to take this step, the Kyiv analyst says, with some saying he would do so if Petro Poroshenko was re-elected in order to punish Ukraine and others arguing that he would do so if as has happened Vladimir Zelensky was to set the stage for talks (graniru.org/opinion/portnikov/m.276080.html). While both sides in this debate may have had some justification for their positions, Portnikov argues, "Putin would have signed this degree in any case," not to "'punish' Poroshenko" or "'pacify Zelensky." That is because "it isn't so important to Putin who will be president of Ukraine." He has larger goals. For Putin, what matters is "chaos in Ukraine, the weakness of its state, the demoralization of its society, the promotion of tiredness from the war and a readiness on the part of many to end it by any means." The presidential campaign in Ukraine has given Putin a great opportunity "for the next stage of the operation aimed at destroying Ukraine." Passportization is the signal. The Kremlin leader, of course, argues that he has taken this step because of the problems people in the Donbass now face, hoping no one will notice that every single one of those problems is something that Putin and his policies have created, Portnikov continues. Putin's latest decree "allows those who live in the occupied Donbass to choose between Ukraine and Russia already not so much from the point of view of residence as from that of citizenship. As a result, the border between 'the people's republics' and the Russian Federation now really will disappear as it did earlier between Russia and Abkhazia or South Ossetia." "And this of course," Portnikov continues, "is a powerful and serious signal to the elites and residents of the east and south east or more precisely to that part of them which would like to join their regions to Russia or return them to their accustomed status as Russian colonies," to be in fact once again "Novorossiya." By this action, Putin has shown that he isn't able or doesn't yet want to take these regions into Russia but instead plans to "transform them into Russian protectorates." Indeed, one can say that "this decree is an invitation to protectorates." And that in turn means that "the Kremlin is certain" that now it can seize new territories "without particular concern." That likely would have happened even if Poroshenko had been re-elected so one cannot say that this is a response to Zelensky's victory. But the effectiveness of the new government is something Moscow clearly assumes it can test with less risk to itself than it suffered with its predecessor. That should be clear to everyone. The Kremlin would never have so openly violated the Minsk Agreements "if its denizens weren't certain of the directions they intend to proceed in," directions that involve more attacks against and efforts at subversion of Ukraine as a whole and efforts to undermine Western support for Ukraine's defense of itself.
Putin's passport scheme signal of further aggression against Ukraine, Portnikov saysEuromaidan Press |
Vladimir Putin's plan to offer Russian citizenship to anyone in the Russian-occupied portions of the Donbas who wants it is designed to transform those regions into a Moscow protectorate and set the stage for further Russian aggression against Ukraine as a whole, Vitaly Portnikov says. Many Ukrainians have long assumed that Putin was planning to take this step, the Kyiv analyst says, with some saying he would do so if Petro Poroshenko was re-elected in order to punish Ukraine and others arguing that he would do so if as has happened Volodymyr Zelenskyi was to set the stage for talks. While both sides in this debate may have had some justification for their positions, Portnikov argues, "Putin would have signed this degree in any case," not to "'punish' Poroshenko" or "'pacify Zelenskyi." That is because "it isn't so important to Putin who will be president of Ukraine." He has larger goals.
Residents of the LNR and the DNR will receive Russian pensions only when moving to Russia | RBK
Russian pensions will be assigned to those new citizens from the DPR and the LPR who will move permanently to Russia, RBC was told in the Pension Fund. Russians who remain in the DPR and LPR, Ukraine should pay pensions Russian pensions – only when moving to Russia Residents of the Donetsk and Luhansk regions of Ukraine, who will receive Russian citizenship in a simplified manner after the decree of Russian President Vladimir Putin , will be able to receive Russian old-age insurance pensions, but only if they move permanently to Russia, explained to RBC in the Pension Fund of the Russian Federation. Pensions are appointed and paid by the state of permanent residence of a person, regardless of his citizenship – Russian or Ukrainian, explained the press service of the Pension Fund. Therefore, to get a Russian passport, stay to live in the DPR or the LPR and at the same time claim for Russian pensions will not work, follows from the response of the Pension Fund. "Pensions are appointed and paid by the state of residence of a person regardless of his citizenship (Russia or Ukraine). In this regard, Russian pensions are not granted to citizens permanently residing in Ukraine, including in Donetsk and Lugansk regions, "the Pension Fund said. In matters of the appointment and payment of pensions to citizens from the DPR and LPR, the Pension Fund of Russia is guided by the 1992 Agreement on the Guarantees of the Rights of CIS Citizens in the Field of Pension Provision. Despite the fact that Ukraine has already withdrawn from a number of CIS treaties, it did not withdraw from the pension agreement. "Pension security of citizens of the States parties to this agreement and their family members is carried out under the laws of the state in whose territory they live," the document says. That is, the agreement is based on the territorial principle, noted in the FIU. Requests to the Pension Fund of Ukraine "For a citizen of the Russian Federation who has moved from Donetsk and Lugansk regions for permanent residence to Russia, the pension will be provided in the general manner according to the norms of the legislation of our country," the Pension Fund stressed. To assign a pension to such a citizen who moved to Russia, you will need to provide a standard set of documents, including a passport of a Russian citizen, a work record, and, if necessary, a certificate of average monthly earnings for 60 consecutive months before January 1, 2002 (the full list of documents is here ). "The Pension Fund of Russia will provide all possible assistance to confirm the experience and earnings of a citizen, including by requesting the Pension Fund of Ukraine or Pension Funds of the Donetsk or Lugansk Republic," the FIU said. "Thus, this category of citizens will have rights similar to citizens of the Russian Federation," the fund stressed. RBC sent a request to the Pension Fund of Ukraine. Under the 1992 CIS agreement, the participating States are obliged to "take the necessary measures to establish the circumstances that are crucial for determining the right to a pension and its size". From this it follows that, if necessary, the FIU will first send an official request to the Pension Fund of Ukraine, and if he refuses to answer, then to the pension authorities of the DPR and the LNR. At the same time, the pension authorities of the DPR and the LPR have an archive of information on the insured persons for the periods up to 2014 (in particular, the DPR Pension Fund has employers' reports for the period from 2000 to September 2013).
Window on Eurasia — New Series: Giving Passports to Donbass Residents May Create a Disaster for Rest of Russia, Pastukhov Says
Paul Goble Staunton, April 26 – By offering the residents of Russian-occupied Donbass Russian passports, Vladimir Putin may have overplayed his hand, creating a situation in which people now there can move to other parts of the Russian Federation bringing with them their problems and complexes, Vladimir Pastukhov says. Almost all analyses of the passport decision have focused on what it means for Ukraine, but what it means for Russia may be even more fraught with problems, the London-based Russian political analyst says in the course of an interview on Ekho Moskvy's "Personally Yours" program (echo.msk.ru/programs/personalnovash/2414011-echo/). Pastukhov says that one can debate what this move means for Kyiv and whether it is a sign of Russia's occupation of the Donbass. Undoubtedly it is the latter, "but it perhaps can also be a step along the path to the depopulation" of that Ukrainian region because people with Russian passports can leave it and many undoubtedly will. "What in fact is the Donbass today?" he asks rhetorically. "The Donbass is the dream of of Ataman Makhno as realized today. "'A cursed land'" in which no one wants to live and that in fact no one needs. At the top are Russian military commanders, but below them is "complete anarchy and chaos." People there exist "between two lines of the front." Some are militants or criminals, but "many are deeply unhappy, suffering people because there is nothing worse than to be in a zone where no one is in charge during a time of war. There are children, there are the ill, there are the elderly." Now, thanks to Putin, they will get Russian passports – and they will use them to flee this hell. In many cases, they will take their problems with them, including problems that Moscow has created by its actions. Pastukhov says that he wonders whether "anyone has calculated these consequences?" What will happen when this mass of people, numbering two to two and a half million begin to spread out across the Russian Federation with "its special mentality and problems." Putin's war may in this way come home to his country in a far bigger and more dramatic and less welcome way than he imagines. Russia hardly needs the territory of the Donbass, but there of course is "a small group of ideologically concerned citizens for whom these territories are a certain sacred zone, but such people in Russia number only 10 to 15 percent." For the rest, it is just more land – and if its people come into Russia, it will be the source of more problems than it presents now.
Putin jokes Ukrainian president is not 'Lord God' & doesn't have to 'appear' before him — RT World News
Russian President Vladimir Putin said he wanted to discuss ending the conflict in Donbass with Ukraine's president-elect Volodymyr Zelensky, but joked about the conditions under which the two leaders might meet.
Putin Makes Misleading Claim Justifying Passports to Ukrainians
The Donbas area in Putin's statement is under Russian control, according to international authorities – following Russia's covert push to create separate "republics" Also, a Russian passp…
German MPs offer to deploy UN civilian police mission in Donbas – media – news politics | UNIAN
Deputies of the Free Democratic Party of Germany (FDP) made a proposal to send an additional UN civilian police force to eastern Ukraine. Deputies also suggest dissolving the self-styled "governments" created in territories held by Russian proxy forces.
Militants fire at Ukrainian positions in Donbas on Easter – news war | UNIAN
Over the past day, April 27, the armed forces of the Russian Federation violated ceasefire 13 times. Joint Forces HQ says there are wounded.
Day in Donbas: Occupant opens fire 13 times, one Ukrainian soldier wounded
According to the surveillance data, three occupants were killed and six more were wounded on April 27
JFO: Ukraine reports five enemy attacks in Donbas April 27 – news war | UNIAN
Russia-led forces mounted five attacks on the Ukrainian army's positions in Donbas, eastern Ukraine, on April 27. No Ukrainian army casualties have been reported from the start of the day.
Death Toll in East Ukraine Coal Mine Blast Climbs to 17
Gas blast on Thursday ripped through the mine in Yurievka village in an area which broke away from Kyiv in 2014 and is run by Moscow-backed rebels
Ukraine mulls new state agency to replace Ukroboronprom defense giant – news economics | UNIAN
Ukraine might create a new state agency with expanded powers to replace the state-run Ukroboronprom Concern, according to Deputy Secretary of the National Security and Defense Council of Ukraine, Serhiy Kryvonos. According to him, the adoption of the bill on reforming Ukroboronprom will help reduce corruption risks in the defense industry, Kryvonos told TV Channel 5, according to the NSDC press service. The official recalled that a round table meeting chaired by NSDC Secretary Oleksandr Turchynov was recently held with the participation of people's deputies and defense experts, where a bill was discussed on depriving Ukroboronprom of state governance-related functions. Kryvonos reminded that Ukroboronprom had been founded on the initiative of ex-President Viktor Yanukovych "simply to control all financial flows that went through the defense companies." Therefore, the official notes, the draft law submitted to Parliament aims at "destroying the old management system at Ukroboronprom." At the same time, defense companies, which are now part of the Concern and able to work effectively and transparently, will remain in place. According to him, a separate state body with expanded powers will be created to replace Ukroboronprom and to take under control the companies that are now part of the defense giant. "The new bill will eliminate a very large number of existing 'mediating' firms," the deputy secretary of the NSDC said, adding that the legislation also provides for a higher level of transparency of the state defense order.
MPs offer to liquidate Ukroboronprom defense state enterprise
bill that provides for the liquidation of Ukroboronprom state enterprise registered in the Verkhovna Rada
UAWire – Zelensky administration: dissolution of Ukrainian parliament is possible due to absence of coalition
The dissolution of the Verkhovna Rada is possible because there is currently no coalition in parliament,said the speaker of the newly elected President of Ukraine Vladimir Zelensky's administration, Dmitry Razumkov, on the show "The Voice of the People" on the TV channel 112 Ukraine. "The coalition consists of two factions. There are not enough people's deputies in these factions, that is, there are fewer than 226," he said. According to Razumkov, various organizations appealed to Rada Speaker Andriy Parubiy with a request to provide a list naming the deputies who are members of the coalition, but did not receive a response. "By the way, this violates current legislation. Therefore, the precedent for dissolution exists," he noted. The speaker of the Zelensky administration, relying on legal counsel, said the Rada should not be dissolved later than May 27. Razumkov believes that the country's Central Election Commission is delaying the publication of election results for this reason. After that, in his opinion, the Rada will delay the process of setting the date of the inauguration "so that it falls on a date past which the Rada can be dissolved". On April 23, the CEC of Ukraine announced that, following the second round of elections, Zelensky won 73.22% of the vote. Official results have not yet been announced and the commission promises to do so on April 30. Zelensky accused the CEC of delaying the recognition of his victory to deprive him of the opportunity to dissolve the Rada. In response, the CEC called the statements of the President-elect unfounded and noted that the commission is ahead of its target completion date. The Constitution of Ukraine maintains that the president has the right to dissolve parliament and call early elections. According to Art. 90 of the law, in that case he cannot do so less than six months before the expiration of the term of office of the Verkhovna Rada. The next election for the people's deputies of the Verkhovna Rada must take place on October 27, 2019.
Medvedchuk on possible coalition with Servant of People party: We have different ideological ideas and programs
"The Opposition Platform – For Life" will not create the coalition with the Servant of the people party. The head of the political council of "The Opposition Platform – For Life" party Viktor Medvedchuk stated this in the big interview with 112.Ukraine. "Will such opportunity appear and will we do so? It is still unknown. What does it mean to create a coalition with a party that has other ideological ideas and other programs? How does our party differentiate today, including from the party "Servant of the people" – we do not know what waits for us tomorrow. We said: we want peace in Donbas and we want the cessation of hostilities. This was the most important expectation of the people's presidential elections – 80%, according to all sociologists. Moreover, this is also the main expectation of the parliamentary elections. However, we do not just talk about peace, we have the plan and we have approved this plan and conception…And this is not just empty words or slogans, but – concrete deeds. We said: here is the plan, which all those, who have the power to solve the problem, are ready to discuss. We are negotiating about gas prices – they said to us: we are ready to reduce the price of gas by 25% … This is how our party differs from other political forces. And with this we run for the elections, the parliamentary ones ," the politician said.
Ukraine to offer to Russia to reserve 60 bcm of transit capacities for 10 years at talks expected to be held in May – Naftogaz official
Ukraine will offer to Russia to reserve 60 billion cubic meters (bcm) of transit capacities of the Ukrainian gas transmission system (GTS) for the period of 10 years at trilateral gas talks expected to be held at the end of May, Executive Director of NJSC Naftogaz Ukrainy Yuriy Vitrenko said at a press conference in Kyiv on Thursday.
Russia Isn't the Only Threat to Ukrainian Democracy: The Impact of Far-Right Nationalist Revolutionaries
In Ukraine, elections are not the only way to transfer power. In fact, elections have often been rigged farces, fomenting frustration among Ukrainians at
Window on Eurasia — New Series: 10,000 Years After Chernobyl the Accident Will Still Be Having an Impact on People
Paul Goble Staunton, April 26 – Thirty-three years ago today, the world's worst nuclear disaster occurred at Chernobyl, a disaster that was compounded at the time by the refusal of the Soviet government to admit that it had occurred and is being further compounded by the failure of post-Soviet governments to address the problem. Many now remember only that this accident caused or allowed Mikhail Gorbachev to launch his policy of glasnost, a policy that even more than the accident undermined the Soviet system; but they forget that his unwillingness or inability to be honest at the time caused the death and suffering of thousands of people to this day. There are many other things that can and should be said about this tragedy, but three are in danger of being forgotten altogether – and that is especially unforgiveable given that the accident is continuing to affect people and the environment and will do so for 10,000 years or more (snob.ru/selected/entry/123733). First of all, it is important to remember that the Soviet regime for all its talk about how safe its nuclear power plants were put almost all of them in non-Russian parts of the country, clearly calculating that if anything went wrong, the non-Russians would suffer but not the Russians. Moscow said it planned to supply power to the Soviet bloc but that seems a stretch. Second, the Soviet government went out of its way to use non-Russians in the cleanup not just Ukrainians and Belarusians who were nearby but others. The most infamous even notorious case involved a group of Estonian reservists who were sent to Chernobyl, forced to work in the clean up but not provided with any protective clothing. They weren't allowed to tell their story; but in a move that resembles what the sailors on the USS Pueblo did, they showed by the way they wore their hats that they no longer had any hair because of the radiation. Many of them subsequently died premature deaths from the cancers they contracted at Chernobyl. And third, because the Soviet government was never held accountable for its role in the accident and its failure to protect its own people, many in the post-Soviet states of the Russian Federation, Belarus and Ukraine have continued to behave as their Soviet predecessors did, apparently confident that they won't be either. (On this pattern, see among otherscharter97.org/ru/news/2019/4/26/331972/ and gordonua.com/blogs/borislav-bereza/v-den-tragedii-na-chernobylskoy-aes-sovetskaya-vlast-snova-pokazala-svoe-istinnoe-lico-i-prenebrezhenie-k-svoemu-narodu-917425.html.) All three governments must be pressured to behave differently, and the Russian government must be compelled to help pay for it given its oft-repeated claims that it is the successor state to the Soviet Union. Failure to do both is to dishonor the memory of those who suffered and died from Chernobyl and those who continue to suffer and die as a result.
Easter customs: Orthodox and Catholic
Easter symbolizes one event – the resurrection of Jesus Christ, but is celebrated among Christian denominations differently
Ukrainian media tycoon talks to Russian TV about Zelenskyy – LB.ua news portal
Businessman Ihor Kolomoyskyy is ready to advise Ukrainian presidential election winner Volodymyr Zelenskyy. "I am ready to help him with advice and sometimes I help him, but this is not a mass phenomenon," he said in an interview with the Russian NTV channel. He said the last time he called Zelenskyy was two or three days ago. He also commented on the status in which he is ready to work with the future president of Ukraine. "Well, the most I can do is to advise him on something," he said. Kolomoyskyy has lived in Israel since September 2018. He promised to return to Ukraine after the Central Electoral Commission publishes the official results of the presidential election. According to early results of the 21 April runoff, 24.45% of voters voted for incumbent President Petro Poroshenko and 73.22% for his opponent, showman Volodymyr Zelenskyy. The Central Electoral Commission said it would announce the official election results on 30 April.
Ukrainian Ortodox Church representatives won't be allowed to serve in Jerusalem on Easter, – media – 112.international
Local Orthodox Church of Ukraine could not attend the meetings at the Jerusalem Patriarchate
Russian Orthodox Church a 'national security threat' to Ukraine, says president – POLITICO
Petro Poroshenko said the Russian church was separated from the state 'only on paper.'