Anonymous expert compilation, analysis, and reporting.
</end editorial>
---
---
Update on Russia / NATO. Time on the Rogue States' Axis. Update on Turkey and Russian combat aircraft. Belarusian pipeline crisis continues – notably, the sabotage occurred shortly after Belarus threatened to shut the pipeline down following a dispute with Russia. Following Denmark's action on Nordstream 2, Russia threatens gas supply to Ukraine.
The major development relating to Ukraine was the Vozhd playing Orthodox Easter Bunny yesterday, proposing from the China summit that Russia might extend the offer of expedited Russian citizenship to all Ukrainians, not just ethnic Russians and "Russian thinking" (known as Sovoks in Ukraine) residents in occupied Donbas. The agenda is, of course, to create mayhem as this plays into the Vozhd's resuscitation of Hitler's Volksdeutsche game. Under Ukrainian law a Ukrainian cannot hold Russian citizenship and retain Ukrainian citizenship, so anybody accepting the Vozhd's offer automatically becomes an unwanted foreign national and thus could be expelled, as Saakashvili was when he was stripped of his citizenship. The Russian proposal, aside from its toxic motive, does open up a solution that could fit the national interest of both nations, which is Ukraine solving some of Russia's demographic troubles by encouraging the Russian offer and then expelling the minority of Russia admirers to Russia. Muscovy is, of course, unconcerned about its demographic troubles, and only wants to eat up former Soviet republics, so the idea is unimplementable.
A great many items on the initial Russian proposal. And a tirade of complaints from Muscovy over the new language law.
Donbas update – Russians appear to be increasing optempo.
Excellent analyses on the language law, including the comment that the intent is to reverse 337 years of polonisation and russification (chart below). Political news, including the US 2016 election, and Ben analyses on the broken judicial system. Some excellent post-mortem analyses on the election, by four Euromaidan contributors, and Pifer's very decent analysis – his prediction was correct as Ze is a wolf in sheep's clothing with a West aligned agenda.
---
Russia Says Top General, NATO Commander Discuss Russian-NATO Interactions
Russia's Defense Ministry said on April 27 that General Valery Gerasimov, the head of the Russian Armed Forces General Staff, spoke by telephone with NATO's Supreme Allied Commander Europe, Gen…
Fire rips through factory producing Russia's new Satan-2 intercontinental ballistic missile | Daily Mail Online
Toxic plumes of smoke took to the sky after a major fire erupted at the Russian missile-making plant KrasMash complex in Siberia today.
Russia flying Open Skies reconnaissance missions across US — Quartz
The US can't keep up: Mechanical issues have long plagued its fleet, resulting in aborted missions. Now the Air Force wants new planes to replace a Boeing model.
US rolls '100K tons of international diplomacy' into the Med. Will Russia get the message?
Defense News visited the U.S. Navy aircraft carrier Abraham Lincoln, on which the U.S. ambassador to Russia delivered a sternly worded message to Russia: Stand down.
RAF Typhoon Jets Deploy To Estonia To Support Baltic Air Policing With NATO's 70th Anniversary Logo On Their Tails – The Aviationist
Royal Air Force Typhoon FGR4 jets from RAF Coningsby arrived in Estonia to begin their 4-month mission in support of NATO Baltic Air Policing. On Apr. 24, 2019, four Typhoon aircraft belonging to the XI(F) Squadron based at Royal Air Force Coningsby arrived at Ämari Airbase in Estonia to begin their four-month deployment in support of NATO Baltic Air Policing (BAP) mission. OP AZOTIZE is the name of the UK contribution to the BAP mission. The aircraft will take over the augmenting Baltic Air Policing role from the German Air Force Typhoons next week: they will protect NATO airspace in the Baltic States providing QRA (Quick Reaction Alert) duties. In other words, they will be ready to scramble on a 24/7 basis in the same way they do at home, RAF Coningsby or Lossiemouth.
Poland to receive four AW101 maritime multirole helicopters from Leonardo – Defence Blog
The Polish Ministry of National Defence (MoD) and Italian aerospace company Leonardo announced on Friday an agreement worth about 380 mln EUR for supply AW101 maritime multirole helicopters. The long-awaited contract provides supply four AW101s and a comprehensive integrated logistics and training package to the Polish MoD. PZL-Świdnik, acting as the prime contractor and responsible for the entire contract execution, was selected in a multi-stage process, meeting all the requirements of the Polish MoD, and will deliver and support the most capable maritime multirole helicopter available on the market today. The helicopter is already in service in some of the most important NATO nations among others. The Świdnik facility plays a significant role in the production of all the AW101s ordered worldwide. With deliveries expected to be completed by 2022 the AW101 will perform a range of missions including Anti-Submarine Warfare (ASW) and Combat Search and Rescue (CSAR). This contract signing for the AW101s and the relevant support package follows the Offset Agreement, valued at approx. 400 mln PLN (90 mln EUR) recently announced. The contract was signed today in the presence of the Prime Minister of the Republic of Poland Mateusz Morawiecki, the Polish Minister of National Defence Mariusz Błaszczak and Leonardo CEO Alessandro Profumo, during a ceremony at Leonardo's facility in Świdnik. Alessandro Profumo, Leonardo CEO, said, "We are proud that the Polish MoD has confirmed its trust in Leonardo as one of its key partners to collaborate on national defence, to support the modernization of the Armed Forces and boost technological and industrial growth. We are committed to further reinforcing our presence and contribution to Poland, one of Leonardo's home countries where we see significant collaboration opportunities in the future."
How Putin Built an Empire of Tyrants and Failing States | Time
In countries overlooked since the Cold War, the Kremlin has quietly forged new alliances. Here's why. Even in the worst of times, Russia had been a reliable friend to the Sudan of Omar al-Bashir. It continued selling him weapons during the atrocities his regime carried out in the Darfur region from 2003 to 2007. And when the International Criminal Court indicted al-Bashir in 2009 for genocide, war crimes and crimes against humanity, issuing a warrant for his arrest, Russia went its own way. Instead of detaining al-Bashir when the Sudanese leader landed in Sochi in 2017, Russian President Vladimir Putin received him at his official residence and put the meeting on state television. As it turned out, Russia's enduring friendship was about to pay off. The outlaw President had arrived with an offer: "Sudan," he told Putin, "can be Russia's key to Africa." What he wanted in return was "protection from aggressive U.S. actions" in the region, said al-Bashir. The evidence shows Putin took him up on it. The leaders' talks opened the gates to a flood of Russian ventures in Sudan, from political consulting to mining and military aid, according to documents obtained by TIME. As Russian geologists began drilling for gold near the banks of the Nile River last year, the Russian armed forces drafted plans to use Sudan's ports and air bases as military outposts.
Russia Has Won the Information War in Turkey – Foreign Policy
The Kremlin doesn't even need fake news to push its agenda on Turkish social media. Because domestic disinformation is rampant, Moscow has managed to infect both sides of the debate.
Russia May Offer Su-35, Su-57 Jets if US Cancels F-35 Deliveries to Turkey
Russia may offer its latest aircraft such as the Su-35 and the Su-57 stealth jets if Turkey seeks an alternative in the event of the United States cancelling the sale of F-35 fighters to Ankara. Alexander Mikheev, head of Russian state arms exporter Rosoboronexport, said on April 24 that Russia is ready to discuss the possibility, according to Interfax news agency. "If the Turkish side applies to us for consultations, we will be ready to consult with the Russian United Aircraft Company within the scope of our possibilities," he said. "Turkey is unfazed by US threats. We have a Plan B in case the US continues to block F-35 deliveries and terminates the deal. We have short-term, medium-term and long-term plans," Turkey's National Defense Minister Hulusi Akar said on April 23, according to a report by Hurriyet Daily. While Mikheev has not named the aircraft his country would be willing to sell to Turkey, the possible substitute to the F-35 could be the Su-57, which has stealth features similar to the American plane. Viktor Kladov, Director for International Cooperation and Regional Policy of Rostec, the Russian defence entities holding company had said during the course of a media briefing at the Langkawi International Maritime and Air show in March that the Middle East was seen as a key market for the Su-57. A dedicated export version of the aircraft, the Su-57E may be unveiled at the Dubai Air Show later this year. Russia is has left the option of including Turkey in their S-400 programme. It said Ankara can produce components for its missile defense system. During the last week of March, Washington suspended the delivery of F-35 fighter jet equipment to Turkey over Ankara's plans to buy Russia's S-400 surface-to-air missile system. The first two jets were delivered to Turkey in June, and Turkish pilots started training at the Luke Air Force Base in Arizona. Earlier this month, Turkey received two more F-35 jets. Currently, Turkish pilots continue their training, and the jets will be deployed to Malatya air base in Turkey by November.
TASS: Military & Defense – Russia's 5th-generation fighter jet gets advanced stealth coating
The Su-57 is a fifth-generation multirole fighter designed to destroy all types of air targets at long and short ranges and hit enemy ground and naval targets, overcoming its air defense capabilities
Russia upgrades stealth on Su-57 that's meant as an F-35, F-22 killer – INSIDER
Russian media announced on Friday that it had significantly improved the stealth on its Su-57 fighter jet by applying a coating to the glass canopy on the cockpit, as well as similar upgrades to its Tu-160 nuclear bomber. But Russia's Su-57 isn't nearly stealth by US or even Chinese standards, and a coating on the glass won't save it. Instead, the Su-57 appears intended to go after US stealth fighters like the F-22 and F-35. But Russia, struggling with sanctions and a weak economy, has yet to order a significant number of the jets.
Russia to Offer China Su-57 Fifth-Generation Stealth Fighter | The Diplomat
Russia is reportedly considering selling China an export version of the Su-57 fighter jet.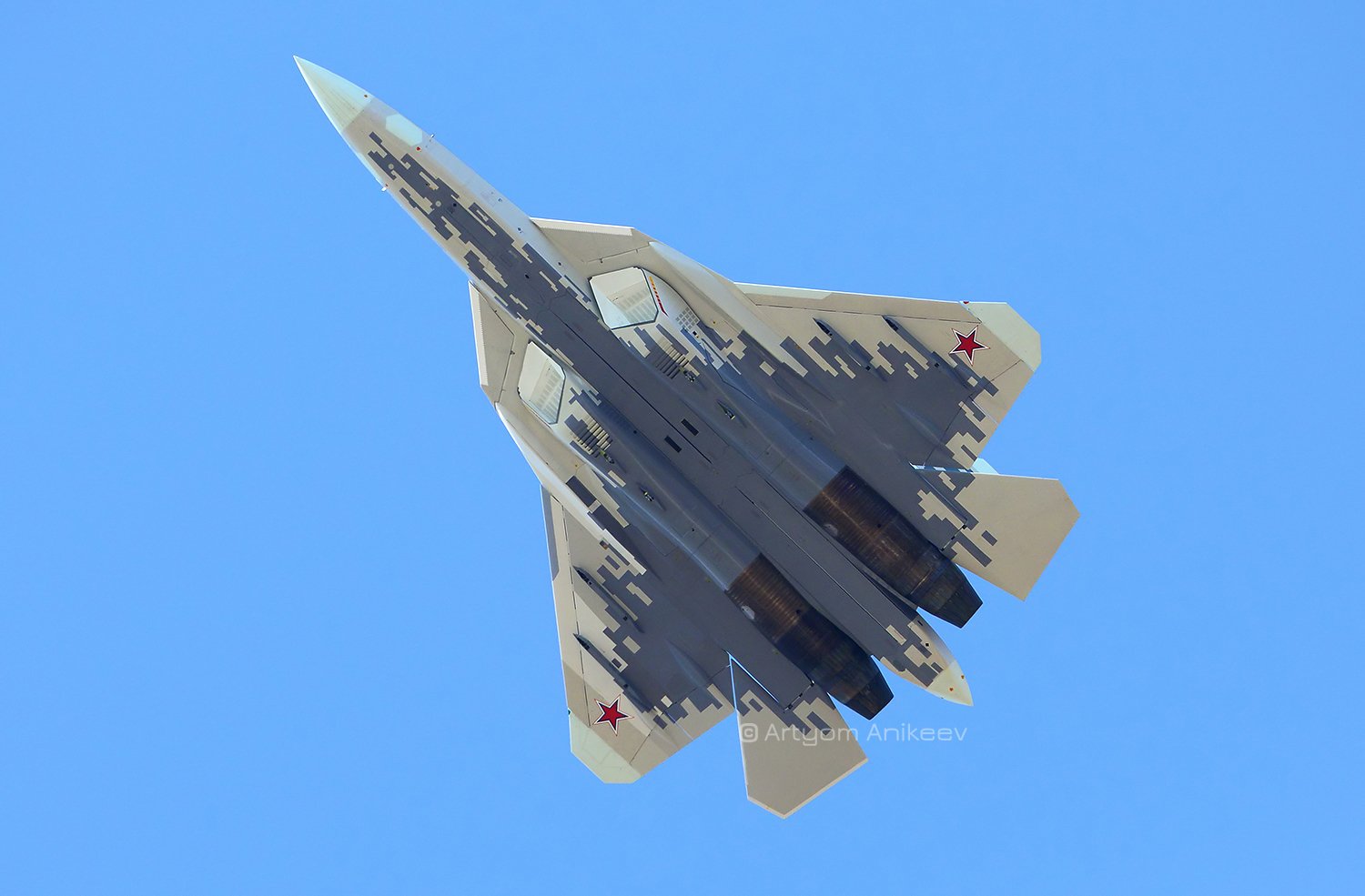 No, The Su-57 Isn't 'Junk:' Six Features We like On Russia's New Fighter – The Drive
The Su-57 is not an F-22, it's not meant to be, but it packs some novel attributes to offset what it lacks in stealth, at least to a limited degree.

Meet the Su-34 Fighter-Bomber: Could Russia Sell This Deadly Jet to Turkey? | The National Interest
What we know.
This Is Russia's Very Own 'Top Gun' (And Chinese Pilots Are Taking Part) | The National Interest
Here is what you need to know.
Why Russia's Super-Maneuverable Su-47 'Golden Eagle' Fighter Jet Failed | The National Interest
She looked impressive, but it never made it into the Russian Air Force.
Russia Says Druzhba Oil Deliveries May Be Restored To Europe In Two Weeks
Russia says it will be able to restore acceptable-quality oil supplies through the key Druzhba pipeline to Europe in two weeks.
UAWire – Hungary suspends oil supplies from Russia
The largest Hungarian oil and gas company Magyar Olaj es Gazipari Reszvenytarsasag (MOL) announced that Hungary has suspended Russian oil deliveries through the Druzhba pipeline, reported TASS. "MOL continuously monitors the quality of the raw materials coming through the Druzhba pipeline and does not allow low-standard crude oil to arrive in Hungary. Thus far, the quality of the crude oil coming through the pipeline has been in accordance with the regulations, however, we have decided to temporarily suspend the takeover of the crude oil. Contaminated crude oil cannot enter our refinery," noted the MOL. As previously reported, the representatives of oil transportation companies in Ukraine, Belarus, Poland and Russia held their negotiations meeting in Minsk to resolve the situation with the transit of oil through the Druzhba pipeline. All parties agreed on a technical solution to resume its work. Belarus has arranged the negotiations in connection with the threat of a complete shutdown of the Druzhba main oil pipeline system due to the contaminated Russian oil. On April 23, Belarus forcedly suspended the light oil products export to Ukraine, Poland and the Baltic countries. Poland and Ukraine also stopped oil transit. Belarus partially resumed deliveries of the light crude oil products to Ukraine and Poland. In turn, Russia promised to restore deliveries of "clean" oil on April 29. Belarus currently estimates the damage at $ 100 million
UAWire – Belarus loses at least $100 million due to poor quality oil from Russia
Belarus has partially resumed its exportation of light oil products to Ukraine, Poland and the Baltic states, after being forced to suspend it due to poor quality oil from Russia. However, its losses have already exceeded $100 million. "We are now assessing the losses we have experienced in April. At present, they are in the region of $100 million in terms of lost revenue from oil products," commented Vladimir Sizov, deputy head of the Belarusian state oil concern Belneftekhim on Thursday 25 April. That same day, the exportation of light oil products, such as petrol, kerosene and diesel, to Ukraine and Poland was partially resumed, Sizov noted. He added that representatives of the Russian oil transport monopoly Transneft would arrive in Minsk on 26 April to discuss the oil quality problem. On 23 April, Belarus was forced to suspend its shipments of light oil products due to a sharp decline in the quality of the Russian oil arriving at the country's refineries. The Mozyr and Naftan refineries were forced to reduce their output by nearly 50%. The Mozyr refinery reported that the contaminated oil had caused expensive equipment to malfunction. The poor quality has also been observed by Poland, which receives oil from the same source through the Druzhba pipeline. Late in the evening on 24 April, the Belarusian pipeline operating company Gomeltransneft Druzhba was forced to suspend its transportation of Russian oil to Europe indefinitely after the operator of the Polish stretch of the pipeline said that refineries in Poland and Germany could not accept or process oil with such indicators. The Russian company Transneft investigated the incident and discovered that the contamination originated in the Samara – Unena stretch of the pipeline. The company has promised to rectify the situation over the course of the next few days. Citing the crisis in Belarus, the Ukrainian company Consulting Group A-95 has begun looking for alternative sources of oil products. The Belarusian company Belneftekhim detected the drastic decline in the quality of the oil arriving from Russia as early as 19 April. The company claims that the chlorine content of the Urals oil is ten times higher than the standard.
Rauf Mammadov | Belarus Threatens to Cut off Russia's Pipeline Flows to Europe – Jamestown
Another oil and natural gas transit feud is brewing between Belarus and Russia, with President Alyaksandr Lukashenka threatening to disrupt pipeline flows to Europe and Ukraine in retaliation for Russian restrictions on Belarusian apples and pears (News.ru, April 12). Rosselkhodnadzor, the Russian agency that oversees agricultural imports, announced this month that it is limiting this Belarusian fruit because of what it contends is poor quality. The move is a huge blow to Belarusian agriculture because Russia buys 80 percent of its products (Belsat, April 10). Lukashenka warned he might cut off Russian oil transit through the Druzhba pipeline, which runs across Ukraine and Belarus to Poland and—via other pipelines—to Central Europe and Germany. He also flew to Turkey in hopes of finding a new market for Belarusian agricultural products (Belta.by, April 16). As justification for a potential transit cut-off, Lukashenka complained that Russia had failed to carry out long-promised repairs on the Druzhba—implying that the pipeline was unsound. The pipeline owner, Russia's Transneft, dismissed the criticism, terming the Druzhba's operation "satisfactory" (Oreanda.ru, April 12). Nonetheless, spurred on by Lukashenka's threats to shut down the pipeline, the Belarusian Oil Company (BNK) and the petrochemical concern Belkhimneft, both state owned, made simultaneous statements complaining about the poor quality of Russian crude transported via Belarus. Immediately thereafter, Poland, Germany and the Czech Republic declared they were halting imports of Russian crude over quality concerns. The Russian energy ministry vowed to supply higher-quality oil before April 29 (Belsat, April 25). This may be Lukashenka's last chance to win oil and gas concessions from Russia. He currently has leverage because Russia is also embroiled in a transit dispute with Ukraine—and Russia cannot afford supply disruptions in both countries simultaneously. Lukashenka also knows that once two planned Russian pipelines that skirt Ukraine and Belarus come online, in late 2019, he will lose much of his negotiating position. These two pipelines are Nord Stream Two, which will deliver an additional 55 billion cubic meters (bcm) gas per year under the Baltic Sea to Germany, and TurkStream (15.75 bcm annually), which will supply southern Europe via the Black Sea and Turkey. The Druzhba pipeline is a major revenue generator for both Russia and Belarus. Moscow sends a quarter of its oil exports to Ukraine, Belarus and Europe through Druzhba, with a third of this going mainly to Poland and Germany (Neftegaz.ru, April 5).
'If transit of Russian gas through Ukraine stops, there will be no reverse' – Putin — RT Business News
Ukraine still heavily relies on Russian gas, therefore it won't be able to use reverse flows if the gas transit stops completely, Vladimir Putin said. As of now, the reverse gas flows "exist only on paper."
Putin: Ukraine's gas supply depends on transit of Russian gas through its territory
Ukraine's gas supply is completely dependent on the transit of Russian gas through its territory. This was announced at a press conference in Beijing by Russian President Vladimir Putin, Interfax-Ukraine reports. "And if there is no transit? You understand that then there will be no reverse. After all, reverse is virtual. There are branches of the transit gas pipe to the whole of Ukraine. These are absolutely well-known things for professionals, the public just may not understand it…. There is no real reverse! There is gas transit to Europe, branches from transit gas pipes go to the whole territory of Ukraine. Then it is written on papers that it is a reverse. Imagine that there is no transit. So then there will be no gas supply to Ukraine. This is a serious issue!" Putin said. On April 24, 2018, Russian Gazprom rejected the possibility of extending the gas transit contract with Naftogaz. The company said that they had not yet begun negotiations on the future transit through Ukraine, there are only consultations on this topic. At the same time, Gazprom's chairman, Alexey Miller, said earlier that a Russian company could save gas transit through Ukraine. The executive director of NAK Naftogaz, Yuri Vitrenko, said that in the event of the termination of gas transit through the Ukrainian GTS, the state would lose $ 3 billion a year. He is convinced that in the implementation of such a scenario, Ukraine has a high chance of winning another arbitration claim for $ 12 billion from Gazprom as compensation for accelerated amortization.
Putin Says He May Expand Russian Citizenship Decree To Include All Ukrainians
Russian President Vladimir Putin says his administration is considering a plan to ease the process of granting Russian citizenship to all Ukrainians, not only those in war-torn parts of eastern Ukr…
Putin Says Russia May Extend Passport Offer to All Ukrainians – Bloomberg
Russian President Vladimir Putin said he may extend an offer of citizenship to cover all Ukrainians after he sparked controversy by ordering passports to be made available to people in areas of the country controlled by pro-Moscow separatists.
Putin: Moscow Mulling Citizenship Offer for All Ukrainians
Earlier the Russian leader announced a decree that eases the process of granting Russian citizenship to anyone living in areas in eastern Ukraine controlled by Russia-backed separatists
Putin mulls easing Russian passport rules for whole Ukraine – BBC News
President Putin says he is considering extending a scheme announced this week in rebel-held areas.
It's possible to facilitate granting Russian citizenship to all Ukrainian citizens
Russian President Vladimir Putin has not ruled out the facilitation of the acquisition of Russian citizenship not only to the residents of Luhansk and Donetsk regions of Ukraine, but all citizens of the country. "We're providing such a way to acquire our citizenship not only to the people who live in the LPR or the DPR," Putin said at a press conference in Beijing, replying to an Interfax question. "Actually, we are considering facilitating the acquisition of our citizenship for Ukrainian citizens," Putin said. On April 24, Russian President Vladimir Putin signed a decree on determining categories of individuals entitled to apply for Russian citizenship in line with a simplified procedure for humanitarian purposes, which grants this right to those permanently residing in certain areas of Donetsk and Luhansk regions.
Putin says Russia may offer fast-tracked passports to all Ukrainians – Reuters
President Vladimir Putin said on Saturday Moscow was considering offering all Ukrainian citizens fast-tracked Russian passports, a move likely to anger some politicians in Ukraine which has been at war with pro-Russian separatists since 2014.
Putin piles the pressure on Ukraine's inexperienced new leader by offering fast-tracked passports to all of the country's citizens and 25% off gas imports | Daily Mail Online
Vladimir Putin said he would offer Russian citizen to all people in Ukraine More than 13,000 people have died in the conflict which began in 2014 Ukraine has repeatedly appealed to the international community for help Kiev and Moscow signed a cease fire in 2015 which has regularly been breached
Putin intends to issue passports to all Ukrainian citizens under simplified procedure
President of Russia Vladimir Putin intends to issue passports of the Russian Federation under the simplified procedure to all the citizens of Ukraine. Vladimir Putin stated this at the press service on the results of his visit to the People's Republic of China, as TASS reported. "In general, we are thinking of giving our citizenship (Russian citizenship) in a simplified procedure to the citizens of Ukraine", Putin pointed out.
Putin says Russia may simplify granting Russian citizenship to all Ukrainians – news politics | UNIAN
Russian President Vladimir Putin has said that Russia may start granting Russian citizenship, under a simplified procedure, to all Ukrainians, not only to those living in Russia-occupied Donbas, eastern Ukraine. He assured that all social obligations to Russian citizens would be fulfilled. "We even think about granting our citizenship to [all] Ukrainian citizens under a simplified procedure," he said at a press conference on April 27 following his Beijing trip, according to an UNIAN correspondent in Russia. Putin says all social obligations to Russian citizens will be fulfilled, despite the decision to provide Ukrainians living in Russia-controlled Donbas, with Russian citizenship, using the expedited procedures. "Regarding the fulfillment or non-fulfillment of our social obligations to Russian citizens: No doubts – all social obligations, absolutely all social payments, pensions, and their increase – will be fulfilled. There's no doubt about it," he said. As UNIAN reported earlier, on April 24, Russian President Vladimir Putin signed a decree on the simplified procedure for issuing Russian passports to residents of the temporarily occupied Donbas. The Kremlin explained that Putin made such a decision "to protect human and civil rights and freedoms," on the basis of "generally accepted principles and norms of international law." In this regard, President of Ukraine Petro Poroshenko has called on the European Union to step up sanctions against Russia during the next review of the existing regime scheduled for June.
Putin raises possibility of meeting Ukraine leader | Fox News
Russian President Vladimir Putin has raised the possibility of meeting Ukraine's president-elect in a sign Moscow might want to improve relations that soured after its 2014 annexation of Crimea.
Putin jokes Ukrainian president is not 'Lord God' & doesn't have to 'appear' before him — RT World News
Russian President Vladimir Putin said he wanted to discuss ending the conflict in Donbass with Ukraine's president-elect Volodymyr Zelensky, but joked about the conditions under which the two leaders might meet.
Putin ready to meet Zelensky in person
Russian President Vladimir Putin does not rule out the possibility to meet the newly elected president of Ukraine Volodymyr Zelensky in person. Putin stated this at the press conference in Beijing on April 27, as Izvestia reported. According to the report, Putin claimed he would speak about the ways of solving the Donbas crisis during the meeting if it takes place. In particular, the President of the Russian Federation stated he was ready to discuss with Zelensky the ways of settling down the conflict in Donbas without abiding by the Minsk agreements. He pointed out he was interested in the position of the newly elected Ukrainian president concerning the Donbas crisis. Earlier, Volodymyr Zelensky's team advises the president-elect not to meet Russian leader Putin in person. The team's defense and security expert said he did not believe Putin, who would 'guarantee things' during a personal meeting. He assumed that one could only believe the Russian leader if 'powerful states', namely Great Britain and the U.S. are involved in the negotiation process.
Putin Denies Provoking Ukraine by Offering Rebels Passports: 'I Don't See What's That Unusual, Other Countries Do It'
Vladimir Putin is making Russian passports more easily available to Ukrainians living in the self-proclaimed republics of Donetsk and Luhansk, where pro-Kremlin separatists have been battling Kiev
'Not as good as Poles or Romanians?' Putin defends offer of Russian passports to E. Ukrainians — RT Russia News
There's nothing sensational about Russia offering fast-track citizenship to people in eastern Ukraine, as other states have engaged their fellow countrymen for quite some time in similar ways, Vladimir Putin said.
Russian passport decree concerning eastern Ukraine: UK statement – GOV.UK
The Foreign & Commonwealth Office has issued a statement on the decree signed by Russian President Putin. A Foreign Office spokesperson said: The UK condemns President Putin's decision to sign a decree making it easier for Ukrainian citizens living in non-government controlled areas of eastern Ukraine to receive Russian passports. This step is the latest in a pattern of Russian behaviour aimed at threatening Ukraine's security and sovereignty, and undermining its territorial integrity. Russian officials have sought to justify this move by citing humanitarian concerns. Yet the communities they claim to support are suffering the consequences of a conflict started and fuelled by Russia and its proxies. Rather than creating further obstacles to the re-integration of these communities into Ukraine, Russia should focus on implementing the Minsk Agreements, including the requirement to ensure safe access, delivery, storage, and distribution of humanitarian assistance. The UK will continue to work with our international partners in addressing the humanitarian situation in eastern Ukraine. We have increased our funding by £2.8 million for humanitarian support to the country as well as £3.5 million for further peacebuilding activities, including supporting conflict-affected populations and helping to address gender-based violence.
Russian stealth war as Vladimir Putin gives passports to Ukrainians in 'devious plot to justify an INVASION'
It's widely suspected the real intention is to give Moscow legal cover for annexing eastern Ukraine to 'protect Russian citizens'
Andrew Foxall on Twitter: "I spoke with @TheSun yesterday about Putin's decision to expedite citizenship to residents of the Donbas. For what it's worth, my two-cents are: "passportisation" isn't a new tactic for Russia, and Russia isn't about to ramp up its war in Ukraine. https://t.co/HV6yzj34Yh"
Hans Kristensen on Twitter: "After having pelted Eastern Ukraine for five years, Putin offers Russian passport to rebels from Donetsk/Luhansk as "humanitarian matter" https://t.co/kKsjDmAbC0 That way, as his war continues, he can say Russian citizens were killed and justify scaling up war."
Russia testing Ukraine's new leader with passport move: Lithuania – Reuters
Russia's decision to make it easier for residents of rebel-controlled eastern Ukraine to obtain a Russian passport is meant to test Ukraine's new leader and the West should not recognize the documents, Lithuania's foreign minister said on Friday.
EU, Ukraine's president-elect lash Russia's easing citizenship for separatists | The Times of Israel
Brussels says Putin's move is 'another attack on Ukraine's sovereignty,' while Zelensky expresses hope for new sanctions against Moscow
MEPs condemn Putin's decision on simplified issuing of Russian passports in Donbas
Members of the European Parliament condemned the Russian decree enabling the simplified issuing of passports in occupied areas of Ukraine's Donetsk and Luhansk regions. — Ukrinform.
Kuleba: Putin wants further escalation
Russian President Vladimir Putin demonstrates Russia's aspiration for further escalation, Permanent Representative of Ukraine to the Council of Europe Dmytro Kuleba believes. "If the Russian Federation wanted to compromise and settle the conflict, it would now refrain from escalation and leave the new president of Ukraine space for diplomatic maneuver. But the Russian Federation wants further escalation and chaos in Ukraine, and therefore continues to complicate rules of the game," Kuleba said on Twitter, commenting on Putin's statement about the intention to issue Russian citizenship under a simplified procedure to all Ukrainians.
Putin's 'Passportization' Move Aimed At Keeping the Donbass Conflict on Moscow's Terms
Opinion | We cannot know what exactly the Kremlin means to do with its soon-to-be-minted citizens in Donbass.
UAWire – Russia will not pay pensions to Russian passport owners in LPR and DPR
Russian pensions will be granted only to those Russian passport owners who will leave the territories of Donetsk and Lugansk which are not under …
Putin promises to honor all social obligations to Donbas residents with Russian passports
All social obligations to Donbas residents, who are to acquire Russian passports, will be honored, it will cause no serious strain on the Russian budget, Russian President Vladimir Putin has said.
Claims that Russian passports to Donbas residents to be prove costly to Russian budget 'horror stories'
Claims that the issuance of Russian passports to Donbas residents will prove costly to the Russian budget are "horror stories," Russian President Vladimir Putin said. "As for the discussion of this issue, I believe in the discussion of this issue, especially in terms of these 'horror stories' about the Russian budget, our public sector employees, the people or the political forces that don't want Russia to help people living in Donbas in any way are spreading those 'horror stories,'" he said, replying to an Interfax question, at a press conference in Beijing. Russia is considering facilitating the citizenship acquisition not only for residents of the self-proclaimed Donbas republics, but also Ukrainian citizens, he said. "Actually, we are considering facilitating the acquisition of our citizenship for Ukrainian citizens," Putin said.
Ukraine preparing new sanctions against Russia due to Putin's decree on issuing passports in Donbas – Klimkin
Ukraine is preparing a new package of sanctions against Russia because of the decision of President Vladimir Putin to simplify the procedure for issuing Russian passports to residents of the occupied Donbas. — Ukrinform.
Ukraine to prepare new package of sanctions against Russia due to Putin's order
The sanctions can be imposed on "persons and companies who are the basis of the Kremlin regime", according to Ukraine's Minister of Foreign Affairs
Zelensky Refuses to Recognize Rights of Donbass, Putin Offers Citizenship to Trapped Ukrainians! – YouTube
Vesti News Published on Apr 26, 2019 Subscribe to Vesti News https://www.youtube.com/channel/UCa8M… At the Council of Legislators, the president commented on his new executive order on a fast-track procedure when applying for Russian citizenship for residents of certain parts of the Donetsk and Lugansk regions of Ukraine. The document was made public on April 24th, stressing that the measures are taken on humanitarian grounds for the protection of human rights and liberty. It is especially important in light of the recent statements by the newly-elected President Vladimir Zelensky, who has repeatedly stated that he doesn't intend to grant Donbass special status or to declare an amnesty to participants in the hostilities. This is in direct violation of the Minsk agreements.
Russia slams 'scandalous' order in Ukraine to boost local language – CNA
Russia on Thursday slammed as "scandalous" a move by Ukraine to reduce the use of the Russian language, pushing up already high tensions days …
Ukraine adopts language law opposed by Kremlin | World news | The Guardian
Fears Russian speakers will be marginalised but backers say move bolsters national identity
Ukraine Passes Language Restriction, Worsening Dispute With Neighbors
Lawmakers in Kiev approved a bill boosting the use of Ukrainian across state administration and media, in a move that risks complicating relations with Russia and the West at the same time. While Ukrainian has been the sole official language since 2014 when Kremlin-backed Viktor Yanukovych was toppled from the presidency in deadly street protests, much of the population still speaks Russian. Moscow annexed Ukraine's Crimea in 2014, saying it did so to protect ethnic Russians and Russian speakers. Russia offered on Wednesday its citizenship to separatists in two of Ukraine's easternmost regions.
Peace should be reached under Ukraine's terms, – Zelesnky's advisor – 112.international
Dmytro Razumkov, the advisor of Volodymyr Zelensky stated that the peace on Donbas can be reached under the terms of Ukraine. Razumkov stated this on the air of the talk-show The Voice of the People on 112.Ukraine. "Unfortunately, there is no such method to end the war tomorrow. But there is an idea of how to act in order to reach peace. The peace can only be reached under Ukraine's conditions. If we follow Russia's terms, the peace can be reached even tomorrow, but I doubt the patriots of Ukraine will not accept those terms," Razumkov stated. Razumkov stated that the order on the issuance of the Russian passports to the Ukrainian citizens of Donbas is the recognition of aggression from the Russian party. "In fact, it is recognition from the Russian Federation. Russia claimed they occupied Crime, this annexation they call a return to their homeland. At present they are confirming Russia is an aggressor state with this process of simplifying getting of Russian citizenship," Zelensky's advisor added.
Russian-led forces launch 23 attacks on Ukrainian troops in Donbas
Russian occupation forces launched 23 attacks, using weapons banned under the Minsk agreements nine times, on positions of Ukrainian troops in the Joint Forces Operation (JFO) area in Donbas over the past day. — Ukrinform.
Two Ukrainian soldiers wounded in Donbas amid 23 enemy attacks in past day – news war | UNIAN
Russia's hybrid military forces in the past 24 hours mounted 23 attacks on Ukrainian army positions in Donbas, with two Ukrainian soldiers reported as wounded in action. Two invaders were killed and another four were wounded on Friday, intelligence reports say.
Death Toll Raised To 17 At Separatist-Controlled Mine In Eastern Ukraine
Reports from eastern Ukraine's Luhansk region say the death toll from an underground coal-mine explosion has been raised to 17, with Russia-backed separatist leaders who control the mine saying a…
OSCE records over 50 tanks in training areas near occupied Luhansk
The OSCE Special Monitoring Mission to Ukraine (SMM) recorded the presence of more than 50 tanks in three training areas near the occupied Luhansk. — Ukrinform.
OSCE loses another drone in occupied Donetsk region
The OSCE SMM has lost a mid-range unmanned aerial vehicle near the contact line in Donetsk region. — Ukrinform.
Ukraine's Antonov builds 22 aircraft over last decade – news economics | UNIAN
President of Ukrainian-based State Enterprise Antonov Oleksandr Donets says the enterprise, part of Ukraine's state-run military and industrial concern Ukroboronprom, has built 22 aircraft since it merged with Kyiv Aviation Plant Aviant. State-owned Antonov is the manufacturer of freight and passenger aircraft, as well as special purpose aircraft.
Alya Shandra | Ukraine adopts law expanding scope of Ukrainian language |Euromaidan Press |
On 25 April, the Ukrainian Parliament adopted law #5670-d "on the functioning of the Ukrainian language as a state language," which greatly expands protections for Ukrainian in Ukraine. The heavily debated law was adopted by 278 out of 423 MPs after months of reviewing over 2,000 amendments. But the first version of the law was submitted to Parliament back in June 2017. Now the law should be signed by the president. Outgoing President Poroshenko, who on the night of the second round of elections on 21 April when he lost to Volodymyr Zelenskyi, announced that he is ready to sign the law before Zelenskyi is inaugurated. The law will come into force two months after publication. In the morning of 25 April, hundreds joined a rally in support of the law in front of the Verkhovna Rada.
Ukraine passes law against Russian language in official settings
Ukrainian language must be spoken in official settings in Ukraine according to a new law that some fear will antagonise the country's significant minority of Russian speakers.
Ukraine Crisis Media Center: What will the new language law change? – To Inform is to Influence
What will the new language law change? On April 25, 2019 Ukraine's Parliament passed the draft law no.5670-d "On ensuring the functioning of Ukrainian as the state language" widely known as simply the "language law". A total of 278 MPs voted in favor of the bill, 38 – against, seven abstained on the vote. The entire "Opposition Bloc" faction did not vote at all.   …
Trump drags Ukraine into his conspiracy allegations | KyivPost – Ukraine's Global Voice
WASHINGTON, D.C. — U.S. President Donald Trump has signaled he is keen on pursuing allegations that Ukraine tried to hamper his presidential bid in 2016. Speaking on his favorite Fox News Channel, which provides uncritical, partisan support for Trump, the president said "big" and "incredible" new allegations have emerged that Ukraine tried to influence the outcome of the 2016 election in favor of his rival, Democratic Party candidate Hillary Clinton. America has been an invaluable ally to Ukraine on the international stage since Russia invaded in 2014, providing much financial and military support. But while the U.S. Congress, State, Defense and other government departments have worked closely with Kyiv, relations between Ukrainian authorities and the Trump White House have been cool. Trump's words could throw a pall on relations with Ukraine's president-elect, Volodymyr Zelenskiy, before the country's new leader even takes office. Ukrainians became wary of Trump during the election campaign because he often praised Russian dictator Vladimir Putin and seemed to suggest that Moscow's annexation of Crimea was justified. Trump was forced to fire his campaign manager Paul Manafort when it merged, in the summer of 2016, that he had worked for many years in a key role for Ukraine's ousted Kremlin-backed President Viktor Yanukovych. Prominent Ukrainian journalist and member of parliament, Sergii Leshchenko, made public that Manafort had received millions of dollars in payments from the Yanukovych camp, which the American political operative stashed in offshore accounts and failed to declare to U.S. tax authorities.
Trump Says Clinton and Obama Administration Links With Ukraine Should Be Investigated
President Donald Trump said that links between Ukraine and the Hillary Clinton presidential campaign and the Obama administration …
Lithuania to remain Ukraine's reliable partner – Groysman
Lithuania has been and remains a steadfast partner of Ukraine at the level of bilateral relations and on the world stage. — Ukrinform.
Tymoshenko: president should be allowed to fulfill his powers as defined by Constitution
The leader of the Batkivschyna Party, MP Yulia Tymoshenko is convinced that the idea to revise the powers of the president proposed in the draft law initiated by Samopomich contradicts the Constitution.
Bohdan Ben | Savchenko released from custody amid ongoing trial into coup plot |Euromaidan Press |
On 16 April, Nadiya Savchenko, suspected of illegal transportation of weapons and mortars, and organization of a coup, was released from custody due to the expiration of the period of a preventive measure. Although this doesn't mean the rejection of all accusations, the very fact that Savchenko was released is highly disturbing: she was likely to blow up Ukrainian parliament and openly told about such intentions. Why are courts reluctant to consider her case properly and what does it mean for the political situation in the country? What happened In 2014-2016, Nadiya Savchenko was a hero. A military pilot, acting in the Donbas conflict area, she was captured by Russians in 2014. She was in Russian jail for nearly two years, becoming a symbol of all Ukrainian hostages in Russia. A worldwide movement called #FreeSavchenko evolved in her support. Finally, in May 2016, she was exchanged for two Russian officers and returned to Ukraine. What happened next was a bitter surprise for many activists. Being a member of parliament, she became a scandalous figure for Ukrainian politics. Savchenko considered herself a savior of the Ukrainian nation and criticized the government unceasingly, implying that she could act instead of the President or Prime minister. As real actions in that direction, she negotiated with the leaders of Russia's proxy-republics in eastern Ukraine, the "DNR" and "LNR," ignoring the official Ukrainian position. She was ready even to open a "DNR" embassy in Kyiv.
Prosecution says controversial POW negotiator left Ukraine – LB.ua news portal
Prosecution says controversial POW negotiator left Ukraine. Political – LB.ua news portal. Latest from Ukraine and the world today
Bohdan Ben | Court decision on Privatbank proves Ukraine's judicial reform was failed. Here's how to fix it |Euromaidan Press |
Before the second round of presidential elections on 21 April, when changes of the authorities were expected, Ukrainian courts became especially active in making scandalous political decisions. On 16 April, Nadiya Savchenko, suspected of illegal transportation of weapons and organization of a coup, was released from custody, as her period of a preventive measure was not prolonged by the court. On 18 April, the District Administrative Court of Kyiv satisfied Ihor Kolomoyskyi's lawsuit and decided that the nationalization of Privatbank was illegal. The decision shocked the depositors of Privatbank, as well as ordinary Ukrainians because the liquidation or privatization of the bank could lead to a default. In reality, there are no reasons for panic for now, but the behavior of courts demonstrates all problems of Ukrainian judiciary. What will happen with Privatbank, why are such court decisions possible, and how can the next authorities restart and finish the judicial reform properly? What happened with Privatbank Ihor Kolomoyskyi, one of the bank's former owners, used it to pay large credits to his fictitious firms. In that way, he laundered at least US$2bn. The National Bank of Ukraine declared the bank insolvent in 2016 and nationalized it almost immediately. In fact, the nationalization was done improperly. According to the law, nationalization of the bank takes approximately a year. The first step is that a bank is recognized as a problematic one. Later it has 6 months to reorganize its operations properly. Only after that term, if there are no improvements, the nationalization or liquidation of the bank takes place. In the case of Privatbank, everything was done almost immediately, in a few days of December 2016. On the other hand, the bank was of national importance, it is the largest bank in Ukraine and its collapse would lead to a deep economic crisis. Therefore, immediate nationalization was required to save it. This improper nationalization was even admitted by Yuriy Lutsenko, Prosecutor General. Yet, he also added that everything was going to collapse and the state just saved the most important bank investing into it UAH160bn ($6bn) through issuing state bonds. The recent court decision on the improper nationalization of the bank is especially interesting because in 2018 the same court, considering the other claim of the other plaintiff, decided that everything was done properly. Yet, this recent court decision is not likely to be implemented. The only consequence of it may be a liquidation of the bank with compensation of $2bn to Kolomoyskyi. However, such a decision would lead to a collapse of the state banking system and elimination of any support from IMF and western partners. No minister of finance would pass such a decision, especially under the pressure of civil society.
UAWire – Kyiv: Ukraine one step away from reclaiming 'Yanukovych's gold'
The investigators from the Prosecutor General's Office of Ukraine are one step away from returning "Yanukovych's gold", said Deputy Prosecutor …
Photos show what daily life is really like inside Chernobyl's exclusion zone, one of the most polluted areas in the world | Business Insider
Source: Business Insider, Adventure,BBC
The Sultan's Raiders: The Military Role of the Crimean Tatars in the Ottoman Empire – Jamestown
From the fourteenth to the seventeenth centuries, the Christian nations of Europe and the Shiites of Persia were forced to defend their lands against the inroads of an ever expanding Ottoman Empire, an empire whose awesome war machine at times appeared strong enough to absorb its immediate neighbors. One of the most interesting, and militarily effective groups utilized by the Ottomans in their seemingly endless wars were the Tatars of the Crimean Peninsula. In their three hundred years of service, the Crimean Tatars contributed more to the Ottoman military than did any other of the Sultan's non-Turkish subjects, and the account of their service with the Sultan is one of the most unusual chapters in European history. The Sultan's Raiders: The Military Role of the Crimean Tatars in the Ottoman Empire by Tatar expert Dr. Brian Glyn Williams explores the role of the Crimean Tatars in the Ottoman Empire's military campaigns against its neighbors with the aim of providing some insight into the controversial relationship between these two states and peoples.
CEC to announce presidential election results on April 30
The Central Election Commission (CEC) will hold a meeting on Tuesday, April 30, where it will announce the final results of the presidential election in Ukraine. — Ukrinform.
Klimkin ready to discuss possible cooperation with Zelensky – news politics | UNIAN
Ukrainian Foreign Minister Pavlo Klimkin says that he is ready to discuss possible cooperation with the winner of the presidential election, Volodymyr Zelensky. At the same time, the minister says he is not going to step back from his "values."
Groysman about meeting with Zelenskyy: "We talked about life, country" – LB.ua news portal
Groysman about meeting with Zelenskyy: "We talked about life, country". "We talked about the future of the country – this is the most important thing." Political – LB.ua news portal. Latest from Ukraine and the world today
Ukraine's Volodymyr Zelensky policies will prove if he'll bring change
Ukrainians are prepared to believe that Volodymyr Zelensky is a political change agent. It's up to him to prove them right in the weeks ahead.
The New President of Ukraine Only Campaigned Online
Ukraine's newly elected president, Volodymyr Zelenskiy, is an actor who campaigned entirely online, using YouTube and Instagram to connect with voters.
Volodymyr Zelenskiy: Non-fictional President | Editorial
Volodymyr Zelenskiy, actor and comedian who had played the President in a television series, is poised to step into the Ukrain presidential palace in Kiev
His Excellency, Mr. President, the comedian – Vanguard News
UKRAINIANS who went to the polls last Sunday and elected the 41-year-old comedian, Volodymyr Zelensky, as President over the billionaire incu
Steven Pifer | How Ukraine's comedian-candidate could disappoint the Kremlin
The Russians don't like his opponent, but if Volodymyr Zelensky is elected president, there's no guarantee he'll toe Putin's line. If voters in Ukraine elect television star Volodymyr Zelensky president Sunday, as seems almost certain, that should please the Kremlin, which in the course of supporting rebels in the eastern regions of Ukraine has made clear its dislike for incumbent Petro Poroshenko. Zelensky, a political neophyte who plays a teacher unexpectedly elected president in the TV show "Servant of the People," handily won the first round of the election March 31. Polls suggest he will beat the president in the runoff by as many as 30 points, and to the Kremlin, he must seem like a much more malleable figure.
Alya Shandra | Why Poroshenko lost |Euromaidan Press |
The results of Ukraine's 2019 presidential elections were a devastating blow for incumbent president Petro Poroshenko – not only did he lose to comic Volodymyr Zelenskyi, who has neither political experience nor concrete plans for solving Ukraine's problems, but the comic won in a landslide, 73.22% vs 24.45%. Poroshenko's defeat came as a surprise to many, except those who had been keeping an eye on opinion polls, which showed the politician's high anti-rating already several years ago. Sociologists have established that nearly half of Zelenskyi's votes were actually votes against Poroshenko, who came to power in snap elections after the Euromaidan revolution in 2014 with significant support in all Ukrainian regions. So, why did Poroshenko lose? Petro Poroshenko conceded his opponent's victory after the first exit polls were in on 21 April. The incumbent president didn't manage to bridge the gap with his opponent after the first round of elections on 31 March. Despite his convincing defeat, Poroshenko had a convinced supporter base: the following day after elections, April 22, a spontaneous "thank you" rally of several thousand voters showed up near the presidential administration. Its participants compelled Poroshenko to run for the presidency again, even "after one year" (to which Poroshenko answered: "if God wills") and thank him for such successes as the visa-free regime, Ukrainian church independence, development of Ukrainian culture, resisting the Russian aggression in the east, and reforms in Ukraine, which, in the words of Kurt Volker, special representative of the USA for Ukraine, exceed those of the last 20 years. Poroshenko's supporters online have now coalesced into a fan-club called "25%," which refers to Poroshenko's exit poll result.
Bohdan Ben | Why Zelenskyi won |Euromaidan Press |
Comedian Volodymyr Zelenskyi received 73% of votes in the second round of Ukrainian presidential elections on 21 April, despite all the efforts of incumbent President Petro Poroshenko to rebound and innovations in his campaign since the first round on 31 March. The reason is that Zelenskyi's de-facto campaign started as early as 2015, which is when the film "Servant of the People" where Zelenskyi plays the role of a school teacher who by the will of fate became the real president of Ukraine, while his rise to fame started much earlier, in 2004. It wasn't his political, but cultural role over the last 20 years which made this comedian familiar and easy to understand for the majority, unlike Poroshenko with his patriotic rhetoric. Additionally, simple technologies such as channeling anxiety, populist promises, and virtualization of the candidate helped unite opposite social and ideological groups around Zelenskyi. Ukraine has elected a virtual president, who is yet to become specified in reality.
Yuri Zoria | How Zelenskyi "hacked" Ukraine's elections | Op-ed |Euromaidan Press |
The emphatic landslide victory of comic actor Vladimir Zelenskyi in the Ukrainian presidential elections was prepared well before the 1+1 TV station aired his speech instead of the presidential New Year's address on 31 December 2018, and even before the major pollsters started including his name in their opinion polls in late 2018. Why did Ukrainian voters consider Zelenskyi a better choice than the incumbent President Petro Poroshenko? Here are some highlights of the Zelenskyi team campaign and the media background it has successfully used and can use once again at the next parliamentarian elections.
'Look at us: everything is possible' – Zelenskyi's existential challenge to Putinism | Euromaidan Press |
Whatever policies he adopts or concessions he makes, Volodymyr Zelenskyi has so challenged Vladimir Putin's vision of the world that he already has turned the Kremlin leader into his mortal enemy, someone who will do everything to ensure that Zelenskyi fails and thus cannot be a model for Russians or other post-Soviet nations, Igor Eidman says. According to the Russian sociologist, Putin's autocracy rests on the conviction in the population that there is no possibility of change. "'There's no alternative to Putin. If no Putin, then who?' are the chief motive behind support of the powers that be and voting for the current president." But if what Zelenskyi has achieved in Ukraine is possible, then change is possible not only there but in Russia and the other post-Soviet states. "Someone can come in place of Putin, and nothing horrible will happen. In this situation, any bright young politician can knock off the old." That sends fears through the Kremlin and the other autocratic regimes in the region. Consequently, Eidman continues, "now all the efforts of the Kremlin will be directed to assure that in Ukraine 'again nothing will be achieved." And that almost certainly means that Putin will do everything he can to "destabilize the situation and discredit the new Ukrainian authorities," however much he welcomed the loss of Petro Poroshenko. Zelenskyi's words, although not much attended to in the West, are echoing through the Russian Federation – see for example, the article in Kazan's Business-Gazeta headlined "Look at us, everything is possible! How Zelenskyi will apply his 'Putin' rating?" But even more significant is a commentary by Petr Akopov in Vzglyad which asks whether Zelenskyis "will appear in other countries of the former USSR" including explicitly the Russian Federation. That is a new and even more troubling worry for the Putin-style verticals than any "color" revolution. Akopov stresses that Zelenskyi's declaration about everything being possible has "attracted the greatest attention both in Russia and in other republics – and it is understandable why that should be the case." Someone who seemed to come out of nowhere won and without the obvious support of any foreign forces. Just as was the case 15 years ago with Viktor Yushchenko, Zelenskyi will become "a kind of 'role model' for the entire post-Soviet space," and those who oppose change will thus work hard to ensure that he fails in anything he tries to do lest others adopt his model and promote change in a system committed to unchanging stability. In fact, of course, what Zelenskyi has achieved is less remarkable in Ukraine that it would be elsewhere, Akopov says. Ukraine has often changed presidents. He is the sixth over the last 27 years. Other countries like Russia or Belarus or Kazakhstan have had far fewer – and those in power have made sure that there wasn't a change. Moreover, Zelenskyi is a new president; but the oligarchs in Ukraine remain very much in place, Akopov says. And Moscow can be counted on to use them against the new president, however much Zelenskyi may think he can act on his own. And Moscow will stress that Kyiv's drive toward Europe and away from Russia have cost it Crimea, the Donbas and more. As a result, Akopov says, Zelenskyi and his "everything is possible" notion won't be that infectious, although the fact that the Moscow commentator is discussing this phenomenon suggests that he may be protesting too much – precisely because at some level he fears he is wrong and that what Zelenskyi has done, others in Russia and elsewhere could replicate.
Implementation of Ukrainian autocephaly may be first flashpoint in Zelenskyi era | Euromaidan Press |
Petro Poroshenko made autocephaly for the Ukrainian Orthodox Church a centerpiece of national strategy, used the power of the state to promote it by making it easier for parishes to shift from the Moscow church to the Ukrainian one, and has pledged to continue to fight for the independence of the national church even after he leaves office. His successor Volodymyr Zelenskyi will not seek to reverse autocephaly, but he is clearly less interested in using government power to promote it, a position that some including Poroshenko will see as a retreat from autocephaly but that others are already saying will make the rise of a truly popular national church slower but more firmly rooted. In a first assessment of what will happen next, religious affairs specialist Aleksandr Soldatov says that Poroshenko's achievement of autocephaly was one of his most important "successes" but his efforts to promote it as a means of weakening the Moscow church in Ukraine are already being curtailed. The key feature of those efforts was the renaming of the Moscow church from the current "Ukrainian Orthodox Church of the Moscow Patriarchate" (UOC MP) to "the Russian Orthodox Church in Ukraine," a change that the Verkhovna Rada backed and that was intended to speed the shift of Orthodox parishes in Ukraine from a church that has often served as the Kremlin's ally to a truly national Ukrainian Orthodox Church under Kyiv. While many parishes have shifted – the exact number is a matter of dispute – "over the months since the tomos was granted, the Ukrainian Orthodox Church of the Moscow Patriarchate not only hasn't lost its leading passion on the confessional map of Ukraine but even has begun a legal revenge," Soldatov says. A Kyiv court ruled that a Ukrainian law requiring the renaming of the UOC MP and establishing a deadline of April 22 violates the rights of that congregation, an action its leader, Metropolitan Onufriy views as a great victory – and perhaps one of the reasons he was the first religious leader to greet Zelenskyi's election. Many Ukrainians view this as a turning away from autocephaly and an indication that Zelenskyi won't be its defender (see credo.press, dsnews.ua and depo.ua). Consequently, both Poroshenko and the speaker of the Verkhovna Rada have pledged to defend not just autocephaly but the state-supported means by which they believe it can best be implemented (see risu.org.ua and risu.org.ua). That sets up a fight between the former president and his allies and Zelenskyi and his, and it may mean that the shift of parishes from the Moscow church to the Ukrainian church will slow for a time, although it is unlikely to be reversed. Indeed, Soldatov in his assessment suggests that in his view, the prospects for Ukrainian autocephaly remain "very bright." That is because further separation of religion from politics likely to occur under Zelenskyi's presidency may "breathe new life into the Ukrainian church rebirth. And the more successful and convincing this rebirth will prove, the fewer chances the Moscow Patriarchate will have to 'hold Ukraine.'"
—