Anonymous expert compilation, analysis, and reporting.
</end editorial>
---
---
More saber-rattling by Muscovy. More harassment in the Baltics. Hovsgaard book to detail how Tovarishch Schröder abused his contacts across Europe to peddle Nordstream 2. Eight critical analyses of Russia all showing the various ways in which is it separating from established global cultural and political norms – Herbst and Yerofeyev's analysis of Russia's brain drain sets this in context as it is comparable in relative scale and effect to the exodus of talent the Bolsheviks produced as they traumatised this tragic nation a century ago.  Russia's latest DDG proposal has seen the ship bloat to 19,000 tonnes displacement – around 30% bigger than the DDG1000 class. Updates on Russian meddling in Europe.
Pres Poroshenko interviewed by Fox – well worth watching (and sharing) as he hits all of the right points and all of the right notes. Pres Poroshenko, Duda and Grybauskaitė comment on Russia. Ukraine to terminate Azov treaty. Pres Poroshenko calls for MAP and deadline. MP Whittingdale on Ukraine. Reports that 500,000 Russians were transmigrated into Crimea after the invasion, to change the demographics and claim a majority.
Donbas update – OSCE genuinely report four Russian combat jets sighted over occupied Ukrainian territory. SES (eq. FEMA) Air Wing update. More on Yagorlik LFX / OPEVAL. Indian AF said to like the An-132D light airlifter. Politics and election updates.
Reports now 340 parishes have abandoned the ROC, but some claim the process is not orderly. More on Russian persecution of the OCU in Crimea, and much more on their persecution of the Jehovah's Witnesses.
---
UAWire – Sweden: Russian fighter jet conducted 'unacceptable' maneuvers near Swedish aircraft
The Swedish Armed Forces reported that a Russian Su-27 fighter flew approximately 20 meters away from a Swedish plane. According to statement, the incident occurred at the beginning of the week. A specific day is not specified. "During the flight over the Baltic Sea in the international airspace at the beginning of the week, the Russian military Su-27 was following a Swedish reconnaissance aircraft," the statement reads. "The Russian plane flew less than 20 meters away." The situation has been reported to the government. "This is unacceptable behavior," Sveriges Radio quotes Swedish Defense Minister Peter Hultqvist as saying. Hultqvist added that his Ministry considers the actions of the Russian fighter to be "beyond acceptable". Hultqvist stressed that this was not the first case like this. Similar incidents, he said, were recorded in the fall of 2017 and the spring of 2018. The Minister noted that this was not a planned joint flight. "[Such incidents] can lead to undesirable events, such as a collision. This is extremely risky, " he added. In late January, the Swedish armed forces reported that three Russian military aircraft had violated the country's airspace. According to the military, the Russian Il-20 flew over the Baltic Sea, accompanied by two Su-27 Flanker type fighters, and the aircraft temporarily entered the airspace south of Karlshamn in Blekinge province without permission.
UAWire – Putin: Russia's newest weapons have no equivalent in the world
Russian President, Vladimir Putin, speaking at the Grand Kremlin Palace before the concert in commemoration of Defender of the Fatherland Day, stated that Russian weapons have no equivalents in the world. "Our prospective weapon models have no analogues in the world, in any case, at least not yet, and I think that they will not [have them] for a long time," said Putin as quoted by Kremlin's press service. According to him, at the heart of this success is the "tireless work of scientists, constructors and defense industry," which lays the foundation for the development of the army and navy "for decades to come". Earlier, Russian Defense Minister, Sergei Shoigu, called Russian-developed weapons "unattainably effective". "Colleagues abroad recognize that our developments are hundreds of times cheaper than any systems used against us," said Shoigu. Putin, in a message to the Federal Assembly on February 20, said that the first nuclear submarine, equipped with the Poseidon unmanned aerial vehicle, will be launched in the spring of 2019. In addition, the Russian president announced a new hypersonic rocket Zircon, which has a speed of 9 machs and a range of more than one thousand kilometers. According to him, this rocket, which is being built "on schedule", can be used by ships and submarines.
Russia plans to publicly showcase Su-57 fighter at Paris Air Show – Defence Blog
Russian defense industry plans to feature the first public flying appearance of the Sukhoi Su-57 fifth-generation multirole combat aircraft at the Paris Air Show 2019 in Le Bourget, France. It is expected that Su-57 fighter jet to make international debut at this year's show. The 53rd Paris Air Show will take place at the Le Bourget Parc des Expositions from 17 to 23 June 2019, and once again will bring together all the players in this global industry around the latest technological innovations, included Russia with its new Su-57 fighter jet, according to an 23 February Facebook post by Paris Air Show. The post reads, "Rumor has it that Sukhoi would maybe send a Su-57! To be confirmed. Are you like us impatient to hear him roar in the Parisian sky?". Sources in the Russian defense industry have confirmed plans for the demonstration of a new Su-57 fighter aircraft in Paris but added that there is no final decision yet. The Su-57 is a Russian-made fifth-generation multirole fighter designed to destroy all types of air targets at long and short ranges and hit enemy ground and naval targets, overcoming its air defense capabilities. Compared to its predecessors, the Su-57 combines the functions of an attack plane and a fighter jet while the use of composite materials and innovation technologies and the fighter's aerodynamic configuration ensure the low level of radar and infrared signature. The Su-57 took to the skies for the first time on January 29, 2010. According to the National Interest, the Kremlin ordered its first dozen production-standard Su-57s in August 2018, hoping to form the first regular squadron some time in 2019. But with military budgets declining amid an economic slump, Moscow at the same time decided to not acquire the plane in large numbers.
Radio Poland: Russia-Germany gas link possible only thanks to Schröder: Report – news economics | UNIAN
The Nord Stream 2 gas pipeline from Russia to Germany would not be possible without former German Chancellor Gerhard Schröder and his contacts, the author of a new book has claimed, according to a report. Schröder, who left the post of Germanyэs chancellor in 2005, was later appointed the chairman of the board of directors of Nord Stream 2. The Nord Stream 2 gas pipeline from Russia to Germany would not be possible without former German Chancellor Gerhard Schröder and his contacts, the author of a new book has claimed, according to a report. The book by Danish journalist Jens Hovsgaard explores the involvement of former agents from the Soviet Union and communist East Germany in lobbying for the construction of the pipeline, Polish daily Gazeta Polska codziennie has reported, according to Radio Poland. Warsaw opposes the planned Nord Stream 2 pipeline, which aims to send Russian gas to Germany via the Baltic Sea, bypassing the Baltic states, Poland and Ukraine. Schröder, who left the post of Germany's chancellor in 2005, was later appointed the chairman of the board of directors of Nord Stream 2. Hovsgaard was cited by Gazeta Polska codziennie as saying that it was not only Schröder's contacts in Germany that proved invaluable. Hovsgaard was quoted as saying that by putting Schröder on their payroll, the Russians gained access to many highly placed social democrats in Europe. Hovsgaard was also cited by Gazeta Polska codziennie as saying that, by supporting the Nord Stream 2 pipeline project, the German government was keeping alive a corrupt "Putin kleptocracy."
UAWire – Germany confiscates money and houses worth €50 million in Russian money laundering case
German law enforcement agencies confiscated real estate and cash worth a total of 50 million euros in one of the largest money laundering cases …
Ukraine in OSCE PA urges to prevent construction of hybrid Nord Stream 2 pipeline
The Nord Stream 2 gas pipeline is one of the Kremlin's hybrid tools for exerting political influence on Europe and will also allow Russia expanding its aggression against Ukraine. — Ukrinform.
UAWire – Lithuania to propose new sanctions against Russia
During a visit to Poland, Lithuanian President Dalia Grybauskaitė said that Vilnius intends to propose additional sanctions against Russia if …
The Week In Russia: The State Of The Nation And Its Missiles
President Vladimir Putin altered his recipe a bit in his state-of-the-nation speech this year, omitting some of the prep work and hitting Washington and the West with a direct flame for a shorter period of time than last year, but the main ingredients were little changed.
Window on Eurasia — New Series: Russians Deeply Divided on What if Anything Putin's Speech Means and Portends
Paul Goble Staunton, February 21 – If Vladimir Putin intended to deliver a clear and unambiguous message to Russians and the world with his speech to the Federal Assembly earlier this week, he failed utterly with Russians giving a thumbs' down on the speech on Facebook and commentators offering almost as many interpretations as there are commentators. That has led one of their number to suggest that the speech changes nothing and shows nothing will change, perhaps the most reasonable conclusion given that so often Putin has made promises that he has then not carried out (dw.com/ru/комментарий-ракета-циркон-и-новый-социализм-владимира-путина/a-47602001). But to give some idea of the range of reflections on Putin's latest communication with the world, below are the conclusions offered by seven different commentators: · One suggested that Putin's remarks shows he is trapped between moving toward populism and moving toward additional authoritarianism (politsovet.ru/61892-putin-mezhdu-kandelaki-i- surkovym.htm). · A second said that his speech showed that he was moving from militarism toward national socialism given his focus on domestic affairs rather than foreign policy (sibreal.org/a/29781113.html). · A third suggested that it showed Putin and those around him are frightened of their loss of influence and control on the population but have no clear idea as far as what they should do to recover (gordonua.com/blogs/liliya-shevcova/v-poslanii-putina-federalnomu-sobraniyu-my-uvideli-realnoe-bespokoystvo-vlasti-po-povodu-poteri-kontrolya-nad-nastroeniyami-mass-754316.html).· A fourth said that Putin was acting as if he was in control behind the scenes even though it is unclear whether he remains so (kasparov.ru/material.php?id=5C6E4F3BC707B). · A fifth said that the speech reflected the fact that Putin is increasingly cut off from reality and operates in a world of his own (charter97.org/ru/news/2019/2/21/324314/). · A sixth described the speech as "Brezhnevism but with huma speech" (kasparov.ru/material.php?id=5C6D69C6A3543). · And a seventh suggested that Putin seems almost as tired of his role as the Russian people are tired of him (kasparov.ru/material.php?id=5C6E48052146E).
Window on Eurasia — New Series: Like Alexander III, Putin has Only Two Allies But Both are Far More Problematic, Pastukhov Says
Paul Goble Staunton, February 22 – Tsar Alexander III said Russia has only two allies, its army and its navy; Vladimir Putin now insists that his Russia has only two allies – "money and the bomb," Vladimir Pastukhov says. But neither is as effective as their predecessors: money is running out, and "the bomb" doesn't have the impact at home or abroad he wants. With "the bomb," the Kremlin leader seeks to "frighten the West" and to impress people at home, the Russian analyst says; and with money, he hopes to put out the fires of opposition to his regime. But using "the bomb" is ever more risky and ever less effective, and the money he would need to "douse" the fires at home simply isn't there (republic.ru/posts/9311). And that only adds to the sense that Putin isn't going to make any changes whatever he promises and many hope, that he will continue to function as he has in the past and that, Pastukhoov argues, there is no evidence that he and his regime have any "'Plan B'" ready when the current plan ceases to work. The London-based Russian analyst says that the presidential message to the Federal Assembly "long ago lost its initial constitutional-legal meaning. Today, Russia listens to the president as astronomers do signals from the distant cosmos." Those signals hint at what is going on inside the Kremlin, but there is no feedback and each year the signals become more indistinct. Putin's situation with regard to "'the nearby cosmos' is no better." Those listening to him in the hall were tired and "primarily peasant faces. For those who still remember, everything looked like Soviet party activists and thus provided 90 minutes of nostalgia," Pastukhov continues. The Kremlin leader's speech was more like the report of a prime minister than a message of a president. It did not offer any new or even old strategies. He deployed statistics to appear competent, Pastukhov argues, but "the general meaning was clear without them: under the current political leadership nothing int eh country is going to change much." Surkov's article in this regard looks "much more full of content than the message of the president." Putin's words were "strictly in the spirit of the reports of the General Secretary f the CPSU Central Committee at a plenum" in which the leader says a little about everything and not much about anything. Like Khrushchev before him, Pastukhov observes, Putin is capable of threatening the West, but his threats to destroy the world only can be effective if he never has to act on them – and his military victories have proved far less impressive on the Russian population than he had calculated. Because of the failure of his military exploits to keep his ratings up, Putin devoted most of his speech to talking about domestic issues, apparently intending to send a message that he is changing direction and will try to lift the Russian people up. "Judging from the initial reaction," Pastukhov says, "many believed" that is the case. But it is quite clear that he can talk a good deal about this but lacks the money to make a serious dent in poverty and the other problems of Russian society. Two to three billion US dollars over six years is simply a pittance as far as the reordering of society is concerned, the London-based analyst says. Many laughed at Surkov's essay, "but he who laughs last laughs best." Putin's words to all appearances was "an applied addition to [Surkov's] essay about the everlasting quality of the regime. No one intends to change anything; no one intends to react. All will remain as it is." Those who expect something else, especially after Putin's performance, are deluding themselves.
Window on Eurasia — New Series: Putin Takes a Page from North Korean Leader's Playbook against Trump, Eidman Says
Paul Goble Staunton, February 22 – Vladimir Putin's sabre rattling in his presidential address was intended to tempt Donald Trump into acting he has with North Korea's Kim Jong-un, another intractably hostile leader with whom the US president could nonetheless demonstrate his unique peacemaking skills that are so impressive to his base, Igor Eidman says. In this, the Russian commentator says, Putin is taking a page out of the North Korean's playbook, acting on the assumption that the more hostile he sounds and behaves the more Trump will want to find a way to come to him and announce some grand bargain no one thought possible (facebook.com/permalink.php?story_fbid=2261404370589196&id=100001589654713). Despite his tough talk, Putin does not have and will not acquire any wonder weapons capable of bringing the US to its knees. Neither did or does Comrade Kim. But both men by their threatening talk and behavior are playing to an aspect of Trump's personality that many ignore: the desire of the US president to do the unexpected and present himself as unique. The North Korean dictator has succeeded beyond anything he might have expected. He has even drawn praise from Trump who says that under Kim's leadership, his country will become "a great economic locomotive. He may surprise some but he won't surprise me because I know him and completely understand what he is capable of." "North Korea will become another rocket, an economic one," Trump has tweeted. According to Eidman, "Trump cannot but understand that he is dealing with a bold blackmailer" in Kim's case. But he wants to turn the tables on him by acting in an unexpected way and showing himself to be the great peacemaker. It isn't important to Trump that Kim continues to pursue things that he has promised not to. What matters to the US leader, the Russian sociologist says, is that he puts himself in a position where he appears to be acting in ways no one else would or could. Putin is clearly following this case closely and equally clearly, Eidman says, calculating that he can play the same role Kim has and prompt Trump to follow suit. In the Kremlin leader's view, Trump would be delighted to "play the role of peacemaker with Russia" and thus become "the savior of the US from nuclear apocalypse." And the Kremlin leader is probably especially impressed by the North Korean model for yet another reason: Kim hasn't changed his policies whatever he announces he has agreed to with Trump. Putin almost certainly would behave in exactly the same way and expect to get away with it, at least with this US president.
Window on Eurasia — New Series: 'Is Putin's Russia Becoming like Hitler's Germany?' Podrabinek Asks in Horror
Paul Goble Staunton, February 22 – The horrific tortures that Russian police have inflicted on Jehovah's Witnesses, long-time human rights activist Lev Ponomaryev says, forces one to reflect on "what country we are living" because what is being done to the followers of that faith now is worse than was the case in Stalin's Soviet Union and more like that in Hitler's Germany. "We must not tolerate such things in Russia today," he continues, or accept the denials that officials are not unexpectedly issuing. Instead, Ponomaryev suggests, Russians must face up to the bitter reality of just how bad thing are becoming and demand both that those responsible be held accountable and the situation changed (echo.msk.ru/blog/lev_ponomarev/2375421-echo/). The human rights campaigner notes that Vladimir Putin recently spoke about "'taking care of the people' as a key task for the country. Does this mean that the 175,000 Jehovah's Witnesses are not part of this people?" If that is the case, then the situation is even more dire than anyone can imagine. Tragically, the cruel mistreatment of the Jehovah's Witnesses is not the only sign that things are going very much in the wrong direction in the Russian Federation of late Putinism. Inn the last few days alone, there have been at least eight other developments that should be cause for real concern: · As part of their "patriotic education," Russian school children are being taught how to disperse demonstrations (ej.ru/?a=note&id=33471 andcensoru.net/33588-zachem-shkolnikov-na-rf-uchat-razgonjat-mitingi.html). · To the horror of traditional shamans, some Buryat shamans have burned five camels in order, in their words, "to strengthen Russia and its people" (credo.press/223044/ and themoscowtimes.com/2019/02/22/siberian-shamans-revive-ancient-camel-burning-rite-help-russia-a64593).· Orthodox traditionalists express outrage at anime-style icons intended to draw in young people to the church (themoscowtimes.com/2019/02/21/anime-style-religious-icons-cause-stir-russian-region-a64587).· More than 700 telephone bomb threats have disrupted the work of banks in Moscow alone in the last few days (echo.msk.ru/news/2376125-echo.html). · Russian entrepreneurs now acting more like the swashbucklers of the 15th century than corporate executives of the 20th (kasparov.ru/material.php?id=5C6EDFF0D2772). · Wage arrears are again to widespread that they are being reported not company-by-company but region-by-region (regions.ru/news/2626426/). · One-fourth of all incomes in Russia are in the shadow or black economy, with more than 20.7 trillion rubles (300 billion US dollars) going untaxed and unmonitored by officials (kp.ru/daily/26945/3996602/ and znak.com/2019-02-22/rbk_obem_tenevoy_ekonomiki_rossii_ocenen_v_20_7_trln_rubley).· And in an indication that many who live in Russia think they actually still live in the USSR, the Soviet citizenship movement in which residents declare themselves citizens of a country that no longer exists in order to ignore taxes and the law of the one of which they are is attracting ever more adherents (sibreal.org/a/29778908.html).
Window on Eurasia — New Series: Russia isn't a Failed State: It Doesn't Have a State at All, Romanchuk Says
Paul Goble Staunton, February 22 – Many people, including the author of these lines, have argued that since 1991 Russia has been close to being a failed state and that Moscow's policies in large measure reflect an effort to overcome that danger. (See my "Russia as a Failed State," Baltic Defense College 2(2004): 76-83 at bdcol.ee/files/docs/bdreview/bdr-2004-12-sec3-art3.pdf.) But now Russian financier Sergey Romanchuk says that there is no such thing as an institutionalized state in Russia at all. Unlike in a state, the president of ACI Russia says, there is no center where information is gathered, decisions made, and then those decisions enforced consistently across the country (blog.newsru.com/article/22feb2019/gosudarstvo). The financial leader's comments come in response to the confused and even counterproductive Russian treatment of Michael Calvey,the American banker who heads Baring Vostok, behavior that suggests there is no controlling center, and to the conclusion that this is the case by Moscow political analyst Aleksandr Morozov. Morozov observes that most specialists on Russian politics long ago concluded that Putin has no policy planning staff (facebook.com/amoro59/posts/10213591450925080). That is certainly true, Romanchuk says; but he adds that Morozov doesn't go far enough: Putin doesn't have a state at least in the normal sense. Instead around the Kremlin leader is a congeries of people constrained by no institutions and acting often on their own or on understandings of what they think Putin wants. Sometimes they are right; sometimes not; but there is absolutely no controlling set of institutions to ensure consistency. Such institutions are called a state, and the Russian land doesn't have one. These Russians insist that they are a state, and foreigners who come from countries which have governments and state institutions are inclined to accept that claim because they find it difficult to imagine a situation in which no set of institutions is controlling of decisions and outcomes, both men say. On the one hand, their arguments may strike many as a playing with definitions. There area many kinds of states, and there is no reason to assume that all states must operate in the same way. But on the other, what Romanchuk and Morozov are saying is critically important: Russia has a governing circle but it doesn't have state institutions. In the name of erecting a power vertical, Putin has undermined or even completely destroyed the state institutions however weak that existed in Russia before he came to office. Now, there is a situation with Putin and his favorites acting without constraints – and that certainly suggests that the judgment Russia does not have a state is not farfetched. At the very least, it should alert others who deal with Putin and his team that they are not dealing with a state like any other modern one but rather with an archaic kind of mafia rule in which all the arrangements and rules of modern states have been thrown aside in the name of elevating him to supreme power. But this understanding should also alert these same people to something else: Because Putin and his mafia have no state institutions to rely on, when they do collapse as they certainly will, their collapse will be far more radical and dangerous precisely because there are no institutions to soften the blow. That is the danger Russians and the world now face: it is one they should begin to think about how best they can respond.
Window on Eurasia — New Series: To Form a Nation State, Russians Must Use Greek Rather than Turkish Model, Savvin Says
Paul Goble Staunton, February 21 – Most Russian nationalists believe that Russia will either become a nation state or it will cease to exist, one of their number Dimitry Savvin says. But they disagree profoundly about what model of nation building they should employ with many plumping for that of Ataturk and his transformation of the Ottoman Empire into the Turkish nation state. Support for that approach, the Russian nationalist says, is completely understandable and appears to be precisely what Russia needs to undergo. But there are other models available which should be considered, Savvin continues; and one that may be even more important for Russia is the Greek (afterempire.info/2019/02/20/saavin-rysskiy-nacbilding/). Why should Russians be talking about Turks and Greeks rather than Czechs, Estonians or Koreans? the Russian activist asks rhetorically. The answer lies, Savvin says, in the fact that "the Russian situation is anything but ordinary." Most nations have emerged out of empires in which others dominated them and thus have no problem with identifying their friends and enemies as far as the past is concerned. "We live on our land," they say; "alien arrivals from outside oppressed us, we heroically liberated ourselves and we are building our own new state on the ancient traditions of our ancestors." That model doesn't work for those who have emerged from an empire in which it appears they were in charge. "If so, then whom did they did they liberate themselves from? [and] What traditions should they return to?" According to Savvin, "without a clear answer to these questions, the transit from empire (or quasi-empire) to a nation state won't occur." But in fact, that is the situation Russians have found themselves in since 1991. They don't know which past they should reject and which they should celebrate. And consequently, they look to Kemalist Turkey as a model; but in important respects, that model doesn't work for Russians. Ataturk was able to create "a successful Turkish national (nationalist) myth," one that worked because it explained "why the empire (in that case, the Ottoman) was alien and hostile to the titular nationality, the Ottoman Turks." It specified that the Turks were not the masters. Instead, they were ruled by Greeks, Armenians, and Jews. That notion was inaccurate and ultimately led to genocide, but it provided a basis for Turkish nationalism. It worked because Turkish nationalist emerged when the Ottoman institutions still existed and had to be destroyed for a Turkish nation state to be established as Kemal did. Not surprisingly, many Russians look to the Kemalist model, forgetting that the Russians did not have the imperial institutions to destroy but appeared on the scene after that empire had been demolished. And that fact, Savvin argues, makes a consideration of the Greek model especially important for Russian nationalism. "As an independent political force," he continues, "Greek nationalism appeared earlier than the Turkish," and from the outset, it displayed some unique characteristics which make it a model for Russians. "On the one hand, Greek nationalism has been informed by the democratic ideals of the 1830s and 1840s." "On the other hand – an dup to this day! – it has had a religious and even clerical character." Moreover, and this may be even more instructive, Greek nationalism has always had a very positive and complementary attitude toward the Byzantine imperial heritage," something that Greek nationalists stress up to now. Unlike the Turkish nationalists who completely rejected the Ottoman imperial heritage, the Greeks accepted the Byzantine past even as they rejected the Ottoman system although they looked back to the Byzantine empire in positive ways and celebrated the Christian religious component of that earlier empire. "The anti-Ottoman radicalism of Ataturk was historically without any alternative," Savvin says. It existed and had to be defeated if a Turkish nation state was to be created. "As far as the Byzantine imperial heritage is concerned," however, the Kemalists had no clearly expressed views, although they did allow the Constantinople patriarchate to exists. That meant that religion was treated as an enemy by the Kemalists. In Greece, in contrast, the Byzantine tradition opened the way for religion and even clericalism to survive in Greek nationalism and the Greek nation. And that provides a useful model for Russian nationalists, Savvin says. The Russian situation in many ways resembles the Greek one: "Our historical enemy and oppressor was the Bolshevik horde, the Soviet Union." And Russian nationalists must do everything they can to wipe out its influence. But such hostility should not extend to the Russian empire. "If the USSR is our Ottoman yoke, then the Russian Empire is our Byzantium," the Russian nationalist theorist says. Just as Byzantium informed Greek nationalism, so too the Russian Empire must become "our Byzantium which could and must (as in the case with Greek nationalism) become a cultural-philosophical ad symbolic resource of a new nation state." Savvin continues: "Just as in the case of Greece, today there are no ethnic Russian imperial institutions which would block the development of Russian national identity … and that means that fighting with them is fighting with windmills," a war that does not benefit Russians or open the way to the formation of a flourishing Russian nation state.
Window on Eurasia — New Series: Three Very Different Visions of Post-Putin Russia
Paul Goble Staunton, February 22 – Vladimir Putin's failure to provide a picture of the future in his address to the Federal Assembly and growing indications that the power vertical on which he has relied is "decaying" (themoscowtimes.com/2019/02/22/the-kremlin-hierarchy-is-fast-decaying-a64589), ever more people are talking about what a post-Putin Russia might be like. Today, three Russian commentators, one in Moscow, one in the US, and one in Ukraine, provide extremely suggestive but in some ways mutually exclusive visions of what Russia will look like once the current Kremlin leader passes from the scene as will inevitably happen either voluntarily, by the force of circumstances, or as a result of death. In the first, economist Vladislav Inozemtsev argues that Putin's Russia like the Soviet Union before it has entered into a confrontation with the West and turned away from normal economic and political development mean that the Putin regime will pass away along with him, just as was the case with Stalin or Gorbachev (echo.msk.ru/blog/partofair/2375953-echo/). In the second, Irina Pavlova, a Russian historian based in the United States, fundamentally disagrees. She argues that the future will be much like the present and the past. And she suggests that that someone even more authoritarian and Stalinist, like Lavrenty Beria, may come after Putin departs (ivpavlova.blogspot.com/). And in the third, Georgy Kasyanov, a Russian historian at the Ukrainian Academy of Sciences, argues that the departure of Putin will be "a catastrophe" for Ukraine and other nearby countries because a leadership struggle within Russia would likely involve actions abroad to build authority (apostrophe.ua/article/politics/foreign-policy/2019-02-22/smert-putina-stanet-katastrofoy-dlya-ukrainyi-v-chem-opasnost/23937). Given the number of unknowns, none of these three nor indeed anyone else can specify exactly what will happen; but all three of these and many other commentators as well capture some of the complexity of the situation, one in which after Putin both the leaders and the population will undoubtedly fashion a future but similar and different from today. Over the last 150 years, Russia has gone through numerous leadership, generational and political changes. Sometimes there has been a change at the top without changes in broader policies, but sometimes the change at the top has ushered in massive changes, some of which have proved sustainable and some not. That past is instructive – in this Pavlova is correct – but it has not always been a straightjacket – and in this both Inozemtsev and Kasyanov point to certain patterns that open the door to change. As the end of the Putin era approaches – and while no one knows when and how it will end – ever more people are going to weigh in on what it might be. Their suggestions not only will lead many to ask new questions but they will also form in some cases a roadmap however incomplete it will inevitably prove to be.
Window on Eurasia — New Series: Putin has Provoked an Emigration Equal in Size and Importance to the One the Bolsheviks Did
Paul Goble Staunton, February 22 – John Herbst and Sergey Yerofeyev of the Atlantic Council have prepared a 64-page report on The Putin Exodus (in Russian) that focuses on the brain drain that the departure of as many as two million people from the Russian Federation since Vladimir Putin came to power (publications.atlanticcouncil.org/putinskiy-iskhod/putinskiy-iskhod.pdf). It is an important study that makes the point that "human capital is leaving Russia" in order to life and work in places where they can feel free and better use their talents," The New Times says in a summary published today (newtimes.ru/articles/detail/177425). As a result, Russia is suffering one of the most serious brain drains of any country in the world. The report describes the ways in which highly educated Russians who are often doing relatively well professionally in Russia nonetheless seek to live abroad rather than under Putin and suggests that many of them might return once the Kremlin leader passes from the scene and Russia may become more free. All that is true and the documentation Herbst and Yerofeyev provide is welcome. But in three important respects, it understates the significance of the Russian emigration at present. First, by fitting the Russian flow into the general literature on brain drains in general, it understates the political nature of those who are fleeing Putin's rule. Second, it does not focus on the enormous diversity, professional, social and ethnic, of this diaspora. The two million include not only Russians but the nations of the North Caucasus who have been repressed even more than the dominant nation and who remain in close touch with their communities at home via Internet. And third, it does not focus on the political organizations of the emigres ranging from Russian nationalists to liberal democrats to ethnic activists of all kinds. This variety resembles more the flight of some two million people from Bolshevik rule in the years of the Russian Civil War. All three of these things call out for more attention than they have received so far not only because this emigration in its diversity may be the future of Russian but also because its members provide important sources of insight into what is going on outside of the usual circles Western diplomats and scholars focus on. One could give dozens of examples of this from Chechens in Europe to Jews in Israel to Russians of various kinds in places across the planet. To give just one example of how diverse and interesting this emigration (and not just brain drain) is, consider the following Facebook post today by Vadim Shtepa, the Karelian regionalist who now lives in Tallinn. He writes: "You know how Russian emigres differ from one another in the Baltic countries/ In Lithuania, there live liberal imperialists. They dream of replacing a bad Kremlin tsar with a good one. But the Moscow empire in their view must beyond question be preserved" (facebook.com/vadim.shtepa/posts/2270231753027802). "In Latvia," Shtepa continues, "lives Russian nationalist Dimitry Savvin who wants to replace the Russian empire with 'a Russian nation state … "And only in Estonia lives two rock-and-roll scoundrels – Artemy Troitsky and Vadim Shtepa. They want to destroy this empire down to its foundations." This emigration awaits its historians. In the meantime, all who follow what goes on in Russia need also to focus on what goes in in these various émigré centers just as Western scholars two and three generations ago learned much of what they knew about Russia under the Bolsheviks by reading and studying under those who fled that tyranny. The time to do so has come again, and the two million people from within the current borders of the Russian Federation can provide insights every bit as important as those who fled communism in the past.
Future Russian destroyer has grown to 19 thousand tons
The displacement of a prospective destroyer for the navy of Russia has risen to 19 thousand tons, the ship is supposed to be equipped with a nuclear power plant. This is reported by Russian site FlotProm with reference to two branch sources. On February 21, issues concerning the destroyer were discussed at the United Shipbuilding Corporation. According to the head of the Krylovsky State Scientific Center Valery Polovinkin, at first two versions were proposed: a displacement of 10-12 thousand tons with a gas turbine power plant and 18-19 thousand – with atomic power. He noted that the choice in favor of the second option is logical based on the concept of the revival of the ocean's "big fleet". However, the timing of the beginning of the subject work on the ship is still not defined. The KB designer, PKKB (Northern Design Bureau), will start it closer to the middle of the current state program of arms, thus creating a destroyer once again delayed. Earlier, in July 2018, Deputy Commander-in-Chief of the Russian Navy, Vice-Admiral Victor Bursuk, claimed that the technical design of the newest Russian destroyer, "Leader", would begin in 2019-2020. The completion of this work was planned until 2022. The concept of a new ocean ship was formulated by the Krylovsky Center, and the sketchy draft of the destroyer "Leader" was prepared by the PSCB. It is expected that the ship will receive a displacement of about 19,000 tons. The length of the building is 200 meters, the width is 20 meters. The destroyer can grow up to 30 knots. The arms will consist of approximately 60 anti-ship winged missiles, 128 anti-aircraft guided missiles and 16 anti-submarine guided missiles. At the same time, the Draft Strategy for the Development of the Shipbuilding Industry for the period up to 2035, prepared by the Ministry of Industry and Trade of the RF, provides for the possibility of Russia refusing to build large surface ships, including destroyers – this may happen "due to significant sequestration of budget allocations for defense."
UAWire – Russia has no meteorological satellites left
The group of Russian meteorological satellites "has died," the head of the Federal Service for Hydrometeorology and Environmental Monitoring of …
UAWire – Duda: Warsaw hopes for increased American military presence in Poland
Polish President Andrzej Duda said that the country expects an increase of the United States military presence in Poland and he is waiting for a response from Washington. "We expect that the presence [of the US] will increase, but whether it will be an increase in the number of military personnel or in the number of the military bases, it's up to the Americans to decide," the Polish President said at a press conference in Lublin on Friday. Duda reiterated that Poland is ready to accept more American troops on its territory. There are presently about 4,500 military personnel stationed in Poland.
UAWire – Lukashenko: I will never surrender Belarus to Poland or Russia
During a meeting with members of the Military Academy, President Alexander Lukashenko called the sovereignty and independence of Belarus his main achievement, BELTA reported. "I am both proud and happy to be the first president of this sovereign country. And what we have created together is the biggest achievement," said the president of Belarus. Commenting on the rumors about the threats to the sovereignty of Belarus coming from Russia, the president said that he could not "bury" an independent state, into the establishment of which he himself has put so much effort. "Would you bury it with your own hands by incorporating it into another country, be it Poland or Russia?" Lukashenko said, noting that he would never do it. "I have clear boundaries I will never go beyond," the Belarusian leader said.
Romania: US Embassy Diplomat: We are very concerned about Russia's attempt in Romania to create divisions within society – To Inform is to Influence
Russian sowing division in Romania just hit the news today, I cannot find any previous articles pointing to this issue. Russia has repeatedly demanded that the US remove the Aegis Ashore missile-defense system at Deveselu Air Base in Romania, but the US contends it violates no agreements or treaties. Specifically, Russia contends the system violates the INF treaty, which both the US and Russia have given notification of leaving. Russia has repeatedly said the US has the capability of launching ground-launched cruise missiles from this facility but has no grounds for making such an accusation. I have no clue what brings this accusation by David Schlaefer, so keep your eyes and ears peeled for further developments. </end editorial>
President of Ukraine praises way Trump handles Putin | Fox News
The president of Ukraine Friday strongly endorsed  President Donald Trump's leadership and the way he handles Russian President Vladimir Putin.
Fox News: President of Ukraine praises way Trump handles Putin – news politics | UNIAN
The president of Ukraine Friday strongly endorsed  President Donald Trump's leadership and the way he handles Russian President Vladimir Putin. Poroshenko said Putin's only goal was to re-establish the glory of the "Russian Empire." The president of Ukraine Friday strongly endorsed President Donald Trump's leadership and the way he handles Russian President Vladimir Putin. "I think that this administration does an excellent, a great job. This is not an assumption," Ukrainian President Petro Poroshenko said on Fox News' "America's Newsroom." "I have a feeling that this U.S. administration clearly understands the possible danger of Putin." Poroshenko spoke out against Putin's hostilities toward his country and said Putin's only goal was to re-establish the glory of the "Russian Empire." He wants to renew, to restore the Russian empire, the Soviet Union and he does not have any red line for reaching these results," Poroshenko told co-host Bill Hemmer. Asked whether it is possible for President Trump to have a working relationship with Putin, "I think it's possible to speak with Putin only with the position of strength" the Ukrainian leader told Hemmer, saying that sanctions and a strong global coalition were necessary. "With this situation I am confident that only strong U.S., the global leadership of the United States and the leadership of President Trump can keep the world safe." Poroshenko said.
UAWire – Polish President stresses the importance of military cooperation between Poland and Ukraine
Polish President Andrzej Duda stressed the importance of cooperation between his country and Ukraine as "Poland's big neighbor, which has an …
Poroshenko calls for UN technical mission in Donbas – LB.ua news portal
Poroshenko calls for UN technical mission in Donbas. The Ukrainian authorities are prepared to discuss the initiative. Political – LB.ua news portal. Latest from Ukraine and the world today
Presidents of Ukraine, Lithuania, Poland discuss 'Azov' package of sanctions against Russia
The presidents of Ukraine, Lithuania, and Poland discussed the possibility of imposing additional sanctions on Russia over its aggression in the Kerch Strait. — Ukrinform.
Poroshenko stresses need for increasing NATO's naval presence in Black Sea (Video) – news politics | UNIAN
Ukrainian President Petro Poroshenko has stressed the need for increasing the naval presence of the North Atlantic Treaty Organization (NATO) in the Black Sea to counter Russian aggression. The Ukrainian president does not rule out further Russian aggression in the Black Sea.
Poroshenko: NATO should increase its presence in Black Sea
President of Ukraine Petro Poroshenko underscores the need to increase the presence of NATO warships in the Black Sea due to Russia's aggression and seizure of Ukrainian Navy ships and sailors. — Ukrinform.
Ukraine expects NATO to provide Membership Action Plan, set date of accession
Ukraine expects the NATO leadership and member countries to provide a Membership Action Plan and set a specific date of accession to the Alliance. — Ukrinform.
Ukrainian ships prepare to cross Kerch Strait – minister – LB.ua news portal
Ukrainian ships prepare to cross Kerch Strait – minister. Ukraine is consultations with international partners. Political – LB.ua news portal. Latest from Ukraine and the world today
UAWire – Klimkin: Ukrainian ships are getting ready to pass through Kerch Strait
Ukraine is planning a new passage of ships through the Kerch Strait and it is taking certain measures and getting ready for the passage together …
UAWire – Klimkin: Ukraine is ready to terminate the Sea of Azov agreement with Russia
Foreign Minister, Pavlo Klimkin, announced that in the foreseeable future, Ukraine is preparing to terminate the agreement with Russia on the …Foreign Minister, Pavlo Klimkin, announced that in the foreseeable future, Ukraine is preparing to terminate the agreement with Russia on the Sea of Azov. "In the foreseeable future, we will do it. After the hearings, our legal position will be determined, and the international arbitration issues will be resolved," he said. At the same time, he added that if Kyiv had terminated the agreement earlier, "Russia would have used it to weaken the legal position" of the Ukrainian side. The representative of the Russian Federal Agency for Fishery, Angela Kizilova, stated that according to the Russian Federation, in the event of the Sea of Azov agreement termination (the Treaty for Cooperation in Utilizing the Azov Sea and the Kerch Strait between Ukraine and the Russian Federation which was signed on December 24, 2003) Ukraine will be the first to suffer. According to her, the lack of regulation in the Sea of Azov can lead to irreparable damage and harm aquatic bioresources. "What would be exact damage to Ukraine or us I am unable to say for sure. There is a scientific institute for this, which is better informed regarding fishing areas where fish spawn better. A lot depends on where it spawns and whether it will be allowed to grow to commercial size. However, judging by the fishing sites, the Ukrainian side will be worse off than ours, "said Kizilova. The adviser to the Minister for Foreign Affairs of Ukraine, Taras Kachka, wrote an article in ZN.UA stating that no matter how much Russian officials repeat their mantra about the "inland sea", this statement will not cover the harsh truth that Russia violates international maritime law. The "inland sea" is the status according to which allegedly the Sea of Azov and the Kerch Strait are cut off from international maritime law along the line from Cape Kyz-Aul in Crimea to the Cape Iron Horn on the Taman Peninsula. This cannot cease to provoke a reaction from the international community.
Sharing combat experience in LITPOLUKRBRIG promotes strengthening combat capabilities of armed forces – Duda, Poroshenko
Ukrainian military personnel of the joint Ukrainian-Polish-Lithuanian brigade named after Grand Hetman Konstanty Ostrogski (LITPOLUKRBRIG) not only get experience under the NATO programs, but also actively share their combat experience in Donbas with Polish and Lithuanian counterparts.
NATO expert team together with Ukrainian civil servants summarized the results of consultations on building a national stability system in Ukraine
At the final session of the consultation on building a national sustainability system, the NATO Advisory Support Group of Experts made preliminary conclusions and voiced its own assessments. In particular, the leader of the Hasit Tankey Group noted that Ukraine has a significant level of national stability in all areas within the framework of NATO's seven basic requirements, and also has powerful capabilities for responding to crises at the operational-tactical level. At the same time, there is a need to improve coordination at the strategic-operational level. "Under the hybrid war, gaps in interagency coordination create vulnerabilities. So there is still more work to do, "Hasit Tankey said. Oleksiy Henchev, Head of the Office for Cooperation with NATO, thanked Ivanna Klimpush-Tsintsadze, the Vice Prime Minister for European and Euro-Atlantic Integration of Ukraine, for a group of NATO advisory experts and consultants from the Ukrainian side for valuable information. contribution to the development of the national stability system of Ukraine. "I am convinced that today's assessment and recommendations from the NATO side will lay the foundation for a systematic, comprehensive and, once again, joint, coordinated work on the sustainability system," said Oleksiy Henchev. He also noted that during the consultations a number of important issues were considered, in particular, regarding the formation of the legislative field of the system of stability, the transition from the internal to the interdepartmental work, the conduct of regular exercises for civil servants, as well as the coordination of disparate procedures and plans. An interagency working group will be set up in the near future, which will work on the implementation of these important tasks, he added. "The experience and knowledge shared by the participants in consultations with the Panel's experts are of enormous value not only in the context of cooperation with the Alliance, but also in establishing horizontal links between the departments. This is the basis on which we can and must create an effective, efficient mechanism ", – said Oleksiy Henchev. In his turn, the head of the NATO mission in Ukraine Alexander Vinnikov said that this year's consultations are a very timely and extremely important initiative. "Ukraine is NATO's closest partner and the first nation to initiate a visit by the Alliance's Advisory Group of Experts to build a national sustainability system. This is an extremely important first step for both Ukraine and the NATO side, "Alexander Vinnikov said. For reference On February 19, over three days, more than 70 Ukrainian civil servants from 24 government departments participated in joint consultations on building a national sustainability system with the NATO Expert Group. This measure is the first in this format and aims to create a single interagency coordination system, prepare the legal basis for the functioning of the national sustainability system (through relevant strategic documents and decisions), and prepare highly skilled experts on the issues of developing a national sustainability system.
UAWire – NATO: Ukrainian army lacks coordination between agencies
During a consulting session on the development of Ukraine's national defense, the NATO head of advisory support expert group, Hasit Tankey stated that Ukraine meets the seven basic NATO resilience requirements, but lacks interagency coordination, the press service of the Ukrainian Cabinet of Ministers reported. According to Tankey, Ukraine must improve interagency coordination in matters of strategic and operational control during hybrid wars. The Alliance expert noted that Ukraine has a high level of national resilience in all areas within the seven basic requirements of NATO, and also has powerful crisis response capabilities at the operational and tactical levels. However, in his opinion, there is a need to improve coordination on the strategic and operational level. "During a hybrid war, problems in interagency coordination create areas of vulnerability. So, there is room for improvement," stressed Hasit Tankey.
John Whittingdale MP | The West did little in response to Russia's annexation of Crimea and aggression in the Donbass, – UK's parliamentarian – LB.ua news portal
The West did little in response to Russia's annexation of Crimea and aggression in the Donbass, – UK's parliamentarian. Attempted murder of Sergei Skripal and his daughter highlighted how little had been done in response to the Russian annexation of Crimea and aggression in Donbas. We must step up the pressure with stronger sanctions against the Kremlin. I understand that February is an emotional time for many in Ukraine. Just five years ago, many Ukrainian citizens gave their lives in their fight for freedom against the corrupt and authoritarian regime of Yanukovych. However, that victory which led to his ousting and flight to Russia also provided the opportunity for Vladimir Putin then to annex Crimea and subsequently to promote and supply the separatist movement in Donbas. As Chairman of the Friendship Group for Ukraine in the British Parliament, I raised the matter repeatedly in the House of Commons and spoke regularly to the Ukrainian demonstrators who organised their own EuroMaidan protest opposite Downing Street in London. That Putin felt able to break international law and to occupy the sovereign territory of a neighbouring state should have come as no surprise. He has made no secret of his wish to restore the boundaries of the old Soviet Union and Russia's previous actions in Georgia in 2008 had already demonstrated his determination to expand Russian territory under the pretext of defending ethnic Russians from imaginary threats. The failure of the West to take any significant measures to counter this allowed him to believe that he could act against Ukraine with little risk of any serious response. Putin's initial claim that Russian troops were not involved in the occupation of Crimea was believed by no-one and even he did not maintain the pretence for long. His attempt to argue that it had always been Russian was contradicted by his own acceptance in 2008 that Crimea was not disputed territory and that Russia recognised the borders of modern-day Ukraine. The so-called referendum carried out in Crimea without any international recognition or observation had no credibility. With all Ukrainian media taken off air and voters watched by armed Russian soldiers, it had no legitimacy and the claimed majority voting in favour of joining Russia which implied the support of the huge majority of ethnic Ukrainian and Tatar citizens as well as Russian defied any rational belief.
"Occupied Crimea" Forum to be held in Brussels and Washington, D.C. – Information Policy Ministry
The fifth International Forum "Occupied Crimea: Five Years of Resistance," which is to begin in Kyiv on February 26-27, will continue its work in March in Brussels, Belgium, and Washington, D.C, the United States, Ukraine's First Deputy Minister of Information Policy Emine Dzhaparova has said.
500 thousand people brought to Crimea from Russia during occupation
According to the information of the social organizations, 50,000 people left Crimea
Majlis: 0.5m Russians settled in occupied Crimea – LB.ua news portal
Majlis: 0.5m Russians settled in occupied Crimea. People associated with Russian special services now even work in local kindergartens. Political – LB.ua news portal. Latest from Ukraine and the world today
OSCE mission recorded four jet military airplanes above the village of Lastochkine on February 21 – 112.international
The drone of the OSCE mission spotted four jet military airplanes above the village of Lastochkine on February 21. This settlement is controlled by Ukraine and is located near the demarcation line, according to the website of the mission. "Four military jets flew over Lastochkine (19 km north-west from Donetsk) from north to south, and then turned to the south-west at an altitude of about 3000 feet (915 meters, – ed.)," the mission's report says . At the same time, as stated in the OSCE data, in comparison with the previous reporting period, observers recorded fewer violations of the ceasefire regime in the Donetsk region, but more such cases in the Luhansk region.
Latest from the OSCE Special Monitoring Mission to Ukraine (SMM), based on information received as of 19:30, 22 February 2019 | OSCE
This report is for the media and the general public. Summary Compared with the previous reporting period, the SMM recorded fewer ceasefire violations in Donetsk region and more in Luhansk region. The Mission saw fresh damage caused by shelling in a residential area of non-government-controlled Holmivskyi. 21 February An SMM long-range UAV spotted: four military jet aircrafts flying over Lastochkyne (19km north-west of Donetsk), from north to south and then turn south-west at an altitude of approximately 3,000 feet.
Russia-led forces mount 14 attacks on Ukrainian positions in Donbas, one WIA reported – JFO HQ
Russia-led forces mounted 14 attacks on Ukrainian positions in Donbas, eastern Ukraine, February 22; one Ukrainian soldier has been wounded, the press center of the Joint Forces Operation (JFO) has reported.
Donbas war: Ukrainian soldier killed in enemy attack on Saturday – news war | UNIAN
In the past day, Russian occupation forces in eastern Ukraine violated the ceasefire 11 times. According to intelligence data, on February 23, two invaders were killed and another two were wounded in action.
JFO: Ukraine reports one WIA amid 14 enemy attacks in Donbas in past day – news war | UNIAN
Russia's hybrid military forces in the past 24 hours mounted 14 attacks on Ukrainian army positions in Donbas, with one Ukrainian soldier reported as wounded in action (WIA). According to intelligence reports, eight invaders were killed and another two were wounded.
Two killed, three injured as minibus hits anti-tank mine in Russian-occupied Donbas – news war | UNIAN
Ukraine's Joint Forces Operation (JFO) headquarters has reported that a minibus with civilians hit an anti-tank mine near the Olenivka checkpoint in Donbas – located on temporarily uncontrolled territory of Ukraine – killing two people and injuring another three. According to preliminary information, a minibus, carrying civilians, hit an anti-tank mine after swerving off road.
UAWire – Media: Ukraine started purchasing Russian coal through Belarus
Russian coal companies had to resort to indirect supplies of coal to Ukraine through Belarus because of trade restrictions imposed by Russia,  …
UAWire – Kyiv develops program to check if any Donbas residents committed crimes against Ukraine
Ukraine is developing a computer-based program which will help to determine if a resident from the self-declared Donetsk or Luhansk People's …
New shoulder patches of the Ukrainian military units
Today, February 23, Chief of General Staff – Commander-in-Chief of the Armed Forces of Ukraine Viktor Muzhenko approved new shoulder sleeve insignia (SSI) of the military units. Approved patches: Marine Corps (1), 93rd Mechanized Brigade Kholodnyi Yar (2), 19th Rocket Brigade (3), 27th Rocket Artillery Brigade (4), 55th Artillery Brigade Zaporozhian Sich (5), 46th Battallion Donbas (6) and units of the Supply Troops (7).
Ukraine plans to expand the number of the State Emergency Service aviation duty stations and create a unified aviation system with 55 helicopters – 112.international
Ukraine plans to expand the number of the State Emergency Service aviation duty stations and create a unified aviation system with 55 helicopters. Ukraine plans to expand the number of the State Emergency Service aviation duty stations and create a unified aviation system with 55 helicopters until 2022. It is reported by the press service of the Ministry of Internal Affairs. "This is a very powerful aviation squad, which over the years of its existence has fully preserved its infrastructure. Additionally, 4 more hangars were built. It is on this base that we are implementing a project to create an Aviation Security System of the Ministry of Internal Affairs, which until 2022 provides for the acquisition of 55 helicopters. The first ones of them already are stationed here. At the beginning of 2019, the State Committee on Emergencies of Ukraine and the National Guard of Ukraine already received 2 H225 Super Puma helicopters. We also expect 3 more aviation assets this year. Replenishment of the aircraft fleet will continue in the future ", said the first deputy minister of internal affairs Serhiy Yarovyi.
Anniversary of the ATS detachment of the OSS DSNS [photo report]
On February 22, the special aviation detachment of the Civil Defense Protection Service of the NDU of Ukraine, which was based in Nizhyn, will celebrate its 20th anniversary. We offer a photo report from events from Military Aviation . In connection with the supply of Airbus helicopters, the corresponding infrastructure is being developed at the aerodrome. So, in 2018 four hangars were built that have lighting, heating, alarm and comfortable working conditions for the staff. According to officials of the Ministry of Internal Affairs, by the end of the year will arrive three more helicopters Airbus. Anniversary of the ATS detachment of the ODS DSNOS
Aviation of the rescue service [infographics]
Today, February 22, the Special Aviation Detachment of the Rescue Service of Civil Protection of the NDSU of Ukraine, based in Nizhyn, celebrates its 20th anniversary from the moment of its creation. Aircraft is a powerful rescue aviation unit with An-26, An-30, An-32P, Mi-8, EC-145 and Super Puma H225 helicopters. AD Military History of Ukraine presents infographics devoted to the detachment. Click on the image to enlarge it (opens in a new window).
Ukraine returns Tor, Kub missile systems to service – LB.ua news portal
Ukraine returns Tor, Kub missile systems to service. The army is stepping air defence because of a Russian threat. The chief of the Ukrainian Armed Forces' General Staff, Viktor Muzhenko, has said that the return of the Kub and Tor air defence systems will be put back into service. They were excluded before the start of the Russian aggression. "The testing of the modernised air defene systsems Kub and Tor, which are returning to the combat composition of the Ground Forces' air defence, is finishing," he said. They are expected to increase the army's potential, given a Russian threat to Ukraine.
UAWire – Ukrainian military test surface-to-air missiles near annexed Crimea
The press service of the Ukrainian Defense Ministry reported that the Ukrainian military tested air defense systems in the Kherson region. The …
Radar Amber-1800 received the domestic chassis of KrAZ
During the tests of the modernized missile systems "Tor" and "Cube" at the State Testing Ground "Yagorlik" in Kherson region a new Ukrainian radar station VHF was observed in the Burshtyn-1800 range. This is reported by the Ukrainian Military Portal It is intended for automatic detection of airborne objects, detection of their current coordinates on azimuth and range, as well as the issuance of radar information to the user. Unlike the previously presented station, this was mounted on the domestic chassis KrAZ-7634: Self-propelled chassis KrAZ-7634NE, carrying capacity 27 tons, is intended for installation of heavy equipment. From its predecessors, it differs more powerful – 460 hp – engine and automatic transmission, with a maximum torque of 2500 N / m. Such aggregation together with a passing transmission allows to realize high traction-dynamic characteristics of the car. The car, with the "booth in front of the engine", has an installation length of the frame 8080 mm, the outer minimum overall radius of rotation is 14 m. The chassis has the first and second controlled axles, all bridges are leading. The steering mechanism is an integral type with a built-in hydraulic booster, which reduces the force on the steering wheel to 10 kgf, which significantly reduces fatigue of the driver. A full drive of all wheels ensures the operation of this self-propelled vehicle in impassability conditions. Previously, this chassis was selected for the launch of the Missile Complex Neptune, and later became aware of the use of KrAZ-7634NE as a carrier for the missile complex "Velyka" in the future. Before that, a sample was mounted on a semi-trailer: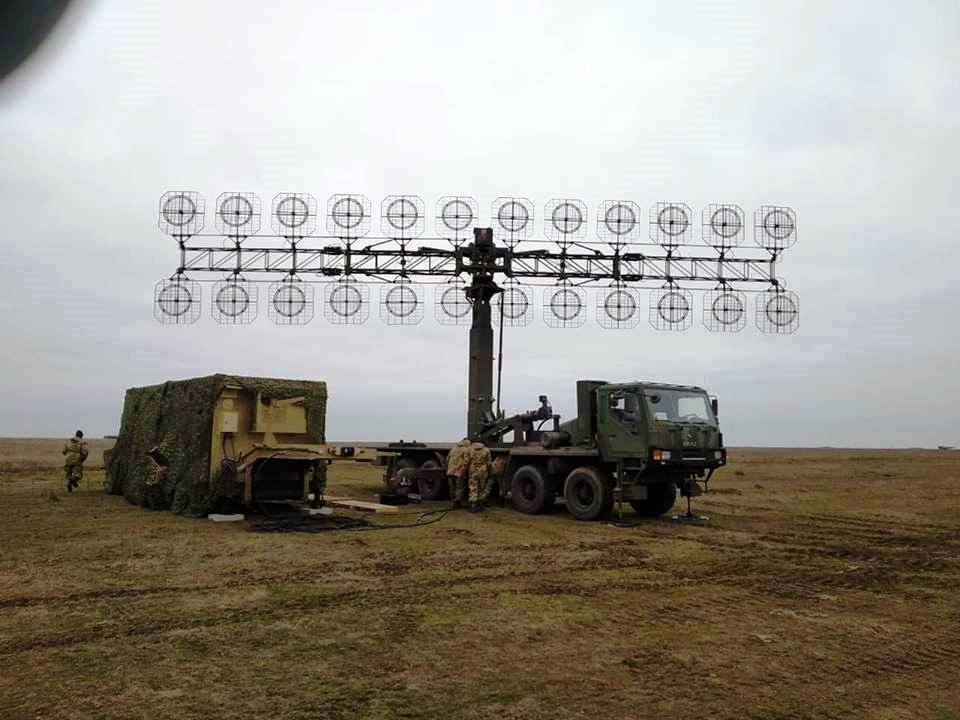 Indian Air Chief impressed by the capabilities of new Ukrainian AN-132 aircraft – Defence Blog
ndian Chief of the air staff, Air Chief Marshal S Dhanoa was impressed by the capabilities of the new Ukrainian AN-132 aircraft, according to SpetsTechnoExport. "After watching a demo flightof the AN-132 Light Transport Aircraft, Indian Chief of Air Staff Air Chief Marshal Birender Singh Dhanoa expressed interest and personally oversaw the plane during the international exhibition Aero India 2019″, it said in a statement. During Aero India 2019 exhibition in Bangalore, Antonov company has unveiled a prototype transport aircraft that it claims can compete with Airbus C295 and Leonardo C-27J range. The latest Ukrainian multi-purpose transport aircraft, called the AN-132D, took to the skies and showcased its capabilities wowing the crowd with a series of high- and low-speed maneuvers. Exhibition's visitors were particularly impressed by an unexpected aerial maneuver – barrel roll when a plane makes a complete rotation on both its longitudinal and lateral axes, causing it to follow a helical path, approximately maintaining its original direction, like a fighter aircraft. The AN-132 is designed to carry up to 9.2t of cargo at altitudes up to 28,000ft. It comes equipped with a suite of updated technologies, including Dowty propellers and a Liebherr air management system. Due to improved aerodynamic characteristics of the aircraft its relative fuel consumption per kilometer is 4.7% less compared to AN-32. Besides, the AN-132's fuel tanks have more capacity. Due to this, the flight range was increased.
IDEX 2019: Al‑Wahash APC with Shturm module
Ukraine and the United Arab Emirates for the first time presented a joint project, the Al-Wahash 8×8 armored personnel carrier with BM-3M Shturm combat module. Al‑Wahash APC with Shturm combat module is the result of cooperation between enterprises of the Ukrainian State Concern Ukroboronprom and UAE company Calidus LLC, the press service of the Ukroboronprom reported. Shturm is used on BTR-3 APC which is serially produced by the Kyiv Armored Plant SE and has successfully passed the hardest tests in real combat actions against Russian invaders. Modern digital system with laser range finder and gun stabilizer ensures for the Shturm high accuracy of firing with the 30 mm automatic gun, machine-gun and automatic grenade launcher, as well as Barrier anti-tank guided missiles system.
Border Guard "Shmels" will undergo refits
Odessa detachment of marine security of the SBGS announced a tender for the upkeep of three ships of the Marine Protected Project 1204 "Shmel" – BG82 "Lubny", BG83 "Nizhyn" and BG84 "Izmail". This is reported by the Ukrainian Military Portal . The expected cost of the planned works is almost UAH 5.7 million, the deadline for implementation is July 1, 2019. The preliminary repair of artillery boats was carried out in 2016. Recall that in early February Odessa detachment of frost protection (military unit 1458) announced a tender for the repair of artillery units PT-76B of these boats, and on February 21, according to the negotiation procedure, the winner was determined by LLC Magistral-South. It is worth noting that for the effective protection of the territory of the state border, which passes along the Danube river, a resolution of the Government of February 20 established the Izmail detachment of marine protection .
Shmel (class) / Project 1204 Armored Artillery Gunboat / Patrol Boat – Soviet Union
This page details the development and operational history of the Shmel (class) / Project 1204 Armored Artillery Gunboat / Patrol Boat including technical specifications and pictures.
UAWire – UN calls on Ukraine to pay pensions to all residents of Donbas
Residents of the Donetsk and Luhansk regions, who live on each side of the contact line, should receive Ukrainian pensions and social benefits , …
Ukraine's Cabinet of Ministers responds to Hungarian loud claims on education law in Ukraine – 112.international
The loud claims of the representatives of Hungary concerning Ukraine's 'semi-fascist' education law do not bolster readiness of the MPs to approve the legislative changes on implementing the language article in accordance with the recommendations of the Venice Commission. Ivanna Klympush-Tsintsadze, the Vice-Prime-Minister for European and Euro-Atlantic Integration of Ukraine, said this, as Ukrinform reports. "We are ready to negotiate. We took the responsibility to implement the decision of the Venezuelan Commission on continuing the term of implementing the Article 7 of the education law and we are working with MPs on that the Verkhovna Rada approved those changes, which the government represented, or the new small bill. Then I think the manipulation with arguments about non-readiness of Ukraine to negotiate would be leveled. However, those loud claims are far from encouraging our MPs to implement new changes. If the Hungarian Parliament believes that in such a way, pressuring us, they can achieve a positive result, unfortunately, they will achieve quite the opposite effect", – Klympush-Tsintsadze said.
Ukraine's Ministry of Foreign Affairs responses to Hungarian claims on "semi-fascist" educational law
The recommendations of the Venice Commission are at the implementation stage
Share of EU in Ukrainian export rapidly approaching 50 percent
The share of the European Union in the overall structure of Ukrainian exports is rapidly approaching 50% and now accounts for 42.6%. — Ukrinform.
PM Groysman: Minimum wage in Ukraine has tripled over past three years
The minimum wage in Ukraine has tripled over the past three years. — Ukrinform.
Reputable German dictionary changes Kiew to Kyjiw – LB.ua news portal
Reputable German dictionary changes Kiew to Kyjiw. Previously, it used the Russian transliteration. Political – LB.ua news portal. Latest from Ukraine and the world today
Singer touring in Russia cannot represent Ukraine in Eurovision-2019, – Vice-Prime-Minister – 112.international
The Vice-Prime-Minister of Ukraine Vyacheslav Kyrylenko criticized the victory of the national selection of the participant of the Eurovision-2019. Related: Rules of spectators' voting in final of national selection for Eurovision 2019 published "I can repeat the thought of many people, but a singer who goes on tour in the aggressor state, plans to continue this and doesn't understand the reasons cannot represent our country in the Eurovision-2019", – Kyryleko wrote on Twitter. According to the Vice-Prime-Minister, the situation with Ukrainian participant is far from settling down
Press-secretary of Prosecutor General responds to Vice-Prime-Minister's accusations of Maruv – 112.international
Larysa Sargan, the press-secretary of the Prosecutor General, gave a piece of advice to the Vice-Prime-Minister of Ukraine Vyacheslav Kyrylenko not to promote another music band KAZKA due to the scandal with Maruv, the winner of the national selection. Sargan wrote this on Facebook. Related: Singer touring in Russia cannot represent Ukraine in Eurovision-2019, – Vice-Prime-Minister "The relaxed officials have relied only on the consciousness of our Ukrainian people for five years due to the absence of the informational policy and propaganda on the state level. Probably, you should start with yourself, Mr. Kyrylenko? And there is no need to push KAZKA to Tel-Aviv due to another scandal", – the press secretary wrote. Earlier today, The Vice-Prime-Minister of Ukraine Vyacheslav Kyrylenko criticized the victory of the national selection of the participant of the Eurovision-2019. "Singer touring in Russia cannot represent Ukraine in Eurovision-2019", – he said. As we reported earlier, Maruv became a participant of Eurovision-2019 from Ukraine. This became known after the joint voting of the jury and the TV audience on February, 23.
Police investigate vote-buying attempt through social networks – 112.international
The police of Kyiv are investigating the vote-buying attempt through social networks. The press-service of the National police of Kyiv reports this. Related: Ukrainian MP ruled "election pyramid scheme," – Security Service "The police of Kyiv received the message from one director of a social organization, a fake profile of which appeared in the social network. The director stated that on this page there was information about the participation of the citizens in the action in support of one of the candidates in the presidential elections. All the participants will receive the remuneration $20 for coming to the Hayvoron park in Kyiv", – the report said.
Ukraine's Central Election Commission registers 357 foreign observers as of February 22 – news politics | UNIAN
The Central Election Commission (CEC) of Ukraine has registered 357 observers from foreign and international organizations in the presidential elections in Ukraine. A delegation from Canada has already arrived in Ukraine to observe the process of presidential elections in 2019.
Tymoshenko v Tymoshenko: Funny business at the polls – BBC News
Two candidates in Ukrainian presidential election have the same name. Some suspect it's a trick to confuse voters.
bwin, Favorit Sport say Zelensky closing in on Poroshenko as betting favorite in presidential race
ElectraWorks Limited (Gibraltar), operating under the bwin sports betting brand and owned by LSE-listed GVC Holdings PLC, has increased in the past week the odds of showman Volodymyr Zelensky's victory in the upcoming presidential elections to 2.7 to 1 (from 3 to 1).
Avakov says smear being prepared to discredit him as minister – news politics | UNIAN
Ukrainian Minister of Internal Affairs Arsen Avakov says he has been informed that a smear campaign is being prepared to discredit him and his ministry. Avakov also shared statistics related to violations of election regulations.
Ukraine's Minister of Foreign Affairs: Provocations against me and Ministry to be prepared
The aim of the provocations is to send on Avakov's Ukrainian and Italian bank accounts foreign currency as if the payment for the provided by the Ministry services of covering the vote falsifications in favor of one of the candidates during elections in Ukraine.
Poroshenko names Russia, poverty two enemies of Ukraine – news politics | UNIAN
Ukrainian President Petro Poroshenko says Ukraine now has two enemies, that is Russia and poverty. The president stressed the need to turn Ukraine into a "big country of free, rich and happy people."
High-speed internet in Ukraine must be available wherever there is electricity within next 5 years – Poroshenko – news economics | UNIAN
President of Ukraine Petro Poroshenko hopes that over the next 5 years, access to high-speed internet will be provided wherever there is electricity across the country. This is a realistic task, the president believes.
Ukrainian people not to ask Putin for any permits – Poroshenko
The Ukrainian people would not ask Russian President Vladimir Putin where to move and Moscow would not put forward its conditions to Ukraine and Europe, Ukrainian President Petro Poroshenko has said.
340 parishes reportedly join Orthodox Church of Ukraine, sparking conflicts | KyivPost
Ukrainian Orthodox churches are increasingly switching from the Russia-aligned Moscow Patriarchate to the newly formed Orthodox Church of Ukraine, or OCU. Altogether, around 340 parishes of the former Ukrainian Orthodox Church of the Moscow Patriarchate have switched to the OCU, according to Andriy Yurash, director of the Culture Ministry's Religious Affairs and Nationalities Department. But the transition is too early to call final. "So far, not all parishes have received completed legal documents," Yurash told Ukraine's Channel 5 on Feb. 22. However, in all cases, "a meeting of the religious community took place" and "the process was witnessed." The OCU was established on Dec. 15 in St. Sophia's Cathedral in Kyiv, during a unification council that included several churches: the Ukrainian Orthodox Church of the Kyiv Patriarchate, the Ukrainian Autocephalous Church, and some Moscow Patriarchate clergymen. The unified church then received formal status when Bartholomew I, the Ecumenical Patriarch of Constantinople granted it a canonical decree of independence from Moscow on Jan. 6, 2019, the eve of Orthodox Christmas in Ukraine. Since then, a transition has launched, with some Moscow Patriarchate parishes switching over to the UOC. However, UOC officials are not entirely in agreement on the number of parishes that have joined the church or how peaceful the process has been. Archpriest Oleksander Bakhov, head of the UOC's legal department, calls the 340 figure inaccurate and says it depends on how one counts the number of parishes. The OCU was only formally registered on Jan. 30, and before Feb. 20 there was no mechanism for religious communities to change churches, according to Bakhov. Additionally, the necessary procedure lasts three months. "Where could those 300 religious communities transfer, if first there was no place to go, and now the registration procedure itself has just started? In fact, we can say that these are fake statements," Bakhov said on Feb. 21 during a briefing. According to Archbishop Clement of Nizhyn and Pryluky, head of the UOC's information and education department, the real number of cases when a religious community decided to join OCU is actually much smaller: just 36 of 12,000 existing parishes. More worrying is the degree to which local parishes across Ukraine have been pushed to join the OCU. "After the Patriarchate of Constantinople issued (the decree of independence), the authorities began to put insane pressure on communities of the Ukrainian Orthodox Church (of the Moscow Patriarchate) to force a change of confession," said Clement. According to Bakhov, often local authorities — not local religious communities — vote to transfer the parish to the OCU, which is illegal and leads to so-called raider attacks, when a group of people seize a church by force. "Wherever 'peaceful' transitions to the OCU are held, we can see representatives of the (local) administrations and the authorities," said Clement.
Ukrainian Orthodox Church In Crimea 'Caught In The Crossfire'
Ukrainian Orthodox Christians in Crimea say they have been targeted by the authorities since Russia seized control of the peninsula five years ago. The situation has worsened since the Ukrainian Orthodox Church broke away from Russian control in January. In Simferopol, a Ukrainian archbishop says his congregation is threatened with expulsion from its cathedral.
Russia Moves Against the Autocephalous Orthodox Church of Ukraine – Archon News Article – Order of Saint Andrew the Apostle, Archons of the Ecumenical Patriarchate
Recent news reports from Ukraine indicate that the Russian government is moving against the new autocephalous Orthodox Church in Ukraine in the areas of Ukraine under its control. Recent news reports from Ukraine indicate that the Russian government is moving against the new autocephalous Orthodox Church in Ukraine in the areas of Ukraine under its control. The Kharkiv Human Rights Protection Group reported on February 14, 2019 that "the Orthodox Church of Ukraine has been ordered to vacate the Cathedral of Vladimir and Olga in occupied Simferopol by the beginning of March, with this likely to lead to eight parishes in rural areas also being forced to close." The Cathedral and these parishes are under the jurisdiction of Metropolitan Epiphanios of Kyiv and All Ukraine, who was elected by bishops from Ukraine's three divided Orthodox Churches at a unity council on December 15, 2018. On January 6, 2019, His All-Holiness Ecumenical Patriarch Bartholomew signed the Tomos of Autocephaly for the Orthodox Church in Ukraine, formally establishing the world's fifteenth autocephalous Orthodox Church. The Moscow Patriarchate has strongly opposed this pastoral initiative. His Eminence Archbishop Kliment of Simferopol and Crimea "received a writ ordering that he leave the Cathedral," terminating an agreement concluded between the Church and the Crimean Property Fund in 2002. This move is likely linked to the fact that on February 5, 2019, "Kliment was appointed the head of the Orthodox Church of Ukraine's Mission to help victims of rights abuses and illegal imprisonment in Russia and occupied territories." Ominously, an official from the Russian government occupying Crimea informed His Eminence that "the Church had not re-registered as a legal entity, under Russian legislation," and that "lack of such registration has meant that the Church is not considered to be a legal entity at all." His Eminence is unbowed, saying: "If there is a choice between the Church, religious services and people (and the stand on registration), then I choose the Church." The Kharkiv Human Rights Protection Group noted that in Crimea, "only five priests now remained against 25 in 2014," and "while the Cathedral is not the only remaining church in Crimea, it is the main cathedral and eparchial centre of the Church. It is also the only Ukrainian Orthodox place of worship in Simferopol and for many believers, it would simply not be possible to travel to other parts of the peninsula for services." It is clear, as the Kharkiv Human Rights Protection group states, that "the new moves to drive the Church out of Crimea are probably also retaliation for the creation of the Orthodox Church of Ukraine with autocephaly or independent status."
'Time Becomes A Blur When You're Experiencing Terrible Pain': Russian Jehovah's Witness Alleges Police Torture
Yevgeny Kayryak said a plastic bag was repeatedly placed over his head until he gasped for breath. He said he was beaten in the groin with a stun gun. His ordeal mirrors reports from other Jehovah'…
Russia Says It Is Investigating Torture Claims By Jehovah's Witnesses
An official of Russia's main criminal investigative body says the organization is looking into allegations that its officers tortured members of the banned Jehovah's Witnesses religious group.
Russia says it will probe Jehovah's Witnesses torture claim | Fox News
An official of Russia's main criminal investigative body says it is probing allegations that its officers tortured members of the banned Jehovah's Witnesses.
Opinion: Jehovah's Witnesses Cling To Faith Despite Arrests In Russia : NPR
NPR's Scott Simon reflects on the treatment of Jehovah's Witnesses in Russia. Branded as "religious extremists," dozens of Witnesses were arrested in recent raids in Siberia.
How a Moscow monastery that saw Soviet-era martyrdoms has become a place of prayer again | Christian News on Christian Today
In 1925 the monastery was closed down and most of its buildings were destroyed.
—