Anonymous expert compilation, analysis, and reporting.
</end editorial>
---
---
Excellent WSJ OpEd on Nordstream 2 and the simple dishonesty of the SDP leadership peddling Russian influence. Amazing what money can buy. Baltics update. Russian nationalists in a frenzy over the Kuriles. Multiple essays on Russia's creeping domestic meltdown, loss of public confidence, and increasing speculation on the impending collapse of the regime. Russian agendas in Africa. Facebook vs. Russian fakery. Russia conducts another A-235 Nudol test launch – this is an enhanced update of the A-135 ABM with ASAT capability. Update on loss of two Su-34 FULLBACKs near Japan – 2 killed, 1 missing, 1 rescued.
In the UK SECDEF Williamson under media attack over a cheeky souvenir acquired in Ukraine – noting the item in question shows exactly how much bad blood there is between Ukraine and Russia. EU sanctions Russia over Salinsbury.
Black / Azov Sea update. USN sails a DDG-51 into the Black Sea and Russian Sen. Pushkov makes veiled threats via media. PACE to debate Kerch / Azov events. German FM Maas makes some optimistic comments on Kerch. Crimea update – more persecution of Tartars.
Donbas update – creeping buildup continues. Donetsk Airport siege "cyborgs" commemorated – many were massacred when the defence of the terminal building eventually collapsed. Russian operated grenade dropping commercial DJI Phantom-4 quadcopter RPV shot down by Ukrainian troops. New AFU SOF insignia, coat of arms, motto and standards revealed – a fabulous use of a bit of Varangian history that only well educated Russians would even know about, the Vyatiches were ancestors of modern Muscovites.
Ukraine's parliament passes bill permitting the MoD to directly procure munitions and military equipment from abroad, without the previously mandatory requirement that UkrOboronprom act as an intermediary. Proposal for new air/ground launched standoff missile.
Update on politics / economy.
The Editorial Page | Germany's Russian Gaslight – WSJ
Berlin wants Europe to believe dependence on Moscow is beneficial. By The Editorial Page Jan. 18, 2019 7:12 p.m. ET U.S. Ambassador to Germany Richard Grenell recently warned German businesses that working on Russian energy export projects could lead to U.S. sanctions. Mr. Grenell's unsubtle reference to the Nord Stream 2 pipeline wasn't well-received in Berlin, but there's nothing wrong with an Ambassador communicating Administration policy. The natural-gas pipeline would connect Russia and Germany through the Baltic Sea, doubling current capacity. Moscow would save the fees it pays on other routes, most notably through Ukraine, and Vladimir…
UAWire – German Foreign Minister is convinced that Nord Stream 2 pipeline cannot be stopped
US sanctions can force Western companies to withdraw from the Nord Stream 2 project, but this will not prevent Russia from completing the …
Nord Stream 2 critics targeting "wrong whipping boy" – Germany's economy minister | UNIAN
Construction of the Nord Stream 2 pipeline is "far advanced, with pipes laid over kilometers in the sea," Economy and Energy Minister Peter Altmaier said in an interview set to be published in the Monday newspaper. Berlin will not be pressured into blocking the controversial Nord Stream 2 gas pipeline project, a top cabinet minister said. Construction of the Nord Stream 2 pipeline is "far advanced, with pipes laid over kilometers in the sea," Economy and Energy Minister Peter Altmaier said in an interview set to be published in the Monday newspaper. Opposition to the project targets "the wrong whipping boy," according to the Christian Democrat and close ally of Chancellor Angela Merkel. The German government won't intervene to scupper the Russian gas pipeline as "there is no legal basis for it," he told Handelsblatt, Bloomberg reports. The U.S. last year joined a group of Germany's European Union partners such as Poland in criticizing the $11 billion project, which they say will make the trade bloc more dependent on Russian gas. Merkel's government has long maintained that the Gazprom PJSC-led pipeline is solely a commercial enterprise. The 1,220 kilometer (758-mile) Nord Stream 2 undersea link to Germany initiated by Russia in 2015.
Ukraine-EU-Russia talks on gas transit expected in Brussels Jan 21 | UNIAN
The EU Delegation to Ukraine says the 2nd round of tripartite talks between Ukraine, the European Union, and Russia on the transit of Russian gas via Ukraine to the European Union after 2019 will take place in Brussels on Monday, January 21. Ukraine will be represented by Foreign Minister Pavlo Klimkin and Naftogaz CEO Andriy Kobolyev.
Klimkin to head Ukrainian delegation at trilateral gas talks in Brussels
Foreign Minister Pavlo Klimkin will head Ukraine's delegation at consultations on gas transit between Ukraine, the EU and Russia to be held in Brussels on January 21, the press service of the Ukrainian Foreign Ministry has reported. — Ukrinform.
Ukraine, Russia, EC to discuss gas transit in Brussels today
21.01.19 10:36 – Ukraine, Russia, EC to discuss gas transit in Brussels today Ukraine, the European Union and Russia will discuss further steps to agree on a new contract for the transit of Russian gas through Ukraine to the EU from 2020, with Brussels expecting the parties to take firm commitments to make progress on this… View news.
Window on Eurasia — New Series: To Supply LNG to Kaliningrad by Sea, Moscow Forced to Bring It from Singapore
Paul Goble Staunton, January 18 – Even though the Russian Federation is the largest exporter of natural gas in the world and even though natural gas passing by pipeline through Lithuania is far cheaper, Moscow has elected to bring liquefied natural gas by ship from Singapore in order to demonstrate that it can ensure "the energy security of Kaliningrad," Mikhail Feldman says. This is making the Russian exclave a hostage of Moscow's energy policies just as much as Moscow has tried to use energy to have an influence on European political decisions, something that could have been avoided, the Kaliningrad commentator says, if Moscow would only listen to local experts (region.expert/gaz-kenig). Unfortunately, Feldman says, "the present system of relations of the center and the regions doesn't allow such discussions" or for the regions to meet their energy needs on their own. Instead, Kaliningrad continues to be "hostage to a situation in which the Kremlin has transformed it from a subject of dialogue with Europe into 'a garrison of a besieged fortress.'" And because Moscow has made promises it almost certainly cannot keep with regard to "the energy security of Kaliningrad," it may undermine the economy of the exclave and power the rise of a new regionalism there based on natural conclusion that the problems people there face are Moscow's fault. Ten days ago, Vladimir Putin came to Kaliningrad to celebrate the arrival of a ship carrying LNG for the exclave and thus ensuring that Lithuania could never use the gas weapon against it in the event of a further deterioration of relations. He also called for the construction of a terminal for the ship, something that remains at the planning stages. In order to have the ship there, Moscow had to purchase LNG in Singapore and bring it via sea to Kaliningrad. It could not do so from its own ports, one of which is even further away on the Pacific and the other is ice bound at this time of year. The cost of LNG brought in this way was 4.5 times greater than that brought in via Lithuania. Putin promised that this difference won't be passed on to consumers, but his promises are not worth much, Feldman says, given that the Kremlin leader also promised that he would never raise the pension age. Perhaps even more seriously, buying gas in Singapore may not be a guarantee of energy security either if the international situation deteriorates. Regional experts have been exploring ways in which Kaliningrad might become more self-sufficient as far as its energy needs are concerned, using peat or coal or developing electric power generation. While there is no single position on these issues, Moscow has ignored these possibilities completely, Feldman says. Putin may have gotten his photo op on January 8, but because Moscow won't consider that Kaliningrad or any of the other regions have something useful to say about how to ensure their energy situation will be stable, the people of Kaliningrad are being left holding the bag – and it is likely to be ever more empty.
Russian warships scrambled to intercept two U.S. Navy destroyers in Baltic Sea – media | UNIAN
Two Russian corvettes, the Boykiy and Soobrazitelny, of the Baltic Fleet have been escorting the USS Porter and USS Gravely, according to the Russian Ministry of Defense. Russian warships have been deployed to shadow two U.S. Navy destroyers operating in the Baltic Sea, it has been reported. Two Russian corvettes, the Boykiy and Soobrazitelny, of the Baltic Fleet have been escorting the USS Porter and USS Gravely, according to the Russian Ministry of Defense. Last week the USS Gravely, an Arleigh Burke-class guided missile destroyer, was spotted passing through the Danish straits and approaching the Baltic sea, according to the Daily Star. A picture showing the destroyer pulling into Copenhagen, Denmark, was tweeted by the U.S. Navy, who said the ship was there "for a scheduled port visit." Today USS Gravely entered the Baltic Sea alongside the USS Porter under escort by Russia, whose Kaliningrad enclave hosts its main naval base in the region, Baltiysk.
Russian Protesters Decry Possible Territory Handover To Japan
A coalition of Russian nonparliamentary parties protested on January 20 in Moscow against any territorial concessions to Japan. Similar rallies took place in other Russian cities amid Russian-Japanese talks on a post-World War II settlement, which could include Russia's handover of some of the Kurile Islands to Japan. Among the speakers at the Moscow event was Igor Strelkov, a former Russia-backed separatist military commander in eastern Ukraine.
Maria Antonova on Twitter: "Blast from the past, Igor Strelkov/Girkin at the protest against giving Kurils to Japan today in Moscow. @AFP photo by Alexander Nemenov… https://t.co/IccbjYA0cz"
I just couldn't do it: "Russian Protestors Suggest Giving Away Crimea". – To Inform is to Influence
My humorous dilemma. RFE/RL published a great article: Russians Holding Protests Against Possible Kurile Handover In it there is a quote from a protestor: "Today we give away the Kuriles, tomorrow we give away Crimea". Words mean things. Yes, they do. "Tomorrow we give away Crimea" can easily be taken out of context, used, and abused. I think back to all the Russian hit-pieces published about me through the years, ALL taking bits of phrases I've typed way out of context. If I had headlined a blog piece, "Russian Protestors Suggest Giving Away Crimea", somebody in Russia would become apoplectic. Apeshit. Irate. Angry as spit. While humorous, it's unethical and immoral and certainly not up to journalistic standards. But it certainly was tempting. I couldn't do it. You see I'm not evil, without a soul, like many pro-Russian writers through the years. You know who you are and I look forward to your punishment. But this, this is for my readers, you deserve some humor. This is actually so humorous to me I had to share this with you…
Hundreds Protest In Sakhalin Against Any Transfer Of Nearby Kurile Islands
Hundreds have demonstrated on Sakhalin in Russia's Far East to protest against any potential transfer to Japan of any of the islands from the disputed Kurile Islands.
Window on Eurasia — New Series: Kremlin Hopes Making Officials 'Enemies of the People' Will Prolong 'Stability,' Martynov Says
Paul Goble Staunton, January 18 – The outrageous suggestions of Russian officials ranging from the notion that anyone can live on 3500 rubles (50 US dollars) a month to the idea that the government doesn't owe anyone anything because it didn't ask them to be born have attracted enormous attention in Russia and abroad. But an accompanying trend has not, Kirill Martynov of Novaya gazeta says. And it may prove even more important. The regime is seeking to integrate this popular criticism into its own propaganda so that it does not become the basis for the rise of an opposition but rather promotes the feeling of "stability" the Kremlin hopes will prolong its power. Unlike in the past, Russians can criticize the bureaucracy on government television talk shows, he says; and the regime is even using the back and forth between insensitive officials and angry Russians as a form of "entertainment" to allow people to "'let off steam'" (novayagazeta.ru/articles/2019/01/17/79217-perehvat-hamstva). In this scenario, "officials will become the new enemies of the people," the commentator says, re-enforcing the old idea of the good tsar – in this case, Vladimir Putin – and the bad boyars, Russian officialdom, allowing the top to gain support as the apparent allies of the people against those Russians have traditionally despised even if they generally worship the ruler. That this is the regime's plan, Martynov continues, is shown not only by the appearance of criticism of officialdom on television but by the statements of senior people in Putin's power vertical whose words are clearly intended to send a message to the population that the Kremlin is on the side of the people. First Deputy Prime Minister Anton Siluanov recently observed that "the problems with the speech of officials are connected with the fact that they are terribly far away from the life of the people," evidence for which, he said was that "the reaction of society to the pension reform became for the government a surprise." And Dmitry Peskov, Putin's press secretary, put it even more bluntly when he said that it is "customary" for Russians to criticize officials even though "the majority of them 'work for the good of the country.'" He suggested hatred of officials was "a characteristic of the Russian mentality and the deficit in Russia of tolerance for the words of others." However strange and paradoxical it may be, Martynov concludes, "there is more than a dollop of truth in these words of the press secretary." What is more remarkable though is the Kremlin recognizes this and has now decided to try to exploit it for its own ends, maintaining power rather than improving the situation. Although Martynov does not say so, this is a potentially dangerous tactic because once Russians feel that they can criticize officials at one level, they may feel that they have the right to criticize even those at the highest levels – and, connecting the dots, become outraged that their criticisms are being ignored not just by local bureaucrats but by the man in the Kremlin as well.
Window on Eurasia — New Series: Russia Not Doomed to Follow Destructive Special Path, Milshteyn Says
Paul Goble Staunton, January 18 – It is easy to fall into despair and conclude that the latest Levada Center poll results showing Russians proud of their countries military victories but angry that they lost the Soviet Union and do not live as well as others and conclude that they are suffering from the Weimar syndrome that in Germany led to the rise of Hitler, Ilya Milshsteyn says. That is one possible reading, the Moscow commentator suggests, and it may yet prove true. But there are at least three reasons why it is a mistake to assume that is the only outcome and that Russia and Russians are condemned to follow that road in the coming decades (graniru.org/opinion/milshtein/m.274752.html). First of all, what the Levada Center polls show now are not what they found a quarter of a century ago. Then, Russians viewed the end of the USSR as a chance to join the rest of the world and live as a normal country. They are disappointed that this has not happened, but they still want at least one part of it, the standard of living others have. That means that for all the imperial and nationalist bombast of the present, there is in the Levada Center results now evidence of support for what they wanted then. And because Russians have changed so much in the last 25 years, it is far from clear that they will not change again in another direction in the next. Second, Vladimir Putin, the man who has promoted the idea of Russia's "special path" to the point of international isolation and predictions of a nuclear Armageddon, has lost much of the support he had. Russians are not wedded to him the way many have assumed. And just as they are now turning from him, they can turn from this aspect of his ideas. Indeed, in moving toward the rejection of the man, Russians may find it easier to reject his underlying ideas. If that proves to be the case, Russians and Russia could at least for a time escape from the consequences of trying to pursue a special path and have a chance at being a more normal country. And third, there are two precedents which Russians have that may push them away from a German-style outcome, that provided by Hitler's Germany which Russians perhaps more than other nations do not want to emulate, and that provided by Russia itself which shows that it may choose a special path even more a long time but never forever. Thus, Milshteyn says, a possible return to a normal country is "an open question. On the one hand, we know that cold snaps in Russia at times drag out for an entire century. But on the other, there have been, even if one doesn't look far into the past, the Khrushchev thaw, Gorbachev's perestroika," and Boris Yeltsin of 1991 and not just 1999. Russia thus remains "between a special path and a normal life," he says, "between swaggering and solidarity with other people, and between great power hubris and respect for neighbors and their rights." Where Russia is right now is not necessarily eternal, Milshteyn says. Its history has been two changeable to draw that conclusion. And one very much wants to hope that in the latest Levada polls 'are reflected the evolving nature of our voters and not the classical fascist social system, with its malice, melancholy and suicidal tendencies. One wants to believe that after another quarter of a century has passed, we won't recognize ourselves."
Window on Eurasia — New Series: Three Cases Where Some in Russia Copy Others in Ways Moscow Doesn't Want
Paul Goble Staunton, January 18 – The USSR did not fall apart because of any one action by the Soviet leaders or because of any one action by one or another individual or group in the population. Instead, it fell apart when officials or activists in one place began to copy what others elsewhere had done. This demonstration effect proved to be so powerful that the central authorities were ultimately unable to control it. That is what makes three developments in the last few days in the Russian Federation so intriguing because all of them suggest that this pattern of unwanted copying is one again becoming a hallmark of Russian life. This is not to say that this trend necessarily points to the disintegration of Russia; but it is to argue that Moscow for all its power is losing control of the agenda in many parts of the country, even if it appears to have the ability to intervene and prevent this kind of copycat "crime" from spreading everywhere. The first and potentially most explosive case of this is the result of a decision by a Chechen court to cancel massive debts of people in that North Caucasus republic for communal services, an action that Grozny apparently took to prevent Chechens from going into the streets and protesting. This has sparked outrage among many Russians because it is yet another case where Chechnya appears to view itself as a special case not subject to the rules that govern everyone else (kp.ru/daily/26931.7/3981091/ and rusk.ru/newsdata.php?idar=83241). But it has had another consequence, one likely to be even more unwelcome in the Kremlin. Other regions are now arguing that they should be allowed to do what the Chechens have done (meduza.io/news/2019/01/18/deputaty-smolenskoy-oblasti-poprosili-prostit-zhitelyam-dolgi-za-gaz-po-primeru-groznogo-gde-spisali-devyat-milliardov-rubleyand lenta.ru/news/2019/01/18/dolgi/). That confronts the Kremlin with a Hobson's choice: If it intervenes to reverse the Chechen decision, it risks not only offending Ramzan Kadyrov but also sparking demonstrations that could turn violent in his republic, something that Putin can ill afford at the present time given his assertion that he has "solved" the North Caucasus problem. But if Moscow doesn't intervene against the Chechens in this case, it will face the prospect that ever more regions will demand the right to do the same thing. If it allows that, it will face a financial disaster; if it doesn't, Moscow will alienate many Russians who will see that in Putin's Russia, they and not the Chechens are the real second class citizens. The second case involves the success people in Tambov have had in forcing the authorities to close a trash dump and even firing some of the officials responsible for the mishandling of that increasingly neuralgic issue. The Tambov residents appear to have been inspired by protests in the Russian North and elsewhere who face similar problems and demand similar remedies (mbk-news.appspot.com/region/zhiteli-tambovskoj-oblasti/). Again, this leaves Moscow with no good options. Whatever it does, it is going to offend some people in the Russian Federation and make it more difficult for the center to control the situaiton. And the third case involves a non-Russian republic copying what the government of the Russian Federation has said is its right but no one else's. Moscow has been promoting the idea of a common non-ethnic Russian identity, but it is horrified by the prospect that any non-Russian republic might do the same. That has no happened: Vasil Shaykhraziyev, the deputy prime minister of Tatarstan, has said that the world views all the residents of Tatarstan as Tatars, not in the ethnic sense but in the political one, a simple extrapolation of what Moscow wants to do for all the residents of the Russian Federation. Russian commentators are outraged: Moscow can talk about a civic identity, but no non-Russian republic can (iarex.ru/news/63509.html and vz.ru/question/2019/1/17/959833.html). The central authorities are likely to try to nip this in the bud, but if they do, they will pay a price: Ever fewer non-Russians will be willing to identify as non-ethnic Russians. That is because by such action, the Russian powers that be will be demonstrating what many have long suspected and even argued: Moscow may claim that it is talking about a non-ethnic identity, but in fact, they are investing it with so much Russian content that it will be ethnic in all but name. Consequently, what may seem to many to be the least important of these three cases of copying could turn out to be the most important and threatening to the center just as the efforts to promote non-ethnic identities in the union republics of the Soviet Union in the 1970s and 1980s copied but undermined the notion of a unified "Soviet people."
Window on Eurasia — New Series: Greed of Russian Elites, Not Russian National Interests Driving Moscow's Return to Africa, Zhelenin Says
Paul Goble Staunton, January 19 – Many analysts are seeking to find some grand geopolitical design in Russia's deepening involvement in central Africa, Aleksandr Zhelenin says; but the explanation is both simpler and more disturbing: it is the greed of Russian elites rather than Russian national interests that explains what is occurring. The Rosbalt commentator points out that "the basic resources in the Russian Federation itself were long ago divided and redistributed between the representatives" of Russia's major financial concerns. And it as they, the parts of "the corporation" known as "Russia" that have decided Africa could be a new source of wealth (rosbalt.ru/blogs/2019/01/19/1758811.html). And that explains why some members of this "corporation" have been handed over this or that country for exploitation much as was the case with territories in pre-Petrine Muscovy. For Russia as a whole, a few hundred kilos of gold or a few tons of uranium aren't worth much. "But for an individual 'big man'" they are not trivial as sources of new funds. Zhelenin reaches this conclusion after showing that the Central African Republic is neither economically nor geopolitically important for Russia. On the one hand, he shows that the resources the CAR has as far as uranium, gold, oil, or diamonds are concerned are too small for Russia as a country to care about but not for individuals. All these things are available in larger quantities closer to home, making the investment in the CAR anything but sensible for Russia as a whole. And on the other, Zhelenin says, the notion that the CAR can become "an advance post for the advancement of Russia into other African countries" is simply laughable. "Into which ones, if you please? And are they waiting for us?" It is one thing to get involved in the CAR with its five million people and quite another to go into Nigeria with its 200 million or the Democratic Republic of the Congo with 80 million. For individual businessmen, such moves are one thing; for a country, quite another.
Russian Strategy In Africa Is Oligarch Greed – To Inform is to Influence
Why is Wagner PMC in the Central African Republic? Oligarch greed. Paul Goble writes about Aleksandr Zhelenin's article, What has Russia forgotten in Africa?. It turns out that the CAR has uranium, gold, oil, and diamonds, but not in the amount to attract Russian attention at the national level. But Russian oligarchs can turn a nice profit. Rather than deploy the Russian military and attract undue and unfavorable attention, Wagner PMC, owned by Putin's friend and another oligarch, Yevgeny Prigozhin was sent. Also in Africa, Wagner PMC is now in Sudan, after training Sudanese military in the CAR. Others have noticed, Russia Is Back In Africa — and Making Some Very Odd Deals. Shades of the old British East India Company. </end editorial>
Russians are ashamed of the "eternal poverty" of their country – To Inform is to Influence
By bne IntelliNews January 17, 2019 Russians are ashamed of the "eternal poverty" of their country. The collapse of the Soviet Union and the loss of superpower status was a humiliating experience, which President Vladimir Putin has played on with actions like the annexation of Crimea and the war in Syria, to restore some sense of…
Most Russians Do Not Trust Putin – To Inform is to Influence
The latest Russian Public Opinion Research Center, VTsIOM, poll shows Putin only has a 1/3 approval rate, his lowest ever.  Russian commentators are increasingly talking about "Life after Putin", perhaps that is coming sooner than many predicted.  Following Putin's departure, some predict the government will collapse, similar to the collapse of the Soviet Union.  This Paul Goble article…
Window on Eurasia — New Series: Trust in Putin at Historic Low, Russians Talk about His 'Fatal Mistakes,' His Possible Exit from the Scene, and Its Consequences
Paul Goble Staunton, January 19 – Only one Russia in three – 33.4 percent – trusts Putin, according to a new VTsIOM poll, his lowest rating ever (censoru.net/32705-istoricheskij-minimum.html) and one that is prompting Russians to discuss his "fatal mistakes," what his sudden departure from power might mean, and whether it would change the system or leave it largely in place. Russian commentators have been talking about the problem of "transition" to a post-Putin future for some time, just as backers of the regime have been considering how to ensure that the Kremlin leader remains in his post well beyond the end of his current term. But with the collapse of his ratings, these discussions have taken on a new urgency. One of the more interesting debates is over what has been Putin's "fatal mistake," the one that ensures his regime will not prove as long-lasting as his supporters hope. Many Russians now believe it was the annexation of Crimea which led to the new cold war and greater economic problems at home (publizist.ru/blogs/107559/29076/-). But an increasing number, the same commentators say, point to Putin's initial support for free market capitalism and his return to that everything else notwithstanding. That has created a class of wealthy people who are blocking the development of Russia in order to maintain their wealth and power. Depending at least in part on the outcome of this debate, Putin or his successors will move in very different directions, toward a new rapprochement with the West or in the direction of new isolation and a retreat from capitalism and democracy. These discussions have taken on new urgency not only because of the decline in Putin's popularity but also because of reports, widely circulated in the Moscow media, that a man in Serbia planned to assassinate Putin during his visit to Belgrade. The plan was foiled, but Russian reports have prompted questions few have asked in public before (novosti24.su/pokushenie-na-putina-chto-zhdet-rossiyu/). One of those who has done so is Anatoly Baranov, the editor-in-chief of the pro-communist Forum.MSK portal. He asks bluntly whether it would be good for Russia if Putin were to be killed and says that he doesn't have an answer to that fateful question (forum-msk.org/material/news/15352895.html). How real the possible attack on Putin in Serbia in fact was is something that those beyond the intelligence services can't know and even they can't be sure, Baranov says. But it is always possible that some lone individual, seeking glory as was the case with the murderer of John Lennon, will succeed in killing his selected target. "There is also the possibility that people from his closest entourage could kill Putin," as has happened with other rulers like Paul I or Sadat; and such actions could either lead to continuity if the new leaders believe that will help them to legitimize themselves or to radical change if that is what they assume is required. "It is senseless to guess," Baranov says. "Would it be good if Putin were suddenly to be killed?" he asks. "I answer honestly: I don't know. I do not feel any great love to him or the regime he has established but experience doesn't' allow me to think that all changes would be for the better." Igor Eidman, a Russian sociologist and commentator for Deutsche Welle, however, has no doubts: When Putin leaves the scene, voluntarily or otherwise, his regime will collapse and do so with remarkable speed just as the Soviet Union collapsed despite expectations in only a few days (glavred.info/opinions/10042655-kak-padet-putinskiy-rezhim.html). "Putin's power rests on crude force and false propaganda," he argues. "If one of its components fails or ceases to be effective, the regime could fall quite quickly. As people say, Russians take a long time to saddle up but they ride fast after they do." Everything will depend on "subjective circumstances," Eidman continues. These could arise from a major military defeat, an intensification of the economic crisis, or "simply the unexpected death of the dictator." Given how much the system depends on Putin, the situation "after his departure" will change a great deal and do so far more rapidly than many now expect. Remember how rapidly things changed after the death of Stalin, Eidman advises; and remember how the comrades in arms of Brezhnev, Chernenko, and Andropov left the scene not very much after the death of their leaders. "As soon as they died, Perstroika began, and a new generation came to power." "The Putin regime too to a significant degree rests on the personality of the autocrat, on Putin's person. If he will leave suddenly his post or depart into another world, this will lead to a serious cataclysm within the political elite." It could even lead to "a serious democratic transition," far more rapid and radical than most imagine.
Gangster Geopolitics: The Kremlin's Use of Criminals as Assets Abroad – To Inform is to Influence
January 17, 2019 Mark Galeotti In September 2011, two Chechens suspected of involvement in the January suicide bombing at Moscow's Domodedovo airport, which left 37 people dead, had just left an Istanbul mosque after Friday prayers when, along with a companion, they were shot dead. According to an indictment cited in a major Turkish newspaper, prosecutors had identified…
Putin Push to Dump Dollar Proves Hard Sell With Russia Inc. – To Inform is to Influence
"The Russian ruble is less stable than any other currency." </end editorial> By Natasha Doff, Evgenia Pismennaya, and Anna Andrianova January 17, 2019, 8:00 PM EST Updated on January 18, 2019, 6:11 AM EST  Even biggest state companies finding ditching greenback tough  Kremlin, fearing sanctions, seeks alternative currencies Russia's central bank dumped $101 billion last year in its biggest-ever shift away…
Bill Browder is Putin's public enemy No 1 – but he isn't scared : He's a "very stupid strategist" | Salon.com
A pro-democracy businessman who Putin wants dead described the Russian dictator as a "very, very stupid strategist"
4,141 Latvians Were Just Outed as K.G.B. Informants – The New York Times
Is the newly released Soviet-era archive a real record of collaboration or a time bomb planted by agents as the Soviet Union collapsed in 1991?
Facebook: Removing Coordinated Inauthentic Behavior from Russia – To Inform is to Influence
January 17, 2019 By Nathaniel Gleicher, Head of Cybersecurity Policy Today we removed multiple Pages, groups and accounts that engaged in coordinated inauthentic behavior on Facebook and Instagram. The two operations we found originated in Russia, and one was active in a variety of countries while the other was specific to Ukraine. We didn't find any links between…
Facebook's Sputnik Takedown — Top Takeaways – To Inform is to Influence
Inauthentic pages linked to Sputnik promoted its content   @DFRLab Jan 17 Facebook removed almost 300 pages from its platform for "coordinated inauthentic behavior" across the former-Soviet space on January 17, 2018. The pages masqueraded as groups with special interests — ranging from food to support for authoritarian presidents — and amplified content from the Kremlin's media agency, Rossiya Segodnya, especially that…
Sputnik Falsely Claims 'Censorship' After Facebook Removed Hundreds of Accounts – To Inform is to Influence
January 19, 2019 William Echols On Thursday, January 17, Facebook announced it had removed 364 Facebook Pages and accounts "for engaging in coordinated inauthentic behavior as part of a network that originated in Russia and operated in the Baltics, Central Asia, the Caucasus, and Central and Eastern European countries." The company said that the page administrators and…
Facebook to work with Germany to combat election interference – CNN
Facebook will partner with German officials ahead of the European Union elections in May to crack down on fake accounts and misinformation.
Facebook, Germany to Collaborate Against Election Interference – WSJ
Facebook Inc. Chief Operating Officer Sheryl Sandberg said the company will work with the German ministry for information security in a broad effort to guide policy here and throughout Europe on election interference.
Sheryl Sandberg admits to Facebook stumbles
Speaking at the DLD conference in Munich on Sunday, Facebook COO Sheryl Sandberg outlines five things the social media company is focused on in 2019.
Sandberg Outlines Focuses For Facebook In 2019 | Fortune
Speaking at the DLD conference in Munich on Sunday, Facebook COO Sheryl Sandberg addressed the hope to earn back Facebook users' trust.
Sheryl Sandberg gave an unconvincing speech about privacy just when she needed to sound sincere | Business Insider
One of the first rhetorical tricks a public speaker will pick up is repetition.
Russia To Allow Online "Trolling" Reporting – To Inform is to Influence
The Russian Ministry of Justice received a proposal from the Federal Notarial Chamber to allow, among other things, Russian citizens to report online trolling. Under the provision of evidence implies including the recording of the facts of harassment and insults on the Internet? Konstantin Korsik: Of course. Appeal to the notary allows you to fix that abusive records, slander and other violations of the rights of citizens were indeed posted on certain resources on the web. This service is especially relevant for fixing copyright infringement, protecting web content and intellectual property of companies and individual entrepreneurs. Even if the records are later deleted by their author, a notarized document will serve as proper evidence for the court. The number of appeals to a notary for such a service is growing annually by an average of 15-20 percent. During the year, notaries of Russia made more than 20 thousand proofs on the Internet. The irony of this astounds me. </end editorial>
ISW Blog: Russia in Review: December 12, 2018 – January 16, 2019
Reporting Period: December 12, 2018 – January 16, 2019 Authors: Catherine Harris, Darina Regio, and Andrea Snyder Contributor: Matti Suomenaro Key Takeaway: The Kremlin is creating and exploiting opportunities to advance its campaigns aimed at countering the West in multiple theaters including Ukraine, Belarus, and Syria. Russia will continue to use multiple approaches to weaken pro-Western Ukrainian President Poroshenko ahead of the Ukrainian Presidential Elections on March 31, 2019. Russia will similarly continue to pressure Belarusian President Alexander Lukashenko to sign bilateral agreements that expand the Kremlin's control over Belarus. Russia will also seek to expedite the announced withdrawal of the U.S. from Syria as part of its wider campaign to undermine and replace the U.S. in the Middle East and North Africa.
Russia succeeds in mobile anti-satellite missile test: US intelligence report
The latest revelation comes on the heels of the Pentagon's 108-page missile defense review, which singles out emerging Russian, Chinese, North Korean and Iranian missile threats. It also focuses on anti-satellite capabilities that "could threaten U.S. space-based assets."
A-235 anti-ballistic missile system – Wikipedia
Россия успешно запустила новейшую сверхсекретную ракету, убийцу спутников А 235 "Нудоль" – YouTube
New satellite images show Russian anti-satellite weapon systems – Defence Blog
New commercial satellite imagery shows hidden launch areas of the Russian anti-ballistic missile and anti-satellite weapon system in the area of Plesetsk spaceport in northern Russia. In reports released by Russia's media, researchers said that launch areas of the newest PL-19 Nudol anti-satellite weapon system located it the Plesetsk military spaceport (approximately 800 kilometers north of Moscow), at the ex-launch site of the Cyclone-2 rocket. Approximately, the construction of launch sites of new anti-satellite missiles began in late 2015 – early 2016, by the summer of 2017. The western site was ready, the construction of the eastern site was completed somewhat later. Around the sites were spotted preparations are underway for large-scale construction of infrastructure, deforestation and preparation of construction sites for facilities are being carried out. While Moscow claims that the Nudol is an anti-missile system, U.S. intelligence officials say the system is designed primarily for anti-satellite missions. Russia is developed new mobile weapon system to target communication and imagery satellites in low Earth orbit and counter enemy missiles targeting important industrial regions. The PL-19 Nudol anti-ballistic missile system should replace the current one — Soviet-era A135 anti-ballistic missile system. It consists of the Don-2N battle management radar and three types of missiles installed on MZKT-792911 chassis. The long-range version, based on the 51T6 and capable of destroying targets at distances up to 1500 km (930 miles), at altitudes up to 800,000 m; medium-range, an update of the 58R6, designed to hit targets at distances up to 1000 km (620 miles), at altitudes up to 120,000 m; and short-range (the 53T6M or 45T6 (based on the 53T6)), with an operating range of 350 km (215 miles) and a flight ceiling of 40,000-50,000 m. The long-range missiles will most likely be equipped with nuclear warheads, while the others will have kinetic energy warheads. According to military experts, the future of missile defense system Nudol and other modern S-500 missile system will form the basis for comprehensive, integrated aerospace defense system of Russia, which will include a variety of modern ground-based detection tools, which include included missile attack warning stations. Head developer of the complex is Concern PVO "Almaz-Antei". The development of long-range intercept missiles is probably done by OKB "Innovator". The Nudol was first successfully tested in late-2015. US network CNBC also reported that Russia conducted the latest flight test of its new anti-satellite missile system last December, according to two people with direct knowledge of a classified U.S. intelligence report. The anti-satellite missile flew for 17 minutes and 1,864 miles before successfully splashing down in its target area. In December 2014, the general designer of Almaz-Antey Pavel Sozinov said that in the near future the Russian military will receive domestic counterparts of US missile defense systems THAAD and GMD. At the same time, the analogue of GMD, Sozinov noted, is being created in the mobile version and should be more efficient than the system from the USA.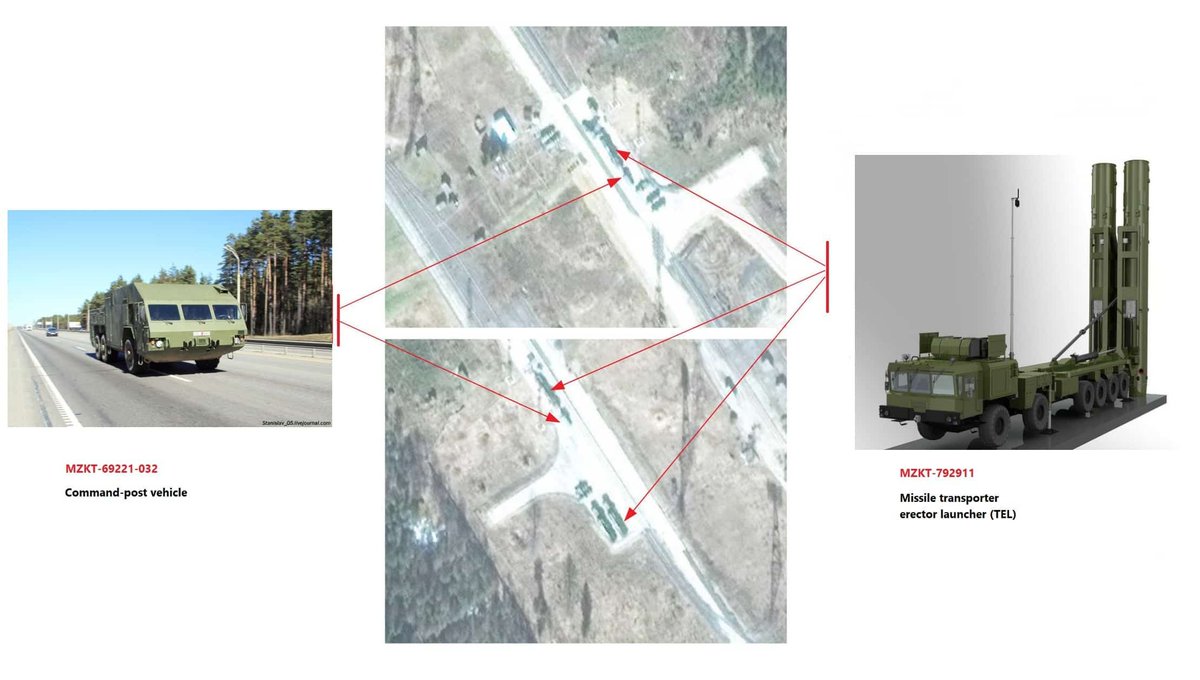 UAWire – Head of Russian space agency: Russia is ready to build a super heavy-lift carrier rocket
The Central Research Institute of Machine Building or TsNIIMash is ready to begin work on the next generation of super heavy-lift carrier rocket, …
UAWire – Kremlin reveals plans for earth-probing satellite system
Roscosmos, the Russian state space corporation, is planning to launch a network of orbital satellites to remotely explore the surface of the …
2 dead, 1 missing after two Russian jets collide over Sea of Japan – Defence Blog
Two Russian Air Force Su-34 fighter-bombers collided Friday during a training mission midair 44 km off the coast over the Sea of Japan. The both crew of 2 occupants ejected, pilot and navigator. At around 11:00 Moscow time, a search and rescue helicopter rescued one of the Su-34's pilots found in his life raft with adverse weather conditions. The dramatic rescue mission saw one pilot found on a life raft in the sea, and could be picked up by helicopter. At this moment the Russian Defense Ministry said the following a massive search involving several rescue ships and aircraft, two other crewmen were found dead. The search for the fourth missing pilot is continuing despite strong winds. Earlier, the Defense Ministry said two crewmembers were rescued, but later retracted the report and said that just one crewman has been found alive. Based on the Soviet Union's potent Su-27 air superiority fighter, the Su-34 Fullback is the Russian Air Force's long-range strike aircraft of choice. The Su-34, dubbed "Fullback" by NATO, is one of Russia's most capable aircraft — able to engage targets on the ground and in the air — and has been used extensively in Syria. The 45 ton, Mach 1.8-capable Russian Su-34, designed to carry up to 8 tons of weaponry, has a tactical radius of 4,000 km, and a flight ceiling of 18,000 meters. The plane can also be equipped with up to three additional fuel tanks, allowing it to fly 8 hours without refueling.
Russian Su-34 fighter pilots in dramatic RESCUE after mid-air CRASH over Sea of Japan | World | News | Express.co.uk
TWO Russian fighter-bomber jets have crashed over the Sea of Japan during a training exercise, with pilots from a downed aircraft rescued from the sea in 'satisfactory' condition following the mid-air collision.
Advanced Russian fighter jets collide in mid-air with at least one crashed near Japan | Business Insider
Two Russian Su-34 fighter-bombers collided in mid-air during a training event over the Strait of Tartary near Japan, Russian media reported on Friday.
UK: Defence Secretary Gavin Williamson's toilet has paper featuring Vladimir Putin's face and a Russian insult – To Inform is to Influence
It's good to see some people still have a good sense of humor. Or is that humour? It's also nice to see he has the toilet paper draped on the correct side! </end editorial> Fears are the Minister is putting his reputation as a statesman at risk. Moscow and Britain have been locked in a war of words after Novichok attack. Williamson has warned the East not to 'mess with' Britain with the new RAF fleet. A source close to the Defence Secretary said the toilet paper was in the MoD.
EU approves sanctions against Russia, Syria for use of chemical weapons – 112.international
European Union imposes new sanctions against Russia, Syria for chemical weapons
Rikard Jozwiak on Twitter: "EU foreign ministers have approved the new chemical weapons sanctions. asset freezes and visa bans on 4 Russian nationals, 5 Syrians and 1 Syrian entity. names published later today. #Salisbury #Russia #Syria #Ukraine"
Russian senator [Pushkov] says U.S. warship in Black Sea should keep its distance | Reuters
Visits to the Black Sea by U.S. warships have nothing to do with U.S. security and are motivated by domestic politics, prominent Russian senator Alexei Pushkov said on Sunday, warning they should stay away from the Russian coast.
Russian senator [Pushkov] states U.S. warship should stay away from Russia's coast – 112.international
Russian senator Alexei Pushkov stated that the visit of the U.S. warships have nothing to do with U.S. security. They are motivated by the domestic policy. He warned that the vessels should stay away from the Russian coast, as Reuters reported. "The U.S. guided-missile destroyer Donald Cook began moving towards the Black Sea on Saturday, "to conduct maritime security operations and enhance regional maritime stability, combined readiness and naval capability", the U.S. Navy statement reads.
Russian ship proceeds to track the U.S. Donald Cook missile destroyer – 112.international
The Russian military is monitoring the Donald Cook U.S. Navy destroyer. It is reported by TASS with reference to the National Center for Defense Management of the Russian Federation Defense Ministry. "The forces of the Black Sea Fleet began tracking the USS Donald Cook American missile destroyer immediately after its entry into the Black Sea," the report said. It clarifies that "the Pytlivy patrol ship of the Black Sea Fleet began to directly monitor the actions of the American warship." It will also be followed by electronic and technical means of the fleet.
PACE to hold urgent debate on situation in Azov Sea, Kerch Strait Jan 24 – MP Ariev | UNIAN
Ukrainian MP Volodymyr Ariev, who is also vice-president of the Parliamentary Assembly of the Council of Europe, chairman of the PACE Committee on Culture, Education, Science and Media, has said the organization will hold on January 24 an urgent debate on the situation in the Sea of Azov and the Kerch Strait within the framework of the winter session in Strasbourg. The debate will be held within the framework of the winter session in Strasbourg.
World War 3 news: Russia deploys NUCLEAR arms near Ukraine border – Crimea crisis DEEPENS | World | News | Express.co.uk
RUSSIA has deployed an arsenal of nuclear-capable missiles close to the border of Ukraine – stoking further tensions between the two Crimean adversaries following an incident on the Sea of Azov in November.
UAWire – Lavrov: Putin agreed to allow representatives of Germany and France to monitor the Kerch Strait
Russian President Vladimir Putin agreed to German Chancellor Angela Merkel's request to send German and French observers to the Kerch Strait, …
PACE to hold urgent debate on Russian aggression against Ukraine
On Thursday, January 24, the Parliamentary Assembly of the Council of Europe (PACE) will hold urgent debates regarding the situation in the Sea of Azov and the Kerch Strait. — Ukrinform.
EU foreign ministers to discuss sanctions against Russia over attack on Ukrainian boats | UNIAN
Ukraine's Minister of Foreign Affairs Pavlo Klimkin says his European Union counterparts will in February and March discuss new sanctions against Russia over an attack on Ukrainian navy boats near the Kerch Strait. Russian ships' access to EU ports may be restricted.
Ukraine, Germany agree on meeting of experts to discuss monitoring mission in Kerch Strait – FMs
The Ministers of Foreign Affairs of Ukraine and Germany, Pavlo Klimkin and Heiko Maas, have agreed on a meeting at the expert level to discuss a common vision of the monitoring mission in the Kerch Strait.
Klimkin, Maas: Freedom of navigation in Azov Sea, Kerch Strait must be based on international law principles | UNIAN
Ukrainian Foreign Minister Pavlo Klimkin and Federal Minister for Foreign Affairs of Germany Heiko Maas have said the freedom of navigation in the Azov Sea and the Kerch Strait should be based on the principles of international law. "In this regard, the joint initiative of Germany and France on joint international monitoring of freedom of navigation in the Azov Sea and the Kerch Strait was welcomed," the press service of the Ukrainian Foreign Ministry reported following the ministers' talks on January 18. Read alsoKlimkin: Concept of UN-OSCE peacekeepers in Donbas still under discussion The ministers considered the possibility of holding consultations at the expert level with further discussion of the parameters of the implementation of the mentioned initiative within the framework of the Normandy format. Another important topic of the meeting was the energy theme, in particular in the context of the construction of the North Stream 2 gas pipeline. The Ukrainian side essentially defends the position regarding the need to extend the norms of the EU energy legislation to all routes of gas supply in Europe. The German side confirmed the importance of preserving the transit role of Ukraine. The topics of meeting also covered the possibility of further influencing Berlin as a pressure on Russia to release Ukrainian prisoners of war and political prisoners. In the context of bilateral issues, Klimkin and Maas highly assessed the state of Ukrainian-German cooperation, including the unchangeable of Berlin's support for the sovereignty and territorial integrity of our state, as well as practical assistance in the effective implementation of systemic reforms.
Freedom of navigation in Azov Sea and Kerch Strait must be based on international law principles
The freedom of navigation in the Sea of Azov and the Kerch Strait should be based on the principles of international law. — Ukrinform.
Poroshenko calls on Israel to help free Ukrainian sailors from Russia
Ukrainian President Petro Poroshenko has called on Israel to facilitate the release of Ukrainian sailors captured by Russia in the Kerch Strait. — Ukrinform.
UAWire – Ukraine: Russia exported over one million archaeological artifacts from the Crimea
A representative of the Ministry of Temporarily Occupied Territories and Internally Displaced Persons of Ukraine, Sergey Mokrenyuk stated that …
5-year sentence demanded in Russia's "safari hunt of Muslims" in occupied Crimea – Human Rights in Ukraine
The de facto prosecutor in Russian-occupied Crimea has demanded one real five-year prison term and three suspended sentences in its prosecution of four Crimean Muslims for membership of the entirely peaceful and apolitical Tablighi Jamaat missionary movement –
Occupation authorities in Crimea mulling ways to intimidate lawyers of captured Ukrainian sailors – Mejlis official | UNIAN
Deputy Chairman of the Mejlis of the Crimean Tatar People, Nariman Dzhelialov, says Russia-controlled occupation authorities in Crimea are considering ways to put pressure on lawyers defending captured Ukrainian sailors, prisoners of war. A total of 34 lawyers, including 13 fro Crimea and 18 fro Moscow, have offered defense services to Ukrainian prisoners of war.
Russia mulls fines for country's maps without Crimea | UNIAN
The Russian Federation Council plans to consider within the next three months a bill set to introduce penalties for those failing to mark on maps the Crimean peninsula as part of Russia. Russia annexed Ukraine's Crimea in March 2014 after its troops had occupied the peninsula.
Ukraine cannot cut diplomatic ties with Russia – Klimkin – LB.ua news portal
Ukraine seeks to cut diplomatic relations with Russia but has not been able to do this yet, Foreign Minister Pavlo Klimkin has said. He said at a news conference on 18 January that diplomatic relations with Russia have de fact been limited to the protection of Ukrainian nationals but it is too much work to be handed over to another country. "I am often asked about diplomatic relations with the Russian Federation. It is an important moment but let us understand: over 2.5 million Ukrainians are in the Russian Federation, 70 political prisoners are both in Russia and in occupied Crimea, now there are our guys who are prisoners of war. Certainly, we are holding consultations with some of our partners and friends on whether they can represent our interests. I will not name the countries because it is a matter of politeness. But this is a crazy volume of work, as I said, crazy. So far none of them has been prepared to do as much work as our consuls do even approximately," he said. "[Diplomatic relations] have been minimized to absolute minimum and aimed at the protection of our citizens. However, we are looking for a formula and once we find it, we will certainly use it," he said.
16 attacks against Ukraine army in past day: one Ukrainian soldier wounded, one terrorist destroyed, – JFO center
21.01.19 09:57 – 16 attacks against Ukraine army in past day: one Ukrainian soldier wounded, one terrorist destroyed, – JFO center Jan. 20, Russia occupation forces violated the ceasefire 16 times. View news.
JFO: Ukraine reports 16 enemy attacks in Donbas in past day | UNIAN
Russian-led forces mounted 16 attacks on Ukrainian troops in Donbas, eastern Ukraine, in the past 24 hours. There were no Ukrainian army casualties in the past day.
JFO: Ukraine reports four enemy attacks in Donbas Jan 19 | UNIAN
Russia's hybrid military forces mounted four attacks on Ukrainian army positions in Donbas on January 19. The situation in the area of the Joint Forces Operation remains under control of Ukrainian troops.
Ukraine reports nine enemy attacks in Donbas in past day | UNIAN
Russian-led forces mounted nine attacks on Ukrainian troops in Donbas, eastern Ukraine, in the last 24 hours. There were no Ukrainian army casualties in the past day.
FSB exploits "sabotage countering" pretext to hide aggressive preparations of occupation forces in Donbas – Ukraine intel | UNIAN
Ukrainian Defense Ministry press secretary Maksym Prauta has said the FSB Federal Security Service of the Russian Federation hides the aggressive preparations of the Russian occupation forces in occupied Donbas under the pretext of allegedly "counteracting sabotage." Under the leadership of the FSB operatives, the so-called "law enforcement agencies" in occupied parts of Donbas tightened security measures at the uncontrolled sections of the Ukraine-Russia border to prevent the feeling of liveforce (persons of military age). Under the leadership of the FSB operatives, the so-called "law enforcement agencies" in occupied parts of Donbas tightened security measures at the uncontrolled sections of the Ukraine-Russia border to prevent the feeling of liveforce (persons of military age). narodna-pravda.ua narodna-pravda.ua Ukrainian Defense Ministry press secretary Maksym Prauta has said the FSB Federal Security Service of the Russian Federation hides the aggressive preparations of the Russian occupation forces in occupied Donbas under the pretext of allegedly "counteracting sabotage." "Since early January this year, the FSB of the Russian Federation has intensified its activities in the temporarily occupied territories of Donetsk and Luhansk regions," the official told a Kyiv briefing on January 21, referring to the Ukrainian intelligence, an UNIAN correspondent reports.
Klimkin: Concept of UN-OSCE peacekeepers in Donbas still under discussion | UNIAN
Ukrainian Minister of Foreign Affairs Pavlo Klimkin says that the concept of a joint United Nations and OSCE peacekeeping mission in Donbas, eastern Ukraine, is still under discussion. The effectiveness of such an option does not mean that the Russian side agrees with it.
UAWire – New OSCE head shocked by life in Donbas
OSCE Chairman Miroslav Lajčák said he was shocked by the alarming living conditions of people living near the contact line in the Donbas, and …
UAWire – Klimkin: Foreign Ministers of Denmark and the Czech Republic to visit Donbas
At a press conference on Friday, Ukrainian Foreign Minister Pavlo Klimkin announced that the Foreign Ministers of Denmark and the Czech Republic …
Civil and military administration created in Shchastia of Luhansk region
President of Ukraine Petro Poroshenko has established a civil and military administration in the town of Shchastia in Novoaidar district of Luhansk region. — Ukrinform.
Poroshenko: Ukraine's army hasn't used Javelins in combat yet | UNIAN
Ukrainian President Petro Poroshenko says that Ukraine's army has never had the occasion to use U.S. third-generation anti-tank missile systems, Javelins, in combat in Donbas. Ukraine successfully tested the new systems late in May 2018.
Poroshenko says Ukraine to rebuild Donetsk airport – 112.international
Ukraine will rebuild destroyed airport in Donetsk, as President Poroshenko wrote on Twitter. "We will restore Donetsk airport, there will always be a Ukrainian flag over its control tower, the flag which the "cyborgs" were raising again and again under the bullets and shells. The airport will be better and modernized. Imperishable memory to our fallen heroes! Glory to the defenders of Donetsk airport!," Poroshenko noted. Related: Ukrainian MPs pay tribute to defenders of Donetsk airport The battle for Donetsk airport began in May 2014 and lasted until January 2015. The Ukrainian military – the army, the National Guard, the Security Service, military volunteers – courageously held their positions for 242 consecutive days, enduring the deadly attacks of pro-Kremlin militants and regular Russian troops. Some of the Russian troops, surprised by the fortitude of the Ukrainian fighters called them 'cyborgs'.
Ukrainian 'cyborgs' commemorated in seven airports. Photos
The military bands of the Armed Forces of Ukraine give concerts to commemorate the defenders of the Donetsk airport (called "cyborgs") in seven airports and two shopping centers in the largest cities in the country. — Ukrinform.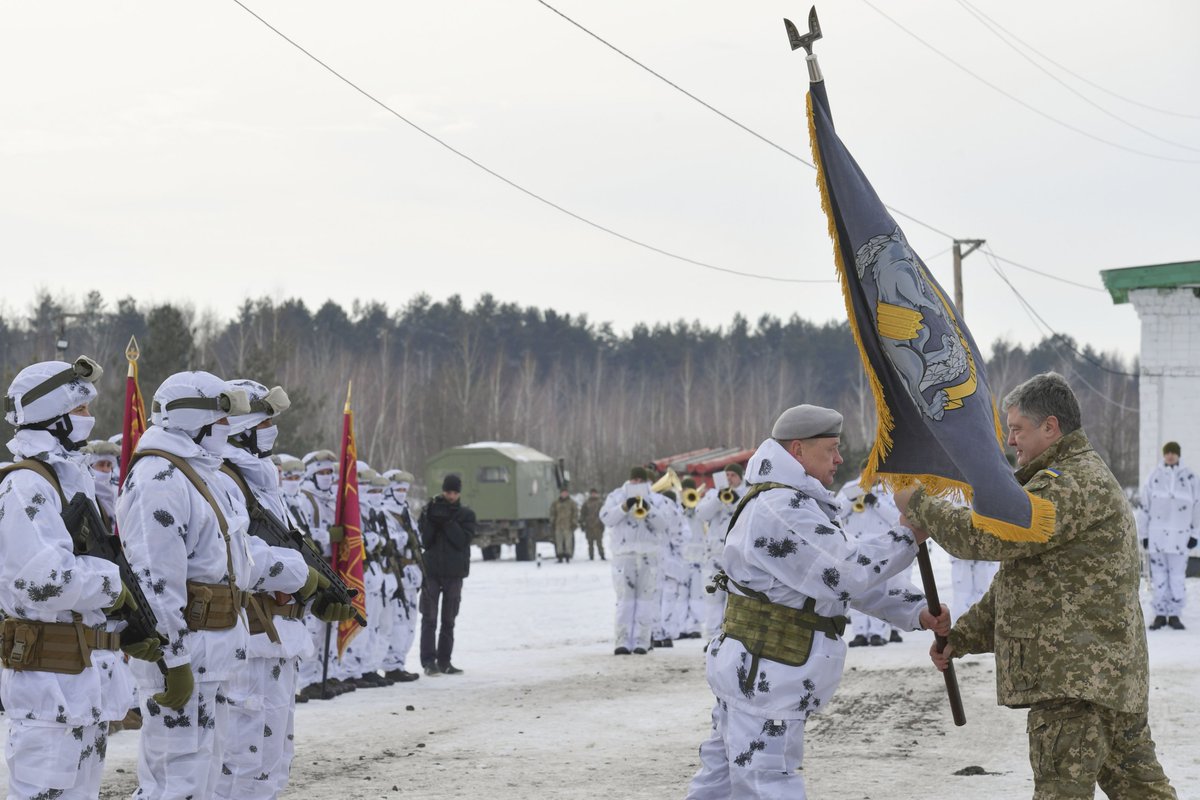 Motto: "I'm coming for you"
Special Operations Forces received official insignia
The President approved the symbols of the Special Forces Special Forces of the Armed Forces of Ukraine, which was developed with the participation of volunteers , in order to revive and develop national military traditions. Today, on January 17, in Zhytomyr, Petro Poroshenko, the commander of the Special Forces of the Armed Forces of Ukraine presented the flag, emblem and standard of the commander of the SFO. "The other day I signed the decree on the establishment of the emblem and the symbol, and the flag of the SSO and the standard of the commander. And henceforth, your motto will be the words of the Kievan Prince Svyatoslav the Brave: "I'm coming for you," which, more than a thousand years ago, brought terror to the enemies, "the Head of State said. The emblem and flag of the Special Operations Forces of the Armed Forces of Ukraine and the standard of the Commander of the Special Operations Forces were approved by the Decree of the President of Ukraine No. 11 dated January 17, 2019.
Ukrainian troops take down drone carrying shrapnel bomb in Donbas – LB.ua news portal
Ukrainian servicemen in Donbas have taken down a drone carrying an anti-personnel explosive device, the press service of the 93rd detached mechanized brigade Kholodnyy Yar has said on Facebook. "The Russian mercenaries equipped a regular Chinese-made DJI Phantom-4 drone with shrapnel explosives. They custom-added to the drone a redone fragmentation round VOG-17 with a rod made using a cheap 3D printer," it said. Separatists attempted to drop fragmentation ammunition at the Ukrainian army's infantry positions from low altitude. "The occupiers may have copied the tactic from militants of the HAMAS and ISIS terrorist groups," the brigade said. Earlier, Russian mercenaries fired on an OSCE drone near Popasna.
Phantom 4 –  DJI's smartest flying camera ever.
Featuring Obstacle Avoidance, ActiveTrack, higher speeds and longer flight times, the Phantom 4 redefines the flying camera.
30mm Round IO-30 (VOG-17M) – High Explosive Grenade
The 30 mm High Explosive Round IO-30 provides effective action against enemy troops in open terrain or in light shelters at distance of up to 1 700 m. The round is fitted with distance-armed, self-destruct fuze. The ammunition is designed for use with automatic grenade launchers: AGS-17 AG-17A AGS-30 The round is safe in storage, handling and operation and ensures the reliable performance of the grenade launchers in all weather conditions. Optional: VMG-M-H Point Detonating, SQ action, Distance-Armed Arming Distance: 10 to 60 m Without self-destruction.
The Parliament allowed the Ministry of Defense to import weapons
The Verkhovna Rada approved the bill # 9122, which enables state customers to buy products, works and services for defense purposes from abroad directly. This will allow to optimize and accelerate the process of import purchases if needed, as well as to save money due to the lack of payment for intermediary services. The legal regulation of issues related to offset agreements has also been improved. The bill was supported by 236 people's deputies. If the procurement of products, works and services for defense orders is a state secret, such products, works and services may also be purchased from foreign business entities, provided that identical products with similar qualitative indicators are not produced, work is not performed, and services not provided in Ukraine. The selection of such performers is carried out by the state customer without the use of competitive procedures on the basis of substantiated and documented results of market research of the market of products, works, services of defense purposes. Procurement of products, works, services of defense purposes for import in order to meet the needs of the Armed Forces of Ukraine, other military formations may be carried out in foreign legal entities by: conclusion of a state contract with a foreign legal entity – the manufacturer or supplier of products, works and services of a defense designation by a state customer (or an authorized economic entity belonging to the sphere of government of a state customer), subject to the provision of authority to such a state customer in accordance with the procedure established by law. the right to import military goods and goods containing information constituting state secrets; the conclusion by the state customer of a state contract with a domestic business entity, which, in accordance with the procedure established by law, has the authority to exercise the export and import of military goods and goods containing information constituting state secrets. In the case of procurement of defense products in a foreign legal entity, the manufacturer or supplier of such products, works and services in excess of five million euros, the obligatory condition for such procurement shall be the receipt by Ukraine of offset beneficiary of the corresponding compensations. Receipt of compensation by Ukraine is carried out by concluding and executing a compensatory (offset) agreement, which is a foreign economic agreement (contract), concluded in writing between the offset beneficiary and a foreign legal entity. According to the Law, offset beneficiary receiving compensation may be a state customer or another entity of state-owned relations, the selection of which is carried out by the offset commission upon the submission of the state customer. The procedure for making compensatory (offset) agreements and types of compensations are determined by the Cabinet of Ministers of Ukraine. To resolve issues related to the organization and coordination of activities on conducting negotiations with a foreign legal entity on the receipt of compensation, conclusion and execution of compensatory (offset) agreements by Ukraine, the Cabinet of Ministers of Ukraine shall establish a permanent offset commission consisting of representatives of state customers, other state bodies, enterprises, organizations. The provisions on the offset commission are approved by the Cabinet of Ministers of Ukraine. The informational, organizational, material and technical support of the offset commission is carried out by the central executive body, determined by the Cabinet of Ministers of Ukraine. The law stipulates that "in a special period, the introduction of a state of emergency, the implementation of measures to ensure national security and defense, repression and deterrence of armed aggression in the Donetsk and Luhansk regions compensatory (offset) agreements may not be concluded. The decision to conclude a compensatory (offset) agreement is made by the Cabinet of Ministers of Ukraine upon submission of the state customer. "
Ukraine is negotiating [foreign] procurement of weapons
Ukraine is negotiating for the purchase of new types of weapons and military equipment abroad, and this is not only American Javelin PTRK or Canadian sniper rifles. Minister of Foreign Affairs of Ukraine Pavlo Klimkin informed at a press conference on January 18. Responding to journalists' questions, the minister positively assessed the new law , which was approved by the Verkhovna Rada and allows the Ministry of Defense to procure arms from abroad directly, without the companies of intermediaries and special exporters. " This law, he creates for our cooperation absolutely new mozhivosti. That is, he creates such opportunities as it works in any of the country's countries – just to buy a clear logic of arms. Incidentally, not only in the United States … there are nuances. And now we are conducting such negotiations. Of course, I can not speak, you know perfectly, about individual systems – this is a confidential issue, but I can say that we are driving. We are talking about a very serious strengthening of the defense capability of our Armed Forces and the whole of our security sector … Regarding the types of weapons, it is known that Ukraine is negotiating the purchase of strike helicopters, as reported by the Minister of Defense Stepan Poltorak, and subsequently by the President of Ukraine, who also said that it is a question of airgun helicopters Airbus Helicopters . According to Stepan Poltorak, negotiations on the procurement of artillery systems abroad are underway, because "the Ukrainian AU" Bohdan " , which is preparing for the tests, has yet to be put into effect, and it does not cover the entire line of artillery needed by our troops." Negotiations are continuing on the purchase of unnamed air defense systems in the United States. We also remind that the United States Department of Defense, in a press release dated July 24, 2018, disclosed information about a contract for the production of Javelin anti-tank missile systems for supplies abroad worth $ 307.5 million. According to the information provided, Javelin is intended for Australia, Estonia, Turkey, Taiwan and Ukraine. Deadline until August 31, 2021. In addition, as Ukrainian Ambassador to Canada Andriy Shevchenko informed, in 2019 new Canadian sniper rifles of large caliber should be launched in Ukraine.
Motor Sich continues to certify MSB-2 and MSB-8
One of the main activities of Motor Sich is the development, manufacture and certification of helicopters, which work is being carried out now and in plans – told at the company. The first flew of the helicopter program Motor Sich JSC, which received the certificates of the State Aviation Service of Ukraine, were modernized helicopters Mi-8MSB and Mi-2 with engines AI-450M-B. Having acquired the experience of modernizing helicopter equipment, Zaporizhzhya started implementing a program for the development of new structures: the MSB-2 and the MSB-8. MSB-2 "Nadya" – lightweight multipurpose helicopter. On this model engines of the Ivchenko-Progress IV-450M-P (with a take-off capacity of 465 hp each) and a new transmission on the basis of the main gearbox ВР-442П of the development of Motor Sich JSC are installed. Despite the fact that the helicopter belongs to the light class, it can take on board 7-9 passengers. In the construction of the SMB-2, composite materials are widely used. Expected practical limit is 5000 m, and flight range with main tanks is 730 km. Motor Sich continues to certify SMEs-2 and SME-8. The new civilian helicopter, SMB-8, is designed to carry out a wide range of commercial tasks: passenger and cargo transportation, search for victims of emergencies, emergency medical evacuation, and other civilian applications. Currently, Motor Sich is carrying out research work, the results of which will be used to certify the helicopter. On the first test specimen, engines ТВ3-117ВМА-СБМ1В and modernized main gear BP-14MS are installed. Motor Sich continues to certify MSB-2 and MSB-8 MSB-8. Photo: www.motorsich.com The next stage of the robot is to replace the metal blades of the bearing screw on the composite. For their production at the capacities of Motor Sich JSC, installation of process equipment is carried out, and start-up and adjustment works are carried out. It is also planned to increase the maximum take-off mass of the helicopter to 15 tons, which will increase the number of blades to 6 and develop a new sleeve of the bearing screw. It is expected to increase the load up to 5000 kg inside the cargo and passenger cabin and up to 6000 kg on the outer suspension bracket. The modification of the MSB-8 with increased take-off mass will be obtained by more powerful engines and a new gear unit of its own design, BP-17, which at this stage undergoes bench tests. In addition to increased take-off mass and payload, the civilian helicopter MSB-8 will be marked by improved flight characteristics. The expected maximum flight altitude is 7,500 m and the displacement range is 1,467 km.
About weapons of the Bayraktar TB2 strike RPV
The Bayraktar TB2 tactical UAV drone, which Ukraine has acquired in Turkey, may use MAM-L and MAM-C laser guided munitions. The director of information-consulting company "Defense Express" Sergey Zhoretz has informed . The developer of these munitions is Turkish company Roketsan. The MAM-L system was developed as a laser modification of the L-UMTAS long-range anti-tank missile system, different from the basic version of the fact that it does not have a rocket engine and is equipped with wings for a glider flight. The system is installed on the tactical UAV Bayraktar and Karayel, which are now being armed with the Turkish Army. The developer states that "the concept of the creation and application of the MAM-L system allows users to effectively neutralize the targets posing a direct threat, especially when performing surveillance and intelligence tasks. Thanks to high-precision guidance and small dimensions, the use of the MAM-L system reduces the risk of side-effects. Compared to all other military means, the combination of MAM-L and Tactical Airborne Force appears to be the most cost-effective solution to a certain level of combat effectiveness. " MAM-L: weight – 22.5 kg; mass of combat part 8/10 kg, length – 800 mm, diameter – 160 mm. MAM-C: mass of ammunition – 8,5 kg; weight of the combat part 2.5 kg, length – 1000 mm, diameter – 70 mm. Range of target defeat: from 500 m to 8 km.
Yu.M. Agafonov, O.M. Zharik, Yu.M. Osipov, Yu.A. Tkachenko | Expected characteristics of a unified air and ground munitions
The article examines a variant of an unmanned aerial vehicle as a unified guided munitions (BplA-KB) of air and ground (marine) bases with a turbojet engine. As a combat equipment, standard aviation bombs of up to 130 kg can be used, other weapons and equipment of various purposes. The estimation of expected mass, geometric and aerodynamic characteristics of the unified BplLA-KB is given. The estimated flight trajectories of BplLA-KB on the maximum range when discharged from the aircraft carrier and at ground start with a solid fuel accelerator are presented. Introduction Increased attention in the advanced armies of the world to increase the number and planning of large-scale use of unmanned aerial vehicles (APPL) [1] as Uniformed Controlled Ammunition (APPL-KB) [2] is due to several factors, the main of which are: the possibility of replacing a manned aircraft in solving a number of combat missions and security tasks; a significant reduction in the cost of manufacturing and operating samples of similar BplLA-KB in comparison with manned samples. These advantages are of particular importance when conducting hostilities with an adversary who owns a modern, airborne defense air defense system. The effectiveness of BplLA-KB in these conditions is conditioned by the following features inherent in such structures: a relatively low cost of BplLA-KB, which makes unreasonable use of medium-range and long-range missiles against them; the complexity of short-range air defense to destroy similar devices because of their high speed, low level of masking features, active maneuvering and massive use of them. The key requirements, in addition to the requirements for survivability under the conditions of their use of air defense, are also presented, the modularity of the structure, the ability to carry a variety of useful load, the presence of significant upgrade potential, lower cost indicators in serial production and maintenance [3] . Analysis of recent research and publications. In the paper "Substantiation of the ways of modernization of aviation munitions" [4] a variant of the constructive-assembly scheme of controlled aero-munitions (KAB) with a payload in the form of a built-in in its design of an aircraft bomb type FAB-100 is proposed. For all the advantages listed in this work, this design, it does not lack one, but a significant disadvantage. This scheme of a controlled air munition does not have the capacity to carry a variety of payloads in a way that is, for example, resolved on the cruise missile AGM-158D [5] . Although this rather modern controlled munition is not suited for launching from ground-based (sea) launchers. All specified BplA-KBs have subsonic speed and are adapted for transportation on the external suspension of strike aircraft. The transition to unified structures can lead to a decrease in some characteristics of such products due to the mass increase and the mideley section of the structure. The purpose of the article is to determine the possible characteristics of unified airplanes and ground-based airplanes as compared to known solutions [4] .
The Ministry of Defense buys uniforms worth more than a billion
Since the beginning of the year, the Ministry of Defense has already managed to announce tenders for the purchase of various types of field forms and elements of individual equipment by more than 1 billion UAH. In particular, the procurement and procurement department in the field of logistics and medical support for procurement management of the Department of Public Procurement and Supply of Material Resources of the Ministry of Defense of Ukraine conducts procurement: 20 000 shirt fighters for 9 631 600,00 UAH (here and further the expected cost); 127 000 costumes of summer field (from fabric type 4, class 7 and 13) for 120 331 230 UAH; 127 000 costumes of summer field (from fabric type 3, class 7) for 121 893 330 UAH; 64 000 trousers of the summer field suit (from fabric type 4, class 7) for UAH 28 642 560; 224,000 polo shirts of olive and dark blue color for 64,243,200 UAH; 117 000 winter hats (type 2 and type 3) for 9 126 000; 127 000 jackets for a heater suit (type 2 and kind 3) for 106 748 580 UAH; 127 000 jackets of winter fire protection (type 1 and kind 6) for UAH 239,839,500; 127,000 trolls of winter weather protection (type 1 and type 6) for UAH 118 715 790; 126 400 warheads (from fabric type 3, class 7 and type 4, class 13) for 11 005 648 UAH; 50,000 moms of summer field (from fabric type 4, class 7) for UAH 4,821,500; 63 000 elastic scarves for 1 134 000 UAH; 93 000 winter-type scarves (type 2 and type 3) for UAH 4 370 070; 316 000 sweatshirts (short sleeves) for 23 143 840 UAH; 266 000 panties (type 2 and kind 3) for UAH 14 004 900; 183 000 winter shirts and pants (type 2 and type 3) for UAH 120,138,500; 106 000 shirt and pants of demi-season (type 2 and type 3) for UAH 15 423 000; 750 000 pairs of socks of elderly (trekking) type 1 for 31 492 500 UAH; 400 000 pairs of socks of winter (trekking) (type 2) for 24 460 000 UAH; 50 000 rubber boots for UAH 8 952 500; 30 000 trousers (type 2, type 2) for 3 483 000 UAH; 30 000 slippers of barracks (type 1, type 2) for 1 230 000 UAH; 67 000 bags of black sleeping bags for 67 419 420 UAH; 20 000 flasks of individual field, type A (plastic) for 3 400 000 UAH; 3 000 casings of ordinary (fur coats) type 1 for 28 500 000 UAH. Earlier, the Main Department for Development and Support of Material Supply of the Armed Forces of Ukraine reported on the amount of property belonging to the Armed Forces of Ukraine during 2018. For registration the used photo is Igor Molodana
Ukrainian Presidential Hopeful Admits Russian Assets, Promise To Divest
Ukrainian actor Volodymyr Zelenskyy, who has said he is running for president of Ukraine, has admitted that he has commercial interests in Russia and has said he will divest himself of them "in the near future."
Weaponizing Language to Discredit the Ukrainian Elections – Ukraine Elects
January 18, 2019Disinformation Along with news on the church schism and kinetic movements along Ukraine's eastern border, the issue of Ukrainian versus Russian language usage in Ukraine remains a prominent topic in Kremlin-backed news. Although the language issue remains one of the most heated debates in Ukrainian politics, especially during election cycles, major candidates are not discussing the matter. Instead, they are focusing on social and economic issues. This hasn't always been the case. Back in 2010, Viktor Yanukovych's presidential campaign slogan promised to make Russian a second state language. Yanukovych sought to bring Ukraine closer to Russia, which was in line with Russia's promotion of the Russian language as the integration force in the Commonwealth of Independent States. The situation changed drastically on the eve of the Crimean annexation, which Putin justified as "protection" of the Russian-speaking population. The language question became a weapon in the Kremlin's war against Ukraine, which has significantly affected the language preferences of Ukrainians (currently 61% of Ukrainians support the idea that Ukrainian should be the sole state language compared to 47% in 2014). The state's steps to promote and strengthen Ukrainian followed this development. Despite the fact that this battle seems to be lost for Moscow in Ukraine, the Kremlin-backed media outlets show a vested interest in the topic of language – likely in an effort to continue portraying Ukraine as an enemy for the domestic audience and to try to destroy Ukraine's image abroad. Thus, in just the last few weeks, Russian propaganda sites have shared fake news on the language debate in Ukraine. One example of this includes a news article claiming that the European Union is calling on Kyiv to "waive the ban on Russian language," despite the fact that there was no such ban in the first place. This piece warped the recommendations of the Venice commission regarding the education reform that suggested making Ukrainian and Russian language usage more balanced: "to continue ensuring a sufficient proportion of education in minority languages at the primary and secondary levels, in addition to the teaching of the state language […] to improve the quality of teaching of the state language." In another recent piece, Russian propaganda media claimed that Ukraine is creating an institution of "sprechen-fuhrers," language inspectors who would control the use of Ukrainian. The propagandists allege that publishing books in any language other than Ukrainian will be banned and prosecuted. The fake story refers to draft law 5670 on safeguarding the functionality of Ukrainian as the state language, which was adopted in the first reading in October 2018. The law makes no mention of any language monitors or inspectors, and whatever references of this nature may have been initially introduced were edited out even before the first reading was voted on. The disinformation-oriented outlets intend to stoke fears of a faux witch-hunt against Russian-speakers in Ukraine, and thus break the current consensus that language should not be a dividing issue or subject of political manipulations. However, if propagandists succeed in making Russian-speakers feel threatened or excluded, this could play into the hands of pro-Russian political forces. Moreover, this could influence the election campaign itself causing impassioned candidates to shift their focus from economic development and national security to the language debate.
Police detained the chairman of the Socialist Party regional organization on suspicion of attacking the office of the Novyi Den newspaper – 112.international
Police detained the chairman of the Socialist Party regional organization on suspicion of attacking the office of the Novyi Den newspaper. This was announced by Ukraine's Interior Minister Arsen Avakov, the press service of the department reports. "Now we investigate the involvement of the detainee in a violent incident at the press club of the Novyi Den newspaper – the fight, the use of traumatic weapons, and tear gas. It was announced that he was suspected of committing an offense under Article 266 (hooliganism) of the Criminal Code of Ukraine," said Avakov. He recalled that the head of the Socialist Party, Ilya Kyva, announced his participation in the presidential elections and noted that this is an unacceptable example of the electoral activity. "In such cases, the National Police will act strictly within the law. The election campaign should be calm and peaceful – without shots, tear gas and power actions! We will very toughly stop any attempts to destabilize the situation in the country and in any settlement in this special period", Avakov noted.
One of the leaders of the OUN (b), a former prisoner of the Auschwitz camp, Omelyan Koval, died In Lviv – 112.international
One of the leaders of the OUN (b), a former prisoner of the Auschwitz camp, Omelyan Koval, died In Lviv. This was announced by the head of the Ukrainian Institute of National Memory, Volodymyr Vyatrovich on his Facebook page. "History is passing away. Omelyan Koval – one of the leaders of the OUN (b), a prisoner of the Nazi Auschwitz camp – died today. In February, he should have turned 99 years old. Last years he lived in Ukraine, died in Lviv," Vyatrovich wrote. "He conquered death and, having come free, undertook to develop Ukrainian society in Belgium. In his older years, he found the strength to live his hard life once again, recreating it in memories that he left for posterity," wrote Vyatrovich and clarified that information about the funeral will appear soon. Omelyan Koval was born on February 24, 1920 in the village of Rakhinya in Ivano-Frankivsk region. In 1938 he joined the OUN, in 1941 he participated in the announcement of the Act of proclamation of the Ukrainian state.
UAWire – Kyiv: Ukraine has to continue buying Belarusian fuel made from Russian oil
Kyiv purchases from Belarus fuel made from Russian oil, said Heorhiy Tuka, Deputy Minister for Temporarily Occupied Territories and Internally …
UAWire – Kyiv: Ukraine ranks in the top ten of world dairy exporters
During a meeting with the Ukrmolprom association of dairy producers, Deputy Minister of Agrarian Policy and Food Olena Kovaleva stated that for …
Ukraine among top 5 exporters of agricultural products to EU
Ukraine enters the top five countries that exported agricultural products to the EU. — Ukrinform.
UAWire – American company Westinghouse gives Ukraine permit for nuclear fuel technology
The Minister of the Energy and Coal Industry Ihor Nasalyk during a Q and A with the government stated that Ukraine received permission from the …
—