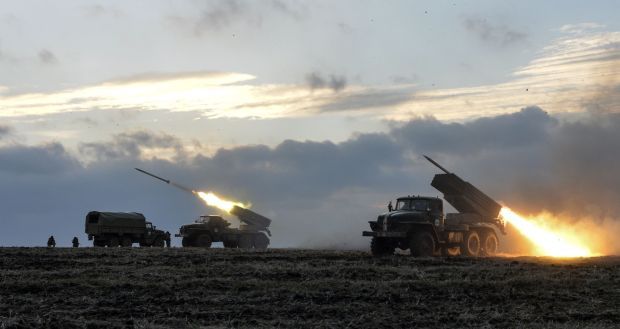 Russia is breaking the Minsk agreement near Luhansk, they were spotted by the OSCE. 
The Minsk agreement apparently means nothing to Russia. 
As I count, Russia has the following out of position:
22 x GRAD MLRS, 122 mm
3 x 2S1, 122 mm SP howitzers
3 x T-72 tanks
2 x T-64 tanks w/end removed
MT-12 Rapira, 200 mm (AT gun)
Furthermore
17 x 2S1 SP Howitzers
10 towed howitzers (9 x D-30 Lyagushka 122 mm  and one 2A65 Msta-B, 152mm)
5 x BM-21 truck mounted 122 mm MLRS
This does not indicate an attack. This appears to be routine training, but why do two T-64 have no engines? They would appear to be scavenging parts.
</end editorial>
---
---
22:58, 13 January 2019
Many units of heavy weaponry were missing at a permanent storage site in a non-government controlled area in Luhansk region. 
The OSCE Special Monitoring Mission (SMM) to Ukraine has spotted 22 Grad multiple rocket launchers 56km south-west of the Russian-occupied city of Luhansk in Ukraine's east.
"On January 11, an SMM mini-UAV spotted 22 multiple launch rocket systems (MLRS) (BM-21 Grad, 122mm) near Khrustalnyi (formerly Krasnyi Luch, 56km south-west of Luhansk)," the press center of Ukraine's Joint Forces Operation said in an update with reference to an OSCE SMM report based on information as of 19:30 Kyiv time on January 11, 2019.
On January 10, an SMM mini-UAV spotted three self-propelled howitzers (2S1 Gvozdika, 122mm), five tanks (three T-72 and two T-64 with engines removed) and an anti-tank gun (MT-12Rapira, 100mm) in a training area near Sofiivka (formerly Karlo-Marksove, 40km north-east of Donetsk).
What is more, OSCE monitors said that 17 self-propelled howitzers (2S1), ten towed howitzers (nine D-30 Lyagushka, 122mm and one 2A65 Msta-B, 152mm) and five MLRS (BM-21) were again missing at a heavy weapons permanent storage site in a non-government-controlled area of Luhansk region on January 11.
As the JFO HQ reported earlier, Russia's hybrid military forces have mounted 10 attacks on Ukrainian army positions in Donbas, eastern Ukraine, since Sunday midnight as a result of which one Ukrainian soldier has been wounded in action.
Source: https://www.unian.info/war/10407132-osce-spots-22-grad-rocket-launchers-south-west-of-russian-occupied-luhansk.html