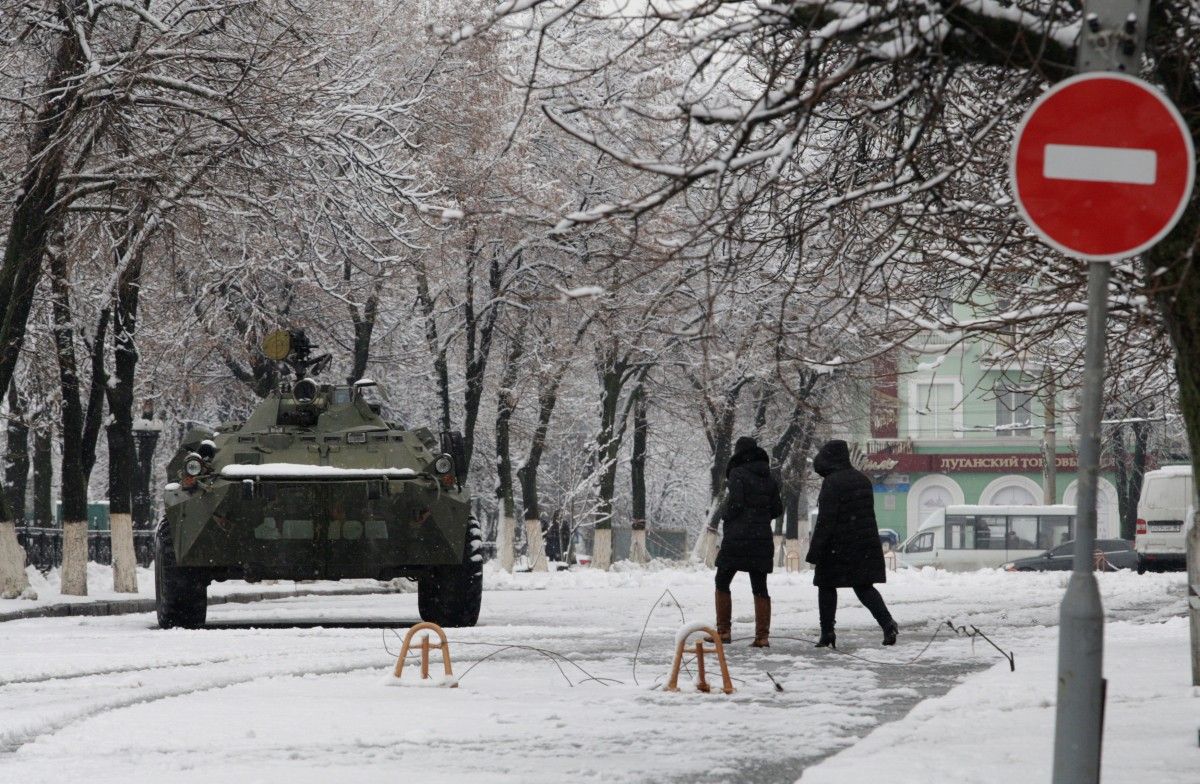 I am unsure if there is more reporting because of increased sensitivity to a possible Russian attack, or if there is increased activity by the Russian military.  Either way, we are seeing Russia showing – portraying the appearance of preparation for an impending attack on Ukraine. 
The problem I have with this report is 40 tanks is about one company and the artillery pieces sighted are battalion and regimental level pieces.  The mix of unlike-type tanks, T-72 and T-64, in the same 'maneuver formation' suggest an ad hoc organization. They would be 'throwaway' pieces for a full-scale Russian attack, so why would they rehearse? Could the Russians possibly attack without using T-80 tanks?  Are the Russians that inhumane as to sacrifice hundreds, perhaps thousands of Russian soldiers, using inferior equipment, just to make a point?  
Common sense would say this is merely a show of force.  Russian common sense, however, never makes sense.
</end editorial>
---
---
Russian-led forces near Luhansk massing weapons, conducting live-fire drills – Ukraine in JCCC
30 December 2018
Forty tanks and other military hardware were spotted beyond the withdrawal lines but outside of designated storage sites.
The Russian-led occupation forces continue massing heavy weapons in the area near the Russian occupied city of Luhansk in Donbas, eastern Ukraine, and conduct live-fire exercises, preparing for active hostilities.
This is reported on Facebook by Ukrainian members of the Joint Center for Control and Coordination (JCCC) of the ceasefire and stabilization along the contact line in Donbas, referring to a December 29 report of the OSCE Special Monitoring Mission to Ukraine.
"On December 27, an SMM mini-unmanned aerial vehicle (UAV) spotted: 20 tanks (ten T-72 and ten T-64) in a training area near Kruhlyk (31km south-west of Luhansk); and 20 tanks (12 T-72 and eight T-64), 12 towed howitzers (D-30 Lyagushka, 122mm), eight self-propelled howitzers (2S1 Gvozdika, 122mm), three anti-tank guns (MT-12 Rapira, 100mm), two mortars (2B11 Sani, 120mm) and nine probable anti-tank guided missile systems (9P135 Konkurs, 135mm) in a training area near Myrne (28km south-west of Luhansk)," the OSCE SMM said in its report.
The military hardware was beyond the withdrawal lines but outside of designated storage sites, it said.
The UAV also spotted over 60 armored combat vehicles, mostly infantry fighting vehicles, and about 450 persons in full combat gear assessed as preparing for live-fire exercises, it said. On December 28, a tank (type undetermined) was spotted on road M04 in Yurivka (27km west of Luhansk).
"The Ukrainian members of the JCCC stress that such actions by the occupying administration and the armed forces of the Russian Federation once again demonstrate a persistent reluctance to comply with the Minsk agreements undertaken as part of talks of the Trilateral Contact Group regarding the withdrawal of weapons and [their] interest in further escalation," the Ukrainian side said.
Source: https://www.unian.info/war/10395615-russian-led-forces-near-luhansk-massing-weapons-conducting-live-fire-drills-ukraine-in-jccc.html