Anonymous expert compilation, analysis, and reporting.
</end editorial>
---
---
Is another Gleiwitz being prepared? Russia makes overt threats against Ukraine, while concurrently propagating bogus claims of Ukrainian preparations for a CW attack on Russian occupied Donbas. The Syria template would be Russian bombardment of an occupied area with CW followed by an attack on Ukraine supported by propaganda about CW to demonize Ukraine. It will likely not sell in the Western media, but "useful idiots" will call on both sides to de-escalate.
A major propaganda barrage around the INF, including attacks on the Soviet leadership by the Vozhd for signing the INF, and lots of saber-rattling around new Russian hypersonic penetrators. Another Vostok-2018 appraisal. Multiple meltdown reports. More on Russian meddling and attempts to control the Internet.
Amb Volker states the US will be providing more weapons to Ukraine, also interviewed by DW. Updates on Kerch and Donbas. Multiple reports on close UK cooperation with Ukraine. Two reports on Russian covert ops defeats in Ukraine.
---
Russia Warns Ukraine: 'We Would Not Start a War, but Our Response Will Be Most Convincing'
Ukraine has been nicknamed "Europe's forgotten war" because the conflict remains unresolved and receives minimal attention from the international community. Russian Foreign Minister Sergey Lavrov warned on Tuesday that Ukraine is preparing a provocation against his country with the support of its Western allies. "Kiev is preparing yet another provocation at our borders, with the help of its Western supporters. We would not start a war, but our response will be most convincing," Lavrov said. The statement was then tweeted by the Russian Embassy in the United Kingdom with a photo of Ukrainian President Petro Poroshenko standing with Ukrainian soldiers. The image included a skull and bones that appear to have been Photoshopped onto the photograph of the Ukrainian troops.
Ukraine warns of another disinformation campaign by Russia | UNIAN
Pro-Russian terrorists and certain Russian media are spreading fake reports claiming Ukraine forces are preparing an offensive near Mariupol, including with the use of chemical weapons, according to Deputy Minister of Information Policy of Ukraine, Dmytro Zolotukhin. In the last four to five days, the Russian side has crystallized the strategy of yet another disinformation operation, which could result in a full-scale provocation by the Kremlin, which Sergei Lavrov (Russian Foreign Minister) has "scheduled" in his interview with Komsomolskaya Pravda for "the last decade of December," Zolotukhin wrote on his Telegram channel. To understand the new Kremlinwood series' episode, on needs to remember the contents of the previous ones. When the Putin-backed Syrian government was accused of using chemical weapons against civilians in the city of Eastern Ghouta, the Kremlin invented an alibi to shield itself from demands of the international community to bring the perpetrators to justice. Read alsoKremlin's persistent claim of "expected chemical attack by Ukraine Armed Forces in Donbas" worrying – MP Then, Russian pseudo-media spread the fake news that groups of volunteers, called White Helmets, and civilians, were involved by Western intelligence agencies in a provocation – that is, they themselves allegedly carried out a chemical attack and shot a number of fake videos to blame it all on Russia.
Russian mass media spread fake about allegedly prepared chemical attack in Donbas – 112.international
Kremlin accuses Ukraine of the preparation of the provocation in the last decade of December
stailker | Preparation for the use of chemical weapons by Russian collaborators 13.12.18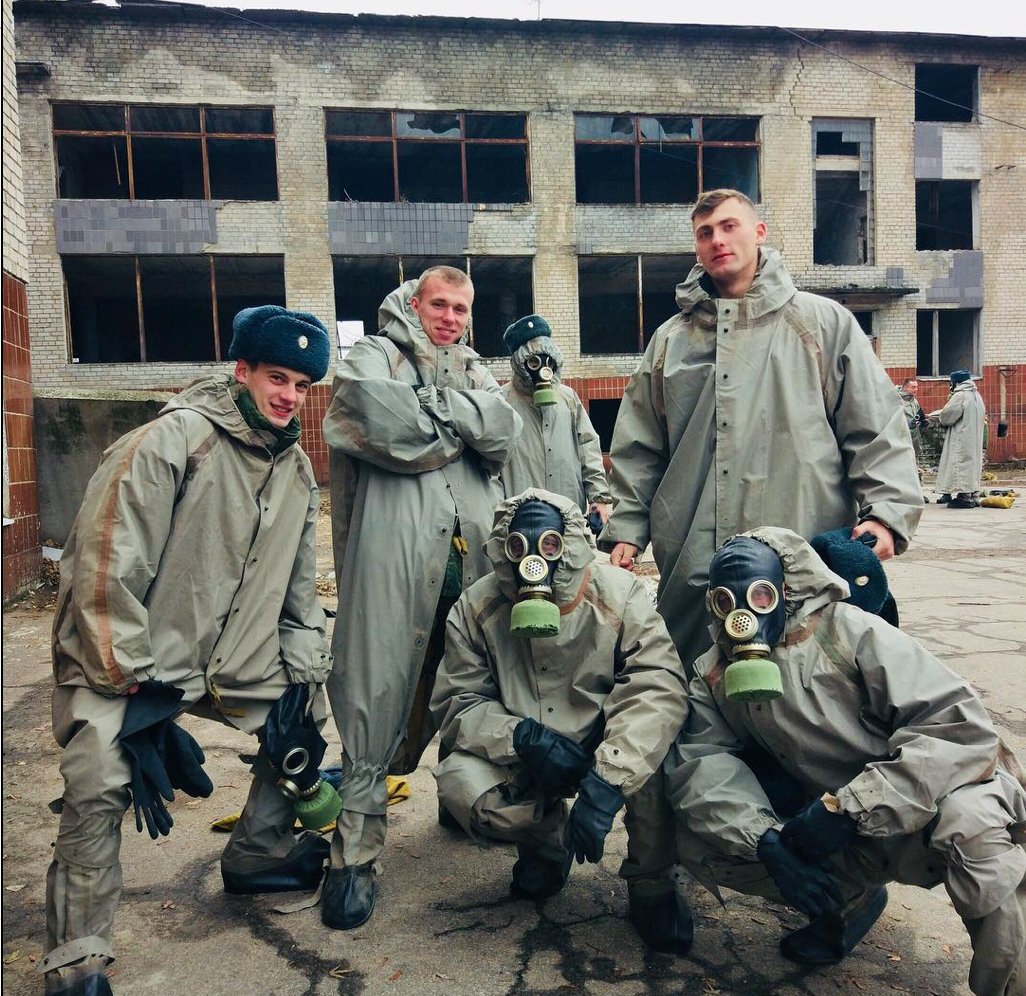 Servicemen of NM LNR held a class in CW at a school – YouTube
Kremlin Spokesman Reveals What Keeps Putin Awake at Night – Sputnik International
According to Peskov, Putin needs to take part in various important meetings that need to be held straight away, and to examine vast amounts of information provided by government officials.
Russia Not Increasing Military Presence in Azov Sea – Foreign Ministry – Sputnik International
MOSCOW (Sputnik) – Russia is not increasing its military presence in the Sea of ​​Azov, its forces there are guarding the Crimean Bridge, Russian Foreign Ministry spokeswoman Maria Zakharova said Wednesday.
Russia says it won't let U.S. see missile at heart of nuclear dispute | Reuters
Russia said on Wednesday it would not let the United States inspect a new nuclear-capable cruise missile at the heart of a dispute between Washington and Moscow that risks unraveling a landmark arms control treaty.
US confirms pullout from INF treaty, Moscow will respond if missiles placed in Europe – deputy FM — RT World News
Washington has confirmed its decision to withdraw from the INF treaty is final, Russia's deputy foreign minister said, adding that Moscow will 'take measures' if American missiles that threaten its security are placed in Europe.
Russia will easily design new missiles to defend itself if US pulls out of INF – Putin — RT World News
Russia may easily respond to the US withdrawal from the milestone INF Treaty by developing new types of land-based missiles, Vladimir Putin said, warning that Washington's decision to pull out "is one step towards an arms race."
New Russian Weapons 'Significantly Increase' Military's Potential, Putin Warns Rivals
"A serious breakthrough has been made in developing advanced and unparalleled weapons," Russian President Vladimir Putin said.
Putin Claims New Russian Weapons Have No Foreign Equivalent
During a meeting with the top military brass, Putin specifically mentioned the new Kinzhal hypersonic missile and the Avangard hypersonic glide vehicle
Putin: Russia has enough missiles without violating treaty
MOSCOW (AP) — President Vladimir Putin on Tuesday rejected the U.S. claim that Russia developed a new cruise missile in violation of a key nuclear treaty, arguing that Russia has no need for such a land-based weapon because it already has similar missiles on its ships and aircraft. Washington warned this month it would suspend its obligations under the Intermediate-Range Nuclear Forces Treaty (INF) in 60 days if Russia did not return to full compliance. The U.S. claims the 9M729 cruise missile breaches the INF, which bans all land-based cruise and ballistic missiles with a range of 500 to 5,500 kilometers (300 to 3,400 miles.)
Putin: Russia has enough missiles without violating treaty, and nobody has hypersonic weapons like theirs
The Russian president denies the U.S. claim it is developing a land-based cruise missile.
Putin: Russia's New Missiles Will Give West 'Food for Thought' | National Review
Putin's comments were a thinly veiled threat to Western leaders.
Vladimir Putin: New Russian missiles will give the West 'food for thought'
A new missile system should give Western powers pause before they threaten Russia, Vladimir Putin told his defense advisers in Moscow on Tuesday.
Putin says new hypersonic Russian weapons are without equal – Business Insider
The Russian president said that the Kinzhal hypersonic missile and a hypersonic glide vehicle would ensure his country's safety for decades to come.
Russian President Vladimir Putin says open to third nations joining nuclear treaty
Vladimir Putin spoke after Washington this month said it would withdraw from the Intermediate-Range Nuclear Forces treaty within 60 days if Russia did not dismantle missiles that the US claims breach the deal.
World War 3 fears as Putin issues chilling warning over Russian weapons | World | News | Express.co.uk
VLADIMIR Putin has issued a chilling warning to the West after telling Kremlin defence chiefs of a "serious breakthrough" in his country's weapons development programme.
Russia boasts new hypersonic weapons: US admits they are powerless to Putin
President Vladimir Putin is bursting with pride. He's certain Russia's brace of new weapons have no foreign equivalents. And he believes this will give his country an edge for decades to come.
Putin vows to become 'combat ready' and boost Russia's nuke weapons arsenal in 2019
Vladimir Putin has boasted about the superiority of Russia's new weapons as he promised to boost its nuclear arsenal if the US pulls out of a Cold War arms treaty.
Vladimir Putin plots fresh NUCLEAR WEAPONS in war with US after INF treaty | World | News | Express.co.uk
VLADIMIR PUTIN launched an attack on the leadership of the Soviet Union for protecting the dominance of the US rather than the interests of Russia, during a meeting with military personnel on Tuesday. Attacking the Soviet Union, he said: "Only God knows why did the leadership of the Soviet Union agree to this one-sided disarmament, but this was done, and our partners continued to develop such systems." Mikhail Gorbachev and Ronald Reagan signed the Intermediate-Range Nuclear Forces Treaty (INF) in 1987 which aimed to reduce both sides nuclear capacity. By the treaty's deadline of 1 June 1991, the Soviet Union had destroyed 1,846 such weapons compared to just 846 by the US. Speaking to his military leaders, Putin also vowed to increase Moscow's military going forward.
Russia to Test Nuclear Forces As Vladimir Putin Warns of U.S. Arms Race
Over 18,000 exercises and training sessions were conducted in the past year and new ones are being planned for 2019, Russia's defense minister said.
From 11 to 17 September, the Russian armed forces conducted the active phase of the Vostok-2018 strategic-operational war game exercise. Vostok 2018 was the largest Russian military exercises held over the past four decades. Conducted as part of the Russian Armed Forces combat training plan 2018, the drills were held across Russia's Far East and Pacific waters, under the overall command of the Russian Defense Minister Sergei Shoigu. By staging this impressive show the Kremlin sought more than just to test and improve command and control and forces integration. Size and Objectives – the Official Aspect Vostok-2018 is certainly the largest military exercise ever held in Russia's modern history. The exercise was the largest held in Russia since Zapad-81 conducted by the Soviet Union — the maneuvers held in the Belorussian, Kiev and Baltic Military Districts, as well as the Baltic Sea in 1981, and with participation of military contingents deployed by several Warsaw Pact armies.
UAWire – Putin says it does not make sense to release Ukrainian filmmaker Sentsov
During a session of the Council for Civil Society and Human Rights, Russian President Vladimir Putin said that Russia has been considering the …
Soviet Sentimentality: Russians' Regret At U.S.S.R.'s Collapse Hits 14-Year High
More Russians regret the breakup of the Soviet Union than at any other time since 2004, an opinion poll shows.
Window on Eurasia — New Series: Is a Russian Nation State Necessary or Even Possible?
Paul Goble Staunton, December 17 – Russian opposition leader Mikhail Khodorkovsky has reignited a longstanding debate about the formation of a Russian nation state by saying that he is convinced that Russia must form such a state in order to integrate with Europe (currenttime.tv/a/khodorkovsky-interview-jemal-yukos-olevsky/29621390.html). That argument, commentator Vadim Sidorov says, raises many questions especially because the idea of a nation state is usually defined in terms of opposition to an imperial one. Indeed, he points out, Khodorkovsky himself has relied on that division himself, although in a different way than his current position suggests (afterempire.info/2018/12/15/hodorkovskiy/). In his first interview after being released from prison, the commentator continues, Khodorkovsky declared that he was "categorically against" the separation from Russia of the North Caucasus and was prepared to use armed force in order to prevent that from happening (youtube.com/watch?v=zlQG3HJkFWQ). That raises the question as to just what kind of a Russian nation state the opposition figure envisions given that there are many indigenous nations within the borders of the Russian Federation and many of them have their own national aspirations which do not include becoming ethnic Russians as a Russian nation state would seem to require. Essentially, there are two possible courses the country could pursue to become a nation state. Either it could agree to allow those nations within its borders that do not want to be there to leave, something Khodorkovsky rejects, or it could seek to Russify the empire, the path Vladimir Putin and Vladimir Zhirinovsky favor. "If Khodorkovsky wants to follow the Putin-Zhirinovsky policy on the de facto Russification of imperial Russia, then he ought to be honest enough to say so.," Sidorov suggests. If he doesn't, then what does he propose? The answer is far from clear, especially if one believes as he does that the nation state is the only way forward. One possibility is the formation of a genuine civic nation. The Kremlin says that is what it wants; but in fact, its language makes clear that it is seeking a civic nation defined almost entirely by the Russian nation, something that other peoples of the empire find completely unacceptable. Another possibility, Sidorov says, flows from the arguments of the late Petr Khomykov who argued that the current Russian imperial nation could be most simply transformed into a civic nation if it were to be subdivided into "several political nations with their regional interests and specific features" (medium.com/@harunrusi/преодоление-национализма-и-задачи-русской-революции-2010-885f2ba6ca3c). What might that mean? Sidorov suggests that ethnic Russians living in non-Russian republics could become part of the civic nation of each of those as Bashkir opposition figure Ayrat Dilmukhametov has urged. And then these nations, including Russians, could remain "in a single federation or confederation" capable of retaining and defending "the common space." If all residents of such a system had equal rights, one could in a certain sense call the state a national one, Sidorov says; but it would contain within itself "a multitude of political nations" united in a federation rather than many subordinate to only one. Therefore, he continues, it is more appropriate to call such a country not a nation state but a national home and avoid any references to "state-forming" peoples, which inevitably suggest that one nation is superior to others. Getting to that point may not be easy; but not getting to it will preclude the modernization and integration Khodorkovsky seeks.
Window on Eurasia — New Series: 'The Secret Languages of Grandmothers' and the Fate of the Russian Empire
Paul Goble Staunton, December 17 – Lennart Meri famously described Estonians as a nation which for centuries had lived on a single slab of rock that was gradually rising up from the pressure of the last ice age and which used its language as a secret code that allowed it to live its own live under the pressure of foreign rule. The Estonian president's words about language are especially important: a nation which continues to speak a language occupiers do not learn can maintain itself for centuries whatever pressures the occupying powers place on it because the language serves as a unifying force for those who speak it and becomes political because the occupiers transform it into. Indeed, while some nations become nationalist only after they lose their national language – the Irish are the classic example of this – most, like the Estonians, become nationalist precisely because of their attachment to their language and because under the occupation of others, few outsiders learned it. Imperial rulers like the tsars, commissars and now presidents of Russia, can close schools, newspapers, and public institutions in the national languages destroying some of the nations they rule or transforming those nations into anti-Russian nationalists much as the Irish became opponents of the British after learning to speak English. But these rulers can do little except over very long periods of time to destroy the chief transmission belts of national languages, the families and especially the grandmothers who not only retain their languages but pass them on in the circle of their families to their children and grandchildren. To be sure, they may ultimately be fated to lose with the passing of generation after generation; but it is striking how often the reverse is the case and how "the secret language of grandmothers" becomes the basis for national rebirth even if imperial rulers and empire-centric ethnographers typically ignore that possibility. That makes a new article by Svetlana Niberlyain, a journalist from Kazan who has been living in Germany since 2002 on "The Secret Language of Grandmothers: How Udmurts in Germany are Preserving Their Native Language" especially important and noteworthy (idelreal.org/a/29658222.html). The journalist spoke with five Udmurts living in Germany. Some of them are losing their language with the passing of generations, but others have found ways to keep the language going. Perhaps the most interesting of the give is Olga Ignatyeva, an Udmurt married to a Hungarian and living in Nurnberg who maintains an Udmurt language blog, kepics.tumblr.com/. She grew up in Udmurtia, graduated from the Finno-Ugric division of the Udmurt State University, and then did graduate work in Hungary where she defended her dissertation I 2011. A year earlier, she moved to Germany with her Hungarian husband. She has two daughters, aged six and seven. Olga decided to start her blog to tell her relatives in Udmurtia about her children and to link her children into the Udmurt world. She and her family members speak Hungarian at home primarily, then German and only then Udmurt. Udmurt is suffering lexically, she says, but it remains important for her and her children – and her husband understands but doesn't speak it. She says that her children "are beginning to understand that Udmurt is our own secret language" and that when it is used in an argument, things are becoming serious. This is reinforced by the numerous visits she and her children have made to Udmurtia where they can see that many people speak Udmurt. But the children's visits there have another impact: they see Russian on television and then ask why they aren't learning that language too. They have become more insistent about that because of the large number of Russian speakers now living in their neighborhood. But Olga continues to speak Udmurt – and the children are retaining it as well.
One of the Russian parliament's most outspoken critics of the West has a fancy London restaurant in his son's name and a Miami apartment in his niece's name — Meduza
In the 1990s, Chepa managed the Friendship and Cooperation Foundation with the Republic of Angola and ran a business that was especially active in Africa. The newspaper Vedomosti has called Chepa a former Russian intelligence agent, and journalists say he has ties to Arkady Gaidamak, an Israeli businessman convicted in France in 2009 of illegally supplying weapons to Angola between 1993 and 1998. (Gaidamak says the French courts are persecuting him for political reasons.)
Based on new draft legislation, here's how Russia would actually build its own, autonomous Internet — Meduza
This scenario is possible, if federal lawmakers adopt new legislation drafted by deputy Andrey Lugovoy and senators Andrey Klishas and Lyudmila Bokova, which they submitted to the State Duma on December 14.
Russian Media Regulator Threatens Fines Against Facebook, Twitter
The head of Russia's government media regulator has threatened fines against Facebook and Twitter if they don't comply with laws requiring user information be stored locally.
Moscow court formally blocks Alexey Navalny's online project to defeat United Russia in regional elections — Meduza
Moscow Tagansky District Court judge Olga Sinelnikova has ruled against Alexey Navalny's "Smart Vote" website, siding with Roskomnadzor and finding that Smart Vote violates Russia's regulations on personal data storage. The information of people who register with the website is processed through the service Google Analytics, which is based in the United States. Sinelnikova ruled that this data legally needs to be stored on servers in Russia, and determined that Smart Vote prompts users to share their bank account information to purchase merchandise without disclosing how it handles the information.
Here's How Russian Trolls Turned Social Media Into a Weapon While Tech Giants Played Dumb – To Inform is to Influence
The two reports cited in Gizmodo are fairly objective and unbiased, in that the conclusions were that Russian trolls used existing societal fault lines in all groups from many different perspectives along all party lines. Platforms used: Twitter Facebook Instagram YouTube Tumblr Reddit Vine Gab Meetup VKontakte LiveJournal Games Browser extensions Music apps were weaponized. Pokémon Go When targeting African Americans and Liberals, the following memes were common. Amplify messages that liberal Senator Bernie Sanders was better choices than Hillary Clinton Amplify messages that liberal Jill Stein was better choices than Hillary Clinton Encourage them not to vote at all When targeting Conservatives, Russian trolls focused on: Confederate history Veteran's issues when targeting older groups. Younger conservatives would focus on "meme Younger conservative were focused on 'red pill' culture" </end editorial>
Here's How Russian Trolls Turned Social Media Into A Weapon While Tech Giants Played Dumb | Gizmodo Australia
On Monday, two new independent studies commissioned by the Senate Intelligence Committee were made public, providing the most in-depth look at online Russian interference in the 2016 election to date. The studies found that social media networks haven't been totally forthcoming with lawmakers, and the propaganda…
UAWire – Volker: US will send more weapons to Ukraine
In the next few months, the US intends to send Ukraine a new batch of weapons, US Special Representative for Ukraine Kurt Volker announced at a …
Volker ready to meet Surkov if Russia demonstrates readiness to release Ukrainian seamen — MP
U.S. Special Representative for Ukraine Kurt Volker said at a meeting with members of the Ukrainian parliament that he had canceled his meeting with the Russian president's aid Vladislav Surkov because there had been no signals from Moscow to confirm its readiness to release the Ukrainian naval seamen who were taken prisoners of war near the Kerch Strait on November 25, MP Anna Gopko, head of the Verkhovna Rada's committee on foreign affairs, has said.
Could the latest Russia-Ukraine spat herald another Crimea? | Europe| News and current affairs from around the continent | DW | 18.12.2018
Ukraine fears the holiday season may bring new hostilities with Russia. A key American diplomat warns that international support for Kyiv is urgent — and so far absent. Teri Schultz reports from Brussels. Russian Foreign Minister Sergey Lavrov has said that Ukraine is planning an "armed provocation" in Crimea by the end of the year which justifies Kremlin actions including sending fighter aircraft to the territory Moscow illegally annexed in 2014. On a visit to Brussels, Ukraine's Deputy Prime Minister Ivanna Klympush-Tsintsadze said there was only one way to interpret Lavrov's remarks blaming Kyiv. "I am taking this as a direct threat from the Russian Federation, and I would hope that everybody in the West — notwithstanding the fact that it's Christmas time — would be very very alert to the actions of the Russian Federation." NATO warns against "escalation" NATO spokeswoman Oana Lungescu noted that additional Russian air power in Crimea would be just the latest step in what she called Moscow's "significant military build-up" in the area. "Russia's ongoing militarization of Crimea, the Black Sea and the Sea of Azov pose threats to Ukraine's sovereignty, and undermine the stability of the broader region," Lungescu told DW. "Escalation would be in no one's interest."
Volker, Yovanovitch urge Russia to release Ukrainian sailors | UNIAN
U.S. Special Representative for Ukraine negotiations, Ambassador Kurt Volker, and U.S. Ambassador to Ukraine Marie Yovanovitch have called on Russian authorities to release all 24 Ukrainian sailors held by Russia. The American diplomats have called Russian aggression against Ukraine "unacceptable."
UAWire – US prepares second sanctions package against Russia for Salisbury poisoning
The US is still considering the second package of sanctions against Russia in connection with the Salisbury incident, a source in the US …
Europe Loses Taste for Punishing Russia as U.S. Toughens Stance – Bloomberg
Almost five years since Russia's military intervention in Ukraine sparked Western sanctions that have helped to smother growth, European governments are losing the appetite for punishing actions against Moscow. That's no solace for investors.
Ukraine offering partners to jointly with navy ships pass through Kerch Strait from Black Sea ports to Sea of Azov – Turchynov
National Security and Defense Council (NSDC) Secretary Oleksandr Turchyov has announced a new voyage of Ukrainian Naval Forces vessels through the Kerch Strait, leaving open the possibility that ships from Ukraine's partners or international organizations would take part. In an interview with the British Broadcasting Company's Ukraine bureau "BBC Ukraine" Turchynov said military ships would attempt to pass through the Kerch Strait again. Turchynov was quoted as saying: "Yes. This is an issue of principle for us. If we stop and give up, Russia will have practically achieved its goal of seizing the Sea of Azov, have declared to the world its new sea borders in the Black Sea, de facto legalizing the occupation of Crimea." Turchynov said there is no time to waste. "We are offering our partners to take part in the passage from Ukrainian Black Sea ports to Ukrainian ports in the Sea of Azov," he said, adding that representatives of the Organization for Security and Cooperation in Europe and other international organizations would be invited. "…In order for them to be present on our ships, to prove to the world that Ukraine and its sailors do not violate any laws or international rules. We have no alternative to such a course of action," Turchynov said.
Ukraine updates Maritime Doctrine to strengthen positions in Azov, Black seas | UNIAN
The Ukrainian Cabinet has approved the National Maritime Doctrine for the period until 2035, intended to strengthen Ukraine's positions in the Azov and Black seas and the Kerch Strait linking them. The move is made in the wake of Russia's latest aggressive actions.
UAWire – UN General Assembly condemns militarization of Crimea and the Sea of Azov by Russia
The UN General Assembly supported the resolution proposed by Ukraine that expressed serious concerns regarding the militarization of the Crimea, …
Israel joins UN critics of Russia's 'occupation' of Crimea – Israel National News
Israel votes in favor of UN resolution condemning Russian occupation of Ukraine's Crimean peninsula.
In rare move, Israel casts vote against Russia at U.N. – International news – Jerusalem Post
The resolution passed by a vote of 66-19, with 72 abstentions.
Russia completes rearming air defense forces in Crimea with S-400 missile systems – Russian media | UNIAN
Russia has completed rearming air defense forces in Crimea with the advanced S-400 Triumf surface-to-air missile systems. The S-400 can engage targets at a distance of 400 km and at an altitude of up to 30 km.
UAWire – Ukraine puts its cyber forces in combat mode
Russia orchestrated a powerful DDoS attack on the Ukrainian Defense Ministry website at the same time as its border guards were attacking and  …
Ukraine's General Staff: Reservists may return home before Christmas | UNIAN
The General Staff of the Armed Forces of Ukraine says all active reservists called for training may return home before Christmas if there is a lower threat of Russian invasion. Over 3,000 military reservists from across the country have been sent to eight training centers of the Armed Forces of Ukraine.
Poroshenko: No need for army mobilization – LB.ua news portal
Poroshenko: No need for army mobilization. The army is keeping the situation under control. Political – LB.ua news portal. Latest from Ukraine and the world today
Royal Air Force and Marine Corps of Ukraine will conduct joint training – Український мілітарний портал
A briefing takes place between the representatives of the British Armed Forces and the Marines of the Navy of the Armed Forces of Ukraine in the Nikolayevsky garrison on conducting large-scale exercises in Ukraine WARRIOR WATCHER-2019. This is reported by the press service of the 36 brigades of the Marine Corps These exercises will be held for the first time. They will be attended by Marines of the Naval Forces of the Armed Forces of Ukraine and the Air Forces of the Kingdom of Great Britain. From Ukraine, the 503rd Marine Corps Navy Battalion of the Armed Forces of Ukraine under the command of Major Vadim Sukharevsky will take part in the exercises, who also participated in the briefing with representatives of the Marine Corps Command of the Navy of the Armed Forces of Ukraine. During the briefing, the order of the exercises, the number of participants on both sides, the venue, organization and provision of the entire planning process and the practical component of the exercises will be discussed.
Royal Navy 'spy ship' enters the Black Sea in show of strength to Vladimir Putin as Ukraine fears Russia invasion
The high tech warship has been photographed passing through Bosporus Straits as it sails to toward the Black Sea in support of Ukraine after Russia seized its warships and sailors
HMS Echo reconnaissance ship arrives in Ukraine (Photo) | UNIAN
The HMS Echo (H87) reconnaissance ship of the British Royal Navy moored at the berth of the Odesa sea port at 10:30 on December 19. According to Klymenko, this is the first NATO warship paying a visit to the Black Sea with a direct statement of the purpose of visit related to the Azov crisis.
UAWire – NATO ship arrives in Black Sea ahead of schedule to assist Ukraine
The British survey ship HMS Echo (H87) entered the Black Sea on the evening of Monday, December 17. The ship arrived ahead of schedule due to …
FOCUS – In Ukraine's Donbas region, war rumbles on
Last month, a naval incident saw Russia shoot openly at Ukrainian military personnel for the first time and seize 24 Ukrainian sailors. Ukraine, in response, has declared martial law in ten regions, made good on promises to create an independent Ukrainian Orthodox Church, and ended a treaty of friendship with Russia that was still in force. Little noticed by the world, war rumbles on in the eastern Donbas region, occupied by Russian-backed forces. FRANCE 24's Gulliver Cragg reports.
In Ukraine, the production of small arms ammunition commences – Український мілітарний портал
The Vinnitsa factory "Fort" launched a full line of production of cartridges for pistols for the Ministry of Internal Affairs. This was announced on December 19 during a visit to Vinnytsia region and visit to the enterprise by the Minister of Internal Affairs Arsen Avakov, the press service of the Ministry of Internal Affairs informs. "At the state state-owned enterprise" Fort ", which is part of the management of the Ministry of Internal Affairs, we launched a full line of production of cartridges for guns gauge 9h18mm and 9x19mm. These are pistols for police officers, national guards, border guards, that is for all units of the Ministry of Internal Affairs. With the launch of this line, we will fully meet the needs of our bodies of the Ministry of Internal Affairs in this type of ammunition and, in addition, we can transfer to other bodies or even export ", – said Avakov. According to the KFOR of Fort, the launch of the new production line became possible after the allocation of almost UAH 69 million with the support of the Government and the Ministry of Economy. For them, equipment was purchased from various world producers (USA, Czech Republic, Poland Turkey). It is specified that at present these production lines are capable of manufacturing small arms of these guns for pistols in two-shift mode with a total of 14 million pieces per year.
Counter-intelligence of the SBU has prevented sabotage in the Kharkiv region – Український мілітарний портал
The Security Service of Ukraine prevented the sabotage planned to be carried out in the Kharkiv region on the railroad track. This was stated on Tuesday at a briefing by the representative of the SBU's counterintelligence department Volodymyr Nastjuk, Ukrinform "We conducted a special operation, the results of which prevented a sabotage act on one of the objects of the transport infrastructure of the Kharkiv region," said Nastyuk. He said that it was established that this crime was organized by representatives of the so-called Ministry of State Security of the "Luhansk People's Republic", which is fully controlled by the special services of the Russian Federation. Nastyuk said that on December 17, the unlawful activity of a citizen of Ukraine in 1989 of birth was stopped, which, according to the instructions of a special security officer of the Russian Federation, laid an explosive device under a railway cloth in the area of ​​the Kharkiv region and attempted to activate it.
Ukrainian court: Russian MP, FSB colonel behind sabotage in Ukraine – LB.ua news portal
The Zhovtnevyy district court in Mariupol has found that Russian State Duma MP Dmitriy Sablin (United Russia) coordinated acts of sabotage in Ukraine. The court conclusions were published on 17 December. The court found Donetsk-born Russian Col Roman Komissarov guilty and sentenced him to 15 years in prison in absentia. Having previously served in the Russian FSB border troops, he had been taking part in hostilities in Donbas since 14 May 2014. Komissarov joined the separatist battalion Vostok (East) commanded by Oleksandr Khodakovskyy. He was in charge of a group of saboteurs carrying out terrorist acts against Ukrainian law enforcers in Mariupol. In particular, they attacked a column of Ukrainian border guards on 14 June 2014 and set a gas tank truck on fire. Later, the Russian colonel was in command of the militants during the battle for Savur-Mohyla on 26-29 August 2014. In November 2014, he was appointed "the head of the security council department of the Donetsk People's Republic" and was responsible for reconnaissance in the area of Avdiyivka. From 2016 to 2 February 2017 he was an adviser to the head of "the DPR interior troops". It was established that he coordinated sabotage activities against Ukraine with Russian MP Sablin. Both studied in the same school in Mariupol. According to the Pogranichniki Tuvy (Border Guards of Tuva) community in the Russian social network Odnoklassniki, Col Roman Yuryevich Komissarov died in late 2017. The post did not say what caused the death.
Ukraine, Belarus to relaunch river navigation – news about economy
The State Enterprise Ukrainian Sea Ports Authority (USPA) and Belarusian-based CJSC Beltopenergo have agreed on the relaunch of river navigation between Ukraine and the Republic of Belarus. The project is aimed at the development of logistics and transportation of goods between the two countries using river transport.
While Poroshenko wants to talk religion, journalists have other subjects in mind | KyivPost
After Ukraine created a unified Ukrainian Orthodox Church on Dec. 15, President Petro Poroshenko, went to celebrate the event at a press conference to address the nation and take questions from journalists. Only three out of 23 journalists allowed to ask a question asked about the church. Most questions focused on corruption, Russia's war and the March 31 presidential elections. The press conference took place on Dec. 16 at Mystetskyi Arsenal in Kyiv and was broadcast live on national television channels.
UAWire – Kyiv: Ukraine to spends almost third of its budget to pay off government debt in 2019
According to the press service of the Finance Ministry of Ukraine, Ukraine's budget for 2019 will provide 417 billion hryvnia for repayment and …
IMF Backs $3.9 Billion Loan For Ukraine
IMF aid had effectively been frozen since April 2017 due to the country's sputtering efforts to implement major economic reforms and tackle corruption.