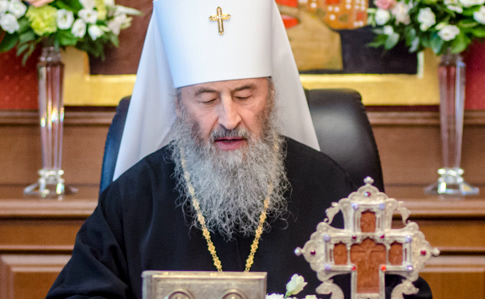 A late development in the War of the Churches
Why?  Why a late development?  Is it to:
Unite with the UOC-Kyiv Patriarch (doubt it)
Unite with the ROC officially and drop the UOC-MP?  (perhaps)
Is it to claim "victimhood and oppression" from Kyiv to be used for propaganda and provocation purposes? (most likely) – this most likely because of the Ukraine SBU investigation, finding propaganda
We do not know the outcome – yet. 
Russia and all their minions claim victimhood at every opportunity, so this is most likely what an "emergency" meeting is about. Almost as likely, however, would be talks of unification with the UOC. Existing as an adversary in Ukraine would be a very difficult and precarious position. If the SBU is correct, however, the UOC-MP may be asked to leave. 
Bottom line, we just do not know – yet. 
</end editorial>
---
---
On December 17, an extraordinary meeting of the Holy Synod of the Ukrainian Orthodox Church of Moscow Patriarchate began on the territory of the Holy Assumption Kyiv-Pechersk Lavra.
This is reported by the Information and Educational Department of the UOC-MP .
It is noted that the meeting is headed by Metropolitan Onufriy.
"The permanent members of the Holy Synod are: Metropolitan of Odessa and Izmail Agafangel, Metropolitan of Simferopol and Crimean Lazarus, Metropolitan Khust and Vinogradov Mark, Metropolitan of Donetsk and Mariupol Hilarion, Metropolitan of Kamenets-Podilskyi and Horodok Theodore," the statement reads.
There are also Metropolitan Vyshgorod and Chornobyl Pavel, Metropolitan of Luhansk and Alchevsk Mitrofan, the secretary of the Holy Synod, the administrator of the affairs of the UOC-MP Metropolitan Borispol and Brovarsky Anthony.
It is reported that during the extraordinary meeting of the Synod, questions will be considered "related to the challenges now facing the Ukrainian Orthodox Church."
Earlier, the newly elected head of the Orthodox Church of Ukraine, Metropolitan Epiphanius, said that after the Unity Cathedral, Metropolitan Onuphrius would be the only Metropolitan of the Russian Orthodox Church in Ukraine.
On December 15, the Unity Council elected the Metropolitan of Pereyaslavl and Bila Tserkva Epiphanius (Dumenko) as primate of the only Orthodox Church of Ukraine.
President Poroshenko presented him as Metropolitan of Kiev and all Ukraine .
Also, after the election of a new head of the UOC, the head of the UOC-MP, Onufri, officially lost the title of Metropolitan of Kiev .
After the election, Epiphanius urged the bishops and believers to join the newly formed church.