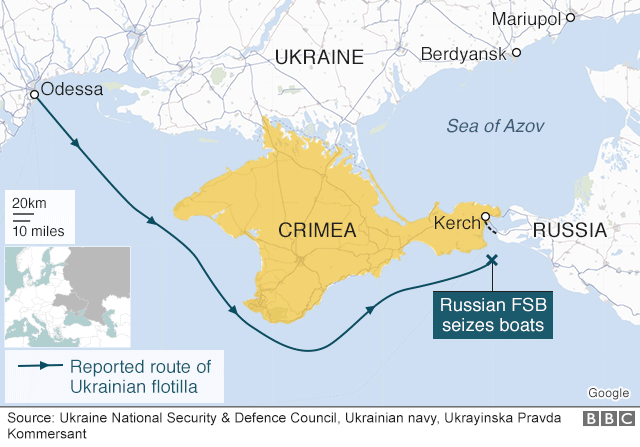 The BBC just published an article which contains quite a few examples of Russian argumentative techniques, propaganda ploys, and disinformation.
In "Ukraine-Russia sea clash staged, says Putin", even the headline shows Putin shifting the blame to an alleged Ukraine planned and executed operation.
"Blameshifting" appears to be Russia's best weapon in the war of words over the naval incident between Ukraine and Russia near the Kerch Straits. Many, if not most, of what Russia blames Ukraine has, in fact, been done by Russia. Recently released signals intelligence intercepts shows that Russia, as a matter of fact, organized, planned, and executed this highly aggressive operation.
Russian President Putin blames Ukraine: "It is undoubtedly a provocation"
Putin on Ukraine's President Poroshenko: "He had to do something to make the situation more tense"
It was organized by Ukraine's authorities.
Another technique is called a Red Herring, distracting from the main argument.
…the Ukrainian president's decision to impose martial law after a mere "border incident" had not even taken place at the height of the conflict with pro-Russian separatists in eastern Ukraine in 2014.
This is the first time Ukraine has declared martial law, but that argument is just a distraction from the fact that Russia has apparently broken several international laws to try and seize control of the Sea of Azov and seal off the Ukraine ports of Mariupol and Berdyansk.
Putin offered up a "motivation" for this "Ukrainian" ploy:
"…it was organised by Ukraine's authorities "and, I think, the incumbent president in the run-up to the Ukrainian presidential election in March 2019".
This is backed up by reporting in the Kyiv Post,
10% of voters plan to vote for him next year and nearly 50% saying they would not vote for him under any circumstances, the Kyiv Post newspaper reported.
Putin alleges that President Poroshenko staged this incident to garner votes.  This is reinforced by Ukrainians stating that martial law is intended to delay the election.
The final Putin quote in the article describes exactly how Russia plans to deal with this situation, as they have with every aggression against Ukraine and the West.
"This political froth will die down".
The West gets very angry but Russia counts on the fact that the West is easily distracted, moves on to the next crisis, and then, quite often, focuses internally, domestically. This appears to be Russia's tactic of choice. Act aggressively, endure criticism, let the tensions die down, then act aggressively again. Break the law, the rules, etiquette, or accepted norms, wait for the outrage to stop and for attention to focus elsewhere, then do it all over again.
Russia is careful not to cross over the threshold which would force the world to act. Putin does not want a Desert Shield/Desert Storm response from the West. Instead, Russia quietly took over Abkhazia and South Ossetia in Georgia, then Crimea and Donbas in Ukraine, and now is attempting to take over the Sea of Azov.
Propaganda, disinformation, deception through words, these all play a major part in what Putin does.  Speak in generalities and never accept blame. Deny, distract, and if all else fails, say "we have nukes".