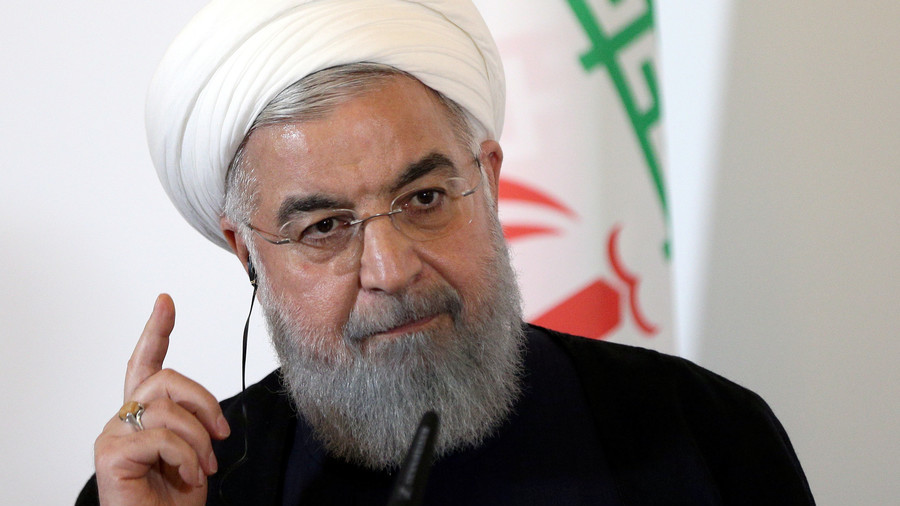 There are a series of dictums called "Murphy's War Law".  One is "If the enemy is within range, so are you."
When Iran threatens the US, that our troops are within range of their missiles, they should remember that Iran is also within range and has many, many different platforms to launch such strikes.  The US also has a history of launching strikes against belligerents as punishment.
Iran specifically mentioned Al Udeid Air Base in Qatar and the US base in Qandahar, Afghanistan.
Except for bluff, bravado, and undeserved machismo, this is an empty threat.  I am not certain who Iran is seeking to influence with this belligerent language. I am curious what they seek to accomplish. 
SC/IO/IW Analysis
This statement seems to be intended to prevent the US from emplacing sanctions on Iran, that appears to be the strategic goal. The US, in turn, must weigh the potential loss of life against a pre-emptive, a retaliatory strike, a message, diplomatic, military, economic, or even legal actions. There is no doubt, however, that if Iran were to launch such an attack, Iran would be punished.  The only decision that must be made is if a pre-emptive strike is required as a result of a belligerent message.  The answer seems to be a loud "no".  Is a response warranted with words?  Yes, and it should come as a warning, from the President.
</end editorial>
---
---
NOVEMBER 21, 2018 / 4:14 PM / 2 DAYS AGO
Iran says U.S. bases and aircraft carriers within missile range
LONDON (Reuters) – An Iranian Revolutionary Guards commander said on Wednesday that U.S. bases in Afghanistan, the UAE and Qatar, and U.S. aircraft carriers in the Gulf were within range of Iranian missiles, as tensions rise between Tehran and Washington.
"They are within our reach and we can hit them if they (Americans) make a move," Amirali Hajizadeh, head of the Revolutionary Guards' airspace division, was quoted as saying by Tasnim news agency.
Hajizadeh said the Guards had improved the precision of their missiles, and specifically said they could hit the Al Udeid Air Base in Qatar, Al Dhafra base in the United Arab Emirates and Kandahar base in Afghanistan that host U.S. forces.
U.S. President Donald Trump pulled out of an international agreement on Iran's nuclear programme in May and reimposed sanctions on Tehran. He said the deal was flawed because it did not include curbs on Iran's development of ballistic missiles or its support for proxies in Syria, Yemen, Lebanon and Iraq.
The Islamic Republic's government has ruled out negotiations with Washington over its military capabilities, particularly its missile programme run by the Guards.
Iran, which says its missile programme is purely defensive, has threatened to disrupt oil shipments through the Strait of Hormuz in the Gulf if the United States tries to strangle Iranian oil exports.
In October, the Revolutionary Guards fired missiles at Islamic State militants in Syria after the Islamist group took responsibility for an attack at a military parade in Iran that killed 25 people, nearly half of them members of the Guards.
Reporting by Bozorgmehr Sharafedin; Editing by Robin Pomeroy and Hugh Lawson
Source: https://www.reuters.com/article/us-iran-usa-missiles/iran-says-u-s-bases-and-aircraft-carriers-within-missile-range-idUSKCN1NQ2KA