An obscure Moscow-based state-run bank has emerged as a key player in Venezuelan President Nicolas Maduro's efforts to work around U.S. sanctions that are cutting his country off from the global economy.
Evrofinance Mosnarbank, which is jointly owned by Russia and Venezuela but not subject to sanctions itself, has been tapped by the Maduro government as an alternative to handle payments to its suppliers. What's more, officials in Caracas are urging local banks and companies to channel international transactions through Evrofinance, according to people with direct knowledge of the matter.
For Maduro, there's a lot riding on the gambit. Desperate to stem a brutal economic collapse and restore some sense of normalcy, the authoritarian leader needs to find a way to reinsert companies in international markets so that they can carry out tasks as simple as importing and exporting goods or wiring money from Caracas to Miami.
Major U.S. and European-based financial institutions have cut off ties with Venezuelan businesses to avoid running afoul of restrictions that the U.S. imposed to punish the Maduro regime for human-rights abuses, political repression and graft. But Evrofinance, with its unique capital structure and its origins as a joint venture created during the alliance between Vladimir Putin and the late Hugo Chavez, has been unmoved by such concerns. If anything, it's become increasingly involved in Venezuelan markets.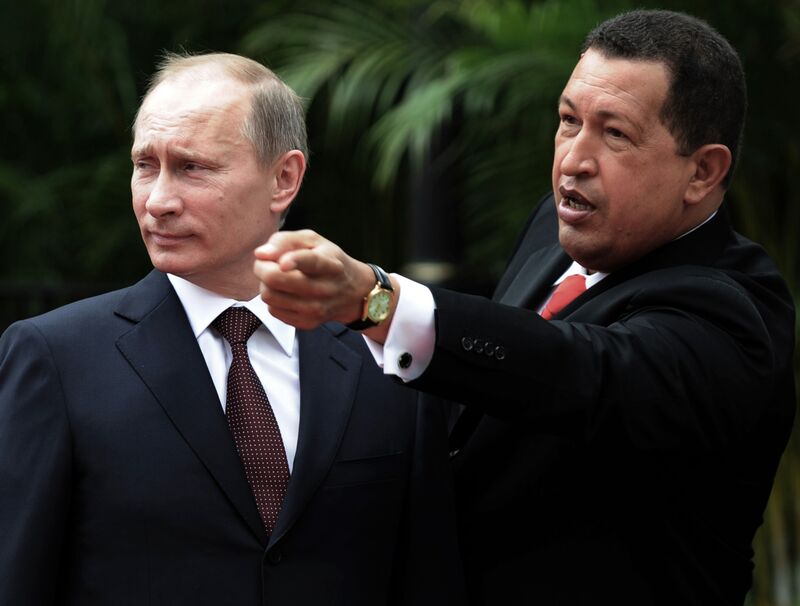 Bank Meetings
In at least two meetings in the past month, central bank officials have told local private banks that they need to open Evrofinance accounts in order to take part in currency auctions, according to two people who participated in the discussions. Those auctions are now swapping bolivars for euros, yuan and other currencies instead of U.S. dollars, Economy Vice President Tareck El Aissami said last week.
In recent years Evrofinance has grown "mainly due to shocks to the banking sector such as the rehabilitation of lenders and revoking of licenses from large players on the market," according to an e-mailed response from the bank's press office, without commenting specifically on whether Venezuela business has increased. "An influx of clients from troubled banks due to these circumstances, as well as favorable fees, settlement speed and attractive interest rates for deposits, has had a positive impact on the bank's performance."
Venezuela's Central Bank and PDVSA didn't respond to requests for comment.
Since taking over for Chavez in 2013, Maduro has driven the country into its deepest economic collapse while cracking down on opponents, undermining institutions and cementing the military's hold on power. Those moves have drawn the ire of the U.S., which slapped government officials with sanctions and forbid many transactions with the regime to try to force a change of course.
Financial Maneuvering
The growing isolation has increased Maduro's dependence on the likes of Turkey, China, Russia and Iran and required complex financial maneuvering to keep key imports flowing, including refined oil products at a time when crude output sinks to the lowest in at least four decades. The risk of more sanctions, not only on Venezuela — but also on its aforementioned allies, remains high and could require another re-jiggering of financial channels.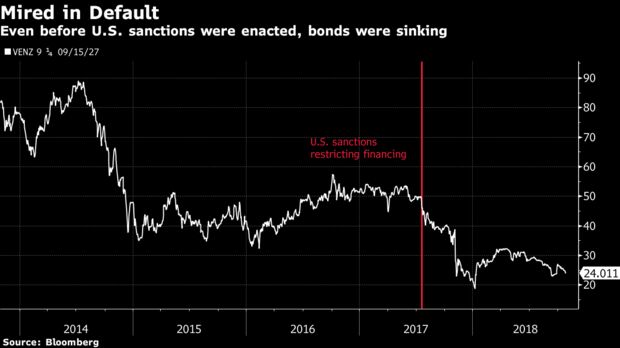 Their support is becoming increasingly important as the government faces a $949 million debt payment coming due Oct. 27, and in turn needs to find ways to get money into bondholder accounts. The payment is tied to a bond that's backed by a majority stake in Citgo Holdings Inc. The government has skipped about $7 billion of debt payments in the past year, in part, arguing that the sanctions are blocking their ability to move money around the globe.
The story behind how Evrofinance Mosnarbank got involved in Venezuela goes back to 2011, when Chavez, riding the wave of sky-high oil prices and confidence, bought a 49.9 percent stake in the Moscow-based firm through the FONDEN development bank. Originally viewed as a bilateral bank to fund joint oil and infrastructure projects, Evrofinance obtained a local banking license, opened an office in Caracas and even advised on more than $3 billion of bond sales.
The other 50.1 percent ownership is split between Gazprombank, ITC Consultants of Cyprus, VTB and Novie finansovie tehnologii Ltd, according to bank's website. Evrofinance is a small lender in Russia, with 57.8 billion rubles ($881 million) in assets as of Sept. 1, less than 0.1 percent of the banking system's total assets.
— With assistance by Jake Rudnitsky
Source: https://www.bloomberg.com/news/articles/2018-10-25/venezuela-taps-russian-bank-to-work-around-crippling-sanctions