Anonymous expert compilation, analysis, and reporting.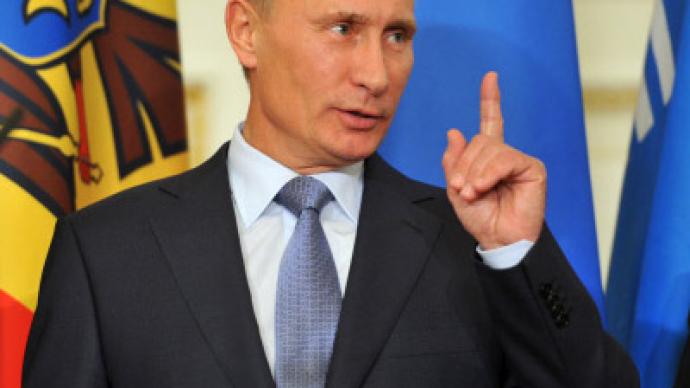 The Bellingcat expose of Col Chepiga is a huge publicity disaster for Russia.  The British press is having a field day exposing Russian incompetence. Many examples below. The legendary Russian intelligence services are not nearly as good as they believe.  Their arrogance is being exploited and all Russia can do is deny, deny, deny. The typical Russian response to the West exposing evidence is copious amounts of irate blather.
Iran is getting loudly and publicly slapped in the UN by President Trump and British PM Theresa May.  Iran's response amounts to irate blather.
Irate blather appears to be a shared tactic. 
Above, rogue leaders practice the finger wave. 
</end editorial>
---
---
The exposure of GRU Spetsnaz Col. Chepiga has turned this week into another self-inflicted propaganda "epic fail" possibly worse than the last two weeks. Col. Chepiga has produced that much-coveted media effect – a feeding frenzy – and Russian attempts to dismiss or distract from the report do not appear to be selling well. The firehose of propaganda on the export of the S-300P / SA-20B GARGOYLE to Syria continues, and that in turn has produced a lot of traffic in analyses and opeds dissecting the Russian play. Aside from Russian assertions, even if the Russians had a case Syria's sorry track record of employing  "Death Blossom" tactics (see below), salvoing up to dozens of missiles, makes any propaganda play asserting carefully managed AD operations unconvincing to most observers. Extraordinary claims require no less extraordinary evidence, and well-crafted animations cannot undo the effects of many years of reckless poorly aimed missile launches. The Israeli leadership has repeated its assertion that it will engage the S-300P / SA-20B GARGOYLE batteries if they launch against Israeli aircraft, which they inevitably will at some stage. With Russians operating these systems for the foreseeable, bodybags with VKS PVO personnel will lead to a direct confrontation between Russia and Israel, which it appears Muscovy intends to force. Exactly why is less clear. Baev summarises some of Muscovy's recent woes in Syria, which despite giddy Western media assertions, is hardly over or a done deal.
More saber-rattling in the Baltics, more on Wunderwaffe (little of which is new or unexpected, and some of which appears confused), concerns in Finland that Russia is/was preparing a major military play against the Finns, Movchan argues Russia is immune to sanctions, more on Russia's abyssal domestic politics, fears of a Russian incursion into Central Asia, more Russian troll activity discovered in pro-POTUS social media, Verzilov interviewed, and EU agrees on new CW sanctions.
PM May hits the Russians in the UN, while UK media indulge in high-intensity coverage of the Bellingcat report on Col. Chepiga.  Most major UK broadsheets put the report on their front pages.
Iran has been the subject of intensive media coverage due to the UN addresses, but also a week of hysterical threats emanating from Tehran. Statements by SECSTATE, NATSEC Adviser, POTUS, and numerous opeds with the usual patterns of polarisation, updates on Iran, Syria, Turkey, and Iraq.
---
'Complete Nonsense': How Russia Is Countering A New Report On The Salisbury Poisoning Suspect
The Russian government and media are casting doubt on a new report claiming to reveal the true identity of a Russian man Britain accuses of the nerve-agent attack on former Russian spy Sergei Skripal in southern England. The September 26 report by the investigative website Bellingcat and its Russian partner, The Insider, claims to have conclusively demonstrated that the poisoning suspect known publicly as "Ruslan Boshirov" is, in fact, a decorated colonel in the Russian military whose real name is Anatoly Chepiga. Russia has repeatedly denied and mocked British allegations that it is responsible for the March poisoning of Skripal and his daughter with the Soviet-developed toxin Novichok in the city of Salisbury.
Zakharova Says New Salisbury Claims Aim to Distract Public From the Incident – Sputnik International
MOSCOW (Sputnik) — Russian Foreign Ministry Spokeswoman Maria Zakharova called the publication about the alleged identity of Ruslan Boshirov, suspected by London of poisoning former double agent Sergei Skripal and his daughter Yulia in Salisbury, "fake news" aimed at diverting public attention from what happened in Salisbury.
Bellingcat Claim Identified Skripal Case Suspect Boshirov as GRU Colonel – Sputnik International
MOSCOW (Sputnik) – UK-based investigative blogger group Bellingcat and The Insider Russia media outlet on Wednesday claimed that they identified one of the suspects in the Salisbury poisoning case, Ruslan Boshirov, as Russian military intelligence officer Anatoliy Chepiga.
Bellingcat claims it 'conclusively' identified Skripal poisoning suspect as decorated commando — RT UK News
The UK-based open-source 'intelligence' group Bellingcat claims that the person is best known to the world as Ruslan Boshirov, Britain's suspect in the Salisbury poisoning affair, is actually a decorated special forces officer.
Williamson two-step: UK minister tweets & deletes congrats on 'Salisbury suspect revealed' — RT UK News
UK Defense Secretary Gavin Williamson triumphantly tweeted thanks to Bellingcat for supposedly identifying one of the Sergei Skripal poisoning suspects as a Russian colonel. Then he deleted it. Why?
UK Defense Chief Pulls Tweet Claiming Salisbury Suspect's 'True Identity' Known – Sputnik International
In a recent interview to Russian television, the suspects in the Skripal case stated they had nothing to do with Russian intelligence.
'Pure nonsense and a series of fibs': Kremlin scoffs at Skripal hitman revelation after he is unmasked as GRU colonel who was made 'Hero of Russia' by Vladimir Putin | Daily Mail Online
The Kremlin said top secret documents and photographs proving Ruslan Boshirov is, in fact, Anatoliy Chepiga are just 'fibs' and 'pure nonsense'. Putin claimed suspects captured on CCTV were civilians and not GRU officers. But Ruslan Boshirov unmasked as military intelligence officer Colonel Chepiga. He was awarded Russia's highest bravery honor in 2014 under his real name. Experts believe Chepiga may have known Skripal and volunteered to kill him. Russian president accused of lying by former foreign secretary Boris Johnson. Kremlin hits back calling report 'fibs' and 'pure nonsense' cooked up by traitors.
Russia STILL insists Skripal hitmen Alexander Petrov and Ruslan Boshirov are innocent despite one being unmasked as decorated Putin spy
Yesterday, a British online sleuth identified Ruslan Boshirov as Anatoliy Vladimirovich Chepiga, a decorated colonel in Moscow's GRU spy agency.
Russia Supplying Syria with S-300 'Will Make Things Difficult' for IDF – Sputnik International
When Syrian air defenses responded to an Israeli air raid last week, one of their missiles shot down a Russian Il-20 reconnaissance plane on accident. However, Russian Defense Minister Sergey Shoigu responded Monday by saying that his country would supply Syria with more advanced S-300 anti-air missile systems.
Russian S-300 Supplies to Deter Israel From Reckless Attacks on Syria – Official – Sputnik International
MOSCOW (Sputnik) – Russia's planned delivery of S-300 air defense systems to Syria will make Israel think twice before attacking the Arab republic once again, Syrian Deputy Foreign Minister Faisal Mekdad said.
Kremlin Denies Russia Rejected Offer on Netanyahu Visit After Il-20 Downing – Sputnik International
Earlier in the day, Israeli media reported that Moscow allegedly turned down an Israeli offer on the visit by its high-ranking officials following last week's downing of a Russian military plane off the Syrian coast.
Russia denies it rejected Israeli offer to send delegation after plane was downed | The Times of Israel
The Kremlin is denying a recent Israeli report that Russian officials rebuffed Jerusalem officials who offered to dispatch a high-level government representative to Moscow following the downing of a Russian spy plane by Syrian air defenses during an Israeli airstrike last week. "This is not true. The newspaper provides incorrect information," press secretary Dmitry Peskov tells journalists, according to Russia's state-run news outlet Sputnik. "From the very beginning, there was a proposal by the Israeli prime minister to send a military delegation headed by the commander of the air force, which was done."
Russia denies Israeli reports on boosting Syrian air defence – Middle East Monitor
Russia's Kremlin yesterday denied recent Israeli media reports on an alleged phone call between the Israeli Prime Minister, Benjamin Netanyahu, and the Russian President, Vladimir Putin, last Sunday to discuss Moscow's plans to boost the Syrian air defence capabilities. "The Israeli reports are not true," the Kremlin's press secretary, Dmitry Peskov, told reporters. On Monday, The Russian defence ministry announced that it would deliver advanced S-300 surface-to-air missile systems to the Syrian army within two weeks "to increase the security of Russian servicemen stationed in the country."
Syrian official says S-300 defenses will give Israel pause – ABC News
Russia has pledged to give Syria the sophisticated S-300 defense system.
Russia's S-300 Supplies to Syria 'Long Overdue' – Geopolitical Analyst – Sputnik International
Moscow has announced that Russia's S-300 air defense system will be able to close parts of Syrian airspace, adding that the arguments of Moscow's partners, who had previously asked not to deliver the S-300s to Syria, have no effect anymore. This comes after Russia's Defense Ministry said that Israel is to blame for the downing of the Il-20.
Scott Bennett, Author at The Duran
Scott Bennett is the author of "SHELL GAME: A Military Whistleblowing Report to Congress", and a former US Army Psychological Operations Officer and Booz Allen Hamilton contractor at the State Department Counterterrorism Office, US Special Operations Command, and US Central Command. He is a political analyst who has appeared on Press TV, Sputnik, and RT.
"Nothing But Lies": MoD Spokesmen Konashenkov Lays Into Israeli Underhand Tactics and Deceit – YouTube
Vesti News Published on Sep 25, 2018 Subscribe to Vesti News https://www.youtube.com/channel/UCa8M… Back to the statement by the Russian Ministry of Defense. Today, it presented the data from the S-400 radar located at Khmeimim Airbase which proves that the Israeli Air Force is responsible for the destruction of our Il-20. The data allows the location of the Israeli jets to be traced, as well as the AA-missile, second-by-second. Igor Konashenkov, Ministry of Defense Spokesman: "The data presented today doesn't simply indicate but proves that the Israeli Air Force and those who issued the orders are fully responsible for the Il-20 tragedy."
The Last Starfighter (1984) – "Death Blossom" – YouTube
POINDEXTER Published on Sep 15, 2015 In the final battle of the movie, Alex Rogan (Lance Guest) and his alien pilot Grig (Dan O'Herlihy) take down the superior forces of the evil Ko-Dan armada with a prototype super-weapon known as "Death Blossom".
ANALYSIS: Why Russia is Lying About Israel's Role in Downing of its Spy Plane – Israel Today | Israel News
There's a lot more going on than meets the eye in the current Israel-Russia diplomatic crisis over Syria
UAWire – Israel promises to destroy Russian S-300 missile systems in Syria if they are used against Israeli aircraft
Defense Minister of Israel Avigdor Lieberman said that any anti-aircraft systems that fire at Israel's aircraft will be destroyed. "If someone starts shooting at our aircraft, we will destroy them. And we don't care if it was S-300 or S-700," he said. Meanwhile, according to Lieberman, Israel is not very worried about the presence of Russian S-300 missile systems in Syria. "The most important thing is that the defense systems supplied by Russia to Syria are not used against us," the minister stated. He said that Israel "doesn't interfere in the internal affairs of Syria." Earlier, Russia announced its intention to supply the Syrian dictator Bashar al-Assad with S-300 anti-aircraft missile systems.
Netanyahu: Israel Ready to Take "Necessary" Steps to Protect Interests in Syria After Downing of Russian Aircraft | The Tower
Israeli Prime Minister Benjamin Netanyahu reaffirmed on Tuesday that "we will do whatever is necessary to protect Israel's security," following the downing of a Russian aircraft in Latakia, Syria, last week, The Times of Israel reported. The prime minister also urged Russia not to transfer the sophisticated S-300 missile defense system to Syria. Speaking to reporters before boarding a flight to New York to address the U.N. General Assembly, Netanyahu vowed that Israel would continue to fight Iran's efforts to establish a permanent military presence in Syria. The prime minister confirmed that he spoke twice with Russian President Vladimir Putin in the wake of the incident and expressed his "sincere" condolences over the Russian servicemen, who died in the "tragic event." He also said Israeli and Russian officials are slated to meet to address the growing rift between the two countries.
Israeli claims that he crash of the Russian IL-20 in Syria can have more serious consequences – Israeli Prime Minister – 112.international
Benjamin Netanyahu, the Prime Minister of Israel, claimed that the crash of the Russian IL-20 in Syria can have more serious consequences. He claimed this after the meeting with U.S. President Donald Trump as Kan reported. "The crash of the Russian aircraft can have broader consequences," he said.
Israeli PM hopes to derail Russia-Syria S-300 deal
During trip to US, Netanyahu hopes to discourage Moscow from giving advanced air-defense system to Syria – Anadolu Agency
Netanyahu: We'll keep acting in Syria, and meet Russian officials to heal ties | The Times of Israel
Boarding flight to US amid crisis over downed Russian plane, PM says Israel has been largely successful in countering Iran in Syria; military talks 'scheduled' with Moscow
In crisis with Russia, Israeli government again goes silent, throws army to the frontlines – Israel News – Haaretz.com
The downing of the Russian plane in Syria forced Israel's military to return to the PR front. This is a deliberate policy
Russia's S-300 Play in Syria Is Creating Geopolitical Waves | The National Interest
The Kremlin made the decision to supply Damascus with the potent S-300 air-defense system after a Syrian surface-to-air missile battery mistakenly shot down a Russian aircraft during an Israeli raid.
Russian missile defenses in Syria could set off war with Israel – INSIDER
A new decision by Russia to deploy S-300 missile defence systems to Syria raises the stakes in the conflict, especially with Israel, which regularly bombs Syria. Now, if Israel knocks down a Syrian air defense site, it runs the risk of killing Russian servicemen, that could easily escalate.
Will supply of S-300 to Syria harm Russia-Israel ties? | News | Al Jazeera
S-300 move is Moscow's message to Israel to adopt restraint, experts say, but some doubt the transfer will happen.
Pavel K. Baev | Four Setbacks and a Tragedy in Russia's Syrian Intervention – Jamestown
Publication: Eurasia Daily Monitor Volume: 15 Issue: 133 By: Pavel K. Baev September 24, 2018 06:06 PM Age: 3 days The destruction of an Il-20M radio-electronic surveillance aircraft, with 15 crew members aboard, in the late evening of September 17 was not the worst tragedy to date of the three-year-long Russian military intervention in Syria; but it has, perhaps, been the most difficult to explain away. It was not a technical fault, like with the crash of an Antonov-26 transport plane on March 6, which claimed 32 lives. Rather, a surface-to-air S-200 missile, fired by Syrian air-defense forces, had brought the plane down. In the morning of September 18, the Russian Ministry of Defense produced the first explanation of this disaster, pitting the blame squarely on the Israeli Air Force, which allegedly used the slow-moving Russian turboprop plane as cover for an airstrike carried out by four F-16 fighters (Kommersant-FM, September 18). It took Israel a few days to disprove this accusation, but it left many awkward questions for Russian command regarding the real responsibility for this case of "friendly fire" (Nezavisimaya Gazeta, September 20). Further complicating this blame game is the conjunction of four setbacks in the execution of the Russian intervention.
UAWire – German and Belgian fighter jets intercepted two Russian bombers over the Baltic Sea
German and Belgian fighter jets intercepted two Russian supersonic bombers Tu-160 over the Baltic Sea, DPA news agency reported on Wednesday, September 26th, referring to a NATO representative. According to DPA, the Bundeswehr has confirmed this information. The incident occurred on September 25th, two of the six aircraft currently stationed in Amari airbase in Estonia participated in the interception. The fighter jets are stationed in Estonia as part of NATO's observation mission of the region's airspace.
Sukhoi Su-57 fifth-generation fighter to be armed with ultra-long-range hypersonic missile – New Russian weapons
In July, it was reported that the missile was going through the final stage of trials. It was reported that the R-37M hypersonic missile will be able to strike high-speed targets at a range of more than 300 km. The missile is capable of developing a hypersonic speed up to 6 Mach at the final stage of its flight. The R-37M missile comes as a development of the R-37 ultra-long-range missile of the previous generation, the development of which was launched in the early 1980s. The size of the missile (more than four meters long and the take off weight of six tons) limited its use to only the MiG-31 interceptor aircraft. The work to create the R-37M was launched in the late 2000s. See more athttp://www.pravdareport.com/news/russia/economics/26-09-2018/141672-sukhoi_hypersonic-0/
Russia Has Big Plans for the Sukhoi Su-30SM Flanker-H Fighter
Some big upgrades are coming. Russia Has Big Plans for the Sukhoi Su-30SM Flanker-H Fighter Russia hopes to order 36 upgraded versions of the two-seat Sukhoi Su-30SM Flanker-H multirole fighter that would replace the jet's existing Salyut AL-31FP with the Saturn AL-41F-1S found onboard the Sukhoi Su-35S Flanker-E according to a new report. The new engine would not only afford the Flanker-H with roughly an additional 4,200lbs thrust per engine—or about 8,400lbs thrust total—it would also increase the Su-30SM's electrical power-generation capability, opening up the potential for future avionics upgrades such as a new radar. The aerospace industry trade journal Aviation International News, citing Yuri Slyusar, head of Russia's United Aircraft Corporation, reported that the Russian defense ministry will order 36 more improved Su-30SM fighters. According to the report, the Russian defense ministry will place a firm order for the plane later this year. The report, written by reporter Vladimir Karnozov, states that the money to develop the improved Su-30SMs was already included in the 2017 budget. Indeed, United Engine Corporation's Ufa Machinery-Building Production Organization (UMPO) division is already working on adapting the AL-41F1S to the Su-30SM. The addition of the AL-41F1S, which can produce roughly 31,900lbs of thrust, would significantly boost the Su-30SM's thrust-to-weight ratio, which should improve the Flanker-H's overall kinematic performance by some margin. But while the additional thrust would boost the fighter's raw aerodynamic performance, the AL-41F1S also incorporates more powerful generators, according to Karnozov. That means that the Su-30SM would have additional electrical power available for future avionics upgrades such as a new or upgraded radar with much greater power. Indeed, Karnozov speculates that the Su-30SM's [N011M]  Bars-R passive electronically scanned array (PESA) could be upgraded to match the power output levels of the Su-35's [n035] Irbis radar, which has a peak output of 20kW. However, the additional reserve electrical power could also help the jet to one day accommodate a future Russian active electronically scanned array (AESA) radar, which would further boost the capability of the Su-30SM. The Russians are likely to retrofit the upgraded engines to its entire existing fleet of Su-30SMs since it would boost commonality across more of the Kremlin's fighter fleet. Versions of the AL-41 are already flying onboard the Su-35 and the developmental Su-57 PAK-FA, though in the later case, the current engine will eventually be replaced with a much more powerful izdeliye 30 powerplant that is currently in development. Indeed, earlier this year, Russian deputy defense minister Yury Borisov told the state-owned TASS news agency that Moscow's would upgrade its Su-30SM fleet this year, with deliveries of the modernized jets starting in 2019.
The flashy Russian KH-35U missile video isn't all that scary
While Russia's recently-released video is fun to watch, the threat of the KH-35 is massively overstated. The U.S. has the reach and punching power to completely negate it.
UAWire – Media: Russia might be preparing for military operation in Finland
Russian authorities might be preparing for a military operation on the Turku archipelago in Finland, writes Iltalehti news, citing a military expert. According to the source, there are bunkers on the archipelago where Russia could store weapons and ammunition. This territory will have strategic meaning for Moscow in the event of conflict with NATO. The expert believes that in the event of war in the Baltic Sea, Russia would have to block shipping and aviation to prevent supplies from reaching Finland through the archipelago. At the same time, Finnish authorities would be able to use ferries like Tallink Silja or Viking Line for transporting troops. Iltalehti's source suspects that the property owned by Russia can be used as "small strongholds in order to prevent the movement of Finnish ships." He was also sure that "large-scale activities of Russian intelligence are carried out" in the archipelago. He explained that the increased intelligence activity of Russia is related to its preparations to worsening relations with the EU and potential conflict.
Andrei Movchan | New Sanctions Won't Hurt Russia – Foreign Policy
Washington thinks punitive measures will change Moscow's calculus, but the Russian economy is doing just fine.
Vladimir Putin is not invincible – CNN
Russian President Vladimir Putin may stride confidently on the world stage. But not all looks rosy for him at home.
Russian Duma Approves Unpopular Bill On Retirement-Age Increase In Final Reading
The lower chamber of Russia's parliament has approved in its third and final reading an unpopular bill to raise the retirement age.
Russia's Brief Taste Of Political Liberalization Drowns In Pig's Blood
In September 2017, opposition candidates scored surprisingly well in local council elections in Moscow, picking up nearly 20 percent of the 1,502 seats. It was hailed at the time as a sign that Pre…
Window on Eurasia — New Series: In Past Crises under Putin, Russians Hoped for Improvement or a Miracle; Now They Don't, Yakovina Says
Paul Goble Staunton, September 26 – The past few days have been the worst week in Vladimir Putin's time in office because in earlier crises like the Kursk sinking, the North East hostage seizure, and the Beslan disaster, Russians "had hope for the better or even for a miracle [but] now they don't. Instead, they are certain things will only get worse," Ivan Yakovina says. The Ukrainian journalist says the flood of bad news from all quarters, coming on top of increasing economic hardship, the pension reform debacle, and Putin's breaking the social contract he had had with the population, explain this underlying and fundamental shift (glavred.info/opinions/10013633-nachalsya-hudshiy-period-carstvovaniya-putina.html). "This year, for the first time in 20," Yakovina continues, "the demand for reforms and changes exceed the demand for stability." But neither Putin nor his government have been willing to change. Earlier, Russians voted for Putin "hoping" he'd improve their lives, but instead, their lives have gotten worse and wars in Ukraine and Syria continue. As a result, "they are not very satisfied" and on September 9 they voted their pocketbooks and their feelings in local and regional elections. But there are far more indications of popular discontent in Russia than just the voting in the two rounds so far, Yakovina says, pointing to a new upsurge in conflicts in the Caucasus and the flight of elites abroad. The regime doesn't know what to do in either case, he argues; and the Russian people can see that too. Thus, "an interesting situation is arising. Earlier, the powers that be in [Russia] covered all problems with money. But now this resource is exhausted," even as "the problems themselves are becoming bigger." The Kremlin is responding with repression and may become even more aggressive abroad; but even those steps aren't having the desired impact. Instead of intimidating or winning support, they are increasingly making them angry. As a result, Yakovina concludes, radical challenges to Putin and his regime are becoming ever more likely.
Window on Eurasia — New Series: Moscow Looking for Excuse to Intervene Militarily in Central Asia, Baku Blogger Says
Paul Goble Staunton, September 26 – A Russian general's statement this week that ISIS is now activating its "'sleeper cells'" in Central Asia is only the latest in an increasingly large chorus of Moscow comments about the region and the need to do something to counter this Islamist threat before it grows too large. In a post for the Turkish Turan Today portal, Baku blogger Amir Eyvaz says that Col. Gen. Andrey Novikov's remarks reflect what he sees as Moscow's search for "an occasion to introduce troops" into Central Asia just as it has done already in Syria and Ukraine (turantoday.com/2018/09/syrian-scenario-of-moscow-for-central-asia.html). Moscow wants to ensure that the Central Asian countries do not move even further from its orbit as a result of China-European trade bypassing Russia, expanded cooperation among the five countries of the region, and increasing links with NATO countries including Turkey and the United States, Eyvaz says. But as of now, it has few resources other than military ones to do so. Positing a threat from the Islamic State in the region, he continues, works perfectly as a cover for such plans. "Under the form of a struggle against 'the khalifate,' Russia would be able to calmly bomb its geopolitical competitors [as it has been doing in Syria] and destroy integration processes within Central Asia and any expansion of ties with the outside world." By playing up the threat from ISIS to the region, some Central Asian leaders like Kyrgyzstan Deputy Prime Minister Zhenish Razakov are wittingly or unwittingly setting the stage for Russian intervention, something Moscow could more easily do there than it has in Ukraine because Central Asia lacks even the level of support Ukraine has. "If Ukraine has in this hybrid war some informational support from Western institutions and powers," Eyvaz says, "Turkestan [the name for the four Turkic republics of Central Asia] for a variety of reasons cannot count on that kind of support at all."
Window on Eurasia — New Series: Arrival of Two Ukrainian Naval Vessels in Sea of Azov Effort to Change Its Status
Paul Goble Stanton, September 26 – The arrival of two Ukrainian naval vessels in the Sea of Azov does little to change the military balance there – the Russian flotilla is both far larger and more powerful even now – but rather is part of an ongoing Ukrainian campaign to gain recognition for that sea as international waters, Valentin Korzh says. The two ships, a search-and-rescue cutter and a tugboat, are not in a position to challenge Russian dominance. But their arrival in the Sea of Azov after passing under the Russian-constructed bridge in the Kerch Straits nonetheless may bring Kyiv some important benefits, the commentator says (rosbalt.ru/world/2018/09/26/1734632.html). On the one hand, this action may end some of the criticism of Ukrainian President Petro Poroshenko for inaction especially given that Kyiv media outlets have portrayed the voyages of the two ships as having occurred without permission from Russia and in the face of harassment by Russian ships and airplanes. And on the other, the arrival of the two ships underscores Ukraine's argument that the Sea of Azov must be recognized as an international waterway open, under the Law of the Sea, to passage by all rather than an inland sea governed as it has been by agreements between Ukraine and the Russian Federation. Mikhail Samus, head of Kyiv's Center for Research on the Army, Conversion and disarmament, sees the latest Ukrainian move and Russia's response as having even more greater consequences. According to him, Moscow has shown itself this week as far weaker than in was in 2014, the result of sanctions and its being overstretched. When the US State Department said last week that Russia was interfering with shipping in the Kerch Straits and Sea of Azov, Samus continues, Moscow was quite restrained in its response. It said it wasn't blocking anyone but had the right to inspect ships passing near its waters. In 2014, the expert continues, it would have said "'This is our sea and our gulf.'" But Oleg Pukhartsev, an independent sociologist from Kharkiv, suggests that is an overreading of Russia's latest remarks. "In 2014, Russia set itself one goal – seizing Crimea with the least possible losses. Now Russia has another task – forcing Ukrainians and the entire world to accept that the peninsula belongs namely to it – and also at minimal cost." "For different goals, there is thus different rhetoric," Pukhartsev says. "There is a time to shout and a time to speak more calmly." At the same time, he continues, if Kyiv does organize a naval base on the shores of the Sea of Azov rather than simply announcing that it intends to do so, that will be "a quite strong move" and will give additional weight to the Ukrainian view that the Sea of Azov must be viewed as international waters. Unless it succeeds in doing so, Pukhartsev says, Kyiv will have little chance of attracting active support from its Western partners.
Russian troll sites infiltrated Donald Trump subreddit as recently as this month – To Inform is to Influence
By Russell Brandom@russellbrandom  Sep 24, 2018, 1:52pm EDT Reddit users have uncovered an elaborate campaign to seed Reddit's most popular pro-Trump community with content linked to Russian influence operations, as detailed in a post on Friday night. Archives show a sustained effort to plant and upvotes links to a site called Geotus.Army, playing off a slang term for…
Activist Verzilov 'Convinced' He Was Poisoned By Russian Secret Services
Russian dissident activist Pyotr Verzilov, who was discharged from a German hospital this week after making significant progress in his recovery, says he is "convinced" he was poisoned by Russia's intelligence services.
Rand Paul's Push to Lift Some Russia Sanctions Fizzles
'It was soundly defeated for obvious reasons,' Sen. Bob Corker (R-TN) told The Daily Beast.
X = Extremism? Moscow Student Goes From Algebra Class To Interrogation
One Moscow high-school student has gone public about her campus interrogation by antiextremism police — one of a growing number of cases of police nominally fighting terrorism but in fact pressuri…
EU Envoys 'Agree Sanctions Regime' For Chemical Attacks
European Union ambassadors have agreed a new mechanism to sanction people anywhere in the world blamed for using chemical weapons, according to EU sources.
EU agrees hair-trigger sanctions on chemical weapons
People who abuse chemical weapons are to face EU visa bans and asset freezes via new hair-trigger sanctions. Human rights abusers could be next.
Of course Russians have a sense of humour – just look at the Salisbury 'tourists' | The Spectator
The comedy of Ruslan Boshirov and Alexander Petrov, the two glum Russian 'tourists' who denied on television that they were involved in the poisoning of…
'We WILL respond' May fires warning shot at Russia in stern UN speech | World | News | Express.co.uk
THERESA May has warned Russia the international community will take tough action against Vladimir Putin's regime and its allies if they continue to use weapons of mass destruction. In a uncompromising speech to the UN Security Council chaired by US President Donald Trump, Mrs May attacked Russia's use of a nerve agent in Salisbury against former spy Sergei Skripal and his daughter Yulia.
Theresa May calls out Russia for 'desperate fabrication' of Salisbury attack during UN General Assembly speech
Theresa May called out Russia for its "desperate fabrication" of Moscow's interpretation of the Salisbury nerve agent attack at the UN General Assembly.
Salisbury novichok attack: assassin Anatoliy Chepiga may have known his target well | News | The Times
Colonel Anatoliy Chepiga was a graduate of a top military intelligence academy who saw three tours of active duty during the war in Chechnya. A military veteran with a long string of honours and medals, he appears to have been a career soldier, fighting in the spetsnaz, or special forces, before ris
Theresa May slams Vladimir Putin for Russia's 'desperate fabrication' over Salisbury spy poisoning and blasts Donald Trump for pulling out of Iran nuclear deal
FURIOUS Theresa May escalated her blistering row with Russia at the UN after accusing Vladimir Putin of a "desperate fabrication" of the Salisbury nerve agent attack. She let rip at Moscow with Russian Foreign Minister Sergei Lavrov sat two seats down in the UN Security Council chamber. Minutes later he hit back by accusing the PM of promoting "unsubstantiated, ideologically-inspired rhetoric" and repeated Moscow conspiracies claiming Britain was trying to "hide" its own role in the nerve agent attack. The PM also used her keynote address to world leaders in New York to urge the West to stand up to bullies like Vladimir Putin – or face fuelling the return of communism and facism to Europe. She said Britain had presented detailed evidence about the prime suspects in the nerve agent attack on former spy Sergei Skripal and daughter Yulia while Russia has only sought to "obfuscate". She told the United Nations Security Council: "We have taken appropriate action, with our allies, and we will continue to take the necessary steps to ensure our collective security. "Russia has only sought to obfuscate through desperate fabrication."
'True identity' of Salisbury suspect revealed, UK defense minister says | Reuters
British defense minister Gavin Williamson said the "true identity" of one of the suspects in a nerve agent attack on a former Russian spy in Salisbury had been revealed, apparently confirming media reports that the suspect was a Russian colonel.US
'True identity' of Salisbury nerve agent attack suspect revealed, UK defense minister says
Skripal suspect 'was made Hero of Russia' by President Putin – BBC News
A suspect in the Salisbury poisoning was a decorated Russian intelligence officer, it has been revealed.
Sergei Skripal hitman unmasked as elite soldier given Russia's highest award by Vladimir Putin himself
The alleged spy initially identified as Ruslan Boshirov may actually be decorated Russian soldier Colonel Anatoliy Vladimirovich Chepiga
Bellingcat reveals Putin KNEW agent behind Salisbury Novichok attack | Daily Star
THE real identity of one of the agents behind the Salisbury nerve agent attacks has been revealed.
Salisbury Novichok poisoning carried out by 'hero' Russian spy – with orders 'from the highest level' – Mirror Online
One of Russia's Salisbury "tourists" Ruslan Boshirov is now claimed to be Chepiga, a colonel given a Hero of the Russian Federation medal by Putin
Russian accused of poisoning ex-spy unmasked as highly-decorated GRU colonel: report | Fox News
One of the men wanted by British authorities for poisoning Russian ex-spy Sergei Skripal earlier this year has been unmasked as a highly decorated colonel in the Russian military who once received a prestigious honor by the Kremlin, a new report claims.
Putin's 'tourist' accused of nerve agent attack turns out to be a highly decorated Russian intelligence officer | Business Insider
One of the men accused of poisoning a former Russian spy in England has been identified as a high-ranking of Russia's intelligence service.
GRU colonel, Hero of Russia, Chechen War vet: Journalists say they've figured out who 'Ruslan Boshirov' really is — Meduza
The cathedral-obsessed, possibly gay fitness instructor "Ruslan Boshirov" is an invention by Russia's Military Intelligence Directorate — a fake identity given to GRU Colonel Anatoliy Chepiga, according to the third investigative report by Bellingcat and The Insider about the two Russian men identified by the British authorities as the likely culprits behind the attempted murder of Sergey and Yulia Skripal in March (as well as the apparently accidental homicide of British citizen Dawn Sturgess). Chepiga was reportedly born on April 5, 1979, in the Amur region. He graduated from the Far Eastern Military Command Academy and then enlisted in the GRU's 14th Spetsnaz Brigade in Khabarovsk, serving three tours of duty in Chechnya. In December 2014, Vladimir Putin allegedly gave Chepiga the country's highest state award: the Hero of the Russian Federation medal. Bellingcat and The Insider believe this was likely for "heroism" in covert military operations in eastern Ukraine. Chepiga got his "Ruslan Boshirov" alter ego after moving to Moscow, where he trained at the the Military Diplomatic Academy, also known as the "GRU Conservatory," Bellingcat says.
Skripal suspect was given Russia's highest military honor: report – POLITICO
Man who claimed he was an innocent Russian tourist was a member of elite special forces unit, according to investigation.
Novichok Suspect Identified As Russian GRU Colonel Anatoliy Vladimirovich Chepiga – Reports
'This finding eliminates any remaining doubt.'
Man Accused In U.K. Nerve-Agent Attack Is Russian Intelligence Officer, Report Says : NPR
Bellingcat, an open-source investigative website, says it has discovered the real identity of one of the Russian men charged in the U.K. with poisoning ex-spy Sergei Skripal and his daughter.
Report: One of the Skripal Suspects Identified as Russian GRU Colonel – The Daily Beast
Bellingcat alleges Ruslan Boshirov is actually a military intel agent named Anatoliy Chepiga.
The Papers: Salisbury hitman 'is Russian colonel' – BBC News
Anatoliy Chepiga's image dominates as he is accused of being behind the Skripals' poisoning.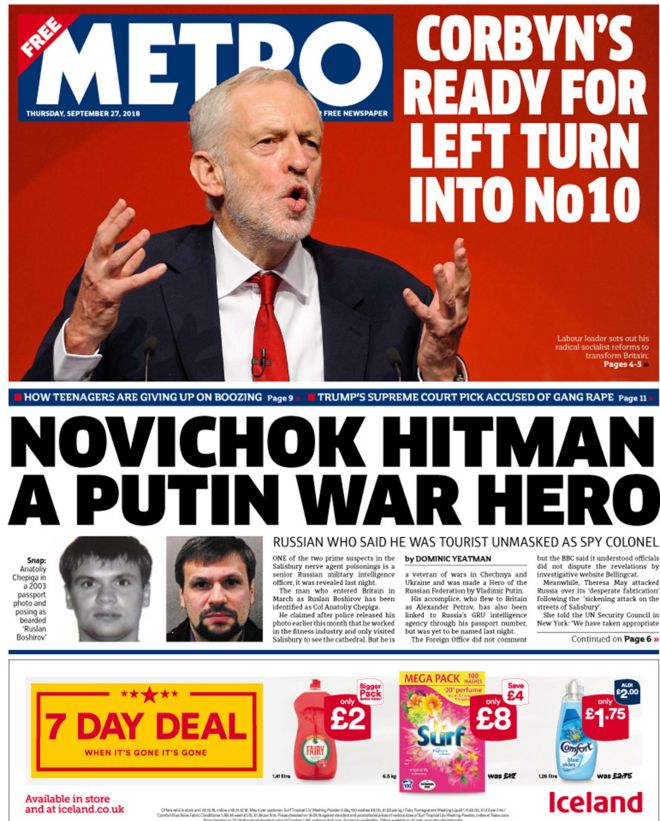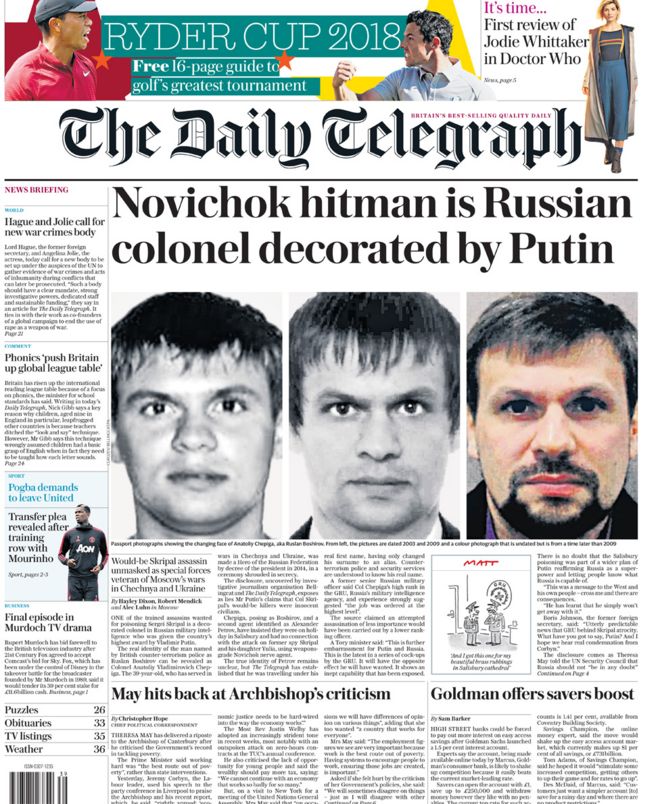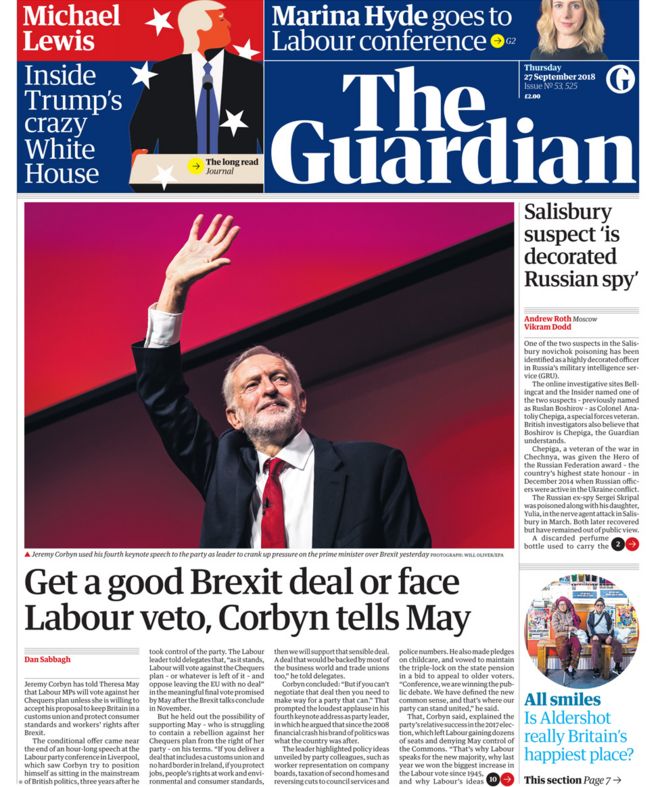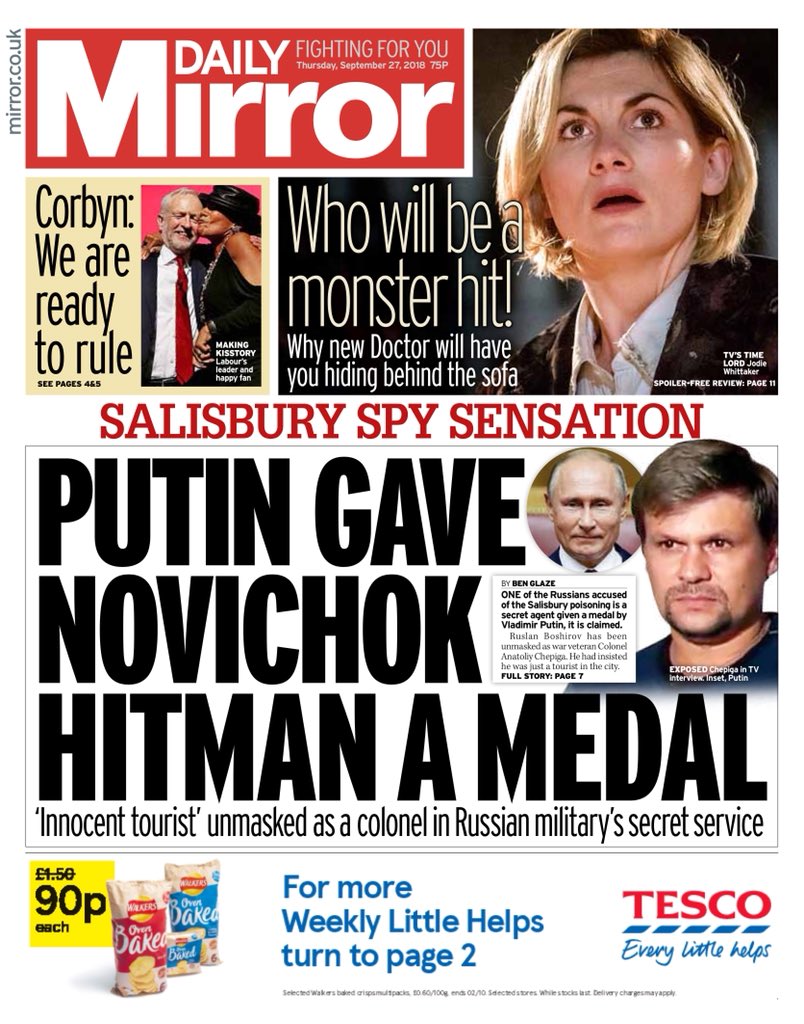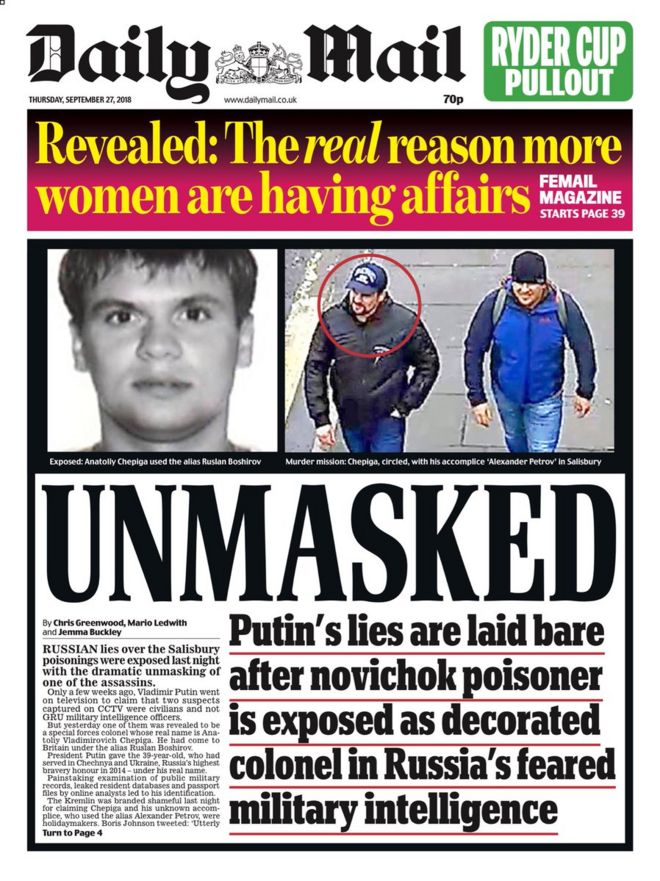 The real identity of one of the suspects in the Salisbury nerve agent attack has been identified as a Russian colonel and a decorated officer of Russian military intelligence, a British investigative news site revealed Wednesday.
Suspect in Skripal attack identified in report as decorated Russian colonel | TheHill
Bellingcat, an open-source investigative group, has identified one of the suspects in the poisoning of an ex-Russian spy in Britain as a decorated officer in Russia's military intelligence service, the GRU.
Russian Officer Is Named as Suspect in Salisbury Poisoning – The New York Times
A group of investigative journalists from Britain and Russia traced the identity of a suspect whose passport name was assumed to be an alias.
Salisbury poisoning suspect's 'real identity' reported by investigative website – YouTube
Channel 4 News Published on Sep 26, 2018 One of the suspects in the poison attack on the former Russian spy Sergei Skripal and his daughter has been revealed as a highly-decorated, senior officer in Russia's military intelligence unit, called Colonel Anatoliy Chepiga, according to the online investigation site Bellingcat. Their report claims that Chepiga was the man who travelled to Salisbury under the name 'Ruslan Boshirov'. (Click to subscribe for more Channel 4 News videos.
Salisbury suspect 'true identity' revealed | ITV News – YouTube
ITV News Published on Sep 26, 2018 An investigative journalism website has published what it says is the real identity of one of the Russian intelligence officers suspected of the Salisbury nerve agent poisoning.
Revealed: The battle-hardened Spetsnaz Brigade special forces unit that trained Skripal 'hitman'
The special forces brigade in which Anatoliy Chepiga served carried out secret missions in Ukraine for which it is believed he was awarded Russia's highest honour.
UK reactions on the suspect named in Skripal poisoning – YouTube
euronews (in English) Published on Sep 26, 2018 One of the suspects in the Skripal poisoning was named as decorated Russian Army Colonel Anatoliy Chepiga, according to the investigative website Bellingcat.
Jeremy Corbyn says he accepts that the evidence "clearly suggests" Russia was behind Salisbury attack – Mirror Online
The Labour Leader was criticised after the attack when he seemed to question the evidence presented by police and the security services.
Trump: Russia, Iran Enable Syrian Butchery, But Thanks For Restraint In Idlib
U.S. President Donald Trump told the UN Security Council Russia and Iran enabled "butchery" by the Syrian regime, but also thanked them for "slowing down" a new offensive in Syria's Idlib Province.
The White House has revealed massive mission creep in Syria. Here's why.
The Islamic State is on the brink of total military defeat ― but don't expect U.S. troops in Iraq and Syria to be coming home anytime soon. The Islamic State's caliphate has collapsed. They have almost no territory remaining except for a small piece of eastern Syria and the militants appear to have very little combat power left. At the same time, ISIS is losing its international influence as terrorist attacks in the West are declining. And the latest intelligence reports suggest the group has very little ― if any ― operational control over its affiliate groups in other countries in Africa and beyond. Yet top U.S. officials at the Pentagon and the White House are avoiding anything that sounds like a declaration of victory. Many experts believe that's because U.S. leaders want to maintain public support for other ground-level missions in the region that are harder to sell to the American people, politically. But so far, no one has stood at the Pentagon podium and directly said that balancing regional threats like Iran and "Shia influence" is part of the current policy or strategy.
Iran claims US wants to overthrow its government as Bolton threatens 'hell to pay'
Iranian leader says threats and sanctions won't work, urges U.S. to join multilateral talks.
Bolton: US will be aggressive, unwavering on Iran sanctions
After world powers agree to keep working to maintain trade with Tehran in wake of US sanctions on Iranian oil, Trump's national security advisor pressures SWIFT global payments system to reconsider doing business with Tehran.
U.S.-Iran skirmish is the prelude to a larger battle – The Washington Post
The Iranian threat is real, but Trump's approach is risky.
Mike Pompeo calls Iranian president's comparison of Trump to Nazis "outrageous" – CBS News
The secretary of state also addressed the decision of five world powers to continue economic relationships with Iran
Pompeo: Iranian president's 'Nazi' comments among 'most outrageous things I have heard' | TheHill
Secretary of State Mike Pompeo on Wednesday said Iranian President Hassan Rouhani's comments comparing President Trump's behavior to that of a Nazi were outrageous.
Pompeo cries foul as EU prepares to defy US sanctions on Iran – Newspaper – DAWN.COM
The return of the Bush Doctrine?
Iran can afford to play a waiting game with Donald Trump – CNN
Not long after the rest of the world had openly laughed at his boss as he addressed the United Nations General Assembly, US National Security Advisor John Bolton mustered his best Jacobean menace on Tuesday.
Europe Flips Off America, Sides With World's Largest State Sponsor of Terrorism | Daily Wire
The European Union, sticking it to the United States and President Trump, has announced that it will implement a special payments channel to maintain economic ties with Iran in order to save the disastrous 2015 nuclear deal.
Like the mullahs, the Euros think they can outlast Donald Trump.
UN Security Council Members Reject Trump's Calls For Sanctions On Iran
U.S. President Donald Trump has taken his case against Iran before the United Nations Security Council, a day after urging all nations to isolate the Iranian government.
Iran's Rouhani: US headed into isolation after UN meeting | Fox News
Iran's president said on Thursday that the U.N. Security Council meeting chaired by President Donald Trump the previous day reflected America's increasing isolation among the international community.
Commentary: Trump and Rouhani flip scripts at the U.N. | Reuters
The traditional scripts were flipped during Tuesday's dueling addresses by U.S. President Donald Trump and Iranian President Hassan Rouhani at the 73rd United Nations General Assembly – the second of the Trump presidency. That should trouble anyone who cares not just about the United States' global standing, but about the prospects for multilateral diplomacy to address the world's very real problems with Tehran. US
America had no achievements at U.N. General Assembly: Iran president | Reuters
Iranian President Hassan Rouhani said on Thursday the United States had nothing to show for its appearance at the U.N. General Assembly this week, extending an exchange of insults with Tehran's arch-adversary.US
Rouhani says Iran will stay in Syria, wants to avoid conflict with US | The Times of Israel
Iranian president says Tehran will keep its forces in Syria for as long as Assad wants them there; Israel repeatedly vows not to let Iran entrench itself on the northern border
Iran says it doesn't want war with the US
Iran's President Hassan Rouhani said he believes America will "sooner or later" support the Iran nuclear agreement again.
Trump's UN speech was the worst thing for Israel
Op-ed: Unlike his erratic speeches of the past, Trump set out a clear political agenda of isolationism and a radical retreat from the much-loved old American ethos of helping the world and promoting values of liberty and democracy. Pro-Israel though he may be, all his words, including those supporting Israel, leave the family of nations cold and bitter.
Why the world ignores America on Iran
Chairing a United Nations Security Council meeting on Iran on Wednesday, the president found himself alone among the 5 permanent Security Council members in supporting harsher policies toward the Islamic Republic. This isolation was expected. Still, it's worth digging into why the world is so uninterested in the Trump administration's strategy on Iran. Because that opposition has more nuanced motivations than some perceive.
Did a Terrorist Attack Just Save the Iranian Regime? – Foreign Policy
After a strike on a military parade, nationalist sentiment is on the rise—and not a moment too soon for a government that was facing deepening discontent.
Russia puts deep roots in Syria, warns West against meddling
The same day that Russian diplomats struck a deal with Turkey over a demilitarized zone in Syria's last rebel-run region, dozens of Russian businessmen were flying home from Damascus, contracts in hand for trade with a postwar Syria.
Syria's Three Wars – Foreign Policy
With battles raging in Idlib, near the Golan Heights, and in the country's east, the civil war is far from over.
U.S. Won't Tap Oil Reserves To Offset Price Spike From Iran Sanctions
Energy Secretary Rick Perry says the U.S. government isn't considering releasing oil from its massive crude reserves to prevent prices from spiking when sanctions on Iran go into effect in November.
Recep Tayyip Erdogan | How to Fix the U.N.—and Why We Should – Foreign Policy
Don't let major powers such as the United States undermine the liberal international order. Instead, reform it so it works better. By Recep Tayyip Erdogan | September 26, 2018, 7:07 AM
Turkey's Erdogan Changes His Tune, Seeking Support and Cooperation in Germany – The New York Times
A state visit is aimed at normalizing relations with a NATO partner, but it also underscores that Europe has to deal with a budding dictator on its border.
Erdogan defends footballer Ozil ahead of Germany trip – BBC News
Turkey's president says the German player should not be "lynched" for posing in photos with him.
Erdogan To Visit Moldova Following Expulsion Of Turkish Teachers
Moldovan President Igor Dodon says he will host his Turkish counterpart in Chisinau in October, weeks after Moldova expelled seven citizens of Turkey, in a move criticized by human rights organizat…
US Official: We May Cut Support for Iraq If New Government Seats Pro-Iran Politicians – Defense One
The senior administration official's warning is the latest tack in a largely fruitless bid to shape a new governing coalition in Baghdad.