Anonymous expert compilation, analysis, and reporting.
</end editorial>
---
---
As we would expect, Russian threats to overrun US positions in Syria did not elicit a warm response. Russian and Syrian assertions that Idlib with millions of civilians and refugees is a valid military target have also not sold well. Equally so, Russian denials over Salisbury have not been widely accepted. The Russian leadership is playing a very dangerous game, and it is not entirely clear they fully understand this – overindulgence in Dugin's "Russian truth" will do that every time. The regime's penchant for high-risk propaganda spectacles and its indifference to human suffering are blinding it to some deeper historical realities – its behavior increasingly resembles that of Hitler's Germany, more so by the year. The very good analysis by Giles @ Chatham, and Harding's commentary captures this well.
An interesting analysis by Kommersant indicates that the much despised retirement age policy in Russia is less motivated by fiscal constraints, and more by an intent to retain skilled personnel in industry jobs, rather than replace them with foreign immigrants, this in turn reflecting the loss of talent as smart young Russians departed for a saner life elsewhere since the 1990s, and increasingly so this decade. This is less about fiscal and more about demographic bankruptcy – something the regime will never admit.
It is the 42nd anniversary of the defection of Lt. Viktor Belenko of the Voyska PVO, who flew his MiG-25 FOXBAT to Hakodate in Japan, embarrassing the Soviet leadership completely (Public biographies describe Belenko as a native Eastern Siberian – with a Ukrainian surname he was clearly part of the "Green Wedge" community, so the defection could be counted as "demographic blowback" from forced migration).
In the UK, Salisbury cleanup continues, and concerns remain that all of the CW agent has not been accounted for.
Iran's bluster and bluff continues, while rioting Iraqis torch Iran's consulate in Basra over its meddling in Iraq.
---
Salisbury poisoning: Russia hits out at West over novichok 'lie' | News | The Times
Russia hit back at the international community this morning, saying that accusations that its agents were responsible for the novichok attack on Salisbury were a "frank lie".Moscow was accused last night of "playing dice" with British lives after it was said that the dose of nerve agent brought into
TASS: World – Russian UN envoy says London's 'evidence' in Skripal case is full of holes
Russian UN envoy says London's 'evidence' in Skripal case is full of holes
TASS: Russian Politics & Diplomacy – Russia seeks to quickly identify suspects in Skripal case, hopes for London's help
Scotland Yard released photos supposedly showing the two Russians who had allegedly poisoned the Skripals
Russia asks Britain for help in identifying two assassins police believe carried out Novichok attack | Daily Mail Online
Moscow have claimed they want to establish whether or not the two men accused of poisoning Sergei and Yulia Skripal in Salisbury in March are Russian citizens.
UK Media Claims Alleged Skripal Killers Traveled to Geneva Before Poisoning – Sputnik International
Reverberations from the Skripal affair, with all its extraordinary twists and turns, show no sign of abating.
UK Spy Chief: London Ready to Counter 'Real Threat' From 'Brazen' Russia – Sputnik International
The GCHQ intelligence chief's warning came hot on the heels of a UN Security Council meeting where the UK envoy claimed that the Salisbury poisoning attack was perpetrated by two GRU officers.
Spanish spin? NYT proposes strained Kremlin motive in Skripal case, but analysts don't buy it — RT World News
The Gray Lady has put some fresh spin on the Skripal saga, with the paper saying the ex-spy may have been a target for Moscow-linked mobsters in Spain. But experts told RT they're still waiting for evidence of Kremlin involvement.
TASS: Russian Politics & Diplomacy – Putin hopes terrorists in Idlib will wisen up and lay down arms
The Russian and Syrian military has always sought to ensure the exit of the civilian population, Putin noted
TASS: World – US diplomat reiterates that Washington will not leave chemical attack in Idlib unanswered
According to earlier reports, terrorists active in Idlib are making preparations for staging a chemical weapons attack that could be blamed on Damascus
TASS: Russian Politics & Diplomacy – Putin urges Russian special services, military to closely cooperate with Iran, Turkey
The Russian president also called for speeding up the formation of a constitutional committee in Syria
TASS: Military & Defense – Russia helping Syria modernize its air defense system, ambassador says
Much is yet to be done because everything was in utter devastation, but certain results can already be seen, Alexander Kinshchak said
Professor Estimates US Reaction to Possible Syrian Offensive in Idlib – Sputnik International
Iran's President Hassan Rouhani met with his Russia's counterpart Vladimir Putin and Recep Tayyip Erdogan of Turkey on Friday to discuss the situation in Syria. Sputnik spoke to Mohammed Marandi, Professor at the University of Tehran, to find out his opinion on the trilateral talks and what he thought US reaction would be to an offensive in Idlib.
'Act of espionage': France accuses Russia of trying to spy on satellite data | World news | The Guardian
Defence minister says Russia's Luch-Olymp craft got 'so close' to French military satellite last year
France Accuses Russia Of Spying On Military Satellite In Space
A Russian satellite attempted last year to spy on a satellite providing secure communications for the French and Italian militaries, French Defense Minister Florence Parly said on September 7.
Russian Spy Satellite Tried to Steal Military Information From France, Defense Minister Says
Russian satellite had flown close to another satellite operated by France and Italy in order to spy on the two EU countries, French defense minister says.
France accuses Russia of spying on military from space | Reuters
Russia attempted to intercept transmissions from a Franco-Italian satellite used by both nations' armies for secure communications, French Defence Minister Florence Parly said on Friday, describing the move as an "act of espionage".
Russia 'tried to spy on France in space' – French minister – BBC News
France says a Russian spy satellite got close to a French military satellite to tap its signals.
France Joins 21st Century Space Race Fearing Future Conflict – Bloomberg
France signaled the 21st century space race is shifting to a new, potentially more dangerous phase with an unprecedented program of investment to protect critical infrastructure from aggressors.
F-22 stealth jets intercept Russian strategic bomber heading for Alaska ahead of massive war games | Business Insider
US Air Force F-22 stealth fighter jets intercepted two Russian nuclear-capable strategic bombers near Alaska on Saturday, Russia's Ministry of Defence confirmed. The incident, first reported by The Washington Free Beacon on Thursday, unfolded outside US sovereign airspace ahead of Russia's biggest military exercise in modern history.
Russian bombers intercepted off Alaska for second time this year – ABC News
Two Russian bombers were intercepted off the coast of Alaska recently — the first flight by the country's bombers off the coast of Alaska since mid-May, according to North American Aerospace Defense Command (NORAD). The Russian planes, two TU-95 "Bear" long-range bombers, were flying in the Alaskan Air Defense Identification Zone (ADIZ), south of the Aleutian Islands, around noon Saturday when they were intercepted by two F-22 fighters.
The Aviationist » The Italian Typhoons Have Deployed To Iceland To Take Over NATO's Icelandic Air Policing Duty
For the third time, the Italian F-2000A jets have deployed to Keflavik to ensure the safety of Iceland's airspace. On Sept. 4, four Italian Air Force Eurofighter Typhoon jets deployed to Keflavik Air Base, Iceland, to contribute to NATO's enforcement of Iceland's sovereignty.
Window on Eurasia — New Series: Putin's Pension Plan Driven by Demographic rather than Financial Problems
Paul Goble Staunton, September 6 – Most discussions of Vladimir Putin's plan to boost retirement ages have assumed that he has been driven to that by the need to save money, but in fact, a new analysis says, the plan is less about that than about finding new workers for the Russian economy without bringing in immigrants and the problems they represent. The pension plan once it is approved will not save Moscow very much money, certainly not the amount that some Russian officials claim and that many assume is the reason Putin has taken such an unpopular step, according to newly released budget figures for the coming three years (sobkorr.ru/news/5B9126AED4912.html and kommersant.ru/doc/3732806). Indeed, the current retirement ages could have been maintained for a decade or more without serious problems for government finances. The changes were driven by the authorities' need to increase the number of workers" without increasing immigration, the articles report. According to new government figures, boosting the retirement age will increase the number of Russians employed in the economy by 137,000 people by 2019 and 1.8 million by 2024, the latter a number that will go a long way to compensate for the demographic decline in which Russia continues to find itself. That conclusion explains two other things as well: On the one hand, it is why the government has not been willing to back down because demography is much less unforgiving as far as the country's economy goes than is any budget shortfall caused by pension costs. And on the other, it also explains why Putin made the concession to women, whose rate of participation in the work force is less than that of men and whose earlier retirement than originally projected will affect the size of the workforce commensurately less.
Window on Eurasia — New Series: Russia Moving toward an Openly and Officially Stratified Society, Solovey Says
Paul Goble Staunton, September 7 – The Russian system over the next five years will be transitioning to a new state, Valery Solveyey says, one whose main concern is not the selection of a successor to Vladimir Putin but rather the preservation of the status, privileges and wealth of the key elite group. Because this transition will be occurring "under conditions of a growing deficit of resources, intensification of foreign pressure, and the growth of internal tensions, it may turn out to be an extremely harsh one, the MGIMO political scientist and commentator continues (echo.msk.ru/blog/vsolovej/2273032-echo/). One aspect of this is that "in the course of the transition, the task of converting society into 'the new oil' and a source of resources for the elite must be addressed and solved," he says. "The pension reform is the first important step in this direction." And the response to it suggests even more radical changes ahead. It may soon prove to be the case, Solovey says, that "even imitation democracy will become excessive, unnecessary and filled with risks." As a result, Solovey suggests, there will be a push to replace it with a system defined on the basis of the relationship of various groups to state service, or strata in something like the tsarist sense. The top such stratum would be "closed and outside the existing legal system," that is, its members could act without regard to laws that they would be imposing on all others. At the same time, Solovey says, "the imperative of external conflict which can be extended a minimum of five years and more likely longer will require the centralization and stratification of the economy." It will also require "the reduction in the number of federal subjects by means of their unification" and the introduction of "a state ideology." According to the MGIMO professor, "the ruling elite is certain of its ability to preserve control over society and not to allow challenges." Further, he says, "the active phase of transition will begin in 2020-2021.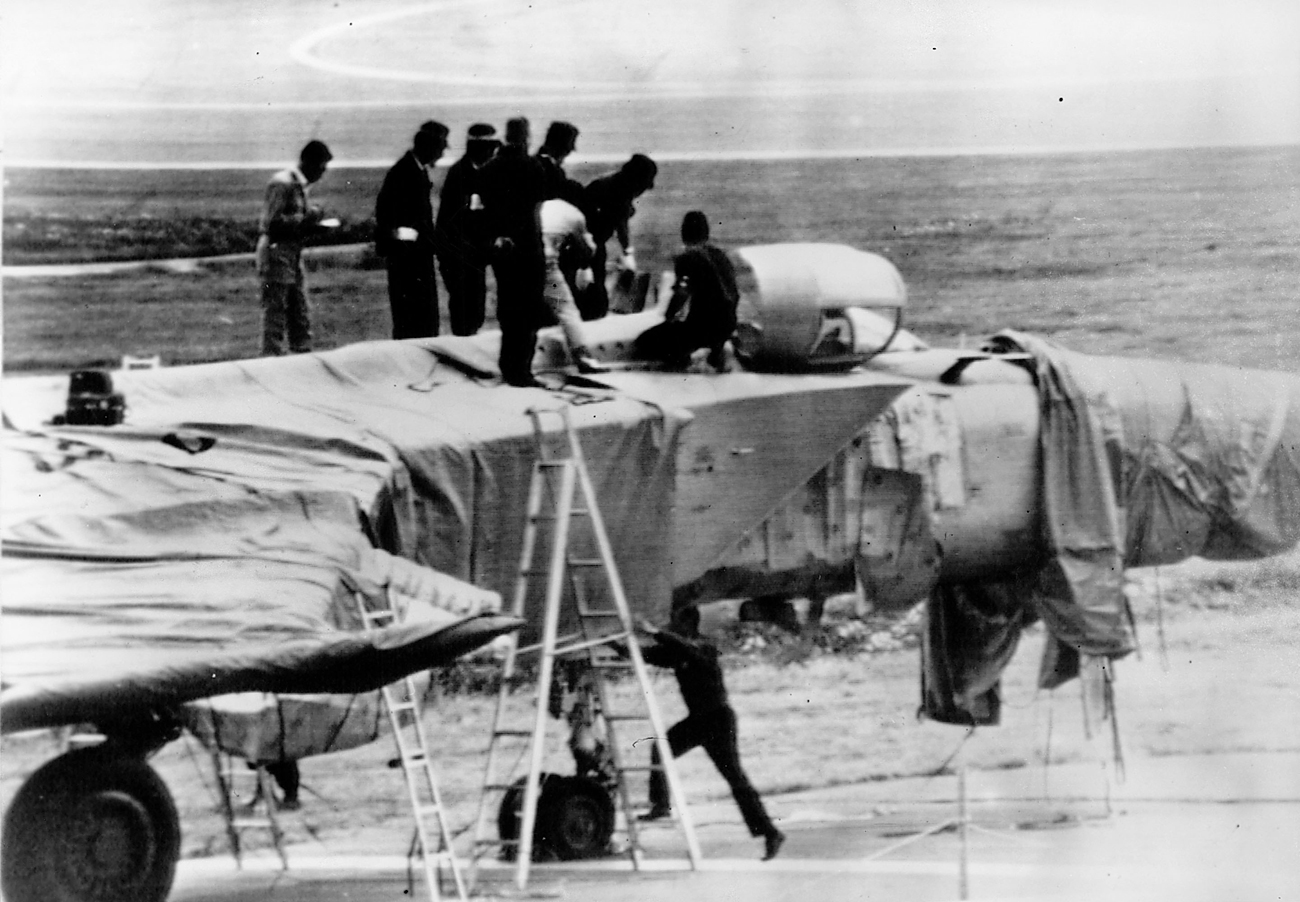 The Aviationist » 42 Years Ago Today: The Daring Defection of The Secret Soviet Super Fighter
By Tom Demerly The West Thought the MiG-25 Was a Deadly, Agile Superfighter. What They Learned Was Surprising. 1430 Hrs. Local, September 6, 1976. Sea of Japan near Hakodate Airport, Hokkaido Prefecture. Jet fuel burned faster than he calculated as he pressed lower under the overcast, down to the gray black waves only 150-feet above the Sea of Japan. He hauled the heavy control stick left, then corrected back right in a skidding bank around a fishing vessel that came out of the misty nowhere in the low afternoon cloud cover. White vapor spiraled long "S"s from his angular wingtips in the violent turn nearly touching the wave tops.
Second Novichok perfume bottle may be hidden after Russian spies dumped it
Police admit they cannot be sure that the perfume bottle found by Charlie Rowley in July is the exact same one used to target Sergei and Yulia Skripal in March
Russian hitmen spent weeks in Geneva before nerve agent attack on Sergei Skripal
Intelligence agencies are investigating a series of trips by two Russian hitmen to Geneva prior to carrying out the nerve agent attack on Salisbury.
Clean‑up operation to decontaminate Skripal house | News | The Times
An extensive operation is under way to decontaminate the home of Sergei Skripal, the Russian double agent who was attacked with a nerve agent.Military specialists are expected to take weeks or even months to make the Salisbury property safe after the Soviet-made agent novichok was pumped on to the f
'Sense of closure' in Salisbury after police name Skripal suspects | UK news | The Guardian
Council leader says there is relief and anger, as work begins on decontaminating house
Haley Praises 'Clarity and Undeniability' Of UK Investigation Into Novichok
"Every one of us in this room and listening around the world should be chilled to the bone with the findings of this investigation," says UN ambassador.
Novichok assassination bid 'could have killed 4,000 Brits'
The dose of the nerve agent used in the Salisbury attack was strong enough to kill 4,000 Brits, a security official told The Times. The substance inside the perfume bottle used by Russian spies could have caused "a significant loss of life".
Britain Says It Will Retaliate Against Russia's 'Real and Active' Threat
In the wake of the nerve agent attack in Salisbury, England, an intelligence chief pledged to fight back.
Russia Confirmed It Is A Rogue State – To Inform is to Influence
Russia is a rogue state. This has been said, written, and pushed repeatedly.
Russia has made its choice and confirmed it's a rogue state – CNN
"Keir Giles is a senior consulting fellow of the Russia and Eurasia program at Chatham House. He is also a director of the Conflict Studies Research Centre, a group of subject matter experts in Eurasian security. The opinions in the article belong to the author." (CNN)At the United Nations on Thursday, Russia had a golden opportunity to show the world that it is not a rogue state. Instead, Russia's ambassador fell back on a familiar ritual of denying everything and passing the blame to anyone but Moscow.
UAWire – Russian media finds UK's Skripal poisoning suspects
Russians Alexander Petrov and Ruslan Boshirov, the suspected perpetrators of the Novichok nerve agent poisoning in the city of Salisbury, bought flight tickets to London with foreign passports whose numbers differ by only the last digit, reported the Russian newspaper Fontanka. According to official information, Petrov and Boshirov flew on March 2 from Sheremetyevo Airport, Moscow, to Gatwick Airport, London. 150 passengers were registered for Aeroflot flight SU2588. Boshirov and Petrov bought their flight tickets with foreign passports of the "65" series, and their document numbers differ only on the final digit: …1924 and …1927 respectively. According to Fontanka, there is virtually no information about Boshirov in open information sources. He was born on April 12, 1978 in Dushanbe, Tajikistan, and was registered in Moscow in a 25-story building on Bolshaya Naberezhnaya Street. In 2015, two administrative cases were filed against Boshirov for traffic fines that he received three days apart, on July 20 and 23. The case numbers are not in logical order – the first has the number 433048 and the second 432322, although they were filed by the same department – the inter-district department of court bailiffs for collection of administrative fines No. 1 Moscow. The Moscow judges' portal has no record of administrative violation cases against Ruslan Boshirov, neither does the bank possess any information on them. Fontanka phoned Boshirov's long-standing residence on Bolshaya Naberezhnaya Street to investigate. "Only an old lady lives in the apartment you mentioned. We hold her money, she raises it to hire a cleaning lady. We have never seen a man in the apartment, nor met one at reception. The only thing we can suppose is that he is the homeowner's son, who is registered at the address, but has never lived here," residents replied. Boshirov is not particularly active on social networks either. The profiles created under this name and surname in 2014 are empty. On Facebook, Boshirov has only one friend, a young woman from Ukraine. His profile on the Russian social network VKontakte contains information that he supposedly graduated from land hydrology studies at Moscow State University's geography faculty. According to Fontanka, Boshirov and Petrov's international passports (normal, not biometric) were issued only two years ago, when the 65th series forms started to be issued. Both flew to Europe frequently on these passports. Between September 2016 and March 2018, they visited Amsterdam, Geneva, Milan and on several occasions Paris. Alexander Petrov had stayed in London at least once prior to the Salisbury incidents, between February 28 and March 5, 2017. Even less is known about him. He was born on July 13, 1979. A person with the same date of birth, name and surname, features on a staff list from Microgen, Russia's largest producer of immunobiological products. The company was founded in 2003 through a merger of companies in the immunobiological sector. Earlier the UK disclosed the names of two Russians who are suspected of perpetrating the poisoning in Salisbury earlier this year – Alexander Yetrov and Ruslan Boshirov. Investigators believe that both suspects are roughly 40 years of age and used pseudonyms during their stay in the UK. Police have also shown their route in London and Salisbury in detail using surveillance camera footage. British Prime Minister Theresa May said that the suspected Russians are officers of Russia's Main Intelligence Directorate. Russia's Foreign Ministry said that persons bearing such names are not known to it, and accused the UK of "information manipulation".
Paramedic says Nikolai Glushkov believed he was poisoned – BBC News
Kremlin critic Nikolai Glushkov told a paramedic in 2013 he thought two Russians had poisoned him.
Russia Threatens To Attack Key U.S. Outpost In Southern Syria – The Drive
The American base at At Tanf has been a flashpoint before, but it could now become a dangerous sideshow to a larger Syrian government offensive.
Russia Warns US It's Prepared To Attack Syria Base Where US Troops Deployed
Russia has warned the U.S. that its military and allied Syrian forces are ready to attack a key U.S.-held base near the borders of Syria, Jordan, and Iraq
US begins military exercise in Syria in response to Russian military threats – CNNPolitics
(CNN)More than 100 US troops began an unexpected exercise in southern Syria on Friday in direct response to a series of Russian military threats, according to a US defense official.
Why it's not so crazy to think Russia would attack US forces in Syria
CNN is reporting that Russia is threatening to attack U.S. forces based in Al Tanf, eastern Syria, but don't call it fake news. A Russia-U.S. exchange of gunfire isn't as crazy as it might sound.
Russia threatened a key US base, and US Marines there just doubled-down with a threatening show of force | Business Insider
US-led coalition forces are conducting live-fire exercises in the At Tanf deconfliction zone, US Central Command (CENTCOM) revealed Friday. The drills come just one day after Russia accused coalition forces of harboring terrorists in the area and threatened to conduct operations and launch precision strikes around a key anti-ISIS coalition base in At Tanf. The exercises, according to CENTCOM, are intended to send the Russians a message, specifically that the US and its partners do not need Russian, Syrian, or pro-regime assistance in eliminating terrorists in the region.
Pentagon sends reinforcements to remote Syria base after Russia threatens attack
More than 100 U.S. troops were sent to reinforce a remote coalition outpost in southern Syria on Friday.
US military starts exercise in Syria amid Russian threats
U.S. forces in Syria on Friday announced the start of a military exercise amid reports that Russia has warned of possible attack in the same area.
US announces military exercise in Syria after Russia warns of possible attack | TheHill
U.S. and anti-ISIS coalition forces kicked off a military exercise Friday near a garrison in southeastern Syria, U.S. Central Command announced.
U.S. forces conduct live-fire exercise in southern Syria in a warning to Russia – The Washington Post
The Marine exercise followed a notification from Russia, and a U.S. rejection, of a plan to enter a zone to pursue "terrorists."
Marines conduct show of force exercise amid Russian warnings in Syria
A company size element of Marines conducted an aerial assault exercise in vicinity of a small U.S. base in southeastern Syria amid concerns of a potential Russian military operations in the region.
Marines Launch Air Assault into Syria in 'Strong Message' to Russia | Military.com
More than 100 U.S. Marines launched an air assault in the southern Syrian desert backed by artillery fire.
US Marines launch live-fire air assault into Syria desert in 'strong message' to Russia | Fox News
More than 100 U.S. Marines launched an air assault in the southern Syrian desert backed by artillery fire to send a "strong message" to Russia not to send their forces inside a restricted area near an American military outpost, two U.S. defense officials have told Fox News. The show of forces comes as the leaders of Iran, Russia and Turkey are meeting Friday in Tehran to hammer out their next steps in the seven-year Syrian civil war ahead of an expected offensive led by Syrian President Bashar al-Assad's forces into the country's northwest Idlib Province.
U.S. military drawing up options should Syria use chemical weapons | Reuters
America's top general on Saturday said he was involved in "routine dialogue" with the White House about military options should Syria ignore U.S. warnings against using chemical weapons in an expected assault on the enclave of Idlib.
U.S. Envoy Warns That Syria Preparing To Use Chemical Weapons In Idlib : NPR
Special Representative for Syrian Engagement Jim Jeffrey says the U.S. has "lots of evidence" that the Damascus government is preparing for a "reckless escalation" of the conflict.
Assad preparing to use chemical weapons in Idlib, U.S. warns – U.S. News – Haaretz.com
White House says U.S. and allies will respond 'swiftly and vigorously' to a chemical attack on Syria's last rebel-held stronghold
US warns Russia and Syria against "reckless" chemical weapons attack on Idlib rebels – CBS News
New U.S. envoy claims "lots of evidence that chemical weapons are being prepared" for regime attack on rebel holdouts in Idlib
There is evidence Assad regime readying chemical weapons to use in Idlib, US envoy says – Daily Sabah
There is lots of evidence that chemical weapons are being prepared by Syrian regime forces to be used in northwest Syria's Idlib, the newly-appointed…
'Sanctity of human civilian life' in Idlib must win out, urges UN Syria Envoy | UN News
With the ingredients for a "perfect storm" brewing in the Syrian province of Idlib, the international community cannot allow civilians there to succumb to such a fate, the UN Envoy for the country told the Security Council on Friday.
Trump extends indefinite Syria strategy: report | TheHill
President Trump has approved a new strategy for Syria that will indefinitely leave about 2,000 U.S. troops there, according to The Washington Post.The strategy will also continue diplomatic and economic efforts, according to the Post.
Trump's tweets won't stop a bloodbath in Syria – The Washington Post
CAN A tweet stop another bloodbath in Syria? Evidently not. Hours after President Trump used his favorite medium to warn Russia not to join in a new offensive on the northern province of Idlib, saying it would be "a grave humanitarian mistake," Russian aircraft carried out dozens of strikes in the rebel-held province on Tuesday, reportedly killing at least a dozen civilians. That was just the beginning of what could be the most horrific episode yet in the seven-year-old civil war. About 3 million civilians are trapped in Idlib, of whom as many as half are refugees from other parts of Syria. Mr. Trump was hardly exaggerating when he wrote that "hundreds of thousands of people could be killed."
Putin rejects calls for truce in Idlib as Syria readies assault on rebel stronghold – The Washington Post
A Tehran summit attended by the presidents of Russia, Turkey and Iran promised to shape one of the final battles of the Syrian war.
With millions of lives in the balance, Iran, Russia and Turkey discuss Syria's fate – YouTube
Fears of Bloodbath in Syria's Idlib as Russia, Turkey, Iran Meet – YouTube
🇸🇾 Turkey, Russia, Iran leaders meet in Tehran over Idlib | Al Jazeera English – YouTube
Al Jazeera English Published on Sep 6, 2018 Leaders of Iran, Russia and Turkey are due to meet in Tehran on Friday, with Syria high on their agenda.
Turkey's Erdogan gets no love from Russia on Idlib
Disagreements between the presidents of Russia, Iran and Turkey were evident at a televised meeting today as they struggled to negotiate a solution on Syria.
Putin, Erdogan and Rouhani fail to agree on Idlib ceasefire | Middle East Eye
Russian president insists Assad has the right to take northern province, while his Turkish counterpart urges calm
Idlib: Turkey's effort to stop mass slaughter in Syria just failed – Vox
Turkey's failure to curb Russia and Iran's support for Syrian President Bashar al-Assad will almost certainly lead tens of thousands to die in Idlib.
Erdogan Warns of `Lake of Blood' as Putin Rejects Syria Deal – Bloomberg
Russia rejected Turkish President Recep Tayyip Erdogan's call for a cease-fire in Syria after he warned of a looming "catastrophe" as the Damascus regime's forces prepare to fight the last major battle of the seven-year civil war.
Turkey faces new migration risk from Idlib: CHP chair
Main opposition Republican People's Party (CHP) leader Kemal Kılıçdaroğlu said Turkey would face "further risks" in the case of a new migration flow from Syria's Idlib province, underlining "Russia, the United States and Iran should be informed of these risks."
Russia urges disarmament in Syria upon Erdogan's call
Putin said he understood Turkey's call for cease-fire in Idlib but had his reservations – Anadolu Agency
As Idlib offensive looms, residents fear chemical attacks | News | Al Jazeera
Idlib civilians reject reconciliation with Syrian government and fear use of chemical weapons during possible offensive.
Millions of us are trapped in Idlib, facing death. The world must save us | Anonymous | Opinion | The Guardian
I've seen things that no human being should ever witness. But while we bleed, world leaders respond with meek platitudes
The Idlib offensive could create a major refugee outflow—What should Turkey do?
Ahead of an imminent regime offensive on the Idlib province of Syria, as many as 800,000 civilians could be forced to flee across the border to Turkey.
Syrian rebels in Idlib target those who might surrender as government assault looms – The Washington Post
Al-Qaeda-linked fighters erected a gallows to keep people in line and stepped up arrests and torture, witnesses said.
The Latest: Witnesses say warplanes strike Syria's Idlib | Fox News
The Latest on Syria talks in Iran (all times local): 1:25 p.m. Activists and residents say warplanes have struck areas on the southern edge of the Syrian Idlib province, the rebels' last bastion, killing one and causing loud explosions and large plumes of smoke.
Preserve US interests in Syria by backing the Kurds
How can the United States simultaneously limit the authority of the Syrian mass murderer Bashar Assad, press Russia for a Syria solution that removes Assad, and contain Iranian expansion, while averting an Islamic State resurgence and demonstrating resolve to Turkish President Recep Tayyip Erdogan? There is a way: Strengthen support and, if necessary, provide protection for the Syrian Kurds in their northeast Syrian enclave.
Thousands Protest Assad Plan To Attack Last Syrian Rebel Stronghold
Thousands of people took to the streets in Syria's Idlib Province to protest against an assault promised by President Bashar al-Assad's forces that the United Nations has warned could cause a human…
Iran leader Ali Khamenei in furious attack on US as tensions SOAR | World | News | Express.co.uk
IRAN and Russia have threatened to work together and 'restrain' the United States after branding Washington a 'danger for humanity'.
U.S. sends Iran messages 'every day' to begin negotiations: Iran president | Reuters
The United States constantly sends messages to Iran to begin negotiations, Iranian President Hassan Rouhani said on Saturday in a speech broadcast on state television.
Israel's Secret War Against Iran Is Widening – Foreign Policy
Israel has fully joined the battle in Syria—but it's not clear it can achieve any of its goals there.
Protesters in Basra storm Iranian consulate as deadly demonstrations rage | Reuters
BASRA/ERBIL, Iraq (Reuters) – Civil unrest fueled by anger against perceived corruption and misrule by Iraq's political elite intensified across the south of the country on Friday, as protesters stormed the Iranian consulate in Basra while others briefly took workers hostage at a nearby oilfield.
Iraqi protesters set fire to Iranian consulate in Basra | News | Al Jazeera
Residents say they have been driven to the streets by corruption and misrule that allowed infrastructure to collapse.
Basra, Iraq protests: Protesters have torched nearly every government building – Vox
Protesters in Basra, Iraq, are rioting over the lack of water, electricity, and other basic services.