Anonymous expert compilation, analysis, and reporting.
Before reading onward, I strongly suggest you view this short video. Russia's 'Obfuscation And Lies': May Accuses Kremlin After Novichok Charges
</end editorial>
---
---
Two GRU officers, or "GRushniki" in Russophone venacular, are charged in the UK with "… offences including conspiracy to murder over the Salisbury nerve agent attack…" – tomorrow we can expect to see a mutltipronged deluge of conspiracy theories, denials, and toxic attacks on all things British, likely back to the medieval. Or could it be another evil Ukrainian conspiracy, its wicked origins in Princess Gytha of Wessex, daughter of Harold Godwinson, marryingUkrainian Grand Prince Waldemar II? We await with bated breath …. Meanwhile, Muscovy's propagandists fawn over the Vozhd, while Russian opposition revives a Brezhnev era joke about the 'The Cult of No Personality'.
Other UK reports indicate the OPCW has confirmed the latter two victims of the CW attack were exposed to the same agent.
In Syria, Russian VKS and Syrian AF restart bombardment campaign against Idlib. Erdogan warns of a massacre. Israel discloses that 200 strikes were conducted against Iranian targets in Syria over the last two years.
POTUS to chair a UNSC meeting on Iran's mischief. Iran's leadership chastises Europe for not trying hard enough to protect them from US sanctions.
---
Praising Putin: Russian TV Ramps Up Adulation
A new show on Russian state TV takes fawning coverage of President Vladimir Putin to a whole new level of obsequiousness.
Window on Eurasia — New Series: New Putin TV Program Likely to Prove Counterproductive
Paul Goble Staunton, September 4 – Faced with declining ratings in the polls, the Kremlin has launched a new weekly television program devoted to all things Vladimir Putin. But the program, called "Moscow, Kremlin, Putin" has already become the object of popular derision and thus may make the situation of the powers that be even worse. The reaction of the Telegram channel SerpomPo is not atypical. It says that this new program is "a clear example of the inadequacy of the Kremlin and its leader given what is taking place in the country. The times of talk shows and pictures in Russia have passed." They may have worked in the past but not now (echo.msk.ru/blog/serpompo2018/2271496-echo/). "People don't need this now. They need the powers that be to make decisions which will lead to an improvement in the lives of citizens and not stories" about what the president "eats for breakfast." In sum, "today is not 2000 but rather 2018," SerpomPo continues. Trying to exploit Putin's image all by itself shows the hopeless distance of the rulers from the ruled and the inability of those in charge to come up with anything new that will do anything good. In many ways, the Telegram channel suggests, this is a reprise of 1981 and Leonid Brezhnev's approach during the Soviet stagnation. Then, Soviet television showed Brezhnev as a good hunter and a disciplined worker and thought that was enough. "But what happened? Were the problems of the USSR in any way resolved?" No, within a decade the country had fallen apart. Those who are trying the same thing now can expect "a similar result." It would be "more correct," the Telegram channel says, "if the new program were to be called 'The Cult of No Personality,'" yet another nod to the Brezhnev era when Soviet wits observed that Stalin's cult of personality had been succeeded by Brezhnev's cult which lacked one.
Russian Officials Warn Google Not To 'Meddle' In Elections By Hosting Navalny Videos
Russian officials say they have warned U.S. internet giant Google against "meddling" in local elections scheduled for this weekend by allowing Kremlin foe Aleksei Navalny to post videos calling for mass protests on YouTube.
Window on Eurasia — New Series: Yeltsin was Just as Much an Imperialist as Putin is But Lacked Resources to Act Broadly on His Views, Eidman Says
Paul Goble Staunton, September 4 – The recently declassified records of conversations between Boris Yeltsin and Bill Clinton in the 1990s show many things, but perhaps the most important is that the first post-Soviet president was just as committed an imperialist as his chosen successor, Vladimir Putin, according to Igor Eidman. The only difference is that Yeltsin in the wake of the collapse of the Soviet Union had fewer resources at his disposal to pursue his imperialist dreams, the Russian commentator for Deutsche Welle says, and could only hope that allies like Clinton would give him what he could not achieve on his own (afterempire.info/2018/09/04/imperialists/). In fact, Eidman says, "Yeltsin was just as much a crazy imperialist as have been practically all other Russian rulers over the last several centuries," keeping alive "an insane dream about dominance in Europe." That required them to push the Americans out of Europe and both Soviet and Russian leaders have pursued that end. Thus, "everything Putin is doing today is hardly new. His technology of hybrid war has been applied by the Kremlin for many decades. Deniable agents from Russia under Stalin fought in Spain, Korea and China; under Brezhnev, they were in the Middle East, Vietnam and Africa; and under Yeltsin in Abkhazia, Transdniestria and Chechnya." Yeltsin to be sure "was not too aggressive in the international arena," Eidman continues; but only because "he simply did not have the economic resources for carrying out an imperial policy at the international level. But judging from his conversations with Clinton, he like his predecessors very much wanted to be master of half of the world." Moreover, Eidman continues, "many 'liberals' in Yeltsin's entourage were in essence imperialists in the same way. Chubais, for example, said with satisfaction that the Russian army had been reborn in Chechnya … and even dreamed about 'a liberal empire." Such attitudes, of course, killed off any chance for the emergence of democracy in Russia."
Window on Eurasia — New Series: Revived Main Political Directorate in Russian Military to Focus on Ethnic and Religious Clashes
Paul Goble Staunton, September 4 – In yet another indication that ethnic and religious clashes are an increasing problem in the Russian armed forces, a draft outline of the tasks of the revived Main Military-Political Directorate specifies that that organization will focus on monitoring ethnic and religious "extremism" in the military and combatting clashes arising from it. The RBC news agency has obtained a copy of the draft order setting up that administration, one announced on July 30 and set to go into operation by the end of this month; and its journalists say the defense ministry has confirmed that the document it analyzes is genuine (rbc.ru/politics/04/09/2018/5b8d247d9a79478151f3fc2d?from=center_1). According to RBC's Inna Kodorkova, the new-old body will be involved with "the struggle against drug abuse, religious conflicts, the explanation of military policy of the Russian authorities, and be given control over the Zvezda television channel" and all defense ministry publications. It will work not only with serving military personnel but with young people in paramilitary organizations and subject to the draft, including those who seek to avoid service, and with veterans groups. And it will have primary responsibility for carrying out "military-sociological research to assess the moral-political and psychological state of those in uniform." But one of the new agency's primary tasks will be the maintenance of discipline in the ranks and "preventing negative social processes" there, "including those on an inter-ethnic and inter-religious basis," not only by instruction but also by blocking "negative" influences from beyond the military itself. Not everyone thinks all this is an entirely good idea. Viktor Murakhovsky, the editor of Arsenal Otechestva, says that one of the risks of the new administration will be the restoration of deputy commanders for military-political work, a system that undermined discipline in the Soviet military by focusing on ideology rather than a single chain of command. That raises the question as to just what the ideology will be, the editor suggests, given the ban on an official ideology in the Russian Constitution and the lack of a state ideology at the present time. But the push for re-ideologizing the Russian military is likely to go forward. Officials at the defense ministry, speaking anonymously, say the push in that direction comes from Defense Minister Sergey Shoygu personally. And that raises a larger possibility, although not one RBC or its interlocutors address. There appears to be at least a possibility that this new "political-military administration" will be the seedbed out of which a new Russian state ideology will emerge, one more militarist and less social than its Soviet predecessor.
Russia's Turn to Eurasia – To Inform is to Influence
A pro-Russian perspective. A good overall of the EAEU, member countries, potential members, the options, and the pros and cons of membership. </end editorial>
What the UK, Sweden & Baltics did to be "full-scale defenders" against Kremlin subversion |Euromaidan Press |
The European Values Kremlin Watch's "2018 Ranking of countermeasures by the EU28 to the Kremlin's subversion operations" has classified Sweden, Estonia, Latvia, Lithuania, and most recently, the UK, as "full-scale defenders" against Russia's disinformation campaigns and other hostile influence operations. Compared to last year's ranking, the UK stepped up its game after the Skripal assassination attempt. Being a "full-scale defender" means, according to the survey, that the country's state representatives acknowledge the Russian threat, there is a government strategy and applied countermeasures, and a counterintelligence response set in place. Here is what the five countries did to be in the vanguard of the EU's defense to Kremlin subversion.
Novichok poisonings: timeline of "assassins'" movements – YouTube
The Sun Published on Sep 5, 2018 RUSSIAN spy suspects wanted over the Novichok poisoning of Sergei and Yulia Skripal have today been sensationally named by police. Alexander Petrov and Ruslan Boshirov have been linked to the attempted hit on the former MI6 mole and his daughter – and cops have now issued a European Arrest Warrant for the pair. RUSSIAN spy suspects wanted over the Novichok poisoning of Sergei and Yulia Skripal have today been sensationally named by police. Alexander Petrov and Ruslan Boshirov have been linked to the attempted hit on the former MI6 mole and his daughter – and cops have now issued a European Arrest Warrant for the pair. It is understood Petrov and Boshirov stayed in the City Stay Hotel, Bow, East London during their time in the UK. Cops searching their room on May 4 – almost two months after the attack in Salisbury – are said to have discovered minute traces of Novichok. Police said Novichok was brought into Britain in a Nina Ricci 'Premier Jour' perfume bottle with a specially made poison applicator. In a joint statement with Scotland Yard, the CPS said: "There is sufficient evidence to charge two Russian nationals named as Alexander Petrov and Ruslan Boshirov with offenses including conspiracy to murder over the Salisbury nerve agent attack." Police will not be seeking extradition for the pair, but Interpol Red Notices – which alerts all member countries that suspects are wanted – have been issued. Scotland Yard also confirmed that both suspects had been to the UK before on the same passports and "traveled extensively on them in the past". The Kremlin has hit back at the announcement today with spokesman Dmitry Peskov denying any Russian role in the poisoning. Peskov added that Moscow has no new information about the attack because Britain has refused to share case files. The breakthrough in the Skripal case came after cops collected 4,000 hours of CCTV and 2,300 exhibits since the near-fatal poisoning of ex-KGB spy Skripal, 66, and Yulia, 33, in Salisbury in March. Among the clips was grainy CCTV of a man and a blonde woman with a red handbag captured on CCTV 20 minutes before the attempted hit. The CCTV showed the young woman walking beside an older man not far from the bench where the stricken pair were discovered. Government scientists found that the Novichok used in the attack was manufactured in Russia – leading the PM to boot out 23 Kremlin diplomats in an effort to "dismantle the Russian espionage network in the UK". As The Sun revealed, the Met believe the Skripals were victims of a bungled hit ordered by the Kremlin and carried out by two assassins who fled the UK the next day. They are thought to be safely back in Russia under the protection of Vladimir Putin. The suspects were identified through CCTV footage captured shortly after the attempted assassination and their flight records. But certain security sources think it is pointless to identify the suspected hitmen as Putin will never allow them to be sent to Britain… Continues: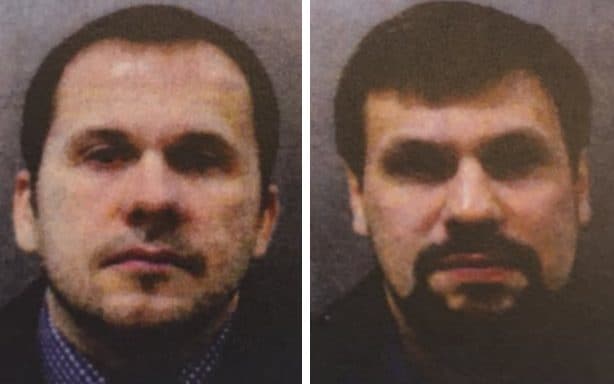 Salisbury poisoning: Two Russian charged over Novichok attack, but UK cannot get them out of Russia
Two Russians have been named as suspects and charged over the Salisbury poisonings, but British authorities are unable to get them out of Russia.
Russians charged over Salisbury novichok attack on Skripals | News | The Times
Two Russian citizens were named today by counterterrorism police as suspects in the March nerve agent poisoning of Sergei and Yulia Skripal in Salisbury. Alexander Petrov and Ruslan Boshirov travelled on passports issued by the Russian government when they were accused of carrying out the novichok a
Salisbury poisoning: Russians charged over novichok attack on Skripals | News | The Times
The prime minister has said that two Russian citizens named as suspects in the Salisbury nerve agent attack were active agents in the GRU, the country's military intelligence service.Theresa May said that the poisoning of Sergei and Yulia Skirpal was not a rogue operation and was "almost certainly
Salisbury Novichok poisoning: Two Russian nationals named as suspects – BBC News
Police and the CPS name two Russian nationals, saying there is "sufficient evidence" to charge them.
CPS says it has enough evidence to charge two Russians over Salisbury novichok attack – Politics live | Politics | The Guardian
Rolling coverage of the day's political developments as they happen, including Theresa May and Jeremy Corbyn at PMQs
Salisbury novichok poisonings: police name two Russian suspects | UK news | The Guardian
CPS says there is enough evidence to charge Alexander Petrov and Ruslan Boshirov over Wiltshire poisonings
Nerve agent used on Skripals 'same one that killed Dawn Sturgess' | UK news | The Guardian
Chemical weapons watchdog confirms novichok was used in all five Wiltshire poisonings
Amesbury poisoning: Experts confirm substance was Novichok – BBC News
An independent report finds Dawn Sturgess was killed by the same nerve agent used to poison the Skripals.
Salisbury nerve attack – European Arrest Warrant issued as Russian suspects identified | UK | News | Express.co.uk
TWO Russian nationals, Alexander Petrov and Ruslan Boshirov, have been charged with offences to murder following the Salisbury nerve agent attack.
First pics of Russian spy suspects wanted over Salisbury Novichok poison hit on Sergei Skripal and his daughter
RUSSIAN spy suspects wanted over the Novichok poisoning of Sergei and Yulia Skripal have today been sensationally named by police. Alexander Petrov and Ruslan Boshirov have been linked to the attempted hit on the former MI6 mole and his daughter – and cops have now issued a European Arrest Warrant and an Interpol Red Notice for the pair.
Nina Ricci – Buy Online at Perfume.com
With her son, Robert, Nina Ricci opened her elegant Parisian couture house in 1932, specializing in luxury fashion and fragrance. Madame Ricci exuded a flair for fashion, capturing the personality of her clients in her designs for them.
U.K. Prosecutors Name Two Russians Suspected In Skripal Case
British prosecutors have named two Russian men they believe poisoned former spy Sergei Skripal and his daughter, Yulia, with a deadly nerve agent in March, and released photographs of the suspects.
Chemical-Weapons Watchdog Confirms Novichok Killed British Woman
The substance that killed a woman in England in June was the same Novichok nerve agent that poisoned a former Russian agent and his daughter in May, the world's chemical weapons watchdog has confir…
U.K. Police Name 2 Russians as Suspects in Skripal Attack – The New York Times
Officials did not say whether the men were connected to the Russian government, which Britain has accused of being behind the nerve agent attack on a former spy.
British government names 2 Russian nationals as suspects in Salisbury poisonings – ABC News
Sergei and Yulia Skripal were poisoned in March.
The UK says these are the two men who tried to murder a spy in England with nerve agent | Business Insider
Britain is charging two Russian men over the poisoning of former Russian spy Sergei Skripal with nerve agent earlier this year.
Russians charged over Novichok poisoning of Sergei Skripal, daughter
Alexander Petrov and Ruslan Boshirov are charged in absentia with conspiracy to murder, attempted murder and use of the nerve agent Novichok.
Syria war: 'Russian' planes bomb targets in Idlib province – BBC News
Reports of renewed action come amid expectations of a major assault on the last rebel-held province.
Russia Launches Strikes Ahead of Offensive on Syrian Rebel Bastion – WSJ
Russian warplanes struck rebels in Syria's last major opposition stronghold on Tuesday, forcing the Trump administration to confront a looming regime offensive that is expected to deliver a fatal blow in the seven-year conflict and hand Moscow a diplomatic victory.
Russia executes airstrikes in Syria: 13 people die – 112.international
Russia executes airstrikes on Syria: 13 people die
Syrian and Russian warplanes pound Idlib before talks: monitor | Reuters
Russian and Syrian jets hammered a major rebel stronghold on Tuesday, a war monitor said, days before leaders of Russia, Iran and Turkey meet to discuss an expected Syrian government offensive that could spark a humanitarian disaster.
Erdogan Warns Of 'Massacre' In Idlib As Syrian Government Prepares Assault
Turkish President Recep Tayyip Erdogan has warned that an attack on Syria's Idlib Province could cause a "massacre," as government forces prepare for a major offensive against the last rebel-held r…
Israel says struck Iranian targets in Syria 200 times in last two years | Reuters
Israel has carried out more than 200 attacks against Iranian targets in Syria in the last two years, a senior Israeli official said on Tuesday, in a rare summary of its campaign.
Congress corners Pompeo on Saudi military actions – POLITICO
The secretary of state faces a Sept. 12 deadline to certify whether Saudi Arabia and the United Arab Emirates are doing enough to limit civilian misery stemming from a U.S.-backed military campaign in Yemen, or face a cutback in Washington's support.
Saudi royal: 'King and heir apparent' responsible for Yemen war | Saudi Arabia News | Al Jazeera
Prince Ahmed bin Abdelaziz tells London activists wider royal family not to blame for kingdom's foreign policy moves.
UAWire – US nuclear submarine moves from Gibraltar towards Syria
The USS Newport News, a Los Angeles-class nuclear-powered attack submarine which entered Gibraltar last week, left the port four days later and …
Trump To Chair UN Council Meeting To Highlight Grievances With Iran
U.S. President Donald Trump will chair a UN Security Council meeting on Iran this month during the annual gathering of world leaders in New York, to spotlight his grievances against Tehran.
Trump to host UN Security Council meeting on Iran, Haley says | TheHill
President Trump will host a United Nations Security Council meeting with foreign leaders on a "global challenge" and chair a session on an "important regional issue" when he visits the U.N. General Assembly in New York.
How Europe plans to skirt Trump's sanctions and keep doing business with Iran
The sanctions essentially force businesses and banks to choose between doing business with Iran or the United States.
Europe's demand for more talks does not help Iran nuclear deal: cleric | Reuters
Europe is not helping preserve an accord on Iran's nuclear program by asking for additional talks on issues like missiles, powerful anti-Western cleric Ayatollah Ahmad Jannati said on Tuesday, according to the Islamic Republic News Agency.
IRAN ON BRINK: Europe 'NOT HELPING' to save nuclear deal despite EU's £16M aid pledge | World | News | Express.co.uk
EUROPE'S attempts of desperately savaging the nuclear deal with Iran are backfiring as the continent's leaders are "not following an appropriate path", a powerful Iranian cleric warned.
Haley: Trump's Israeli-Palestinian 'deal of the century' can happen if Abbas comes to the table | Fox News
United States U.N. Ambassador Nikki Haley told reporters that President Trump's "deal of the century" in solving the Israeli-Palestinian situation can happen but only if Palestinian Authority President Mahmoud Abbas agrees to it.