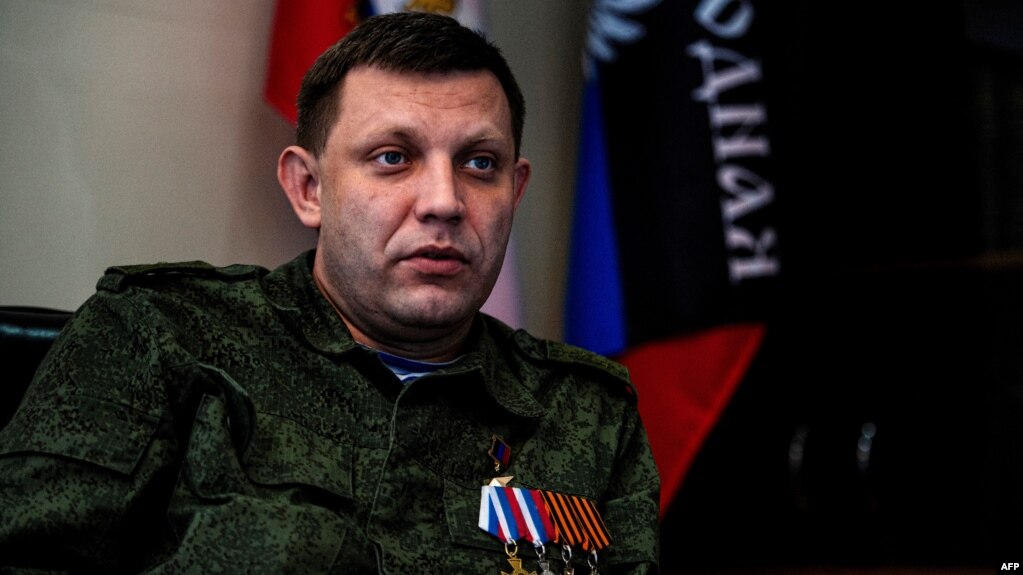 The leader of the Russia-backed separatists in Ukraine's eastern Donetsk region, Aleksandr Zakharchenko, was killed in an explosion at a cafe in Donetsk on August 31.
The news was confirmed by the official media outlet of the separatists.
Images of what appeared to be the blast site were posted on social media.
The Donetsk News Agency said in a statement on its website that the 42-year-old Zakharchenko had been killed in an explosion in central Donetsk, citing the separatist leader's administration.
Another separatist figure, Aleksandr Timofeyev, was injured in the blast.
A reporter for the AFP news agency at the scene said police had cordoned off the block where the blast occurred.
Local officials said traffic to and from Donetsk had been suspended due to the attack.
The cafe that was hit by the explosion, named Separ, was separatist-themed and had camouflage netting hanging from its eaves, according to recent photographs.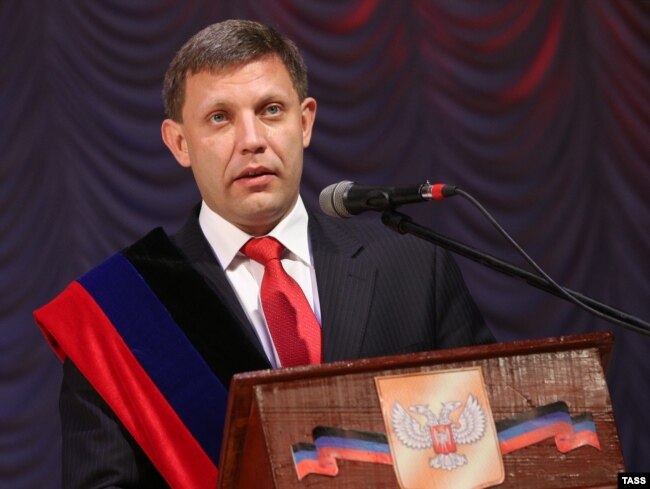 Russia's Foreign Ministry was quick to blame Ukrainian authorities for the attack, saying Kyiv had decided to engage in a "bloody fight."
However, Ukraine's security service said it believes the attack was a result of a conflict between "terrorists and their Russian sponsors."
The separatist movement has been plagued by infighting, with several leaders fleeing the region after saying they had been subject to threats from former comrades.
In February 2017, separatist commander Mikhail Tolstykh, 36, whose nom de guerre was Givi, died in an explosion in his office in Donetsk.
Another separatist commander — Arseny Pavlov, known as Motorola — was killed when a bomb exploded in an elevator in his apartment block in Donetsk in October 2016.
On January 1, 2015, Aleksandr Bednov, a separatist commander in Luhansk, was killed resisting arrest by fellow separatist authorities on charges he ran a torture chamber in the basement of a rebel-held building.
Since April 2014, more than 10,300 people have been killed in fighting between Kyiv's forces and the pro-Russia separatists who control parts of Ukraine's Donetsk and Luhansk regions.
Moscow has denied providing the separatist forces with weapons despite what Kyiv and NATO say is evidence proving that it has done so.
Cease-fire deals announced as part of the Minsk accords — September 2014 and February 2015 pacts aimed at resolving the conflict — have regularly failed to hold.
Russia in 2014 also seized and annexed Ukraine's Crimean Peninsula.
The United States and European Union condemned Russia's actions in Ukraine and have slapped a series of sanctions against Moscow in reaction.
Zakharchenko, a former coal-mine electrician who was born in Donetsk in 1976, was sworn into office as the head of the so-called Donetsk People's Republic on November 4, 2014.
At one point, Zakharchenko announced plans to create a country called Malorossia — Little Russia — encompassing all of Ukraine with its capital in Donetsk.
However, in August 2017, Zakharchenko called off the plan, saying it "was rejected by many" after it was met with derision and criticism Kyiv and the West and did not receive the Kremlin's support.
With reporting by Reuters, Interfax, and TASS