Anonymous expert compilation, analysis, and reporting.
I find it revealing that Putin kept his shirt on during vacation this year. Either his body is starting to show its age or he's getting too much crap for previous shirtless photos. Probably both. What is noteworthy, however, is that somebody thought that was a worthy title for an article. 
More important, however, is that all indications show Russia becoming more racist, xenophobic, and isolationist. "Russia does not play well with others" is probably an apt expression in more ways than one.
</end editorial>
---
---
Vostok-2018 produces a lot of media traffic, sadly most Western coverage amounting to regurgitation of Muscovian propaganda, or missing the point. Best analysis is by Kuhaleyshvili published, not surpisingly, in Kyiv. Political games aside, Vostok-2018 allows the Russians to practice a large scale Blitzkrieg campaign with full sized formations, full air support capability, full logistics, and iron out any inadequacies that could become challenges during a genuine Blitzkrieg against the Baltic States, Georgia, Kazakhstan or even Ukraine. Russians talking up the badly damaged relationship with India – offering S-400 to China and Su-35S to Islamabad will not sell well in Delhi. Russia publicly canvasses the option of co-producing an Su-57 variant with Turkey. Reports the Vozhd might moderate his plan to fleece pensioners. Levada poll indicates a significant increase in Russian public hostility against foreign nationals – the data suggests double the numbers of Russians hostile toward Chinese, Ukrainians, Roma, and tripling of Russians hostile toward Jews.
More on Salisbury.
Russian naval buildup in Med inflated out of all proportion by most Western media despite the inability of most of the surface combatants to survive attack by modern weapons – never let facts get in the way of exciting propaganda from Muscovy. The media pitch echoes Muscovy – an impending high seas confrontation between the USN and V-MF. Muscovy continues its "pre-emptive fake news" campaign over CW in Syria. Iran doubles down on not leaving Syria. Reports from Hezbollah linked sources claiming covert discussions between Syria and the US.
Iran 'put on notice' by SECDEF Mattis for 'continued mischief' across the MidEast – appropriate language indeed. A multiplicity of other reports on Iran, most interesting being the booming black market trade in US dollars.
Germany might be attempting to rescue Turkey's crashing economy – this will be extremely difficult for Erdoğan to stomach after his incessant attacks against Chancellor Merkel and the Bundesrepublik. A priceless report from Wiesbaden on the golden Erdoğan statue.
---
---
Defense Drills Show Russia, China Take 'Great Power Competition' Seriously – Sputnik International
China and Mongolia are set to take part in Russia's upcoming Vostok-2018 military drills, the largest in decades, as "a response to their national security strategy as well as a response to US and NATO posturing" about great power competition, an international affairs and security analyst told Radio Sputnik Tuesday.
300,000 Troops Set to Participate in Largest War Games Since Cold War, Russia Announces
Shoigu said the war games would be the biggest since a Soviet military exercise, Zapad-81 (West-81) in 1981. "In some ways they will repeat aspects of Zapad-81, but in other ways the scale will be bigger," Shoigu told reporters, while visiting the Russian region of Khakassia. The Russian Ministry of Defence has said that Chinese and Mongolian military units will also take part in the exercise.
300,000 Troops and 900 Tanks: Russia's Biggest Military Drills Since Cold War – The New York Times
Soviet-era military exercises once aimed at preparing for war with China are being reshaped. Now, Beijing is taking part.
Russia war games: Biggest since Cold War 'justified' – BBC News
Next month's drills in eastern Russia will involve 300,000 personnel and Chinese troops.
Georgiy Kuhaleyshvili | Vostok-18 – Russia's biggest military exercises since Cold War – Russia-China military maneuvers: One enemy, different goals – 112.international
Author : Georgiy Kuhaleyshvili | China conducts a situational tactical rapprochement with Russia in the military and political sphere to press the US and help reduce the import duties on Chinese products. Information has appeared that on September 11-15 the Russian armed forces would conduct large-scale Vostok-18 or East-2018 military exercises in the Far East, in which China and Mongolia will also take part. The future maneuvers will involve 200,000 servicemen of the Central and Eastern military districts, ships of the Northern and Pacific navies, the Russian aerospace forces, and three assault and assault brigades. More than 3,000 Chinese servicemen will take part in military exercises, at least 400 units of military and special equipment, about 30 aircraft to be involved. The exercise will be led by representatives of the Eastern Military District of the Russian Federation and the Northern Zone of the Chinese Combat Command, which will establish a joint headquarters. The Vostok-2018 exercise has been conducted by Russia since 2010, and its purpose is to check the large military formations for the ability to quickly move over significant distances and operate in unfamiliar theaters of military operations. Military According to senior research fellow at the International Assessment and Strategy Center, Rick Fisher, during the Vostok-18 exercises, a simulation of the use of low-power nuclear weapons might be carried out. American officials demand clarification from their Russian counterparts. Russia already compares Vostok-18 with military maneuvers during the Cold War. Defense Minister Sergei Shoigu called the upcoming Vostok-2018, or East-2018, exercises "the largest preparatory action for the armed forces since Zapad-81," referring to a Soviet military exercise in 1981 involving about 100,000 to 150,000 troops, according to a CIA estimate at the time. Then the Soviet Union demonstrated the strength in Europe to the then-new administration of the American Republican President Ronald Reagan. History is repeated. Now Russia and China decided to flex its muscles before the United States in the Far East. China is trying to get its benefits from the exercises, which can threaten Russia with unpleasant consequences. The Kremlin's demarche in response to sanctions With the help of the Vostok-18 exercises, Russians are trying to create a stereotype that, despite sanctions and deterioration of relations with America and Europe, they have enough money to maintain a high level of combat training for the Russian army and navy. Russia is trying to create the impression that it allegedly has an influential military-political partner, China, which has recently had a complicated relationship with the United States. The Russian leadership is trying to convince the international community that the Russian Federation, together with the PRC, has all the necessary resources to change the alignment of forces in the Asia-Pacific region (APR) and shake the influence of the White House. Since the Cold War, the stronghold of the US geopolitical influence in the Asia-Pacific region has been represented in a powerful navy, economic and security ties with Japan, South Korea, Thailand, Malaysia, Taiwan, Australia, and New Zealand. With the help of military exercises, Russia exerts psychological pressure on the regional allies of the United States – South Korea and Japan, with which Russians have a dispute around the Kuril Islands. The Kremlin is trying to embarrass the administration of US President Donald Trump, which continues the policy of anti-Russian sanctions and introduces new restrictive measures against Russian individuals and legal entities. On Friday, August 24, the US State Department confirmed the imposition of new sanctions against Russia in response to a chemical attack in the British city of Salisbury and poisoning of Sergey and Yulia Skripal. At the first stage, the United States will impose a ban on the supply of goods and services for the defense sector of Russia, technologies that can be used to produce chemical weapons. At the second stage, American banks will be banned from lending to the government of the Russian Federation, bilateral trade will be suspended (excluding agricultural products), and Russian state airlines will not be able to fly to the US. The other day the US Treasury imposed sanctions against Russian shipping companies Primorye Maritime Logistics and Hudson Shipping, the management of the Patriot trade vessel for transferring processed oil to the North Korean ships, which is prohibited by UN Security Council resolutions. Also, the US Congress is working on a new bill that provides for sanctions against companies that are involved in the construction of the Nord Stream-2 gas pipeline. The Kremlin is trying to blackmail the US with a military-political rapprochement with China if sanctions continue. The Russian authorities want the Republicans to give back and begin to establish relations with the Putin regime in order to avoid the formation of a full-fledged anti-American military alliance between the two nuclear powers in the Far East. Otherwise, it makes no sense to conduct Vostok-18 exercises on the eve of the midterm elections to the US Congress and to involve China in maneuvers. If Russia's previous military exercises in the Far East were perceived as training the armed forces in the event of China's armed aggression, now only the US can be perceived as a common conventional enemy for the Russian and Chinese military. It is impossible to treat the demarche of Russia without a share of skepticism. The military exercises of the Russian Federation and its partners, including last year's Russian-Belarusian West-17 maneuvers, did not make the West more compliant. On the contrary, the US increases military spending and invests in the development of new types of weapons to deter Russia. [Full English language text @ https://112.international/article/russia-china-military-maneuvers-one-enemy-different-goals-31613.html]
Russia to stage largest war games since Cold War – Washington Times
Russia plans to stage its biggest war games in nearly four decades in a massive military exercise including the Chinese and Mongolian armies, Defense Minister Sergei Shoigu said on Tuesday according to multiple Russian news agencies.
Nato alarm: Russia announces vast scale of world's biggest military exercise since cold war – and China is taking part | South China Morning Post
Chinese forces begin arriving for the massive Vostok-2018 exercises, involving 300,000 troops and 1,000 aircraft, which will simulate large-scale warfare in Russia's east
Russia to hold biggest war games since Cold War, Vostok-2018 military exercises in east with China – CBS News
China and Mongolia to participate in Sept. military drills with "more than 1,000 aircraft, almost 300,000 troops"
Russia to hold its biggest war games since fall of Soviet Union | Reuters
Russia will next month hold its biggest war games since the fall of the Soviet Union, Defense Minister Sergei Shoigu said on Tuesday, a massive military exercise that will also involve the Chinese and Mongolian armies.
Russia to hold biggest war games in nearly four decades with involvement of Chinese army
Russia will next month hold its biggest war games since the fall of the Soviet Union, Defence Minister Sergei Shoigu said on Tuesday, a massive military exercise that will also involve the Chinese and Mongolian armies.
Russia to hold biggest war games since Cold War | Russia News | Al Jazeera
NATO to monitor Russia's September drill of 300,000 troops, 1,000 aircraft, two naval fleets and all its airborne units.
Russia Will Hold Its Biggest War Games Since The End Of The Cold War | HuffPost
The military drills will involve almost 300,000 troops.
Moscow to stage largest post-Soviet maneuver in eastern Russia | News | DW | 28.08.2018
Hundreds of thousands of troops are expected to participate in Russia's biggest military maneuver since the Cold War. Also taking part in eastern Russia at its "Vostok-2018" drill will be Chinese and Mongolian forces.
It sounds odd, but you should welcome the Chinese-Russian war games
From Sept. 11-15, Russia will conduct a massive military exercise, Vostok-2018. But while some Russian military exercises are concerning, this one shouldn't alarm us too much.
Vladimir Putin Fires Military Generals as Russia Launches Biggest Military Exercises in Four Decades
Generals in Russia are often fired in groups. At least one general was also apprehended on corruption charges for allegedly taking bribes.
From Su-57 to Project 75I: Why India Views Russia as Essential Strategic Partner – Sputnik International
While the US is openly wooing India, there are no signs that New Delhi is going to give up its longstanding defense collaboration with Russia. Speaking to Sputnik, Indian analysts emphasized the country's "strategic autonomy" as New Delhi's major priority and presumed that the US's apparent plan to bring India into NATO's fold would fail.
Turkey, Russia could discuss joint fifth-generation fighter jet production – Defence Blog
Turkey and Russia can discuss possibilities for co-operation of jointly develop and produce a fifth-generation fighter jet, said Viktor Kladov, the International Cooperation and Regional Policy Department director at Russia's state-run defense company, Rostec. Speaking to Anadolu Agency (AA), Viktor Kladovsaid about possible joint fighter jet production between the two countries. He said that there is a need for a long consultation process between Russia and Turkey if they were to jointly produce a fifth-generation fighter jet. "For such a major project, the parties should not only be interested but also be prepared to work together," he added. "Though it might be a 'serious' decision, I am convinced that the two countries are capable of implementing such a project," Kladov said. The fifth-generation fighter jet's programme is a priority for President Erdogan, who wants to build a national defense industry to drum up nationalist support and reduce Turkey's reliance on outsiders amid growing strains with many Nato allies. The geopolitics situation is reinforcing Ankara's desire for an indigenous technological base and weapons systems that may be less disrupted by chilling relations with Europe and the United States. But at the same time, Turkey will need a partnership with Russia or China, to develop a fifth-generation fighter jet.
Putin Offers Concessions On Controversial Pension Reform Plan
Russian President Vladimir Putin has proposed softening planned pension changes that have triggered angry protests across the country.
Putin softens pension reforms after outcry – BBC News
The Russian leader says the retirement age for women will go up by five years instead of by eight.
Russian Proposal to Raise Retirement Age Poses Problems for Putin – WSJ
A proposal to raise Russia's retirement age is shaking the popularity of President Vladimir Putin, who faces a public backlash as the government seeks to stem the erosion of state finances to fund the country's aging population.
Russian Xenophobia On The Rise
2018 has seen a spike in Russians who want to limit the number of certain ethnicities in the country.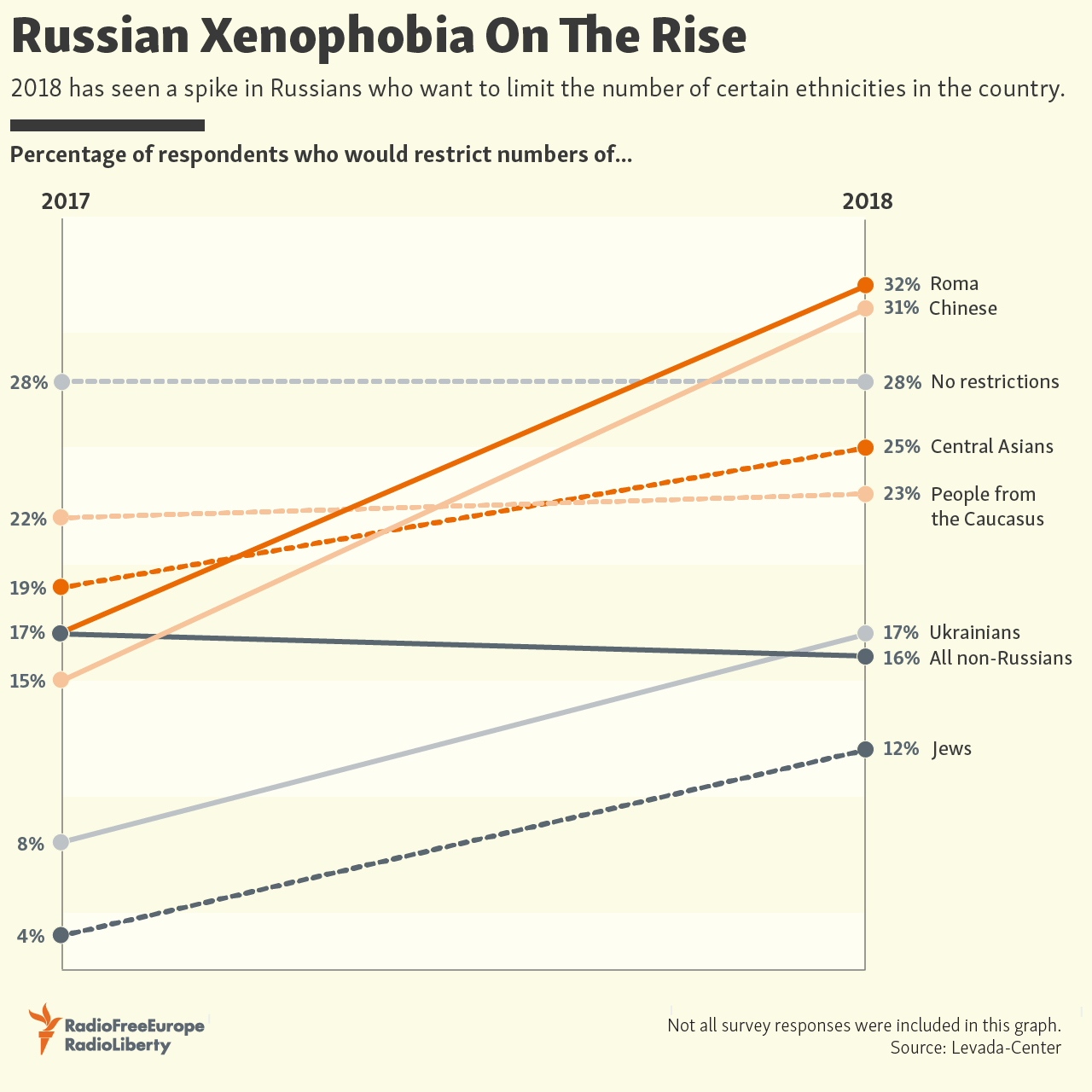 Putin keeps his shirt on in photos of his Siberian summer vacation – Business Insider
The Kremlin released new photos on Monday of Russian president Vladimir Putin taking a break from his official duties to go hiking in Siberia with his top…
When Russian exclave Kaliningrad is only 20 meters away – Life in the shadow of Russian "Iskanders" – 112.international
1000 members of the Lithuanian minority live in Sovetsk, and 9 800 people, or 1% of the population reside in all Kaliningrad. "Lithuania! 100 years of its proclamation of independence!" says a banner, painted with the national flag colors at the entrance to the town of Vištytis, located in the triangle between Lithuania, Russia, and Poland. In the 20th century, Lithuania has experienced a lot of violence, primarily from the German and Russian sides. In 1991, Lithuania has become independent again; however, Russia is only 20 meters away from Vištytis. 400 residents of Vištytis are watching the formidable lights of the Kaliningrad enclave. In February, Lithuanians found Russian Iskander missiles, which can be equipped with nuclear warheads, in Chernyakhovsk, located 60 km to the west. Of course, they are not visible from Vištytis, but the awareness of the military potential and the historical experience of communication with Russia is enough for the inhabitants to be scared.
'Super recognisers' leading hunt to catch Russian assassins behind Novichok poisoning plot
TWO Scotland Yard facial recognition specialists have trawled 5,000 hours of CCTV from when the Skripals were poisoned in Salisbury, hoping to catch the would-be assassins. The detectives plan to match faces from the footage with passenger manifests from Heathrow.
Poisoning of ex-Russian spy an "advertisement" to terrorists, expert says – CBS News
The use of Novichok, a Russian nerve agent, was used in the assassination attempt of a double agent in England
UAWire – NATO confirms buildup of Russian warships near Syria
NATO spokeswoman Oana Lungescu confirmed that Russia is amassing warships off the coast of Syria. "The Russian Navy has dispatched substantial …
Russia Builds Up Mediterranean Fleet Amid Rising Tensions Over Syria
Russia has deployed several more warships to the Mediterranean Sea, in what Russian media are calling the largest naval buildup since Russia entered the Syrian civil war in 2015.
Russia sent a massive naval armada to Syria — and looks to be readying to fight the US | Business Insider
Russia has positioned a considerable naval armada in the Mediterranean near Syria after accusing the US of plotting a false-flag chemical-weapons attack in rebel-held areas – and it looks as if it's preparing for war with the US.
Russia in biggest naval Mediterranean build-up since Syrian intervention (Update 1) – Cyprus Mail
Russia and US BRACE for Syrian war conflict as tensions BOIL OVER with Putin world war 3 | World | News | Express.co.uk
RUSSIA has deployed its largest naval contingent to Syria since it entered the conflict in October 2015, as the US ramped up its rhetoric about an imminent chemical weapons attack that Washington cautioned would result in a military response.
UAWire – Syrian army prepares for an air strike by the United States
The Syrian air force was brought to full combat readiness throughout the country. The highest level of readiness was announced because of a …
🇷🇺 🇸🇾 Russia accuses Syrian rebels of planing Idlib chemical attack | Al Jazeera English – YouTube
Al Jazeera English Published on Aug 28, 2018 Russia has called for an emergency UN Security Council meeting regarding a possible offensive in Syria's Idlib province.
Russia Suggests Syrian Rebels Preparing To Use Chemical Weapons
Russia suggested a Syrian rebel group was preparing to use chemical weapons amid a looming battle in Syria's northern Idlib region.
War of words between US-Russia as Syria attack looms | News | Al Jazeera
Washington and Moscow trade chemical attack warnings as Russian naval buildup grows ahead of strike on Syria's Idlib.
U.S. is discussing chemical weapons use in Syria with Russia: Pentagon | Reuters
U.S. Defense Secretary James Mattis said on Tuesday that the United States had recently discussed the use of chemical weapons in Syria with Russia, after media reports that Syria was moving chemical weapons into a rebel-held area the government seeks to recapture.
Iran, Syria seal military reconstruction agreement – Israel Hayom
Iran, Russia prepare to battle each other over control of post-war Syria – Israel News – Haaretz.com
U.S. sanctions are pushing Iran to try and carve out even more profits from Syria's post-war reconstruction
Iran reveals more details of plan to stay in Syria – in major rebuke of U.S. – Iran – Haaretz.com
More than 1,000 Iranians, including senior members of the elite Revolutionary Guards, have been killed in Syria since 2012
Iran says to maintain military presence in Syria despite U.S. pressure | Reuters
Iran will maintain its military presence in Syria despite U.S. pressure for its withdrawal, a senior Iranian official said on Tuesday, revealing more details about a military cooperation deal that Tehran and Damascus signed this week.
Keep an Eye on Syria's Idlib Province, Says Former Acting Spy Chief – Defense One
President Obama's primary intelligence briefer shares thoughts about U.S. national security, emerging trends, and hotspots.
Israel to continue battling Irans attempts to send troops, arms to Syria
After Tehran and Damascus signed a military cooperation agreement, Israeli official says the IDF will continue fighting against Irans military entrenchment, noting the prime minister consider this a central goal.
Senior political source: 'We'll continue action to remove Iran from border' – Israel National News
Source responds to reports of military cooperation agreement between Syria and Iran. 'PM will continue exerting pressure on Iranian regime.'
Mattis: US Troops Can't Leave Syria Until UN Peace Talks Advance – Defense One
They're still fighting ISIS remnants, holding ground, and waiting for a political solution.
Hezbollah-linked site says US offered to leave Syria if Iran withdrew from south | The Times of Israel
Damascus said to reject secret American proposal, which also demanded oil and info on terrorists, citing 'strong relationship' with allies Tehran and Hezbollah
Lebanese report: Syrian officials met with U.S. in June – Middle East – Jerusalem Post
The report, which claims to provide an account of a US offer to the Syrian regime, is interesting for some of the details it provides and the agenda it seeks to fulfill.
U.S. offered Assad to leave Syria if Iran withdraws from south, report says – Syria – Haaretz.com
American intel officials met Syrian officials in Damascus last months for four hours, Lebanon's al-Akhbar reports
Syrian gov't allegedly holds secret meeting with US security officials: Al-Akhbar
Syria turned down an offer from the US to withdraw their forces from Al Tanf, a US base in the southeast and the East Euphrates zone in exchange for three
Syria Spurns US Offer to Pull Out Troops as Trade for Iran Withdrawal – Report – Sputnik International
Syria turned down an offer from the US to withdraw their forces from Al Tanf, a US base in the southeast and the East Euphrates zone in exchange for three concessions from the Assad government, according to a report from Lebanese daily Al Akhbar.
US Secretary of Defense: 'Iran will be held accountable for reckless behavior in the region' | Arab News
PENTAGON: The US Secretary of Defense Jim Mattis said on Tuesday that Iran would be "held accountable" for its reckless behavior in the region. He was speaking as a string of senior American officials offered fresh warnings about Tehran's aggressive foreign policy and the effect it has on destabilizing the Middle East.
Iran 'put on notice' for 'continued mischief' in Middle East, says US Defence Secretary
James Mattis says the problem is with 'the Iranian regime, not Iranian people'
Mattis puts Iran 'on notice' – Israel National News
U.S. Defense Secretary warns the Trump administration will not tolerate Iran's mischief in the region.
Nikki Haley Warns That Iran Could Become 'the Next North Korea' – Defense One
The UN ambassador offered an explanation for abandoning one nuclear deal while pursuing another.
US rejects UN court jurisdiction over Iran sanctions case | Iran News | Al Jazeera
State Department lawyer argues her country has the right to protect its national security and other interests.
U.S. Tells World Court It Has No Power Over Donald Trump's Iran Sanctions
State Department lawyer Jennifer Newstead argued that the Hague's International Court of Justice could not compromise U.S. national security.
Iranian Defense Minister: 'Netanyahu is causing tension in the region' – Israel National News
Iranian Defense Minister claims Netanyahu is maintaining tension in the Middle East in order to have an economic impact on Iran.
Iran parliament censures Rouhani in sign pragmatists losing sway | Reuters
Iran's parliament voted on Tuesday to reject President Hassan Rouhani's explanations for economic hardship after a dramatic grilling on live TV, a sign his pragmatic faction is losing sway to hardline rivals as new U.S. sanctions begin to bite.
Iran's Parliament Gives President a Rare Rebuke – The New York Times
Lawmakers asked Hassan Rouhani to explain an economic crisis that has worsened as a result of U.S. sanctions, and then voted to reject his explanations.
You Can Run, but You Can't Hide From Iran Sanctions – WSJ
The nuclear deal's proponents say China, Russia and India won't comply. They'll have to.
Sanctions unlikely to stop Iran oil exports completely: Saudi adviser | Reuters
Current U.S. sanctions on Iran are unlikely to stop Iranian oil exports completely, a long-time adviser at Saudi Arabia's Energy Ministry said on Tuesday, adding Iran would be unable to close the straits of Hormuz and Bab al-Mandab even partially.
Fears oil supplies could be cut off as Iran has 'full control' of Persian Gulf and warns US it doesn't belong there
An estimated 20 per cent of the world's oil supply flows through the Persian Gulf
Iran Struggles to Rein In Illicit Trade in Dollars – WSJ
A delivery man pulled up to a central Tehran home recently carrying a box with a warm cheese pizza—and $3,000 in U.S. bills. That is a sign of how the black market in dollars has thrived as the value of Iran's currency falls and Iranians seek safer assets.
Nazanin Zaghari-Ratcliffe taken to hospital after collapsing in Iranian jail | News | The Times
The British charity worker jailed in Iran has collapsed after returning to jail from a three-day home visit and been taken to prison hospital.Nazanin Zaghari-Ratcliffe, 40, who is serving a five-year sentence in Evin Prison in Tehran after being accused of subversion, is thought to have suffered
As Turkey Teeters, Germany Considers Offering a Financial Lifeline – WSJ
The German government is considering providing emergency financial assistance to Turkey as concerns grow in Berlin that a full-blown economic crisis could destabilize the region, German and European officials said.
Will Angela Merkel Bail Out Erdogan? Germany May Save Turkey's Economy to Protect Europe
The question of whether Turkey will need a bailout has been looming for weeks with the Turkish lira's value plummeting.
Germany considering emergency assistance to Turkey in wake of US sanctions: report | TheHill
Germany is considering offering Turkey emergency aid funds as U.S. sanctions continue to wreak havoc on the Turkish economy.
Germany Steps Up Search for Turkey Aid Without Emergency Funding – Bloomberg
Germany is examining possible ways to help Turkey avoid economic meltdown without offering emergency financial aid, a government official said.
Russia's Use of Media and Information Operations in Turkey – To Inform is to Influence
Russia's Use of Media and Information Operations in Turkey Implications for the United States Katherine Costello FREE DOWNLOAD ORDER A FREE HARD COPY Russian media have sought to undermine Turkey's political and security cooperation with the United States and Europe by exacerbating mutual skepticism and highlighting policy differences. In Turkey, Russian media have also contributed…
German city removes gold Erdoğan statue after violent clashes | World news | The Guardian
The German city of Wiesbaden has removed a large gold statue of Turkish president Recep Tayyip Erdoğan after it sparked clashes between his supporters and opponents. "In agreement with state police, Mayor Sven Gerich decided to have the statue removed as security could no longer be guaranteed," the city's government said on Twitter. Firefighters arrived shortly after midnight with a crane to lift the 4m (13ft) effigy of Erdoğan from the town square, where it had been placed on Monday by artists as part of Wiesbaden's Biennale art festival. Erdoğan was depicted with a raised right arm, evoking the statue of Saddam Hussein toppled by American forces in Baghdad. Organisers had hoped the statue would provoke public debate about this year's festival theme of "bad news". Since a failed 2016 coup attempt in Ankara, Erdoğan's crackdown on political opponents and journalists – including some German nationals – has been closely followed in Germany, which has a significant Turkish population. The statue, which had been posed to point boldly into the distance, was quickly defaced with insults like "Turkish Hitler".
Germany removes golden statue of Erdogan after protests | Reuters
German firemen on Wednesday removed a golden statue of Turkish President Tayyip Erdogan on security grounds after it provoked an angry response from local people.
US to continue backing Saudi coalition in Yemen war | Fox News
Defense Secretary Jim Mattis says the U.S. hasn't seen any callous disregard for innocent lives by the Saudi Arabia-led fight in Yemen, despite a new U.N. report outlining possible war crimes, rape and torture by the American-supported coalition.