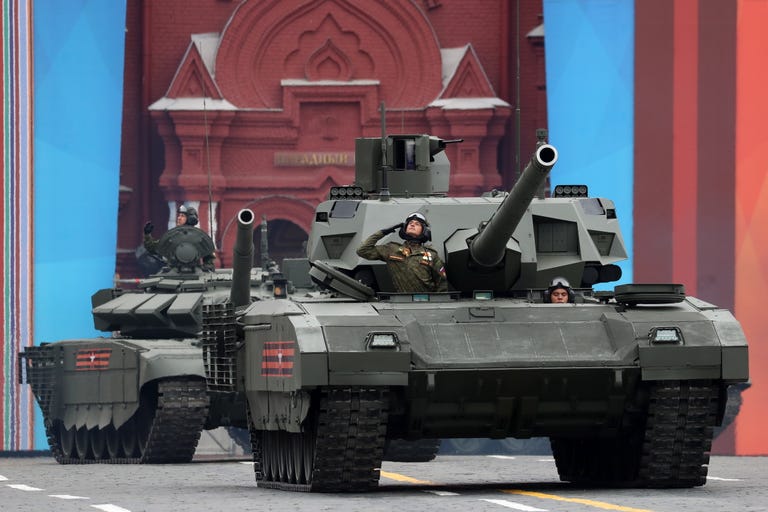 Russia is rattling its saber, or, rather, its military, but it is mostly a paper tiger. 
Russia can only afford extremely limited military actions. It invaded South Ossetia and Abkhazia in Georgia. It invaded Crimea and Donbas in Ukraine. It has de facto occupied Transnistria in Moldova. Russia, however, cannot afford to invade the Baltic countries, cannot invade Poland or Belarus, and cannot afford a full-out invasion of Ukraine. 
Russia does not have sufficient modern or modernized equipment to support such actions, it does not have the diplomatic bank to survive the global damnation it would receive, and the Russian economy cannot support a prolonged action. 
Internally, Russia is already on shaky ground with the Russian citizens. Awareness of a fabricated reason for an invasion may result in a colored revolution, and we know that is Putin's greatest fear. 
Russia cannot afford to launch a large invasion in the foreseeable future.
</end editorial>
---
---
Russian Can't Afford To Give Its Next-Gen Battle Tanks to Most of its Army
The small order means Moscow's Army will still rely on older tanks for its armored fighting power.By Kyle Mizokami
The Russian Army is ordering more than a hundred of its vaunted new tanks and armored fighting vehicles. Moscow ordered 132 T-14 Armata main battle tanks and T-15 heavy infantry fighting vehicles, with the first nine delivered this year. Despite this news, the Russian government has made it clear it will not buy enough of the new vehicles for the entire Russian Army, relying instead on older equipment.
In 2015 the United States and NATO received a rude shock: The Russian Army unveiled a new main battle tank, known as T-14 Armata. Together with the T-15 heavy infantry fighting vehicle, which shares the same chassis as the T-14, the two armored giants would replace older T-72 tanks and BMP infantry fighting vehicles in Russian service, many of which dated back to the Cold War.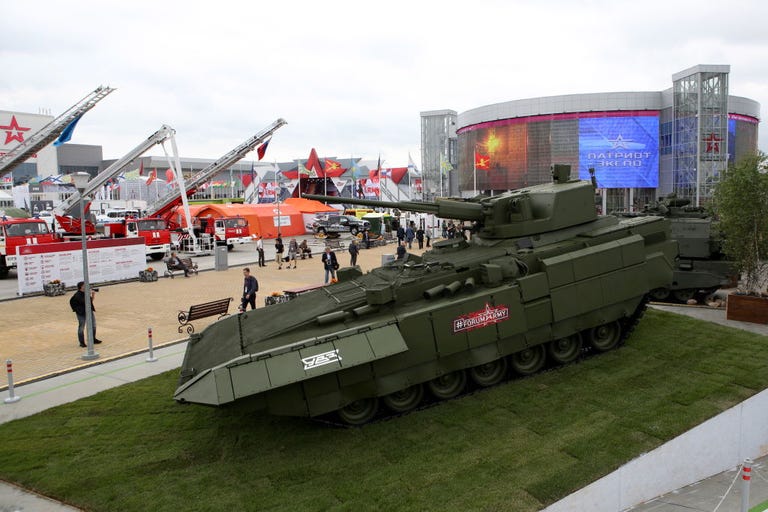 Three years later, reality has set in. Russian defense contractor Uralvagonzavod, maker of the T-90 main battle tank (itself an evolution of the Cold War-era T-72), ran into development troubles with the Armata platform. At the same time Russia's defense budget, after years of increases, is facing cuts in large part due to the state of the Russian economy.
Russia originally planned to purchase 2,300 T-14 Armatas (and a similar number of T-15 heavy infantry fighting vehicles) by 2025. Armatas cost $4 million apiece, making a total purchase approximately $9.2 billion just for the tanks. The high cost has Russia changing its tune, cutting the Armata purchase to rely instead on older T-72 and T-90 tanks modernized to incorporate new fire control, satellite navigation, reactive armor, and active protection systems. Indeed, it's always been a puzzle how an economy smaller than Texas' would afford new aircraft carriers, a new strategic bomber, the new Su-57 fighter jet, several new nuclear delivery systems, and 2,300 new tanks.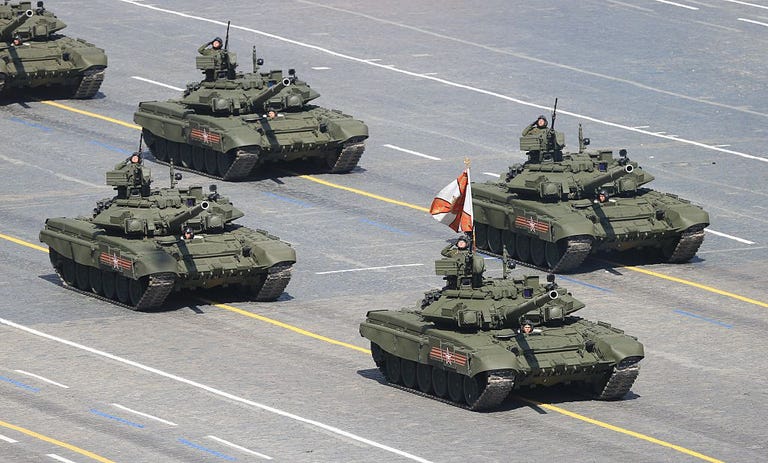 According to The Diplomat, Russia is ordering 132 T-14s and T-15s. That's about enough for a Russian Army tank or motorized rifle (mechanized) brigade. The new fighting vehicles will allegedly go to the famous 2nd Guards Tamanskaya Motor Rifle Division. Based near Moscow, the Tamanskaya division normally contributes tanks and fighting vehicles to the high profile annual V-E Day parade at Red Square. The brigade would also be fairly close to NATO's northern flank in the Baltics and the frontline with Ukraine.
Beyond those 132 vehicles however, it's difficult to say how many more of the heavy vehicles the Russian government will buy. The Russian Army really needs a new infantry fighting vehicle to replace 1980s-vintage BMP-2s, and the government will probably purchase large numbers of the Kurganets-25 infantry fighting vehicle to fight alongside the T-72 and T-90 tanks. Moscow will probably buy small numbers of T-14s and T-15s to keep the production line open while waiting for the economy to improve.
Source: https://www.popularmechanics.com/military/weapons/a22841721/russian-army-orders-next-gen-tanks-fighting-vehicles/