Anonymous expert compilation, analysis, and reporting.
</end editorial>
---
---
While Muscovy continues its campaign of blameshifting its aerial provocations in the Black Sea region, it also continues its blameshifting effort over CW attack preparations in Syria. Skobov's observations on the broader Muscovy political play of the normalization of unacceptable conduct post WW2 is entirely consistent with what we see in Syria – the intent is to force POTUS to back down, and politically entrap him, in the manner of his predecessor when "red lines" were crossed. This is a transparent game plane with no originality. Curious to see Tehran and Beijing via Xinhua chiming in and promoting the Russian game plan – not past practice in the Syria propaganda war. Sanctions burn Russian arms exports. Pew survey indicates high public support for invasions of neighboring nations, while another survey suggests the Vozhd's foreign policy is losing popularity in Russia. Khmelnitsky on the immense Russian effort to maintain is legion of "agents of influence". Two good commentaries by Harding on Russian troll campaigns. TNI essay on Russian attempt in 1952 to attack a US CVBG with FAGOTs sortied from Vladivostok.
In the UK, Amesbury CW agent victim's condition is reported to be deteriorating in hospital.
Syria reports dominated by Russian blameshifting over the planned CW attack. More on the Circassians, expelled from Russia, and now a significant minority in Syria and Turkey. Telenko on rebel RPV offensive against Russian basing in Syria.
General Alireza Tangsiri, Chief of the IRGC maritime force, states that Iran has "control" over the Persian Gulf and Straits of Hormuz, more inflammatory bluster given that the IRGC and IRN would struggle to even effect denial, let alone sea control. Iran declares its intent to stay in Syria until the bitter end. More internecine toxicity in Tehran – the finance minister is impeached, and Sufi Muslims imprisoned. Iran restarts negotiation with Russian to build a nuke powerplant.
Erdoğan makes a major speech which follows the textbook Muscovian script – the selfless leader of the nation, unimportant a player, as all of his past sins are really an evil conspiracy against Turkey and Islam by foreign forces intent on hurting Turks and Muslims, and he states that he will "bring peace and safety to Iraq and areas in Syria not under Turkish control" . Curiously, while Muscovy and Damascus plot to overrun Turkish held Idlib, Turkish media are talking up the wonderful relationship between Turkey and Russia. Currency remains unstable, inflation of 20 percent predicted. There appears to be a serious infection with wishful thinking and denial in Ankara.
---
Russia calls Britain's Black Sea air force interceptions dangerous
MOSCOW (Reuters) – Russia accused Britain's Royal Air Force (RAF) of intercepting its military aircraft over the Black Sea in a dangerous fashion designed to provoke Moscow after the RAF made two such interceptions in a single week. The accusation, leveled by Russia's embassy in London, came after the RAF intercepted a Russian maritime patrol aircraft over the Black Sea on Friday and scrambled to intercept two suspected Russian fighter aircraft on Wednesday. "…. What kind of threat to Britain or even its allies does a Russian patrol aircraft hypothetically pose while conducting flights near Russia's own coastline, more than 2,000 km (1242.74 miles) from the British Isles," the Russian embassy said in a statement released on Saturday. "Instead of strengthening anyone's security, the British authorities are using such a military presence (in the Black Sea area) for provocative actions. Not just by making verbal statements, regrettable as they are, but also in real military terms, which is simply dangerous." The British defense and foreign ministries declined to comment on Sunday. Three countries bordering the Black Sea – Romania, Bulgaria and Turkey – are NATO allies of Britain. Britain's Minister of State for the Armed Forces, Mark Lancaster, spoke about "an ever more assertive Russia" in a speech in London in July. He said the RAF had been forced to intercept Russian military aircraft more than 80 times over the last decade. Relations between London and Moscow are languishing at a post-Cold War low after the poisoning by nerve agent of former Russian double agent Sergei Skripal and his daughter Yulia in March in the English city of Salisbury.
Russia says British Typhoon fighter jets made 'unsafe' intercept of aircraft – Defence Blog
The British Ministry of Defence revealed details on "interсеpting" a Russian maritime patrol aircraft over the Black Sea. The Ministry of Defence said in a statement released on 25 August, that Royal Air Force Typhoon fighter jets have been launched in response to two Russian aircraft flying in NATO airspace. "Launching from their Romanian Mihail Kogalniceanu Air Base, the Typhoons responded to a Russian AN-26 and then a Be-12 heading over the Black Sea. It's the third time this week that RAF jets, on NATO's Air Policing mission, have been scrambled to deter provocative Russian aircraft and reassure Romania and NATO allies," – said in stetament. Embassy of the Russian Federation to the United Kingdom of Great Britain and Northern Ireland was concerned that Royal Air Force fighter jets stationed in Romania "interrupted" a Russian aircraft over the Black Sea. "Russian armed forces strictly comply with international law and pose no threat to Britain. One might understand why Royal Navy escorts Russian military ships in the English Channel, in the vicinity of the British coastline, even if this there is no need for the UK to publicise it. But what kind of threat to Britain or its allies does a Russian patrol aircraft hypothetically pose while conducting flights off Russia's own shore, some 1500 miles away from the UK?," said Russian Embassy Press Officer.
Russia accuses Royal Air Force of provocations in Black Sea – 112.international
Royal Air Force accused of "dangerous" provocations.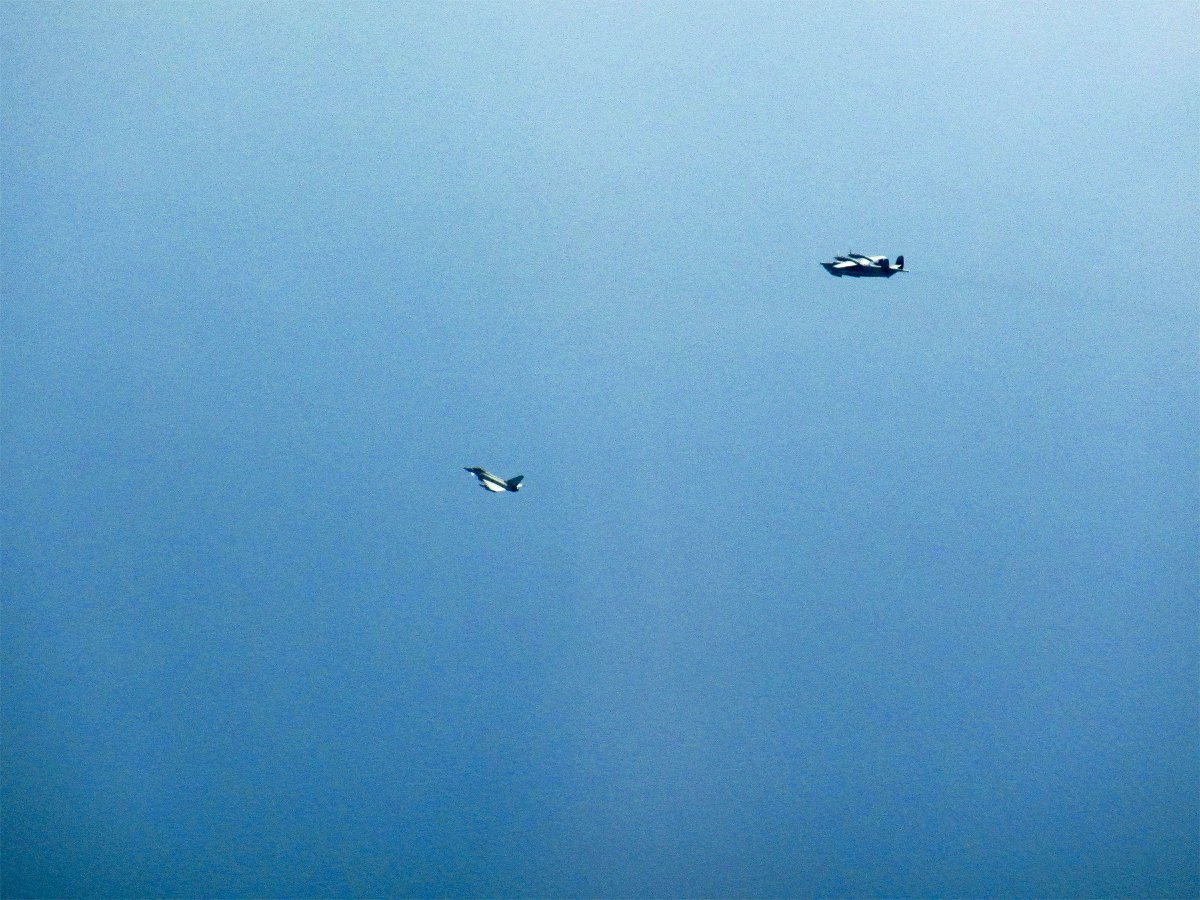 Syria Never Used And Will Not Use Chemical Weapons – Ambassador to Russia – Sputnik International
TSKHINVALI (Sputnik) – After a series of unjustified allegations that Syria reportedly kept chemical weapons, Syrian Ambassador to Russia Riyad Haddad said on Sunday that the state eliminated all of its chemical arsenal in 2013.
'Foreign specialists' may stage chemical attack in Syria in 2 days to frame Assad – Russian MoD — RT World News
"Foreign specialists" have arrived in Syria and may stage a chemical attack using chlorine in "the next two days," the Russian Defense Ministry said. This will be filmed for international media to frame Damascus forces.
Russian MoD: Foreign Specialists Arrived in Syria to Stage Chemical Attack – Sputnik International
On Saturday, the Russian Defense Ministry's spokesman Maj. Gen. Igor Konashenkov said that a group of militants, who had been trained by the Olive Group, planned to stage the rescue of the victims of a chemical weapons attack in Idlib.
Foreign specialists arrived in Syria to stage chemical attack – Mehr News Agency
TEHRAN, Aug. 26 (MNA) – Russian Defense Ministry's spokesman Maj. Gen. Igor Konashenkov said on Saturday, that a group of militants, who had undergone training by the Olive Group, planned to stage rescuing the victims of a chemical weapons attack in Idlib.
News Analysis: U.S. aims to prolong Syria's war by stirring chemical weapons threats again – Xinhua | English.news.cn
DAMASCUS, Aug. 25 (Xinhua) — As the Syrian army will launch a wide-scale offensive against the last major rebels' stronghold in Idlib province in northwestern Syria, analysts say that the United States and its allies want to place hurdles. New threats come to put pressure on the Syrian forces, who are poised to launch an offensive on Idlib, or establish reconciliation to resolve the situation with the help of Russia, which is already engaged in talks with Turkey to figure out a solution regarding Idlib. The Western powers, which have been so downright about their opposition to the administration of President Bashar al-Assad and his rule, frequently said about the need of power transition in Syria. On Tuesday, the United States, France, and Britain warned Assad against using chemical weapons, warning that "we remain resolved to act if the Assad regime uses chemical weapons again."
Window on Eurasia — New Series: Putin Seeking Not Just New Sphere of Influence But Changes in Rules on How It is Defined, Skobov Says
Paul Goble Staunton, August 26 – Vladimir Putin is not just seeking international recognition of a new Russian sphere of influence but also the imposition of new rules on Western democracies as to how such spheres are defined — and rules that will ensure the democracies always lose, according to Aleksandr Skobov. The Moscow commentator says the latest intensification in Russian-American relations in Syria "was absolutely predictable. It is perfectly obvious that the group of rightist conservatives who are in power in the US not without the help of the Kremlin has conducted a serious behind the scenes trade with Putin" about Syria (kasparov.ru/material.php?id=5B8192F1D923B). Trump, "as a representative of rightist conservative reaction, is not at all against a return of the world to good old imperialist principles, when the strong powers according to bandit understandings divide among themselves 'the periphery,'" Skobov continues. "Naturally for this, politicians must operate with widely closed eyes to the crudest violations of norms of law, ordinary and humanitarian," the commentator says. But here "arises a problem: the Kremlin and even the most reactionary Western politicians have very different understandings of the necessary and permissible hypocrisy." According to Skobov, it is likely that "during the trade, the Americans and their allies obtained from Putin an agreement to observe at least some proprieties in the part of Syria under his control." The Kremlin leader "like always" promised everything but also "as always" immediately did what he wanted. "Even the most right-wind conservative could become angry when he is so openly played with in this way," the commentator argues. To think otherwise about Asad's use of chemical weapons is possible only among those who do not believe Russia shot down the Malaysian airliner or who do think the US staged the moon landing in a building on earth. The only fall back for the right in the West is to convince themselves that neither Asad nor Putin are prepared to pay any political price for the use of chemical weapons. "Putin's policy is consistent and is intended to force the West to agree to close its eyes to the violations of the norms of law (up to and including crimes) far more broadly and hypocritically than the West is prepared to do today," Skobov says. "Putin has gotten from the West silence recognition that in his 'sphere of imperial domination,' he (or any of his 'clients' with his agreement) can in general do whatever he wants, including commit any military crimes. The Asad chemical attacks are demonstrative actions to force the West to such an agreement." According to Skobov, "the right of center Western politicians very much want to agree with Putin on the division of the world into 'spheres of influence.' But Putin is not seeking to fix his own 'sphere of influence.' He is seeking a change in the rules for dominating such a sphere" and he is making significant progress toward that goal. "Putin has imposed on Western democracies rules by which they will always lose, because they are all the same limited by certain proprieties, and thus they must either completely subordinate themselves to these rules or at some point decide on a military response to the Kremlin," Skobov concludes.
U.S. Sanctions On Russia Over Poisoning In Britain Go Into Force
U.S. sanctions against Russia over the March poisoning in Britain of a former Russian agent and his daughter go into effect on August 27.
Bad News: Rosoboronexport inks 15 contracts at defense expo worth only $300 million – To Inform is to Influence
A Russian major arms dealer like Rosoboronexport usually makes contracts in the multiple hundreds of millions, if not billions of dollars.  15 different contracts worth only a total of $300 million is definitely not at a pace to be profitable for Rosoboronexport.  The sanctions appear to be working. This appears to be a spin piece to make…
Putin Makes a Move for Peace Through Force – Defense One
Russia is involved in many of the world's greatest crises—but there are signs public support for overseas ventures is waning. "The reason for the public outrage is that the proposal is a breach of Russia's unwritten social contract, in which the government preserves so-called stability, maintains modest social benefits, and promotes feelings of national pride in exchange for the public's political support and indifference to the rife corruption at the top of the political pyramid," Kolesnikov wrote. "Because the state has for many years nurtured dependent attitudes among the Russian public, it is not surprising that most consider it the state's duty to maintain the social welfare system as is." Even if current Russian dissatisfaction with the Kremlin prompts Putin to rethink his foreign policy, disengaging from overseas military adventures isn't quite as easy as engaging in them in the first place. Putin knows this, having seen, first, Soviet troops remain in Afghanistan for a decade until their withdrawal in 1989, and, second, the U.S.-led occupation there enter its 18thyear. But the Russian president must also cope with the burden of a history in which Russia has swung from retrenchment from its global role to territorial expansion. Polyakova told me that Russia's seeming foreign-policy resurgence isn't "new at all." "In fact, if you look at Russian imperial history or Soviet history, there has been a cycle of belligerence that has defined Russian foreign policy … You have territorial expansion, then there's a conflict, something like World War I or the collapse of the Soviet Union, and then you have contraction. And following that contraction, there's a soul-searching about how to regain that influence again," she said. "So what we're seeing Putin carry out now, I think, is very much in line with centuries of Russian foreign-policy objectives."
"Brotherly help": Do Russians want to intervene in nearby countries? | UNIAN
More than half of Russians (51%) say Moscow should intervene in neighboring countries when there are threats to ethnic Russians, according to Pew Research and national censuses. The publication reports on proportions of ethnic Russians in countries neighboring Russia with the largest Russian populations, noting that the most significant share is in Latvia (25.6%).
Window on Eurasia — New Series: For Russians to Have Their Own State, Right to Bear Arms Even More Important than Right to Protest, Nationalist Group Says
Paul Goble Staunton, August 25 – In recent weeks, there has been a great deal of attention in the American media to Moscow's attempts to link up with the National Rifle Association as part of the Kremlin effort to influence the internal political life of the United States; but there has been less attention to the rise of the right-to-bear-arms movement in the Russian Federation. What is interesting and from the point of view of the Kremlin perhaps extremely disturbing is that pro-gun ownership groups in the Russian Federation have picked up and are promoting many of the very same ideas as their Western counterparts, a kind of unexpected blowback. One of these groups, Sputnik i Pogrom argues that universal gun ownership by ethnic Russians is an essential precondition for the recreation of an ethnic Russian nation state, a step required for the complete break with the Soviet past and for ensuring that the population has as much power as the state (sputnikipogrom.com/rights/87053/right-to-bear-arms/). According to the group, the Soviets always viewed the ethnic Russians as "a suspicious element" that the state had to serve as "the mechanism for minimizing the harm" their existence posed to the task of building communism. Consequently, "the universal arming of citizens is a specific and visible transfer of power" which would show "radical trust to the Russian people." In arming the ethnic Russians, the group says, the Russian state would show that it has real faith in the Russians to move beyond Sovietism because "the right to bear arms is genuine and not simply declarative anti-Sovietism." Indeed, it adds, "it is a test of the real attitude [of the state] to the Russian nation." And for that reason, Sputnik i Pogrom continues, "the right to bear arms is an even more important right than free and honest elections because a 100,000-strong meeting of angry citizens with Beretts and Glocks is something entirely different than a 100,000-strong meeting of angry citizens with ironic posters." "Such a right to bear arms gives an entirely different style of communications and ways of resolving conflicts within society," it continues. The balance of power shifts away from the state to the population, and ordinary Russians gain a sense of their own power not only against officials but against minorities. The Soviet state began to taking guns away from the people. A genuine Russian national state, the group insists, must begin by giving the members of the Russian nation the right to arm themselves and thus be in a position to oppose the state and to oppose minorities like the Chechens who get in the way of Russian rights. In another post, Sputnik i pogrom says that Soviet poster art unintentionally showed the way forward. By portraying a peasant with a gun as the opponent of "Chekists and National Minorities," that art highlighted the power of the gun and showed the way to "the final solution of the Russian question" (facebook.com/sputpom/posts/1850621265025524?__tn__=K-R).
Window on Eurasia — New Series: Russians Increasingly Disenchanted with Putin's Foreign Policy, New Poll Suggests
Paul Goble Staunton, August 27 – It has long been an axiom of Western analysis that Russians overwhelmingly support Vladimir Putin's actions abroad and that actions abroad are thus for him a resource he can always make use of and that any slippage in his standing among his population is a result of unhappiness about domestic affairs. But a new poll by the Public Opinion Foundation casts doubt on such assumptions. It finds, in the words of Politsovet, that "the number of people who consider the foreign policy of the leadership of the country successful has fallen sharply" and that "ever more Russians consider too much attention is being devoted to foreign policy" (fom.ru/Politika/14089 and politsovet.ru/60046-rossiyane-razocharovyvayutsya-vo-vneshney-politike-strany.html). That does not mean that Putin might not conclude that he could use a foreign policy move to boost his ratings or step their fall given Russian euphoria after the Crimean Anschluss. But what it does suggest is that he can be less confident of a similar boost with some similar action in the future. In this poll, respondents were asked "In your opinion, have there been more successes or failures in the foreign policy of Russia recently?" Just over half – 52 percent – said there were more successes than failures, a figure down from 64 percent at the start of 2017. Almost a quarter – 23 percent – give the opposite answer, up from 15 percent 20 months ago. The pollsters also asked Russians whether they thought that the authorities were devoting too much or too little attention to foreign policy. A third – 34 percent – said that the powers that be were devoting too much attention, up from 28 percent in early 2017. The share of those with the contrary view now stands at 39 percent, down from 48 percent in the earlier poll.
Window on Eurasia — New Series: Moscow has Complex System to Run Agents of Influence Abroad, Khmelnitsky Says
Paul Goble Staunton, August 26 – As Moscow's geopolitical isolation has increased, Dmitry Khmelnitsky says, the role of its agents of influence abroad and the enormously variegated organizations that recruit and direct them has increased far beyond what they were during the Cold War when anti-communism served as a constraint. "The Russian network of agents of influence abroad is extraordinarily broad and differentiated," the Ukrainian historian living in Germany says. "It consists of a multitude of organizations created and financed by Moscow and under social groups and simulating social, cultural and scholarly activity" (zn.ua/international/kremlevskiy-maskarad-ili-rossiyskie-agenty-vliyaniya-za-granicey-292019_.html). Some of these organizations are directed at the local communities; others at emigres from the USSR and Russia, "although sometimes both these tasks are addressed by one and the same organizations," Khmelnitsky continues. But overwhelmingly, they are specialized and work "with the most varied political, ethnic, social, cultural and professional communities." "Their classification by itself is worthy of attention because under this format, the Russian special services work in all the countries of the world." And in a lengthy article, Khmelnitsky presents an effort to classify these various groups in order to aid others in making sense of and then ultimately countering what Moscow is doing. Since Vladimir Putin came to power, Moscow has created several major and many minor organizations to work with Russian and Soviet emigres. Among the most important are the International Council of Russian Compatriots (founded in 2002), the World Coordinating Council of Russian Compatriots Living Abroad (set up in 2007), the World Congress of Russian-Speaking Jewry (established in 2002) and the Russian World Foundation, a pass-through funding group which now operates more than 200 Russian centers around the world. This list, of course, Khmelnitsky says, "is only the tip of the iceberg. There are also Moscow agencies which … are involved, beginning with Rossotrudnichestvo, a body that deals with CIS affairs, compatriots abroad and "international humanitarian cooperation. It was set up in 2008 as the successor to the Soviet VOKS which was created in 1958. "In the USSR," the commentator continues, "ties with abroad traditionally were within the competence of state security … In post-Soviet times, this situaiton hasn't changed and therefore Rosstrudnichestvo if you will can be considered a bureaucratic subdivision of the FSB." It has 95 foreign representations, and in 62 countries, it operates 72 Russian centers of science and culture. "Besides propaganda work in the emigration, its tasks include attracting foreigners to study in Russia." "Immediately after Putin came to power, his government began to undertake a systematic and very successful effort at subordinating itself the mass media, both inside Russia and of Russian media abroad." It bought existing outlets, like Russkaya mysl in Paris, transforming them from dissident outlets to pro-Kremlin mouthpieces and taking their archives to Moscow. Indeed, today, there are few Russian media outlets outside Russia that are not loyal to the Kremlin. But in addition to subordinating to itself pre-existing newspapers and journals, Moscow has created a large number of new ones. Golos Germanii is typical. It publishes translations of Moscow articles and the writing of German agents of influence. To coordinate all this activity, Moscow created in June 1999 the World Association of the Russian Press, a group that has held annual meetings throughout the world and sought to impose a common agenda on all Russian media regardless of where they are located, Khmelnitsky continues. Another arrow in Moscow's quiver in this regard is the Russian-Speaking Academic Science Association, a group set up to cover Moscow's industrial espionage in the West but also an organization the Russian authorities use to identify potential agents of influence and to direct their activities. And yet a third are the organizations the Russian special services have set up to work with targeted nations such as the Germans. Two years ago in Berlin was opened something called "The Dialogue of Civilizations Research Institute," a group headed by Vladimir Yakunin and supposedly independent, devoted to research and interested in international security. "But all this generates great doubts," Khmelnitsky says. "There is no basis for talking about its independence, its research or its commitment to international security. In fact, everything is exactly the reverse. This is just another specific organization dreamed up specially for work with German political and business circles" to promote Moscow's interests.
Finland: Founder of anti-immigrant website freed to await verdict in ethnic agitation trial – To Inform is to Influence
The website, MV-lehti, published a far different story than this reputable newspaper, YLE.   MV-lehti, of course, does not appear bound by ethics, morality, or journalistic integrity, choosing to smear Janitskin's main accuser, Jessikka Aro.  As is Russian tradition, Janitskin denies, denies, denies. Please do not forget this man that attempted to escape extradition from Spain,…
Russian Trolls Are Just Sick – To Inform is to Influence
This account was created on 17 August 2018, the day Senator John McCain died. I can only imagine the account was established by Russian trolls or some sick, psychotic person – but I repeat myself. 184 tweets in the first 24 hours of its existence.  I conclude it's a Russian troll account.  https://twitter.com/elbradweg Twitter, your…
Manipulation: Ukraine Supplying Weapons to China behind America's Back
Ukraine is cooperating with China in the military sector ignoring its strategic partnership with the United States – that is the gist of a story carried by the Washington Times on August 15. The article by Bill Gertz deals with the supply of twenty engines for twelve Chinese Jl-10 jet trainer planes by the Ukrainian aircraft engine company Motor Sich. Gertz cites critics of the deal who claim that Washington should pressure Kyiv to stop delivering the engines to "America's rival".
The Secret Is Out: Navy Jets Secretly Battled Russian Jets in a Siberian Snow Storm | The National Interest
All because of North Korea.
Novichok victim Charlie Rowley is 'unable to move limbs as condition deteriorates' – Mirror Online
EXCLUSIVE: Charlie is fighting for his life in Salisbury District Hospital, where he battled Novichok poisoning which killed his girlfriend
Novichok victim Charlie Rowley 'can't move his arms and legs' | Daily Star
SALISBURY Novichok survivor Charlie Rowley cannot "move his arms or his legs" as he fights for life in hospital for a second time, his brother has said.
Novichok victim Charlie Rowley is 'unable to move limbs as condition deteriorates' – Irish Mirror Online
EXCLUSIVE: Charlie is fighting for his life in Salisbury District Hospital, where he battled Novichok poisoning which killed his girlfriend
Novichok survivor Charlie Rowley is seriously ill | News | The Times
The man who survived the novichok poisoning that killed his partner is again seriously ill in hospital.Charlie Rowley, 45, found the nerve agent in a perfume bottle in a bin in Salisbury and gave it to Dawn Sturgess, 44, who died in hospital on July 8. Mr Rowley, from Amesbury, a heroin addict, sur…
Russia shows no signs of ditching Iran over Syria
Bolton-Patrushev talks stumble on Iran We wrote in this column more than a year ago, "Russia welcomes and needs US partnership in stabilizing Syria" while also saying that Russian President Vladimir Putin's "leverage with Damascus, Tehran and Ankara could be weakened, rather than strengthened, by closer ties with the United States. … Putin's endgame is relief from US-led sanctions. If no sanctions relief is forthcoming, Putin will have little interest in carrying Trump's water at the expense of his regional ties." This was the underlying theme in Geneva on Aug. 23 when US national security adviser John Bolton and his Russian counterpart, Nikolay Patrushev, struggled to find common ground on Iran's role in Syria in the first high-ranking talks between US and Russian officials since the Trump-Putin summit in Helsinki on July 16. "On the Middle East track, the issue of Iran and Syria appears to have been the most contested. The United States waved off a Russian proposal on the pullback of Iranian forces in Syria in exchange for softening sanctions on Tehran," writes Maxim Suchkov. Prior to Geneva, Bolton had visited Israel, where he said that Putin had told Trump that Russia's "interest and Iran's were not exactly the same [in Syria]. So we're obviously going to talk to him about what role they can play. … We're going see what we and others can agree in terms of resolving the conflict in Syria. But the one prerequisite there is the withdrawal of all Iranian forces back in Iran."
Standoff over Syria: U.S. and Russia trade chemical weapons warnings | The Japan Times
The U.S. and Russia exchanged warnings about a possible chemical attack in Syria and a Western military intervention in response, on the eve of what may be
ANALYSIS: Dangerous stand-off between Russia and US over Syria – Israel National News
The Syrian war is far from over and could blow up into a regional or even world conflict.
Russian Warships Heading for Syria – Breaking Israel News
It was reported Turkey sighted three Russian warships passing through the Bosporus last Thursday en route to Syria. They are thought to be carrying marines.
Window on Eurasia — New Series: Moscow Works Hard to Block Syrian Circassians from Returning to Their Homeland and to Russify Those Who Do
Paul Goble Staunton, August 25 – The official position of the Russian government is that the Syrian authorities are the proper defenders of the ethnic Circassians who live in that Middle Eastern country and that Moscow is not interested in their immigration or "repatriation" to the North Caucasus which members of this ethnic group view as their ancestral homeland. Nonetheless, several thousand Circassians have managed to come to the republics of Russia's North Caucasus, most of whom are from Syria. Some were Russian citizens to begin with who had moved to Syria recently. Others had relatives in the North Caucasus who could write letters of invitation, and still a third group did so illegally. Those who have managed to get through, however, face an unhappy situation: the regional and republic governments do almost nothing for them, Russian officials view them as either Islamist or nationalist threats, and Moscow has imposed policies designed to Russianize and even Russify those who hope to remain there. All this is documented in an important new article by Aleksandra Bayeva for the Meduza news agency, who spoke with ethnic activists, officials and refugees themselves in the North Caucasus (meduza.io/feature/2018/08/24/150-let-nazad-rossiya-deportirovala-cherkesov-v-siriyu-teper-oni-begut-obratno-no-i-zdes-im-ne-rady). Of the many points she makes, three are especially significant: First, she says that Russia is doing everything it can to limit the influx of Circassians from Syria lest they become importers of Islamist views or shift the ethnic balance in North Caucasus republics or even trigger a movement to restore a unified Circassian republic there. Second, although some regional officials were supportive initially, few are now, fearful that any support for the Circassians will cost them their positions as happened in the runup to the Sochi Olympics when Circassians around the world protested against holding that athletic competition on the site of the 1864 genocide of their nation. In the absence of such government support, Circassians have organized various groups to send thousands of invitations to Circassians abroad to come to the North Caucasus and to provide assistance in the form of food, housing and jobs for those who make it. But in recent months, these groups have come under increasing scrutiny and even repression. And third, as Olga Begretova of the Ochag National Organization says, the Russian authorities immediately seek to Russify those Circassians who do manage to come legally or not. "A repatriate must take an examination in the history, law and language [of Russia]," she says. "This is a major obstacle." "Many [Circassian] repatriates speak only Arabic and Kabardin. Why can't they be examined in Kabardin if they are going to be living among us?"
UAWire – Belarusian President Lukashenko promises to assist Assad in 'Syria's restoration'
Belarusian President Alexander Lukashenko said that he is willing to offer "comprehensive assistance" to the Assad regime in the process of …
Chicago Boyz » Blog Archive » The DIY 'Assault Drone' Siege of Russian Bases in Syria
Since New Years 2018, there have been 23 attacks with 45 (+) home brew do it yourself (DIY) assault drones in Syria aimed at Russian and Assad Regime bases.  Three to four separate types of assault drone/small scale cruise missile designs have been identified to date.  Russian intelligence in various media sources say they are being built in Idlib, Syria by Syrian rebel forces. The latest and scariest Syrian Rebel drone seems to have been a 3D laser scanned and 3D plastic body printed copy of a Russian Elevon (Aileron in Russian)  Drone.  The Elevon has an air frame that is closely patterned on the old 1980's US Army Lockheed MQM-105 Aquila drone. Photos of this 3D printed Syrian rebel drone were posted on BBC social media accounts.
The SAA today downed several DIY drones launched by the rebels in Latakia countryside – syria.liveuamap.com
The SAA today downed several DIY drones launched by the rebels in Latakia countryside . Explore Syrian Civil War news on live map in English. Civil war and International intervention in Syria. War on terrorism in Syria
Qalaat Al Mudiq on Twitter: "#Syria: several suicide drones were shot down over #Hama province this week. Those new DIY models reportedly targeted troops & helicopters as Rebels widened their targets amidst upcoming #Idlib Offensive.… https://t.co/519SD9Dsmb"
Qalaat Al Mudiq on Twitter: "#Syria: #Russia displayed in #Khmeimim Airbase 2 weaponized drones shot down in July which tried to target the Airbase. First one is a new model while 2nd is a DIY UAV commonly used in such attacks.… https://t.co/Em6A1x2vXW"
Iran's Strait of Hormuz control stokes tensions, could prompt US response | Fox News
A major shipping route located between Oman and Iran where nearly one-third of the world's sea-traded oil passes through daily may become a new flashpoint after a top Iranian navy general said Monday that the country has taken full control of the Strait of Hormuz.
Iran Has Full Control of Gulf and Strait of Hormuz – Revolutionary Guards Chief – Sputnik International
Earlier, the Islamic Revolutionary Guard Corps (IRGC) held large-scale military drills in the Persian Gulf. The IRGC said they were ready to disrupt other countries' oil shipments through the strait if Iran's own exports were impeded.
Iran: No need for US Navy in Gulf | TheHill
A general in Iran said Monday that the country has control of the Persian Gulf and warned the U.S.
Iran says it has full control of Gulf, U.S. Navy does not belong there
(Reuters) – Iran has full control of the Gulf and the U.S. Navy does not belong there, the head of the navy of Iran's Revolutionary Guards, General Alireza Tangsiri, was quoted by Tasnim news agency as saying on Monday. Tehran has suggested it could take military action in the Gulf to block other
Report: Iran says it gained control of Gulf, U.S. does not belong there – International news – Jerusalem Post
"We can ensure the security of the Persian Gulf and there is no need for the presence of aliens like the US," General Alireza Tangsiri said.
Iran Claims It's Taken Full Control of Gulf and Strait of Hormuz – The Daily Beast
General declares U.S. has no business being in global oil shipping pinch point.
IRGC Navy head: Iran has full control of Gulf and Strait of Hormuz
Following Iranian threats to block the Strait of Hormuz, a major oil shipping route, in retaliation for any hostile US action, head of the Revolutionary Guards navy says the Islamic Republic now fully controls the passage.
Iran says it has full control of Gulf and U.S. navy does not belong there | Reuters
Iran has full control of the Gulf, and the U.S. Navy does not belong there, the head of the navy of Iran's Revolutionary Guards, General Alireza Tangsiri, said on Monday, according to the Tasnim news agency.
Iran says it has control of Gulf and Strait of Hormuz: report | Fox News
An Iranian top navy general said Monday the country took full control of the Gulf and the Strait of Hormuz, a major shipping route that the Iranians threatened to block in the past amid worsening American-Iranian relations.
Iran's defense minister meets Assad, Syrian counterpart in Damascus | Reuters
Iranian Defence Minister Amir Hatami arrived in Syria on Sunday for meetings with President Bashar al-Assad and senior defense and military officials as part of a two-day visit, according to the Tasnim news agency.
Iran says 'no third party' will limit its support to Syria | Fox News
Iran's defense minister said Sunday his country will continue its support of the Syrian government to ensure improved security in the region, adding that the nature of the two countries cooperation won't be decided by a third party.
Iran's parliament impeaches economy minister in latest blow to embattled President Hassan Rouhani
Iran's parliament impeached Economy Minister Masoud Karbasian on Sunday in the latest blow to embattled President Hassan Rouhani as he struggles to face down a mounting economic crisis.
Iran lawmakers fire finance minister as economic woes mount
Iran's parliament voted Sunday to fire the country's finance minister amid an economic free fall fanned by America's withdrawal from the nuclear deal with world powers, dealing another blow to President Hassan Rouhani's embattled administration.
UN court to hear Iran lawsuit against US sanctions
The lawsuit filed with the International Court of Justice says the U.S. sanctions violate terms of a little-known 1955 friendship treaty between the two countries.
ICJ hears Iran lawsuit to have US sanctions lifted | News | Al Jazeera
Iran says US sanctions are damaging its economy and violating terms of 1955 friendship treaty between two countries.
Will more sanctions drive Iran to a cyberattack?
If the Trump administration's sanctions on Iran are strong, the Persian nation may respond by targeting banks, critical infrastructure and the U.S. government.
'A Deadly Blow': Families Say Iranian Dervishes Get Heavy Prison Sentences
Members of the minority Sufi sect in Iran have long complained of official persecution, and reportedly won't be appealing their sentences.
At Least Two Dead After Strong Earthquake Strikes Western Iran
At least two people were killed and more than 240 others were injured after an earthquake of magnitude 6.0 and at least two strong aftershocks struck western Iran, local media report.
UAWire – Iran renews negotiations with Russia on construction of a new nuclear power plant
According to the Tasnim news agency, Iran renewed negotiations with Russia on the construction of a new nuclear power plant that will be able to …
CRS Report: Iran Sanctions – To Inform is to Influence
Iran Sanctions Kenneth Katzman Specialist in Middle Eastern Affairs August 7, 2018 Summary The multilateral nuclear accord (Joint Comprehensive Plan of Action, or JCPOA) provided Iran broad relief from U.N. and multilateral sanctions, as well as U.S. secondary sanctions (sanctions on foreign firms that do business with Iran) on Iran's civilian economic sectors. Upon the…
Nazanin Zaghari-Ratcliffe: British-Iranian woman accused of spying returns to prison in Iran – CNN
A British-Iranian woman who has been imprisoned in Tehran since 2016 on spying charges returned to prison on Sunday, just three days after she was temporarily released.
Erdogan: Issue not about myself, but Turkey, Islam
Marking anniversary of Battle of Malazgirt, Recep Tayyip Erdogan describes Anatolia as linchpin for future of humanity – Anadolu Agency
Erdoğan: The issue is about Turkey, not me
President Recep Tayyip Erdoğan said on Aug. 26 that attacks against himself were not actually about him, but instead targeted Turkey, and in nature were similar to previous attempts to invade Anatolia.
Turkey's Erdogan says will bring safety and peace to Syria, Iraq | Arab News
ANKARA: Turkish President Tayyip Erdogan vowed on Sunday to bring peace and safety to Iraq and areas in Syria not under Turkish control and said terrorist organizations in those areas would be eliminated. Turkey, which has backed some rebel groups in Syria, has been working with Russia, which supports Syrian President Bashar al Assad, and Iran for a political resolution to the
Turkey's Erdogan says will bring safety and peace to Syria, Iraq | Reuters
Turkish President Tayyip Erdogan vowed on Sunday to bring peace and safety to Iraq and areas in Syria not under Turkish control and said terrorist organizations in those areas would be eliminated.
Erdoğan, top officials mark 947th anniversary of Battle of Manzikert – Daily Sabah
Turks around the country Sunday marked the 947th anniversary of the Battle of Manzikert (Malazgirt in Turkish), in which the Seljuk Turks claimed victory over the Byzantine Empire in 1071 that allowed the Turkish conquest of Asia Minor, or Anatolia, over the following centuries. It is seen as an epoch-changing event, after which the previously Greek region rapidly became Turkish. It took only several decades for many to refer to Asia Minor as the land of the Turks. President Recep Tayyip Erdoğan, Parliament Speaker Binali Yıldırım and Devlet Bahçeli, the chairman of the Nationalist Movement Party (MHP) delivered speeches in a ceremony held at memorial park near the historic battle site, commending that the "spirit of Manzikert" was still alive after centuries to combat all political, diplomatic, economic and military threats against the Turkish nation. Bahçeli was first to address the 75,000-strong crowd, saying that the Turkish nation was scared of no one and would confront all threats irrespective of the source. Yıldırım, who spoke right afterwards, said those who tried to divide the nation would fail because the founding ethos of Turks was so strong. "All the regions tied to us through historical, cultural and religious links look up to Turkey, which will never let them down," he said.
Turkish Lira Tumbles as Volatility Returns After Holiday Week – Bloomberg
The lira slid on Monday with volatility rebounding, ending a week of relative calm as Turkey's markets opened after public holidays.
Turkish lira firms as markets reopen with eye on U.S. row | Reuters
The Turkish lira gained slightly against the dollar on Monday as markets reopened after last week's holiday, with investors set to refocus on a bitter dispute between Ankara and Washington over an American pastor being tried in Turkey.
Turkey inflation 'to hit 20%' | Arab News
DUBAI: Turkey is facing the prospect of a leap in inflation this year and a sharp contraction in its economy in 2019 as the country's currency crisis continues, according to analysts at S&P Global. The Turkish currency went into free-fall at the beginning of the month when Donald Trump, the US president, imposed economic sanctions over a political dispute, hitting a record low
Deepening Turkey-Russia relations gain new dimension – Daily Sabah
The developing cooperation between Turkey and Russia can become multidimensional with joint initiatives in many areas and personal diplomacy between the leaders of the two countries. Foreign Minister Mevlüt Çavuşoğlu, Defense Minister Hulusi Akar, and the head of Turkey's National Intelligence Organization (MIT) Hakan Fidan traveled to Moscow Friday for talks on bilateral and regional issues, including the recent developments in Syria. They met Russian Foreign Minister Sergey Lavrov and President Vladimir Putin. Before meeting the Turkish delegation, Putin said Friday that Russia's relations with Turkey were deepening and their cooperation in regional issues and the economy was increasing. The Russian president also praised the Russian and Turkish efforts in Syria, saying that a solution was closer to the input of Iran, the European Union, the U.N. and the U.S. In an effort to restore calm in the region and improve the humanitarian situation in war-torn Syria, the three guarantor states Turkey, Iran and Russia, launched the Astana process on Jan. 23, 2017, establishing de-escalation zones.
In familiar dance, Turkey warms to Russia as US ties unravel | Fox News
Relations between Turkey and Russia are cozy, prompting worries in the West of a potentially critical rift in the NATO alliance.
Turkish President Erdoğan to visit Iran on Sept. 7 for Syria summit
President Recep Tayyip Erdoğan will travel to Iran on Sept. 7, the presidency announced on Aug. 27. Erdoğan will attend the third summit within the Astana process amid raising concerns for a possible regime attack at the rebel-hold Idlib province of Syria.
A Turkish headache for the West – BBC News
How Turkey's fragile relations with the US, Nato and EU grow ever more complex.
Congress dangles Turkey trade deal as carrot to Trump's stick
Lawmakers are floating a free trade agreement with Turkey as the president doubles steel and aluminum tariffs on Ankara for its ongoing detention of a US pastor.
A Tragedy for Turkey and the US by Anne O. Krueger – Project Syndicate
After years of unsustainable growth driven by loose fiscal and monetary policies and foreign borrowing, Turkey is finally facing an economic reckoning. But with the Trump administration doubling tariffs on Turkish steel and aluminum, the prospects for reform have shrunk substantially.
Holding Turkey Accountable – American Greatness
The increasingly autocratic government of Turkey has lost its mind. Or, at least, it has returned to its historical form. Under Turkish strongman Recep Tayyip Erdogan, the country has slipped away from a nascent form of democracy into an autocracy informed increasingly by Islamism. Whereas Turkey was once a bulwark against Soviet Communism in southern Europe—a secular power run by pro-Western leaders increasingly seeking to become enmeshed in the Western socioeconomic system—since Erdogan's rise, Turkey has sprinted as far away from Europe and the West as possible. Now, Turkey exists as just another dictatorship in the Islamic World.
Freed German journalist vows to keep fighting for Turkish colleagues | Reuters
Journalist Mesale Tolu, released from Turkish prison in December but banned from leaving the country until this week, returned to Germany on Sunday vowing to continue fighting for colleagues imprisoned in Turkey's crackdown after a failed coup in 2016.
Police in Turkey Break Up Mothers' Weekly Vigil – The New York Times
Officers used tear gas to stop a regular demonstration to remember people thought to have disappeared in police custody. Nearly 50 people were arrested.