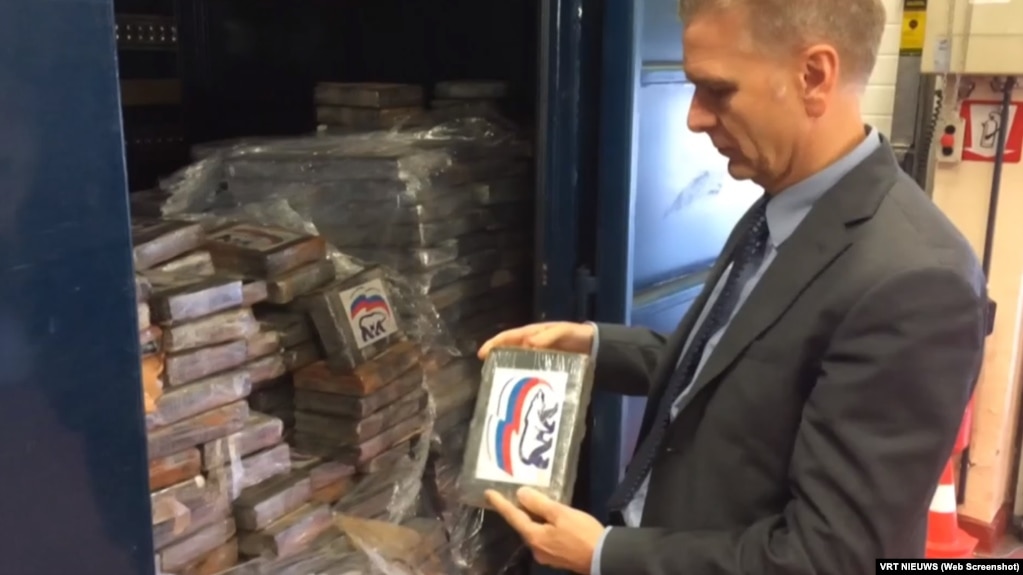 I honestly have no clue what to make of this.  
Surely United Russia is not fundraising by selling cocaine.  However, stranger things have happened.  But including advertising for United Russia on each brick?  
This is so bizarre, I honestly debated for two seconds before posting it. A whole two seconds! 
I can't read into this one, but it's so humorous that I had to post it for you, gentle readers!
</end editorial>
---
---
In the port of the Belgian city of Ghent, the police intercepted three containers with 2 tons of cocaine packed in 1903 briquettes weighing about 1 kilogram each. 
Briquettes with a drug have been marked with a logo of the Russian political party "United Russia".
As reported on August 23, with reference to the representative of the police of East Flanders, Dutch and Belgian media, in particular De Telegraaf and RTL , the cost of cocaine is estimated at 100 million euros. Containers with him arrived in Ghent from Brazil. The detained party became the largest in the history of Ghent.
In a video filmed by journalists of the Belgian VRT television company, the logo of the Russian "party in power" is clearly visible – a bear and a fluttering Russian flag – on each of the briquettes in at least one container.
August 22 in Argentina, burned cocaine, found in one of the buildings of the Russian Embassy in Buenos Aires. At the end of February, the Argentine authorities reported that 12 suitcases with almost 400 kilograms of cocaine were found in the school at the Russian Embassy in Argentina. They were registered as diplomatic baggage. To identify those involved in drug trafficking, cocaine was replaced with flour and sent to Moscow.
According to the so-called "cocaine case", six people were arrested: three alleged accomplices of smugglers in Russia, the leaders of the Russian Orthodox Patrons in Latin America Foundation Ivan Bliznyuk and Alexander Chikalo in Argentina. The alleged organizer of cocaine supplies, Andrei Kovalchuk, was detained in Germany. At the end of July it was given to Russia.
Source: https://www.svoboda.org/a/29452493.html