Anonymous expert compilation, analysis, and reporting.
</end editorial>
---
---
Muscovian mendacity appears to be ceaseless. Russia threatens EU with another deluge of Syrian refugees. More sanctions over cyber attacks. New UK Foreign Minister Hunt calls for more EU sanctions. GRU attempts to hack Republican think tanks in the US. Russian analysts suggest Putin suffering significant political damage due to retirement age fiasco. Some most interesting observations by Travin, Goryunov, Nezavisimaya gazeta, Ikhlov, and Leonov.
In Salisbury, CW attack victim Rowley in intensive care with severe neurological symptoms – reminiscent of the aftermath of the Tokyo Sarin attacks.
Iran's new "100%" locally made "Kowsar" "fourth-generation fighter" proves to be the truly formidable Northrop F-5F Tiger II of Vietnam War fame. If there was ever proof of Tehran's delusional grasp of strategic reality, this must be it.
More bluster and bluff from the Erdoğan regime.
---
'Hotbed of Evil': Turkish Citizens, Politicians Demand Closure of Incirlik Base – Sputnik International
Incirlik residents and local politicians have called on Ankara, demanding the expulsion of American troops from Incirlik Air Base and that the base be handed over to the Turkish military. Speaking to Sputnik, Turkish civilians explained why they're protesting against the US military presence in their country.
"Novichok" Survivor Reportedly Rushed to Hospital Again Over 'Impaired Vision' – Sputnik International
In late July, a man, who was earlier hospitalized after collapsing in his home in Amesbury, UK due to allegedly being poisoned with Novichok nerve agent, was discharged. The incident took place several miles away from Salisbury, where former Russian spy Sergei Skripal and his daughter Yulia were found in a similar condition in March.
Russia: West Obstructing Aid to Syria, Return of Refugees
FM Lavrov says Lebanon, host to more than 1 million refugees, supports the safe return of Syrian refugees to safe areas
Russia Says It Will Start Delivering S-400 Defense System To Turkey In 2019
Russia's state arms exporter, Rosoboronexport, says it will begin delivering its advanced S-400 antiaircraft missile systems to Turkey in 2019.
Amesbury 'Novichok victim' Charlie Rowley back in intensive care — RT UK News
Charlie Rowley, a survivor of the late-March alleged nerve agent poisoning in Amesbury, has been taken back to the hospital, UK media report. The man has almost gone blind, but it's not a nerve agent symptom.
Russian military on alert for massive war games said to be the largest since Soviet games in the '80s
Vostok (East) 2018 exercise to include military units from China and Mongolia.
Russia plans largest war games since end of Soviet Union – CNN
Russia will stage the its largest war games since the fall of the Soviet Union next month, the country's Defense Ministry said Monday.
Sky News: U.S. imposes fresh sanctions over Russian cyber attacks | UNIAN
The U.S. Treasury has imposed fresh sanctions against Russian actors in connection with the Kremlin's aggressive cyber attacks. Individuals and firms being used to help sanctioned companies circumvent financial blocks have been added to the sanctions list. The U.S. Treasury has imposed fresh sanctions against Russian actors in connection with the Kremlin's aggressive cyber attacks. The additional sanctions have been made to "disrupt Russian efforts to circumvent our sanctions" said U.S. Treasury Secretary, Steven Mnuchin, Sky News reported. "Today's action against these deceptive actors is critical to ensure that the public is aware of the tactics undertaken by designated parties and that these actors remain blocked from the U.S. financial system," Mr Mnuchin added. The two newly sanctioned people and firms join three other individuals and five businesses that were accused in June of providing material and technological support to Russia's Federal Security Service (FSB).
Britain To Call For More EU Sanctions On Russia Over Chemical Attacks
Britain's new foreign minister in his first major address will urge the European Union to increase sanctions against Russia, saying the bloc should stand "shoulder to shoulder" with the United Stat…
Jeremy Hunt wants 'malign' Russia to face tougher sanctions – BBC News
The foreign secretary urges the EU to copy Washington's response to the Salisbury nerve agent attack.
Jeremy Hunt calls for new western alliance as Microsoft foils Russian hackers | News | The Times
Hackers linked to Russian military intelligence launched a sophisticated cyber operation against conservative think tanks in the United States ahead of November's midterm elections.News of the attack came as Jeremy Hunt was on his first visit to Washington as foreign secretary. He will today ch
UK Foreign Secretary Jeremy Hunt to call for more sanctions on Russia during first US visit – CNNPolitics
Making his first visit to the US since taking office, British Foreign Secretary Jeremy Hunt is expected to deliver a speech Tuesday that will call on the European Union "to ensure its sanctions against Russia are comprehensive, and that we truly stand shoulder to shoulder with the US."
Britain presses for more EU sanctions against Russia | Reuters
Britain on Tuesday will call for the European Union to increase sanctions against Russia, saying the bloc had to stand "shoulder to shoulder" with the United States, which hit Moscow with new economic curbs this month.
Jeremy Hunt calls for fresh EU sanctions against Russia | Politics | The Guardian
UK foreign secretary will urge US president to tighten rules on online election advertising
Microsoft Reveals Russian Hacking Attempts Ahead Of U.S. Elections
Microsoft says it has uncovered new Russian hacking attempts to target U.S. political groups ahead of the U.S. midterm elections in November.
Russian hackers targeted conservative think tanks prior to midterms | Fox News
Microsoft on Monday said it seized websites created by Russian hackers to imitate conservative American think tanks, but instead redirected visitors to websites where their passwords could be stolen.
New Russian Hacking Targeted Republican Groups, Microsoft Says – The New York Times
Microsoft was surprised not that recent "spear phishing" attempts had occurred, but that they targeted traditional conservative think tanks. Those groups have been critical of Russia.
Will Pensions End Putin? Russia's Retirement Age Debate
Protesters and unions worry workers won't live to see the new retirement age.
Window on Eurasia — New Series: Russian Anger at Pension Plan Not Dissipating But Increasingly Directed at Putin Personally, Shelin Says
Paul Goble Staunton, August 17 – Many commentators expected that anger among Russians over the government's plan to raise pension ages would gradually dissipate as they came to the realization that this latest indignity was something they had no choice but to accept, Sergey Shelin says. Instead, it is intensifying and lead to declining approval ratings for Putin and other leaders. The announcement of the pension plan sent approval ratings for Russian leaders down sharply, the Rosbalt commentator says. They they appeared to plateau as Russians waited for Putin to explain what was going on and possibly soften the blow given what he has said about pensions before (rosbalt.ru/blogs/2018/08/17/1725530.html). But Putin didn't come out with an explanation: he has remained more or less silent. And as a result, his ratings and those of other government leaders have begun to fall again, an indication that anger about the pension plan remains high and that it is now spreading to Putin and the Russian government. In some respects, the declines have not been all that radical, Shelin says; but they appear more meaningful because they "are occurring at a time of a complete absence of new events, decisions of even ideas" that might lead people to focus on other issues or adapt as many had expected them to earlier. Neither the regime nor its chief have done any of the things many expected them to do, and Russians want some very specific answers to their problems. Because these have not been forthcoming from the top, Russians are asking why and beginning to blame Putin and the regime for failing to provide them. The regime is slated to go into "counterattack" mode on August 21 when there will be hearings about the pension plan. But no one is expecting much from these because the powers that be will insist that public participants talk about how to make the government plan better rather than demand that it be scrapped. That may not work well this time around, Shelin continues, pointing to the anger that has been expressed about Vyacheslav Volodin's suggestion that if the population doesn't approve the government's pension plan, then perhaps there won't be any pensions at all, a Marie Antoinette statement if ever there were. And consequently, the commentator says, there is a growing possibility that the August 21 measure "will get out of control," something that the regime will seek to hide given its control of the media but that people will find out about and be even more angry as a result. Shelin continues: "The reverse side of our complete centralization is the indifference, incompetence and inability to respond to changing circumstances by people even occupying the highest links of the vertical. The leader has constructed a system in which none of his subordinates is authorized to think for himself and cannot free him from the responsibility for even one decision." Thus, Russians are now blaming Putin because he has made it clear he is responsible for everything even if in actual fact he is not. "Putin's silence," Shelin concludes, "is thus inevitably viewed by the masses as his rejection of the role he has assumed. And from that flow the continuing losses of his standing in the polls. He won't be able to [stay silent] until the final adoption of the pension law. He is going to have to begin to speak sooner than that."
Window on Eurasia — New Series: Putin Doesn't Face Risk of Putsch Because He'd Use Massive Force to Crush It, Travin Says
Paul Goble Staunton, August 19 – Mikhail Gorbachev was challenged by a putsch because he opponents believed he wouldn't use massive force to crush them; Vladimir Putin isn't in large measure because his opponents know very well that if the Kremlin leader felt threatened in any way, "he would use force without the slightest vacillation," Dmitry Travin says. The August 1991 putsch is receding into history, the European University in St. Petersburg economist says; "but certain problems of Putin's administration compel one to consider the specifics of Gorbachev's, specifics that led to an attempt at a state coup d'etat (rosbalt.ru/blogs/2018/08/19/1724989.html). The siloviki of 27 years ago "certainly understood that Mikhail Gorbachev, in the event of a successful introduction of martial law, would not refuse to run the country with the help of force methods: he simply wouldn't have had any other choice," Travin continues, especially given that his policies had led to the demonization of the bureaucracy he earlier had relied on. If the coup had succeeded and Gorbachev had followed this line, the economist argues, the country would have been transformed from "a bureaucratic totalitarian regime into a personalist authoritarian one." But Gorbachev had not become "a real autocrat even when he created for himself the post of USSR president." "The first years of his administration, Gorbachev ruled thanks to the authority won with the help of the demagogy of perestroika," Travin says. "But by the beginning of the 1990s, this resource was completely used up. Beautiful words began to pall, and at the same time it became ever more difficult to live as a result of intensifying shortages." "Gorbachev didn't get the mechanism of rule he wanted. He seriously weakened the bureaucracy but didn't create a regime of personal power. He couldn't run the economy the old way but hadn't developed a new one. Chaos ensued … and it awakened in the siloviki a desire to run the country at least for a time by their methods." The coup was the result. The situation today is very different: "A strong Putin is not at all like a weak Gorbachev." "But there is one important aspect which makes the current era similar with the beginning of the 1990s. Putin like Gorbachev cannot rule using the very same resource which in his first years of power had secured him personal popularity. For Gorbachev, this was the idea of Perestroika; for Putin, it was the growth of real incomes." During the mass protests of 2011-2012, Travin says, many felt the regime would collapse because oil prices had. "But everything turned out differently. Putin did not destroy the bureaucratic structure in order to have reforms which the opposition expected from him," a correct move on his part if what mattered most was his remaining in power. "Both the democrats and the siloviki were insufficiently strong to destroy the bureaucracy on which Putin continued to rely. After this, the democrats turned out to be completely marginalized and since then have exerted practically no influence on the powers that be," the economist continues. "With the siloviki," he says, "the situation now is significantly more complicated. There are three important reasons why their positions have been strengthened." First, Putin has had to use force to generate patriotism. Second, the reaction of the West has been to blame him for all such force. And third, corruption in the bureaucracy has reached unprecedented level. According to Travin, it is thus not surprising that Putin early in his last term "gave the siloviki carte blanche" to move against highly placed corruption figures, "including ministers, generals and governors" and that in turn gave them far greater freedom of action than they had had. It is still not the case that "the siloviki have become stronger than the bureaucrats. The country all the same is run with the help of various types of manipulation of the masses and not with the aid of force and shootings. But if suddenly something in the bureaucratic machine stops working, the positions of [the two groups] could come into balance." "How would Putin behave in that situation? On whose side would he be? Some consider that he would remain on the side of the bureaucrats because he doesn't want to become dependent on the siloviki. Others suppose that he would be on the side of the siloviki because they are to him close socially." According to Travin, both these answers are "incorrect," as a glance back at the 1991 putsch shows. Gorbachev wanted to remain above the fray as does Putin now, but unlike Gorbachev, in the event of a challenge, Putin would use force and use it massively to put down any challenge.
Window on Eurasia — New Series: Without Much Thought, Kremlin is 'Destroying Soviet Defense Against Separatism,' Goryunov Says
Paul Goble Staunton, August 21 – Russians are much agitated by the proposed pension reforms and by attacks on liberal intellectuals, Maksim Goryunov says; but they have failed to pay attention to a far more fateful decision by the Kremlin, that effectively "destroys the Soviet defense against separatism." In a Novaya gazeta commentary, the Moscow philosopher suggests that last action which involves making the study of non-Russian languages in the country's 22 republics entirely voluntary while keeping Russian obligatory could ultimately tear the Russian Federation apart (novayagazeta.ru/articles/2018/08/20/77553-ni-slova-po-tatarski). The justifications pro-Kremlin deputies have offered for this step imply, Goryunov continues, that "over the course of many years, Russian children have been forced to study non-Russian languages. How is this possible?" especially given Moscow's criticism of the Baltic countries and Ukraine for supposedly stripping Russians of their language rights. Moreover, he continues, given that Putin himself has delivered speeches in Tatar, it would seem that "until relatively recently, such problems as it were did not exist? Why then has this issue arisen now?" The state structure of the Russian Federation is the heir of the Soviet one, he argues. The latter had as "the cornerstone of its nationality policy 'the right of nations to self-determination up to the point of separation." (stress in the original). "Lenin and after him Stalin," having rejected the Austro-Marxist program of extra-territorial cultural autonomy promoted by Otto Bauer and Rudolph Springer "considered that helping the peoples of Russia in the construction of their own states would solve the problem of separatism," Goryunov says. In his dispute with Georgy Pyatakov and other "leftist deviationists,' Lenin asserted tha the Tatars and Udmurts would not leave the country as the Finns had [because] Moscow would help them in the construction of their own republics," for which he as certain they would be grateful and thus loyal. "Citing Marx, Lenin considered that in the end, all nations would have their own states. The national bourgeois state was an inevitable stage of the development of any society, after feudalism but before socialism. He was certain also that empires which included in their borders dozens of nations were doomed to disintegration." For Lenin,, "Russia was a typical empire, and for the Moscow government not to lose control over the territories, the country would have to change," the Moscow philosopher says. That could only happen if Moscow "ceased the initiative from the nationalists" who otherwise would gain power and seek independence. Goryunov draws on the argument of Harvard scholar Terry Martin's 2001 book, The Affirmative Action Empire about the pre-World War II Soviet Union which describes the ways in which the Soviets promoted non-Russian cultures and peoples in order to win their loyalty and undermine calls for independence. "From the point of view of Soviet nationality policy, forcing [those living in non-Russian republics] to study local languages was a down payment for the territorial integrity of the country," the Moscow commentator says. "Russian pupils studied Tatar in Tatarstan and Udmurt in Udmurtia so that Tatarstan and Udmurtia wouldn't think about leaving the country." "The current law obviously destroys [this] Soviet system of defense against separatism," Goryunov says. Those most directly involved with the legislation haven't been willing to talk about this or even justify what they are doing beyond the notion that it is important to do what Vladimir Putin said a year ago. The "paucity" of comments by them, Goryunov says, "forces one to search for answers in other sources: for example, in the publications of the former minister for nationality policy of the Russian Federation, Valery Aleksandrovich Tishkov" who in contras to the authors of the measure said a lot "about how the Russian Federation should be reformed." Tishkov has his own "original" and even "extravagant vision of Russian history," Goryunov continues. Despite the views of most historians and Soviet leaders, Tishkov "considers that Russia was never an empire" and that "beginning with Peter I, a civic nation was being formed in Russia." In his view, "Russia was divided not between a 'white' metropolitan center and 'colored' colonies like Great Britain but between those who had already mastered Russian culture and become citizens of Russia and those who hadn't do so yet" but would ultimately accept Russian culture and become citizens of the same kind. Tishkov takes as his model France, a country which even in the 19th century was populated by people who "poorly understood French and preferred to call themselves Burgundians, Gacons, Bretons, and so on." With time, they learned French, acquired "'high French culture,' and began to call themselves Frenchmen." Tishkov "is certain," Goryunov says, "that Lenin made a mistake. It seemed to Lenin that he had destroyed 'a prison house of peoples,' 'an empire' consisting of oppressed 'minorities' and ruled by 'Great Russians. In fact," Tishkov is sure, "he divided into pieces the civic nation that was in the process of being formed." The former nationalities minister argues that "Russia must turn away from the Leninist project and return to the path of France: to reduce local identities to a secondary consideration and to make all-state identity primary. Only a single national identity – from the Baltic to the Pacific – is a reliable means of defense against separatism," Tishkov insists. Because of his beliefs, Tishkov wants Moscow to return to the path of assimilation on which the tsarist state was proceeding but of course only "using humane means." While Tishkov is not listed as one of the authors of the new language law, his ideas inform it; and the law itself is "an obvious step toward that very 'Russian nation' as the former minister understands it," Goryunov continues. Apparently, the Moscow philosopher says, "Moscow intends to construct 'a civic nation' by demolishing the Soviet system of national republics," an action it will seek to sell to the non-Russians by financing various projects to promote "cultural 'uniqueness.'" It is far from clear that the non-Russians will be as happy about this prospect as Tishkov assumes, Goryunov says. Indeed, they are likely to take up the nationalist goals they had earlier. Given the reaction of Russians to the language law, one would never guess that "the nationality problem is the most important for Russia" and that the consequences of radical changes in it are likely to be equally radical. "It would be well," Goryunov concludes, "if citizens devoted to the nationality question just as much attention as they are to the pension issue. In the end, if the decision [on nationality policy] turns out to be mistaken, God alone knows with whom and on what language, today's 30- year olds will be discussion pension issues in 2060."
Window on Eurasia — New Series: Putin's Poll Numbers a Resource He Can Use Rather than Hoard, 'Nezavisimaya' Says
Paul Goble Staunton, August 21 – After falling since the election, Vladimir Putin's poll numbers have stabilized, with surveys by both the Public Opinion Foundation and VTsIOM showing a slight uptick, a pattern that experts explain by a decline in attention to the pension issue and a growing acceptance that this reform is going to happen, Nezavisimaya gazeta says. In a lead article today, the editors of the Moscow paper add that it should be noted that "several months after the presidential election, the authorities are hardly concerned by the sharp summer fall in ratings and are focused on stabilizing it. The decline was expected and probably even programmed in" (ng.ru/editorial/2018-08-20/2_7292_red.html). These "indicators of trust and approval and the electoral rating are political currency, a resource which there is no reason to save but many reasons to spend" when the regime needs it, the paper continues. "Pension reform is a rare case over the last 18 years when the authorities intentionally spent part of this rating" for strategic purposes. "The authorities," Nezavisimaya gazeta says, "are changing the structure of budgetary spending, including pension payments in order to build up means for major socio-economic and infrastructure projects. If everything goes according to plan, then by the end of the six-year term, the state and the ruling elite will be able to recover for themselves the numbers which they have voluntarily surrendered today." The paper continues: "the stabilization of Putin's rating has occurred at the level of 60 to 63 percent," figures that are still very high and ones that any Western leader could "only dream of." That gives Putin the opportunity to carry out several unpopular measures at once and "still remain the favorite of any electoral race." Indeed, the fact that trust in the government is approximately 30 percent lower than trust in the president "gives Putin space for maneuver. At a critical moment, he can simply make changes in the council of ministers" as was the case in the earlier period of his rule in response to anger about the monetarization of benefits. Moreover, Nezavisimaya gazeta says, the rating declines Putin experienced this summer must be put in the Russian context. Elsewhere such declines would force change, but in Russia, that is not the case because the various political parties still have ratings far lower than Putin and thus aren't in a position to make press their case. And the editors thus conclude that "if elections were held now, the opposition would have an agenda, but despite that, the powers that be do just as well as they would have were Putin's rating were still at 75 percent." Thus overreading the changes in Putin's ratings is almost certainly a mistake.
Window on Eurasia — New Series: Putinism is Hardly the Delayed Triumph of the August 1991 Putschists, Ikhlov Says
Paul Goble Staunton, August 19 – On this anniversary of the August 1991 putsch attempt, many commentators have been tempted to suggest that the regime Vladimir Putin has erected is in large measure the one that those who behind that action wanted. They could not be more wrong, according to Yevgeny Ikhlov. Instead, the Moscow commentator argues, "a hypothetic regime of Pavlov-Yanayev-Kruchkov would have been the mirror opposite of Putinism both in his 'oprichnik period' (before 2008) and in his 'Crimea is ours one'" that in fact really began in November 2012 but achieved its apogee in March 2018 (kasparov.ru/material.php?id=5B78F81D2915E). In exactly the same way, he continues, "the coming to power of Hitler was not a victory of the von Kapp monarchist putsch of 1920." The putschists "were for the empire but not for imperialism, for ascetic service to the country but not for an oligarchate. Its authors would never have dreamed of placing their bets on imperial revanchism and on the mythologization of the era of the Rurikides and Orthodox clericalism." Their "chief goal was the preservation of the ability to receive from the republics (including the RSFSR) the resources for the support of the enormous Soviet military-industrial complex and not into the transformation of the country into an extension of the oil and gas monopoly and a dressing room for offshores." Instead, those behind the putsch were seeking "to achieve the plan of Marshal Beria of 1953, including the fraternal unification of German, the liberalization of the collective farms (including transfer of private plots to urban residents for potato growing) and the 'rooting' of the republic leadership which would involve the preservation of ethnocracy under conditions of loyalty to the imperial center." "It is possible," Ikhlov says, "that this would have been a variant of fascism resembling Mussolini's." It is also "very possible" that such a regime would have relied on "militant anti-Semitism" as the basis for suppressing the liberal intelligentsia. "But" – and this is the most important thing, the Moscow commentator insists – "there wouldn't have been an upsurge of clerical obscurantism and sponsored anti-Ukrainianism. Instead, there would have been a continuation of the drivel about 'a single Soviet people.'"
Window on Eurasia — New Series: KGB Didn't Defend USSR in 1991 Because People were Against System, Former Senior KGB Analyst Says
aul Goble Staunton, August 20 – Nikolay Leonov, a retired KGB lieutenant general who in 1991 was in charge of that institution's analytic administration, said that KGB officers did not defend the Soviet Union during the August 1991 putsch because they knew that the people of the country were against the regime. There are several reasons that the KGB did not come out in support of the Soviet system, Leonov says. "Above all" it was because "we clearly understood the attitude of society which rejected the existing political leadership and also then-existing economic and political model of the state system" (versia.ru/v-avguste-91-go-po-moskve-xodili-60-tysyach-vooruzhyonnyx-chekistov). Not to take these attitudes into consideration, the former KGB general says, would have been impermissible. Indeed, earlier in 1991, he says, he advised KGB officers in Lithuania that they "must not fight with their own people" because "this would be a crime." "We must be true to the Motherland and not to that political circle which in this case is exercising leadership of the country." In other states, elections change governments because people change their minds. In the case of the Soviet Union, the KGB knew that the people were no longer on the side of the regime. The KGB of course had the capacity to act, but it chose not to, Leonov says. There were 60,000 armed KGB personnel in Moscow alone, but they did not leave their barracks or offices and on August 21, Leonov says, he ordered all the KGB personnel there to turn in their weapons for safekeeping lest something go wrong. It was very important, he continues, to send a clear message that he and the others intended "to participate in the political struggle only via peaceful means … Arms are not an argument in civilian arguments. For this, there exists the media and political parties, for this, there exists a parliament. That is where it is necessary to conduct a discussion." At the same time, the general says, he and his officers were prepared to defend the Lubyanka if the crowds had tried to storm it. That didn't happen because Boris Yeltsin calmed the crowd. Leonov adds that he and others protected classified information against those, like Oleg Kalugin who later went into emigration, who wanted to seize it. Leonov says he not only resisted their efforts but also destroyed the most sensitive documents, continuing a policy he had promoted without success in the former Warsaw Pact countries after 1989. Obviously, the former KGB general has an obvious interest in putting the best face possible on the activities of the organs during the coup. But much that he says rings true and helps to explain why the events in the Soviet and Russian capital did not dissolve into violence. As such, they are worthy of note.
Salisbury poisoning: Novichok survivor Charlie Rowley 'in hospital after going blind' | UK | News | Express.co.uk
THE VICTIM of the Amesbury Novichok poisoning was rushed back to Salisbury General Hospital on Saturday after he said he went 'blind'. But medics treating him said they do not believe his condition is related to the poisoning in July, which killed his partner Dawn Sturgess.
Novichok victim Charlie Rowley back in hospital after 'going blind' | The Week UK
His treatment is not thought to be related to the poisoning that killed his partner Dawn Sturgess in July
Novichok victim back in hospital with sight problems, says brother | UK news | The Guardian
Charlie Rowley is in intensive care and can't see, according to his brother Matthew
Novichok poisoning victim Charlie Rowley back in intensive care
Charlie Rowley's brother says he was "released too early – suddenly let out of hospital and found it difficult to cope".
Novichok survivor back in hospital with eye problem: Report – Channel NewsAsia
A Briton who fell critically ill last month after being exposed to a Soviet-made nerve agent was admitted back to hospital with eye trouble, his …
Novichok victim Charlie Rowley rushed to hospital after 'going blind' | Daily Star
SALISBURY Novichok survivor Charlie Rowley has been rushed to A&E after he reportedly "went temporarily blind".
Nerve agent victim Charlie Rowley rushed to hospital after 'going blind' | Salisbury Journal
NERVE agent survivor Charlie Rowley has been rushed to intensive care after going blind, according to reports.
The Aviationist » Iran Unveils New Domestic "Fourth-generation" Fighter Jet. But It's Just An Upgraded F-5F Tiger…
Iran claims it's a new aircraft, but it's just a +40 years old two-seat F-5…. Iranian media says that a new Iranian fighter jet was exhibited during the National Defense Industry show. Images released by various outlets show President Hassan Rouhani sitting in the cockpit of the new "Kowsar" plane, a "fourth-generation fighter", with "advanced avionics" and multi-purpose radar.
Iran Unveils New Domestic "Fourth-generation" Fighter Jet. But It's Just An Upgraded F-5F Tiger – Military & Aerospace Electronics
Iran claims it's a new aircraft, but it's just a +40 years old two-seat F-5 . Iranian media says that a new Iranian fighter jet was exhibited during the National Defense Industry show. Images released by various outlets show President Hassan Rouhani sitting in the cockpit of the new
Iran unveils first domestic fighter jet. It looks a lot like a US plane from the 1970s | South China Morning Post
President Hassan Rowhani said Tehran's defense programme is aimed at deterring an attack by the US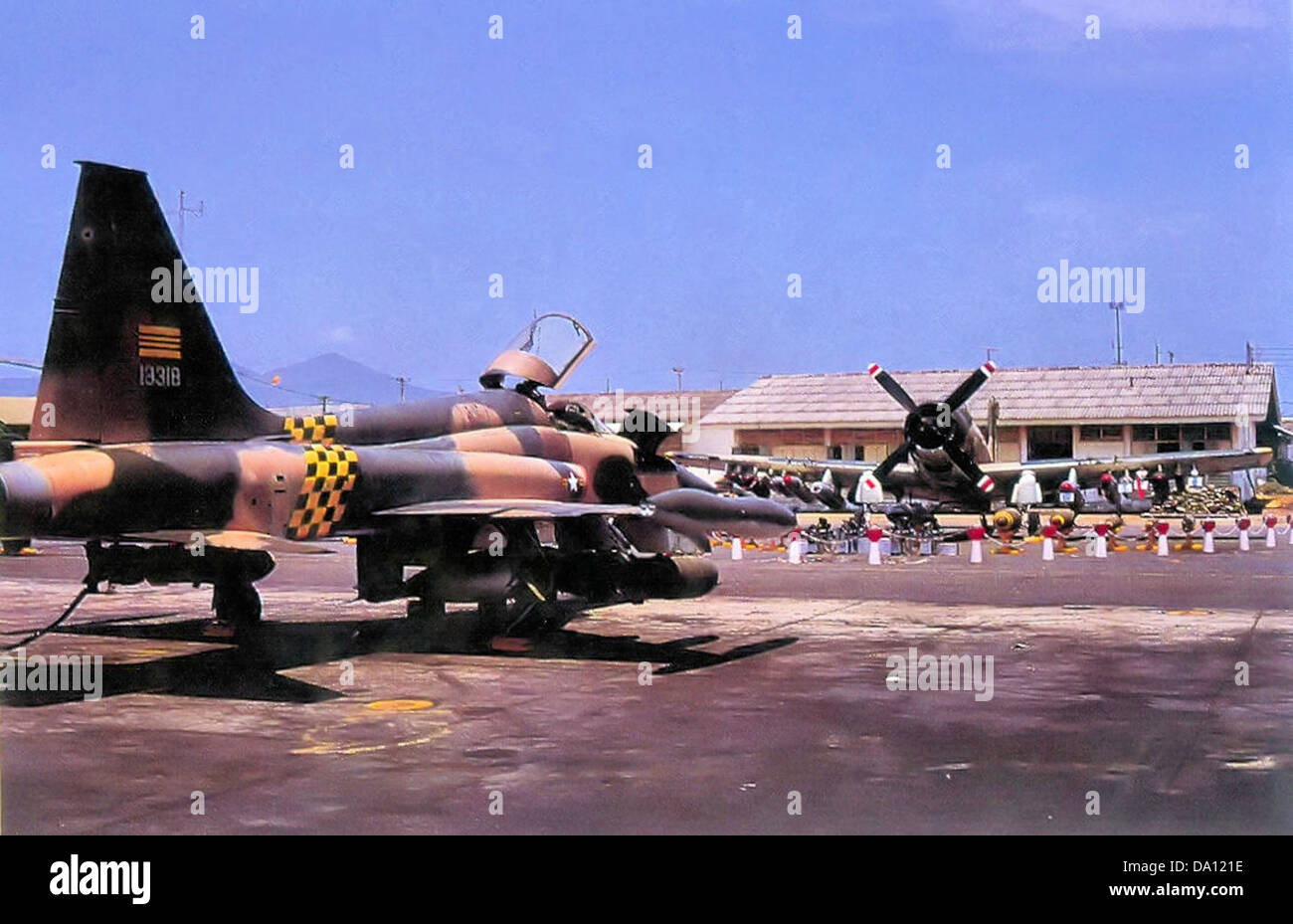 Iran unveils new domestic fighter jet | News | Al Jazeera
Images released by state media show President Hassan Rouhani sitting in the cockpit of the aircraft named Kowsar.
Iran unveils new domestic-made fighter jet – Iran – Haaretz.com
The Kowsar jet can carry a variety of weapons and will be used for short aerial support missions, state media report
President Warns Enemies of Heavy Cost of Attacking Iran – Tasnim News Agency
TEHRAN (Tasnim) – Iran's President Hassan Rouhani warned the enemies of the heavy costs of any military action against the country, saying the existing unity among the Iranian people, Leadership and the Armed Forces has made the Islamic Republic unbeatable.
Iran unveils 'domestic' fighter jet, says military power deters US | Euronews
Iran's state media says the Kowsar plane is "100%" locally made, as President Rouhani claims the country's military might prevents Washington from attacking it.
Iran aims to show 'power' at debut of twin-seat fighter jet
Iran displayed a new twin-seat fighter jet , saying it's all Iranian-made and with advanced avionics and is aimed at deterrence vis-a-vis the United States.
Iran's new Kowsar fighter jet unveiled by Rouhani
State television showed Iranian President Hassan Rouhani sitting in the cockpit.
Iran unveils new fighter jet with Washington in mind | Fox News
Iran displayed a new twin-seat fighter jet Tuesday, saying it's all Iranian-made and with advanced avionics and fire control systems. The country's president said it would enhance Tehran's deterrence capabilities in confronting Washington.
Iran inaugurates new, all-Iranian-made twin-seat fighter jet – CBS News
Iranian President Hassan Rouhani says aircraft will enhance Tehran's deterrence capabilities in confronting Washington
Two Men Indicted for Spying on Behalf of Iranian Government in U.S. – The Daily Beast
The two men targeted a Jewish facility and militant Iranian opposition group gatherings.
U.S. charges two men with serving as agents of Iran, monitoring Americans and a Jewish center – The Washington Post
Targets said to include U.S. members of an exile group that seeks regime change in Tehran.
Trump vows 'no concessions' to Turkey over US pastor – BBC News
"I think they're making a terrible mistake," he says of Turkey's refusal to free Pastor Andrew Brunson.
Erdogan invokes patriotism, Islam as lira remains under pressure | Reuters
President Tayyip Erdogan appealed to Turks' religious and patriotic feelings ahead of a major Muslim holiday on Monday, promising they would not be brought "to their knees" by an economic crisis that has battered the lira currency.
The stories, and the men, behind Turkey's downward spiral | TheHill
These are the interrelated stories of two clerics, a 2016 coup attempt, Turkey's economy and a political face-off between two ruling men with larger-than-life egos.
Here's Who Might Save Turkey From Trump
A look at some of the countries who might save Turkey as its currency tanks in a war of words with Washington.
Trump: Would Consider Lifting Russia Sanctions For Concession On Ukraine, Syria
U.S. President Donald Trump said in an interview with Reuters that he isn't considering lifting sanctions on Russia, but he would consider doing so if Russia gave him something he wants in Ukraine …
Russia news: Putin turns screw on EU over Syria migrant crisis | World | News | Express.co.uk
RUSSIA President Vladimir Putin has called on the European Union to contribute to the rebuilding of Syria to allow the millions of people forced out of the country by the civil war to return to their homes.
Putin Warns Merkel That Europe Can't Afford A New Syria Refugee Crisis | TIME – YouTube
TIME Published on Aug 20, 2018 Russian President Vladimir Putin said he plans to discuss "humanitarian aid" for Syria to help refugees return home, warning German Chancellor Angela Merkel that a renewed migrant crisis would be a disruptive burden.
Trump vows 'no concessions' with Turkey over detained US pastor
"I think it's very sad what Turkey is doing. I think they're making a terrible mistake. There will be no concessions," Trump said.
Turkey's been a poor excuse for a US ally for a long time now
In July, a deal to release an American minister jailed in Turkey came apart because, a White House official told the Washington Post, Turkey was changing the…