Steven Seagal has been appointed "special representative" for Russian-American humanitarian relations.
The report, below, was posted by Russian propaganda expert Igor Panarin on Facebook, today. New Special Representative of the Russian Foreign Ministry: martial arts master, film actor, bluesman, Buddhist. Seagal's appointment must be a source of pride to Russians, ignoring opinion that Seagal is a buffoon.
"The task is to promote the further development of Russian-American relations in the humanitarian sphere, including interaction in the field of culture, art, public and youth exchanges and more," the ministry said on its official Facebook page, according to a CNN translation of the post.
The reporting has been mostly straightforward. Here are global reports, in reverse chronological order.  Notice Sputnik, TASS, and RT are first.
This piece, by StopFake from 06 July 2018, is good. Steven Seagal – a foreign policy pundit, Putin's hope for better ties with America
This comment is fairly damning, and it's 11 years old. Steven Seagal is an aging Buffoon
Perhaps the most backhanded compliment Seagal has ever received,
In all honesty, Seagal is a serial con artist, a pathological narcissist, an insecure misogynist, a cowardly bully and a self-aggrandizing, deluded, languid, physically grotesque, psuedo-mystical madman. But most of all, hes the most ridiculous and entertaining man in the world, and for that I will always be an ardent fan. Never change, Steven. Never change. – https://www.quora.com/Who-would-win-in-a-fight-a-Navy-SEAL-or-Steven-Seagal
One must question the purpose behind Putin's appointment of Seagal as a "special representative" of Russia. 
He has no experience, training, or credibility
He has no access to the White House
He has no access or recognition by the US State Department
It would be an incredible waste of time on the part of US President Trump, to grant Seagal a meeting.  Perhaps Putin is purposefully trying to waste President Trump's time and wrap up some of his precious staff's resources? 
</end editorial>
---
---
New Special Representative of the Russian Foreign Ministry: martial arts master, film actor, bluesman, Buddhist
The press service of the Russian Foreign Ministry officially announced: "Steven Seagal has been appointed special representative of the Russian Ministry of Foreign Affairs on Russian-American humanitarian ties, the task is to contribute to the further development of Russian-American relations in the humanitarian sphere, including interaction in the sphere of culture, art, public and youth exchanges and so on".
66-year-old Stephen Frederick Seagal was born in Lansing, the capital of the US state of Michigan. On November 25, 2016, Russian President Vladimir Putin personally handed him the Russian passport.
Data on the national origin of the legendary militant star are extremely contradictory. But, in any way, a significant part of its roots are connected with Russia. "When the war began, emigrants moved to America from the Buddhist republics of Russia, including my grandfather, we do not know whether he was a Kalmyk or a Buryat." As a child, I was simply told "he was a Mongol", and now he does not have I remember that in the photos of his grandfather and his family there were people of oriental origin with slanting eyes, they had Mongolian hats.Maternally, I probably have Irish roots But, as you know, my mother was found in a box from under the shoes. your question, who she was, "Sigal says. Subsequently, he clarified that his ancestors came from Troitskosavsk (now the city of Kyakhta, administrative center of Kyakhta district of Buryatia). At the same time, Sigal's Hollywood career was indirectly helped by the allegations that his grandfather and grandmother on the paternal line were Jews named Siegelman from St. Petersburg.
From his childhood, Segal was engaged in martial arts. He lived in Japan for a long time, trained with the best Aikido masters, gained fame, opened his own school, has the 7th dan of Aikikai (means "exceptional technique") and the title of the Nashan. There he also made his debut in the film business – as an expert on Japanese fencing. In 1988, starred in the Hollywood film "Above the Law" ("Nico") and instantly gained worldwide fame and popularity. He was followed by the tapes of "Death in spite of", "He must be removed", "Marked by death", "In the name of justice" and, finally, a spectacular insurgent "Under the siege" – a box-office record holder for that period (so far, various Russian TV channels due to the constant attention of the public).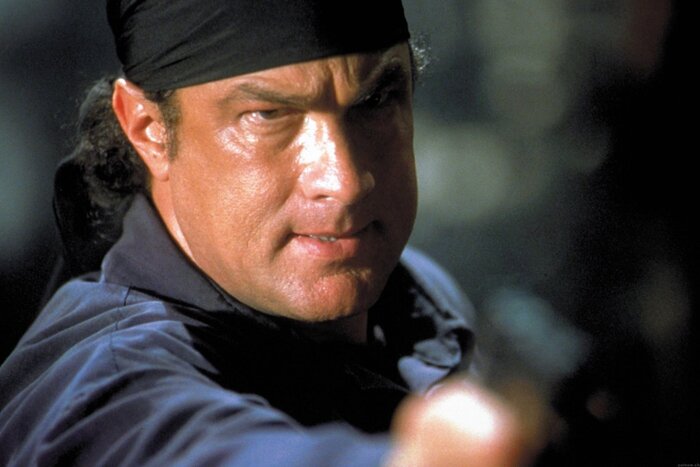 Buddhist in religion. Ambassador of the World Games of nomads. A classic womanizer. Father of seven children; married to the fourth marriage on a Mongolian lady named Batsuhine Erdenetuyaa. Passionate collector of weapons (more than 1000 units). Cultivates silkworms. He performs with his own blues band, plays the guitar perfectly (in particular, he played the national anthem of Sevastopol in the Sevastopol, for which his group was banned from participating in the Estonian music festival). Likes to emphasize: "Filming in films occupy all my time, but music is my first love." Big City Blues magazine called the game of Sigal on the guitar "exceptional", and himself – "an original and talented musician."
Stephen Sigal has regularly visited the Russian Federation for many years. He supported the reunification of the Crimea with Russia, is a supporter of the people's republics of Donbass; is listed in the black list of the banner site "Peacemaker". In addition to Russian citizenship, has the honorable citizenship of Serbia. In 2018, attended the inauguration of Vladimir Putin and the Victory Parade on Red Square.
Source: http://zavtra.ru/events/novij_spetcpredstavitel_mid_rf_master_boevih_iskusstv_kinoaktyor_blyuzmen_buddist