It appears Russia is, yet again, further encroaching on Ukraine. Now they are bound and determined not only to impede Ukraine access to its own ports, but they appear to be taking over international waters. 
Russia has been preparing for this for some time, here is a report from March 2018,
Russia is attempting to add another tool to its Political Warfare box, non-lethal maritime warfare, choking Ukraine's vulnerable ports on the Sea of Azov. 
</end editorial>
---
---
FSB of Russia detained 7 vessels going to Berdyansk and Mariupol
Monday, July 9, 2018,
On July 9, the Federal Security Service of Russia detained 7 merchant vessels in the Sea of ​​Azov that were going to Ukraine.
This was announced by the Deputy Chairman of the Verkhovna Rada Oksana Syroid on July 9 during the conciliation council.
"Today, the FSB of Russia in the Sea of ​​Azov detained seven merchant ships going to Mariupol and Berdyansk," she said.
The Syroid added that a few days earlier the Russian FSB had detained 4 ships.
"This threat was prudent, but no one worked with it, this threat only means an increase in military aggression.This is the continuation of the war, and today these facts indicate that in fact the president and the government did nothing to warn, or at least to reduce this threat.This is the personal responsibility of the president as commander-in-chief, "said Syroid.
As the head of the project "Maidan of Foreign Affairs" Andrei Klimenko in Facebook, 7 vessels FSB intercepted not on July 9, but on July 8.
"On July 8, from 00:30 to 23:00, the Coast Guard guard boats of the Federal Security Service of the Russian Federation intercepted six (6) ships going to / from Berdyansk or Mariupol (the intercept zone was marked on the map with a yellow marker) .Another vessel was intercepted about 1 : 00 on the night of 09.07.18 in the same area, "he wrote.
https://www.facebook.com/plugins/post.php?href=https%3A%2F%2Fwww.facebook.com%2Fpermalink.php%3Fstory_fbid%3D1583614475101093%26id%3D100003576664760&width=500
According to Klimenko, we are talking about ships from Romania, Croatia, Switzerland, Turkey, Lebanon, Egypt and Ukraine.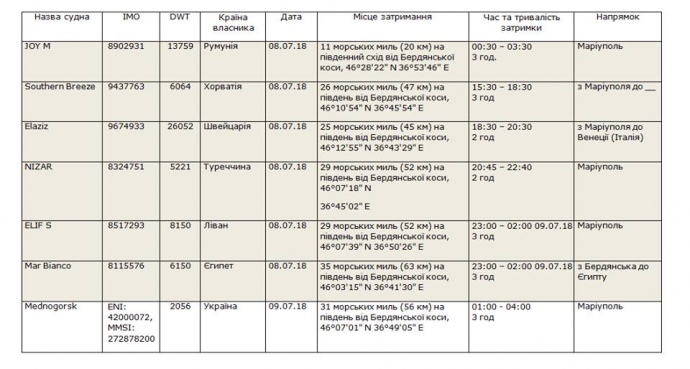 Those who have and have the means to protect export routes to / from Ukrainian ports in the Azov Sea, as before, for more than 2 months, pretend that nothing terrible is happening," Klimenko summed up.
Irina Balachuk, UP