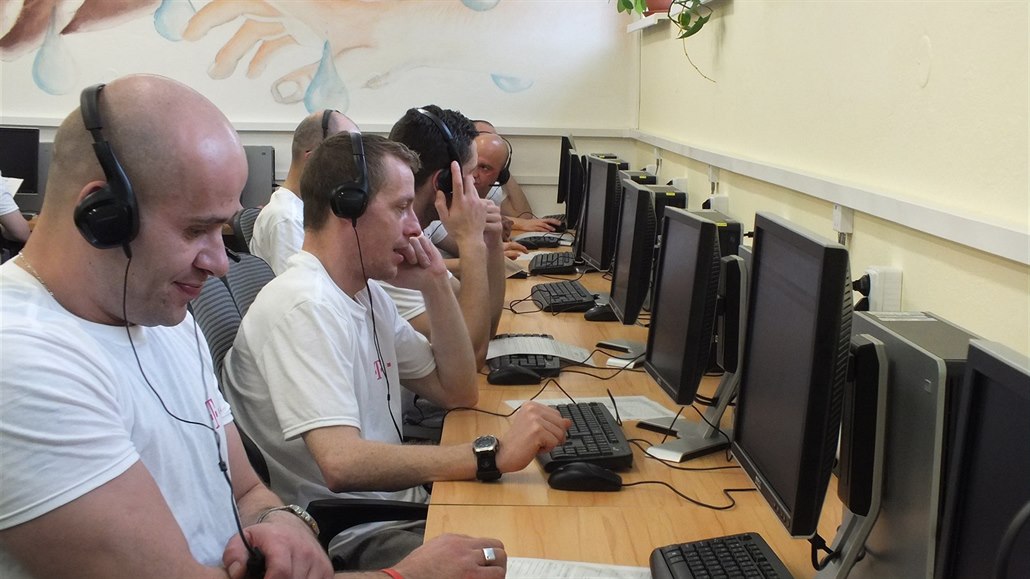 At first I found this shocking. As shocked as I was, I thought this has got to be a ruse, a joke, fake news, or corporate disinformation.
I was wrong.   I apologize for the two-year delay, but wow!
The "wine center" is Vinarice prison.
T-mobile itself confirmed it.
Calling services

Name ID

T-Mobile offers customers the ability to add the Name ID feature to your account. Name ID is a service that identifies calls from any caller–including the name, number, and location of the person that's calling–even if you don't have the caller's information stored in your phone. Name ID may also display one of the following categories to help you screen your incoming calls:

Charity Call ― Call from non-profit companies with intent to inform or solicit information or money.
Informational ― Calls from a number meant to inform you of an already established business relationship transaction such as package delivery, appointment reminder, order confirmation, conferencing, etc.
Nuisance Likely ― Calls from a nuisance caller not otherwise categorized.
Political Call ― Calls with intent to pass a political message to the end user.
Prison/Jail ― Call from a number known to be a Prison/Jail Facility.
</end editorial>
---
---
(Translated from Czech. The names are real, I swear!)
T-Mobile will call you out of prison. The wine cellar will launch the call center
Prisoners in the call center will offer various services and products, including 
T-Mobile
 , but also other companies. During the call, they will only have basic customer information, practically just ascertaining whether they are interested. The remainder will be taken care of by employees outside the prison.
Prisoners will face severe demands in the selection process. The applicant for this position must successfully complete a retraining course accredited by the Ministry of Education, Youth and Sports for the work of the call center operator. It counts on the selection of 400 prisoners, of which 90 people will be selected after retraining and a series of interviews. The suitability of their classification will be decided by an expert committee composed of qualified employees of the wine cellar.
Convictions to work in the call center have a contract with the prison, and they can pay both their debts and the cost of their sentencing or support their family. Involvement in this work is also supposedly a means of reducing the recidivism of prisoners. For the original call center project (see Boxing), the recidivism of those employed in this position has fallen to 18%, compared with a national average of nearly 70%.
"Employing convicts is my top priority. From foreign experience, we know that good working habits are one of the main weapons against recidivists. My effort, then, is for all convictions to work to work, "said Minister of Justice Robert Pelikan , hoping for the project .
"Thanks to their work, the convicts acquire or deepen the working habits that help them find a job after their release into civilian life, engage in full-fledged life and avoid further crimes," says Dohnal,Director General of the Prison Service .
The project of the prison call center was also commented by T-Mobil Director General Milan Vašin: "We believe that this social innovation will take us alongside advanced, modern countries, where the employment of convicts is quite common."
The Wine Cellar Prison is located in the Central Bohemian Region near Kladno. Currently it has capacity for 900 prisoners in 24 sections of 163 bedrooms.
Source: https://mobil.idnes.cz/vinarice-callcentrum-05s-/mob_tech.aspx?c=A160829_123630_mob_tech_oma