Anonymous expert compilation, analysis, and reporting.
</end editorial>
---
---
Russia continues its alternate reality campaign around the Salisbury attack. Russia now states it will not supply the S-300PMU2 to Syria, but Peskov notes that "Russia's refusal to supply S-300 missile systems to Syria is not connected with the visit of Israeli Prime Minister Benjamin Netanyahu to Moscow". Russia alleges by proxy that Israel is trying to embroil the US in war with Iran, while the barrage of nonsense from Tehran could compete with the usual nonsense from Muscovy. Murashov and Yakovenko make insightful observations on Russia mythologising WW2, while Pres Poroshenko explains some ground truths about Soviet forces in WW2.
No significant reports on Salisbury.
More US sanctions on Iran, while Iran threatens  "industrial-scale enrichment". Much speculation on Israel's role in the US exit from the Iran deal.
A great many reports on the Israeli airstrikes into Syria, including footage from the nose camera of an Israeli PGM, probably a SPICE or Popeye, impacting a Syrian 9K96 Pantsir S1 i.e. SA-22. Israel tells Assad to expel the Iranians from Syria. An interesting challenge to Assad as the regime depends critically on Iranian and Iranian funded Hezbollah troops. Muscovy of course is not happy with Iranian influence in Damascus, when it comes at the expense of Muscovy's influence. Iranian IADS survey done a year ago by Sengupta is a good illustration of the collection of US, Soviet, Russian and Chinese equipment intended to defend Iranian airspace.
---
TASS: World – No understanding on Skripal case reached at meeting with Lavrov — top German diplomat
From Germany's point of view, Russia has shown little willingness to take part in the constructive investigation of the Skripal case
Russia hits out at Britain over continued blocking of access to poisoned Skripals
Russia's ambassador says relations between Russia and the UK are "very low" after his country was blamed for the poisoning.
Russia's Delivery Of s-300 To Syria Not Connected To Netanyahu's Visit – Kremlin Spokesman | Independent Newspapers Nigeria
Kremlin spokesman, Dmitry Peskov, on Friday said it would be incorrect to connect the potential delivery of Russia's S-300 surface-to-air missile systems to Syria with Israeli Prime Minister, Benjamin Netanyahu's, Wednesday visit to Moscow.
UAWire – Kremlin confirms Russia does not intend to supply S-300 missile systems to Syria
Russia's refusal to supply S-300 missile systems to Syria is not connected with the visit of Israeli Prime Minister Benjamin Netanyahu to Moscow, as stated by the press secretary of the Russian President, Dmitry Peskov, while commenting on the statement of Putin's aide on Military and Technical Cooperation ,Vladimir Kozhin in an interview with the newspaper Izvestia. "Technically, it is absolutely wrong to link this [Kozhin's words] with Netanyahu's visit, because the interview was given before Netanyahu's visit," the Kremlin spokesman said. Peskov also recalled that Russia had never announced such supplies, but only stated that, in connection with the attacks by the United States and its allies on Syria, it reserves the right to do everything necessary in this situation. In an interview published on Friday, Kozhin said that Russia does not supply S-300 air defense missile systems to Syria and that there are no negotiations on such supplies. He added that the Armed Forces of the Syrian Arab Republic "have everything they need". On April 16, Russian Foreign Minister Sergei Lavrov said that Russia was ready to consider all the necessary steps to strengthen the defense capability of Syria, including deliveries of S-300 systems. On April 23, the minister told reporters that the issue of deliveries of S-300 systems to Syria had not yet been resolved, but Russian President Vladimir Putin discussed it with the Russian Defense Ministry "in the context of preventing the Syrian Arab Republic from being adequately prepared for aggressive acts, like the one that took place on April 14".
After Netanyahu met Putin, Russia halts S-300 missile defense to Syria – Business Insider
Israel has made repeated efforts to persuade Moscow not to sell the S-300s to Syria, as it fears this would hinder its aerial capabilities against arms…
S-300 Deliveries to Syria Not Announced – Kremlin Spokesman – Sputnik International
There's been much speculation circulating in the media around the possibility of Russia supplying its S-300 surface-to-air missile systems to Syria after the latter was attacked by three Western nations – the United States, France and the United Kingdom – in response to an alleged use of chemical weapons by government forces in the city of Douma.
Russian official: S-300 air defense system not being negotiated with Syria
Vladimir Kozin, Vladimir Putin's advisor on military cooperation said during an interview to the Russian newspaper Izvestia that Russia is not negotiating with Syria over the supply of the S-300 air defense system. "The Syrians have everything they need to face their enemies," Kozin added.
Russia, after Netanyahu visit, backs off Syria S-300 missile supplies | Reuters
Russia is not in talks with the Syrian government about supplying advanced S-300 ground-to-air missiles and does not think they are needed, the Izvestia daily cited a top Kremlin aide as saying on Friday, in an apparent U-turn by Moscow.
Moscow says it won't supply advanced air defenses to Syria | The Times of Israel
Days after Netanyahu visits Russia and Israel strikes on Iranian bases, aide to Vladimir Putin says there's no talk of sending S-300 missiles to Assad
Russia still mulling S-300 delivery to Syria
BEIRUT, LEBANON (5:20 P.M.) – Russia is still mulling over the idea of delivering the S-300 anti-missile system to Syria, the Russian Deputy Defense Minister Alexander Fomin stated on Wednesday. According to Fomin, no decision has been made yet regarding the supply of these advanced air systems, despite much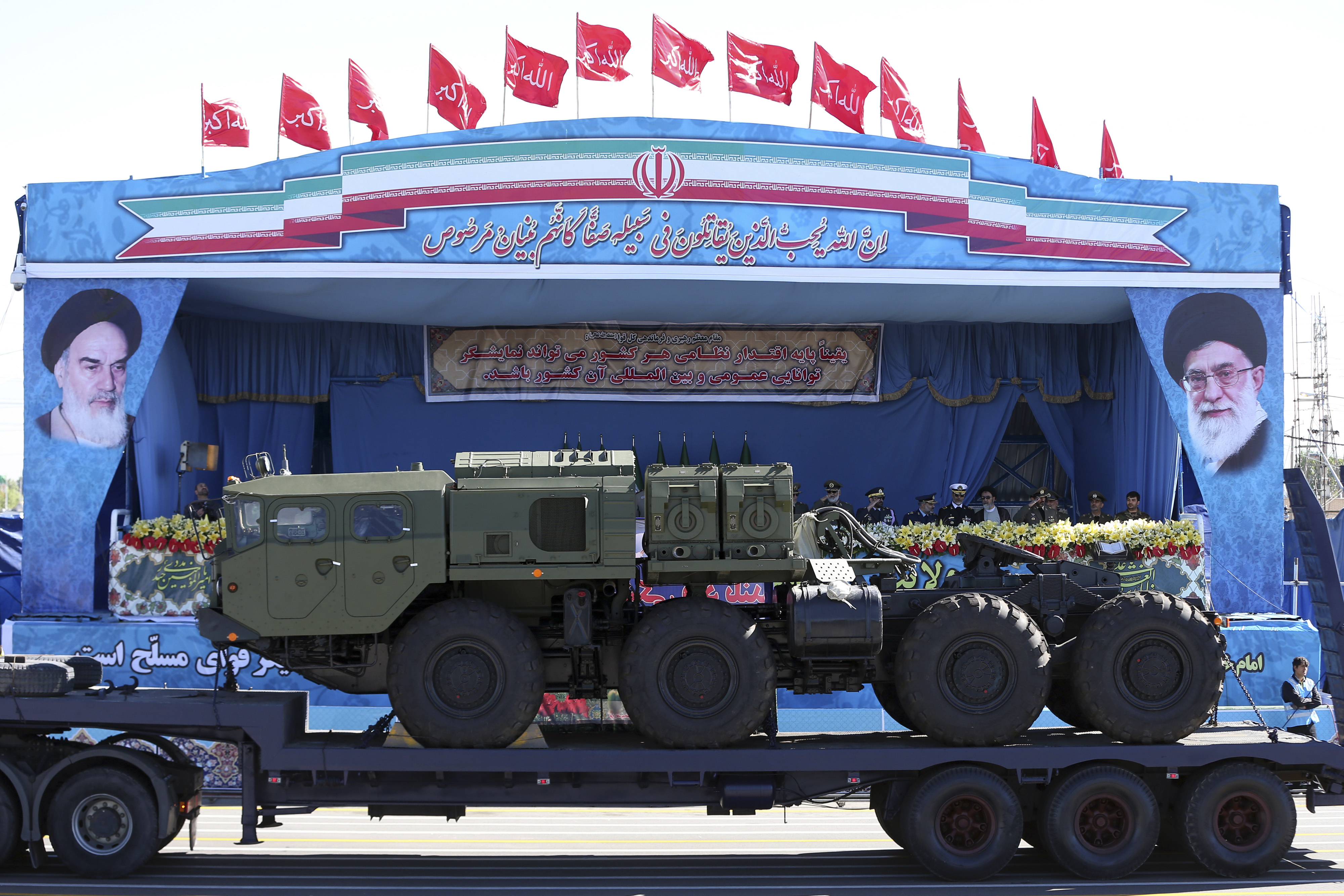 Israel Using 'Planned Provocations' to 'Get the US into a War With Iran' – Sputnik International
The escalation of violence near the Golan Heights and Damascus this week is part of a neoconservative plan to lasso the US into war with Iran, an expert told Sputnik.
28 Israeli jets fired about 60 rockets in overnight strikes on Syria – Russian MoD — RT World News
Some 28 Israeli aircraft fired around 60 air-to-surface rockets in a massive overnight strike in Syria, according to the Russian Defense Ministry. Syrian air-defense systems managed to intercept more than half of the missiles.
Damascus: Israeli Strikes Indicate 'New Phase of Aggression' Against Syria – Sputnik International
According to the Syrian Foreign Ministry, Israel's latest move towards a "direct confrontation" indicates the start of a "new phase of aggression" against Syria, the SANA agency reported.
Iranian MP denies Iran has bases in Syria; calls Israeli claims 'fake' – Middle East – Jerusalem Post
Mohammad-Javad Jamali Nobandegani described the IDF's announcement of airstrikes against Iranian military positions early Thursday morning as "fake scenarios."
Iran says Israel launched Syria strikes on false 'pretexts'
Iran on Friday condemned Israel's air raids in Syria, saying they had been launched on "invented pretexts". "Iran firmly condemns the attacks by the Zionist regime on Syrian territory," said foreign ministry spokesman Bahram Ghasemi, cited by semi-official news agency ISNA.
Iran accuses Israel of aiding terrorists in Syria in UN letter – Middle East – Jerusalem Post
"Israeli reckless action in this instance only helped [ISIS] and other terrorist groups in Syria."
Iran condemns wave of Israeli air strikes in Syria – BBC News
In its first comments since Thursday's strikes, Iran backs Syria's "right to defend itself".
Iran's Rohani: Tehran does not want 'new tensions' in region – Middle East News – Haaretz.com
Iranian official denies Tehran behind attack: 'We're not in Syria' ■ 'Diplomacy cannot help Iran, resistance only way to confront enemies,' Revolutionary Guard says
The Week In Russia: A Tale Of Two Cities; 'Stale Past, Stolen Future'; Meet The New Boss; 'Neo-Brezhnevian Putinism' – To Inform is to Influence
My synopsis for Russia?  More of the same. This is reinforced until the very last sentence of the report.  Yes, it's more of the same, but now Putin is attempting to legalize 'President for life'.  Not quite a dictator, not a tsar, and not really a democratically elected President.  Putin rules behind a facade. It's…
The Week In Russia: A Tale Of Two Cities; 'Stale Past, Stolen Future'; Meet The New Boss; 'Neo-Brezhnevian Putinism'
Starting a new term, President Vladimir Putin turned to the past for symbols of glory and promised Russians a brighter future – but kept the "tandem" intact and left the country guessing abou…
Window on Eurasia — New Series: Putin Narrows Victors in World War II to Himself Alone, Yakovenko Says
Paul Goble Staunton, May 11 – With the help of his propaganda machine, Putin has reduced in the minds of many Russians "the great victory over Nazism" from one by "a coalition of victor- countries to the actions of a single one, the USSR, then to one part of that, Russia; then to one man, first Stalin and then his authoritarian successor, Putin" himself, Igor Yakovenko says. This "privatization of victory" has offended many abroad, including Belarusian leader Lukashenka who is especially upset by Putin's not so implicit suggestion that other countries, the Balts and Ukraine in particular but possibly Lukashenka's own as well are somehow "'heirs of nazism'" (kasparov.ru/material.php?id=5AF47B3F45CE9). To promote the link between the current Kremlin leader and victory in a war that ended before he was born, Yakovenko says, "the Putin illusionists in recent years have set the inauguration of Putin on the day immediately preceding May 9. That was the case in 2012; and it was the case in the current year, 2018, as well." Doing so, the Russian commentator continues, has the effect of eliding the two events into one. But unlike Stalin, Putin over the last 18 years has not achieved any great victory or committed any great crime of the kind that could and would be presented in Russia as a victory whatever his propagandists say. Efforts "to portray the annexation of Ukraine's Crimea, the war in the Donbass and the participation in the genocide of the Syrian people look unconvincing," Yakovenko says. Trying to make Poroshenko into Hitler simply doesn't work. Moreover, "the great disappointment of television hawks, Putin clearly doesn't intend to begin a real big power in which millions of Russians would die," even though that would give him "a chance to crate a real cult." As a result, the commentator continues, the Kremlin propagandists have to work with what they have at hand. After the inauguration, the Putin cultists promoted the new May decrees as a focus. In these, "Putin ordered the Russian economy to become one of the give largest in the world, poverty to be cut in half, and life expectancy of Russians to grow to 78." Achieving these goals is going to be tough even with the falsification opportunities the Kremlin possesses. One of the reasons is that Putin despite all the efforts of those around him has a record. In 1999, he "ordered" that Russia achieve the level of GDP per capita that Portugal, the poorest country in "'old' Europe" has. He didn't manage that. And he has called for Russia to rise to the top five more than once – and not at any time achieved that either. "True," Yakovenko says with obvious irony, "Putin has a completely new prime minister with great prospects, Dmitry Medvedev, and also an absolutely new deputy prime minister [Vitaly] Mutko, the man who lead Russian sports into total isolation and the greatest shame in history. Now he has become the chief in Russia for regions and construction." Fortunately for Putin, there are some in Moscow who are bringing their creative efforts to bear. Three days ago, Oleg Matveychev said that if one includes Russia's shadow economy in the GDP, then Russia is already in the top five. According to Yakovenko, if one does that, Russia may already be "in first place." "But possibly the best explanation of how Russia will fulfill Putin's May decree has been given by director Sergey Kurginyan," the commentator says. Kurginyan says "Rus was born by a miracle, it has existed a millennium by a miracle … and if it continues to exist, "we will need [another] miracle." Russia really does need a miracle, Yakovenko says. "But not in economics: The most necessary miracle would be if Russia in the foreseeable future changed those in power, and Putin and his accomplices will be brought before a court. History shows that for the realization of such 'a miracle' will be required a great deal of effort both within the country and beyond its borders."
Window on Eurasia — New Series: Putinites Shift Victory Day Message from 'Never Again' to 'We Can Repeat Our Victory'
Paul Goble Staunton, May 10 – As the last remaining World War II soldiers pass from the scene – and the youngest of them would be over 90 – Vladimir Putin has shifted their message to the world from "never again" to an aggressive "we can repeat our victory" from people who played no part in that victory or suffered in any way from the horror of conflict. But in the face of all this militant bravado, many Russians, including those who originally created the Immortal Regiment idea that the Kremlin has hijacked, are in small ways maintain their dignity and the dignity of those who fought and died so that their children and grandchildren wouldn't have to. And just as they are keeping alive the memory of their forefathers, so too all those who care about Russia and its future after Putin need to take note of and keep alive what they are doing. Otherwise, the Kremlin leader will win as he often has not on his merits but because far too few are prepared to actively oppose him and call his bluff. In a comment on the Kasparov.ru portal, Aleksey Murashov says that with each passing year, Victory Day is becoming more offensive and off-putting because it is becoming ever less its original self, a day of sadness and memory and of reflection that those who died on the other side died as they did. "Everyone wanted to live and not to fight for world greatness," he says (kasparov.ru/material.php?id=5AF29574DA91D). "But the powers that be weren't interested in both sides then or now. And therefore we see each May 9 become full of more hysteria and falsehood under the sauce of patriotism. Who needs this? Only those in power. And they exploit the image of Victory and not of Memory or Suffering. But what was Victory in that way? It was when someone was able to Defeat Death." Only one country today continues to glory in Its Victory, its Great Victory," Murashov says. "It isn't interested in the victims of that war, and when it does consider the losses, it considers only 'its own.' This country just as before divides the entire world into its own and aliens – and with the passing of years, it does this ever more so." And all this, he says, means that "today, the most insane of the patriots instead of saying 'never again,' which is what people said for many years after the war, are crying in ecstasy 'we can do it again.' What is this?" Murashov asks rhetorically. "This is insanity." While one wouldn't know it from the official Russia media or the speeches of Putin and his minions, many other Russians feel the same way. Igor Dmitriyev and Sergey Lapenkov, who in 2012 developed the idea of "The Immortal Regiment" before it was "privatized" by the state and used in ways they never intended (sibreal.org/a/29122892.html). On the official site of their project, there are now more than 406,000 names. They are overwhelming male and soldiers; and so the two of them decided to launch a subpage devoted to the women who waited for them and fought other battles on the home front of World War II in the Soviet Union. Lapenkov says that "we want to remember the stories of these women" and thus to remind everyone that "'the Immortal Regiment' is not about war, but about peace and about peace. Because each woman who awaited the return of a soldier from the war, wanted him alive, wanted that this war end so he would never have to leave home again with arms in his hands." What people in power think is a matter of indifference to us, he continues. "We have not set ourselves political or doctrinal tasks. We have a very simple goal: we would like that as many people who suffered and lived in those times be kept in the memory of their descendants." Obviously, he and his colleagues are among the sanest; those who talk about a repetition aren't.
UAWire – Poroshenko: Nazism was defeated primarily by Ukrainian soldiers
Without the millions of Ukrainian soldiers on the World War II battlefields, the world war would not have ended, as stated by Ukrainian President Petro Poroshenko on May 9 in a speech at the National Museum of the History of Ukraine in the Second World War in front of soldiers from the Armed Forces of Ukraine. "Without the millions of soldiers, the Ukrainian soldiers on the World War II battlefields, the world war would not have ended. It would probably have lasted a lot longer," the president said, as reported by his press service. Poroshenko highlighted the significant contribution of Ukrainians towards the victory over Nazism in World War II. According to him, marshals and generals of Ukrainian extraction led almost half of the 15 Russian fronts – roughly 300 Ukrainians. "But, according to my deep conviction, Nazism was won primarily by the Ukrainian soldier. A soldier, whatever his nationality. A soldier who did not fight for Stalin, but for his land, for his territory, for his family," Poroshenko emphasized. The president also emphasized that, due to its geographically strategic position, Ukraine was one of the primary staging areas of the world war, where regular troops engaged in combat over the course of 35 months. "Granting the necessary tremendous role played by all countries of the anti-Hitler coalition in defeating the Third Reich, we are definitely proud of the contribution of Ukrainians towards achieving total victory and saving the world from Nazi subjugation. Our people, bled white by pre-war collectivization, the Holodomor, and the great terror of the 1930s, lost every fifth daughter and son in the flames of the worldwide human catastrophe," Poroshenko observed. The president emphasized that Ukraine must be aware of and remember the feats of Ukrainians on all fronts of the war – on the banks of the Dnieper, Donets, Volga, Ladoga, Vistula and Danube, in the skies of England, the deserts of North Africa and on the coast of Normandy and the Pacific islands. "Today we honor our esteemed citizens, the people of the senior generation: the soldiers of all armies who defeated the Nazis, those who worked the rear, the war children, the company staff members and the martyrs of the Nazi concentration camps,"the president said. On May 8, Ukraine observed the Time of Remembrance and Reconciliation. Since 2016, the country has observed the Day of Victory over Nazism in World War II, a holiday which replaced Soviet Victory Day.
Russia's New State Armament Programme: Implications for the Russian Armed Forces and Military Capabilities to 2027 | Chatham House
While Western observers should be prepared to see Russia's armed forces become more capable over the next decade, they should avoid exaggerating the threat posed by these developments.
SpinWatch publish confidential media 'D-notices' on the Skripal case | CommonSpace
Spin Watch co-founder: D-Notices are an attack on the very idea of a "free media" THE public interest investigations group SpinWatch has published two private and confidential 'D-notices' sent to the press, both relating to the poisoning of Sergei and Yulia Skripal in March. 'D-notices', officially known as DMSA-Notices, are notes from the UK Government to the British media
Iran vows to pursue 'industrial-scale enrichment' if nuclear deal fails – CNN
Iran says it is ready to restart nuclear enrichment on an "industrial scale" in the wake of the US decision to abandon the deal that curbs the country's nuclear ambitions.
Russia, Germany Call For Iran Deal To Be Preserved
The Russian and German foreign ministers say they are working to salvage a landmark nuclear agreement with Iran after President Donald Trump announced that the United States would leave the deal an…
US pressures Iran with new sanctions over 'malign activity' – BBC News
Six people and three companies are sanctioned over alleged ties to Iran's Revolutionary Guard Corps.
U.S. Raises Pressure on Iran With Sanctions on Currency Exchange – WSJ
The U.S. took a step toward cutting Iran off from the global economy, levying sanctions on a financing network and accusing the country's central bank of helping funnel U.S. dollars to a blacklisted elite military unit.
United States and United Arab Emirates Disrupt Large Scale Currency Exchange Network Transferring Millions of Dollars to the IRGC-QF | U.S. Department of the Treasury
U.S. Issues Sanctions on Iran-Linked Currency Exchange Network – Bloomberg
The U.A.E. joined the U.S. to disrupt the network.
US should support forces seeking a new Iranian government | Fox News
The Iran nuclear deal is dead, so now what?
Iran deal exit: With Netanyahu's backing, Trump sought to shatter Obama's legacy – Israel News – Haaretz.com
The question now is if one-crisis city Washington has the inability to carry out long-term planning ■ Meanwhile, the IDF's blow to Iran in Syria was severe. But Israel mustn't become overconfident
Arab Newspaper: Russia Warned Iran about Israel's Plan to Attack | The Jewish Press – JewishPress.com | David Israel | 26 Iyyar 5778 – May 11, 2018 | JewishPress.com
At Putin's Parade, Netanyahu Seeks Understanding on Iran – WSJ
Israel's prime minister joins Russian President Vladimir Putin for his country's commemoration of the Soviet victory against Nazi Germany, seeking to make sure that Russia doesn't bundle Israel's security concerns into its broader conflict with the West.
Israel will bitterly regret Bibi's bad bet on Putin – Israel News – Haaretz.com
As he meets the Russian president yet again in the wake of Trump's Iran deal exit and escalating tensions over Iran in Syria, Israel must confront the truth: Netanyahu's policy of kowtowing to Moscow isn't working
Why Netanyahu Really Wanted Trump to Scuttle the Iran Deal | The New Yorker
Bernard Avishai writes about the actions of the Netanyahu government surrounding the Iran nuclear deal; Netanyahu is both anticipating a crisis and helping to precipitate one.
Turkey, US Could Head for Collision Over Iran Nuclear Deal
Fears over economic and regional instability following Trump's withdrawal from Iran nuclear deal threaten to put Ankara and Washington on collision course
Avigdor Liberman to Assad: Boot the Iranians out, for your own good – Middle East – Jerusalem Post
Defense Minister Liberman warned against being too exuberant over Thursday morning's successful mission.
UAWire – Netanyahu: Israel's actions in Syria are not directed against Assad's army
Israeli Prime Minister Benjamin Netanyahu said that Syrian government troops were not originally the target of the Israeli Air Force, but were under attack because they opened fire on Israeli military aircraft. According to him, Tel Aviv sent a "clear message" to Damascus in advance, demanding that it not interfere with the Israeli Air Force's attacks on Iranian military facilities in Syria. "Our actions are directed against Iranian targets in Syria, but if the Syrian army attacks us, we will take action against it. This is exactly what happened," Netanyau said. He added that, in addition to the Iranian forces in Syria, several Syrian anti-aircraft missiles, which were fired at the Israeli Air Force, were hit by Israeli aircraft. The prime minister noted that Israel suffered no losses during the operation.
The Latest: Israeli DM urges Assad to get rid of Iran forces
BEIRUT (AP) — The Latest on developments in Syria (all times local):
Netanyahu says Iran crossed red line, warns Assad against helping Tehran – Middle East – Jerusalem Post
"Iran crossed a red line, and we responded proportionally," Netanyahu said in a Facebook post.
UK's May phones Israeli PM over rocket attacks
Britain strongly condemns Iran after Israel claims Tehran fired rockets from Syria on Israeli forces – Anadolu Agency
UAWire – Israeli missile destroys Russian anti-aircraft system in Syria
The Israel Defense Force (IDF) released a video in which an Israeli Spike NLOS [Ed: actually a SPICE GBU] missile hits a Pantsir-S1 missile defense system, which was sent …
Israeli Air Force on Twitter: "These are aerial images of Iranian sites in Syria that the IDF targeted in the overnight strike in response to rockets that Iranian Forces fired at Israeli territory… https://t.co/IsnTQLdFNT"
Israeli Air Force on Twitter: "Watch: An IAF attack on a Syrian SA-22 battery after it attempted firing at IAF aircraft… "
Israeli Air Force (@IAFsite) | Twitter
IDF pictures show targeted Iranian intel sites in Syria | The Times of Israel
Day after Israeli strikes, army releases photos of several facilities bombed, including Quds Force military site and logistics center
Israel: Most of Iran's Military Outposts in Syria Destroyed (VIDEO)
Tensions between the two countries have escalated dramatically since the U.S. left the nuclear agreement with Iran and said it'd reimpose sanctions.
Actionable Intel: Defense News Roundup For May 10th, 2018 – The Drive
From Israel's massive counter-strike to broken bearings on the Navy's new supercarrier, we roundup all of today's military news so you don't have to.
Avigdor Liberman: We hit almost all Iranian infrastructure in Syria – Middle East – Jerusalem Post
"If Iran hits us with rain – we will hit them with a deluge," the defense minister said hours after Israel struck Iranian targets in Syria.
The Latest: Israeli Ambassador Calls on UN to Condemn Attack | World News | US News
JERUSALEM (AP) — Israel's U.N. ambassador is calling on the U.N. Security Council and the secretary-general to immediately condemn Iran's missile attack and demand that Tehran remove its military presence from Syria.
Israel Launches Massive Military Strike Against Iranian Targets In Syria
The Israeli military said it struck dozens of Iran-linked military targets in Syria on Thursday in response to rocket fire, marking a significant escalation in regional hostilities a little more than a day after the United States withdrew from the Iran nuclear deal.
Iran launched an attack on Israel — and it got badly beaten and internationally abandoned | Business Insider
Iran launched a missile strike on northern Israel late Wednesday night, with 20 Grad and Fajr rockets taking off from Syria in what was widely seen as retaliation after months of Israeli airstrikes punishing their forces. Israel's response reportedly crushed Iranian forces in Syria. After the attack, not even Iran's allies came to its defence, with even Bahrain condemning Iran's attack, though Iran was badly punished for it. Now, Iran's only recourse may be to silently take the beating or unleash Hezbollah for all-out war on Israel.
Israel strikes back at Iranian aggression, while Iran lies and pretends it won a victory | Fox News
Israel responded forcefully early Thursday to about 20 Iranian missiles launched from Syria just after midnight local time against the Jewish state – and handed Iran a painful lesson in strategic deterrence.
Israel strikes 'nearly all' Iranian infrastructure in Syria after Iran rocket attack, minister says | Fox News
Israel and Iran reached the brink of full-scale war Thursday as the Islamic Republic's unprovoked rocket attack on soldiers in the Golan Heights gave way to an unprecedented Israeli counter-strike that targeted nearly all Iranian infrastructure inside Syria.
Israel Hits Iranian Targets in Syria as Shadow War Bursts Into Open – The New York Times
Israel said it had dealt Iran a severe blow in Syria after a failed Iranian rocket barrage against Israeli military posts in the Golan Heights.
In major escalation, Israel strikes Iranian military targets in Syria after rocket attacks – Chicago Tribune
The Israeli military on Thursday said it attacked "dozens" of Iranian targets in neighboring Syria in response to an Iranian rocket barrage.
Is Iran and Israel's confrontation the start of a fresh Middle East crisis? – CNN
Israel and Iran have deliberately escalated their conflict over the past month, possibly paving the way for more instability and violence in the Middle East.
Israel's takedown of Iranian targets in Syria proves military, compared to Tehran's, packs a powerful punch | Fox News
Israel's unprecedented Thursday counter-strike on Iranian infrastructure in Syria, following the Islamic Republic's own brazen rocket attack on Israeli military positions, brought the war-making capabilities of both Middle Eastern countries into stark relief as already simmering tensions begin to reach a boil.
With Trump's Green Light, Israel Hits Back Hard at Iran's Forces in Syria
Amid mounting pressure, Iran's infamous Quds Force reportedly attacked Israeli outposts in the Golan. Israel's retaliation was the most ferocious in Syria since the 1973 War.
Will Iran and Israel Go to War? Trump Backs Israel's Right to Use Force as Rockets Fly Across Border From Syria
The White House condemned Iran's rocket attacks but failed to mention Israel's strikes on military targets in Syria.
Loathing Trump, hating Netanyahu – Opinion – Israel News | Haaretz.com
How can any Israelis complain about raising economic, political pressure on Tehran?
Israel-Iran crisis LIVE: UN calls for immediate halt to all hostile acts in Middle East after IDF air strikes | The Independent
The chief of the UN has called for an immediate halt to "all hostile acts" in the Middle East, a day after Israeli forces bombed Iranian military targets inside Syria.
Will rising tensions lead Israel and Iran into war? | PBS NewsHour
Israeli Prime Minister Benjamin Netanyahu says Iran crossed a "red line" in Syria after bombing Iranian military infrastructure in that country. Is the Middle East on the verge of a wider war? John Yang gets reaction from Mark Perry of The American Conservative and David Makovsky of the Washington Institute for Near East Policy.
What Palestinians actually know about the Holocaust – Palestinians – Haaretz.com
Abbas' Holocaust revisionism shows his moral failure. But his political failures are much worse Dear occupiers, sorry if we hurt your feelings We Muslims need to talk about Muslim anti-Semitism
In the future, Iran could 3D-print its way around sanctions
A new RAND study looks at the way additive manufacturing, better known as 3D printing, could create new security threats.
Prasun K. Sengupta | Iran's PADAJA Regional Air-Defence Network | TRISHUL [Survey]
Command-and-control at the regional level is provided by the IRIADF's or Khatam al-Anbiya Air-Defence HQ's (PADAJA) nine regional commands, each headquartered in a sector operations center (SOC). These are sometimes referred to as divisions. Each region has authority over a number of air-defence groups—each equivalent to a Brigade—and independent sites for radars. The regional commands are as follows:
Hamas Leader Implies 'Hundreds Of Thousands' Of Palestinians May Breach Israel Border : Parallels : NPR
"What's the problem with hundreds of thousands breaking through?" Hamas' Gaza leader Yehiyeh Sinwar told international reporters Thursday. The border fence, he said, was not a "sacred cow."
Religious backlash loosens clerics' grip on legacy of 1979 Iranian Revolution
Reformists are calling for the emancipation of religion from a state that's seen to exploit Islam for purposes of political power. This remains the most formidable challenge to Iran's ruling clergy.