Anonymous expert compilation, analysis, and reporting.
</end editorial>
---
---
Russian propaganda continues – judging from the 1600 arrests over the weekend resulting from the "He's not our tsar" protests, it may not be selling at home quite as well as intended – some apt observations by Eidman on the matter. Eidman also comments on the regime promoted drive for war hysteria amongst the leadership and in the propaganda space. All indications are the regime will pull out all stops with the V-day parade, which will hopefully yield some good IMINT on their latest equipment, but also plays into the war hysteria theme. Notable is the extent to which the VKS has copied the Ukrainians' use of "pixelated" or "digital" paint jobs, they seem to be appearing everywhere, displacing the numerous Soviet and post-Soviet schemes – just like the new replacement assault rifles have STANAG 2324 / Picattiny rails that the Ukrainians appear to be introducing.
No significant developments on the Salisbury attack, although one might believe otherwise reading Sputnik and TASS.
Israel is launching a charm offensive in Muscovy, to the extent that media report PM Netanyahu will attend the V-day events. Iran threatens the US over the nuclear deal – they do not appear to understand that US strategy under this POTUS is not US strategy under the previous one. Much debate over the pros and cons of bailing out of the deal, surprisingly some on the Left appear to be shifting position. Turkey makes unspecified threats to the US over denial of exports if the S-400 is procured – Ergodan appears to believe he has more weight that he actually does.
---
Skripal Case Two Months On: Russian Embassy Taunts UK PM May Over Lack of Proof – Sputnik International
The UK Foreign Office is continuing to stick with her "highly likely" motto regarding Moscow being behind the alleged poisoning attack on former Russian intelligence agent Sergei Skripal, while having no evidence to corroborate her claims.
Author: Lack of Proof of Russian Role in Skripal Case 'Embarrassing for UK Govt' – Sputnik International
London says it still considers Moscow to be the perpetrator of the attempted poisoning of the Russian ex-spy Sergei Skripal in Salisbury. This comes despite a statement by Czech President Milos Zeman that a similar nerve agent had been produced in his country. Radio Sputnik spoke with Joe Quinn, internet author and researcher about the issue.
TASS: Russian Politics & Diplomacy – London's current challenge is to preserve anti-Russian coalition, says Russia's Embassy
The Russian Embassy was skeptical over London's future intentions to maintain anti-Russian sentiment among members of international community
Window on Eurasia — New Series: Russian Elites Increasingly Accept the Idea that a Major War is 'Inevitable,' Eidman Says
Paul Goble Staunton, May 4 – Perhaps the most disturbing development in recent months is that Russian elites increasingly accept the idea that a major war with the West is inevitable, "something that was unthinkable even in the USSR" and that unfortunately risks becoming a self-fulfilling prophecy, Igor Eidman says. The Russian commentator for Deutsche Welle points to the recent remarks of Lev Danilkin, a Russian journalist and writer in which he suggested that a major was "inevitable" given that the 1991 borders are "a temporary matter" that needs to be rectified and that "there are all the objective conditions for a very major war" (kasparov.ru/material.php?id=5AEB4256D0B5D). "Danilkin is ready for a major new war. He conceives it as inevitably and this does not elicit from him strong emotions … He continues to live comfortably, to write, to win prizes, to travel, to go to theaters and restaurants" despite being sure that within 15 years "millions of people will die, cities will be reduced to ruins, and the earth will be contaminated for centuries." According to Eidman, "it doesn't even come into his head that the responsibility of each normal human being and even more a well-known writer is to do everything possible and impossible in order to try to prevent this horror." Such attitudes "were unthinkable in the USSR. Any who said a world war was inevitable would immediately be told to 'put his party card on the table,'" that is to resign. But "in present-day Russia, the words of Danilkin are not eliciting shock or protest and are not viewed as something wild. On the contrary, this is the ideological mainstream imposed by television propaganda. Even the intelligentsia has been taught that a big war is inevitable – and that since it is, it is senseless to try to prevent it." Many believe that "the Russian powers that be specially talk about the possibility of a world war in order to frighten and then blackmail the West," Eidman continues. "But Danilkin interview is intended for a domestic and not a foreign audience … [Thus,] there is no reason for the writer to lie and exaggerate." He simply views the situation as he says. "The captain of the Titanic has gone mad," the Russian commentator says. "He is leading his ship directly at the iceberg. Those in his command understand this are not doing anything to remove the madman from the wheel. All have made their peace with the idea that a catastrophe is inevitable," that it is someone's fault, but that they bear no responsibility to work against it. Instead, "some of them darn socks, some wash the deck and some steal whiskey from the buffet," precisely the kind of reactions that make a disaster and in this case a nuclear war far more likely.
Window on Eurasia — New Series: 'Pravda' Whips Up War Hysteria by Saying that 12 Signs Show West Ready to Attack Russia
Paul Goble Staunton, May 6 – Ordinary Russians are being encouraged to think that a war with the West is imminent not only by the casual acceptance of that outcome by commentators close to the Kremlin (windowoneurasia2.blogspot.com/2018/05/russian-elites-increasingly-accept-idea.html) but also by media outlets that reach a different and possibly larger audience in Russia. A clear example of this latter trend is provided by an article in Pravda yesterday that argues there are at least 12 signs of "an approaching war of the West with Russia" and calls on its readers to supply more lest Russia be unprepared as it was for Hitler's attack on the Soviet Union in 1941 (pravda.ru/world/05-05-2018/1383260-0/). Among these warning signs, Petr Yermilin says, are the following: NATO exercises in the Baltic countries and Poland, intensified NATO air activity near the Russian border, the heating up of the conflict in the Donbass, the fighting in Syria, rising tensions between Israel and the US with Iran, and the Skripal case. In every case, of course, the Pravda writer ignores the extent to which these supposedly warlike actions by the West are a response to real moves by the Putin regime that no responsible government or alliance could fail to make efforts to counter. But that is perhaps not the most serious problem with Yermilin's article. He concludes it with the following appeal: "If you know still more signs of war, add them to this article in your commentaries. Before the attack of fascist Germany on the USSR, there were sufficient signs" of what was coming although they were not always attended to. "Today," the KPRF commentator says, "Russia in fact has a common state border with NATO countries and with those who pray for the alliance. Observations and knowledge about the facts [in these places] will permit us better to analyst how and when the potential enemy will attack our country."
Window on Eurasia — New Series: Putin Acting against Russian Protests like Nicholas II in 1904 Forgetting What Followed, Eidman Says
Paul Goble Staunton, May 6 – Down to the use of Cossacks, Vladimir Putin yesterday copied the kind of methods Nicholas II used against demonstrators in 1904, successfully dispersing the thousands who came out against his regime but entirely forgetting what came next, the collapse of the tsarist system in the revolutions of 1917, Igor Eidman says. On Facebook, the Russian analyst for Deutsche Welle argues that once again a Russian regime is using "Cossacks with whips and black hundreds activists … to beat students. The regime's guardians with the help of new Azefs are creating imaginary 'revolutionary' organizations and then unmasking them" to boost their reputations with the powers that be (facebook.com/permalink.php?story_fbid=1851598108236493&id=100001589654713). Priests "pray for the tsar and call for wiping out sedition," he continues just as they did more than a century ago. Journalists in the pay of the powers are again writing whatever the Kremlin wants. Meanwhile, those near the throne are seizing property in pursuit of their personal enrichment with no thought of what is happening to the country. And "the country is being drawn into a senseless and dangerous colonial war, this time not in the Far but in the Near East." Thus, Eidman says, "the Russian authorities in large measure have returned the system to what it was in 1904, forgetting that 1905 and then 1917 followed. They have revived the worst traditions" of defending those in power. The question now is: will the Russian opposition today "revive the revolutionary traditions of the Russian liberation movement" of the times of the last tsar given that that Russia now is forced to live under another one?
Russian police detain more than 1,600 protesting Putin's 4th presidential term
Thousands turn out for protests across the country ahead of Monday's inauguration.
Russian Police Detain More Than 1,000 People at Anti-Putin Protests
Police in Russia on Saturday detained over 1,000 people across the country at protests against President Vladimir Putin, the OVD-Info human rights monitor said. Opposition leader Alexei Navalny, who was himself detained, had called on Kremlin critics to take to the streets ahead of Putin's inauguration for a fourth presidential term to register their opposition to what Navalny says is Putin's autocratic tsar-like rule.
Russian opposition leader and activists held before Putin inauguration | Reuters
Russian opposition leader Alexei Navalny and around 1,600 anti-Kremlin activists were detained by police on Saturday during street protests against Vladimir Putin ahead of his inauguration for a fourth term as president.
Protesters Detained In Moscow At Anti-Putin Rally
A number of protesters were detained by police at a demonstration against President Vladimir Putin on May 5 in Moscow, part of a nationwide protest action organized by Russian opposition leader Aleksei Navalny. Navalny, who has previously organized large street protests and published a series of reports alleging corruption among Russia's ruling elite, had called for the protests ahead of Putin's fourth presidential inauguration under the slogan "He's not our tsar."
Russia protests: Opposition leader Navalny released from police custody – CNN
Russian opposition leader Aleksey Navalny was released from police custody on Sunday, following an anti-Putin protest in Moscow that saw hundreds of people arrested.
Russian Opposition Leader Navalny Released Amid Thousands Of Detentions Nationwide
Russian opposition leader Aleksei Navalny says he has been released from custody after he and thousands of other protesters were detained as part of nationwide protests ahead of President Vladimir Putin's inauguration for a fourth presidential term.
Police In Krasnoyarsk Detain Anti-Putin Protesters
In the Siberian city of Krasnoyarsk, 35 people were detained on May 5 following clashes between protesters and riot police. The demonstration in Krasnoyarsk was part of a nationwide series of protests organized by Russian opposition leader Aleksei Navalny ahead of President Vladimir Putin's inauguration for a fourth presidential term.
Moscow Police Briefly Detain Current Time Reporter
Current Time TV correspondent Aleksei Aleksandrov was briefly detained by the police in Moscow on May 5 while covering a protest against President Vladimir Putin that was organized by Russian opposition leader Aleksei Navalny. A reporter for RFE/RL's Russian Service was also detained.
Window on Eurasia — New Series: 'Putin Emigration' Since 2000 Now Exceeds Post-1917 White Russian Wave
Paul Goble Staunton, May 4 – Reports that the number of Russians seeking political asylum abroad have reached a level not seen since 1994 have attracted widespread attention, but a more critical number demographically is this: The number of Russians who have left their country since Vladimir Putin came to power exceeds that of those who fled the 1917 Bolshevik revolution. On the Ekho Rossiya portal today, journalist Viktor Vladimirov reports that experts he has questions say that "one of the main reasons for the mass exodus of Russians has been the toughening of the Kremlin's internal policy as expressed in particular in the adoption of 'draconian' laws' and especially their application"(ehorussia.com/new/node/16237). Dmitry Oreshkin, a Moscow sociologist, says that "the screws are tightening everywhere with citizens being imprisoned even for reposts on social media. In general, few in Russia are in a state of complete security." "Those who feel a threat are extremely varied. They include, for example, homosexuals or political activists. Their views aren't defined by propaganda and they are agitated not by what people say on television but on how things look in the narrow circles to which they belong," the sociologist says. Russians are consciously making the choice to leave, Oreshkin says; "and it is easy to understand their calculations. They look at what is happening" to various people "and they come to the conclusion that the situation isn't improving but will only get worse." And they realize that it will be ever more likely that they personally will run afoul of the regime. Yury Levada, the director of the Levada Center, says that the efforts of some Russians to receive asylum in the US has many causes, including but not limited to "the intensification of the domestic repressive policy" of the time. Some are now trying to get out while they can, fearing that soon that possibility may be foreclosed. At the same time, he says, it is his view that "on the whole, massive emigration attitudes which we found earlier have today actually fallen. True, this doesn't affect the fact that over the entire Putin period have left from 1.5 to two million people," a number that exceeds "those losses of human resources" the country suffered after the Bolshevik Revolution. Gudkov says that "now out of Russia are leaving people who have established themselves, comparatively mature who feel themselves at odds with the Putin regime" not only politically but in terms of their "concerns about children, professional interests, ecology and so one." Oreshkin agrees: "These are qualified people who do not see in Russia prospects for themselves." The Kremlin is worried about that over the longer term, but at present, it is glad to see such people leave who might otherwise be among the participants of protests against Putin's regime. "The fewer such people remaining, the less noise" is the Kremlin's calculation, Oreshkin says. "But on the other hand, we are becoming part of the global periphery where outstanding people cannot find a place for themselves. They we will say that ours have invented something in the United States. But what is to be done?"
Window on Eurasia — New Series: Centenary of Civil War a Bigger Problem for Moscow than Anniversary of 1917 Revolutions
Paul Goble Staunton, May 5 – 2018 marks the centenary of the beginning of the Russian Civil War, a conflict that lasted far longer than the revolutionary year of 1917, defined the nature of statehood in the USSR and Russia, and continues to raise far more ideologically divisive questions about the past, present and future of Russia. The Kremlin dodged many of the problems that 1917 presents because few Russians appeared that interested in re-litigating the events of that year or acceptant of the Kremlin's insistence that the revolution represented a continuation rather than a break in the history of the country. But the Civil War which had far more sides – political, ethnic, and international, among others – and which featured far more horrors – including starvation, genocide and cannibalism, to name just three – no longer fits nicely into a single Moscow-impose Procrustean bed as it did in Soviet times appears likely to spark more comment and more divisions. Tatyana Voltskaya of Radio Svoboda interviewed Boris Kolonitsky of the St. Petersburg Institute of History and Mariya Matskevich of the Moscow Institute of Sociology about what is called the Russian civil war and its continuing impact on Russians and others (svoboda.org/a/29203079.html). Kolonitsky says that "in certain respects, we live in a continuation of the civil war. It sits inside each of us. It is connected with many unpleasant histories about which we do not want to speak. And while it is difficult to imagine something more traumatizing than the blockade, this history is worse." "There are many skeletons in the closet," he continues." People don't want to speak about them, preferring instead simple and beautiful stories that aren't true but that do satisfy. Moreover, "there is one additional important aspect: the state which was established then" to fight the civil war continues to exist. That state was "ideally suited for victory in a civil war," Kolonitsky continues. Its mobilizational economy, its ways of controlling the population, and its mass terror are "all results of the civil war." Also a result of the civil war years, he says, is "the federal system of Russia today. Thus, to talk about the civil war is to talk about current events and challenges even more than to talk about 1917, the historian suggests. Matskevich says that many expected there would be hot public discussions about 1917 in its centenary year; but that didn't happen. And it may very well be that "broad discussions about the civil war are still less likely, despite or in part because of the obvious importance of this subject." The government would prefer not to talk about many aspects of the Russian Civil War. They are too painful, too divisive and too close to current events. Instead, the regime is likely to be pleased if few discuss it or continue to accept the highly simplified schemata that the Soviets offered. But that is increasingly hard for many to do given what they now know. Nonetheless, it is possible to say that in contrast to Finland and Spain, Russia does not yet contain a critical mass of people who recognize the tragic nature of its civil war. Without such a recognition even if discussions are not widespread, Matskevich says, it will be difficult to move forward. Nonetheless, there will be some discussion among interested groups not only because of a recognition that their fate now was determined less by 1917 than by the way the civil war proceeded and by the appearance, albeit in small print runs, of books like Leonid Yuzefovich's Winter Road about the conflict in Sakha. A major problem, Kolonitsky points out, is that the simplified image that the civil war was one between reds and whites is wrong: That was "an important dimension but far from the only one. Many now say that the civil war began in Central Asia and Kazakhstan with the 1916 revolt, while others say it began in February rather than November 1917. "One of the important dimensions [of this conflict] were reds against reds." Some who supported the October Revolution then broke with it while many who backed the whites concluded that the reds have been transformed because they were creating an empire. The smenovekhovtsy are the most notable of these but hardly the only ones. A major reason all this is a problem for Russia now, Matskevich argues, is that "we do not have an image of the future" and thus are obsessed with finding unity and greatness in the past even where it does not exist as was very much the case during the horrific years of the civil war. Kolonitsky agrees: "Now, people often cite Orwell's observation that "'who controls the past controls the future, and he who controls the present controls the past.' I think Orwell is wrong … in the USSR people were ready to distort the past in support of their vision of a bright future." "Today," he says, "there are no pictures of the future, but on the other hand, there are no great optimistic projects, no utopias, not even any rational projects." But that makes the study of the past more not less important and potentially more dangerous and explosive as well.
Ukraine strongly condemns Kremlin's attack against Russians amid "He's not our tsar" protests | UNIAN
The Ministry of Foreign Affairs of Ukraine strongly condemns the brutal attacks of the Kremlin regime's punitive units against Russian citizens who have taken to the streets to stage "He's not our tsar" peaceful protest rallies that rolled across Russia ahead of Vladimir Putin's inauguration. Ukraine and its international partners call for the immediate release of illegally detained persons and ensuring their rights to peaceful protest.
The Aviationist » Russia Shows New Hypersonic Missile on Two MiG-31 Aircraft in Victory Day Rehearsals.
Exciting photos emerged Friday on social media of the unique Russian Aerospace Forces long range interceptor, the MiG-31K (NATO codename "Foxhound") carrying the new long range, hypersonic Kh-47M2 "Kinzhal" missile. In a story on the Russian news agency TASS website it was reported that, "Upgraded MiG-31K fighter jets armed with the Kinzhal hypersonic missile system will take part in the Victory Day parade in Moscow on May 9." Defense Minister Army General Sergei Shoigu was reported as making the announcement on Thursday, May 3. "Apart from advanced Su-57, Su-30SM and MiG-29SMT aircraft, upgraded MiG-31K fighters armed with the cutting-edge Kinzhal hypersonic missile systems will take part in the parade's air component," General Sergei Shoigu said. The Kh-47M2 is a much-hyped long range missile claimed by Russia to be capable of speeds up to Mach 10 with a range of 1,200 miles (approximately 2,000 kilometers). The Russians further claim the weapon has maneuver capability even in part of the hypersonic performance envelope. While western analysts remain skeptical about the Kinzhal's claimed capabilities, the missile has garnered significant attention in aviation media and intelligence communities. The missile, is actually not a "hypersonic weapon" in the sense that it is an air-breathing cruise missile based on scramjet technology: it appears to be an adaptation of the Iskander missile and, as a ballistic missile, it flies at hypersonic speed with a reported cruise missile-like flat flight profile. There was speculation about the MiG-31 in a modified variant called the MiG-31K being shown in flyovers with the Kh-47M2 Kinzhal during the sensational Victory Day Parade on Wednesday, May 9 beginning at 1000 Hrs. local Moscow time. Rehearsals for the parade confirm that two aircraft with Kinzhals may be seen in the flyover. Some reports earlier this year suggest that only six initial MiG-31s were modified to carry the Kinzhal. The MiG-31 Foxhound is a bit of a plane-spotters' prize itself since Russia is now the only user of the type and they are mostly deployed along the vast expanse of Russia's eastern border. Their very high speed well in excess of Mach 2 and long range coupled with powerful intercept radar make them a highly capable (if not very stealthy) interceptor. The combination of the MiG-31K with the Kh-47M2 Kinzhal nuclear capable, hypersonic missile could give the aging MiG-31 Foxhound, formerly only an interceptor, a new attack capability.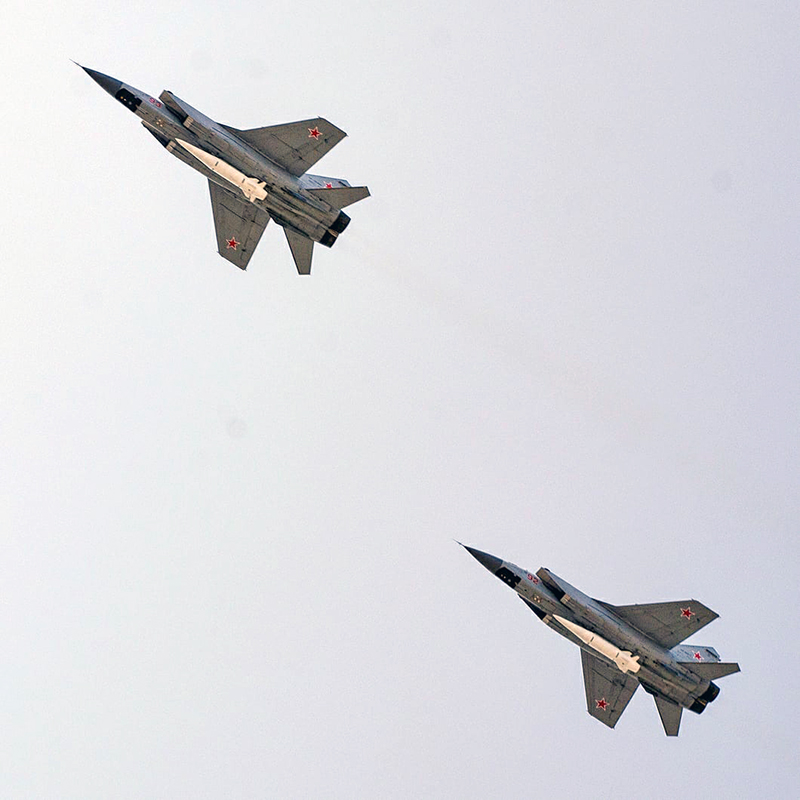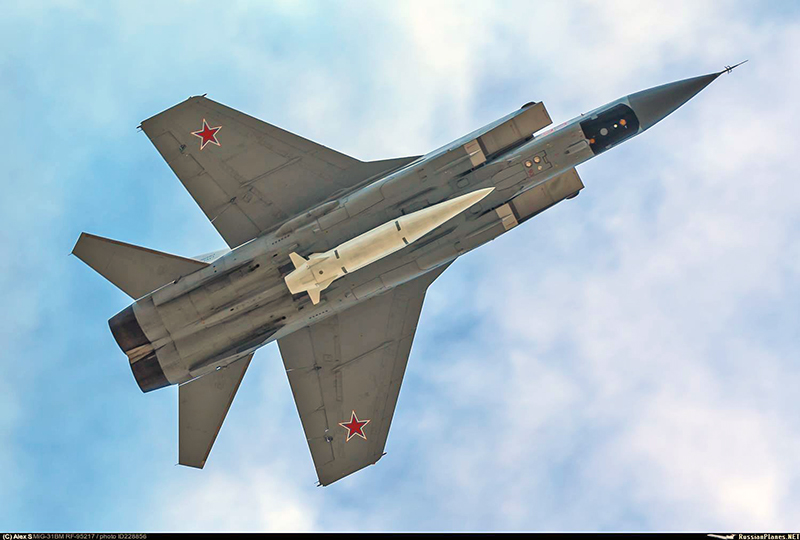 The Aviationist » Russia Rehearses Flyovers for Massive Moscow Victory Day Parade
The Russian Aerospace Forces are well into rehearsals for what is arguably one of the most impressive conspicuous display of military might in the world: the annual Victory Day Parade in Red Square, Moscow to be held on Wednesday, May 9, 2018, at 1000 Hrs. local. This year's Victory Day parade commemorates the 73rd anniversary of the Russian victory over Germany in WWII, a war in which Russia lost an estimated 20+ million military and civilian lives, the greatest loss of life recorded by any nation in a war. Each year the parade begins with the emotional ringing of the historic clock on the Spasskaya Tower at the Kremlin in Moscow. One of the most spectacular parts of the Victory Day Parade is the massive fly-over of Russian military aircraft. This year's aerial parade review is scheduled to include 63 aircraft. The Russian flight demonstration teams The Russian Knights and Swifts will account for 15 of those aircraft. The Russian Knights will fly 6 new Sukhoi Su-30SM aircraft and the Swifts will pass over in their 9 Mikoyan MiG-29 aircraft. The two teams generally fly a large, single formation.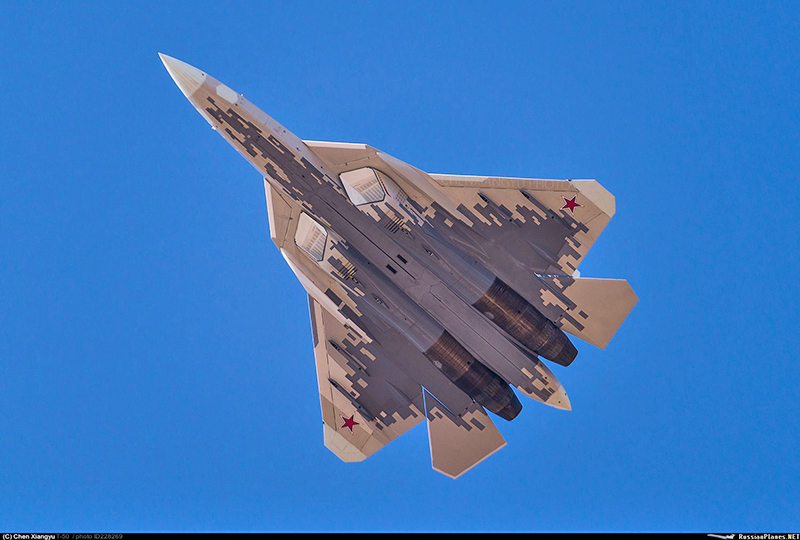 Poisoned door handle hints at high-level plot to kill spy, British officials say | MTL News
LONDON (NYTIMES) – British officials investigating the poisoning of Sergei Skripal, a former Russian double agent, believe it is likely that an assassin smeared
Weapons Watchdog Corrects Estimate of Nerve Agent Used in U.K. Attack – The New York Times
Fifty to 100 milligrams — not grams — of nerve agent were used in the March 4 poisoning of Sergei Skripal in Salisbury, the Organization for the Prohibition of Chemical Weapons said.
If Russia Was Behind the Sergei Skripal Attack, the Question Is Why?
What was the rationale behind the poisoning of Sergei Skripal in Salisbury?
Israel Wants to Prevent Russian S-300 Supplies to Syria – Ex-Defense Minister – Sputnik International
TEL AVIV (Sputnik) – Israel does not want Syria to receive Russia's S-300 surface-to-air missile systems and has channels of cooperation with Moscow to try to prevent such supplies, former Israeli Defense Minister Moshe Yaalon told Sputnik.
Israel's Netanyahu To Attend Victory Day Parade, Meet Putin
Israeli Prime Minister Benjamin Netanyahu's office says he will meet Russian President Vladimir Putin in Moscow on May 9 to discuss regional issues.
Israel Says Better to Confront Iran Sooner Rather Than Later – Bloomberg
Israel will do what is necessary to block Iranian aggression, sooner rather than later, Prime Minister Benjamin Netanyahu said Sunday.
Israel's well-being is a top reason for Trump to rip up the Iran deal | TheHill
As Trump defends Israel and reasserts America's role as a leader in the Middle East, he should know that millions stand with him.
UK says foreign minister Johnson to meet U.S. VP Pence, discuss Iran, North Korea | Reuters
British Foreign Secretary Boris Johnson is traveling to the United States on Sunday for a two-day visit, during which he will meet Vice President Mike Pence and national security adviser John Bolton, Britain said.
Iran warns US abandoning nuclear deal would be 'historic mistake' – CNNPolitics
Iranian President Hassan Rouhani warned the US on Sunday that abandoning the nuclear deal would be a historic mistake, days before Trump is set to decide on the pact.
Iran warns US will regret leaving nuclear pact – POLITICO
A bellicose speech from the Iranian president coincides with the British foreign secretary's plans to meet Pence, Bolton for Iran talks.
'If US quits Iran nuclear deal, they would regret like never before', says Rouhani | world news | Hindustan Times
US President Donald Trump has threatened to abandon the Iran nuclear deal when it comes up for renewal on May 12, demanding his country's European allies "fix the terrible flaws" or he will re-impose sanctions.
Iran's Rouhani warns Trump of 'historic regret' over nuclear deal – BBC News
President Rouhani issues a warning with a week left for the US to decide whether to scrap the accord.
Iran's Rouhani says plans in place for any Trump decision on nuclear deal
President Hassan Rouhani said on Sunday Iran had plans to respond to any move by President Trump on the 2015 nuclear agreement.
Nuclear deal a challenge for Rouhani as Iran hardliners close in
Nuclear deal a challenge for Rouhani as Iran hardliners close in – Iran's hardliners are preparing to bring President Hassan Rouhani to heel if U.S. President Donald Trump scraps Tehran's nuclear deal with major powers, officials and analysts believe.
Iran to stand up to Trump 'bullying' over nuclear deal: security official | Reuters
Iran is determined to reject demands by U.S. President Donald Trump for changes to its nuclear accord, which amount to bullying, a senior Iranian security official said on Saturday.
The Nuclear Deal Makes America Complicit in Iranian Crimes – The Atlantic
Why would the U.S. want to fund the regime's imperialism? Editor's Note: This article is part of a debate about whether to stay in the Iran deal. Read the other entries here. The fundamental question when discussing a nuclear deal with Tehran is this: Are you prepared to fight over it? If not, then any deal is a good deal. This willingness to go to the mat also affects whether you are prepared to push back against the clerical regime in the Middle East, especially in Syria and Iraq, and even whether and how you are willing to advance a regime-change policy—regime change, incidentally, being what an increasingly big and vocal slice of the Iranian people want. Westerners should appreciate the religio-political evolution of the Islamic Republic. The rebellion against an Islamist clerisy ought to ring our inner chimes and make us realize that the Western and Islamic worlds share a lot of intellectual property, that they are, as V.S. Naipaul astutely noted after traversing the Middle East and landing at Bombay, two branches of the same family.
U.S. exit from nuclear deal would help Iran, former Israeli general says – Israel News – Haaretz.com
Iran would 'drive a wedge between the world powers,' Amos Gilad tells Haaretz, making it harder to monitor Tehran's nuclear program
America must leave the Iran deal | TheHill
The latest developments show that President Trump must withdraw from this flawed nuclear accord.
President Trump's fixation on tearing up the Iranian nuclear deal is leading him to miss — or worse, fuel — the real threat that Iran poses.
Giuliani: Trump is 'committed to' regime change in Iran – POLITICO
The White House is considering the future of the Iran nuclear agreement struck by the Obama administration, five other countries and the European Union.
Russia Has Won in Syria, Will It Challenge U.S. In Lebanon Next?
In order for Russia to extend its influence in Syria to Lebanon, it will have to mediate a greater conflict between Iran and Israel.
Trump team 'hired Israeli spy firm to collect dirt on Obama officials' | Daily Mail Online
The operation to 'get dirt' on Barack Obama's former staffers Ben Rhodes and Colin Kahl was launched last May, according to unnamed sources and documents cited by UK newspaper The Observer.
The Aviationist » Why Is A Swedish ELINT Aircraft Operating Off Lebanon and Syria These Days?
On May 1, 2018, a Swedish Air Force S102B Korpen has started operating in the eastern Med. The aircraft is one of two SwAF's S102B Korpen aircraft, heavily-modified Gulfstream IVSP business jets used to perform ELINT missions. These aircraft have been in service with the Swedish Air Force since 1992, when they have replaced the two TP85s (modified Caravelle airliners formerly belonging to the SAS airline) that had been operated for 20 years since 1972. They are equipped with sensors operated by ELINT personnel from the FRA (the Radio Establishment of the Defence), capable to eavesdrop, collect and analyse enemy electronic emissions. As we have often reported here at The Aviationist, the Korpen jets routinely conduct surveillance missions over the Baltic Sea, flying high and fast in international airspace off the area of interest. The most frequent "target" of the S102B is Kaliningrad Oblast and its Russian installations. For this reason, the Swedish ELINT aircraft are also frequently intercepted by Russian Su-27 Flankers scrambled from the Kaliningrad exclave's airbases. Anyway, it looks like the Swedish airplane has now pointed its sensors to the Russian signals in Syria, deploying to Larnaca, Cyprus: the example 102003/"023″, using callsign "SVF647", was tracked, by means of its ADS-B/Mode-S transponder, twice on May 1, flying off Syria, Lebanon, Israel and Egypt, more or less in the very same way many other aircraft (U.S. Navy P-8s, U.S. Air Force RQ-4 and RC-135s) have been doing for some weeks.
Turkey says it will retaliate if U.S. halts weapons sales | Reuters
Turkey will retaliate if the United States enacts a proposed law that would halt weapons sales to the country, Foreign Minister Mevlut Cavusoglu said on Sunday.
Turkey says it will retaliate if US halts F-35 fighter jet sales
Turkey has said it will retaliate if the U.S. halts sales of new generation F-35 fighter jets in reaction to the Turkish government's purchase of S-400 anti-ballistic missile systems from Russia.
Russia Keen to See Turkey and U.S. Fight, Nationalist Guru Says – Bloomberg
Russia gave a green light to Turkey's military occupation of northern Syria because it's keen to foster divisions between the Turks and the U.S., said Alexander Dugin, the Russian philosopher and nationalist who became a key Kremlin fixer.