Anonymous expert compilation, analysis, and reporting.
</end editorial>
---
---
The Russian propaganda campaign appears to be escalating, which is indicative of a lack of traction – most media and public in the West accept the UK argument rather than the Russian arguments. Other than nuke / ABM / ASAT sabre rattling, the Russians rolled out retired Gen. Buzhinskiy to frighten the world with predictions of global nuclear war and "the last war in the history of mankind", and accusing the West of "cornering Russia". This is classical Russian mirroring / blameshifting – all the more incongruous given that Russia self-entrapped in Crimea, Donbass, Syria, and in political dealings with the West by consistently playing zero-sum games with no exit strategies, an observation made by many Russian and Western observers. Never mind facts, the regime needs to produce hysteria and nationalistic fervour in Russia, and this is the nearest the regime has been to rekindling the emotional high of Krymnash. But the twisting and turning in the Russian argument really does fit the image of Raskolnikov so aptly depicted by SECSTATE Johnson.
Russian analysts are already catastrophising about what punishments the West will inflict upon the Motherland.
British MP Seely's report on Russian covert attacks on Ukraine continues to produce good media impact, and now that the UK is being subjected to the same Russian suite of tactics as Ukraine, the Ukrainian experience is becoming of great interest to Western media (pity it took 4 years). In Canberra, Amb Logvinov has poured not a bucket but more like a semi-trailer tanker of kerosene on the fire he started last week, by stating that local media denied him "freedom of speech", and that media comments on his performance would "would trigger criminal prosecution" in Russia. Russian exceptionalism in action.
A superb essay on Russian mirroring and  "provocation" by A/Prof Lynn Patyk – notably in well mannered and polite Russian company, games of  "provocation" are deemed to be a feature of the  "nekulturnye", which puts the regime's conduct in the West into a appropriate Russian cultural context. Kirillova's excellent essay is being propagated across other publications. Shelin's observations on the alternate reality that Russia's elites exist in is is very apt, and explains the fervour with which so many of them assert make-belief as fact. Curiously, Putinists are now calling him their  "Vozhd", or leader, the label previously attached to Stalin, and a po-Russki equivalent to the German label ofFührer. Finally, four samples of pro-Russian propaganda.
In the UK, the head of the Porton Down lab, Aitkenhead, tells media they have yet to conclusively prove the chemical agent came from a Russian lab, not surprising given the small quantity and the time it would have taken to collect perishable samples. The French refuse to respond to the Russian "provocation" and PM May correctly predicts problems with Russia will persist for years and that the UK will respond in a proportionate manner.
Good commentaries by Rogan, Courtney, Stewart, and Shymko, while Pres Yushchenko's quote is worth framing for posterity – pity most Europeans will refuse to listen. Disturbing reports on exactly how many wealthy Russians were allowed to immigrate into the UK without any background checks.
No updates on the condition of Col. Skripal and Yulia, but the niece in Russia is being used intensively as a propaganda asset.
---
Russian Foreign Minister: U.K., U.S. Spreading 'Lies And Disinformation'
Russia's top diplomat has accused the United States and Britain of spreading "lies and disinformation" about the nerve-agent poisoning of an ex-Russian double agent in England last month.
Top Russian diplomat says Britain may have poisoned spy | Business Standard News
Read more about Top Russian diplomat says Britain may have poisoned spy on Business Standard. A top Russian diplomat says the nerve agent poisoning of a former Russian spy may have been arranged by Britain to justify military spending.The March 4 poisoning of Sergei Skripal and his daughter in the English city of Salisbury sent shockwaves
Skripal poisoning: Russia minister accuses UK of 'fake news' | talkRADIO
The UK has been accused of "putting all decency aside" by Russia's foreign minister, over its claims Moscow is to blame for the poisoning of former spy Sergei Skripal and his daughter. Sergei Lavrov appeared to suggest that UK secret services might have been involved in the attack in Salisbury, which he claimed could have been "beneficial" to the UK Government as a distraction from Brexit. He added that it was "outrageous" Britain had failed to provide consular access to Yulia Skripal, since it emerged that her condition was improving.
Russia says spy poisoning could be distraction from Brexit problems | News | DW | 02.04.2018
Russian Foreign Minister Sergey Lavrov has suggested that the poison attack on ex-spy Sergei Skripal could be in the interests of Britain. He also repeated denials of Russian involvement.
Top Russian diplomat says Britain may have poisoned spy – The Washington Post
A top Russian diplomat says the nerve agent poisoning of a former Russian spy may have been arranged by Britain to justify military spending.
Moscow brands UK failure to provide access to poison victim Yulia Skripal 'outrageous' – ITV News
Read Moscow brands UK failure to provide access to poison victim Yulia Skripal 'outrageous' latest on ITV News. All the Politics, World news
Moscow says not responsible for spat with the West | Euronews
MOSCOW (Reuters) – How far a row escalates between Moscow and the West over the poisoning of a former Russian spy in Britain does not
#Moscow says not responsible for spat with the West : EU Reporter
How far a row escalates between Moscow and the West over the poisoning of a former Russian spy in Britain does not depend on Russia, its Foreign Minister Sergei Lavrov (pictured) told a news briefing on Monday (2 April), write Maria Kiselyova and Christian Lowe. In times of cold war there were some rules, but now Britain and the United States had dropped all propriety and were playing children's games, he said. Russia has denied responsibility for the 4 March attack on ex-spy Sergei Skripal and his daughter Yulia in the English city of Salisbury.
Russia relations worse than in Cold War | News | The Times
Moscow has said that relations with the West are now worse than during the Cold War in the aftermath of the Skripal poisoning. Sergei Lavrov, the Russian foreign minister, claimed that unwritten codes of conduct between the Soviet Union and the western powers during an era of mutually
Russian former general warns the world is on the brink of 'the last war' | Daily Mail Online
Evgeny Buzhinskiy warned diplomatic fallout from Salisbury poisoning is moving the world into a situation that is 'worse than the Cold War'. 'Worse than the Cold War is a real war, the last war in the history of mankind'. He accused the US and EU of 'cornering Russia', saying that is 'very dangerous'. Russia has vehemently denied being behind the poisoning of Sergei Skripal and daughter Yulia, and have suggested British intelligence were responsible .
Salisbury poisoning will spark a new WORLD WAR that will be the 'final conflict of mankind', ex-chief of Russian defence staff sensationally claims
Lt General Evgeny Buzhinsky said diplomatic tensions risk becoming 'worse than the cold war' – and claimed the West is trying to overthrow Vladimir Putin's government
Window on Eurasia — New Series: Despite What Foreign Ministry Says, World Cup Boycott Hardly 'the Worst' West is Planning, Moscow Analysts say
Paul Goble Staunton, April 2 – At the end of last week, Russian foreign ministry spokesperson Mariya Zakharova said the West has as its main goal now organizing a boycott of the 2018 World Cup, a statement quite likely issued so that when a boycott doesn't happen, Moscow can claim victory and say the world has repudiated Washington and London. But Zakharova's remark has prompted Moscow commentators like Aleksey Polubota of Svobodnaya pressa to suggest that "it is difficult to believe" that the West would view disrupting the World Cup as its goal or think that doing so would achieve any of its ends. It has bigger plans and more means it will use to seek to achieve them, he says (svpressa.ru/politic/article/196767/). Bogdan Bespalko, a member of the Presidential Council for Foreign Relations, says that in the existing "information war," Moscow must "respond to any provocations from the West in a calm fashion," especially because in his view, many Western populations do not support the policies of their governments toward Russia. As far as any threat to boycott the World Cup in Russia this year, he continues, such a move is "only one of the occasions that can be used to dehumanize and demonize our country in the eyes of the Western populace." According to him, such a policy so far has not been very successful. "But in the future," Bespalko says, "the West may provoke both more conflicts around the perimeter of our borders and in Russia itself, for example, in the Caucasus." Russia will have to respond to such things and Moscow's responses will become the occasion for new charges by the West against that. The same thing is true in the economic sphere. A direct military clash between Russia and NATO is possible, the Kremlin advisor says, although neither side is prepared for it. "In the West, they think that Russia is still too strong to fight with. And we don't need a war." What we do need, Bespalko says, is a world where everyone plays by rules everyone agrees to rather than those imposed by the West. After the disintegration of the USSR, he continues, "we agreed to play" according to the rules of others," despite the fact that they could impose one set of rules on Russia and quite another on themselves and others. Moscow must recognize this and take steps to counter it in all directions. For example,Bespalko says, "I do not understand why with us McDonalds is still registered as a store rather than a restaurant," an arrangement that gives it significant tax benefits. It shouldn't have them nor should other Western firms doing business in Russia under current conditions. A second expert, Boris Shmelyov, head of the Center for Political Research at the Moscow Institute of Economics, says that the West won't be able to organize a complete boycott of the World Cup even if it tries. And it won't try that hard, he says, because that competition is "too petty a goal in the great geopolitical game the West is playing. According to him, the West has "intentionally chosen a policy of balancing on the edge of war," a particularly dangerous approach given that "neither side can make concessions to the other without a loss of face. Therefore," Shmelyov says, "we must hope for the best but prepare for the worst."
Russia Presses Trump for White House Meeting With Putin – The New York Times
The Kremlin said it hoped President Trump would follow through on his proposal for such a session, made before last week's tit-for-tat expulsion of diplomats.
Russia, feeling diplomatic heat, trumpets possible White House summit
The Kremlin said on Monday that President Trump invited Russian President Vladimir Putin to the White House when the two men spoke by phone last month, though the Kremlin's language and a later White House statement suggested that a summit is far from firm.
Kremlin warns Russian football fans and schoolchildren against visiting 'Russiaphobic' Britain as Moscow blames UK for Skripal poisoning – Mirror Online
The Russian embassy said people watching CSKA play at Arsenal should be 'extremely careful' and parents considering sending children to UK summer camps should 'weigh the viability of such trips'
Russia To Expel Montenegrin Diplomat Over Skripal Poisoning
Russia's Foreign Ministry said it will expel a Montenegrin diplomat in response to the Balkan country's own expulsion of a Russian official in the wake of the nerve-agent poisoning incident in Brit…
#Moscow official says West is trying to deny #Russia #WorldCup : EU Reporter
Russian foreign ministry spokeswoman Maria Zakharova (pictured) has accused the UK and US of seeking to stop her country hosting this summer's World Cup. Speaking in a lengthy interview with a Russian TV channel, she said their "main aim" was to "take the World Cup out of Russia". The UK has been seeking to punish Russia after accusing it of mounting a nerve agent attack in Britain. The Royal Family will shun the World Cup as part of the British response. UK Foreign Secretary Boris Johnson has likened Russia's World Cup to Nazi Germany's Olympic Games in 1936. and one British opposition MP has called for the Cup to be postponed or moved. However, there is currently no suggestion the England team will boycott the prestigious championship, which opens in June. Scores of diplomats have been expelled on both sides in the dispute over the poisoning of former Russian spy Sergei Skripal and his daughter Yulia in Salisbury on 4 March. In the latest move, about 170 Russian diplomats and their family members left Washington on Friday evening (30 March). At the same time, the US flag at the American consulate in St Petersburg was taken down following the Russian government's instruction to close it down.
Putin's $25,000 rent-a-mobs: Emails show Russia uses paid thugs and email hackers to sow dissent and chaos abroad | Business Insider
A tranche of hacked emails sent by Kremlin-linked figures appear to show Russia's plan to sow chaos and dissent abroad. The emails discuss prices for rent-a-mob rallies, hackers, and propaganda merchants in Ukraine, which Russia invaded in 2014. Kremlin figures allegedly discussed a $US130,500 plan to "troll" opponents of Russia, "demotivate enemies" on social media, and collect personal data of opponents in Ukraine. Experts warned that Russia could use the same weapons in the UK and elsewhere in Europe.
Operation Troy: Russia's blueprint for spreading chaos in Ukraine | News | The Times
The spies were in place, the leaders of the uprising were already named. When Alexei Muratov sent his plan to a Kremlin official in November 2014, the aims were clear. Later cracked by a team of hackers, the code-protected document outlined "Troy" — a strategy to prepare the people of Zaporizhzhia
Operation Troy: Russian blueprint for spreading chaos in Ukraine | UNIAN
A new report based on the leaked emails of a deputy to Vladislav Surkov, the influential Kremlin aide who some call Putin's Rasputin, reveals a strategy to prepare the people of Zaporizhia region in eastern Ukraine for a pro-Russian takeover. Later cracked by a team of hackers, the code protected document outlined the plan titled "Troy", allegedly drawn by Alexei Muratov (MP from Kursk region bordering Ukraine and "envoy to Russia of the unrecognized "Donetsk People's Republic") who had sent his plan to a Kremlin official in November 2014, according to The Times. The proposal was part of a wider Kremlin engagement with strategies to destabilize Ukraine. Bob Seely, the Conservative MP who co-authored the report, claims that the leaks "provide a snapshot of covert campaigns and hybrid war, and the price of everything from cyberattacks to fake news, bribes and demos all the way through to overthrowing regional governments". With Troy, Muratov was proposing to spend $181,000 on expanding the rebellion further west. The document was allegedly sent to Inal Ardzinba, Surkov's deputy. It was a blueprint for manipulating public opinion before an insurrection in Zaporizhia, wresting the region from the orbit of the central government in Kyiv. The insurgency would, the outline said, make use of an "existing espionage network". Contact would be established with sympathizers inside the local police and the Security Service of Ukraine (SBU). Troy was to culminate in unspecified "force actions" by partisans against pro-Kiev groups such as Right Sector and Samooborona (Self-Defense). Muratov's plan was apparently never set in motion, and it is impossible to know whether it was viewed in Moscow as a serious proposition. The breakdown of expenses and personnel suggest budgeting for a real proposal. A core team was expected to include 15 military or security personnel, at least ten police officers, 37 spies and informers and a number of regional politicians. Their leader was to be Vladimir Novikov, a militia commander with the nom de guerre Alabay, a powerful central Asian breed of dog. Allocated costs included $40,000 to organize protests, $10,000 to maintain a network of agents in the SBU and interior ministry and $49,000 to be spent on vehicles. The document was part of a third tranche of emails revealed by a network of Ukrainian hackers last November, after two releases in 2016, and studied in depth by Mr Seely. The Kremlin has dismissed material released by the group as fabricated, although some people who sent messages to Surkov that were exposed have said they were genuine. If genuine, the hacked emails demonstrate an extensive attempt to massage politics in Ukraine in favor of the Kremlin, sowing division and promoting autonomy for regions with significant Russian-speaking populations as a means of eroding central government control. Such methods were allegedly used in parallel with Moscow's direct military intervention in the Donbas conflict in eastern Ukraine.
Skripal attack: 2,800 Russian bots 'sowed confusion after poison attacks' – To Inform is to Influence
Deborah Haynes, Defence Editor March 24 2018, 12:01am, The Times Russia unleashed an "extensive" disinformation operation in Britain after the Salisbury spy attack, with thousands of suspected robotic accounts spreading doubt and conspiracy on the internet, officials believe. It is understood that an estimated 2,800 such online accounts are suspected of posting material about the attempted murder of Sergei Skripal and…
Russian ambassador: Australian press deny 'freedom of speech' over Skripal
Russia's Ambassador has accused Australian media of denying his "freedom of speech", saying some of its coverage would have sparked prosecutions in Russia.
Russian ambassador lashes out at Australian media's 'disgraceful' coverage | World news | The Guardian
Grigory Logvinov says descriptions of him by reporters covering the spy-poisoning scandal 'would trigger criminal prosecution' in Russia
Russian envoy Grigory Logvinov attacks Australian media over spy coverage | afr.com
Russia's Ambassador decries media coverage of diplomatic expulsions as 'cheap jeers, flat jokes and personal insults'.
Russians lash out at Press Gallery | The Australian
Lynn Ellen Patyk | Why Russia blames Britain for poisonings | The Royal Gazette:Bermuda Opinion – Mobile
Led by Prime Minister Theresa May, the world has come to the unshakeable conclusion that Russia was behind the poisoning of Sergei Skripal, an émigré Russian GRU officer, and his daughter, Yulia, in Salisbury, England. Skripal spied for the British, then was caught, imprisoned and exchanged in a spy swap in 2010. The damning evidence of Russia's involvement in the attack includes the identity of the victim as a convicted "traitor" to Russia, the proprietary nerve agent used in the attack and a snarky tweet by the Russian embassy in London. The United States has joined its European allies in punishing Russia for the attack and has withdrawn 60 diplomats from the country. No one seems to have any doubt that the Russians did it — except, of course, the Russians. For the Russians, the case is just as cut-and-dried as it is for the British and their Western allies: the Skripal poisoning is a clear instance of what the Russians dub provocation — an act that is intended to produce a reaction from its target that serves the provocateur's ends and is damaging to his opponent. The closest analogue to provocation in Western conspiratorial discourse is a false-flag operation, which refers to attacks carried out undercover to implicate the other party.
Lynn Ellen Patyk | The real reason Russia blames Britain for the Skripal poisonings – The Washington Post
Russia and the art of "provocation"
Russia and the art of "provocation" – To Inform is to Influence
Wow.  Wow, wow, wow, wow, wow. This is, without a doubt, the best explanation for Russian provocation charges I've ever read. Without a doubt, this tactic is "central to their behavior", says an informed friend.  Bravo! By Lynn Ellen Paty The United States and Britain's allies around the world have expelled at least 116 alleged…
Propaganda as a drug – even for Putin's Russia – To Inform is to Influence
March 30, 2018 – 23:18 By Kseniya Kirillova, for Defencereport Recently, Russian propaganda has committed another abomination against the dissident Ilya Yashinand his elderly grandmother. The camera crew "Life" broke into a nursing home, where the sick 84-year-old woman lived, and, having written down several of her comments, wrote a story directed against her grandson based on these comments.…
Kseniya Kirillova | Propaganda as a drug – even for Putin's Russia | DefenceReport
29 March 2018 – San Fransisco, US Kseniya Kirillova Recently, Russian propaganda has committed another abomination against the dissident Ilya Yashin and his elderly grandmother. The camera crew "Life" broke into a nursing home, where the sick 84-year-old woman lived, and, having written down several of her comments,
Window on Eurasia — New Series: Putin Regime Cutting Itself Off from Reality at Home and Abroad, Shelin Says
Paul Goble Staunton, April 2 – Just as it has sought to portray Russia as a besieged fortress surrounded by enemies, so too the Putin regime has cut itself off from the world and even its own people, a strategy that means its answers to challenges from both are becoming ever more absurd, according to Sergey Shelin. The Rosbalt commentator says that having "barricaded themselves from life, many representatives of the Russian authorities today truly do not understand that in addition to their alternative world, there is a real one" and are responding to their own imagined reality rather than to it (rosbalt.ru/blogs/2018/03/30/1692942.html). People like Senator Elena Mizulina with her comments about how the Kemerovo fire was "a knife in the back of Putin" and then-governor Aman Tuleyev about how outside agitators were responsible for the protests are not so much seeking personal advantage but simply reflecting the isolation and ignorance of those in the elite around them, Shelin continues. The less the members of the elite know about the world beyond their own, the more ridiculous and absurd their actions become both at home and abroad, he says. Russian diplomacy acts as if tit-for-tat responses are appropriate in a world that is far from balanced between two systems. "Thirty countries 'out of false solidarity' introduce diplomatic sanctions" against Russia, the Rosbalt commentator says. "The principle of balance of forces and influence require that another 30 countries be found who out of true solidarity would introduce the same sanctions against the US and Britain. Well, perhaps not 30, but at least two or three." But not one, not Belarus, not Kazakhstan and not China have; and consequently, there is no basis for talking about an equivalent response. The same is true about defense spending: The US boosts its military budget by 80 billion US dollars in one year, an amount equal to all Russia will spend in total – and the Putin elite and its friends speak of balance. The Russian elite is equally cut off from and in ignorance of its own people. It satisfies itself with a manipulated election result and with polls show that 70 percent of Russians approve whatever the Kremlin does. But to do so is delusional, as becomes obvious if one asks only two questions. On the one hand, when Russians are asked what areas Putin has devoted insufficient attention to, they respond the struggle with poverty and raising pensions, with "only two percent" saying that he doesn't pay enough attention to the army and weaponry. And on the other, when they are asked what areas the Kremlin leader devotes too much attention, 46 percent point to the army and weaponry. The economy which ranks second in this list garners only eight percent. "The people of course in words approves the bosses just as it approved them in Soviet times. But when they consider specific things, they focus" as their les do not "on measures leading to an improvement of their lives rather than on an arms race," Shelin continues. Those on top in Putin's system are so isolated from reality that they do not understand that measuring their popularity on the basis of an election or a poll on general support is equivalent to "coming up with ratings of the general secretaries on the basis of the unchanging results of Soviet elections."
With Russians feeling besieged, some give Putin a loaded title: vozhd – CSMonitor.com
Vozhd literally means leader, but in politics it is inextricably linked with the personality cult of Joseph Stalin. Now, with many Russians feeling their country is under attack from the West, some are invoking the term in solidarity with Putin and defiance of his critics.
Russia Conducts New Test of 'Nudol' Anti-Satellite System | The Diplomat
Russia carried out the sixth flight test of its new anti-satellite missile system on March 26 at the Plesetsk Cosmodrome, The Diplomat has learned from U.S. defense officials with knowledge of ongoing Russian weapons development. The test, which involved the system known as PL19/Nudol, was the first to see the direct ascent anti-satellite weapon launched from the transporter-erector-launcher system designed for its eventual deployment, U.S. defense officials familiar with details of the latest test confirmed. The test was the fourth successful flight test of the system. The Nudol was first successfully tested in late-2015 and is part of a suite of next-generation kinetic interceptor systems in development by Russia, which also include the S-500/55R6M surface-to-air missile system and the A-235 next-generation anti-ballistic missile system, which will replace the A-135 systems that protect Moscow today.
A–235 anti-ballistic missile system – Wikipedia
A-235 PL-19 Nudol (Russian: Система А-235 / РТЦ-181М / Нудоль) is a Russian anti-ballistic missile system in development. This system is designed to deflect a nuclear attack on Moscow and important industrial regions. The main developer of the system is JSC Concern VKO Almaz-Antey. The new system should replace the current one — A-135. Missile defense system A-235 will be using the Don-2N radar and the range radar Don 2NP / 5N20P with updated software and hardware; the guidance system of the A-235 complex will be similar to the existing system A-135. The A-235 when deployed could possibly be equipped with a nuclear warhead which would greatly increase its ability to kill incoming warheads. Yield on which it would be deployed is not yet known.[1] According to reports in early 2018, the system will not be equipped with nuclear warheads.[2] The system will be deployed at points surrounding Moscow by the end of 2018.[3], The new PRS-1M (45T6) is a modernized variant of the PRS-1 (53T6) and can use nuclear or conventional warheads. It can hit targets at ranges of 350 km and altitudes of 50 km.[4]
Russia Tests New Antiballistic Missile
Russia says it has successfully tested a new antiballistic missile. Russian Defense Ministry released video of test on April 2 which was conducted at the Sary-Shagan testing range in Kazakhstan. The ministry said the missile is already in service and is used to protect the city of Moscow from potential air attacks.
Conclusive evidence of the Russian state's guilt in the Skripal case is lacking — and that's important | openDemocracy
Sergei Skripal case: 'UK investigators set to hide truth' says Alexander Litvinenko's dad | Daily Star
THE father of a former Russian intelligence officer poisoned in London has shockingly claimed UK investigators are "set to hide the truth", over the Skripal case.
The West Should Avoid Starting a New Cold War with Russia | The National Interest Blog
The divisions and geopolitical landscape are far more complex than during the Cold War.
ON TARGET: West should be wary of casting first stone in spy case | The Chronicle Herald
The anti-Russian rhetoric and fear mongering in the West has reached fever pitch in the wake of the attempted assassination of former spy Sergei Skripal and his daughter Yulia.
Porton Down experts unable to identify 'precise source' of novichok that poisoned spy
The lab's boss says a "state actor" made the novichok and also rubbishes claims that it could have come from his facility.
UK military research boss says can't say yet whether nerve agent was made in Russia: Sky News
The head of Britain's military research center said on Tuesday it was unable yet to say whether the military-grade nerve agent that poisoned a Russian double-agent last month had been produced in Russia.
The Latest: UK Scientists Haven't IDed Source of Nerve Agent | Newsmax.com
The Latest: UK Scientists Haven't IDed Source of Nerve Agent
UK scientists unable to verify source of spy attack nerve agent | News | DW | 03.04.2018
British scientists have been unable to identify the source country of the poison that killed Sergei Skripal. Authorities had been quick to blame Russia for the attack and were confident tests would confirm this.
Experts CANNOT confirm nerve agent used to poison spy was from Russia | Daily Mail Online
Gary Aitkenhead, the chief executive of the Porton Down defence laboratory, has said it has 'not verified the precise source' of the Novichok nerve agent which poisoned Skripal and his daughter Yulia.
Russian poisoned ex-spy Sergei Skripal allegations bring OPCW meeting over Novichok nerve agent attack – CBS News
Russia, while offering theories as to why U.K. might have used nerve agent on its own soil, says it will accept OPCW ruling — with a caveat
The Latest: France refuses to answer Russian spy questions – Houston Chronicle
France is refusing to answer a detailed list of questions from Russia over the spy poisoning scandal in Britain that has turned into a multi-country diplomatic dispute. France expelled four Russian diplomats last week over the nerve agent attack on Sergei Skripal. Russia sent France 10 questions about why France thinks Russia was involved, and about France's own chemical weapons programs. A French diplomatic official said Tuesday that Britain had informed France about the details of its investigation. The official did not divulge those details, but said Russian involvement in the attack is the only "plausible explanation." The official told The Associated Press that France would not respond to Russia until Moscow answers questions posed by Britain's government on March 12. Britain at the time asked the Russian ambassador to say whether the attack was carried out by the Russian state, or whether Russia lost control of the nerve agent used.
The Latest: France refuses to answer Russian spy questions – SFGate
France is refusing to answer a detailed list of questions from Russia over the spy poisoning scandal in Britain that has turned into a multi-country diplomatic dispute.
Russia News: Theresa May warns Putin crisis 'will last for years' | Daily Star
BRITISH Prime Minister Theresa May has warned that the crisis with Russia "will last for years".
Challenges posed by Putin's Russia will last 'for years to come' says Theresa May's spokesman – Mirror Online
It comes after a retired Russian army official said the poisoning of ex-spy Sergei Skripal in Salisbury could start a new world war
Britain Preparing 'Proportionate' Response to Russia After Spy Poisoning by Nerve Agent
Britain is looking for a "proportionate way" to respond to the threat posed by Russia, a spokesman for Prime Minister Theresa May said on Tuesday, after a retired Russian army official said the poisoning of a former spy could start a new world war. "We need to respond in a proportionate way to this aggressive behaviour from Russia and that's what we're doing," the spokesman said when asked if there was a real risk of triggering a war. Evgeny Buzhinsky, a retired lieutenant general, was quoted in British newspapers on Tuesday as saying the fallout of the attack could trigger "the last war in the history of mankind".
British officials say sophistication of chemical attack is proof of Russia's involvement: Report
British authorities investigating the poisoning of former Russian spy Sergei Skripal on U.K. soil believe the sophistication of the chemical attack demonstrates that it was likely approved by the Kremlin, a source briefed on the investigation told CNN on Monday.
Britain puts pressure on Serbia to expel Russian diplomats – 112.international
Britain asked Serbia to expel Russian diplomat, as Ivica Dačić, Serbian Foreign Minister, said, local web portal B92 reported. According to him, the request was made due to the escalating tensions in Kosovo and this means that Britain regards only its own interests. "This is all they care about. They do not care about other things. In the same way, we have to care about our interests, measure and think them through properly and of course, Serbia will not expel Russian diplomats," Dačić said. The Foreign Minister stated that Serbia will always support Russia. As we reported earlier, more than 20 states have expelled Russian diplomats due to Skripal's poisoning in Salisbury. Ukraine expelled 13 Russian diplomats, and Russia as a reaction has declared 13 Ukrainian diplomats personae non-gratae. Later, Russia announced it intended to expel 50 British diplomats. According to recent data, Russia is to expel four German diplomats.
Trump Says He's Tough on Russia But Still Wants Good Putin Relationship – Bloomberg
President Donald Trump declared that he's tough on Russia after expelling 60 of the country's diplomats this month and raising the U.S. military budget, but that he still wants a good relationship with Vladimir Putin.  "There's nobody been tougher on Russia," Trump said in a news conference at the White House with Baltic leaders. He added that "getting along with Russia is a good thing" but "there's also a great possibility that won't happen. Who knows?"
Germany's Foreign Minister: the West lost trust in Russia
Foreign Minister of Germany Heiko Maas said that the decision of German authorities to expel four Russian diplomats in relation to the Skripal case was taken in solidarity and support of the United Kingdom. In an interview with the German Bild am Sonntag newspaper, Maas stated that it is very important that western countries united against Russia, as Moscow has destroyed the West's trust through its recent behavior. "Russia's behavior in recent years has undermined a lot of trust," Maas said. He noted, however, that Western countries still needed Moscow as a partner in order to resolve regional conflicts. According to Maas, keeping up a dialogue with Russia is important in order to continue disarmament. In addition, the minister mentioned the important role of Moscow "in sustaining international order." "That's why we prefer keeping a dialogue open and expect that the trust [towards Russian authorities] will restore over time," Maas said. He stressed that this would be only possible if "Russia was ready to [cooperate]." On March 26, Germany announced its decision to expel four Russian diplomats in connection with the case of former Russian military intelligence officer and Colonel of the Russian Main Intelligence Directorate, Sergei Skripal, who was poisoned in Salisbury, United Kingdom. Around the same time as Germany's announcement, 20 more western countries including the U.S., Canada, France, Italy, and Spain made similar statements while expelling over 100 employees of Russian diplomatic missions abroad. London took an additional measure by expelling 23 Russian diplomats.
Tom Rogan | Why Russia wants consular access to Yulia Skripal and how Britain should respond
With key conditions and precautions, the British government should accept Russian demands for consular access to Yulia Skripal.
Poisoned ex-Ukraine leader warns of Russia's 'medieval policy' – The National
The former Ukrainian president Viktor Yushchenko has urged Europe to unite and wake up to Russia's "medieval policy", after the Salisbury poisoning scandal. Mr Yushchenko, still visibly scarred from facial welts that developed after a poison attack almost killed him in 2004, in a rare interview recalled his own brush with death. But he declined to confirm if he thought Russian President Vladimir Putin was to blame. Speaking to the BBC, Mr Yushchenko said the Kremlin's current policies represented a major threat. "I would like what we call 'United Europe' to finally realise the biggest challenge for its citizens is the medieval policy that Russia pursues in the 21st century," he said. "I feel pain for Europe being so blind. That European countries are so unfriendly to each other and have so little solidarity in respect to Russia's policies."
William Courtney | Russia likely to rue its retaliatory expulsions | TheHill
An angered West could turn from expulsions to economic countermeasures, hitting at Russia's soft underbelly.
Scott Stewart | U.S. and Russian Diplomatic Expulsions Will Impact Intelligence Operations | Stratfor
Diplomats are often heavily involved in espionage. How will Russian and U.S. intelligence agencies deal with so many of their agents being expelled? Tensions between Russia and the West had been increasing in recent years, but the Skripal attack has resulted in a rapid escalation. The reciprocal expulsion of intelligence officers will create challenges for intelligence agencies and opportunities for counterintelligence services. These factors will likely result in more activity by, and arrests of, intelligence officers who do not have diplomatic immunity. This environment will affect travelers and expatriates who are suspected of being intelligence officers.
Lisa Shymko | Russia's digital warfare has put Western democracies in the crosshairs – Macleans.ca
Opinion: Russia is sowing discord, amid allegations of ties to assassinations and investments into social-media companies. The time for complacency is over
The US Can Counter Russian Aggression by Expanding This Program
In an era of Russian aggression, it's in America's interest to strengthen ties with its European partners. Expanding the Visa Waiver Program would do just that.
More than 2,000 Russians were waved into UK under 'blind faith' visa | Daily Mail Online
Super-rich Russians were able to enter the UK through investor visas. These visas didn't carry out proper checks on the source of their income and possible criminal backgrounds. A quarter of all those visas granted by the UK between 2008 and 2015 – a 'blind faith' period in which almost no checks were carried out – were to Russians .
Rich Russians waved in under lax visa scheme | News | The Times
Ministers have been told that hundreds of Russians received investor visas without proper checks on the source of their income and possible criminal backgrounds.More than 2,000 Russians were granted entry under the scheme during a "blind faith" period before the system was tightened in 2015, exper
Why state-sponsored poisoning in the UK affects us all – Punch Newspapers
Four weeks ago, on a quiet Sunday in one of Britain's most beautiful cathedral cities, home to people of many different nationalities, including Nigerians, a father and daughter were struck down by the first offensive use of a nerve agent in Europe since the Second World War. Sergei and Yulia Skripal are still lying stricken in hospital. A police officer who went to their aid was also critically injured. Over 100 citizens were forced to seek medical treatment simply because they were nearby when the nerve agent was released. What happened in Salisbury on March 4 was a brazen attempt to murder civilians on the British soil, endangering anyone – of any nationality – who chanced to be in the vicinity. If this could happen in Salisbury, the blunt truth is that an incident of this kind could happen anywhere.
Here's why Russia would lose a second Cold War — and would be unwise to start one | Fox News
Vladimir Putin should be afraid.
Sergei Skripal's daughter was poisoned 'just days after gaining access to a £150,000 secret bank account' – Mirror Online
The money had belonged to Yulia Skripal's brother Alexander who died in mysterious circumstances in St Petersburg last year
Sergei Skripal's family demand to know why ex-spy's beloved pet cats and guinea pigs 'didn't die from nerve agent'
THE family of poisoned Sergei and Yulia Skripal is demanding Britain explains what happened to his beloved cats and guinea pigs. Niece Viktoria Skripal, 45, who aims to travel to Britain soon to see her stricken relatives, says reports that her uncle and his daughter were hit with a lethal nerve agent while at home are "nonsense". She believes if this was the case, it would have been reported that the animals died. According to reports, police believe the novichok was 'wiped on the front door' of the the ex-spy's Salisbury home. Viktoria said: "Nonsense. First of all, it is not possible to go close [to the house]. "Secondly, if they were poisoned there, what happened to the animals? They had a cat Masyanya from Russia and one more cat, from a shelter, then there were two guinea pigs."
Leaked docs show UK long worried about Russian nerve agent | Fisher Business News
Once-secret U.S. government documents show that Western powers have quietly worried for more than a decade about the mysterious and deadly nerve agent Novichok, which British investigators now believe was used in the attempted assassination of a former Russian spy living in Great Britain. British investigators and Prime Minister Theresa May believe ex-Russian spy Sergei V. Skripal and his daughter Yulia were poisoned in the city of Salisbury earlier this month with the nerve agent. The substance is made only in Russia, and the British — backed by the European Union and the United States — say Russia is responsible for the attack. Russian Foreign Minister Sergey Lavrov mockingly dismissed those accusations as "nonsense." Russia has never openly confirmed the existence of Novichok, which was revealed to the world in the mid-1990s by two former Soviet scientists who acknowledged they helped create it. Lavrov's office said Sunday on Twitter that the nation's chemical weapons stocks all had been destroyed. Documents found in the massive trove of leaked State Department cables published in November 2010 by the self-described transparency organization Wikileaks underscore that Russia's possession of Novichok has been an ongoing fear.
World's cartoonists on this week's events – POLITICO
First published in The New York Times, U.S., January 12, 2017 | By Chappatte
First published in Latvijas Avize, Latvia, January 12, 2017 | By Gatis Sluka

Marian Kamensky  Copyright 2018 Cagle Cartoons
What the suspected poisoning of Sergei Skripal tells us about Russia | Coffee House
Congratulations, Putin – MICHAEL P. RAMIREZ
Now police investigate the grave of son of Russian spy | CYBERBORISjohnson
PUTIN IST PRÄSIDENT By marian kamensky | Politics Cartoon | TOONPOOL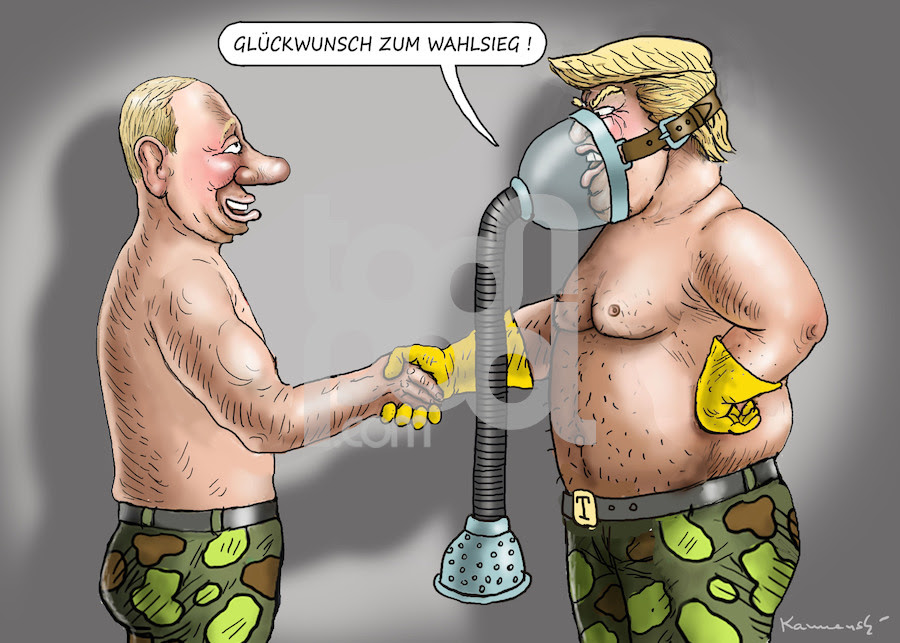 —