Anonymous expert compilation, analysis, and reporting.
</end editorial>
---
---
A busy week in Ukraine:
Portnikov lauds Bolton appointment;
Poroshenko to include EU/NATO membership in constitution, multiple reports on NATO cooperation;
New  law on national security;
Canada will sell but not gift lethal weapons to Ukraine;
Ukraine to revoke all remaining treaties with Russia;
Russians escalate Donbass fires back to 40-50 attacks per day, Ukrainian border guard injured by laser blinding weapon;
Reports on Russians defecting to Ukraine, report on Ukrainian MIAs being deported as slave labour to Russia;
SBU role redefined as counter-intelligence and antiterrorism, SBU bags major Russian hacker group with bot farm control; SBU captures Iranians attempting to smuggle Kh-31 / AS-17 KRYPTON supersonic ASCM components out of Ukraine;
MoD to construct new basing to NATO specs, MoD signs cooperation deal with Qatar;
Reports on RosOboronExport smear campaign to keep UkroOboronProm out of former Soviet markets globally;
Ukraine procure 55 new helicopters from Airbus for use by NGU, Police and emergency services, replacing Mi-2 HOPLITE and Mi-8 HIP;
Ukrainian nationalists call for the return of Kuban/Krasnodar Krai, Kursk, Bryansk, Voronezh and Rostov Oblasts, that were stripped from Ukraine by the Soviets during the 1920s;
Multiple reports on politics and economy, RVSN Museum update (good);
Pew Research report on anti-semitism shows Russian claims are (as always) quite false, Russians having triple the percentage of citizens with anti-semitic agendas;
Debate on switch to Latin alphabet;
Update on the gas war;
Update on Savchenko – Dmitriy Tymchuk MP served with her in Iraq and states his belief she was a mental health case even then;
Ukraine Reports
Window on Eurasia — New Series: Bolton's Appointment 'a Positive Signal for Ukraine,' Portnikov Says
Paul Goble Staunton, March 23 – US President Donald Trump's selection of former US permanent representative to the United Nations John Bolton as his national security advisor represents "a positive signal for Ukraine" because of his Reaganite views that the US should be the only superpower, Vitaly Portnikov says. Trump has been searching for people for his national security team who share his "system of political views and at the same time are capable of not contradicting" the president, the Ukrainian commentator says. "For this point of view, Bolton is an outstanding choice (ru.espreso.tv/article/2018/03/23/vytalyy_portnykov_ten_reygana_v_belom_dome). The new national security advisor's "views on the world were formed during the Reagan Administration, that is, when Donald Trump himself simply did not have any political views," Portnikov says. Under George W. Bush, he was known "as a tough and consistent conservative, a real foreign policy 'hawk'" who backed the war in Iraq and opposition to North Korea. Democrats opposed him, and Bolton responded in kind, being one of the sharpest critics of Barack Obama's policy regarding Russia and Ukraine. At the same time, Portnikov continues, Bolton has gained the reputation as "a conformist, an individual who seeks not to get into arguments with his bosses and is extremely tough with his subordinates … And this approach too," the commentator says, "could be what recommended him to Donald Trump." But there are likely to be some problems in the relationship between the two men. "John Bolt really has views and a reputation which arises out of them. Donald Trump isn't interested in the one or the other. Generally, the president isn't interested even in political power because Trump barely understands what it is." He is interested "only in being well-known and he is trying to run America with the approach of an experienced builder." Someone like Bolton could become "a real helper for Trump but only up to that moment when the decisions of the president do not begin to threaten his own reputation and ambitions." It is unthinkable that Boltson could be "the architect of agreements either with Russia or North Korea, and any attempts by Trump [to reach those] will become a problem for Bolton." Of course, it is possible that things won't go as far as an open break. "Bolton, in contrast to Tillerson will not begin to make remarks relative to the mental capacities of the president. He will simply after a certain interval depart," Portnikov argues. Thus he is unlikely to be Trump's last national security advisor. However, for as long as he holds onto this post, Bolton will represent "a positive signal for Ukraine."
Poroshenko on Ukraine's aspiration to become EU and NATO member state – 112.international
Ukraine's President Petro Poroshenko intends to initiate amendments to the Constitution to embed the state's strategy towards Euro-Atlantic integration – EU and NATO membership. Poroshenko stated that on the test site in Kyiv during the celebrations dedicated to the Security Service of Ukraine, broadcasted by 112 Ukraine. "In the near future I indents to introduce amendments to the Constitution to make this process irreversible by indicating a strategic aim of state's development – EU and NATO membership," Poroshenko said. Earlier, Petro Poroshenko expressed his support of Ukraine's aspiration to become EU and NATO member state and indicate this in the Constitution.
Poroshenko thanks U.S. for signing Consolidated Appropriations Act with increased aid to Ukraine | UNIAN
The most effective way to stop an aggressor is to assure him of readiness for a worthy defense and to repel any attack.
Law on national security to provide for parliamentary control over Ukraine's Security Service – Poroshenko – 24.03.2018 13:20 — Ukrinform News
A final version of the law on national security will contain a provision on civilian parliamentary control over the activities of the Security Service of Ukraine (SBU).
Poroshenko approves Annual National Program of Ukraine-NATO cooperation | UNIAN
President of Ukraine Petro Poroshenko on Wednesday signed a decree "On approval of the Annual National Program under the auspices of the Ukraine-NATO Commission for 2018". The ANP sets priorities for 2018 and medium-term goals to be achieved by 2020.
Ukraine, NATO launch international platform for de-occupation of Crimea and Donbas – 29.03.2018 15:50 — Ukrinform News
The annual national program under the auspices of the NATO-Ukraine Commission for 2018 provides for creation of an international platform to facilitate the liberation of the temporarily occupied territories of Donetsk and Luhansk regions, Autonomous Republic of Crimea and Sevastopol. This is stated in the text of the annual national program for 2018, published on the website of the President. "Particular attention is paid to the task of ensuring the continued support of the world community for the policy of non-recognition of the occupation of the Autonomous Republic of Crimea and the city of Sevastopol by the Russian Federation and the need to strengthen international monitoring of the human rights situation in the temporarily occupied territories of Ukraine. In this regard, the attention to Crimean issues within the framework of international cooperation should be attracted, as well as creation of an international platform for liberation of the temporarily occupied territories in Donetsk and Luhansk regions, the Autonomous Republic of Crimea and the city of Sevastopol should be intensified," the document reads. Preservation of the existing and introduction of the new special economic and other restrictive measures (sanctions) on the Russian Federation is defined as the effective instrument for achieving this goal.
Ukraine, NATO to study possibilities to counter Russian hybrid threats – 112.international
Ukraine intends to continue studying with NATO the possibilities of countering hybrid threats coming from Russian Federation. This was stated in the Annual National Programme under Ukraine-NATO Commission for 2018, approved by Ukrainian President Petro Poroshenko on March 28 "Medium-term goals: conducting joint research with NATO on combating hybrid threats in relevant areas, developing strategies and policies to counter hybrid warfare, taking into account the results of the studies conducted within the framework of the Ukraine-NATO Platform on studying the experience of countering the hybrid war in Ukraine," reads the programme. In addition, in Ukraine it is planned to develop methodological materials for training specialists on countering such threats, as well as "introducing a mechanism for exchanging experience with NATO member states, the EU, with other partners in countering the tactics of a hybrid war by the Russian Federation." Among the priorities for 2018 is the coordination with NATO of the projects proposed by the Ukrainian side on the Platform, establishing partnerships with the European Center of Excellence for Combating Hybrid Threats (Helsinki, Finland).
NATO member states offer Ukraine assistance in protecting elections from Russian cyber meddling – Klympush-Tsintsadze | UNIAN
NATO member states offered Ukraine assistance in protecting the electronic network of the Central Election Commission from possible Russian cyberattacks during the elections set to be held in 2019, according to Deputy Prime Minister of Ukraine for European and Euro-Atlantic Integration Ivanna Klympush-Tsintsadze who spoke with journalists in Brussels following an ambassadorial-level meeting of the Ukraine-NATO Commission. Vice Prime Minister stressed that Ukraine is interested in implementing such a proposal in the near future, ahead of the presidential and parliamentary elections to be held in 2019.
Report: Trump Didn't Want to Anger Putin After Ukraine Weapons Sale – The Daily Beast
Trump also reportedly told Putin that he would "win" an arms race.
Canada not to provide lethal weapons to Ukraine for free – 30.03.2018 09:53 — Ukrinform News
Canada supports Ukraine's sovereignty, but it will not provide lethal weapons for free.
Canada not to arm Ukraine for free – report – news about politics
Canada is not considering the possibility of providing Ukrainian troops with lethal weapons for free. The government of Canada remains in contact with the government of Ukraine on its requests for military equipment.
Ukraine MFA: Russian-Ukrainian Friendship Treaty can't be prolonged | UNIAN
Deputy Head of Ukraine's Ministry of Foreign Affairs (MFA) Olena Zerkal has said the Treaty on Friendship, Cooperation and Partnership between Ukraine and the Russian Federation cannot be prolonged since Russia has grossly violated it. Ukraine needs a new treaty with Russia to have legal tools for resolving disputes with that country.
Ukraine could break Treaty of Friendship and Partnership with Russia – 112.international
It is necessary that Ukraine breaks the Friendship and Partnership Treaty with Russia, – Olena Zerkal, the deputy foreign minister of Ukraine
Russia breaks military supplies contract with Ukraine – 112.international
Russia officially broke the bilateral agreement on military supplies with Ukraine. The respective message appeared on Russian official web portal of legal information. According to this document, the agreement, signed in 1995, stipulated conditions of supplies of military vehicles, weaponry and equipment. Due to the said document, it ceased to act on March 28, 2018. Previously, Ukraine's deputy foreign minister Olena Zerkal said that the bilateral Friendship and Partnership Treaty may be broken. 'We should define our position here by October this year, whether we will extend the duration of this document or not. As far as we can see, this treaty is ignored; so, given our current relations with Russia, we should be working on a new treaty that would settle the legal tools of settling disputes between the countries', Zerkal said.
Termination of economic cooperation with Russia makes Ukraine stronger, – Groysman – 112.international
Volodymyr Groysman, Ukraine's PM, believes that Ukraine's Government decision to terminate economic cooperation program with Russia will benefit Ukraine, balance its export policy and make the state stronger. He stated this in the interview for one of the channels, Government's press-office reports. "It was Russia to take unacceptable steps – the war in Donbas, economic pressure. That is why we had to make this decision. Our export to Europe and Asia is increasing. Due to the termination, we become even stronger," the PM stated. Groysman said that today Ukraine has to build production and develop its product. "I am happy, that we are independent from Russia now. We have our own huge potential," the Prime Minister said. Earlier, it was reported that the Cabinet of Ministers intends to terminate economic cooperation programs with Russia for 2011-2020 and create a state agency "Office on attracting and support of investments".
ATO, Joint Forces Operation to run simultaneously – 112.international
Anti-Terrorist Operation and Joint Force Operation will run together until President's decree cancels the ATO
Ukraine's Gerashchenko on Normandy Four statement: Putin never publicly supported Donbas ceasefire | UNIAN
President of the Russian Federation Vladimir Putin until this day never publicly supported the ceasefire in Donbas, according to Ukraine's representative to the humanitarian subgroup of the Tripartite Contact Group on Donbas settlement, First Deputy Chair of the Verkhovna Rada Iryna Gerashchenko. In a joint statement, Poroshenko, Merkel, Macron and Putin confirmed their commitment to the implementation of Minsk accords in all areas.
Escalation in Donbas: Ukraine reports 47 enemy attacks on Ukraine in last day | UNIAN
Russia's hybrid military forces attacked Ukrainian army positions in Donbas 47 times in the past 24 hours. No Ukrainian soldiers were killed or wounded in action.
Escalation in Donbas: Ukraine reports 44 enemy attacks, 1 KIA, 1 WIA in last day | UNIAN
Two shellings of the Ukrainian positions were recorded in the Luhansk sector.
Ukraine' s border guard got retinal burn due to use of laser weapons by Donbas militants – 112.international
Ukraine' s border guard got retinal burn due to use of laser weapons by Donbas militants
Russian militants' vehicle destroyed in Donbas (Photo) | UNIAN
A Russian-made vehicle, which was at the disposal of Russian-backed militants in Donbas, has been destroyed. The UAZ truck was manufactured in the Russian town of Ulyanovsk.
What new Russian weapon took out this Ukranian drone?
Last week, on the outskirts of Donbas, a Ukrainian non governmental organization encountered what appears to be a new counter-drone system from Russia.
Ukraine Conflict Monitors Relaunch Long-Range Surveillance Drone Program
The European security organization responsible for monitoring the deadly conflict between government forces and Russia-backed separatists in eastern Ukraine will reintroduce its long-range drone pr…
Once a sleepy resort town, Shyrokyne, on the Sea of Azov, is now one of the hottest points of the Ukraine war. RFE/RL photojournalist Andriy Dubchak visited the beach village that has now become a militarized ghost town.
Oleksandr Kosynskyi: "A Modern Army Can Only Exist Effectively In a Professional Format"
The history of the creation of a professional sergeant corps in the Ukrainian army dates back to 2005
NATO Major: Combat experience of Ukrainians has no analogues in the world – 26.03.2018 10:36 — Ukrinform News
Ukrainians possess unique combat experience, which has no analogues in the world, says Major Radoslaw Krawiec, commander of the Polish military contingent of NATO. As ZIK news agency reports, the Major expressed this opinion having observed the battalion tactical exercises of one of the brigades of the Operational Command "West" under the program of the Joint Multinational Training Group-Ukraine (JMTG-U) with the participation of foreign instructors from NATO member countries. The exercises were held at the International Center for Peacemaking and Security of the Hetman Petro Sahaidachny National Academy of the Land Forces. "Ukrainians possess unique combat experience, which currently has no analogues in the world. We observed those exercises. We assessed the skillfulness in organization of training places, accurateness of training conduct, careful consideration of security issues on part of Ukrainian military personnel. To sum up, I highly appreciate the efforts of Ukrainians," Major Radoslaw Krawiec said. Spokesperson for the Hetman Petro Sahaidachny National Academy of the Land Forces Taras Gren told the agency that during the period of their stay in Ukraine the servicemen of the Republic of Poland "highlighted the very friendly attitude of the people, who experienced real fighting, to the representatives of the armed forces of other states. Ukrainians shared their experience gained in battles with the colleagues."
FSB Border Institute cadet asks for sanctuary in Ukraine – 112.international
A cadet of FSB Border Institute in Russia asked for political asylum in Ukraine. According to Ukraine's State Border Guard, he is identified as Sergei Udovichenko, the ethnic Ukrainian who disapproves the current Russian government's policy towards Ukraine. 'During the interrogation, we found out that he actually is the senior cadet of Golitsyn Border Institute of the FSB (Russian federal security service, – 112 International). It appeared that he is the ethnic Ukrainian who fluently speaks Ukrainian and condemns the incumbent Russian government and its policy. According to him, he participated in the opposition-gathered rallies. After the presidential election in Russia, he decided to leave to Ukraine – permanently', the authority said. Ukraine's State Border Guard added that currently, the government considers granting Udovichenko the status of a refugee.
Russian serviceman applies for refugee status in Ukraine – 28.03.2018 11:38 — Ukrinform News
A cadet of the Golitsyn Border Service Institute of the Federal Security Service of the Russian Federation has applied for a refugee status in Ukraine.
SBU investigating probable involvement of Portnov in Crimea annexation under high treason article
The Security Service of Ukraine (SBU) has began investigating the possible involvement of former deputy head of the Presidential Administration of Ukraine, at the time of Viktor Yanukovych, Andriy Portnov, in the annexation of Crimea by Russia in the framework of criminal proceedings under "treason" article, MP Andriy Levus (People's Front faction) has said.
UAWire – UNESCO says the situation with historical heritage sites in Crimea has deteriorated
UNESCO has published a report on the situation in the annexed Crimea which shows a deteriorating situation on the peninsula, as reported by the …
UAWire – Mother of Ukrainian soldier captured in Donbas: Prisoners taken to Russia as laborers
Many Ukrainians who were captured in the Donbas have been taken to Russia, where they are used as laborers, claims Yadviga Lozinskaya, mother of the missing soldier Andrei Lozinskiy, Gordon writes. According to Lozinskaya, her 24 year-old son went missing in 2014 after the Illovaisk battles. Since then she has conducted the search for him herself. The last time Andrei phoned his mother was on September 5, 2014, from someone else's phone. He told her he had been captured. Lozinskaya traveled to the former SBU building in occupied Donetsk, but she was assured that they did not have Andrei. "Much later on I learned that he was there. They didn't want to show him to me. Then they transferred him to colony No. 10 in Snizhne and held him there until December 2014. When they started to establish order in Donetsk, everyone who was on the lists was exchanged, but those who were considered missing were handed over to the Luhansk bandits," Lozinskaya explained. She has asked everyone who returned from captivity about Andrei. "They told me that in 2015 he was in a factory in the region between Brianka and Sverdlovsk in the Luhansk province. Then they were taken to the 38th colony near Sverdlovsk. And from there they were taken to various construction operations in the Kursk and Rostov provinces," the mother said. According to her, nobody acknowledges this officially. "As early as 2014 we were told that there were 140 wounded Ukrainians in the Rostov military hospital. What happened to them? Those who came out of prison said that some of them were sent back to Ukraine, and others were taken into Russia. It's possible that they are taken to Russian building sites as laborers," Lozinskaya emphasized.
Russian Convicted In Absentia Of Joining Ukraine's Azov Battalion
A Moscow court has sentenced a Russian man in absentia after convicting him of fighting against Russia-backed separatists in eastern Ukraine.
UAWire – Ukrainian President: $5 billion in bank assets remain in occupied territory
During a meeting in Volyn Oblast, President Petro Poroshenko said that bank assets valued at $5 billion remain in the occupied territory. "One number that has never been made public is that bank assets worth $5 billion have remained in the occupied territory," the President said. Poroshenko added that these funds cannot be withdrawn because the treasuries had been seized.
UAWire – Ukrainian Security Service shuts down the operation of the office of 'pro-Kremlin hackers' in Kyiv
The Security Service of Ukraine (SBU) claims to have unmasked the activities of the office of "pro-Kremlin hackers" in Kyiv. The SBU press center says that "the hacker group controlled by the FSB of Russia organized cyberattacks, in particular against critical infrastructure facilities, state, and bank institutions." According to the department, the persons involved in the case used internet anonymizers to prevent the identification of the attacks, and used so-called "bot farms" to conduct special information operations against Ukraine. During searches at the office and at residences of the participants of the group, law enforcement officers discovered software and hardware systems, server equipment, computer equipment, and more than 50,000 mobile operator cards from different countries, the Security Service stated. The pre-trial investigation as part of the criminal proceedings under section 361 of the Criminal Code of Ukraine (unauthorized interference into the functioning of computers, automated systems, computer networks or telecommunication networks) continues. The Russians have not commented on this statement by the SBU. Last summer, several hacker attacks were conducted in Ukraine. In particular, in June there was a cyberattack using a virus called Petya.A, and later with a virus called NotPetya. In February of this year, the White House accused the Russian military of carrying out the largest cyberattack in history with the use of the NotPetya virus in June 2017. However, Moscow calls the accusations of its involvement in this cyberattack as "unproven and groundless."
What happened to Ukraine's border wall against Russia? | Russia News | Al Jazeera
Announced in 2014 as a defence border, lack of funds and corruption charges stall building with 15 percent constructed.
Ukraine's defense ministry brings to justice those behind Shyroky Lan incident – 112.international
Defense ministry of Ukraine brought to justice officials responsible for the poor conditions at Shyroky Lan firing range
Ukrainian Police Bust Online Market For Military Equipment
Amphibious armored-personnel carriers and infantry fighting vehicles, off-road transport trucks, tanker trucks, and trailers were among some 200 objects that have been seized by Ukrainian police af…
Ukraine news – 200 units of stolen military equipment found In Zhytomyr – 112.international
The military equipment was to be sold via the Internet
The new priority of the Security Service is counter-intelligence and antiterrorist defense of the state
the 26th anniversary of the establishment of the Security Service of Ukraine
Ukraine's SBU releases video about its part in Donbas conflict – 112.international
Ukraine's state security service, the SBU, is one of the first law enforcement agencies that engaged the enemy in Donbas conflict in spring 2014; back then, an SBU serviceman deceased in combat in Sloviansk, Donetsk region in April 2014. This was mentioned in the video, released by the SBU press service on its Youtube channel – and timed to the anniversary of the beginning of the counter-terrorism operation in eastern Ukraine. The SBU reiterated that the counter-terrorism operation in Donbas appeared effective, given the overall progress; over 6,000 Russian soldiers deceased in Ukraine, and the militant-held area shrunk in size. 'Over the last four years, the SBU turned into a modern effective specuial service; it learned how to act one step ahead of its adversaries,' the message of the press service says. The armed conflict in eastern Ukraine began in April 2014. Since military actions began, thousands of civilians left their homes in Donetsk and Luhansk regions, becoming internally displaced persons.
Ukraine Intel: We Caught Iranians Smuggling a Ship-Killing Missile
'Had the Kh-31 been successfully procured, Iran's ability to project power, harass vessels, and deter great powers in the Persian Gulf would've measurably grown,' one expert says. Four days into 2018, two Iranian nationals tried to buy parts of an advanced missile in Kyiv, according a spokesperson for the Ukrainian intelligence service. This effort appears to have violated a UN arms embargo on Iran. Masked men in Ukraine's secret police arrested the men and found parts of the missile in their vehicle, according to the spokesperson. What followed became a secret diplomatic incident, and both men were detained and then quietly deported to Iran. Handout Vasyl Hrytsak, the head of Ukraine's intelligence service, described this all to American government officials during a recent trip to Washington. The attempt as alleged by Ukrainian intelligence sources likely violated United Nations' prohibitions on Iranian arms procurement. And it shows Iran may intend to procure weapons that would let it make the Persian Gulf more dangerous than ever. Hrytsak told American officials Iranians tried to procure an X-31 anti-ship missile components, produced in Ukraine. "X-31" can also be rendered as a Kh-31 missile, depending on how you transliterate the cyrillic.
UAWire – Poltorak : Ukraine to build military bases according to NATO standards
Defense Minister Stepan Poltorak announced the construction of four military base complexes in different regions of Ukraine: Shirokiy Lan, Cherkaske, Starychi and Dachnoe-2.Defense Ministry spokesperson Dmytro Gutsulyak said on Saturday, March 24 that this was discussed during Poltorak's meeting with people's deputies on the day before. Poltorak said that the construction of improved barracks on the territory of the military bases is planned and underway, including barracks for female soldiers, canteens, sports facilities and infrastructure development. The minister further stated that this year should see the construction of 184 barracks. Poltorak invited construction companies to engage in this process and noted that the Ministry of Defense is building these military complexes to meet the standards of the world's leading countries. All of the complexes are being built at Shirokiy Lan training base. These include the improved barracks, designed for four to six thousand people, dining facility, cultural center, bath and laundry complex, medical and sports centers, roads, infrastructure, septic systems, transformer stations, water supply and sewage systems. The Minister emphasized that they plan to finish all construction in autumn.
Defense Minister Poltorak signs military cooperation document in Qatar – 21.03.2018 10:44 — Ukrinform News
During the official visit of President Petro Poroshenko to Qatar, six documents on mutually beneficial cooperation, including military one, were signed, the Ukrainian Defense Ministry's press service reports.
UkrOboronProm completes contract for supply Oplot-T tanks to Thailand – Defence Blog
Ukraine's state-owned defence holding, UkrOboronProm, has successfully completed a contract worth more than $240 million for supply Oplot-T main battle tanks to Thailand, as reported by the press service of holding. The contract for the supply of the Oplot-T main battle tanks to the Kingdom of Thailand has been successfully completed. The Ukrainian armored vehicles successfully passed the test in the presence of customers and in the near future will be sent to Thailand. This was stated by the General Director of UkrOboronProm Pavel Bukin after the completion of the tests. "The contract was carried out despite unfair competition and military aggression of Russia We are grateful to our strategic partners from Thailand for a wise understanding of the problems that Ukraine faced and for the belief that Ukraine is able to overcome the artificial barriers erected in the way of our relations," noted Pavel Bukin.
Contract with Thailand is fulfilled. Next batch of Oplot tanks for Ukraine, – Pavlo Bukin
The batch of combat vehicles successfully passed the test
Improvement of Ballistic Helmet for the Ukrainian Ground Forces
Ballistic helmet is made of non-flammable para-aramid material
India, a battlefield for the defence industries of Ukraine and Russia – LB.ua news portal
The competition between Ukrainian and Russian defence companies is increasingly tightening in the Indian military market, which is developing and is considered one of the most promising ones. Numerous failures of joint Russian-Indian projects, as well as international sanctions against Russia, stimulate India's withdrawal from the obsessive Russian care in arms exports and prompt Delhi to work directly with Kyiv.
Double standards: How Russia tries to oust Ukraine from international defense business | UNIAN
Officials at Ukrainian companies dealing with repair and modernization of aviation equipment in the foreign markets complain about the increasing pressure on the part of their direct competitors – companies from the Russian Federation. The Russians employ a wide range of means to crowd out competitors from Ukraine – pretty much anything from lobbying to blackmail and bribery. Ukraine has to do everything in its power not to be squeezed by Russian companies out of the market for the repair and modernization of Soviet-era military aircraft.
Bukin: Corporatization of Ukroboronprom should be thoroughly prepared, privatization amid military actions in Ukraine poses many risks
Exclusive interview with Ukroboronprom Director General Pavlo Bukin for the Interfax-Ukraine News Agency
Ukroboronprom to reduce staff by 40 percent – 112.international
The supervisory board of Ukraine's state-run enterprise 'Ukroboronprom' decided to reduce the company's staff by 40 percent
Ukraine's arms export to world market is less than 1.5%, – MP – 112.international
This was claimed by the representative of Ukraine's Petro Poroshenko Bloc Party Ivan Vinnyk, as opposed to the earlier SIRPI report, stating that country's export is 1.7%. Stockholm International Peace Research Institute (SIPRI) Published a report according to which during the past five years (2013-2017), Ukraine has taken the 11th place among world arms exporters, providing 1.7% of all world export. It was also stated that Ukraine has been supplying weapons to Russia (23%). But Ukrainian Petro Poroshenko Bloc Party's MP and a secretary of the Committee on National Security and Defense Ivan Vinnyk said in a commentary to 112 Ukraine TV channel that since May 2014 Ukraine has not supplied a single arms component to Russia. "I have just had a meeting with the head of State service of export control of Ukraine in connection with this information and I can confirm once again that since May 2014 not a single arms component was supplied to Russia by Ukraine," he noted. Vinnyk is convinced that Ukraine's arms export to world market is less than 1.5%. "This report is the analysis of the information sources. The origin of the weapons is linked to the country that has invented it in its due time. Ukraine's defense complex since USSR has a number of patents on arms, missiles, planes, which Russia now produces on its territory and illegally uses as an intellectual property of Ukraine. Regarding the prices, I also have interesting information: the assessment of the report is not made based on price indexes, but on quality indexes. All the contracts on arms transfers are classified and contain payments that are not connected to the product's cost. That's why this report has to be considered carefully," the MP said. He also noted that Committee on National Security and Defense has addressed the State service of export control of Ukraine with an official inquiry regarding this issue.
Ukraine to buy new rotorcraft from Airbus Helicopters | Jane's 360
The Ukrainian government is to procure a number of European helicopters to be used for a range of military and para-public operations, national media reported on 24 March. The country is to sign a contract with Airbus Helicopters for the purchase of 55 new H125, H145, and H225 platforms to be used by the Ukrainian National Guard (UNG), as well as by government and law enforcement agencies. The Interfax-Ukraine news agency that reported the planned deal did not provide a break-down of these helicopter numbers, and neither did it disclose a contract value or planned delivery timelines. Airbus Helicopters told Jane's that it does not comment on discussions with potential customers. As noted by Jane's World Armies , the UNG was a civil police organisation before being placed under the operational control of the army following the invasion and annexation of Crimea by Russia in early 2014. It now numbers around 46,000 personnel, and is equipped with similar equipment as the army. While the Ukrainian Army fields several Soviet-era helicopter types, comprising Mil Mi-2/6/8/9/24/26s, it is not known whether any of these are operated by the UNG.
Ukraine signs agreement with France on purchase of 55 Airbus helicopters for Interior Ministry
Ukrainian Interior Minister Arsen Avakov and French Minister for European and Foreign Affairs Jean-Yves Le Drian have signed an agreement on the purchase of 55 helicopters produced by Airbus Helicopters for the needs of the Ukrainian Internal Affairs Ministry.
Ukraine signs deal with France to buy 55 Airbus helicopters
Ukraine signed a preliminary agreement on Friday with France to buy 55 helicopters from a division of Airbus to be used by the police, border guards and emergency services.
Ukraine to buy French helicopters for emergency services – Poroshenko | UNIAN
The first batch is to be supplied as early as this year.
Ukrainian rescuers to get four helicopters from France this year – Poroshenko – 23.03.2018 15:58 — Ukrinform News
France plans to transfer four air rescue helicopters for the needs of Ukrainian rescuers.
Ukraine's Interior Ministry to procure 55 Airbus helicopters – Defence Blog
H125 – Airbus Helicopters [Squirrel]
Вертолеты Airbus Helicopters (до января 2014 – Eurocopter) широко используются по всему миру. Во многом это стало возможным благодаря способности группы компаний Airbus Helicopters интегрироваться в местный рынок – понять культуру, людей и подход к ведению бизнеса в каждой отдельно взятой стране.
Ukraine's National Police to get 10 H145 helicopters in 2020 – 112.international
Ukraine's National Police to get 10 H145 helicopters in 2020
H145 – Airbus Helicopters [Lakota derivative]
Вертолеты Airbus Helicopters (до января 2014 – Eurocopter) широко используются по всему миру. Во многом это стало возможным благодаря способности группы компаний Airbus Helicopters интегрироваться в местный рынок – понять культуру, людей и подход к ведению бизнеса в каждой отдельно взятой стране.
Mehrzweckhubschrauber H 145 M@20170610 – Eurocopter EC145 – Wikipedia
H225 – Airbus Helicopters [Super Puma / Cougar]
Вертолеты Airbus Helicopters (до января 2014 – Eurocopter) широко используются по всему миру. Во многом это стало возможным благодаря способности группы компаний Airbus Helicopters интегрироваться в местный рынок – понять культуру, людей и подход к ведению бизнеса в каждой отдельно взятой стране.
UAWire – Kyiv: Russia should return Kuban to Ukraine
At a recent briefing, Ukraine's Minister of Infrastructure, Volodymyr Omelyan, stated that the Crimean Bridge will connect "Ukrainian Crimea" with "Ukrainian Kuban", UNN reported. "From a political point of view, I see that this is a bridge that will connect Ukrainian Crimea and Ukrainian Kuban," Omelyan said. He stressed that Ukraine's losses from the construction and commissioning of the Crimean bridge are estimated at "tens of millions of hryvnias." In May 2017, Omelyan stated that air traffic between Ukraine and Russia could be restored if Russia returns to Ukraine Kuban, the Crimea and the rest of the "Ukrainian territories that had been seized" by Russia over time. In the summer of 2016, the Head of the Donetsk Military Civil Administration, Pavlo Zhebrivsky, said that Ukraine must "get back" Kuban and Kursk, which are now part of Russia. "Sooner or later we must return the native Ukrainian lands—Kursk, Bryansk, Voronezh Oblast, Rostov Oblast and the Krasnodar Krai. This is where the Ukrainian essence, the Ukrainian mentality is present," he said. Subsequently, Communist Party Deputy Sergei Obukhov, who represents the Krasnodar Krai in the State Duma, asked the Head of the Investigative Committee, Alexander Bastrykin, to initiate criminal proceedings against Pavlo Zhebrivsky in accordance with Part 2 of Section 280.1 of the Criminal Code of the Russian Federation, which addresses public calls for actions aimed at violating territorial integrity through the use of mass media.
UAWire – EU Commissioner: Ukraine has broken promises and is moving away from its European aspirations
European Commissioner for European Neighborhood Policy, Johannes Hahn made a tough statement regarding the failure of the Ukrainian authorities to fulfill their own promises. The text of the statement was published on the European Commission website. Apparently, the deadline for submission of the asset declarations by civil society activists working in the sphere of counteracting corruption will lapse on April 1. Brussels has repeatedly demanded that Ukraine abolish this obligation but nothing concrete has been done. President Poroshenko proposed a draft law that was criticized by the Venice Commission, and the Verkhovna Rada found no votes to abolish the scandalous norms. "The Ukrainian authorities have not lived up to their commitments," Hahn stated. "The failure to repeal the extension of this obligation from public officials to civic activists is contrary to Ukraine's European aspirations. It is also contrary to the strong recommendations given by Ukraine's international partners, including the Venice Commission, the OSCE/ODIHR, and the EU (also in the context of monitoring Ukraine's continued implementation of commitments in the visa liberalization process—Ed.)," Hahn added. The European Commissioner, whose responsibility is Ukraine, recalled that civil society must be able to control the activities of the authorities "without undue obstacles and interference," and noted that the system of electronic declaring was created to "prevent corruption by public officials." "Civil society members are not public officials," he added.
Ukraine, Israel ready to sign FTA agreement – PM Groysman – 28.03.2018 12:33 — Ukrinform News
Ukraine and Israel have reached the final stage of signing the agreement on a free trade area (FTA).
Facebook most popular social networking site in Ukraine – 27.03.2018 16:27 — Ukrinform News
The most popular social networking site in Ukraine is Facebook, which is used by 35.5% of Ukrainians, Deputy Director of Kyiv International Institute of Sociology (KIIS) Anton Hrushetsky has said.
Ukraine news – 5,180 murders commited in Ukraine in 2017 – 112.international
5,180 murders commited in Ukraine in 2017. 5,180 murders were committed in Ukraine, which is a thousand less than in 2016 as to Ukraine's General Prosecutor's Office information, Ukrainski Novyny reported. Those were the crimes, which are set in Ukraine's Criminal Code articles on intentional homicide, intense emotional excitement murder, intentional homicide of a child by a mother, murders as a result of an excessive self-defense or excessive measures to detain a criminal. 1,633 of them were intentional murders. 6,051 murders were committed in Ukraine in 2016.
Cabinet green-lights Kyiv-Boryspil high-speed railway construction | UNIAN
The Cabinet of Ministers of Ukraine has approved the construction of a high-speed railway line between the city of Kyiv and Ukraine's largest state-owned international Boryspil Airport located outside the capital, in the town of Boryspil, Kyiv region. Ukrzaliznytsia will build a railway line from Kyiv-Passazhyrsky railway station to Boryspil International Airport at its own expense.
Ukraine, Ryanair sign agreement on cooperation; flights to start in October – 112.international
Ukraine, EU boosting "industrial dialogue" – news about economy
Ukraine and the European Union are strengthening their dialogue in the area of industry to achieve a higher pace of economy growth in Ukraine and ensuring involvement of Ukrainian producers in the European added value chains and pan-European industrial strategy.   The EU Commissioner says Ukraine is a real example for Europe in the context of rebuilding the state.
Pope Francis defrocks nine Ukraine monks amid rogue exorcisms claims | Daily Mail Online
Ukrainian nun Sister Maria Baran shared messages from the Almighty with Father Grigory Planchak. When he and eight fellow monks spread her words, the Pontiff intervened, defrocking the group.
UAWire – Polish Foreign Ministry: Act on the Institute of National Remembrance doesn't pose a threat to Ukrainians
Ukraine's glorification of people that Poland considers criminals has been contributing to national enmity between the two countries and it continues to poison Ukrainian-Polish relations, as stated by the Deputy Foreign Minister of Poland, Bartosz Cichocki in an interview with Evropeiska Pravda. As an example, the diplomat spoke of the incident when a Polish nurse tore up a Ukrainian document after seeing that the place of registration was Stepan Bandera Street. The diplomat emphasized, "This is an unfortunate incident, but I want to stand up [for her]: we know nothing of girl's family history. Perhaps her relatives were killed by followers of Bandera" Cichocki went on to say that the Ukrainian girl was in no way to blame for it because a document specifying a place of registration tells nothing incriminating about a person. "But it shows that the glorification of Ukrainian people that we consider criminals continues to poison our relations," he said. At the same time, he made assurances that Poland does not claim that it should decide after whom the streets of Ukrainian cities have to be named."
Condoning Crimea occupation to encourage Russia to further violations of int'l law – Polish MFA | UNIAN
Condoning the occupation of Crimea will encourage Russia to further violations of international law and affect the security of the European Union, according to Deputy Foreign Minister of Poland Bartosz Cichocki. This will also affect EU security, Poland's Deputy FM says.
Late Polish leader warned against Russian attack on Ukraine: ex-NATO chief – Radio Poland :: News from Poland
Former Polish President Lech Kaczyński was right when he warned in 2008 that Vladimir Putin's Russia would attack Ukraine, ex NATO chief Anders Fogh Rasmussen has said.
Poland may establish state agency for Ukrainian labor migrants – 26.03.2018 14:25 — Ukrinform News
A state agency for Ukrainian migrants that would protect their labor rights is proposed to be established in Poland.
Zakarpattia becomes target of Russian special forces, – Poroshenko – 112.international
Zakarpattia became the target of an attack of Russian special services aimed at complicating relations between Ukraine and its Western partners. This was stated by President Petro Poroshenko on air of 112 Ukraine TV channel in his speech on the occasion of the Day of the National Guard of Ukraine. "A number of recent events shows that the struggle of real Ukrainian patriots for the right to live in a sovereign, strong, independent country, democratic, European country continues on its entire territory. From Donbas, where a direct foreign aggression is being carried out against our state, and to Zakarpattia, which became the object of an attack of Russian special services aimed at complicating between our state and our Western partners, "he said. "It's easy to know where the enemy is on the front. It's harder to understand this in the rear because here in Ukraine the enemy camouflages, replicates, mimics, acts disguised, insidiously, disguising as the "fifth column." Poroshenko added.
Trailer of new war drama about annexation of Crimea appears on Internet – 112.international
The first trailer of Ukrainian war drama about Cherkasy minesweeper appeared on Youtube
The power of Ukraine's famine – The Globe and Mail
Debates over famine and genocide were always proxy arguments. The real subject was Ukraine's right to exist, Anne Applebaum writes
Remains of Soviet terror victims re-buried in Ivano-Frankivsk – 112.international
The remains of 134 victims of the Communist terror were re-buried in Ivano-Frankivsk, western Ukraine. According to West News, the local outlet, the ceremony took place at Demyaniv Laz memorial park; it is the area where hundreds of innocent civilians were murdered by the Soviet secret police, the NKVD – one of the many crimes committed by the Soviets in Ukraine in the 1930s and the 1940s. 70 men, 53 women and two children were identified; anotehr nine could not be identified due to grave skullbone injuries.
Survey: Anti-Semitism rate in Ukraine overestimated | UNIAN
A Pew survey has found Ukrainians to be far more accepting of Jewish fellow citizens than other countries throughout the former Eastern Bloc. These survey results directly contradict Moscow's attempts to portray Ukraine as a xenophobic country.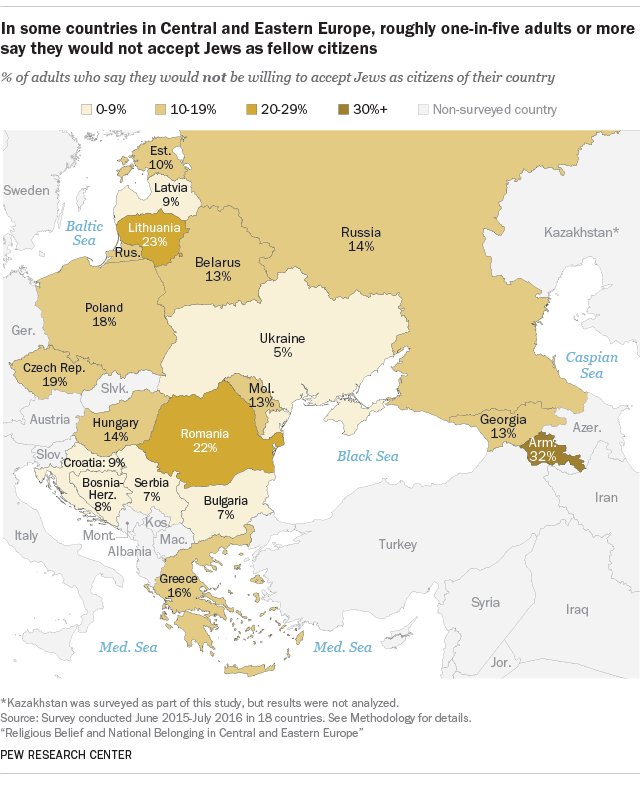 The RVSN Museum has been expanded with new exhibits, including the military railway missile complex
The collection of the Museum of Strategic Missile Forces, located in the settlement of Pobuzko, Kirovograd region, has been replenished with new exhibits.Visitors will be able to see a unique exhibit – the Marine Iron Missile Complex (BZRK), which consists of five wagons and a shunting train. Especially for him, in early 2018, 132 meters of railways were built on the territory of the museum.The BZRK is represented by a shunting locomotive, passenger carriages for personnel, an escort car and launch vehicle for strategic missiles that look like regular isothermal transport cars.
Klimkin welcomes discussion on switching to Latin alphabet in Ukraine | UNIAN
Foreign Minister of Ukraine Pavlo Klimkin has called for a discussion on the introduction of the Latin alphabet in parallel lines with the traditional Cyrillic one in Ukraine. At the same time, the Parliament says the issue is too early to put on the agenda.
Ukrainian historian Viatrovych: Move to Latin alphabet to only contribute to Russification | UNIAN
Director of the Ukrainian Institute of National Remembrance Volodymyr Viatrovych has said Ukraine's transition to the Latin alphabet may contribute to Russification in the country and prevent many citizens from switching to the Ukrainian language. Viatrovych said this change could provoke movement in the opposite direction.
Russia-Ukraine Gas Spat Highlights Geopolitical Divide | OilPrice.com
The latest gas dispute between Russia and the Ukraine shows that Russia cannot completely abandon the Ukrainian gas route as it continues to ship vast amounts of gas to Europe
Gazprom unable to stop implementation of Stockholm Arbitration awards: MFA Ukraine | UNIAN
Russia's gas monopoly Gazprom is unable to halt the process of execution of awards handed down by the Stockholm Arbitration, obliging it to pay $2.58 billion to Ukraine's Naftogaz, said Deputy Foreign Minister of Ukraine Olena Zerkal. Naftogaz lawyers have already begun preparing for the litigation to force Gazprom to comply with the arbitration award.
Gazprom refuses to resume gas supplies to Ukraine and pay $2.6 bln in favor of Naftogaz – 27.03.2018 16:49 — Ukrinform News
Russia's Gazprom refuses to resume gas supplies to Ukraine in accordance with a decision of the Stockholm Arbitration and to pay $2.6 billion in favor of Ukraine's Naftogaz.
Gazprom refuses to live up to Stockholm arbitrary court decision, – Naftogaz-Ukraine – 112.international
Russia's energy monopolist Gazprom refused to abide by the decision of Stockholm arbitrary court, – Naftogaz-Ukraine
Ukrainian NPPs could fully refuse from Russia's TVEL fuel – Nasalyk | MENAFN.COM
(MENAFN – UkrinForm) All Ukrainian nuclear power units can be fully provided with Westinghouse nuclear fuel, even if Russia refuses to supply TVEL fuel to Ukraine. UkrainianEnergy and Coal Industry Minister IhorNasalyk stated this on 112 Ukraine TV channel. 'If the Russian Federation refuses to supply TVEL [fuel], then we could be fully provided with Westinghouse products, including 440th units of Rivne NPP," he said. Nasalyk also added that the Ukrainian united energy system is highly reliable and at present it can generate 84 million kW more than last year, which amounts to the capacity of 3.5 nuclear power units, the minister stressed. "Even if 1-2 power units stop in a European country, then it is an emergency. And we have already covered the capacity of 3.5 nuclear power units," Nasalyk said.
The Savchenko Video 'Evidence': Ukraine's 'Hero' Aviator Facing Terror Charges For Alleged Coup Plan 
Hero of Ukraine Nadia Savchenko is facing serious criminal charges, including terrorism, and some say the alleged video and audio evidence against her is credible.
Dmitry Tymchuk | For psychiatric exam of Savchenko, it is necessary to attract experts from the EU, – IP coordinator
Relative to psychiatric examination by Savchenko. Many commentators (including the Prosecutor General) speak about the necessity of involuntary sending of N.Savchenko to a psychiatric examination. I unequivocally support this idea (considering the behavior of Savchenko still in Iraq, and until today's events). But with one condition, the observance of which I consider necessary. Namely – it is obvious that experts from the EU countries should take part in such an examination. To avoid speculation. Since after detention, even many of our yesterday's critics Savchenko suddenly began to defend it (or rather – to use it as an additional reason for criticizing the authorities, and, accordingly, for their own PR). By the way, a day ago I met with representatives of the embassy of one of the major EU countries, and when it came about Savchenko, I made this option (that is, with the involvement of psychiatrists of this country for examination). I did not see any special enthusiasm among my interlocutors, but there were no objections. PS Yesterday, the former deputy head of the SBU V. Yagun said that Savchenko had high patrons, beginning with her studies at a military high school. I can confirm this. Firstly, it is impossible to enter a military high school (and even a flying one) without a "hairy paw" with similar moral and psychological qualities, a pathological inclination toward shocking, a complete lack of understanding of discipline (which was proved by the same stay in Iraq – who served in the contingent, about the "Operation" Bitch "). Secondly, I directly asked some of our generals how Makar Savchenko was in the same contingent in Iraq, where the servicemen were sent only through a hard VVC (Ukrainian VLK – Viaskovo-Likarnia komisya). Generals were raising their hands, and they said that such a "request" came from a high level (they did not name the names of the names, though). Coordinator of IP Dmitry Tymchuk
Savchenko to remain in custody after losing appeal | UNIAN
The Kyiv City Court of Appeals upheld the decision of the first instance court to keep Nadiia Savchenko behind bars for a period of 59 days. The MP accused of plotting a coup and a terror act in Kyiv shall not be bailed out, the court rules.
UAWire – Ukrainian Security Service: Moscow ordered Russian soldiers stationed in Donbas to hand over their passports
The Security Service of Ukraine (SBU) has published audio recordings of intercepted phone calls made by separatist from the Donetsk and Luhansk People's Republics (DPR and LPR). "The SBU has acquired repeated evidence of the presence of Russian soldiers in the illegal armed formations of the so-called D/LPR. In the audio recordings of the terrorists' phone calls that were intercepted by the SBU, one can hear an order from Moscow to immediately hand over the Russian citizenship passports of all the Russian soldiers and special forces who are fighting in the LPR and DPR territory, and to receive the fake republics' passports as cover documents," the SBU press center reported. SBU spokesperson Ihor Huskov said in a 112 Ukraine broadcast that there are actually many more recorded phone calls. Amongst them are the positions of the participants in the so-called 9th Motor Rifle Regiment of the DPR 1st Army Corps. The recordings were made on March 23, Huskov clarified, which means that the order was to hand over the passports by March 24. These recordings are further evidence of the presence of Russian military personnel in the Donbas, Huskov emphasized. "According to the SBU's information, the number of Russian troops is almost 38,000 today, including Russian advisers and instructors, who number more than 2,000," he noted.
Ukraine to explain to international partners situation with Savchenko – Vice Prime Minister | UNIAN
The official is convinced that the case will not affect Ukraine. Ukraine will explain to international partners the situation with the court decision on the arrest of MP Nadiia Savchenko. "It is very important for us that the investigation follow the rule of law. If the trial is transparent and in line with the law, I think that this situation will not affect Ukraine," Vice-Prime Minister for European and Euro-Atlantic integration of Ukraine Ivanna Klympush-Tsintsadze told journalists, according to an UNIAN correspondent. "I think that now it will take a little time to explain to our partners what has actually happened, and what evidence was provided by the Prosecutor General's Office in order for such a decision regarding both stripping her of immunity and bringing her to responsibility, and arresting her was taken by the Verkhovna Rada. We see that the court's decision should be explained. If you remain silent, nobody will hear you," she said.
Chief Prosecutor suspects Medvedchuk of plotting coup in Ukraine together with Ruban, Savchenko | UNIAN
Ukrainian Prosecutor General Yuriy Lutsenko has said the Prosecutor General's Office has questions to the leader of the Ukrainian Choice movement, Viktor Medvedchuk, about his involvement in plotting a coup in Ukraine together with the former hostage swap negotiator, Volodymyr Ruban, and Ukrainian Member of Parliament Nadiia Savchenko. Lutsenko claims the rallies organized by the Movement of New Forces Party in Ukraine led by Mikheil Saakashvili were also part of the plan to destabilize the situation in the country.
Chief prosecutor: Probe into Savchenko case will last two or three months | UNIAN
Ukrainian Prosecutor General's press secretary Larysa Sargan has said Ukrainian Prosecutor General Yuriy Lutsenko expects the investigation into the case of Ukrainian MP Nadiia Savchenko, suspected of preparing terrorist attacks and seizing state power, will last two or three months. Savchenko was arrested by a Ukrainian court on March 23 for 59 days without bail.
She lost weight but she is alive, – lawyers about Savchenko – 112.international
She lost weight but she is alive, – lawyers about Savchenko
Savchenko case distracts people's attention from corruption, collapse of national security and economic system – 112.international
Ex-head of the Security Service Valentyn Nalyvaichenko in an interview tells about the support the US gives to Ukraine, the punishment of those guilty of MH17 tragedy, and also about his own political ambitions
Russia tries bringing hybrid war epicentre to heart of Ukraine, – Poroshenko – 112.international
Russia has been trying to bring the epicentre of the hybrid war in Ukraine from Donbas to Kyiv. Petro Poroshenko, president of this country, said this in his speech at Pyatykhatky firing range in Kyiv region. 'The less the enemy attacks in the combat area, the more active he gets behind our lines. The aggressor desperately aims to move the epicentre of the hybrid war as close as possible to the heart of Ukrain, to the beautiful city of Kyiv, our ancient capital city' he said. The head of the state added that over the last month, Ukraine's state security service has conducted two successful special operations. One of them ended up in 'busting an enemy's nest, which was preparing large-scale terrorist acts in Kyiv with multiple victims, and planned a coup d'etat in the interests of the Russian Federation', as Poroshenko put it, probably referring to Nadiya Savchenko's case.
Poroshenko on SBU Day: Exposure of Savchenko, Saakashvili worthy of textbooks for security agencies | UNIAN
Ukrainian President Petro Poroshenko during the celebrations on the occasion of the 26th anniversary of the Security Service of Ukraine commented on the MP Nadiia Savchenko case. The president said it was worth being included in textbooks for security agencies, the TSN news service reports. Poroshenko thanked the special services for "skillfully revealing the hostile cell plotting large-scale terrorist attacks in Kyiv". The Kremlin denies reports that Savchenko is allegedly their agent, calling her case Ukraine's internal issue. "Over the past two months, the SBU carried out two large-scale operations that are worthy of being included in textbooks for future special services. First, the connection between the "protest camp" outside the Verkhovna Rada was brilliantly revealed and legally documented with the Malorossiya political emigrants in Russia acting under control of the Russian FSB.Conclusive evidence was obtained and the financial flow was blocked between the Dnipro River and the Moscow River, used to channel those '30 pieces of silver'," said Poroshenko. Read more on UNIAN: https://www.unian.info/society/10055456-poroshenko-on-sbu-day-exposure-of-savchenko-saakashvili-worthy-of-textbooks-for-security-agencies.html
Savchenko refuses to provide investigation with her voice sample, biomaterial for DNA expertise
MP Nadiia Savchenko has refused to provide the investigation with a sample of her voice and biomaterial for DNA examination.
Russia denies recruiting Savchenko – 112.international
The very assumption that Nadiya Savchenko was recruited by Russian special services, while in detention in the Russian prison, is a complete nonsense. Dmitriy Peskov, press secretary of Russian president, said that in his interview for MIR 24 TV channel – as quoted by RIA Novosti. 'That probaly comes from the British, they like assuming such things. Of course, it's a complete nonsense. Savchenko's case is a deeply domestic affair of Ukraine', he said.
Kyiv Court Orders Two-Month Pretrial Detention For Savchenko
A Ukrainian court has authorized the detention in pretrial custody of Ukrainian lawmaker Nadia Savchenko, a celebrated former military pilot accused of plotting a terrorist attack on parliament wit…
Savchenko complains about video surveillance, tinted windows in prison cell | KyivPost
The staff of the secretariat of the Verkhovna Rada commissioner for human rights has checked the observance of the constitutional rights and freedoms of Ukrainian MP Nadiya Savchenko in a pretrial detention center, the ombudsperson's press service reported on March 24. "The staff of the secretariat has examined the materials from the personal case of the people's deputy and met with her. Nadiya Savchenko announced that she went on a hunger strike and that she last ate on the evening of March 23. At the moment, she has no complaints about her condition. Her request for hot water and a shower has been satisfied, and her right to freely choose a doctor if needed has been explained," reads the report. The ombudsperson's press service also noted that "Nadiya Savchenko voiced her remarks to the staff of the ombudsperson's secretariat about video surveillance and tinted windows in the prison cell, her observations were checked, there were no gross violations of her rights and freedoms." Earlier, Human Rights Commissioner Liudmyla Denisova announced her intention to personally monitor the observance of Savchenko's constitutional rights. On March 23, the Shevchenkivsky District Court of Kyiv ruled to select a preventive measure for Ukrainian MP Nadiya Savchenko in the form of detention for 59 days, until May 20. Though Judge Yevhen Sydorov found Savchenko's detention on March 22, 2018 to be groundless, he chose to put her in custody without a bail option as a preventive measure. The MP's defense lawyer told journalists the defense intends to appeal the chosen measure of restraint on March 26.
Nadiya Savchenko, Ukraine war hero, wants coup – Washington Times
In its drive to become a Western-style liberal democracy, Ukraine is heading in the wrong direction.