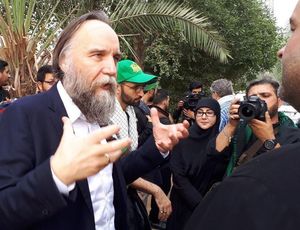 Aleksandr or Alexander Dugin, noted Russian propagandist and strategist, is in Iraq. 
His purpose appears to be to promote the intertwining of propaganda with religion, although it was not entirely clear.  This is done in Russia with increasing frequency. 
Russian fascist Aleksandr Dugin is on the move again, meeting with Moldovan Putin's tool Igor Dodon, the convicted anti-Semite Kémi Séba, and some Iranian Islamists.
</end editorial>
---
---
(Translated from Persian)
The Russian theorist and author who has traveled to Iraq to observe the immense hike of Arbaeen has been an intriguing analysis of the mass mobilization of Muslims and other religions and religions.
The writer and strategist of Russia, Alexander Dugin, today attended by enthusiastic and enthusiastic people of Imam Husayn (peace be upon him) who traverse the Najaf route to Karbala, and witnessed this epic and millionth presence very closely.
Dugin is accompanied by several other cultural and social figures from Russia and
Alexander Dugin and a group of other cultural, artistic and media personalities are guests of the New Horizons Conference. With the management of Nader Talebzadeh several courses have been held in Iran and now the conference is being held in the cities of Najaf and Karbala. "In the last few years, I was following the news about this massive event, and I would like to have an opportunity to observe it closely, which, thankfully, is the result of the action of Mr.
Dougin," Professor Dugin said in response to a question from the East about the motivation of the company on the Arbean Walk. Talebzadeh had this dream come true. In addition to me, some of my departed friends were also keen to attend the
In my opinion, the road accident of Arbaeen, which is becoming more widespread every day and takes part in all nationalities and religions, including Christians, is the introduction of a fundamental change on a global scale. I have repeatedly said that the modern world, with its liberal and capitalist ideology, has come to an end, and there is no other achievement for humanity, and today's humanity needs a spiritual and divine resurrection, strongly influenced by the Islamic revolution and the movement of Imam Khomeini is there. As Orthodox Christianity in Russia, we are following this spiritual movement and see the path to salvation in the face of modern imperialism, free from the meaning of the materialist wisdom, and, therefore, with the Islamic Republic of Iran, and the road map for Ayatollah Khamenei is drawn to the future of the Islamic Revolution, we feel a special affinity.
I was in Russia defenselessly defending the Iran-Russia alliance and cooperation with Iran against ISIL, supported by the United States and the West, and we saw that the cooperation broke down and today ISIS and its western and regional supporters
This hike is an important sign of readiness for a global and apocalyptic spiritual transformation. As an Orthodox Christian, I agree with the apocalyptic approach of the Islamic Revolution that prepares itself for the advent of the Messiah and Mahdi, and I hope that we will not be far from the great incident that followers of all religions are waiting for. Arbain's walk to a post-apocalyptic event is more similar to an ordinary incident. We and all those who seek justice and spirituality in the dark
Source: https://www.mashreghnews.ir/news/795604/%D9%BE%DB%8C%D8%A7%D8%AF%D9%87-%D8%B1%D9%88%DB%8C-%D8%A7%D8%B1%D8%A8%D8%B9%DB%8C%D9%86-%D8%B4%D8%A8%DB%8C%D9%87-%DB%8C%DA%A9-%D8%AD%D8%A7%D8%AF%D8%AB%D9%87-%D8%A2%D8%AE%D8%B1%D8%A7%D9%84%D8%B2%D9%85%D8%A7%D9%86%DB%8C-%D9%88-%D9%85%D9%82%D8%AF%D9%85%D9%87-%D8%AA%D8%AD%D9%88%D9%84-%D8%AC%D9%87%D8%A7%D9%86%DB%8C