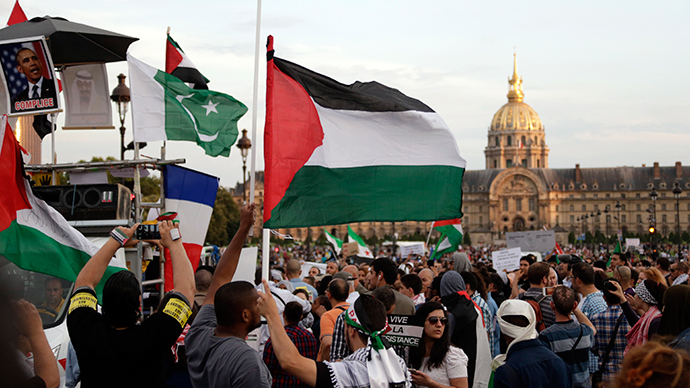 RT broadcast pro-Palestinian protests in Paris, saying:
Massive Pro-Palestinian protest held in Paris ahead of Netanyahu's visit (Streamed live)
Courtesy: Ruptly
I'm not quite sure I'd call the several dozen, perhaps 100 people present as "massive", but you get the point.
Video at: https://www.facebook.com/RTnews/videos/10156250055734411/
This is yet another example of RT sowing divisiveness wherever possible.  If I were a betting man, I would say that the Russian Embassy in Paris is funding this demonstration.
The times of Israel said "Hundreds of pro-Palestinian demonstrators call to boycott Israel; PM scheduled to meet with Macron on Sunday; protests, too, in Rome, Istanbul".  This is still not "massive".
Not to be confused, but there are other protests in Paris at the same time about separate issues: Basque protesters in Paris demand ETA prisoner rights | News | DW | 09.12.2017
Just in case the link disappears from Facebook, here is the same, cross-posted on YouTube: https://www.youtube.com/watch?v=ulX5qT5dUzI
Other coverage of this event was minimal, but reflects a non-massive turnout: The Latest: Paris protest targets Netanyahu arrival | WTOP