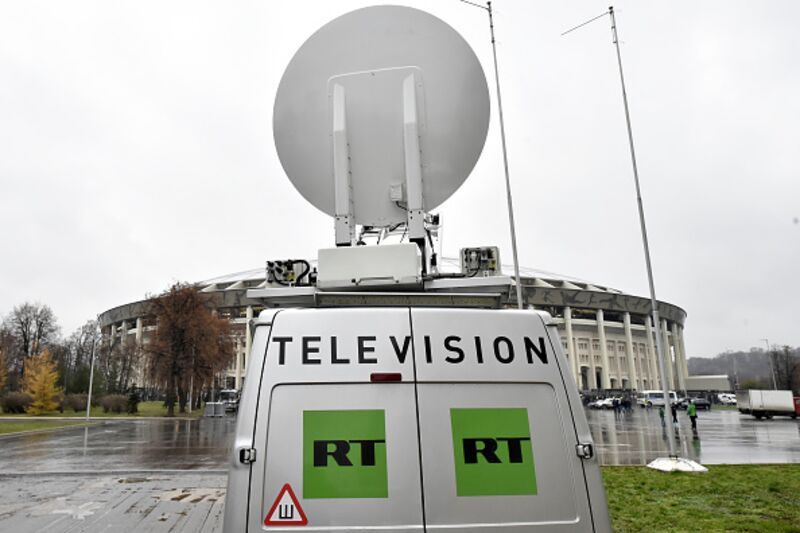 A symbolic act by Washington is triggering a disproportionate response from Moscow.
The latest casualty in the struggle between the United States and Russia is RT, the Russian government-funded broadcaster, which this week was required by the U.S. Justice Department to register as a foreign agent. Now that RT has complied, Americans will be surprised to learn that the network is smaller (and less threatening) than they might have imagined. They might even begin to wonder if compelling a foreign news organization to jump through this particular hoop will wind up doing more harm than good.
Here's a paradox: Requiring RT to register confirmed how limited its resources are. Let me explain.
RT's filings under the Foreign Agent Registration Act were made on behalf of T&R Productions LLC. This is because all RT operations in the U.S. were transferred to that company in 2014, as the state-controlled broadcaster tried to disentangle itself from its former U.S. point man, Alexei Iazlovsky, who was convicted of tax fraud after funneling more than $1 million from RT to companies controlled by his accountant. RT's current U.S. chief, general manager and sole owner of T&R Productions is Mikhail Solodovnikov, formerly the Washington Bureau chief for the state-owned Rossiya network.
T&R Productions produces content under contract to ANO TV-Novosti, the Russian non-profit organization fully funded by the government that formally runs RT. In August and September, 2017, T&R Productions spent almost $6.7 million, implying an annual budget of about $40 million. RT's entire budget worldwide this year is $313 million, suggesting the U.S. operation accounts for about 13 percent of the total.
And the U.S. number could be even smaller. In August and September, T&R — located in a large Washington business center  — reported that it spent almost $2.7 million on "construction/improvements"; that's more than on salaries, travel, live feeds, advertising and promotions combined. "What are they building there, the Death Star?" Alexei Kovalev, a Russian journalist who follows RT, wondered on Facebook.
Without that 40 percent chunk earmarked for "building," RT's U.S. budget is laughably tiny. The FARA registration form says RT "has primary responsibility for creating a TV network that will be competitive with other TV networks operating around the world." But there's no way to compete on U.S. coverage on $2 million a month. That's about as much as CBS spends every seven hours. Even with the free advertising RT has been getting from the U.S. intelligence community and the media, even with the popular clips of natural disasters it runs on its YouTube channel, RT still is not among the 94 most popular cable channels in the U.S.
By forcing RT to register as a foreign agent, the U.S. authorities haven't made it any less attractive to its fringe audience, which knew it was funded by the Russian government anyway. But the registration did set some wheels turning in Moscow.
On Wednesday, the Russian parliament is expected to pass a hastily drafted bill requiring all media publishing or broadcasting in Russia to register as foreign agents if they receive any foreign funding — or to cease operation entirely. This concerns, above all, government-funded media that have Russian services, such as the BBC, Radio Liberty and Voice of America, but also channels distributed by Russian cable operators, such as CNN, and internet media set up out of reach of the Russian authorities, such as the popular Latvian-based news site Meduza.io. Potentially, any foreign website accessible from Russia could be asked to register as a foreign agent, including the news organization for whom I write.
Russian nongovernmental organizations, required since 2012 to register as foreign agents if they receive overseas funding, know what this status entails. Apart from having to submit detailed financial accounts and having to undergo frequent review, registered groups have been prevented from pursuing projects that could be viewed as political, such as election observation. Many groups have closed since the foreign agent law came into effect. If foreign-funded media are treated in the same way, journalists can expect restrictions and the range of little inconveniences the Russian state is capable of imposing.
Unlike American journalists, Russian reporters are happy to take jobs with foreign media organizations. These news outlets don't force them to follow narratives, and many journalists are still liberal and pro-Western. By the warped logic of these tit-for-tat times, it is these journalists, and, by extension, their readers, who will be most harmed by the U.S. action against the Russian channel.
"We cannot allow the threat of Putin doing the wrong thing to stop us from doing the right thing," former U.S. ambassador to Russia Michael McFaul wrote in September as he called for RT to be registered under FARA. This kind of stand attaches more importance to a symbolic act against an unimportant actor than to potentially hellish consequences for hundreds of people already working under tough circumstances. But the U.S.-Russian relationship is all about such meaningless symbolism these days — that's why it keeps getting worse to neither party's benefit.
To contact the editor responsible for this story:
Therese Raphael at traphael4@bloomberg.net
Source: https://www.bloomberg.com/view/articles/2017-11-15/russia-s-rt-just-isn-t-worth-attacking