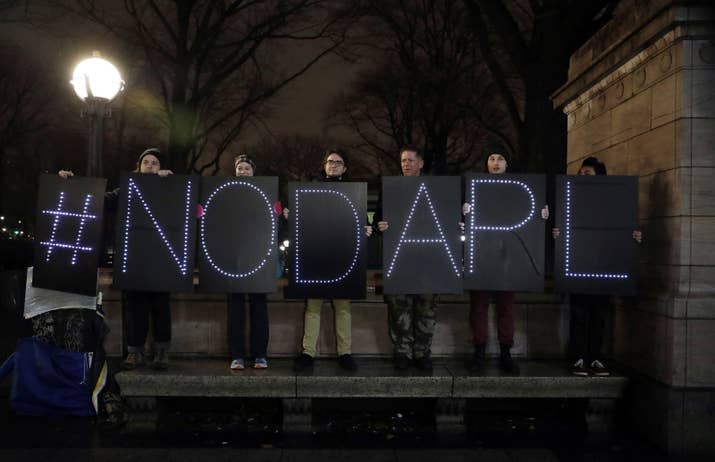 The interest in what Russia actually did has not waned, it is just getting more difficult to uncover what was actually done.
Now researchers are connecting the Russian trolls to the Standing Rock protests.
</end editorial>
---
---
"DEAR RACISTS IN AMERICA," began one Instagram meme shared by the since suspended account @Native_Americans_United, which is believed to be connected to a Russian troll farm.
The protests against the Dakota Access Pipeline in Cannon Ball, North Dakota, were sacred for the Standing Rock Sioux Tribe.
But for Russian trolls, the protests were another opportunity to sow discord in America — one of a series of social movements, from Black Lives Matter activism to pro-Trump populism, on which trolls appear to have seized.
An Instagram account called @Native_Americans_United_ shared images related to Native American social and political issues — including the construction of the Dakota Access Pipeline, the flashpoint for activists from all over the country, but especially Native Americans.
RBC, a Russian outlet, identified that account as one of 180 connected to a Russian troll farm intent on exploiting existing divisions and social movements in the United States, based on a major investigation into the operations of Russia's Internet Research Agency.
So far, the accounts uncovered by RBC center around highly visible tension points in American politics: protests against police violence, protests against pipelines that have become a flashpoint between conservatives and progressives, and memes popular with the pro-Trump right.
Those accounts are believed to include a fake Tennessee GOP Twitter account and payments to black activists to organize protests or hold self-defense classes. This, meanwhile, would be the first instance of Russians targeting Native Americans. RBC reported that at least 33,000 people followed the @Native_Americans_United_ account.
A post from that account reads "IF AN OIL COMPANY DESTROYED THESE 'SACRED' BURIAL GROUNDS AMERICANS WOULD LOSE THEIR MINDS," plastered over an image of a U.S. military cemetery. "BUT WHEN AN OIL COMPANY DESTROYS NATIVE AMERICAN SACRED BURIAL GROUNDS NO ONE SAYS A WORD."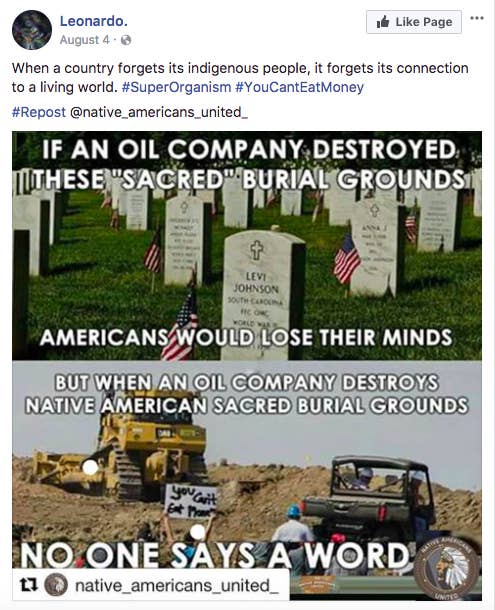 More News
Megyn Kelly, Gretchen Carlson Blast Bill O'Reilly Over New Harassment Settlement

Trump Is Now Selling Orange Pumpkin MAGA Hats And People Are Trolling

The Widow Of A Fallen Soldier Said Trump's Phone Call Made Her "Very, Very Upset And Hurt"

Steve Bannon Dropped Milo After White Nationalism Revelations. Will The Mercers Stand By Him?

A Gay Couple Just Asked The Supreme Court To Rule Against A Christian Baker

Robert Scoble Resigns From His Consulting Company In The Wake Of Sexual Harassment Allegations

This Is The Latest Link Between Mexico's President And Latin America's Biggest Corruption Scandal
Both Instagram accounts are now suspended. A Facebook official told BuzzFeed News that they aren't confirming any accounts that were or were not related to Russian meddling that the company discovered during its investigation.
Although the accounts supported the protests at Standing Rock, BuzzFeed News did not find evidence the group had contacted activists to organize protests similar to what wassuccessfully done in Charlotte, North Carolina, with unwitting Black Lives Matter activists.