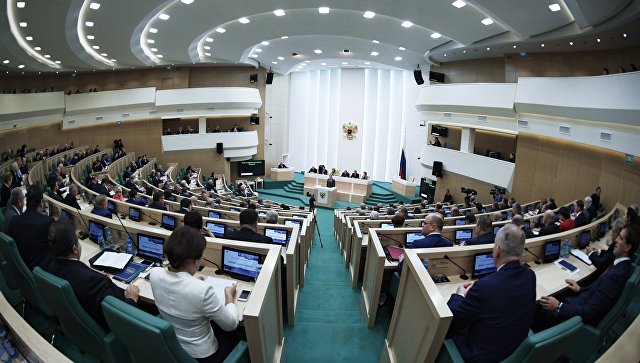 In response to the US requiring the company and staff supporting RT and Sputnik News to register as foreign agents, Russia is restricting RFE/RL, VOA, and CNN.
This was just published by RIA Novosti, a Russian state-run news outlet which has not been asked to register as a foreign agent.  
Once again, Russia is off the mark.  RFE/RL, and VOA are appropriate counterparts to RT and Sputnik News, as they are all government agencies.  CNN, however, is a commercial station.  Russia just does not seem to "get it".  
Additionally, the US is only requiring they register as foreign agents, there is no restriction on their work.  Any violations of speech exists solely in the six inches between Margarita Simonyan's ears. 
Russia, always the victim. They play that card so well, but always wrongly played.
</end editorial>
---
---
(Translated by my Chrome browser)
In the Federation Council, the Ministry of Communications proposed to limit the work of five American media outlets
MOSCOW, Oct. 17 – RIA Novosti. The Commission of the Federation Council on the protection of state sovereignty suggested that the Ministry of Communications to impose restrictions on the five US media operating in Russia, a source in the Federation Council told RIA Novosti.

"There are five American media outlets whose activities on the territory of Russia can be considered propaganda, not journalistic," the source said.

He confirmed that the list includes "Voice of America", "Radio Liberty" and CNN.

The final decision, according to the agency's interlocutor, will be taken at a meeting of the commission on October 23. Then the proposal will be sent to the Ministry of Communications, he said.

Last week, the Ministry of Justice notified the media corporation Radio Liberty and two other editions of the US media about possible restrictions under the law on the media.

Russia, therefore, can respond to harassment of Russian journalists in the United States.

The US authorities ordered the leadership of RT to register as a foreign agent before October 17, and also began proceedings in the congress about the possible impact of Russian media through social networks on the electoral processes in the country.

RT editor-in-chief Margarita Simonyan called US actions illegal and accused Washington of violating freedom of speech.
Source: https://ria.ru/society/20171017/1507037741.html