Anonymous expert compilation, analysis, and reporting.
Due to changes, today, at the Ukraine Ministry of Defense, today's ATO Map and Situation Brief are not available. We are seeking their new locations.
</end editorial>
---
---
NATO to launch Black Sea force to balance Russian deployments. Ukraine to host NATO PA gathering. Nordic Defense Cooperation scheme to include cyber, Ilves argues this should be across all democracies.
Glasser on Russia's descent. Pavlova argues Russia's dysfunctions make it stronger, by entrenching the regime, Robertson is right but regime induced brain-drain will destroy that option, Prof Goble's"A Baker's Double Dozen of Neglected Russian Stories – No. 103" – as always a must read, carries multiple COCW! Russian scholars now increasingly refer to "Upper Volta with Missiles" :-)Khodorkovsky says happy birthday to Putin.
Russia is funding major Transnistrian foray into Bitcoin.
In Ukraine, AG Lutsenko briefs on completion of the investigation of Voronenkov's assassination, contracted for by a Russian crime figure with FSB ties, who had a personal motive. Whether he was encouraged or paid by the FSB is yet to be determined. Debate over Donbass legislation continues. Donbass fires continue, and OSCE report Russian use of laser to destroy surveillance camera. Ukrainian border guards to meet with Russians over kidnapped personnel. XIV International Exhibition ARMS AND SECURITY 2017 opens in Kyiv, so we will see new hardware, the new Polish Krab 155mm SPH arriving in Kyiv. More Russian mayhem in Crimea. No ATO map today as MoD taking over map production and none has been posted yet.
Chang essay on nuclear weps cooperation between the DPRK and Iran is another must read, if Iranian nuke weps developers are working in the DPRK, Iran has been caught cheating on the deal, and cleverly. Quid pro quo in any such deal would have to be mutual sharing of design data and technology.  Debate over decertification continues. Tehran regime eating it own children. Turkey to cooperate in military matters with Iran, begging interesting questions about Turkey's relationship with the West under Erdogan. Erdogan escalates diplomatic spat with the US and Turkish stocks nosedive.
DPRK reports primarily around debate on strategy, and background reports.
Catalonia and the future of the EU Eastern Partnership.
Miscellaneous reports on tech, and IO/IW/Cyber.
Toxicity in US domestic debate persists.
---
Russia / Russophone Reports
---
NATO to launch Black Sea force as latest counter to Russia
NATO is set to launch a new multinational force in Romania on Monday to counter Russia along its eastern flank and to check a growing Russian presence in the Black Sea following the Kremlin's 2014 seizure of Crimea.
NATO Chief Says 'We Don't Want A New Cold War' With Russia
NATO does not want "a new Cold War" with Russia, Secretary-General Jens Stoltenberg said at the end of a four-day parliamentary assembly of the alliance. "We are concerned by….
NATO PA's draft resolution against weaponization of information foresees assistance to Ukraine
The Standing Committee of the NATO Parliamentary Assembly on the Civil Dimension of Security has endorsed a draft resolution on confronting the weaponization of information, which foresees more assistance to partner countries, including Ukraine. News 09 October from UNIAN.
2017 – 215 CDS 17 E – WEAPONISATION OF INFORMATION – CORDY DRAFT RESOLUTION | NATO PA
Ukraine can become member of NATO after reforms are carried out – Stoltenberg – 09.10.2017 12:46 — Ukrinform News
Ukraine and Georgia "sooner or later" can become member states of NATO, but today they need to focus on implementation of reforms.
UAWire – NATO Parliamentary Assembly to be held in Ukraine in 2020
The spring 2020 session of the NATO Parliamentary Assembly (PA) will be held in Kyiv. This was reported by Verkhovna Rada member Irina Friz, …
Nordic states join together to bolster cyber defenses
The strengthening of interstate cyber defense and security is being tasked to the Nordic Defense Cooperation, the primary vehicle for joint military collaboration between the Nordic Armed Forces.
Toomas Hendrik Ilves | We need a global league to protect against cyberthreats to democracy
Toomas Hendrik Ilves served as president of Estonia from 2006-2016. He is a distinguished visiting fellow at the Hoover Institution. STANFORD, Calif. ― With Facebook handing over Russian propaganda ads from the U.S. election to Congressional investigators, we must understand that this is part of a much broader assault. The threat of these digital attacks extends to all democracies, in the West and beyond. Furthermore, attacks on elections over the past year are asymmetric. Liberal democracies do not and often cannot respond in kind to cyberattacks on their own way of governance. Democracies with free and fair elections are vulnerable to attack, while in autocratic societies, it only matters who is counting the votes. Authoritarian regimes do just fine manipulating their own elections. In Russia, tweeting or sharing real news that's embarrassing to the regime can land you in prison. Imagine then the response of the regime to fake news that's damaging to the Kremlin. If democracies actively disseminated such fake news, it would only reduce us to Russia's level and lead to greater repression there. Beyond elections, cyberwarfare has made traditional rules governing armed conflict irrelevant. Just this week, it has emerged that Russia has targeted NATO soldiers' smartphones in order to gain information about troop activity and to intimidate soldiers. Such instances beg the question: What is "deterrence" in the digital world? What is a "proportional response" when a ship's navigation system is hacked or a power plant shut down? What happens when it takes months to track down who was responsible for a debilitating attack on the financial system?
Putin Decrees Foreigners In Russian Army Can Fight In Wars Abroad
Russian President Vladimir Putin has signed a decree that allows foreign citizens serving in the Russian Army on a contractual basis to take part in Russian military operations abroad. The decre…
Susan B. Glasser | Putin's Russia, guided by its totalitarian past, has no future – The Washington Post
Vladimir Putin has now served as Russia's supreme leader longer than anyone since Joseph Stalin. With 17 years in office and counting, Putin last month surpassed the record of Leonid Brezhnev, the bushy-browed Politburo chief whose seemingly endless tenure from the 1960s to the early 1980s became a byword for Cold War stagnation. And Putin shows no signs of giving up power anytime soon; the former KGB lieutenant colonel who became president on New Year's Eve in 1999 at age 47 faces certain reelection to another six-year term next year.
Window on Eurasia — New Series: Russia has Never had a State in the Western Sense and Doesn't Now, Pavlova Says
Paul Goble Staunton, October 8 –Western analysts and those Russians who follow their lead get themselves into immense difficulties when they analyze Russian poltics by using terms drawn from Western experience that simply do not apply in the Russian case, according to US-based Russian historian Irina Pavlova. In a new blog post entitled "Is the Russian Leviathan Weak?" (ivpavlova.blogspot.com/2017/10/blog-post.html), she points to a recent interview Mikhail Yampolsky gave (http://gefter.ru/archive/228740) as an example of this approach and of the serious errors in understanding it simultaneous reflects and gives promotes. Among Yampolsky's observations, the Russian says, are the following: the majority of the Russian population "doesn't support the policies which Putin is carrying out," "there is no ideology in general," "the state in principle no longer exists," and "Putin is absolutely impotent and can do nothing." Yampolsky, a professor comparative literature and Slavic studies at New York University, Pavlova continues, thus "offers in this interview the typical view of an intellectual who looks on Russian reality through the prism of understandings of Western culture and Western political science." In this, he is hardly unique or the first. In the early 1990s, when Western researchers gained access to Soviet archives and saw the extend of disorder, crime and theft under the CPSU, they concluded that what they had found was "testimony to the ineffectiveness and weakness of Stalin's power and its inability to impose order in the country." But their conclusions and Yampolsky's reflect their use of Western concepts like "state," "institutions," and "defense of property rights," all terms that do not apply to the Russian case, she argues. Thus, it is not the case that "the state does not exist anymore," as Yampolsky suggests, but that it never existed in Russia. That country was only beginning to construct a state "in the Western sense" of agreement of various social strata and groups, "a state as the civil service," at the end of the Imperial period. But everyone knows how this ended in 1917." "In Russia," Pavlova argues, what arose historically was not 'a state' but 'a power,' power as a demiurge not responsible before the people inhabiting the country; and if it does something for this population then it is acting only on the basis of its own pragmatic considerations." Moreover, she continues, "the power itself creates the social space which it then manipulates for its own purposes." That is exactly what the power in Putin's Russia is doing, and therefore it is a mistake in principle to talk about the collapse of institutions of various kinds "if they were never there." Yampolsky's conclusion that "the powers … can't do anything," she says, is "completely inadequate." "This is the same thing that Western historians wrote about Stalin, but can one consider the Stalin power weak, given that it moved tens of millions of peole and forced them to change their traditional way of existence." "Any wise individual even today will not deny that under Putin over the course of the years of his rule, enormous changes have taken pace in the country. Not simply changes but modernization … but in a direction which the current regime needs to secure itself from any threat both within the country and from outside." The problem, however, is that "this power has different priorities" than those Yampolsky and those who share his approach assume. On the one hand, the priority of the Putin power is to secure its own strengthening and to ensure its domination of the people." Putin has done what Stalin did and even more effectively because he hasn't needed to use mass repressions. And on the other, Pavlova says, "the priority of a regime of this type is the establishment of military industry which gave and gives it the chance to carry out its designs for the spread of its influence and the affirmation of its status in the international stage." It needs the people only to follow its orders to make this possible. What has happened to the people is not so much "the degradation of civil society," as Yampolsky imagines but rather a display of the fact that "there was never a genuine civil society in Russia. The Russian people was and remains a state people, completely dependent on the powers." But today, just as in Stalin's time, the people are not simply dependent." They display a slavish attitude to the powers "as the result of the re-Stalinization that has been practically completed." Never in the history of post-Stalinist Russia has there been a ruler in the Kremlin who so openly celebrates Stalin. More than that, she says, "never has there been an elite" in Russia which considers "modernized Stalinism" as a worthy goal in opposition to the West. "And finally never has there been such a high percentage of the Russian population which displays such a positive attitude toward Stalin." All this makes sense if you view Russia as a country ruled by a demiurge-power. It only confuses those who think that the powers that be there are a state in the Western understanding. And all of this leads one to conclude that the Putin regime is more powerful than people in the West imagine instead of being on the brink of collapse as the Yampolskys would have it.
Charles Robertson | Why the 1917 Bolshevik Revolution Was bad for Russia's Economy Today (Op-ed)
Without the Bolshevik revolution in 1917, Russia might have become considerably more prosperous and populous. It's no surprise we think the 1917 Bolshevik revolution was bad for Russia. Which other major economy suffered five massive declines in industrial or agricultural output in the 20th century? That's the result of two prolonged invasions, a civil war, two famines plus the collapse of all trading links and an economic system. Without the Bolshevik revolution in 1917, Russia might have suffered just three or even fewer disasters, like China or Germany. It might have become considerably more prosperous and populous. In our opinion, these disasters are why Russia lost the chance to converge its per-capita GDP and democracy score with Italy or Spain. Instead, Russia's obvious peer is again Mexico and pre-1917 data look very familiar.
The Daily Vertical: Painting The Kremlin Facade (Transcript)
So Vladimir Putin turned 65 this past weekend, which, incidentally, is longer than 43 percent of Russian men can expect to live according to a new World Bank report. Last month, he surpassed Leonid Brezhnev and became Russia's longest ruling leader since Josef Stalin. A whole generation is now coming of age that has known no other leader — and no, Dmitry Medvedev doesn't really count. The Putin show is getting old. Putinism is getting stale. And the Kremlin seems to understand this as it gears up for the coronation and legitimization ritual — otherwise known as an "election" — that is looming in March. WATCH Today's Daily Vertical The Kremlin knows this, but it doesn't really have a lot of options for refreshing, resetting, and rejuvenating a stagnating regime. Economic reform isn't really an option as it would upset the corruption and the patron-client relationships that are the lifeblood of the regime. And with the armed forces stretched in Ukraine and Syria, a new military adventure is probably unlikely. So it appears they've decided to do the functional equivalent of painting the facade. Since late September, Putin has replaced no less than seven governors as the leaders of Nenets, Krasnoyarsk, Nizhny Novgorod, Samara, Daghestan, Primorsky Krai, and Oryol have all lost their jobs. This is the best they can do to give a decaying regime a false sense of freshness. Putin has achieved Brezhnev's longevity. And he now appears to be desperately trying to avoid the appearance of Brezhnev-style stagnation.
The Morning Vertical, October 9, 2017
ON MY MIND The Commonwealth of Independent States (CIS) is widely viewed as an ineffectual organization and its summits tend to be dull affairs. Except when they aren't As we discuss on this week's Power Vertical Briefing, the optics at this week's CIS summit in Sochi will be worth watching for a number of reasons. For example, how will Vladimir Putin and Alyaksandr Lukashenka relate to each other? Will they even meet one-on-one? And if they don't, what would that signify? As I noted on The Daily Vertical last week, the recent Zapad 2017 military exercises highlighted latent and persistent tensions between Minsk and Moscow that are becoming increasingly manifest. A scheduled bilateral meeting between Putin and Kazakhstan's President Nursultan Nazarbaev also merits watching as Astana is emerging as a potential counterweight to Moscow in the CIS. Likewise, Putin is scheduled to meet with Moldova's pro-Russia president Igor Dodon, who is locked in an ongoing struggle with that country's pro-Western government. So be sure to tune in to this week's Briefing for a discussion of all these issues.
The Briefing: A Summit In Sochi
The leaders of the Commonwealth of Independent States (CIS) meet this week in Sochi as latent tension between Russia and Belarus lingers in the aftermath of the Zapad military exercises. On thi…
'Russia Disappearing from Radar Screen of Young Ukrainians' and other neglected Russian stories | EUROMAIDAN PRESSEuromaidan Press |
The flood of news stories from a country as large, diverse and strange as the Russian Federation often appears to be is far too large for anyone to keep up with. But there needs to be a way to mark those which can't be discussed in detail but which are too indicative of broader developments to ignore. Consequently, Windows on Eurasia each week presents a selection of these other and typically neglected stories at the end of each week. This is the 103rd such compilation, and it is again a double issue with 26 from Russia and 13 from Russia's neighbors. Even then, it is far from complete, but perhaps one or more of these stories will prove of broader interest.
Window on Eurasia — New Series: A Baker's Double Dozen of Neglected Russian Stories – No. 103
Paul Goble Staunton, October 7 — The flood of news stories from a country as large, diverse and strange as the Russian Federation often appears to be is far too large for anyone to keep up with. But there needs to be a way to mark those which can't be discussed in detail but which are too indicative of broader developments to ignore.  Consequently, Windows on Eurasia each week presents a selection of these other and typically neglected stories at the end of each week. This is the 103rd such compilation, and it is again a double issue with 26 from Russia and 13 from Russia's neighbors. Even then, it is far from complete, but perhaps one or more of these stories will prove of broader interest.
Putin Turns 65 While Fewer than Half of Russian Men Will Reach that Milestone. October 7 is Vladimir Putin's 65th birthday, but because of super-high mortality among Russian males, only 43 percent of the men in his country will still be alive at that age, a sad reality Moscow outlets have pointed out in advance of Putin's birthday (takiedela.ru/news/2017/10/06/muzh-smertnost/).  Putin's day was greeted in many ways by both those who wish him well and those who don't. The most prominent action consisted of the anti-Putin Navalny demonstrations across Russia (echo.msk.ru/news/2069216-echo.html), but others spoke out against the proposal from some to make Putin's birthday a state holiday (newsland.com/community/6437/content/pochemu-den-rozhdeniia-prezidenta-ne-stoit-prevrashchat-vo-vsenarodnyi-prazdnik/6025142), complained that Putin is giving billions to foreigners but not helping Russians (newsland.com/community/4109/content/putin-i-ego-priiateli-proshchaiut-milliardnye-dolgi-komu-ugodno-no-tolko-ne-naseleniiu-rf/6024861), speculated about the future including perhaps ominously where Putin will eventually be buried (thequestion.ru/questions/317915/gde-pokhoronyat-vladimira-putina), discussed the ways in which Putin memes have passed into the culture (newsland.com/community/4711/content/v-moskve-proidet-vystavka-internet-memov-s-putinym/6023451), worried about the equation of Putin with Stalin (ng.ru/ideas/2017-10-05/5_7088_putin.html), and came up with various pro- and anti-Putin graffiti, signs and slogans (dsnews.ua/world/kak-sotsseti-privetstvuyut-putina-s-dnem-rozhdeniya-fotozhaby–07102017114000).
West Should Fear Russian Money, Not Russian Hackers, Bershidsky Says. Leonid Bershidsky, a prominent Russian journalist who now works for Bloomberg News, says the West is making a big mistake by focusing on the work of Russian hackers. Far more serious, he says, is the impact of the enormous flows of Russian money abroad, clean and otherwise, on businesses and governments abroad (republic.ru/posts/86829and bloomberg.com/view/articles/2017-10-06/the-russia-collusion-you-should-care-about).
Despite Hyper-Centralization of Political System, Regions Playing Large Role in Campaign.Both despite and because the Russian political system is so centralized, opposition leaders and Vladimir Putin himself are devoting more attention to the country's regions and republics.  Yabloko's Grigory Yavlinsky has followed Aleksey Navalny and Vladimir Putin in travelling beyond the ring road (sobkorr.ru/news/59D24BFB8C7DD.html), and Putin is currying favor in the regions by writing off the debt of hard-pressed regions (babr24.com/irk/?IDE=165805 andsvpressa.ru/economy/article/182788/). Other political developments of significance this week included a poll showing 67 percent of Russians are ready to vote for Putin, nearly 20 percent fewer than say they support him (newsland.com/community/129/content/sotsiologi-soobshchili-skolko-rossiian-gotovy-golosovat-za-putina/6017076), the Kremlin has imposed a spiritual test on those it may appoint as governors (politsovet.ru/56729-buduschih-gubernatorov-proveryayut-na-duhovnye-cennosti.html), the fraudulence of any investigation involving Chechnya was thrown into high relief (themoscowtimes.com/news/two-men-shown-as-proof-by-officials-were-actually-missing-chechens-brothers-59152), the Supreme Court called for a massive overhaul of the judicial system to make precedents more important and judgments more consistent (znak.com/2017-10-04/verhovnyy_sud_predlozhil_masshtabnuyu_processualnuyu_reformu), Navalny says that nothing has changed in the Russian political system except that the regime doesn't shoot people anymore (znak.com/2017-10-02/v_neftekamske_yunoshu_grozyat_otchislit_iz_kolledzha_za_mitingi_navalnogo_i_oskorblenie_er), the Nationalities Agency reorganized perhaps in advance of becoming a ministry (nazaccent.ru/content/25528-obshestvennyj-sovet-fadn-podelili-na-pyat.html), the Kremlin said that there is no reason to fire the culture minister despite the finding that he plagiarized his dissertation (kasparov.ru/material.php?id=59D5EEC0D4D6D and nakanune.ru/news/2017/10/3/22484847/), and a study has found that Russian athletes who enter politics are even more inclined to be repressive than others (kavkazr.com/a/atlety-politiki/28760842.html).
Putin Achieving What Brezhnev Did: Russia as Upper Volta With Missiles. Numerous commentators described the Soviet Union in its last years as "Upper Volta with Missiles." Now, scholars at Moscow's Higher School of Economics say that under Putin, Russia has been declining to the point that it is now at the level of a third world country, except of course for its military (finanz.ru/novosti/aktsii/vshe-predskazala-rossii-skatyvanie-do-urovnya-stran-tretego-mira-1002994788). Even Vladimir Putin acknowledged that poverty has increased in Russia, although he blamed what has happened in the last several years on events in the 1990s (newsland.com/community/4109/content/putin-nazval-prichinu-razryva-v-dokhodakh-bogatykh-i-bednykh/6022155and newsland.com/community/5652/content/putin-bednykh-liudei-v-rossii-za-poslednie-dva-goda-stalo-nemnozhko-bolshe/6021988). Other figures released this week also highlight Russia's decline: the number of Russians in all key categories of the economy have declined (svpressa.ru/blogs/article/182846/), rising incomes have occurred only in the capitals and oil and gas centers (https://versia.ru/rabotat-v-rossii-negde-i-ne-za-chto), and Russians in many places have concluded that there is no money and therefore no reason to produce anything (newsland.com/community/4765/content/grudinin-u-liudei-deneg-net-proizvodit-chto-libo-bessmyslenno/6022102). Those close to Putin and at the very top, of course, continue to do well just as some elites in the Third World do. The 28 Russian billionaires have seen their wealth increase by 24 billion US dollars since the start of 2017 (kasparov.ru/material.php?id=59D3271F44D8E).
Russian Finance Ministry Says Ruble Will Decline Through 2035.  Finance ministry officials project that the ruble will decline against other currencies for the next 18 years (rusmonitor.com/rubl-budet-padat-do-2035-goda-prognoz-minfina.html). A commentator says sanctions have held Russia back for 20 years (facebook.com/haytrdo/), and other experts say that the Russian government will soon run out of all reserves (newsland.com/community/4765/content/analitik-fnb-povtorit-sudbu-rezervnogo-fonda/6023837). Western banks are leaving Russia (versia.ru/pochemu-iz-rossii-uxodit-bank-nordea-i-kakuyu-rol-v-yetom-sygrala-yelvira-nabiullinaand snob.ru/selected/entry/129579). Russian farms and farmers are disappearing (ng.ru/omics/2017-10-04/4_7087_agro.html). Statistics suggest that Russia has fallen behind the West at an increasing pace over the last ten years (newsland.com/community/4765/content/analitik-fnb-povtorit-sudbu-rezervnogo-fonda/6023837). Company towns are still dying as is the market for real estate (polit.ru/article/2017/10/04/city/ and newsland.com/community/5652/content/rynok-zhilia-skoro-rukhnet/6020170). And nearly three Russians out of four say that privatization was carried out in the wrong way and should be revisited or even reversed (nakanune.ru/news/2017/10/2/22484710/).

6.Russians Fight to Get Into Jail, Use Sex to Pay for Rent, and Turn to Fortune Tellers. There are many ways  to measure the desperation of a population, but three reports this week suggest that an increasing number of Russians feel that way: some are attacking police in order to get arrested and be sentenced to prison where at least they will be fed (newsland.com/community/5652/content/sibiriak-razbil-litso-politseiskomu-chtoby-popast-v-tiurmu/6024004), Russian women are increasingly offering sexual favors to pay for rent (svpressa.ru/society/article/182408/), and Russians are now spending two billion rubles (30 million US dollars) on forture tellers who they hope can tell them something good is coming (svpressa.ru/society/article/182427/). Ever more Russians are homeless, many are living on their credit cards, and all are facing rising prices for basic commodities like fish (echo.msk.ru/blog/venoru/2065542-echo/, newizv.ru/article/general/06-10-2017/zhizn-vzaymy-pochemu-kreditnyy-bum-idet-v-samyh-bednyh-regionah,newsland.com/community/4701/content/v-rossii-v-dva-raza-vyroslo-chislo-zlostnykh-neplatelshchikov-za-uslugi-zhkkh/6022293 and newsland.com/community/8211/content/v-rossii-rezko-podorozhaet-ryba/6019035).
Transportation Network Collapsing. The failure of many of the so-called "baby Aeroflots" has allowed the surviving company to cut routes and raise fares thus making it more difficult for people in many parts of Russia to travel (versia.ru/ayeroflot-pogryaz-v-skandalax-raschishhaya-sebe-mesto-pod-solncem). Even worse at least in terms of the number of people affected, budgetary stringencies have led to the collapse of public transportation of all kinds in cities and regions throughout the country (agonia-ru.com/archives/11758 andnewizv.ru/news/city/01-10-2017/moskvichi-vystupili-protiv-unichtozheniya-trolleybusov). This collapse is especially significant because Russian roads remain among the worst in the world, ranked 114th among all countries and worse than those in neighboring Mongolia or in the African country of Burundi (newsland.com/community/6638/content/kachestvo-dorog-v-rossii-khuzhe-chem-v-svazilende-i-burundi/6023294 and asiarussia.ru/news/17907/). Teachers, once a highly respected and relatively well paid group in Russia, have lost their status and pay advantages and now are thinking about a mass strike (snob.ru/selected/entry/129776 and takiedela.ru/news/2017/10/04/vciom-uchitelya/).
Putin's Health 'Optimization' Program Killing People Now and Setting Stage for More Deaths in Future.  Vladimir Putin's cutbacks in spending on healthcare, reductions that are slated to remain in place for years (gazeta.ru/business/2017/10/04/10917476.shtml), are killing people right now by depriving them of access to needed care and setting the stage for more deaths later because they are leading to reductions in the training of needed specialists (regnum.ru/news/polit/2328887.html).  The elderly and those living in rural areas are being especially hard hit (rbc.ru/society/06/10/2017/59d71ba29a794779b25168e2?from=mainand gazeta.ru/business/2017/10/04/10917476.shtml). But mortality among adult males is high and in many areas even rising (newsland.com/community/33/content/v-rossii-pugaiushchimi-tempami-umiraiut-muzhchiny/6024722), and the only reason the country's demographic numbers aren't worse is to be found among the predominantly Muslim gastarbeiters and non-Russian nations within the Russian Federation (iz.ru/651768/v-rossii-rastet-chislo-detei-i-podrostkov).
Muscovites Divided on Whether Gastarbeiters Should Assimilate or Remain Distinct. A new study concludes that residents of the Russian capital are deeply divided between those who would like to see the predominantly Muslim gastarbeiters there assimilate to the Russian nation or remain completely distinct (iq.hse.ru/news/210250319.html).  There is also controversy over groups like Kamchatka's Chamadaltsy that are formally part of the numerically small peoples of the North but who speak Russian and are heavily intermarried with ethnic Russians (nazaccent.ru/content/25522-zhitelnica-kamchatki-dokazala-v-sude-prinadlezhnost.html). In other news from the nationalities front, a Buryat region is in almost open revolt against its rulers (ulan.mk.ru/articles/2017/10/04/v-barguzinskom-rayone-buryatii-nazrel-bunt-protiv-glavy-izza-povalnykh-uvolneniy.html), the Agin district which Putin amalgamated with a neighboring Russian region is promoting its distinctive idenetity with statues of Kobzon and other prominent native sons and daughters (nazaccent.ru/content/25537-k-yubileyu-buryatskogo-okruga-v-aginske.html), Karachayevo-Cherkessia marked the anniversary of the day it elevated itself to the status of a republic and not to the earlier one when it became an ASSR (kavpolit.com/articles/karachaevo_cherkesija_otmechaet_25_letie_obrazovan-35927/), tensions between the Avars and Kumyks of Daghestan are heating up (kavkazr.com/a/zemlya-mezhnatsionalnyh-protivorechiy/28775269.html), Russia's Roma are now involved in trading counterfeit crypto money (rusmonitor.com/obninskie-cygane-naladili-vypusk-poddelnojj-kriptovalyuty.html), and Ruslan Gvashev, the Shapsug activist, has ended his hunger strike as his court date has been postponed (nazaccent.ru/content/25595-cherkesskij-aktivist-ruslan-gvashev-prekratil-golodovku.html).
Russian Officials Struggle to Define Putin's Language Policy. Facing resistance from non-Russians to any change, pressure from Russian speakers for immediate action, and the absence of guidance from the Kremlin on exactly what Putin wants, Moscow officials are struggling to come up with a policy that will guide language policies in the schools, with some urging that two languages be taught at one and the same time, a major immediate concession to the non-Russian republics but one that could carry with it a threat to their languages over time (nazaccent.ru/content/25525-nacionalnym-smi-predlozhili-spasatsya-bilingvalnostyu.html, nazaccent.ru/content/25550-barinov-predlozhil-prepodavat-v-nachalnoj-shkole.html,business-gazeta.ru/article/358986and https://www.business-gazeta.ru/article/358868).
'All Separatism is Good Unless It Touchers Russia which is Always About to Fall Apart,' Nevzorov Says. Moscow commentator Aleksandr Nevzorov gives that as an explanation why Moscow is always promoting separatism in other countries but opposing it in Russia (echo.msk.ru/programs/nevsredy/2066748-echo/). Moscow is clearly ever more worried about regionalism and separatism be it in the non-contiguous Kaliningrad where Germans are ever more active (nazaccent.ru/content/25572-v-kaliningrade-nachal-rabotu-novyj-centr.htmlandafterempire.info/2017/09/30/alimpieva/) or in the Russian Far East where neighboring China currently accounts for 80 percent of foreign direct investment (newsland.com/community/7268/content/kak-kitai-spasaet-otstalyi-dalnii-vostok/6018368). Russian commentators also are concerned about people in the regions complaining about funding Crimea by taking money away from them and about unfunded liabilities that the center imposes without checking with them (polit.ru/article/2017/10/02/crimea/ andafterempire.info/2017/10/01/spb-bomb/).
Russian Officials Step Up Repression of Jehovah's Witnesses.  Experts say that Russian officials are increasing their repression against the Jehovah's Witnesses and may begin to increase it against other religious minorities, a step especially dangerous because many police do not understand critical distinctions among the various faiths (portal-credo.ru/site/?act=authority&id=2274, ru.rfi.fr/rossiya/20170929-nedelya-v-rossii-svideteli-iegovy-saientologi-kto-sleduyushchii, openrussia.org/notes/714204/and newsland.com/community/4765/content/gosduma-rf-obsudit-zakonoproekt-ob-obiazatelnom-chtenii-molitv-na-zasedaniiakh/6021265).  In other religious news, the Muslims of Kaliningrad are being offered a new place for their mosque (interfax-religion.ru/?act=print&div=20401), Middle Volga Muslims push for gender equality (znak.com/2017-10-05/v_ekaterinburge_musulmanki_so_vsey_rossii_zayavili_o_tom_chto_ravny_muzhchinam), the Moscow Patriarchate says attacks on theology as a scientific discipline are a survival of the Soviet past (interfax-religion.ru/?act=news&div=68329), and Patriarch Kirill says the world does not need to fear strong Islam  but rather weak Christianity (rusk.ru/st.php?idar=79131).
Navalny Protest This Week Only One of Many. The Navalny demonstrations attracted the most attention, but there were numerous other protests in Russia. Among the most interesting were a demonstration in Sakha against extending the boundaries of a national park (regnum.ru/news/society/2331041.html), a memorial on the 11thanniversary of Anna Politkovskaya's murder (echo.msk.ru/news/2069230-echo.html), a Russian nationalist gathering which demanded the closing of the Yeltsin Center (newsland.com/community/4043/content/na-mitinge-pamiati-zhertv-oktiabria-1993-goda/6022829), a protest against government censorship of Youtube (ixtc.org/2017/10/v-moskve-razognali-miting-protiv-tsenzury-u-zdaniya-youtube/), a Karelian democracy gathering (kasparov.ru/material.php?id=59D2771EC383F), a Karelian action against a wealthy Russian who bought a farm and then allowed its animals to starve (forum-msk.org/material/news/13774601.html), a Moscow demonstration in support of Crimean Tatar political prisoners (ekhokavkaza.com/a/28767085.html), eight social actions (openrussia.org/notes/714244/), a protest in Cherkassk against official neglect of the Holocaust (kavkaz-uzel.eu/articles/310342/), and a Nizhny Novgorod demonstration in support of freedom of assembly (afterempire.info/2017/09/30/pokrovka/).

14. Russians' Ignorance of Stalinist Past Opens Way for a Stalinist Future. A quarter of all Russians and half of younger ones say they do not know anything about Stalin's repressive policies, although 53 percent of the total sample say innocent people suffered under the Soviet dictator (thinktanks.by/publication/2017/10/03/46-molodyh-rossiyan-vpervye-uslyshali-o-repressiyah-stalina.html, takiedela.ru/news/2017/10/02/repressii-dlya-nevinnyh/ and znak.com/2017-10-02/vciom_24_rossiyan_nichego_ne_znaet_o_stalinskih_repressiyah). That they know so little is the result of official policy designed to conceal his crimes, including closing archives, editing books, and stripping some of those who investigated the crimes of his period of academic degrees ria.ru/religion/20171004/1506128121.html, newsland.com/community/5392/content/nostalgiia-po-stalinu-v-nashei-strane-vyzvana-toptaniem-sobstvennoi-istorii/6022808, and rosbalt.ru/piter/2017/10/03/1650396.html). Moscow is increasingly targeting repressive measures at the Navalny campaign (ixtc.org/2017/10/deputaty-gosdumy-razrabotali-zakon-protiv-navalnogo/, kasparov.ru/material.php?id=59CFAE6E77953 and meduza.io/slides/kak-ne-soglasovat-miting-navalnogo-instruktsiya-dlya-chinovnikov). The Russian law banning mirror sites has entered into force (echo.msk.ru/news/2065224-echo.html), the agency overseeing the media has set up a special blocking laboratory (iz.ru/651853/vladimir-zykov/roskomnadzor-sozdal-sobstvennuiu-laboratoriiu-blokirovok), the Duma is planning to increase penalties on those who make false reports about terrorist acts (novayagazeta.ru/news/2017/10/05/135879-gosduma-planiruet-uzhestochit-sanktsii-za-lozhnye-soobscheniya-o-terakte), the Russian government is increasing penalizing people for intentions without any action (forum-msk.org/material/news/13785731.html), some Duma members want to give the authorities power to block sides without waiting for a court ruling (newsland.com/community/1039/content/oppozitsionnye-saity-budut-blokirovat-bez-suda-i-sledstviia/6016761) and to block websites that call for people to attend meetings the authorities haven't given clearance for (echo.msk.ru/news/2064938-echo.html), and the authorities are increasingly taking actions against foreign corporations and especially foreign news agencies operating in Russia (meduza.io/news/2017/10/06/interfaks-genprokuratura-mozhet-priznat-nezhelatelnymi-v-rossii-neskolko-amerikanskih-smi, themoscowtimes.com/news/cnn-warned-by-roskomandzor-59120 and  kommersant.ru/doc/3427423).
A Million Russians have Been Evacuated as Result of Bomb Scares. Over the last month, more than a million Russians have been evacuated from buildings in which, anonymous telephone callers say, bombs have been planted. No bombs have been found but the authorities have little choice but to take these warnings seriously (graniru.org/Politics/Russia/FSB/m.264487.htmland polit.ru/article/2017/10/07/explosion_wave/). The FSB says it has identified four Russians who have made the calls from abroad (echo.msk.ru/news/2068398-echo.html and fedpress.ru/news/77/society/186903a6). Despite this, a poll shows that Russians are less worried about terrorism now than they were earlier in the year (themoscowtimes.com/news/russans-less-aftaid-of-terrorism-59132).  There is growing concern among officials, however. A court has ordered a newspaper to suppress an article about how to make bombs from readily available materials (versia.ru/nizhegorodskij-sud-zapretil-statyu-ob-izgotovlenii-dinamika-iz-podruchnyx-materialov), and the defense ministry has ordered soldiers not to use their cellphones to take selfies (bbc.com/news/world-europe-41510592). There has been a wave of retail violence against businessmen and by older people (meduza.io/news/2017/10/05/v-tsentre-moskvy-soversheno-pokushenie-na-biznesmena and newsland.com/community/8211/content/v-moskve-zaderzhali-75-letniuiu-pensionerku-s-revolverom/6022064). In other domestic security news, articles appeared about how young men are avoiding the draft by posing as gays (thequestion.ru/questions/42635/kak-proveryayut-geev-na-prizyvnoi-komissii and  thequestion.ru/questions/192810/pochemu-muzhchiny-tak-chasto-pytayutsya-otkosit-ot-armii), treatment of prisoners is deteriorating now that officials are blocking rights activists from visiting places of confinement (lenta.ru/articles/2017/10/03/fsin/), some media outlets are suggesting that the Daghestani soldier who killed three of his comrades in the Far East was interested in ISIS (ura.news/articles/1036272474), visitors to cemeteries count more combat deaths than Moscow is reporting (newsland.com/community/8211/content/statisticheskii-paradoks-c-obeliskami-na-rossiiskikh-kladbishchakh/6021022), an ISIS cell was unmasked in Moscow (echo.msk.ru/news/2065934-echo.html), and police without housing complained to Putin that this was the direct result of his spending on Crimea (newsland.com/community/5862/content/politseiskie-bez-zhilia-napomnili-putinu-o-milliardakh-na-krym/6016912).
Russians Training Swedish Nazis at Camp Near St. Petersburg. Swedish media are reporting that members of Swedish Nazi groups are being trained at a camp near St. Petersburg in  Russia (inosmi.ru/social/20171002/240415093.htmland svd.se/har-tranar-svenska-nazister-krig-i-ryssland), reports that seem especially ominous because Russian outlets are reporting that Alland Islanders want independence from Finland (centrasia.ru/news.php?st=1507184340). Russian commentators say Moscow should be upset by the second season of "Occupied" about a supposed Russian occupation of Norway (svpressa.ru/society/article/182467/). Meanwhile, the European Human Rights Court has ruled against Moscow on coverage of the Kursk incident (novayagazeta.ru/articles/2017/10/03/74057-signaly-kotorye-ne-hoteli-uslyshat).
Moscow Hiding More of Its Defense Spending.According to RBC, Russia has classified nearly 40 percent of its military spending, the highest level in the 12 years the agency has monitored it (rbc.ru/economics/05/10/2017/59d4fde09a7947e9e7dff121?from=main). Meanwhile, Aleksey Kudrin says that the militarization of the budget is harming the Russian economy (newsland.com/community/4109/content/kudrin-otsenil-ushcherb-dlia-rossii-ot-voenizirovannogo-biudzheta/6023403). Another way Moscow is hiding its military activities is by using various mercenary groups in Syria (kasparov.ru/material.php?id=59D6208A93A07). The Russian government has also thumbed its nose at the US over North Korea, allowing Pyongyang to link to the Internet via Russia and doubling its trade with that country (newsland.com/community/politic/content/rossiia-podkliuchila-severnuiu-koreiu-k-internetu/6019739  andrusjev.net/2017/10/06/rossiya-udvoila-torgovlyu-s-kndr-vopreki-sanktsiyam/). Meanwhile, officials report more problems with Russian rockets (lenta.ru/articles/2017/10/04/yura_prosti_nas/ and newsland.com/community/4109/content/zapuski-protonov-zamorozili-na-polgoda-iz-za-togo-chto-kladovshchitsa-ushla-na-bolnichnyi/6021321), and serious shortcomings in Russia's research fleet and the navy's global communications system (polit.ru/article/2017/10/03/fleet/ and kasparov.ru/material.php?id=59D33F257AD62). And an independent analysis suggests the Kremlin's much-ballyhooed Young Army is largely useless (meduza.io/feature/2017/10/05/budut-nastoyaschih-muzhchin-delat).
Russia Still has 6559 Lenin Streets. Russia's cities and towns still have 6559 Lenin Streets, far outstripping anyone else (yandex.ru/company/researches/2017/streets). Stalin busts are faring less well: one was put in a parking lot, and other is being challenged by city officials (thebarentsobserver.com/en/life-and-public/2017/10/stalin-placed-parking-lot-arkhangelskand newsland.com/community/7231/content/novosibirskie-vlasti-protiv-stalinskogo-biusta/6021312). In Tobolsk, activists are building a museum on the Imperial Family (newsland.com/community/7231/content/v-tobolske-zavershaetsia-rabota-nad-sozdaniem-muzeia-tsarskoi-semi/6023309). Other monument news this week of note: Sverdlovsk oblast has put up a monument to the natural and technological disasters of Russian history (e1.ru/news/spool/news_id-478265.html), the Udmurts have put up a monument to their pagan groves (nazaccent.ru/content/25592-pervym-pamyatnik-etnologii-udmurtii-stanet-svyashennaya.html), and environmental activists succeeded in putting a respirator on one statue but were blocked from doing so on another (takiedela.ru/photography/ and novayagazeta.ru/articles/2017/10/05/74076-nasmerdeli-gady-aktivisty-greenpeace-nadeli-protivogazy-na-pamyatnik-georgiyu-pobedonostsu).
Western Special Services Said Working to Exclude Russian Athletes from Competitions. Despite upbeat statements by FIFA  and Vladimir Putin (regnum.ru/news//2330662.html andbusiness-gazeta.ru/article/359650), Russia faces uphill problems in preparing for the 2018 World Cup and has selected its usual tactic in such situations: it is blaming Western intelligence services for what is happening.  These services, some Russians say, are working within Russia to delay completion of venues and abroad to blacken the reputation of Russian athletes and fans (vlg-media.ru//chm-2018-zapadnye-specsluzhby-v-volgograde-voyut-protiv-chempionata-65889.html). In fact, Russian athletes may be excluded from international competitions and Russia may be stripped as a host not by a concerted international effort but by the actions of individual sports organizations (profile.ru/obsch/item/119993-prizrak-pkhenchkhana,newsland.com/user/4295013867/content/otkrovennyi-sgovor-pochemu-mir-ne-khochet-videt-rossiiu-na-zimnei-olimpiade/6015205 and newsland.com/community/politic/content/kto-reshaet-poedet-li-rossiia-na-zimniuiu-olimpiadu/6014856). But there are plenty of problems inside Russia as well: the Nizhny Novgorod venue stadium suffered a major fire (lenta.ru/news/2017/10/05/nnstadium/), one venue had to be partially destroyed to allow for more seats to be added (twitter.com/darrenrovell/status/915598299129946114/photo/1), doping issues continue to be much discussed (kasparov.ru/material.php?id=59D3B7C0C5EAE), and Moscow is trying to figure out how to make Russian football fans more tolerant and polite (ng.ru/moscow/2017-10-02/5_7085_moscow.html). Russia did make one announcement this week that will reassure some and frighten others: If the World Cup does take place in Russia next year, Cossacks will guard the venues and protect visitors (nazaccent.ru/content/25599-kazaki-prosledyat-za-poryadkom-vo-vremya.html).
Navalny is Exactly Where Putin is on the Nationality Question.Aleksey Navalny has positions on the nationality question, including the statue of republics and language use in schools, that are identical to those of Vladimir Putin. While those views may win support among ethnic Russians, they are one of the reasons why Navalny has attracted fewer people to his cause in the North Caucasus, the Middle Volga and in other non-Russian areas (kavkazr.com/a/strana-bez-alternativ/28773637.html).
Invalids Can't Attend Roundtable on Accessibility Because There's No Elevator.  Russian officials continue to do things that undercut whatever message they are trying to send. In a case this week, they scheduled a meeting on accessibility issues but held it in a room on the upper floor of a building without an elevator (takiedela.ru/news/2017/10/05/lift-dlya-invalidov/).
IMF Says Russia Will Benefit from Global Warming. The International Monetary Fund says that Russia will be among the countries that benefit from climate change, with more land being available for agriculture and human residence and the Northern Sea Route more open to shipping (themoscowtimes.com/articles/russia-to-reap-benefits-from-climate-59145). If Moscow believes that, it may be less willing to support efforts to limit global warming. Meanwhile, other experts are less sure: they think that the situation in Russia may deteriorate with the melting of permafrost and note that Russia's northern location means that it really should have only 57 million residents and not the 140 million it has now (ccas.ru/manbios/tsirel.html).
Was Russia's Civil War in Fact Red, White and Blue?  Attention to the Russian Civil War which followed the Bolshevik revolution is bringing to the fore many events of that conflict that few had ever paid much attention to. Most people know that the war was between the Reds (Bolsheviks) and the Whites (anti-Bolshevik groups of various stripes). A few know that there were also the Greens, peasant uprisings against rule by either of these. But now historians are talking about the Blues, a group that wanted to overcome all these divisions (cont.ws/@colonel-cassad/729589).
Russian Media Coverage of Playboy Founder's Death Decried.  Russian traditionalists have denounced the mainstream Russian media for giving almost as much attention to the death of Hugh Hefner as did their Western counterparts. Not only did he do nothing good for Russia, they say; but all his actions undermined traditional values (stoletie.ru/vzglyad/chtivo_globalistov_894.htm).
Kirov Businessman Comes Up with New Way to Make Money – Selling Air.  Capitalism unrestrained by any judgment or values other than the pursuit of money certainly encourages inventive ideas.  Now a Kirov businessman is seeking profit by trying to sell air in bottles (newsland.com/community/4109/content/nabzdeli-kak-na-vsenoshchnoi/6017290).
Are Russians about to Adopt a WASP-Like Identity?  Some Americans identify themselves as White Anglo-Saxon Protestants or WASPs. Now a Russian commentator has proposed that Russians identify as RISPs, an acronym which stand for "Russian Imperial Soviet Orthodox" (facebook.com/permalink.php?story_fbid=1833665520220201&id=100007303111542).
And 13 more from countries in Russia's neighborhood:
Russia Disappearing from Radar Screen of Young Ukrainians, Moscow Observer Says.  Young Ukrainians are no longer fixated on Russia as their parents often were and instead look to Europe and other parts of the world, a shift that will make it far harder to restore the kind of relations the Kremlin wants than any particular policies Kyiv adopts (charter97.org/ru/news/2017/10/4/264910/).
48 Political Prisoners in Russian-Occupied Crimea. The Russian occupation forces have incarcerated at least 48 people whom international rights groups now identify as political prisoners (ru.krymr.com/a/28777538.html). Another plague spreading on the Ukrainian peninsula since the Russians came is diptheria (ru.krymr.com/a/28777789.html).
Moscow Selling Coal from Donbass on International Markets. In yet another violation of international law, the Russian government is selling coal mined in the Russian-occupied portions of the Donbass to international customers (thinktanks.by/publication/2017/09/30/rossiya-prodaet-na-mezhdunarodnyh-rynkah-ugol-iz-okkupirovannyh-rayonov-donbassa-bloomberg.html).
As Ukraine's Fall Draft Opens, 54 Percent of Ukrainians Say They're Ready to Defend Their Country with Arms in Their Hands. Ukraine has now begun its fall draft, and a new poll shows that more than half of the people of Ukraine are quite prepared to take up arms to defend their country against the aggression of others (dsnews.ua/society/sotsiologi-uznali-skolko-ukraintsev-gotovy-zashchishchat-stranu-05102017155800).
Hungary, Angered by Kyiv's Language Law, Backing Separatism in Western Ukraine.  The Hungarian authorities are furious at Ukraine for a new law that will reduce Hungarian-language instruction in Ukrainian schools and are providing ever more encouragement to ethnic Hungarians in Ukraine to demand special rights for their region (versia.ru/zakarpate-mozhet-stat-ochagom-separatizma).
Estonia Set to Become First Country in the World to Adopt Law on Robots.  Estonia which has taken the lead in many high-tech fields is now set to become the first country in the world to adopt a law governing what robots can and can't do, an action that will not doubt be followed with interest by other countries facing the robotics revolution (vz.ru/world/2017/10/4/889387.html).
Sheikh ul Islam Under Fire in Azerbaijan. Allashakyur Pashazade, the Shiite sheikh ul Islam and head of the Muslim Spiritual Directorate of the Caucasus, is coming under increasing fire not only for his personal behavior but for his Shiite faith and Lezgin ethnic roots, something that could presage his replacement and send shockwaves through the Shiite communities not only of Azerbaijan but throughout the former Soviet space (ng.ru/ng_religii/2017-10-04/12_429_azerbjan.html).
Baku Arrests 61 Gay Rights Activists. The Azerbaijani government has arrested 61 LGBT rights activists, thus becoming the latest post-Soviet state to follow the Chechen and Russian pattern of repression against "non-traditional" sexual behavior (kavkaz-uzel.eu/articles/310356/).
25 Percent of Those Infected with HIV in Central Asia Avoiding Treatment. Because of the stigma attached to HIV/AIDS in Central Asia, experts say that one in every four of those infected in that region is avoiding medical treatment and thus setting the stage for a new epidemic (fergananews.com/news/26957).
Ashgabat Restricts to 100 US Dollars Amount Turkmens Can Take Abroad. In yet another action by what is the most repressive regime among the post-Soviet states, Turkmenistan's government has decreed that no Turkmen may take more than 100 US dollars abroad without special permission, thus giving the authorities there yet another means to keep their population in line (habartm.org/archives/7827).
Bishkek Talking to Moscow about Second Russian Base. Talks are proceeding between Kyrgyz and Russian officials about the establishment of a second Russian military base in that Central Asian country, a new military facility that reports say would be located in the troubled southern portion of the country (regnum.ru/news/polit/2328996.html).
Kazakh Scientists Come Up with Reusable Toilet Paper. Scientists in Kazakhstan have come up with what they say is an environmentally friendly product: toilet paper that can be used again and again by simply washing it each time it is used. There is no word yet on whether this is likely to catch on (centrasia.ru/news.php?st=1506856920).
Bigamy on the Rise in Tajikistan.  The increasing influence of Islam on social practices in Tajikistan is manifested in a rising tide of bigamy and even polygamy among people there, sociologists say (currenttime.tv/a/28762833.html). That is part of a broader struggle in Central Asian countries between modernists and traditionalists, with each of those groups now split over such questions (camonitor.kz/29085-nashe-obschestvo-kak-dvulikiy-yanus-modernisty-i-tradicionalisty.html).
UAWire – Khodorkovsky congratulating Putin on his birthday wished him 'to separate himself from Russia'
In an interview with TV Rain (Dozhd), founder of Open Russia political initiative Khodorkovsky said he was happy to congratulate Putin on his 65th birthday. "If Vladimir Vladimirovich found the strength to separate himself from the country (from the point of view of its management), then I think our country would finally see some prospects for the future, as would Putin himself. I really wish this for him," Khodorkovsky said. Khodorkovsky recalled that he also had congratulated the President on his birthdays in previous years, including during his imprisonment in a penal colony. For example, in 2005 Khodorkovsky, who at that time was jailed for the "first Yukos case," congratulated Putin on his 53rd birthday. Then he wished the President "find freedom and peace," and to resign from the "ungrateful presidential post." On October 7th, President Vladimir Putin turned 65 years old. Foreign leaders from Armenia, Azerbaijan, Kazakhstan, Kyrgyzstan, Uzbekistan, Tajikistan, Belarus, Mongolia, Finland, and Serbia congratulated Putin on his birthday. Putin was also congratulated by the members of the Russian Security Council, whom he was meeting with.
Slain Russian Opposition Politician Nemtsov Honored On His Birthday
MOSCOW — Colleagues, friends, and relatives of Boris Nemtsov are honoring the slain Russian opposition politician on what would be his 58th birthday on October 9. Activists of the oppositio…
Kremlin Says All Detained Protesters Released After October 7 Rallies
Russian authorities say they have released all demonstrators who were detained for taking part in unauthorized rallies across Russia that coincided with Russian President Vladimir Putin'…
Moscow Shopping Center On Fire, About 3,000 People Evacuated
Russian authorities say about 3,000 people were evacuated from a shopping center on the outskirts of the capital, Moscow, after a fire broke out in the basement. Flames spread from a storage roo…
Earthquake Strikes Remote Islands Between Alaska, Kamchatka
An earthquake measuring at 6.6 magnitude struck near the Aleutian archipelago off the west coast of the U.S. state of Alaska and east of Russia's Kamchatka Peninsula, seismologists say. The …
---
Belarus Reports
---
More EU Help for Belarus SMEs – Emerging-Europe.com
Belarus: Tracking European bison in the continent's last primeval forest | The Independent
It's early morning, and I'm tiptoeing through the undergrowth. Shafts of sunlight pierce the canopy overhead, spotlighting fragments of the forest all around me, and I survey them for the slightest sign of movement. This ancient habitat is home to an extraordinary array of endangered species, but I'm in pursuit of one in particular – the heaviest wild animal living on the continent, the European bison.
---
Transnistria / Moldova Reports
---
Putin Says Russia to Keep Contributing to Resolution of Transnistria Problem – Sputnik International
Russian President Vladimir Putin has pledged that Moscow will contribute to the settlement of the crisis in Transnistria, a self-proclaimed republic that seceded from Moldova after the collapse of the USSR, as the authorities in Chisinau seek to withdraw international troops that are deployed in the breakaway region.
Criminal authority detained for smuggling through Transnistria
Criminal authority detained for smuggling through Transnistria
Transnistria Could Become the Next Major Bitcoin Mining Hub – The Merkle
Transnistria Allegedly Seeking Russian Investment to Establish Bitcoin Farms – Bitcoin News
The unrecognized territory of Transnistria is reported to be seeking investment from Russian mining entrepreneurs to establish bitcoin mining farms, according to Russian news outlet Lenta. The report suggests that the territory hopes to become entrant into the industrial mining industry from the former Soviet region.
Transnistria Dreams Of Bitcoin Mining, Its Govt Wants To Build Farm
The tiny unrecognized republic of Transnistria is looking to use its cheap electricity to support Bitcoin mining via a government-backed farm.
Moldova PM confident of securing EU funding in 2018
Moldova's Prime Minister Pavel Filip said on Monday he was confident of meeting all the conditions to get funding next year under a 100-million-euro ($117-million) agreement with the European Union.
Moldova, Ukraine have potential for turnover growth – Groysman – 09.10.2017 10:57 — Ukrinform News
Trade turnover between Moldova and Ukraine is constantly growing, and our states have the potential to increase it in the future.
---
Ukraine Reports
---
Ukraine prosecutors name contractor of Voronenkov's hit (Photo, video)
Prosecutor General of Ukraine Yuriy Lutsenko has announced that the person who ordered the contract hit of former Russian State Duma member Denis Voronenkov in Kyiv was Russian FSB-controlled criminal leader Vladimir Tiurin, according to an UNIAN correspondent. "We are convinced that the assassination of Denis Voronenkov is connected with his testimony about the presence of Russian troops in Ukrainian territory, as well as those in Viktor Yanukovych's high treason case, confirmed by him as a witness of the event in the Duma of the Russian Federation. To prevent Voronenkov's testimony in Ukrainian and international courts, members of the Russian special services developed a plan for his physical elimination as a witness. The actual person who ordered the contract hit, according to the Main Intelligence Directorate of the Ministry of Defense of Ukraine, confirmed by the investigation of the Kyiv prosecutor's office, was a FSB-controlled crime lord Vladimir Anatolievich Tiurin," Lutsenko said at a briefing in Kyiv on Monday. In addition, according to the investigation, the contractor had a personal motive. "Besides, the contractor had a personal motive for murder. Eight years ago, he was a boyfriend of Maria Maksakova, who [later married to Voronenkov and] was Voronenkov's wife at the time of the murder. Tiurin agreed to finance and organize the crime in exchange for benefits from Russian special services to control criminal groups in Russian territory and some CIS countries," the prosecutor general said. At the same time, according to Lutsenko, the murder was prepared together with the leadership of the Russian FSB. "According to the established version of the investigation, the FSB leadership along with the leaders of the Russian criminal world developed a plan to kill and remove an extremely valuable witness from their point of view," he said. Lutsenko stressed that the investigation had established all the participants in the group involved in the murder. "Based on the results of the large-scale investigation, it was possible to identify all the participants in the criminal group, including contractors, organizers and executors involved in this assassination. It was possible to restore the entire chronology of events from preparations for the crime to the detention of the suspects," he said. According to the investigation, Pavlo Parshov, who shot at Voronenkov, was in collusion with the citizens of Ukraine such as Vasylenko, Los, Levenets, and Tarasenko. "The investigation found that the crime was committed at about 11:30 local time on March 23, 2017, by a citizen of Ukraine, Pavlo Oleksandrovych Parshov, by prior conspiracy with citizens of Ukraine Vasylenko, Los, Levenets, and Tarasenko," Lutsenko said. At the same time, he said that two of the five had been detained. "Los and Tarasenko are in custody. Vasylenko and Levenets have been put on the wanted list outside Ukraine." As UNIAN reported earlier, former State Duma member Denis Voronenkov, who was expected to become an important witness in a treason trial against Russian-backed ex-president of Ukraine Viktor Yanukovych, was shot dead in the center of Kyiv on March 23, 2017. Voronenkov's bodyguard, who was wounded in the attack, also managed to hit the assassin with several shots as he returned fire. The killer later died amid surgery in a Kyiv hospital. Anton Gerashchenko, an adviser to the Ukrainian interior minister, said that the killer, Pavlo Parshov, was born in Sevastopol, Crimea, in 1998. He was reportedly hired by the Russian special services. Later, the SBU Security Service of Ukraine said that they were vetting whether Parshov was a Russian FSB agent.
The Prosecutor General's Office of Ukraine finished the investigation of the murder of the former MP of the Russian State Duma Denys Voronenkov – 112.international
Prosecutor General's Office finishes: investigation of Voronenkov's murder. 'We succeed to establish all participants of the criminal group, including the order givers, organizers and perpetrators involved in this murder on the result of the large-scale investigation. We succeed to reconstruct the complete course of events from the preparation to the detentions of the suspect persons. We officially pass the documents of the criminal proceeding due to the murder of Voronenkov and attempted assassination of his bodyguard due to the criminal violation provided by part 2, article 115 Criminal Code of Ukraine to the court', the Prosecutor General said. According to Lutsenko, the investigation established that the Pavlo Parshov committed a murder by the previous concert with four citizens of Ukraine Vasylenko, Los, Levenets and Tarasenko. 'The perpetrator of the murder, Parshov was shot during the committing of the murder, Los and Tarasenko were detained, Vasylenko and Levenets are on the wanted list. The investigation established that this is the contract murder', he added. The Prosecutor General's Office of Ukraine established that the real hirer of a contract killer is Vladimir Tyurin, the crime boss and the citizen of Russia of the 1958 year of birth. He was earlier judged due to the gang rape, theft offence and hooliganism. 'The hirer of the murder had the personal motive, he was a cohabitation husband of Maksakova that was the wife of Voronenkov', Lutsenko emphasized. Tyurin is already served with the charge papers in the commitment of the crimes provided by the number of articles of the Criminal Code of Ukraine. The issue is about the intentional homicide with a mercenary motive, organization of the intentional illegitimate homicide of another person, intentional contract homicide and organization of the intentional illegitimate homicide of another person committed by the previous concert. The organizer of the Crimea is in Russia.
PGO names hirer of Voronenkov assassin – it's Russian mafia boss Tyurin
09.10.17 13:34 – PGO names hirer of Voronenkov assassin – it's Russian mafia boss Tyurin Prosecutor General's Office of Ukraine (PGO) has finished investigation into the criminal case of murder of former State Duma of Russia MP Denys Voronenkov in Kyiv downtown in spring 2017. View news.
Erdogan To Visit Kyiv On October 9 For Talks On Bilateral Ties, Crimea
Turkish President Recep Tayyip Erdogan is scheduled to pay a one-day official visit to Ukraine on October 9. Erdogan and his Ukrainian counterpart, Petro Poroshenko, are due to chair a session o…
Executing law on local government in occupied Donbas depends on Russia's living up to commitments, – Poroshenko – 112.international
Successful implementation of the law on local government on territories of the occupied Donbas strongly depends on how Russia – the aggressor country – abides by its own international commitments. Petro Poroshenko, the president of Ukraine posted that on Facebook. 'The very possibility of executing the law about the local government in occupied Donbas is toughly stipulated by a number of conditions, which Russia, the occupant country, and its puppet regimes must live up to. First of all, we demand that Russian troops, illegal armed units and military vehicles be withdrawn from Ukraine. There is also a condition that the political processes should meet OSCE standards,' Poroshenko wrote.
Poroshenko: Implementation of law on Donbas special status depends on Russia
Ukrainian President Petro Poroshenko says the implementation of the law on special order of self-governance in certain areas of Donbas directly depends on Russia's compliance with its requirements. News 09 October from UNIAN.
MP: special status for Donbas spells collapse of Ukraine – LB.ua news portal
MP: special status for Donbas spells collapse of Ukraine. "Like it or not, it's a fact." Main – LB.ua news portal. Latest from Ukraine and the world today
Bohdan Petrenko | Donbas war: Political forecast for this autumn – 112.international
In October, the threat of escalation of hostilities will increase. Any events in our country should not prevent us from forgetting that there is a war. Moreover, in the near future, it would not be officially hidden behind the shield of an "antiterrorist operation." In October, the threat of escalation of hostilities will increase. First, the reduction in bombardment will not only lead to active conversations about further reintegration, but also to reintegration itself, at least at the level of the divided mentality of Ukrainians on different sides of the contact line. Images of the enemy – "separatists" or "junta" – will be erased in the public opinion without war. Today, the war reached its bottom: de-escalation has lasted for several months in many respects (the number of victims, the number of bombardments). Although, according to Ukrainian intelligence, the number of pro-Russian troops in the east did not decrease. Secondly, autumn is the time of approval of the state budget, including in Russia. It is clear that the leaders of the "Donetsk/Luhansk People's Republics" (DPR/LPR) and their supervisors who control the flows are more interested in increasing expenditures. Russia itself is not interested in such expenses. Therefore, it is possible to legitimize the increase or preservation of the flow of money only in the context of intensified conflict. Thirdly, the inhabitants of the occupied territories should receive answers to the question of why they have such low social standards compared to other parts of Donbas, which are free from the "Russian world." These answers will traditionally based on "a threat from Ukraine's Armed Forces". During the active phase of the war, the LPR/DPR authorities would reduce the behind-the-scenes games among themselves (terrorist acts and murders would become less frequent). Why is activation possible now? Because there are some natural and political factors for this. The spring-autumn season is close to the end, and this is the most favorable time for military operations. Now about political ones. The peak of the escalation is possible between the meeting of Volker and Surkov on October 7 and the second reading of Ukraine's draft law on reintegration of Donbas (probably in the next plenary week of October 17-20). The goal is to stimulate radical deputies not to support these projects and provoke radical mass protests under the parliament in order to frighten other deputies. In the future, this will give the Kremlin the opportunity to accuse Ukraine of not fulfilling its obligations, of slowing down the peace talks and of being unable to be a reliable partner with Western allies. Consequently, the world pressure against Russia would reduce. Another political date is October 14 – Defender of Ukraine Day. This is the day of remembrance of Ukrainian Insurgent Army (used as a consolidation symbol for Ukraine's far-right parties and organizations). Making gifts (shelling Ukrainian positions) during festive time is a good tradition of Moscow. And although exacerbations at the front are possible, it is likely that the biggest challenges on this day will be created inside the country. We must understand that in the near future the goal of military exacerbations is not the territorial seizures, but rather inflaming the "sense of war" between Ukrainians on both sides of the border, persuading the Ukrainians and the rest of the world of the idea that this war is civil. That is why the war will not go beyond the "gray zone." And none of the sides is ready to break the established line. At least for now.
Number of attacks on Ukraine troops in Donbas grows to 26 on Sunday
Russia's hybrid military forces attacked Ukrainian army positions in Donbas 26 times over the past 24 hours, according to the press service of the Anti-Terrorist Operation (ATO) Headquarters. News 09 October from UNIAN.
Militants launched 26 attacks on Ukrainian troops in Donbas in last day – 09.10.2017 09:45 — Ukrinform News
Militants launched 26 attacks on positions of the Armed Forces of Ukraine in ATO area in Donbas over the past day. 
Donbas terrorists use laser to 'blind' OSCE camera, – SMM. VIDEO
06.10.17 16:57 – Donbas terrorists use laser to 'blind' OSCE camera, – SMM. VIDEO Russian mercenaries in Luhansk vicinity have installed a laser to prevent OSCE cameras from recording shelling in that area of the front line in the Donbas. View video news.
Russia's hybrid forces use banned mortars near Shyrokyne in Donbas on Sunday
Russia's hybrid military forces on Sunday, October 8, resorted to proscribed weapons near the village of Shyrokyne close to the Ukrainian-controlled strategic port city of Mariupol in eastern Ukraine, according to the press center of the Anti-Terrorist Operation (ATO) Headquarters. News 08 October from UNIAN.
Russian mercenaries in Donbas blame Ukrainians of numerous casualties on their positions. VIDEO
09.10.17 15:24 – Russian mercenaries in Donbas blame Ukrainians of numerous casualties on their positions. VIDEO Russian mercenaries in the Donbas made and published a video where they complain about technical capabilities of Ukrainian military and efficiency of Ukrainian weapons. View video news.
Meeting of Russia's and Ukrainian border guard services to take place in Bryansk – 112.international
The meeting of the representatives of the border guard services of Ukraine and the Russian Federation regarding two detained border guards will take place in Bryansk, where the incident occurred. Oleh Slobodyan, the Border Guard Service spokesman, said that on air of the 112 Ukraine TV channel. "The meeting will take place at the site of the accident. The representatives of Ukraine's State Border Guard Service and the representatives of Russia's Border Service of the FSB. We will discuss, how our border guards got into the hands of Russian border guards. We are interested in Russia's position on how they see the future of the situation and how they are going to resolve it," he said.
UAWire – Military expert: export of Ukrainian arms to the world market can grow up to $3 billion a year
According to Ukrainian Center for Army, Conversion and Disarmament Studies (CACDS), the volume of Ukrainian arms exports to the global market …
Ukrmilitary English on Twitter: "XIV International Exhibition ARMS AND SECURITY '2017: Kyiv, Ukraine from 10 to 13 October 2017 https://t.co/inyI8hTRyH https://t.co/O6YeNwB4lf"
Ukrmilitary English on Twitter: "UOP to showcase modernised variant of the BTR-4 designed in accordance with NATO standards during Arms and Security 2017 exhibition in Kyiv https://t.co/0SXhoIEOiP"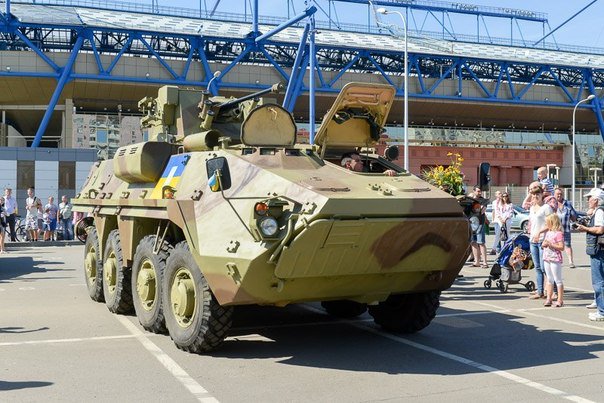 Ukrmilitary English on Twitter: "ARMS AND SECURITY 2017: KRAB 155mm Self-Propelled Howitzer (Poland) #armsandsecurity #armsandsecurity2017 https://t.co/AIZQUCl1LI"
UAWire – Notorious arms dealer with links to Russia's military industry suddenly dies in Ukraine
A wealthy Odessa businessman, Boris Kogan, who started working as a taxi driver and got rich on the international arms trade, died at his home …
Schooled in Scandal: What Makes Ukraine a Hotbed of Intrigue – The New York Times
Russian hacking, secret payments to Paul Manafort, suspicions of missile technology smuggled to North Korea — seemingly all illicit roads lead back to one country.
NATO Parliamentary Assembly in 2020 to take place in Kyiv, – MP Friz
09.10.17 12:18 – NATO Parliamentary Assembly in 2020 to take place in Kyiv, – MP Friz The Parliamentary Assembly of NATO will take place in Kyiv for the first time in 2020. View news.
PACE to debate on Ukraine's education law Oct 12  – 112.international – PACE to debate on Ukraine's education law on October 10 – 112.international
President Petro Poroshenko will deliver a speech on October 11
Ukrainian Foreign Minister Klimkin sees Russia as source of problems for GUAM sovereignty
Ukrainian Minister of Foreign Affairs Pavlo Klimkin says the issue of territorial integrity represents a common challenge for Georgia, Ukraine, Azerbaijan and Moldova (GUAM) and accuses the Russian Federation of creating this problem, according to the Ukrainian news website Telegraf. News 08 October from UNIAN.
Stockholm court starts hearings in Naftogaz vs Gazprom dispute – LB.ua news portal
Stockholm court starts hearings in Naftogaz vs Gazprom dispute. The arbitration should force Gazprom to fulfil June verdict. Main – LB.ua news portal. Latest from Ukraine and the world today
Ukraine boosts vehicle output by over 77% in nine months
Production of motor vehicles in Ukraine rose by 77.3% in January-September 2017 year-over-year (y-o-y), to 5,696 units, according to the Ukrautoprom Association. News 09 October from UNIAN.
Poll: Most Ukrainians want to work in Germany and Poland – 09.10.2017 15:41 — Ukrinform News
Most Ukrainian labor migrants want to work in Germany and Poland. The United States and Canada are also popular.
Russian-occupied Crimea "nationalizes" Bakhchisaray palace
The Russian-controlled Committee for State Registration and Cadastre of Crimea has registered ownership of 32 real estate objects of the Khan's Palace in Bakhchisaray in the occupied peninsula, according to RIA Krym, referring to the committee's press service. News 09 October from UNIAN.
Committee on Official Registration and Cadastre controlled by Russia registered the right of property for 32 objects of the Khan's Palace, Crimea – 112.international
Khans's Palace in occupied Crimea nationalized
UAWire – Russia conducts exercises of military aviation in the annexed Crimea
Flight crews of Su-30SM multi-role fighter planes of the Black Sea Fleet of Russia have executed sea target bombings, the press service of the …
---
Russia / Iran / Syria / Iraq / OEF Reports
---
Gordon G. Chang | Why Decertify? Iran's Nuke Program Looks Like It's Hiding In N. Korea
The nuclear weapons effort of the Islamic Republic appears to be on the other side of the world.
What It Means To 'Decertify' The Iran Deal : NPR
NPR's Lulu Garcia-Navarro talks to Barbara Slavin of the Atlantic Council about the potential repercussions should President Trump "decertify" the Iran nuclear deal.
Will President Trump end the Iran deal? – CBS News
Trump is expected to announce that he will "decertify" the Iran nuclear agreement soon
False Assumptions About the Iran Nuclear Deal – The New York Times
Why do the Trump administration and other hard-liners in Washington want to go against the international consensus?
Trump's big decision on Iran next week could rattle the oil markets
If the White House decertifies the Iran deal, RBC Capital Markets' Helima Croft says oil prices could jump.
Trump's new policy will focus on Iran's meddlers | GulfNews.com
Washington will outline a new aggressive approach to countering Tehran s threats all over the globe and spur US allies to begin to address the nuclear deal s flaws
Iran promises 'crushing' response if U.S. designates Guards a terrorist group
Iran promised on Monday to give a "crushing" response if the United States designated its elite Revolutionary Guards as a terrorist group.
Ready for rapprochement with Saudi Arabia: Iran – The Economic Times
Zarif slammed what he said Saudi Arabia's support for terrorist groups in Syria and its aggression on Yemen, as well as its treatment of Qatar.
Iran names nuclear negotiating team member jailed for spying
A dual national member of Iran's nuclear negotiating team has been jailed for five years for spying, news agency Tasnim said on Sunday, citing a spokesman for the judiciary.
Iran's Ex-Reformist President Banned From Public Appearances Week After Six MPs Sentenced to Prison – Center for Human Rights in Iran
The Center for Human Rights in Iran (CHRI) is an independent, nonpartisan, nonprofit organization dedicated to the protection and promotion of human rights in Iran. CHRI investigates and documents rights violations occurring throughout Iran, relying on first-hand accounts to expose abuses that would otherwise go unreported. We bring these violations to the attention of the international community through news articles, briefings, in-depth reports, podcasts, and videos, and work to build support for human rights inside Iran as well. CHRI engages in intensive outreach and international advocacy aimed at defending the fundamental rights and freedoms of the Iranian people and holding the Iranian government accountable to its human rights obligations.
Iran, Iraq and Turkey Seek Triple Military Alliance – ASHARQ AL-AWSAT English
Will Turkey's cooperation with Iran last? – Burhanettin Duran – Daily Sabah
Turkey's cooperation with Iran in Iraq and Syria will likely set new developments in motion across the Middle East
Turkey says Turkish troops move into Syria's Idlib province | Fox News
Turkey's military says Turkish troops have moved into Syria's northwestern Idlib province as part of an operation to enforce a de-escalation zone that was internationally agreed on in the region.
Turkish Markets Tumble After Erdogan's Feud With U.S. Escalates – Bloomberg
Markets in Istanbul tumbled after the U.S. and Turkey stopped issuing visas for each other's citizens in a spat related to last year's failed coup against President Recep Tayyip Erdogan, deepening divisions between two NATO members already at odds over the war in Syria.
Foreign Ministry summons US embassy undersecretary
Turkey and US scale back visa services amid diplomatic row – BBC News
Both sides cite security concerns, with the move coming after a US employee was held in Turkey.
Turkey 'issues arrest warrant for second US consulate worker' – BBC News
A consulate worker's detention last week led to a diplomatic row, with visa services scaled back.
Turkey urges U.S. to review visa suspension as lira, stocks tumble
Turkey urged the United States on Monday to review its suspension of visa services after the arrest of a U.S. consulate employee sharply escalated tensions between the two NATO allies and drove Turkey's currency and stocks lower.
UAWire – Pentagon questions ability of Russia and Syria to defeat the Islamic State
Pentagon spokesman Eric Pahon said that he is skeptical of statements made by the Russian Defense Ministry regarding its successes in the fight …
U.S.-Backed Forces In Syria Say Poised For 'Final Week' Of Assault Against Islamic State In Raqqa
Fighters of the Syrian Democratic Forces (SDF) are nearing the "final week" of their assault on the Islamic State (IS) militant group's Syrian stronghold of Raqqa, a top commande…
---
DPRK / PRC / WESTPAC Reports
---
U.S. Pressure on North Korea's Global Ties Bears Fruit – WSJ
Over 20 nations have curbed North Korean diplomatic activities, more than a year after the State Department began a quiet campaign around the globe to pressure Pyongyang.
This is the One Picture North Korea Fears Most
As tensions between North Korea and the United States reach a fever pitch, it's worth remembering the origins of the hostility: the Korean War. The general parameters of the war are well known. The conflict began when Kim Il-sung's forces invaded South Korea in June 1950 with the tacit (if reluctant [3]) support of Joseph Stalin and Mao Zedong. Kim's forces quickly overran their southern counterparts and were on the brink of unifying the peninsula before U.S. forces intervened under the guise of the United Nations. They quickly pushed the North Korean forces back across the thirty-eighth parallel and threatened to unify the entire peninsula until a massive force of Chinese "volunteers" intervened and pushed the American and South Korean forces back to the thirty-eighth parallel. Thereafter, the two sides settled into a stalemate that more or less persisted until an armistice was signed in 1953. Less well remembered, at least in the United States, is that America waged a mercilessly air campaign against North Korea during the conflict. As the eminent historian on the war, Bruce Cumings, puts it [5]: "What hardly any Americans know or remember . . . is that we carpet-bombed the North for three years with next to no concern for civilian casualties."
Britain 'draws up battle plan for war with North Korea'
Britain is reportedly preparing for the possibility of war breaking out with North Korea as concerns rise that another provocative missile test could trigger a military response by the US.
Britain is 'preparing a battle plan for war with North Korea' | Metro News
Tensions between the United States and North Korea have been escalating over the past few months. And the possibility of war on the Korean peninsula has not been lost on…
Attacking North Korea Would Be a War of Choice | The National Interest
Threat-inflation of the North Korean nuclear menace only worsens this summer's unnecessary hysteria.
Alan Dershowitz: Trump's 'calm before the storm' is a message to North Korea and Iran | Fox News
North Korea and Iran are taking the measure of President Trump to see how far they can push him and how much they can get away with.
Trump's rebuke of Tillerson will only stoke the flames of North Korea crisis | South China Morning Post
President's comments demonstrate, once again, the lack of coherence in US policy towards restive state
North Korea: Kim Jong Un promotes sister Kim Yo Jong
Kim Yo Jong's promotion appears to indicate she is an increasingly important part of the family dynasty that runs the country.
North Korea's 'princess' now one of the secretive state's top policy makers
The promotion of North Korean leader Kim Jong Un's 28-year-old sister to the country's top decision-making body is a sign he is strengthening his position by drawing his most important people closer to the center of power, experts and officials say.
Seoul's Bomb Shelters Largely Ignored by Locals, Despite North Korea Threat – NBC News
With thousands of North Korean artillery pieces little more than 30 miles away, Seoul has established a vast underground network of air-raid shelters.
[WATCH] North Koreans in UK speak out on dictatorship
In a London suburb, North Korean dissidents are celebrating their new freedom, but they are also trying to help those still living under the repressive regime.
In 1969, North Korea Shot Down a U.S. Airplane and Killed 31 Americans
April 15, 1969 marked one of the deadliest days for the United States in postwar Asia. The shootdown of a U.S. Air Force reconnaissance aircraft off the coast of North Korea
Abe says Japan fully behind U.S. on pressuring North Korea | The Spokesman-Review
Japan's Prime Minister Shinzo Abe said Sunday that his government fully supports the U.S. stance on pressuring North Korea over its nuclear weapons program, with all options on the table.
VOTE 2017: Abe jumps the gun and calls North Korea a 'nuclear state':The Asahi Shimbun
Prime Minister Shinzo Abe got ahead of the government and referred to North Korea as a
---
Foreign Policy Reports
---
THE question of where Europe's eastern border lies has bedevilled statesmen for centuries. It has proved equally difficult for the European Union, which must decide how to deal with countries to its east that would like to join the club. In 2009 the EU launched the Eastern Partnership, meant to handle the European aspirations of Belarus, Ukraine, Moldova, Georgia, Armenia and Azerbaijan. The idea was to promote economic integration and European values, and to fend off Russian influence—but with no promise that the partner states could ever join. Now, with a summit between the EU and the partners coming up in November, they are growing dissatisfied with the arrangement. "Without a light at the end of the tunnel, completing the process will be very hard," Tamar Khulordava, who chairs the Georgian parliament's committee on European integration, told a conference in Riga last week. The six Eastern Partnership states have promised to meet 20 new targets before 2020, including some that may be unpopular, such as promoting sexual equality and forcing farmers to meet EU safety standards. European officials note that these are good things to do in and of themselves. But Georgia, Ukraine and Moldova have already reached trade agreements and visa-free travel deals with the EU, and resent having to carry out difficult reforms that will not necessarily bring them any closer to membership.
Catalonia is still in the grip of turmoil. Here's what you need to know – The Washington Post
Businesses are moving out of Catalonia as Spain's central government moves in.
Supporters of Spain's Unity Hold Massive Rally in Barcelona – YouTube
---
Strategy / History / Capability Publications
---
How the US Army is Preparing to Fight Hybrid War in 2030 – Defense One
The future is little teams operating on land, in the air, and online, taking on enemies that haven't declared themselves.
The Missing Middle: Defense Financing for Middle-Income Democracies
Over the past 15 years, the United States has increasingly prioritized efforts to "build partner capacity." The goal is to empower other countries to bette
Lockheed, Rockwell to develop airborne C2 system for launching ICBMs
Lockheed Martin and Rockwell Collins have been awarded contracts to make it possible for the Air Force to launch an intercontinental ballistic missile, even if launch control centers on the ground are destroyed.
Bell V-280 Ready For First Flight | Defense content from Aviation Week
Bell Helicopter has begun restrained ground testing of its V-280 Valor prototype ahead of first flight in late October.
Here's how Raytheon wants to make the Army's air power more expeditionary
Raytheon is repackaging its JPALS system in an effort to make the U.S. Army more expeditionary.
Frozen F/A-18 Valve Is Latest Clue In U.S. Navy's Hypoxia Mystery | Aviation Week & Space Technology content from Aviation Week
For the first time, the Navy has linked a specific component failure to recent physiological episodes.
---
IW/IO/Cyber Reports
---
German prosecutors say no evidence of US, UK eavesdropping
Federal prosecutors say they have concluded a nearly four-year evaluation of possible eavesdropping of German telecommunications by U.S. and British secret services and concluded there is not enough evidence to open a formal investigation.
UK 'Cracka' pleads guilty to hacking CIA chief's computer
The British teenager infiltrated computers of U.S. government officials, including John Brennan, then director of the CIA.
---
US Domestic Policy Reports
---
Blackwater founder Prince weighing U.S. Senate run: New York Times
Erik Prince, who founded a private military contractor that has faced lawsuits for shootings and other misconduct in Iraq, is considering challenging a Republican Senator from Wyoming in a primary next year, the New York Times reported on Sunday.
Bob Corker Says Trump's Recklessness Threatens 'World War III' – The New York Times
The powerful Republican senator's remarks in an interview capped a remarkable day of sulfurous insults between him and the president.
Dem senator: Heed Corker's 'WWIII' comment amid rising tensions with North Korea | TheHill
Hawaii's Sen. Brian Schatz (D) called on the public to heed Sen. Bob Corker's (R-Tenn.) warning that President Trump could lead the U.S. toward 'World War III.'
Russia Recruited YouTubers to Bash 'Racist B*tch' Hillary Clinton Over Rap Beats
Wannabe YouTube stars and diehard Donald Trump supporters 'Williams & Kalvin' totally swear they're from Atlanta. In reality, they were working for the Kremlin. According to the YouTube page for "Williams and Kalvin," the Clintons are "serial killers who are going to rape the whole nation." Donald Trump can't be racist because he's a "businessman." Hillary Clinton's campaign was "fund[ed] by the Muslim." These are a sample of the videos put together by two black video bloggers calling themselves Williams and Kalvin Johnson, whose social media pages investigators say are part of the broad Russian campaign to influence American politics. Across Facebook, Twitter, Instagram, and YouTube, they purported to offer "a word of truth" to African-American audiences. "We, the black people, we stand in one unity. We stand in one to say that Hillary Clinton is not our candidate," one of the men says in a November video that warned Clinton "is going to stand for the Muslim. We don't stand for her."