Anonymous expert compilation, analysis, and reporting.
</end editorial>
---
---
More on Zapad 2017 and the "military Schengen" proposal. Whitmore on the failure of Putin's policy in post-Soviet republics. Gessen chapter on the long term collateral damage done by Soviet totalitarianism. Multiple reports on internal problems in the Russian military, especially Russian concerns about  "the moral-psychological state" of the officers and men, which should come as no surprise after the abuse of elite troops as expendable "myaso [cannon fodder]" in Donbass for three and a half years. Eight interesting snapshots of Russia's dive into the abyss. NASM presents on Russian conspiracy theories about "Lost Cosmonauts" [COCW!].
Just like Ukraine, where ethnic Russians are increasingly self-identifying as not Russian in polls and surveys, so in Belarus, increasing numbers of ethnic Russians are saying nyet – the fate of the Volksdeutsche is well known and understood across Eastern Europe and this is proof of the ultimate failure of the Putinists' "Russian World" construct. Belarus MoD admits Russian SOF remain in country.
In Ukraine, AG Lutsenko states  "In the upcoming days, we will conduct procedural activities and serve indictments to officials who might have been involved in the dereliction of duty that led to the sabotage act," [at the Kalinyvka depot]. Commander-in-Chief of the Armed Forces of Sweden Micael Bydén visits Donbass. Donbass fires continue. Russian actor Anatoly Pashinin, famous as a lead in various Russian TV series with military themes, now fighting for the DUK militia against Russia [COCW]. Russian Black Sea Fleet conducts live fire exercises.
Iran reports, Kurdistan and Israel, Benghazi trial, and local residents in areas liberated from ISIS exacting revenge against ISIS collaborators.
Person @ 38 North essay on how toxic the relationship between Beijing and Pyongyang actually is makes for an interesting read – the relation was broken for decades, and China is argued to have only accommodated the Kim regime due to a belief that the alternatives would be even less palatable. The challenge for the US is to convince Beijing that the alternatives to the Kim regime are much more palatable. The Kim regime has yet to make military threats against China, confining itself to toxic invective on the theme of betrayal and collusion with the hated US. CNBC analysts argue that Chinese cooperation on the DPRK is transient and will not last. DPRK threatens to nuke Japan. BBC Panorama interview former Agency deputy chief Bruce Klingner on the Russian  nuclear and rocket scientists who worked in the DPRK after the fall of the USSR. The trial of the clueless assassins of Kim Jong Nam continues in Malaysia. Multiple reports on Chinese capabilities, and Australia declares intent to equip future frigates with BMD capability.
Krekó essay on Merkel's challenge in purging Russian influence from Central Eastern Europe is very good. Catalan mess continues, and Russian meddling explored. Russia delivers pre-loved FULCRUMs to Serbia. Excellent NYT photo-essay on Mongolia that is developing very rapidly since the fall of the Soviet Empire.
BBC essay on Holmgard / Novgorod will not sell well in Moscow. Krepon argues against small nukes.
Eight articles on Russian disinformation, DPRK cyber, and US Army developments.
In the US, Wes Mitchell to take over Vicki Nuland's job. More on Facebook. Las Vegas tragedy continues to saturate US domestic MSM – motives remain unknown.
---
Russia / Russophone Reports
---
How Russia Got Away With Masking a War Game of 'More Than 40,000' Troops
Large drills require comprehensive observation from other nations and NATO that Russia did not invite during its Zapad 2017 exercise.
U.S. General calls for "military Schengen" in EU to counter Russia
The U.S. Army's commander in Europe is urging European nations to agree on special transport and border rules so that NATO forces can be quickly moved to deter potential aggressors like Russia, Voice of America reported citing the Associated Press. News 03 October from UNIAN.
The Daily Vertical: The Limits Of Bribery And Blackmail (Transcript)
They're using massive subsidies to control Minsk. And they're deploying military might to pressure Kyiv and Tbilisi. They're trying to buy Belarus's loyalty. And they're attempting to intimidate Ukraine and Georgia into submission. When you strip away all the rhetoric, all the spin, and all the subterfuge, it's good old-fashioned bribery and blackmail that are the main tools Vladimir Putin's regime is deploying as it attempts to restore Russia's empire in the former Soviet space. And at the end of the day, neither is working all that well. When Moscow tried to turn the recent Zapad military drills into a psyop to spook Poland and the Baltic states, Belarus threw sand in the gears by reassuring its neighbors that the exercises would not be used as cover to attack a third party. Alyaksandr Lukashenka has also resisted Moscow's efforts to turn Belarus into an effective extension of Russia's Western Military District. And just yesterday Lukashenka publicly touted his efforts to improve relations with the West. Bribery, it appears, has its limits. And despite more than three years of Kremlin-instigated war in the Donbas and despite Russia's continued occupation of Abkhazia and South Ossetia, Ukraine and Georgia have implemented association agreements and free-trade pacts with the European Union. They're moving West, despite the pressure. Blackmail and intimidation apparently also have their limits. Authoritarian Belarus and the emerging democracies in Ukraine and Georgia may not have a lot in common politically. But all three illustrate the limitations of Putin's imperial model in the former Soviet space.
Masha Gessen On The Hidden Family Histories Of Totalitarian Russia
A Russian psychoanalyst uncovers the truth of family legends in this exclusive excerpt from journalist Masha Gessen's new book, The Future Is History.
Window on Eurasia — New Series: Moscow Worried about Psychological State of Russian Military
Paul Goble Staunton, October 2 – Yesterday, Russia's fall draft began, and as in the past, polls appeared showing that Russians have an upbeat attitude about their military (ng.ru/politics/2017-10-02/3_7085_opros.html).But two other developments suggest that neither the Kremlin nor many Russians may share that view, despite all the money the military is now being given. On the one hand, the defense ministry announced as it has each fall in recent years that it would be conducting official checks of more than 300 units throughout the army and fleet to determine the readiness not only of those but all units across the entire force to carry out any orders that they may receive (regnum.ru/news/polit/2329021.html). This year, officials stressed they would also be examining "the moral-psychological state" of the officers and men, an indication the Kremlin may be concerned that the attitudes of its uniformed personnel are not all they might be, especially in the wake of a US study suggesting Russian draftees are anything but enthusiastic (znak.com/2017-09-24/v_obchem_dostupe_poyavilos_posobie_dlya_armii_ssha_po_vozmozhnoy_voyne_s_rossiey). And on the other, there has been an unusual spate of articles suggesting that all is not well within the Russian military and that Russians however positive they may be about the military in the abstract are anything but happy with the situation. Among the articles which have appeared in the last several days, five are especially striking: The new draft has called attention not only to the fact that Putin's promise to move quickly toward an all-volunteer force has not been realized but also that many of the problems of the large draft army — such as dedovshchina and inadequate treatment of soldiers — very much remain (ru.krymr.com/a/28768578.html). Analyses have been published showing that the Zapad-2017 exercise that the Kremlin has portrayed as a great success failed in many respects and claimed victims not only among the soldiers who took part but among the residents of places where the maneuvers occurred (versia.ru/ucheniya-zapad-2017-proshli-s-riskom-dlya-zhizni-voennyx-i-grazhdanskix). New reports have surfaced about massive corruption in the defense ministry and high command, reports that have triggered questions as to whether the regime is capable or willing to address this problem at a time when the defense budget and its burden on the population is growing (fedpress.ru/article/1866363). Ever more Russians are complaining to each other and to the media that the military has failed in its responsibilities to provide details about deaths and other losses in Russian units now involved in combat in Syria (vz.ru/columns/2017/9/28/888892.html). And adding insult to injury, there have been reports that Moscow takes money from the population across the country to make war but is now forcing regional governments to come up with funds to pay for bomb shelters protect the population in the event of attack (afterempire.info/2017/10/01/spb-bomb/).
Window on Eurasia — New Series: Some Russian Officials Now Feel Able to Ignore Putin's Wishes, Kolesnikov and Arbats Say
Paul Goble Staunton, October 2 – The Russian government agency responsible for supervising educational and scientific institutions has refused to extend the license of St. Petersburg's European University despite Vladimir Putin's intervention not once but three times in support of that institution. That raises questions about why that agency and the governor of the Northern capital feel they can ignore the will of the Kremlin leader and why in this case Putin has not taken steps to enforce his desires by overruling them, Andrey Kolesnikov and Yevgeny Albats suggest in today's New Times (newtimes.ru/articles/detail/119423). The two investigative reporters provide a detailed history not only of the events of 2008 when the university first came under attack but also of those in the last two years when it happened again. In the first, Putin defended the institution and it remained open. In the second, he also defended it, but others have now ignored what he said. They argue that "this is the history of one of the best universities in the country, but one must not be the best in present-day Russia, just as one must not have an extraordinary number of professors who have studied and worked in the West" because this is also "a history of the Russian special services which aren't prepared to put up with the existence" of such a place. That is because, Kolesnikov and Arbats say, these services consider Russia "their own feudal estate." But more important, they continue, "this is a story about the extent of the authority and level of influence of President Putin on current political events, about his personal political views, and his relationships with the FSB, the heir of the KGB out of which he sprung." In 2008, Putin "was able to influence a number of organs completely independent of him and his power even extended to the great and terrible fire marshals. But in 2016-2017, President Putin couldn't influence a number of organs independent of him. How did this happen?" Logically, they suggest, there are two possibilities: either "no one took him seriously" or "they took him seriously but they deciphered messages coming from above differently" choosing to see Putin's words not as orders but as playing to the crowd. The problem with the latter is that none of Putin's letters were ever supposed to be made public. This tells us, the two analysts say, that "Putin cannot and does not want to decide all problems" and that there are numerous groups within his regime who struggle to advance their own interests, often without much attention to him because he isn't focused on the particular issue they are concerned with or will ignore what they do because of other concerns. Putin is thus in many cases an observer of what is done by the government he heads rather than the demiurge for all that it does, especially in cases like the European University which many in the security community view as a center of propaganda of alien ideas that should be shut down. All this, the two writers say, gives rise to a suspicion that "perhaps Vladimir putin could have saved the university but unlike in 2008, he simply didn't want to do so because of his indifferent attitude to this subject," although then why did he consider it necessary to write three times in defense of the university in the last two years? It thus turns out, Kolesnikov and Arbats say, that the state agency overseeing education and science is "the most powerful government organ" now, one "capable of ignoring the resolutions of the president [at least] until the president picks up the telephone and calls the curators of all Russia at the Lubyanka." And that in turn means that in this case, he "didn't consider it necessary to lift the receiver or more precisely considered it necessary not to lift it."
Kremlin's puzzle: how to frame Putin's re-election?
Navalny Attends Hearing, Faces Jail Time
Russian opposition politician Aleksei Navalny has appeared in court in Moscow, facing charges of repeatedly violating laws on political demonstrations. (RFE/RL's Russian Service)
Navalny Backers Plan October 7 Protest, As Kremlin Issues Warning
The Kremlin has warned supporters of jailed opposition leader Aleksei Navalny not to hold rallies without permission from the authorities, saying that violators will be prosecuted. &quo…
How Alexey Navalny and his campaign manager landed in jail again for another 20 days — Meduza
On October 2, Moscow's Simonovsky District Court heard the latest case against opposition politician Alexey Navalny, convicting him of repeatedly inciting mass public demonstrations without permits from local officials. This time, prosecutors accused Navalny of trying to stage an unsanctioned rally in Nizhny Novgorod, where Navalny's campaign says it was initially told it could hold a demonstration, before city authorities formally refused to issue a permit. Navalny was ultimately sentenced to 20 days in jail for calling on his supporters to come to the rally, even though his team never got a permit. Shortly after Navalny's sentence was announced, another court in Moscow ruled that Leonid Volkov, Navalny's campaign manager, will also spend 20 days in jail for the same offense. In response, Volkov announced a hunger strike.
Window on Eurasia — New Series: Kremlin 'Road Tested' Repressive Measures on LGBTs Before Applying Them More Broadly, Khots Says
Paul Goble Staunton, October 2 – Like many dictators before him and just as Pastor Niemoeller warned, Vladimir Putin tested various repressive measures on groups like LGBTs and religious minorities he assumed did not enjoy widespread sympathy within Russia or abroad before extending them to larger groups in the population. When there was widespread outrage or active resistance, the Kremlin leader backed down or at least did not use the same methods against others immediately, a pattern that fully justifies resistance to illegal actions by the Russian authorities as now against the Navalny campaign, Aleksandr Khots says (kasparov.ru/material.php?id=59D1F7472AD2B). What the Putin regime is doing against its political opponents now, the rights activist and commentator says, "recalls in a surprising way the well-known system of the attack on the rights of the LGBT community earlier which … as a rule is 'a test group' for the breaking in by the regime of repressive scenarios for application to 'the majority.'" For the 17 years of the Putin regime, officials refused tens of thousands of requests from LGBT groups for meetings and pickets and refused to offer alternative spaces, claiming such were "'occupied'" and thus violated both Russian law and the Russian Constitution, Khots continues. But because few spoke out in the defense of these activists, Putin and his minions concluded that they could make use of the same tactics against others. At the very least, the failure of many to speak out in behalf of the LGBTs would make it more difficult for them to speak out in defense of other groups, including political ones. There is another lesson to be learned from this pattern: When the Russian authorities began to restrict the public activities of LGBT groups, there was an intense debate within them as to whether they should simply go along with these restrictions or violate the illegal and unconstitutional orders in order to defend their rights. Many felt that resistance would only make things worse, but that was the wrong conclusion then and it would be the wrong conclusion now for the Navalny campaign. Only resistance and acting on the basis of one's rights whatever the authorities say and so will allow for true forward motion. Anything else, Kots concludes, would mean the acceptance by yet more Russians of "second class" status residents of their own country and an undeserved victory for its increasingly authoritarian and arbitrary government.
Is Kremlin Struggling To Pick New Daghestan Leader?
Five days after Ramazan Abdulatipov announced he would step down prematurely as Republic of Daghestan head, the Kremlin has still not named an acting successor. That delay is all the more odd i…
Russia fires official who bought Trump condos in Florida | Miami Herald
Igor Zorin has lost his job running a state-owned company in Russia after the Miami Herald revealed his investments in condos branded by President Donald Trump and other Miami real estate.
ECHR Orders Russia To Pay Compensation To Novaya Gazeta Over Kursk Case
The European Court of Human Rights (ECHR) has ordered Russia to pay financial compensation to the independent newspaper Novaya Gazeta for violating its freedom of expression during hearings related t…
Russia looks to upgrade 540 fighting vehicles | Defence Blog
The Russian Defence Ministry expects to upgrade 540 BMD-2 and BMP-2 fighting vehicles. The general director of the Rostec Сorporation, Sergei Chemezov, launched a new facility for upgrading lightly armored vehicles at the "Shcheglovsky Val" enterprise (part of Rostekh). It will be used to modernize BMP-2 and BMD-2 fighting vehicles – a corresponding agreement has been signed between Rostekh and the Russian Ministry of Defense. The workshop area of 5 000 square meters is equipped with modern equipment and is intended for machining, welding, thermal, assembly and paintworks. Work on the contract will be carried out over the next five years, said Sergei Chemezov. The Rostec Сorporation offers delivery of the upgraded BMP-2 and BMD-2 as a new-build vehicle. Packages can be provided to upgrade the existing vehicles to a configuration with advanced factors of firepower, mobility, protection and ergonomics.
Conspiracy theory about Soviet Union 'lost cosmonauts' weighed in on by Smithsonian | Daily Star
RUSSIA covered-up a string of space disasters which sent cosmonauts hurtling to their deaths, it has been claimed.
Ivan Ivanovich and the Persistent Lost Cosmonaut Conspiracy | National Air and Space Museum
Before humans flew into space, dogs, chimpanzees, and flight-test dummies led the way. Ivan Ivanovich, who flew in the Soviet Korabl-Sputnik program in the early 1960s, was one such dummy. In a heady atmosphere of Cold War tension, Soviet secrecy, and uncertainty about the dawning space age, garbled retellings of Ivan's extraordinary story helped foster one of the most tenacious Space Age conspiracy theories: The Lost Cosmonaut Theory.
The Flight of Ivan Ivanovich and the Lost Cosmonaut Conspiracy | National Air and Space Museum
Talks typically last 10-15 minutes and begin at the Museum "Great Seal", in the Boeing Milestones of Flight Hall on the first floor.
---
Belarus Reports
---
Window on Eurasia — New Series: Ever More Ethnic Russians in Belarus Reidentifying as Belarusians
Paul Goble Staunton, October 2 – Today, Minsk has launched a trial census of some 15,000 residents to prepare for an all-Belarusian one in 2019, and experts expect that both will show ever more ethnic Russians living in Belarus reidentifying as Belarusians by nationality and even declaring that they speak the national language rather than Russian. The 2019 will be the third Belarusian census since the end of the USSR. In 1999, ethnic Russians formed 11 percent of the population; and in 2009, they had declined to only 8.3 percent of the total. That decline reflected less the outmigration of the Russians than their re-identification as Belarusians (regnum.ru/news/society/2328998.html). "Sociologists note," the Regnum news agency says, "that there haven't been any wars or harsh repressions against ethnic Russians and Russian speakers, and there haven't been mass epidemics or other causes which might have led to a reduction in the number of ethnic Russians." Consequently, it says, "this question deserves an investigation of its own." Valentina Teplova, a professor at the Minsk Spiritual Academy, says that "today, young peope in Belarus find it easier to position themselves as representatives of the titular nation lest they provoke questions about 'non-Belarusian nationality.'" But she suggests that there are many additional factors at work. Those include Minsk's "Belarusianization' effort, one that is having some success. After all, she suggests, "even though a majority of residents of Belarus speak Russian, many of them in polls say that their native language is Belarusian." There are at least three reasons why this trend is especially important: First, it shows that Belarusian identity is strengthening rather than weakening, something that overtime will likely push Minsk even further from Moscow and toward the West. Second, it highlights the weakness of Russian national identity and even attachment to Russian given that in Belarus as in Ukraine, people Vladimir Putin has assumed he can count on as permanent members of his "Russian world" are making another choice. And third, it shows that even if Moscow is able to insist on making Russian a state language as it has done in Belarus, that alone may not stop this process of re-identification not only ethnically but linguistically as well.
Ministry Of Defense: There Are Russian Special Forces In Belarus – Charter'97 :: News from Belarus – Belarusian News – Republic of Belarus – Minsk
The head of the press service of the Ministry of Defense of Belarus has admitted that there are Russian special forces in our country.
Venezuelan Ruler Maduro To Visit Minsk – Charter'97 :: News from Belarus – Belarusian News – Republic of Belarus – Minsk
The Venezuelan dictator is coming to visit the Belarusian one.
Belarus Releases Trade Union Bookkeeper Charged With Tax Evasion
MINSK — The bookkeeper of an independent trade union in Belarus, Ihar Komlik, who was charged with tax evasion in a case he calls politically motivated, has been released from pretrial detention. …
---
Ukraine Reports
---
Lutsenko on Kalynivka explosions: This was sabotage act, made possible through dereliction of duty
03.10.17 15:11 – Lutsenko on Kalynivka explosions: This was sabotage act, made possible through dereliction of duty In the upcoming days, law enforces will serve indictments to officials who might have been involved in the neglect of duty that led to the sabotage act at the ammunition depot in Kalynivka. In the upcoming days, law enforces will serve indictments to officials who might have been involved in the neglect of duty that led to the sabotage act at the ammunition depot in Kalynivka. This was announced by Prosecutor General Yurii Lutsenko, Censor.NET reports citing 112 Ukraine. "Regarding the explosions at Kalynivka ammunition depots. The investigation is working actively despite some single explosions there. Yesterday, a group of military prosecutors and representatives of the Kyiv Forensic Institute reported to me with the details of their examination upon returning from the scene. "We do have some information, but it cannot be made public due to investigation interests. I keep insisting it was a sabotage act that was made possible through the neglect of duty by officials authorized to provide for security of the facility. As of today, we have found that the [security] regime was violated regularly with knowledge and even by order of the director of the depot. "In the upcoming days, we will conduct procedural activities and serve indictments to officials who might have been involved in the neglect of duty that led to the sabotage act," Lutsenko said.
No explosions of ammunition at depots near Kalynivka – emergency service – 03.10.2017 13:00 — Ukrinform News
No fire and explosions of ammunition have been observed at military depots near the town of Kalynivka, Vinnytsia region, as of 08.30 on October 3, the press office of the State Service for Emergency Situations (SSES) has reported.
Commander-in-Chief of Sweden's Army visited Donbas conflict zone – 112.international
Viktor Muzhenko drew attention of a Swedish colleague to the critical state of civil infrastructure facilities that were affected by the shelling of occupants. Chief of the General Staff of Ukraine's Armed Forces Viktor Muzhenko and Commander-in-Chief of the Armed Forces of Sweden Micael Bydén visited one of the areas of Donbas conflict zone on October 2. This was reported on the Facebook page of General Staff of the Armed Forces of Ukraine. It is noted that Muzhenko drew the attention of his Swedish colleague to the critical state of civilian infrastructure affected by shelling of the occupants. Chief of the General Staff informed General Bydén that "the peaks of ceasefire violation in Donbas conflict zone by the Russian-terrorist forces coincide with the rounds of peace talks in Minsk, which shows that Russia pressures the negotiation process."
Swedish military chief visits ATO zone in Donbas | UNIAN
Commander-in-Chief of the Swedish Armed Forces Gen. Micael Byden on Monday paid a visit to the zone of the Anti-Terrorist Operation in eastern Ukraine, accompanied by his Ukrainian counterpart Gen. Viktor Muzhenko, according to the ATO HQ press center. "During the official visit to Ukraine of the military delegation of the Kingdom of Sweden and its trip to the ATO zone, the parties discussed the issues of the intensification of the military-political dialogue and clarified prospective directions and effective forms of military cooperation between the armed forces of Ukraine and Sweden," the press center wrote on Facebook. While familiarizing the Swedish delegation with the security situation in the war zone, Muzhenko drew the attention of his Swedish counterpart to the critical state of civilian infrastructure affected by the attacks of Russian-terrorist forces.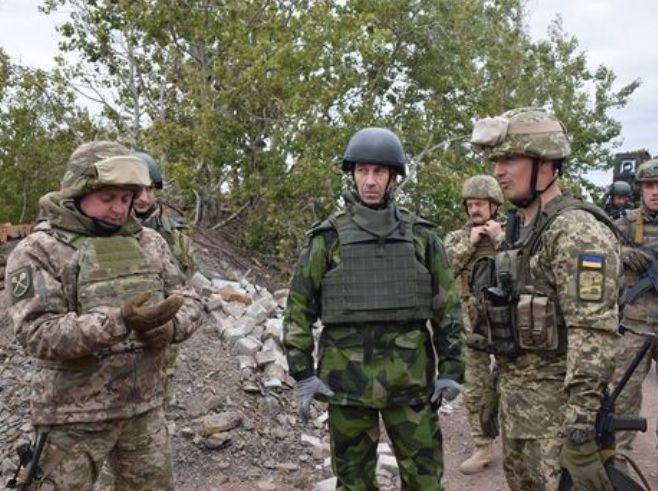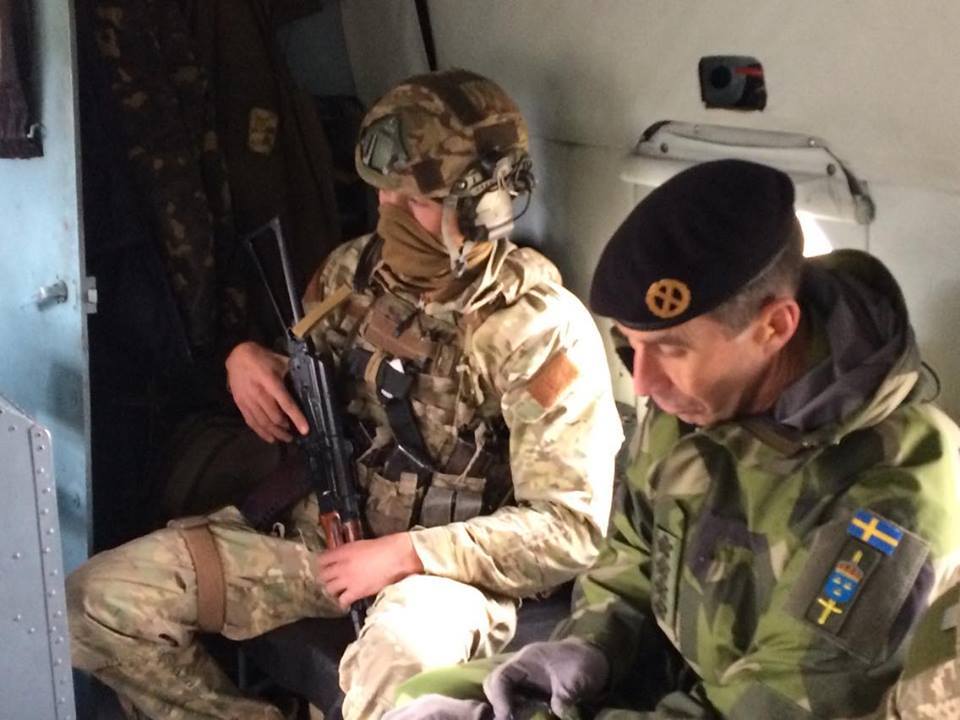 No casualties in Ukrainian army yesterday, 17 attacks by Russian mercenaries recorded, – ATO HQ
03.10.17 09:35 – No casualties in Ukrainian army yesterday, 17 attacks by Russian mercenaries recorded, – ATO HQ On Oct. 2, the illegal armed gangs violated the cease-fire 17 times. No casualties in the Ukrainian army reported. View news.
Militants violate truce 17 times in Donbas over 24 hours – 112.international
The situation was most calm in Mariupol area where it was silent after 18:00
Militants shell Avdiivka, Hnutove: two Ukrainian soldiers injured – 112.international
Wounded servicemen were hospitalized
Ukraine's recon spots Russian mercenary in new Ukrainian military uniform
During a reconnaissance operation, a Ukrainian serviceman has seen a Russian mercenary in Donbas wearing Ukrainian military uniform of new design, according to Ukrainian TSN journalist Andriy Tsaplienko. News 02 October from UNIAN.
Pikuzy residents demand that Russian mercenaries leave village
The OSCE Special Monitoring Mission (SMM) to Ukraine reported that the residents of the village of Pikuzy, controlled by "DPR" militants, demanded the immediate withdrawal of armed men and their weapons from residential areas. News 03 October from UNIAN.
Ukraine to spend 3,2 billion USD for its army in 2018 – 112.international
The military budget rose by 20.7% over the previous year
Russian actor explains choice to fight alongside Ukraine's volunteer troops
Russian actor Anatoly Pashinin has explained why he had never wanted to join the ranks of the Armed Forces of Ukraine (AFU), preferring a volunteer battalion on the front line in Donbas instead. News 03 October from UNIAN.
Hungary, Romania set to take joint action against Ukraine over Kyiv's new education law
"It is totally natural and normal for Hungary and Romania to take joint action with regard to the amendment of Ukraine's Act on Education," Minister of Foreign Affairs and Trade Peter Szijjarto said in a telephone statement to Hungarian news agency MTI, reporting on a meeting with his Romanian counterpart on Monday, Kormany.hu reports. News 03 October from UNIAN.
There's a conflict between Ukraine's President and Interior minister, – MP – There's a conflict between Ukraine's President and Interior minister, – MP – 112.international
Anton Herashchenko, the People's Front faction MP says the conflict is around since the head of the state was elected
Ukraine speaks to European Commission against limiting flight traffic over Dnipro, Kharkiv and Zaporizhia
Ukraine has provided the European Commission with arguments regarding the groundlessness of air traffic restrictions in the eastern part of Ukraine, while the results of the latest review will be made public in an updated EASA bulletin. News 03 October from UNIAN.
Ukraine sets record for sunflower oil production | UNIAN
Large and medium-sized Ukrainian enterprises produced 5.3 million tonnes of sunflower oil in the previous 2016-2017 marketing year (MY, September 2016 – August 2017), which is 46% higher than the previous season, setting a record over the years of Ukraine's independence, according to UkrAgroConsult. News 03 October from UNIAN.
Ukraine-Australia trade almost 60% up in seven months, to US$112.93 mln
Trade between Ukraine and Australia in January-July 2017 grew by 56.3%, to US$112.93 million, according to Ukrainian Prime Minister Volodymyr Groysman's press service. News 02 October from UNIAN.
30 ships illegally enter Crimean ports in September, mostly from Russia – 112.international
In total 79 ships entered to the ports of Crimea during September
UAWire – Russian Black Sea Fleet conducts military exercises off Crimean coast
Ships and submarines from the Russian Black Sea Fleet in annexed Crimea set out to sea to work on planned military training exercises…
The huge "Mosquitoes" and Su-30SM destroyed the "enemy" squadron in the Black Sea: shots of strikes: https://tvzvezda.ru/news/forces/content/201710031245-hmcq.htm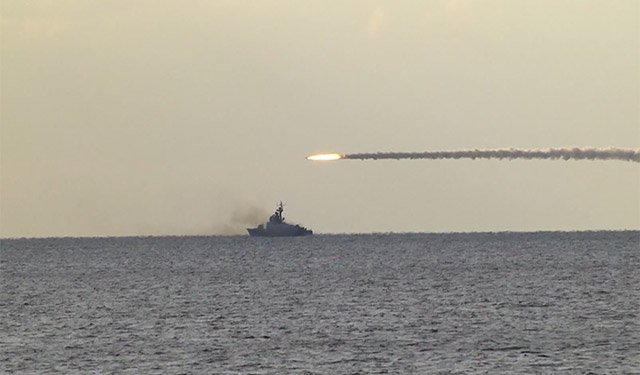 ---
Russia / Iran / Syria / Iraq / OEF Reports
---
Iran gives mixed messages on US decertification threat
Decertifying the Iran nuclear agreement "doesn't automatically explode the deal," says Heritage Foundation analyst.
End of ISIS: Victims of the Islamic State Group Are Taking Revenge However They Can
Will anyone stop them?
Russian air strikes 'kill hundreds of IS fighters' in east Syria – Independent.ie
Russia's military has said its air strikes in eastern Syria this week killed more than 300 Islamic State militants.
Benghazi trial begins: Prosecutors say alleged mastermind 'hates America' | Fox News
Federal prosecutors told jurors Monday that alleged Benghazi mastermind Ahmed Abu Khattala "hates America with a vengeance," as the long-awaited trial began for the only suspect held in connection with the 2012 attack.
Why Israel supports an independent Iraqi Kurdistan – CNN
Iraqi Kurdistan's neighbors have their reasons for opposing the referendum, but Israel has thrown its weight behind Kurdish independence.
Saudi Arabia to Plan Russia Deals, Deepening Energy Ties – Bloomberg
Saudi Arabia is looking at unprecedented deals to acquire oil and gas assets in Russia, deepening ties between the world's largest energy exporters as the Saudi king prepares to visit Moscow later this week.
---
DPRK / PRC / WESTPAC Reports
---
James Person | Chinese-North Korean Relations: Drawing the Right Historical Lessons | 38 North: Informed Analysis of North Korea
Starting in the mid-1970s, Pyongyang began reaching out to Washington to replace the Korean War armistice with a peace agreement. Yet, as declassified US records suggest, as Washington prepared to normalize relations with Beijing in the late 1970s, President Carter's national security team determined that there was little intrinsic value to talking directly with North Korea. Instead, the US would rely on what it believed—incorrectly—to be China's influence over the DPRK. This approach reflected a poor understanding of the historical relationship between China and North Korea; exaggerated the docility of Pyongyang to Beijing; and failed to take into account historical factors that limited China's influence over the DPRK. Yet, nearly four decades later, asking China to solve the North Korean problem remains Washington's default policy for dealing with Pyongyang. Basing American strategy for dealing with the North Korean threat on the flawed assumption that Beijing exercises enormous political clout in Pyongyang and would be willing to carry Washington's water, is a recipe for continued failure.
China's sanctions on North Korea linked to Trump, Party Congress | CNBC
Chinese sanctions against Pyongyang may be a temporary move to improve ties with the U.S. and ensure stability ahead of a major political event at home.
Donald J. Trump on Twitter: "I told Rex Tillerson, our wonderful Secretary of State, that he is wasting his time trying to negotiate with Little Rocket Man…"
Sanders: Trump has confidence in Tillerson after North Korea comments – POLITICO
Sanders said she believed the two men had spoken in the last 24 hours.
Eliot A. Cohen | Rex Tillerson Must Go – Defense One
If he does remain, it will be yet another sign of the collapse of self-respect among those who are now willing to serve in senior positions in government.
White House again rejects talks with North Korea on nuclear issue
The White House on Monday ruled out talks with North Korea except to discuss the fate of Americans held there, again appearing to rebuke Secretary of State Rex Tillerson who said Washington was directly communicating with Pyongyang on its nuclear and missile programs.
North Korea threatens Japan with nuclear destruction – The Financial Express
North Korea on Tuesday threatened Japan with nuclear destructions in response to Tokyo's attempts to convince the international community to reject dialogue in favour of applying more pressure on Pyongyang.
Japan rules out intercepting North Korean missile tests
Defence minister's comments highlight sensitivities imposed by pacifist constitution
The Morning Vertical, October 3, 2017
ON MY MIND As the international community seeks to contain North Korea, Russia continues its efforts to assist the regime of Kim Jong Un. According to a report by the research group 38 North (featured below), a Russian state-owned telecommunications company is providing Pyongyang with a lifeline to the global Internet at a time when the West is seeking to isolate North Korea over its nuclear weapons program. Moscow's latest effort to assist Pyongyang is nothing new. Shortly after Russia's annexation of Crimea in 2014, Vladimir Putin wrote off most of North Korea's $11 billion debt to Russia. About 50,000 North Koreans are working on construction projects in the Russian Far East. And since most of their pay is taken by the North Korean state, it's not a stretch to call them slave laborers. And a new ferry route was recently opened between Vladivostok and the North Korean port of Rason. Kim Jong Un, it appears, has joined Syria's Bashar al-Assad as an international pariah that Putin is determined to protect. In a piece featured below, the Moscow-based foreign affairs analyst Vladimir Frolov argues that Russia's main foreign policy goals are preventing former Soviet states like Ukraine and Georgia from joining the West and diminishing and undermining U.S. influence in the world. As I argue on today's Daily Vertical, Russia's main tools in achieving its goals with its neighbors are effectively bribery and blackmail. And as Russia's actions in Syria and North Korea illustrate, a key Kremlin tool in achieving its goals with the West is extortion. By exacerbating crises in Syria and North Korea that are priorities for the West, Moscow is manufacturing leverage and then using that leverage to extract concessions. Bribery, blackmail, and extortion aren't the tools of a great power. They more resemble the instruments of a geopolitical protection racket.
'Soviet scientists are to blame for North Korea's nuclear weapons' | World | News | Express.co.uk
SOVIET nuclear scientists are the reason North Korea has managed to develop nuclear weapons, a former CIA chief and two defectors claimed.
BBC iPlayer – Panorama – North Korea's Nuclear Trump Card
Jane Corbin investigates how North Korea has managed to become a nuclear power.
Report: Russian State-Owned Telecom Giving North Korea Internet Access
A U.S.-based research group on North Korea says a Russian state-owned Internet company has started providing Pyongyang an alternate connection to the global Internet. The new connection comes a…
North Korea appears to have a new Internet connection — thanks to the help of a state-owned Russian firm – The Washington Post
"This means that the opening of the connection has Russian government backing behind it," said one expert.
Pathologist: North Korean had low enzyme due to poisoning – ABC News
Pathologist: North Korean had low enzyme due to poisoning
Female pair plead not guilty in VX assassination of Kim Jong Nam at Kuala Lumpur airport | The Japan Times
Two women accused of smearing a banned nerve agent on the face of the estranged half brother of North Korea's leader pleaded not guilty as their trial bega
The Untold Story of Kim Jong-nam's Assassination | GQ
Two women had the most audacious task. Killing the brother of the North Korean leader. Right out in the open, using deadly chemical weapons in an international airport. And the craziest thing? They had no idea what they'd gotten into.
'Sweating profusely' and clutching his head: Kim Jong Nam's last moments – CNN
The doctor who attended to Kim Jong Nam before his death has testified about his condition. The half-brother of North Korea leader Kim Jong Un died in Malaysia earlier this year.
China's latest J-20 stealth fighter has been officially commissioned into military service | Defence Blog
China's latest J-20 stealth fighter has been officially commissioned into military service, according to Wu Qian, spokesperson for the Ministry of National Defense on Thursday. The flight tests are being conducted as scheduled, Wu said at a press conference. The J-20 is China's fourth-generation medium and long-range fighter jet. It made its maiden flight in 2011 and was first shown to the public at the 11th Airshow China in Zhuhai, Guangdong Province, in November last year.
PLA Navy releases photos of KJ-200 AWACS aircraft during a flight training exercise | Defence Blog
The People's Liberation Army Naval Air Force has released photos of a KJ-200 AWACS early warning aircraft attached to an aviation regiment of the North China Sea Fleet during a flight training exercise in late September, 2017. The Shaanxi KJ-200 AWACs platform was introduced sometime in 2009 and is based on the Y-8 transport platform. The KJ-200 is said to maintain about 20% commonality with the original Y-8 design. The key component of this aircraft is an AESA radar system, visually similar to the Saab Erieye system, mounted on struts above the rear fuselage, as well as ventral sensor domes. The KJ-200 will provide intelligence collection and maritime surveillance capabilities.
China's Presence in Djibouti is Not a National Security Threat—Yet | The National Interest
China may use its military facility in Djibouti for more than just logistics, and the facility could be the first of many overseas outposts for China's military.
China's Foreign Influence Offensive in the Pacific – War on the Rocks
Editor's Note: A version of this article was originally published by The Interpreter, which is published by the Lowy Institute for International Policy, an
Australia approves anti-missile warships amid global World War 3 tension with North Korea | World | News | Express.co.uk
AUSTRALIA'S Prime Minister has announced the country will construct nine warships equipped with anti-missile defence systems to counter the newly imposed threat by North Korea.
North Korea Missile Threat Pushes Australia to Bulk Up Air Defense – WSJ
Australia will equip a new fleet of naval warships with advanced air-defense technology, allowing them to work more closely with U.S. and Japanese counterparts to offset threats in the Asia-Pacific region, such as missiles fired by North Korea.
---
Foreign Policy Reports
---
Péter Krekó | Merkel's Next Challenge: Defeating Putin in Central Eastern Europe
Now that the German elections are over and the victorious Chancellor Angela Merkel is preparing for coalition talks with potential partners, two important questions arise: how will the political changes in Germany affect German-Russian relations, which have become embittered in the last few years? And what impact could the election have on Germany's influence in Central Eastern Europe, its traditional stronghold within the EU, when plans of a more integrated core-Europe are formulating? While the picture is far from clear, one can make some cautious predictions. The tradition of Ostpolitik—Germany's political and economic partnership with Russia—is still strong within the German political and economic mainstream; even the annexation of Crimea and some aggressive efforts by Russia to interfere in the German political landscape could not overwrite this. The most likely scenario at this point is that the Jamaica coalition—including the conservative Christian Democratic Union/Christian Social Union, the Free Democratic Party, and the Greens—will govern Germany. The Social Democratic Party, which has pressed for revising sanctions and returning to business as usual with Russia, is out of the coalition; this could mean that Russia will lose an important ally in the executive branch. And while the business-oriented Free Democratic Party has supported a revision of the sanctions policy, the issue does not seem to be of central importance for the party. For the Greens, it is just the opposite: they want even stricter sanctions; they are strongly critical of Russia's human rights violations, territorial aggression, and energy policy, and will likely be able to strongly articulate these positions during the coalition talks. While German security services warned that Russia can try to influence the coalition talks, it is unlikely after Russian attempts to interfere in the election process have been rather unsuccessful. In sum, it is highly unlikely that Germany's relations with Russia will be substantially changed for good—rather the opposite. But Germany's relationship with Russia will strongly influence its position with the Visegrad countries (Hungary, Slovakia, Poland, and Czech Republic), a region that belongs to Germany's sphere of influence and is more important than France in terms of trade relations. And there are definite challenges for Germany in this region. A study by Globsec Institute this year (with the participation of Political Capital Institute among others) showed that in three out of four of the Visegrad countries, the public is more sympathetic to Vladimir Putin than to Merkel. In Slovakia, the results are particularly shocking, with 41 percent of the population finding Putin sympathetic; only 21 percent said the same for Merkel. In Hungary and Slovakia, sympathies toward Putin also exceed the popularity of Donald Trump. Furthermore, a considerable size of the population thinks that the country should belong to the East or should be somewhere in between the east and the West. While support in these countries for the EU and NATO is strong, feelings about the West, and especially its leaders, are ambivalent. Populist, nationalist rhetoric, sometimes amplified by Russian information attempts to win hearts and minds, did much damage to Merkel's image in Central Eastern Europe. Merkel has practically become the anti-hero for illiberals: she is a symbol of the ultraliberal, decadent Western European elites who are ready to sacrifice Europe's security on the altar of multicultural, federalist principles and who want to flood Eastern European countries with migrants. Merkel's shift to a more hardline direction in the refugee and immigration issue (including proposing and then passing a burqa ban) largely went unnoticed, and Germany was seen in the region as the liberal hegemon that aggressively and hypocritically presses its values and economic interests on its neighbors. Euroscepticism among the four Visegrad countries in a Germany-dominated Europe has incited anti-German attitudes, while the myth of economic exploitation is increasing. Hungarian Prime Minister Viktor Orbán lashed out at German companies a few months ago, for example: "A German in particular should think five times before accusing the Hungarians of a lack of solidarity. Factory workers in Germany receive five times as much pay as Hungarian workers doing the same jobs in German-owned factories in Hungary. So, for as long as this is the case, I believe that it is shameful for the Germans to talk about solidarity." In contrast, in the Czech Republic, Slovakia, and Hungary, Putin is frequently depicted as the antithesis of Merkel: a champion of traditional values such as nation, family, and Christianity, and a strongman who fights against global terrorism efficiently and could easily solve the refugee crisis if he were the leader of Europe. The refugee crisis not only amplified illiberal and xenophobic tendencies in Central Eastern Europe but also increased the psychological distance between Germany and Central Eastern Europe—and brought Russia closer. While Germany has so far avoided a direct and intense confrontation with Central Eastern European countries for pragmatic economic purposes, German politicians should realize the political damage that has been done in the region—especially given that Merkel and Macron seem to be committed to deeper integration, at least for a group of countries. Germany is usually perceived as the representative of the "do as I say, not as I do" principle. While Germany keeps pressing for sanctions on Russia, it seems to be committed to the Nord Stream II gas pipeline project—a project that increases Europe's energy independence from Russia while making the life of Ukraine and Central Eastern Europe more difficult by circumventing them and diminish their role in the energy transit. The incoming coalition should do its best to win back Central Eastern European nations. Beside amplifying their voices and arguments in policy debates in the region, it could be time to reconsider some decisions. Now that the Social Democrats, the main proponents of Nord Stream II, are out, and most new EU member states strongly oppose this project, abandoning it could be a good first step.
What happens when Chechens seek asylum in Europe? | Intersection
Overshadowed by immigration from the Middle East and Africa in recent years, the migration of Chechens from Russia to Europe is a topic that few discuss.
Catalonia's separatism threatens the EU more than Spain itself – 112 International
Restructuring of the European Union might be ill-timed, and everything would end as in the Soviet Union – a complete breakdown. Europe has rather indifferently reacted to attempts to Russia's attampts to split Ukraine and take Ukraine's Donbas and Crimea by force. Experienced politicians from the European capitals have been constantly hinting that the conflict in Ukraine is, most likely, the "traditional dispute between the Slavs." In their opinion, sorting out of relations between Russia and Ukraine, which resulted in a serious armed conflict, is like continuation of the collapse of the Soviet Union. And it is out of EU's interest. It did not want to be deeply involved in the armed conflict between Ukraine and Russia, hoping that eventually everything would come to its place. Europe was irritated by our attempts to draw attention to separatism in the southeast of Ukraine. They believed that business relations with Russia are much more important than Ukraine's suffering, and loudly resented American sanctions. That is why France and Germany so easily imitated the Norman peacekeeping process and pressured Ukraine to make it accept shameful Minsk agreements as soon as possible. Protection of the territorial integrity of Ukraine was not a priority for EU politicians. Europeans were going to resolve the conflict in Donbas and in Crimea at the expense of Ukraine's interests. Related: Referendum in Catalonia illegal, – European Commission But suddenly Europe has faced unexpected referendum in Scotland and Britain's withdrawal from the EU. And even more unexpected was the split of Spain and the separatist referendum in Catalonia. Spain is lucky: next to it there is no "Big Catalonia", which would like to build a "new Catalonia" instead of Barcelona and sent its volunteers there. Therefore, we can hope that the process of separation of Catalonia will not be that painful. Although Assange has already openly promised to use the full power of the cyberwar in the struggle for the independence of Catalonia. Now, in any case, the EU will have to intervene, deal with the conflict between Spain and Catalonia. Otherwise, this process of separation of successful provinces, separation of rich regions from national states with the active participation of international anonymous forces will go even further and affect other European countries. Meanwhile, separatism of Catalonia threatens the EU even more than Spain itself – in fact, it is national states that are the subjects of the signing of the Maastricht Treaty of 1992, and not separate regions of Europe. Therefore, the "restructuring" of the European Union might be ill-timed, and everything would end as in the Soviet Union – a complete breakdown in 1991. All this means that Europe will take a more serious and different view of the consequences of armed separatism in Ukraine. Now Ukraine might expect more just and adequate attitude from Europe, which begins to experience the delights of separatism from the school of hard knocks.
The crisis in Catalonia is being fed by pernicious myths on both sides | Victor Lapuente Giné | Opinion | The Guardian
Spain is not the oppressive centralised state the independence movement alleges, says El País columnist Victor Lapuente Giné
Violence, 'Hypocrisy' In Catalonia: Russia Reacts To Spanish Turmoil
MOSCOW — Russian media have devoted extensive coverage to police violence that marred a referendum in the Spanish region of Catalonia, painting a picture of double standards in a European Unio…
Catalan referendum: Anti-police strike hits public services – BBC News
The walk-out is in protest at violence that marred Sunday's Catalan independence vote.
Serbia Takes Delivery Of First Of Six MiG-29 Fighters From Russia
BELGRADE, Serbia – A transport plane has delivered two Russian MiG-29 fighter jets to Serbia, the initial shipment of a six-jet deal that could add to East-West tensions in the Balkans. …
Russia delivers first batch of MiG-29 fighters to Serbia as "gift" – RFE/RL
A transport plane has delivered two Russian MiG-29 fighter jets to Serbia, the initial shipment of a six-jet deal that could add to East-West tensions in the Balkans, RFE/RL reported. News 03 October from UNIAN.
'We Don't Exist': Life Inside Mongolia's Swelling Slums – The New York Times
A scarcity of affordable housing has pushed thousands of low-income residents to the fringes of Ulan Bator, where they struggle for food and water.
Diplomat probing MH370 is shot dead in Madagascar | Daily Mail Online
Zahid Raza, Honorary Consul of Malaysia, was gunned down in Antananarivo, the capital of Madagascar, off the southeast coast of Africa, last week.
Report on MH370 finds 'initially similar' route on pilot's flight simulator
The captain of the Malaysian Airlines aircraft that vanished somewhere in the southern Indian Ocean with 239 people on board had flown a route on his home flight simulator six weeks earlier that was "initially similar" to the one actually taken, Australian authorities said on Tuesday.
---
Strategy / History / Capability Publications
---
Michael Krepon | The Folly of Tactical Nuclear Weapons – Defense One
Some soothsayers say they boost deterrence. But the point of deterrence is to have no mushroom clouds, not new, tailor-made ones.
BBC – Travel – The town that gave Russia its name
While residents of Moscow and St Petersburg argue whether it was the Soviets or the tsars who defined Russian culture, Novgorodians insist it was the Vikings.
---
IW/IO/Cyber Reports
---
The EU spotted more than 3 000 cases of the disinformation from the Russian mass media over the past two years. – EU spotted more than 3 000 cases of disinformation from Russian mass media – 112.international
EU spotted more than 3 000 cases of disinformation from Russian mass media
Mykhailo Samus | Classic manipulation technique: Is Ukraine into illegal arms deliveries?
A report by Amnesty International, an international human rights organization, and a statement by the Organized Crime and Corruption Reporting Project (OCCRP) on Ukraine's involvement in arms supplies to Africa and South Sudan in particular is an example of manipulation containing no facts and no specifics in terms of evidence. First, there is no evidence provided that Ukraine has in fact executed the deals referred to in the reports. Second, said reports deliberately exploit a detective-type emotional presentation of material in order to affect information recipients. It's a classic example of manipulation technique right here! Coming back to the emotional tone of the reports by both OCCRP and Amnesty International, it appears that besides Miss Marple's tone, there are no grounds for actual accusations and no evidence that Ukraine has violated anything. Since South Sudan is not under the UN embargo, Ukraine can supply weapons there absolutely legally. The same emotional style of presentation is used when asserting that Ukraine is a territory for "laundering" of illegal arms deals between the European Union and African countries. Once again, the information provided on Burundi and Uganda is unfounded simply because neither Burundi nor Uganda are embargoed or sanctioned in any way, including by the European Union. There is no reason why the EU member states would be forced to supply weapons not directly and transparently. Both the UN registry and the SIPRI database clearly show how arms are supplied from the European Union, United States and Russia to other countries. That is, there is no secret here or some reason to assert that there are some "shady" or outright "illegal" deals being concluded. Therefore, these reports seem to be purely a manipulation attack, designed to have Ukraine perceived worldwide as an unreliable arms exporter, as well as an unreliable partner for the United States and NATO. All of it is being done against the background of the latest debate over the U.S. decision to provide Ukraine with lethal defense weapons and pursue with the other forms of military-technical cooperation. The answer is too obvious when you ask yourself, who and how exactly benefits most from such attacks. Of course, Ukraine boosting its defense capabilities is not something to be welcomed by Russia, which continues its aggression against Ukraine, having already occupied Crimea and part of the eastern Ukrainian Donbas. Ukraine has been fighting on its own for three and a half years already without any special assistance from the rest of the world and NATO in particular, but the very fact that such allied relations are developing is irritating to Russia. That's because lethal aid will prove a new level of confidence, which means that the United States will be helping its allies, and this will mean some very bad news for Russia. Will this whole story have any negative consequences for Ukraine? I think that it's not something to fear. Ukraine should simply continue to fight off the aggressor. The country should keep working consistently, including in the information field, and explain calmly what has just been mentioned – there is no reason to believe that Ukraine made any illegal arms supplies whatsoever since all deliveries to the countries mentioned are legal. Mykhailo Samus is a deputy director for international issues at the Center for Army, Conversion and Disarmament Studies
As US launches DDoS attacks, N. Korea gets more bandwidth—from Russia | Ars Technica
Fast pipe from Vladivostok gives N. Korea more Internet in face of US cyber operations.
Report: Company allowed Russia to review major Pentagon defense software
A report says Hewlett Packard Enterprise (HPE) allowed a source code review of ArcSight, a Pentagon cyber defense software, by a Russian defense agency.
Cyber Blitz: Army's military hide-and-seek tests cyber, EW tools
The Army's Cyber Blitz experimentation sought to better understand tactical cyber and electronic warfare effects.
Outmatched, Army begins long road to electronic warfare rollout
The U.S. Army Rapid Capabilities Office is delivering quick-reaction electronic warfare solutions to the European theater, and these systems will help inform the development of more permanent programs of record.
What ever happened to the Army's EW capabilities?
The U.S. Army is playing catch-up with near-peer adversaries in the electronic warfare space. But why did the service even fall behind?
Here's what the Army's tactical network for the future will look like
With some changes discussed, the Army is now taking a new vision to its tactical networks.
---
US Domestic Policy Reports
---
Kremlin Says Russia Hopes Huntsman Will Help Improve U.S. Ties
Russian President Vladimir Putin's spokesman says the Kremlin hopes that the new U.S. ambassador to Russia, Jon Huntsman, will help improve badly strained ties between Moscow and Washington. …
Wes Mitchell: A new anti-Russian hawk appointed to replace Nuland – 112 International
Mitchell is known as an active supporter of the idea of ​​supplying lethal weapons to Ukraine, as well as strengthening anti-Russian sanctions. In late September, the US Senate has approved a new Assistant Secretary of State for European and Eurasian Affairs. Well-known in Ukraine Wes Mitchell has come to replace Viktoria Nuland. Nuland was remembered by her active criticism of Russia in the key international issues. She supported Ukraine during the conflict with Russia, actively lobbying the extension of anti-Russian sanctions. Her successor, Mitchell, is an adherent of an even tougher policy towards Russia. According to our sources, close to the negotiation process with the United States, Mitchell is known as an active supporter of the idea of supplying lethal weapons to Ukraine, as well as strengthening anti-Russian sanctions. It is expected that he will insist on supporting nationalist and paramilitary formations in the Baltic, Poland, and Finland in order to "fight against the Russian threat", as well as providing military assistance to Ukraine. In addition, Mitchell will have an important mission to reduce the level of support for pro-Russian forces in the zone of Russia's direct influence, such as the pro-Russian Moldovan president Igor Dodon, as well as the Bulgarian president Rumen Radev. In addition, he will pay special attention to cooperation with the Hungarian authorities, where Prime Minister Viktor Orban is pursuing a frankly pro-Russian policy against Ukraine and the whole European Union. Mitchell will also have a special mission in the South Caucasus, where Tillerson's new assistant will try to help bring back Azerbaijan into the sphere of American influence. He might use some proposals in the field of pipeline projects and the problems around Nagorno-Karabakh. "While the post-Cold War West may have hoped that Russia might eventually become a supersized version of Poland," Mitchell wrote about Russia, "with liberal institutions and a de-militarized foreign policy, what we got instead was a latter-day version of Carthage — a sullen, punitive power determined to wage a vengeful foreign policy to overturn the system that it blames for the loss of its former greatness" – Strategic Culture quotes Mitchell. 30-year-old Mitchell is known as director of the Center for Analysis of European Policy (CEPA) with headquarters in Washington and Warsaw.
Russia Threatens to Retaliate Against U.S. Seizure of San Francisco Consulate
Moscow has threatened retaliation following the U.S. seizure of a Russian consulate building in San Francisco, a month after its diplomats were ousted from the property. Local media reported that U.S. State Department officials searched the Russian general consulate in San Francisco on Monday. The building and several other consular properties in the U.S. were vacated by Russian diplomatic staff in early September, on Washington's orders. The move came after Moscow instructed the U.S. diplomatic mission in Russia to cut its staff by hundreds of people in a series of tit-for-tat measures between the two countries. On Monday, almost a month after the move, Russia's Foreign Ministry published a new statement, hinting at new measures. "We strongly protest this latest hostile act of the United States and reserve the right to respond," it said. The ministry repeated previous allegations that U.S. law enforcement had broken down and conducted searches at the residence in "flagrant" violation of international law.
Russia Complains As U.S. Agents Take Control Of Consulate
Russia's Foreign Ministry has again complained about U.S. law enforcement taking over the Russian Consulate in San Francisco, threatening unspecified retaliation against U.S. diplomats. Th…
Facebook says 10 million U.S. users saw Russia-linked ads
Some 10 million people in the United States saw politically divisive ads on Facebook that the company said were purchased in Russia in the months before and after last year's U.S. presidential election, Facebook said on Monday.
Facebook Estimates 10 Million People Saw Russia-Linked Advertisements
Facebook says that an estimated 10 million people saw advertisements that have been linked to Russia on its social-media platform before and after the 2016 U.S. presidential election. Th…
Facebook's Russia-Linked Ads Came in Many Disguises – The New York Times
The Russia-linked ads used to influence the 2016 election included those from a fake gun-rights group, a bogus gay rights group and even a phony dog lovers group.
Facebook releases ads to Congress, public
Facebook has already provided the data to U.S. special counsel Robert Mueller, who is also investigating election interference, a source said last month.
The 2018 midterms are coming, and Russia is ready | TheHill
The time to begin strengthening our defenses is now…
CBS fires VP for writing 'Republican gun toters' killed in Las Vegas don't deserve sympathy – The Washington Post
"I'm actually not even sympathetic [because] country music fans often are Republican gun toters," she wrote.
Las Vegas Shooting Update: At Least 58 People Are Dead After Mass Shooting On Las Vegas Strip : The Two-Way : NPR
Gunfire rained down on a country music concert attended by thousands of people Sunday night. More than 500 people were taken to hospitals, in the deadliest mass shooting in modern U.S. history.
Police Chief: We Believe Las Vegas Shooting Suspect Killed Himself – Talking Points Memo
Stephen Paddock: What we know about the Las Vegas shooter – CBS News
Police say Stephen Paddock, 64, began shooting from the window of his room on the 32nd floor of the Mandalay Bay Hotel just after 10 p.m.