Anonymous expert compilation, analysis, and reporting.
</end editorial>
---
---
Some remaining Zapad 2017 reports. Tymchuk elaborates on the Russian game plan to subvert and disrupt a UN peacekeeping force in Donbass that is not deployed to the Russian model. OpEd and interview by Amb Vershbow on the UN peacekeeping proposal. Reichardt and Khylko argue the case for arming Ukraine.
Committee to Investigate Russia and actor Morgan Freeman subjected to Russian troll offensive, Moscow is indeed determined to maximise the visibility of the Committee. Hoax bomb threats continue. Kovalev book on Russia's descent into the abyss reviewed. More on Russia's increasing delegation of the use of force to deniable non-government entities. Psychologists determine that Russian population becoming increasingly child-like. Islamisation of Caucausus associated with urbanisation, the conditions that enabled Iran's medievalisation in 1979. More on neo-Stalinism, the  "Orthodox Taliban", and repression.
Khalyp argues increasing lawlessness in Belarus resembles Donbass – she has a point. In Moldova, parliament proceeds to impeach Putinist Pres Dodon, while Baronin argues that Dodon may be preparing a coup, with the assistance of Russian covert assets in Transnistria.
Meeting between POTUS and Pres Poroshenko appears to have gone well, but there has been no specific detail disclosed. Excellent interview by Poroshenko on Fox TV. Donbass fires continue.
Russia and Syria grandstanding, and making threats against the US. Iran displays new Khorramshahr mobile IRBM, Janes IHS assess it as a derivative of the Hwasong-10. Video footage released of F/A-18E vs Su-22 FITTER engagement, and RAF MQ-9 strike on ISIS. Kurds to vote on independence.
DPRK consuming most media bandwidth. US expands sanctions with new EO, Kim responds by insulting POTUS, and escalates with threat to set off a hydrogen bomb over the Pacific. Japan to rename Senkakus.
Russia and China attack US in UNGA speeches. More on German election this weekend – how many Bundestag seats will be won by Russian proxies? More Erdogan bodyguard brutality.
FP complain about low yield nukes, and survey BW threats.
Two essays on Russian propaganda, and one suggesting the DPRK may be adopting Russian techniques trialled in 2014 in Ukraine.
Facebook, Manafort and wiretapping of the Trump campaign are dominant Russia related themes in US domestic politics – noting that Facebook are unjustifiably optimistic about the effectiveness of their proposed measures, moreso given a learning and adaptable opponent, being bad does not mean being dumb, despite Hollywood stereotypes.
---
Russia / Russophone Reports
---
Zapad 2017 and the Initial Period of War | Jamestown
Western media and analytical commentary on Zapad 2017 has focused on the numbers of Russian military personnel participating in the joint Belarus-Russia strategic exercise, speculating about whether Moscow was using the event as cover to launch a real attack against neighboring states, or promoting the notion that Moscow will leave some of the deployed forces in Belarus after its conclusion. However, there has been little attention to how the early phase of the exercise reveals key features in Russian military thinking. Compared with Zapad 2013, the exercise featured wider participation by Russian security agencies, but differed little in substance. In short, the scenarios and execution of Zapad 2017 are quite consistent with the central themes of past Zapad exercises. And this year's Zapad war game has concluded peacefully (Nezavisimoye Voyennoye Obozreniye, September 15).
Russia's Zapad 17 War Game: What We Learned From Putin's Sparring Match That Was 'All About NATO'
Despite being billed as a counterterrorism drill, Russia and Belarus's Zapad showed us what the Kremlin fears war with the West could look like, experts say.
UAWire – Turchynov: Russia rehearsed massive ballistic missile strike to conclude Zapad-2017 drills
At the final stage of the Zapad 2017 military exercises, Russia rehearsed a massive nuclear missile strike, involving the forces and equipment …
Russia stages massive mock nuclear missile strike to wrap up Zapad 2017 war games
During the final stage of the Zapad 2017 military exercise, Russia staged a massive mock nuclear rocket strike, using all three components of the nuclear triad, Ukraine's National Security and Defense Council (NSDC) Secretary Oleksandr Turchynov has said. During the exercise on September 20, six long-range Tu-95MC and Tu-22M3 planes took part and carried out flights over the Barents, Baltic and Norway seas, the NSDC's website on Thursday. "Strategic rocket forces were used from the 14th Rocket Division, which carried out a training strike using an intercontinental RS-24 'Yars' missile from the Plesetsk cosmodrome in Archangelsk region at targets located in the Kura military training area on the Kamchatka peninsula. The Russian Navy nuclear ballistic missile submarine The Dmitry Donskoy of Russia's Northern Fleet carried out an electronic firing of the intercontinental ballistic missile," Turchynov was quoted as saying. In addition, according to the NSDC, missiles were fired at sea-borne targets in the Laptev Sea from the shore-based Rubezh missile system and in the Barents Sea from Northern Fleet ships led by the Pyotr Velikiy (Peter the Great) nuclear-powered battlecruiser. "The staging of massive aviation missile strikes by Russian forces again shows the aggressive and belligerent nature of Russia's security and foreign policy, its readiness to escalate tension with the West to the point of conducting all-out war. It demonstrates the desire of Russia to dominate Europe," Turchynov said, adding that active measures by NATO and U.S. forces to monitor the exercises shows "full understanding of the Russian military threat." Turchynov said that from September 21, 2017, Ukraine together with its partners will carefully monitor the withdrawal of Russian forces from Belarus and their return to their home bases following the Zapad 2017 military drills.
Ukraine will monitor withdrawal of Russian troops from Belarus after end of Zapad-2017, – Turchynov
21.09.17 13:24 – Ukraine will monitor withdrawal of Russian troops from Belarus after end of Zapad-2017, – Turchynov On Sept. 20, the Russian Federation completed the active phase of the strategic Zapad-2017 drills with a hypothetical massive nuclear-missile strike involving all three components of the nuclear triad. View news.
Zapad Military Exercises Conclude in Russia and Belarus – YouTube
UATV English Published on Sep 21, 2017 Yesterday marked the final day of Russia's Zapad military exercises. The war games began on September 14th in Russia's westernmost territory, and have been held with the cooperation of its ally Belarus.
Expert [Dmitry Tymchuk] says Putin prepares plan B for Donbas – War news | UNIAN
Russian President Vladimir Putin has already briefed the leader of the self-proclaimed Donetsk People's Republic ("DPR") Alexander Zakharchenko on his actions in case the UN "blue helmets" are deployed to the Russian-occupied areas in Ukraine's east, according to a Ukrainian MP, coordinator of Information Resistance analytical group Dmytro Tymchuk, Apostrophe reports. Tymchuk has told Apostrophe that Putin's version of the scenario for the introduction of a peacekeeping mission [only along the line of contact, aimed exclusively to protect OSCE monitors] is absolutely unacceptable since it will have no effect on de-escalation. "First, the OSCE mission has no mandate or task to intervene, while peacekeeping missions are precisely aimed at it. Their [OSCE's] only function is monitoring and observation. They cannot force [the parties] to comply with Minsk agreements, force militants to withdraw weapons. The OSCE mission is out there simply to observe, record, and report," Tymchuk said. In addition, with his offer, Putin is introducing some type of know-how to peacekeeping operations. However, from the perspective of Ukraine and its European allies, as well as in terms of international law and the UN concept of peacekeeping operations, Moscow is offering blatant nonsense, according to the deputy. "Indeed, they came up with a super plan, how to level a peacekeeping operation, but this plan is like a sore thumb," the MP said. Tymchuk went on to say that Moscow is ready to the fact that once it is forced to make concessions or there is another version of the peacekeeping operation implemented, the Kremlin will go for a plan B. Read also Russia changes position on UN mission in Donbas, again "They are set to follow the path they used in 2014 when staging public civil disobedience rallies. While back in 2014, Putin had to employ busloads of 'titushki' (thugs for hire) presenting to the media "crowds of locals" during the seizure of local government buildings, now it's much easier to arrange. Today the militants from "DPR" and "LPR" and others will simply stage a huge protest in order to block UN peacekeepers," Tymchuk explained. That is, the Kremlin has come up with such an alternative option, so that initially, when peacekeepers are deployed in line with the plan that contradicts the one proposed by Moscow, Russia could immediately disrupt a peacekeeping operation. According to Tymchuk, this will be done by Putin's well-known method, that's when the militants hide behind the backs of women and children. Read also Kremlin furious over draft UN Resolution calling Russia "aggressor state" "I am absolutely positive that this is what Putin was trying to convey to Zakharchenko," Tymchuk summed up. Russia's propaganda media reported earlier that Zakharchenko arrived in the Kremlin, allegedly to visit a concert by Russian singer and vocal "DPR" supporter Joseph Kobzon. However, Russian organizer of an anti-war movement Olga Kurnosova suggested that visiting the gig was just a cover, and that the Kremlin had summoned the terrorist leader because of Moscow's concerns over the possible introduction of peacekeepers in Donbas.
Alexander Vershbow | Real peacekeeping in the Donbas will put Putin to the test | TheHill
Tensions will continue to escalate int he region until a peacekeeping force implements the conditions of the Minsk agreements. Russian President Vladimir Putin caught the international community by surprise by proposing a United Nations peacekeeping mission in Ukraine's conflict-ridden Donbas region to protect the Organization for Security and Cooperation in Europe (OSCE) monitors. It was surprising because Russia had repeatedly threatened to veto Ukraine's own proposal for peacekeepers, first made in 2015. But the gambit may have opened a diplomatic window of opportunity that we should explore. Closer inspection of the Russian proposal has rightly led the western world to believe that, as written, it is a trap, at best intended as a cynical PR move by Putin to give the appearance of seeking a peaceful solution to a conflict he began and sustains, and at worst a means of legitimizing his seizure of Ukrainian territory and "freezing" the conflict. Putin acknowledges the need for U.N. peacekeeping troops, but only for the limited period of six months. Their only objective would be the security of the OSCE Special Monitoring Mission (SMM), along the Line of Contact between the Ukrainian military and Russian-led separatist forces. In effect, this would move the international border into Ukrainian territory. However, I have just returned from a visit to the Line of Contact. The situation there is precarious at best, with daily breaches of the ceasefire; towns are divided between free Ukraine and the occupied area, with water supplies in some cases coming from the opposite side of the line. The potential for environmental catastrophe is real; for example, in the combat area is a settling tank with poisonous waste that – if it breaches – will poison 80 percent of the drinking water in the Siversky Donets river basin on both sides of the Line of Contact. Repairs cannot be made because the Russian side will give no guarantees of the workers' security. Against this backdrop, the U.N. Security Council should not dismiss Russia's proposal out of hand. Instead, Council members should call Putin's bluff and work to draft a resolution with a mandate for a UN peacekeeping mission with the task of protecting people and infrastructure across the entirety of the occupied territory. The goal of the force would be to create the conditions for implementing a political solution to the conflict that restores Ukrainian sovereignty in accordance with the three-year-old Minsk agreements.
Alexander Vershbow: The key is not to cut any deals behind the backs of Ukraine – Alexander Vershbow: The key is not to cut any deals behind the backs of Ukraine – 112.international
Author : Elina Beketova Respondent : Alexander Vershbow Ukraine could envisage the establishment of legitimate local government through elections, humanitarian aid and the return of refugees, – all with the support of international community. That's my idea of the peacekeeping force for Donbas," former Deputy NATO Secretary General said. Alexander Vershbow, an American diplomat, former Deputy NATO Secretary General, shared his idea of a peacekeeping force to Donbas and Normandy Format in his exclusive interview to the 112 Ukraine TV channel's Elina Beketova on the sidelines of the YES conference, which took place in Kyiv on September 15. The series of interviews 112 International Insight introduces the viewpoint of influential Western experts, who are the source of a new, fresh point of view, different from the one of the Ukrainian experts, who usually comments on the current situation.
The key is not to cut any deals behind the backs of Ukraine, – Alexander Vershbow – YouTube
112.UA International Published on Sep 20, 2017 Alexander Vershbow, an American diplomat, former Deputy NATO Secretary General, shared his idea of a peacekeeping force to Donbas and Normandy Format in his exclusive interview to the 112 Ukraine TV channel's Elina Beketova on the sidelines of the YES conference, which took place in Kyiv on September 15.
Adam Reichardt and Maksym Khylko | Why Arming Ukraine Would End the Deadlock in the Donbas
Signals from the Trump administration are beginning to indicate a new direction in the United States' support of Ukraine. At the end of August, Secretary of Defense James Mattis stated that the Pentagon is "actively reviewing" the issue of defensive weapons, rightly noting that "defensive weapons are not provocative unless you are an aggressor, and clearly Ukraine is not an aggressor since it is their own territory where the fighting is happening." Arming Ukraine would enable the United States to directly support an independent Ukraine and add to the overall security of Europe. Yet it goes without saying that such a move needs to be done intelligently and with the specific aim of improving the situation. Clearly, the United States and its allies in Europe do not want a military confrontation with Russia, especially with a possible conflict with North Korea looming on the horizon. And here lies the most important point in providing defensive weapons to Ukraine: they would act as a deterrent against Russian encroachment further into Ukrainian territory, not a provocation. Several op-eds have recently argued against this policy. The Wilson Center's Michael Kofman argued in the New York Times that arming Ukraine would drag the United States into a proxy war with Russia, one it cannot win. He compares the plan for Ukraine with US policy of arming and training the opposition in Syria. Such an erroneous, even outrageous, comparison should almost immediately discredit Kofman's arguments. L. Todd Wood in The Washington Times went even further, misleadingly comparing the arming of Ukraine with "arming Texas against the United States," and adding unfounded speculations about a war between the United States and Russia over Ukraine. Ukraine is not Syria, nor is it Texas, and the conflict it is involved in is with an outside aggressor. It is not engaged in a civil war, nor is it fighting non-state actors like ISIS. Simply put, it is in a struggle for its own survival as a European state with Western principles, values, and politics. The constant flow of weapons and military support from Russia to the conflict zone continuously violates the ceasefire, causing casualties among the Ukrainian military and peaceful civilians in the Donbas. Providing defensive weapons to Ukraine will not provoke an arms race, since Moscow has already provided fighters in the Donbas with its most modern and advanced weapons. Moreover, enhancing Kyiv's defensive capabilities will not lead to a direct US-Russia conflict, because Ukraine has no plans to attack Russian territory, and the United States will not send its troops to fight in Ukraine. Instead, defensive weapons can help Ukraine more effectively defend its territory and citizens, deprive Russian forces in the Donbas of their current technical advantages, and ultimately force Moscow to think twice before escalating further. It is no coincidence that shortly after the talks about arming Ukraine intensified, Russian President Vladimir Putin announced Russia's readiness to agree to a UN peacekeeping mission in the Donbas—an idea that Moscow had been rejecting for years. Supporting Ukraine's defensive abilities would also further reinforce NATO's existing strategy of deterrence in the region. Therefore, a strong argument exists for arming Ukraine with defensive weapons. But by doing so, the Trump administration should add five conditions to this policy. First and foremost, a rigorous process of training and oversight must be put in place to ensure that the weapons are used correctly and remain in the proper hands. Second, the financial aspect of weapon supplies should combine different mechanisms including free technical assistance, instalments, and loans. Third, the provision of arms should be closely connected to the progress of Ukraine's ongoing reforms, including in the armed forces. Ukraine's survival depends not only on its capacity to protect itself against external aggression, but also on its ability to successfully complete its transformation from a post-Soviet, inefficient, corrupt state to a modern European nation. Fourth, the United States and the EU should continue their strong support of Ukraine's civil society as the most persistent promoter of reforms and best watchdog of government effectiveness. Fifth, a tougher sanctions package should remain on the table to make it clear to the Kremlin that any possible attempts to seize more Ukrainian territory will cost it dearly. It is time to abandon hope that a policy of appeasement can bring peace. On the contrary, appeasement makes the situation even more unpredictable and tenuous. The Kremlin is conducting one of Russia's largest military drills in the post-Soviet era, Zapad-2017—flexing its muscles and displaying its military plans for NATO states. At the same time, Putin's veiled ally in Pyongyang is testing his ability to attack American territory with nuclear arms. This situation requires a firm response—one not meant to provoke but to send a clear statement to Russia and other regimes that the years of President Barack Obama's "flexibility" are over. This message must convey, above all, that the United States and its allies will tolerate no more attempts at toppling the world order. Adam Reichardt is editor-in-chief of New Eastern Europe, a bimonthly English-language publication based in Poland. He tweets @areichardt. Maksym Khylko is chairman of the board at the East European Security Research Initiative Foundation, a Kyiv-based think tank. He tweets @MaksymKhylko.
Poland, NATO Troops Hold Drills Amid Security Concerns
Polish and other NATO troops have started a major defensive exercise in Poland's north amid concerns raised by military maneuvers recently held by neighboring Russia and Belarus. The Dragon-1…
Why bashing Morgan Freeman, of all people, is suddenly the rage in Russia – The Washington Post
The Oscar-winner's comments about Vladimir Putin have not endeared Freeman to the Russian establishment.
NATO Expert Says Morgan Freeman May Be Russian Troll Target After Calling Out Putin
A top NATO expert on Russian Internet propaganda and disinformation campaigns says U.S. actor Morgan Freeman appears to have been targeted by "coordinated, pro-Kremlin social-media attacks&quot…
Trolls, Bots, 'Useful Idiots' Attack New Committee Aimed at Exposing Russian Propaganda Campaigns
The newly-formed Committee to Investigate Russia quickly came under the exact type of propaganda attack it is trying to expose.
Anonymous Bomb Threats Continue In Russia's North Caucasus
Russian authorities say that a wave of anonymous bomb threats is continuing with fresh threats in the North Caucasus. Authorities in Daghestan said on September 22 they evacuated hundreds o…
UAWire – Employees of Yandex evacuated after Putin's visit
The offices of the company Yandex, which President Vladimir Putin visited on Thursday, were evacuated soon after his departure, the BBC Russian …
How Russia went wrong, as told from the inside
Russia's Dead End: An Insider's Testimony from Gorbachev to Putin. By Andrei Kovalev. Translated by Steven Levine. Potomac Books; 392 pages; $34.95 and £26.50. HIDDEN within the Soviet system were able, conscientious officials who were appalled by the crimes and lies they were asked to defend. One of them was Andrei Kovalev, a diplomat who under Mikhail Gorbachev helped dismantle some of the worst abuses of what he freely accepts was an evil empire. Now living in western Europe, Mr Kovalev is a piercing critic of Vladimir Putin's misrule of Russia. His sizzling memoir, which was first published in a two-volume Russian edition in 2012, is an unsparing account of the Soviet collapse, and of the hardliners' revenge that followed. It is now available in a condensed and edited version, translated by Steven Levine, a professor at the University of Montana. The central argument of the book is that Russia has returned to the dangerous stagnation of the 1980s, largely thanks to the resurgence of the old KGB. The authoritarian squeeze will worsen at home, Mr Kovalev predicts, while foreign policy will become increasingly hostile and unpredictable. In the long run he fears a break-up of Russia, before—possibly—the dawn of democracy, the rule of law and modernisation. His language is strikingly blunt. Mr Putin is a "mumbling, stammering knock-kneed brow-furrowing ex-KGB agent who speaks the language of the gutter and values power above everything". Echoing Alexander Herzen, a 19th-century émigré who declared Russia to be suffering from "patriotic syphilis", Mr Kovalev diagnoses in his country "manic-depressive psychosis…acute megalomania, persecution complex and kleptomania". Foreigners who write like this are accused of Russophobia. But it is hard to bring that charge against the erudite Mr Kovalev, with his long and distinguished public service. He paints a convincing first-hand picture of the confusion of the Gorbachev years, the dysfunction of the Boris Yeltsin era and the ebb and flow of KGB influence in the highest reaches of power. Mr Kovalev's finest hour was ending the practice of coercive psychiatry. As a senior diplomat dealing with human rights, he brought the power of the reformist foreign ministry to bear on the secretive health ministry, which flatly denied that any abuse was taking place. He also pioneered reforms to improve religious freedom. This involved dispiriting meetings with the leaders of the Russian Orthodox church, in which he noted their unpleasant views, worldly lifestyle and terror of competition. Some may find that the book has a conspiratorial tinge. The botched 1991 coup which led to the break-up of the Soviet Union, he argues, was not the defeat for hardliners it appeared. It allowed them to make a break with the failures of the past, clearing the way for their return to power and wealth. But the evidence he adduces is thought-provoking. Mr Kovalev chides American and European leaders for their naivety towards Yeltsin's administration, in which hardliners soon gained a fatal grip, and their indulgence of the current regime, whose foreign policy he compares to Hitler's. His main message is grim: Russia, as never before, is a danger to itself and those around it.
Window on Eurasia — New Series: Kremlin's De-Monopolization of Force a Threat to the Regime, Latynina Says
Paul Goble Staunton, September 21 – The Kremlin's de-monopolization of force, a step forced upon it by the breakdown of its two previous chief supports, is creating a situation which threatens the regime itself, according to Yulia Latynina, a Russian commentator recently forced to move abroad as a result of violence directed against her person. Since the murder of Boris Nemtsov in February 2015, "quasi-state force has flooded Russia," she says. Most of those who carried out such attacks remained unpunished even if the evidence against them was overwhelming (novayagazeta.ru/articles/2017/09/19/73893-yuliya-latynina-kreml-vstal-na-put-yanukovicha-i-maduro). The Russian economy remains monopolized by the state: 65 percent of it is in the hands of the government. But "instead of de-monopolizing the economy," Latynina continues, "the Kremlin has de-monopolized its control of the means of force." Why did that happen now? she asks rhetorically. "Because all its remaining arguments [on its behalf] had failed." "Until 2014," she says, the Putin regime relied on two things to legitimate itself: oil dollars which allowed it to buy off almost everyone, and television which delivered its message and which almost everyone watched. Those who weren't bought off or who didn't watch TV were not numerous enough to worry about. In that year, "the oil dollars ran out," Latynina continues. "Formally, they ended after Crimea," but she says that she believes that "Crimea was a preventive strike. Patriotism was supposed to replace the oil dollars" in maintaining the loyalty and support of the Russian population. But remarkably quickly, television, the chief propaganda arm of the Kremlin, began to lose its ability to define the situation, with ever more people turning away from it to YouTube, Facebook and VKontakte. Moreover, the average age of those watching television has continued to climb: it is now 63. Any authoritarian regime has two primary resources: the lie and force, Latynina points out. "When the lie ends, force begins," and one should not ever suggest that it will be ineffective. In fact, history shows that it can be extremely effective if it is used with sophistication and care. But at some point, "the effectiveness of force falls because it has been delegated to para-state structures," she suggests. The reason that states like Putin's do that is because they want to have plausible or even implausible deniability, the ability to insist that they were not involved even when everyone knows they are. Ending the state's monopoly on the use of force, however, entails "other problems." One is that "in a contemporary state, those bearers of de-monopolized force are primarily the lumpen" because "no one, except the lumpen, dreams about a career as a street thug" and only rarely do they have such a career opportunity opened for them. But Putin's war in the Donbass gave the lumpen a remarkable opportunity. Many Russian lumpen flocked there because "what had earlier been considered a crime was now considered an act of glory." The same thing holds for other nominally privatized uses of force in Russia. "When these lumpen receive the chance to engage in force, then the elites begin to feel very uncomfortable — and that goes for any elites including the financial, governmental and siloviki." That is the first thing that happens as a result of the de-monopolization of the use of force and it is no small one. The second result is that no one ever commits an act of violence for someone else. People engage in violence "always for themselves," Latynina says; and as a result, "the de-monopolization of the force strengthen the position not of the Kremlin but of those who engage in such force." Thus, "Chechnya is not the exception: it is the rule." And it is the height of naivete to think that "any of the enthusiasts of present-day force want to serve the Kremlin. Each of them with the help of force wants to strengthen his own position." A third thing about lumpen-driven force is that it is "especially effective when it is applied in the name of the Big Lie, God, races, the Bright Future, when people are prepared not only to kill but to die," and that opens the way to the spread of radical ideologies which may in the minds of some justify such a sacrifice. And finally, the Russian commentator says, there is one other aspect of this situation which must trouble the powers that be: any use of force "typically gives rise to a counterforce. Yanukovich fell not when he began to shoot at the peaceful people but when the people began to shoot back." With regard to this factor, Latynina concludes, recent figures "aren't in the favor of the Kremlin." In Omsk last week, 20 people came out to demonstrate against Mathilda, but 7,000 assembled to back opposition presidential candidate Aleksey Navalny.
Window on Eurasia — New Series: In Soviet Times, Russian Children were More Like Adults; Now, Russian Adults are More Like Children, Psychologists Say
Paul Goble Staunton, September 21 – Fifty years ago, Soviet psychologists conducted a major study of Russian children in the fourth and fifth classes; now, Russian psychologists have replicated that study and conclude that in Soviet times, Russian children were more like adults while now Russian adults are more like children.(kp.ru/daily/26734.4/3761099/). The 1967 study was conducted by Daniil Elkonin, while the current one, which was based on an updated protocol of the first, has been carried out by Katerina Polivanova, the director of the Moscow Center for Research on Contemporary Childhood, journalist Kseniya Konyukhova reports in today's Komsomolskaya Pravda (kp.ru/daily/26734.4/3761099/). "In the 1960s," one of Polivanova's colleagues says, "fifth class pupils wanted that they be dealt with as adults, that their opinions be considered and that they be treated with respect … [Now] "childhood is a much more attractive period than adulthood, which they see as consisting of a multitude of obligations and lack of time." "Soviet youths," Polivanova continues, "showed themselves more focused on school. On the one hand, they took their studies seriously; but on the other, there were those who revolted, who protested against this and undervalued education." Present-day pupils "do all their tasks accurately and on time" not because they are more obedient but because they've concluded it is "'cheaper'" to do so. The current generation of pupils is also less inclined to view whatever the teacher says as true. Another difference, researchers say, is that present-day pupils have far fewer responsibilities other than getting an education – and that is something their parents make clear they need to do to succeed in life. The reason school children have changed, the researchers say, is that "life itself has become different." Few now work along a strict ladder of school-job-pension but rather confront a world of various opportunities, and those opportunities can come at almost any age. As a result, "the border between age groups is becoming less clearly defined." And that in turn means that children and adults are more similar than they were 50 years ago.
Window on Eurasia — New Series: Islamization a Response to Urbanization in North Caucasus, Sokolov Says
Paul Goble Staunton, September 21 – Urbanization in Daghestan and Kabardino-Balkaria has promoted Islamization because those undergoing this process have come to view Islam as a substitute for the rural communities they have lost and a defense against globalization, according to Denis Sokolov of the RAMSCON Research Center. This process has different meanings for difference generations and for men and women, for their emigration from the region and for the success of ISIS in the region , he details in his new research on "Fear and Honor of the Family as Fear and Honor of Men" (kavpolit.com/articles/sotsialnaja_transformatsija_ot_selskoj_obschiny_k-35757/). The status of men and women change dramatically with the shift from rural communities to cities, he says, with women gaining independence and status, often becoming the breadwinners and intellectual leaders of families, and men losing status, often without work and depending on their wives for income, Sokolov reports. Newly urbanized men often turn to Islam in order to try to restore their dominance, he continues, something that is often supported by older women (but not often by younger ones) who come to view Islam as a substitute for the community norms that have been undermined by modernization and globalization. "In the urban space," he says, "Islam has become an instrument for the restoration and strengthening of the power of men." But at the same time, "in Islamic families one sees the emancipation of women" as well, with shifting gender roles toward greater equality and partnership even if both accept Islam. A case in point is polygamy. In Soviet times, the shortage of men after the war made polygamy in the North Caucasus a logical necessity, Sokolov argues. Then it came to be justified by Islam. The older generation viewed second wives as "lovers" but the younger one wants to involve them in complete families. The first generation to grow up in urban areas is especially inclined to turn to Islam for social regulation, he continues. "On the one hand, they do not want to live according to the rules of rural communities. But on the other, the global world frightens them and they are not prepared to live according to its rules. Islam [thus] becomes the regulator." Sokolov makes a variety of other points, three of which are especially intriguing. First, he says, the lack of opportunity for upward mobility by new arrivals from rural areas makes them a receptive audience for ISIS propagandists even if these North Caucasians are not radicalized more generally. Second, those in the North Caucasus who were radicalized in the early 2000s often had nowhere to go, a situation that led to a turning inward until they were able to travel to Iraq or Syria but that did not end the influence of radicalizing factors on younger generations in the North Caucasian cities. And third, "the several tens of thousands" of North Caucasians now in Turkey, a flow that "has intensified since 2013" are not in the main on their way to fighting for the Islamic State. Instead, Sokolov suggests, they have fled their homeland because they do not feel secure on the territory of the Russian Federation.
From Soviet Architect To Historian Of The Gulag
Vitaly Troshin was the chief architect and city planner in the Russian Arctic city of Vorkuta starting in the 1970s. His research into the city's founding uncovered records that Soviet authorities had buried, detailing the creation of labor camps and the executions of political prisoners. Troshin was determined to keep the history of the gulag from being lost to time. (RFE/RL's Russian Service)
Stalin, Lenin Busts Unveiled On Moscow's Alley Of Rulers
MOSCOW — Busts of the Soviet dictator Josef Stalin and the founder of the Soviet Union Vladimir Lenin have been unveiled in downtown Moscow. In all, seven busts of Soviet leaders, also includin…
Russian Orthodox 'Christian State' Campaign Against New Film – YouTube
UATV English Published on Sep 22, 2017 A new Russian Film called Matilda is receiving dangerous attention from Orthodox religious fanatics. A radical group styling itself as the "Christian State" is threatening not only the success of the movie but also those involved in its production.
Eight Detained At Unsanctioned Protest In Russia's Bashkortostan
UFA, Russia — Police in Ufa, the capital of Russia's Republic of Bashkortostan, have detained eight activists at a protest against the head of the regional administration, Rustem Khamitov. …
RFE/RL President Condemns Sentence Of Crimean Journalist
RFE/RL President Thomas Kent has condemned the sentence of Crimean journalist Mykola Semena, describing it as "part of an orchestrated effort by Russian authorities in Crimea to silence independent voices." On September 22, a court in Ukraine's occupied Crimean Peninsula found RFE/RL contributor Semena guilty on a separatism charge. The court handed him a 2 1/2 year suspended sentence, meaning Semena would not be imprisoned unless he violates the terms of the verdict. The separatism charge stems from an article Semena wrote for RFE/RL's Krym.Realii (Crimea Realities) website in 2015. The Kremlin-installed prosecutor in Crimea charged that the article had called for the violation of Russia's territorial integrity. (RFE/RL)
Crimean Journalist Semena Handed Suspended Sentence In 'Separatism' Case
A court in Russia-occupied Crimea on September 22 found RFE/RL contributor Mykola Semena guilty on a charge of separatism and handed him a 2 1/2 year suspended sentence in a case criticized by th…
Council Of Europe Urges Russia To Let Navalny Run For President
The Council of Europe's decision-making body, the Committee of Ministers, says Russian authorities continue to violate the rights of opposition leader Aleksei Navalny, and has urged Russia allo…
Pipe Schemes: Suspect Claims Top Navalny Aide Staged False-Flag Attack On Self
When an unidentified assailant smashed a top aide to Russian opposition leader Aleksei Navalny over the head with a metal pipe last week, the presidential hopeful called the attack "attempte…
It's a life-or-death matter to run for president in Russia against Vladimir Putin – LA Times
Alexei Navalny is Putin's No. 1 political adversary, which means, says Navalny, there's a 50-50 chance he'll be murdered.
B&N Bank: Russia central bank rescues second major bank in less than a month
Russia's central bank has been forced to rescue two major lenders in less than a month, intensifying concerns among global investors.
---
Belarus Reports
---
Belarus Proceeding With Russian-Built Nuclear Plant Despite Accidents, Quake Worries, And Neighbors' Objections 
Belarus is shrugging off a series of construction accidents and safety complaints from neighboring countries and European organizations to build its first nuclear power plant near Vilnius, the Lithuanian capital.
Belarusian Opposition Leader Statkevich Detained Again
MINSK — Prominent Belarusian opposition leader and former presidential candidate Mikalay Statkevich has been detained in Minsk, his wife says. Maryna Adamovich told RFE/RL that her husband wa…
Iryna Khalip | Gray Zone – Charter'97 :: News from Belarus – Belarusian News – Republic of Belarus – Minsk
Belarus is more and more resembling the Donbass. Blogger Alexander Lapshin, a citizen of Israel and Russia, who served a prison term in Azerbaijan was pardoned last week after being nearly killed in a Baku prison. The Ukrainian citizen Pavel Grib, a disabled person since childhood, is not allowed doctors in Krasnodarsk prison. A Russian woman Louise Dudurkaeva was detained at the Argun police station together with her mother – night interrogations in Chechnya had become the norm. There is one thing that unites these foreign citizens: they were arrested or kidnapped on the territory of our country. The country that no one can consider safe. Alexander Lapshin was arrested at the request of Azerbaijan in December last year. And then under the guise of Israeli diplomats KGB men came to Minsk detention center and offered to quickly sign an agreement on extradition without any bureaucratic stuff and go under escort to Baku, where he would be immediately extradited to Israel. He understood everything and was surprised with impudence the Belarusian KGB officers were trying to pass as Israeli diplomats. And we live here and have not been surprised for a long time. We live in the detention center Lapshin compared with Auschwitz and even survive sometimes. It seems to me that blogger Lapshin will hardly visit Minsk again. Ukrainian Pavel Grib kidnapped in the center of Homel in the blaze of the day and taken to the prison of Krasnodar is also unlikely to ever go to Belarus. However, his situation is even worse than that of Lapshin. In order not leave for anywhere he must be released from the Krasnodar prison where he being the person who never served in the army and visited Russia is accused of terrorism. Considering that, the experience of Oleg Sentsov proves that the release from the prison is the hardest task to implement. However, young Chechen woman Louisa Dudurkaeva faces the hardest challenge: to stay alive. Speaking frankly, there are few chances for it. Perhaps, things happened to her in Belarus are even more loathsome than extradition of Lapshin and kidnapping of Grib. Lapshin was arrested at the request of the Azerbaijani authorities. Grib was kidnapped either by Russian special services or by Belarusian KGB men for subsequent transfer to colleagues. Okay, I suppose special services help each other, The Hague is their judge. But in case of Louisa, there were no special services, criminal cases, inquiries! There were only threats of criminal reprisal at homeland – and it was there the Belarusian authorities and sent the girl to. Louisa escaped from Chechnya after threats of reprisal; Karfagen public group regularly published photographs of Chechens dressed in an "inappropriate way", and this meant baiting at best. In the case with Louisa, there were other circumstances. Her close friend was killed shortly before the escape. Relatives announced her missing. At the Moscow airport when flying to Murmansk (Louise was waiting for the decision of the Norwegian authorities to grant refugee status), she answered police questions, announced that she did not want anything to do with relatives and wanted only to leave. And asked to cross her name out of the "wanted" list. It is noteworthy that Louisa passed the border control in Belarus. She was not in the list. She was taken out of the waiting room by policemen. And she was transferred to her father. And this is not the cooperation in the framework of signed agreements. This is a pure crime. In the sake of the experiment call the police and say that your close relative has been registered for an international flight, and you do not want to let him go and ask to detain him before your arrival at the airport. Can you imagine their answer? That's what I mean. It is a crime to detain an adult person at the "father's request" that is accompanied by a full-fledged bribe or other criminal arrangements. After a night interrogation in Argun Louisa did not contact anyone else. If she is very lucky, they will be forced to marry and be left alive. If not, they'll kill her. And it will be the guilt of the Belarusian authorities. Are there not enough people killed? Belarus has become a classical gray zone. As those Donbass settlements which are on the line of demarcation, and sometimes turn out to be on the frontline. There is no legal authority, there are no elections, banks and shops, schools and medical stations do not work there. Suburbs are mined there, smuggling flourishes, people disappear without a trace, no laws work there. It's dangerous to be there even if one has good intentions. And if you've found yourself there, your life does not cost a penny. And those who still hope to enter Belarus safely and leave it, one can only say: you still try go through the Donbass. The result will be the same. Iryna Khalip for Charter97.org
---
Transnistria / Moldova Reports
---
Anatolii Baronin | Is Dodon plotting a coup in Moldova? – News about politics | UNIAN
The Ministry of State Security (MGB) of the unrecognized Transnistrian Moldovan republic issued a warning to it's the Dniester's left bank residents of possible mass riots and clashes across Moldova September 23-25. The MGB stated that "at the moment, mass political protests are taking place in the Republic of Moldova. As a result of clashes between protesters and Moldovan law enforcers, there are casualties. On September 23-25, 2017, large-scale rallies are scheduled to be held in many cities across Moldova, which can grow into mass riots." In this regard, the MGB of the unrecognized republic recommends that citizens take these circumstances into account and refrain from traveling to Moldova in the specified period. Protests are being organized by Dodon's supporters aiming to mobilize the population against the government, which stands opposed to the openly pro-Russian president. In recent months, tensions along the president-government line have increased significantly. In its latest defiant move, the government ignored the ban Dodon had imposed on the participation of Moldovan troops in military exercises on the territory of Ukraine under the auspices of NATO. The Moldovan parliament overruled the president's veto on several bills at once, while the presidential press service accused the government of preventing Igor Dodon from addressing the UN General Assembly. At the same time, Moldovan parliamentary faction of the Liberal Party, which is in opposition to president Igor Dodon, submitted to consideration a draft resolution on Dodon's dismissal from post and setting up a referendum on the matter. Under these conditions, the Moldovan president seems to be totally helpless, which obviously suits neither him personally nor the Kremlin. With the actual constitutional authority the president currently has, his chances are quite low of retaining the level of electoral support until the second half of 2018. Systemic and painful blows the government delivers reduce Dodon's electoral positions as a representative of socialists. The fact that Dodon made an official statement claiming that the upcoming protests "will only be a prelude to the possible removal of government" indicates that he has approached a critical poi, which calls for radical action. Taking into account the expected parliamentary elections in Moldova in 2018, where Dodon could use his electoral support in the presidential elections in the interests of socialists and gain control in the legislature, the shift of political struggle toward the streets testifies to the presence of external pressure on the president's stance or to the dynamic deterioration of his positions. The situation is similar to that of January 2016, when, following a similar message from the Transnistrian foreign ministry, an attempt was made to seize the Moldovan parliament building and destabilize the country in Russia's interests. At that time, a warning about the risks of a coup allowed Moldovan security agencies to prevent the development of such a scenario. There is a high probability that, despite the assurances by the Moldovan president that the rallies are focused on the country's regions, not the capital city of Chisinau, a scenario of force will be implemented against the Moldovan government bodies. In the past few months, we have seen intensified intelligence efforts by Russia in the region and strengthening of its foreign intel station, "residentura," in Moldova, which can indirectly indicate the preparation of a special operation. While there is yet no conclusive evidence, it is likely that "combat groups" have already been deployed in the territory of Moldova and weapons have been concealed in caches to this end. In this context, the introduction in 2014 of the Romanian and Moldovan language courses for servicemen from the Russian army's operational group and the Russian "peacekeeping" mission in Transnistria from 2014 is another interesting nuance. Since mid-September, Igor Dodon in his public statements has increasingly been focusing on the likelihood of bloodshed in the country and alleged attempts by pro-government forces to provoke him to resort to the use of force. These statements are designed to lay grounds for the confrontational scenario of the president of Moldova and to justify in the future the reason for supporting the coup in the country. Anatolii Baronin, Da Vinci AG
UAWire – Moldova begins collection of signatures for the impeachment of President Dodon
Deputies of the Parliament of Moldova from the Liberal Party have begun collecting signatures for a bill to begin procedures for the removal of President Igor Dodon from office. According to parliamentary regulations, 34 of 101 deputies must sign the bill in order to register it and ensure its subsequent consideration at a Parliamentary session, reports Ukrinform news agency. As the leader of the Liberal Democratic Party, Mihai Ghimpu, said, the bill has been sent to all parliamentary factions, with the exception of the Socialist Party faction. The motive for the declaration for the president's impeachment, according to Ghimpu, is, first of all, the refusal of the Head of State to send Moldovan soldiers to international military exercises. The Liberal Party leader also stressed that "President Igor Dodon continues to promote Russian interests in Moldova." Moldovan Parliamentary Speaker Andrian Candu said in connection with this that impeachment of the President is a very complicated procedure, and is not limited to registering the bill in the Parliament. At the same time, the head of the Moldovan parliament stressed that the ruling coalition closely follows the activities of the president, and if there are grounds for dismissing the president, appropriate procedures will be initiated. Earlier in September, the Moldovan government repeatedly nominated a candidate for the post of Minister of Defense who was rejected by Dodon. In late August, the Moldovan opposition party Action and Solidarity appealed to the Prosecutor General's Office to prosecute President Igor Dodon "for advancing the interests of the Russian Federation and state treasury."
EU Ties With Georgia, Moldova, Ukraine To Dominate Summit, According To Paper Seen By RFE/RL
The EU aspirations of Georgia, Moldova, and Ukraine are expected to be the main bone of contention among member states ahead of the Eastern Partnership (EaP) summit in Brussels on November 24, a draft statement seen by RFE/RL suggests.
---
Ukraine Reports
---
Remarks by President Trump and President Poroshenko of Ukraine Before Bilateral Meeting | whitehouse.gov
PRESIDENT TRUMP: Thank you very much. It's wonderful to have President Poroshenko with us. We spent some time recently in the White House, and I know you've made good progress since then — a lot of progress, actually. And I wouldn't say it's the easiest place right now to live, but you're making it better and better on a daily basis. And I do hear very, very good things. So Ukraine is coming along pretty well — pretty well. And at the borders, maybe you'll tell them how you're doing. Thank you. Thank you for being here. PRESIDENT POROSHENKO: Thank you very much indeed, Mr. President. That's a real great honor for me to be here in the city which is so close to you. And I'm really happy to hear the words about the progress we both demonstrate after our last meeting. But first of all, I want to respect the great sympathy and solidarity with the American people because of the consequences of the hurricanes, and my admire with your very strong leadership in this hard time. And I really think that our cooperation, both in the security and defense sector, which is bringing already the first important results under your leadership, and the second, we seriously improved our economic cooperation.
Readout of President Donald J. Trump's Meeting with President Petro Poroshenko of Ukraine | whitehouse.gov
President of Ukraine met with the President of the United States — Official website of the President of Ukraine
President of Ukraine Petro Poroshenko held a meeting with U.S. President Donald Trump in the course of the working visit to the United States. President of Ukraine Petro Poroshenko held a meeting with U.S. President Donald Trump in the course of the working visit to the United States. At the beginning of the meeting, the U.S. President recalled the recent meeting with his Ukrainian colleague in the White House. "We have achieved a significant progress after this meeting," he said adding that despite difficulties "Ukraine is getting better everyday". The President of Ukraine expressed condolences and solidarity with the American people over the consequences of the hurricane. Petro Poroshenko noted the efficiency of cooperation in the security and defense sector, as well as the improvement of economic cooperation. According to him, over the last 7 months, the trade turnover between Ukraine and USA has increased 2.5 times. "This is a symbol that we are glad to see American companies on the Ukrainian market and create hundreds of thousands of jobs in Ukraine and USA. This is an achievement of an efficient cooperation between our countries," Petro Poroshenko said. The U.S. President added: "Business is really interested in Ukraine now, as they see a significant potential".
Meeting between the Presidents: Ukraine and USA have a common vision of the security cooperation between the two countries — Official website of the President of Ukraine
Following the meeting with U.S. President Donald Trump, President of Ukraine Petro Poroshenko informed that Ukraine and USA have a common vision of the security cooperation between the two countries. Following the meeting with U.S. President Donald Trump, President of Ukraine Petro Poroshenko informed that Ukraine and USA have a common vision of the security cooperation between the two countries. "We have discussed in details all the directions of expanding this cooperation, from military education institutions to the U.S. Department of Defense and other institutions," the President noted. He brought an example of arrangements on cooperation of Ukrainian servicemen with the U.S. Military Academy at West Point. "I can say that the meeting, which lasted one hour, was extremely productive. We felt a shoulder of our true friend and partner," the President of Ukraine emphasized. "As President, I am very satisfied with the current unprecedented level of cooperation between Ukraine and USA," Petro Poroshenko concluded in the media briefing following the meeting with Donald Trump.
Presidents of Ukraine and USA discussed economic cooperation between the two countries in details — Official website of the President of Ukraine
In the course of the meeting, President of Ukraine Petro Poroshenko and U.S. President Donald Trump discussed economic cooperation of the two countries in details. In the course of the meeting, President of Ukraine Petro Poroshenko and U.S. President Donald Trump discussed economic cooperation of the two countries in details. "I am particularly pleased to note a great success on the first issuing of Ukrainian sovereign bonds on the global markets," Petro Poroshenko emphasized following the meeting and noted that the given process was accompanied by high demand for Ukrainian securities. "Investors vote for success and trust in the Ukrainian reforms by a dollar," the Head of State stressed. He was pleased to note that "a lot of these investors were American companies", including Goldman Sachs, JPMorgan. "This is also a form of trust and confidence in success of Ukrainian reforms not only from the American authorities, but also from American business," Petro Poroshenko said.
Meeting between the Presidents of Ukraine and USA: USA fully supports the proposals of Ukraine about the deployment of peacekeepers with the UN mandate in the occupied territory — Official website of the President of Ukraine
"A very lively and detailed discussion on the aspects of the future cooperation between USA and Ukraine took place," the President of Ukraine informed following the meeting with his American colleague. "A very lively and detailed discussion on the aspects of the future cooperation between USA and Ukraine took place," the President of Ukraine informed following the meeting with U.S. President Donald Trump in the course of the working trip to the United States. "USA fully supported the proposal of Ukraine, my proposals declared already in 2015, on the deployment of peacekeepers with the UN mandate in the occupied territory," Petro Poroshenko stated. At the same time, he emphasized: "Ukrainian position that envisages the mandate to the whole occupied territory in the east Ukraine, including the uncontrolled part of the Ukraine-Russia border that will exclude the possibility of infiltration of Russian troops, Russian weaponry and will truly serve peace".
Trump, Mattis are ready to support our country: Ukraine president – YouTube
Poroshenko interview Fox News
Trump pledged support for Ukrainian fight against Russia | Fox Business
President Donald Trump pledged to provide both defense and technical support to Ukraine in its years-long conflict with Russia that's resulted in the deaths of thousands during a meeting with the Ukraine President Petro Poroshenko in New York City on Thursday.
Ukraine president says Trump shares vision on 'new level' of defense cooperation
Ukraine's Petro Poroshenko met U.S. President Donald Trump on Thursday and said afterwards that they had a shared vision on a "new level" of defense cooperation, but not whether this included the U.S. provision of defensive weapons to Ukraine.
Trump says US ready to provide Ukraine with defense and technical support, – Poroshenko
22.09.17 11:38 – Trump says US ready to provide Ukraine with defense and technical support, – Poroshenko U.S. President Donald Trump promised technical and military assistance for Ukraine to help it push back Russia in the Donbas. View news.
Poroshenko: Trump ready to provide military and technical support for Ukraine – 22.09.2017 13:03 — Ukrinform News
Ukrainian President Petro Poroshenko has confirmed the readiness of the United States to engage in military and technical cooperation with Ukraine, and called on the world to be prepared to defend itself against Russia's cyber-intervention in the internal affairs of other countries.
President Donald Trump responded favorably to a meeting with his Ukrainian counterpart Petro Poroshenko. – Trump on meeting with Poroshenko: It's wonderful – 112.international
President Donald Trump responded favorably to a meeting with his Ukrainian counterpart Petro Poroshenko.
Poroshenko, Trump meeting in NYC (Photo, video) | UNIAN
Presidents of Ukraine and the United States Petro Poroshenko and Donald Trump are meeting in New York City on the sidelines of the 72nd session of the United Nations General Assembly. News 21 September from UNIAN.
Trump Praises Ukraine For 'Good Progress' Amid Difficult Conditions
U.S. President Donald Trump has praised Ukraine for making "good progress" amid difficult conditions sparked by Russia's annexation of the Crimea Peninsula.
Ukraine and the United States have a common vision of a new quality of cooperation in the field of security – Ukraine and US have common vision of cooperation in security field, – Poroshenko – 112.international
Ukraine and the United States have a common vision of a new quality of cooperation in the field of security. Ukraine and the United States have a common vision of a new quality of cooperation in the field of security. This was stated during a briefing after a meeting with American leader Donald Trump, by Ukrainian President Petro Poroshenko. It is extremely important that there is a common vision for a new quality of security cooperation between Ukraine and the US. We discussed in detail all areas for expanding cooperation, starting with cooperation with the military academy in West Point, which we visited a few days ago, and ending with cooperation with the US Defense Department and other institutions, "he said. Poroshenko pointed to the support of Kyiv from Washington. "I can say that the meeting that lasted an hour was extremely productive, we felt the true shoulder of our friend and partner, and as president, I am satisfied with the current unprecedented level of cooperation between Ukraine and the United States," he stressed. Earlier, President Petro Poroshenko thanked Trump for the meeting, noting the importance of US support in the "difficult time for Ukraine." "We are grateful for the meeting, we expect that we will receive support from the US at such a difficult time for Ukraine, we hope for support regarding the peacekeeping mission and economic reforms," the head of state said.
Trump to Poroshenko: American companies see tremendous potential in Ukraine
U.S. President Donald Trump says that American companies see a tremendous potential in Ukraine.  Current news and events 21 September from the Agency UNIAN.
U.S. President: Ukraine is coming along pretty well | UNIAN
U.S. President Donald Trump has praised the progress Ukraine has made since June this year when he met with Ukrainian President Petro Poroshenko, according to the remarks by Trump, posted by the White House on its website. News 21 September from UNIAN.
President of Ukraine Petro Poroshenko, at a meeting with his American counterpart Donald Trump, said he hoped for US support – Poroshenko hopes for US support in "difficult time for Ukraine" – 112.international
President of Ukraine Petro Poroshenko, at a meeting with his American counterpart Donald Trump, said he hoped for US support
We need to be giving more support and lethal aid to Ukraine, – Will Hurd – Will Hurd: We need to be giving more support and lethal aid to Ukraine – 112.international
"I think the last administration believed that the use of lethal weapons here would cause an escalation of tensions between Ukraine and Russia. I'm of the opinion that is the decision left up to Ukraine, he comments
The United States of America supported the proposal of Ukraine regarding the introduction of UN peacekeeping mission to Donbas territory – US supports proposal on introduction of peacekeepers in Donbas, – Poroshenko – 112.international
The United States of America supported the proposal of Ukraine regarding the introduction of UN peacekeeping mission to Donbas territory
Kurt Volker: There is no difference between Crimea and Eastern Ukraine – Kurt Volker: There is no difference between Crimea and Eastern Ukraine – 112.international
Kurt Volker: There is no difference between Crimea and Eastern Ukraine
Putin "unpredictable", has no "red lines" – Poroshenko | UNIAN
Ukrainian President Petro Poroshenko in his interview with Fox News has called his Russian counterpart Vladimir Putin "unpredictable," adding that there are no "red lines" for the Russian president. News 22 September from UNIAN.
Poroshenko says did not discuss Javelins with Trump | UNIAN
The issue of U.S. supplies to Ukraine of Javelin anti-tank missile systems was not on the agenda of the meeting with U.S. President Donald Trump, the Ukrainian President, Petro Poroshenko, said in an interview with Fox News. News 22 September from UNIAN.
Defense bill showers cash on Israel and Ukraine – Salon.com
Alongside funding for Israel, the NDAA budgeted unprecedented funding for supposedly defensive weapons for the Ukrainian military, which has been locked in a destabilizing conflict with Russian-backed separatists since a U.S.-backed coup toppled its democratically elected government in 2014. 1.4 million Ukrainians have been internally displaced by the conflict, and with new weapons on the battlefield, many more are likely to be forced to flee their homes. The $500 million earmarked for Ukrainian military will also cover the treatment of its soldiers in American hospitals, including "transportation, lodging, meals, and other appropriate non-medical support in connection with such treatment." While Trump sets massive sums of American taxpayer dollars aside to provide Ukrainian troops with first-class medical care, his administration has proposed cutting some $800 billion from Medicaid and other healthcare programs servicing poor and working-class Americans. If the $500 million reserved for Ukraine's military were restored to the budget, it would cover almost all of the cuts Trump has proposed to the National Heart, Lung and Blood Institute, which conducts critical research on heart and lung disease.
Responsibility for every violation of international law must be inevitable – Klimkin – 22.09.2017 14:24 — Ukrinform News
The international regime of non-proliferation of nuclear weapons will significantly improve if security guarantees are obligatory for implementation, and the responsibility for violating international law is inevitable. 
There's Actual War, and Then There's @Ukraine vs. @Russia – WSJ
Moscow dominates the countries' real conflict, but the underdog takes jabs at Russia on Twitter with snarky put downs and Simpsons GIFs.
Militants launched 16 attacks on Ukrainian troops in Donbas in last day – 22.09.2017 09:45 — Ukrinform News
Militants launched 16 attacks on positions of the Armed Forces of Ukraine in ATO area in Donbas over the past day.
No losses among Ukrainian soldiers yesterday, terrorists opened fire 16 times, – HQ
22.09.17 09:48 – No losses among Ukrainian soldiers yesterday, terrorists opened fire 16 times, – HQ On Sept. 21, Russian hybrid forces in the Donbas violated the cease-fire regime 16 times. View news.
Chief military psychiatrist suspended for calling war veterans a threat to society
Ukrainian Defense Minister Stepan Poltorak has dismissed head of the psychiatry clinic of the Main Military Clinical Hospital, Colonel Oleh Druz for the period of verification of his words claiming that participants in the Anti-Terrorist Operation (ATO) in eastern Ukraine pose a threat to society and own families after they leave service in the army, according to Ukrainian Defense Ministry speaker for ATO issues Oleksandr Motuzianyk. News 21 September from UNIAN.
Watchdog Calls On Ukraine To Establish Independent Anticorruption Court
Transparency International on September 20 called on Ukraine to create an independent anticorruption court to strengthen the country's efforts to fight corruption. Ukrainian Presiden…
European Union Sets Conditions For More Aid To Ukraine
BRUSSELS – A top European Union finance official said Kyiv needs to do more in fighting corruption and to pass pension and land reforms as conditions for receiving more financial aid fro…
Clashes In Odesa After Deadly Fire At Children's Camp
Angry crowds gathered outside city hall, demanding the mayor's resignation, following a fire at a Ukrainian children's camp that killed three girls. (RFE/RL's Ukrainian Service)
90% of Ukrainian judges who prosecuted Euromaidan activists still in office – lustration committee -Euromaidan Press |
Over the last 2 years, 34 judges who took unlawful decisions regarding Euromaidan activists have been dismissed. This is 10% of the total number of complaints filed. Judicial reform and processes surrounding it are on the top of Ukraine's agenda lately. Apart from problems concerning the final stage of creating the new Supreme Court, 25% of candidates to which don't fit the criteria of integrity and professional ethics, there are other challenges too. One of them is the process of lustration of judges who unlawfully prosecuted participants of the Euromaidan revolution. The share of such dismissed judges is critically low, activists said at a press briefing in the Ukrainian Crisis Media Center. However, activists are afraid that eventually even those dismissed will return to their duties.
Romanian leader cancels visit to Ukraine over language law – The Washington Post
Romania's president has canceled a visit to Ukraine next month to protest a law that critics say would infringe on the rights of ethnic minorities there.
Romanian President Cancels Ukraine Visit Over Language Bill
Romanian President Klaus Iohannis has canceled a visit he had planned to Ukraine in October in protest against language legislation recently adopted by Ukrainian lawmakers. Iohannis told reporter…
Ukraine pension reform changes worry World Bank, IMF
The World Bank and the International Monetary Fund are concerned about amendments to pending pension reform legislation needed to unlock further funding under a $17.5 billion IMF program, the World Bank's Ukraine director said on Friday.
Ukraine's Naftogaz Seeks Billions From Russia Over Crimea Asset Grab
Ukraine's state-controlled energy giant, Naftogaz, filed yet another massive lawsuit against its former client Gazprom, the EU's top foreign gas supplier.
In Pictures: Ultra-Orthodox flock to celebrate Rosh Hashanah in Ukraine – Diaspora – Jerusalem Post
30,000 ultra-Orthodox Jews are estimated to have traveled to the Ukrainian town of Uman for Rosh Hashanah.
Ukrainian Court Resumes Hearing On Saakashvili's 'Illegal' Border Crossing
LVIV — A court in Ukraine has resumed a hearing on Mikheil Saakashvili's return to Ukraine, which the authorities have deemed illegal. The former Georgian president and Ukrainian regiona…
---
Russia / Iran / Syria / Iraq / OEF Reports
---
Russia warns U.S., says special forces helping Syrian troops – The Denver Post
A stern Russian warning Thursday against targeting its special forces in eastern Syria heightened concerns over direct clashes between rival Moscow- and Washington-backed forces fighting for the energy wealth to be found among the Islamic State group's shrinking domain.
US, Russian militaries hold unprecedented talks on Syria
Senior American and Russian military leaders met for an unprecedented, face-to-face session somewhere in the Middle East this week to discuss the growing tensions in the competing battles to retake one of the remaining Islamic State strongholds in Syria.
In Defiance to US, Iran Unveils Latest Missile During Parade
Iran's Revolutionary Guard on Friday unveiled its latest ballistic missile capable of reaching much of the Middle East, including Israel, while the country's president vowed that Tehran would press ahead with its missile program in defiance of U.S. demands to the…
Jeremy Binnie and Neil Gibson | Analysis: Iran unveils Khorramshahr ballistic missile – IHS Jane's Defence Weekly
Key Points Iran's new Khorramshahr ballistic missile appears to have the same roots as North Korea's Hwasong-10 The Khorramshahr has a different payload section and lacks lattice fins as it is designed to carry a heavier payload over shorter ranges The Khorramshahr was unveiled in the Sacred Defence parade on 22 September. (STR/AFP/Getty Images)The Khorramshahr was unveiled in the Sacred Defence parade on 22 September. (STR/AFP/Getty Images) Analysis Iran's unveiling of its Khorramshahr ballistic missile on 22 September supports the assertion that it is derived from technology supplied by North Korea. The Khorramshahr was displayed during the Sacred Defence parade held on 22 September, with the Iranian media reporting that the liquid-fuel missile has an operational range of 2,000 km and a separating re-entry vehicle that can carry multiple warheads.
Iran Shows Off Khorramshahr Ballistic Missile After Trump Speech – NBC News
President Hassan Rouhani's said Iran would "seek no one's permission to defend our land."
Defying U.S., Iran unveils new missile during parade | The Japan Times
Iran's Revolutionary Guard has unveiled its latest ballistic missile with a range of 2,000 kilometers — about 1,250 miles— capable of reaching much of the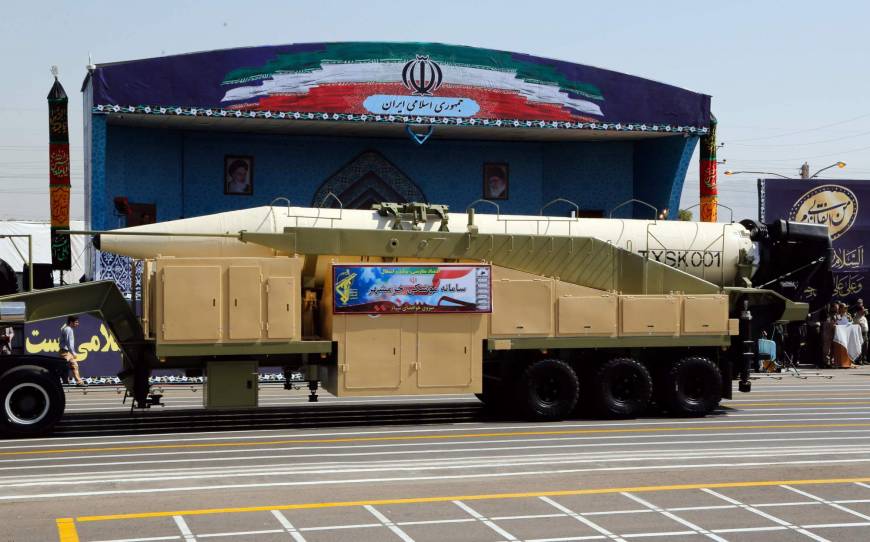 Iran unveils new Khorramshahr ballistic missile | Defence Blog
Iran has unveiled a new ballistic missile during military parades held across the nation to mark the first day of the annual Sacred Defense Week. The missile, named Khorramshahr, was put on display during the military parade in Tehran on Friday, with Iranian President Hassan Rouhani and senior military officials in attendance. The ballistic missile, which has a range of 2000 kilometers, is capable of carrying multiple warheads, said Brigadier General Amir Ali Hajizadeh, a senior commander of the Islamic Revolution Guards Corps (IRGC) Aerospace Division. "As it was observed, the missile has become smaller in size and more tactical and it will be operational in the near future," he told reporters on the sidelines of the parades. Addressing the event, Rouhani said no country can stop the Islamic Republic from strengthening its missile capabilities and defense programs. "We will promote our defensive and military power as much as we deem necessary," Rouhani said. "We seek no one's permission to defend our land." He added that Iran's defense power has never been used for aggressive acts, while certain world powers export deadly weapons to the Middle East.
The Aviationist » Here's The Video Of The Syrian Su-22 Fitter Being Shot Down By A U.S. Navy F/A-18E Super Hornet
On Jun. 18, F/A-18E Super Hornet belonging to the VFA-87 "Golden Warriors" and piloted by Lt. Cmdr. Michael "Mob" Tremel," shot down a Syrian Arab Air Force Su-22 Fitter near the town of Resafa (40 km to the southwest of Raqqa, Syria). The VFA-31 Tomcatters, also embarked on USS George Bush (CVN-77) supporting Operation Inherent Resolve from the Mediterranean Sea back then, have included footage of the aerial engagement, filmed with their ATFLIR (Advanced Targeting Forward Looking Infra Red) pod, in their 2017 OIR cruise video. Here below you can see the relevant part of the cruise video, the one that shows the AIM-120 AMRAAM (Advanced Medium Range Air-to-Air Missile) hitting the Syrian Sukhoi (from two different angles – maybe because other Hornets filmed the scene) and then the Fitter crashing into the ground.
Caça Su-22 da Síria sendo abatido por um F/A-18E Super Hornet dos EUA – YouTube
The Aviationist » RAF Reaper Drone Footage Shows The Moment A Hellfire Missile Stops A Public Execution By Targeting An ISIS Sniper
The news of a successful RAF MQ-9 Reaper air strike on Islamic State militants to stop a public execution in Abu Kamal, Syria, was made public in May this year; yesterday, the UK MoD released the actual footage of the drone attack. The clip show two handcuffed prisoners being unloaded from a van in front of a large group of spectators. Instead of targeting the militants on the ground, because that would have also killed civilians, the drone targeted a sniper standing guard on a nearby roof. The explosion sent the crowd fleeing and the civilians and fighters scatter before the killing can be carried out. Although the MoD refused to say whether the drone was remotely piloted from RAF Waddington or from Creech Air Force Base in Nevada the mission was overseen from the combined air operations centre (Caoc) based at al-Udeid airbase, in Qatar. The RAF Reapers are employed in accordance with the so-called Remote Split Operations (RSO): the aircraft is launched from an airbase in theater under direct line-of-sight control of the local ground control station. Then, by means of satellite data link, it is taken on charge and guided from either Creech AFB or Waddington. When the assigned mission is completed, it is once again handed over to a pilot in Afghanistan, who lands it back to the forward deployment airfield. The 1-second delay introduced by the satellite link is not compatible with the most delicate phases of flight; hence, aircraft are launched and recovered in line-of-sight by the deployed ground control station.
RAF pilots stop ISIS public execution in Iraq and Syria – YouTube
US pressures Iraqi Kurds to abandon vote on independence
The United States ramped up pressure Wednesday on Iraq's Kurds to abandon a planned referendum on independence, threatening to withdraw international support for negotiations with Baghdad if the vote isn't scrapped.
Kurds press historic independence vote despite regional fears
Iraqi Kurds are expected to vote on Monday to back an independence drive that neighboring countries and Western powers fear could break up the country and stir broader regional ethnic and sectarian conflict.
Afghan leader: Abolishing militant havens in Pakistan is key
Abolishing militant hideouts in Pakistan is critical to establishing peace in neighboring Afghanistan, the Afghan leader said Thursday before meeting President Donald Trump on the sidelines of the U.N. General Assembly.
---
DPRK / PRC / WESTPAC Reports
---
North Korea might test a hydrogen bomb in the Pacific Ocean | New York Post
North Korea is interested in testing a hydrogen bomb in the middle of the Pacific, according to reports. The move would be a direct response to President…
North Korea could test 'strongest' hydrogen bomb in Pacific Ocean, says country's foreign minister – CNNPolitics
North Korea's foreign minister hinted Thursday that Pyongyang could test a powerful nuclear weapon over the Pacific Ocean in response to US President Donald Trump's threats of military action.
North Korea Official Threatens Hydrogen-Bomb Test Over Pacific Ocean – WSJ
Foreign Minister Ri Yong said his nation might consider a historic test over the Pacific Ocean, just hours after North Korean leader Kim Jong Un insulted Donald Trump in response to the U.S. president's speech before the United Nations.
North Korea Hits New Level of Brinkmanship in Reacting to Trump – The New York Times
Kim Jong-un turns the standoff with Washington into a personal duel, while warning of more dangerous weapons tests.
NKorea Nuclear Test Over the Pacific? Logical, Terrifying
Detonating a nuclear-tipped missile over the Pacific Ocean would be a logical final step by North Korea to prove the success of its weapons program but would be extremely provocative and carry huge risks, arms control experts said on Friday.
Report: Russia getting around sanctions, supplying North Korea with fuel – Business Insider
"As part of North Korea's efforts to acquire revenue, the regime uses shipping networks to import and export goods."
Russia's Lavrov Warns 'Military Hysteria' over North Korea Could Lead To Disaster
Russian Foreign Minister Sergei Lavrov, in a thinly veiled swipe at the United States, has warned that "military hysteria" over North Korea's nuclear weapons program could lead t…
Russia: U.S. War With North Korea 'Is Not an Option'
Russia did not appreciate President Donald Trump's vow to "totally destroy" North Korea, and has plans of its own to solve the nuclear crisis.
Presidential Executive Order on Imposing Additional Sanctions with Respect to North Korea | whitehouse.gov
Trump: 'Madman' NKorea Leader 'Will Be Tested Like Never Before!'
President Donald Trump hit back at North Korea leader Kim Jong Un's threats Friday morning, responding to the rogue nation's madman leader with a promise that he will be tested like never before!
Trump announces new executive order targeting those who trade with North Korea – CBS News
During meetings at the United Nations, Trump said that more sanctions against the North would be coming
North Korea sanctions: Here's what Trump did – Sep. 21, 2017
President Trump escalated pressure on North Korea as part of his ongoing economic warfare against Pyongyang.
Tillerson: Kim Jong Un 'Being Tested' With Strongest Sanctions on NKorea
The United States has put together the strongest economic sanctions to ever be enacted against North Korean leader Kim Jong Un, and diplomatic efforts are continuing unabated, Secretary of State Rex Tillerson said Friday.
'Mentally Deranged Dotard' Is North Korean Leader's Shot At Trump : The Two-Way : NPR
In an extraordinary statement released through state media, the North Korean leader says the U.S. president is "surely a rogue and a gangster fond of playing with fire, rather than a politician."
North Korea leader Kim calls Trump 'deranged,' says Trump 'will face results beyond his expectation'
North Korean dictator Kim Jong Un chastised Donald Trump, calling the president's United Nations address "unprecedented rude nonsense."
Trump imposes new sanctions on North Korea; Kim says he will 'tame the mentally deranged U.S. dotard with fire' – The Washington Post
Kim Jong Un on Thursday reacted angrily to Trump's remarks and actions this week, calling the president a "mentally deranged U.S. dotard" and Trump's earlier speech at the U.N. "unprecedented rude nonsense."
What is the definition of 'dotard,' which North Korea called Trump – The Washington Post
Merriam-Webster said "dotard" searches were "high as a kite," and the old word trended on Twitter.
What is the meaning of 'dotard,' which North Korea called Trump – The Washington Post
Searches for the term were "high as a kite" following the release of Kim's statement, Merriam-Webster tweeted.
Dotard | Definition of Dotard by Merriam-Webster
Define dotard: a person in his or her dotage
Rep. Hunter calls for preemptive strike against North Korea – The San Diego Union-Tribune
Congressman believes U.S. must strike first before North Korea does.
North Korea says sanctions threaten survival of its children
North Korea told a U.N. rights panel that international sanctions imposed on it over its nuclear and ballistic missile programs would endanger the survival of North Korean children.
Ishigaki mayor to propose official name change of disputed islands in Okinawa | The Japan Times
The city of Ishigaki in Okinawa Prefecture said Thursday its mayor plans to propose changing the name of a group of islands over which it has administrativ
Changing name of Diaoyu Islands won't prevent Japan from declining – Global Times
The Diaoyu Islands are an integral part of Chinese territory. However, the Japanese fuss about them will be of no avail as China rises. While Japan appears to be waning in major-country competition, any move toward the Diaoyu Islands won't help prevent it from declining.
---
Foreign Policy Reports
---
Russia, China push back on a US-led world order – CNNPolitics
Russia and China challenged the United States' global leadership in United Nations speeches peppered with bare-knuckled criticism of the Trump administration.
German Chancellor Merkel experiences boost in ratings – YouTube
Angela Merkel's Great Escape | Foreign Policy
Angela Merkel's Great Escape « | Foreign Policy | the Global Magazine of News and Ideas
Fighting Breaks Out at Turkish President's Speech in New York – The New York Times
In the middle of President Recep Tayyip Erdogan's speech at a Times Square hotel, a protester screamed: "You're a terrorist. Get out of my country!"
SEE IT: Pro-Erdogan brawlers beat up protesters in Times Square – NY Daily News
Police said one security officer suffered a minor injury, but no arrests were made.
---
Strategy / History / Capability Publications
---
Why Donald Trump Wants His Nukes to Be Smaller | Foreign Policy
Be wary of tiny nukes in tiny hands.
The Invisible Threat | Foreign Policy
As the Trump administration talks border walls and North Korean nukes, scientists are sounding the alarm on potential biological attacks.
Russia's Just Tested Its New ICBM Armed with "Experimental Warheads" | The National Interest Blog
What does that mean?
Next LAV could be light-years ahead of current model
The Marine Corps wants the next version of the LAV to show major improvements.
Oshkosh Defense fits remote weapon station, anti-RPG armor on JLTV – Military & Aerospace Electronics
LONDON – With a sale of the Joint Light Tactical Vehicle (JLTV) to the British military seemingly in the bag, platform-builder Oshkosh Defense turned up at the DSEI show in London earlier this month sporting a few ideas of what the machine might look like when the British Army gets its hands on it. Defense News reports.
Watch Lockheed's Laser Gun Turn Drones to Toast
The Advanced Test High Energy Asset (ATHENA) is no joke.
Orbital ATK to upgrade 230 AGM-88E Advanced Anti-Radiation Guided Missile (AARGM) systems
PATUXENT RIVER NAS, Md. – U.S. Navy air warfare experts are upgrading 230 air-to-ground radar-killing AGM-88B High Speed Anti-Radiation Missile (HARM) systems to the AGM-88E Advanced Anti-Radiation Guided Missile (AARGM) to equip the service's carrier-based fighter-bombers and electronic warfare jets.
---
IW/IO/Cyber Reports
---
RT wants to spread Moscow's propaganda here. Let's treat it that way. – To Inform is to Influence
It should register as an agent of a foreign government. By James Kirchick September 20 James Kirchick is a visiting fellow at the Brookings Institution and the author of "The End of Europe: Dictators, Demagogues, and the Coming Dark Age." Last week, the Russian government-funded cable network RT announced that its American arm had been asked by the Justice…
FSB and Communications Watchdog vs Google cache – To Inform is to Influence
Roskomnadzor warned communications providers that their networks could be equipped with uncertified Google servers. The government institution learnt about the use of these devices from the FSB. Roskomnadzor has sent information that Google is installing uncertified Google Global Cache servers, used to increase the speed of access to Google resources, on the networks of Russian…
U.S. Forces Korea: Evacuation message is fake
Families of service members and other DoD civilians received a fake message to evacuate the Korean Peninsula.
---
US Domestic Policy Reports
---
The fake Tea Party Twitter account linked to Russia and followed by Sebastian Gorka – CNNPolitics
@tpartynews looked as American as could be. But it was linked to Russia's Internet Research Agency, a shadowy news service with ties to the Kremlin.
Trump Has Given Russia Hawks Little to Complain About | The Nation
Appointment hearings for Jon M. Huntsman and A. Wes Mitchell were wholly in line with the Beltway consensus on Russia.
Kremlin Denies Role In Russia-Linked Facebook Ads
The Kremlin has denied any involvement in Russia-linked Facebook advertisements that were posted on the popular social network during last year's U.S. presidential election campaign. "W…
Facebook's Frankenstein Moment – The New York Times
A series of scandals have opened up the possibility that the company may have created something it can't fully control.
Facebook To Require Disclosure Of Those Who Buy Political Ads
Facebook, which has been under pressure for running ads purchased by Russian operatives during last year's U.S. presidential campaign, has announced that in the future it will require publi…
Thoughts on Facebook's 9 plans to curb election interference | TechCrunch
Election meddling is Facebook's next adversary, and it's got a plan to attack it just like it did with fake news. Solutions to both these scourges come too..
Trump Dismisses 'Russia Hoax' as Facebook Turns Over Ads Tied to Campaign – The New York Times
The president asserts that the "Fake News Media" had the most sway in the 2016 election, and he again denies any Russian role in the campaign.
WSJ: US Monitored Paul Manafort After Leaving Trump Campaign
Former Trump campaign manager Paul Manafort was placed under surveillance by U.S. authorities after he resigned in August 2016, The Wall Street Journal reported Thursday.
As the Russia investigation continues, the focus has intensified on Ukraine | The Independent
A hearing took place last week in Kiev on Andrii Artemenko's efforts to have his citizenship restored. A day later John Bolton, the former American envoy to the UN, and a staunch Donald Trump supporter, told an international conference in the city that he expected some of the people around the US President to go to prison. Investigations into Paul Manafort, meanwhile, are looking at his activities in Ukraine.
Skadden, Big New York Law Firm, Faces Questions on Work With Manafort – The New York Times
The Justice Department wants information about Skadden's work on behalf of a Russia-aligned former president of Ukraine.
Obama's top 'spy' suddenly changes story about wiretapping Trump
'The truth always seems to come out in good time'
Why Obama Really Spied on Trump | Frontpage Mag
Obama had to spy on Trump to protect himself.
Don Surber: Why CNN told you Trump's campaign was wiretapped
Seems odd, doesn't it, that a cable entertainment network devoted to bringing down the presidency of Donald Trump would suddenly — out of nowhere — report "Exclusive: US government wiretapped former Trump campaign chairman," but there it is.
Why are ESPN, MGM and Other American Companies Purposely Committing Suicide? – Wayne Allyn Root
Liberal CEOs appear to be purposely committing brand suicide.09/22/2017 12:49:03PM EST.