I'm back.
Anonymous expert compilation, analysis, and reporting.
Keep sending your tips, hints, and thoughts.
</end editorial>
---
---
A most interesting address to the UN GA by POTUS – putting the DPRK and Iran on notice. Media have latched on to the "Rocket Man" and "totally destroy North Korea" lines, overlooking much more interesting language.
More Zapad commentary, two Russian VKS CANDIDs violate Baltic airspace, and an exercise component is conducted directly on the Norwegian border. But the big media story around Zapad 2017, and what it may be remembered for, was a Ka-52 HOKUM B attack helicopter conducting an uncommanded launch of two missiles, claimed to have put two Russian journalists in hospital, and burned vehicles. HUD footage released to prove the missiles were not launched intentionally …. Mezhevich commentary on Russia's perceived "non-nation" status of the Baltic States gives good insight into the mindset of Muscovy, seen earlier with Ukraine – if you are not a vassal of Muscovy, you are an enemy deserving of annihilation.
More on Russia's descent into the abyss, most interesting today are reports exposing increasing divergence along ethnic boundaries. Muscovites erect a statue to Mikhail Kalashnikov, and failed to even consider a footnote to Hugo Schmeisser, author of the key ideas used in the AK-47, and forced after WW2 to work in Kalashnikov's design bureau.
Zapad 2017 remains the dominant theme in Belarus. Putinist Moldovan Pres Dodon pays obeisance to his Muscovy masters, while Ukraine reinforces the Transnistria border.
Pres Poroshenko addresses a cadet class at West Point, and makes some excellent arguments to the audience. Senate allocates US$500M in NDAA for aid to Ukraine, including lethal aid. Donbass fires continue. In Luhansk, unknown parties blow up monument to Russian invasion force.
Many interesting, and not so interesting essays on the DPRK, although POTUS' address today will displace all media coverage of the DPRK for days. China's MoD appears to be committing China to supporting the DPRK against the US.
In the US domestic arena, media reporting that Manafort will be indicted, exactly for what they are not commenting.
---
POTUS UN ADDRESS
---
LIVE: PRESIDENT TRUMP SPEECH TO UN GENERAL ASSEMBLY 9/19/17 LIVE STREAM – YouTube
Trump Threatens North Korea in UN Speech Transcript | Time.com
President Donald Trump used his first United Nation address to threaten North Korea Tuesday
---
Russia / Russophone Reports
---
Is Russia Rehearsing for a Major War?
Russia and Belarus say their "Zapad" war games are defensive, but their neighbors don't believe them.
What would a Russia-NATO war look like? Russia's wargaming it right now. – The Washington Post
NATO expressed concern about the size of the war games, which Russian President Vladimir Putin was personally observing.
Report Of Errant Missile Strike At Russian Exercise Prompts Military Response
A Russian website posted a video it said showed an errant rocket from a helicopter hitting close to at least two people watching the joint Russian-Belarusian exercise Zapad 2017, prompting statement…
Russian Helicopters May Have Fired on Bystanders at Zapad Military Drills
Two people were hospitalized with serious injuries after a helicopter accidentally fired on bystanders at the Zapad 2017 military exercises, the online news portal 66.ru cited a source as saying on Tuesday. The week-long drills in Western Russia and neighboring Belarus kicked off last week, with around 13,000 troops, hundreds of tanks, aircraft, warships and other military hardware participating. The incident reportedly took place at the Luzhsky range near St. Petersburg either on Monday or Sunday. President Vladimir Putin visited the range on Monday. The unnamed source told 66.ru that there appeared to have been a technical glitch on board "and the missiles blasted off on their own." "At least two cars burned down, two people were seriously injured, they are now hospitalized," the source said. "The victims were most likely journalists." The Russian Defense Ministry said two attack helicopters simulated aerial reconnaissance and close air support missions on Monday as part of Zapad 2017. Video footage accompanying the news report appears to show one of the helicopters misfiring in the direction of camera crews. The Defense Ministry's press service denied that the incident took place on Monday, saying "all social media messages about 'rounds on a crowd of journalists,' 'a large number of seriously wounded' are either a deliberate provocation or someone's personal stupidity." "[Video footage] recorded an event that occurred at another time, when army aviation helicopter crews practiced ground attacks as part of a tactical exercise." The press service said one of the helicopters engaged a wrong target, adding that one truck was damaged and no people were hurt from a self-propelled rocket hit.
Вертолёт дал залп по зрителям. Видео из кабины. – YouTube
[Footage of missile launch; HUD recorder footage; The Russians appear to be telling the truth here – uncommanded missile launch.]
На учениях «Запад-2017» боевой вертолет обстрелял толпу зрителей – YouTube
Видео из кабины Ка-52, который на учениях "Запад-2017" открыл огонь по зрителям – YouTube
A Russian helicopter accidentally fired on spectators during war games, state TV says – The Washington Post
The Russian defense ministry denied the claim of injured onlookers as "purposeful provocation."
Helicopter mistakenly fires on parked vehicles in Russia war games: media
A military helicopter on a rural training exercise in western Russia mistakenly fired rockets at a group of parked vehicles, knocking at least one person to the ground, footage posted by Russian news sites and on social media showed.
Putin attends NATO-feared Zapad military exercise
Russian President Vladimir Putin has attended the weeklong war games with Belarus that have demonstrated the Russian military's resurgent might and made neighboring countries nervous.
Putin Observes Zapad Military Exercises Near NATO's Eastern Flank
Russian President Vladimir Putin on September 18 attended a joint military exercise with Belarus near NATO's eastern flank that has fanned already deep tensions between Moscow and the West. …
Putin Observes Zapad 2017 Military Exercises
Russian President Vladimir Putin on September 18 attended a joint military exercise with Belarus near NATO's eastern flank that has fanned already deep tensions between Moscow and the West. The war games are officially set to involve 12,700 troops. But Western officials have said the maneuvers could include some 100,000 personnel in what they call a Russian show of power amid the ongoing standoff with the West over Russian aggression in Ukraine. (Reuters)
Neighbors fret as Putin, Russia kick off war games on border with Europe – ABC News
Neighbors fret as Putin, Russia kick off war games on border with Europe
Russia-Belarus Zapad 2017 war games – Photo story
Bang in Norwegian borderland as Russia's Northern Fleet advances with heavy arms | The Independent Barents Observer
Locals in nearby Norwegian settlements report sounds of massive bombardment as more than 600 soldiers from Russian Arctic forces engage in an exercise parallel to the Zapad-2017.
Russian military aircrafts violate airspace of Lithuania during West-2017 drills – 112.international
Two Russian military aircrafts Il-76 invaded the airspace of Lithuania on September 16, while Russian-Belarusian West-2017 military exercise is under way, as Delfi.lt reports with a link to Lithuanian MFA. The Russian military aircrafts were flying over Lithuanian territory for two minutes. They were heading towards one of the airfields in Kaliningrad region from the main territory of Russia. MFA of Lithuania handed a protest note to the Ambassador of Russia due to the incident, demanding explanations and taking measures for non-repetition of such incidents in future.
UAWire – Two Russian planes violate Lithuanian air space during Zapad-2017 exercises
On Saturday, September 16, two Russian Il-76 military transport planes flew into Lithuanian air space, Delfi news agency reported, citing …
Russia's War Game Spills Into NATO Airspace, Causing Diplomatic Spat
The Baltic NATO ally summoned Russia's envoy to demand an explanation, but Moscow claims the incursion was an emergency call which is being "politicized."
UAWire – Latvian Security Police have developed a guide for government employees on how to recognize spies
The Latvian Security Police has developed recommendations for government officials on the detection of spies, reported DIENA newspaper. Civil …
Window on Eurasia — New Series: 'For Russia, Estonia, Latvia and Lithuania Should Not Exist,' Russian Expert on Baltic Region Says
Paul Goble Staunton, September 19 – Nikolay Mezhevich, a St. Petersburg professor who heads the Russian Association of Baltic Research, says that "for Russia the [three Baltic] countries should not exist" and that there are no prospects for an improvement in relations because the Baltic regimes can function only as anti-Russian actors. In an interview with Rubaltic's Aleksandr Nosovich following a conference at the Kant Baltic Federal University in Kaliningrad on relations between Russia and Poland, Mezhevich says that relations with Warsaw while bad now can improve but those with the Baltic countries never can (rubaltic.ru/article/politika-i-obshchestvo/19092017-s-polshey-u-rossii-vozmozhny-khoroshie-otnosheniya-s-litvoy-net-/). Russians and Poles, he continues, have "a common mentality: they are similar people with a common understanding of life. "But "with Lithuania, normalization is impossible," in any case, Mezhevich says, he does not expect to live to see it. That is because Vilnius like Riga and Tallinn can only exist by blaming Russia for all of their own shortcomings. Asked by Nosovich what the "optimal" Russian policy toward the Baltic countries should be, the St. Petersburg professor is blunt: "There are no such countries. For Russia, there are no such countries. Legally, they exist, but we do not maintain any economic or political contacts with them." The Baltics are thus "a dead zone, a Chernobyl." He nonetheless opposes breaking diplomatic relations with them. "Why given them that happiness?" Mezhevich asks rhetorically. "They are always dreaming about this. But the presence of diplomatic ties does not mean that me should develop any contacts with them because in these countries already nothing will change." Regardless of who wins elections in any of them, "the political regimes [of the three] are set in stone once and for all and will not change. Any Baltic politician who falls into the System will instantly be 'worked over'" until he fits in with that reality. This is clear in Lithuania and Estonia, "and in Latvia it will be the same."
Ministry of Defence on Twitter: "UK Chief of Defence Staff Air Chief Marshal Sir Stuart Peach elected new @NATO Chairman of the Military Committee: https://t.co/cdeRD2OODU https://t.co/TVWAKenmMT"
In Russia Putin's right to use military force abroad proposed to be limited – In Russia Putin's right to use military force abroad proposed to be limited – 112.international
The period of use of Russian armed forces outside of the country is proposed to be reduced to 60 days
Window on Eurasia — New Series: Russia is Under Terrorist Attack and Moscow Doesn't Know What to Do, Nesmiyan Says
Paul Goble Staunton, September 19 – Every day for the last two weeks, tens of thousands of Russians have been evacuated from shopping malls, government offices and other facilities in response to anonymous telephone calls saying that bombs have been planted in these places (takiedela.ru/news/2017/09/19/zvonki-po-uprave/ and themoscowtimes.com/news/bomb-scares-continue-across-russia-costing-authorities-more-than-5-mln-58980).Moscow officials have been unwilling to acknowledge that Russia is "under a terrorist attack" or even report about it, Rosbalt blogger Anatoly Nesmiyan points out. But regional and local media are filled with stories about this, and they highlight that Moscow clearly doesn't know what to do (rosbalt.ru/posts/2017/09/19/1647114.html). "This by the way," he continues, is "a quite bad sign," one that suggests that "the authorities obviously are not capable of getting involved and influencing the situation." They aren't even talking about tightening the screws or taking some other propagandistic measures to address they situation: they are simply remaining silent, he says. And the Russian people can see this perhaps more clearly than ever before given that local and regional media and numerous Internet sites are giving dry reporting about what is going on, the kind that is especially frightening because it is understated rather than hyperbolic and alarmist. For Russians, it is clear that "such massive and coordinated attacks are something that the country had not known or scene before" and that it constitutes a test of ability of the system to warn about and oppose. But as of today, "no real opposition to the terrorists is yet being observed." And that raises even more questions about the powers that be than it does about who may be behind this new and all too real terrorist wave.
Window on Eurasia — New Series: Three Reasons Putin Should Be Worried about an Ufa Meeting in Defense of the Bashkir Language
Paul Goble Staunton, September 18 – On Saturday, two thousand Bashkirs, including activists from the Bashkort national organization and the Congress of the Bashkir People, demonstrated in their republic capital in defense of their national language and in defiance of local officials who tried to block them from assembling. Artur Asafyev of Radio Liberty's Tatar-Bashkir Service, reports that those assembled carried portraits of some of the most well-known Bashkirs in history, including Zaki Velidi, and the activists who addressed them primarily in Bashkir and demanded that the study of the national language be obligatory in republic schools (idelreal.org/a/28739426.html). Prominent among the participants were instructors in the Bashkir language who shared their anger about official investigations into whether pupils were being allowed to opt out of the study of the national language. They said that the authorities were cutting back sharply in the number of teachers of Bashkir in the republic. According to Asafyev, "practically every one of those speaking called for the retirement of republic head Rsutem Khamitov as well as of Bashkir education minister Gulnaz Shafikova, whom the activists blame for the critical situation in which the Bashkir language finds itself today. Alfiya Uzyanbayeva from the Urals region told the group that "the policies of Rustem Khamitov are leading to a split in society. We already have constantly see this Kremlin 'Bashperson' and have reached conclusions about his policy of ethnocide and the destruction of culture, education, cadres, and the media." "Where is our Bashkir satellite TV channel?" she asked. "We don't have BST; we have KhST," with the "Kh" standing for Khamitov. Bashkirs may be down now, but they are not out. And they will struggle for change because "we need our own Bashkir khan," not some hireling of Moscow. Uzyanbayeva and other speakers called for the expansion in the use of Bashkir in government offices on an equal basis with Russian. "Our cause is just!" they declared. Moreover, "we have nowhere to retreat – this is our Motherland! We will defend and preserve the Bashkir language for eternity!" As the meeting was concluding, the police moved in and tried to arrest the leading speakers. But others in the crowd blocked their way, and no arrests were made at the scene. Later, however, it became known that police had gone to the homes of some of them, detained them briefly and then let them go. Normally, few would pay much attention to a demonstration of any kind in Ufa. But this one was different and merits comment because it contains three clear warnings to Vladimir Putin that the Kremlin leader will ignore only at his peril. First, Putin's tilt toward Russian and against the non-Russian languages is exactly the kind of issue that can unite non-Russians as almost nothing else can. It thus guarantees that unless he moderates his course, there will be ever more protests like the one in normally quiescent Bashkortostan – and these demonstrations will be ever more radical. Second, this trend will be marked by two other things as well, both of which threaten the stability of the Russian Federation. On the one hand, they will increasingly pit the ethnic Russians against non-Russians in the republics; and on the other, they will divide the nationalists in the population from republic officials who owe their jobs to the Kremlin. The first will ensure that there will be more clashes between Russians and non-Russians, the very thing all Soviet and post-Soviet leaders until Putin have tried to prevent; and the second will guarantee that local officials will increasingly lose control of the situation and have to choose between Moscow and their own people. Some, of course, will choose Moscow; but not all, and the ones who don't will give the center the kind of challenge it has not seen since the early 1990s. But both the one and the other will make the country less stable. And third, while the discourse of these protests will begin with language and the need to defend native tongues, it will not end with that. As the Bashkirs said in Ufa, they have "nowhere to retreat" because their Motherland as they define it is at risk. That could lead to a new kind of parade of sovereignties, exactly the outcome Putin takes pride in having prevented up to now.
Window on Eurasia — New Series: Calls to Restore the Chinese Name for Tuva Rile Russians
Paul Goble Staunton, September 19 – Tuva seldom gets much attention except from stamp collectors who prize its triangle-shaped postage stamps that were issued when it was nominally independent before 1944 and from admirers of the late Richard Feynman, whose passion for it was described in Ralph Leighton's 1991 book, Tuva or Bust. It did attract the interest of some when during perestroika, violent clashes between Tuvans and ethnic Russians led to the departure of many of the latter. (At present, Tuva, located on the Mongolian border, has approximately 320,000, 80 percent of whom are ethnic Tuvans, according to the 2010 census.) But Tuva's obscurity may soon be about to change because an activist there has resuscitated earlier calls to restore the name the region had when it was part of China before 1917, the Uryankhai, calls that have alarmed some Russians who see this as a threat to the territorial integrity of the Russian Federation. Earlier this month, Igor Irgit, a Tuvan activist, published a long article in Tuvinskaya Pravda calling for the change, arguing that it was a matter of simple justice to ensure that people there know their long history and thus that it would represent something similar to what the Sakha have done in Yakutia (tuvapravda.ru/?q=content/vernyom-nazvanie-uranhay). "No one knows from where or even when we took the name Tuva or Tyva and what this means. I have nothing against it," he continued, "but Uryankhai is closer to my heart." Some Tuvans, like Sholban Kara-ool in 2014, have called for this change but not gotten enough support to allow it to happen. But "perhaps now," Irgit says, "this idea has matured and it is time finally to return the true name of the republic to it and to us." The very idea has outraged some Russians who see in it an effort to mobilize those in Tuva who would like independence or a move by forces in Mongolia or China to reacquire a territory they lost a century ago. These objections are highlighted in an article by the Regnum news agency's Siberian editorial staff this week (regnum.ru/news/polit/2323276.html). Boris Myshlyavtsev, a Russian ethnographer, says there is no good reason for renaming Tuva. The name, which derives from local toponymy, is ancient; and no one calls the place Uryankhai now except for the Republic of China on Taiwan. More important, no one in Tuvan calls himself or herself a Uryankhai. But the lack of obvious support for the idea does not mean that it should not be nipped in the bud, Anatoly Savostin, a Russian political scientist says. Such "initiatives," he argues, are designed to "group together definite forces inclined to greater independence in the framework of the state." "It is not excluded," he continues, "that after renaming it Uryankhai, some will begin to speak about the need to shift [from the Cyrillic] to the Latin script and so on." At the very least, all such things will introduce splits within Tuvan society, and such dangers should be a matter of concern for the security services.
Window on Eurasia — New Series: 'Clowns for War' in St. Petersburg Make Fun of Putin's Aggressive Militarism
Paul Goble Staunton, September 18 – In an action yesterday explicitly timed to coincide with the start of the Zapad-2017 military exercise, a group of anti-war activists dressed as clowns made their point by satirizing Vladimir Putin's focus on enemies and war to the neglect of the needs of the Russian people at home. On the decks of the Avrora battleship whose guns signaled the start of the Bolshevik revolution, the activists declared that "it is unjust that schools, hospitals and pensioners still have some support while for the money being spent on them, we could hold military exercise and then kill!" (sobkorr.ru/news/59BF75952E1D8.html). "It isn't important," they continued, "who the enemy is; it is only important that war is something joyous!" The demonstrators carried placards reading "We need enemies," "We need traditional values" and "imaginary enemies," "A clown state," and "I didn't serve, I'm not a clown" (graniru.org/Politics/Russia/activism/m.264047.html). According to local television which covered the action, the clowns were quickly driven off the ship. No one was arrested but the guardians of public order seemed especially concerned that there be no photographs. Nonetheless, many have been posted online (rtvi.com/news/4234-v-peterburge-antivoennyie-aktivistyi-ustroili-aktsiyu-na-kreysere-avrora_-fotoreportaj and newizv.ru/news/society/18-09-2017/antivoennye-aktivisty-naryadilis-v-klounov-i-proveli-aktsiyu-na-kreysere-avrora).
Moscow To Unveil Statue Of AK-47 Inventor Mikhail Kalashnikov
MOSCOW — After several false starts and some grumbling from locals, a prominent statue of a gun-toting Mikhail Kalashnikov, designer of one of the world's most ubiquitous weapons of war, is se…
Monument To AK-47 Designer Kalashnikov Is Unveiled In Moscow
With a sprinkle of holy water and a protester condemning the late Mikhail Kalashnikov as a "manufacturer of death," Russian authorities unveiled a monument to the designer of the widely used AK-47 assault rifle.
Russia Unveils Kalashnikov Statue
A statue of Mikhail Kalashnikov, inventor of the iconic AK-47, was unveiled in Moscow on September 19. (RFE/RL's Russian Service)
Russian Prosecutor Seeks Suspended Sentence For Crimean Journalist Semena
A Russian prosecutor in Crimea has recommended a suspended sentence for Mykola Semena, an RFE/RL contributor who is fighting what he says is a politically motivated separatism charge in court on th…
Russian Interior Ministry Says It Has Shut Down Online Drug Market
Russian police say they have eradicated a major online marketplace for illegal drug purchases. In a document made available to some Russian media outlets on September 19, the Interior Ministr…
---
Belarus Reports
---
Defense chief: Russia would intervene militarily in Belarus if needed | News | ERR
Russia is prepared to intervene militarily in Belarus, similarly to how it did in Ukraine, should the political situation in the former head in a direction unwelcome by Russia, Commander of the Estonian Defence Forces (EDF) Gen. Riho Terras told ERR in an interview.
Here's what pro-democracy activists in Belarus fear most about Russia's war games – The Washington Post
The opposition fears Russian troops might use the Zapad 2017 exercises as an excuse to occupy Belarus.
Russia and Belarus Hold Joint Drills, and Tensions Emerge – WSJ
War games that Russia and neighboring Belarus are currently staging have sharpened tensions with the West—and exposed a rift between Moscow and its closest military ally.
Belarusians Celebrate the Day of the National Flag and the Coat of Arms – Charter'97 :: News from Belarus – Belarusian News – Republic of Belarus – Minsk
The time of cowards, thieves and clowns will be over, the time of heroes is coming.
"Russian Soldiers Gobble Up Our Vodka And Beer Like A Shot" – Charter'97 :: News from Belarus – Belarusian News – Republic of Belarus – Minsk
How do the "unwelcome guests" behave in our country at the West-2017 exercises?
---
Transnistria / Moldova Reports
---
UAWire – Moldovan President Dodon thanks Russia for its position in the face of the 'provocations' by Moldova's government
At a meeting with Valentina Matviyenko, Moldovan President Igor Dodon thanked the Russian authorities for their position regarding the actions of the Moldovan government, which oppose the actions of the Presidernt, RIA Novosti reporetd. Dodon met with the chairman of the Federation Council in Ashgabat, where they arrived for the opening of the 5th Asian Indoor Games. In a conversation with Matviyenko, Dodon noted that there have been both positive and negative aspects in the relations between the two countries lately. "For our citizens, for our exporters, there were some very unpleasant things that occurred for the first time in 25 years of diplomatic relations between our countries," he said. Dodon's statements are related to a number of diplomatic incidents that occurred in 2017 and concern the actions of the Moldovan government and parliament. In May, Moldovan authorities expelled a group of Russian diplomats. In early August, the Moldovan Foreign Ministry declared Russian Deputy Prime Minister Dmitry Rogozin persona non grata. In July, the Moldovan parliament passed a resolution demanding the withdrawal of Russian troops from the territory of Transnistria. These decisions were adopted by the Moldovan government and the parliamentary majority, in opposition to the president. In a conversation with Matviyenko, Dodon called such incidents provocations. "I want to thank the Russian leadership represented by you for the fact that despite all the provocations made by some parties that still control the parliamentary majority and the government, the Russian Federation consistently shows its openness and support to the Moldovan people," he said. In early August, after Rogozin was declared persona non grata in Moldova, Dodon appealed to Russian authorities, asking them to refrain from sanctions against Chisinau. Later, in mid-August, he promised to "overthrow" the Moldovan government if it tried to drag the country into a regional conflict.
Ukraine strengthening military presence on border with unrecognized Transnistria
19.09.17 17:46 – Ukraine strengthening military presence on border with unrecognized Transnistria The leadership of the National Guard of Ukraine has decided to strengthen the defenses of the Odesa region in the areas bordering the territory of unrecognized Transnistria. View news.
UAWire – Withdrawal of Russian troops from Transnistria included on agenda of UN General Assembly
The UN General Assembly included on its agenda the issue of "the complete withdrawal of foreign troops from the territory of the Republic of …
---
Ukraine Reports
---
President to the cadets of the U.S. Military Academy: Never give up your dreams – this is the essence of success — Official website of the President of Ukraine
President of Ukraine Petro Poroshenko visited the U.S. MIlitary Academy "West Point" in the course of the working visit to the United States. The Head of State emphasized that it was a great pleasure for him to be in such a prominent place filled with feelings of duty and honor, aspirations for freedom, democracy and dignity. Many graduates of the Academy have become leaders in the United States. The President recalled hero Tadeusz Kościuszko, who fought for the independence of the United States and for a democratic Poland independent of tsarist Russia. "The centuries passed and we thought that oppression, aggression and disrespect for human freedoms were already in the past. In fact, the world was moving towards progress. However, unfortunately, Russia is still lost in the 18th century, unable to get rid of the legacy of tyranny. With hybrid terror and cowardly aggression, Moscow cannot accept the sovereignty of Ukraine and wants to suppress the will of the Ukrainian people and our freedom. Today, Ukraine is on the forefront for its independence, the future of the World of Free Nations and is among those who are struggling for a new and better world order," the President said. The Head of State noted that Ukrainians have achieved a lot with this understanding. "In 2014, Ukrainians stood with wooden shields against the pro-Russian corrupt regime and snipers in the center of Kyiv. Without any chance of survival, but with a strong desire to change the future. And they seem to be on the right side of history," he stressed. "Dream big and never give up your dreams. This is the essence of success – in the battlefield, in the office or at home," the President noted. He reminded that three years ago when Crimea was occupied and Donbas was plagued by fire nobody believed that Ukraine could withstand the aggression of well-equipped and trained Russia – nuclear power. "War, in particular hybrid one, is not only about technical capabilities and potential. First of all, it is people, their will and beliefs. We are proud that many Ukrainians from all over the world rallied to defend their historic Homeland," Petro Poroshenko said. The President noted that an alumnus of the West Point was among them. "Immediately after the beginning of Russia's aggression against Ukraine in 2014, Mark Paslawsky, nom-de-guerre Franco, left the United States and joined the struggle for our freedom," he said and added with sadness that the hero was killed near Ilovaisk. The Head of State reminded that Mark Paslawsky was awarded the Order of Danylo Halytsky. The President handed it over to his family during the visit to the USA in 2015. "At that time, the whole world witnessed the siege of the Donetsk airport that lasted 242 days. For 242 days, the small Ukrainian garrison was surrounded by the enemy, which consisted mainly of Russian special forces. This is where the Russian blitzkrieg was stopped at the cost of the lives of your peers. Even the enemies called them "cyborgs" for courage and bravery," Petro Poroshenko said. The President added: "Never give up!" – this is their motto – until the final victory no matter what challenges you may face. "Never give up!" – this is the motto of the bravest Ukrainians who have been defending our country and the east border of the democratic community for 1306 days already. They prove that there is no force that can break the spirit and will of a freedom-loving nation". He noted that the American people also knows that well. The President noted that he would tell about his visit to the West Point during the meeting with President of the U.S. Donald Trump.
President: The nuclear non-proliferation system must be effective, otherwise, new North Koreas will emerge every year — Official website of the President of Ukraine
President Petro Poroshenko during the visit to the U.S. West Point Military Academy said that Ukraine is struggling both for its land and for the freedom of the world. "The whole world is with us and we have an effective instrument – sanctions against the Russian economy," the Head of State said, responding to the questions of the meeting participants. He stressed that sanctions against Russia are an instrument that forces it to sit down at the negotiating table. Petro Poroshenko spoke about the negotiations on the UN peacekeeping mission in Donbas. "Russia's illegal annexation of Crimea and aggression in the east of my country completely destroyed the post-war world security, which was based on the UN Security Council. As one of the permanent members of the Security Council, who has the right to veto, became an aggressor. Therefore, we have to decide how to reform the world security system," he said. According to the President, NATO remains the most effective instrument to date. The Head of State also reminded that in 1994, Ukraine gave up the third nuclear potential in the world, having received guarantees of security from the countries of the Budapest memorandum, which was supposed to ensure the security, sovereignty and territorial integrity of our state. It was signed by a number of countries, including the United States. "Instead, we now have to prove that the nuclear non-proliferation system should work. Otherwise, new North Koreas will emerge every year," Petro Poroshenko emphasized, noting the importance of transatlantic unity and solidarity with Ukraine.
President: The decision to supply American defensive weaponry will increase the cost of Russian aggression — Official website of the President of Ukraine
"Unfortunately, the issue of providing Ukraine with new defensive weapons triggered heated debates in the United States on the basis of several myths," President Poroshenko noted during his speech in the U.S. West Point Military Academy during the working visit to the United States of America. "First – that American weapons will force Russia to send its weapons to Donbas. But Russia has never stopped doing this. Second – that American weapons will not solve the situation as a whole. But this will definitely help resolve the situation in combination with sanctions and diplomatic pressure. Third – that the supply of American weapons will increase the tension. But this will increase the cost of Russian aggression. In the face of such severe deterrence, Moscow would think twice before allowing a new offensive," Petro Poroshenko emphasized. The President noted that the adoption of a positive decision on this issue can save lives of Ukrainian soldiers and emphasized that this is the most important.
Russia cannot accept Ukraine's independence – Poroshenko
During a working visit to the United States, Ukrainian President Petro Poroshenko on Monday visited West Point Military Academy where he addressed the cadets and staff, according to the presidential press service. News 19 September from UNIAN.
President: We appreciate that the U.S. stands by our side in our struggle — Official website of the President of Ukraine
"We appreciate the fact that the U.S. stands by our side in our struggle," the Head of State said in his speech in the U.S. Military Academy "West Point". He especially emphasized that today the leadership, the President of the United States have proved to be strong and reliable advocates of international law. "Your country remains a world leader in providing practical assistance to the Armed Forces of Ukraine," Petro Poroshenko noted and added that Ukraine's military expenditures have already exceeded 6% of GDP, "a figure much bigger than the commitment of NATO members". The President stressed that, with the help of the United States, we were able to "ensure a much more successful development of a completely new Ukrainian army capable of stopping the Russian army, one of the strongest in the world". "We appreciate the advices given by our American partners in the security and defense reform, including General Abizaid, who is also a graduate of the West Point," Petro Poroshenko stressed. The President recalled the state of the Armed Forces of Ukraine in 2014 and the legal regulation banning access of NATO experts to the military institutions of Ukraine. "I do not need to say what forces were behind this regulation. In consultation with our parliament, I ordered an immediate abolition of this regulation. As a result, we can work together on reforming the Armed Forces of Ukraine. And I am very proud that we create one of the strongest armies on the continent together," the President said. The President invited the representatives of the West Point Academy to join the military education project in Ukraine through the partnership with one of the Ukrainian military institutes. "We are waiting for you in Ukraine, where you can learn more and get your own experience of the hybrid war," he said. The President gave examples of successful military cooperation between Ukraine and the United States and said that battalions prepared by American instructors showed the best tactics and the lowest level of casualties during hostilities. "Due to the technical equipment already provided by the United States, the number of victims among the Ukrainian soldiers has significantly decreased and thanks to the new defense technology, we can save more lives, both civilian and military," Petro Poroshenko stressed.
U.S. Senate allocates $500 mln in security assistance for Ukraine, authorizes lethal aid
The U.S. Senate has passed the draft of the National Defense Authorization Act 2018, which provides for the allocation of $500 million to support Ukraine in the field of security and defense, that's according to a tweet by Ukrainian President Petro Poroshenko, who continues his U.S. visit. According to the statement, the Act authorizes the supplies of lethal defensive assistance to the Ukrainian army. "For the first time at the legislative level, it is proposed to provide Ukraine with such defensive means: air defense and sea surface monitoring radar systems, naval demining means, littoral and coast guard vessels," the report said.  According to the NDAA's summary, the bill restricts half of the funds mentioned until the U.S. Secretary of Defense certifies that "Ukraine has taken substantial action to make defense institutional reforms critical to sustaining capabilities developed using security assistance." As UNIAN reported earlier, at a Monday meeting with leaders of the Ukrainian community and Crimean Tatar organizations in New York Poroshenko said that the U.S. lethal aid would not only let Ukraine considerably increase costs to be put on the Russian aggressor should it resort to an offensive, but it also unlocks similar assistance from the United Kingdom, Canada, and other states
US Senate approves $500 million for lethal weapons for Ukraine's Army, – Poroshenko – US Senate approves $500 million for lethal weapons for Ukraine, – Poroshenko – 112.international
For the first time at the legislative level it is proposed to provide Ukraine with serious defense funds
Kremlin reacts to U.S. Senate's move to approve lethal aid to Ukraine
Moscow believes the transfer of U.S. lethal weapons to Ukraine will not contribute to the Donbas conflict settlement, according to the Russian President's Press Secretary Dmitry Peskov, as reported by an UNIAN correspondent in Russia.  "This is Poroshenko's statement [on U.S. Senate approving a $500 million assistance package to Ukraine and lethal defensive aid]. We have not heard any statements on the matter from the American party. I am not aware if there have been such statements," Peskov said. Answering an UNIAN reporter's question on how the Kremlin will proceed if the information is confirmed, Peskov said that this was a bilateral issue of Ukrainian-American relations in terms of granting a loan, while as for the lethal aid, Moscow "repeatedly stated its clear and unambiguous position." "Of course, such a decision will not contribute to the settlement of the conflict in the southeast of Ukraine and de-escalation of tensions," Peskov said. Read more on UNIAN:https://www.unian.info/politics/2142941-kremlin-reacts-to-us-senates-move-to-approve-lethal-aid-to-ukraine.html
US allocates $500 million for military aid to Ukraine – 112.international
U.S. decision to provide Ukraine with defensive weapons will open this possibility with other countries, – Poroshenko – 112.international
If the United States give Ukraine defensive weapons, this decision will open a possibility of delivering weapons from other countries. President Petro Poroshenko said this in his meeting with Ukrainian diaspora, broadcasted by 112.UA Channel. "Decision to provide Ukraine with defensive weapons will open this possibility with other countries," the President said. He also noted that "the whole world now votes for supporting Ukraine and our reforms". Poroshenko emphasized that sanctions against Russia is a victory of the Ukrainian diaspora. "Ukrainians are a nation of peace. But we paid for our independence with more than 10,000 lives," the President said.
President and his wife met with the leaders of the Ukrainian community and the representatives of the Crimean Tatar organizations in the United States — Official website of the President of Ukraine
President Petro Poroshenko and his wife Maryna Poroshenko met with the leaders of the Ukrainian community and the representatives of the Crimean Tatar organizations in the United States. The presidential couple examined the Ukrainian museum in New York.
Poroshenko: Ukraine's defense spending exceeding requirements for NATO Allies
Ukraine's military spending exceeds 6% of the country's GDP, Ukrainian President Petro Poroshenko said Monday in his address at West Point Military Academy during his working visit to the United States, the president's press service reports. News 19 September from UNIAN.
AndersFogh Rasmussen on Twitter: "2 things are crucial now: improved defensive systems for the Ukrainians, and a peacekeeping force to protect civilians across the region 2/3 https://t.co/mSEfY4X0bH"
AndersFogh Rasmussen on Twitter: "I'll publish more thoughts soon but my main one today: it is to Europe's shame that this conflict is allowed to continue 3/3 https://t.co/u2GJqXqaix"
AndersFogh Rasmussen on Twitter: "We should provide Ukraine with defensive systems. My first report from the eastern #Ukraine contact line https://t.co/gxbVPGPGZ4"
Former NATO Secretary General calls for supplying Ukraine with weapons – 112.international
After his trip to the Donbas conflict zone, Rasmussen is sure that it's a necessary step.
UAWire – Kerry on the deployment of UN peacekeepers in the Donbas: We need to make sure that this is not a trap
During the Yalta European Strategy (YES) Annual Meeting in Kyiv, Former US Secretary of State John Kerry stated that he  is concerned that the …
Ukrainian Armed Forces well on their way to NATO compatibility – Commander of Operation UNIFIER – 19.09.2017 09:50 — Ukrinform News
Ukrainian Armed Forces are well on their way to compatibility with NATO standards.
Roman Tsymbaliuk | Kremlin's last hope in Ukraine – News about politics | UNIAN
Watching Russian propaganda shows on TV and even more so, participating in them is unsafe for one's health. But nevertheless, this flow of Ukraineophobia pushes us toward very curious conclusions. After all, on the one hand, agenda on Russian TV is too primitive and should be pushing the public toward the saddest anti-Ukrainian sentiment but on the other hand, it fully reflects Russian state policy at this particular moment in time. Three years ago, talking heads in Russian TV screens were calling on thousands of "volunteers," those on "vacation," and other invasion-happy bastards to go to war with Ukraine, and they were doing it non-stop. Back in the day, rejoicing over the impunity following Crimea seizure, the Russian society for some reason believed in its rise from their knees. It suddenly craved for glorious victories and bloodshed, and adepts of Russia's infamous "spiritual ties" massively lunged for Donbas to kill Ukrainians and, in order to get rid of the last bits of moral restraints, branded these Ukrainians "Banderites" and fascists. Today – and it has long been the case – the priorities have totally been shifted. The war itself, occupied Ukrainian territories, and crimes committed by Russian authorities in Ukraine have been completely wiped out from media agenda. They even stopped bringing all those collaborators from Donbas to TV studios even though the latter continue to demand from Ukraine their long-sought "direct dialogue." Ukraine has become a total disappointment to Russians. To all of them, actually. Pro-Putin citizens are now anything but happy over the fact that, no matter how much they've been promised, the Ukrainian state never collapsed. It neither froze to death without Russian gas nor did it suffer a critical default. Moreover, the world community never "gave up" on Ukraine and even "Russian asset" Trump pursues Obama's "vicious practice" on supporting the Ukrainian state. And even if Javelins have not yet arrived from overseas, military and technical cooperation continues along various lines, while Washington is taking steps to boost Ukrainian defenses. The so-called Russian liberals are also upset. It turns out that they expected the post-Maidan Ukraine to become a kind of "Russia without Putin" and an example for Russia with Putin, a paradise where corruption has been exterminated and an ideal Western government model will start working, while successful Ukrainian reforms will be praised in future textbooks. Both mentioned groups take beyond the brackets Crimea and Donbas, while actively criticizing the Ukrainian government. They tend not to enjoy the fact that "Russophobic" conferences are held in Kyiv. Indeed, if you fail to notice the occupation of Ukrainian territories, you can find a lot of arguments on the issues of "we are all brothers" and "Down with the Junta!" Nobody is expecting anymore the return of the "pro-Russian" Yanukovych, as everyone understands that the stench of the "Russian world" crawling from Donbas has ruled out such an option. And all this rhetoric suggests that Moscow's only hope to break Ukraine is political strife within Ukraine itself, and this is not without reason, by the way. With varying intensity, the Kremlin "hammered down" on all Ukrainian presidents, including Yanukovych, when he was still at the helm. The Kremlin continues this strategy today. Fairly speaking, the president's office on Bankova Street very often jeopardizes the situation in some stupid ways and contributes to public frustration within the country. And here is where a curious situation emerges – everyone who leads Ukraine toward anarchy plays into the hands of Russian propaganda. From time to time, Moscow calls for the third Maidan and the overthrow of the Ukrainian government, endless snap elections and political collapse, which would lead to military helplessness. The Ukrainian elite needs to remember the events of 2013-2014, when greed, stupidity and narrow-mindedness blinds, while state leaders forget that our country is not a "Ukraine Island" but a territory surrounded by aggressive players. Those neighbors will always be playing a game at the expense of the interests of the weak. As Comrade Zhirinovsky says, "The more scuffle in Ukraine, the easier it is to bring it back under Kremlin control." Roman Tsymbaliuk, Moscow
Militants launched 14 attacks on Ukrainian troops in Donbas in last day – 19.09.2017 09:20 — Ukrinform News
Militants launched 14 attacks on positions of the Armed Forces of Ukraine in ATO area in Donbas over the past day. Two Ukrainian soldiers were wounded.
ATO report: terrorists in Donbas violated cease-fire 14 times yesterday, Ukrainian military retaliated, – ATO HQ
19.09.17 11:43 – ATO report: terrorists in Donbas violated cease-fire 14 times yesterday, Ukrainian military retaliated, – ATO HQ In the evening yesterday, the situation in the anti-terrorist operation (ATO) area remained tense but controlled by the Ukrainian army. View news.
UAWire – Ukrainian general: Ukraine does not retake Donbas by force to avoid international condemnation
Ukrainian Major General Oleg Mikats is sure that the retaking of Donetsk and Luhansk, which is currently occupied by separatist fighters, will lead to the condemnation of Ukraine by the international community and a full invasion by Russian troops. According to the commander of the operational and tactical group, "Luhansk", if the Ukrainian army retakes Donetsk and Luhansk, the international community will perceive that action as a violation of the Minsk Agreements. Ukraine will be accused of violating the Minsk Agreements and it will untie Russia's hands. Russia deploy its forces and equipment and will use its non-ballistic missiles of which it has plenty. After that, Russia will not be perceived as an aggressor any more, it will look like the savior, Mikats noted in his interview with Apostrophe. Additionally, any offensive by the Armed Forces of Ukraine would risk the removal of sanctions from Russia. "And we will remain one on one with Russia. We will be left with nothing, and the Russian Federation will do anything that it wants," the Major General expressed. According to him, at this stage, the return of Donbas to Ukraine needs to be done through political methods and to pursue the well-defined steps outlined in the Minsk Agreements – border closure and the withdrawal of Russian Federation troops and militants from the separatist-held territories of Ukraine. Earlier, the Commander of the National Guard of Ukraine, Lieutenant General Yuriy Allerov, stated that the return of the occupied territories of Donetsk and Luhansk regions is enough to win back the control of the border. According to him, without direct communications with Russia, the situation will settle down pretty fast, and people will have a better idea of what was really going on.
Occupied areas of Donetsk region owe 1.6 billion hryvnia for water that should be paid by Russia, – Zhebrivskyi
19.09.17 12:36 – Occupied areas of Donetsk region owe 1.6 billion hryvnia for water that should be paid by Russia, – Zhebrivskyi The debt to Voda Donbasu utilities company for water consumed on the occupied area of the Donetsk region has reached about 1.6 billion hryvnia ($61.54 million). View news.
Detained arms supplier gives important tips on Russia involvement in Donbas war – journalist
Testimony by one of the high-ranking mercenaries who was detained by Ukraine's counterintelligence operatives June 28, 2017, will be a useful tool aimed at proving Russia's war crimes in Donbas at the European Court of Human Rights, a journalist and editor-in-chief at Censor.net Yuri Butusov wrote on Facebook. News 19 September from UNIAN.
American soldiers went on guided tour to military base of Petro Franko tactical air brigade. PHOTOS
19.09.17 17:16 – American soldiers went on guided tour to military base of Petro Franko tactical air brigade. PHOTOS Participants of the aviation section of Rapid Trident 2017 exercise in the Lviv region have visited Petro Franko tactical air brigade. View photo news.
Explosion At Separatist Monument Rocks Luhansk, No Injuries Reported
An explosion at a separatist-installed monument rocked the center of the eastern Ukrainian city of Luhansk on September 18, according to local media reports.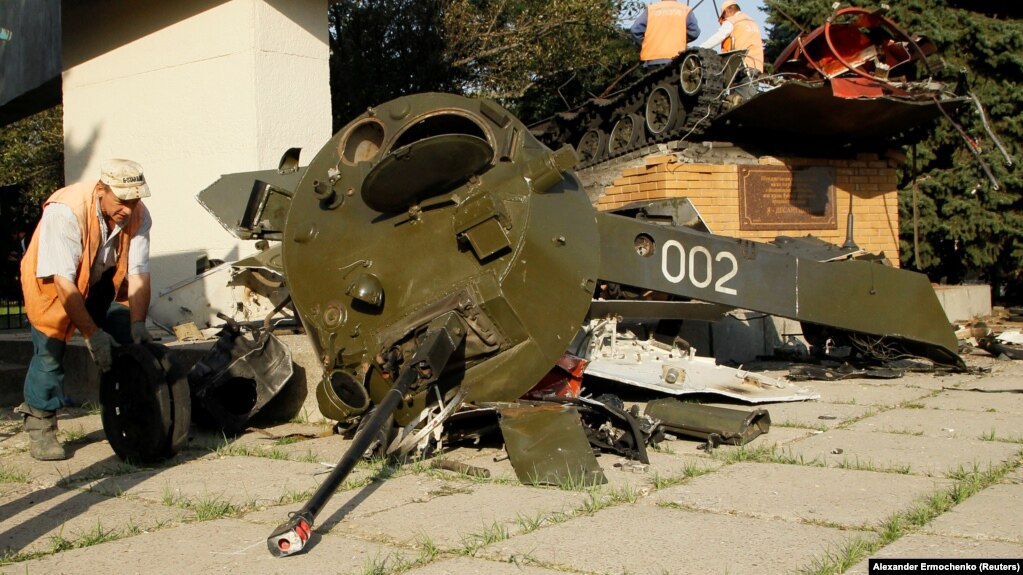 Canada, UK to jointly train Ukrainian military – 19.09.2017 10:45 — Ukrinform News
Canada and the United Kingdom will launch a joint training course for the Ukrainian military next year.
Canada, UK to jointly train Ukrainian soldiers – 112.international
Canada and Great Britain will jointly train Ukrainian soldiers. This was reported by the Prime Ministers of two countries Justin Trudeau and Theresa May. According to Canadian leader, this will help counter Russian aggression in Eastern Europe. All participants will be able to improve battle skills, he said. Currently, two hundred Canadian and a hundred of British military instructors are constantly working in Ukraine. The countries also plan to hold joint training in Latvia in October.
2017 Military Strength Ranking: Why Ukraine taking 30th place? – 112.international
The Global Firepower international rating annually provides a unique analytical presentation on the military forces of the countries of the world. This year, the US, Russia and China have traditionally divided the first three places among themselves, Ukraine ranked 30th in the list
Clashes Erupt After Acquittals In Trial Over Deadly 2014 Violence In Odesa, Ukraine
Police in Ukraine are investigating clashes that broke out on September 18 after a court acquitted 19 defendants who were tried over deadly violence between pro-Russian and Ukrainian activists in th…
Ukrainian Security Officers Confront, Injure RFE/RL Journalists
The security service of the Ukrainian president used force to prevent two RFE/RL journalists from filming in a public place on September 15, pushing a cameraman to the ground and leaving him with a concussion and other injuries. The chief of the State Security Department later issued an apology and opened an investigation. (RFE/RL's Ukrainian Service)
European Council criticizes xenophobia in Ukraine – European Council criticizes xenophobia in Ukraine – 112.international
European Council criticizes xenophobia in Ukraine
Ukrainian Court Arrests Director Of Youth Camp Where Fire Killed Three Girls
ODESA, Ukraine — A court in Ukraine's Black Sea port city of Odesa has arrested the director of a youth camp, where fire killed three girls on September 15. The Kyiv District Court in Odesa o…
Kyiv Diplomats Visit Ukrainian Teenager Hryb Held In Russia
Ukrainian diplomats have visited a Ukrainian teenager held in Russian custody on terrorism-related charges for the first time since his arrest. Ukrainian Foreign Ministry spokeswoman Maryan…
Ukrainian teenager's condition in Russian prison deteriorates without medicines
The condition of a 19-year-old Ukrainian citizen Pavlo Hryb who has illegally been detained by the Russian Federal Security Service (FSB) in Belarus has deteriorated without medicines, according to Espreso.TV. News 19 September from UNIAN.
In Kyiv, Saakashvili Demands Documents That Stripped Him Of Ukrainian Citizenship
KYIV — Mikheil Saakashvili, the ex-governor of Ukraine's Odesa region and former president of Georgia, has arrived in Ukraine's capital, where he vowed to challenge the revocation of hi…
UAWire – Crimean authorities warn of possible power outages in fall and winter season
Sergey Bazhan, the Kremlin-controlled Deputy Minister of Fuel and Energy of the Peninsula reported that the Crimea might need to endure …
---
Russia / Iran / Syria / Iraq / OEF Reports
---
Iran Is Smuggling Increasingly Potent Weapons Into Yemen, U.S. Admiral Says – The New York Times
The outgoing top Navy admiral in the Middle East said that Iran is helping worsen the conflict in Yemen by giving rebels more precise missiles to fire deeper into Saudi Arabia.
Western Countries Say No Syria Reconstruction Without Political Transition
Countries opposed to Syrian President Bashar al-Assad say they will not support the reconstruction of the war-torn Middle Eastern country until there is a political transition there. "W…
Israel says it downed Hezbollah drone headed toward Golan – The Washington Post
The Israeli military said it shot down an Iranian-made spy drone operated by the Hezbollah militant group as it approached the Golan Heights on Tuesday, and vowed to take further tough action against any attempts by its archenemies to violate the country's sovereignty.
WATCH: Israel intercepts Iranian-built drone on Syrian border – Israel News – Jerusalem Post
The Patriot anti-ballistic missile intercepted the unmanned aerial vehicle before it penetrated Israeli skies.
Hundreds of ISIS Women From America, Europe, Asia Will Be Expelled From Iraq, Along With Their Children
The 509 women and 813 children are from 13 countries across Europe, Asia and North America.
Iranian Baha'i Leader Released After Completing 10-Year Sentence
Mahvash Sabet, one of the leaders of Iran's Baha'i community jailed by authorities, has been released after serving her 10-year-prison sentence.  Sabet, 64, and six other Baha&#3…
---
DPRK / PRC / WESTPAC Reports
---
President Donald Trump to U.N.: North Korea's 'Rocket Man' Kim Jong Un On A Suicide Mission : NPR
In this first address to the United Nations General Assembly, President Trump took on the global threats posed by North Korea and Iran and reiterated his "America First" approach to policy.
Trump Threatens to 'Total Destroy' N. Korea – NBC News
Trump tells United Nations General Assembly that North Korean Leader Kim Jong Un "is on a suicide mission" and stressed the world is in a time of peril.
In U.N. speech, Trump threatens to 'totally destroy North Korea' and calls Kim Jong Un the 'Rocket Man' – The Washington Post
"We will have no choice but to destroy North Korea," Trump said, before calling the North Korean leader by a nickname he gave him over the weekend. "Rocket Man is on a suicide mission for himself."
President Donald Trump blasts 'Rocket Man' Kim Jong Un in UN General Assembly 2018 address – YouTube
Mattis: Use of tactical nuclear weapons discussed with South Korea
WASHINGTON – Defense Secretary Jim Mattis confirmed Monday that the U.S. and South Korea have discussed employing tactical nuclear weapons as an option to defend against North Korea's nuclear weapons program. The acknowledgment from Mattis comes as the U.S. and international community grapple with increasingly aggressive nuclear weapons testing by North Korea. In the last few weeks, North Korea has tested an intercontinental ballistic missile capable of reaching the U.S. mainland and tested a hydrogen bomb, according to U.S. Strategic Command's assessment of the program. Last Thursday, as Mattis was at STRATCOM assessing the U.S. nuclear posture, North Korea fired another intermediate range missile over Japan, sending millions of Japanese citizens into shelters.
Mattis hints at military options on North Korea but offers no details
U.S. Defense Secretary Jim Mattis hinted on Monday about the existence of military options on North Korea that might spare Seoul from a brutal counterattack but declined to say what kind of options he was talking about or whether they involved the use of lethal force.
Mattis: No Need Yet to Shoot Down NKorean Missiles
Mattis: No Need Yet to Shoot Down NKorean Missiles
Steve Ganyard | Op-Ed: How to neutralize North Korea's nuclear threat without starting a world war – ABC News
Active containment would address not only the current North Korean threat, but the future threat as well. Although prudent to acknowledge the increased risks recently demonstrated by North Korea advances in missile and weapon capability, there are at least two critical parts of a credible nuclear capability that have not been demonstrated – a warhead that can survive the intense heat of reentry, and the ability to accurately target. Without demonstrating these capabilities, Kim's nuclear threat is based on a bluff. A more credible North Korean nuclear capability will still require much development and testing. Kim will need to continue to test missiles not only for the credibility that comes with reliability, but also so that rogue states such as Iran will continue to buy the missile technology that provides hard currency to run his regime. Active containment of North Korea will also send a message to other potential bad actors who flout international law with impunity. Shooting down every missile that Kim launches, or at least holding them at risk, could neutralize North Korea's nuclear weapons program not only by denying his ability to deliver them, but by impeding his ability to improve them – with far less risk than a preventative military strike on North Korean soil. No testing, no improvements, no credibility, means less of a threat to the region and the US. Given that Kim Jong Un has bet his regime's future on the ability to threaten the world with missile-delivered nuclear weapons, active containment could be a singularly effective and efficient step towards thwarting his dangerous ambitions, while reducing the risk of an unimaginable nuclear war.
Gingrich: NKorea Poses 'Greatest Danger of Nuclear War'
President Donald Trump must stress the dangers of North Korea and urge the countries of the United Nations to come together against its threat, as the country and its leadership pose the greatest danger of nuclear war that we have seen, not just since the Cold War, former…
China says it will never allow war or chaos on its doorstep
China will never allow war or chaos on its doorstep, Defence Ministry spokesman Ren Guoqiang told a monthly news briefing on Thursday, when asked about tension on the Korean peninsula.
China says North Korea nuclear issue must be resolved peacefully
The North Korean nuclear issue must be resolved peacefully, Chinese Foreign Minister Wang Yi told his Russian counterpart during a meeting at the United Nations, China's Foreign Ministry said on Tuesday.
Why China Won't Pressure North Korea as Much as Trump Wants | The New Yorker
Evan Osnos writes about the evolving relationship between China and North Korea, and about the ways the United States still misunderstands it.
North Korea: UN trying to 'exterminate' us
Pyongyang calls the sanctions a "vicious, unethical and inhumane act of hostility" aimed to "physically exterminate" its people.
U.S. jets drop live bombs in a new show of force aimed at North Korea – The Washington Post
The aircraft carried out a simulated attack on the Pilsung training range in South Korea.
Just let North Korea have nukes
Official site of The Week Magazine, offering commentary and analysis of the day's breaking news and current events as well as arts, entertainment, people and gossip, and political cartoons.
Is the Media Overhyping the North Korea Mess? | Vanity Fair
As the world convenes at the United Nations, experts reassess the threat of nuclear war.
Brutal and inhumane laws North Koreans are forced to live under
North Korea's recent strides towards building nuclear weapons has brought the hermit nation into sharp international focus.
China suddenly builds sixth-generation fighter jet with Russia's help – PravdaReport
The new plane has materialised at the time when Fifth-generation fighter jets are only being introduced
The World's Best Caviar Doesn't Come From Russia Anymore – Bloomberg
Though no one wants to say it, China is producing some of the most delectable fish eggs available.
---
Foreign Policy Reports
---
Speaker of Polish Senate: For 72 years, we were silent about German reparations – Speaker of Polish Senate: For 72 years, we were silent about German reparations – 112.international
Stanislaw Karchevsky on German reparations to Poland, perspectives of Three Seas model, criticism of two-speed Europe initiative, and Polish-Ukrainian mnemonic battles
We were wrong — worst effects of climate change can be avoided, say experts | News | The Times & The Sunday Times
The worst impacts of climate change can still be avoided, senior scientists have said after revising their previous predictions.The world has warmed more slowly
New climate change calculations could buy the Earth some time — if they're right – The Washington Post
Scientists just presented some surprising new carbon math.
UAWire – Ukrainian ambassador to Turkey: Russia's Gazprom will stop at nothing to go through with Turkish Stream project
Gazprom is accelerating the construction of the Turkish Stream gas pipeline, at a time when the United States' willingness to use sanctions on …
NATO – News: NATO supports Mongolia in transforming its defence education system, 13-Sep.-2017
Mongolia recently marked the successful achievement of goals set under its Defence Education Enhancement Programme (DEEP) with NATO. Through DEEP, Mongolia has completed an ambitious multi-year plan for the modernisation of its professional military education system. Since 2013, the National Defence University of Mongolia (MNDU) has implemented a new core curriculum for staff officers, reviewed instructors' teaching methods and placed greater emphasis on English and other foreign language teaching.
---
Strategy / History / Capability Publications
---
Thomas E. Ricks | USMC should drop the F-35 and V-22 — and perhaps the F-18 while it's at it | Foreign Policy
So argued, about the first two aircraft, a retired Marine Reserve lieutenant colonel in the July issue of the Marine Corps Gazette. Lt. Col. John Arsenault's larger argument is that it is time for the Corps to return to its roots of being a naval raiding force. So, he says, cut force strength to 100,000 or less, get out of most aviation, shift support jobs back to the Navy, and train the remaining force to be "Marine Corps Forces Special Operations Command-level 'Raiders.'"
German WW1 U-boat found off Belgian coast – BBC News
The UB-II type submarine is said to be in good condition and the crew's bodies may still be on board.
---
IW/IO/Cyber Reports
---
How to Wage an Information War – To Inform is to Influence
September 18, 2017 8:38 AM Jamie Dettmer KYIV — "One clear lesson is that you can't fight propaganda with propaganda," says Tetiana Popova. "If you do that you lose credibility yourself and bring all facts into doubt," adds the former Ukrainian deputy minister for information policy. "And that is what the Russians want," she said firmly.…
Analysis: Putin's Orchestra in Belgrade
Studio B has been one of Belgrade's most popular radio stations for decades. In the 1970s and 1980s its "Good Morning Belgrade" program was a staple of most Serbian households, and it…
Report: Government among most targeted for web application attacks
At 1,184 average attacks per day, government followed only the IT sector (1,346) as the most targeted industry for web application attacks.
---
US Domestic Policy Reports
---
U.S. Senate Passes Bill To Fund New Cruise Missile, Fight Russian Propaganda
WASHINGTON – The U.S. Senate on September 18 strongly backed a $700 billion defense policy bill that calls on the Pentagon to fight Russian propaganda and start building a new cruise missile i…
Trump Reaches Out to U.N., Criticizes Waste, in Debut Appearance | Foreign Policy
The president's U.N. bashing was unusually restrained a day ahead of his much-anticipated address to the General Assembly.
Trump joins the UN club he once derided – CNNPolitics
President Donald Trump used the United Nations as a foil on the campaign trail in 2016, slamming it for its "utter weakness and incompetence" and arguing that it is "not a friend of freedom."
Trump to lay out vision of U.S. role in the world, focusing on 'outcomes, not ideology' – The Washington Post
The president's nationalist agenda has led to widespread anxiety among the American allies and partners gathered for the U.N. General Assembly.
Reports: Former Trump Campaign Chairman Wiretapped; To Be Indicted
U.S. media are reporting that federal investigators have wiretapped President Donald Trump's former campaign chairman Paul Manafort under secret court orders and now plan to indict him. …
Trump's Former Campaign Manager Was Reportedly Wiretapped By US Investigators
Paul Manafort's communications came under scrutiny before and after the November election and are part of an FBI investigation into Russian interference in the vote.
Mattis: Unclear if budget cuts play role in military crashes – U.S. – Stripes
Senior military leaders are examining whether strict budget constraints have contributed to a recent rash of deadly training accidents and crashes across the armed forces, Defense Secretary Jim Mattis said Monday.
As 'annihilation' of ISIS nears, Air Force looks ahead to its future role
The Islamic State is "on the run," and the coalition waging war on it across Syria and Iraq is gaining momentum that will lead to the annihilation of annihilating the militant group, U.S. Air Forces Central Command head Lt. Gen. Jeffrey Harrigian said Monday.
'We don't got this': Airmen can't be pushed to the point of failure, secretary says
Air Force Secretary Heather Wilson said the current pace of operations is taking a toll on readiness and that airmen must train to stay sharp on other vital missions.
Air Force leaders talk 'dull as dirt' online training, promotions and more
In a wide-ranging town hall Monday, senior Air Force leaders addressed airmen's questions about training, promotions and quality of life.
The Next Fight: The commandant is pushing the Corps to be ready for a 'violent, violent fight'
Marine Corps Commandant Gen. ­Robert Neller has repeatedly offered sobering warnings about the next war the Corps will face.
Christians who tolerate other religions 'serve Satan,' says Air Force chaplain
An Air Force chaplain has posted a blog saying Christian service members who support religious liberty serve the Constitution "and not Christ."