Anonymous expert compilation, analysis, and reporting.
</end editorial>
---
---
Four nice essays on Zapad 2017, plus some Russian propaganda. UN peacekeeper for Donbass debate continues – again COCW on Matviyenko statements.
Bomb hoax epidemic continues. Yakovenko brilliantly articulates six major fracture lines in Russian society, noting a majority is living frozen in time, culturally. Kiselyov speculates on Russia becoming an  "Orthodox Iran". More on Russia's descent into the abyss.
Nice Zapad 2017 snapshots from Belarus. Moldovan complaint to UN progresses.
Poroshenko meetings in NY detailed, in part. Donbass fires continue. Good footage and stills from 'Rapid Trident 2017' and 'Steadfast Resolve 2017', especially Uragan 220mm MLRS – note the ancient 1959 designed ZiL-135 8×8 vehicles.
Iran making more threats against Israel, and insulting the US. "MiG-29SMT(R) under attack at Khmeimim airbase" tweet earns COCW Award.
Weekend interviews by Administration indicate the military option for the DPRK remains in play. Good essays by Rogers and Pry, plus some samples of Russia and appeaser propaganda.
More on German election and Cyprus corruption looks as brazen as Russian.
Interesting status update on Russia's dwindling FULCRUM fleet and intent to replace all by new MiG-35. Telenko looks at WW2.
Four nice essays on propaganda, while Facebook remains dominant in Russia debate in DC.
---
Russia / Russophone Reports
---
Russia Zapad 2017 military exercise in Belorussia could be "preparation for a big war" NATO says – CBS News
Moscow carries out massive war games every 4 years, but with details hard to discern, this year's look and feel different.
Is Russia Practicing a Dry Run for an Invasion of Belarus? | Foreign Policy
With tensions worsening between the two countries, Russia's massive military exercise is firing a couple thousand warning shots at a reluctant ally.
Window on Eurasia — New Series: Zapad-2017 Anything But a Joint Russian-Belarusian Exercise, Sinitsky Says
Paul Goble Staunton, September 17 – Moscow has advertised Zapad-2017 as a joint Russian-Belarusian military exercise, but it is anything but as it includes features which Russian doctrine requires Moscow maintain exclusive control over and is intended to send a message to the West Moscow but not necessarily Minsk wants sent, Arseniy Sinitsky says. The director of the Minsk Center for Strategic and Foreign Policy Research says that the current exercise, as few have noted, has a nuclear component in that Russian doctrine calls for Russian forces to use tactical nuclear weapons if they cannot stop an opponent by any other means (belaruspartisan.org/politic/394964/). That in turn means that Russian forces are in complete control of the exercise because under Russian law and doctrine only the Russian president can authorize the use of such weapons. Therefore, if these exercises are to be as close as possible to reality, they would have to function under a Russian chain of command, not some joint one. A second aspect of these exercises that shows they are not joint in any real sense is that the Belarusian portion is only a small part of a much larger exercise involving Russian forces in the Russian Federation and in international waters. Minsk wasn't involved in planning these and so would have had minimal input into even the part on its territory. Indeed, Sinitsky says, Russian defense planning would never be willing to offer Minsk a voice in this not only because that would undermine the shape of the total exercise but also because Moscow inevitably views Belarus as the site of potential clashes with the enemy and thus would not want Minsk to limit what Russian forces might do. And third, the Belarusian analyst argues, this exercise is about sending the West a message concerning Moscow's willingness to escalate its military operations in the event of a further deterioration of relations between the Russian Federation, on the one hand, and NATO and the US in particular, on the other. Such a message, Sinitsky says, is clearly Moscow's message. It is hardly one that Minsk would have been a co-participant in defining. Thus, it is important not to call Zapad 2017 a joint exercise because in reality it is a Russian one that is making use of some Belarusian units but not allowing them the kind of voice the term "joint exercise" suggests.
David Murphy | Zapad 2017 | Small Wars Journal
The last 24 hours have seen the start of this year's Zapad manoeuvres: the joint exercises between the Russian forces and the army of Belarus, which also involves Russian forces stationed in the Kaliningrad Oblast. In recent months, the build-up has created considerable concern from Western powers and observers. Despite the fact that foreign observers have been invited, NATO and in particular the Baltic States are watching the exercises closely. There have been further protests in Ukraine and there is wider concern about fly-overs by Russian aircraft into Latvian, Lithuanian or Ukrainian airspace. In recent weeks, there has been a considerable increase of such incursions into the airspace of the Baltic states, perhaps justifying the gradual increase in NATO's Baltic air policing programme. Concerns have also been voiced that Russian troops might remain in situ in Belarus after the exercises end, increasing Russian potential for operations against the Baltic states. Despite such concerns, the numbers involved, at least officially, are rather low. The exercises will involve less than 13,000 troops, 10 ships, 140 tanks and other heavy weapons elements. Keeping the troop numbers at this level avoids the requirement to invite a large observer force, which would have been triggered under the terms of Article 47.4 of the OSCE's Vienna Document, of which Russia is a signatory. Compared to the Lake Baikal exercises of 2013, which involved over 160,000 troops and 5,000 tanks, this year's Zapad exercises could be seen as a rather modest affair.
Russian Navy Shows Off Maritime Might In Zapad 2017 Drills
The Russian Navy flexed its military might on the Barents Sea as warships from the country's Baltic Fleet took part in the large-scale Zapad (West) 2017 military drills. The maritime maneuvers on September 16-17 simulated enemy aircraft attempting to destroy Russian ships. Joint Russian-Belarusian military drills also took place in the Brest region of western Belarus involving helicopters and paratroopers. The four-day Zapad 2017 exercises run until September 20. Reuters)
Putin to watch parachute drop, part of war games that have rattled West
President Vladimir Putin arrived at a remote army training ground on Monday to watch a military parachute drop, part of Russia's biggest war games since 2013 that have the West looking on nervously.
Putin watches as Russia's military exercises turn up the firepower – The Washington Post
NATO expressed concerned about the size of the war games and border violations.
Zapad 2017: Helicopters of Russia and Belarus destroy NATO air defences – PravdaReport
Servicemen will simulate actions to suppress violations of airspace and the destruction of air defence systems of the conventional enemy
Opinion: Hysteria around Zapad 2017 army exercise is artificial
"The hysteria around Zapad 2017 is clearly artificial. There was nothing of the kind when we conducted the military exercise several years ago. Someone wants to draw the attention to themselves, get some economic benefits, 'freshen up their political faces'," Sergei Bobrikov said.
Latvian armed forces report on three Russian warships near border – Latvian armed forces report on three Russian warships near border – 112.international
Latvian armed forces report on three Russian warships near border
Russia says U.S., Ukraine reject its U.N. proposal for Eastern Ukraine: TASS
Moscow's ambassador to the United Nations said the United States and Ukraine have told Russia they will not work on a Russian proposal to deploy United Nations peacekeepers in eastern Ukraine, the TASS news agency reported.
Putin Ally: No Logic in Deploying UN Forces on Russia-Ukraine Border
Valentina Matviyenko, speaker of Russian upper house of parliament, at odds with initiative backed by Washington and Kyiv.
Russia announces Ukraine's forthcoming resolution on peacekeepers, Putin's project – rejected – 112.international
Russian Federation official said that the discussion of Putin's project is not happening at the moment, and it is unlikely to be held next week
UAWire – Poroshenko: peacekeepers have to be in all of the Donbas including the areas where Russia stores weapons
The UN peacekeeping mission should be deployed throughout the Donbas, including the territories where the Russian Federation stores weapons, as …
Ukraine insists on including a cycle of withdrawal of Russian troops, mercenaries and weapons in the mandate of the UN peacekeeping mission – Klimkin – 112.international
Ukraine insists on including a cycle of withdrawal of Russian troops, mercenaries and weapons in the mandate of the UN peacekeeping mission. This was stated by the Minister of Foreign Affairs of Ukraine Pavlo Klimkin on the sidelines of the Yalta European Strategy forum, which was broadcasted by 112 Ukraine. "We know that this process takes six months and more, it depends on the political context, the mandate, the participants. It is very important for us that this process is progressing so that Russia does not have the opportunity to manipulate the mandate of this mission and weaken it, otherwise it loses all meaning," said Klimkin. Klimkin said that the mandate of the UN peacekeeping mission in Donbas should cover the entire territory of the occupied territory and an uncontrolled section of the Ukrainian-Russian border, "otherwise it will be an ineffective element by definition." "The mandate of such a peacekeeping mission should include a full cycle of withdrawal of both Russian regular troops, mercenaries, and all this scrap metal that Russia has dragged into the territory of the occupied Donbas and, of course, the first steps to normalize the situation and return to a peaceful life", the minister specified. Earlier German Chancellor Angela Merkel stated that UN peacekeepers should have access to the entire territory of Donbas. The mission deployment is an interesting idea, but it does not mean lifting sanctions from Russia. "I find President Putin's proposal to send the UN mission to protect the OSCE observers interesting," she said, adding that she discussed this issue with Russian President Vladimir Putin a few days ago. As is known, the official Kremlin adhered to the position that UN peacekeepers should be attracted only to the collision line in Donbas and coordinate actions with the fighters of the ORDLO. In Kyiv, this option was called schizophrenic. Earlier we reported that President of Russia Vladimir Putin urged President of France Emmanuel Macron to support the offer of Russia to deploy the UN peacekeepers for assistance in the security of the OSCE SMM during the phone call. Initially Putin claimed that UN peacekeepers should stay at the demarcation line. Ukraine representative in Minsk and First Vice Speaker of the Verkhovna Rada Iryna Gerashchenko claimed that it is impossible to talk about the peacekeepers only among the demarcation line. Later the Russian President expressed the readiness to make the amendments to the offered resolution project of the UN Security Council and mission's function at the conversation with German Chancellor Angela Merkel. He said that it is possible to implement the provision of the security for the OSCE SMM at all places where the SMM holds the inspection trips.
UAWire – Kuchma: there is more likelihood that Ukraine will receive lethal weapons during Trump's presidency than when Obama was in power
The representative of Ukraine in the Tripartite Contact Group, the second president of Ukraine, Leonid Kuchma, believes that after Donald Trump …
Evacuations Triggered By Anonymous Bomb Threats Continue In Russia
Russian authorities said a rash of anonymous bomb threats that have prompted the evacuation of schools, shopping malls, train stations, and other buildings continued on September 18. Mosco…
UAWire – New wave of phone calls about bomb threats causes mass evacuations in major Russian cities
Three nightclubs were evacuated in Moscow after phone calls of bomb threats, RIA Novosti reported. "The verification continues in the …
Anonymous bomb threats as civil defence in big Russian cities – 112.international
Threatening calls are a hidden state exercise on civil defense in terms of West-2017 exercises, conducted by Russia and Belarus. It started in Siberia: last Sunday anonymous bomb threats phoned in to authorities of Omsk. A series of such calls have prompted evacuations at schools, shopping malls, theaters, and universities of the city. Hundreds of people were evacuated. From this time, a wave of bomb threats is overwhelming Russia. Until now, people from 30 cities, from Kaliningrad on the Baltic Sea to Vladivostok on the Pacific coast, were evacuated from hundreds of schools, railway stations, shopping centers and institutions, which affected tens of thousands of people. It has touched Moscow woo. Up to 50 thousand people were taken to a safe place on Wednesday after anonymous calls, during which the robot's voice informed of the threat of an explosion. People were evacuated from Red Square, just in front of Vladimir Putin's work place in the Kremlin. However, mass panic did not embrace the Russian capital. People are accustomed to such events. And bombs were never found.
Why radical racists revere Russia – NY Daily News
The recent wave of white nationalism in North America has adopted traditional Nazi symbolism such as swastikas
Window on Eurasia — New Series: Russians Don't Just Live in Different Places: They Exist in Different Eras, Yakovenko Says
Paul Goble Staunton, September 18 – Many analysts have long accepted Natalya Zubarevich's argument that there is not one Russia but four – the big cities, the smaller industrial centers, the villages and small towns, and the republics of the North Caucasus and Siberia. (http://windowoneurasia2.blogspot.com/2013/09/window-on-eurasia-four-very-different.html But Russian commentator Igor Yakovenko suggests that another factor dividing the country is acquiring ever greater importance. People in Russia, he says, are not only living in different places spatially but often exist in entirely different decades or even centuries (afterempire.info/2017/09/18/break/). Moreover, "the localization of various 'Russias' in time does not correspond with localization in space," he continues. In some cases, even in "a single city, people who come from completely different historical periods are living next door to one another." And he defines six different Russias in terms of that. The first Russia is the Russia of Soviet times, Yakovenko argues. "It forms the majority of the population in almost all subjects of the Russian Federation, except for the republics of the North Caucasus" and is the basis of Putin's Russia. Its members are most often people who work one way or another for the government or are on pensions. In some places, such as the company towns, people of this Russia form "almost 100 percent" of the population. In others, like Moscow and St. Petersburg, he suggests, this Russia forms only "a little more than half" of the residents. In Soviet times, they knew what the country was moving towards but now they don't. And they viewed the trajectory of "school-university-work-pension" as an inviolable norm. But now that has been challenged by changes in the society and the economy. And the residents of "Russia No. 1" don't know what to do. As a result, they are sullenly silent. Most of them "watch television and on the whole either believe or consider that the TV is lying and that it is right to do so because with us it cannot be otherwise. They vote for Putin and for United Russia and the KPRF." And while they may curse the government for this or that policy, they are not ready to challenge it. Indeed, according to Yakovenko, "the protest potential of the denizens of Russia No. 1 is equal to zero; but a significant part of them would with satisfaction identify with the victory [should there be any change] and with still greater satisfaction take part in the denigration of anyone who lost." Russia No. 2, the Russian commentator continues, consists of people who remain Soviet but are part of the lumpen rather than the ordinary citizenry. These are people who ran afoul of the Soviet system and served time. They often turn their backs on the regime. Nearly a quarter of all Russian adults have been in prison, and they are "the nucleus" of this Russia. "As a rule," members of Russia No. 2 don't vote, "but the subculture which they reproduce in large measure forms the electoral base of [Zhirinovsky's] LDPR." That is shown by the fact that that party receives the most votes in regions where the share of former prisoners in the population is the highest. "In the last 10 to 15 years" – that is, under Vladimir Putin – "Russia No. 2 has received a new impulse for its development" with the rise of new criminal groups" and with the chance to participate in Russian aggression against Ukraine. The Kremlin asked them to and they responded positively. According to Yakovenko, "today it is precisely Russia No. 2 which has become the main source of that mass force and vandalism which are spreading through the cities of the country." But this Russia too, doesn't have any protest potential although its members will be the first to take part in pogroms. Russia No. 3 consists of those whose lives remain defined by the village even if they have in some cases moved into the cities. Many of them are unemployed and have no prospects for the future. In fact, for them "time has stopped: there is no future or way out, and apathy and indifference reign." In the best case, they try to survive; in the worst, they fall to the bottom of society. They form, Yakovenko says, about 20 to 22 percent of Putin's Russia. Russia No. 4 is "the internal Islamic state" in the North Caucasus. It is an enclave which "in fact is living according to shariat law." Putin was forced to accept this as the price of bringing a certain stability to that region, but now this area has taken on a life of its own, although the regime can and does make use of its denizens to attack its enemies. Russia No. 5, Yakovenko says, lives in the Middle Ages as a Christian State. For this Russia, time has also "stopped." Indeed, "it simply doesn't exist." It has been created by Kremlin's promotion of tradition and its "radical rejection of the modern world." Many of its ideas are typical of fascist regimes, of which Putin's "undoubtedly" is one. This Russia is now fighting against the film "Mathilda," but "its main goal and the reason for existence of Russia No. 5 is for a struggle with the single part of Russia which lives in the 21st century. And that is Russia No. 6 which consists of Russians "who want to become Europeans." Russia No. 6 forms from 15 to 23 percent of all Russians. "About 30 percent of Russia No. 6 are in Moscow, another 10 percent in St. Petersburg, and the rest in a quite thin stratum are located throughout the rest of the country," Yakovenko continues. But it is important not to confuse it with the 14 percent who don't support Putin. According to the commentator, Russia No. 6 is divided into two groups: "those who "know that the Earth turns but they have a family' and those who despite having a family all the same continue to publicly reject the Ptolemaic system." "The Putin regime in fact has declared war on Russia No. 6, a war to its destruction," Yakovenko says. But the reality is that the only one of the six Russias that has any real potential for development in this century is Russia No. 6. Nonetheless, it can't be discounted that the Putin regime will succeed in destroying or at least suppressing it. That is because it is entirely "possible," the Russian observer says, that Putin by intuition understands that "the amputation of the brain [of the country which is what Russia No. 6 represents] is the only means he has to preserve both Russia's imperial character and his own power over it."
Window on Eurasia — New Series: Is an Orthodox Ayatollah Now Waiting in the Wings in Russia, Kiselyov Says
Paul Goble Staunton, September 18 – Many have forgotten that in 1978, everyone in Iran and the West was certain that the shah was in complete control of the situation and that Ayatollah Khomeini in exile in France "was not much more serious" than Russians today think that Aleksandr Kalinin is with his calls to transform Russia into an Orthodox Iran. But a year later, the shah was gone, and Khomeini had taken power and begun creating a totalitarian Islamic state, Yevgeny Kiselyov points out, a development that became possible because "when it suddenly became clear" that Khomeini mattered, "the genie already had broken out of the bottle and it was already too late" (echo.msk.ru/blog/kiselev/2057260-echo/). Four days ago, the journalist notes, Kalinin, head of "a mysterious organization, the Christian State Holy Rus' which still isn't banned in Russia" said the wave of anonymous calls in Russia was the work of the opponents of the controversial film "Mathilda." (For Kalinin's article, see meduza.io/feature/2017/09/14/pravoslavnaya-strana-dolzhna-byt-takoy-kak-iran). "It is possible" that Kalinin's assertion is simply a bluff, the journalist says. There may not be that kind of coordination, and those who believe as Kalinin does that Russia should be a totalitarian Orthodox Christian state in the same way that Iran is an Islamic state may not be numerous. But what if they aren't? Kiselyov asks. "And what if the authorities by appealing to traditional values like Orthodoxy, autocracy and nationality and other bindings and by exacerbating anti-Western attitudes" have created a monster that not only threatens them but threatens the country as a whole? "With my own eyes, I saw how in Iran in 1978, the Islamic revolution began." Initially, the unrest was dismissed as marginal; but after the fire in the Rex Theater in Abadan in which at least 377 people died, Iran "was very quickly seized by mass protests and demonstrations in which an ever greater role played backers of the Shiite fundamentalists – Ayatollah Khomeini." That led to the overthrow of the authoritarian regime of the shah and its replacement by "a regime of Iranian mullahs who were more harsh, intolerant, [and] bloody than the one they ousted and that "transformed Iran into a threat to international stability and security … as an exporter of Islamic fundamentalism and the supporter of terrorist organizations like Hezbollah." It subsequently came out that the fire at the Rex Theater and at other theaters as well was carried out by supporters of Aytaollah Khomeini and at his instigation because he viewed them as disseminators of Western abominations, in much the same way some Russian Orthodox activists view the film Mathilda. Of course, there are big differences between Iran in 1979 and Russia in 2017 and "historical parallels don't work." Moreover, most are confident that "the Kremlin and the FSB control everything." That may be so, Kiselyov says; but what happens if as in Iran 40 years ago it suddenly isn't true any longer?
Window on Eurasia — New Series: Increasing Repression of Muslims in Crimea Said a Reflection of Moscow's Fear of Islam as an Anti-Colonial Force
Paul Goble Staunton, September 17 – Zaur Smedlyayev, a Crimean Tatar activist, and Said Ismagilov, the mufti of the Umma Muslim Spiritual Directorate (MSD) of Ukraine, say that Moscow is likely to step up its persecution of Muslim Crimean Tatars not just because they are Crimean Tatars but because they are Muslims. This reflects, the two of them tell Kseniya Kirillova, a US-based Russian journalist, Moscow's fear that Islamic organizations it does not control can be a powerful anti-colonial force that could be directed against the Russian occupation of Ukraine's Crimea (ru.krymr.com/a/28738195.html). Pointing to the recent rise in special operations against Muslims in Crimea, Smedlyayev argues that three groups of people there are now at greatest risk: observant Muslims especially among the young, Crimean Tatar political leaders, and ordinary residents that the FSB hopes to compel to be witnesses in cases against members of the first and second. Given Russian Islamophobia, he continues, FSB officers realize that attacking Muslims as such will be popular and be a royal road to further promotions. And they also recognize, he adds, that arresting or harassing family members may be a good way to gain control over other Muslims in the region. Mufti Ismagilov agrees, but he stresses that these attacks are not simply a means for FSB officers to gain promotion. They reflect an attempt to suppress all "Islamic organizations uncontrolled" by Moscow. Russian fears of such groups are reflected in the enormous list of banned books and the deportation of foreign mullahs from Russia itself. These fears are a product of an appreciation by the Russian leadership that Islam can be "a very powerful consolidating religion which has experience of bringing people together and giving them definite ideas. [It] played a great role in the era of the liberation from colonialism," and Russia is concerned that it could be again directed against it. These longstanding fears were reinforced by the Arab Spring "when Muslim movements inspired the masses to the overthrow of longtime dictators," the Ukrainian mufti says. On the one hand, he continues, "the Kremlin is afraid to the point of panic of the potential within Islam; and on the other, it would like to put this force in the service of the dissemination of Russian ideology, on the very same principle that has helped this to occur with the Russian Orthodox Church." The Russian rulers, the mufti suggests, "would like to reduce Islam to the level of everyday religiosity and subordinate the entire religious hierarchy, structure, and preaching to the goals of the state." There is little chance they will succeed with Muslims in occupied Crimea; but they are unfortunately likely to try.
Navalny Election Volunteer Sentenced In Chuvashia
NOVOCHEBOKSARSK, Russia — A volunteer for Russian opposition leader Aleksei Navalny's embattled presidential campaign has been convicted under extremism legislation and sentenced to 27 months i…
Russian Court Convicts Two Women Of Mall Attack Plot, Sentences Them To Prison
Two Russian women have been convicted of plotting a terrorist attack on a shopping mall in the southern city of Rostov-on-Don and sentenced to long prison terms.
Russian Court Postpones Hearing On Siemens' Crimea Turbines Lawsuit
A Russian court has delayed hearings in a lawsuit filed by German conglomerate Siemens against a Russian state firm over the transfer of power turbines to Ukraine's Russian-occupied Crimea region…
Russian Court To Hold Hearing In Lawsuit Over Wallenberg's Fate
A Russian court is scheduled to hold a hearing on September 18 in a lawsuit against the Federal Security Service (FSB) by relatives of Raoul Wallenberg, a Swedish diplomat who saved thousands of Jew…
Unfinished, Pricey, And 'Vandalized': New Moscow Park Has Rocky Beginning
MOSCOW — The spectacular Zaryadye Park opened to great fanfare last weekend, despite being unfinished, with President Vladimir Putin and Moscow's mayor helping to mark the occasion, coincidin…
Belarus Reports
West-2017: How Military Equipment Is Blanked Off In Forest Near Barysau – Charter'97 :: News from Belarus – Belarusian News – Republic of Belarus – Minsk
Some BMPs are almost impossible to notice – but not for the glare of a Veishnaryian resident. A livejournal user under the nickname "samoletchik" posted photos of camouflaged military equipment in the forest near Barysau. In the photos you can see BMP-2 covered with moss and branches, which are almost impossible to identify from afar. Also, the photographs show how the self-propelled howitzers Msta-S are blanked off. The 2S19 Msta-S does not need additional preparation before the shooting – the stupor uncouples automatically, the tower turns and the main gun homes on to a target. In addition, the Msta-S is able to "lay down" several shells on the target at the same time. The firing speed the of the 2C19 reaches 8 shots per minute, the maximum shooting distance of a HE fragmentation shell is up to 24.7 km, of a rocket-assisted projectile – up to 29 km. The BRM-1K is an armored cavalry assault motorized vehicle on caterpillar tracks, designed for the operational reconnaissance on the battlefield, built on the basis of the BMP-1. The crew consists of 6 people: the commander of the machine (he is the senior operator), the gunner, the operator, two radio telegraphists and a driver mechanic.
Ukrainian consuls visit Pavlo Gryb in Krasnodar detention center, – lawyer – 112.international
On Monday, September 18, Ukrainian consuls visited Pavlo Gryb in one of the detention centers in Krasnodar, as his lawyer Andrey Sabinin wrote on Facebook. "Employees of the consulate visited Pavlo. They talked to him for an hour in the presence of the detention center personnel. A number of questions weren't allowed. (They) didn't hand over the medicine, there wasn't a doctor, I will do it myself on 21st. (They) didn't allow speaking Ukrainian," the lawyer wrote. Pavlo's father in his comment for 112.UA said that the next meeting with the consuls is planned for September 27, in order to present the results of the medical examination of the Ukrainian. "They aren't giving him any medication; consuls say that his neck is covered in ulcers. It means that his liver, apparently, isn't coping with the load. He needs constant medication," the father of the detained young man said. As it was reported earlier, 19-years old Pavlo Gryb got lost in Belarus on August 24. The young man was later found at a prison in Krasnodar, Russia. He told a Russian lawer that he had been kidnapped in Belarus and brough to Russia, where he is accused under Article 205.1 of Criminal Code of Russia (Abetting of the terrorist activities). The Ukrainian's lawyer said that Gryb was arrested in Russia in absentia.
Transnistria / Moldova Reports
Russia's Armed Forces pullout from Transnistria on UN General Assembly agenda – 112.international
Moldova Foreign Ministry emphasizes that consideration of this issue was postponed as it was reported earlier by media does not correspond to reality. UN General Assembly included in the agenda consideration of the issue "On the complete withdrawal of foreign troops from the territory of the Republic of Moldova." This was reported by the press service of the Ministry of Foreign Affairs and European Integration of Moldova, reported Ukrinform's correspondent in Moldova. "The Foreign Ministry reports that the request of Republic of Moldova to include in the agenda of 72nd United Nations General Assembly an additional issue "On the complete withdrawal of foreign troops from the territory of the Republic of Moldova" is included in the additional list of issues proposed to the General Assembly," the foreign ministry says. It is also noted that in accordance with the working schedule of the General Committee responsible for drawing up the agenda of the General Assembly, the issue proposed by the Republic of Moldova will be considered in October. Related: Dodon rejects the idea of Russian military leaving Transnistria Moldova Foreign Ministry emphasizes that consideration of this issue was postponed as it was reported earlier by media does not correspond to reality. As it was reported earlier Moldova asked the United Nations to include the issue of complete withdrawal of Russian troops from Transnistria to the agenda of the 72nd session of General Assembly. Such letter was addressed by the Permanent Representative of Moldova to the United Nations Viktor Moraru. Chisinau is convinced that the presence of the military "poses a threat to international peace and security." Moraru asked the UN to support Moldova's efforts aimed at completing the process of "unconditional, orderly and complete withdrawal of foreign armed forces from its national territory."
Moldovans March Against Electoral Law
Hundreds of people took part in a rally in the Moldovan capital, Chisinau, on September 17 to denounce a new electoral law. The crowd chanted slogans such as "We will not give up" and "Victory!" Reaching the headquarters of the Moldovan public television, the protesters called for an increase in television time provided to the opposition. The rally was organized by two opposition parties who say the recent changes in the electoral legislation favor the country's two largest political parties while supporters of the new rules insist they will make politicians more accountable. Already signed by Moldovan President Igor Dodon, the law is due to be first applied in the next parliamentary elections in November 2018. (RFE/RL's Moldovan Service)
Ukraine Reports
Poroshenko to meet Trump at UN General Assembly session – 112.international
Ukraine's President will hold a number of bilateral meetings with world leaders, including the US President. President of Ukraine Petro Poroshenko will pay a working visit to the United States of America on September 18-21 to attend the 72nd session of the UN General Assembly. This was reported by the official online agency of the head of state. "Petro Poroshenko will deliver a speech during the general debate of the UN General Assembly, take part in the UN Security Council summit on peacemaking, high-level events on UN reforms and countering the use of the Internet for terrorist purposes," the report says. It is noted that on the margins of the 72nd session of the UN General Assembly Poroshenko will hold a number of bilateral meetings with world leaders, including the US President. Poroshenko will traditionally meet with the leaders of the Ukrainian community of the United States, representatives of Crimean Tatar organizations and representatives of leading American political and business circles. As it was reported earlier the President of Ukraine Petro Poroshenko claimed that the UN peacekeeping mission in Donbas will aim to provide the lasting peace and not to freeze the Russian occupation. The Russian President Vladimir Putin claimed that the presence of the UN peacekeepers in Donbas will benefit the resolution of the conflict in the East of Ukraine and instructed the Russian Foreign Ministry to introduce the proper resolution to the UN Security Council. The representative of Ukraine at the Trilateral Contact Group on Donbas in Minsk and the First Vice Speaker of the Verkhovna Rada Iryna Gerashchenko claimed at Facebook that it is impossible to talk about the UN Peacekeepers only at the demarcation line. 'The peacekeepers should be present at the whole territory that is occupied by Russian to monitor the security situation and demilitarization, their mandate should end at the Ukrainian-Russian border', Gerashchenko said. According to the mass media of the Donetsk People's Republic (DPR), the leader of the militants Olexandr Zakharchenko claimed about the necessity to discuss the offer of Putin. 'In any case, we are ready to discuss the pointed initiative and insist that without approval from the DPR and LNR side any changes of the conflict settlement are impossible', he thinks. The permanent representative of Ukraine in the UN Volodymyr Elchenko claimed that the UN peacekeeping mission should be placed at the Russian-Ukrainian border and the participation of Russian representatives in it is impossible. Later Russia sent the resolution project on the deployment of the UN peacekeepers at the contact line in Donbas to the Chairman of the UN Security Council Tekeda Alemu and the Secretary General of the UN Antonio Guterres.
No civil war in Donbas, no one will talk with militants, – Volker
18.09.17 10:12 – No civil war in Donbas, no one will talk with militants, – Volker U.S. Special Envoy on Ukraine Kurt Volker says it's not a civil war in the Donbas and says no one will talk with self-styled republic militants as they do not make any decisions. View news.
Militants launched 31 attacks on Ukrainian troops in Donbas in last day – 18.09.2017 09:39 — Ukrinform News
Militants launched 31 attacks on positions of the Armed Forces of Ukraine in ATO area in Donbas over the past day. One Ukrainian soldier was wounded.
Ten terrorists killed, more than 30 wounded in Donbas last week, – ATO spokesperson
18.09.17 15:37 – Ten terrorists killed, more than 30 wounded in Donbas last week, – ATO spokesperson Ten Russian terrorists were killed, 31 wounded in the anti-terrorist operation area (ATO) in the Donbas over the past week. View news.
Kill, rape, pillage: it became known how Russia untied the hands of terrorists in the Donbass
Russia made it possible for terrorists in the Donbass to commit the most terrible acts, while formally staying aloof. This was stated by the Russian publicist Julia Latynina on the air of "Echo of Moscow". According to her, in any, even totalitarian state, murders, arsons, robberies are prohibited, since the state has a monopoly on violence. "And in this case on the same Donbass there is such a situation that all those people who were marginalized, who were lumpen, said:" Guys, you can do all the same things you did always (rob, kill, rape ), but everyone you killed will be Ukrainian fascists. And all your murders, in fact, will be exploits in the name of Holy Russia. " And of course, well, you understand, every lumpen feels nice to be a saint, "she said. According to Latynina, now the fate of Donbass or South Ossetia is waiting for Russia itself. She added that at first the Russian authorities exported violence abroad, but now violence begins to exist within Russia. "This excludes the possibility of any economic development of Russia, and, of course, this is done for the same possibility of denial, to say:" Guys, no, it's not us. " But the problem, of course, is that when a state loses a monopoly on violence, it loses the very essence of its existence, "the publicist summed up.
The military general explained why Kiev does not release the Donbass by force
Ukrainian Major General Oleg Mikats is sure that the forceful liberation of Donetsk and Lugansk occupied by militants will lead to the condemnation of Ukraine by the international community and the full-scale invasion of Russian troops. According to the commander of the forces of the operational-tactical group "Lugansk", if the Ukrainian army liberates Donetsk and Lugansk, the international community will perceive such actions as a violation of the Minsk agreements. Ukraine will be accused of violating the Minsk agreements. And this will untie Russia's hands. Russia will get its forces and means, will begin to apply aviation, which it has, to use cruise missiles, which it has enough. After that, Russia will no longer be perceived as an aggressor – it will look like a savior, "Mikat said in an interview with the publication Apostrof . In addition, because of the offensive by the Ukrainian armed forces, there is a threat of lifting sanctions from Russia. And we will be left alone with Russia. We will stay at the broken trough. And what the Russian Federation wants, it will do with us, "the major general believes. In his opinion, at this stage of the return of Donbass Ukraine must use political methods of struggle: to achieve clearly defined steps in Minsk – the closure of the border, the withdrawal of Russian troops and militants from the ATU zone. Earlier, the commander of the National Guard of Ukraine, Lieutenant-General Yuri Aller, said that to return the occupied territories of Donetsk and Lugansk regions it is enough to take the border under control – without a direct connection with Russia, the situation quickly stabilizes, and people understand what actually happened.
'Rapid Trident' Military Drills Continue In Ukraine
U.S.-led military drills continue near the western Ukrainian city of Yavoriv. More than 1,800 troops from 14 countries are taking part in the Rapid Trident exercises, held each year since 1996. The two weeks of war games, which run until September 23, are designed to test and build Ukraine's interoperability with NATO allies and partners. It comes as Russia and Belarus hold joint military exercises, Zapad (West) 2017, involving about 13,000 troops. (U.S. Army video)
Учасники командно-штабних навчань «Непохитна стійкість – 2017» організували переправу через річку Дніпро | Flickr
Explore this photo album by Ministry of Defense of Ukraine on Flickr!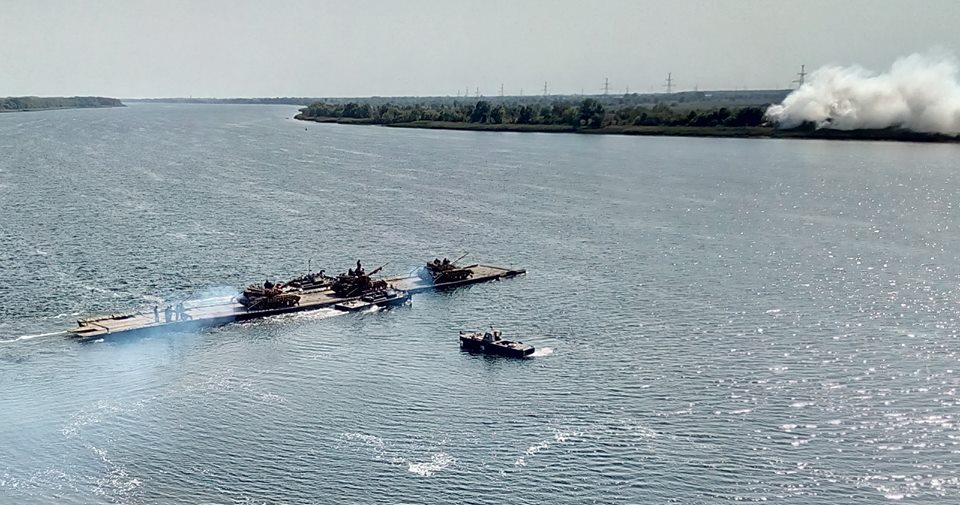 Court finds suspects in Odesa May 2 case not guilty of turmoil
18.09.17 16:50 – Court finds suspects in Odesa May 2 case not guilty of turmoil Illichivsk city court in Chornomorsk, the Odesa region, found the suspects in the case of May 2, 2014 events in Odesa not guilty of mass riots at Hretska Square. View news.
In Chernihiv region units of the "Uragan" MLRS worked out fire tasks (photo)
On the basis of the Goncharov Common Ground, artillery units carried out practical firing with the defeat of ground targets. Fulfillment of fire tasks was carried out with a change of fire positions and at different times of the day. According to the head of the shooting, the constant change in the fire positions in artillery can significantly increase the survivability of the unit in battle.
Germany will consider participation in Marshall Plan for Ukraine, – German Foreign Office
18.09.17 11:42 – Germany will consider participation in Marshall Plan for Ukraine, – German Foreign Office Germany will consider its participation in the long term plan for support, the so-called Marshall Plan for Ukraine, as well as other initiatives aimed at support of reforms in Ukraine. View news.
Schoolgirl Kateryna Noi saved eight younger children from fire in Viktoria camp in Odesa, – city council member Ivanytskyi. PHOTO
18.09.17 12:58 – Schoolgirl Kateryna Noi saved eight younger children from fire in Viktoria camp in Odesa, – city council member Ivanytskyi. PHOTO Kateryna Noi, a member of local dance group, is being treated in the Odesa regional children's hospital. The girl saved eight younger children during the major fire in Odesa's Viktoria camp on Sept. 15. View photo news.
General Electric company can implement projects on producing locomotives in Ukraine, said Transport and Infrastructure Minister Volodymyr Omelyan – General Electric can start production of locomotives and spare parts in Ukraine – 112.international
General Electric company can implement projects on producing locomotives in Ukraine, said Transport and Infrastructure Minister Volodymyr Omelyan at a meeting with journalists, reports the correspondent of 112.ua. "Negotiations with General Electric are under way, projects with localization of production in Ukraine are being considered. I would like to see that we not only built locomotives for Ukraine, but produce spare parts for locomotives of General Electric for other countries of the world. This will be a proper hedging of risks", the minister said. He did not specify at which enterprise the project could be implemented. "Tthe company will decide for itself whether it will be a Kryukov plant or will it cooperate with Ukrzaliznytsia companies," the minister said. He also said that negotiations with General Electric about the provision of 30 locomotives on leasing terms to Ukrzaliznytsia are ongoing. "Now many companies are also ready to build open wagons and grain trucks, but since they understand that UZ has a complete monopoly on locomotives, there is a risk that they will stand at the station," Omelyan said. According to him, Ukrzaliznytsya should become just a transport company that provides transportation services.
IKEA eyeing production and retail presence in Ukraine -Euromaidan Press |
Negotiations are taking place on the possible location of IKEA production units in the Lviv Oblast in Ukraine, according to Roman Matys, head of the Investment Policy Department of the Lviv Oblast State Administration. In his Faceboook posting on September 7, Matys reported that negotiations have been taking place for some time and were renewed within the framework of the 27th Economic Forum that was held recently in Krynica Zdroj in Poland. "After today's meeting, together with the Western Ukrainian Office of the European Business Association, IKEA management reached an agreement on the next (meeting) regarding the placement of production facilities in the Lviv Oblast," he wrote.
Russia / Iran / Syria / Iraq / OEF Reports
Iranian army chief: We will turn Tel Aviv and Haifa into dust – Middle East – Jerusalem Post
On the eve of Prime Minister Netanyahu's meeting with US President Donald Trump, Tehran threatens to destroy Israel "with lightning speed."
Nuclear Deal: Iran Supreme Leader Khamenei Threatens Trump With Islamic Republic's Wrath
Tehran will react strongly to any "wrong move" by Washington on the landmark agreement, the ayatollah said.
Iran Accuses U.S. of Sabotaging Nuclear Deal Ahead of U.N. Talks – WSJ
Iranian Vice President Ali Akbar Salehi accused the U.S. of violating the spirit and letter of the 2015 nuclear deal, escalating a clash between the two countries at the start of a crucial week of talks on the accord's future.
As ISIS Falters, U.S. Allies and Syrian Regime Maneuver for Advantage – WSJ
In oil-rich Deir Ezzour, the last Syrian province largely under Islamic State control, U.S.-backed forces are on a collision course with the Syrian and Russian militaries as both sides scramble to strengthen their hands ahead of post-war negotiations.
monitoring on Twitter: "MiG-29SMT(R) under attack at Khmeimim airbase. https://t.co/TftsOaeQmu"
Tillerson, Russia's Lavrov discuss Syria, Ukraine, Middle East
Russian Foreign Minister Sergei Lavrov and U.S. Secretary of State Rex Tillerson discussed cooperation on the Syrian crisis, Middle East issues, and the agreement to bring peace to Ukraine in a meeting on Sunday, Lavrov's spokeswoman said.
DPRK / PRC / WESTPAC Reports
Nikki Haley: Trump's fire and fury 'not an empty threat' – CNNPolitics
US ambassador to the United Nations Nikki Haley said President Donald Trump's "fire and fury" comment last month about North Korea's nuclear program was not an empty threat.
McMaster: US Must Move With Urgency Against North Korea
The United States needs to move with a great deal of urgency in response to North Korea's increasingly aggressive nuclear missile buildup, national security adviser H.R. McMaster said Sunday.In an interview on Fox News Sunday, McMaster said all options are on the table…
Haley on NKorea: If Diplomacy Fails, 'Mattis Will Take Care of It'
U.S. Ambassador to the United Nations Nikki Haley said Sunday if diplomatic means fail to reign in North Korea's nuclear missile program, Defense Secretary James Mattis will take care of it. In an interview with CNN's State of the Union,
Rogers: US Preparing for 'Real Military Exercise' Against NKorea
Former House Intelligence Committee Chairman Mike Rogers said Friday that the United States had four options — all real options — on North Korea and that the Defense Department was in preparation for a real military exercise.
Peter Vincent Pry | Our Rhineland Moment
Is history repeating itself? Is the naivete and willful blindness that helped begin World War II on September 1, 1939, being repeated in the response of the U.S. and its allies to North Korea's nuclear missile program, that apparently tested a thermonuclear H-Bomb warhead on September 2, 2017? Parallels are striking between what psychiatrists describe as "denial behavior" by western elites that contributed to the Second World War, and "denial behavior" toward the North Korean nuclear threat. As everyone used to know, when history was taught in schools, prior to 1939 Nazi Germany and Imperial Japan ruthlessly violated international treaties to arm themselves for a major war of conquest, that would become World War II. Berlin and Tokyo were ineffectually opposed by the League of Nations and the western democracies, who would become their victims. Less well known is that Nazi Germany and Imperial Japan were helped, unwittingly, by western statesmen, military experts, academics and the press, who could not believe any rational actor would risk replaying the holocaust that was World War I, still recent in many memories. Complex rationalizations were invented to explain away the words and deeds of Adolph Hitler and Imperial Japan, including their treaty violations and aggression. Nazi Germany and Imperial Japan's growing military strength, when it could no longer be denied, was dismissed by confidence that the horrors of a new world war would be sufficient to deter. Mutual Assured Destruction was an article of faith before World War II, expressed in different words, as when British Prime Minister Neville Chamberlain opined, "The bomber will always get through." Underestimation of German and Japanese military capabilities set up the allies for near defeat when war came. North Korea's successful test of an H-Bomb on September 2 has been preceded by many years of denial behavior by U.S. statesmen, intelligence experts, academics and the press about the sophistication of Pyongyang's nuclear missile program:
Korean peninsula draws range of military drills in show of force against North Korea
The U.S. military staged bombing drills with South Korea over the Korean peninsula and Russia and China began naval exercises ahead of a U.N. General Assembly meeting on Tuesday where North Korea's nuclear threat is likely to loom large.
China, Russia Launch Naval Drills In Far East
A group of Chinese warships has arrived in Russia's Far Eastern city of Vladivostok to participate in the second round of joint naval exercises. Russian Pacific Fleet spokesman Vladimi…
U.S. is looking for 'a peaceful solution' to the North Korea crisis, says Rex Tillerson – MarketWatch
Tillerson, one of several U.S. officials who hit the Sunday talk shows to comment on the crisis in the Korean Peninsula, says the Trump administration is focusing on "peaceful pressure" on North Korea.
Tillerson, Lavrov Discuss Ukraine, Syria Ahead Of UN General Assembly
U.S. Secretary of State Rex Tillerson and Russian Foreign Minister Sergei Lavrov have met in New York ahead of the opening of the United Nations General Assembly, with Ukraine and Syria key topics o…
North Korea: The Full Transcript – POLITICO Magazine
Welcome back to The Global Politico.
How North Korea could shoot down the US at the UN | News24
The 72nd UN General Assembly, currently in session, presents a unique opportunity for North Korea to claim the moral high ground over their mighty adversary, the US, writes Robert Traydon.
Shinzo Abe: Solidarity Against the North Korean Threat – The New York Times
The international community must stay united and enforce the sanctions against Pyongyang.
Abe in NYT: I support America's 'all options' stance on North Korea – POLITICO
North Korea has taken increasingly belligerent steps towards its goal of building a nuclear weapon capable of striking the U.S.
North Korea: Japan bank executive Nobuyuki Hirano at Singapore Summit
"We need to worry about this," Nobuyuki Hirano, Mitsubishi UFJ Financial Group CEO, said of North Korea at the Singapore Summit.
North Korea fuel prices soar after U.N. sanctions capping supply
Gasoline and diesel prices rose sharply in North Korea after its sixth nuclear test and as the U.N. Security Council imposed new sanctions capping fuel supply, market data analyzed by Reuters on Monday showed.
North Korea: Military expert urges against conflict with Kim Jong Un
Decorated veteran Daniel Davis says he's "concerned" the United States is not backing down from its threat of military action against North Korea.
Some Analysts Say Time May Be Right For A Rethink On North Korean Nuclear Crisis | WBUR News
Sanctions and the threat of military action have proven ineffective at stopping North Korea's nuclear program. Some say that a deal with North Korea, with China's involvement, may be the way to go.
Dmitri Trenin | What's the U.S.'s Best Chance With North Korea? Russia – The New York Times
Moscow is in a unique position to help defuse the current crisis.
Fewer defectors managing to escape North Korea 
The number of North Korean defectors successfully completing escapes to South Korea has fallen by 12.
Foreign Policy Reports
Russia and China Notably Absent at UN Reform Powwow | Fox News Insider
Russia, China and several other large United Nations member states are among a small but powerful group of countries that look to be dodging Monday's U.N. reform summit hosted by the President and Secretary-General António Guterres, according to a list of countries to be in attendance, as seen by Fox News.
How Democracies Should Respond to Authoritarian Influence | Foreign Affairs
Authoritarian states are boldly seeking to influence Western democracies. How should liberal governments respond?
Merkel braced for Russian cyber-attack as German election looms – To Inform is to Influence
What really caught my eye in this article is a reference to "The Sputnik Report", ordered by Angela Merkel.  After the incident, Merkel commissioned the German secret services to investigate Russian ­activities in the country. The result is the so-called Sputnik report, an exhaustive document seen only by a small cadre of top officials. A…
Breakingviews – Colour-coding Germany's election
By Olaf StorbeckLONDON (Reuters Breakingviews) – Germany's election is not short on colour. Angela Merkel is all but certain to secure a fourth term
What you need to know about Germany′s far-right AfD | Germany | DW | 04.08.2017
DW looks at the Alternative for Germany (AfD) party – the newest force in German politics. Set to enter parliament, the AfD's main appeal is its opposition to Merkel's open-door policy toward migrants.
UK PM May Echoes Trump on Rooting Out 'Extremist Ideology'
Not willing to follow President Donald Trump's calls for tougher travel bans, British Prime Minister Theresa May instead pivot focus to extreme vetting of those entering her country and getting to the root of hateful extremist ideology on the Internet.
Tillerson: Closing US Embassy in Cuba 'Under Review'
Tillerson: Closing US Embassy in Cuba 'Under Review'
Cyprus 'sells' citizenship to Russia and Ukraine's super-wealthy | Euronews
At least 400 individuals, including the super-rich from Russia and Ukraine, have allegedly received Cypriot citizenship by investing in the country
Cyprus 'selling' EU citizenship to super rich of Russia and Ukraine | World news | The Guardian
Passports issued under 'golden visa' scheme raises €4bn since 2013, according to papers seen by the Guardian
Strategy / History / Capability Publications
Similar to previous years, MAKS Air Show or aviation expo was hold in Zhukovsky airfield, Moscow drawing attention of not only aviation enthusiasts rather the world's potential buyers of Russian aviation products between 18th and 23rd July 2017. Star of this year's air show was MiG-35, the latest and most recent product of JSC RAC MiG. In the Static section, a MiG-35UB and in dynamic section, a MiG-29M2/ MiG-35D prototype with 747 BLUE side number draw attention of visitors via performing spectacular manoeuvres. Unlike what had been expected earlier this year, the Russian Ministry of Defense didn't place any order for MiG-35 and postponed this to 2018 when the MiG-35S and MiG-35UB prototypes will be equipped with Zhuk-AE radars, while military delegations from various companies met RAC MiG authorities and negotiated for possibility of procuring MiG-35, among them Brig. Abdulkarim Bantarafi, General Manager of Iranian Aviation Industries Org. showed his interest in the MiG-35 MMRCA (Modern Multirole Combat Aircraft) in-order to procure for Iranian Air Force (IRIAF).
Babak Taghvaee on Twitter: "Exclusive: #RuAF #Russia|n Air Force has 106 airworthy MiG-29. Most of them will be replaced by MiG-35 btw 2019-2029 https://t.co/As8owVRyyE https://t.co/BLQiQo4e6r"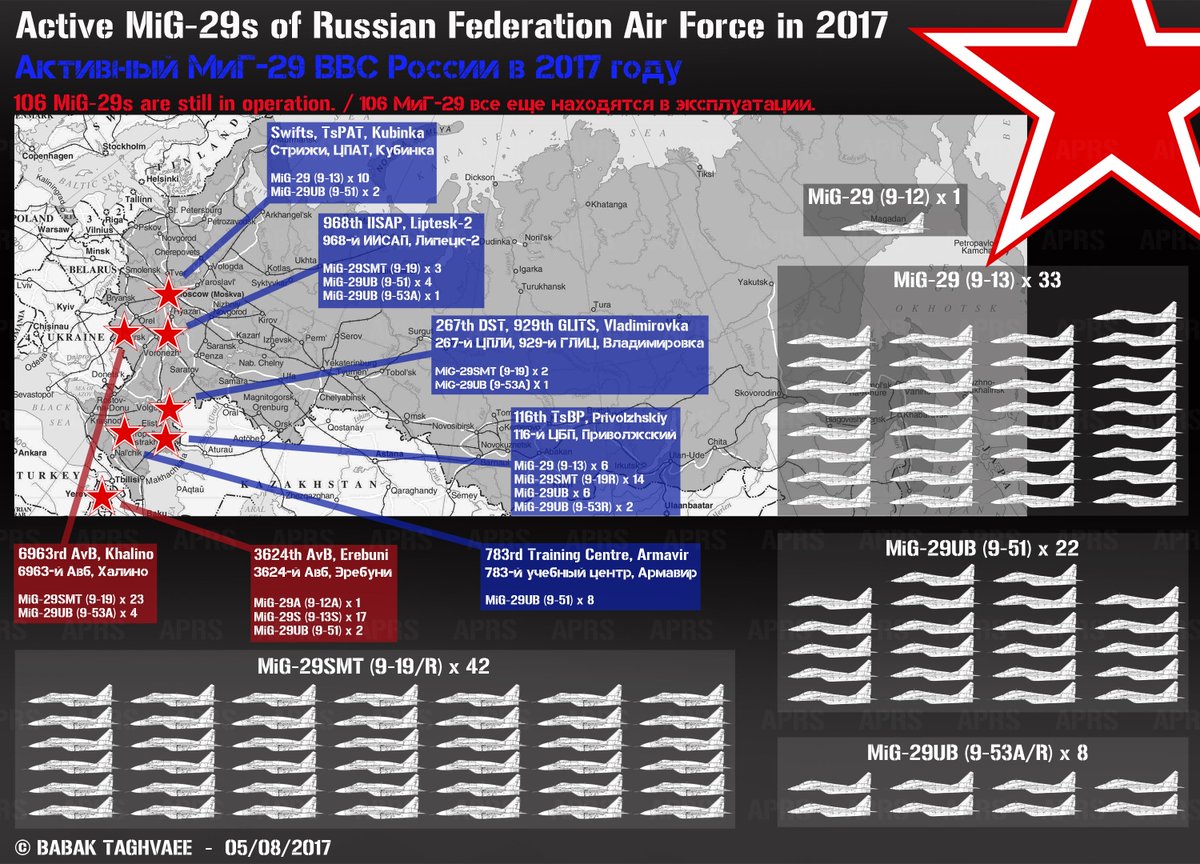 Chicago Boyz » Blog Archive » History Weekend — The Darwin Air Campaign's "End of the Beginning", Plus 75 Years
Starting seventy five years ago in March 1942, in the aftermath of the February 1942 raid on Darwin by Japan's dreaded Kido Butai Carrier Fleet, land based air units of the Imperial Japanese Navy and Army Air Forces began a sustained campaign to keep Darwin suppressed as a forward operating base for the allied military's in Australia. To stop this onslaught, the newly formed and radar equipped Australian No. Five Fighter Sector, RAAF, together with the US Army Air Force 49th Fighter Group fought a lonely and forgotten campaign of aerial attrition that was a tactical draw and an operational victory for General Douglas MacArthur's Southwest Pacific Theater. This operational level victory saw the first aerial combined arms team in the Pacific theater with a radio telecommunications based command and control organization that melded radar, signals intelligence, ground based observers, ground based air defense, combat engineering, and logistics to meld into a aerial fighting style unique to the MacArthur's theater. A style tactically years in advance of USAAF in North Africa and Northwest Europe and months in advance of USMC air units over Midway and Guadalcanal. The isolation of this campaign from the USAAF high command also highlighted the fact that the US Army Air Force's Pursuit — AKA fighter pilot — faction was well aware of how to get and maintain air superiority…without the interference of the Bomber Faction dominated USAAF high command.
Man Who Saved the World From Nuclear Armageddon in 1983 Dies at 77
On September 26, 1983, Soviet military officer Stanislav Petrov received a message that five nuclear missiles had been launched by the United States and were heading to Moscow. He didn't launch a retaliatory strike, believing correctly that it was a false alarm. And with that, he saved the world from nuclear war. But now reports have surfaced that Petrov died this past May. He was 77 years old.
IW/IO/Cyber Reports
What We Don't Know Can Hurt Us – To Inform is to Influence
Revelations that Russia used Facebook ads and events in 2016 underscores what little we know. By Robert Schlesinger, Managing Editor for Opinion | Sept. 15, 2017, at 6:00 a.m. The Russia scandal increasingly looks like a matryoshka doll in reverse. The Russian dolls famously each open to reveal a smaller version nestled inside; the scandal over our foreign…
Why Americans Keep Falling For Russian Propaganda – To Inform is to Influence
September 13, 2017 Patryk Babiracki from The Washington Post The Soviets lost the Cold War partly because of their crude propaganda. But the Kremlin learned its historical lesson. The recent news about Facebook selling ads during the 2016 election to a Russian troll farm and Russia creating fake online Americans to push anti-Hillary Clinton propaganda show…
Inside Russia's Global Propaganda Network, RT | Fortune.com
RT, formerly Russia Today, reaches millions of Americans, and may be fragmenting U.S. political culture with propaganda.
U.S. Navy signs Charles River Analytics to detect informational warfare – To Inform is to Influence
LISA DAIGLE, ASSISTANT MANAGING EDITOR CAMBRIDGE, Mass. Intelligent-systems developer Charles River Analytics (CRA) and the Office for Naval Research (ONR) have announced that CRA has won a contract focusing on social media analysis and pattern detection. The two-year, follow-on contract for a Composable Hybrid Approach to Recognizing Bots and their Influence in Social Media Analysis (CHARISMA)  is…
US Domestic Policy Reports
Trump at the UN: What to watch for Monday | TheHill
President Trump is in New York City for a week of meetings and speeches with foreign leaders amid global uncertainty about a nuclear North Korea.
Robert Mueller and Facebook: Why the Special Counsel's Warrant is a Turning Point in the Trump-Russia Probe
The warrant could transform the scope of the inquiry and the legal strategy of the people in Mueller's sights.
Facebook Knows More About Russia's Election Meddling. Shouldn't We? – The New York Times
The social media giant owes it to its users to let them know if they interacted with what amounts to a digital spy. And that's just the start.
Facebook Is Still Hiding Crucial Russia Intel From the Public – To Inform is to Influence
Fake news, bogus accounts, Kremlin-sponsored trolls—and little transparency. AJ VICENS SEP. 13, 2017 3:10 PM Facebook is feeling the heat this week as further details emerge on Russia's use of its platform to monkeywrench America's electoral process—the sowing of disinformation and political discord via six-figure ad buys, fake events pages, and Kremlin-sponsored trolling operations. On Tuesday, the leaders of the…
Report describes Facebook's viewpoint amid Russia investigation – CBS News
Facebook acknowledged that fake accounts allegedly from Russia bought $100K in ads during 2016 election cycle
Intelligence, Politicization, and the Russia Probe – Lawfare
Is CIA Director Mike Pompeo helping President Trump bury the Russia investigation?