Anonymous expert compilation, analysis, and reporting.
</end editorial>
---
---
A good number of Zapad 2017 reports and related topics. Grigas on LNG impacts in Baltics. Amb Bolton chastises the Ukrainians over thinking about UN peacekeepers, seeing this as an opportunity for Russia (he may be right). Multiple condemnations of Russian peacekeeper proposal.
In Russia the bomb hoax campaign continues, and speculation now is that it might not be an FSB or GRU false flag operation, and the Russians may indeed not know who is doing it – blaming Ukraine is simply the default answer if no better story exists. Galeotti discusses the damage effects to Putin. More on Russia's "Orthodox Taliban", illiteracy in Russian history (including stuff they teach),  Islamisation, ethnic discord, and an appeasement essay from the self designated "realist" camp.
In Belarus, Lukashenko decides to sit out Zapad 2017 in Minsk, evidently not happy to leave the country with thousands of Russian troops inside. Ukrainian govt labels Belarus now unsafe to visit. Putinist Dodon fight with parliament continues.
In Kyiv, the Yalta European Strategy (YES) conference is under way, producing some excellent soundbites – and sound observations. Reports Russia intends to cease funding occupied Donbass by 2019, presumably hoping the UN will pay for it while indulging the Russian puppet regimes. Donbass fires continue. US may be soon supplying a large batch of Humvees to Ukraine. More on Sokil / Warmate – Ukrainian variant has four warhead options, blast, blast-frag, shaped charge and incendiary.
More on Iran measures, and COCW on the Iranian Navy recruiting ad. Russia deploys MiG-29SMT  "fatback" FULCRUMs to Hmeymim. Russian meddling in Libya.
Dominant DPRK topic is the second IRBM shot over the top of Japan – a baiting game, intended to drive up the value of the extorted concessions. SECSTATE puts onus on China and Russia to deal with Pyongyang – China may try, Russia will not. UN investigating sanction busting in Africa. Youtube purge continues – not a good idea. COCW Award to the Dandong businesses providing Yalu river boat tours for Chinese to look at the DPRK. Atlantic Council publish rebuttal of NYT fake news article by Budjeryn and Zhalko-Tytarenko.
Nordstream, EU sanctions, Putin proxies in EU politics, and the Turkish S-400 / SA-21 procurement, including blowback.
Meduza compares funding for Russian propaganda vs. BBG/VOA/RFE/RL/RFA etc.
US domestic news – diplomatic tit-for-tat continues, more on Kaspersky and especially Facebook exploitation by Russia.
---
Russia / Russophone Reports
---
Russia accuses West of 'whipping up hysteria' over military drills in eastern Europe – ABC News (Australian Broadcasting Corporation)
Troops from Russia and Belarus are being sent to eastern Europe by the thousand in tanks, helicopters and warships equipped with rocket launchers, for large-scale military exercises.
Russia and Belarus launch war games aimed at holding the line against the West – The Washington Post
Western leaders have expressed concern about the size and scope of the Zapad exercises.
Leonid Bershidsky | The Zapad Military Exercise Reveals Putin's Fear – Bloomberg
If war breaks out with the West, it's most likely to start in "Veyshnoria."
Episode 01: Zapad Shmapad and Facebook Spy Games by Everyone Hates Moscow
Stream Episode 01: Zapad Shmapad and Facebook Spy Games by Everyone Hates Moscow from desktop or your mobile device
Alex Kokcharov | "Zapad-2017": Russian sabre rattling towards eastern Europe -Euromaidan Press |
Major border incidents unlikely but the upcoming Russia-Belarus military exercises demonstrate the extent of Russia's potential reach.
Zapad watch – quick roundup of day one – Russian Military Analysis
Zapad is here! Well it actually arrived some days ago, as there were an awful lot of command post exercises and live fire drills already in recent weeks. Officially though this is the first day of Russian military armageddon –  so here is a quick and unvarnished roundup of some of the events taking place.…
NATO Reinforces Eastern Flank With Latest Military Equipment Delivery – YouTube
Soviet Union 2.0: How Putin is shaping modern Russia | The Independent
Vladimir Putin has maintained a vice-like hold on the top tiers of Russian power for almost twenty years. For international observers, the Russian leader is an unfathomable and enigmatic figure. He is rumoured to have a personal wealth worth billions and is said to enjoy access to luxury palaces and mega-yachts.
'THE GREATEST THREAT' – Air Force Times
At first, the attack unfolds silently, weaving its way through cyberspace long before bullets fly. The drumbeat of disinformation builds in the Baltics. Russian-speaking residents hear through news outlets and social media messages that there are reasons to realign with the motherland. Nearby, Russian troops are hunkered down with hundreds of tanks and missiles in Belarus. Text messages, like paper leaflets in previous war propaganda falling from the sky, whisper, "America won't help you" and "NATO is not your friend." Russo-defiant Belarusian President Alexander Lukashenko faces a Kremlin-backed coup. This unrest on the border will not stand, Russian President Vladimir Putin tells his countrymen. He cannot allow insecurity to grow into a threat. That's where this hypothetical – but very plausible – scenario leads into a more traditional conflict: Internet-connected infrastructure shuts down, rockets crash into key targets, and the treads of Russian tanks chew up Baltic roads, bringing the deafening roar of war across all spheres. Estimates by think tank experts and career military leaders predict that a swift Russian push would claim cities in a matter of 36 to 60 hours. And Russia could keep rolling, gobbling up territory for the first 90 days, daring the U.S. and NATO to push back. This month, Russia is holding its military exercise in the country's western district, which will involve one of the largest massing of Russian forces along Europe's border since the fall of the Soviet Union. This event promises to keep U.S. and NATO military leaders on edge as Russians move 60,000 to 100,000 troops and 4,000 train loads of equipment toward the Polish and Lithuanian borders. Parts of the Russians exercise will be conducted on both sides of the Suwalki Gap, a key sliver of NATO territory that would likely be the focus of any initial Russian maneuver toward the Baltics. Army Lt. Gen. Ben Hodges, commanding general of U.S. Army Europe, said earlier this year he will be closely watching what equipment enters Belarus, and, more importantly, what remains there afterward. Though North Korean nuclear threats have dominated the news for months, the slow burn of Russian territory grabs in eastern Europe, coupled with NATO criticism from President Donald Trump, create a scenario that could erupt at exactly the wrong time – when the United States is distracted and unprepared.
Sweden holds military exercise, practising ground, anti-aircraft and naval defense – 112.international
Russian troops involved in West 2017 military drills will leave Belarus by October, as the maneuvers should be over by September 20. In the meantime, Ukraine hosts international exercise Rapid Trident. 2,500 servicemen from the U.S. and Ukraine are participating. Besides, Sweden also conducts its own large-scale military exercise; 20,000 NATO servicemen and civilians play the scenario of an attack on Gotland Island, practicing ground, anti-aircraft and naval defense. Sweden, the non-aligned state, voices out concerns that Russia could attack from the mainland.
Agnia Grigas | What US Natural Gas in Lithuania Means for Russia | Foreign Affairs
The first-ever delivery of U.S. liquefied natural gas (LNG) to Lithuania on August 21 marks a turning point for the Baltic region's energy markets.
Peacekeepers in Donbas is Ukraine's mistake, – ex U.S. ambassador to UN – 112.international
If you want to restore sovereignty over Donbas, the last thing Ukraine should do is allow peacekeepers here, John Bolton said. Introduction of the UN peacekeeping mission to the occupied Donbas is wrong initiative on the part of Ukraine. Such opinion was expressed by the former U.S. ambassador to the UN John Bolton in his exclusive commentary for 112 Ukraine TV channel. "I do not think there should be peacekeepers in Ukraine, which is a mistake from on Ukraine's part. It means that you are increasing Russia's involvement in Ukraine's internal affairs. And Russia is a permanent member of the Security Council. After the collapse of the Soviet Union, Russia gained an even greater international weight. Now the main dispute is not to freeze this conflict. If you want to restore sovereignty over the Donbas, the last thing Ukraine should do is allow peacekeepers here, "the diplomat said. To resolve the conflict in the Donbas and fight against Russian aggression, Ukraine, according to Bolton, must demonstrate its readiness for this. "Therefore, if Ukraine is ready to fight for its independence, it must now prepare for it, increase military support from the United States. I believe that Ukraine must do everything possible to reduce Russia's pressure on it now. it is not enough, it should make much more effort, "he said. Speaking about the possibility of obtaining lethal weapons from the U.S., Bolton said: "I think that Ukraine should approach it diplomatically, I think this is still the best way at the moment for both Ukraine and the United States." As it was reported ealier Poroshenko together with the OSCE Secretary General coordinate approaches to deploying UN peacekeepers in Donbas. The president emphasized the importance of establishing an intensive dialogue between the OSCE and the UN on this issue.
Putin's offer on UN peacekeepers is unacceptable, – Rasmussen – Putin's offer on UN peacekeepers is unacceptable, – Rasmussen – 112.international
Putin's offer on UN peacekeepers is unacceptable, – Rasmussen. The offer of Russian President Vladimir Putin on the deployment of the UN peacekeepers in Donbas is unacceptable and it will worsen the situation in the region. Former NATO Secretary General Anders Fogh Rasmussen claimed this to 112 Ukraine within the Yalta European Strategy meeting in Kyiv. 'We all stand for peace, peacekeeping force but the offer of Putin is unacceptable. His offer will not provide the peace but only worsen the situation. But let work on this issue, let make some efforts, let observe the border between Russian and Ukraine and stop the inflow of the Russian Armed Forces', he said. 'President Poroshenko will come to New York the next week and my offer is that he should pay attention to the Putin's offer', the former NATO Secretary General thinks. According to Fogh Rasmussen, the problem resides in the fact that Ukraine does not control the part of the border with Russia. 'We have to deploy there the peacekeeping forces to control this part. I think that Putin made one step forward and Poroshenko should make three steps', he said.
Russia's offer to bring UN peacekeepers to Donbas is 'mockery over Ukraine', – ex-president Leonid Kuchma – 112.international
Russia's offer to bring UN peacekeepers to Donbas is 'mockery over Ukraine', – ex-president Leonid Kuchma. The Kremlin has been 'mocking' Ukraine and the rest of the world by offering to implement the UN peacekeeping mission in Donbas. Leonid Kuchma, the ex-president of Ukraine and this country's official envoy in the Minsk talks group, said that in the commentary for the press during the Yalta European Strategy forum. Speaking about the face-to-face negotiations with Russian president Putin and settling the Donbas conflict by one-on-one talks, Kuchma stressed that this prerogative belongs to Petro Poroshenko, 'I think we should have negotiated with Russia since the very first days of the conflict. But we didn't. This is why we've got just what we have,' he said. Kuchma added that bringing UN peacekeepers to Donbas could take place only after Ukraine takes the entire length of its state border under control.
Russia wants to 'freeze' conflict in Donbas – ex-chief of intelligence service – 15.09.2017 10:30 — Ukrinform News
Russia, under the guise of peaceful initiatives for the Donbas, wants to freeze this conflict and create preconditions for the long-term destabilization of Ukraine, former Chief of the Foreign Intelligence Service of Ukraine, Army General Mykola Malomuzh has said.
Putin to set multiple conditions for peacekeepers in Donbas – Ukraine MFA
Ukrainian Deputy Foreign Minister Olena Zerkal says Russian President Vladimir Putin will put forward multiple conditions when discussing the possibility of deploying UN peacekeeping forces in Donbas. News 15 September from UNIAN.
Why Ukraine is Wary of Putin's Peacekeepers Offer for Donbas – YouTube
UATV English Published on Sep 14, 2017 Ukraine officials react with extreme caution to Russian President's proposal to bring peacekeepers to Eastern Ukraine in order to settle the conflict. Here's why.
Russia Manufactured Provocation Against Ukraine? – To Inform is to Influence
This morning I was just browsing through Facebook when my favorite Russian, working at the Russian Ministry of Foreign Affairs, pops up and writes this. "Attack on Peter The operation of information terrorism organized by geopolitical opponents of Russia continues. Today, a blow has been struck at Moscow schools. Complex Operation Hybrid War against Russia…
Mark Galeotti | Fake Terrorism Is a Real Threat to the Kremlin (Op-ed)
The string of bomb hoaxes put Putin's reputation as a 'security president' on the line. …. But perhaps more strikingly, false alarms may prove more problematic for Putin than real ones. He is undoubtedly a "security president," one whose legitimacy to a large extent rests on his perceived role as the guardian of Russia from threats foreign and domestic. Actual attacks, with all the terrible accompanying theater of flashing blue lights, bodies being loaded into ambulances, screaming children and crying mothers, tend to generate a rally-round-the-flag boost for him. His presidency was born in the apartment bombing blasts of 1999. Periodic incidents, including the recent St. Petersburg metro attack, have played to the sense that a strong hand was needed at the helm of government. This current campaign, especially if it continues, may prove a rather less useful challenge. First of all, it is beginning to make the organs of state security look incompetent. There is much they can do, from knocking on (or kicking down) the doors of the usual suspects to tracking down web searches for, say, the telephone numbers of relevant malls, schools and airports. Putin's credibility as the man of action and the defender of Russia will not so much be damaged by this campaign, if it continues, so much as become less relevant. But none of this guarantees a result. And even if some convenient scapegoats are swept up, if the campaign doesn't stop the Kremlin's credibility is at risk. Of course, the best scapegoats are foreign ones, and already this is being mooted. It may well indeed be the case, but this is problematic. On the one hand, this plays to a familiar narrative of Russia embattled in a hostile world, but it is also an implicit acknowledgment of vulnerability. Blaming Kiev will be tempting, but would the Kremlin really want to admit that the Ukrainians can make Moscow stop trains and empty offices with a phone call? The other classic temptation is simply to lie, and again there have already been cases where local authorities have sought to present the evacuations as nothing more than drills. More generally, state media is downplaying the whole campaign, waiting for an authoritative steer from above. Yet for the hundreds of thousands of people directly and indirectly affected, and for the friends, families and workmates they will regale with their experiences, this is real.
Anonymous Bomb Threats Continue In Moscow, St. Petersburg
A series of anonymous bomb threats phoned in to authorities across Russia has continued with new threats in Moscow and St. Petersburg. Moscow police sources say more than 9,000 people wer…
As Wave Of Mysterious Bomb Threats Rattles Russia, Theories Fly 
MOSCOW – Maybe it's telephone terrorism. Maybe it's a secret test of the country's civil defense. Or maybe it's a new form of cyberwarfare.   For five days, Russi…
How Russia's Wealth Got Hijacked
A new report by the National Bureau Of Economic Research examines income inequality in Russia and reveals that Russia's rich and powerful keep half of their wealth offshore. Russia's capital flight is now likely equal to the collective wealth of all Russian households.
The Daily Vertical: The Kremlin's Frankenstein Monster (Transcript)
Kremlin spokesman Dmitry Peskov calls them "extremists" and says the police should crack down on them. Culture Minister Vladimir Medinsky calls them "sectarian arsonists." And in an editorial, the newspaper Vedomosti has asked why Patriarch Kirill has been silent about them. The growing extremism of Orthodox Christian activists — most notably the threats from a group ominously calling itself "Christian State" against movie theaters showing the controversial film Matilda, which depicts a romantic liaison of Tsar Nicholas II — was entirely predictable. WATCH: Today's Daily Vertical And so were violent acts like the Molotov cocktail attack on the St. Petersburg studio of Matilda's director, Aleksei Uchitel, and the two arson attacks on cars near the Moscow office of Uchitel's lawyer. Ever since Vladimir Putin returned to the Kremlin in 2012, his regime has encouraged, manipulated, and utilized the most nationalistic, xenophobic, and nativist elements in society for political gain. It was just a matter of time before some of them went rogue. Now, the Kremlin claims to be shocked and appalled about the emergence of radical groups like Christian State. And the recent violence and threats of violence does create the appearance that the Putin regime is losing control over the Frankenstein monster it created. But we would also be foolish not to expect the Kremlin to use this atmosphere of fear to its advantage. What better opportunity, after all, for the Putin regime to present itself as a moderate, measured, and responsible voice of reason. And just in time for election season.
'Christian State': Meet The Hard-Core Russian Religious Activists Making Cinema Owners Tremble
In January, Andrei Alekseyev received a letter from religious activists warning that movie theaters like his "could burn" if they showed a forthcoming film about a romantic liaison o…
Window on Eurasia — New Series: Russians Think History is Important but Don't Know Many Important Facts, New Poll Finds
Paul Goble Staunton, September 14 – Few people live in a more historically saturated country than do the Russians of today, especially under a president who prefers to talk about the past rather than the future and in the centenary year of the 1917 revolutions. But a new survey shows that many Russians don't have a clear grasp on important facts. Today's Kommersant summarizes the results of a new VTsIOM poll concerning Russians' knowledge about the 1917 revolution and related events. It found that 96 percent of Russians say they believe that "it is important to know the history of Russia." But it also found that many in fact don't (kommersant.ru/doc/3409875). Russians appear to be aware that this is the case, the survey found. Forty percent of them say they know their nation's history "poorly" and seven percent more say their expertise is "very poor." Only 41 percent say that they know it "well." Among these, three percent say they know it "very well." But when VTsIOM asked if they knew the answers to some specific questions, the level of Russians' knowledge was revealed as something less than one might have expected. Only 11 percent of Russians know that the Bolsheviks overthrew the Provisional Government. Sixty-five percent gave other answers, the most frequent was that "the Bolsheviks overthrew the tsar." Only seven percent knew that Pyotr Stolypin was the author of the phrase, "they need great turmoil, we need a great Russia." Eighty-three percent didn't even hazard a guess, and the other ten percent got it wrong. Only nine percent knew the dates of the Russo-Japanese war, and not a single Russian queried knew the date when Russia left World War I. Young people do especially badly, and Mikhail Mamonov, a VTsIOM analyst, says that one of the reasons is that Russian schools have departed from the traditional methods of instructing history. As a result, he says, "young people know and remember only what they have seen in films and on television."
Window on Eurasia — New Series: Russia's 'Imperial Curse' Reflects Three Longstanding Trends, Inozemtsev Says
Paul Goble Staunton, September 14 – Many speak about "the imperial curse" Russia has suffered from because of its enormous size and the consequences of which not only are very much in evidence now but likely to be for some time to come, Moscow commentator Vladislav Inozemtsev says. But size alone does not define that "curse." Instead, three special features of the Russian imperial experience do, each of which now in "ricochet fashion" has come back to haunt the residents of that enormous space and can even be said to have played a key role in driving it into a dead end (afterempire.info/2017/09/14/damn/). First of all, the analyst says, there is "the factor of time." If one takes the gradual colonization of Northwestern Rus by the Kievan state in the tenth century, the process has been going on "more than a thousand years." If one dates it from the beginning of the 16th century, "no less than five hundred." Even the second shorter period is unprecedented in modern times and is equaled only by the Roman Empire in classical ones. But the expansion was not only long but "practically constant." It simply didn't stop for any length of time during which the country might have consolidated itself. "Therefore," Inozemtsev says, "it is not so much the size of the territory as the unintending character of its increase that was Russia's visiting card." Other empires had expanded in one direction while contracting in another. Russia didn't have that experience and so the post-imperial stress syndrome it is feeling now is especially severe. Second, there is the factor of direction. Most sea-based empires evolve quickly, he points out, while continental empires "can exist for thousands of years but in relatively stable borders." In this regard, "Russia is an exception: having borrowed many Mongol practices for ruling space, it expanded precisely into territories located far from seaways." The idea of "a heartland," which the British invented but which Russians have been guided by to this day, has played an evil trick on the Russian people: Today, "about 70 percent of GDP is created on territories less than 100 miles from sea coasts." These form "less than ten percent" of the land surface of the planet but a far greater share of Russia's space. According to Inozemtsev, "Russia formed its own identity in the form of endless expansion" without much regard for acquiring useful territory but rather focused on gaining territory as such. As a result, its leaders have assumed that their task is "to struggle with nature rather than to take its special features into consideration." As a result, Russia has lost not only a geopolitical cold war but a banal one with cold as such, "having constructed enterprises and cities in completely unsuitable locations and condemned itself to ineffectiveness without end." That in turn, the analyst says, makes Russia "a completely uncontemporary country which can hardly be reformed." And third, Russians have viewed their expansion as something beyond discussion: the price of the acquisition of new territories is something that can't be discussed; and the price or even benefit of losing others is something that can't be borne, as the Hitler-Stalin Pact and the Crimean Anschluss show. "Politicians and the people in Russia have not been interested and are not interested now by the economic and political losses they will be subject to by the latest expansion of the country. For that goal, almost all are practically prepared to do anything." And losses are inevitably treated as treason. That allows the Kremlin to manipulate Russians with ease. In Inozemtsev's opinion, this likely means that "Russia has no chances to transform its imperial essence and become a 'normal' country," however desirable that would be" for its own people and the world. At present that puts Russia on the outs with the rest of the world, but the situation may change in the future. And that means, the analyst continues, that "even if Russia will not change its 'imperial' position at some moment it may be in relative demand," in the same way that even a stopped clock is correct twice a day. Indeed, given the small chance that Russia can change, the real question about the Russian Empire is whether and when the rest of the world will.
Window on Eurasia — New Series: Non-Russian Language Media Increasingly Dominates Daghestan, Undermining Moscow's Influence There
Paul Goble Staunton, September 14 – Russian officials are concerned that private media outlets in the various non-Russian languages of Daghestan now have move readers and viewers that Moscow ones and that Daghestanis prefer to get their news even about Russia as a whole from local sites, something these officials say represents "a threat to national information security." That is how Sergey Snegiyev, Daghestan's deputy information minister, described the situation at a conference in Kaspiisk earlier this week, noting that 53 percent of all Daghestanis turn to social networks for news and 30 percent read private republic-level media instead of Moscow outlets (kavkazr.com/a/dagestanskie-yazyki-v-internete/28733746.html). A major part of the reason for this is that many Daghestanis appear to prefer to read news in their native languages rather than Russian and that Makhachkala spends money to support such media outlets which in turn do what they can to make their newspapers and sites of particular interest to their target audience. But however that may be, the most important consequence of this trend is that Daghestan, the most Muslim of all the non-Russian republics in the Russian Federation, is moving away from the Russian information space at a speed and in ways that Moscow officials seem as yet incapable of controlling. That in turn highlights the importance of these non-Russian outlets not only for the population but also for those who would understand what is happening in Daghestan and other non-Russian republics. Russian-language sources are of declining value for both the population and the analytic community. And finally – and this may be something not far from the minds of many in both Moscow and Makhachkala – this shift from the Russian media to the non-Russian language media represents a recapitulation of what happened in many non-Russian union republics at the end of the 1980s, just before they became independent countries.
Window on Eurasia — New Series: Potential for Protest in Central Asia on the Rise and is Increasingly Channeled via Islam, Scholars from Region Say
Paul Goble Staunton, September 14 – The growing influence of Islam across Central Asia now threatens secularism there, scholars from that region said at a recent meeting in Almaty; and if the regimes don't find a way to generate support for secular values among the Muslim community, they predict that troubled times" are ahead for the region. The session was extremely unusual not only because it took place at all – such events have become increasingly rare in the last decade — but also because speakers felt free to sharply criticize the views about Islam now current in both East and West and the policies of their own governments (exclusive.kz/kudai_bіledі_ili_mutnye_perspektivy_islamizacii_czentralnoi_azii; for additional details, see camonitor.kz/28891-kazahstan-islam-i-svetskost-chya-vozmet.html). Elmira Nogoybayeva, a Kyrgyz expert, told the group that one of the problems of talking about Islam in Central Asia is that there is no clear definition of what political Islam really is. Most outside groups and many politicians and commentators simply "demonize" the religion rather than consider what it is really about. If people go outside the major cities, she said, they will find that across Central Asia, "the mosque is the main method of socializing the population regardless of age or gender." And despite what officials say, protest attitudes are growing from their already "high" position. Consequently, more demonstrations of various kinds can be expected. One reason many don't see that is that they fail to understand that Islamic protest does not fit "in the traditional definition of political opposition but rather within religion." Muslims vote with their feet as it were separating themselves from government functions rather than challenging them. This is quite a worrisome signal, Nogoybayeva continued, because it means that protest in Central Asia is already "being channeled through religion" rather than through any secular or civic institutions. Sardor Salimov, an Uzbek political analyst, said that in his country "the rebirth of Islamic identity has occurred," with "ever more people not simply conducting the rituals of the religion" but trying to bring their society into correspondence with Islam and using Arabic to appeal to the Most High." Today, he added, "a critical mass of mature and educated Muslims" has arisen and is ready for action in the public sphere including in politics. "Ever more activists from among Muslims are ready to demand that state policy be conducted in correspondence with Islamic values." This isn't the end of secularism, of course; but it is a threat to its current state. Abdugani Mamadazimov, a Tajik scholar, reported that in his country Islamic identity not only competes with but often is stronger than the Tajik one. "Perhaps we do not have VVP [a reference to Putin] but on the other hand we do have our traditions," of which Islam is one of the most important. Sanat Kushkumbayev, the deputy director of Kazakhstan's Institute for Strategic Research, noted that the statistics about the number of mosques and mullahs show that Islam has been growing in his country but "for a lengthy period, [it] was on the periphery of social progress." But now "it is rapidly returning to the arena." The authorities are compounding the problem because they are approach Islam the way the Soviets did through the Muslim Spiritual Directorate (MSD) system, but that system which was all about control rather than cooperation retains its "birthmarks" and does little or nothing to promote cooperation or even conversation between Muslims and the state. Other speakers made equally intriguing interventions. One said that "today no one is surprised when white Nazis become Islamists. This is a global alternative as in the time of fascism, liberalism or communism. One is thus speaking not about the politicization of Islam or the Islamization of politics but about protest." A second pointed out that in Central Asia, "people are going into religion because there is no civil society or political parties. The authorities at one period though that worked to their benefit." But no longer, given that "the limits of secularism and Islam are very fluid," as Turkey has shown recently. And a third said bluntly that in Central Asia today, "secularism is in fact under threat. If governmental policies continue without change, then sooner or later Islam will take the place" of their authors. "Put simply, if the political base of secularism … continues to contract and does not receive support from the umma, then Central Asia faces troubled times ahead."
Window on Eurasia — New Series: Putin Personally Orchestrating Kadyrov's Rising Status, Oreshkin Says
Paul Goble Staunton, September 14 – Vladimir Putin is personally involved in boosting the status of Chechen leader Ramzan Kadyrov, seeing him as critical to maintaining order in the North Caucasus and possibly laying the foundation for the Chechen head to become Russian president not immediately but at some point in the future, Dmitry Oreshkin says. Some commentators have suggested that Kadyrov's recent attacks on Myanmar for its ethnic cleansing of the Rohingja Muslims and his organization of demonstrations in Moscow and Grozny were not to Putin's liking; but the Russian political analyst says that is a misreading of the situation (kavkaz-uzel.eu/articles/309524/). In fact, the two leaders have been in lock step, with Kadyrov simply taking advantage of the status that Putin wants him to have while recognizing that he must show loyalty to Putin in exchange, Oreshkin says. "Kadyrov is a special political figure in Russia. In Russia now, too much depends on the first person and Kadyrov is [Putin's] personal project." "Kadyrov in turn understands perfectly well that for his political future he must demonstrate personal and 'unlimited' loyalty in the negative sense of this word. The Chechen leader must not get into an argument with Putin," the Russian commentator continues. "Neither in Ingushetia nor in Daghestan nor in any other region of the Caucasus or in Russia as a whole is there a politician who has such strong influence." His power is incomparably greater than that of the head of Tatarstan even though Tatarstan is a donor region and Chechnya is heavily subsidized. What makes it so clear that Putin is behind Kadyrov is that "Kadyrov has many enemies especially among the siloviki" and "only Putin's protection saves the Chechen leader. The president very much needs Kadyrov because the latter guarantees security." But that has consequences: "with each year, Kadyrov's ambitions only grow." His position in Moscow is rising as shown by his organization of the demonstration at the Myanmar embassy shows, and now he appears to be in a position to give orders to Moscow Mayor Sergey Sobyanin." At the same time, Oreshkin says, "Kadyrov wants to become a global leader of Islam. That's useful for Putin" as well. "In addition, from Putin's point of view, the Chechen leader may play a key role in keeping control over the rapidly growing Muslim population of the Russian Federation. In the immediate future, however, "Kadyrov cannot become Putin's successor," Oreshkin says. "Now, this is impossible, but to the extent that Russia is moving quickly toward the side … of an 'Asiatic' form of rule," and Putin is showing himself ever more disposed toward the fuehrer principle of rule, "Kadyrov is a clear representative of this style of administration." "And to the extent that this 'leader-centric' system of priorities will intensify and the less divided will power be into judicial, legislative, economic, military and ideological components and the more rapid will be the degradation of the state," Oreshkin concludes, "the greater will be the chances that Kadyrov could occupy the place of the current president."
Moscow's Invisible Grassroots – The Russia File
The round of voting that a few of Russia's regions had last Sunday was both dull and promising. The elections, the majority of them regional and local, were non-competitive in most places and served the purpose of legitimizing Kremlin's appointees as elected politicians. One interesting story was Moscow. It did not shake the ruling party's positions but it did break the sleepy rhythm of Russia's all-too-predictable elections. During the mayoral election of 2013, Alexei Navalny showed a grassroots alternative to the top-down campaigning the Kremlin habitually uses. This time a group of entrepreneurial political operatives who, just like Navalny, are not part of Russia's Kremlin-dominated political circuit, introduced a way of making grassroots campaigning scalable. About a year ago Dmitry Gudkov, 37, a former member of the Russian Duma, and Maxim Katz, 33, a former municipal council member in one of Moscow's districts, decided to take a crack at municipal council elections in Moscow. Local council members are essentially powerless but Gudkov and Katz decided to help many independent-minded Muscovites win a few of those mandates anyway. And their protégés, many of them very young, did receive at least 266 mandates, which is a little over 15 percent of Moscow's council seats. United Russia, the ruling party, won 1,154 seats. This is not a lot. Winning enough council seats is crucial. Having seats in all of the city's 110 electoral districts allows one to break through the regional election filter. To register as a candidate for a gubernatorial election one has to collect a said number of supporters among municipal council members. The opposition campaign was not successful in achieving this. The number of seats won does not allow an opposition candidate to run for governor of Moscow in 2018 (Moscow is one of Russia's federal regions, not just a city). The legislative hurdle created to prevent strangers from running for governors thus did its job. Nevertheless, the results are encouraging because of the novelty of the approach. The project leaders put together a united platform open for candidates from most movements independent from the ruling party. It is an incubator of sorts: a breeding ground for political campaigns rather than businesses.
Thomas Graham, Rajan Menon | The Putin Problem | Boston Review
The Putin Problem from Boston Review. The West thinks of Putin as an aberration among recent Russian rulers, but he stands in line with them. Understanding that continuity is vital to preventing the U.S.–Russian relationship from deteriorating further. Thomas Graham, managing director at Kissinger Associates and Rajan Menon, a professor of international relations at City College of New York/City University of New York.
---
Belarus Reports
---
Belarusians are not concerned about the consequences of West-2017 – 112.international
Politically active Belarusians paint a grim picture of possible results of the exercises, but most of their fellow citizens are not alarmed by these gloomy prospects. Despite all attempts by some opposition politicians to talk about the country's hybrid occupation during these exercises, most of the Belarusians remain indifferent to this topic. September 8, oppositional National Congress of Belarus held an unauthorized protest action in the center of Minsk, which was attended by about 300 people. According to observers, such a small number of demonstrators shows that the majority of Belarusians are concerned about these exercises much less than their western neighbors. Politically active Belarusians paint a grim picture of possible results of the exercises, but most of their fellow citizens are not alarmed by these gloomy prospects. First, the Belarusians are sure that Lukashenko will not give his power (and consequently, Belarus's sovereignty) to anyone, neither to his own oppositionists, nor to the Kremlin. Lukashenko, even under pressure from the Kremlin, has not even agreed to the deployment of a Russian military base in Belarus – why should he agree that Russian troops should stay here after the exercises? And how can 3,000 Russian servicemen, participants of West-2017, annex Belarus with its 65,000-strong army? Moreover, if we look pragmatically, there is no serious conflict between Minsk and Moscow, as there are no signs of an information war.
Kommersant daily: Lukashenka Does not Leave for Maneuvers in Russia – Charter'97 :: News from Belarus – Belarusian News – Republic of Belarus – Minsk
The ruler reassessed his plans. The Belarusian ruler will not likely be present on the Russian training area to inspect the West-2017 exercises. Kommersant reports referring to a military and diplomatic source. According to the source, initially it was assumed that Putin would arrive at the Russian training area together with the ruler of Belarus Aliaksandr Lukashenka. But, according to the latest information of Kommersant's interlocutor, Lukashenka has reassessed his plans and, most likely, will not fly to Russia. Dmitry Peskov informed Izvestiya that Putin and Lukashenka would inspect the exercises at a Russian training area. Last time the leaders of two countries watched the maneuvers during the West-2013 exercises first in the Hrodna region (Belarus) and later in the Kaliningrad region (Russia). West-2017 exercises officially started on September 14 and will last until September 20. Many politicians as well as military experts believe that Russian troops will remain in Belarus after the exercises. A number of military training areas of Belarus will be involved (near Lepel, Barysau, Vitsebsk, Asipovichy, Ruzhany and Damanava). It is reported about planned raids on the "territory" near Dretun. On September 8 the Warning Action demanding the abolition of the West-2017 exercises was held on Kastrychnitskaya Square, Minsk.
Putin To Observe Zapad 2017 Drills From Russia; Lukashenka Staying In Belarus
President Vladimir Putin plans to visit Russia's Leningrad region on September 18 to watch Zapad 2017, Russia's joint military exercises with Belarus. Kremlin spokesman Dmitry Pesko…
Military Exercises West-2017: The Moment of Truth Is Coming – Charter'97 :: News from Belarus – Belarusian News – Republic of Belarus – Minsk
Belarus somehow revived during similar historic challenges. Public activist Dzyanis Kazakevich wrote on Facebook. "Today military exercises West-2017 officially begin. In fact, they began a long time ago. They were simply presented as a series of small exercises: infantry in Kaliningrad, aviation in Tver, paratroopers and engineer troops in Belarus, nuclear cruisers in the Baltic… Now the culmination of this grandiose military operation is coming. Putin and Lukashenka often behave like petty criminals who did not share something among themselves: noisy and effective quarrels, demonstrative threats, desperate bluff. In the press this is called gas, dairy and other wars. But now the moment of truth is coming which shows who is who. Speaking their language, it's only the beginning. Don Putin has decided to convince the whole world that he is a badass dude and started these exercises. And yes-man Lukashenka pleasingly provided the territory of Belarus for tens of thousands of foreign soldiers. Many times our territory was "visited" by invaders. The central avenue of Minsk was renamed many times: Zakharievskaya Street, Nouvelle Ville, again Zakharievskaya Street, Hauptstrasse, Sovetskaya, Adam Mickiewicz and again Sovetskaya Street, and again Hauptstrasse, and again Sovetskaya, Stalin avenue, Lenin avenue, Francisk Skaryna avenue, Nezavisimosti avenue. Many times it seemed that there was no hope, but Belarus always revived. This time it depends on us whether at least formal independence remains. Long Live Belarus!"
Ukrainean Foreign Minister: Russian Special Services Operate In Belarus – Charter'97 :: News from Belarus – Belarusian News – Republic of Belarus – Minsk
After the disappearance of Pavel Grib, Ukrainian citizens cannot feel safe in Belarus. The Ministry of Foreign Affairs of Ukraine, after clarifying all the circumstances of Pavel Grib's abduction, will determine the necessary steps regarding the security of Ukrainians in the territory of Belarus. Ukrainian Foreign Minister Pavel Klimkin said that in an interview to Ukrinform. "The abduction of Pavel Grib on the territory of Belarus is a very serious matter, and we need to find out how it happened. To do this, we track information from different sources. Russia does not allow our consuls to Grib, but we will put pressure on them in all the possible ways, and as soon as we find out all the circumstances, further steps will follow," – Klimkin says. He notes that after Grib's abduction, one should speak about the danger of the stay of Ukrainian citizens not only on Russian territory, but also in Belarus. "Now we have seen a situation which proves that the Russian special services operate in Belarus, and I believe that Ukrainian citizens should think over how to travel there," – the minister says. Commenting on the exchange of harsh statements between the Foreign Ministry of Ukraine and Belarus, Klimkin notes that "it is not the question, but that every country should control what is happening on its territory – this is a component of sovereignty." When asked whether the Foreign Ministry will also recommend Ukrainians to refrain from traveling to Belarus, as well as to Russia, Klimkin answers that these steps might be different. "But we are worried about the safety of our citizens, therefore, despite political or other circumstances, as soon as we find out the situation, we will make further recommendations on how the Ukrainians can feel safe and who should take care of it," – Klimkin stresses. We remind that on August 28, military chaplain Igor Grib informed that his 19-year-old son Pavel went to meet a girl in Belarus on August 24 and disappeared. The Homel security forces told the father that his son was "wanted for terrorist activities" (the initiator was the FSB), but they did not confirm the detention. According to the girl, who Pavel visited in Homel, she had been forced to lure the Ukrainian to Belarus by the Russian special services. Later, on September 7, the Foreign Ministry confirmed that Grib was in the pretrial detention center of Russian Krasnodar, he was accused of terrorism.
Pavlo Hryb's abduction by Russian special services in Belarus. How is it going to affect Kyiv-Minsk relations? – LB.ua news portal
Pavlo Hryb's abduction by Russian special services in Belarus. How is it going to affect Kyiv-Minsk relations?. At last, an official confirmation came in today that the Ukrainian citizen who went missing in Belarus was kidnapped by the Russian special services. Thus, it was confirmed that not only the territory of Belarus is no longer safe for any citizen of Ukraine, but that the Republic of Belarus is no longer neutral towards Ukraine. A new stage in relations between the two countries is to begin. [[editor.image url="https://i.lb.ua/english/086/05/59ba7d1f95df4.jpeg"author="prograzhdanstvo.ru" ]][[endeditor]] Political – LB.ua news portal. Latest from Ukraine and the world today
---
Transnistria / Moldova Reports
---
UAWire – Moldovan President Dodon nominates his own candidate for the post of Minister of Defense
Moldovan President Igor Dodon rejected the candidacy of Eugen Sturza, who was nominated by the ruling coalition for the post of defense minister, instead proposing to the government his own candidate, General Victor Gaiciuc. The Moldovan leader announced this at a briefing held in Chisinau, Ukrinform reports. "Today I sent a letter to the Prime Minister rejecting the candidacy of Eugen Sturza for the post of Minister of Defense. Mr. Sturza is an incompetent man in the military sphere, with no professional skills to lead the army. I have proposed an alternative candidacy for a career military [and] former Moldovan Ambassador to NATO, General Victor Gaiciuc," noted Dodon. Speaking about the intentions of the ruling coalition to amend the Defense Law in order to transfer the authority to send Moldovan servicemen to the exercises from the president to the government, Dodon stressed that he would not sign the amended law, since issues related to the army and national security, according to the Constitution, are the jurisdiction of the president as Supreme Commander-in-Chief. Victor Gaiciuc was the Minister of Defense of Moldova in 2001-2004, during the reign of the Party of Communists. The evening prior, the ruling coalition in the country, which is led by the Democratic Party, nominated Eugen Sturza for the post of Minister of Defense of Moldova. Earlier, the Moldovan president dismissed Deputy Defense Minister Gheorghe Galbura, who also held the post of Minister, because Galbura sent Moldovan military to the Rapid Trident-2017 military exercises against Dodon's will.
---
Ukraine Reports
---
Signatures under Budapest Memorandum provide less security then nuclear weapon, – Poroshenko – 112.international
Signs under Budapest Memorandum provide less security then nuclear weapon, – Poroshenko. President of Ukraine Petro Poroshenko cited German philosopher Nietzsche at the Yalta European Strategy at the speech about the modern policy. He emphasized that the Budapest Memorandum signed in 1994 is not fulfilled. The forum was broadcasted by 112 Ukraine. 'I liked a phrase 'There is no chance, see each other next year in Yalta'. We resisted. That which does not kill us makes us stronger. This is a phrase of Nietzsche and I think that it reflects the essence of the things that happen in the geopolicy. We live in the new world and I think that we did not reach it yet. If someone thinks that when war ends everything will be as it is used to be then I think that these people are wrong. You cannot resurrect tens of thousands of perished Ukrainians. You cannot forget that the signatures under the Budapest Memorandum provide less security then one nuclear weapon', the president said.
Return of Crimea is goal for 2018, – Poroshenko – Return of Crimea is goal for 2018, – Poroshenko – 112.international
Return of Crimea is goal for 2018, – Poroshenko. President of Ukraine Petro Poroshenko set the return of annexed Crimea under control of Ukraine as one of the goals for the next year. He claimed this at the Yalta European Strategy (YES) in Kyiv broadcasted by 112 Ukraine. 'The list of the reforms will be very long because the peaceful return of Donbas and return of Yalta by the visa-free regime and Association Agreement is the only strategy for us. This is our goal for the next year', he said.
Poroshenko: Crimea issue can't be "frozen", price for Russian aggression must keep rising
Ukrainian President Petro Poroshenko declares the inadmissibility of "freezing" the issue of Crimea de-occupation and emphasizes the price for Russian aggression must keep rising. News 15 September from UNIAN.
Poroshenko to discuss creation of "group of Ukraine friends" in UN for de-occupation of Crimea
Ukrainian President Poroshenko plans to discuss at the UN General Assembly the initiative of creating an international group of Ukraine's friends for de-occupation of Crimea, according to an UNIAN correspondent, referring to Poroshenko's speech at the 14th Yalta European Strategy Annual Meeting (YES) in Kyiv on September 15. News 15 September from UNIAN.
Russia set to cut financing of "DPR", "LPR" – LB.ua news portal
Russia set to cut financing of "DPR", "LPR". Moscow may cease maintaining the occupied Donbas since 2019. he separatist Ukrainian territories "DPR" and "LPR" from 2019 will stop receiving financing from the Russian budget. Russia's Ministry of Finance at meeting with Deputy Prime Minister Dmytro Kozak on 1 September was instructed "to exclude humanitarian assistance to individual territories in 2019–2020 from the draft federal budget for 2018 and for the planned period 2019 and 2020", RBC news agency reported with a reference to a copy of the meeting's minutes. By "separate territories" are meant "DPR" and "LPR", the agency notes. The financing of the "DPR" and "LPR" entirely completely classified, RBC says, and is regulated by secret government decrees, and "closed lines in the budget". Obviously, "humanitarian assistance" is only one of several channels of funding of the "DPR" and "LPR," the RBC source said. At the very beginning of the conflict in eastern Ukraine in 2014, the Russian government approved targeted subsidies for the restoration of the damaged infrastructure of Donbas (power, roads and railways), housing construction etc. In a secret government decree these subsidies were termed as "humanitarian aid to certain territories of Ukraine". These subsidies, the size of which is unknown, passed through the government's reserve fund, the RBC source said. Russian government every year forms such fund to finance own expenditures. Most likely, the government's move abolishes these targeted subsidies for the restoration of the infrastructure of Donbas, believes the source of RBC. The figures for possible Russian assistance to the "DPR" and "LPR" largely remain unclear. Bloomberg News has reported, citing sources in the "republics" that Russia's monthly expenditures on pensions in "DPR" amount to 2.5 bn rubles. Russia's Ministry of Finance later denied such expenditures from Russian budget. In February 2017 the Ukrainian Security Service claimed that the budget of the "LPR" in the first quarter of this year provided for 11 bn rubles in revenues, of which about 9 bn rubles is the assistance of the Russian government. Russia's Ministry of Emergency Situations has delivered 68 humanitarian convoys to Donbas since August 2014 with more than 70 thousand tons of cargo, purchased for the funds outside the ministry budgets. In April 2017, the State Reserve has confirmed providing "humanitarian assistance" to metallurgical companies in the occupied territory of Donbas from its own budgets. However, the government in a while has allocated the State Reserve 10 bn rubles for the restoration of material reserve stocks in terms of raw materials for the steel industry. In addition, Russia, supplies electricity as the "humanitarian assistance" to the "LPR". The "DPR" budget indicates "humanitarian aid" as a source of revenue, but the size of the "republics" budgets has never been disclosed.
Russia could cease humanitarian support for occupied areas of Donbas; the Kremlin does not plan sending 'humanitarian convoys' to the militant-held sections in eastern Ukraine, sources in Russian government say – 112.international
Russia could cease humanitarian support for occupied areas of Donbas; the Kremlin does not plan sending 'humanitarian convoys' to the militant-held sections in eastern Ukraine, sources in Russian government say. Moscow might refuse from regular 'humanitarian' supplies to the occupied Donbas next year. Russian Finance Ministry received respective instructions during the staff meeting with Vice Premier Dmitriy Kozak, which took place on September 1. RBC wrote that with reference to sources close to the Kremlin. The Ministry is supposed to 'exclude humanitarian support for certain territories in years 2019-2020 from the 2018 draft federal budget.' The open documents concerning the content of Russia's state budget do not feature any mentions about 'humanitarian support for particular territories.' According to the quoted source, this formula means, in particular, financial support for the self-proclaimed 'authorities' in Donetsk and Luhansk regions.
Sebastian Kurz | Сatastrophe getting closer: How to prevent threat of poisoning of Donbas inhabitants – 112.international [Die Presse]
All participating parties should pay attention to the well-being of the population in the relevant region and put aside political conflicts. For this reason, Austria in OSCE strongly supports the initiative to minimize the risk of catastrophe in Eastern Ukraine.
Militants launched 28 attacks on Ukrainian troops in Donbas in last day – 15.09.2017 09:40 — Ukrinform News
Militants launched 28 attacks on positions of the Armed Forces of Ukraine in ATO area in Donbas over the past day. One Ukrainian soldier was killed, two more were wounded.
Ukraine suffers losses at Butivka mine amid 28 enemy attacks across conflict zone in last day
Russia's hybrid military forces attacked Ukrainian army positions in Donbas 28 times in the past 24 hours, with one Ukrainian soldier reported as killed in action (KIA) and two as wounded in action (WIA), according to the press service of the Anti-Terrorist Operation (ATO) Headquarters. News 15 September from UNIAN.
OSCE spots three columns of militant equipment near Luhansk (Photo) – 15.09.2017 15:10 — Ukrinform News
The OSCE Special Monitoring Mission (OSCE SMM) has spotted three columns of militant equipment on the H-21 road near the village of Heorhiyivka in Luhansk region controlled by the so-called "LPR." 
U.S. mulling another batch of Humvees for Ukraine – Ambassador Chaly
The United States is expected to deliver another batch of high mobility multi-purpose wheeled vehicles (HMMWV), aka Humvees, Ukrainian Ambassador to the U.S. Valery Chaly told RFE/RL.   "Humvees – a new delivery of new high-quality vehicles, including medical ones, is in the pipeline," the ambassador said in an interview with RFE/RL Thursday. He added that on Wednesday a high-level U.S. expert discussion had been held bringing up on the table the issue of defensive arms for Ukraine, including anti-tank weapons, anti-mine weapons, communications, and anti-battery radars.  Valery Chaly expressed hope that in the near future, these type of supplies would be included in the corresponding legislation in a more concrete form. As UNIAN reported earlier, in March 2015 the first batch of U.S. Humvees arrived in Ukraine. A total of 230 vehicles was planned to be delivered.
Ukrainian army to get new batch of US Humvee armored vehicles – Ambassador Chaly – 15.09.2017 10:27 — Ukrinform News
The United States will deliver a new batch of Humvee armored vehicles to Ukraine.
French senators visit Avdiivka to see aftermath of Russian aggression, – Klimkin. PHOTOS
15.09.17 11:15 – French senators visit Avdiivka to see aftermath of Russian aggression, – Klimkin. PHOTOS Minister Pavlo Klimkin published a photo of a delegation of French senators in the front line city of Avdiivka, the Donetsk region. View photo news.
Myrotvorets Project unveiled names of 251 "'DPR' spetsnaz fighters"
15.09.17 11:53 – Myrotvorets Project unveiled names of 251 'DPR' spetsnaz fighters … View news.
Right on target: Ukrainian-Polish recon and attack drone successfully tested
Sokil, the new reconnaissance and attack unmanned aerial vehicle, is a product of successful cooperation of Ukraine-based Chezara with its Polish partners. News 14 September from UNIAN.
Successful tests of strike unmanned aerial vehicle (video, photo)
The "Sokil" reconnaissance-striking system consists of one reconnaissance and three striking combat vehicles. This was stated by Secretary of the National Security and Defense Council of Ukraine Oleksandr Turchynov at Honcharivske proving ground in Chernihiv region after the tests were completed. According to him, one of the tasks set by the National Security and Defense Council of Ukraine before the domestic defense-industrial complex was "to establish production of high-quality combat unmanned aerial vehicles".
Tried new RPV. Ukrainian-Polish Developer. Quiet and good shot. Take a look – Олександр Турчинов [VIDEO]
This year every Special Forces unit got UAH 5 million for individual equipment and uniform
Stepan Poltorak inspected the 8th Separate Special Forces Regiment in Khmelnytskyi region
Hungary and Romania against the new language policy in Ukrainian schools – Hungary and Romania against the new language policy in Ukrainian schools – 112.international
MP Zalishchuk: We have hundreds of thousands of citizens with passports from other states, some of whom become local deputies, and they cannot even read the Constitution of Ukraine.
Language provisions of education law to be sent to Council of Europe – LB.ua news portal
Language provisions of education law to be sent to Council of Europe. Hrynevych is sure it does not violate Ukraine's obligations. Ukraine is ready to submit the controversial language provisions of the law "On Education" to the Council of Europe for examination, the Minister of Education and Science Liliya Hrynevych said on Friday, 15 September, upon a meeting with the heads of diplomatic missions in Ukraine. "We are confident that this article does not violate the international commitments assumed by Ukraine," the minister said. She said she hoped that President Poroshenko will sign the education bill into while language provisions are examined. Deputy Foreign Minister Vadym Prystayko, in turn, said that the meeting was attended by the ambassadors and representatives of embassies of 11 countries, as well as representatives of the EU, the Council of Europe and the OSCE. The new version of the law "On Education" stipulates that children who go to school on September 1, 2018, will have the opportunity to study in their native language in the first four years. Since the fifth grade, all subjects should be taught in Ukrainian. After the adoption of the law, Hungary, Romania, Moldova, Poland, Russia expressed their dissatisfaction with this rule. In this regard, Prime Minister Volodymyr Groysman instructed the Minister of Education and Research Lilia Hrynevych and Foreign Minister Pavlo Klimkin to hold consultations with ambassadors of the European Union on the issue of linguistic norms of the new law "On education". Groysman stressed, however, that Ukraine is a tolerant state and its policy fully complies with its international obligations, in particular with respect to minority languages. At the same time, the prime minister stressed that the issue of the state language, which should be applied throughout the country, is no less important.
Ukraine's reforms on the rule of law have stagnated -Euromaidan Press |
Willem Aldershoff On September 1, the Association Agreement between the EU and Ukraine finally entered into force in its entirety. Ukraine ratified it May 2014 following mass demonstrations in Kyiv's Maidan square the previous winter, when an impressive cross-section of the population braved months of freezing cold, day and night, to demand an end to the corruption and authoritarian mismanagement that had ravaged the country for 20 years. They were convinced that their demands could be met only by signing the agreement, with its concrete obligations for Ukraine regarding democracy, the rule of law and human rights, and the considerable support it promised from the EU. A recent beyondbrics column focused on economic reforms and trade. This piece will discuss the agreement's obligations regarding democracy and the rule of law, where the outlook is much less rosy. Following Ukraine's ratification, the newly elected president, government, and parliament began pushing through long-overdue reforms. A first success was rapid macroeconomic stabilization by significantly decreasing the budget deficit and inflation and stabilizing the exchange rate. After deep recessions in 2014 and 2015, economic growth reached 2.3% in 2016 and could be 2.8% in 2017.
Ukraine should become energy hub for supply of Russian gas to Europe, – Sefcovic – Ukraine should become energy hub for supply of Russian gas to Europe, – Sefcovic – 112.international
Ukraine should become energy hub for supply of Russian gas to Europe, – Sefcovic
U.S. Coal Shipment Arrives In Ukraine
The first shipment of coal from the United States has arrived in Ukraine, part of a deal between a Ukrainian state-owned energy firm and a Pennsylvania-based mining company. (RFE/RL's Ukrainian Service)
Russia's Ramps Up Illegal Gas Drilling In Ukraine's Black Sea – YouTube
Imam of Iranian Sunni Muslims condemns Russia's persecution of Crimean Tatars -Euromaidan Press |
Ihor Vynokurov The problem of the Russian occupation of Crimea and oppression of its indigenous Crimean Tatar people has been recently raised for the first time in the mediascape of Iran, a Middle Eastern regional power traditionally considered as an essential ally of Moscow. Last month, the Iranian newspaper Sayeh has published the article under the title "The situation of Muslims in Crimea is alarming." The article criticizes the global community for keeping silence against the background of repression of the Crimean Tatars. It traces the disasters these people suffered from Russian imperialism, most notably the Stalinist deportation of 1944. The protest against today's injustice and support of the Crimean brothers in faith, the article underscores, is a human and Islamic duty of Shia and Sunni leaders, governments, and nations. The paper quotes Molavi Abdul Hamid Ismaeelzahi, an influential Iranian theologian and Sunni imam, who condemned Russian discriminatory policy in Crimea and called on the Kremlin to change the situation. Ukrainian diplomats have praised the Sayeh publication as an information victory. They link its appearance to the visit of the Iranian journalistic delegation to Kyiv in June 2017, when the guests were briefed about the outcomes of the Russian occupation of Crimea, particularly forced disappearances, murders, and lawless detentions of Crimean Tatars.
UAWire – Ministry of Justice of Ukraine: There are no grounds to extradite Saakashvili
Mikheil Saakashvili, the former head of the Odessa Regional State Administration, will not be extradited from Ukraine until the criminal …
UAWire – Czech Republic says it is ready to help Ukraine gain its energy independence from Russia
The Czech Republic is ready to help Ukraine become an energy-secure country, as reported by the Deputy Prime Minister of the Czech Republic, …
---
Russia / Iran / Syria / Iraq / OEF Reports
---
Iran Nuclear Deal Critics Push Plan for 'Global Economic Embargo' | Foreign Policy
Iran Nuclear Deal Critics Push Plan for 'Global Economic Embargo' « | Foreign Policy | the Global Magazine of News and Ideas
Iran produces propaganda video showing its forces destroying US Navy
The video depicts ordinary Iranian citizens destroying the U.S. Navy with a giant tidal wave.
Russia, Turkey, Iran Agree On Borders Of Syrian 'De-Escalation Zones'
ASTANA, Kazakhstan — Negotiators from the three countries sponsoring Syria peace talks in Astana, Kazakhstan, say they have reached an agreement to set up de-escalation zones in Syria for six months…
Russian Military, Not U.S., to Lead Battle for ISIS's Final Major City in Syria
With forces led by Russia and the U.S. less than 10 miles from one another, the U.S. is stepping back to let the Syrian army take Deir Ezzor from ISIS.
US-backed Kurdish fighters will not enter Deir Ez-Zour city
The plan is not to go into the city, an official said.
The Aviationist » Russia Has Deployed Its MiG-29SMT Multirole Combat Aircraft To Syria For The Very First Time
The Russian Air Force has deployed some MiG-29SMT multirole combat aircraft to Hmeymim airbase, near Latakia, in western Syria, the Russian Ministry of Defense confirmed on Sept. 13, 2017. It's the first time the modernized version of the baseline Fulcrum jet is deployed to take part in the Syrian Air War. The MiG-29SMT is an upgraded variant of the MiG-29 featuring a big 950-litre spine CFT (Conformal Fuel Tank) and an in-flight refueling system on the left hand side of the cockpit: it is equipped with a "glass cockpit" with two MFI-10-6M displays and IKSh-1M HUD (Head-Up Display). With a maximum range of 1,800 km (3,000 with three drop tanks), it can carry guided air-to-surface weapons. According to "Russia's Warplanes, Volume 1" by Piotr Butowski published by Harpia Publishing, one of the most authoritative sources on Russian military aircraft and helicopters today, besides the baseline Fulcrum loadout, the MiG-29SMT can carry two R-27T medium-range IR-guided air-to-air missiles or two extended-range R-27ER/ET AAMs, or up to six RVV-AE AAMs. Air-to-ground weapons include two Kh-29T/L, up to four Kh-25M, or two Kh-31A7P missiles, or up to four KAB-500 guided bombs. The first images emerging from Syria show at least one aircraft with two unguided FAB-500s. The Russian Air Force plans to operate a fleet of 44 MIG-29SMT fighters: 28 were returned from Algeria (that ordered the aircraft in February 2006 and broke the contract after 16 were delivered because they claimed that the airframes were not brand new – these, according to Butowski were acquired by the Russian MoD and delivered to a fighter regiment in Kursk-Khalino beginning in February 2009) and another batch (whose complete delivery status is not known) of 16 aircraft ordered in 2014 and due to delivery by the end of 2016. The video below shows the MiG-29SMTs in Syria for the very first time.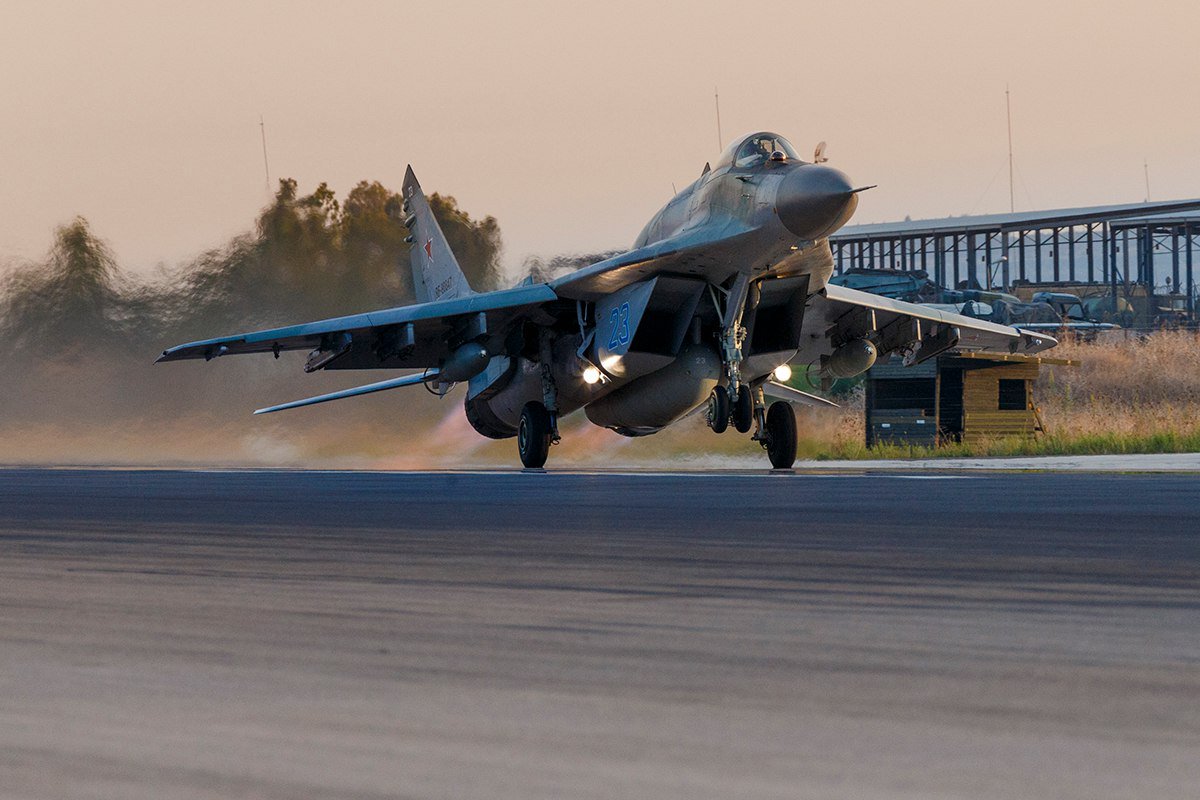 Inside Putin's Libyan Power Play | Foreign Policy
The Kremlin is trying to prove it can succeed where Washington failed in ending the country's slide into chaos.
Germany Restarts Afghan Deportations, Returns Eight Rejected Asylum Seekers
Germany has deported eight Afghan men whose applications for asylum were rejected, sending them back to Afghanistan on September 13. Bavaria's Interior Minister Joachim Hermann said the me…
---
DPRK / PRC / WESTPAC Reports
---
North Korea launches missile over Japan – CNNPolitics
In a major show of defiance to the international community, North Korea fired a ballistic missile over the northern Japanese island of Hokkaido Friday.
North Korea fires another missile over Japan, deepening regional tensions
North Korea fired a missile that flew over Japan's northern Hokkaido far out into the Pacific Ocean on Friday, South Korean and Japanese officials said, deepening tensions after Pyongyang's recent test of its most powerful nuclear bomb.
Alarm as North Korea fires missile over Japan | News | The Times & The Sunday Times
North Korea fired a ballistic missile over Japan early this morning in a calculated gesture of defiance after the latest round of sanctions imposed by the Unite
North Korean missile launch another terrifying wake-up call for Japan | The Japan Times
"Missile launch! Missile launch! A missile appears to have been launched from North Korea. Take cover in a building or underground," the alert blared. To t
North Korea: Tillerson says China and Russia must take 'direct action'
Pyongyang fired a missile over Japan, less than two weeks after its most powerful nuclear test ever.
U.S. Calls On China, Russia To Act Against North Korea After Missile Test
The United States has called on China and Russia to take "direct actions" aimed at reining in North Korea after it launched a second ballistic missile over Japan on September 15. &quo…
North Korea fires second missile over Japan as US tells China and Russia to take 'direct action' – latest news
North Korea has fired an intermediate-range ballistic missile that flew over Japan before landing in the northern Pacific Ocean.
How Russia Sees A Nuclear North Korea : NPR
Seoul-based Korea expert Andrei Lankov tells NPR's Rachel Martin why Russia fears an unstable North Korea more than it fears a nuclear North Korea.
A South Korean delegation asks Washington for nuclear weapons – The Washington Post
The South Korean opposition wants the Trump administration to persuade South Korean President Moon Jae-in to change his mind. Most South Koreans agree.
Mattis: US is not intimidated by North Korea
He inspected a mock-up nuclear warhead, but there was no Kim Jong Un lookalike posing for photographs. He chatted with nuclear missile launch officers in their underground command post, but there was no talk of unleashing nuclear hell on North Korea.
Japan: North Korean threat to sink Japan is 'outrageous' – The Washington Post
Japan's top government spokesman said Thursday that a North Korean threat to sink Japan with a nuclear bomb is "extremely provocative and outrageous."
Scott D. Sagan | The Korean Missile Crisis | Foreign Affairs
It is time for the U.S. government to admit that it has failed to prevent North Korea from acquiring nuclear weapons and intercontinental ballistic missiles that can reach the United States.
Harry J. Kazianis | A war with North Korea — the American people aren't ready | Fox News
To be honest, there is only one thing you really need to know: A war with North Korea—meaning a full-blown, all out conflict where nuclear, chemical, biological and large amounts of conventional weapons are used—would be a war like no other.
North Korea conflict could cripple these oil and chemical facilities
A regional military conflict could jeopardize as much as a third of global crude oil supplies shipped by sea, according to analysts at Wood MacKenzie.
North Korea's missile a message to US: We can strike Guam at any time
North Korea's launch of a ballistic missile that flew more than 2,300 miles before falling into the Pacific Ocean is a "clear and unequivocal" message to the United States that Pyongyang has the ability to strike Guam.
North Korea still making millions from small arms exports, researchers say – Sep. 14, 2017
The country has emerged as one of the world's most secretive major exporters of small arms and light weapons, according to a new report.
North Korea's military ties to 11 African countries are being probed by the UN — Quartz
The United Nations (UN) will probe North Korea's military cooperation with 11 African countries, according to a report published by an eight-member panel of experts on Sept. 9. The report claims North Korea sidestepped international sanctions to provide military and security assistance to Tanzania, Uganda, Angola, the Democratic Republic of Congo, Eritrea, Mozambique, Namibia, Benin, Botswana, Mali,…
North Korea food shortage looms after drought hits harvests
Following an intense dry spell from April to June, North Koreans are likely to face further food shortages, according to a July UN agency report.
YouTube has shut down more North Korean channels — and researchers are livid – The Washington Post
Researchers use the videos to track Kim Jong Un around the country; identify new economic, security and military infrastructure; and know what the North Korean government is telling its own people.
The awkward history of 'decapitation' plots against North Korea – The Washington Post
The idea of taking out a North Korean leader is not new.
China is getting tougher on North Korea—to stop the US from getting tougher on it — Quartz
Soon after North Korea sent another missile over Japan Friday morning (Sept. 15), US secretary of state Rex Tillerson called on China and Russia to take stronger action on their own against North Korea. When it comes to China, that might already be happening. Around the time the US was agreeing to leave a full…
Ross: North Korea problem won't stop U.S. from cracking down on China trade – POLITICO
"The primary responsibility of the president is to protect the American people," Ross said.
Yukon Huang | What the West Gets Wrong About China's Economy: Debt, Trade, and Corruption
Few countries command as much attention as China. But flawed analyses among Western observers are encouraging flawed policy responses.
'Quite backwards': Chinese tourists gawk at impoverished North Koreans | World news | The Guardian
Thousands of tourists flock to a stretch of the country's 880-mile border with North Korea each month to point binoculars at their poor neighbours
Mariana Budjeryn and Andrew Zhalko-Tytarenko | North Korean Missile Engines: Not from Ukraine
Smuggling rocket engines out of Ukraine through Russian territory by rail to North Korea, as Elleman suggests would have become more difficult since the start of Russian aggression in 2014. Rocket engines are not something a rogue scientist could smuggle in a suitcase like 25 grams of highly enriched uranium. It is a logistical undertaking of some scale that could not be pulled off without involving senior officials in Ukraine across such domains as security services, transportation, banking, the National Guard, and at Yuzhmash itself. While Ukraine has been plagued by systemic corruption, the Euromaidan revolution of 2014 has shaken up vested interests and old links between money and power have come undone, while new ones have taken shape. Delivery of financial compensation by North Korea, probably on the scale of tens of millions of dollars, is another issue that alone could unmask the entire operation. As Elleman rightly notes, Dripro, the home city of Yuzhmash, is close to the front lines of the war in eastern Ukraine. This does not mean, however, that people at Yuzhmash are leaving the gates open. Quite the opposite; since 2014, security at Yuzhmash has been significantly tightened; it is now guarded by the fully armed regiments of the Ukrainian National Guard. Rail traffic between Russia and Ukraine has been disrupted by war, and in May of this year Ukraine's Security Council banned much of rail freight traffic from Russia on those routes that were still open. Smuggling between Ukraine and Russia has not become impossible but, counterintuitive as it may seem, the war and sudden change in people, power structures, and transportation routes make dealing in illicit rocket engines more difficult. The resemblance of HS-12 and HS-14 LPEs to RD-250, however, remains to be answered for. A plausible explanation is that either technical information or, as German analyst Norbert Brügge suggests, a whole R-36 missile was acquired by North Korea around the time of the Soviet Union's collapse, giving Pyongyang ample time to reverse-engineer the engine with the required modifications, with or without the help of foreign experts. Brügge points out that a number of old RD-250s could have been scattered across the former Soviet realm. One other possible source of transfer, which has not been discussed yet, is the sites where decommissioned R-36s (Soviet missiles powered by the original RD-250 engines) had been sent for disassembly in the late 1980s, all of which are situated in Russia. Finally, one needs to consider that the RD-250 was developed by Russian Energomash, which now has a full set of the engine's engineering documentation while also suffering from financial hardship. It is not our intention to point to those responsible for technology transfers to North Korea, given the paucity of available information about its nuclear program, but to remind that Elleman's attribution of North Korea's testing success to a recent transfer of RD-250 LPEs from Ukraine to North Korea is far less plausible than it may appear on the report's first reading. Mariana Budjeryn is a research fellow with Managing the Atom and International Security Program at the Belfer Center at Harvard's Kennedy School. Andrew Zhalko-Tytarenko is a computational physicist and former vice president of SpacePort Canada. In 1992-1994 he served as deputy and then acting director of the National Space Agency of Ukraine, and subsequently was deputy managing director the inter-government Science and Technology Center of Ukraine.
Research | Belfer Center for Science and International Affairs
---
Foreign Policy Reports
---
UAWire – Nord Stream pipeline partner: American sanctions will have a major impact on the financing of the project
New US sanctions against Moscow will impact the financing for the Nord Stream 2 pippeline project, as expressed by the President of the German- …
EU Renews Russia Sanctions, Keeps Ban On New U.S. Envoy Antonov
BRUSSELS — The European Union has prolonged its asset freezes and travel bans on Russian officials and Moscow-backed separatists in Ukraine for another six months, with Russia's new ambassador t…
The Morning Vertical, September 15, 2017
ON MY MIND From Marine Le Pen in France to Norbert Hofer in Austria; from the Lega Nord in Italy to the AfD in Germany. It's no secret that Vladimir Putin's Russia has been aiding, abetting, and in some cases financing far-right parties and movements in the West. But what is behind the Kremlin's dark dance with Europe's extremists and xenophobes? What's in it for each side? And where is it leading? On this week's Power Vertical Podcast, co-host Mark Galeotti and I will be joined by Anton Shekhovtsov, a visiting fellow at the Institute for Human Sciences in Vienna and author of the highly anticipated new book Russia And The Western Far Right: Tango Noir. Also on the podcast, Mark, Anton, and I will take a look at the rise in Orthodox Christian extremism in Russia and the emergence of a group ominously calling itself "Christian State." It should be a great show, so be sure to tune in later today!
Turkey has put down a deposit on S-400 missiles to Russia: Erdoğan – DIPLOMACY
Turkey has already paid a deposit to Russia for the purchase of the S-400 anti-ballistic missile system despite opposition from its NATO allies, President Recep Tayyip Erdoğan has said, underlining that both Ankara and Moscow were committed to accomplish the sale process of the high-tech defense equipment.
Nato went 'crazy' over Russia deal, says Erdogan | Euronews
President Erdogan to NATO allies: "What were we supposed to do, wait for you forever?"
Cardin: Turkey's Purchase of Russian missile system may trigger sanctions – POLITICO
Top Senate Foreign Relations Democrat warns $2.5 billion Turkey-Russia deal might violate new sanctions law that Trump opposed.
U.S. Senator Says Turkey May Face Sanctions Over Weapons Deal With Russia
A leading Democrat on the U.S. Senate Foreign Relations committee says Turkey's recent purchase of antiaircraft missile systems from Russia may have violated a U.S. law that requires automati…
---
Strategy / History / Capability Publications
---
Seymour Johnson Air Force Base will receive KC-46 tankers in 2020
The new refueling tanker will replace the KC-135 Stratotanker.
Commercial Derivatives Questioned As USAF Eyes J-Stars Replacement | AFA National Convention content from Aviation Week
U.S. Air Force may consider survivability when evaluating special missions platforms, which could hurt the chances of commercial and business jet derivatives.
MBDA outlines plans for SAM technology collaboration with Turkey
Eurosam, Aselsan and Roketsan have signed a "Heads of Agreement" protocol to support Turkey's long-range air defence system program
Origin of Zero Symbol Is Centuries Older Than Previously Thought
The number zero is something we all take for granted, yet its conceptual origin has eluded archaeologists and historians. An updated analysis of an ancient Indian manuscript is shedding new light on this longstanding mystery, showing that the symbol that would eventually evolve into the number zero emerged at least 500 years earlier than previously thought.
---
IW/IO/Cyber Reports
---
Comparing Russian and American government 'propaganda' — Meduza
* The Broadcasting Board of Governors operates essentially as a holding company for the five U.S. international media networks: RFE/RL, VOA, the Office of Cuba Broadcasting, Radio Free Asia, and the Middle East Broadcasting Network. The numbers shown above represent the BBG's collective funding and language reach, including the funding and language reach of RFE/RL and VOA.Calls to crack down on Russian "disinformation campaigns" have reached a fever pitch in the United States. Just this week, the Justice Department ordered the company that runs the U.S. version of RT, the Russian state-owned outlet originally known as Russia Today, to register as a foreign agent, signaling that all of its content would be labeled as propaganda from Moscow. Days earlier, Yahoo! News reported that the FBI has questioned two former staffers at the Russian state Sputnik news agency, as part of an ongoing investigation into a potentially undeclared propaganda campaign by the Russian government that violates America's Foreign Agents Registration Act. Margarita Simonyan, the chief editor of RT and Rossiya Segodnya, has already warned that Moscow will likely take retaliatory measures against American journalists working in Russia, raising fears that registering reporters as foreign agents could become the next chapter in U.S.-Russian "parity" diplomacy.Though Simonyan didn't say which "American journalists" Russian police would target, it's a good bet that Moscow would start with reporters from RFE/RL and Voice of America. Both these outlets are funded and supervised by the Broadcasting Board of Governors (BBG), a U.S. government agency whose stated mission is "to inform, engage, and connect people around the world in support of freedom and democracy."RFE/RL is designed to produce independent reporting and promote democratic values — "uncensored news, responsible discussion, and open debate" — in places where this kind of journalism is believed to be absent. The Voice of America was created to represent America and present the policies of the U.S. "clearly and effectively," along with "responsible discussions and opinion" on these policies. In other words, RFE/RL is supposed to create independent journalism about the outside world, while VOA is meant to report about America itself.In this infographic, Meduza compares the U.S. government's international news media to RT and Sputnik, to get a better sense of just how big these operations are, relative to each other.(Note: Meduza was unable to find Sputnik's published budget in 2017, but Simonyan stated in November 2014 that almost two thirds of the media holding company's budget — $104.3 million in 2017 — is allocated to its foreign broadcasts, which are managed through Sputnik.)
---
US Domestic Policy Reports
---
US-Russia Relations Are So Bad That the Kremlin Just Took Away American Diplomats' Parking Spots
Spots became pedestrian crossings and signs designating areas as "parking for embassy cars only" vanished.
Texas secession movement: Russia-linked Facebook group asked us to participate in anti-Clinton rallies | Business Insider
A Russia-linked Facebook group asked a Texas…
Kremlin Hits Out At U.S. Decision To Ban Kaspersky Software Products
Russia says Washington's move to ban U.S. federal agencies from using Kaspersky Labs software products "runs counter to fair competition" and is designed to hurt the Russia…
Kaspersky: Russia responds to US ban on software – BBC News
The Russian government said the ban on the security firm amounted to 'unfair competition"
Why the U.S. government is moving to ban this Russian software company – The Washington Post
Kaspersky Lab is used by at least a half-dozen federal civilian agencies to some degree, according to U.S. officials.
U.S. Campaign Regulator Probing Russian Ad Purchases On Facebook
Facebook's disclosure that Russians purchased political ads on the social network during last year's presidential campaign prompted action by the U.S. agency that regulates campaign practice…
Mark Zuckerberg's Russia Problem Is Bigger Than Facebook | Vanity Fair
With Mueller bearing down and Congress demanding answers, Silicon Valley is losing its political firewall.