Anonymous expert compilation, analysis, and reporting.
The "provocation" I recently reported on may be a huge deception operation. More to follow. You can also follow Russia press releases, read the false outrage, see who screams the loudest. The first time I see tears, I'll know it's happening.  All fake. That would be the time for the US to send a few C-17s full of Javelin missiles to Ukraine, if not sooner.  Just land near a strategic airfield close to the conflict zone, you don't even need to unload. Have the press there, display just one single FGM-148 Javelin.
</end editorial>
---
---
Western MSM coverage of Zapad 2017 is very good mostly, and not buying into appeasement propaganda. Ukrainian border guards assess Russian numbers inside Belarus too small for an offensive against Ukraine at this time. UN Donbass peacekeeper debate continues, with multiple essays exploring potential Russian plays to subvert the proposal. Survey of occupied Donbass residents indicates unhappy with pupper republics, many would simply want to go back to the USSR 25 years ago.
Russia's use of criminals as proxy players in covert ops is detailed by Buzzfeed, and commented on by Whitmore – this is the old Soviet model of "making use of the lumpen-proletariat to further the revolution".
In Russia, blame for the pandemic of hoax bomb calls being put onto Ukraine. If the calls are originating in Ukraine as the Russians claim, the most likely play is a false flag operation, possibly using local assets inside Ukraine, as the FSB/GRU have done many times in the past. More on Russia's "Christian State", AKA the "Orthodox Taliban", who have been nurtured and protected by the regime. More on voter apathy and illusory support for Putin. Social breakdown in Caucasus continues.
Multiple political reports from Ukraine – lethal aid, reforms, Ukraine fatigue and Saakashvili, Marshall Plan, sanctions, education bill mandating everybody learn Ukrainian (Hungary, Moldova's Dodon and Russia believe ethnic minorities in Ukraine should not have any literacy in the Ukrainian language ….). UN says sanctions cost Russia USD55B, but does not state costs Russia incurred otherwise. AmbTochytskyi rebuts Cohen's pro-Russian OpEd. Donbass fires continue. AFU tests the Polish Warmate lethal micro-RPV, rebadged the Sokil (Falcon).
Miscellaneous Syria reports, and details of F-15E engagement vs Iranian RPV. Kazakhstan, Georgia and Ukraine supply weapons to US for use in Syria.
Good report by McKay on Russian support for the DPRK, and Adm Stavridis on blockading the DPRK. More on RoKAF ALCM trial.
Interesting reports on German election, DW policy analysis skirts around the fact that the SDP and AfD are de facto proxies for Russia.
Seven interesting reports on IW/IO/cyber, mainly to do with Russia.
Sputnik and RT investigations major themes in US domestic debate.
---
Russia / Russophone Reports
---
Russian war games aim to head off another color revolution – The Washington Post
Western leaders have expressed concern about the size and scope of the Zapad exercises.
Russia's War Games With Fake Enemies Cause Real Alarm – The New York Times
Joint Russian and Belarusian military exercises will target fictional countries that look an awful lot like the Baltic States.
Could 'Zapad' be a Trojan horse? (opinon) – CNN
The Russian military exercise known as "Zapad" is scheduled to begin this month in Belarus and has prompted concern among NATO allies that it may be a cover for the preliminary to an invasion, write Thomas Donnelly and Gary Schmitt
Russia's Zapad war games unnerve the West
From planes, radars and ships in the Baltics, NATO officials say they are watching Russia's biggest war games since 2013 with "calm and confidence", but many are unnerved about what they see as Moscow testing its ability to wage war against the West.
Russia will hold large-scale military drills on NATO's eastern flank
The war games will run Sept. 14- 20 just over the border from NATO members Estonia, Latvia, Lithuania and Poland.
Russia, Belarus Kick Off Military Exercises Amid Tensions With West
Russia and neighboring Belarus have begun a joint military exercise near NATO's eastern flank that has fanned already deep tensions between Moscow and the West. Moscow and Minsk say the Zapa…
Putin Starts War Game on NATO Frontier, Alarming a Wary Europe – Bloomberg
The last time Vladimir Putin sent thousands of troops into Belarus to defend against an imaginary invasion from the west, a real war erupted on Russia's periphery within months — in Ukraine in 2014.
Russia Zapad 2017 military exercise with Belarus kicks off as NATO and Europe fret after Crimea Ukraine annexation – CBS News
U.S. allies suspect "Zapad 2017" exercise could be biggest ever, and given Putin's Ukraine tactics, that's cause for concern
Russia launches Zapad war games in Belarus – BBC News
More than 12,000 troops deploy in and around Belarus, in one of Russia's biggest drills for years.
Brookes: NATO wary as Russia 'trains' on its borders | Boston Herald
Let's just say the neighbors are nervous.
West-2017 drills: Russian troops in Belarus and fears of the West – 112.international
Strategic military exercises of the armed forces of the Russian Federation and Belarus kick off today, on September 14, 2017, making Ukraine and the Baltic states very concerned. Since the beginning of preparation for the military maneuvers the hypothesis kept coming saying that Russia may use the drills for its own purposes, and may even invade Ukraine.
What's Putin up to? The Russian military buildup in Europe raises tension.
With thousands of troops and tanks moving toward the Suwalki Gap and the Baltic Sea, the Russian military exercise that starts this week is fueling fears of confrontation with the U.S. and its NATO allies.
UAWire – A thousand tanks and howitzers from the United States arrived in Poland
On September 13, American military equipment arrived in the port of Gdansk, Radio Poland reports. More than a thousand pieces of American …
US military gear reaches Poland ahead of Russian war games
A shipment of U.S. military equipment has been unloaded at a Baltic Sea port in Poland as Russia prepares to conduct war games across the border in Belarus.
US to deploy two bombers able to carry nuclear weapons to Europe – 112.international
US to deploy two bombers able to carry nuclear weapons to Europe. The US deploy two strategic bombers B-52H that build to carry nuclear weapons to Europe on September 14. It is connected with the beginning of the Russian-Belarusian West-2017 military drills. Interfax reported this citing the data of the western aviation websites. 'The American bombers of the 307 air wing that took off from the Barksdale air force base (Louisiana State) should arrive at the Fairford air force base in the UK', the message said.
UAWire – Ukrainian State Border Service: Russia does not have sufficient troops in Belarus to attack Ukraine
The troops of the Russian Federation that will be involved in the Zapad 2017 military exercises in Belarus are not enough to invade Ukraine, as stated by the State Border Guard Service of Ukraine Speaker Oleh Slobodyan on Pryamy TV. "I do not think that Putin is preparing to open a new front. Even if he is, the forces that they accumulated in Belarus are not sufficient for offensive actions, if we are talking about Ukraine. Although we should not forget about the Baltic countries," he said. Slobodyan also has noted that Russia will use these exercises to strengthen its positions on the territory of Belarus. "We have not ruled out that these units will remain there on a rotational basis. And, of course, they will use these exercises in order, perhaps, to test our response to such large-scale events near the northern borders," said the speaker. Earlier, Ukrainian President Petro Poroshenko stated that the Zapad 2017 military exercises are a threat to Ukraine.
UN peacekeepers will help restore integrity of Ukraine, – U.S. State Department – 112.international
The State Department stressed that the mandate of the mission should extend to the entire territory under controlled by pro-Russian forces
Andriy Magera: Peacekeepers in Donbas: Risk of legal Russian military on Ukrainian territory – 112.international
Andriy Magera comments on the introduction of the UN peacekeeping mission to Donbas. Russian President Vladimir Putin instructed the Russian Foreign Ministry to introduce a draft resolution to the UN Security Council. According to media reports, one of the components of the Donbas reintegration bill may be the introduction of international peacekeeping mission to the region. The question is not as simple as it seems at first glance. I will not touch on the financial side of the issue. Obviously, under the aegis of the UN such a peacekeeping contingent will "cost" a considerable amount of money. But there is one more factor. The decision to send such a contingent of the UN and regarding its composition will be taken by the UN Security Council in accordance with the UN Charter. With a high degree of probability, we can say that there will be an attempt to add the Russian military there. Why do I say "with a high degree of probability"? Since the decision of the UN Security Council will not be taken if the Russian Federation applies the right of (absolute) veto. Unfavorable versions just do not suit them. Therefore, the risk of obtaining Russian military on the territory of Ukraine on quite legitimate grounds is quite high. If not completely Russian contingent, then at least mixed. Moreover, this will be fully consistent with the Kremlin's previous statements on the role of Russian Federation as a "peacemaker in the conflict in southeast of Ukraine." It is also true that removing such Russian military from the territory of Ukraine will be very difficult afterwards … But in any case, I am convinced that the National Security and Defense Council of Ukraine will study this issue and propose (through the president) to Parliament the most acceptable version of the bill. Moreover, given the fact that almost every day the Ukrainian military are being killed. And this, you will agree, is a powerful argument. In turn, citizens of Ukraine should by consensus support the initiatives of the Ukrainian Security Council. Especially in the conditions of actual external aggression from the eastern neighbor.
Vladimir Putin decided that the issue of peacekeepers "would benefit the settlement of the conflict in the southeast of Ukraine." – Why Putin needs peacekeepers in Donbas? – 112.international
Vladimir Putin decided that the issue of peacekeepers would benefit the settlement of the conflict in the southeast of Ukraine. Vladimir Putin decided that the issue of peacekeepers "would benefit the settlement of the conflict in the southeast of Ukraine." And he instructed the Russian Foreign Ministry to submit a draft resolution to the UN Security Council for consideration. Before Ukrainians enjoy the victory, let me several important points. First. Technically, Poroshenko also said about the peacekeepers earlier. He said he will submit the decision to the session of the UN General Assembly, which will begin on September 12. Therefore, Russians will simply make an alternative decision for the Security Council, which will be advantageous for them. And after that no one will blame them for hindering peace in Donbas. Well, they say, we did not just veto it. We have our alternative project. We wanted the best, but Ukrainian "junta" pressed Europe and the United States. At least such a signal will be heard by those who are in the Russian information field. And if no one blames them in Europe, then here is the second point. By September 15, the decision of the European Union to extend the sanctions should be taken. The decision will be accepted. But if Russia tries to show itself as a peacekeeper, then the process of extending sanctions will be progressed with huge difficulties. Third. The Russian version of the decision on peacekeepers is certainly not acceptable for Ukraine. Introducing them only to the line of contact (and not to the whole territory, as Ukraine planned) could theoretically lead to a reduction in the number of shelling. Although in practice they will only reach the Donbas when they stop shooting. But even this will not solve the problem of restoring territorial integrity. Because they will simply divide Ukraine into Kyiv-controlled and controlled by Moscow. Without the right of the national government to interfere in the internal affairs of the occupied republics. And the fourth. And here there will be a little victory. Russia has always denied the need to introduce peacekeepers. Like, this does not correspond to the "Minsk agreements". Remember how last year in special exercises were conducted in the so-called LNR to confront "international peacekeeping missions"? That is, now Ukraine won. This indicates the opening of the Overton window, launching the very idea of the possibility of introducing peacekeepers into the heads of Russians, and into the heads of LNR and DNR population. Therefore, separatists should accept this and think about the new signal from Putin.
Poroshenko, OSCE Secretary General coordinate approaches to deploying UN peacekeepers in Donbas – 112.international
President of Ukraine Petro Poroshenko and newly appointed OSCE Secretary General Thomas Greminger discussed the initiative to introduce UN peacekeeping mission in Donbas in their meeting in Kyiv, according to the press service of Ukraine's president. "The parties coordinated approaches to deploying UN peacekeepers all over occupied Donbas. Petro Poroshenko emphasized the importance of establishing an intensive dialogue between the OSCE and the UN on this issue," the statement says.
UN: Russia lost $55 billion over Crimea and Donbas occupation
13.09.17 17:56 – UN: Russia lost $55 billion over Crimea and Donbas occupation Since 2014, when sanctions were implemented over Crimea annexation and occupation of certain areas in the east of Ukraine, Russian economy has lost $55 billion. View news.
Expert explains why Kremlin seeks to replace "leaders" of self-proclaimed republics in Donbas
The Kremlin is ready to resort to new tactics to make Ukraine fulfill the political provisions of the Minsk peace agreements on Donbas, according to a Ukrainian expert. Head of NGO Information Resistance Group, military analyst and Member of Parliament Dmytro Tymchuk says that the Kremlin may replace the so-called leaders Oleksandr Zakharchenko of the self-proclaimed Donetsk People's Republic and Igor Plotnitsky of the self-proclaimed Luhansk People's Republic, pursuing one goal: to make Kyiv comply with the political provisions of the Minsk agreements, namely local elections, legalization of the so-called local authorities in Russian-occupied Donbas, the Ukrainian news portal Apostrophe has reported. "According to our information, there are no details: neither exact names nor certain dates have been announced. October could be tentative timing, but the names of those who they will appoint are not disclosed," Tymchuk was quoted as saying. Tymchuk says that the events of recent weeks can be linked to the processes that have taken place in the self-proclaimed republics in the past year. First of all, it is the elimination of almost all "outstanding" militant figures who were more or less popular since the spring of 2014 and who took an active part in the promotion of the so-called "Russian spring," or the Russian occupation of Donbas.  The military analyst suggests that Zakharchenko is a very serious bargaining chip for the Russian special services to simply eliminate him, because he could serve a subject of bargaining between the Russian Federation and Ukraine. "The replacement of Zakharchenko can be the very issue on the agenda of the negotiations that may be conducted: Zakharchenko could be removed and replaced with a figure that irritates Kyiv less," Tymchuk said. "I do not rule out these can be absolutely unexpected figures proposed by the Kremlin, these could be even representatives of the incumbent [Ukrainian] Opposition Bloc. And based on this, Moscow would be able to assert that Donbas had in fact been reintegrated into Ukraine, but de facto it would remain under Russia's control," he added. The Ukrainian news outlet Novosti Donbassa earlier cited own sources who reported that the Donetsk statelet might in future be led by Oleksandr Bobkov, a former Ukrainian lawmaker from disgraced ex-President of Ukraine Viktor Yanukovych's party, while Vasyl Volga, who was a lawmaker for Ukraine's Socialist Party in 2006-2007, may be tapped to head the self-proclaimed Luhansk People's Republic.
Window on Eurasia — New Series: Donbass Residents Increasingly Want to Return to Being Part of Ukraine, Bekeshkina Says
Paul Goble Staunton, September 13 — Irina Bekeshkina, director of the Kucherin Foundation, says that those who initially supported the Russian occupation of the Donbass did so because they expected that would lead to an improvement in their lives. It hasn't, and consequently, the sociologist says, ever more of them want again to be part of Ukraine. "Now," the sociologist says, "people are returning to their accustomed life and want everything to be the same as it was: they even in their majority do not want autonomy for their regions." What matters is that they not be shot and that they have good jobs (apostrophe.ua/article/politics/2017-09-13/rossiya-ih-ne-hochet-lyudi-na-donbasse-gotovyi-vernutsya-k-prejney-jizni—sotsiolog-irina-bekeshkina/14404). "I wouldn't exaggerate their pro-Ukrainian nature, although identification with Ukraine is growing, especially among the young." She adds that "the more successful the [Ukrainian] economy will be, the more such attitudes will grow as will their pro-Ukrainian dispositions." People are tired. They want a clear definition of who and what they are to be. If their land is to be Ukraine, Bekeshkina says, then they will accept Ukraine. "if it will be Russia, they will accept Russia. But they already understand now that Russia doesn't want them and therefore they would like to return to their former lives." This means that there is a growing practical basis for the recovery of the Donbass, she suggests, although ideologically things may be more difficult because for many in the Russian-occupied regions, their identity is not with Russia but with the USSR. "Look at home the streets are called there: everything remains as it was in the Soviet Union." The situation with regard to Crimea is "much more complicated than with the Donbass," the sociologist says. On that peninsula, there have been significant "demographic changes," with Russia introducing ever more people from the outside and oppressing the pro-Ukrainian population which in the first instance consists of Crimean Tatars.
These Cigarette Smugglers Are On The Frontlines Of Russia's Spy Wars
Five arrests. Two years. The ultimate crime: spying for Russia. An exclusive investigation by BuzzFeed News and Re:Baltica reveals a new tactic in Russia's spy wars.
The Daily Vertical: Criminal, Gangster, Smuggler, Spy (Transcript)
Weaponized cigarette smugglers anybody? Hey, why not? It seems the W-word has been used as an adjective for just about everything else lately, so why not cigarette smugglers too? According to a revealing new report in BuzzFeed, Russia's Federal Security Service has been systematically using criminal smuggling rings on the Russian-Estonian border to gather information about the movement of military vehicles, the habits of border guards, as well as for other intelligence and espionage operations. In fact, it was a small-time cigarette smuggler posing as an informant who lured Estonian law enforcement officer Eston Kohver into a trap and set-up his kidnapping by the FSB back in September 2015. Estonia has arrested at least five such smuggler-spies in the past two years alone. WATCH Today's Daily Vertical The scheme the FSB uses to recruit the smugglers is a familiar one. They're arrested on the Russian side of the border and then made an offer they can't refuse: prison or gainful employment as an intelligence and espionage asset for Moscow. The Kremlin recruits many of its so-called patriotic hackers in similar fashion. Now, none of this, of course, should surprise us. The FSB has long colluded with organized crime, often to the point where it is indistinguishable from organized crime. It's used Russian mafias to carry out tasks the Kremlin wants to keep its fingerprints off, like assassinations and moving weapons into the Donbas. It facilitates criminal enterprises, takes a cut of the profits, and uses the untraceable black cash to finance wet ops and active measures across Europe. Now, over the next week, we'll all be focused on the Zapad 2017 war-games exercises and the threat Russia's military poses to its neighbors. But as Moscow's weaponized cigarette smugglers illustrate, Russia's war on Europe is largely taking place in the shadows.
112.international – Russia finds evidence of Ukraine's involvement in terror attacks in Russia – 112.international
The terrorists called from the territory of Ukraine. The phone calls about the mining of the range of the objects in Russian cities mostly originated from the territory of Ukraine. Interfax reported this citing the unnamed source. The informant claimed that according to the technic investigations it was possible to identify that 90% of the phone calls about the mining were made from the Ukrainian gadgets. The terrorists used IP telephony to make the phone calls. According to him, the Russian specialists also analyzed the speech of the people who made calls and concluded that they originated from the neighboring state. The mass evacuations of the citizens took place in the Russian cities due to the series of the anonymous calls about the mining of the schools, administrations, shopping malls, railway stations and airports. According to Interfax, the law enforcements had to evacuate more than 100 000 people due to 60 anonymous calls about the mining only in Moscow. The Russian law enforcements opened the criminal proceedings under the article of 'Knowingly false statement about terrorist action'.
Window on Eurasia — New Series: As Evacuations Sparked by Anonymous Calls Spread, Russians Wonder Who's Behind Them and What's Next
Paul Goble Staunton, September 14 – Thousands of Muscovites have been evacuated in ever more cities, including now the two capitals, in response to a wave of anonymous phone calls claiming that bombs have been planted in various facilities. No explosives have been found, but in the absence of arrests or official declarations, Russians are speculating wildly about who is to blame. The most-often-mentioned candidates are Ukrainians (or some other foreign force) (x-true.info/60282-idet-evakuaciya-ukraincy-miniruyut-rossiyskie-goroda.html) and the opponents of the controversial film about the last tsar, "Mathilda" (echo.msk.ru/news/2055230-echo.html). But there has also been speculation about some exercise that sparked copycat behavior Given that the central media have remained quiet while local outlets have given enormous coverage to something few can ignore (themoscowtimes.com/news/thousands-evacuated-in-russian-bomb-scares-but-state-tv-stays-quiet-58941), questions about the calls are spreading (lenta.ru/articles/2017/09/14/telephone/ and thequestion.ru/questions/312449/kto-stoit-za-volnoi-telefonnogo-terrorizma-v-rossii). This situation continues, but it already offers three lessons that may prove important in the future. First, anonymous callers can provoke enormous actions and fears because the authorities cannot avoid taking action in case the threats the callers make should in one or another case turn out to be true. Second, the Kremlin's control of the central media may allow it to set the agenda for most things, but in conditions like these, the experience of ordinary Russians forced to evacuate and the coverage local media and the Internet give mean that the central authorities have far less control over what Russians think and how they may react. And third, given these two lessons, there is a third: Unless officials bring charges and make arrests quickly, there is a great danger that others than the callers in this case may decide to exploit the situation, either in the case of various groups using such techniques for their own purposes or in the case of the state exploiting this situation to justify new repressions.
Russia's Bomb Scares Spread to St. Petersburg Malls and Moscow Schools
St. Petersburg has become the latest city in Russia to be targeted by suspected bomb threats with evacuations taking place in malls across the city, the Rosbalt news agency reported Thursday. Since Sunday, more than a dozen cities have been hit with a string of bomb scares, leading to mass evacuations at train stations, malls and other public places. In Moscow, around 10,000 people were evacuated from eight schools on Thursday, the RBC news outlet reports, citing an unidentified official in law enforcement. Witnesses told Rosbalt on Thursday that central St. Petersburg's Galeria shopping complex and 12 other malls in the city were also being cleared. The news was confirmed by the local Fontanka.ru outlet. An unnamed law enforcement source told the outlet that authorities are trying to verify the bomb threats. The wave of bomb scares has been largely ignored by Russian state television, with none of the prime-time news shows mentioning the incidents on Wednesday.
Wave Of Mass Bomb Threats Reaches Moscow
A series of anonymous bomb threats that have been reported across Russia over the past four days has reached the capital, Moscow.
The Morning Vertical, September 14, 2017
ON MY MIND Kremlin spokesman Dmitry Peskov says the police should crack down on them. Culture Minister Vladimir Medinsky calls them "secular arsonists." And the newspaper Vedomosti has asked why Patriarch Kirill has been silent about them. The growing extremism of Orthodox Christian activists (see pieces featured below), most notably the threats from a group ominously calling itself "Christian State" against theaters showing the film Matilda, was entirely predictable. Since Vladimir Putin returned to the Kremlin, his regime has encouraged, manipulated, and utilized the most nationalist, xenophobic, and nativist elements in society for political gain. It was just a matter of time before some of them went rogue. But although the Kremlin claims to be shocked — shocked! — and appalled about the emergence of radical groups like Christian State, it is also likely to try and use the phenomenon to its advantage. What better opportunity, after all, for the Putin regime to present itself as a moderate voice of reason — just in time for election season.
"Someone is ready to pray, and someone – to burn." Interview with the leader of the "Christian State" | Openrussia.org
Head of the organization Alexander Kalinin told what his followers are ready to go to stop the film "Matilda" text Maxim Litavrin A man with a big black beard is recording a video; he calls his fellow believers brothers, calls them to active actions and declares that death is the highest good for a true believer. This is not a retelling of the radical Islamists' video, and the appeal (located here , but approximately at 1 pm on September 13, was removed from YouTube, is available to Open Russia) leader of the Christian State – Holy Russia (KhGSR) Alexander Kalinin. It is KhSSR that is behind the mailing of letters to theaters with the requirement not to show "Matilda". Otherwise, distributors promise fire and human suffering. Such threats of the film company are regularly received from January 2017; all the activity of HGSR is maximally public – on all envelopes sent by them, they indicate the return address and their symbols. It has not led to any serious consequences for the organization; only on September 13, after several cinemas have already been set on fire, the State Duma deputies appealed to the FSB with a request to check activists. The open Russia talked with Kalinin about the actions of his supporters, what are the "radical methods" of the struggle, and what he will do if people in the campaign against Matilda are hurt. – Tell us about the "Christian state". Are you the head of this organization? How long has it existed? – We have been existing for seven years. I'm not the only one heading, we have a number of leaders around the country. After all the latest events, we have become very many supporters, before all we did not seek to find them. We had like-minded people in the Orthodox Church, in monasteries, we all united on the basis of Orthodoxy. – Judging by your public activities, lately you've been struggling with "Matilda". What are you doing in this fight? "Our task is only the retransmission of public indignation." We just broadcast everything that happens in society. We want to prevent trouble, but no one listens, and soon it will be worse. What is happening now is flowers compared to what will happen next. Therefore, we must stop all rather quickly, so that no one has a desire to break the law. All of us should be sane. – That is, your January letters, in which you say that the cinemas will be on fire – is it the retransmission of public opinion? – Yes Yes. This is the position of those people who do not throw words into the wind. We had serious meetings with a number of organizations where people gave a promise to their brothers that if the film comes out I'll go burn, shoot, destroy, go to the last. These are not the people who just said it, that's all. They are the ones who say and do. "What kind of people are they?" "They belong to different strata of society. Someone supports money, someone supports actions. Different organizations participate, we are all Orthodox. Each conscience works in different ways – someone will just pray, and someone will pray and do. – What kind of organization? For example, "Forty-Forty"? – We do not communicate with such organizations. We have no time to communicate with them. We were exposed by radicals, and it's dangerous to communicate with us now. All the conversations of our leaders, all our IP addresses, are all controlled by the FSB. If they will meet with us, then they will have questions. And then, we never contact anyone with people who do all this. We do not know who does this, but we see excitement in society. And this will happen until all the dirt stops. – Yesterday the network of cinemas "Cinema Park" and "Formula Kino" refused to hire "Matilda" because of threats from Orthodox activists. Did you send letters to them, too? – We met … Maybe not even with them, but our leaders in all regions communicate with the owners of the cinemas and with the local authorities. I will tell you more, those who refused now – this is not the end. We talked with a number of representatives of large networks, they also in the near future will refuse to hire. Because well, why should they substitute themselves? In addition, we communicated with a number of representatives of the regions. Two regions in the coming days will say that the municipal cinemas will not show "Matilda" in their home. And after the municipal refuses and private. – Did you contact film distributors? Your letters are more like threats than appeals. – No, these are not threats. They are sent to all theaters from January. To our organization and personally to me, they wrote more than 50 statements to the police, I have 47 refusals to open criminal cases. The last refusal came officially from Moscow, they promised that there would be nothing more to bring about this fact. To be honest, I already got it. There are four volumes of the criminal case. They checked every step I took, every call, all our exits to the Internet, and so on. So much work was spent, checked eight months and decided not to climb. Because they do, let's say, other people's bad deeds. "You do not know them?" "Maybe I do." But I asked them personally and announced on the Internet that no one shared my plans with me.
Anna Nemtsova | As Moscow Votes Against Putin, His Cronies Turn On Each Other
Russia's president remains hugely popular in most of the country, but his capital is turning against him, even the elite from his old security apparatus tear into each other.
Vladimir Putin Has an Enthusiasm Problem – Bloomberg
His legitimacy hinges on people caring enough to find a ballot box.
Window on Eurasia — New Series: Kremlin Wanted to Put Down a Liberal Rising But Suppressing Orthodox Radicals Will Work as Well, Pavlova Says
Paul Goble Staunton, September 13 – In order to unite the Russian population around him, Vladimir Putin clearly wants to demonstrate once again his power to bring order to the state, Irina Pavlova says. He would have preferred to do so by suppressing a liberal rising, but he will be quite content to do the same against Orthodox radicals. In her blog, the US-based Russian historian argues that the Kremlin created conditions for a liberal "rising" earlier this year but that Russian liberals proved "too conformist, law-abiding, and incapable of really aggressive anti-government actions. Consequently, Putin is looking elsewhere (ivpavlova.blogspot.com/2017/09/blog-post_13.html#more). Putin's preferences were clearly signally by Bishop Tikhon Shevkunov, Putin's spiritual guide and a rising star in official Russian Orthodoxy, ten days ago in Yekaterinburg when he delivered the message that "any uprising must be put down" and that liberals represent "the most extremist" and "most dangerous" force in Russia (youtube.com/watch?v=84T1tbzXgfI). But the liberals did not oblige in this case by acting in a way that would allow Putin to demonstrate once again that he is on the side of order rather than chaos, Pavlova argues, and thus again must be the choice of an overwhelming number of Russians in the upcoming presidential elections. And consequently, she says, "the powers that be have given carte blanche to the actions of Black Hundreds forces, thus placing its bets on radical Orthodox society. Duma deputy Natalya Poklonskaya has played "an important provocatory role" in this, but "future historians will recall all her links with the leadership of the Russian Orthodox Church and the FSB." And they will also take note that "as if by command," now "a whole series of articles" have appeared in the Russian media attacking the more extreme aspects of this movement and describing it as "an Orthodox ISIS." Among these are articles by Aleksandr Soldatov (novayagazeta.ru/articles/2017/09/12/73792-pravoslavnyy-halifat) and Yuliya Latynina (novayagazeta.ru/articles/2017/09/11/73786-pravoslavnyy-terrorizm-layt), and a television comment by Vladimir Solovyev (youtube.com/watch?v=9RdPA_c8qoE&t=6499s). In each case, Pavlova says, the message is the same and the one the Kremlin wants delivered: "better state-controlled force than chaotic" violence arising under other banners that could challenge stability. And in the case of Solovyev, there was the following addendum: "the state must react" to what is going on. According to the Russian historian, "we are thus witnesses to a situation either provoked by the authorities directly or at least supported by it of uncontrolled chaotic force in the country." For the immediate future, there may be even more incidents of this kind of force, something that will only generate more demands for imposing order. "And then the powers that be all in white will arrive on the scene with government repressions against these extremists in the broadest sense of this word and impose order." That would be an entirely appropriate lesson on the 100th anniversary of October 1917, she says, and it would certainly generate support for another Putin term.
Window on Eurasia — New Series: Elections Showed the Regime's Much-Ballyhooed '86 Percent' Base Doesn't Exist in Any Real Sense, Krasheninnikov Says
Paul Goble Staunton, September 13 – The just-completed elections show "the colossal indifference of the majority of Russian citizens to the electoral procedures the authorities organize" and thus cast serious doubt on the practical meaning of the 86 percent that the regime assumes support Vladimir Putin and the regime, according to Fyodor Krasheninnikov. The Yekaterinburg political commentary notes that the Putin regime invariably quotes that sociological studies show that "86 percent" of Russians support Putin, "but does this majority exist in any practical sense" and "do the authorities have real influence over such a colossal mass of residents of Russia and thus are capable of mobilizing this into support?" The answer, Krasheninnikov says, is not so simple; and the results of last Sunday's voting are "much more interesting than the results of even the largest polls" (snob.ru/selected/entry/128866). Polls are "a very good instrument for tracking the opinions of people in democratic societies," he suggests, but in Russia, they are less useful because those taking part "say what they have heard or read in the media or what they think the authorities would like to hear from them." Elections in Russia "time and again demonstrate that one cannot speak about such a majority in the population which the authorities are capable of successfully manipulating." They are different than sociological polls in that they "require from a citizen not just to say something but to complete a number of actions – going to the polling station, getting a bulletin, and voting." If it were the case that the results of sociological polls showing "the unbelievable popularity" of the government "reflected the real distribution of forces, then elections and their results should coincide." They don't. Instead, as Krasheninnnikov points out, most Russians "ignore the elections – and the authorities time after time are chosen by a controlled minority." Some might argue and do that this indifference of the population about politics represents "passive support of the existing powers that be, but in a practical sense, it does not give them anything. More than that, it raises some uncomfortable questions about the true nature of their legitimacy." If the Russian government presented itself as an ordinary Western-style democracy, participation wouldn't matter. In the West, elections are decided by minorities who are capable of mobilizing. But the Russian regime constantly presents itself as something else, as a government that enjoys the support of the overwhelming majority of the population. If that were true, it should be able to mobilize them to vote for its candidates, but Sunday's elections again showed that it is unable to do so. As a result, this popular indifference to the regime is not a prop for the regime as some imagine, but rather "its main headache and a potential milieu for the political work of the opponents of the existing regime." That is all the more so now because the regime is losing control of the media environment to the Internet which allows ever more Russians to gain information from sources the regime doesn't control, the Yekaterinburg analyst continues. None of this is a secret to the bureaucrats in the power vertical. They know that if there are no real opponents to their candidates, they can win with low participation; but they also know that if real opponents do appear, they may not be able to control the situation and ensure that their minority will carry the day. That is what happened in Moscow. "Of course," Krasheninnikov says, "the indifferent citizens most likely aren't going to become voters for opposition figures and won't take part in protest actions; but there is another side to this coin: they will not at a critical moment come to the defense of the regime which all these years has ruled in their name and claiming to have their support." The current Russian powers that be continue to "rule by operating on a comparatively small percent of citizens whom it is able to mobilize in its support and to bring to the voting booths. But as the municipal elections in Moscow showed, it is entirely possible that an organized opposition minority can do this as well." If the regime's support is genuinely small, he concludes, then the support the opposition will need to topple it is relatively small as well.
Window on Eurasia — New Series: Divide between People and Republic Regimes in North Caucasus Becoming Unbridgeable, Historian Says
Paul Goble Staunton, September 13 – The gap between the powers that be in the North Caucasus republics and the populations of these regions is growing, taking the form among the older generation of apathy and among the younger one social aggressiveness and creating a situation in which the authorities are rapidly losing control, historian Kirill Shevchenko says. As have many other, the specialist on region notes that the problems Russia has as a whole are manifested most disturbingly and explosively in the North Caucasus because of its "historical heritage" and "the ethno-cultural characteristics" of its peoples and their governments at all levels (caucasustimes.com/ru/severnyj-kavkaz-mezhdu-socialnoj-apatiej-i-agressiej/). For example, Shevchenko says, growing income inequality throughout Russia is having the most negative impact on the peoples of the North Caucasus not only because elites see taking as much as they can as their right but because this trend violates long-standing values among the peoples there. That is seldom discussed by the Russian media which prefers instead to report about the constant victories of Russia's counter-terrorist effort, stories that represent an "indirect" confirmation that "the current social milieu in the North Caucasus republics of Russia constantly gives rise to and supports terrorist activity." As a result of changes since 1991, the entire region is, in the opinion of almost all experts, more or less rapidly moving out from the common legal field of the Russian Federation. Indeed, Shevchenko says, Russia is "losing its sovereignty" over that region altogether however upbeat Moscow media outlets remain. Specialists on the region also note that "a corrupt administration cannot be strong by definition," and consequently, the corrupt regimes in the North Caucasus seek to arm themselves "against the society that hates them by enlisting the support of Moscow" and by allying themselves with criminal oligarchic groups to enrich themselves. In this situation, Shevchenko continues, the republic rulers will do anything "to convince the Kremlin that [they] are irreplaceable in the current circumstances, and thus they will artificially create 'these circumstances.'" That is what they need to survive and force Moscow to support them. The main slogan of these elites is one found in Moscow as well: "'don't rock the boat." But what is unfortunate is that the center does not appear to recognize that it is being played for a fool by such talk. However, if Moscow doesn't understand or doesn't want to admit that it does, the populations of these republics understand all too well. They can see that the republic elites are selected not on the basis of professional qualities and talents but rather "by personal devotion, loyalty, and family connections." And they also can see that such elites are totally incapable of solving any of the numerous social and economic problems in the region. That represents a radical departure from the Soviet and pre-Soviet past, and "the situation is made worse by the fact that the ideological vacuum that arose as a result of the collapse of the USSR and the discrediting of communism has been filled, despite liberal expectations, not by democratic 'all-human' values but by the reanimation of aggressive ethnocentric stereotypes." Across the North Caucasus, liberal and market ideas have been discredited as well because they have been invoked by corrupt elites, Shevchenko says; and as a result, ever more people are turning to "destructive socio-cultural codes and behavioral norms adopted in the patriarchal-clan era." Those promoting these ideas are often armed with the most contemporary technologies like the Internet and that makes the spread of such notions even more rapid and intensive. And it is assisted unintentionally in most cases at least by elites who rewrite history in order to justify their rule. But in all too many cases, these invented histories preclude the cooperation among peoples and between peoples and elites that were the hallmarks of North Caucasian society in the past and instead promote, Shevchenko suggests, hostility among the nations of the region and an increasingly yawning gap between incompetent elites and angry populations.
'I'm Not A Hero': Navalny's Campaign Head In Kazan Continues To Fight Despite Repeated Arrests
KAZAN, Russia — Elvira Dmitriyeva walked out of jail in Kazan, the capital of the Russian region of Tatarstan, on September 12 determined to continue doing the very thing that got her thrown int…
Russian-Israeli Blogger Leaves Azerbaijan After Presidential Pardon
A Russian-Israeli blogger who was jailed in Baku for traveling to Azerbaijan's breakaway Nagorno-Karabakh region has left Baku on a flight to Israeli, three days after receiving a pardon fro…
World Anti-Doping Agency Dismisses Doping Cases Against 95 Russian Athletes
The World Anti-Doping Agency (WADA) has dismissed all but one of the first 96 Russian doping cases referred to the agency by sports federations, media report. The cases arose after an agency tas…
Once A Japanese Kamikaze, Now A Retired Farmer In Russia
A Japanese-born soldier assigned to a Kamikaze suicide squad in World War II is living out his years in Russia. (Current Time TV)
Belarus Reports
Amid Western Concerns, Belarus Says Zapad Drills Will Comply With International Agreements
MINSK – Belarus says its upcoming military maneuvers with Russia won't violate international agreements, amid Western concerns about the war games. The chief of the Belarusian Defens…
---
Ukraine Reports
---
UAWire – Ukrainian Vice-Prime-Minister: Washington close to a decision on the provision of lethal weapons to Ukraine
The Ukrainian Vice-Prime-Minister for European and Euro-Atlantic Integration, Ivanna Klympush-Tsintsadze, has stated that Ukraine is drawing …
Judy Asks: Is Ukraine Losing Its Way? – Carnegie Europe – Carnegie Endowment for International Peace
A selection of experts answer a new question from Judy Dempsey on the foreign and security policy challenges shaping Europe's role in the world.
No compromises on Ukraine's sovereignty over Crimea – Ukraine's envoy to EU
Ukraine's Ambassador to the EU, Mykola Tochytskyi, in his op-ed published by Euroactiv, in his response to a last week's piece "Here's what a realistic Ukraine settlement may look like" by Josh Cohen, first carried by Reuters, says the aggressor must not be appeased. News 13 September from UNIAN.
No compromises on Ukraine's sovereignty over Crimea – EURACTIV.com
Last week, EURACTIV.com published Here's what a realistic Ukraine settlement may look like, an opinion editorial by Josh Cohen first carried by Reuters. Ukraine's Ambassador to the EU, Mykola Tochytskyi, responded in kind. Mykola Tochytskyi is the ambassador of Ukraine to the Kingdom of Belgium and the representative of Ukraine to the European Union and European Atomic Energy Community. The recent op-ed by Josh Cohen promotes ideas of settlement that not only ignore Ukraine's sovereign choice but are hardly compliant with the fundamental principles of international law. His call to the US not to consider the possibility of supplying defensive weapons to Ukraine and take off the table the issue of possible future Ukraine's NATO membership because it would inevitably lead to retaliation by Moscow in the Donbas, Syria, North Korea, Afghanistan, Kaliningrad or elsewhere could be seen as a usual shortsighted narrative of appeasing the aggressor. One has to recall that the non-bloc status of Ukraine back in 2014 did not prevent Russia from launching an aggression against my country. Since then Ukraine has already paid too big a price. More than 11,000 Ukrainians lost their lives, about 25,000 have been wounded, 7% of Ukrainian territory has been occupied, and 20% of its economic potential has been lost. But Ukraine withstood and defended itself. Though not being a NATO member, Ukraine has effectively become its eastern stronghold, containing a foreign army five times bigger than our own and which has a sixteen times larger budget. With overwhelming support by Ukrainians for European and Euro-Atlantic integration, it would be wise not to speculate on the issue of possible future membership but leave it to the sovereign choice and decision of Ukraine and the member states. But what struck me the most in the article was the cynical idea to elaborate a formula for shared sovereignty over Crimea or Russian payment to Ukraine for the occupied territory. And on top of that was a sweetener to ease sanctions against Russia while offering Ukraine assistance in rebuilding the Donbas region.
EU can extend "targeted" sanctions due to Russia's aggression in Ukraine – 112.international
EU Council can extend sanctions for individuals and legal entities considered to be involved in undermining the integrity of Ukraine
Militants shell 25 times in Donbas, one Ukrainian soldier wounded – 112.international
The situation was most tense in Donetsk area
Russian proxies attack Ukraine 25 times, one soldier wounded in last day
Russia's hybrid military forces attacked Ukrainian army positions in Donbas 25 times in the past 24 hours, with one Ukrainian soldier reported as wounded in action (WIA), according to the press service of the Anti-Terrorist Operation (ATO) Headquarters. News 14 September from UNIAN.
"Training is held daily. You get used to it. Sometimes you even like grating sand on your teeth," – anti-tank units of Ukraine's Armed Forces exercised in Chernihiv region. VIDEO
14.09.17 17:02 – Antitank units of Ukraine's Armed Forces held exercises on a shooting range in the Chernihiv region. As reported by Censor.NET citing Military TV of Ukraine, the fighters trained to deploy anti-tank artillery divisions armed with MT-12 Rapira machine guns and Shturm anti-tank missile systems "We exercise every day – service our hardware and weapons. Training is held daily. You get used to it. Sometimes you even like grating sand on your teeth," one of the servicemen says.
Turchynov: Ukraine successfully tests 'Sokil' unmanned combat aerial vehicle – 14.09.2017 16:55 — Ukrinform News
Successful tests of "Sokil" unmanned combat aerial vehicle took place today. Secretary of the National Security and Defense Council of Ukraine Oleksandr Turchynov said this at Honcharivske proving ground in Chernihiv region after the tests were completed, the press service of the NSDC reported. According to him, one of the tasks set by the National Security and Defense Council of Ukraine before the domestic defense-industrial complex was "to establish production of high-quality combat unmanned aerial vehicles". "The "Sokil" reconnaissance-strike system, which we have tested today, consists of one reconnaissance and three striking combat vehicles, so it can find and precisely hit targets using the high-explosive, blast-fragmentation, and thermobaric munitions, which depends on the task," Turchynov said, adding that today's tests were carried out in tough weather conditions. The secretary of the NSDC reported that this UAV was "a product of fruitful cooperation of the Ukrainian company "Chezara" with Polish partners". "The tests were successful; they demonstrated the effectiveness of these unmanned systems. The next step is to add them to an armory and use effectively in combat conditions," he said.
Turchynov announces successful tests of strike drones. PHOTOS
14.09.17 16:30 – Ukraine successfully tested strike drones on Sept. 14. This was announced by Secretary of the National Security and Defense Council Oleksandr Turchynov after the tests on Honcharivske shooting range, the Chernihiv region. He said one of the tasks set by the National Security and Defense Council for Ukrainian defense production industry is "to establish production of high-quality drones for combat use," NSDC press service told Censor.NET.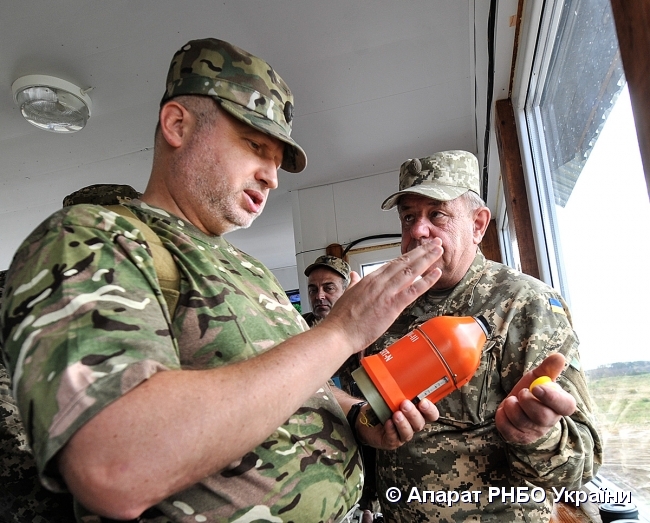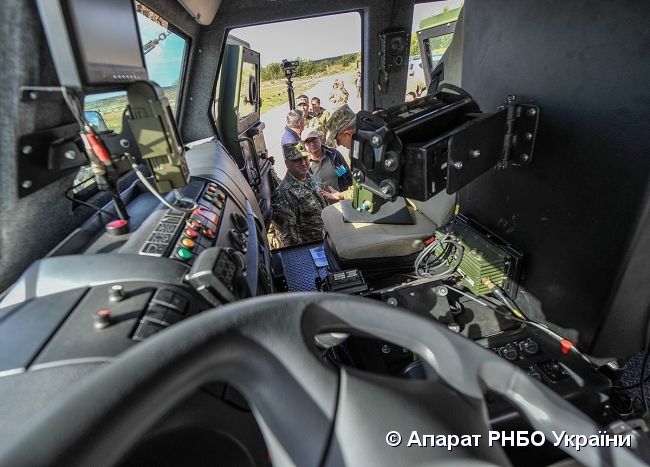 Night conflict in Odesa: grenade blast caused injuries – 112.international
The injured persons were hospitalized. Their number is not yet reported
NSDC approves Concept of ensuring counterintelligence regime in Ukraine – 14.09.2017 12:16 — Ukrinform News
The National Security and Defense Council (NSDC) at its meeting on Wednesday, September 13, considered and approved the Concept of ensuring counterintelligence regime in Ukraine.
After Gryb disappeared in Belarus, MFA says Ukrainians aren't safe not only in Russia – 112.international
After 19-year-old Ukrainian Pavlo Gryb disappeared in Belarus, Ukraine's MFA says Ukrainians aren't safe not only in Russia, as Minister of Foreign Affairs Pavlo Klimkin told Ukrinform. "After Ukrainian Pavlo Gryb disappeared in Belarus, we must speak about the threat of Ukrainian citizenship staying not only on Russian territory. I want to use this interview as an opportunity to warn citizens of Ukraine of the danger of staying in Russian territory, where all security services act against our citizens. I call on everyone going to Russia to think well whether to go there. But now there's a situation in which we see that Russian security agencies also work in Belarus, and I believe, citizens of Ukraine should weigh in their visit there," Klimkin said. Minister of Foreign Affairs also said that Russia doesn't let Ukrainian consuls see the detained youngster. "Abduction of Pavlo Gryb from Belarus is a highly serious case, and we must find out how it happened. In order to do this, we are looking for information from different sources. Russia doesn't let our consuls see Gryb, but we will pressure for that with all available means, and once we have established the circumstance, we will proceed to next steps," Klimkin summed up. As it was reported earlier, 19-years old Pavlo Gryb got lost in Belarus on August 24. The young man was later found at a prison in Krasnodar, Russia. He told a Russian lawer that he had been kidnapped in Belarus and brough to Russia, where he is accused under Article 205.1 of Criminal Code of Russia (Abetting of the terrorist activities).
Gryb was arrested in Russia in absentia, – lawyer – Gryb was arrested in Russia in absentia, – lawyer – 112.international
The lawyer of the Ukrainian Andrey Sabinin said he didn't have any new information on Pavlo Gryb, because he only saw him once, though, he is allowed to see the prisoner. Russian lawyer Andrey Sabinin who defends arrested in Russia Ukrainian Pavlo Gryb said that the decision on Gryb's arrest till October 17 was taken in absentia. He said this to Radio Liberty. "I did not see such document. But, according to information, this arrest was decided on in absentia, it's until October 17… Pavlo Gryb cannot be arrested because he is in jail. They arrested him without his presence. At the time when the decision was made, he obviously did not know anything. The first thing he knew was the procedure of his detention. He does not have a single document with him, "Sabinin said. The lawyer of the Ukrainian Andrey Sabinin said he didn't have any new information on Pavlo Gryb, because he only saw him once, though, he is allowed to see the prisoner. "I have access to him. Now it's not a problem, it was a problem before though, but is already solved," Sabinin said. The lawyer noted that he cannot yet follow what actions of investigators in Pavlo Gryb case were carried out.
Ukraine has lost Hungary as its ally in the UN and the EU. Formally – because of the new law on education, adopted by the Verkhovna Rada on September 5 – Why Hungary aggravates language problem with Ukraine? – 112.international
Hungarian nationalists want to return Transcarpathia, and Russia can perfectly use this moment. Ukraine has lost Hungary as its ally in the UN and the EU. Formally – because of the new law on education, adopted by the Verkhovna Rada on September 5. The paragraph on the language of education has become a cornerstone for the patriotic Ukrainian segment of Facebook. And on the eve, on September 5 – the day of an epoch-making vote – a lot of critical posts appeared in social networks. Numerous "experts" in chorus and one by one assured: evil politicians will not allow the Ukrainian language to become the only language of education in Ukraine. That MPs are already trying to negotiate on this behind closed doors. Nevertheless, the parliamentarians went to the victorious format. The only language of education in Ukraine henceforth will be Ukrainian. With the caveat: in the junior school there will be an opportunity to teach also in the languages of national minorities with the obligatory study of Ukrainian. Of course, this outraged Russia. And quite unexpectedly – Hungary. "Changes in the Ukrainian law on education make it impossible to receive education in their native language for national minorities of Ukraine, including 150 thousand Hungarian minority," Hungarian Foreign Minister Peter Siyarto said. As a response to his personal instructions, Hungarian diplomacy will prevent Ukraine from realizing important international affairs. I would like to stress that Hungary has supported the introduction of visa-free travel for Ukraine, was one of the first to ratify the association agreement between the EU and Ukraine and has helped us in other ways. Now it turns out that at the price of such comprehensive support was the right of ethnic Hungarians, the vast majority of whom live compactly in Transcarpathia, to receive education in their native language. Even uninitiated citizens are able to understand two basic things on which the new law on education is based. The first and main thing at the moment: whether we like it or not, but the declared total Ukrainization of the secondary and higher schools is primarily a response to its Russification. However, there is a second, no less important reason: the knowledge obtained in school will somehow have to be used. And then the mentioned 150 thousand Hungarians should make the decision. And the leadership of their historical homeland should give a clear answer, where they see the future of Ukrainian Hungarians. Hungarian is not common in Ukraine in the same way as Russian is. Like other foreign languages, Hungarian does not dominate in the information space. The same can be said about the civil service and other spheres where citizens can and must realize themselves after graduation. If an ethnic Hungarian sees his future only within his community, it is unlikely that the law will prohibit the opening of Hungarian schools in places of compact settlement of Hungarians. Situation with higher education is more difficult: you have to go to study in Budapest and stay there to work. Otherwise, without speaking Ukrainian and adopting Ukrainian meanings, there is no job in Ukraine for you. Undoubtedly, the Hungarian authorities understand this perfectly. And let's not forget: it was Hungary that until now, and without the language issue, was Ukraine's least reliable ally. The leadership of this state has repeatedly curtsied in the direction of the Kremlin. Not to mention the frankly pro-Russian far-right "Jobbik" party, which is very popular in certain Hungarian communities. Therefore, there is every reason to believe that Russia, having a huge experience of speculation and sowing discord in language issues, could use the moment. The moment that Hungarian nationalists used to go to international politics, seeking an excuse to return Transcarpathia. But even in such situation, all the same, further legislative initiatives in Ukraine should be introduced, without taking into account the reaction of Russia and its situational allies.
UAWire – Kremlin: new Ukrainian Education law poses a threat to Russian language
Russia has become the fifth country to dislike the new Ukrainian law "On Education." "Although Russian is not mentioned in the law, it is …
Marshall Plan for Ukraine envisages $5 billion in annual investments and is 10 years long, – Economic Development Minister Kubiv
14.09.17 15:52 – Marshall Plan for Ukraine envisages $5 billion in annual investments and is 10 years long, – Economic Development Minister Kubiv Marshall Plan for Ukraine is set for 10 years and envisages allocation of $5 billion annually in the mid-term (2018-2020). View news.
Marshall Plan for Ukraine designed for 10 years – 112.international
According to experts, 5 billion euros will provide economic growth for 6-8%.
Political scientist Laurinas Kashchunas: Ukraine fatigue is gripping Western Europe – 112.international
The precedent with Saakashvili does not make a very good impression. Everything was done in a very provocative manner. We know this manner very well, because we keep an ear on the ground of Russian propaganda. We know what to expect. One of the goals of Russian propaganda is discrediting Ukraine in the eyes of Western countries. This creates an element of provocation and gives propaganda an opportunity to show that there is total disorder in Ukraine. Therefore, it is necessary to control the situation to avoid further aggravation. Here the comes to the international level, it is necessary to control it. The situation might worsen. I saw people from Saakashvili's milieu, different political figures, Ukrainian politicians, Tymoshenko and others. And this is a signal that the situation will also escalate to the political level. This is defamation of Ukraine's political system, and this is obviously not good. Here we must think how to preserve the status, somehow strengthen the authority of Ukraine, and not destroy it. To be frank, it is hard to comment on this. I think there must be some judicial solution. The biggest problem of this situation is that we omitted judicial path and began resolving the conflict directly on the street, in the media, on the political arena. This option is failed. But, of course, from the very beginning a provocative nature of the situation was obvious. And this is not good. After that, European attitude to Ukraine will definitely not improve. We live at a time that our diplomats are forced to repeat to Western Europe: "Do not turn away your face from Ukraine." But this is not that easy. Western Europe is already suffering from some fatigue. This chaos is not good for our image, and it is necessary to fix it.
Saakashvili Rallies Supporters In Western Ukraine, Vows To Help Solve Country's 'Political Crisis'
Mikheil Saakashvili has told a rally in western Ukraine that he had returned to the country to help solve the country's "political crisis" and that he intends to travel to Kyiv nex…
---
Russia / Iran / Syria / Iraq / OEF Reports
---
Access To Military Sites Debated As White House Reconsiders Iran Nuclear Deal : Parallels : NPR
Critics say inspectors from the International Atomic Energy Agency are failing to routinely inspect military sites where potential nuclear fuel could be diverted to a covert nuclear weapons program.
Airstrikes against ISIS hit all-time high
For the first time since the war against the Islamic State began, U.S. and allied aircraft in August released more than 5,000 weapons in a single month.
How U.S. F-15E Drone Shoot-Down Changed Air Game In Syria | AFA National Convention content from Aviation Week
Air Force Col. Jeremy Renken's downing of an armed UAV over Syria in June signaled pro-regime forces that the U.S. will not fail to act in self defense.
Russian Submarines Fire Cruise Missiles At IS Targets In Syria
Russia's Defense Ministry says two Russian submarines in the eastern Mediterranean Sea have fired cruise missiles at Islamic State (IS) militant targets in Syria. The ministry said in …
The Latest: Russia fires missiles at IS targets in Syria – The Washington Post
The Latest on the Syrian conflict (all times local):
Pentagon involved contractors from Ukraine to supply weapons to Syria, – investigation – 112.international
The Pentagon bought weapons for the Syrian rebels from Kazakhstan, Georgia and Ukraine
U.N. seeks 'massive' help for Rohingya fleeing Myanmar 'ethnic cleansing'
The United Nations appealed on Thursday for massive help for nearly 400,000 Muslims from Myanmar who have fled to Bangladesh, with concern growing that the number could keep rising, unless Myanmar ends what critics denounce as "ethnic cleansing".
---
DPRK / PRC / WESTPAC Reports
---
Hollie McKay | Why Russia props up the dangerous North Korean regime | Fox News
As North Korea continues to develop a nuclear weapons program, threaten the U.S and neighboring countries, as well as starve and enslave much of its population, the regime of Kim Jong-un continues to receive an increasing amount of both public and private support from Russia.
North Korea Threatens to Use Nuclear Weapon to 'Sink' Japan – Bloomberg
North Korea threatened to use a nuclear weapon against Japan and turn the U.S. into "ashes and darkness" for agreeing on fresh United Nations sanctions this week — rhetoric that is likely to exacerbate tensions in North Asia.
North Korea News LIVE: North Korea threatens to use nuclear weapon to sink Japan – Moneycontrol.com
The US State department has said it has not given up on diplomacy to resolve the situation with North Korea. Live updates.
North Korea tests not just a bomb but the global nuclear monitoring system
A former member of the Australian delegation to the Committee on Disarmament in Geneva explains how the CTBTO monitoring system detects nuclear tests.
James Stavridis | A Naval Blockade Is the Best Option to Cut Off North Korea – Bloomberg
The new UN sanctions are too weak, but they could be a first step in ending illegal trade by sea.
North Korea crisis: Mnuchin suggests China trade cut-off on the table | Fox News
Treasury Secretary Steve Mnuchin suggested Wednesday that the Trump administration is willing to cut off trade with China in an effort to put pressure on North Korea.
North Korea's latest nuclear test was so powerful it reshaped the mountain above it – The Washington Post
New radar images show North Korea's Sept. 3 nuclear test was powerful enough to have changed the topography of the mountain above the tunnel where the test likely took place.
South Korea conducts cruise missile drill as North Korea threatens action | Fox News
South Korea on Tuesday conducted its first live-fire drill for an advanced air-launched cruise missile, strengthening Seoul's preemptive strike capability in the face of increased aggression from North Korea — which mocked the live-fire test as the work of a puppet army.
South Korea tests its new cruise missile that could wipe out Kim Jong-un from 300 miles – as North Korea threatens U.S. and Seoul with 'miserable destruction'
South Korea's Air Force fired the Taurus missile from an F-15 fighter jet and hit a target off the country's western coast
What If South Korea Acted Like North Korea? – Victor Davis Hanson
Think of the Korean Peninsula turned upside down..09/14/2017 0:44:30AM EST.
---
Foreign Policy Reports
---
German political parties – where do they stand on foreign policy and security? | Germany | DW | 14.09.2017
With Germany playing a larger international role, foreign policy and global security are major campaign issues. Here's where its main parties CDU, SPD, AfD, FDP, Greens and The Left stand on the most important issues.
Putin is setting an elephant trap for Merkel | Comment | The Times & The Sunday Times
The Germans have a word for it: Männerfreundschaft. Four times married and divorced, Gerhard Schröder has based his political and business career on bonding wit
Putin is setting an elephant trap for Merkel – The Times
Former German Chancellor Gerhard Schroeder has based his political and business career on bonding with people he sees as fellow alpha males. The most enduring of the former German chancellor's buddies is Russian President Vladimir Putin, according to The Times. News 13 September from UNIAN.
In Angela Merkel, German Women Find Symbol, but Not Savior – The New York Times
The highest office in the land has been held by a woman for 12 years. It's all the other offices that still pose a problem for women in Germany.
UAWire – Media: Bulgaria considers Russia a threat
The Bulgarian government views Russia as a threat to its foreign policy, according to the report on the state of national security in 2016, …
---
Strategy / History / Capability Publications
---
America Could Win a War against Russia and China (but at What Cost?) | The National Interest Blog
The U.S. military needs to be able to wage a high-end war.
Army awards contract for improved 84 mm anti-tank rifle
This latest version of the
---
IW/IO/Cyber Reports
---
RT, Sputnik and Russia's New Theory of War – The New York Times
How the Kremlin built one of the most powerful information weapons of the 21st century — and why it may be impossible to stop.
Analysts Are Quitting the State Department's Anti-Propaganda Team – To Inform is to Influence
BY PATRICK TUCKER SEPTEMBER 12, 2017 The Global Engagement Center is struggling to keep up with its missions: countering ISIS recruitment and Russian disinformation. The chief technology officer at the U.S. State Department's anti-propaganda center left last week, along with two other members of its analytics team, Defense One has learned. The departures raise new questions about the Global Engagement…
EU vs DISINFORMATION | DON'T BE DECEIVED, QUESTION EVEN MORE
This website is part of a campaign to better forecast, address and respond to pro-Kremlin disinformation. The 'EU versus Disinformation' campaign is run by the European External Action Service East Stratcom Task Force. The team was set up after the EU Heads of State and Government stressed the need to challenge Russia's ongoing disinformation campaigns in March 2015. Read more about the team here.
EU chief calls for pan-European cyber agency
"Cyberattacks are sometimes more dangerous for the stability of democracies and economies than guns and tanks," President Jean-Claude Juncker said.
Russian hacker pleads guilty in identity theft case
A 33-year-old Russian cybercriminal has pleaded guilty in Atlanta to selling stolen personal information through a $50 million identity theft and credit card fraud ring known as "carder.su."
DHS gives agencies 90 days to purge all Kaspersky products
After months of current and former U.S. government officials warning against using cybersecurity products developed and sold by Russia-based Kaspersky Lab, acting Homeland Security Secretary Elaine Duke issued a binding operational directive on Wednesday telling all federal agencies to get Kaspersky software off their systems within 90 days.
In Persian Gulf, computer hacking now a cross-border fear
From suspected Iranian cyberattacks on Saudi Arabia to leaked emails causing consternation among nominally allied Arab nations, state-sponsored hacks have become an increasing worry among countries across the Persian Gulf.
---
US Domestic Policy Reports
---
Kremlin Says Russia Proposed Full Normalization With U.S. After Trump's Election
The Kremlin's chief spokesman said Russian officials made direct proposals to Washington about full normalization of ties between the two countries following President Donald Trump'…
FBI Investigating Russian Propaganda Radio Station in D.C. – To Inform is to Influence
Yahoo News reports the inquiry looks into whether Sputnik is acting in violation of the Foreign Agents Registration Act. 12:22 PM, SEP 12, 2017 | By MARK HEMINGWAY In July, I noted that Sputnik Radio—an honest-to-God Russian propaganda outlet—had started broadcasting on Washington D.C. airwaves: I spent the last few days driving around listening to Sputnik, and the…
UAWire – US wants Russia Today to register as a 'foreign agent'
The US Department of Justice has demanded that the Russian television company RT (Russia Today) register a company that provides services for …
Rice told investigators why she unmasked Trump aides – CNNPolitics
Former national security adviser Susan Rice privately told House investigators that she unmasked the identities of senior Trump officials to understand why the crown prince of the United Arab Emirates was in New York late last year, multiple sources told CNN.
U.S. Lawmakers Probing Whether Trump Aide Promoted U.S.-Russian Nuclear Project
Democratic lawmakers say they're investigating whether U.S. President Donald Trump's former national security adviser, Michael Flynn, secretly promoted a U.S.-Russian project to build dozen…
McCain opens defense bill to debates that will challenge Trump's national security policy – The Washington Post
An effort to draft a new AUMF failed early; measures on North Korea and transgender troops are still to come.