Anonymous expert compilation, analysis, and reporting.
I am receiving a LOT of offline comments that the West's reaction to or, perhaps the anticipation of Russian actions ICW Zapad 2017 indicates a Russian win no matter the outcome. I disagree. Wargaming actions and reactions are routine in the US military and I am certain, with US leaders, it is routine in NATO. This is healthy, it leads to contingency plans, it leads to decision points, it leads to minimalization of reactions vs. anticipated actions, it leads to warnings and indications, it leads to anticipatory targeting, it leads to pre-positioned units and supplies. The appearance of little green men might be a deception or they may be a precursor to unconventional action in an area.  
The key to making sense of all this is communications.  Russian jamming or electronic warfare must also be anticipated as both a deception and as a Russian enabler. Arndt Freytag von Loringhoven, Assistant Secretary General for Intelligence and Security at NATO had better have his collective 'stuff' together. From now until 20 September, he is going to be under a huge amount of stress. 
</end editorial>
---
---
Russia appears to agree to UN peacekeepers throughout Donbass, producing much media traffic and speculation. It would be their best option for a face saving egress from Donbass.
Most interesting commentaries about Russia by Khodorkovsky, Ikhlov and Yakovenko – Ikhlov bluntly observing that "Russia is the Russian social system even now to a large extent is still feudal or "mentally" even more primitive than that" – a case in point Russian blogger "Kalashnikov" proposes that Russia use its nuclear strike force to play the same extortion game as the DPRK – parody or not, there will be Russians who will agree with him. Multiple reports on Russia's descent, including more corruption and harassment of dissenting intellectuals.
More on current threads in Belarus and Moldova, with Putinist Pres Dodon in unison with other Russian proxies i.e. Orban, attacking Ukraine over its insistence Ukrainian should be taught to children in schools.
Most of Ukraine's Air Force placed on full combat alert, as a contingency exercise as Zapad 2017 ramps up. Video emerges of Russian HOKUM attack helo penetrating Ukrainian airspace from Crimea. Donbass fires continue. DEFMIN says AFU now almost fully equipped with required MBT numbers. Saakashvili charged.
US may revise Iran strategy. Syria threatens US. Hezbollah brags about its "victory" in Syria. Burma mess gets messier.
UN approves more DPRK sanctions, but reduced in impact to get PRC and Russian votes. WashPost on Russian sanction busting. Multiple essays and commentaries on PRC vs DPRK, and DPRK agendas, good essay by Newsham on how abominable the regime is, posing the question of why in the West almost everybody turns a blind eye? Gen Clark proposes third party negotiations with DPRK.
Turkey signs order for S-400 / SA-21 long range SAMs. More on EU and on German election, SDP continues to peddle Russian agendas.
Seven interesting IO/IW reports, plus more pro-Russian propaganda – NYT fake news about RD-250 engines continues to be propagated in US media.
In US domestic news, most interesting are the reports the Bureau is investigating Sputnik over potential breaches of FARA, since it produces advocacy / propaganda rather than news. Russian politician brags on television that "[U.S.] intelligence missed it when Russian intelligence stole the president of the United States", i.e. subverted the election.
---
Russia / Russophone Reports
---
Putin Says UN Peacekeepers Could Be Deployed Throughout Ukraine Conflict Zone
Russian President Vladimir Putin has signaled his willingness to look into the idea of deploying UN peacekeepers to eastern Ukraine not only along the conflict line separating Ukrainian governmen…
Putin agrees to UN peacekeepers' deployment "not only on the contact line" in Donbas
Russian President Vladimir Putin has shared details with German Chancellor Angela Merkel about the Russian initiative of a UN peacekeeping mission in Donbas, according to a statement posted by the Kremlin. News 11 September from UNIAN.
Putin agrees to deploy UN peacekeepers not only along contact line – 112.international
President of Russia Vladimir Putin noted his readiness to deploy UN peacekeepers not only along the contact line in the Donbas conflict zone, but also "in other places, where the SMM OSCE conducts their inspection trips". Putin told this in a phone conversation with Angela Merkel, as the official website of the President of Russia informs. "Ensuring security of OSCE observers by UN peacekeepers can be implemented not only on the contact line after withdrawing forces and means of both parties, but in other places, where the OSCE conducts their inspection trips in accordance with Minsk agreements measures," the Kremlin website informs. As it was reported earlier, Vladimir Putin instructed the Russian Foreign Ministry to introduce the draft resolution to the UN Security Council, as he believes such a mission could help resolve the conflict, even though previously Russian officials disapproved of the idea. Ukraine phrased its opinion on the subjectm saying that it objects to having peacekeepers from Russia participating in the UN mission.
UAWire – Zakharchenko: The ideal option for a peaceful resolution with Ukraine is independence for the DPR
In an interview with NTV, Alexander Zakharchenko, the head of the so-called Donetsk People's Republic (DPR), has said he is not satisfied with a new law on the reintegration of the Donbas that is being prepared by the Ukrainian government. "The ideal option for a peaceful resolution is [for us] to gain independence, and for Kyiv to recognize it. Thus we would be able to decide for ourselves who we want to live with, how we want to live, with whom we will be friends, [and] which state to join," he said. Zakharchenko's position on the introduction of UN peacekeepers is as follows: "They imply one option [the introduction of peacekeepers, similar to that what happened in] Kosovo and Croatia; [while] we mean the following option: protection for the OSCE mission. This should be an indirect peacekeeping mission. We are ready to discuss the location of the mission with Kyiv under these conditions." The head of the DPR also once again accused the Ukrainian side of unwillingness to implement the Minsk agreements. "Kyiv is preparing for war…[it] wishes and sees in its best dreams how to leave these Minsk agreements," he said.
Putin agreed to peacemaking in Donbas: Merkel makes Putin accept Croatian scenario for Donbas, – journalist « News | EN.Censor.net
12.09.17 15:42 – German Chancellor Angela Merkel's important initiative has forced Russian President Vladimir Putin into bidding farewell to the Novorossiya project. The conclusion is offered by Censor.NET chief editor Yurii Butusov as he comments on Putin's agreement to deploy peacekeepers throughout the Donbas to protect the OSCE staff after talks with Merkel. "Yes, this is a decisive change in Germany's position in support of Ukraine! A highly important initiative – Merkel made Putin say "good bye" to the Novorossiya project," Butusov says. He stresses that after peacekeepers are deployed in the Donbas, the "Croatian scenario" will become quite real. "Peacekeepers are needed to prevent a large-scale invasion of Russia's regular army. So we'll wait for peacekeeping units to be deployed, which is a very positive signal that allows us considering not only prospects and ways to end the war. Peacekeepers are able to limit the use of the Russian army, while destroying the mercenaries deprived of Russia's massive support still rests with the Armed Forces and the National Guard. No peace is possible in the Donbas in the near future without military solution and the liberation of the occupied territory. And Crimea comes next," Butusov sums up. Source: https://en.censor.net.ua/n454977 He notes that the deployment of peacekeepers to protect the OSCE staff means that now the OSCE monitors will be reinforced by a military contingent from Europe, that is, from NATO countries, and that the guarded OSCE mission will also begin working at night. But most important, according to Butusov, the mission will act not only near the contact line, but also on the border with the Russian Federation, thus controlling the flood of weapons. Read more: Putin agreed for peacekeepers introduction throughout Donbas, – Merkel In his opinion, this radical change in the situation in the Donbas opens new opportunities for Ukraine. "It's not the number of the military that matters here, but the political principle is important – NATO countries implementing the policy to deter the Russian Federation. The Russian mercenaries in the occupied territory won't anymore dare prevent an OSCE patrol from monitoring a strategic highway. The risk of a direct clash between peacekeepers and mercenaries will be high. And if a conflict occurs, the EU and NATO can easily use additional leverage on Putin, who has long run out of resources," the journalist writes.
Poroshenko hopes the world to make Russia accept idea of peacekeepers in Donbas – 12.09.2017 15:45 — Ukrinform News
President of Ukraine Petro Poroshenko hopes that the international community as a result of coordinated actions will force Russia to accept a concept of the deployment of peacekeeping forces in the east of Ukraine.
UAWire – US strategic bombers arrive in Czech Republic
Two American strategic bombers, a B-52 and a B-1B, landed at the Mošnov airport in Ostrava, in the north-east of the Czech Republic. These powerful military aircraft will take part in the NATO Days, Radio Svoboda reports. "These planes take part in public activities extremely rarely, and so this is a unique occasion, when we can see them in this way," observed Zbinek Pavlacic, one of the event organizers. The B-52 and B-1B already participated in the Ample Strike drills alongside the Czech Gripen aircraft this year. The Saudi Hawks, a group of pilots from Saudi Arabia, will also demonstrate their skills in the sky above Ostrava. The multipurpose UH-60 Black Hawk helicopters will be among the most interesting aircraft at the NATO Days, participating for the first time. The helicopters have been purchased by the Slovak Air Force. The NATO Days will take place in Ostrava from 16-17 September. The activities prepared by the organizers will involve 80 types of aircraft and 200 types of ground equipment from 17 countries. For the first time, the NATO Days will have participants from three non-European countries: the USA, Canada and Saudi Arabia. Yesterday it was reported that a Turkish landing craft had arrived in Odessa for a friendly visit. The Turkish cadets will stay in the city until September 12.
Finnish Defence Minister: "Western countries have taken the bait" over Russia's Zapad exercises – To Inform is to Influence
Finland's Defence Minister Jussi Niinistö has it absolutely correct, Russia is successfully playing the West with their Information Warfare.  …or are they?   As a retired military intelligence officer, it was my job to pose all the different options for a threat, usually an enemy. This is exactly what is being done for Russia, assuming…
UAWire – Latvia begins senior NATO officer staff exercises
On Sunday, September 10, the Steadfast Pyramid 2017 and Steadfast Pinnacle 2017 exercises for the senior and high ranking NATO staff began at the National Defense Academy of Latvia in Riga. The exercises involve more than 40 officers from alliance member states and partner states – Finland and Sweden, the internet portal tv.net reports. The goal of the exercises is to improve the commanders' and high-ranking officers' ability to plan and lead joint operations. Steadfast Pyramid 2017 will be the first part of the exercises, and will last until Friday, September 15. The second part of the exercises, Steadfast Pinnacle 2017, will take place from 17-22 September. The Steadfast Pyramid and Steadfast Pinnacle exercises have been held in Latvia since 2011, and will continue to be hosted in the country until 2018. Earlier, a representative of the US National Security Council said that joint American-Finnish exercises would be held in the Baltic Sea. The maneuvers will take place close to the Swedish coast, at the same time as the Russian-Belarusian Zapad 2017 exercises. At the end of August, military aviation drills began in the Czech Republic, involving military personnel and equipment from 18 NATO member states and partners. They will last until September 12.
Russia has been hiding the true size and sweep of its war games: Western officials | National Post
'What we are seeing is that the exercises are of an offensive nature, they are exercising access and area denial'
Mikhail Khodorkovsky | A Problem Much Bigger Than Putin – To Inform is to Influence
By MIKHAIL KHODORKOVSKYSEPT. 12, 2017 Mikhail Khodorkovsky is the founder of Open Russia, a movement committed to promoting democratic rule in Russia. Before his arrest in 2003, he was the head of the Yukos oil company. He was pardoned and released from prison in 2013. More than 25 years after the collapse of the Soviet Union and the attempt to build a democracy in its place, Russia has once again become an authoritarian state. The same inability to build democratic institutions plagued the leaders of the February Revolution of 1917, which led to the Bolsheviks gaining power later that year. Russian authoritarianism has profound consequences not just for Russian citizens, but also for neighboring countries and the rest of the world. Still burdened by a "besieged fortress" mentality, the Kremlin pursues a foreign policy aimed at achieving a "balance of forces" between Moscow and the West. This outdated strategy creates a hysteria for military adventurism that threatens the entire planet. Pro-Kremlin propagandists such as Dmitry Kiselyov, a well-known state TV host, have even suggested that "aggressive behavior" from the United States could prompt a nuclear response from Russia. It is not surprising that the Kremlin is using disinformation and other dirty tricks to sow confusion in Western countries and undermine faith in democratic systems. Russia's leaders are convinced that Western democracy is a threat to the authoritarian order in a country they have cowed into submission. For Moscow, this is a zero-sum game: Any weakening or discrediting of democracy can benefit only the Kremlin's system of rule. But this is shortsighted. The rupture of the Western alliance could create serious instability throughout the world, exposing Russia to dangers it would likely be unable to manage. To find an alternative system of government, Russian democrats like myself need to make sense of our country's unfortunate history. Doing so raises the inevitable question: Do Russia's size, political culture and distrust of the Western world make it unsuitable for democracy? Absolutely not. I reject the fallacy that Russians are somehow incapable of building democratic institutions. People said the same thing about the Germans. How wrong they were. Countries and their citizens do change, usually in response to their own failures.
Mikhail Khodorkovsky | A Problem Much Bigger Than Putin – The New York Times
The challenge isn't to remove Vladimir Putin from power; it's to replace the authoritarian system he personifies.
Maxim Kalashnikov | RVSN AS A MEANS OF RETURNED AWARENESS
Strategic Missile Force as a tool for economic growth And now we will try to return to the beginning of our text and imagine: what if the new Great Russia was blocked from the opportunity to return its money from the West? If they imposed sanctions against us under the full program? We simply make a statement: Great Russia reserves the right to respond in every possible way to an attempt to destroy our people economically. The West's refusal to return the stolen property of Yeltsin's and Putin's times is regarded as a criminal act and as an attempt at an economic genocide of Russians and other indigenous peoples of Great Russia. As an answer, our authorities are renewing real nuclear tests on Novaya Zemlya. For the first time since 1985. We conduct demonstrative tests of ICBMs of various types. We declare that we are withdrawing from all treaties on the limitation of strategic nuclear weapons. We adopt the very types that are most terrible for the United States – the airborne missile defense system, missiles with maneuvering warheads, secret-missiles. Naturally, we defiantly get out of the WTO (because all its norms are trampled by the West), introduce reasonable protectionism, turn the Central Bank of Russia into a National Bank and create a New Deal government. (This is done at the very beginning). The WTO will not be able to do anything to us: there is no army in this organization. We spit on the decisions of the courts on the claims of WTO members. Yes, where will you get off our market? You will buy oil and gas. And on our market still ask. Such actions of Great Russia tear the world economy into crisis. This, of course, brings down energy prices, but we are now engaged in the processing of raw materials inside the country. And Europeans, suffering from a recession, themselves offer us their equipment and technology. As was the case with the USSR after 1929 and after 1973. And we are increasing the measures of influence. Gentlemen! Either you return to us the stolen $ 1 trillion and a half dollars and lift sanctions, or we withdraw from the Treaty on the Non-Proliferation of Nuclear Weapons. And we help a number of countries to become nuclear powers. And we are ready to start production on subversive innovations, breaking the business of your large corporations. You can not do anything with us. An example from the DPRK showed this. To start an arms race with the deployment of weapons in outer space on new physical principles will break through. This requires at least ten years and multi-trillion investment. And the US is not in a better position to pull such a program. You will never dare to start the first nuclear war. In order to undermine our power from the inside, you also do not have opportunities. After the demonstrative mass trials of the high-handed vigil of the leaders of Great Russia – the strongest popular support. Choose. You can accept our terms, returning what is rightfully ours – and then we will be able to peacefully coexist, trading under bilateral agreements. Or the confrontation will continue. Only you are not at all the same as in 1981.And we are no strangers to hardship. Our people will still live better than in Russia. Sanctions and confrontation – the best incentive for the Russian. Bitter experience, we are taught to repeat the same mistakes are not going to. Queues for the deficit and dressing all in the same overalls in Russia will not. We will not create a bad nationalization of the economy, we have it will be mixed, like Roosevelt, with the private sector – along with the state and the enterprises owned by the workers' collectives. Plus indicative planning and the modern system of state support to the real sector. Well, gentlemen Westerners? Experience Third Kim says that we have the conditions for winning a multiple greater than that of North Korea. But this is so – for the future. Not to present the supreme written …
Window on Eurasia — New Series: Russia Now in the Midst of Third Cycle of Formation of an Ethnic Russian Nation, Ikhlov Says
Paul Goble Staunton, September 11 – There is no Russian nation at the present time, Yevgeny Ikhlov says, "for the very simple reason that the nation is a European (Western) conception of the end of the 18th and middle of the 19th centuries," and the Russian social system even now to a large extend is still feudal or "mentally" even more primitive than that. But to say that, the Russian analyst continues, does not mean that a Russian nation will not ever be formed. Instead, he says, its formation is "inevitable," despite the fact that the imperial authorities will in fact again seek to impede that development because it will threaten their rule (kasparov.ru/material.php?id=59B27DD667470). According to Ikhlov, Russia is in the midst of "the third cycle of the formation of a Russian ethno-nation." The first began 150 years ago with the idea of nations as "cultural-historical types," an idea that led through slavophilism to the assertion of a distinctive "'Russian race'" and ultimately to the notions of the Union of the Russian People" and the black hundreds. But as long as Russian remains a medieval (traditionalist) social system, he continues, "it could exist only in three aggregate states: as an empire, as a zone of feudal fragmentation … or as part of an empire of a higher level such as the Horde" or the failed notion of "a Slavic-Baltic-Scandinavian Empire." If its social system ceases to be medieval, Ikhlov argues, "Russia as a civilization will have the chance to become a democratic federation (a hypothetical United States of Russia) or a semi-governmental cultural-economic alliance, a kind of Russian Union." But to date that hasn't happened. And this delay in the formation of a Russian ethno-nation, he suggests, and the forced russification of non-Russians rather than the promotion of Russian national identity has had the effect of provoking the growth in the nationalism of the minorities of the empire. The second "step toward Russian ethnic nationalism began during the Soviet-German war" but "it was stopped by the old Bolshevik Khrushchev who decided as had Lenin to try to create a Soviet political nation, mobilized by a future-oriented utopia and again began to promote an imperial-messianic cultural universalism." "The third step toward the formation of a Russian ethno-nation began with the end of the 1960s when the bankruptcy of the communist project finally became obvious," Ikhlov says; "and it continues to this day." Further, he argues, "one of the results of this process" was the calm reaction of most Russians to the disintegration of the USSR. That event, at least immediately, did not lead as the two earlier cases to "a distancing from Western Europe but, on the contrary, was marked by an effort to become yet another European ethno-nation like the Germans and the French." That is why Russians have reacted so strongly to what many see as "'the Islamization' of Europe. Russians have become uncomfortable with the idea that they, a great people, should have chosen as its pattern one that would reduce them to the status of "small peoples." And as a result, Ikhlov says, Russians find it very difficult to understand present-day Germans and Frenchmen "who are conducting themselves like Soviet Russian internationalists" of Soviet times. What is going on, he suggests, is that Western Europe is renewing its process of seeking unity that was broken off at the time of the Moroccan crisis before World War I, and Russia is trying to become an ethno-nation of the kind that Europeans have left behind, with broader nationalist aspirations much as Germany had before World War II. "'Civilized Russian nationalists'" today say that "Russians are those who consider Russian culture their own. But the nationalists add to this formula 'a few' implicit ideas – the denial of the West, the rejection of liberalism, Stalinism, monarchism, Orthodoxy and faith in 'a special path for Russia.'" The Germans before World War I had a similar problem, but their defeat led to the subordination of a German "sub-civilization' to the North German ethnic nation." Then, "the trauma of defeat" in 1918 led to the rise of Nazism. Unfortunately, Ikhlov says, "Russian ethnic nationalism has been condemned to pass along the very same path." It may even be the case, that this is a general pattern for "the transformation of [any] civilizational identity into an ethnic one." Ikhlov then says that "the de-Marxificaiton of Russia again includes both of the historical processes that had been broken off earlier – the reduction of the civilizational distance from Europe and the crystallization of ethnic self-consciousness." Many fear that if Russia becomes nation state, it will fall apart. Such concerns are misplaced because nation states don't disintegration, although they may lose some marginal groups. At the same time however, their existence does not guarantee domestic piece as both Hungary and Germany have shown. The reaction of Russians to the war in Ukraine shows how far Russians have yet to travel before they complete the formation of a nation and thus a nation state. Had they been further along, they would not have backed this project and, more than that, they would have opposed repression directed against themselves. For people who remain imperialists, domestic victims of repressions are simply "bricks in the pyramid of the greatness of the state," but for those who have become national, those victims remain victims, Ikhlov continues. That explains the divide in Russia over Stalin, with imperialists celebrating him and true nationalists seeing him as a destroyer of the nation. But as long as Russia remains in a medieval state, the confusion between state and nation will exist, he says; and the medieval situation "is coming to an end, and can be prolonged only by a new catastrophic breakthrough toward the archaic, something that would transform the entire country into 'a Donbas.'" "This means," he says, "the imperial period is coming to an end as is the chance for establishing a new despotic government." But that "does not exclude a period of revolutionary dictatorship" as long as that will "be sanctioned by a mass movement," something that is not now in evidence. "Russian society does not want either a new messianic utopic or a mobilization for power," he says, noting that no one now talks about the Izborsky Club's call for both. And then he concludes with the following argument about the current popularity Stalin is enjoying in Russia. According to Ikhlov, that "already is not nostalgia for power but the psychological basis for Navalny's promises 'to punish everyone.'" The Russian people who are not yet a nation are dreaming about taking revenge, a matter of justice in their eyes, rather than about restoring either his system or his empire.
Window on Eurasia — New Series: Putin Degrading Russian Society to Save His Empire, Yakovenko Says
Paul Goble Staunton, September 11 – Vladimir Putin has decided that the only way to save his imperial system is to make the lives of Russians unbearable on the assumption that people who must focus on their immediate needs will not have the interest of the energy to challenge his rule, according to Igor Yakovenko. Empires have various means of maintaining themselves, the Russian commentator says. The Soviet empire relied "on force and lies about the dawning victory of communism." When the regime reduced repression and the lie became obvious to its residents, that empire died, he points out (afterempire.info/2017/09/11/degradation/). During his first decade in power, Putin maintained the system by using the high prices of oil to buy off elites and to offer the population an improvement in its standard of living, leading to what became known as his contract with the population: stay out of politics and the Kremlin will ensure your consumption increases. But in 2011-2012, declines in the price of oil and the regime's heavy-handed falsification of elections destroyed that compact, Yakovenko says; and "in 2014, a new reality was formed in which Russians were given the conditions of a new contract between themselves and the Putin regime. "You must be proud and happy that you live in the largest and greatest country in the present-day world," they were told, "in a country with the most glorious history which achieved the greatest of all victories. [And now] the country is led by the greatest leader on the planet and it is a honor for each of you to support him." In addition, the Russians were told, "abundance and the level of consumption are values of the cursed liberal West and therefor you must not strive after them." Summed up in a single phrase, Putin's new deal for the Russians was that "'you will live possibly worse, but I will ensure you an influx of pride for the greatness of Russia." One reason that this new contract was offered, the commentator says, is that "in 2011-2012, it turned out that protest attitudes appear when people cease to struggle for their existence." Or put more bluntly, "people go into the streets not because they have nothing to eat but because they find something offensive" despite having enough. "Putin's entire policy after 2011-2012," Yakovenko suggests, "is a reaction to the post-traumatic stress syndrome" of that time. But the powers that be, frightened by the protests then, moved toward policies based on a more or less clear understanding that "'the slaves of the empire must be occupied with their own survival." "Then," it follows, "they won't have the strength for any stupidities, including political protests." And Putin has implemented this policy in various ways in all parts of the country. Some of those who could chose emigration, "but the majority in response to a sharp change in their customary way of life shifted to a regime of individual survival." "Beginning in 2014," Yakovenko continues, "there has been a growing degradation of the population of Russia as a result of the choice by the population of this strategy." And it must seem to the kremlin that this tactic is "the only chance to preserve the empire" because the population isn't looking beyond its immediate daily needs. There is a problem, however, the commentator says. "The reduction in the standard of living and of human capital gives rise to a further decline of the economy which at some point inevitably will lead to the collapse of ties among the parts of the empire" as each scrambles to save itself. Whether when that moment comes there will be some region "capable of taking on itself responsibility for the entire territory of present-day Russia" or alternatively that "its regions will shift to a regime of independent action," is something that "it is difficult today to predict." But that Putin's strategy will ultimately fail is not.
Window on Eurasia — New Series: Muslim Protests on Myanmar Really Targeted at Russia's Buddhists, Russia's Muslims and Russia's Rulers, Analysts Say
Paul Goble Staunton, September 11 – Many observers were surprised that Muslims in Russia staged demonstrations to protest the mistreatment of Muslims in Myanmar, and others believe the issue is over following mass arrests in St. Petersburg and Ramzan Kadyrov's call to end such protests (echo.msk.ru/blog/echomsk/2052900-echo/ and novayagazeta.ru/news/2017/09/11/135166-kadyrov-prizval-ne-ustraivat-mitingi-v-podderzhku-musulman-myanmy). But no one should have been surprised by the protests because they were never about Myanmar, and no one should think that the danger of Muslim activism has passed, according to various Russian analysts with whom Ruslan Gorevoy of the Novaya Versiya portal spoke (versia.ru/s-kem-vy-musulmanskie-aktivisty-i-sleduet-li-nam-vas-boyatsya). Gorevoy himself suggests that Muslims from the North Caucasus were ready to take up the cudgels against the Buddhist regime in Myanmar is because Russia's Muslims have longstanding grievances against the Buddhists in Russia and especially those in Kalmykia, a Buddhist republic which adjoins the North Caucasus. Relations between the Kalmyks and the Chechens have long been tense, Gorevoy says, pointing to such recent examples as "the Elista pogroms last spring when a Daghestani athlete desecrated a statue of Buddha" and earlier clashes between the two religious groups when Chechens desecrated a Kalmyk cemetery in Astrakhan. To be sure, "the number of victims of clashes in Kalmykia and in Myanmar are incomparable — if it is in fact appropriate to compare them. People have died, and it isn't critical whether there were 25 as in Kalmykia or 400 as in Myanmar," the Novaya Versiya journalist argues. What matters, he says, is that in contrast to the past, when no North Caucasian leader would talk about the Buddhist Kalmyks as an enemy, Kadyrov is now quite ready to do so in the case of the Myanmar Buddhists. But both he and his listeners are aware of the link. (See windowoneurasia2.blogspot.com/2017/09/moscow-bears-major-responsibility-for.html). But Kadyrov had other axes to grind, Gorevoy continues. He wanted to underscore his ties with Saudi Arabia, he wanted to demonstrate that he is a power to be reckoned with so that Moscow would not, as it again threatened to do at the end of August, cut his subsidies, and he wanted to show himself a power among Russia's Muslims and the Islamic community abroad. The demonstration at the Myanmar embassy and even more the meeting in Grozny showed, orientalist Anatoly Nesmiyan says, that "there exists in the country an organized force which has resources that are not under the control of the [central] authorities" and that these resources can be deployed otherwise "if required." Kadyrov will be loyal to Moscow and Putin as long as the center provides him with funding and support, the analyst continues, but if either appears to be weakening, then the Chechen leader is quite willing to demonstrate his independent power base among the Muslims of Chechnya and the North Caucasus in particular and across Russia more generally. Lev Vershinin, another Moscow political analyst, agrees and says that Kadyrov is completely uninterested the issue of Muslims in Myanmar. He has simply used them as an occasion to build up support in the North Caucasus by taking a stand against Buddhism in general and thus the Kalmyks. And the Chechen leader has also shown that he understands that he can gain influence by solidifying his friendship with the Saudi Arabians and also by demonstrating his ability to organize protests to challenge Kazan not only for the religious leadership of Russia's Muslims but also for their secular leadership.
Anonymous Bomb Threats Cause Evacuations Across Russia
A series of anonymous bomb threats phoned to authorities in cities across Russia has prompted evacuations at schools, shopping malls, theaters, and universities since September 11. Some regiona…
Window on Eurasia — New Series: 'Telephone Terrorists' Paralyze Schools, Stations, and Stores in More than 10 Russian Cities
Paul Goble Staunton, September 12 – Persons as yet unknown last night telephoned the police in more than ten Russian cities (but not Moscow or St. Petersburg) saying that there were bombs planted in schools, railway and bus stations, and stores, calls that forced the authorities to evacuate many of these places and that have spread confusion and fear. In Perm, nine schools, the railway station, two trade centers, and the city administration were shut down as a precaution; in Krasnoyarsk, seven stores and trade centers; in Vladivostok, five trade centers, several magazines and apartment blocks; in Chelyabinsk, ten trade and entertainment centers; in Magadan, two theaters, a market, four schools and two universities; in Yekaterinburg, a trade and business center; in Ufa, seven trade centers; in Omsk, the city administration, movie theaters, schools and a hotel; in Bryansk more than ten trade centers; in Novosibirsk, an automobile station, a hotel and clubs; in Ryazan, 11 trade centers; and in Vladivostok, several theaters (https://meduza.io/news/2017/09/12/v-krupnyh-gorodah-po-vsey-rossii-iz-za-anonimnyh-zvonkov-evakuiruyut-shkoly-vuzy-vokzaly-i-torgovye-tsentry and rosbalt.ru/russia/2017/09/12/1645453.html). The authorities were clearly unsettled by this, Rosbalt says. In some places, the police said this was all an anti-terrorist exercise; in others, that it was the result of telephone terrorism, leading to speculation that these cases were somehow connected to showings of the controversial Mathilda film or that the calls came from outside of Russia. What will happen next remains to be seen, but here are two immediate thoughts. On the one hand, this is an indication of how easy it is for such "telephone terrorists" to spread fear and how difficult it is for the authorities to counter that. They simply can't take the risk of ignoring such reports because one or more of them might be true. And on the other, such a wave of "telephone terrorism" at least potentially could be used by the authorities to launch a new wave of repression, given that they would likely be deferred to by a population fearful that Russia may be again about to slip into serious disorders.
Cars Torched In Moscow, But Film Shown In Vladivostok
Two cars were torched in Moscow in an apparent reprisal for a controversial film about Tsar Nicholas II. But the film, called Matilda, still had its premiere in Vladivostok. (RFE/RL's Russian Service)
Rage at tsar film suspected in Russia car blaze – BBC News
Two cars are torched in Moscow outside a lawyer's office linked to a film about Russia's last tsar.
Film about Russia's 'holy tsar' premieres after threats and violence | World news | The Guardian
Some Russian Orthodox Christians claim Alexei Uchitel's Matilda is blasphemous as it portrays Nicholas II in love scenes
CPJ Urges Russia To Bring Those Behind Attacks On Kremlin Critic Latynina To Justice
The New York-based Committee to Protect Journalists (CPJ) has called on Russian authorities to "identify and prosecute" those responsible for the attacks on journalist Yulia Latynina and t…
'More Serious Than We Imagined': Russian Journalist Flees After Feces, Fumes, And Fire Incidents
Russian journalist Yulia Latynina was walking to work in central Moscow last year when she saw the man in the motorcycle helmet waiting for her. She scrambled backward as he rushed toward her bu…
Plaque Honoring Slain Opposition Politician Nemtsov Removed In Moscow
A plaque honoring slain Russian opposition politician Boris Nemtsov that was placed on his apartment building in Moscow has been removed after less than one week. Activist Tatyana Tikhonovich wrot…
Russian Election Monitor Reports 'Illegal Tactics' During September 10 Vote
MOSCOW — An independent Russian election monitoring group, Golos, says low turnout for regional and local elections across the country on September 10 was caused by "the low level of competitio…
Window on Eurasia — New Series: Sunday's Elections in North Caucasus 'Most Scandalous in Many Years,' Chablin Says
Paul Goble Staunton, September 12 – Following low energy campaigns that nonetheless featured repeated violations of the law by the authorities and by the ruling United Russia Party, the elections in the various subjects of the North Caucasus Federal District were nonetheless "the most scandalous in many years," according to Anton Chablin. And given how "scandalous" all earlier votes in this region of the Russian Federation, that is saying something; and this judgment reflects both the judgments of the numerous observers in the region and the work of independent activists who used video cameras to record the violations (capost.media/news/policy/vybory-v-skfo-samye-skandalnye-za-mnogie-gody/). There were no elections in Ingushetia and only voting on membership in two rural councils in Chechnya, but elsewhere there were numerous contests for local councils. In every republic, there were violations on election day, the commentator says; and in some, they were so blatant and blatantly denied by officials that it is hard to be optimistic about the future. Among the many cases Chablin cites, the following are especially noteworthy: · In Daghestan, no candidates for Yabloko appeared given official pressure and despite the fact that that party has been active there in the past. It may be, the commentator suggests, that the Party of Growth will now get the liberal vote there. · Scandals during the campaign pushed participation down in Stavropol but they did not have the same effect in Karachayevo-Cherkessia. However, in the latter cases, election observers pointed to dozens of violations during the voting making these elections there "the 'dirtiest' in more than a decade." Officials kept changing the rules, deployed administrative resources, and did not allow five parties to run. But despite that, Cherkessk officials declared that there were no violations serious enough to have affected the outcome. · In North Ossetia, officials used old voting boxes that had holes in them large enough to stuff false ballots and that in any case were not sealed as required. Moreover, it was found that 400 voters were m oved into six districts from others and that "more than 100" were shifted from 16 districts to still a third group. That doesn't inspire confidence if the republic gets the right to election a governor in the future.
Moscow Vote Touted As 'Small Revolution' For Russian Opposition
MOSCOW — The Russian opposition is claiming success after a grassroots campaign led by Kremlin critic Dmitry Gudkov helped dissenters win a rare toehold in the capital in weekend elections. …
Window on Eurasia — New Series: Does 'the Small Municipal Revolution in Moscow' Mean Kremlin Can't Rely on Elections as a Legitimating Tool?
Paul Goble Staunton, September 11 – Yesterday, opposition candidates won approximately 190 seats in Moscow's municipal district elections and what is more took a majority in 14 of the municipal assemblies, a development some are dismissing given the level of the offices involved but others see as a "small municipal revolution" that deprives the Kremlin of a legitimating tool. Simon Zhavoronkov of Polit.ru is among those who aren't making too much of what has happened. He points out that no one should forget that United Russia candidates won the overwhelming majority of all district seats as well as the far more important gubernatorial competitions (polit.ru/article/2017/09/11/edg/). Not only did the opposition win only a few seats at the lowest and least important legislative bodies, but it won its fraction in Moscow in precisely the same places it has been doing relatively well since the end of the 1980s, and "over the last 30 years," Zhavoronkov continues, "not too much has changed." Several factors came together to help the opposition this time around: the consolidation of the liberal candidates under a single umbrella brand, tighter control over election commissions, and also the decision of the Moscow mayor's office to suppress rather than boost turnout in this election. As a result, the political commentator continues, turnout was far smaller than in the Moscow city Duma elections, and the opposition got its supporters to the polls at a time when United Russia was not making much of an effort in that direction. At the other end of reactions to this vote is Kirill Martynov, the politics editor of Novaya gazeta. He argues that the vote represents "a small municipal revolution" and establishes "a stable opposition at the local Moscow level" which is thus in a position to "correct the trajectory of recent Russian politics (novayagazeta.ru/articles/2017/09/11/73782-razreshite-predstavitsya-14). The opposition deputies will be able to make real demands on the authorities about budgets and other key issues, and they will in some places be in a position to vote out the administrator. Indeed, Martynov says, their appearance sets the stage for "a political confrontation of executive and legislative powers that people in Russia had begun to forget." The leaders of the opposition in Moscow from the very beginning said, Martynov continues, that "the municipal assemblies can be used as a public tribune" to express positions on a wide variety of issues and not simply points of disagreement with the local leaders. In this way, what has occurred is a reduction of the sense of unanimity the Kremlin has promoted. All this means that "the almost mythical 14 percent" – that is the share of the electorate that doesn't say it supports Putin – now has a voice, the Novaya gazeta commentator says, because at the municipal level there was no check like the five percent barrier that kept them from being elected to the Russian Duma. Of course, he continues, this "municipal revolution became possible because of the miscalculation of the authorities." They thought if they kept turnout down, they would win easily. Just the reverse has happened. And that sets the stage both for the sorting out of who will lead the opposition and of who may challenge for the Moscow mayor's position next year. Zhavoronkov is probably too pessimistic and Martynov too optimistic, but a third commentary suggests what may be the most important fallout from this vote: the Russian government can no longer count on elections to be an automatic instrument of legitimation. Instead, they may become one that leads to "destabilization" (iarex.ru/articles/54495.html).
Window on Eurasia — New Series: Past Due Bills for Housing Forcing Russian Defense Ministry to Cut Weapons Acquisitions
Paul Goble Staunton, September 12 – Last year, the Russian defense ministry has taken eight billion rubles (120 million US dollars) out of its weapons procurement budget to pay for past due bills for housing and communal services, and this year, it has taken 21 billion rubles (350 million US dollars) to do the same thing, according to an RBC investigation. This debt, RBC's Vyacheslav Kozlov and Dmitry Serkov, was built up during the time of the previous defense minister, has been confirmed by open sources, and is being retired and reduced (by returning some unused housing property) to its original owners so as to minimize its impact on spending plans (rbc.ru/politics/11/09/2017/59b27fbd9a79476259b9883b). While the impact of such spending on weapons acquisitions is relatively small – Moscow is spending more than 1.4 trillion rubles (23 billion US dollars) on those this year – it is nonetheless significant both that the housing and communal services sectors have this much clout and that the defense ministry is solving its housekeeping problems this way.
Russia's Gazprom Rediscovers It Needs Ukraine
With the Nord Stream pipeline down for maintenance, Russia's only alternative into Europe's lucrative gas market is via Ukraine.
---
Belarus Reports
---
Azhubalis: Europe Plays Too Long With Dictator Lukashenka – Charter'97 :: News from Belarus – Belarusian News – Republic of Belarus – Minsk
The Belarusian authorities have something to hide in the West-2017 exercise. Lithuanian politician Audronyus Azhubalis commented to Radio Svaboda on the last incident, when Lithuanian experts were denied Belarusian visas. "This demonstrates that nothing has changed in Belarus since 2004. It was then that I was not allowed to cross the Belarusian border, and the next 5 years I was banned from entering Belarus. And now the story has repeated." According to the politician, the European community "has played too much" with the dictator Lukashenka and now has no leverage to influence him. Therefore, we have to admit once again that Lukashenka is using Europe exclusively at his own advantage: either when it is necessary to receive peacekeeping dividends, or to involve some agencies to make the Kremlin nervous. The Lithuanian politician Laurynas Kasciunas also does not understand why the Belarusian authorities should complicate the situation on the eve of the West-2017 exercises, provoking an international scandal. And if this happened, then the allies have something to hide from the observers. This indicates that the maneuvers are not as harmless as the army generals try to imagine. The deputy of the Lithuanian Seimas, Mantas Adomenas, supported his colleagues and expressed his concern over the West-2017 exercises. At the same time, he, as well as all Lithuanian politicians, does care about the status of Belarus, which is the first to lose sovereignty from the union with Russia. He assured that NATO troops closely monitor the situation and are ready for any scenario of the large-scale maneuvers. Let's remind that an international discussion takes place in Minsk on the topic "Regional security and the West-2017 exercises. A point of view from Minsk, Vilnius, Warsaw and Kiev." Audronyus Azhubalis and 5 deputies of the Lithuanian Seimas could not get to the round table, as the Belarusian authorities did not issue them visas.
Ambassador Of Ukraine About West-2017: Exercises Might Differ From Announcement – Charter'97 :: News from Belarus – Belarusian News – Republic of Belarus – Minsk
Distrust of the exercises from the Ukrainian side is justified. "The mere announcement of the exercises is only half the work, how they will look in reality is another matter. But I think that the Belarusian side will fulfill the promise it has given and everything will be shown to the observers," – Ambassador of Ukraine to Belarus Igor Kizim expressed such opinion after a briefing for heads of diplomatic missions of foreign countries and international organizations at the Foreign Ministry, where more than 50 representatives from 37 countries and international organizations were invited, tut.by reports. The Ambassador said that during the briefing, MFA once again told the diplomats about course of events during the West-2017 exercises. According to the ambassador, such measures demonstrated the openness of the Belarusian side and allowed to ask existing questions. – There were no questions. But I heard nothing new, it had been discussed long ago, and the Foreign Ministry was very active in giving explanations, – Kizim said. – I think we should wait for the results of exercises, which will sum them up. Let's see how it will go to avoid the situation, when a lot has been declared, but they show something else. I think that everything will be in accordance with the plan. There will be two Ukrainian observers at the exercises. According to the ambassador, the Ukrainian side's widespread concern regarding the exercises has an excuse. – It is justified from the Ukrainian side, because a Russian component is present there (at the exercises – Ed.). It is obvious that any presence of Russian troops raises concerns from our side, as we are fighting with Russian troops in the east of Ukraine, – the ambassador said. The Russian-Belarussian exercises West-2017 will start on the territory of Belarus in September. A record number of rail cars — more than 4 thousand — was involved to transfer the Russian contingent. Many politicians and military experts believe that Russian troops will remain in Belarus after the exercises. The exercises will involve a number of military training ranges in Belarus: near Lepel, Barysau, Vitsebsk, Asipovichy, Ruzhany and Damanava. It is also reported that some raids are planned on the "sector of the terrain" near Dretun. The Prevention Rally demanding the cancellation of the exercises West-2017 took place at Kastrychnitskaya Square in Minsk on September 8.
The Era of Freedom Is Coming – Charter'97 :: News from Belarus – Belarusian News – Republic of Belarus – Minsk
Belarus has stepped onto the way of irreversible changes.
Lawyer meets with 19-year-old Ukrainian abducted by Russia's FSB in Belarus
A lawyer has been allowed to meet with 19-year-old Ukrainian citizen Pavlo Hryb who has been found in a Russian Federal Security Service (FSB) detention facility in Krasnodar after he was reportedly abducted in Belarus, according to the lawyer's post on Facebook. News 11 September from UNIAN.
---
Transnistria / Moldova Reports
---
Ukraine, Moldova discuss infrastructure projects at Transdniestrian border section – 11.09.2017 15:55 — Ukrinform News
Ukraine's Special Envoy for Transdniestrian conflict settlement, Viktor Kryzhanovsky, and Moldova's Deputy Prime Minister for Reintegration Gheorghe Balan have discussed the implementation of bilateral infrastructure projects at the Transdniestrian section of the Ukrainian-Moldovan border, Ukraine's Embassy in Moldova reports.
Ukrainian education law is unfair towards Moldovans and Hungarians, – Dodon – Ukrainian education law is unfair towards Moldovans and Hungarians, – Dodon – 112.international
Ukrainian education law is unfair towards Moldovans and Hungarians, – Dodon. The President of Moldova Igor Dodon criticized the law on education adopted by the Verkhovna Rada and urged Ukraine to reconsider the new policy towards the national minorities. He reported this at Facebook. 'I express the solicitude on the state of the big community of the Romans and Moldovans who live in the territory of Ukraine; the community that risks to suffer from the denationalization in the result of the unfair law implemented in Kyiv', Dodon wrote. The Moldovan President noted that he understands the solicitude of the Romans, Moldovan and representatives of other ethnic groups who ask for help from the neighboring countries and international organizations. 'I am as the President of Moldova appeal to the Kyiv authority with the urge to reconsider the new policy towards the ethnical and cultural minorities. I remind them that Moldova preserves the rights of the Ukrainian community. There is a range of the schools with the teaching in Ukrainian language. I urge to the same constructive approach from the neighboring state', Dodon wrote. He expresses the hope that the acting political governance in Kyiv will 'realize the negative consequences of the adoption of this law and make the proper steps to refuse from it'. 'I count on the wise decision of my Ukrainian colleagues for good inter-ethnical relations in Ukraine and for good relation between the states which expats live in the territory of Ukraine', he concluded. The MFA of Romania expressed the solicitude towards the adoption of the education law by the Ukrainian Government.
---
Ukraine Reports
---
There appeared a video violation of Russian military helicopter Ka-52 of airspace of Ukraine this summer http://mil.in.ua/zyavylos-video-porushennya-rosiyskym-viyskovym-vertolotom-ka-52-povitryanoho-prostoru-ukrayiny/ … https://t.co/XsAMmuu0kZ https://t.co/qCLZGk6hWl"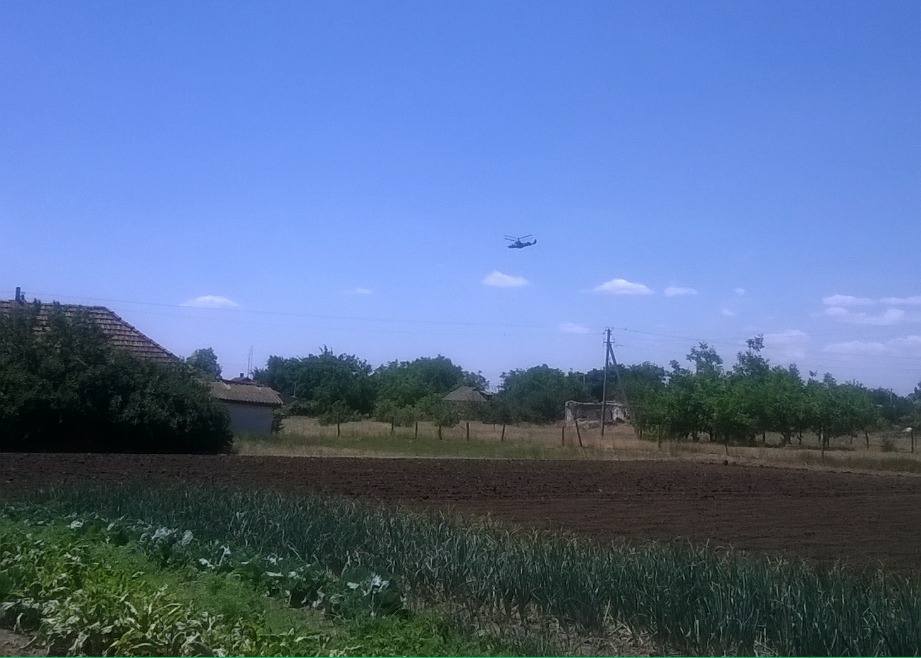 Ukraine alerts almost all of its Air Forces – Ukraine alerts almost all of its Air Forces – 112.international
Military units of the Air Forces of Ukraine are put on alert for checks. Almost all combat military units of the Air Forces of Ukraine are put on alert for checks. This was reported by the press service of the General Staff of the Armed Forces. "In order to check the readiness to fulfil the tasks assigned to it, almost all the military units of the Air Forces of Ukraine have been put on alert," the report says. The General Staff informed that reservists of the operational reserve of the first and second stages will be called to training camps to man up these military units. Related: Rapid Trident 2017 drills officially opened "During the training particular attention is paid to the ability of military units to accept the personnel of the reserve and provide comprehensive support. A number of individual training sessions with reservists will also be conducted," it is said. As it was reported earlier Unwavering Tenacity drills started throughout the territory of Ukraine on September 12. Ukraine's Armed Forces will prepare to repel a possible threat in connection with Russia-Belarus joint military drills West-2017.
Ukraine's Def. Ministry puts most of Air Force units on alert
Almost all combat military units of the Air Force of the Armed Forces of Ukraine are put on alert for the review of readiness to perform tasks, according to the Office of Public Relations of the Armed Forces of Ukraine. News 12 September from UNIAN.
Ukraine army positions in Donbas attacked 36 times in last day
Russia's hybrid military forces attacked Ukrainian army positions in Donbas 36 times in the past 24 hours, according to the press service of the Anti-Terrorist Operation (ATO) Headquarters. News 12 September from UNIAN.
Militants shell 36 times in Donbas over 24 hours – Militants shell 36 times in Donbas over 24 hours – 112.international
In Mariupol area, militants in the evening shelled in the vicinity of Hnutove and Talakivka from mortars
On the front line with Ukrainian fighters who say they see sinister truth behind Putin's plea for UN peacekeepers | The Independent
A cool wind blows across the steppe and through a sprawling, industrial district at the heart of Ukraine's war zone. After a new truce that few believe can hold, the only sound now in this concrete wasteland is the creak of twisted, rusting sheets of metal. They hang from warehouses sprayed with thousands of bullet holes, surrounded by bomb craters and woodland shredded by machine guns.
Ukraine Hosts NATO-Standard Rapid Trident 2017 Military Drills – YouTube
Poltorak: almost 100% of tank units are equipped with tanks

According to the minister, the recruitment was possible due to proper funding. The tank units of the Armed Forces of Ukraine are practically fully equipped with tanks. Defense Minister of Ukraine Stepan Poltorak said this during a visit to the Kharkiv Institute of Tank Army.According to him, this became possible due to proper financing from the state budget and timely execution of the state defense order. "Tanks are equipped with almost 100% tank units. Due to the supply of simulators for the training of crews to the educational institutions of Lviv and Kharkiv, qualitative training of specialists is continuing, "Poltorak quoted the Defense Ministry's press service. Recall that already a decision has been made to sign contracts for the production and supply of tanks "Oplot" in the ATO zone. According to Poltorak, the "Oplot" tank is a modern war machine, which is currently exported to many countries of the world, but not in the Armed Forces of Ukraine.
Dmitri Teperik: A turning point for Ukraine's national resilience | Feature | ERR
In a few months, Ukraine will commemorate the fourth anniversary of its rebirth as a nation in a military conflict with Russia that has initiated many previously badly missed reforms, changed the security perceptions of many Ukrainians, and reshaped societal values while continuing to influence the country's socio-economic development.
Lawlessness in Ukraine is beneficial to everyone  – 112.international
Little thieves are hanged but great ones escape. And the essence of Ukrainian politics is a quarrel, who is a "little thief" and who is a "great one"
Russia's show trial and sentence against Crimean Tatar leader Chiygoz. What you need to know -Euromaidan Press |
On 11 September 2017, the Kremlin-controlled Supreme Court of Crimea fully satisfied the demands of the prosecutor and sentenced Akhtem Chiygoz, deputy head of the Crimean Tatar national representative body, the Mejlis, to eight years in a penal colony. The Crimean Tatars in general, and the Mejlis in particular, have been staunch opponents of Russia's occupation of their native Crimean peninsula. In September 2016, Russia banned the Mejlis, flouting the UN Declaration on the Rights of the Indigenous Peoples. Mejlis leaders Mustafa Dzhemilev and Refat Chubarov have been banned from entering their homeland.
UAWire – Hungary declares boycott on Ukraine in international organizations due to new Ukrainian education law
Hungarian Foreign Minister Péter Szijjártó summoned the Ukrainian ambassador to Budapest in connection with the law on education. The Hungarian&#160
Russia detects highest discrimination of Russian speakers in education law – 112.international
Russia detects highest discrimination of Russian speakers in education law. The Department of Information and Press of the Foreign Ministry of Russia called the adoption of the law 'On education' by Ukraine to be the attempt of Maidan government to implement the complete Ukrainization of the education space of the country'. The press service of the Russian Foreign Ministry reported this. 'Despite the fact that the Russian language is not mentioned it is obvious that the main aim of the present Ukrainian lawmakers to extremely discriminate the interests of the millions of the Russian-speaking citizens of Ukraine, the forcible establishment of the mono-ethnic language regime in the multinational state', the message said. Russia plans to counteract the policy of the bodies of the government of Ukraine at the stages of the international organizations. Earlier, the Verkhovna Rada of Ukraine adopted the law on the education that starts the reform in Ukraine. The law provides that the language of the educational process is the state language. Last week the Hungarian MFA criticized the adopted law on education noting that it violates the rights of the national minorities. Later Hungary complained to the UN and OSCE. Romania and Poland also claimed about their solicitude due to the possible violation of the rights of the national minorities. Also, the President of Moldova criticized this law and urged Ukraine to reconsider new policy towards the national minorities.
UAWire – Despite sanctions, flow of goods between Russia and Ukraine increased by 20 percent
In the first half of 2017, the trade volume between Ukraine and Russia increased, despite the sanctions, wrote Maxim Parkhomenko in his article …
Poland not to use Lviv military cemetery's image in new passport design
Ukraine's Ambassador to Poland Andrii Deshchytsia has said the design of new Polish passports will not include images of the Lychakiv cemetery in Lviv and the Holy Gates in Vilnius. News 11 September from UNIAN.
U.S. Greenbrier to build about 10,000 wagons in Ukraine
The Greenbrier Companies, which is based in the United States, plans to set up production in Ukraine to build about 10,000 wagons with the maximum local content, according to the Ukrainian Infrastructure Ministry's press service. News 11 September from UNIAN.
Ukrainian Label Bevza at New York Fashion Week – Vogue
Bevza makes her New York Fashion Week debut.
Poroshenko on Saakashvili: it's unimportant who breaks through borders – militants in East or crooked politicians in West – 112.international
The Head of State emphasized that Saakashvili had enough time to appeal against the decision to revoke his citizenship in the Supreme Administrative Court of Ukraine
Ex-ally vows to unite opposition against Ukraine leader | Ukraine News | Al Jazeera
Former Georgian president says he plans to unseat Ukraine's Poroshenko over failed promises made during Maidan protests.
Saakashvili Says He Crossed Ukrainian Border Legally
Ukrainian President Petro Poroshenko said a "crime was committed" when Mikheil Saakashvili, the former Georgian president and ex-governor of Ukraine's Odesa region, crossed the border into Ukraine from Poland on September 10. Responding to Poroshenko's comments from the western Ukrainian city of Lviv, Saakashvili said he crossed the border with a legal Ukrainian passport. On September 11, Saakashvili told reporters it was crime to have been stripped of his Ukrainian citizenship in the first place. It was revoked in July by the Ukrainian president, reportedly on the grounds that Saakashvili failed to mention there was a criminal case against him in Georgia. (RFE/RL's Ukrainian Service, Ukrainian government video)
Saakashvili signs protocol on illegal border crossing | UNIAN
Former governor of Ukraine's Odesa region and ex-president of Georgia Mikheil Saakashvili has read and signed an administrative violation protocol, according to an UNIAN correspondent. News 12 September from UNIAN.
Police Serve Saakashvili With Notice On Border Breach
LVIV, Ukraine —  Ukrainian border-control authorities have formally read out a document to Mikheil Saakashvili on his illegal entry into Ukraine two days earlier. Saakashvili was served th…
Saakashvili indicted of illegal border crossing – LB.ua news portal
Saakashvili indicted of illegal border crossing. Main – LB.ua news portal. Latest from Ukraine and the world today
Peacemaker site adds Tymoshenko to list of violators – Peacemaker site adds Tymoshenko to list of violators – 112.international
The site believes Yulia Tymoshenko's crossing of the state border of Ukraine is illegal
---
Russia / Iran / Syria / Iraq / OEF Reports
---
Exclusive: Trump to weigh more aggressive U.S. strategy on Iran – sources
President Donald Trump is weighing a strategy that could allow more aggressive U.S. responses to Iran's forces, its Shi'ite Muslim proxies in Iraq and Syria, and its support for militant groups, according to six current and former U.S. officials.
Report: Trump eyeing more aggressive response to Iran | TheHill
President Trump is reportedly considering a more aggressive strategy towards Iran, which would include the United States' reactions to the Iranian military and proxies.
Elliott Abrams: Israel Is Protecting Itself From Iran. We Should, Too
The bombing of a chemical weapons facility in Syria was to prevent Hezbollah attacking Israel
Hezbollah declares Syria victory: report
The Syrian government's powerful Lebanese ally Hezbollah has declared victory in the Syrian war, dismissing remaining fighting as "scattered battles", a pro-Hezbollah newspaper reported on Tuesday.
UAWire – Syrian Foreign Ministry urges US to leave country; otherwise they will be considered a hostile force
Deputy Foreign Minister of Syria Faisal Mekdad stated in an interview with the TV Station Al-Mayadeen on Sunday that the US military presence in Syria is "illegal and unacceptable," since it was not approved by the government of the Arab Republic. According to Mekdad, the US "should withdraw its military; otherwise the Syrian army will consider them as a hostile force." "The actions of the United States and the coalition led by it have no justification, for they destroy Syria, killing civilians during airstrikes and destroying the economic infrastructure," the diplomat stressed. "This is in line with the terrorists' plans, but does not meet the Syrian people's interests." Mekdad noted that "anyone who wants to fight terrorist groups should coordinate their actions with Syria and its allies." The Deputy Minister of the Ministry of Foreign Affairs called the battle for Deir ez-Zor, which is currently being conducted by Assad's troops, the "last great battle". "This city and province are very important for us, as they are located near the border with Iraq," Mekdad noted. "Therefore, the successes of the Syrian army is of a strategic nature, bringing us closer to defeating the gangs of the Islamic State terrorist group." The US has established three military bases in the northeastern province of Al-Hasakah and another in Kobani. Approximately 1,500 American Special Forces support the Syrian Democratic Forces (SDF), which are storming the city of Raqqa.
Russia says Syria government seized most territory from Islamic State – Chicago Tribune
Russia's military said Tuesday that Syrian troops have liberated about 85 percent of the war-torn country's territory from militants.
Human Rights Watch says Saudi-led air strikes in Yemen are war crimes
Human Rights Watch accused the Saudi-led coalition fighting in Yemen of war crimes on Tuesday, saying its air strikes killed 39 civilians including 26 children in two months.
Afghanistan will never again be militant sanctuary: U.S. ambassador
The United Nations Security Council unanimously stepped up sanctions against North Korea on Monday over the country's sixth and most powerful nuclear test on Sept. 3, imposing a ban on the country's textile exports and capping imports of crude oil.
'Textbook example of ethnic cleansing' — 370,000 Rohingyas flood Bangladesh as crisis worsens – The Washington Post
U.S.is "alarmed" by allegations of killings and village burnings by the Burmese military
---
DPRK / PRC / WESTPAC Reports
---
How Russia quietly undercuts sanctions intended to stop North Korea's nuclear program – The Washington Post
Just as China is finally cracking down, Russian profiteers step in to aid Kim Jong Un.
After U.S. Compromise, Security Council Strengthens North Korea Sanctions – The New York Times
The Security Council adopted a compromise measure that sets a modest cap on oil imports to North Korea, far weaker than what the United States had sought.
North Korea: U.N. Security Council Approves New Sanctions | Time.com
The U.N. Security Council has unanimously approved new sanctions on North Korea in a watered-down resolution
U.N. agrees to toughest-ever sanctions against North Korea – The Washington Post
The U.S. and its allies pushed for a full embargo.
U.N. Security Council votes to step up sanctions on North Korea
The United Nations Security Council unanimously stepped up sanctions against North Korea on Monday over the country's sixth and most powerful nuclear test on Sept. 3, imposing a ban on the country's textile exports and capping imports of crude oil.
When Donald Trump's instincts got it right – Chicago Tribune
Donald Trump wouldn't be where he is today if his instincts weren't sometimes keen.
The weakened UN sanctions on North Korea show that the US has more bark than bite when it comes to Kim Jong-un | The Independent
From the threat to smite with "fire and fury likes of which the world has never seen" to being forced to climb down on the much heralded "super-tough" sanctions on Pyongyang at the UN, the policy of Donald Trump's administration on North Korea continues on its confusing course.
China's biggest banks ban new North Korean accounts
Unprecedented move to clamp down on financial flows with Pyongyang regime
It's Not Just America Losing Patience With North Korea – The Atlantic
The United Nations Security Council has unanimously passed a new round of sanctions on the country following its most recent nuclear test.
Beijing's balancing act over North Korea – BBC News
China is caught between a rock and a hard place in dealing with its troublesome neighbour.
CIA director suggests North Korea may be working another angle with its nuclear ambitions | Business Insider
CIA Director Mike Pompeo on Monday said it was…
Can North Korea Drag the U.S. and China Into War? – The Atlantic
History offers clues about the likely course of a dangerous dynamic in east Asia.
What's really driving North Korea's nuclear quest?
There is a chance to resolve the crisis through dialogue.
Grant Newsham | Don't forget Kim regime's brutalization of North Korean people | Asia Times
North Korea's nuclear weapons and missiles get most of the attention, while the decades-long brutalization of the North Korean people at the hands of the Kim family is usually an afterthought. It shouldn't be. In 2005, while serving as the US Marine Attaché in Tokyo I spoke at a UN-sponsored symposium on stopping North Korea's nascent nuclear weapons program. The speakers offered different formulas of carrots (oil, food, money), assurances, and pressure that would prompt Kim Jong Il (the current Kim's father) to give up his quest for nuclear weapons. Accomplish this, and all would be right with North Korea.When my turn came, I noted that nobody had mentioned the humanitarian catastrophe and widespread torture that North Korean citizens were suffering. This alone, I argued, was reason enough to isolate and force change in the country. At the break, two men introduced themselves as being from the US Department of Defense. One of them said, "We wish we could say that." My answer, "You mean we can't?" With some notable exceptions, overlooking the Kim family regime's barbarity against its own citizens has been standard practice in the civilized world, and since long before North Korean nuclear weapons and ICBMs became a believable threat.
U.S. allies in Asia welcome new sanctions on defiant North Korea
Major U.S. allies in Asia on Tuesday welcomed the U.N. Security Council's unanimous vote to step up sanctions on North Korea, with its profitable textile exports now banned and fuel supplies to the reclusive North capped after its sixth nuclear test.
South Korea Plans 'Decapitation Unit' to Try to Scare North's Leaders – The New York Times
The government is pouring money into strategies and weapons it hopes will act as a deterrent against Kim Jong-un, the nuclear-armed dictator across the border.
North Korea crisis: Answer may lie in secret third-party negotiations, says Wesley Clark, former NATO supreme allied commander
Secret negotiations mediated by a neutral third party are key to resolving the North Korean crisis, says a former NATO supreme allied commander.
North Korea's thermonuclear warhead solves one of the biggest problems with its missiles | Business Insider
North Korea made a quantum leap in nuclear…
This chart shows what a war with North Korea could do to the global economy | Business Insider
Tensions between the United States and North…
North Korea News LIVE: N Korea says US will soon face the 'greatest pain' it has ever felt – Moneycontrol.com
South Korea has said it may have detected activity related to an intercontinental ballistic missile launch. Live updates. Sep 12, 07:27 PM (IST) North Korea is trying to steal Bitcoins and cryptocurrencies says report According to a report by cyber security firm FireEye, North Korean hackers targeted at least three South Korean cryptocurrency exchanges. The firm suspects that the aim was to steal the digital tokens, to avoid sanctions. The report further said that the hackers used the 'spear phishing' method of sending emails to make them look like they were sent by someone you know – and sent malware to illicitly get the virtual cash. Sep 12, 07:03 PM (IST) Park Song Il, member of North Korea's Foreign Ministry has told The New Yorker, "Don't push us too hard, because you're going to start a war. And we should say, we're not going to die alone."
See North Korea's Secretive Capital From Above
China is seeing a sharp increase in the number of non-traditional exotic pets.
North Korea missiles: How crisis plays into Vladimir Putin's hands – NZ Herald
It's fair to say North Korea isn't exactly the world's most popular country right now. After sparking global alarm with a series of missile launches and its sixth nuclear test, Pyongyang continues to infuriate the US, Japan and South Korea. Allies Russia and China have both condemned the provocative tests, however Moscow has been more vocal in arguing against sanctions. The US is pushing the UN Security Council to slap an oil embargo on North Korea and freeze the assets of leader Kim Jong-un in response to its latest test.
India China: Three key reasons why India and China must not go to war at a time like this – The Economic Times
Moving away from "assaulting with stones" to "building with BRICS" could be the new mantra. The timing favours those who work together despite differences.
China's Demand for Exotic Pets Brings Business, and Concern
Sept. 7, 2017 – Exotic pet ownership in China is booming. The country is seeing a sharp increase in the number of non-traditional pets, and one young collector is looking to profit from the demand. However, the lines between legal and illegal trade of wildlife are blurred.
---
Foreign Policy Reports
---
Turkey Signs Deal To Buy Antiaircraft Missiles From Russia
Turkey has signed a deal with Russia to buy S-400 antiaircraft missile systems in its first major weapons purchase from Moscow. Turkish newspapers on September 12 quoted Turkish President Rece…
EU Lawmakers Push For More Robust Eastern Partnership
BRUSSELS — EU lawmakers are pushing for an end to international data roaming charges between the EU and Georgia, Moldova, and Ukraine, a trust fund for Ukrainian investment, and possibly mor…
EU calls on Russia to free Ukrainian political prisoners – 11.09.2017 15:39 — Ukrinform News
The European Union has called on Russia to release all Ukrainian citizens illegally detained or convicted in Russia or illegally annexed Crimea, the UK Delegation to the OSCE has tweeted.
Campaigning hots up for Angela Merkel | Euronews
It has so far been a quiet run-up to the upcoming federal vote for the chancellor.
Russia sanctions should be phased out if Ukraine ceasefire holds: Germany's Gabriel
European sanctions imposed on Russia over its role in the Ukraine crisis should be phased out gradually if an internationally agreed ceasefire deal was implemented, German Foreign Minister Sigmar Gabriel said on Monday.
In Upcoming Elections, Will Germany's Turks Obey Erdogan? | Foreign Policy
In Upcoming Elections, Will Germany's Turks Obey Erdogan? « | Foreign Policy | the Global Magazine of News and Ideas
Brexit Bulletin: There May Be Trouble Ahead – Bloomberg
Sign up to receive the Brexit Bulletin in your inbox, and follow @Brexit on Twitter.
Poland Drops Passport Plan That Angered Ukraine, Lithuania
Poland's government says it is abandoning a plan to include images in Polish passports of landmarks that are now within the borders of Ukraine and Lithuania. The passport plan had angered bot…
---
Strategy / History / Capability Publications
---
How Do We Measure Counterinsurgency Success in Afghanistan? – Modern War Institute
Daniel R. Green, In the Warlords' Shadow: Special Operations Forces, the Afghans, and Their Fight Against the Taliban (Naval Institute Press, 2017) After the initial success of a combination of Central Intelligence Agency operatives and 5th Special Forces Group Green Berets fighting alongside the Northern Alliance against the Taliban, the war in Afghanistan quickly descended into prolonged insurgency. For the better part of a decade, US conventional forces struggled to grasp effective means by which to conduct counterinsurgency, while special operations forces focused on the direct targeting of high-profile insurgents, terrorists, and their associated networks. The situation improved in major population centers where the top-down approach of promoting central government through security, governance, and development lines of effort remained under the close supervision of US and Afghan officials. The Taliban, however, remained a rural insurgency where measuring success along these lines of effort was difficult, and the top-down approach was ineffective at best and counterproductive at worst. Much as Green Berets fought against a similarly rural insurgency during the Vietnam War through the Civilian Irregular Defense Group program, US special operations forces conceived the village stability operations program in 2011. In many ways, the purpose of this program was to shift focus from direct action targeting and centralized counterinsurgency to the development of decentralized efforts in rural Afghan villages and districts. This involved placing special operations forces teams in villages under the de facto control of the Taliban in order to establish local security from which governance and rule of law could develop. Now that the war effort has again shifted to centralized training of Afghan security forces and the direct targeting of terrorist networks, the Taliban has reasserted itself in rural Afghanistan, a fact that a few thousand extra US troops will not change. Daniel R. Green offers an appraisal of village stability operations in southeastern Afghanistan in his book, In the Warlords' Shadow: Special Operations Forces, the Afghans, and Their Fight Against the Taliban. Whereas previous attempts at counterinsurgency had focused on a top-down approach of training national security forces to fight the Taliban across the country, village stability operations took a bottom-up approach wherein special operations teams recruited, vetted, and trained villagers for the Afghan Local Police program. Although Green does well to frame the challenges facing US and coalition forces in dealing with the Afghan insurgency, his perspective on village stability operations is detached from the mechanisms that were essential to its success. That is, he recognizes that village stability operations provided a more effective means by which to conduct counterinsurgency, but he does not delve into how special operations teams actually accomplished the series of tasks that made village stability operations possible. Without this analysis, his book is more an update to his previous work on the situation in Uruzgan province rather than anything particularly compelling about village stability operations specifically or the US approach to counterinsurgency generally.
Russia claims its next generation T-14 Armata tank can run on Mars | Business Insider
It turns out that around the same time Russia…
13 photos of the 'Terminator', the armoured fighting vehicle Russia reportedly sent to Syria | Business Insider
A few countries have recently…
WZM unveils upgraded BWR-1S reconnaissance combat vehicle at MSPO 2017 | Defence Blog
Wojskowe Zakłady Mechaniczne (WZM) has unveiled the new upgraded variant of the BWR-1S (Bojowy Wóz Rozpoznawczy) reconnaissance combat vehicle at the International Defence Industry Exhibition MSPO. The Polish BWR-1S is an upgraded BRM-1 armored reconnaissance vehicle that is derived from the BMP-1 infantry fighting vehicle. A steel hull protects crew against armor-piercing bullets, small-bore projectiles and artillery splinters. Fire-prevention and NBC systems are fitted as standard. A vehicle presented during MSPO 2017 is equipped with the inertial navigation with GPS, tactical battlefield reconnaissance radar, multifunctional thermal binocular new night vision for drivers and reconnoiterers, new external and internal communication system. Old observation-targeting sights have been replaced by new ones in a passive mode. The vehicle is also equipped with Safran JIM LR long-range thermal binoculars.
The Aviationist » New Photos of Russia's Sukhoi Su-57 Stealth Jet Show Some Progress of Russian Advanced Fighter Program
Vladimir Zinenko, admin for the Facebook group page "ВВС России", a page for fans of the Russian Air Forces, has shared new photos of the ninth example of Sukhoi's 5th generation fighter, the recently designated Su-57. The aircraft has been referred to in development as the T-50 and is the outcome of Russia's PAK-FA advanced fighter development program. The program is intended to field an advanced 5th gen air superiority aircraft to offer capabilities similar to the U.S. F-22 Raptor. One noteworthy distinction between the U.S. Air Force's F-22 Raptor and the T-50/Su-57 is advanced, precision air-to-ground capability engineered into the aircraft from its origin, whereas the F-22 Raptor acquired this capability following its "increment 2" upgrade program in 2005 and has since demonstrated its precision strike capability in Syria. The new aircraft flew through Zhukovsky International Airport two days ago when a number of spotters photographed it. The photos quickly appeared on the Russian aircraft spotter and photographer forum RussianPlanes.net. The T-50 prototypes have worn several paint schemes so far and this latest example is wearing the pixelated two-tone camouflage livery seen on at least one other T-50/Su-57. For the long ferry flight made from where the aircraft apparently first flew on Aug. 6, 2017 at Komsomolsk-on-Amur it transited approximately 3,273 miles (6,066 kilometers) to Zhukovsky where the photos were taken two days ago. The aircraft carried a large pair of underwing tanks during the flight.
Fatal Nevada Crash Involved Foreign Aircraft Type | Defense content from Aviation Week
A Sept. 5 accident at the Nevada Test and Training Range that killed a U.S. Air Force test pilot appears to have involved a foreign aircraft type operated by the service's secretive Red Hat unit.
---
IW/IO/Cyber Reports
---
Pro-Russia Twitter bots have a new strategy – BBC News
Networks of automated Twitter bots pushing pro-Russian propaganda are flooding their opponents with retweets and followers.
EU launches website on pro-Kremlin disinformation – 12.09.2017 14:55 — Ukrinform News
The European Union has upgraded a website containing the latest news and analysis of pro-Kremlin disinformation, the European External Action Service (EEAS) has told an Ukrinform correspondent in Brussels. 
East StratCom, the EU Agency Fighting Russia Fake News | Time.com
Inside the "David and Goliath struggle" between Russia's propaganda networks and a tiny E.U. agency
Free iPhone To North Korea – Flood Them With Information – To Inform is to Influence
Jocko Willink, a former Navy SEAL, is suggesting we drop 25 million free iPhones into North Korea and put satellites overhead and provide free connectivity.A former US Navy SEAL tweeted his solution to the North Korean crisis — and it just might work There are some technical issues but there are practical workarounds, like…
Facebook held a special breakfast for drug marketers about recruiting people for clinical trials – To Inform is to Influence
Facebook brought drug marketers together to educate them on targeting consumers. The company is going after an industry that's rapidly increasing its digital ad spending. Christina Farr | @chrissyfarr Published 7:49 PM ET Thu, 7 Sept 2017  | Updated 7:15 PM ET Fri, 8 Sept 2017CNBC.com Kay Nietfeld | AFP | Getty Images Facebook's ad sales team is…
New website – East Stratcom Task Force – To Inform is to Influence
Share Tweet Forward 12 September 2017 *LAUNCH OF NEW WEBSITE* HOMEPAGE The first section is dedicated to the latest news and analysis of pro-Kremlin disinformation. Here, we write about the disinformation campaign in a more problem-focused manner – for example, a particular long-term disinformation campaign targeted at a particular country; new initiatives countering disinformation; political leaders…
RUSSIAN DISINFORMATION FOCUS OF UPCOMING HELSINKI COMMISSION HEARING – To Inform is to Influence
Contact: Stacy Hope Phone: +1 (202) 225-1901 Stacy.Hope@mail.house.gov www.csce.gov www.facebook.com/helsinkicommissionwww.twitter.com/helsinkicomm RUSSIAN DISINFORMATION FOCUS OF UPCOMING HELSINKI COMMISSION HEARING WASHINGTON-The Commission on Security and Cooperation in Europe, also known as the Helsinki Commission, today announced the following hearing: THE SCOURGE OF RUSSIAN DISINFORMATION Thursday, September 14, 2017 9:30 AM Dirksen Senate Office Building Room 562 Live…
Other Views: No arms for Ukraine: Don't pour lethal weapons into volatile area | Opinion | bakersfield.com
Washington is apparently considering the possibility of providing lethal military aid to Ukraine, an action that Russia would consider to be provocative.
---
US Domestic Policy Reports
---
FBI Questions Former Sputnik Correspondent In Election-Meddling Probe
WASHINGTON — The FBI recently questioned a former White House correspondent for the Russian state-funded Sputnik news agency about the organization's editorial operations in what appears to b…
Sputnik, the Russian news agency, is under investigation by the FBI – To Inform is to Influence
That this is even a question astounds me. Sputnik News is clearly a Russian propaganda outlet which was a tool used by Russia to influence the US 2016 election.  This investigation is fraught with problems before it begins.  We can accuse Sputnik of being a propaganda outlet but… Without an official definition of propaganda, accusations…
FBI investigates Russian news agency Sputnik
The FBI has questioned a former correspondent for Sputnik, the Russian-government-funded news agency, as part of an investigation into whether it is acting as an undeclared propaganda arm of the Kremlin in violation of the Foreign Agents Registration Act.
Three things you should know about RT and Sputnik – To Inform is to Influence
By EU's East StratCom Task Force RT (Russia Today) and Sputnik are the two foreign language flagships of Russia's campaign to influence international public opinion. Both outlets present themselves as media that provide alternative views to the mainstream in international news reporting. However, before accepting this premise, three fundamental differences between these outlets and what is…
Russia Urges U.S. To 'Stop Destruction' Of Bilateral Ties
Russia says Deputy Foreign Minister Sergei Ryabkov has met with U.S. Undersecretary of State Thomas Shannon in Finland's capital, Helsinki, to address sore spots in Moscow and Washington'…
Putin Honors Former Russian Ambassador Kislyak
Russian President Vladimir Putin has awarded former Ambassador to the United States Sergei Kislyak a top state honor in recognition of his "substantial contribution to the realization o…
Russian pol: US intel missed 'Russian intelligence' stealing 'the president of the United States' | TheHill
On a Sunday panel show, Russian politician Vyacheslav Nikonov said U.S. "intelligence missed it when Russian intelligence stole the president of the United States." On a Sunday panel show, a Russian politician said U.S. "intelligence missed it when Russian intelligence stole the president of the United States." Vyacheslav Nikonov, a member of the Russian parliamentary body, the Duma, made the remarks on the panel show "Sunday Evening with Vladimir Solovyov." The focus of the episode was the decline of U.S. power in the world. In that context, said University of Virginia professor Allen Lynch via email, Nikonov was less stating the extent of Russia's involvement in the 2016 election, and more mocking the resulting chaos as emblematic of U.S. weakness. ADVERTISEMENT "His point in making the remark was that if the U.S. can't protect the integrity of its own electoral system, then how powerful can it really be?" wrote Lynch. Though the U.S. intelligence community has unequivocally stated that Russian intelligence agencies hacked the Democratic National Committee and other political targets during the 2016 presidential campaign, Russian President Vladimir Putin has roundly denied the claim. Nikonov's statement was first noticed by Julia Davis, who operates the heavily critical Russian media monitoring site "Russia Lies."
Russian politician says on live TV that Russia stole U.S. presidency – Axios
He claimed that the U.S. intelligence missed it.
Russian politician mocks U.S., says intel 'missed it' when Russia 'stole the president of the United States' / Boing Boing
Russian politician Vyacheslav Nikonov says U.S. "intelligence missed it when Russian intelligence stole the president of the United States." Nikonov is is a member of the Russian government's Duma assembly, and made the remarks last night on his Russian TV show 'Sunday Evening with Vladimir Solovyov.' The theme of the show was the decline of U.S. power around the world.
Russia Says Cuts to U.S. Embassy Were Generous and More May Follow
Russia's top diplomat said Moscow acted out of "goodwill" by expelling only 755 diplomats in July.
Moscow considering deeper cuts to U.S. diplomatic staff in Russia – LA Times
Moscow wants to ax an additional 155 U.S. personnel from diplomatic missions in Russia in further tit-for-tat.
Hillary Clinton says Trump associates helped Russia meddle in 2016
Exclusive: Hillary Clinton says she is convinced that associates of candidate Donald Trump helped Russia meddle in the 2016 campaign.
Hillary Clinton on why she lost and "the most important" mistake she made – CBS News
Hillary Clinton relives her stunning defeat to Donald Trump in her first TV interview about her new memoir "What Happened"
Time to Restrict the President's Power to Wage Nuclear War – The New York Times
President Trump and Kim Jong-un are engaged in an increasingly dangerous showdown. New rules are needed to prevent us from stumbling into nuclear war.