Anonymous expert compilation, analysis, and reporting.
</end editorial>
---
---
Putin's proposal for UN peacekeepers is producing blowback, with strong argument to pursue the Kyiv peacekeeper plan. Germany and France criticise Zapad-2017.
Birna essay on the Okhrana/Cheka/NKVD/KGB/FSB is excellent – and how different would Russian be without five centuries of de facto  "Oprichnina"? More speculation on Putin's replacement. Shaltai-Boltai hackers jailed. Kadyrov and growing Islamism in Russia explored. Questions on whether a shale industry in Russia can replace the exhausted oil industry.
Zapad-2017 remains a major theme in Belarus, while nationalists plan to celebrate Muscovy's defeat in the 1514AD Battle of Orsha. More censorship. Russia delivers long overdue military equipment.
Moldova under massive IW/IO attack from Russia, but doing well economically, while Putinist Pres Dodon appears to have lost in his tit-for-tat game over Rapid Trident 2017.
Independent Ekho Moskvy radio station wins the COCW Award today for conducting its annual poll on  "Representative of which nationality do you fear to meet during the dark hours of the day?" – and it is not the usual winners, the Chechens this year. Ukraine's GUR produce short video clip to commemorate MGen Maxim Shapoval, assassinated recently by the Russians – this is superb psywar that will terrify a lot of Russians. Donbass fires continue. Poroshenko does the annual Presidential address to the parliament in Kyiv, and makes statements on Russia, Donbass, reforms, and economy – multiple Western MSM reports lauding Ukraine's economic recovery after Crimea and the defacto Russian economic blockade. The ATO will be discontinued, and the deployment renamed to the  "Operation for the Defense of Ukraine".Israeli AF hits a Syrian CW lab. Speculation Israel will conduct another campaign against Hezbollah.
Israeli AF hits a Syrian CW lab. Speculation Israel will conduct another campaign against Hezbollah.China agrees to more UN sanctions on the DPRK, but unclear how far they will agree to go. Putin makes more foolish statements on the DPRK.
China agrees to more UN sanctions on the DPRK, but unclear how far they will agree to go. Putin makes more foolish statements on the DPRK. Major debate in India over war with China and Pakistan.Merkel cautions voters over SDP led coalition (or mostly pro-Russian minor parties), Russian meddling in Montenegro and Bosnia.
Merkel cautions voters over SDP led coalition (or mostly pro-Russian minor parties), Russian meddling in Montenegro and Bosnia.Most interesting IO reports about Facebook and paid Russian propaganda ads during the US election.
Most interesting IO reports about Facebook and paid Russian propaganda ads during the US election.Putin personally insults SECSTATE and the Trump Administration as a whole – this is more toxic that the Sovs were.
Putin personally insults SECSTATE and the Trump Administration as a whole – this is more toxic that the Sovs were.
---
Russia / Russophone Reports
---
Russia Is Preparing for a Massive War, But We Don't Know Where, Warns Ukrainian President
Ukraine's President Poroshenko said Moscow showed no signs of backing off from his country and recent military activity shows the Kremlin is preparing for a much bigger conflict.
President Poroshenko: Russia gets ready to offensive war on continental scale – 07.09.2017 12:04 — Ukrinform News
Ukraine does not yet see any signs of Russia's readiness to retreat from Donbas and withdraw from Crimea. On the contrary, there is increasing evidence that Russia gets ready to offensive war on a continental scale.
US cautiously welcomes Russia's call for UN force in Ukraine
WASHINGTON (AP) — The United States cautiously welcomed a Russian proposal to send U.N. peacekeepers into eastern Ukraine, but insisted Wednesday the force should be deployed throughout embattled eastern Ukraine and not just on the line of conflict. A U.N. force is "worth exploring," the State Department said, a day after Russian President Vladimir Putin said his country would ask the U.N. Security Council to send peacekeepers to patrol the front line separating Ukrainian troops and Russia-backed separatists. The U.S. said such a force could protect Ukrainians of all ethnicities and help restore Ukraine's sovereignty. "Any such force should have a broad mandate for peace and security throughout the occupied territory in Ukraine," said State Department spokeswoman Heather Nauert. Putin's unexpected embrace of a U.N. force has been greeted with tentative optimism from countries that have worked to solve the crisis, given that Ukraine, too, has long called for U.N. peacekeepers. German Foreign Minister Sigmar Gabriel said it showed "Russia has effected a change in its policies that we should not gamble away." Yet a fault line immediately emerged that could scuttle prospects for an agreement: Disagreement over the scope of the peacekeepers' mandate. Putin has insisted the peacekeepers be deployed only along the line separating the rebel-controlled territories and the area under Ukrainian government control where clashes occur. Putin told reporters Tuesday that peacekeepers could help ensure safety for international observers who are monitoring a cease-fire that Germany and France brokered in 2015. The U.S. and Ukraine are concerned that deploying peacekeepers only along the contact line would actually solidify the line's status as the new de facto border between Ukrainian-controlled territory and separatist-controlled territory in the country's east. The U.S. and Ukraine want peacekeepers deployed throughout the separatist-controlled regions stretching to the Ukraine-Russia border. The U.S. has long accused Moscow of sending military equipment and even Russian troops across that border and into eastern Ukraine to bolster the separatists.
Explainer: Does Putin's Peacekeeper Proposal For Ukraine Have Any Merit?
Ukrainian President Petro Poroshenko and other senior officials in Kyiv have long called for a UN peacekeeping force to be deployed in eastern Ukraine. In September 2015, Poroshenko said such a forc…
Russia's Peacekeeping Proposal in Ukraine Rings Hollow – To Inform is to Influence
Sep 5, 2017 | 21:55 GMT For nearly three years, Kiev has been trying to get U.N. peacekeepers sent to the conflict in eastern Ukraine, but now the suggestion is coming from Moscow. During a Sept. 5 press conference, Russian President Vladimir Putin proposed that the U.N. Security Council deploy peacekeepers to the front lines…
Yuriy Zoria | Putin suddenly wants armed peacekeepers in Donbas. Why now? What for? -Euromaidan Press |
Vladimir Putin has proposed sending armed peacekeepers to Donbas, but only to the border between Russia's proxy "republics" and Ukrainian controlled territory, leaving the Russian-Ukrainian border unmonitored and open for providing the Russian-backed militants with Russian fuel, weapons, and manpower. Starting from 2015, Russia had sabotaged Ukraine's efforts to deploy armed peacekeepers to Donbas. Russia's proposal is likely to freeze the conflict, not establish peace in the war zone. Having ignored all previous Ukrainian proposals to deploy UN peacekeepers to eastern Ukraine, Putin now claims that Russia is drafting a resolution for the UN Security Council (UNSC) to send peacekeepers to patrol the front line in the Donbas. What is the reason for such a shift in Russian policy and where is the catch?
Poroshenko names conditions for deployment of UN peacekeepers in Donbas
The deployment of UN's "blue helmets" in the entire occupied territory of Donbas would be a real breakthrough in the process of peaceful settlement and a powerful de-escalation factor, Ukrainian President Petro Poroshenko said during an annual address to the Ukrainian parliament Thursday. He noted that Russia continues to carry out provocations, hamper the efforts of OSCE observers, and supply weapons and mercenaries to the Ukrainian territory. "And under such conditions, the deployment of the UN's "blue helmets" throughout the entire occupied territory of Donbas would be a real breakthrough in the process of a peaceful settlement, a powerful de-escalation factor," Poroshenko said. The president added that Ukraine had been consistently promoting the initiative for several years. However, according to him, Russia has totally rejected any such possibility for two years and "not all partners, frankly speaking, supported it too actively". Poroshenko added that as of today, partners do support the Ukrainian initiative. "We finally heard the reaction from the other side of the front line. Although, of course, we clearly understand that the devil is in the details. Of course, the Russian Federation's proposal to deploy a UN mission only for the purpose of protecting the OSCE Special Monitoring Mission is strange, at the very least. Moreover, it is Russian militants who pose the main threat to the security of international observers," Poroshenko stressed. The president said that Ukraine is ready for a substantive discussion with the members of the UN Security Council. He believes that the discussion should include a number of fundamental elements. "Firstly, we support the deployment of a full-fledged UN peacekeeping mission throughout Donbas. It should neither be aimed at the preservation of the Russian occupation, nor at the legalization of the Russian military presence. Instead, it should be aimed at ensuring a lasting peace in certain regions [occupied areas] of Donetsk and Luhansk regions of Ukraine, and complete restoration of the territorial integrity of our state," Poroshenko said. According to him, the future UN Mission should be deployed throughout the temporarily occupied territory, including the uncontrolled section of the Russian-Ukrainian state border. "Thirdly, the said Mission must comply with the guidelines for the implementation of UN peacekeeping operations, which a priori excludes participation of representatives of the aggressor state and the party to the conflict. Fourthly, there any agreement with the Russian militants must be ruled out on the parameters of the future mission of the United Nations. Fifthly, the work on this initiative is by no means the reason for the lifting of existing international sanctions against Russia. They must remain in force until the sovereignty and territorial integrity of Ukraine are fully restored through the implementation of Minsk agreements," Poroshenko said. Read also No signs Moscow ready to retreat from Donbas, withdraw from Crimea – Poroshenko He added that it would be extremely difficult to reach an agreement on the parameters of the peacekeeping mission. "In a week and a half, I am going to the UN General Assembly in New York, and I am sure that by joint efforts, with the help of international partners, first of all Germany, France and the United States, we will establish peace and return all the occupied territories, restore Ukraine's sovereignty and territorial integrity," Poroshenko said.
Paul Niland: Minsk matters. Russia's obligations | KyivPost
(Part one of a two part series.) Terminology matters. Minsk is not a "ceasefire agreement" – Minsk is a framework to return Ukrainian sovereignty over temporarily occupied parts of Ukraine. It goes without saying that this goal will never be achieved unless the parties to the agreement are serious about upholding commitments made in Minsk.
Russia is trying to legalize occupation of Donbas, – Ukraine's Ex-Foreign Minister – Russia is trying to legalize occupation of Donbas, – Ukraine's Ex-Foreign Minister – 112.international
Volodymyr Ohryzko believes the way Putin presents it is a profanation of the idea of the peacekeeping forces itself. In Russia's interpretation, the idea of the international peacekeeping mission to Donbas is a legalization of occupation. Ex-foreign minister Volodymyr Ohryzko told that on air of the Ukrainian 5th Channel. "We have been sweating over this topic for several years already. We regularly add it to the agenda – president and ministers keep talking about it. The topic looks like alive, but the way Putin presents it is a profanation of the idea of the peacekeeping forces itself, as on Russia's wording it shall mean the legalizing occupation under international control from now," Ohryzko said.
Poroshenko: No signs of Russia's retreat from Donbas, Crimea – 112.international
Ukraine's President also commented on military exercises West-2017 in Belarus with the participation of Russian troops. There are no signs that Russia is ready to leave the Donbas and Crimea, said Ukraine's President Petro Poroshenko Thursady. Poroshenko said this during the annual address to the Verkhovna Rada on air of 112 Ukraine TV channel. "Russia's main threat is still military one: there are still no signs that Moscow would be ready to retreat from Donbas or withdraw from Crimea, but the evidence of its preparation for an offensive war on a continental scale, alas, is increasing, like Russian-Belarusian exercise West-2017. Although, in my opinion, it should be called "anti-West." Naturally, it is because of this that we strengthened control on all sectors of the state border. It is possible that new strike groups of Russian troops will be created to invade Ukraine under the guise of strategic command and staff exercises,"he said.
UAWire – Putin: Supply of American weapons to Ukraine will not change the situation in Donbas
The President of Russia, Vladimir Putin, stated that the supply of US weapons to Ukraine, if such a decision is made, won't change anything in …
NATO Chief Sees No 'Imminent Threat' In Russia War Games
NATO chief Jens Stoltenberg has said he sees no "imminent threat" from Russia's upcoming military maneuvers with Belarus, but criticized Moscow for not being more open about the drills….
France, Germany Denounce Russia's Strategy Of 'Intimidation,' Dispute Size Of War Games
The French and German defense ministers have condemned Russia's upcoming military maneuvers with Belarus, saying Moscow is seeking to show off military might on the borders of the EU and NATO. …
Germany Disputes Size of Russian Wargames, Predicts 100,000 Troops | World News | US News
US News is a recognized leader in college, grad school, hospital, mutual fund, and car rankings. Track elected officials, research health conditions, and find news you can use in politics, business, health, and education.
Forget Ukraine, Britain is at the heart of Russia's new Arctic showdown with the West
The world is not short of hotspots: Syria; North Korea; Libya; Ukraine … But one of the hottest is also one of the coldest – the Arctic, which is rapidly becoming the front line in a new Russian game of expansion. On Franz Josef Land, an ice-covered, desolate archipelago well into the Arctic circle, Russia has just opened a new military base. If Nato is to respond, which it must, then Britain, positioned at the gateway to the Arctic Ocean, will be at the heart of the showdown. This little known geo-political battle began almost 20 years ago, when Vladimir Putin came to power. The following year, 2001, Russia submitted an application to the United Nations asserting that a vast unclaimed area of the Arctic Ocean, including the North Pole, should be subject to Moscow's oversight. Initially rejected, the bid was resubmitted two years ago, and if successful would see Russia's boundaries enlarged…
Russia is engaged in an aggressive arms race in the Arctic | Daily Mail Online
Despite the UK urgently requesting NATO to intervene and warning of a possible second Cold War, Russia is expanding in the Arctic and exploiting the region's natural resources.
Window on Eurasia — New Series: 'Without an All-Russian Terrorist Organization like the Okhrana, the KGB or the FSB, Russia Can't Exist,' Birna Says
Paul Goble Staunton, September 5 – For any country, the destruction of monuments to be significant, the ideas that gave rise to those memorialized need to be addressed; and in the case of Russia, in contrast to the countries of Eastern Europe, that idea is one that no one is yet prepared to address in a serious way, according to Irina Birna. According to the Moscow commentator, "the idea which gave birth to Russian monuments was not brought in from outside, instead the essence of the idea is deeply national and as such existential. Consequently, to destroy any monuments to the idols of the idea means to destroy Russia" (kasparov.ru/material.php?id=59ADA2688C302). And that idea, Birna argues, arose in tsarist times, extended through Soviet ones, and continues to inform the thinking of Russians today. Put in simplest terms, it is this: Russia can only exist and hold together if there does not exist "an all-Russian terrorist organization" like the tsarist Okhrana, the Bolshevik Cheka and KGB, or the FSB now. She says "it is time for the Russian 'opposition' to advance to the next level of historical analysis and understand that Lenin's 'communism' is indivisible from the country's historical development and was a continuation and development … of the power-forming ideas at the base of 'the Russian system' – the ideas of constant expansion at the expense of its neighbors." From the point of view of Russian history, there is nothing really new in Bolshevik talk about "'a world revolution." It is simply a new way of talking about the desire to take the straits and then everything else. And Russian discourse since 1991 has not fundamentally changed either, Birna suggests. Everyone should imagine what would have happened if the revolutionary "hot heads" had ignored Boris Yeltsin's argument that "the country needs the KGB, that without a secret police, not a single country in the world could exist, however democratic it was" and his promises that "the KGB will be transformed." Had Russians not listened to the first Russian president, had they stormed and destroyed the Lubyanka, many things would be very different now. A free Chechnya would be "guaranteed." An independent Ingushetia, Daghestan, and several other North Caucasian republics would be likely, and a free and independent Turkestan would be very probable." Moreover, Birna continues, "with varying degrees of probability, other places would have separated as well: the Kuban, Sakha, the Far east, Karelia … and the Urals." And still others, like Circassia would raise the issue of their borders and the return of Sochi to within a state of their own. But what Russians would have wanted that? she asks rhetorically. And she answers that almost no one; and "that is why those Russian 'democrats' and 'liberals' … willingly 'believed' Yeltsin and his tales about 'the reorganization' of the KGB,' its 'subordination,' its 'democratization,' and 'the imposition of limits' of the cast of executioners." Because that continues to be the case, because even the most critical liberals don't want to do away with the idea that underlay not only the tsarist and Soviet systems but also the post-Soviet one, it is a matter of indifference what statues are taken down unless and until Russians will face and reject the idea that they all represent, Birna says.
The Morning Vertical, September 7, 2017
ON MY MIND The signs continue to mount that the Russian elite is preparing itself for life after Vladimir Putin. On The Power Vertical blog last week, I argued that "there's a specter haunting the Russian elite. The specter of Putin as a lame duck." And as the reality of this settles in, Russia is probably headed for a prolonged period of intensified and very high-stakes clan warfare. And now in a smartly argued piece featured below, political analyst Tatyana Stanovaya argues that Putin looks increasingly sidelined in intra-elite conflicts — more a bystander than an arbiter or a master. If this trend continues, Stanovaya writes, "Putin may soon not be Russia's demiurge, but a boring part of the background in processes that no longer depend entirely on his own desires or priorities." "Under Putin," Stanovaya adds, "the post-Putin system is being born." Putin, of course, is all but certain to seek and win a new six-year term in the Kremlin; and the Russian presidency remains a powerful institution. Moreover, analysts have written Putin off in the past only to see him come roaring back. But something significant does appear to be happening. Politics is "about control of the imagination," Mark Galeotti of the Institute of International Relations in Prague argued in a video commentary featured last week in The Morning Vertical. And "as soon as people begin thinking about life beyond Putin, this eats into a key element of his own legitimacy, which was that he was in effect the irreplaceable man. They're already thinking: we can replace the irreplaceable man."
The Daily Vertical: Cybercriminals And Patriotic Hackers (Transcript)
In Vladimir Putin's Russia, hackers can be patriotic heroes or hackers can be criminals. It just depends, of course, on whom they are hacking. A Moscow court yesterday sentenced two members of the Russian hacking collective Shaltai-Boltai to three years in prison for breaking into the e-mail accounts of top Russian officials and leaking the contents. Funny thing is, that's pretty similar to what two other Russian hacking groups, Fancy Bear and Cozy Bear, have been doing in recent years. The difference, of course, is that Fancy Bear and Cozy Bear are connected to the Russian security services and they were hacking American and other Western officials' accounts and leaking the contents. WATCH Today's Daily Vertical When confronted with allegations of Russian cyberattacks against Western countries, Putin has said it was "theoretically possible" that "patriotic" hackers were involved. Putin has also said it isn't the hacking of Western officials that is important, but the information that was revealed as a result of the hacking. It's a pretty safe assumption that we won't see any prosecutions in Russia over the hacking of the U.S. Democratic National Committee, or the U.S. State Department, or the German Bundestag, or Poland's Stock Market. But this double standard, while obvious, is also revealing. Because one of the ways the Russian security services recruit hackers to work for them is to prosecute talented members of the cyberunderworld, or threaten to prosecute them, and then make them an offer they can't refuse. And in this way, today's cybercriminal can become tomorrow's patriotic hacker.
Moscow Court Sentences 'Shaltai-Boltai' Hackers To Prison
A Moscow court has sentenced two Russian hackers to three years in prison each for breaking into the e-mail accounts of top Russian officials and leaking them. Konstantin Teplyakov and Aleksand…
Russian journalist uncovers Moscow City Hall's propaganda guidelines for local newspapers – To Inform is to Influence
6 September 2017 When writing news stories in local newspapers about Moscow Mayor Sergey Sobyanin, authors observe a "Three Moscows, Three Sobyanins," where the mayor's name has to come up three times, staff writers at regional news media told the Russian journalist Alexey Kovalev. Meduza reviewed several dozen news stories and confirmed that Sobyanin's name does in…
Window on Eurasia — New Series: Kadyrov's Not a Malcontent, He's a Power in His Own Right in Putin's Russia, Shelin Says
Paul Goble Staunton, September 5 – Vladimir Putin was absolutely right when he said in Beijing that Ramzan Kadyrov is not "a frondeur" for his comments and actions about the repression of Muslims in Myanmar, Sergey Shelin says. Malcontents are by their nature weak, but the Chechen leader is a genuine "heavyweight" in the Putin system. Moreover, the Rosbalt commentator argues, Kadyrov is "someone who knows what he wants" and whom Putin, lacking any alternative, has been forced to defer to because the Kremlin leader doesn't see any alternative that might not provoke a genuine crisis within the Russian state (rosbalt.ru/blogs/2017/09/05/1643871.html). "I assure you that there is no fronde on the part of the leadership of Chechnya," Putin said (kremlin.ru/events/president/news/55535). "I want to reassure everyone that everything is in order" and simply note that "each citizen of the country, including the leaders of regions 'has the right to his own opinion on the foreign policy of the Russian state." That was, Shelin suggests, "a surprisingly liberal answer," given Putin's usual approach; and not surprisingly, it has led some to think that Kadyrov's bold words and organization of unsanctioned meetings was all a Putin scheme planned in advance in order to help the Russian president change course on Myanmar. But there is no basis for such assertions, not only because Putin is quite capable of changing directions when it suits him and because Myanmar is hardly a first-order issue. Indeed, Shelin suggests, it is "a third level" one. And consequently, one needs to examine not only how Putin responded but how the entire Russian establishment did. After Kadyrov's demarche, the Russian foreign ministry began to change course, Shelin says. The official news agency took down a story treating the demonstration at the Myanmar embassy "as a prologue to disorders and terror." And Putin's press secretary, noted for commenting on anything and everything, this time took a time out. But despite all this, Shelin continues, "Ramzan Kadyrov considered it necessary to stop the polemic on a constructive note by thanking Vladimir Putin 'for condemning force against Muslims in Myanmar' and reminding everyone that he 'is a true foot soldier of our president." So far, so good. All this appeared to mean that "Kadyrov had flexed his muscles but stopped in time and Putin in response didn't consider it necessary to label [the Chechen leader's words and demonstrations] as an act of 'frondeur.' But it is hardly the case that everything was or is so simple," the Rosbalt commentator argues. Myanmar represented a real opportunity for Kadyrov to act "as the head of Russia's Muslims, to force the federal agencies to respond, and to show himself as an independent international player," all thing easier because Myanmar isn't a major power in which Russia has a large number of unique interests. In his remarks, however, Kadyrov made it clear that he was speaking "not as some subordinate but literally as the head of an independent region [who is quite capable] of discussing the possibility or impossibility of sending forces to Myanmar," something Shelin says his audience understood and will remember. "Did this please Putin?" It is unlikely that all of it did, the Rosbalt writer says, "but he will make peace with this as with anything that has become inevitable," just as he has done with Kadyrov's actions and statements in the past. The reasons for this are obvious: "Kadyrov confidently controls Chechnya. That is his strongest card," one that gives him access to the federal treasury. He has a large and mobile military force, links to the Saudis, and has helped Moscow "with valuable mediation services in the division of Syria into spheres of influence." Consequently, in the framework of the Putin regime, "Kadyrov is almost irreplaceable, despite the presence of strong enemies and many who envy him. They simply don't have suitable instruments" to move against him. And that means that Kadyrov has been acting from a position of strength rather than weakness.
Window on Eurasia — New Series: Political Islam has Been Reborn in Russia, Ostalsky Says
Paul Goble Staunton, September 6 – Last Sunday is likely to pass into history as "the birthday of political Islam in Russia," London-based Russian commentator Andrey Ostalsky says, a development that represents a turn of events that will leave the country "much changed" however the Kremlin responds. What signaled this development, Ostalsky says was a demonstration by Muslims in front of the Myanmar embassy in Moscow against that country's repression of the Rohinja minority, an event that attracted much attention that that creates "an important precedent" for the followers of Islam in the Russian Federation (svoboda.org/a/28718718.html). The Russian authorities clearly did not know how to respond at least initially, he continues, and as a result Russia's Muslims began to feel themselves a unified force and may now act on that basis not only concerning foreign policy issues but on domestic ones as well – and in particular on "the interrelationship of Muslim communities with the secular powers. That suggests, the commentator argues, that political Islam has now emerged in Russia. But that term is problematic not only because Muslim theologians reject it – Islam by definition and from the beginning has been a political program – but also because the term is applied to groups from the most radical to the most moderate within the Islamic world. After the end of the caliphate, the last state where the ruler combined political and religious authority, modern political Islam emerged in Egypt with the Muslim brotherhood that wanted to restore the earlier form of rule. Its supporters, Ostalsky recalls, began to be called "'Islamists.'" That term too is one the ulema does not recognize, he continues; and like "political Islam," it includes a variety of forces from those who want to restore the caliphate to those who want shariat to be the basis of law to those who simply seek protection for their values from the secular authorities. Ostalsky notes that "some authoritative Sunni theologians consider that almost all of Russia's territory should be considered part of the 'dar-ul-Islam,'" the "abode of peace" in which Islam is to rule. They point to the fact that in 1313 CE, "Khan Uzbek proclaimed shariat on the territory of the Golden Horde and this was a large part of the territory of present-day Russia." Contemporary Islamists in Russia can look back to a tradition of "political Islam" at the end of the 19th and beginning of the 20th centuries. Then the jadids, a group which promoted the modernization of the faith, called for the revival of Islam and for its followers to live in peace and equality with Christians, Jews, and believers in other faiths. The jadids formed what Ostalsky properly calls "a completely liberal" all-Russian organization, Ittifaq al-Muslimin ("the Union of Muslims") which entered into an alliance with the Constitutional Democrats. The Soviets destroyed this group, and today, Ostalsky says, "it is impossible to imagine" that followers of political Islam will revive that tradition. Most of them view the jadids as traitors to the faith for "'playing with European values." And consequently, especially if they face resistance from the authorities, today's Islamists in Russia are likely to become radical rather than return to moderation. Exactly how things will work out, however, remains very unclear. Ostalsky says that "at present we know too little" about the Islamists of Russia. They are back, however, and they are going to carve out a role. That role of course will reflect Russian realities too, he says, because "without doubt every country and every society has the kind of political Islam it deserves," radical or moderate as the case may be.
Kadyrov Revels In Role As Protector Of Oppressed Muslims
For years, Chechen Republic head Ramzan Kadyrov has orchestrated mass protests in Grozny that might foster perceptions of him variously as the protector of oppressed Muslims or Russian President Vladimir Putin's faithful "foot soldier." The mass meeting convened in Grozny on September 4 to protest the treatment of Burma's Muslim minority Rohingya is significant, however. (The views expressed in this blog post do not necessarily reflect those of RFE/RL.)
Evictions, trials as Russian Church claims property | Russia | Al Jazeera
With the resurgence of a Kremlin-endorsed monastery, islanders on Valaam have endured trials, evictions and arson.
Suspect In Arson Attack On Russian Cinema Jailed
A man accused of carrying out an arson attack on a movie theater in the Russian city of Yekaterinburg has been sent to pretrial detention. The Sverdlov regional court on September 6 identified th…
Russian Minister Sees Possible Extension of Deal To Cut Oil Output
The Russian energy minister says his country will consider extending a deal with OPEC to cut oil output further into next year if supplies continue to glut the market and keep prices down. "I…
Can Russia Develop Its Shale Reserves? | OilPrice.com
Russia is aiming to develop its tight oil reserves, but with sanctions limiting technological solutions, coming up with a feasible plan remains a challenge. Russia's tight oil will play an increasingly important role in its oil output, underpinned by the fact that 20 percent of its current reserves already belong to the "tight" category. Most of it, however, remains untapped as oil producers prioritize traditional projects which entail lower production costs and time-honored technological solutions. As the traditional variants of production gradually move towards depletion, it is tight oil that oil companies will inevitably turn to. Mostly located below historically formed oil-producing regions, these tight oil reserves come with a well-developed infrastructure and supply logistics. However, one sees significantly more media coverage on Russia's Arctic, than its tight oil. The reason, you ask? Using traditional methods, tight oil's recovery factor is a mere 3-5 percent, therefore it is evident that its development requires new tailor-cut approaches, which, unfortunately, have been severely lacking. Generally speaking, the development of Russia's tight oil reserves is hindered by many factors; prioritization of other oil clusters, lack of adequate funding (Central Bank's base rate at 9 percent and commercial credits are even higher), high dependence from foreign know-how, lack of test sites and only a small number of companies appraising tight reserves in earnest. The same can be said with regard to Russia's Arctic reserves, with one essential exception: the government impels Rosneft and Gazprom Neft, the only oil companies active in Russia's Arctic region (and the only eligible), to provide tangible results about their progress. Perhaps, it all boils down to more favorable breakeven levels (Russian Arctic currently floats around $70/bbl, whilst tight oil is in the $80-90/bbl), perhaps not. The fact is that the state has not given due consideration to Russia's tight oil bounty.Apart from technological solutions, the development of tight oil reserves also requires legislative changes despite a wide range of concessions already in effect since 2013. Tight oil projects, including the Bazhenov, Abalak, Khadum, Domanik Suites among others, are exempted for 15 years from paying the mineral extraction tax. Moreover, in case the oil is exported and Urals is below $50/barrel, the export duty is nullified. If Urals is above $50/barrel, producers will still pay a mere fraction of what they would pay for "regular" crude. Still, even more is required. The Russian Ministry of Natural Resources is proposing changes to the existing legislation, asserting that a full 0 percent taxation rate would be instrumental in consolidating geological test sites as springboard for new technologies to be used when studying subsurface resources.
Russian Court Tells Aeroflot It Cannot Tell Air Hostesses What Size Clothes To Wear
A Moscow court has ruled in favor of a flight attendant who said Russia's flagship Aeroflot airline stopped assigning her to work on international routes because of her weight. The Moscow cit…
After Losing Feet, Russian Farmer Stands Strong
Aleksandr Buldakov, a farmer in Russia's Ural region, lost both feet in an accident 12 years ago. Determined to continue working, he adapted his tractor and car to operate by hand, rebuilt his house to make it disabled-accessible, and kept his large farm running by himself. This story was originally produced by Current Time TV, the Russian-language network run by RFE/RL in cooperation with VOA.
---
Belarus Reports
---
TASS: Military & Defense – Russia, Belarus put air defense forces on joint combat duty
Russia, Belarus put air defense forces on joint combat duty
Russia Sent Six Mi-8 Helicopters And Tor-M2 Battery To Belarus – Charter'97 :: News from Belarus – Belarusian News – Republic of Belarus – Minsk
Another 12 Su-30SM aircrafts are waiting for their redeployment. Six Mi-8MTV-5 helicopters and a battery of the anti-aircraft missile system Tor-M2 received Belarus from Russia in 2017. Commander of the Air Force and air defense forces of the Armed Forces of Belarus Major-General Ihar Holub informed journalists about that, Tass reports. "In the first half of this year, under the previously signed contracts, we received from Russia six Mi-8MTV-5 helicopters and the fourth battery of the Tor-M2 anti-aircraft missile system to expand our single regional grouping in the context of military-technical cooperation," – he said. According to Holub, the Belarusian Defense Ministry has concluded a contract with the Irkut scientific and production corporation for the supply of 12 Su-30SM aircrafts from 2018 to 2020 and a contract for the delivery of the Contender-GE radar stations. "All these activities are aimed at building up our single regional grouping of troops and forces. The regional air defense system of Russia and Belarus keeps improving to work effectively," – Holub said. He recalled that at the end of August, operative-tactical exercises of the Air Force and air defense troops of the Republic of Belarus and the Russian Air Force had been conducted. The Russian-Belarussian exercises West-2017 will start on the territory of Belarus in September. A record number of rail cars — more than 4 thousand — was involved to transfer the Russian contingent. Many politicians and military experts believe that Russian troops will remain in Belarus after the exercises. The Prevention Rally demanding the cancellation of the exercises West-2017 will take place at 7 p.m. on September 8 in the Kastrychnitskaya Square in Minsk.
Kurapaty Defenders: Russian Army, Go Home! – Charter'97 :: News from Belarus – Belarusian News – Republic of Belarus – Minsk
The activists call for the continuation of the flash-mob action against the West-2017 military exercises.
Ministry Of Communication Develops New Document Allowing Blocking Websites In Belarus – Charter'97 :: News from Belarus – Belarusian News – Republic of Belarus – Minsk
Content of the document is not revealed to journalists. The Ministry of Communication and Informatization developed the draft of Lukashenka's decree " On Improving the Order of Using the Information Space."
Pavel Sevyarynets: The Victory near Orsha Is the Key Event of the Belarusian Golden Age – Charter'97 :: News from Belarus – Belarusian News – Republic of Belarus – Minsk
Belarusians are preparing for the celebration of the Day of Military Glory. On September 8 an unofficial Military Glory Day is celebrated in Belarus. On this day in 1514 a glorious battle took place near Orsha: the 30 000-strong army of the Grand Duchy of Lithuania (GDL) under command of Hetman Konstantin Ostrozhsky defeated the 80 000-strong army of Muscovy. The army of the GDL won thanks to tactical skill, and the battle itself was included in the world military textbooks. It's a good reason to be proud of, isn't it? The Belarusian authorities do not think so. Charter.org asked the native of Orsha, the co-chairman of the organizing committee for the creation of the Belarusian Christian Democracy Party, Pavel Sevyarynets whether traditions of the Litvins still live in the memory of Belarusians: – This is one of the key events of the Golden Age of the Belarusian history, because that victory of the Grand Duchy of Lithuania did not allow its takeover by Moscow. We won the right to be called a country and postponed the occupation of our country for several centuries. This is our historic victory. This day should be a state holiday in Belarus. On this day the Belarusian army must solemnly take the oath. – Why other peoples are anxious about such dates: the Greeks recollect 300 Spartans, their deed near Thermopylae, the Serbs honor heroes of the battle on Kosovo Field when their army faced the army of the Ottoman Turks. Why does this event take so little place in the upbringing of our youth? "This event was diligently tried to be expunged from memory of our people by the Russian Empire, the USSR, the Lukashenka regime; they all tried to persuade the Belarusians that our main friend is the Kremlin and the imperial nomenclature. And the Kremlin has always been the main opponent of our national state. And the people's unconsciousness is the result of this policy. This topic is forbidden at schools, it is not presented in military academies. I come from Orsha and try to celebrate this day. I ofet go to the Krapivenskoye field, where these events took place. We burn fires and remember bright events of our history. Sometimes there are bardic festivals. If there are any events in Minsk, I always take part in them.
Babruisk "Parasites" Sent To Collect Stones In Fields – Charter'97 :: News from Belarus – Belarusian News – Republic of Belarus – Minsk
"Sisyphean labor" is awaiting the unemployed from 6 to 20 September.
---
Transnistria / Moldova Reports
---
Moldova Feels Squeezed in Russia's Information War :: Balkan Insight
Corruption and weak legislation have turned Moldova into a media battleground – in which Russia seems to have the upper hand.
Moldova: Back From The Brink, And Getting Better
Moldova, a landlocked country of 3.6 million, wedged between Romania on the west and Ukraine on the east, recently posted a robust economic growth of 4.1 percent in 2016, and is broadly on track with its $179-million economic reform program supported by the IMF. The improving economic data has helped restore the support of Moldovans, which, in turn, is necessary for further reforms aimed at good governance.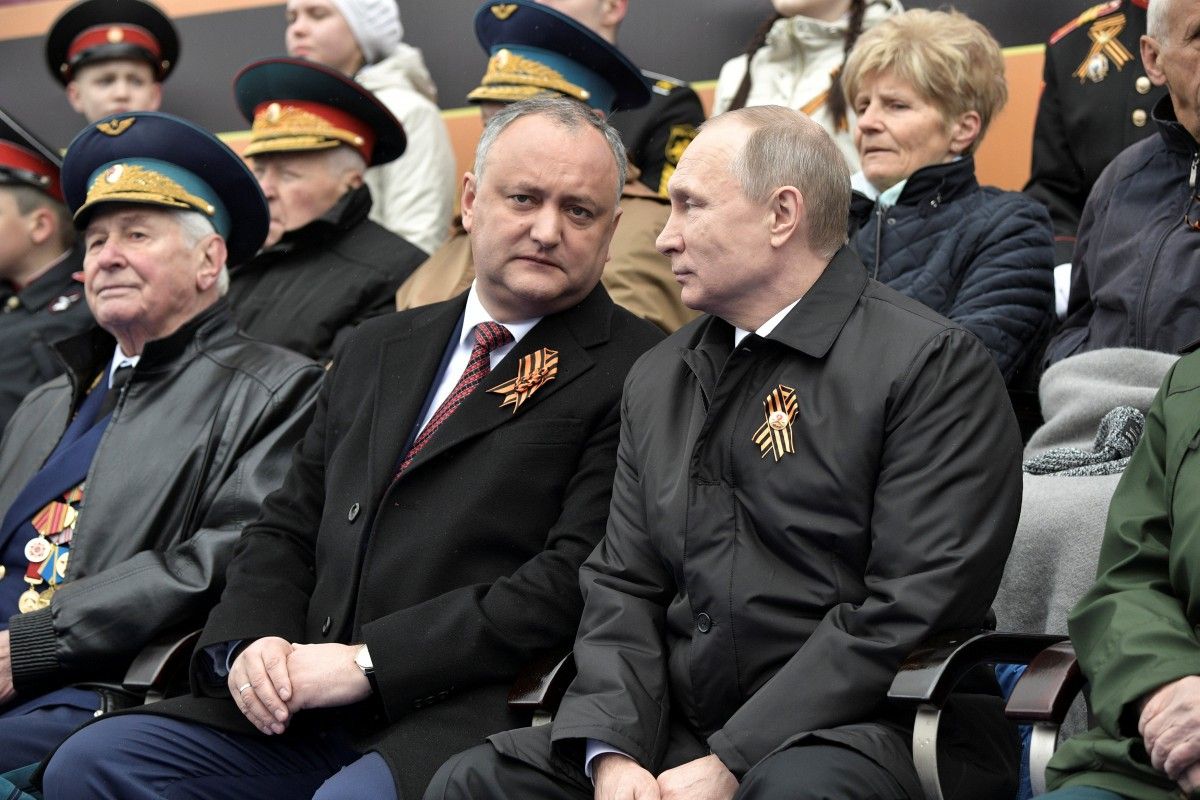 Putinist Pres Dodon – note the "Kolorado [Beetle]" St. George ribbon worn by Russian nationalists.
Moldovan Troops To Join Exercises With NATO Countries Despite Dodon's Opposition
Moldovan troops will take part in September 8-23 multinational military exercises in Ukraine despite pro-Russian President Igor Dodon's bid to keep them out of the drills. The Moldovan Defens…
Moldovan troops set off for NATO drills in Ukraine despite president's veto
A 57-strong contingent of the National Army of Moldova is participating in the NATO military exercise, Rapid Trident 2017, held at the International Center for Peacekeeping and Security in Ukraine's Yavoriv Sept. 7-23, the Ministry of Defense of Moldova reported, according to Radio Svoboda. News 07 September from UNIAN.
Dodon forbids, the government allows: Moldovan soldiers will participate in military actions in Ukraine
Dodon forbids, the government allows: Moldovan soldiers will participate in military actions in Ukraine
Moldova to send army to Rapid Trident in Ukraine despite Dodon prohibition – Moldova to send army to Rapid Trident in Ukraine despite Dodon prohibition – 112.international
Moldova to send army to Rapid Trident in Ukraine despite Dodon prohibition. The Moldovan militaries will take part in the international Rapid Trident-2017 military drills in Ukraine despite the decision of the President of Moldova Igor Dodon. The speaker of the government Stella Nistor reported this to Deschide. 'The decision of the Mister President will not hinder the participation of the National Army in the military drills in Ukraine because the decision of the government corresponds to the legislation. The National Army will take part in these drills according to the decision of the government', Nistor said. Earlier, the Government of Moldova approved the decision that allows the Moldovan militaries to take part in the drills. The President of Moldova Igor Dodon prohibited the militaries to take part in the Rapid Trident-2017 drills in Ukraine. He stopped the work of the governmental resolution, insisting that the decision of the participation of the army in the drills beyond the country should be made by the Commander-in-Chief of the Armed Forces that is a president. However, the Prime Minister Pavel Filip urged the parliamentarians to find the way to send the Moldovan contingent to the drills as NewsMaker reported. According to him, the undrilled army is not wanted by anyone'. 'The visit for drills to Ukraine was canceled. Five visits were canceled the same way before. I think there are no grounds for such decision', Filip claimed. According to him, if the 80% of the participation in the drills is paid by the partners and organizers that the refusal to take part in the drills already costs about 280 000 of dollars for Moldova. The Prime Minister insisted to put the issue of the participation of the militaries in the drills to the order of the day.
Moldovan president vetoes participation in NATO country exercises
Moldova's pro-Russian President Igor Dodon has blocked government plans to send troops to Ukraine to participate in military exercises starting this week and which coincide with Russian drills across the border in Belarus.
UAWire – Moldovan pro-presidential party calls for cancellation of the Association Agreement with the EU
The oppositional, pro-presidential Party of Socialists of the Republic of Moldova (PCRM) will insist on the annulment of the Association …
---
Ukraine Reports
---
Almost 60% of Russians afraid to meet Ukrainians at night – poll – 112.international
Only 30% of respondents would not like to meet with the Chechens. About 58% of Russians are afraid to meet Ukrainian citizens at night. Such information was obtained due to an online survey of the Russian radio station Echo of Moscow. The radio asked their listeners: "Representative of which nationality do you fear to meet during the dark hours of the day?". More than half of the respondents – 59%, or more precisely 4,181 people – responded that they were afraid to meet Ukrainians, another 30%, that is 2,152 people, are afraid to meet Chechens at night, and 11% find it difficult to answer. As it was reported earlier the majority of Russians have positive attitude to the fact that their country causes fear, according to the survey. 65% of Russians are sure Russia is developed and advanced country.
Ukrainian recon published video commemorating killed Major General Maksym Shapoval: "Look into my eyes, enemy. You're looking into your death's eyes". VIDEO
07.09.17 12:07 – Ukrainian recon [Ed; GUR] published a video commemorating killed Major General Maksym Shapoval: Look into my eyes, enemy. You're looking into your death's eyes. VIDEO Ukrainian intelligence officers commemorated their killed comrades on their professional day by publishing a special video. View video news.
Look into my eyes, enemy – YouTube
"Look into my eyes, enemy, look into the eyes of death, look into the eyes of your own death!" – proper translation of the closing comment. Dedicated to MGen Maxim Shapoval.
Poroshenko can commence referendum on entry into EU, NATO – 112.international
Poroshenko can commence referendum on entry into EU, NATO. The President of Ukraine Petro Poroshenko did not exclude that he can commence the referendum on the entry into the EU and NATO. He claimed this during the speech to the parliaments. It was broadcasted by 112 Ukraine. 'The polls show that majority of the Ukrainian citizens support the entry into EU and joining NATO. And I do not exclude that I will commence an appropriate referendum in a proper time to demonstrate the will of the Ukrainian nation to everyone, to our friends, aggressive neighbor and the Ukrainian politicians', Poroshenko said.The Verkhovna Rada of Ukraine proclaimed the joining NATO as the aim in June 2017.
UAWire – Ukraine to change the name of its military operation in the Donbas
The bill to reintegrate the Donbas will entail the introduction of the concept "Operation on Defense of Ukraine" instead of the Anti-Terrorist Operation (ATO). This was announced by Deputy Minister for the temporarily occupied territories Yuriy Hrymchak in an interview with Radio Svoboda. When asked to clarify whether the word "war" would be used for the operation, he responded in the negative, explaining that the term would mean declaring war on Russia with all the corresponding consequences. On June 13, NSDC (National Security and Defense Council of Ukraine) Secretary Oleksandr Turchynov said in an interview that it is necessary to end the ATO and transition to a new form of national defense against Russia's hybrid war. He said that the relevant bill was being worked on and would later be presented to the president and introduced in the Verkhovna Rada. Commenting on Turchynov's statement, President Petro Poroshenko clarified that the bill would concern the reintegration of the Donbas and would entail a number of measures to take back the occupied territories. It would also determine their legal status. There were plans for the bill to be considered at the NSDC session on July 10, but the matter was postponed. On September 4, the president's representative to the Verkhovna Rada and MP from the Petro Poroshenko Bloc Irina Lutsenko announced that the law on the reintegration of the Donbas was entirely ready, aside from the matter of bringing a peacekeeping mission into the region. The matter of peacekeepers is still being discussed. "The key assertions which have been spelled out are: Russia is called the aggressor – this is what our partners require from us, what Ukraine needs, and the reason the European and international democratic community are introducing sanctions, which are finally stopping the aggressor. We are introducing the concept of self-defense according to the UN Charter: this will give us the ability to move away from the anti-terrorist operation concept and transition to the legitimate use of the Armed Forces of Ukraine, the special forces and the National Guard of Ukraine," Lutsenko explained. The document will be introduced in the Verkhovna Rada after final ratification by the NSDC.
Situation in Donbas: 34 attacks, no losses among Ukrainian soldiers – 112.international
Enemy activities were mainly recorded in Mariupol area
No signs Moscow ready to retreat from Donbas, withdraw from Crimea – Poroshenko
The main threat to Ukraine coming from Russia is of a military nature, Ukrainian President Petro Poroshenko said during his annual address to the Verkhovna Rada on Thursday, September 7. News 07 September from UNIAN.
Europe should help Ukraine with Donbas restoration, – German MFA – 112.international
German Foreigh Minister Sigmar Gabriel noted that Europe could help, for example, in restoring water supply and sanitation systems
SBU: 410 people gone missing in eastern Ukraine – 07.09.2017 15:15 — Ukrinform News
A total of 410 people have gone missing on the territory of conduct of the anti-terrorist operation in eastern Ukraine.
President Poroshenko promises to raise payments to contract soldiers in 2018 – 07.09.2017 15:20 — Ukrinform News
Over 69,000 servicemen signed contracts to join the Ukrainian army in 2016, and another 25, 000 contract soldiers have joined the army this year.
Ukraine's Semi-Managed Democracy on the March | PONARS Eurasia
(PONARS Policy Memo) Today, Ukraine has a coalitional-presidentialist political system that can best be categorized as a semi-managed democracy. This model has four main features: consolidation of power by President Petro Poroshenko, formation of a pro-presidential coalition in parliament, integration of former president Viktor Yanukovych's oligarchic representatives, and a rise in the importance of sub-national politics.
Poroshenko says exports to EU steadily grows – 112.international
In the first half of this year, exports grew by 23%, and the EU's share in foreign trade reached 40%, Ukraine's president said. Ukrainian President Petro Poroshenko said that export to the countries of the European Union is steadily growing. This was announced by him during the traditional appeal to the parliament, on air of 112 Ukraine TV channel. "In the first half of this year, exports grew by 23%, and the EU's share in foreign trade reached 40%, in 2012 this share was 30%, and in 2009 – 25%. And this indicates the beginning of the process of integration of Ukraine's economy into the EU market," the President noted.
Ukraine got over Russia's "gas blackmail", Poroshenko says
Ukrainian President Petro Poroshenko said the era of "gas blackmail" of Ukraine, which Russia and its Gazprom monopoly company had employed against the country, is over. News 07 September from UNIAN.
Ukraine gets out of deep abyss: Poroshenko speaks of "horde of predators," main risk to Ukraine
Ukrainian President Petro Poroshenko says Ukraine has got out of a deep, deadly abyss, while a "horde of predators" is still looming over it, according to an UNIAN correspondent reporting from the Verkhovna Rada where the president is speaking with an annual address to the deputies. News 07 September from UNIAN.
Ukraine's reform drive is powering ahead
Corruption persists but EU support and local efforts have spurred progress elsewhere
Urging Reforms, Poroshenko Says Ukraine Can't Cope Without IMF – The New York Times
President Petro Poroshenko said on Thursday that Ukraine would be extremely vulnerable if it failed to stick with its IMF aid programme, urging lawmakers to pass necessary anti-corruption and pension reforms.
Debt Crisis a Fading Memory as Ukraine Plans Eurobond Return – Bloomberg
Making the most of low emerging-market borrowing costs.
Ukraine president says against holding early elections
Ukrainian President Petro Poroshenko on Thursday said he opposed holding elections earlier than is mandated by the constitution.
A Canadian Company Tried to Build a Facebook Competitor in Ukraine and Failed – Motherboard
Ukrainians.co was meant to replace banned Russian sites.
---
Russia / Iran / Syria / Iraq / OEF Reports
---
Israeli airstrikes target Syrian research center linked to chemical weapons – The Washington Post
Israel has carried out nearly a 100 strikes in Syria, but never against a government facility.
'Israeli jets hit Syrian chemical site' – reports – BBC News
Syria's army says the planes killed two soldiers, amid reports the attack targeted a chemical site.
Syrian govt forces used chemical weapons more than 2 dozen times: U.N.
Government forces have used chemical weapons more than two dozen times during Syria's civil war, including in April's deadly attack on Khan Sheikhoun, U.N. war crimes investigators said on Wednesday.
ISIS' retreat accelerates, but its demise is exaggerated – CNN
Syrian troops broke ISIS' three-year siege of Deir Ezzor on Tuesday, another setback for the group. But its ability to inflict terror is far from extinguished.
Russia's moves on Hezbollah expose how Trump's Mideast policy endangers Israel – Israel News – Haaretz.com
For the first time, an American president has pushed Israel into a situation where it must divide its strategic planning between two rival powers
Firestorm In Iran As Politician's Son Credits 'Good Genes' For His Success
The son of a prominent reformist politician ignited a firestorm on social-media when he said he owes his success in life to "good genes." The comments by Hamid Reza Aref, the son o…
Taliban attacks US Afghan base in retaliation for US leaflets – CNNPolitics
A US citizen was wounded Wednesday following an apparent suicide attack at an entrance gate to Bagram Air Base in northern Afghanistan, US military officials tell CNN.
---
DPRK / PRC / WESTPAC Reports
---
Putin to US: Don't play along with North Korea – CNN
Russian President Vladimir Putin told an economic forum Thursday that the United States could be playing into North Korea's hands by trying to ramp up pressure on Pyongyang.
China supports UN action on North Korea while urging talks – The Washington Post
China supports further United Nations action in response to North Korea's latest nuclear test but also wants to see renewed efforts to begin dialogue involving all sides, Foreign Minister Wang Yi said Thursday.
China agrees U.N. action, and talk, needed to end North Korea crisis
China agreed on Thursday that the United Nations should take more action against North Korea after its latest nuclear test, while also pushing for dialogue to help resolve the standoff.
China Backs More UN Sanctions Against North Korea After Test | Fortune.com
China is in favor or more UN sanctions against North Korea after its latest nuclear test, the country's foreign minister said.
Korea deploys THAAD launchers as China gives nod to U.N. sanctions against north – CBS News
Seoul hardens stance against Pyongyang after torrent of weapons tests; China says U.N. should take "necessary measures" to quell tensions
India prepared to go to war with China and Pakistan simultaneously, says top general | The Independent
India's army chief has said the country should be prepared for a potential two-front war given China is flexing its muscles and there is little hope for reconciliation with Pakistan.
Army Chief: India Must be Ready for War on 2 Fronts
General Bipin Rawat warned China would continue its efforts to 'nibble away' at Indian territory, Pakistan to follow
Army chief says China taking over territory gradually, warns of two-front war | india-news | Hindustan Times
General Bipin Rawat says India needs to be prepared for a two-front war since Pakistan will take advantage if hostilities break out with China.
'Salami slicing' remark: China asks if Indian Army chief Rawat authorised to comment on tensions : World, News – India Today
China has questioned whether General Bipin Rawat was -authorised- to comment on border tensions after the Indian Army Chief highlighted Beijings -muscle flexing-.
---
Foreign Policy Reports
---
Merkel tells voters: 'don't experiment' with the left
Chancellor Angela Merkel warned German voters on Wednesday not to risk allowing an untested left-wing alliance to take power after this month's national election, urging them to stick with her in "turbulent times".
Trial Resumes In Montenegro's Alleged Coup Plot
The trial of 14 suspects charged with plotting to overthrow Montenegro's government has resumed in the capital, Podgorica. (RFE/RL's Balkan Service)
Russia's Bosnia Gambit | Foreign Affairs
The target of Russia's next Balkan gambit is the region's strategic center: Bosnia and Herzegovina.
---
Strategy / History / Capability Publications
---
Su-57 Fifth Generation Fighter: Incredible Weapon to Enter Service with Russia's Aerospace Forces
Russia's Sukhoi T-50 PAK-FA fifth-generation stealth fighter is slated to enter service with the Aerospace Forces in 2019. It has been given designation Su-57. The plane is a 5th generation multi-role, single seat, twin-engine air superiority/deep air sup. Russian Aerospace Force. Strategic Culture Foundation
ТАСС рассказывает о боевом и летном потенциале перспективного авиационного комплекса фронтовой авиации
The World's Largest Free Scientific Resource Is Now Blocked in Russia | Foreign Policy
The World's Largest Free Scientific Resource Is Now Blocked in Russia « | Foreign Policy | the Global Magazine of News and Ideas
Sci-Hub: removing barriers in the way of science
The first pirate website in the world to open mass and public access to tens of millions research papers
---
IW/IO/Cyber Reports
---
NIST's lead cryptographer talks encryption's paradigm shifts
Fifth Domain recently caught up with Dr. Lily Chen, the lead of the Cryptographic Technology Group in the Computer Security Division at the National Institute of Standards and Technology.
EU Defense Ministers Hold Cyberwar Game In Tallinn
European Union defense ministers have gathered in the Estonian capital, Tallinn, for an informal meeting that included a cyberexercise aimed at testing the bloc's ability to respond to a potentia…
Poland, Baltic states discuss online, military security
Poland's prime minister says she and three other Baltic Sea state officials have discussed an urgent need for greater security for their countries, including cybersecurity.
Researchers find persistent malware targeting embassies
The malware appears to be targeting embassies in Southeastern Europe and the former Soviet Union, according to researchers at ESET.
Russian firm tied to pro-Kremlin propaganda advertised on Facebook during election – The Washington Post
The company told congressional investigators that it has discovered it sold ads totaling $100,000 to a Russian "troll farm."
Facebook Says Russia-Based Operation Bought Ads Targeting U.S. Voters
Facebook has informed U.S. investigators that the social network recently discovered it sold advertisements to a Russia-based operation targeting U.S. voters during last year's presidentia…
Facebook sold more than $100,000 in political ads to a Russian company during the 2016 election | TechCrunch
Following its April post-mortem on its platform's role in the 2016 U.S. presidential election, Facebook is out with some juicy new details. Most noteworthy..
An Update On Information Operations On Facebook | Facebook Newsroom
---
US Domestic Policy Reports
---
Putin rues awarding U.S. top diplomat Tillerson Russian state honor
Vladimir Putin took a jab at Rex Tillerson on Thursday, joking that the U.S. Secretary of State had "fallen in with the wrong company" since he had awarded him a Russian state honor for his contribution to Russian-U.S. relations.
Putin: Tillerson has 'fallen in with the wrong company' | TheHill
Russian President Vladimir Putin in a Thursday meeting reportedly joked that Secretary of State Rex Tillerson had "fallen in with the wrong company" in the years since Putin bestowed upon him the Russian Order of Friendship.
Tefft: U.S. Did Not Pressure Russian Diplomats
The U.S. ambassador to Russia, John Tefft, has sought to clarify the circumstances surrounding a diplomatic tit-for-tat between Washington and Moscow. Speaking during a joint interview by RFE/RL and VOA in Moscow on September 6, Tefft said that U.S. officials did not "put undue pressure" on anyone and acted in accordance with the law when taking back the Russian diplomatic facilities in San Francisco.
'Parity Is Parity': U.S. Ambassador Defends Move Against Russian Diplomatic Facilities
The outgoing U.S. ambassador to Russia has defended Washington's decision to order Moscow out of diplomatic facilities in the United States amid a mounting standoff straining already frayed bilateral ties.
Trump Jr. To Testify Before Senate Panel Probing Russian Election Influence
U.S. President Donald Trump's eldest son will testify privately before the Senate Judiciary Committee on September 7 as it investigates allegations of Russian interference in the 2016 presidentia…
Russians Flock to Trump Properties to Give Birth to U.S. Citizens
While the president rails against children of undocumented immigrants, wealthy Russians rent his condos—at huge costs—so they can have American kids.