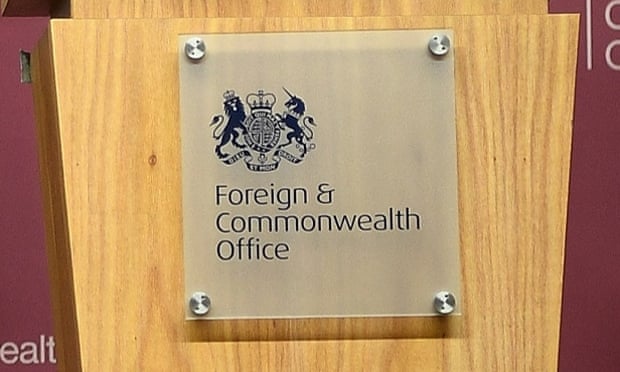 Not only did RT set up the bogus Twitter account claiming to be the UK Foreign Office, but then it had the audacity to ask the UK Embassy in Moscow to help recover the account once it was shut down. 
RT has some balls, and that's not a good thing.
---
---
Saturday 2 September 2017 08.35 EDT
UK Foreign Office complained about account set up by RT as part of project marking centenary of Russian revolution
It's a few notches below the North Korean missile crisis, but it appears that the simmering propaganda cold war between the UK and Russia has warmed up again.
A complaint by the British government has resulted in the suspension of a Twitter account that was set up by RT, the Kremlin-backed news channel formerly known as Russia Today, as part of an extensive online project to mark the Russian revolution's centenary.
The account, @BritshEmb1917, used an image of the UK Foreign Office's official crest under a profile identifying it as "The official Twitter account of the United Kingdom in the Russian Empire". It was set up by RT as part of its #1917Live project, which aims to tell the story of the Russian revolution through real-time tweeting from a network of linked accounts.
It is believed the account was noticed by Foreign Office staff in London who then alerted the real British embassy in Moscow.
It is understood that Twitter took action to remove the account for violating user rules regarding impersonation.
Ivor Crotty, head of social media at RT, contacted the British embassy in Moscow via Twitter during the week to ask for assistance after the account's suspension, which he said had deprived a global following of a crucial historical voice.
"We're willing to do whatever it takes to ensure #1917Live project integrity and retweet the revolutions in a way all are comfortable with," he said, attaching a gif showing Vladimir Lenin stroking a cat.
"Perhaps your voice could make a difference here and ensure Britain's voice is properly heard in an innovative centenary retelling #1917Live."
Relations between RT and British institutions have periodically boiled over. Last year a spokesperson for Russia's foreign ministry promised tit-for-tat retaliation against British media after the closure of UK bank accounts linked to RT. In January, NatWest reversed its decision to close the UK bank accounts.
Separately, a temporary ban by Facebook this year on RT posting images, videos or live streams drew threats of retaliation from the Russian state censor.
In September 2015 RT was sanctioned by Ofcom for a series of misleading or biased programmes on the conflicts in Ukraine and Syria. The news channel is available in the UK on Freeview as well as Sky and Virgin.
Source: https://www.theguardian.com/media/2017/sep/02/twitter-suspends-russian-news-channels-british-embassy-account