Anonymous expert compilation, analysis, and reporting.
</end editorial>
---
---
Lessons from the Russian Front eBook released. Multiple reports on Zapad 2017 motives, risks and measures. Shevtsova compares Soviet and contemporary Russian methods of political war against the West. Fedorenko and Umland on the the Intermarium. Amb Vershbow points out some ground truths being wilfully ignored by European politicians hungry for Russian cash. Amb Hutchinson on NATO. Raji looks at the Russian campaign against Finland and Sweden. Badrak states the obvious. Was Gelb prescient in 1993? Harding elaborates (COCW!).
In Russia, RBK argue that the size of the actual defense budget is being concealed. Two excellent reports by Galeotti, the item on 'active measures' should be read by every European politician. Whitmore on the debate over Putin as a lame duck. Multiple reports on Russia's descent into the abyss.
In Belarus, Lukashenko shuffles senior military and security postings, and appoints ethnic Ukrainian as Commander of the Military Air Forces and Air Defense Forces. Two interesting reports on Zapad 2017. More on the Russian kidnapping of the Ukrainian teenager.
Lavrov publicly threatens war with Ukraine and Moldova if the UN throws the Russian garrison out of Transnistria, as if Russia was not already at war with both nations. Evidently Moscow is feeling exposed, since the Ukrainians can block all routes for reinforcement of Transnistria.
EU Association Agreement dominates news in Ukraine. Turchynov on Russia in Donbass. Russian proxy force numbers detailed, 36,000 Russian mercenaries deployed. Donbass fires continue. UK Minister for the Armed Forces Lancaster offers further aid. Whitmore on Crimea.
Putin publicly grandstands over the DPRK. Elleman analyses latest Hwasong 12 launch and makes some excellent points – not speculating as done previously. Interesting essays by Ramberg, Goldberg, Diehl, on the strategy problems. More Chinese propaganda trolling of Japan.
Merkel vs. Schultz odds strong favour CDU/CSU. Germany trolls Orban, elegantly. Erdogan celebrates 1071AD victory of Turkish forces against Byzantine Empire – will he make the anniversary of the fall of Constantinople into a national holiday as well?
Five interesting reports on IO and cyber.
US domestic Russia traffic dominated by Embassy tit-for tats. Rep. Rohrabacher in the crosshairs. Erdogan complains about indictment of his guards for assaulting police and public.
---
Russia / Russophone Reports
---
Lessons from the Russian Front – To Inform is to Influence
23 pages.  The 2014 Russian Invasion of Ukraine altered not only the future of Eastern Europe but the course of modern warfare as well. Since then, Ukraine has become a deadly testing ground for new battlefield tactics and technologies. This eBook takes a look at Russia's new ways of war with the hope that it…
Lessons from the Russian Front
The 2014 Russian Invasion of Ukraine altered not only the future of Eastern Europe but the course of modern warfare as well. Since then, Ukraine has become a deadly testing ground for new battlefield tactics and technologies. This eBook takes a look at Russia's new ways of war with the hope that it can help next-generation military leaders understand and deter a rising new threat to Western peace and security.
UAWire – Ukraine and Poland explore possible ways to respond to Russian-Belarusian Zapad-2017 exercises
The Chiefs of the General Staffs of the Armed Forces of Ukraine and the Polish Army have declared that they have studied possible threats from and ways of responding to the Russian-Belarusian Zapad-2017 exercises. "We have discussed the issue of the Zapad-2017 exercises. We considered possible threats related to these exercises, as well as ways of responding both by the Polish Army and by the Ukrainian Armed Forces," said the Chief of the General Staff and Commander-in-Chief of the Ukrainian Armed Forces, Viktor Muzhenko, at a meeting with his Polish colleague, Leszek Surawski, on Wednesday in Lviv, as reported by the public relations department of the Ukrainian Armed Forces. Muzhenko noted that, at the current time, a set of tactical exercises has been formed that is already being conducted on the territory of Ukraine. In turn, the Chief of the General Staff of the Armed Forces of Poland stressed that the Polish side is also closely following the Zapad-2017 exercises. "From experience in previous years, we see that the Russians increase the number of forces involved with every subsequent training. The Russians say that these exercises are for defense, but they have mobilized 100,000 soldiers," noted Surawski. As previously reported, Muzhenko will take his Polish colleague on Wednesday to the Hetman Petro Sahaidachnyi National Army Academy, including the International Peacekeeping and Security Centre at the Academy. A group of officers and generals of the Polish Armed Forces led by Surawski arrived in Ukraine on August 29.
Russian may use drills in Belarus to create "corridor" to Kaliningrad region – To Inform is to Influence
To review, in the past few weeks there have been a number of conspiracy theories floated about what Russia may actually do before, during, and/or after Zapad 2017, which begins 14 September and ends 20 September 2017.   Russia has a history of using military exercises as a cover for preparations for real invasions (2…
Zapad 2017 drills a threat to Ukraine – Poroshenko – 01.09.2017 14:57 — Ukrinform News
Joint Russian-Belarusian military exercises Zapad 2017 pose a threat to Ukraine, Ukrainian President Petro Poroshenko has said. The head of state said this in a comment, the video of which was posted by his press secretary Sviatoslav Tseholko on Facebook. "As for the Zapad exercises, we are very attentive to the holding of these exercises. We see the possibilities of a threat, including to Ukraine's territorial integrity," Poroshenko said. At the same time, he stressed that during his recent visit to Ukraine Belarusian President Alexander Lukashenko assured him that there would be no threat from Belarusian territory now or in the future. "And I hope that he will keep his promise. There is no reason to question this now," Poroshenko said. He said that Ukraine would closely monitor that all military equipment brought from Russia for the exercises is taken back to Russia after the maneuvers are completed. The active phase of the Russian-Belarusian military exercises is scheduled for September 14-20.
UAWire – Turchynov: With Zapad-2017 Russia wants to show that it is capable of waging a full-scale war in Europe
The Secretary of the National Security and Defense Council, Oleksandr Turchynov, believes that the Russian Federation is using the large-scale Zapad-2017 exercises to demonstrate its ability to conduct a large-scale continental war in Europe. He expressed this opinion at a briefing in Novy Petrivtsy, where together with the Minister of Internal Affairs, Arsen Avakov, he handed out keys to new apartments for National Guard employees, Interfax-Ukraine reports. "The Russian Federation, by conducting these exercise, is demonstrating its ability to wage a large-scale continental war in Europe and this, in their opinion, serves as a warning for the West to not interfere in new ventures, including military, which the Kremlin may provoke both in Ukraine and in other independent states in the region," Turchynov said. He also emphasized that the Armed Forces of Ukraine are ready to answer any possible provocation. Earlier, Turchynov said that the Russian-Belarusian strategic command staff exercise, Zapad-2017, would test Russia's readiness for a big war with NATO countries. The strategic exercise, Zapad 2017, will be held from September 14th until September 20th, and will be staged simultaneously at several training ranges in Russia and Belarus. In announcing the maneuvers, Russian Defense Minister Sergey Shoygu called them "the main joint training event for Russian and Belarusian armed forces in 2017." During a recent visit to Kyiv, the President of the Republic of Belarus, Alexander Lukashenko, guaranteed that the territory of his country would not be used to invade Ukraine.
Lilia Shevtsova | Russia's dual response to the west creates policy confusion
The key factor in the west's misperception of Russia is a determination to see only a single, dominant trend, which does not exist. Russia's survival logic is based on duality: being both with the west and against it (that is, exploiting western resources while insulating Russian society from western influence). During Soviet times, the west successfully reacted to this survival logic. Now that Russia has created a lobbying machine within western society, the west is at a loss as to how to respond. It is especially confused because the Russian elite has done something the Soviets never dreamt of: it has shifted its struggle for survival inside the west, as demonstrated by the links between Russians and the Trump campaign, and by probing the limits of the western establishment to be co-opted and corrupted. Western misperceptions make the west's Russia policy wobbly, but it is not clear that the resulting disorientation is good for Russia. While it creates room for manoeuvre for the Kremlin, it can provoke confusion within government about the west's willingness to respond to its actions. Russia was ill prepared for the latest US sanctions package — a result of its misreading of the west. Understanding Russia's duality is challenging. And this duality is also tricky for the Kremlin, for it must find a way to oppose the west even while using the latter's rich resources to advance its own survival. The writer is associate fellow of the Russia and Eurasia Programme at Chatham House
Kostiantyn Fedorenko and Andreas Umland | How to Solve Ukraine's Security Dilemma? The Idea of an Intermarium Coalition in East-Central Europe
After the break-up of the Soviet bloc and Union in the late 1980s and early 1990s, it seemed as if Europe was moving toward unification. Yet neither the Eastern enlargement of the North Atlantic Treaty Organization (NATO) and European Union or their new neighborhood policies managed to integrate Russia. The "common European home," as it had once been envisaged by Mikhail Gorbachev, thus did not come into being. Worse, in Eastern Europe and the Southern Caucasus, a geopolitical gray zone emerged between Western organizations on the one side, and the Russia-dominated space on the other. The security of these non-integrated in-between states — namely of Ukraine, Moldova, Georgia, and Azerbaijan — came to depend to large extent on the success of their cooperation with either side. This model was always fragile, did not help to solve the Transnistria problem in eastern Moldova or the Nagorno-Karabakh conflict in south-western Azerbaijan, and was shaken by the Russian-Georgian war of 2008. It finally broke down with Russia's military aggression against Ukraine in 2014. Against the background of these shocks, a partial solution to the gray zone issue for all of the countries of Eastern Europe — whether in- or outside NATO and the European Union — is to revive the old concept of the Intermarium (land between seas). By cooperating, the states between the Baltic and Black Seas can bolster their security, improve the balance of power against Russia in particular, and do so even without further Eastern enlargement of NATO and the European Union.
Alexander Vershbow | The target of new US sanctions is Russia, not Europe
Thursday 31 August 2017 When, following the Maidan revolution, Putin set his ambition to illegally seize Crimea from Ukraine and occupy large portions of Ukraine's Donbas region, it was the unified and firm transatlantic community that proved vital in containing Moscow's advances. Coordinated economic sanctions delivered a united message to the Kremlin that breaking the post-war rules-based order would come at a cost. However, that essential unity – both across the Atlantic and within the EU – is in danger of cracking as the USA considers ways to change Putin's calculus whilst some European countries consider whether narrow economic interests should come first. That would be a geopolitical mistake. Normalised relations with Russia should be our common goal, but they can only be achieved when Russia changes its behaviour and meets the conditions set when sanctions were imposed. The western response to Russia's actions in 2014 was proportionate and necessary. Moscow had – for the first time since World War Two – sought to change European borders by force. Putin had to be shown that such aggression would come at a cost. Western indignation and action drove Russia to negotiate the Minsk agreements, setting out a path to de-escalate the conflict and restore Ukrainian sovereignty over the Donbas, and to agree to the Normandy Format, which would bring both sides – Russia and Ukraine – to the negotiating table together with mediators Germany and France. The Minsk agreements provide an adequate framework for ending the violence and building a sustainable political solution. However, the unwillingness of Russia and its proxies to implement the security aspects of the agreements has stalled the entire Minsk process. Despite determined efforts by Germany and France to keep Minsk alive, the war in south-eastern Ukraine is worsening with civilian casualties rising by 48 percent from February to May 2017 compared to the previous quarter (and more than 70% higher compared to the same period in 2016). Far from turning into a frozen conflict, the situation continues to heat up. Against this backdrop, and with evidence the Russians interfered in the US Presidential election, Democrats and Republicans in the Senate were understandably asking why the costs to Russia had not risen commensurate to their worsening actions. Indeed, many Senators were concerned that the President could choose the opposite course of action and unilaterally ease Russian sanctions, either in an attempt to normalise relations with Putin, or as part of a grand bargain to help defeat ISIS in Syria – for which Russia should require no inducement. Therefore, it is understandable that the Senate decided to take the initiative to codify sanctions into law and authorize additional sanctions in order to send the signal that they believed their own White House had failed to send. The original Senate bill could have been more delicately drafted. But Europeans have read into the bill an intent that was never in Senators' minds, alleging that it was a Trojan horse to promote American liquefied gas exports, at the expense of the highly controversial (and, in my view, strategically misguided) NordStream 2 pipeline from Russia to Germany.
Kay Bailey Hutchison | Washington Remains United Behind NATO – The New York Times
There is a strong consensus that a renaissance of NATO offers the best hope to confront our current threats.
Azita Raji | Russia's Cold War With Scandinavia – WSJ
The Kremlin prepares military maneuvers in the Baltic, as Sweden and Finland sweat.
High chance of Russian military action against Ukraine before Russian presidential election
Director of the Kyiv-based Center for Army Conversion and Disarmament Studies Valentyn Badrak has said there is a high possibility of military actions by Russia against Ukraine before the Russian 2018 presidential election. Director of the Kyiv-based Center for Army Conversion and Disarmament Studies Valentyn Badrak has said there is a high possibility of military actions by Russia against Ukraine before the Russian 2018 presidential election. "The likelihood of such an operation before the election is rather high," Badrak said on Friday during a press conference. "Relations between Russia and the U.S. have worsened. The symbolic support of Ukraine by the head of the U.S. Department of Defense and ministers of eight NATO countries irked Russia greatly, something we have not seen since the start of the war," he said, adding that Russia military leaders are not impressed by Ukraine's military potential. "What has been done in Ukraine over three years gives Russian analysts grounds to say that Ukraine is not ready for a massive war, a surprise strike. Meanwhile, Russia has increased its capabilities…," he said, adding that Ukraine as a buffer zone between the Russia and the West suits many Europeans.
UAWire – Poland finds new evidence of Polish officials' guilt in crash of Kaczynski's Tu-154
In recent weeks, new evidence has been revealed regarding omissions by Polish officials during preparations for President Lech Kaczynski's Smolensk visit. The evidence has been added to the investigation of what is being called 'diplomatic treason' that occurred during the preparation for the visit. The head of the Polish National Prosecutor's Office, Polish Deputy Attorney General National Prosecutor of Bogdan Święczkowski, stated this, reports Ukrinform. "The last weeks and months have brought unexpected new evidence pieces. They were not known about in the public sphere before," Święczkowski said. According to Święczkowski, the Prosecutor's Office and Polish Special Services received the new materials regarding the guilt of Polish officials over the course of their work. Święczkowski added that this material "had been hidden somewhere" earlier. The Deputy Prosecutor General believes that, in connection with this development, the end of the year will bring "new important procedural decisions." In Poland there are at present several investigations stemming from the Smolensk disaster. In March of this year, the Minister of National Defense of Poland, Antoni Macierewicz, filed a petition with the National Prosecutor's Office against former Prime Minister of the Republic of Poland Donald Tusk for committing a crime in the Smolensk case under an article of the Polish Criminal Code, which provides for punishment for diplomatic treason. On April 10, 2010, near the military airfield near Smolensk, a Tu-154M plan carrying Polish President Lech Kaczynski and Polish high-ranking officials crashed. All 96 people who were on board were killed. In April 2017, Poland said that the Kaczynski's plane began to disintegrate while still in the air. In August, Poland said that the damage to the wing of the Kaczynski's plane showed signs of an explosion.
Joel Harding | When did the rot start in Russian foreign policy? – To Inform is to Influence
Let us return to a time of joy for the world.  In 1993 the world was rejoicing that the Soviet Union had failed and the Cold War was over. The USSR broke up into Russia and a number of former Soviet Republics, called the Commonwealth of Independent States.  Now put what Russia is doing today…
Leslie H. Gelb | Foreign Affairs – Yeltsin as Monroe – NYTimes.com
Published: March 7, 1993 Last week, in a speech pregnant with bad memories, President Boris Yeltsin called upon the U.N. for an extraordinary grant of authority: make Russia the "guarantor of peace and stability in regions of the former U.S.S.R." The speech sent shivers of a new Russian imperium down to the toes of neighbors like Ukraine and Georgia. But it was welcomed by some Central Asian republics momentarily less fearful of Moscow than of internal strife and, in private, by high Clinton Administration officials presently more worried about future "Yugoslavias" than a resurgent Russia.
Alec Luhn on Twitter: "Russia isn't cutting military spending, it's hiding it. Actual spending likely 2.5x more than $35bn reported to UN https://t.co/UKTLT05Vby https://t.co/Yh3DXhvJm9"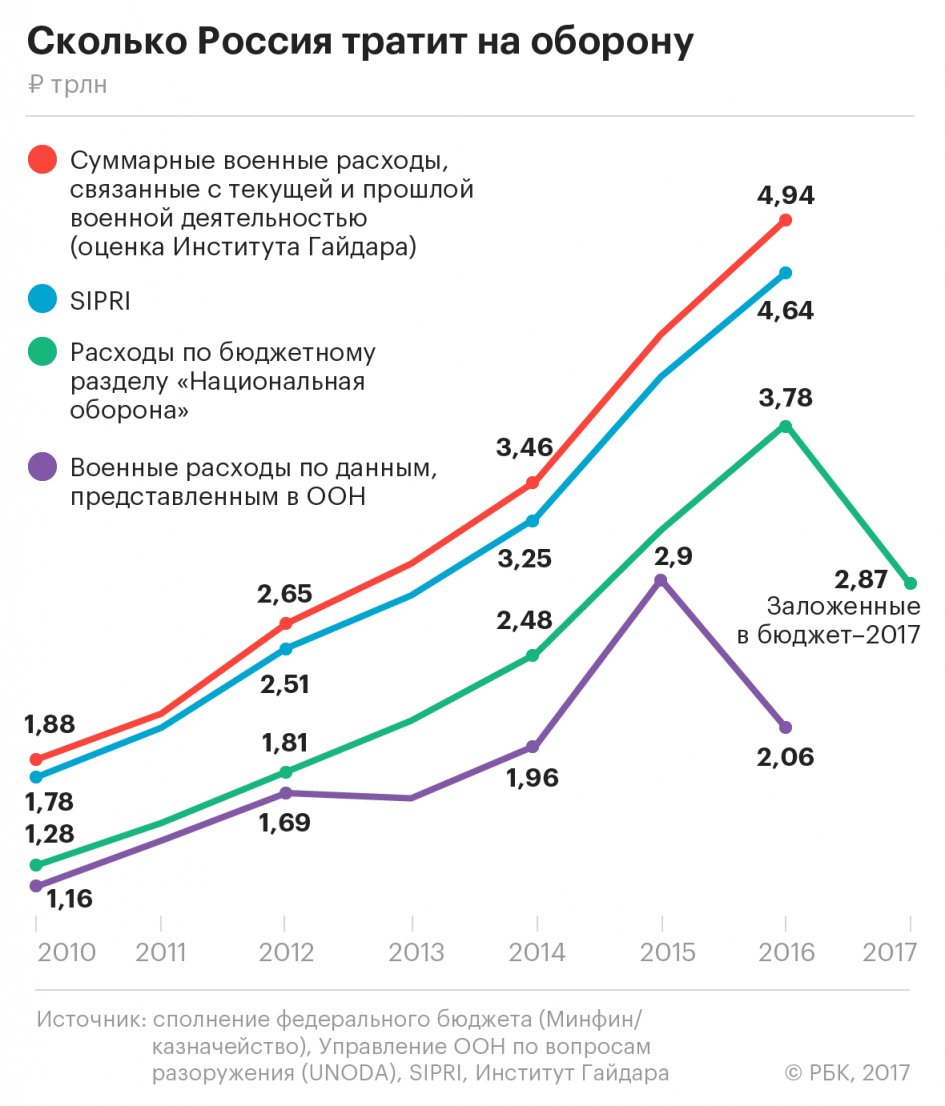 Mark Galeotti | Controlling Chaos: How Russia manages its political war in Europe | European Council on Foreign Relations
SUMMARY Russia carries out and encourages 'active measures' in Europe to destabilise and confuse governments and societies. But these are often opportunistic and shaped by local conditions. There is no grand strategy, beyond weakening the EU and NATO and creating a more conducive environment for itself. This involves a wide range of actors, from officials and the media, through military threats, to business lobbies and spies. Russia pursues different priorities in different countries. This is largely determined by the correlation between the strength of countries' national institutions and their vulnerability to Russian influence. Nonetheless, there is an effort to coordinate certain operations across platforms. Insofar as there is a command-and-control node, it is within the Presidential Administration, which is perhaps the most important single organ within Russia's highly de-institutionalised state. Without giving up hope of persuading Moscow to change its policies, Europe must nonetheless address its own vulnerabilities: 'fixing the roof' rather than simply hoping the rain will stop. Among other things, this includes addressing democratic backsliding in parts of the continent.
Mark Galeotti | On shaky ground: Russia's FSB vs migrant radicalisation | openDemocracy
Scrambling to address the growing threat of Islamist terrorism from Central Asia, Russia's security apparatus is forced to depend on questionable foreign intelligence services.
The Morning Vertical, September 1, 2017
ON MY MIND Hacking and leaking. Front groups and cutouts. Fellow travelers and useful idiots. Counterfeiting and forgeries. Intimidation and assassinations. Troll farms and dramaturgy. Fake news, slick disinformation, and crude propaganda. Active measures — активные мероприятия — have been part of the Kremlin's foreign policy toolkit for decades, if not centuries. And they've been at the forefront of our attention in recent years. But how does the Vladimir Putin's regime control all this chaos? How does the Kremlin manage its political war with the West? On this week's Power Vertical Podcast, we'll take an in-depth look and discuss a new report on the subject.. Joining me will be my co-host Mark Galeotti, a senior research fellow at the Institute of International Relations in Prague, head of its Center for European Security, and author of a recently published report for the European Council on Foreign Relations — Controlling Chaos: How Russia Manages Its Political War In Europe; and Andrei Soldatov, co-founder of the investigative website Agentura.ru and co-author of the book Red Web: The Struggle Between Russia's Digital Dictators And The New Online Revolutionaries, which has just been reissued with a new chapter covering Russia's hacking campaign against the West, which we'll also discuss on the podcast. With a lineup like that, it promises to be a great show. So be sure to tune in later today!
Brian Whitmore | Lame-Duck Putinism
There's a specter haunting the the Russian elite. The specter of Putin as a lame duck. An association of "patriotic entrepreneurs" is proposing that the Russian central bank issue a new 10,000 ruble banknote featuring Vladimir Putin's likeness. Now you can read that a couple ways. The simplest, of course, is that it's nothing more than the latest example of over-the-top leader worship and Putin adulation, the latest manifestation of a personality cult run amok. And that may well be the case. But there's also another way to look at it, especially when you consider that sitting presidents — even sitting authoritarian presidents — are rarely pictured on their country's currency. Despite the fact that Putin is widely expected to seek — and all but certain to win — a fourth term in the Kremlin in March, there appears to be a growing realization that after 18 years, the Putin era is actually entering its final lap. There's a specter haunting the Russian elite. The specter of Putin as a lame duck. And this is manifesting itself in more ways than proposals to put the Kremlin leader's likeness on the Russian currency. In recent weeks, Russian pundits, media, and think tanks have been increasingly — and very openly — speculating about something that not so long ago was considered entirely taboo: life after Putin. The prominent sociologist Sergei Belanovsky recently wrote on Facebook, for example, that "the Putin era is coming to an end" and that "this is an incontrovertible fact which doesn't depend on how much longer he remains president." The St. Petersburg Politics Foundation recently published rankings of potential Putin successors — rankings that were amplified by major Russian media. Earlier this summer, the pro-Kremlin daily Moskovsky Komsomolets openly raised questions about Putin's health, noted a "feeling of uncertainty and instability" among the elite, and played guessing games about who might replace him. And Putin himself recently contributed to all the speculation by talking publicly about the qualities he thinks a Russian leader should have. This is all a far cry from three years ago, when Vyacheslav Volodin, then the deputy Kremlin chief of staff, famously said that "there is no Russia today if there is no Putin." Putinism In Winter So while Putin clearly isn't going anywhere right now, the system he created seems to be bracing for the fact that his next term in the Kremlin will probably be his last. The Kremlin leader, after all, will turn 65 in October. If he completes another six year term as president, he'll be 71.
Court In Russia Sentences Tatar Activist To Three Years In Prison
KAZAN — A court in Kazan, the capital of Russia's Tatarstan region, has sentenced a local activist to three years in prison for inciting hatred on the Internet, inflicting bodily harm, an…
Russian FSB Says Detains Two Planning Terror Attacks On First Day Of School
The Russian Federal Security Service (FSB) says it has detained two people who were planning to carry out terror attacks in Moscow on September 1, the first day of school. In a statement on Augus…
Court places Navalny's campaign manager in Volgograd under house arrest for posting an Internet meme that 'desecrated' Russia's 'military glory' — Meduza
A court in Volgograd has placed Alexey Navalny's local campaign manager under house arrest. Prosecutors have charged Alexey Volkov with creating an image that supposedly desecrates the city's "The Motherland Calls" monument, which commemorates the Battle of Stalingrad. Volkov says he's been ordered to serve out his house arrest in St. Petersburg, where his residence is registered.
Russian Town Of Beslan Mourns On Anniversary Of School Attack
BESLAN, Russia — The southern Russian town of Beslan has begun three days of mourning to mark the 13th anniversary of a school hostage-taking attack that ended with 334 people dead after a botche…
On September 1, 2004, Chechen militants stormed an elementary school in the town of Beslan in the Russian republic of North Ossetia. They took 1,100 teachers, children, and their relatives hostage, demanding the withdrawal of federal forces from Chechnya as a condition for their release. On September 3, 2004, Russian security forces stormed the building, resulting in a battle in which more than 330 hostages died, including 186 children.
Suspended Russian Anti-Doping Agency RUSADA Names New Chief
University lecturer Yury Ganus has been appointed head of Russia's drug-testing agency RUSADA, the Russian Olympic Committee (ROC) said on August 31. ROC President Aleksandr Zhukov said Ganus…
Unprepared Russian Prosecutor Wins Delay In Crimean Journalist's Trial
SIMFEROPOL — The trial of Crimean journalist Mykola Semena will resume later this month after the first hearing in weeks produced little progress toward a resolution of the politically charge…
UAWire – Media: People from Putin's circle have seized Yanuckovych's estate in Crimea
Possession of the villa of former Ukrainian President Viktor Yanukovych at Cape Aya in the Crimea was transferred to the Bereg Company, associated with Gennady Timchenko, Nikolay Shamalov, Sergey Rudnov and Sergey Roldugin: all friends of Russian President Vladimir Putin, as reported by the Municipal Scanner volunteer project which reports on corruption in Russia . The former recreational resort at Cape Aya was privatized by the Yanukovych family in 2007 at the same time as Mezhyhirya. After the purchase, a fence was erected around the property, relic trees were cut down and construction began. After Yanukovych's escape and the annexation of Crimea, the Sevastopol prosecutor's office appealed to the court, asking to demolish unauthorized buildings such as a boiler, structures protecting sea bank and a checkpoint on the territory of the villa. On May 18, 2015, the court decided to dismantle them but the Sevastopol City Court overturned the decision and nothing was demolished. In the summer of 2015, a pro-Russian activist and Moscow municipal deputy, Vladimir Garnachuk tried to inspect the construction at Cape Aya but saw only a high fence and the security guards that said that he would "not get home" if he attempted egress. In January 2016, Governor Sergey Menaylo, now a representative of Putin in Siberia, said during a press conference that he was trying to conduct the demolition of a fence around the villa, and said that it could be transferred to the Russian authorities. The fence was never demolished and the ownership of the estate passed to Putin's friends. In May 2016, all the facilities belonging to Nord-2007 LLC, which was under the control of the Yanukovych family, were transferred to Shans LLC. The latter is registered in St. Petersburg together with Zagorodnaya Sreda LLC, which is owned by "Support for Entrepreneurship Initiatives," an entity owned by Yury and Boris Kovalchuks who are co-owners of Bank Rossiya and Putin's friends. On June 16, 2017, Shans sold the villa on Cape Aya to Bereg company, and the land near the villa was rented out to Bereg. Rosreestr's data shows that construction of the villa on Cape Aya proceeds apace and is already 70-90% finished. Bereg LLC was established on May 31, 2017. Its General Director is Pavel Zaitsev, who also manages the company that owns Bereg: JSC Golden Gate. Pavel Zaitsev is also the General Director of the non-profit partnership "Development of the Market of Effective Investments" that belongs to Gennady Timchenko (co-owner of Bank Rossiya) and Pyotr Kolbin (former butcher, former shareholder of Gunvor and another friend of Putin since 1954), co-founder of non-profit partnership "Revival of traditions and culture of suburban recreation, South Park" together with Nikolay Shamalov, co-owner of Bank Rossiya and co-founder of the non-profit partnership "Revival of Maritime Traditions," along with a member of the board of directors of Bank Rossiya, Dmitry Mansurov. Bereg and Golden Gate are registered in a building pledged as mortgage to Rossiya bank. Volna LLC, which owns this building through Ikar LLC belongs to Sergey Rudnov, the son of the late Oleg Rudnov. Oleg Rudnov is the founder of the Baltic media group, Putin's friend. From 2009 to 2012, Volna belonged to a cellist and friend of Putin, Sergey Roldugin, and co-founder of the non-profit partnership "Support for Children's Sports," Vladislav Kopylov.
Russia's largest private bank is rescued by the central bank
VADIM BELYAEV'S start in business in the mid-1980s was to sell foreign watches on the black market in the Soviet Union. He became a financier, and by 2015 had transformed his bank, Otkritie, into post-Soviet Russia's largest private lender.
Teacher for a day: Putin to lecture Russian schoolchildren | Europe | DW | 01.09.2017
Russian President Vladimir Putin is reportedly kicking off the new school year by teaching a lesson himself. Ahead of upcoming elections, it could be an attempt to show the Kremlin hasn't lost control of young people.
---
Belarus Reports
---
Air Forces And Air Defense Commander Replaced In Lead-Up To West-2017 Exercises In Belarus – Charter'97 :: News from Belarus – Belarusian News – Republic of Belarus – Minsk
Major General Ihar Holub has become the new commander. Major General Ihar Holub was relieved of his duties as deputy commander of the Military Air Forces and Air Defense Forces and appointed commander of the Military Air Forces and Air Defense Forces. The corresponding decree No. 315 was signed by Lukashenka on August 31, 2017, his press service reports. Earlier, the post of commander of of the Military Air Forces and Air Defense Forces of Belarus was occupied by Aleh Dzvihaliou. On July 18, Aliaksandr Lukashenka appointed him State Military-Industrial Committee chairman instead of Siarhgei Huruliou, dismissed in June. Ihar Holub is 50 years old, he comes from Chernigov. After graduating with honors from the Chernigov Higher Military Aviation School of Pilots in 1988, he held the positions of a pilot, senior pilot, flight commander, deputy commander, commander of an air squadron in the Belarusian Air Forces. In 2005 he graduated from the Military Academy of Belarus, in 2011 – the faculty of the General Staff of the Military Academy of Belarus, he held the positions of the deputy commander of the 927th Fighter Aviation Base of the North-West Operational and Tactical Command of the Air Force and Air Defense Forces, commander of the 206th Air Assault Air Force and Air Defense Forces. In 2010 he was appointed to the post of deputy commander of the Military Air Forces and Air Defense Forces – the chief of aviation. In 2013 he was appointed deputy commander of Military Air Forces and Air Defense Forces of Belarus. By his another decree No. 316 of August 31, 2017, Lukashenka dismissed Major-General Andrei Hurtsevich from the post of chief of the faculty of the General Staff of the Armed Forces – deputy chief of the Military Academy and appointed him deputy commander of the Military Air Forces and Air Defense Forces of Belarus.
Belarus Is Going to "War" — With a Fake Country | Foreign Policy
Belarus has a new enemy: a fictional nation known as Veyshnoria. Minsk is gearing up to hold military drills with Russia in mid-September. As part of the joint exercises, expected to be the largest since the Cold War, the Belarusian military invented three imaginary countries trying to invade and weaken the relationship between the two allies: Veyshnoria, in the northwest region of modern-day Belarus; Vesbaria, set in Lithuania; and Lubenia in Poland. Veyshnoria quickly took on a geopolitical life of its own on the internet. Facebook users created a flag, map, and coat of arms for the country. Hundreds signed up to a website launched for Belarusians wishing to apply for Veyshnorian citizenship. A Wikipedia page now details Veyshnoria's origins. Much of the activity is driven by a satirical Twitter account purporting to be the country's foreign ministry. It sends out a stream of joke policy statements — like declaring a partial mobilization in reaction to concerns of a Belarusian arms buildup on Veyshnoria's borders — and interacts with a parody Twitter account of the Russian Foreign Ministry. The account also promised that Belarusian troops who surrender will be treated well, offering them "stew, honey, bread, and lard." The flurry of jokes comes as Russia, Belarus's overbearing sibling, continues to escalate tension with its NATO neighbors, using Belarus as its backyard. In a show of military prowess and intimidation, Moscow may send up to 100,000 troops to the upcoming Zapad military exercises and has requisitioned enough rail cars to transport 4,000 loads of tanks and other heavy equipment to Belarus. The drills will also include the 1st Guards Tank Army, a reconstituted armored force named for a storied Soviet military unit.
Troops Of Veyshnoria To Help Novgorod Republic, Tver Duchy – Charter'97 :: News from Belarus – Belarusian News – Republic of Belarus – Minsk
Zaporozhean Cossacks and Texas rangers will assist them in this. Coordinator of the "European Belarus" civil campaign Dzmitry Bandarenka said this to the Charter97.org, while commenting on the West-2017 map, where the North-East of Belarus had been desigтated as a separate state, hostile to Putin and Lukashenka. — The Belarusians replied with a storm of memes and comments in the web, and even created the MIA of Veyshnoria. Why did the people react this way? — I want to say that this reaction was quite predictable. It became the best indicator of the real moods in the country, where no honest sociological researches are conducted. And the reaction of the Belarusians is quite understandable, because the absolute majority of the Belarusian citizens hates the kolkhoz dictator Lukashenka and is strongly opposed to the presence of the Russian invaders in Belarus. Thus, the people express their attitude towards joint Moscow-Shklou maneuvers. It can be seen that the majority feels strongly negative. And it is clear that Veyshnoria is a symbol of a real, European, democratic Belarus, in which Belarusian citizens want to live. — How would you explain the position of the General Staff, which "cut off" a part of the Belarusian territory, having turned it into a conditionally hostile state? — All the top-ranked military officials graduated academies in Moscow. As Kasya Kamotskaya once sang — "they have Moscow in their heads." For such people as Chief of the General Staff Aleh Belakoneu, independent Belarus is a bone in the throat, and they are probably genuinely surprised by such a reaction of the Belarusians. For them, a Belarusian is "a Russian with a quality mark". In fact, Belarusians are Europeans who want to live in their independent country. Let me remind you that the exercises are called West-2017, and their goal is precisely the struggle against the West, against Europe and everything that is connected with Europe. Therefore, the Chief of the General Staff in this situation is exactly in his place: he and the generals defend the kolkhoz values and the joint corruption of the dictators Putin and Lukashenka. I see nothing surprising in their exercises map. — Some Internet users fear that the hype about Veyshnoria allegedly could steer up the "Western-Belarusian separatism". Is there any such threat? — It was General Belakoneu who saw "separatism" in this. Because, it's exactly the General Staff which is trying to separate the Belarusians in two parts. As Veyshnoria is mostly supported in the Protestant-Orthodox Minsk. In the nearest future, the armed forces of Veyshnoria will back the eastern cities of the counrty, which will rebel against the occupants. Zaporozhean Cossacks and Texas rangers will assist them in this, as well as the marines of the Republic of California, and the military navy of Zhamoits. A global fight for freedom is going on. The troops of Veyshnoria will also come to help the Tver Duchy and the Novgorod Republic. — Is it possible to say that we are witnessing the birth of a new idea that will unite the Belarusians and help them build a European, democratic country? — I assess this situation a bit differently. Belarus is a normal eastern and central European country, just like Hungary, Chechoslovakia and Poland were in the 80s. The absolute majority of the Belarusian citizens, like the citizens of these countries at the time, want to live in Europe, they want a decent life and do not want to live under a dictatorship in some communist collective farm. And General Belakoneu, by acting like a bull in the china shop, just helped this desire to burst out, express itself. I think that Moscow is experiencing the biggest shock from Veysnoria today because they also live in some imaginary world: they say, there are some "white Russians" who see it in their dreams to become a part of Muscovy. But it's not true. Belarus is a normal European country and most citizens want and will live in Europe. What happened is just a diagnosis of the falling Belarusian dictatorship. Let Belakoneu, Putin and Lukashenka face the truth. No bayonets can save this monstrous, inefficient formation called "Lukashenka's dictatorship". Europeans live in Belarus. And we were, are and we will be Europeans.
Row sparks between Ukraine, Belarus over youngster's disappearance while expert says this may be FSB's goal
After Deputy Foreign Minister of Ukraine Olena Zerkal publicly doubted the partnership spirit of Belarusian authorities toward Ukraine in the probe of the mysterious disappearance on its territory of Ukrainian citizen Pavlo Hryb, who media say may have been lured into Belarus and later abducted by Russian FSB, Belarusian Foreign Ministry called Kyiv's statements "inappropriate." Meanwhile, an expert at the Ukrainian Institute for the Future, Ihor Tyshkevych, in his column for hvylya.net suggested that putting a split into relations between Ukraine and Belarus, which have been expanding recently, could be one of the ultimate goals of the Federal Security Service of the Russian Federation who he opines may have specifically chosen a young Ukrainian man with disabilities in their sophisticated scenario to cause outrage in Ukraine toward "inaction" of Belarusian authorities in searching for the missing person. Hence the creation in Moscow's interests of another point of tension in the region despite earlier assurances by Belarus President Alexander Lukashenko during his July visit to Kyiv that Bealrus remains a friendly state toward Ukraine.
Where is Pavlo Hryb? Belarus Says Missing Ukrainian Teen Entered Country Before Claims Of Russian Abduction
Authorities in Belarus said on August 31 that a Ukrainian teenager whose disappearance has triggered claims of a Russia-orchestrated kidnapping entered the country a week earlier but that they have n…
Border Committee: Pavel Grib Really Crossed Belarusian-Ukrainian Border – Charter'97 :: News from Belarus – Belarusian News – Republic of Belarus – Minsk
The Belarusian authorities finally broke the "vow of silence" around the Ukrainian kidnapped by the FSB in Homel.
More Than Thousand Belarusians Demand To Declassify KGB Archives – Charter'97 :: News from Belarus – Belarusian News – Republic of Belarus – Minsk
The campaign to open access to classified data is gaining momentum. The petition demanding to open access to KGB archives has collected more than 1,000 signatures, the historian and public activist Dzmitry Drozd informs on Facebook. "We did it together! There are 1000 signatures under the petition on opening KGB archives and putting the propaganda of Stalinism under a ban. Moving right along! Join us!" – the historian wrote. The launch of the campaign was announced in the resolution of the forum "Bolshevik Terror. Our Right To Establish The Truth," which was held in Minsk on August 22. It was decided to include 7 points relating to the theme of Bolshevik repression into the text of the resolution. The demands were as follows: to transfer all the archival and investigative cases against those who were repressed in the 1920s and 1970s from departmental to open state archives, to ensure free access to all the documents that have been in storage for more than 75 years, which are not subject to limitations as personal privacy according to the Belarusian legislation.
---
Transnistria / Moldova Reports
---
The withdrawal of the Russian military from Transnistria initiated by those who want Russia to be at war with Ukraine and Moldova – Lavrov
Russian Foreign Minister Sergei Lavrov said that the withdrawal of Russian military from Transnistria is initiated by those who want Russia to be at war with Ukraine and Moldova. As UNIAN correspondent reports in the Russian Federation, Lavrov said this during his meeting with MGIMO students. "I do not think that we can predict a war. Nobody wants this, except for those who drove the representatives of the Moldovan government when they wrote a note on the need to withdraw our military personnel from Transnistria. Those who suggested this to the Moldovan government, they want a war between us and Ukraine, between us and Moldova, "Lavrov said. According to Lavrov, those people who suggest such actions to Moldova "slow down the work of the 5 + 2 format". "They do not need a settlement, they need to do something unpleasant for the Russian Federation, slip another crisis situation," Lavrov is sure. According to him, this is "a line for restraining Russia." Lavrov said that Russian servicemen are in Transdniestria on the basis of agreements concluded soon after the hot phase of the conflict in the early 1990s was "managed to pay off thanks to the Russian army." He stressed that Russian servicemen will leave, "as soon as conditions are created". As UNIAN reported, on August 24 the chairman of the subcommittee on the security of state information systems of the Verkhovna Rada Committee on National Security and Defense, Irina Friz, said that Ukraine would support Moldova in withdrawing Russian troops from Transnistria. "Ukraine will support the initiative of the Republic of Moldova to deprive the Russian so-called peacekeeping mission in the PMR of the grounds for finding on the Moldovan territory. I emphasize once again that we must use all international mechanisms to ensure that the military occupation contingent of the Russian Federation is completely withdrawn from Moldova, "Freese said. She added that Ukraine welcomes the statement of the representative of Moldova to the UN, Victor Morar, about the consideration at the 72nd session of the General Assembly of the issue of withdrawal of Russian military from Transnistria. According to Friez, Ukraine is ready to provide full support to Moldovan partners. In July, the Moldovan parliament adopted a statement demanding the withdrawal of Russian troops from the territory of the country. In early May, the Constitutional Court of Moldova admitted that the presence of the Russian armed forces on the territory of Transnistria is contrary to neutrality. Russia occupied part of Moldova 25 years ago.
---
Ukraine Reports
---
After Four Years Of Drama, EU-Ukraine Association Agreement Comes Into Force
KYIV — The Association Agreement strengthening ties between Ukraine and the European Union entered into force on September 1, marking an end to four years of political drama surrounding the accord. …
EU-Ukraine Association Agreement officially enters into force -Euromaidan Press |
On 1 September 2017, the Association Agreement between the European Union and Ukraine enters fully into force. The Association Agreement, including its Deep and Comprehensive Free Trade Area (DCFTA), is the main tool for bringing Ukraine and the EU closer together: it promotes deeper political ties and stronger economic links, as well as respect for common European values. The DCFTA provides a framework for modernizing Ukraine's trade relations and economic development by opening up markets and harmonizing laws, standards and regulations with EU and international norms. The Association Agreement was negotiated between 2007 and 2011. In November 2013, the Euromaidan protests erupted after then Ukrainian President Yanukovych backtracked on finally signing the Agreement. After several months of protests, which ended in more than a hundred protesters being shot by the riot police, Yanukovych and his associates fled, and a provisional government entered into force. The Agreement was signed on 21 March and 27 June 2014. However, the process of its entrance into force was delayed in April 2016 by a non-binding referendum in The Netherlands, in which 61.1% of those who showed up to vote voted against ratification, with a low turnout of 32.2 percent. Although the referendum was non-binding, the Dutch political establishment decided they needed to "take the outcome into account" and produced a declaration which noted that the reaty does not guarantee EU membership to Ukraine, and that the Netherlands is not obliged to provide Ukraine military assistance. After this step, which addressed the concerns of the "No" camp, two-thirds of the Dutch senate voted for ratification of the EU-Ukraine Association Agreement on 30 May 2017. It was finalized by the EU on 12 July 2017.
EU Brexit Negotiator Worried About Ukraine Funding
BRUSSELS – The European Union's chief Brexit negotiator has expressed concern that Britain might not honor long-term EU loans to Ukraine after it leaves the 28-member union. Speaking o…
SBU reports about probe into reports on attempts to assassinate Poroshenko (Document)
The SBU Security Service of Ukraine has reported about two criminal proceedings being investigated in connection with reports on attempts to assassin Ukrainian President Petro Poroshenko. News 31 August from UNIAN.
Donbas war for Putin a lever of pressure on Europe – Turchynov – 01.09.2017 14:08 — Ukrinform News
The war in the Donbas for Russian President Vladimir Putin is a lever of pressure on Europe, Secretary of the National Security and Defense Council of Ukraine Oleksandr Turchynov has said. He stated this at a meeting with President of the Ukrainian World Congress Eugen Czolij, the council's press service reports. According to the report, the sides discussed the current situation in eastern Ukraine. Turchynov stated that hostile shelling in the Donbas did not stop after another agreement on a ceasefire. This, he said, indicates that "Putin is not going to get out of the occupied territory, and the war in the Donbas for him is a lever of pressure on Europe and Ukraine." The sides also discussed possible ways of solving the problem with the blocking of military-technical cooperation between Ukraine and partner countries, as well as the release of Ukrainian political prisoners who are illegally detained in Russia. The sides paid special attention to the issue of assistance from UWC in informing Ukraine's partner states of information reports and refuting fake information about Ukraine, which is spread by Russian propaganda, the message says. Czolij, in turn, said that a priority for UWC is to make sure that "the international community helps overcome the hybrid aggression against Ukraine." "For our part, we will do everything to ensure that the law signed by the U.S. president on military and technical assistance to Ukraine does not remain only on paper, but becomes a reality," he said. In addition, the sides stated that sanctions against the aggressor country should "not only continue but also be strengthened." "Ukrainians all over the world should feel like one family and work together for a common victory," Turchynov said.
"Putin is not going to get away from occupied territories, Donbas war is a leverage upon Ukraine and Europe for him", – NSDC Secretary Turchynov. PHOTOS
01.09.17 14:37 – Putin is not going to get away from occupied territories, Donbas war is a leverage upon Ukraine and Europe for him, – NSDC Secretary Turchynov. PHOTOS Ukraine's National Security and Defense Council of Ukraine Oleksandr Turchynov met Yevhen Cholii, president of the Ukrainian World Congress. View photo news.
Donbas: 24 attacks on Ukrainian positions over day; most fights took place in Donetsk region – Donbas: 24 attacks on Ukrainian positions over day – 112.international
Donbas: 24 attacks on Ukrainian positions over day; most fights took place in Donetsk region
Ukraine army positions in Donbas attacked 24 times in last day
Russia's hybrid military forces attacked Ukrainian army positions in Donbas 24 times in the past 24 hours, according to the press service of the Anti-Terrorist Operation (ATO) Headquarters. News 01 September from UNIAN.
Russian Military Companies Are Fulfilling the Kremlin's Orders in Ukraine – YouTube
UATV English Published on Aug 30, 2017 More proof of contract Russian soldiers fighting in eastern Ukraine. According to an investigative report by Inform Napalm the Kremlin is using private military companies to funnel weapons and manpower to eastern Ukraine. The report highlights a key Russian company often referred to as the Wagner Group.
UAWire – Media: More than 36,000 Russian mercenaries stationed in the Donbas
There are constantly 36,000 Russian mercenaries in the Donbas on a rotational basis, with weapons and equipment. Of them, 2900 are regular soldiers of the Russian Armed Forces (RAF),Ukrayinska Pravda reported with reference to the Crisis Media Center. As of July 2017, in Eastern Ukraine there were soldiers of the 331st Guards Airborne Regiment, the 20th Motor Rifle Brigade (Volgograd), and the 7th Air Assault Brigade from Novorossiysk in Krasnodar Krai. Lyubov Tsybulskaya, advisor to General Staff Chief Viktor Muzhenko, notes that one aspect of the hybrid nature of this war is the fact that Russia is creating new military divisions in the Donbas territory. "These are the 1st and 2nd army corps, with a total staff of 36,300 people, who are directly subordinate to the RAF's Southern Military District territorial forces center. The governing bodies of these corps are completely integrated in the Southern Military District's general governance system, they are elements of it, created according to Russian standards," Tsybulskaya explained. According to her, they are effectively an extension of the Russian Armed Forces, since they are controlled by the Russian command and financed by the Russian military budget. These corps contain Russians and mercenaries of other nationalities, as well as local residents. "The primary command positions of the 1st and 2nd corps of the territorial forces center are held by regular officers of the Russian Army. During the first half of 2017, the command staff of the corps were rotated. Notably, about 500 high ranking and senior officers from virtually all the military districts of the Russian Armed Forces arrived to carry out the tasks of only one army corps. In May there was another rotation of the tactical level officer staff (company/battery-battalion/division)," Tsybulskaya observes. Ivanna Klympush-Tsintsadze, Vice Prime Minister for European and Euro-Atlantic Integration, notes that this infographic illustrates Russia's massive hypocrisy when it denies its presence in Eastern Ukraine. "Into the fourth year of killing Ukrainians, Moscow is sending its own citizens to their deaths too… The Russians bury their own dead in this war in nameless graves, so that even the dead cannot remind them of the Kremlin's crimes," Klympush-Tsintsadze says, observing that Russia will have to give an account for these crimes. According to the Crisis Media Center, the Armed Forces of Ukraine have lost 2309 soldiers since the start of the conflict in eastern Ukraine (as of 31 July 2017). A further 8208 soldiers have been wounded. In 2017 between January and August, 142 Ukrainian soldiers have died and 1001 have been wounded. In addition, more than 8000 civilians have been killed during three years of Russian aggression in the Donbas. Russia spends $6 billion annually on the military campaign in the Donbas.
Defense Ministry: 126 NATO standards introduced in Ukrainian army – 01.09.2017 11:38 — Ukrinform News
A total of 126 standards of the North Atlantic Treaty Organization have been introduced in the activities of the Defense Ministry and the Armed Forces of Ukraine.
London ready to consider Kyiv's proposals on other areas of assistance for Ukraine's Armed Forces
The position of the British side regarding further assistance to the Armed Forces of Ukraine is flexible, Minister of State for the Armed Forces of Great Britain Mark Lancaster said during a meeting with Defense Minister of Ukraine Stepan Poltorak. The position of the British side regarding further assistance to the Armed Forces of Ukraine is flexible, Minister of State for the Armed Forces of Great Britain Mark Lancaster said during a meeting with Defense Minister of Ukraine Stepan Poltorak. "We are ready to consider the proposals of the Ukrainian side regarding other areas of assistance," the press service of the Ukrainian Defense Ministry quoted the Minister of the Armed Forces of Great Britain as saying on Thursday. According to him, the participation of the British military in the parade on the Independence Day of Ukraine was another signal for the support of the Ukrainian state, and also demonstrated to the world the commitment of the UK to efforts on consistent support of European security
Ukraine's deputy defense minister, UWC president discuss criteria for Ukraine's membership in NATO
Ukraine's Deputy Defense Minister Ivan Rusnak and President of the Ukrainian World Congress (UWC) Eugene Czolij on Friday, September 1, discussed issues of bilateral cooperation and criteria for Ukraine's membership in NATO, the Ukrainian Defense Ministry's press service said. Ukraine's Deputy Defense Minister Ivan Rusnak and President of the Ukrainian World Congress (UWC) Eugene Czolij on Friday, September 1, discussed issues of bilateral cooperation and criteria for Ukraine's membership in NATO, the Ukrainian Defense Ministry's press service said. "The two discussed many topical issues of bilateral cooperation, in particular, Ukraine's achievement of criteria necessary for NATO membership, the language training for Ukrainian servicemen and teachers," the report said. Czolij said UWC supports Ukraine in counteracting the Russian aggression. "The World Congress of Ukrainians will continue to make every effort to ensure that the international community knows what is really happening in Ukraine. This is an important factor in our common struggle against the hybrid warfare that has been taking place on Ukrainian territory for more than three years," he said.Ukraine's Deputy Defense Minister Ivan Rusnak and President of the Ukrainian World Congress (UWC) Eugene Czolij on Friday, September 1, discussed issues of bilateral cooperation and criteria for Ukraine's membership in NATO, the Ukrainian Defense Ministry's press service said. "The two discussed many topical issues of bilateral cooperation, in particular, Ukraine's achievement of criteria necessary for NATO membership, the language training for Ukrainian servicemen and teachers," the report said. Czolij said UWC supports Ukraine in counteracting the Russian aggression. "The World Congress of Ukrainians will continue to make every effort to ensure that the international community knows what is really happening in Ukraine. This is an important factor in our common struggle against the hybrid warfare that has been taking place on Ukrainian territory for more than three years," he said.
The UK is ready to consider Ukrainian offers on Armed Forces support – The UK is ready to consider Ukrainian offers on Armed Forces support – 112.international
The UK is ready to consider Ukrainian offers on Armed Forces support. The attitude of the British side towards granting aid to the Armed Forces of Ukraine is pliable. The Minister of State for Armed Forces of the UK Mark Lancaster noted at the meeting with the Ukrainian Defense Minister Stepan Poltorak on August 31 as the press service of the Defense Ministry of Ukraine reported. 'We are ready to consider the offers of the Ukrainian sides towards other spheres of aid granting', he said. Also, Lancaster noted that the participation of the UK militaries in the parade dedicated to the Independence Day of Ukraine is one more signal of the support and it showed the commitment of the UK to the efforts on the support of the European security to the word. The UK Minister of State for Armed Forces thanked Poltorak for the possibility to meet British and Ukrainian militaries that train together within Orbital program. The Minister of State for Armed Forces of the United Kingdom Mark Lancaster arrived in Ukraine on August 31 to meet the Ukrainian and British militaries within the Orbital military operation. Three thousands of the militaries of the Armed Forces of Ukraine are prepared within the Orbital military operation. 80 British instructors train in Ukraine since 2015.
Ukrainian Soldier Who Survived Ilovaisk Battle Gets Ready for Invictus Games – YouTube
Ukroboronprom showcases new developments for hybrid war (Infographics)
Ukraine's state-run Ukroboronprom Concern, which incorporates major enterprises of the country's military and industrial complex, has created dozens of newest weapons in the past three years, which are a worthy response of Ukraine to the challenges of hybrid warfare. "While the An-132D transport aircraft proved the full independence of the Ukrainian aircraft building industry from Russian suppliers, the Phantom unmanned mini-armored personnel carrier became a clear demonstration of promising developments by the Ukrainian defense complex," the Ukroboronprom's press service said. Combat modules for armored vehicles, rockets, artillery systems, including multiple rocket launchers, drones and radar systems were developed over the period under review. From July 2014 to July 2017, the Ukrainian army was strengthened by 5,281 units of new and retrofitted equipment, 7,164 units were repaired and reassembled. Some 3,448 pieces of spare parts, components and units were handed over to the armed forces.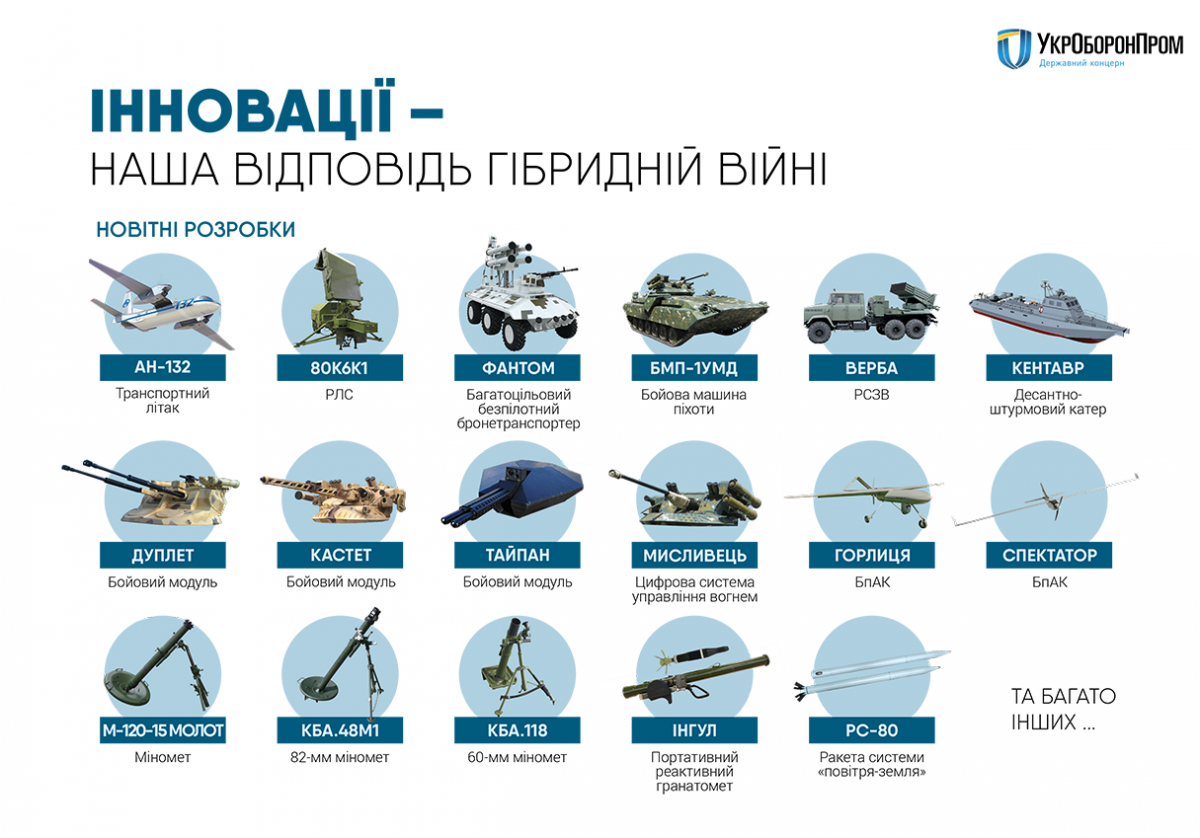 Poroshenko: War not obstacle to reforms – News about politics | UNIAN
Ukrainian President Petro Poroshenko is convinced the war is not an obstacle to the implementation of reforms, according to an UNIAN correspondent. Latest UNIAN news from 01 September.
Ukraine introduces 3-stage border crossing procedure for citizens of countries that pose threat – Ukraine introduces 3-stage border crossing procedure for citizens of countries that pose threat – 112.international
At the moment the Ukrainian government is making up the list of these countries. President of Ukraine Petro Poroshenko says that starting January 1, 2018 new rules of border crossing are to be introduced for citizens of the countries that pose risk to Ukraine, according to the official website of the president. "In the next few hours the decision of the National Security and Defense Council of Ukraine is to be published, which provides that starting January 1, 2018 the citizens of countries that pose risks to Ukraine are to cross the border with biometric passports. Those who don't own such a passport will have to provide their biometric data at the border," he said.
Ukraine Expels Russian State TV Journalist Despite OSCE Condemnation
Ukrainian authorities say they have expelled a Russian state TV journalist, despite condemnation from Russia and a pan-European security organization.  In a Facebook post late on August 30…
Ukraine expels Russian state TV journalist — The Calvert Journal
Why was Russian journalist Anna Kurbatova deported from the Ukraine?
Lithuania voiced "Marshall Plan" for Ukraine in Europe an US, and idea was supported, – Seimas Speaker Pranckietis
31.08.17 17:19 – Lithuania voiced Marshall Plan for Ukraine in Europe an US, and idea was supported, – Seimas Speaker Pranckietis … View news.
In Ukraine, it's time for a Holocaust memorial at Babi Yar | TheHill
OPINION | The memorial center of the Babi Yar Holocaust will become a symbol of hope and reconciliation in Ukraine.I have heard that there's a saying in America that there's no limit on what you can achieve if you don't worry about who gets the credit. That's the cooperative spirit that will lead to the success of one of the most important initiatives in Ukraine today: the construction of the Holocaust Memorial Center as the site of the Babi Yar massacre. Regarding Babi Yar itself, there is no more poignant location in all Ukraine. Located within in Ukraine's capital, Kiev, Babi Yar is a ravine, where starting in September 1941, invading Nazi forces massacred up to 150,000 people. ADVERTISEMENT Jews were a particular target but not the only target, with the SS Einsatzgruppen slaughtering over 33,000 Jewish men, women and children over just two days, September 29-30. Further massacres took the lives of tens of thousands of Jews, Romani (Gypsies), Ukrainians and members of others nationalities. As the 80th anniversary of the atrocity in 2021 approaches, there is a broad and growing consensus, in Ukraine and abroad, that a fitting memorial is needed. For years, all manner of politicians and government officials have come to Babi Yar to lay flowers, to speak in front of cameras — and then leave until next year. It seemed no one cared much for the condition of the site, which didn't even have basic visitor amenities or lighting. That began to change in last few years, when Kiev's mayor Vitaliy Klitchko ordered necessary improvements to set up a park zone, reconstruct reserve areas and so forth. The Holocaust Memorial Center Babi Yar Foundation, of which I am honored to be a supporter, plans to open a memorial complex by the 2021 anniversary. The foundation's international supervisory board includes the chief rabbi of Kiev and Ukraine Yakov Dov Bleich, musician Svyatoslav Vakarchuk, former President of Poland Aleksander Kwaśniewski, the famous boxer Vladimir Klitchko (Mayor Klitchko's brother), ex-Vice-Chancellor of Germany Joschka Fischer, shareholders of Alfa Group Mikhail Fridman and German Khan, and other well-known patrons.
The Daily Vertical: Tales Of The Disappeared (Transcript)
They were law-abiding Ukrainian citizens. They opposed Russia's illegal annexation and occupation of Crimea. They were somebody's husband, somebody's father, somebody's brother, and somebody's son. And they've been disappeared. WATCH Today's Daily Vertical According to human rights groups, at least eight and as many as 17 residents of Crimea have vanished since the Russian annexation. Some rights activists say the true number is even higher. And at least six of the disappeared were later found dead. They include people like Reshat Ametov, a Tatar activist who was abducted in the center of Simferopol. His body was later found with signs of torture. They include people like Edem Asanov, another Tatar activist who disappeared in September 2014 on his way to work. His body was found hanged in a deserted building. And they include people like Vasily Chernysh, a Ukrainian activist with the AutoMaidan movement and former employee of the Ukrainian Security Service in Sevastopol. He has not been seen or heard from since police came to his apartment, detained him, and took him to an unknown location. When Russia annexed Crimea, Vladimir Putin's regime claimed it was fulfilling the wishes of the peninsula's people. And those who challenged this narrative are being systematically silenced one way or another. Some, like the acclaimed Ukrainian film director Oleh Sentsov and numerous Tatar activists were prosecuted in show trials. And others have been simply disappeared.
---
Russia / Iran / Syria / Iraq / OEF Reports
---
IAEA says Iran is complying with nuclear accord – The Washington Post
Agency's report comes as the Trump administration expresses dissatisfaction with the accord.
France says powers must impose transition on Syrians, no role for Assad
France's foreign minister said on Friday he wanted major powers to agree on a transition calendar that would be imposed on Syrians, but ruled out any role for President Bashar al-Assad, who he said had "murdered" part of his population.
Islamic State Convoy Remains Stuck in Syria – The New York Times
A convoy of 308 Islamic State militants has nowhere to go, with angry ISIS comrades in front of them, a broken Syrian deal behind and U.S. bombers overhead.
Mattis begins sending additional troops to Afghanistan – The Washington Post
The Pentagon has begun sending additional troops to Afghanistan to carry out President Donald Trump's new war strategy, which will stick to his predecessor's approach of supporting the Afghans' fight against the Taliban rather than doing the fighting for them, Defense Secretary Jim Mattis said Thursday.
U.S. Withholds Aid From Pakistan Over Alleged Militant Safe Harbors
The United States is withholding a $255 million military aid payment from Pakistan until it cracks down on what President Donald Trump has called "safe havens" for anti-Afghanistan militan…
Adding fuel to the fire – The Express Tribune
To temper Pakist­an, Tiller­son has since acknow­ledged that resolv­ing the Kashmi­r issue could bring peace in Afghan­istan
Boats Carrying Rohingya Fleeing Myanmar Sink, Killing 26 – The New York Times
The victims were trying to escape renewed violence in western Myanmar, where the predominantly Muslim group faces oppression.
Top Indian court to hear Rohingya deportation case amid Myanmar violence
India's top court has agreed to hear a plea challenging a government decision to deport all of an estimated 40,000 Rohingya Muslims living in the country after fleeing persecution in Myanmar, a lawyer involved in the case said on Friday.
---
DPRK / PRC / WESTPAC Reports
---
Putin Says Threat Of 'Large-Scale Conflict' Looms Over Korean Peninsula
Russian President Vladimir Putin says that the standoff over North Korea's nuclear and missile programs is "on the verge of a large-scale conflict."  In an article published o…
Putin warns North Korea situation on verge of 'large-scale conflict'
Russian President Vladimir Putin warned on Friday that the tense standoff between North Korea and the United States was on the verge of large-scale conflict and said it was a mistake to try to pressure Pyongyang over its nuclear missile program.
Putin says puting pressure on North Korea is a 'dead-end road' – CNN
Russian President Vladimir Putin has weighed into the North Korea crisis, warning the US and others against going down a "dead-end road" and calling for talks to resolve the issue.
Russia's foreign minister warns Tillerson: New North Korea sanctions could be 'dangerous' – POLITICO
North Korea has ramped up its aggression in recent months.
Michael Elleman | North Korea's Hwasong-12 Launch: A Disturbing Development | 38 North: Informed Analysis of North Korea
While North Korea's missile test on August 28, reportedly of the intermediate range Hwasong-12 (KN-17), broke up into three pieces during flight only flying 2,700 kilometers—far short of its 4,000 kilometer range—the launch was a disturbing development in Pyongyang's continuing program to develop long-range missiles.
Bennett Ramberg | North Korea's Other Nuclear Threat | Foreign Affairs
As the world grapples with the nuclear threat emanating from North Korea, it is not only bombs that should concern us. It is also the dozens of nuclear power plants in Japan and South Korea that are vulnerable to attack should war break out in the region.
Jonah Goldberg | North Korean Nuclear Threat: A Problem with No Good Solution | National Review
The North Korean nuclear problem has no good solutions, but some potential courses of action are wiser than others …
Jackson Diehl | Why aren't we talking about regime change in North Korea? – The Washington Post
The U.S. can't force a political opening in North Korea. But it can foster conditions for one.
What North Korea's Missile Tests Look Like to a South Korean Reporter – The New York Times
A conversation with Choe Sang-Hun, the New York Times's Seoul correspondent, about where the standoff might be headed.
North Korea sentences South Korean reporters to death over review of book about country
A North Korean court sentenced two South Korean journalists and their publishers to death for "seriously insulting the dignity" of the country by reviewing and interviewing the British authors of a book about life in the North, its state media said on Thursday.
Exclusive: Pyongyang university to start fall classes without American staff after travel ban – NY Daily News
By Ju-min Park and Jack Kim SEOUL (Reuters) – Pyongyang University of Science and Technology (PUST), North Korea's only western-funded university, will start the fall semester without its dozens of American staff after failing to secure exemptions to a U.S. travel ban that starts on Friday.
China-India friction goes way beyond borders | Fox Business
A tense border standoff between China and India has magnified friction over trade and security between the two nations days before their leaders meet face to face.
New Chinese textbook lays claim to Senkakus, dates start of war with Japan at 1931 | The Japan Times
China started a new school year on Friday with a new textbook for elementary and junior high school students that describes the Senkaku Islands, under Okin
China Debuts Textbooks Giving Children 'Strong Sense' Beijing Controls South China Sea – Breitbart
China will soon debut a new series of textbooks that would give children "a strong sense" of China's claims in the South China Sea.
As reality of Trump risk sinks in, Tokyo tries to keep ties tight
Six months after Japan's premier bonded with Donald Trump on a golf course amid hopes he'd be a pragmatic partner, a consensus is emerging that Tokyo must reduce risks from the unpredictable president by forging ties with his more mainstream advisers.
---
Foreign Policy Reports
---
Will Angela Merkel triumph over Martin Schulz in German election TV debate? | News | DW | 31.08.2017
It's less than a month until Germany decides whether to give Angela Merkel one more term or to put Martin Schulz in the Chancellery. DW looks at the latest polling figures.
German Social Democrats say election race still open despite weak polls
Germany's Social Democrats (SPD) on Thursday insisted they were still in with a chance of ousting Chancellor Angela Merkel in a Sept. 24 election after media reports said a senior party member seemed to have given up hope.
Brexit: UK 'must not allow itself to be blackmailed' – BBC News
Businesses are impatient at the slow progress of Brexit talks, the international trade secretary adds.
Hungary should recognize solidarity is two-way-street: German government spokesman
Hungary's request for a contribution towards the cost of its border fence to keep out migrants was a welcome demonstration of commitment to European solidarity, but solidarity had to be reciprocal, a German government spokesman said on Friday.
Why Turkey's president cares so much about an 11th-century battle – The Washington Post
Erdogan anchors Turkish "blood and soil" nationalism in a medieval battle against the Byzantines. This past week, President Recep Tayyip Erdogan appeared at two different ceremonies honoring historic Turkish victories. On Wednesday, he commemorated Turkey's "Victory Day," the annual holiday that marks the triumph of Turkish forces over a Greek army at the Battle of Dumlupinar in 1922. The battle is seen as a cornerstone in Turkey's emergence as an independent nation out of the ashes of World War I and is closely associated with the revered founder of the Turkish republic, Mustafa Kemal Ataturk. Erdogan, however, preceded his nod to Ataturk with a very different commemoration. On Aug. 26, he journeyed east to the district of Malazgirt, near the Armenian border, where he celebrated the 946th anniversary of the Battle of Manzikert, complete with nomadic yurts and actors dressed in medieval chain mail. It was the first time such an official ceremony had taken place, and it was steeped in political symbolism. In 1071, an army of Seljuk Turks defeated the forces of the Byzantine Empire at Manzikert, striking a decisive blow that paved the way for Muslim settlement of Anatolia and the eventual blossoming of the Ottoman Empire. For Turkish nationalists, the battle offers a kind of mythic starting point for the Turkish nation, and Erdogan seemed eager to claim both the Seljuks' ethnic and religious legacies for his own. "We are proud of our ancestors who walked with glory, honor and victory into the center of Europe after entering Anatolia from Malazgirt, with the red flag in one hand and the green sanjak in the other," Erdogan said on Saturday, referring to the Turkish flag and the standard of Islam. He summoned the spirit of the Seljuk warlord Alp Arslan, who legend says stood before the ranks of Seljuk warriors on the battlefield.
---
Strategy / History / Capability Publications
---
Where U.S. troops are stationed around the world – Axios
Japan, Germany
and South Korea host the most U.S. troops
Killer robots are coming, and the US isn't the only buyer [Commentary]
Jon Wolfsthal lays out how the Trump administration should handle the growth of AI for military applications.
Former Air Force CIO: Service must 'radically transform' in information age
In a new paper, recently retired Air Force CIO Lt. Gen. William Bender offers his thoughts for how the service will fight and win against adversaries in 21st century warfare.
SLEP For Flankers? – Malaysian Defence
SHAH ALAM: It appears that RMAF is working on a service life extension program (SLEP) for its fleet of Sukhoi Su-30MKM Flanker fighters. The development of the SLEP is being done as part of the 10-year servicing program (10YSP) for Flankers. The development of the SLEP was made public by the service during the hand-over ceremony for Flanker tail number M52-11 for 10YSP at Gong Kedak airbase on July 14. Both programs are being conducted by ATSC Sdn Bhd.
Russia's Alfa Class Submarine Could Out Run and Out Dive Anything (But Had a Fatal Flaw) | The National Interest Blog
It was really noisy
Vasiliy Fofanov's Modern Russian Armour Page
---
IW/IO/Cyber Reports
---
Russia-Linked Bots Hone Online Attack Plans for 2018 U.S. Vote – Bloomberg
After violent protests rocked Charlottesville, Virginia last month, Republican Senator John McCain took to Twitter to condemn hatred and bigotry and urge President Donald Trump to speak out more forcefully.
Democracies should prepare for the long fight against Russian disinformation warfare: study -Euromaidan Press |
The Danish Institute for International Studies (DIIS) has published the report Russian Hybrid Warfare – A Study Of Disinformation by Flemming Splidsboel Hansen, a senior researcher and Research Coordinator at DIIS. The study focuses on Russian information technology, its use and the possible defenses against it. Its author eyes the Russian hybrid warfare strategy, discloses how state media outlets have become yet another type of weapon in Russia, and outlines prospects for combating disinformation. Euromaidan Press offers you the key points of the report. Highlights in the text are ours.
Sweden, Denmark team to counter Russian cyber [Ed: fake news] threat
The defense ministers of Sweden and Denmark say they would boost their military cooperation to counter the threat of Russian military buildup, cyberattacks and false news.
Europe's Patchwork Approach to Cyber Defense Needs a Complete Overhaul – To Inform is to Influence
Europe's approach to cyber defense is a mix of good intentions, guidelines, and an alphabet soup of organizational acronyms. If the EU wants to be taken seriously, its cyber defense efforts need an overhaul. August 30, 2017 Annegret Bendiek is a senior associate at the German Institute for International and Security Affairs (SWP).  The European Union's…
How the West can defeat the Kremlin's lies – To Inform is to Influence
The solution?  Reader education.  It's a wee bit more than that, but reader education should be the basis of moving ahead. Society ignores reality as a whole, we must change that. Most of our domestic upheavals are caused by trolls exploiting that ignorance. </end editorial> david aaronovitch For all the propaganda thrown at us on…
---
US Domestic Policy Reports
---
Tillerson moves toward accepting funding for fighting Russian propaganda – POLITICO
The secretary of state came under pressure from Congress, which appropriated $80 million for countering messages from Islamist extremists — and Russia.
Moscow Diplomats Said Behind Formation of Militarized Russian and Cossack Groups in US – To Inform is to Influence
In what is probably the most egregious fake news in a long time, Russia appears to be spread "bullcrap" around to stir up the conspiracy theorists, make people chase their tails, and generally be troublesome.  From the article referenced by Paul Goble,  Why do the Kremlin have paramilitary detachments in the US, or what does…
New Russian Ambassador to U.S. Blames Obama Legacy For Poor Ties With Trump
The newly appointed ambassador spoke before the current U.S. government announced further sanctions on Russian diplomats.
America's Tit-for-Tat With Russia Is Adding Up – The Atlantic
The U.S. closure of a consulate is the next salvo in a volley of diplomatic punishments.
The Latest: US orders Russia to close SF consulate – The Washington Post
The Latest on the U.S. decision to close Russia's San Francisco consulate and scale back its diplomatic presence in two other locations (all times local):
Trump administration orders three Russian diplomatic facilities in U.S. closed – The Washington Post
The move is retaliation for Russia's expulsion of American diplomats last month.
U.S. orders Russia to close more diplomatic offices in escalating dispute – LA Times
The U.S. orders Russia to close diplomatic offices after Russia forced Americans to slash staff in Russia
Achieving Parity in Diplomatic Missions
The United States has fully implemented the decision by the Government of the Russian Federation to reduce the size of our mission in Russia. We believe this action was unwarranted and detrimental to the overall relationship between our countries. In the spirit of parity invoked by the Russians, we are requiring the Russian Government to close its Consulate General in San Francisco, a chancery annex in Washington, D.C., and a consular annex in New York City. These closures will need to be accomplished by September 2. With this action both countries will remain with three consulates each. While there will continue to be a disparity in the number of diplomatic and consular annexes, we have chosen to allow the Russian Government to maintain some of its annexes in an effort to arrest the downward spiral in our relationship. The United States hopes that, having moved toward the Russian Federation's desire for parity, we can avoid further retaliatory actions by both sides and move forward to achieve the stated goal of both of our presidents: improved relations between our two countries and increased cooperation on areas of mutual concern. The United States is prepared to take further action as necessary and as warranted.
US Department of State: Senior Administration Official on Russia – To Inform is to Influence
Special Briefing Senior Administration Official Via Teleconference August 31, 2017 MODERATOR: Thank you, everyone, for joining us today for this background call on Russia. On the phone with us from the State Department we have [Senior Administration Official]. [Senior Administration Official] will be identified as the Senior Administration Official. This call is on background and is…
Pentagon chief Mattis disputes suggestions that he and Trump do not see eye-to-eye – The Washington Post
'If I say six and the president says half a dozen, they're going to say I disagreed with him.'
Dems want Rohrabacher pulled from leadership of panel overseeing Russia | TheHill
House Democrats' campaign arm on Thursday called for Rep. Dana Rohrabacher (R-Calif.) to be removed as chairman of a House Foreign Affairs subcommittee overseeing Russia over his ties to the country. The Democratic Congressional Campaign Committee (DCCC) is targeting Rohrabacher, who is one of 23 Republicans representing a district won by Hillary Clinton in 2016 and has come under scrutiny for his sympathetic stances toward Russia. CNN reported on Wednesday that the Senate Intelligence Committee is considering whether to ask Rohrabacher about his meeting earlier this month with WikiLeaks founder Julian Assange in London. ADVERTISEMENT Rohrabacher has said he plans to brief President Trump on his discussion with Assange, who told the lawmaker that leaked Democratic Party documents published by WikiLeaks during last year's campaign didn't come from Russia, contrary to conclusions drawn by multiple U.S. intelligence agencies. In light of CNN's report, the DCCC called on House Foreign Affairs Committee Chairman Ed Royce (Calif.), another Republican representing a Clinton district, to dismiss Rohrabacher as chairman of the subcommittee on Europe, Eurasia and Emerging Threats. "Embattled Congressman Dana Rohrabacher, now apparently a person of interest to the Senate Intelligence Committee's Russia investigation, has no business chairing the Foreign Affairs Subcommittee that oversees Russia," DCCC spokesman Tyler Law said in a statement. "Chairman Royce must put aside his party loyalty and strip Rohrabacher of this important chairmanship immediately." Rohrabacher spokesman Ken Grubbs dismissed the suggestion, writing that the DCCC is "obviously embarrassed by the [Democratic National Committee's] antics last year, does not know how to think strategically about foreign affairs and has descended to the guilt-by-association tactics reminiscent of America's Red Scares. It compounds its own embarrassment." Rohrabacher's ties to Russia over the years have drawn more attention amid the federal investigations of how the Russian government tried to influence the U.S. elections last year. In 2012, Rohrabacher was warned by the FBI that Russian spies were trying to recruit him as an "agent of influence." House Majority Leader Kevin McCarthy (R-Calif.) privately joked to colleagues last year that he thinks "Putin pays" Rohrabacher, along with Trump, according to a recording obtained by The Washington Post in May. Rohrabacher has served in the House since 1989, but has already drawn multiple Republican and Democratic challengers ahead of the 2018 midterm elections.
Manafort's notes from the Trump Tower Russia meeting reportedly mention 'donations' and the RNC | Business Insider
Congressional investigators examining…
OPINION | Dershowitz: I'm not wrong about Mueller and Russia | TheHill
OPINION | Brent Budowsky took my words out of context in a recent column in The Hill.Brent Budowsky criticizes me for allegedly saying that special counsel Robert Mueller's investigation "endangers democracy." He quotes a story from The Hill that puts the words "endangers democracy" in quotation marks following the unquoted words, "special counsel Robert Mueller's investigation into possible collusion between the Trump campaign and Russia." But if he had gone back to the original source, he would have seen that The Hill quoted the words "endangers democracy" completely out of context. I used these words not to describe Mueller's investigation, but rather, in reference to the criminalization of political differences. ADVERTISEMENT Here is what I said: "The idea of trying to create crimes just because we disagree with [Trump] politically, and target him, really endangers democracy. It reminds me of what Lavrentiy Beria, the head of the KGB, said to Stalin. He said, 'show me the man and I'll find you the crime…'" My point is that we should not stretch existing criminal laws to fit political opponents with whose actions we disagree. I have written a new book, "Trumped Up: How Criminalization of Political Differences Endangers Democracy," elaborating this point. Columnists should base their criticism on what I actually say instead of relying on hyperbolic headlines or secondary mischaracterizations. I have been consistent in criticizing the expansion of the criminal law to target political opponents for several decades, without regard to whether the target was a Republican or Democrat. I have also favored a thorough investigation of Russian interference in our presidential election. However, I prefer that it be conducted by a nonpartisan commission appointed by Congress — similar to the 9/11 commission — that would take evidence in public rather than behind closed doors. I have opined repeatedly that a special counsel investigation — where both sides are not represented and where one-sided evidence is produced in secrecy — is the wrong way to approach a problem like that of Russia's attempt to influence U.S. elections. In his piece, Mr. Budowsky writes, "It is hard to find words that I disagree with more strongly and unequivocally than those of Dershowitz quoted above." But the words he so strongly disagrees with are not my words. It is fair game to question my position on its merits. But Mr. Budowsky would do better next time to base his criticism on my actual words and their context. I hope The Hill will also correct its original story which placed my quoted words in an erroneous context.
People are outraged over a Charlie Hebdo cover characterising Hurricane Harvey victims as neo-Nazis | Business Insider
A French satirical magazine famous for its…
Erdoğan slams US, calls indictment of Turkish guards a scandal – Daily Sabah
President Recep Tayyip Erdoğan blasted the U.S. justice system on Friday, saying it was a scandal that his security guards are facing indictments in…
Spicer thanks Trump for 'honor of a lifetime' in White House exit | TheHill
"It has been the honor of a lifetime to serve the President and the American people as the White House press secretary," Spicer tells former colleagues.