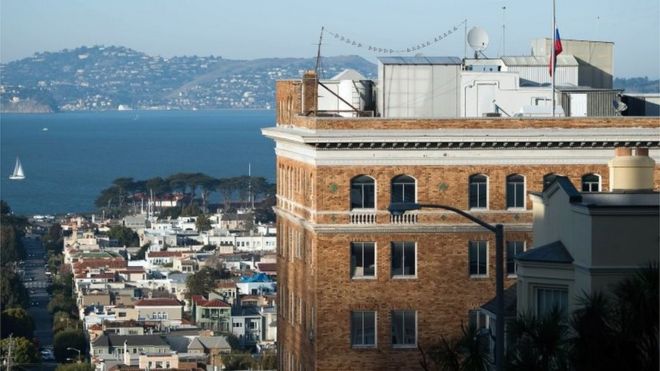 A Consulate General in San Francisco, a chancery annex in Washington, D.C., and a consular annex in New York City are being closed as of tomorrow. 
This leaves 3 consulates for each country, this limited measure achieves parity in the number of consulates for each country. 
Russia should not complain, all this does is put both the US and Russia on equal footing. There is no overreaction and no inequities. 
What should be interesting is Russia's response.  Newly-appointed Russian Ambassador to the United States Anatoly Antonov arrived in Washington DC this morning. 
Talk about a tough first day on the job. 
Russian Foreign Minister Sergei Lavrov does not see this as parity, instead calling it an escalation. 
The secretary of state Rex Tillerson spoke to his Russian counterpart, Sergei Lavrov, in a phone call on Thursday. Lavrov said Moscow "regrets an escalation of tension not initiated by Russia", according to the state-run RT news channel. A senior US administration official said the call was "professional" and that Lavrov "agreed to the sentiment that it was important to find a way to improve our relations". – US orders Russia to close consulate and annexes in diplomatic reprisal
Russian President Putin, through his spokesman, Peskov, says,
"We regret the unconstructive stance taken by our counterparts in the United States and, of course, we cannot afford to leave unfriendly, and sometimes hostile steps towards us without retaliation," Kremlin spokesman Dmitry Peskov said Thursday, according to state-run media. – Putin promises retaliation in growing diplomatic feud with US
It seems Russia does not understand the concept of equality, it's all about flat out winning, it seems.
This latest move deeply hurts Russia deeply as they desperately need to build trade to help their economy. 
</end editorial>
---
---
Achieving Parity in Diplomatic Missions
Press Statement
Heather Nauert
Department Spokesperson
Washington, DC

August 31, 2017
---
The United States has fully implemented the decision by the Government of the Russian Federation to reduce the size of our mission in Russia. We believe this action was unwarranted and detrimental to the overall relationship between our countries.
In the spirit of parity invoked by the Russians, we are requiring the Russian Government to close its Consulate General in San Francisco, a chancery annex in Washington, D.C., and a consular annex in New York City. These closures will need to be accomplished by September 2.
With this action both countries will remain with three consulates each. While there will continue to be a disparity in the number of diplomatic and consular annexes, we have chosen to allow the Russian Government to maintain some of its annexes in an effort to arrest the downward spiral in our relationship.
The United States hopes that, having moved toward the Russian Federation's desire for parity, we can avoid further retaliatory actions by both sides and move forward to achieve the stated goal of both of our presidents: improved relations between our two countries and increased cooperation on areas of mutual concern. The United States is prepared to take further action as necessary and as warranted.
Source: https://www.state.gov/r/pa/prs/ps/2017/08/273738.htm