Anonymous expert compilation, analysis, and reporting.
</end editorial>
---
---
Amb Volker interviewed by FT (and many other MSM citing it). Stoltenberg criticises the "EU Army" with good argument. Vedomosti point out how ethnic Russians in Estonia mostly do not support Russian agendas. Superb essay by Eslas hitting the peculiarities of the Hobbesian (more like Boschian) mindset of the Russian leadership – a society mostly obsessed with zero-sum games. Snegovaya in the Moscow Times points out the abject failure of Russian propaganda in the West, and the blowback it has produced. Whitmore on Moscow's fellow travellers in the EU defending the ghastly Molotov-Ribbentrop Pact between Hitler and Stalin. Russian MoD puts Southern Military District on alert, and shoots down a SHADDOCK supersonic ASCM over the Black Sea. Orban's relationship with Putin explored. Other reports on Russia's descent.
In Belarus, opposition leader Statkevich held in detention, likely to prevent protests over Zapad-2017. A Ukrainian teenager is lured into Belarus by a "Virtual Swallow" on social media and kidnapped by the Russian FSB to provide yet another Ukrainian hostage to torment – the Russian government genuinely believes it owns Ukraine and all Ukrainians.
In Ukraine, Amb Volker's interviews with Kyiv TV and FT producing much debate. Interesting OpEd by Portnikov on Russian behaviour. Amb Steven Pifer interviewed by 112 TV in Kyiv. A hilarious OpEd by "Anti-Colorado[-Beetle]" on Russian attitudes to Ukraine. Donbass ceasefire that never was does not continue.  A comical photo-essay on the various, often very funny, things done to Lenin statues in Ukraine. UATV on reports of torture in Crimea.India withdraws from
India withdraws from disputed area in Himalayas, Beijing media claim victory for China. China building fifth Zubr-class LCAC, Yanukovich govt in Ukraine sold a batch and production licence rights to China, the plant is now run by the Russians as it located in Crimea.FA provide
FA provide nice summary of the Russian play with Nordstream 2. Polls suggest Merkel will win a landslide in election, while Germany's IC comment on Russian meddling.Excellent OpEd by LtGen Deptula and Peter Huessy of AFA on
Excellent OpEd by LtGen Deptula and Peter Huessy of AFA on recapitalising the nuclear deterrent.
Four interesting reports on cyber and social media.
US domestic debate continues to be toxic.
---
Russia / Russophone Reports
---
Ukraine crisis will 'cripple' Russia-US relations, envoy warns | FT.com
Kurt Volker also confirms Washington is 'seriously considering' arming Kiev
Stoltenberg says Europe dependent on NATO – Stoltenberg says Europe dependent on NATO – 112.international
The Alliance is the only guarantor of collective security on the continent. NATO Secretary General Jens Stoltenberg believes that Europe will not be able to compete with NATO in case it creates its defense alliance. He stated this in an interview with the Polish Rzeczpospolita agency. According to him, Europe's belief that it can cope without NATO is mistaken because the countries that spent on defense more than anyone upon Brexit will cease to be members of the European Union. In addition, the NATO contingent located in Eastern Europe will be managed by countries that are not part of the European Union. "We want more European forces, more modern weapons and equipment, more defense spending, less fragmentation. We should avoid duplication and creation of European command or European army, and rhetoric that Europe will cope without NATO," Stoltenberg said. He added that the European Union cannot conduct an independent defense policy, which will not be a "NATO adjunct". As it was reported earlier Stoltenberg said NATO will send observers to West-2017 military exercises. The invitation includes visits to maneuvers in specially designated days for guests and has nothing in common with real monitoring.
Russians in Estonia do not want to become the Russian fifth column | Vedomosti [Russian]
The Russian theme may become one of the main issues in the elections to the Estonian parliament. As of early 2017, over 330,000 Russians (more than 25% of the population) live in Estonia. In Narva, the third largest city in the country, more than 90% of the inhabitants are Russian speakers. After 1993, most of them became people "without a certain citizenship", since it was automatically granted only to those who lived on the territory of the country until 1940, and their descendants, and the rest had to take the test for knowledge of the Estonian language and the constitution. But since then the share of non-citizens has steadily declined and now amounts to only 6% (see graph). The main limitation for them concerns participation in political life: they do not have the right to vote in elections to the parliament of the country and the European Parliament, to be elected to municipal councils, and to create parties and to belong to them, but have the right to vote in local elections (the nearest ones will be held in October). Non-citizenship "Despite the reduction in the number of non-citizens, the topic of the rights of the Russian-speaking minority has not lost its relevance, Yana Toom, the deputy of the European Parliament, former deputy mayor of Tallinn and a member of the Estonian parliament:" We have an ethnic democracy and a long constitution, from which we use only one phrase in political rhetoric From the preamble: "The state is obliged to ensure the preservation of the Estonian people, its language and culture for centuries." And everything else that is written there, about equality and democracy, unfortunately, we leave behind the brackets. We have the principle of a state-forming nation in everything, and a third of the population does not like it. " On the eve of the municipal elections, the topic of the Russian language is actively being raised in schools and kindergartens, notes Toom: "At other times, our parties, apart from centrists and partially Social Democrats, with the Russian-speaking electorate do not work and are not mobilized. Now the topic will be raised, but this is cunning: the municipal authorities have no authority to resolve this issue, it's just the only election where everyone, including non-citizens, can give voice to the political force in which he believes. " The split of the society by nationality occurred in 2007 after the transfer of the "bronze soldier" from the center of Tallinn, the deputy believes: "Prior to that, there was a positive neutrality – more or less a separate, but with a plus sign the existence and the medium of communication. And now we have a fashionable political know-how: on the eve of any elections, the Russian question is played out, but even when they are close to consensus, the same record is included again.
Urve Eslas | Pence's visit to Estonia 'an episode of Game of Thrones' – CEPA STRATCOM PROGRAM.
The reaction by pro-Kremlin media to U.S. Vice President Mike Pence's 31 July visit to Estonia was clear: Estonia must stop provoking Russia and trusting the United States because, as with Game of Thrones, every party acts only for its own benefit. Both messages rely on assumptions that may be true in the context of the Hobbesian "war of all against all," but they are not valid in societies that honor laws and agreements. While Pence was in Estonia, Kremlin-linked Baltnews.ee published an article containing five false or questionable narratives. First, Estonia should not put its trust in the United States, the article argued, because the United States sees international relations as depicted in Game of Thrones—a book written by an American author, and a fantasy drama TV series made by Americans—and acts accordingly. For the United States, agreements have no meaning, and every party stands alone, fighting for its own interests only. Second, the article claimed Pence's visit shows there is no real solidarity between the United States and its allies, since real solidarity doesn't require constant reassurances. It said Washington treats Estonia like a "child who needs convincing that daddy will not leave him." That kind of "solidarity" does not and cannot have a future, it said. Third, the article claimed that Estonia does not contribute enough to NATO defense and therefore has good reason to fear being abandoned by the United States. Fourth, it says Estonia has every reason to be concerned, since for many years Estonia has "spit on Russia," provoking Russia with its behavior. The article gave no examples to support this claim. Finally, Estonia—believing Russia to be a threat—suffers from "psychological disorder." Pence's visit, therefore, was nothing more than "collective psychotherapy." Even though all five narratives are either false or misleading, they are worth analyzing because they offer insight to the Kremlin-liked media's worldview. Comparing the visit to a Game of Thrones episode is a prime example. According to this narrative, U.S. allies cannot trust Washington because, as in Game of Thrones—written by an American author—the United States follows an "every man for himself" policy. Estonia should therefore put no trust in the United States. Three aspects of this narrative are particularly worthy of mention. First, seeing Game of Thrones—or any other book or film—as a representative of a country's official policy is too simplistic. We do not measure British foreign politics by Golding's Lord of the Flies or French foreign policy by de Sade's Justine. Second, even more interesting is to look how the narrative on the United States as not trustworthy regarding laws and agreements reflects in Russian juridical discourse and in Russian foreign policy. As Estonian scholar Lauri Mälksoo shows in his book Russian Approaches to International Law, for Russia, the United States and NATO have been systematically violating international law since the end of the Cold War. According to Mälksoo, almost all recent Russian textbooks of international law refer to NATO's 1999 intervention against Yugoslavia (in favor of Kosovar Albanians) and the 2003 U.S. and British-led invasion of Iraq as crimes of aggression. Moreover, the Russians use this narrative of the United States not being trustworthy to justify Moscow's deeds. As Mälksoo's book shows, the Kremlin believes that if NATO can violate international law or make new rules and exceptions for itself, Russia has no choice but to follow its example. Hence, the United States can be forced to take multilateral measures only if Russia first copies the U.S. unilateralist "pattern of behavior." And third, "trust no one" hardly describes a worldview common to Western societies. Rather it is characteristic of partial or non-democratic countries, where the benefits of civil society and social contract may not yet be a part of common understanding. A social contract is a first step in replacing the rule of the strongest with the rule of law. Civil society prevents the rule of law from being turned into the law of the strongest. In political philosophy, this dichotomy between the rule of law and the rule of power is illustrated by the dichotomy between John Locke's idea of a social contract between citizens and governments—one based on commonly acceptable law or an agreement made by political equals, such as the North Atlantic Treaty—and Thomas Hobbes' "war of all against all," or agreements made by more powerful parties over all others (for example, the Molotov-Ribbentrop Pact). As noted above, these five false narratives may not be useful in analyzing the actual state of U.S. relations with its allies. But they do offer a glimpse into the Kremlin's worldview. Unlike Western societies and their social contracts, laws and agreements that are kept for benefit of every party, the pro-Kremlin media represent a Hobbesian world of "state of nature" and "war of all against all" where there is no equality, no trust, no allies, no contracts and no laws. We can counter this by keeping the trust, allies, contracts and laws that define the actors of liberal democracy. "The best way of avenging thyself is not to become like the wrong doer," wrote Marcus Aurelius in Book Six of Meditations. This not only defines Western values but defends them as well.
Maria Snegovaya | Kremlin Is Losing the Information War (Op-Ed) | Moscow Times
Why is the Russian information campaign in the West so unsuccessful, despite lavish government funding? Because Moscow has not managed to equip its effort with any new form or content. Its disinformation campaign concerning Ukraine is based on distorting information that is freely available to the "enemy," denying obvious facts, disseminating false or unverified information and generally following the principles of a Soviet-era military disinformation campaign. According to journalist Luke Harding, "In fact, the 'little green men' — undercover Russian soldiers who seized Crimea — come straight from the KGB playbook. Putin's actions in Ukraine follow a classic KGB doctrine known as 'active measures.' The phrase encompasses disinformation, propaganda, political repression and subversion. The goal, then as now, is to weaken the West, create divisions between NATO member states, and to undermine the U.S. in the eyes of the world, especially the developing world." Russia's information campaign lacks an original world vision or message that would make it attractive to a Western audience. The strategy of relying on the losers of globalization, the most marginalized and disaffected citizens of Europe, has so far failed to produce much success. Russia is acting from a position of weakness in constantly claiming that Washington is fomenting an Orange Revolution in Ukraine so that pro-U.S. forces can seize Kiev, or that it is trying to "provoke Russia into attacking China and hopes to split up Russia into pieces." Such an informational picture of the world reflects Moscow's exclusively negative agenda and presents Russia to the West as a weak but embittered and aggressive country lacking any positive projects and incapable of offering anything constructive to surrounding countries. Is it any wonder that such "soft power" is unattractive to the rest of the world? Maria Snegovaya is a Ph.D. student in political science at Columbia University and a columnist at Vedomosti.
UAWire – Three Russian military transport planes spotted on Latvian border
The Latvian Armed Forces said in a tweet that they had identified three Russian military transport planes close to the country's maritime border. …
The Daily Vertical: The Ghosts Of August 1939 (Transcript)
It happens every August, almost without fail. As the summer winds down, you can count on the annual controversy about the events and repercussions of August 1939. Every August, the ghost of the Molotov-Ribbentrop Pact — the specter of the Soviet Union's collaboration with Nazi Germany — comes back to haunt Europe. And this year was no exception. To mark the anniversary of the pact on August 23 — which the European Commission has proclaimed a Day Of Remembrance For The Victims Of Totalitarian And Authoritarian Regimes — Estonia, which currently holds the EU Presidency, held an informal ministerial conference in Tallinn on The Heritage In 21st Century Europe Of The Crimes Committed By Communist Regimes. Now, one would think that this wouldn't be controversial. Especially given the fact that tens of thousands of Estonians, Latvians, and Lithuanians were deported to the gulag and thousands died under the Soviet occupation. But controversial it was. The European Parliament's United Left-Nordic Green group accused Estonia of politicizing its EU presidency. The Greek justice minister boycotted the event, saying it revives the climate of the Cold War. This all, of course, is music to Moscow's ears as the Kremlin has gone to extraordinary lengths to airbrush the memory of the Hitler-Stalin pact — and airbrush the memory of Soviet repression — from history. Shortly before the conference in Tallinn, the Russian Foreign Ministry accused Poland's foreign minister of historical "forgery" and "insulting remarks" for saying something that is indisputably true: that the Soviet Union and Nazi Germany jointly invaded Poland. It's been nearly eight decades since August 1939. But the ghosts of that fateful month still haunt Europe.
The Su-30SM fighter shot down a cruise missile over the Black Sea
Earlier, on the orders of Valery Gerasimov, Chief of the General Staff of the RF Armed Forces, all aviation and air defense assets of the Southern Military District were brought into full combat readiness. The Su-30SM fighter knocked down a cruise missile over the Black Sea Photo: Alexey Ivanov / TRK "Zvezda" The Su-30SM fighter in the course of exercises at the Black Sea Fleet shot down a cruise missile of the conventional enemy, Captain 1st Rank Vyacheslav Trukhachev, head of the Black Sea Fleet information support department, said. Earlier, on the orders of Valery Gerasimov, Chief of the General Staff of the RF Armed Forces, aviation and air defense assets of the Southern Military District were brought into full combat readiness. In accordance with the legend of the exercises, the coastal missile system of the Black Sea Fleet "Utes" carried out the launch of a cruise missile. This launch was carried out in the interests of the naval strike group of the fleet, explained Trukhachev. ■
The Morning Vertical, August 28, 2017
ON MY MIND Vladimir Putin and Viktor Orban are useful to each other. Putin, who today is making his second visit to Hungary this year, can use Orban to show that he is not completely isolated from Europe. And Orban, who is increasingly isolated inside the European Union, can use Putin to issue an implicit threat to his critics in Berlin, Paris, and Brussels. By meeting Putin so often, Orban is sending a not-so-subtle message that if the EU continues to ostracize him for his rollback of democratic norms in Hungary, he has other options. On today's Power Vertical Briefing (featured below), we look ahead to the Putin-Orban meeting — their eighth overall and their fourth in the past two years. So be sure to have a listen.
Putin To Travel To Hungary For Judo Competition, Talks With Orban
Russian President Vladimir Putin is to visit Hungary on August 28 for a judo competition and talks with Prime Minister Viktor Orban. It is Putin's second trip this year to European Union an…
The Briefing: Judo And Geopolitics
What can we expect from Vladimir Putin's trip to Budapest? Listen to The Power Vertical Briefing.
How to Deal with Authoritarianism Inside NATO
NATO allies are ostensibly bound by a shared belief in "democracy, individual liberty, and the rule of law." But what happens when an ally shuns those principles and takes up the mantle of illiberalism or even authoritarianism? NATO has confronted such questions before — weathering a nationalist Portuguese regime, a Greek junta, and successive Turkish coups. Given the worrying trends in certain allied capitals today — namely Ankara, Budapest, and Warsaw, to varying degrees — NATO leaders would be prudent to consider what lessons can be learned from managing these difficult moments in the organization's history.
Mark Galeotti on the Putin Succession 28 August 2017 – YouTube
Why is there so much discussion now about Putin's successor, even though no one doubts he will stand in the 2018 presidential elections and win? My take
Putin Orders Probe Into Possible Arson In Rostov-On-Don Fire
Russian President Vladimir Putin has ordered a detailed investigation into a massive fire that broke out in the center of Rostov-on-Don on August 21. The Kremlin press service reported on August 2…
Several Reported Detained At Moscow Internet-Freedom Rally
Several people have reportedly been detained in Moscow at a sanctioned demonstration in support of Internet freedom. One demonstrator was detained on August 26 while wearing a T-shirt reading…
Dozens Of Cultural Figures Sign Petition For Russian Director
More than 30 cultural figures from different countries have signed a petition calling on Russian authorities to drop the criminal investigation into prominent theater and film director Kiril…
Russia: 3 killed in retirement home fire in Siberia – The Washington Post
Russian investigators say at least three people have died in a fire at a retirement home in Siberia.
---
Belarus Reports
---
Lukashenka Got Frightened: Mikalai Statkevich Arrested – Charter'97 :: News from Belarus – Belarusian News – Republic of Belarus – Minsk
The authorities are scared of the prevention rally on September 8. The arrest of Belarusian National Congress leader Mikalai Statkevich was reported by his wife Maryna Adamovich. According to her information, he will spend the next 15 days in Akrestsin. "Mikalai was arrested today at about 12 o'clock, not far from home, when he was going to a meeting. He is at Akrestsin already. For 15 days. Autumn is close …" – the politician's wife wrote on Facebook. The politician's detention has probably something to do with the protest rally, which BNC is going to hold on September 8. The politician was sentenced to 15 days of arrest for the march on July 3. He was convicted in absentia on August 9, but was not detained immediately. Maryna Adamovich also told Charter97.org that after Mikalai Statkevich's arrest, she had received a phone call from the Leninski district police department of Minsk and had been informed that the politician had been arrested for 5 days. It is not clear yet, what that is supposed to mean.
Mikalai Statkevich Placed Under Arrest With Expired Term Of Execution – Charter'97 :: News from Belarus – Belarusian News – Republic of Belarus – Minsk
The politician is serving his sentence on the decision of the court, made in May. Mikalai Statkevich, one of the leaders of the Belarusian National Congress, was put in the Center for Isolation of Offenders in the Akrestsin Street, although the term of execution of his sentence has already expired. This was reported on Facebook by politician's wife Maryna Adamovich. She applied to the Center for Isolation of Offenders, where she was informed that Statkevich was serving the sentence following the court decision made in May. It was about the rally on May 1, before which the politician had been preventively detained. Maryna Adamovich notes that according to the legislation the time limit for execution of such punishment is two months – that is, Mikalai Statkevich was to be arrested no later than in July, and now the time has expired. However, he has been placed in an isolation cell. We remind that Mikalai Statkevich, the ex-presidential candidate and one of the leaders of the Belarusian National Congress, was detained on August 26 at about 12.00 when he left the house for a meeting. Maryna Adamovich associates this detention with the protest rally, which the opposition intends to hold in Minsk on September 8.
Campaign Of Solidarity With Mikalai Statkevich Is On – Charter'97 :: News from Belarus – Belarusian News – Republic of Belarus – Minsk
Western politicians must join the demand to release the leader of the people's protests. ublic activist Dzianis Kazakevich started a campaign to inform Western politicians about the situation around one of the leaders of the Belarusian National Congress Mikalai Statkevich. Western politicians responsible for the EU and US position on Belarus should know what happens to the leader of the people's protests, and demand Mikalai Statkevich's release. "Mikalai Statkevich has been arrested in Belarus. The state security police did not even bother to provide the politician's wife with clear information about how many days he would be imprisoned. I urge you to write about this demonstrative mockery to Western politicians on Tweeter: Senator Chris Smith, the author of the act on democracy in Belarus; Joseph Dole, the chairman of the European People's Party; Bogdan Zdroevsky, the head of the delegation of the European Parliament on relations with Belarus. Here are the examples: @RepChrisSmith Opposition politic Mikalai Statkevich was arrested today in #Minsk #Belarus He remains in custody @JosephDaul Opposition politic Mikalai Statkevich was arrested today in #Minsk #Belarus He remains in custody @BZdrojewski Opposition politic Mikalai Statkevich was arrested today in #Minsk #Belarus He remains in custody»
Ukrainian Patriot Lured Out To Homel And Arrested – Charter'97 :: News from Belarus – Belarusian News – Republic of Belarus – Minsk
FSB agents pretended to be a "girl" from Russia and asked the Ukrainian out on a date to Belarus. Igor Grib, the father of the kidnapped Ukrainian patriot, a resident of Kiev, wrote on Facebook: – On August 24, 2017, my son Pavel (19 years old) went to the city of Homel to meet with a girl whom he met and communicated with only in social networks, without personal acquaintance, first in VK, and then via Skype. It was planned that the girl would come to the meeting from the Russian Federation. It was agreed that Paul would return the same day. When the next day he did not return, I went to Homel to search for him. And there I found out that the FSB of the Russian Federation for the Krasnodar Territory, the city of Sochi, wanted Pavel under Art. 205 of the Criminal Code of Russia (terrorist act). In the Homel border authority, I asked the duty officer to tell me where my son was, as accordance to the instructions, if the border guards find a wanted persons at the border crossing point, they detain him or her and transfer to the agency, which initiated the search. They asked me to report them Pavel's personal information and promised to handle the case. And an hour and a half later they told me that the border guards did not have any information about my son, which was a blatant lie! And the border authorities refused to meet with me. Thus it became clear that the FSB lured Pavel to Homel under the guise of meeting with the girl and detained him. Pavel met the revolution of dignity with the hope for changes in the country. After the Russian Federation's military aggression against Ukraine, he reported actively in social networks, often without moderating his language regarding the enemies of the Motherland. Perhaps this was the reason for the provocative actions of the FSB. Thus, this example made it clear that Muscovy will not stop at anything, and will go on any provocation. And this despite the fact that Pavel did not take part in military actions in the East of Ukraine, and he was not allowed to serve in the security forces for health reasons. He has a disability. Paul has to take maintenance drugs on a regular basis. Absence of drugs can lead to fatal consequences. I do not know if the provocateurs from the FSB, who staged this shameful action, are aware of this. I address to everyone! Give this this information to your family and friends who are users of social networks, so they do not repeat Pavel's mistakes. Also, I ask to pray for the liberation of Pavel and his return to Ukraine.
---
Transnistria / Moldova Reports
---
Moldova Marks Independence Day Amid Tensions With Russia
Moldova marked the 26th anniversary of its independence from the Soviet Union on August 27 with celebrations that included a folk-costume parade, speeches by political leaders, wreath-layin…
---
Ukraine Reports
---
Vitaly Portnikov | NATO in Kyiv -Euromaidan Press |
Analysis: Russia respects only strength. When Russia began its "hybrid" war in the Donbas, I had a discussion with a colleague, a well-known Moscow journalist, about the likelihood of a real war — complete with the unconcealed introduction of regular troops, the use of aviation, and an offensive on Kyiv. My colleague, who was very familiar with attitudes in the corridors of the Kremlin, told me that such a war could begin only in one instance — the arrival of NATO troops on Ukrainian soil. This Russia would never allow! I have no doubt that he related the opinions he heard from Russian government representatives with absolute accuracy. But now we see soldiers of NATO countries marching in the parade in Kyiv, we see the US Secretary of Defense and other defense ministers of NATO member states participating in the same parade. And nobody is launching a "real" war. Furthermore, we can see the first signs of a real ceasefire in the long-suffering Donbas. In fact, I never had any doubts. The Kremlin respects only strength and determination. Russia had protested against the expansion of NATO into Eastern Europe, but after the former Warsaw Pact countries joined the alliance, Moscow began to perceive the Soviet Union's former "sphere of influence" as foreign territory that was not worth claiming. After that, Russians began to say that NATO must not cross the "red line" that was drawn along the former Soviet borders. It is clear that Moscow considered the Baltic States, occupied by Stalin in 1940, as part of the USSR. However, after the admission of Latvia, Lithuania, and Estonia to NATO, Russia did not embark on a war. Russia arranged wars against Georgia and Ukraine. Both countries had not received plans for NATO membership. The West began to fear that the Euro-Atlantic integration of the former Soviet republics could lead to destabilization. But it was the lack of Euro-Atlantic integration that has led to destabilization. Everything turned out to be exactly the opposite! Russia attacked Ukraine when the country officially declared its non-aligned status. When the majority of citizens did not support Ukraine's accession to NATO. When the Ukrainian army was not able to oppose Russian troops and when, until the escape of Yanukovych, the intelligence and security services were headed by Russian agents. And if Ukraine had received at least a plan for membership, not to mention if it had been a member of NATO, there probably would have been no attack. And Europe would have remained peaceful. This is something that most Ukrainians could not understand. And this is something that many in the West still cannot understand. Russia does not want to take part in a real war. Russia wants to take part in exercises, special operations, sabotage, and parades. This is why it always attacks only those who are weaker.
Volker Says Ukraine To Make Own Decision On NATO
Kurt Volker, the U.S. special envoy for efforts to end the conflict in Ukraine, says that the country is not ready yet to join NATO. Speaking in an interview that aired late on August 26 o…
If Ukraine tried to keep nuclear weapons, there would be economic consequences, – Steven Pifer – Steven Pifer – 112.international
Steven Karl Pifer, United States Ambassador to Ukraine in 1998 – 2000, also spoke of the consequences of the Chief of Pentagon James Mattis visit to the military parade on the Ukraine's Independence Day. 112 Ukraine TV channel's Elina Beketova talked to Steven Pifer, United States Ambassador to Ukraine in 1998 – 2000. The series of interviews 112 International Insight introduces the viewpoint of influential Western experts, who are the source of a new, fresh point of view, different from the one of the Ukrainian experts, who usually comment on the current situation. Mr. Pifer, today we recall the most significant decisions of Ukraine. You were involved in drafting the Budapest Memorandum. If Ukraine left the nuclear weapons, what would have happened? "It is always difficult what would be in alternative history. But I think had Ukraine decided to keep neclear weapons in early 1990-s, there would be both the political and economic costs. It would be very hard to see the development of the strategic partnership with United States, the creation of Gore-Kuchma bilateral commission, I don't think that would have happened. I also suspect that Ukraine would not have been able to develop strong relationship either with NATO or with the European Union. It might not be seen much as North Korea, but it would be seen sort of in the same group. It would be the economic consequences. I think, if Ukraine had tried to keep nuclear weapons, there would be a lot of reluctance on the part of the West to support International Monetary fund and world bank programs for Ukraine. I can understand in Ukraine, believe me, I can understand people me are sometimes questioning on this decision back in 1994, to give up nuclear weapons. But I think, had Ukraine tried to keep those weapons, there would evolve some significant cost for Ukraine." Ukraine gave up its nuclear weapons in exchange for security guarantees from Russia and the West. Does Kyiv have reasons to feel after annexation of Crimea and the conflict in the Eastern part of Ukraine? "We talked about it, we were very explicit on that in our conversations with Ukraine, back in 1994. We were talking about security assurances, not security guarantees. And that word has importnant meaning in English. Because to an American, "guarantee" implies like a NATO article 5 commitment. And we were very clear with Ukrainian government that we were not prepared to provide that. Now having said that I was critical of the Obama administration, and I think that should have done two things with the Budapest memorandum after Russia illegally seized Crimea and then sponsored the conflict on Donbass. One was the administration should have talked more about the Budapest memorandum. Because that answers the question – that one hears from American sometimes, "Why should we care about Ukraine?" And I say, "The Budapest memorandum explains that we care about Ukraine because in 1994 Ukraine did something that was very importnant for the United States, at agreed to give up almost 2000 nuclear weapons. The second concern would be why I think the Obama was supportive of Ukraine, it could and should have done more. One issue that I was pushing on – Obama administration should have agreed to provide with some military assistance to Ukraine." But right now what can Ukraine do with this Budapest memorandum? Can it appeal to it? Because as you said security assurances are not guarantees. "The agreement itself doesn't have the specific mechanisms other than consultation mechanism. And unfortuntately in 2014 when Ukraine invoked that and the Russian refused to particiapte, just one more violation by the Russians of their commitments under the Budapest memorandum. And…. so how to change the Russian approach and attitude, I'm not sure how we bring the Budapest memorandum back into the force unfortunately." So, basically right now it is just a document but we can't appeal to it? "I think Ukraine can and certainly Ukraine has certain moral authority to cite a Budapest memorandum. But there is nothing in the memorandum that I can see will automatically solves the problem of the Russia's conflict with Ukraine at this point. I will continue to argue – that I think because of the budapest memorandum countries as US and Great Britain gave a significant ammount of political and another support to Ukraine." How then restore the territoral integrity of Ukraine? If it is not the Budapest memorandum? What are other documents that can help Ukraine to restore it? "Well, there are lots of documents that supported Ukraine's sovereignty, territoral integrity, and independence. The United Nations Charter, 1975 Helsinki Final Act, agreements that Russia reached bilateral with Ukraine including in the treaty that on friendship cooperation that Ukraine signed back in 1997. The problem is that the Russians have violated all of those commitments. We need to find some way to persuade Moscow to come back into compliance with all that arrangements and that have been very difficult." In one of your interviews you said that when Ukraine gave it its nuclear weapons, the Ukrainian-American relationship became better. And you call it like "the golden age" of the relationship. Is it really true? "If you go back and look at the period from 1995 to 1998, you saw significant development in the US-Ukrainian relationship. You saw in 1996 the declaration of the strategic partnership between Washington and Kyiv, the creation of commission shared by Vice president Gore and president Kuchma, that was designed to bring problem issues to a senior level for resolution. You saw American support at NATO for establishing a NATO-Ukraine relationship and if you go back, you saw a very supportive American attitude at the International monetary fund, and the world bank in terms of supporting Ukraine. So there was a lot going on that relationship and the relationship expanded to new areas – things like for example space cooperation. We had the commercial space launch agreement with Ukraine, so there was a very positive period and had Ukraine chosen to keep nuclear weapons, my guess is that most of that would not have happened. Likewise the Ukrainian decision to keep nuclear weapons would also been a huge obstacle to Ukraine's desire to develop closer relationship with the countries of western Europe, including Germany, France, Italy, Britain, Poland and other. That was a dilema for Ukraine. On the one hand Ukrainian government understood that nuclear weapons confirmed a certain degree of security, but I think holding of that weapons would have been a major road block to Ukraine's development of relationships with the West. There is one of the questions that is very importnant to remember is that a lot of the infrastructure for maintaining nuclear weapons was not located in Ukraine. And in order to build that infractructure, to maintain independent nuclear weapons capability, the cost to Ukraine would run to billions of dollars at a time when Ukraine was at a very difficult financial situation."
Anti-Colorado, Blogger | The situation is changing before our eyes, and changing in the right direction
Following the Independence Day of Ukraine, we decided to share a couple of research results made by our editorial office in different parts of Ukraine. The first of them concerns the reaction of Muscovy to our parade and to the format in which it took place. As was to be expected, the speeches and statements of Moscow officials featured the same cliches and turns as a few days earlier with regard to Moldova's appeal to the UN, on the need to withdraw the Muscovite occupation troops from its territory. This is a rather interesting observation and one can turn to open sources, which were gushing with Kremlin pearls. In general, our parade was recognized there as an expression of unfriendly position of Ukraine, in relation to the Russian Federation. In addition, Moscow believes that the parade itself, the speech of President Poroshenko and the presence at the parade of the military and leadership of the defense departments of nine countries, mostly NATO members, contradict the spirit of good-neighborliness and can cause additional tension in relations between the two countries. Such statements lead to two assumptions. The first of these concerns the population of Muscovy, to which, apparently, these speeches are designed. If this is taken seriously there, this very population has drastically slipped the bar of higher primates and has degraded to the level of mosses and lichens that love "oleni, Oleni, not shaving, not shin." For what kind of neighborliness can be said if the entire population of Muscovy clearly understands that their country is waging war with Ukraine. Let Putin play the fool and tells the delirium about "themtumnet" or "holidaymakers" who are lost between Donbass and Syria, the population still understands what is happening. To do this, it is enough if only that throughout the country, for several years now, echelons of tanks, armored personnel carriers, cannons and other military good that Russian citizens see at railway stations, Moving or just on highways. And the residents, for example, Matveyev-Kurgan district of the Rostov region, personally watched where all this equipment was gone. They saw very well that some of the equipment had risen to military positions and for several weeks watered the territory of Ukraine with a flurry of missiles and shells, and the second part went beyond the border line to Ukraine. Well, to top it off, the rest of the population heals, bury and write off the invalidity of those vacationers. Not aware of what is happening, only the champions of artistic or sports absorption of hawthorn. And the second part – went beyond the border line to Ukraine. Well, to top it off, the rest of the population heals, bury and write off the invalidity of those vacationers. Not aware of what is happening, only the champions of artistic or sports absorption of hawthorn. And the second part – went beyond the border line to Ukraine. Well, to top it off, the rest of the population heals, bury and write off the invalidity of those vacationers. Not aware of what is happening, only the champions of artistic or sports absorption of hawthorn. In general, if such stupid comments by Putin, Lavrov and other war criminals suits the population of Muscovy, then mosses and lichens are the best classification of them. Therefore, about good-neighborliness with the Russian Federation and other, perhaps, should clarify a few points that are clear to most Ukrainians, and who have already realized, albeit late, many Russians. We gladly watched the parade and how our army was transformed. We, at last, waited for the adequate response of our partners to pirate and sadistic actions of Moscow, and not only in relation to Ukraine. But the main thing that warms the soul of every real Ukrainian is one important thing, without which the holiday would not be a holiday. We see how our army has turned into a powerful military machine, for sure – the most powerful in Europe, not counting Muscovy. In addition, our army has gained invaluable combat experience, and now – it receives equipment and weapons for the most effective execution of combat missions. And our army has one task: to destroy the occupier in a qualitative, reliable and unconditional manner. As the president said, and as we know it ourselves, the invader is the Russian army in its regular and out-of-order form. Therefore, we are glad that our military already know how and want to beat the Russian army and destroy the Russian occupant in the quantities that will be available in the territory of Ukraine. This is for Russia, we have good-neighborliness and friendliness. We will destroy this "good neighbor" to the very last, who will not have time to raise their paws up, and even those who raise them, too, because Putin has officially declared "ihtumnet." Well there is no way. Now it will be so. A "good neighbor" will be kind as long as he is in the sight of an effective weapon. For Russians, there is no other good-neighborliness, and friendlyness is expressed in the fact that our military will remove the corpses of Russians and take them to Muscovy with a cargo of "200". The second observation was made by one of our colleagues in the festive Lviv. He had the opportunity to observe several Independence Days in this city and note some trends. As it is not strange, in Western Ukraine this day was not something special. Very many local residents continued to work, and not just in the service sector, but also in construction sites and elsewhere. This can not be attributed to any attack of workaholism, for at the same time there are three church holidays – 3 Savior. So these days – no one works and the festival is celebrated without fools, with weekends, going to church and other things. But gradually, Independence Day becomes really powerful and highly charged energy during the day. In general, in the center of Lviv, there is much more people in embroideries or with other Ukrainian attributes. This year – noticeably a lot of black people who are dressed in Ukrainian national clothes with the whole family. Moreover, it is clear from their faces that both clothes and a holiday give them a lot of pleasure, and passersby congratulate them as Ukrainians. Even the Indians dressed in embroidered robes. Surely, the Poles or the French looked like that, it's almost impossible to distinguish them from the outside. There is one more difference. In the Old Town, where the main ceremonial events took place, a lot of people speak European and Oriental languages. Poles, Hungarians, French, someone with unidentified language, Japanese, Hindus and other people smile and take photos with our flags, ribbons and badges. In addition, it is almost a continuous Ukrainian language. Maybe it's a feature of this very day, but the Russian language is almost not audible. From various sources comes information that in roundabout ways, Russians are more and more going to Ukraine, just to eat deliciously and cheaply and calmly relax, even from their fellow countrymen, known for their unbridled, disgusting disposition. We have already heard about the fact that they are going to Ukraine because they will not be let down by the fact that they are used to getting up in Turkey, Egypt or some European countries. By the way, they correctly decided this. The critical mass of Ukrainians, who either fought in person against the Russian invaders, or helped the front, or their relatives and relatives were busy with it, is such that in practically any single place there will be one or several people who will put the quick Russian in the place so that he Will remember for a long time. In general, whether Russians are intensely mastering Ukrainian, or try to behave as imperceptibly as possible, in order to avoid unpleasant consequences. In any case, the holiday becomes what it should be. Despite the irritations that every political bast suits, the nation finds its firm and rigid form. By the way – one more observation. August 24 really becomes a holiday of the unity of the nation. But that's what is characteristic, at this very time, political tusovka, called our Verkhovna Rada, travels to the Canaries, Maldives, Sardinia and other cozy resorts for especially wealthy citizens. As soon as this disgraceful schovolus disintegrates, the degree of "zrady", "ossified" and other things falls almost to zero. Sometimes it seems that Ukraine would have solved its main problems for a long time already, and our troops would have already marched, not on the red square, but along the central streets of cities that were officially part of the UNR and were recognized as Ukrainian Bolshevik Russia if this public Did not return from their resorts. Someone has to investigate this particular site and show on the figures the number of provocations during the holidays of these figures and when they leave the vacation. There is an opinion that scrupulous mathematical calculation can give an answer to the question of the main destructive factor, which from the inside works for the Kremlin. In any case, the situation changes before our eyes and changes in the right direction.
Russian proxies attack Ukraine 22 times in last day | UNIAN
Russia's hybrid military forces attacked Ukrainian army positions in Donbas 22 times in the past 24 hours, according to the press service of the Anti-Terrorist Operation (ATO) Headquarters. News 28 August from UNIAN.
Donbas: 22 attacks on Ukrainian positions over day; No casualties among government troops reported; no use of mortars or other heavy weaponry observed – Donbas: 22 attacks on Ukrainian positions over day – 112.international
Donbas: 22 attacks on Ukrainian positions over day; No casualties among government troops reported; no use of mortars or other heavy weaponry observed
Ukraine spots Russian-backed militants' active reconnaissance in Donbas
Russian-backed militants have actively been conducting reconnaissance in Donbas, according to Information Resistance, a non-governmental project on information security. News 28 August from UNIAN.
Russia delivers three trains with tanks and fuel to Donbas – 28.08.2017 14:14 — Ukrinform News
Three railway trains with tanks and 25 cisterns of fuel were delivered from Russia to the temporarily occupied territory of the Donbas last week.
Ukraine Def. Ministry: Donbas militants continue drills, aerial reconnaissance
Russian-backed militants in the temporarily occupied Donbas are engaged in military exercises and active aerial reconnaissance, according to a Ukrainian defense ministry spokesman. News 28 August from UNIAN.
Ukraine intel: Russian occupiers kill local resident in Donetsk region
Russian-backed occupation troops have killed a local resident in Donetsk region, eastern Ukraine, and resorted to fabrication of evidence in order to accuse the deceased of an attack on them, according to the Main Intelligence Directorate of Ukraine's Defense Ministry. News 28 August from UNIAN.
Kennan Cable No.25: A Wake-up Call for Ukraine's Civil Society | Wilson Center
When U.S. Secretary of State Rex Tillerson paid his first official visit to Ukraine on 9 July 2017, he met with a small group of Ukrainian civil society activists prior…
Unique 1919-1920 map of Ukraine exhibited in Prague -Euromaidan Press |
A unique map of Ukraine has been put on display in Prague as part of the exhibition on the history of Ukrainian, Russian and Belarusian immigration to interwar Czechoslovakia. Published almost 100 years ago, it depicts the Ukrainian liberation movement and Ukraine's struggle to preserve its statehood during the Ukrainian People's Republic (the UNR was declared on June 10, 1917). Czech experts assert that Ukraine's attempts to build an independent state were not successful because of the lack of support from leading Western powers, and they advise Ukrainians not to forget this historic lesson in terms of Russia's ongoing aggression in Eastern Ukraine.
Falling Down: The Last Lenins Of Ukraine [PHOTOESSAY]
A project to find and photograph Ukraine's toppled Lenin statues has gained new relevance as America tears down its own monuments to a divisive past.
Evidence Emerges of Torture in Russian Prisons in Crimea – YouTube
Russian law-enforcement use electric shock torture against detainees illegally held in the occupied Crimea. This has been reported by human rights activists….
---
Russia / Iran / Syria / Iraq / OEF Reports
---
As 'Death to America' Chants Lose Power, Iran Retools Propaganda With Rap Videos – To Inform is to Influence
By THOMAS ERDBRINK AUG. 26, 2017 TEHRAN — It's a common theme in the state-controlled media in Iran: The armed forces are not to be trifled with; they're tough men doing a tough job, defending a country permanently under threat. Nevertheless, it was a shock to some young Iranians when a video appeared featuring a well-known rapper delivering…
Syrian Children Fleeing Raqqa 'Tormented' By Years Under IS Control
Children escaping from the northern Syrian city of Raqqa, which has been held by Islamic State (IS) militants since 2014, have been "tormented" by years of living under the extremists&rsquo…
---
DPRK / PRC / WESTPAC Reports
---
China claims victory over India in Himalayan border row – BBC News
China says India has withdrawn "trespassing" troops from a tense area along the disputed border.
Doklam standoff ends: What made China agree to restore pre-June 16 position of troops : India, News – India Today
With BRICS summit days away and CPC Congress nearing, China agreed to disengage with India at Doklam, where military standoff has come to an end, according to MEA statement.
India withdraws troops from disputed Himalayan region, defusing tension with China – The Washington Post
Chinese patrols in the area will continue and it was not clear if China had offered any concessions.
China and India Agree to Ease Tensions in Border Dispute – The New York Times
The decision was the first sign of a thaw in one of the worst diplomatic flare-ups between the Asian rivals in decades.
Fifth Zubr-class large air-cushion landing craft spotted in China | Defence Blog
The fifth Zubr-class large air-cushioned landing craft (LCAC) under construction was spotted at the Huangpu Shipyard in southern China. In 2009, China placed an order for four vessels from Ukraine as part of a deal worth 315 million USD. Ukraine has successfully performed its part of the contract for construction of the first two ships at the facilities of FSK More in Feodosia and has already handed them over to the customer. Two more vessels were built in China with the participation of Ukrainian specialists. The Zubr class is a class of air-cushioned landing craft (LCAC). This class of military hovercraft is the world's largest, with a standard full load displacement of 555 tons. In Ukraine vessel named as «Bison». According tonavyrecognition.com, the Zubr class craft has a length of 57 meters and a beam of 20 meters. The displacement of the ship is 535 tons and the draft is 2 meters. It is powered by high-temperature gas-turbine engines. Four fans with a diameter of 2.5 meters provide an air cushion for the ship. The ship is propelled by another three variable-pitch propellers of 5.5 meters in diameter and develops a speed of 70 knots. The People's Liberation Army navy gave a Ukraine-made Zubr-class hovercraft its debut during a t drill in mid-2015, indicating the Chinese navy had achieved a stronger landing capability. In the landing exercise carried out in mid-July by a squadron under the PLA navy's South Sea Fleet, the assault force sent tens of amphibious combat vehicles to approach the landing site.
---
Foreign Policy Reports
---
How Nord Stream 2 Would Benefit Russia at the EU's Expense | Foreign Affairs
Nord Stream 2 would benefit Russia at the EU's expense. In 2005, the state-owned Russian energy company Gazprom and several European firms agreed to create Nord Stream AG, a consortium that would oversee the construction of the world's longest undersea natural gas pipeline. German and Russian leaders noted that the pipeline, connecting the Russian city of Vyborg to Greifswald, would let Gazprom serve gas markets in northwestern Europe directly through Germany. With Germany as a major energy transit hub, the EU could then protect its gas supplies if conflicts between Russia and Ukraine were to disrupt the flows from the pipelines to the south. Polish officials felt differently. Radek Sikorski, then foreign minister, compared the arrangement to the Molotov-Ribbentrop Pact of 1939, the non-aggression deal between Hitler's Germany and Stalin's Soviet Union that led eventually to the joint invasion of Poland. Warsaw regarded Nord Stream, as the pipeline is known, as a geopolitical risk that would increase the influence of Moscow and Berlin over its own domestic gas supply. At the time, EU officials dismissed Sikorski's comparison as an exaggeration. Over the three years since Russia annexed Crimea and began its war in eastern Ukraine, however, his warnings have seemed increasingly prescient. To be sure, Nord Stream will not lead to a Russian-German invasion of Poland—but the pipeline, which was first used in 2011, has brought Berlin and Moscow closer together in a way that has left some Central and Eastern European states, including Poland and Slovakia, more vulnerable to Russian arm-twisting. An expansion of the project, called Nord Stream 2, is on track to be completed by 2019, renewing the urgency of these concerns. At an estimated cost of $11.8 billion, Nord Stream 2 would add two more gas pipelines to the two already in place, doubling the project's capacity and deepening the reliance of central, southern, and eastern European states on Russian gas. Although the project would alleviate gas shortages in some of those countries, the added capacity would weaken the position of Ukraine—through which a number of large ….
Damien McGuinness on Twitter: "Merkel's CDU/CSU cld get over 80% of direct mandates in German elex (dark / light grey constituencies on map) https://t.co/yeS34gtcaK"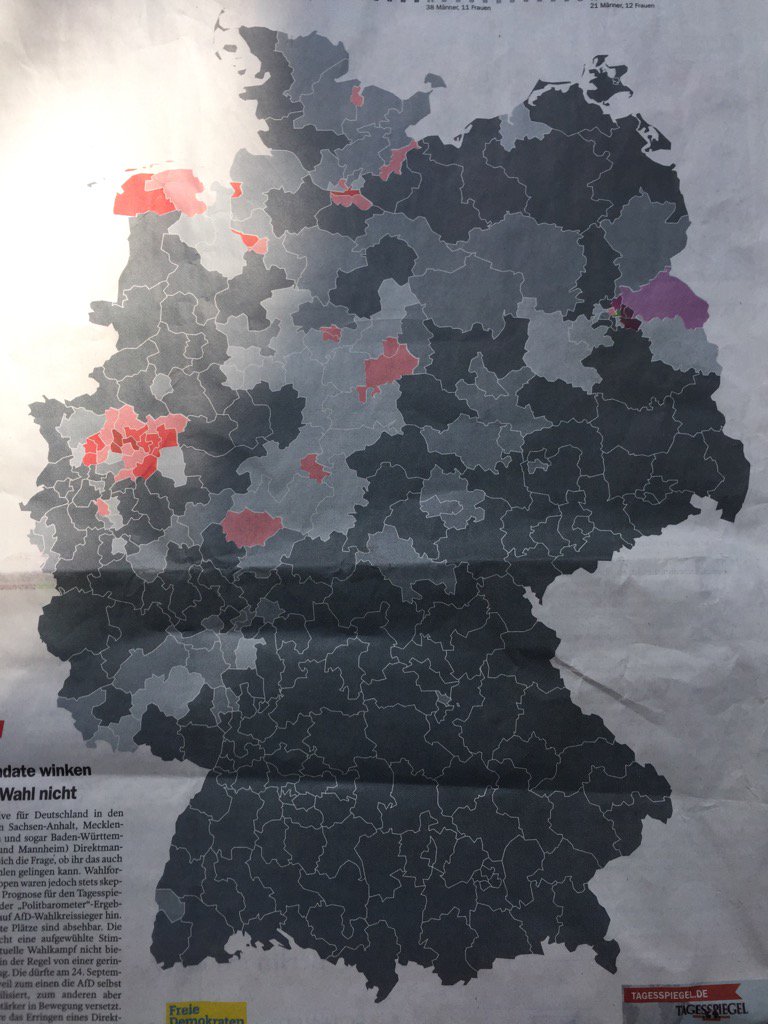 Russia could interfere with Bundestag elections, – German intelligence – 112.international
At the same time, special service does not know if such measures fit "current political program of Kremlin". German special service warns that Russia can carry out a disinformation campaign during the elections to Bundestag. This was announced by the head of German Federal Office for the Protection of the Constitution Hans-Georg Maaßen, reports Welt. "We believe Russia is capable to start disinformation campaigns in connection with the elections to Bundestag," he said. But he doesn't know if such measures fit "current political program of Kremlin." Maaßen supposes that perhaps the Kremlin won't be interested in further straining the relations with Germany. The Bundestag elections will take place on September 24. As it was reported earlier Russian hackers may be involved in Bundestag secret files abduction. A source in the German secret service told about the possibility of this version.
---
Strategy / History / Capability Publications
---
David Deptula and Peter Huessy | America is finally, thankfully, modernizing our nuclear program | TheHill
OPINION | U.S. nuclear capabilities are our "ace in the hole" for stability and survival. For the first time in nearly 35 years, the United States is back on track to modernize its entire nuclear deterrent. After previously approving the building of 12 new Columbia class submarines and a new B-21 nuclear-capable bomber, the United States has selected two contractors to compete to build the next land based intercontinental ballistic missile (ICBM) nuclear deterrent. This would be the first new land based ICBM since the Peacekeeper missile was deployed in 1986 and completes a nuclear modernization effort plan promised by the administration. An effective, credible and stable nuclear deterrent defends America and its allies from the existential threat of nuclear attack. With China and Russia both vigorously modernizing their own nuclear forces, the misguided nuclear procurement holiday that the United States has been on since the end of the Cold War now officially has come to an end. The U.S. Air Force (USAF) announced on August 20, 2017, the selection of Boeing and Northrop Grumman as the two competing candidates to build the next land based ICBM known as the Ground Based Strategic Deterrent (GBSD). This contract award also ends a debate in Washington whether the existing Minuteman ICBM missile force could simply be extended for another few decades. Minuteman previously went through a nearly twenty-year service life extension of its guidance and propulsion systems between 1995-2015, and that kept the system viable through 2030 as required by law. A subsequent similar process simply is not cost effective according to all senior USAF nuclear and budget officials. Today's world is a troubled place.
Russia and China are Building Super Stealthy Submarines (And This is America's Response) | The National Interest Blog
Thanks to DARPA
Russia's Military Is Catching Up To America In This One Key Area | The National Interest Blog
Think UAVs
---
IW/IO/Cyber Reports
---
Cyber-Operations and the Misunderstood Doomsday Machine: A Rebuttal
Cold War culture produced some enduring witticisms, but few are wiser than this gem from Dr. Strangelove: "The whole point of a Doomsday Machine is lost if….
China orders internet comments linked to real identities – To Inform is to Influence
Another way to silence dissent. Jon Fingas, @jonfingas 27 August 2017 China isn't slowing down in its bid to silence online political opposition. As of October 1st, the country will require that tech firms hold on to records of the real identities of everyone posting comments on internet message boards. This is to discourage "false rumors, filthy language and…
Facebook shuts down 1 million accounts per day but can't stop all 'threat actors,' security chief says – To Inform is to Influence
It's not that I don't believe them, it's just many of us don't see tangible results. Comments on this from friends on Facebook, some of us interact with Russian trolls daily. They don't turn off Russian trolls Yes, sure not. I wonder how we can get a demographic of who they shut  I know that…
From Russia With #HateGroup? – To Inform is to Influence
@DFRLab @AtlanticCouncil's Digital Forensic Research Lab. Catalyzing a global network of digital forensic researchers, following conflicts in real time. Aug 25 Analyzing a bot attack on a news site in the United States On August 24, an ostensibly Russian Twitter account with just 74 followers named "Lizynia Zikur" (handle @kirstenkellog_) posted an angry tweet attacking U.S.…
---
US Domestic Policy Reports
---
Rex Tillerson: Trump 'speaks for himself' – CNNPolitics
Rex Tillerson said that Trump "speaks for himself" when asked whether the President's response to the violence in Virginia raised questions about his values.
Report: Trump's Firm Sought Moscow Real-Estate Deal During Campaign
Donald Trump's company was pursuing a Moscow real-estate deal while he was campaigning to be U.S. president in late 2015 and early 2016, according to The Washington Post. Citing people familia…
Trump's business sought deal on a Trump Tower in Moscow while he ran for president – The Washington Post
The deal fell apart in January 2016 on the eve of the presidential primaries.